A wedding dress is something we have imagined at least a thousand times. Walking down the aisle with the most beautiful white dress, meeting the man of our dreams….
In my case, I have designed and re-designed my wedding dress so many times now, that I am more confused than ever as to what style, cut or fabric I want it to have. There's literally no week that passes by that I haven't given some thought to my wedding dress.
1920s wedding dress
If you want to get some inspiration, just like me, I thought it would be fun to look at 1920s wedding dresses. It might not sound like the most fashionable inspiration, but believe me, you'll finish this article wanting to marry in a dress like these ones.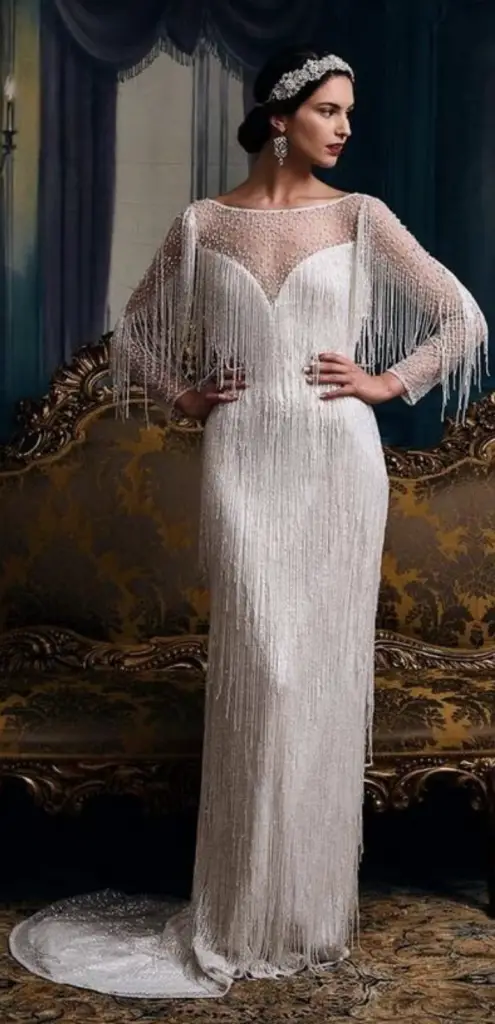 I'll also show you some modern takes on the 19020s wedding gowns, convincing you that having a 20s theme wedding is one of the best decisions you can make.
4 iconic details from the 20s wedding dresses
1. Headbands
One of the most iconic pieces from the 1920's fashion is the "flapper girl" headband. If you want an instant Great Gatsby vibe, you just need to put it on and let it do its magic.
What I love about these headbands is that they add interesting detail to your look. Back then the wedding gowns were not as sparkly or detailed as they're now, so adding that accessory gave the brides a special and sophisticated look.
2. Other hair accessories
A 20s style dressing dress was nothing without a hair accessory. Headbands were the most popular, but that didn't mean they were the only option.
Wedding hats were a thing back then, believe it or not. These hats were attached to the veil, making the whole "outfit" look coherent.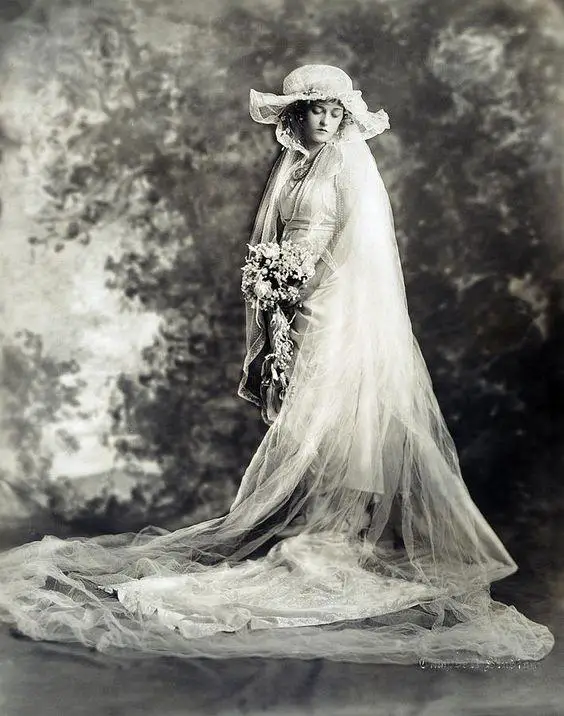 The cloche style hat was the most popular among brides. This is the type of hat that was close-fitting and had a bell shape, and was also attached to the wedding veil, just like this: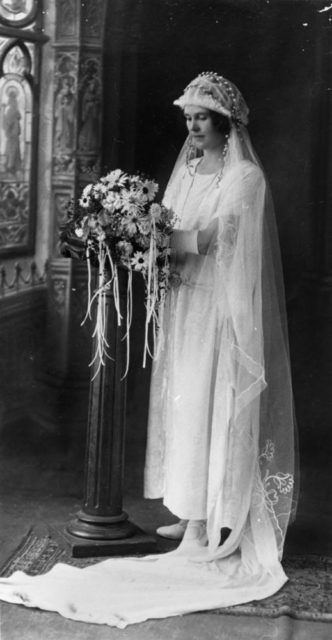 Sometimes the hat was simulated using the veil and cute clips: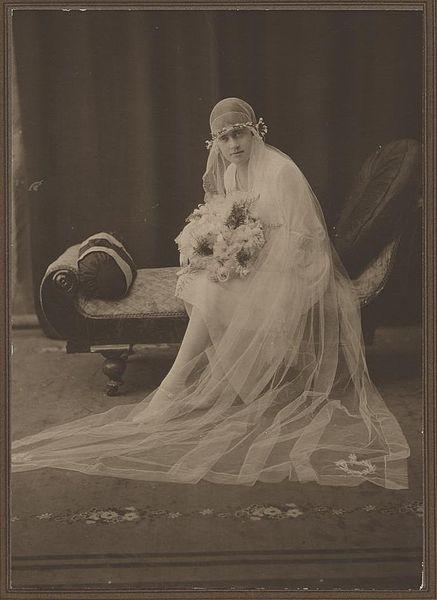 3. Loose and straight silhouette
Women in the 20s had finally become free of the restrictive style of corset dresses. They could finally dance with no restraint, move freely and more comfortably and, of course, look super chic and fashionable.
A drop waist and unshaped bodice were what characterized the 1920s wedding dresses, and are precisely what makes this fashion decade so unique and appealing.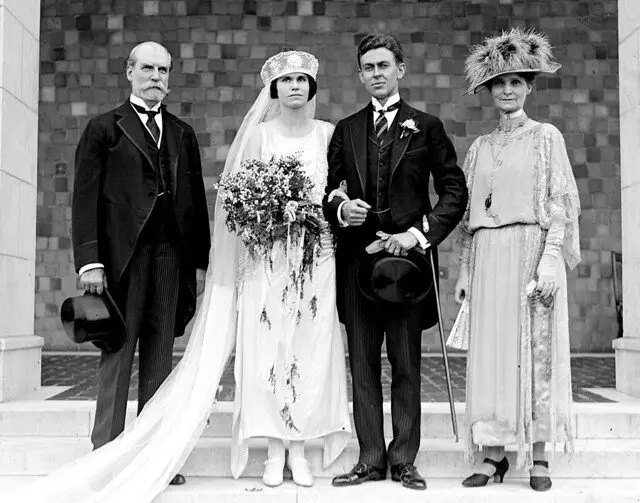 4. Short hem
The last iconic detail from the 20s bridal fashion is the short hem. Wearing a long dress like we do now was not common.
Wedding dresses were typically right above the ankle, but some brides would wear a shorter dress, with hem finishing at mid-calves.
Modern 1920 inspired wedding dresses
Now that we've seen authentic 1920s wedding dresses and the unique details that brides wore, let's move on to modern looks you can recreate for a 20s inspired wedding.
As I mentioned, headbands are one of the most stylish accessories you can wear with your wedding dress. Yes, it's a statement accessory, but it will definitely make you look unique and sophisticated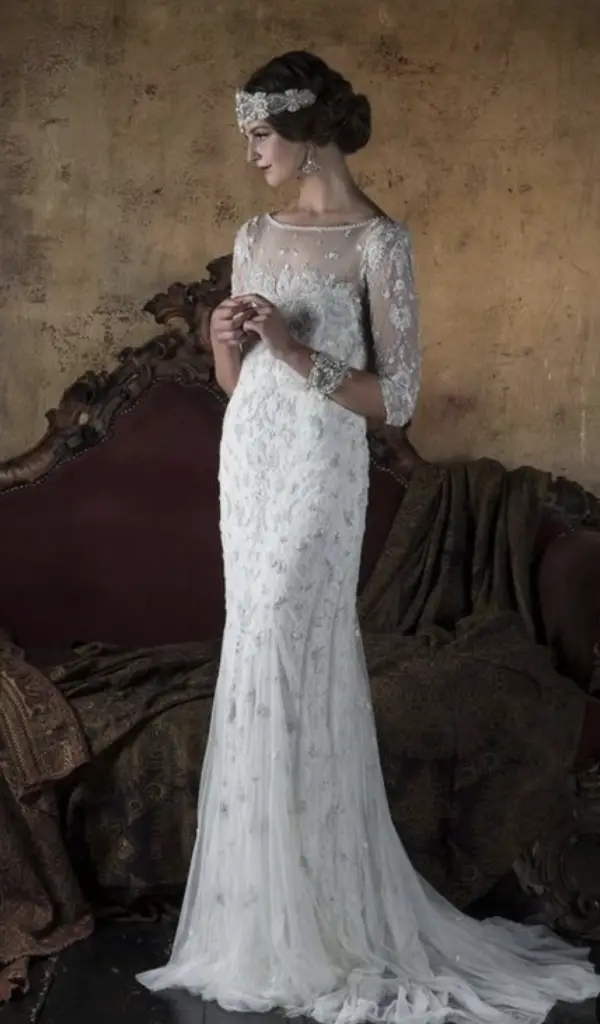 Few brides can boast to have rocked a 20's inspired headband. That's reason enough as to wear one on your wedding day.
If you're debating whether wearing a headband or not, my suggestion is to try one once you have your perfect fitting dress. Try it many times for a couple of days to decide if it's for you or not.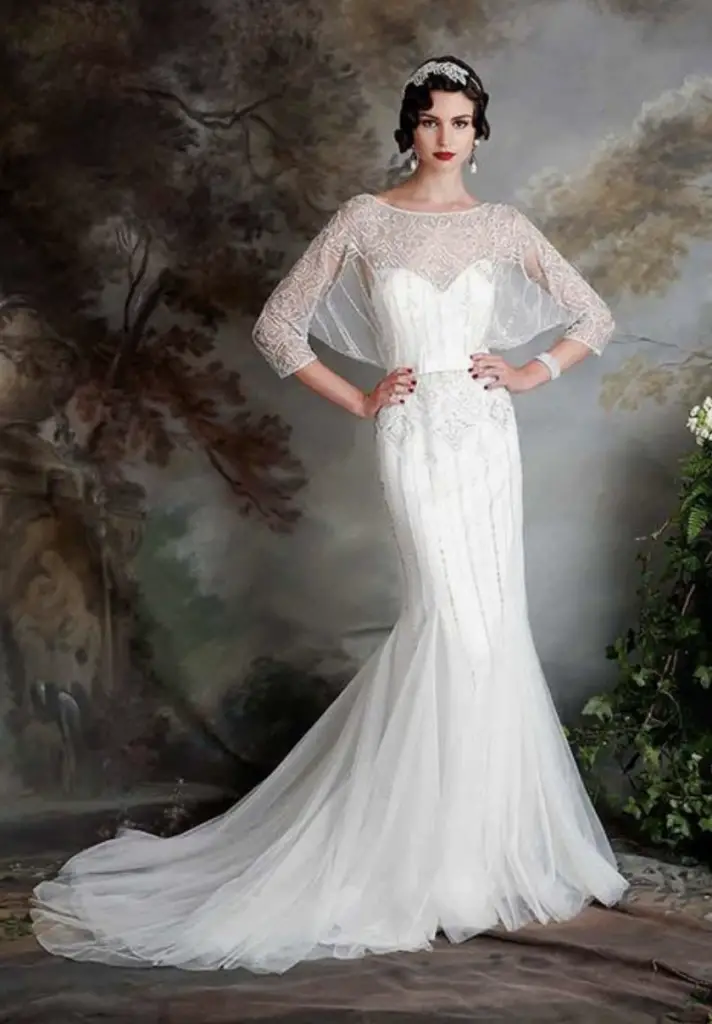 My other suggestion is that you should make your headband match with your dress's style and fabric. Imagine that your wedding dress has pearls all over the fabric, but your headband has small crystals, then your whole look would look mismatched.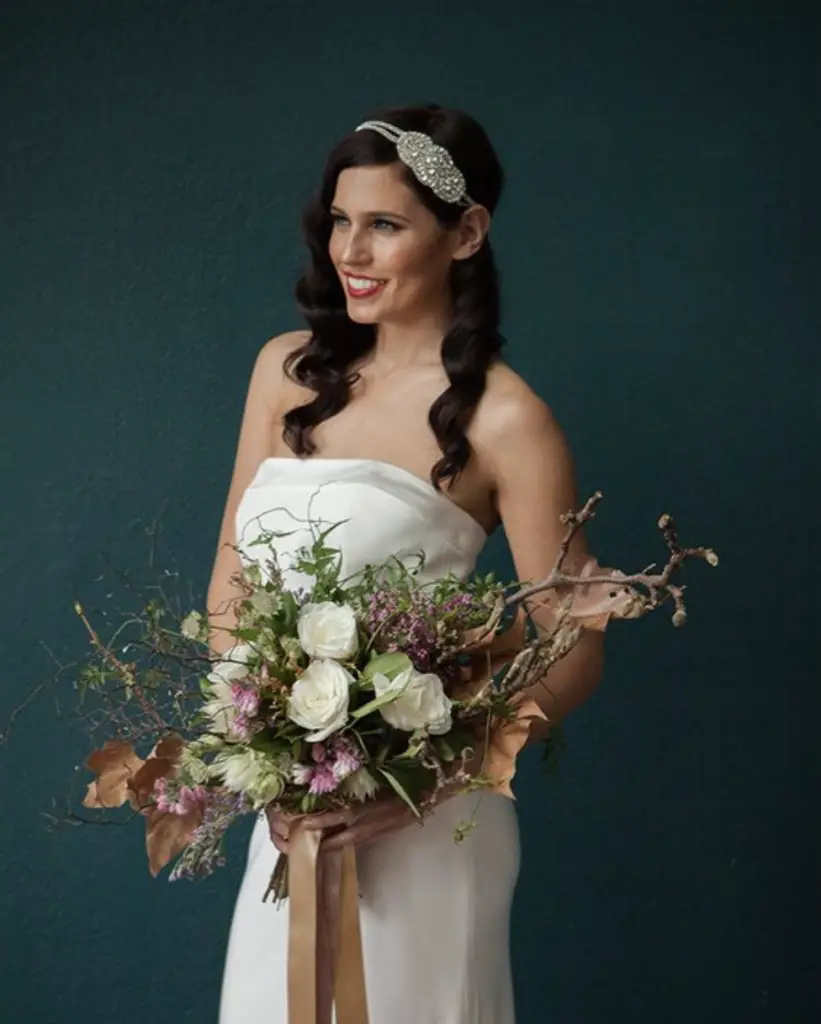 Can we just take a minute to appreciate Anne Hathaway's wedding hairstyle? She's the perfect example of how you can rock another decade's iconic look and make it your own.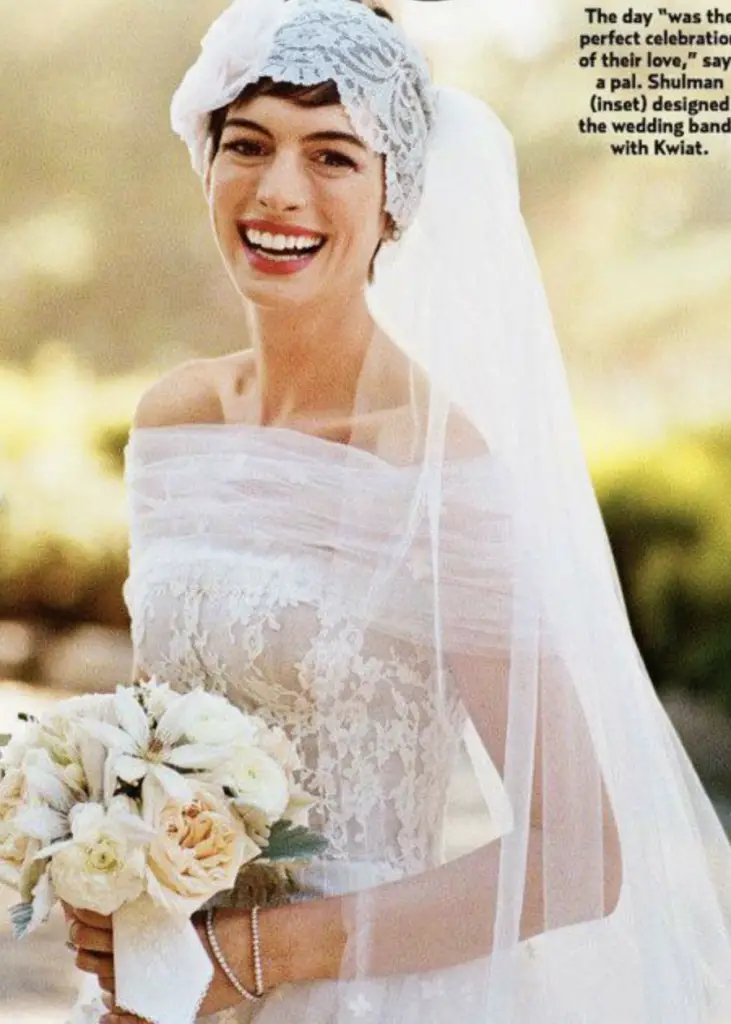 You can be as bold as Anne Hathaway, with a thick lace headband, or you can go a bit subtler.
A crystal headband like this one will do the trick: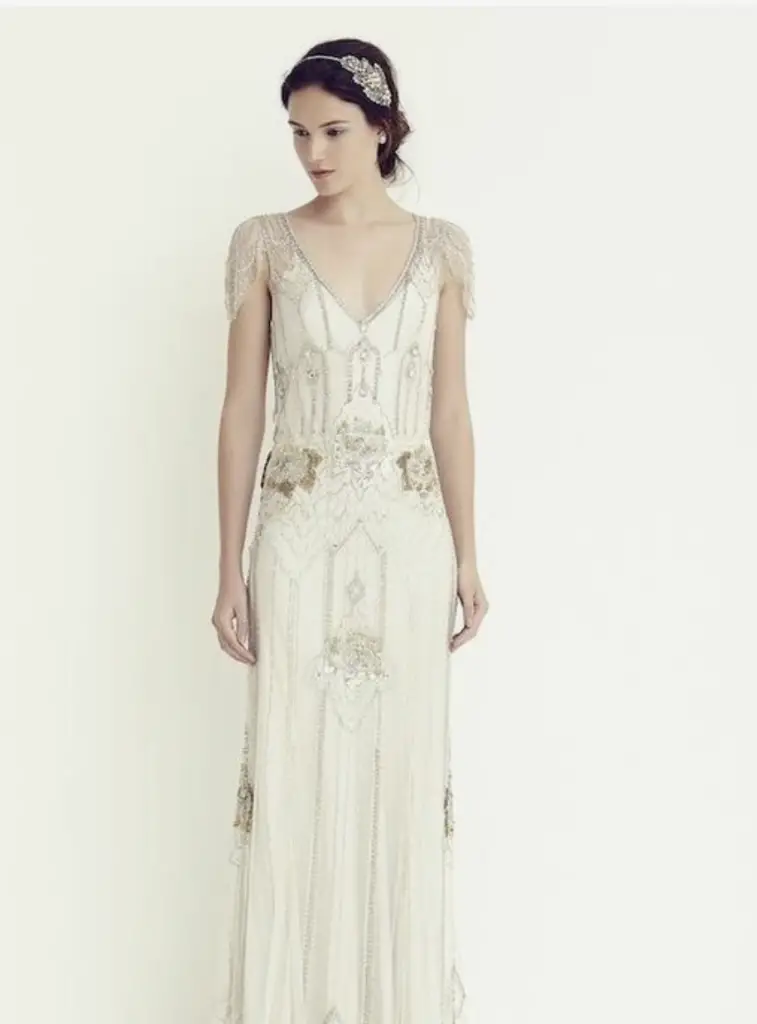 You can also wear your bridal headband right at the forehead. This is one of my favorite hairstyles: a sparkly band on the forehead and a chic updo.
If you have a hippy soul, this is definitely the hairstyle for your dream day: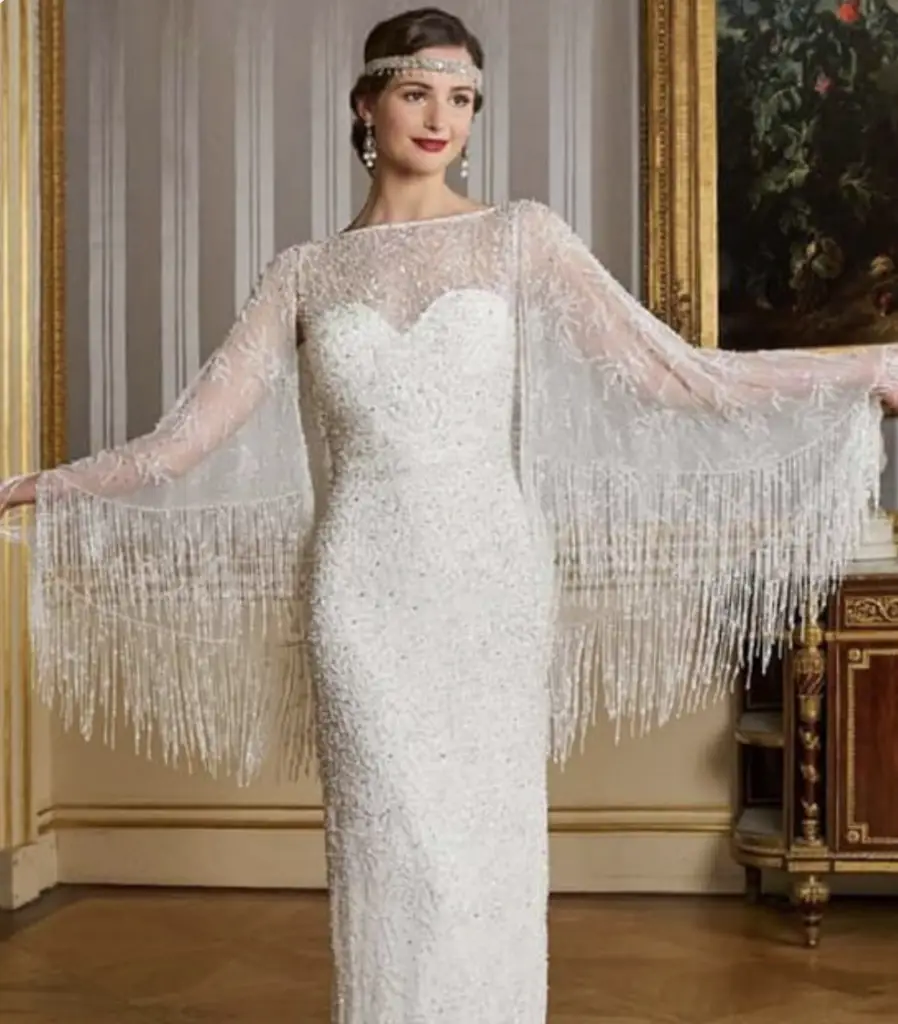 Wearing a cloche hat inspired headband will take your bridal look to the next level. If you love a bold and unique look, I'd say go big or go home.
This style is perfect for anyone who wants to make a statement look on her special day: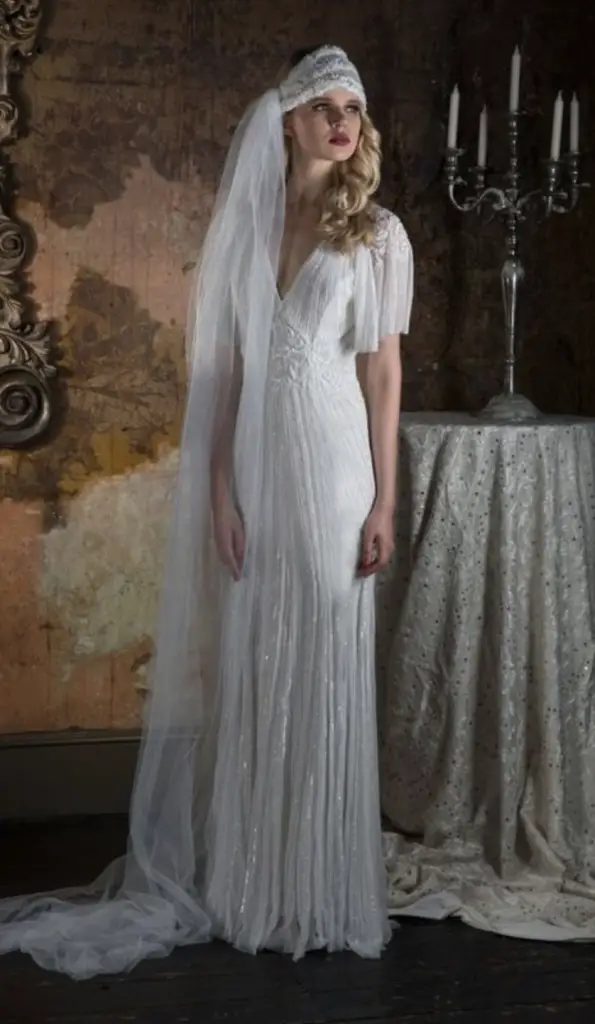 A crystal headband and a fringed dress are the perfect combos for a major 20s inspired wedding dress. If you're a vintage lover, this look will make you look like the chicest vintage queen:
Women back in the 20s didn't wear fringed dresses because these were worn mostly for parties or dancing. But fast forward to 2019 and we are more than willing to wear this chic type of dress.
This magical era gave us many of the chicest fashion moments in history. Why not make the most of it with a chic fringe skirt?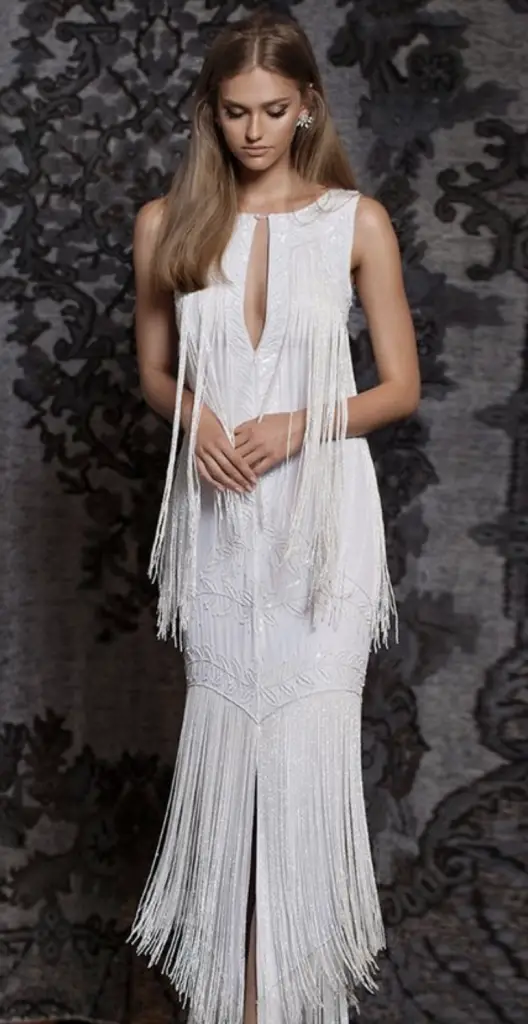 Flapper girls used to wear this type of dress because it moved along with their dance, becoming one of the most iconic things from the 20s fashion.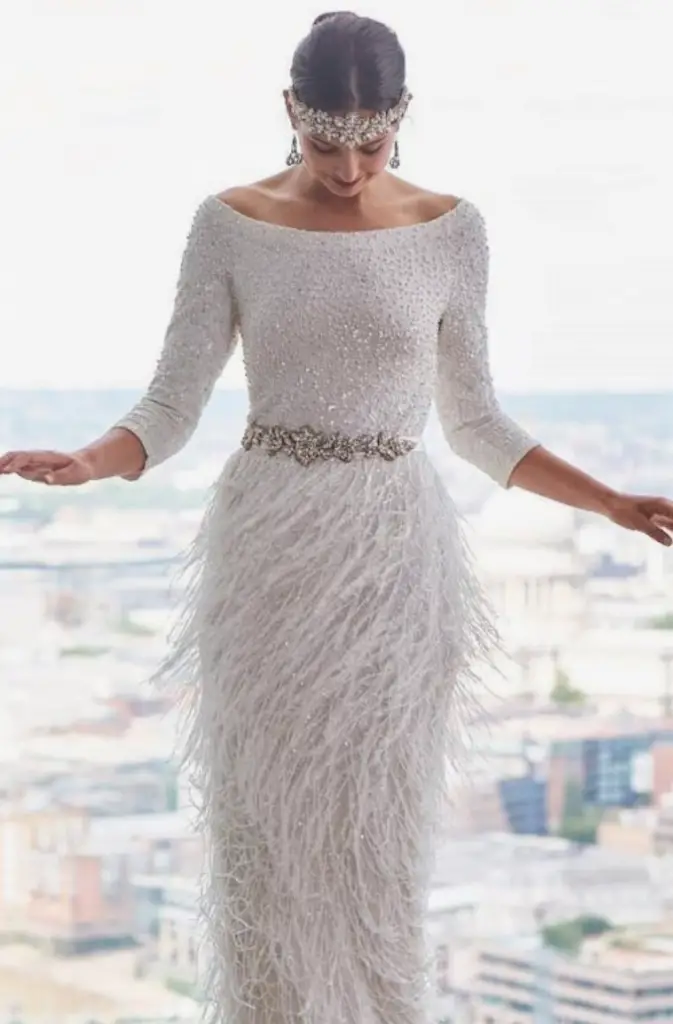 Fringes are perfect for bohemian lovers as well because of their relaxed aesthetic. The best part is that they look absolutely stunning when you dance and walk, making you look like the most fashionable bride on earth.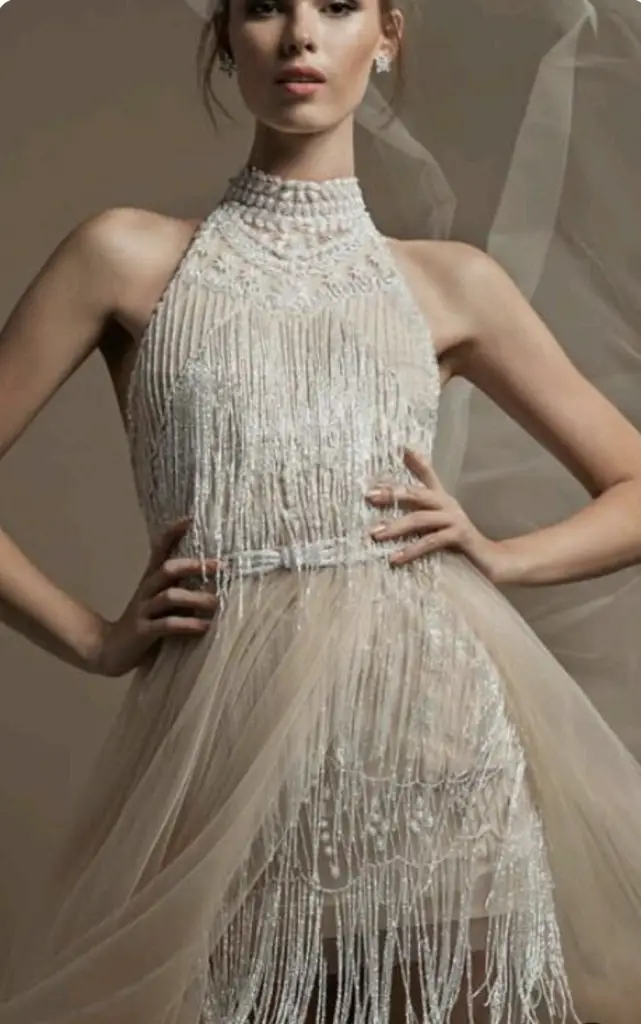 If you're serious about your 20s inspired bridal look, then having a pixie cut, or at least above the shoulder hair length, is a total must. Remember that women in this era used to have their hair really short.
That's one of the reasons why you will take your 20s wedding dress style to the next level if you wear your hair really short.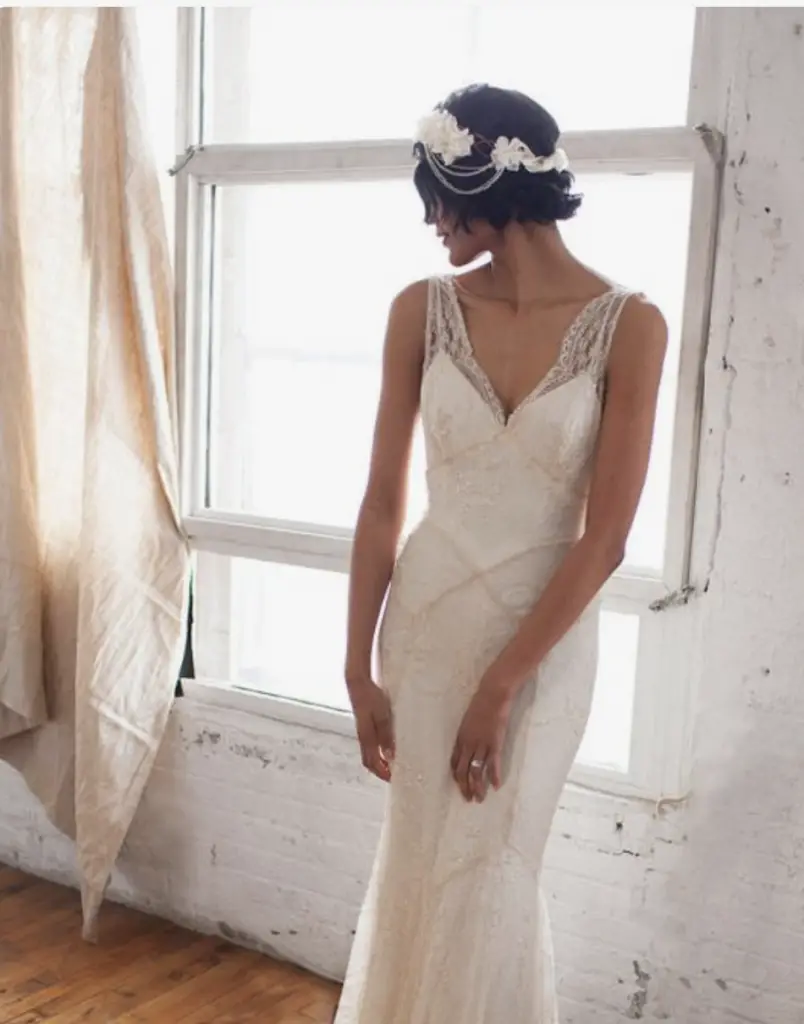 If you don't have short hair, then doing a chic wavy updo is another great way of showcasing a chic 20's look.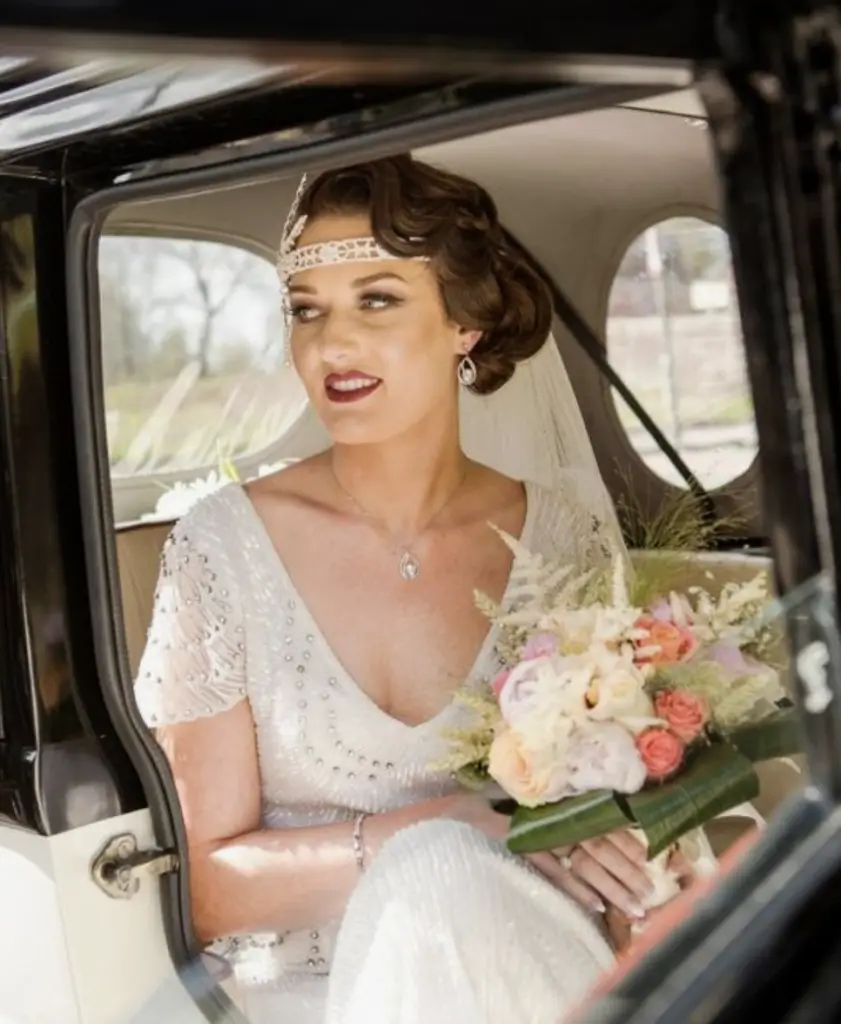 Women love to show off their figure on their special wedding day, that's why wearing the typical loose-fitting silhouettes from the 20s is not the most appealing thing to wear.
However, fitted dresses are a great way of showing some tribute to the roaring 20s.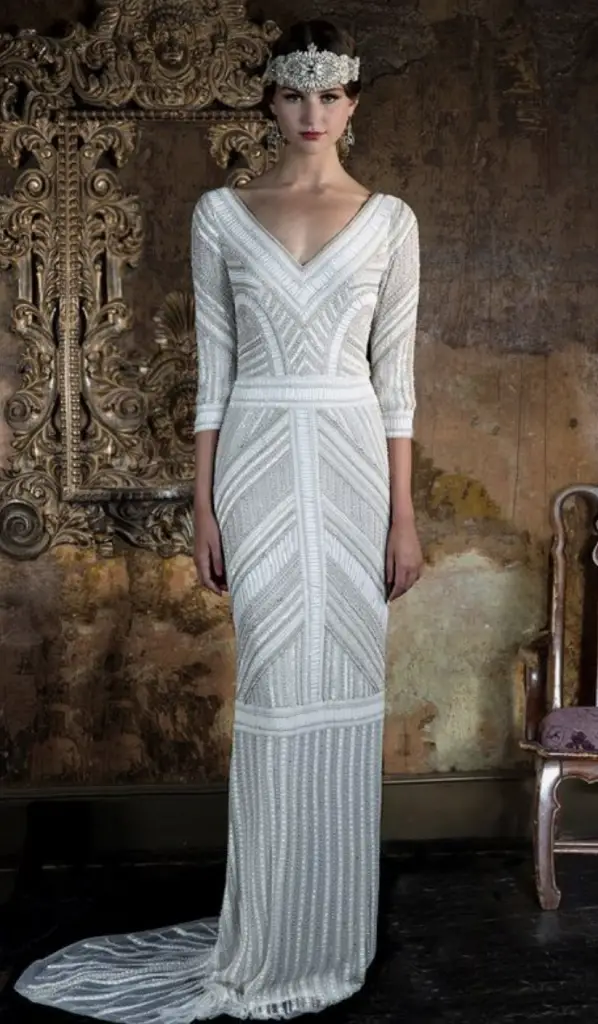 It doesn't have to be a tight dress. Straight-line dresses will do the trick as well: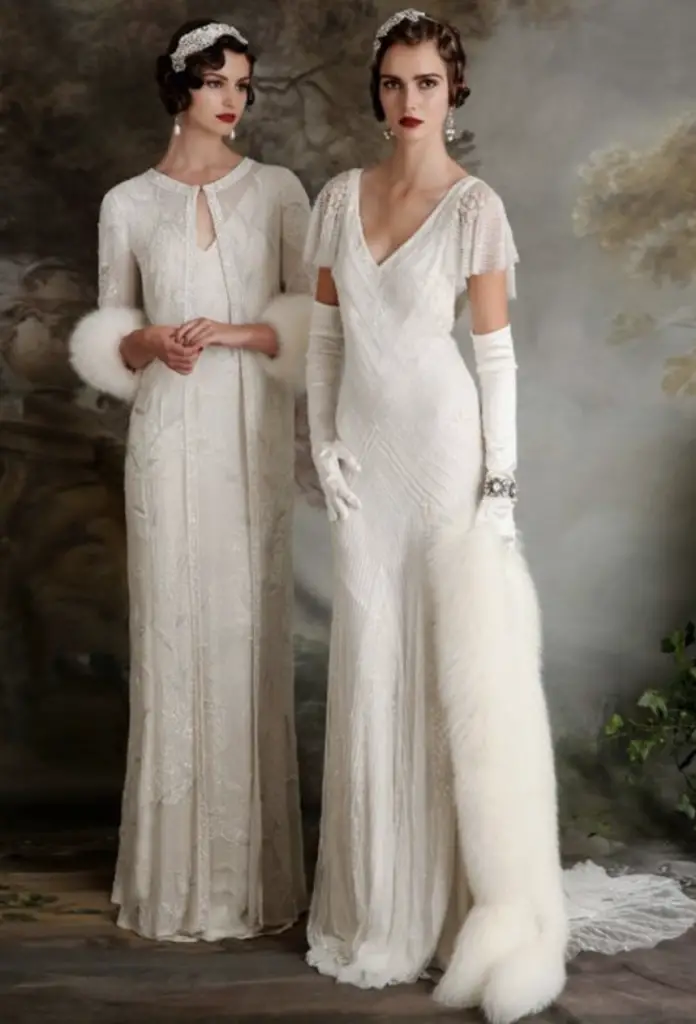 Even a loose and relaxed dress top will make you look like your a 20's muse.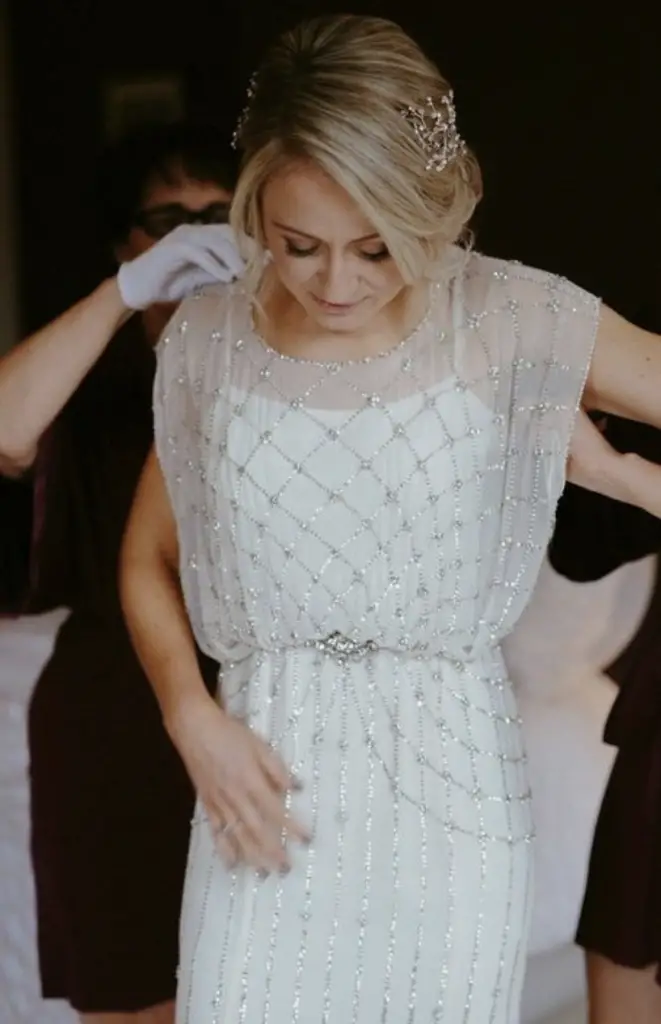 Along with shit shapeless silhouettes, drop-waist dresses were also popular among flapper girls. This type of wedding dress will bring an instant Great Gatsby vibe to your wedding.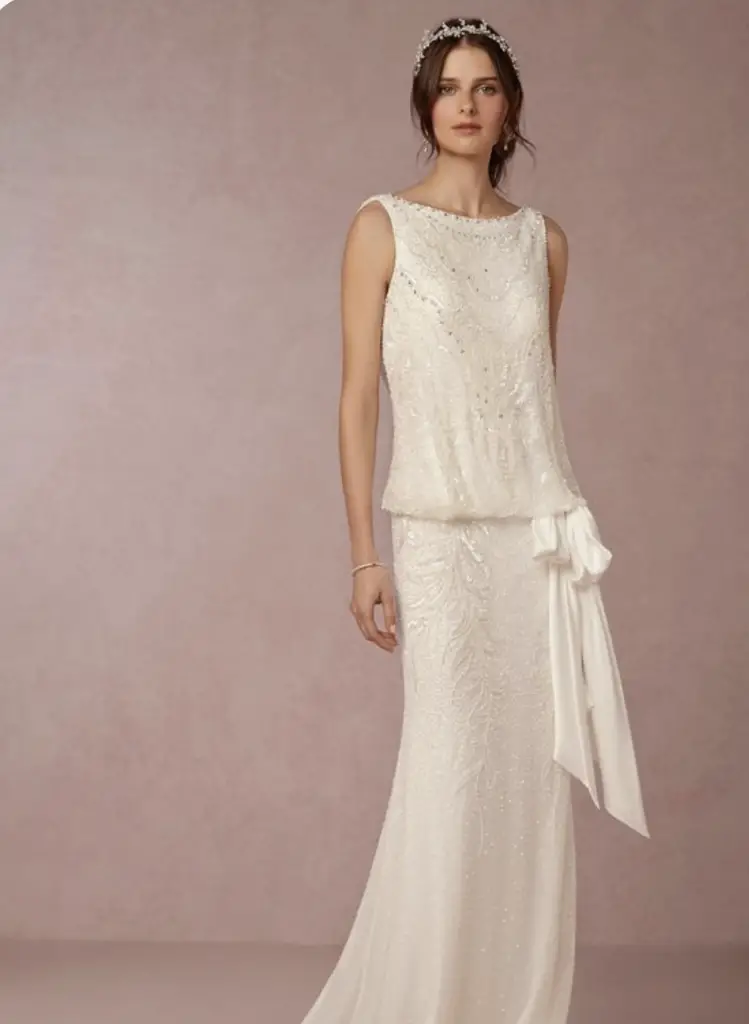 Don't be scared of looking old-fashioned. The '20s is a fashionable era that will always inspire us! Many decades after and we're still amazed by it.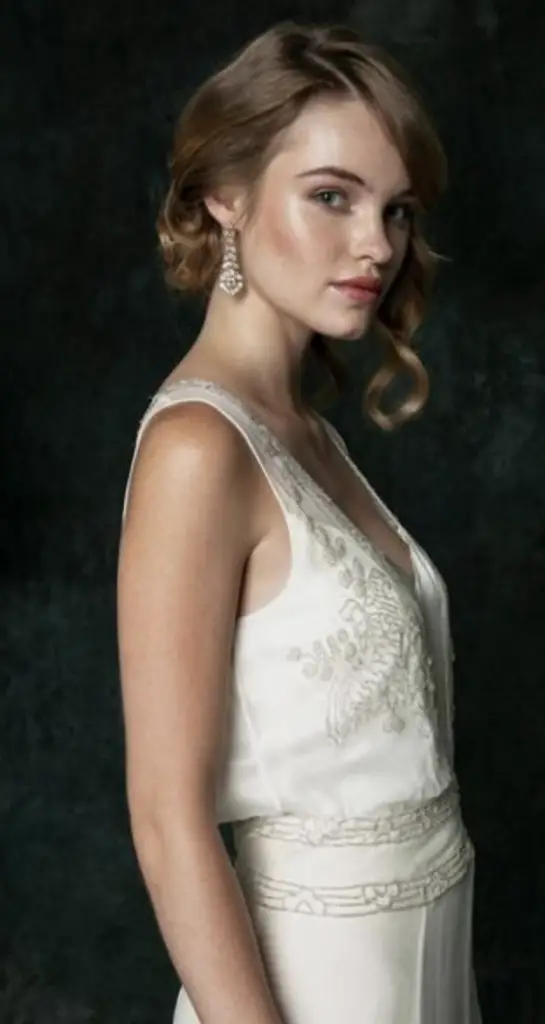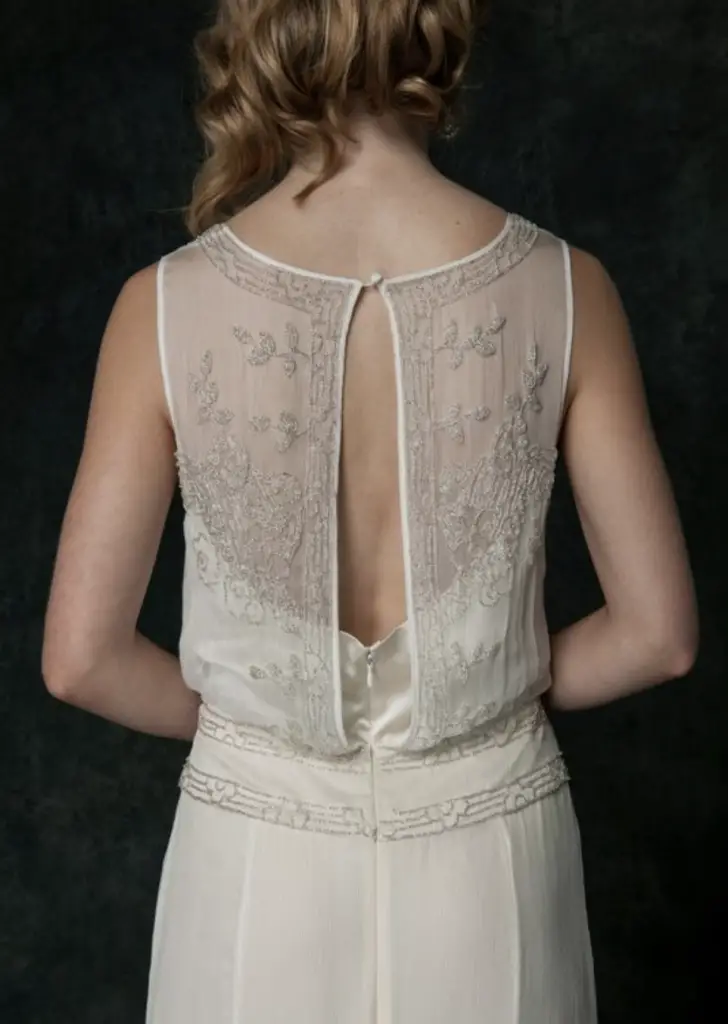 Lace or a beaded fabric are two options you should definitely consider if you want to wear a genuine 20's inspired wedding dress.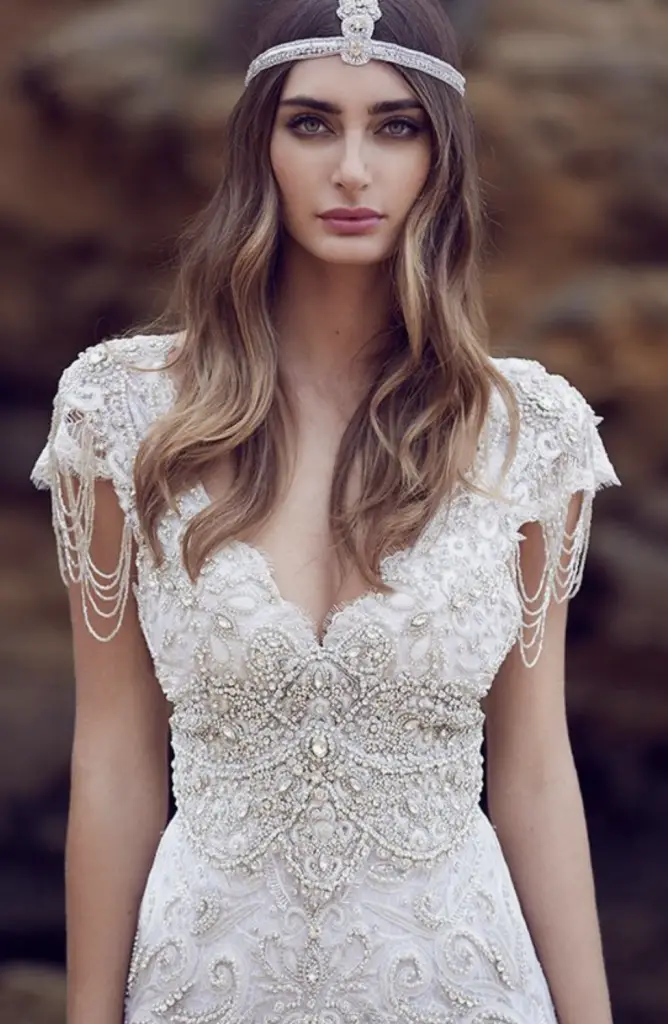 Remember that this era is called the "roaring 20's" because a huge economic growth emerged in the US and Western Europe, and that can only mean one thing: fancy and expensive fabrics were available for almost everyone. That's why wearing a simple crepe or peau-de-soie simply won't do.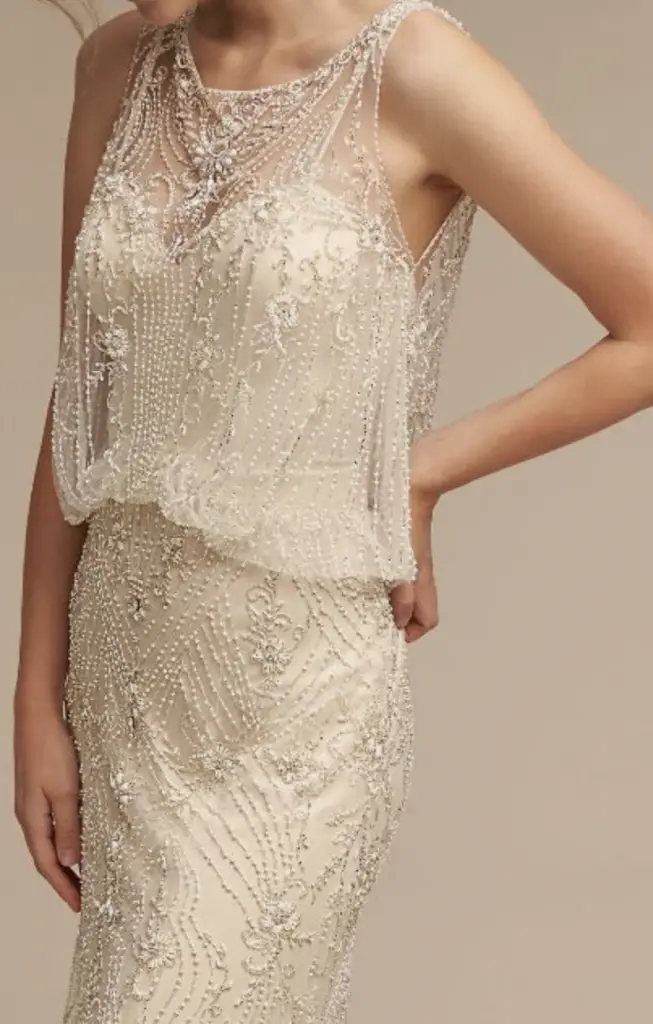 Lace, lace, lace. And fringes!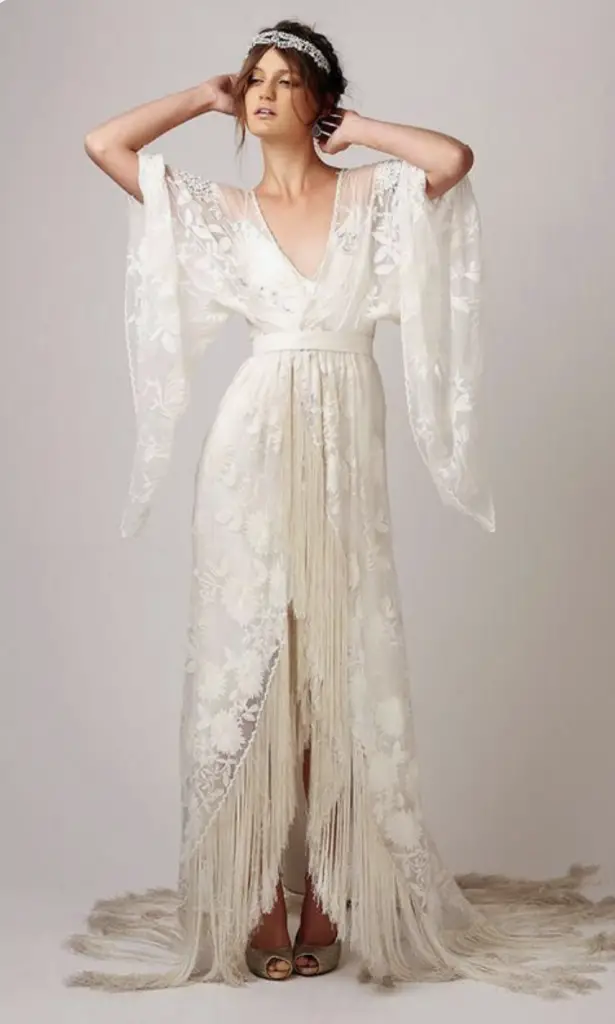 Pearls are another thing to consider including on your 20s inspired bridal gown. Whether as dress appliqués, accessories o hairstyle details, pearls will give you a vintage but sophisticated look worthy of the 1920s fashion.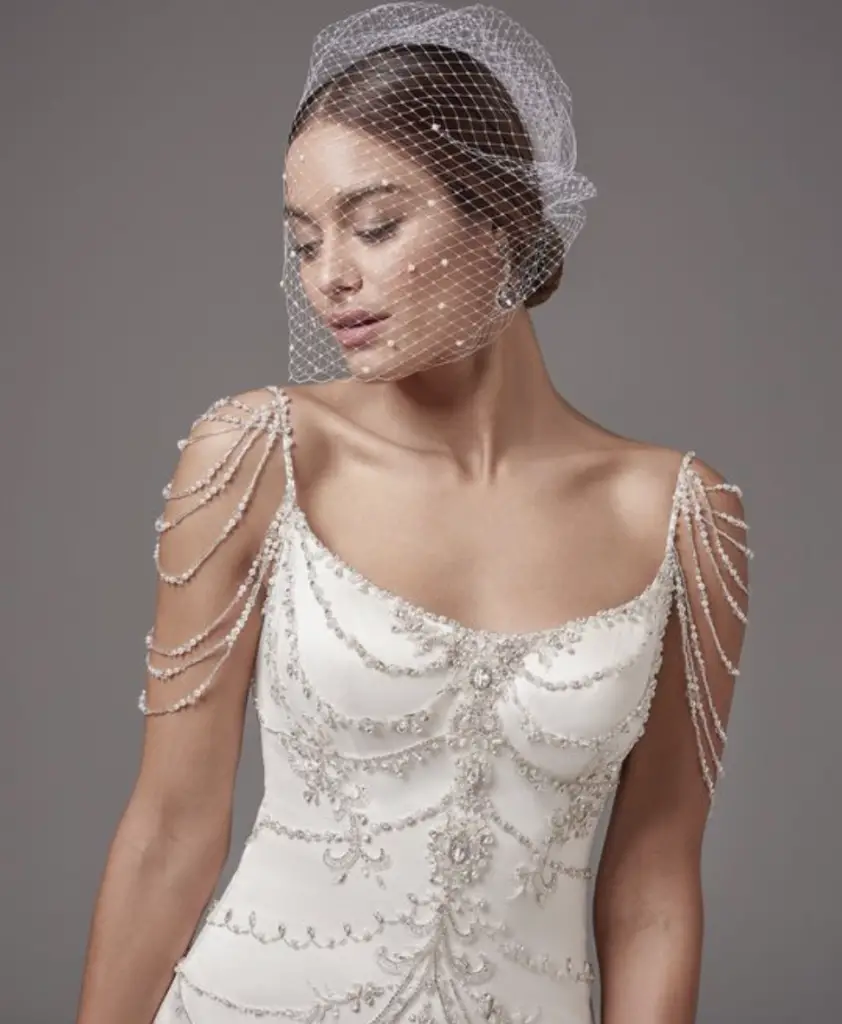 If you really want to wear a statement and unique bridal look, then over-the-elbow gloves will definitely do the trick. Pair it with fringes, beads, headbands, and red lipstick and you'll be more than ready to walk down the aisle: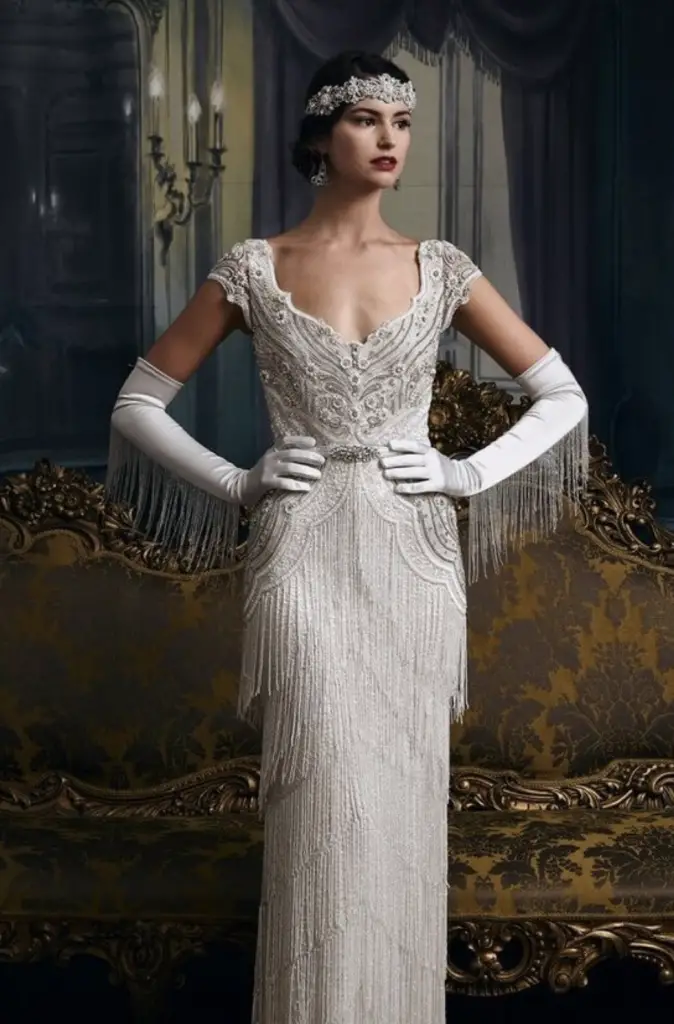 Wrap up:
Wedding dresses are, most of the time, a once-in-a-lifetime experience, that's why choosing yours carefully is a must. Sometimes, looking back at the most fashionable moments in history can give us an idea of what we want or the things we want to include in our gown.
These 1920 wedding dresses have it all: chic accessories, a comfortable silhouette and a unique style that will make you look stunning on your special day.
Whether you're planning a 20 inspired wedding or are simply looking for options for your dress, come back to this article any time you feel like getting inspired.