The denim jacket is a basic staple that can be worn in all four seasons of a year. In open and mild seasons like spring and autumn, this can be worn as a jacket to layer up—in winter to brave the weather—and in summer, you can pull it off in air-conditioned spaces. It will never let its wearer down.
Check 10 Best Denim Jacket List to buy!
This street style denim jacket looks too classy, could not help putting it here again.▼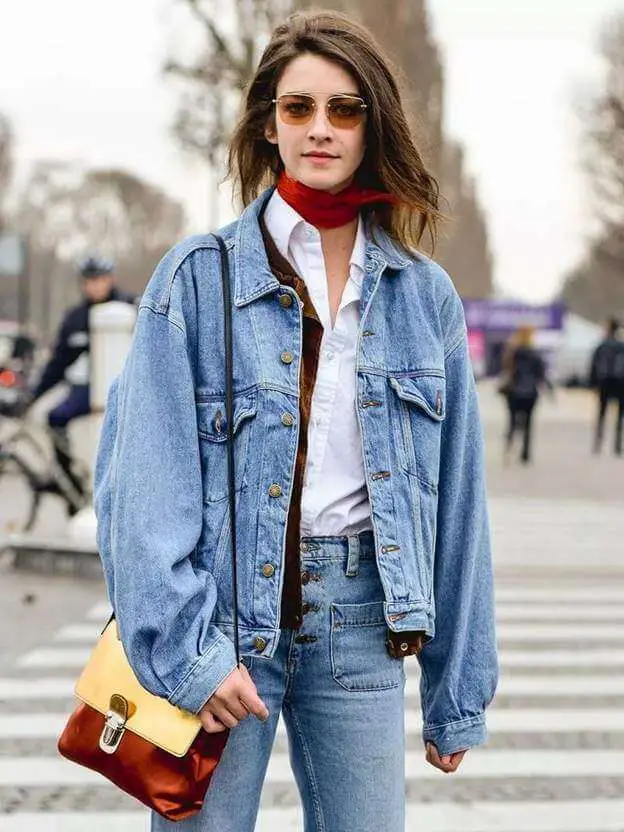 The only shortcoming of a denim jacket is the ratio of hitting around the shirts. When opened on the front, you can show off the innerwear. Check out the images, it looks cool, when paired with both black and white casual tee. ▼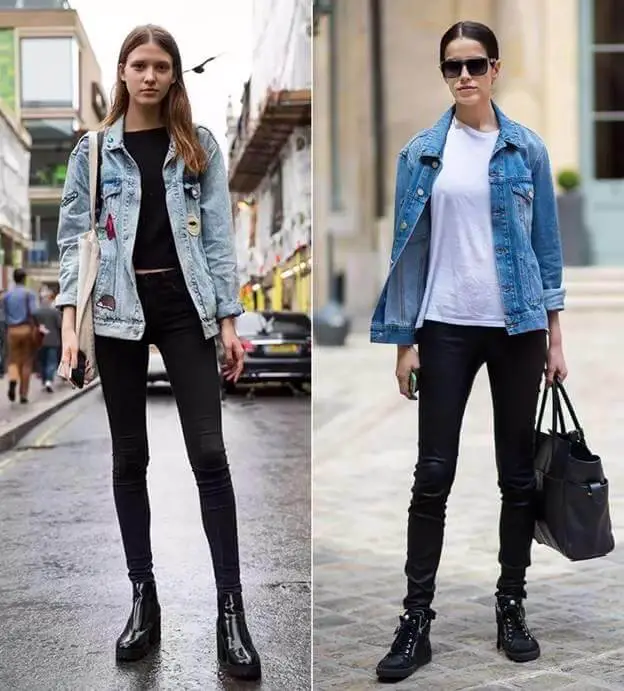 So how can one wear a denim jacket to make it unique? My suggestion is to play tricks by layering it over some amazing colors.
Adding colors such as red, pink, green, yellow, etc. gives a fashionable look altogether ~▼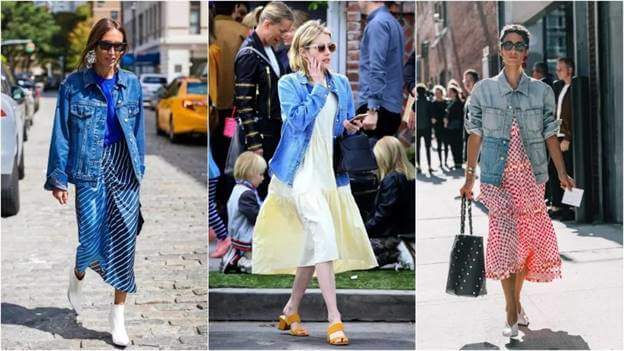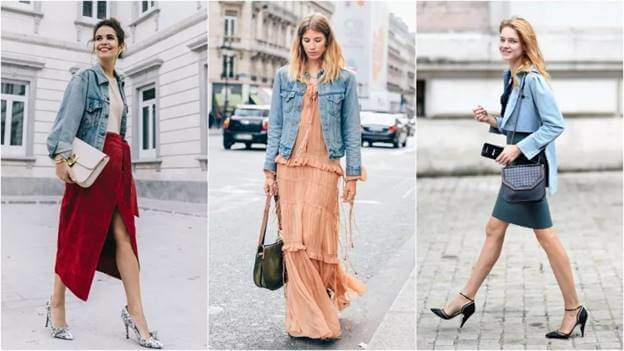 Especially in the romantic season of spring, seeing such lively colors, gives a soothing experience even to the spectators.
Come on and pick up the denim jacket lost in your closet today, and think about how to make the denim jacket work with different colors:
What Colors to Wear with Denim Jackets?
Red + Cowboy Blue
If you want to rely on a denim jacket to become the brightest of the crowd, think of red. The combo of red and blue is not new. It looks great to eyes and adds a retro appeal as well. One of the easiest tricks to achieve in the spring is to wear a red sweater underneath a denim jacket. Not only does it have a strong visual impact, but the brightening effect is also great. The large red color is very popular these days.▼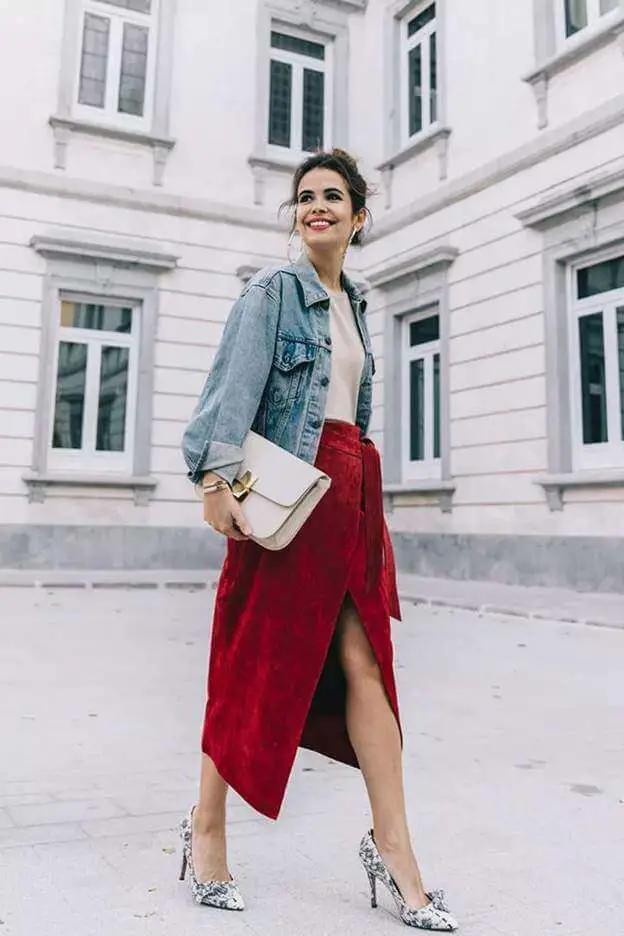 If you don't like this much red, just opt for a dark red sweater as innerwear. Even if you just reveal your red collar and sleeves, you can grab the attention. ▼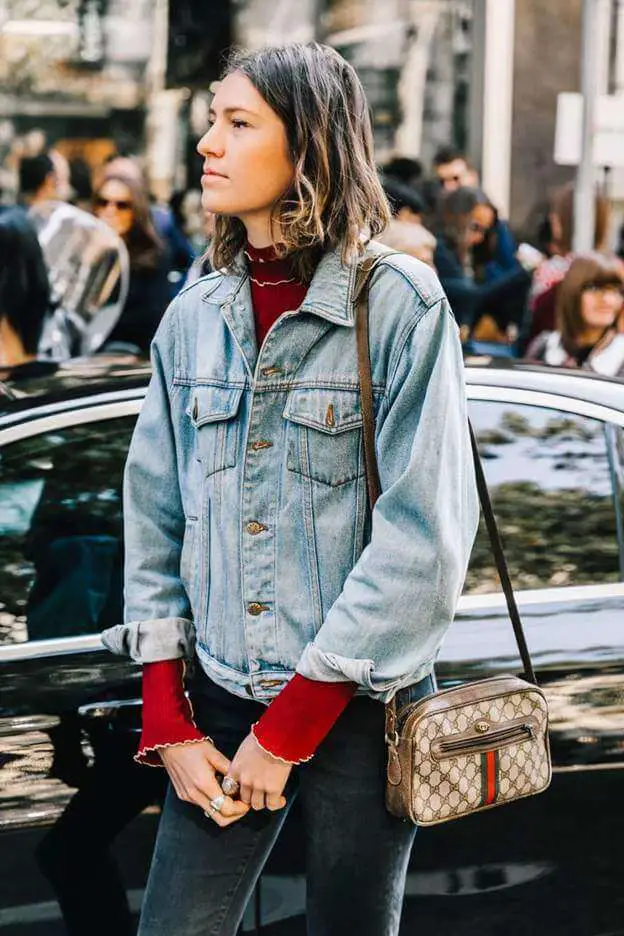 For winter follow Saray Martín, the Spanish blogger, see how she simply stacked the denim jacket and red sweater in the oversize windbreaker. ▼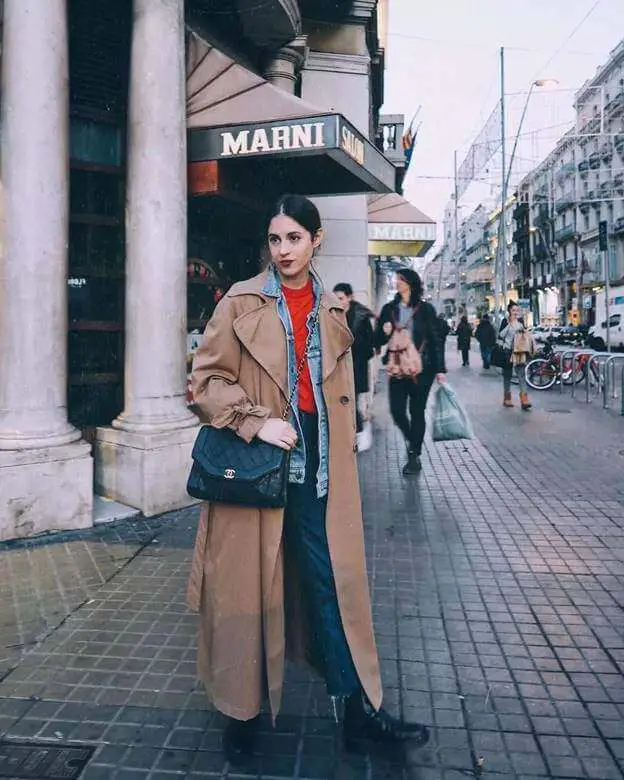 For spring, I would personally recommend you to wear a red dress with a denim jacket. Whether it is traveling or dating, this combination is very eye-catching. ▼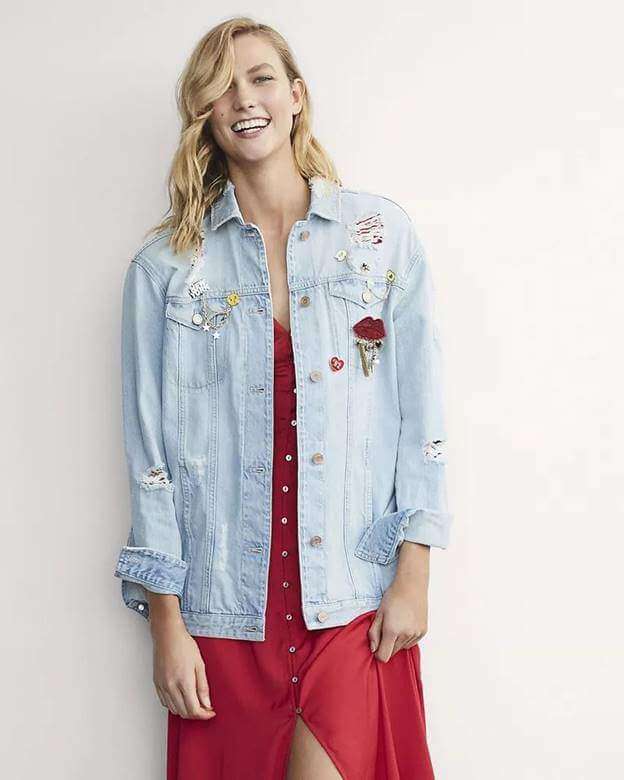 Red print dresses and denim are also perfect matches. So, all the pretty and fashionably advanced girls must look for light or dark denim jacket to layer up the floral outfit. ▼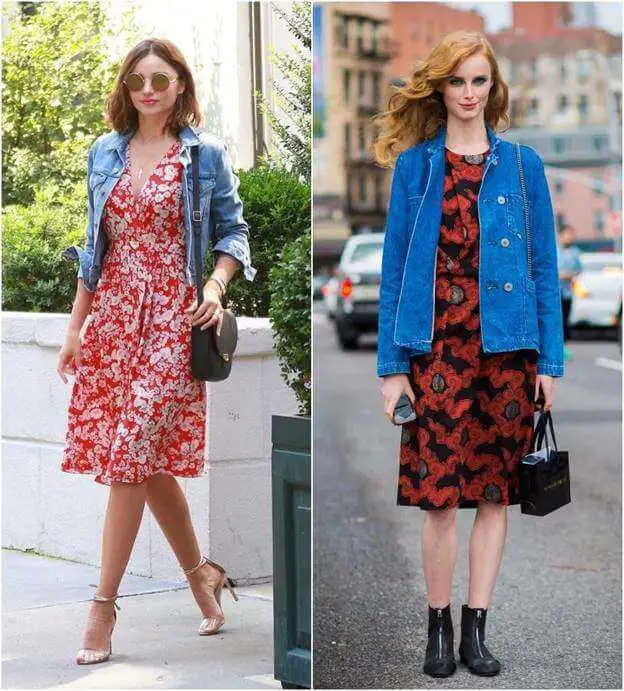 Check out this fashion diva who also tried this style. This style seems suitable for all occasions, also for dating. How about the red embroidery elements on denim jacket? Paired with red dress, it can be a beautiful pick. ▼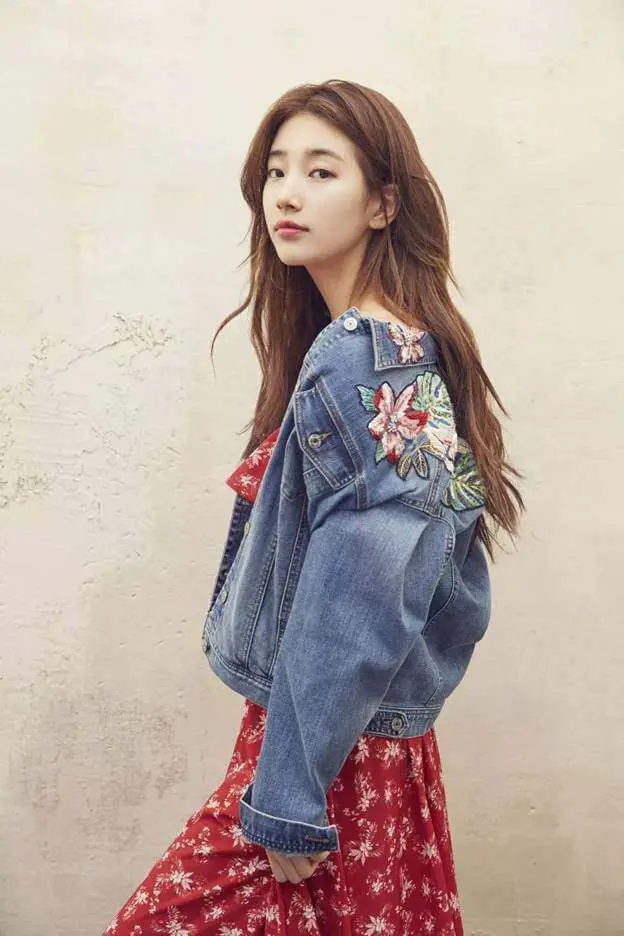 Put on a straw hat and hold a bamboo basket.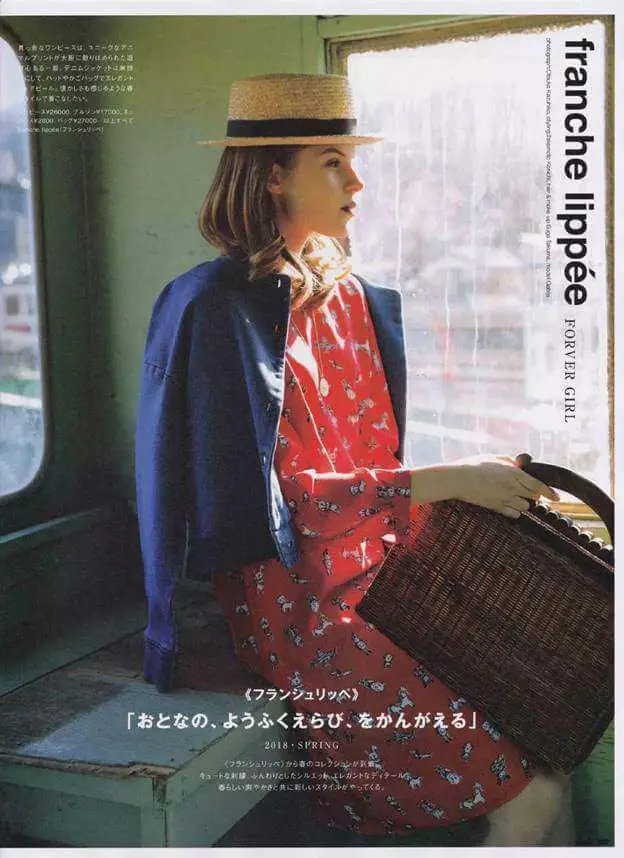 Adding a little white to the red dress is even more refreshing. ▼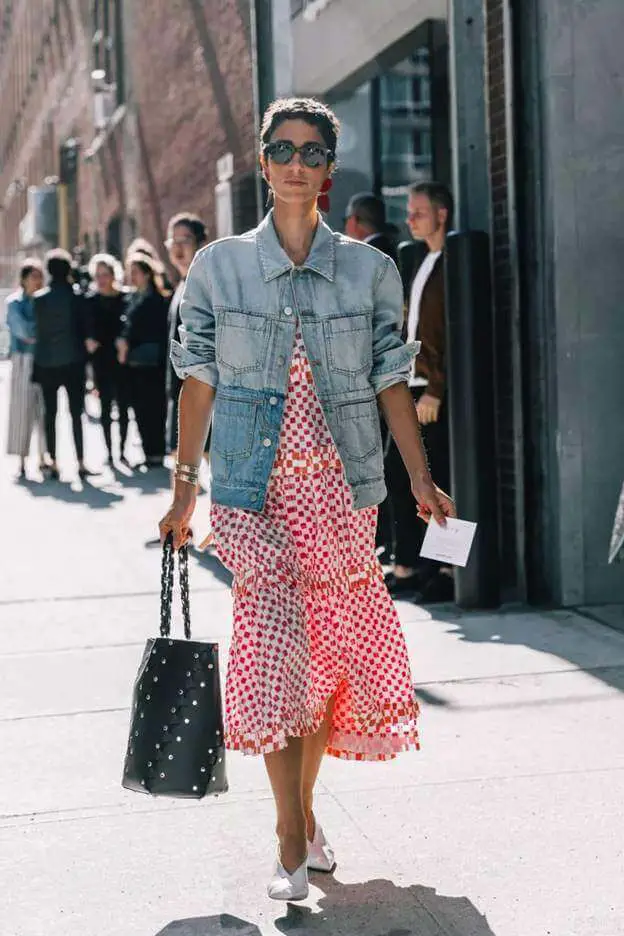 That's right, last year's checkered skirt, which became a very hot trend, hasn't faded yet. When paired with a denim jacket, you are surely going to get noticed. ▼
If you want to wear a playful look, you can choose a skirt style, team it up with a white T-shirt to get a refreshing look~ ▼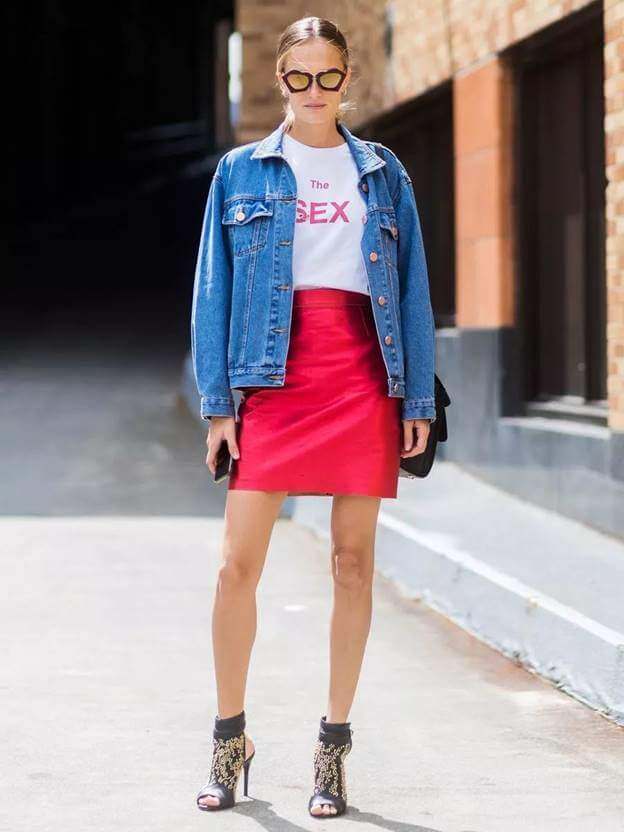 There is something alluring about red. Even a small hint of red can create the spark. Even your fashion accessories can be utilized to get the desired look. For example, back a red bag, just like in the image below.~ ▼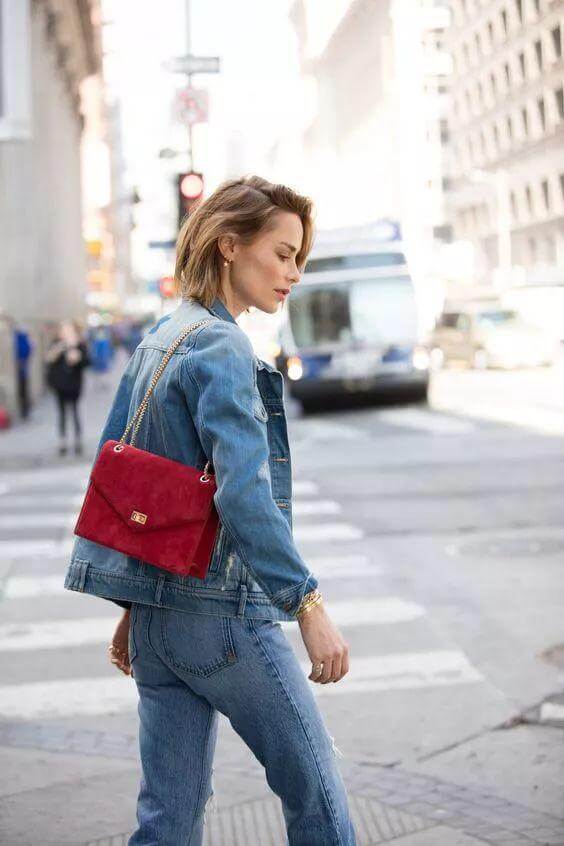 How about bringing in a red silk scarf to get that sensational feeling? Pairing silk red scarf and denim jacket promises glamour and elegance at a time. ▼
Yellow + Cowboy Blue Denim
Cowboy style blue denim offers a simple and low-key appeal. Because of its light shade, it might seem boring or dull to many. I have got the solution! Teaming it up with some vibrantly hued outfit can really uplift the whole look. And if it is yellow, things become even special.
Many people do not dare to wear yellow, because it is color with not too many fans of it and it is obviously yellow … but I am pretty sure that combining yellow with blue denim, brings about a combo that would suit the women of all ages and skin tone.
This lady's skin color is not too white, even she is looking adorable~▼
The mix of denim jacket + yellow dress + flat white shoes seems photogenic and stylish. ▼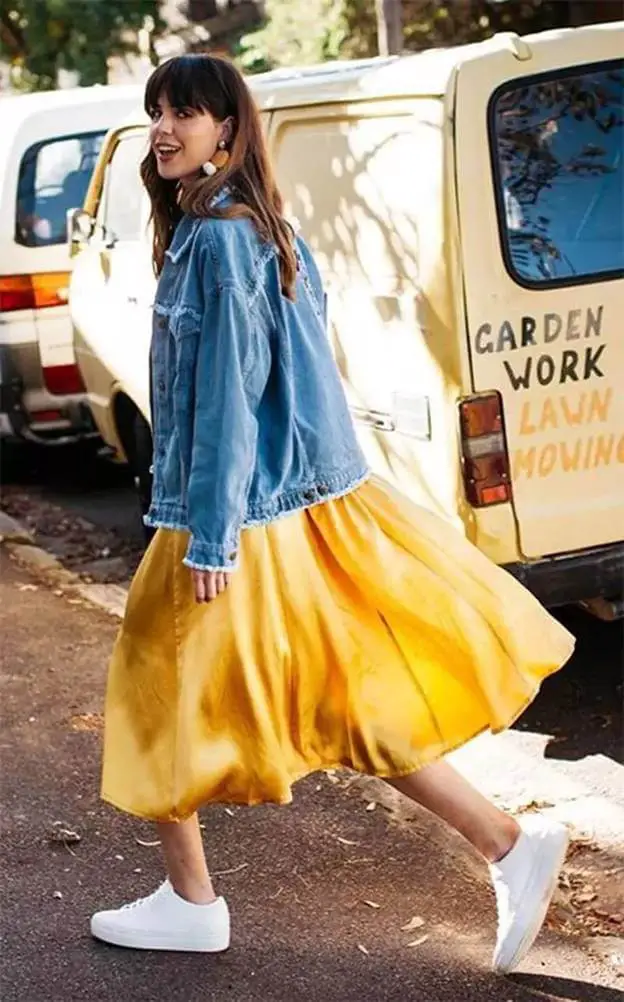 Wearing just a yellow shirt might not set off the skin tone, but with a light-colored denim jacket, this problem is easily solved. ▼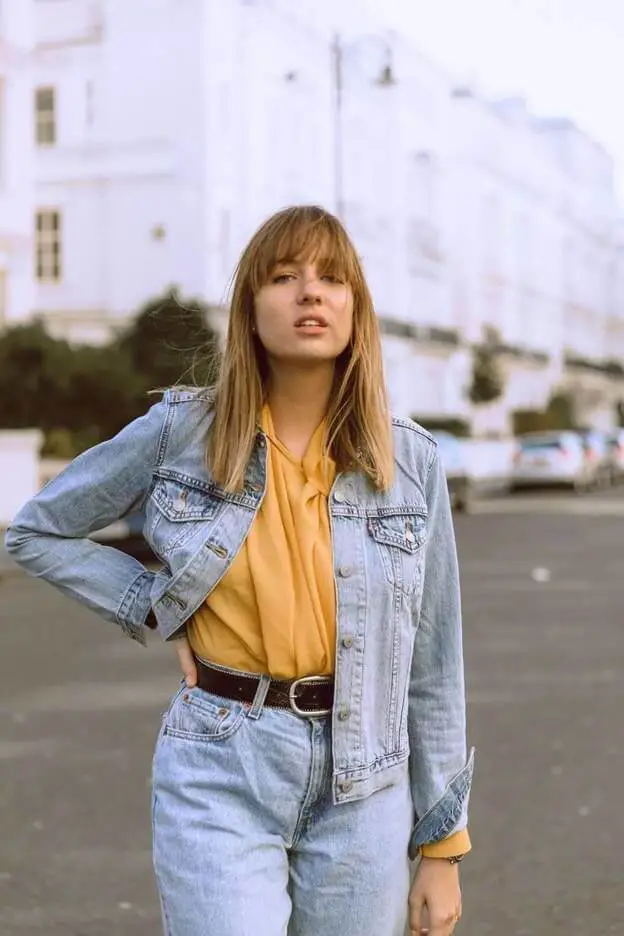 This yellow T-shirt is a bit like fluorescent yellow, too bright. But adding blue denim shade neutralizes the brightness and gives an easy-on-eyes look. ▼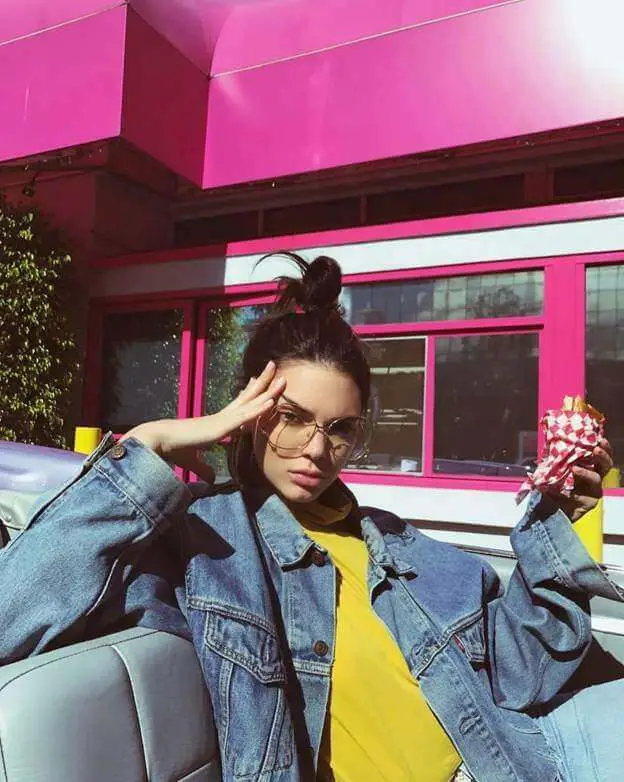 In winter, when it is snowing outside, opt for a denim jacket with fur detailing on the collar and inside. Wear a yellow sweater as innerwear and there you go! ▼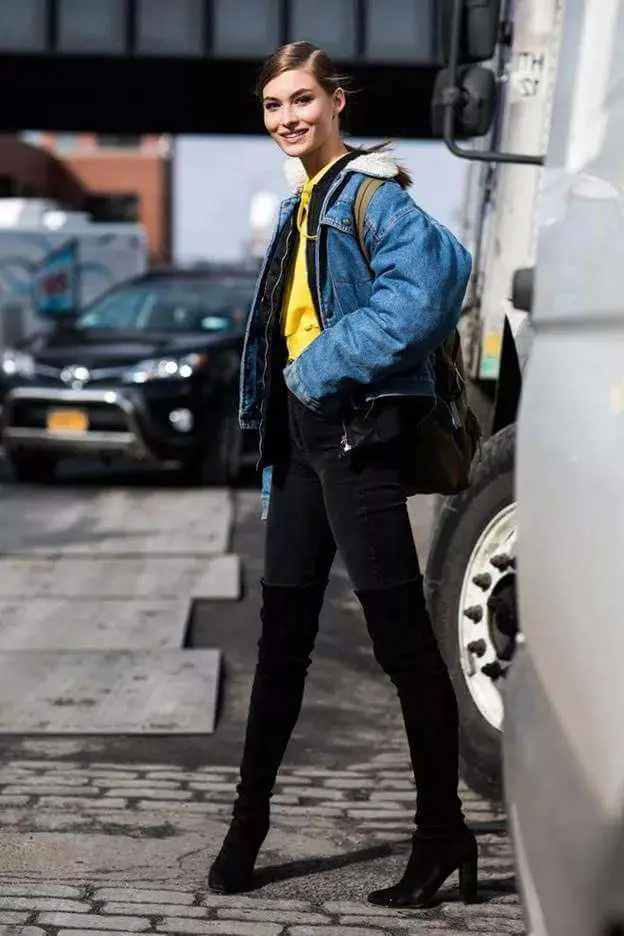 If you do not want yellow to make you look darker, keep the yellow away from your face. For example, use yellow for bottom clothing and not for the top. ▼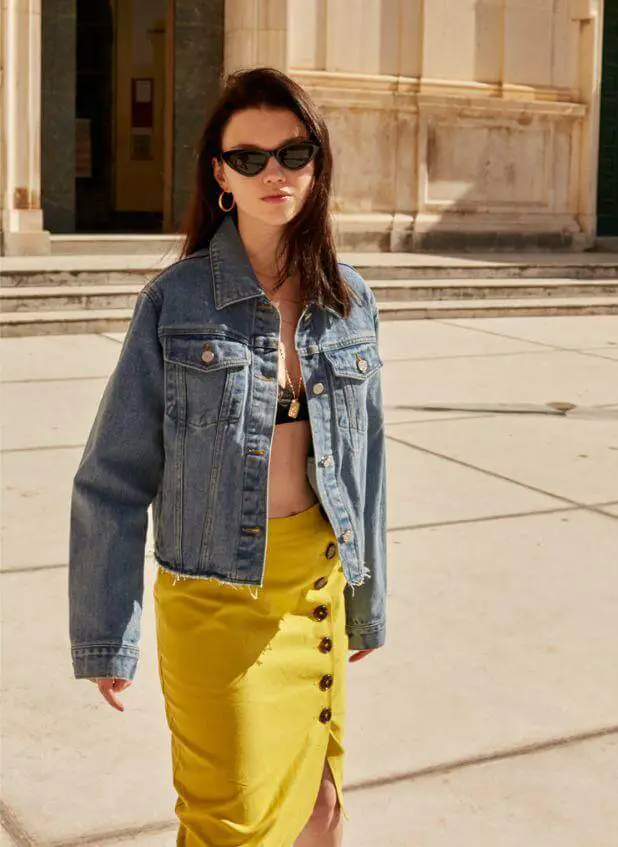 Moreover, as long as the yellow color scheme is selected right, you will look fresh and fair all the time. Check out the girl in the image, is not she looking comfortable? ▼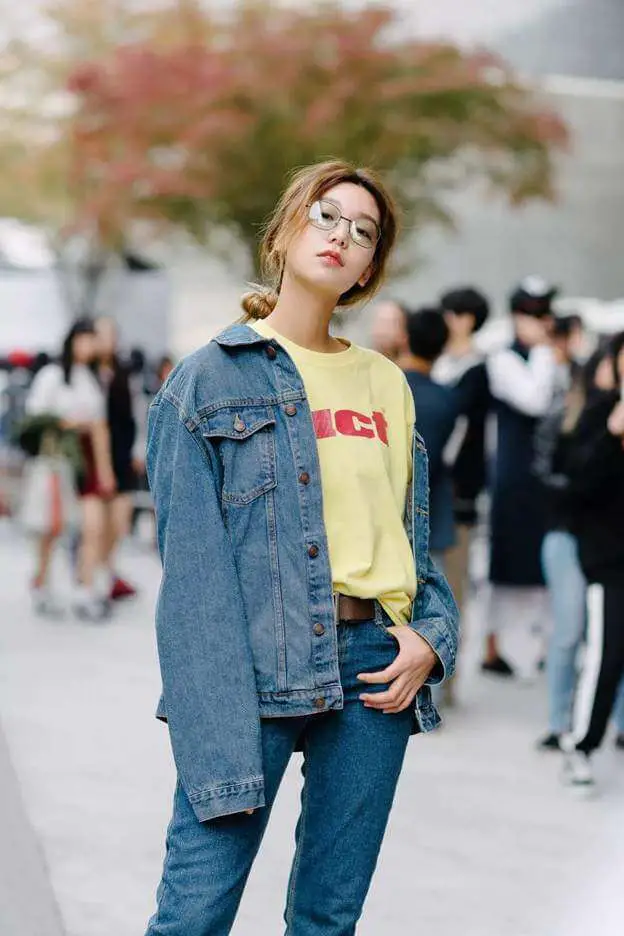 The light-yellow letter printed T-shirt is used for the style, but there is also a deep sense of retro appeal. ▼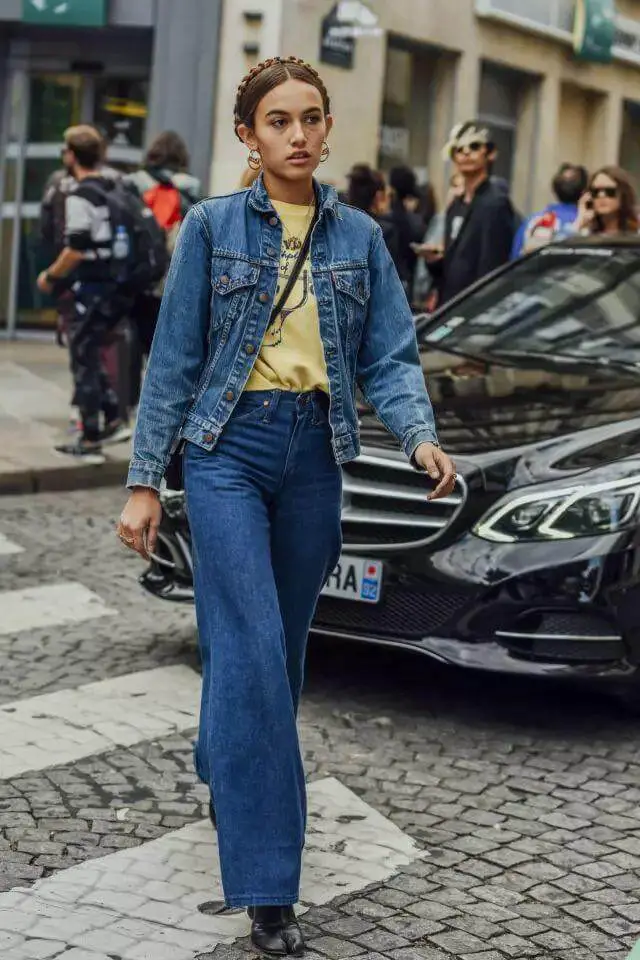 When you can't find a denim jacket, don't be nervous. You can also wear a denim shirt as a jacket. Shoes can also be yellow. Check out Emma Roberts's choices of color. ~▼
Try a printed dress in fresh yellow color which is not just eye-catching; but also reminds you of the freshness of spring. ▼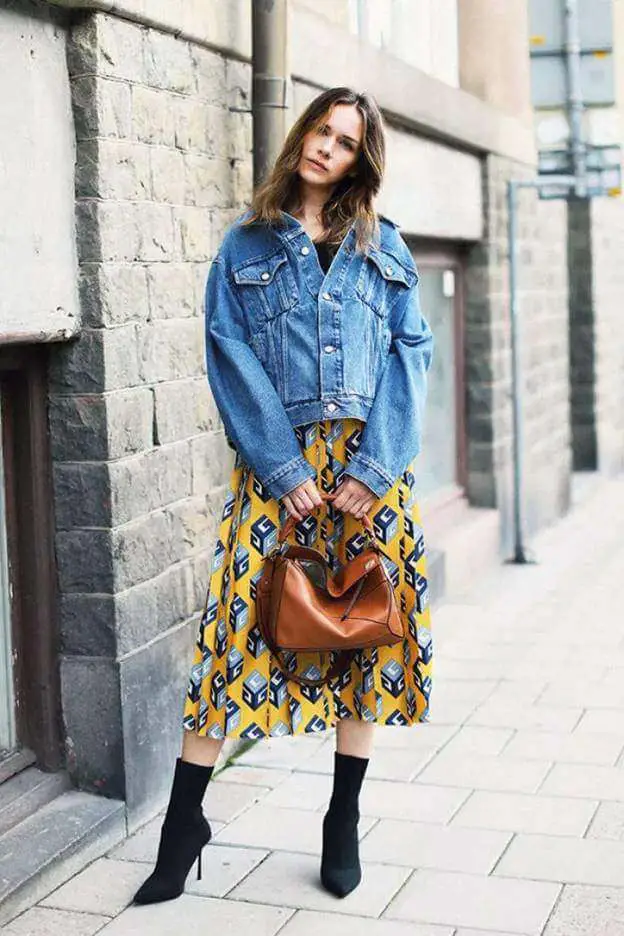 Plaid elements that are always popular, can also be incorporated with denim. ▼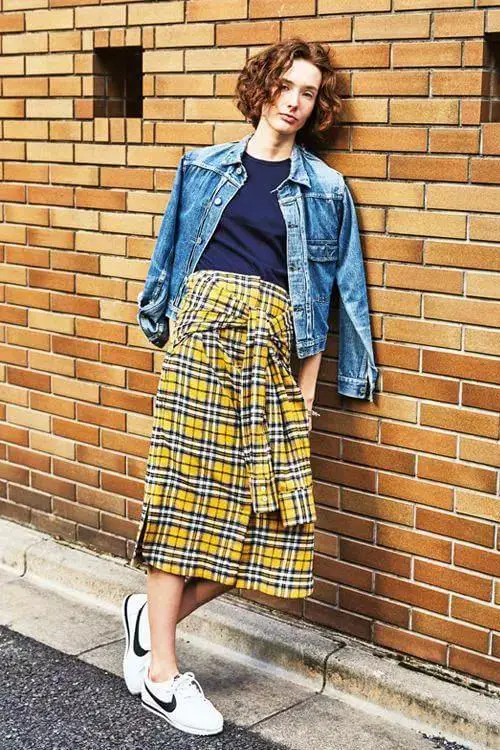 If you do not like this much yellow look, then use a small area of yellow to get into the spotlight. Whatever denim style you pick, accessorize it with captivating yellow bag. ▼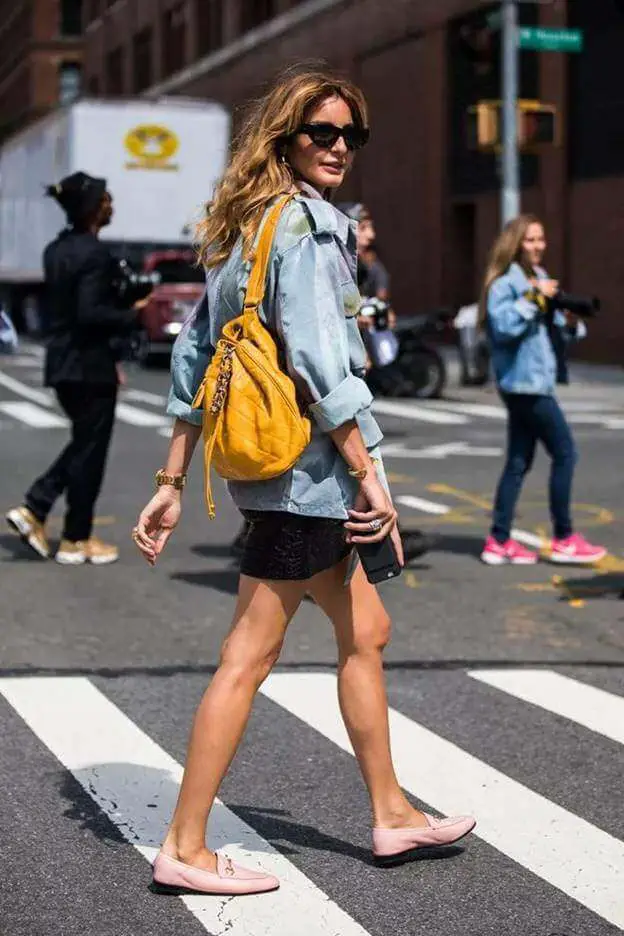 By the way, there is an orange shade that is quite similar to yellow. It can also be matched for a youthful and playful look. Even an orange skirt or dress is a wonderful styling option. ▼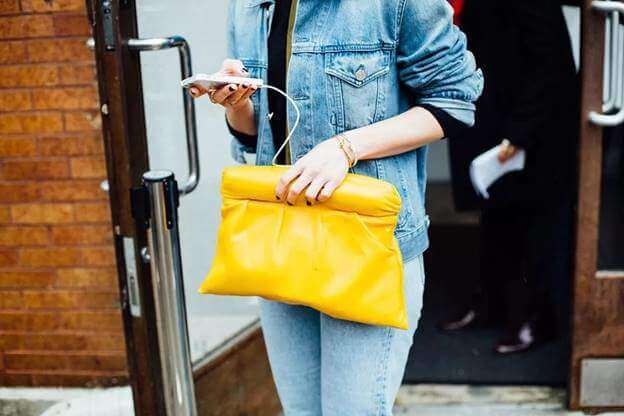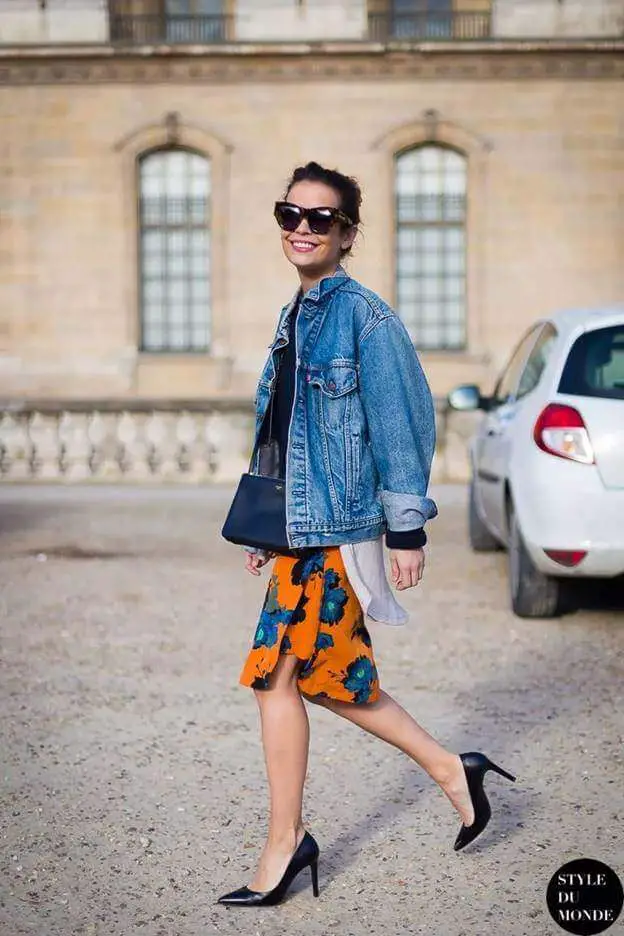 Orange sweater is also an eye-catching single product that looks great with a denim jacket—retro appeal guaranteed. ▼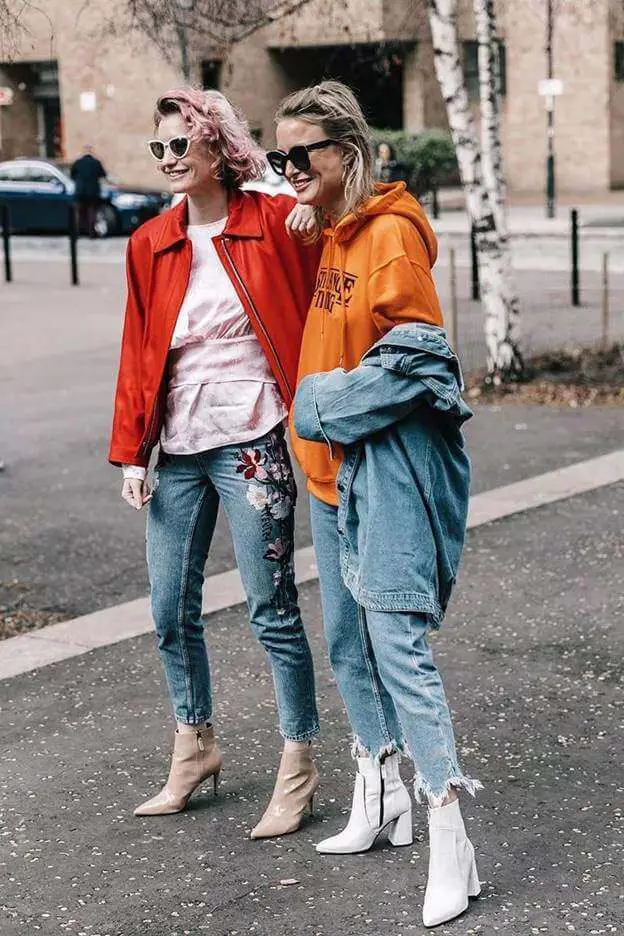 An orange knit hat can bring warmth to the whole body. This guy's style is very exciting. ▼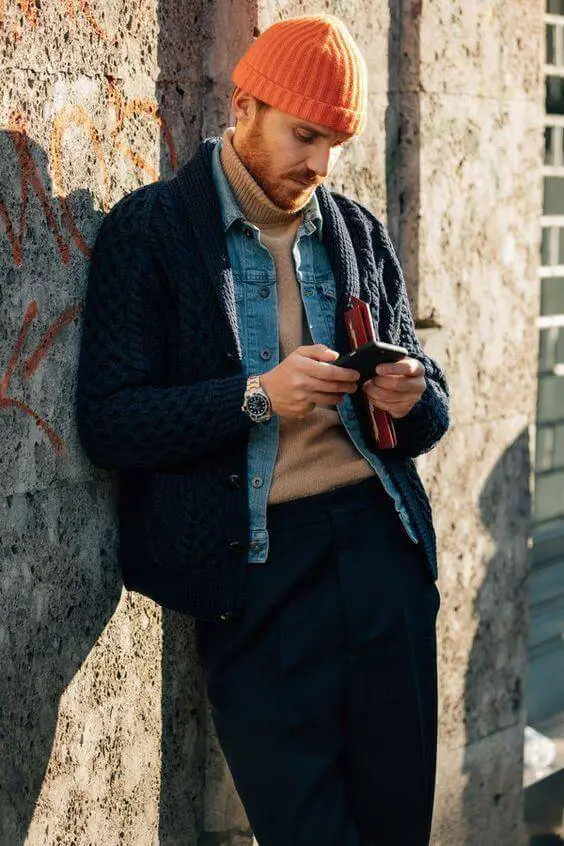 Pink + Denim Blue
When the romantic pink and the cool cowboy blue are mixed together, all you get is a refreshingly youthful look.
Pink innerwear, plus the same color pink hat— retro and chic~ ▼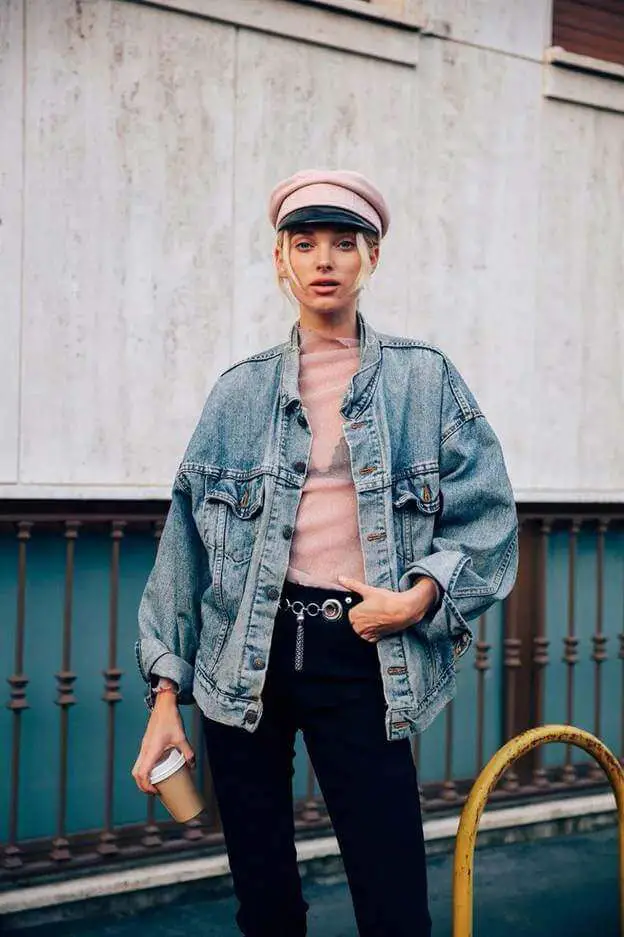 Pair up a dry rose-pink top with a denim jacket, black bottom and black high heel— this style is perfect for mature woman. ▼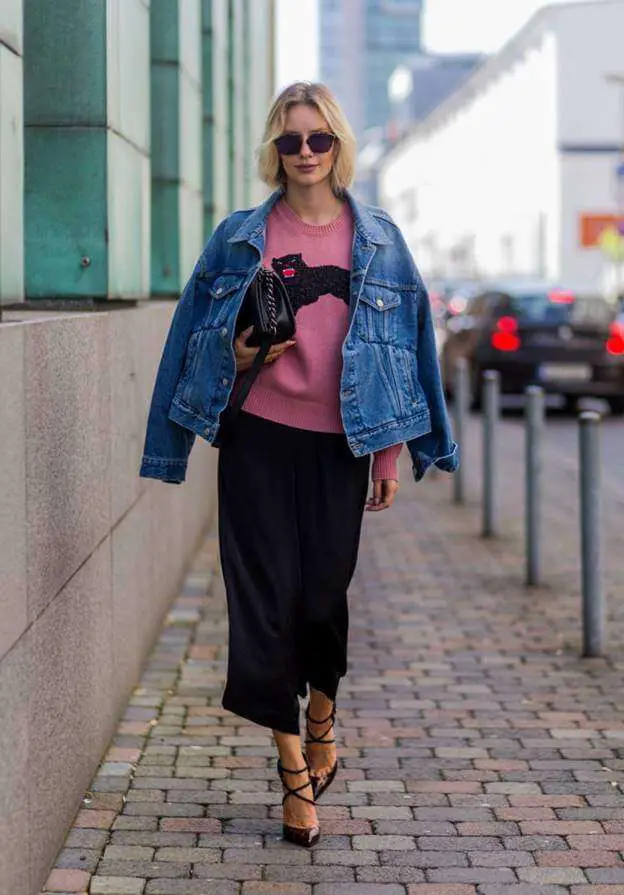 Want to look beautiful, I recommend you to wear a denim jacket with a pink dress, this combination brightens up your complexion.
Prefer a silk material for outfit. Amalgamation of different materials makes the match even more special. Try a pink silk sundress to layer up a denim jacket, because the pink is very light and feminine. ▼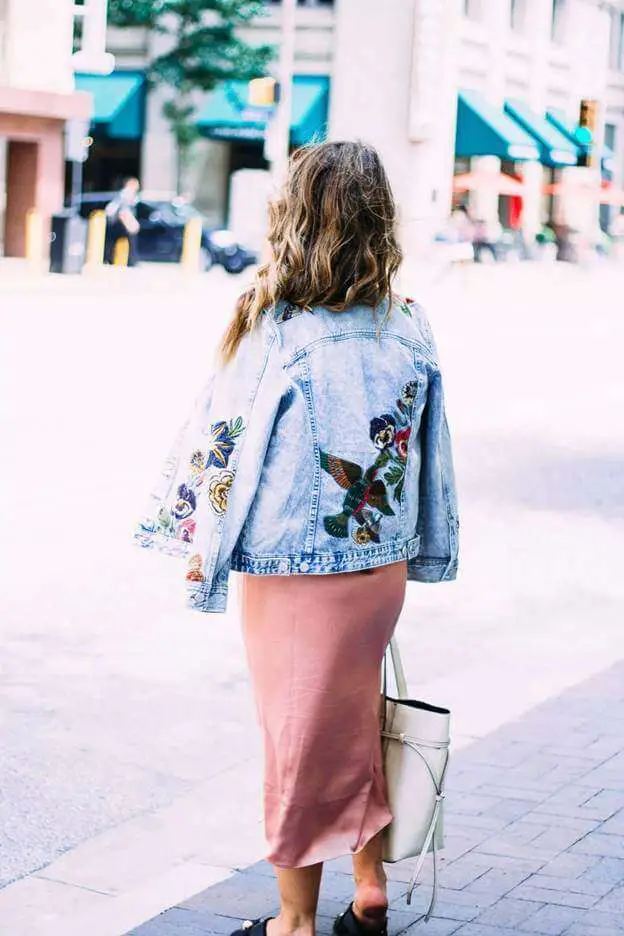 Naked pink dress is very romantic, tall girls like to wear it like a goddess. ▼
This powdered knit dress with beige is very special… ▼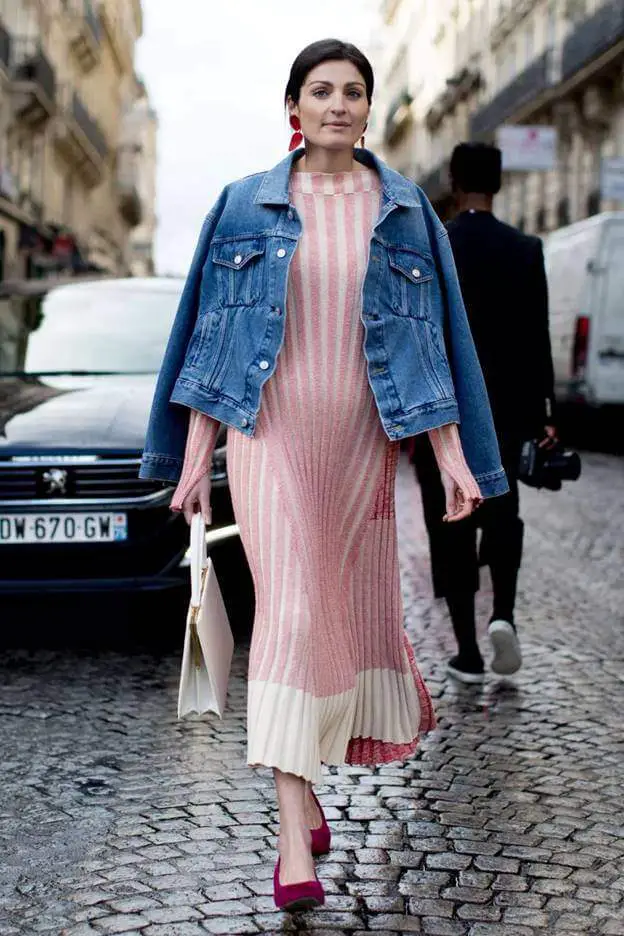 This beautiful and revealing pink and purple dress is paired with a tough denim jacket to suppress the element of vulgarity. ▼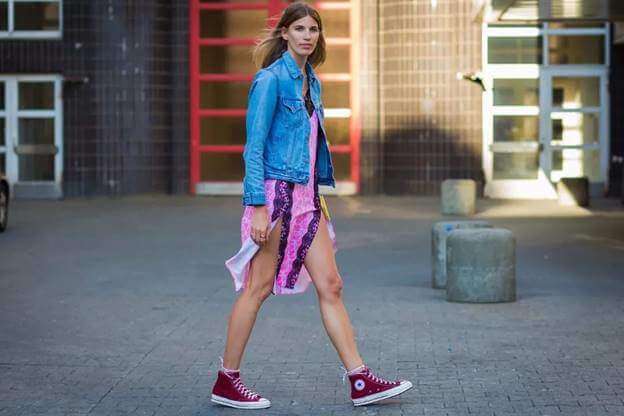 Dolling up the lower body in pink not only makes a style statement, but it also looks soothing to eyes. ▼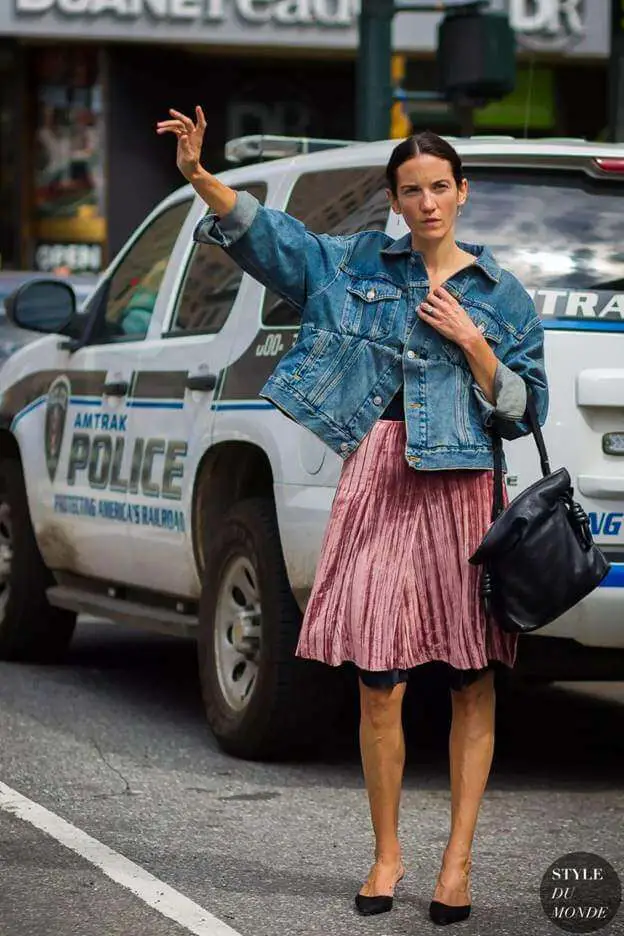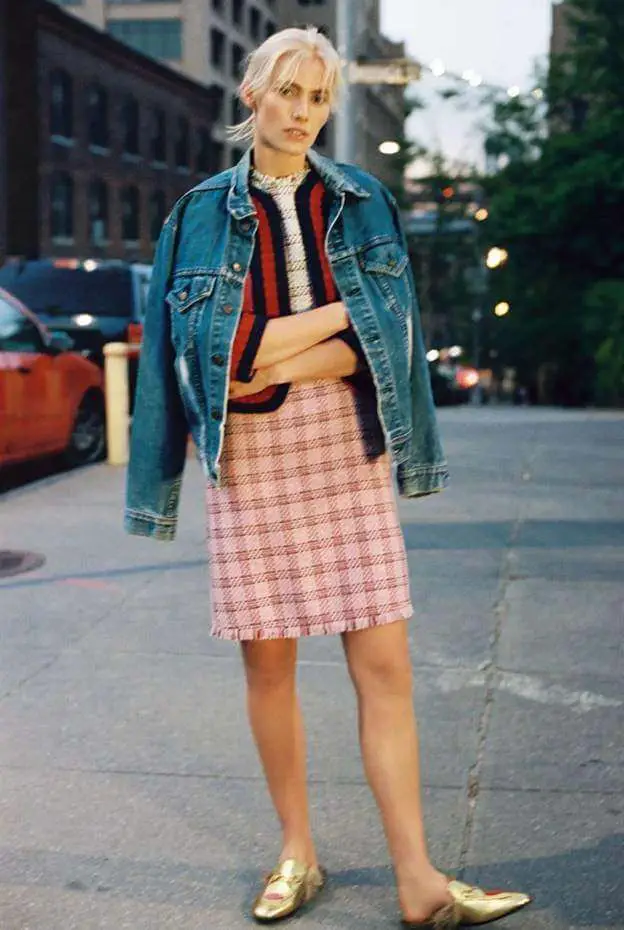 This cowboy jacket with pink wide leg pants is very nice. I just love this style. It looks really warm and textured! ▼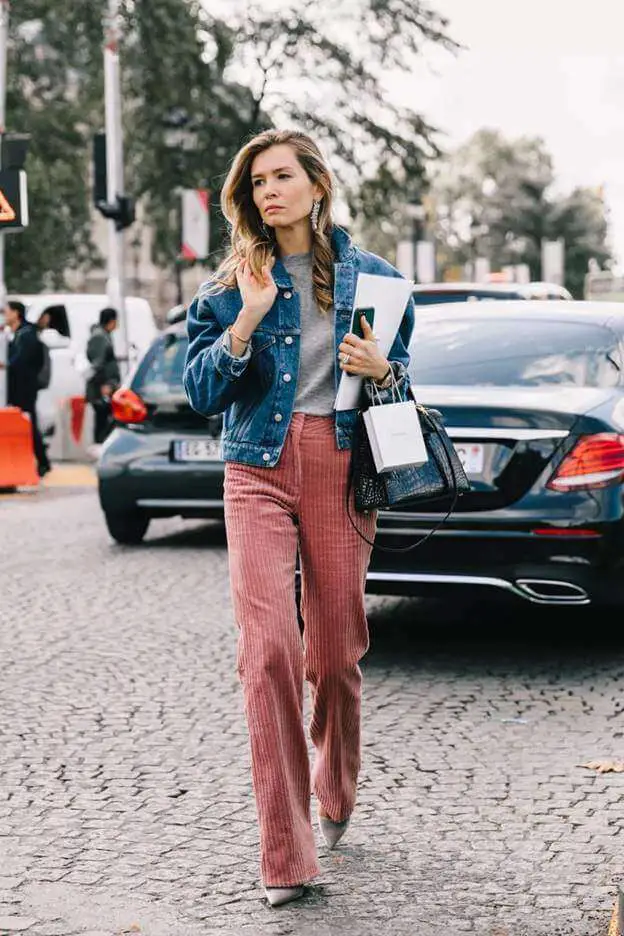 Green + Cowboy Style Blue Denim
Finally, I am going to talk about the blue and green, that I like very much. This set of colors promises a very mature and retro look, you must try this combo as well. ▼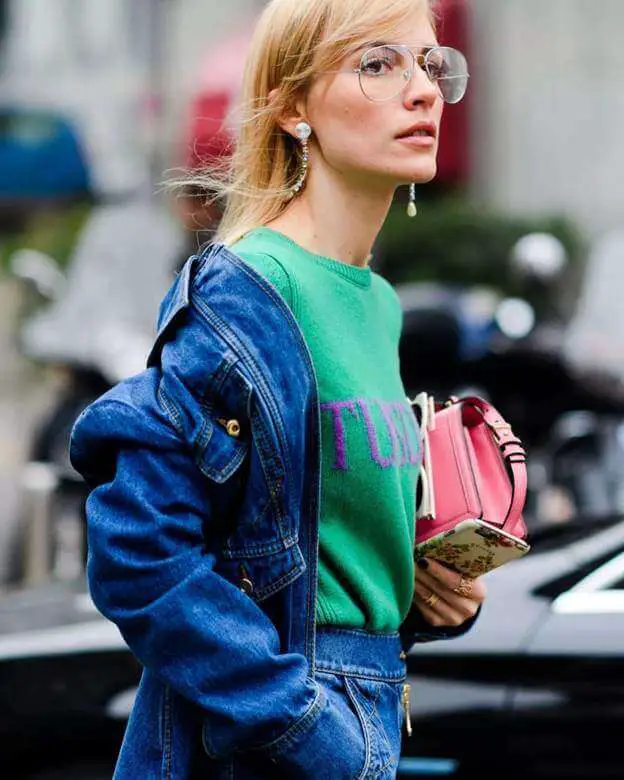 Especially with a green skirt; a touch of low-saturation green would help in highlighting the upper body part. ▼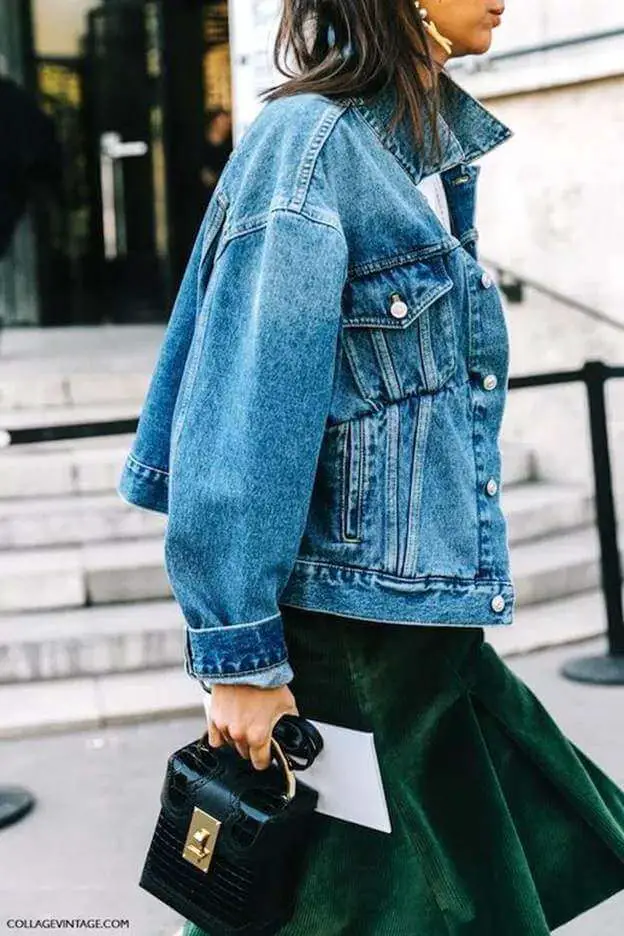 Dark green bag is also very suitable for dark-colored denim material, very retro flair… ▼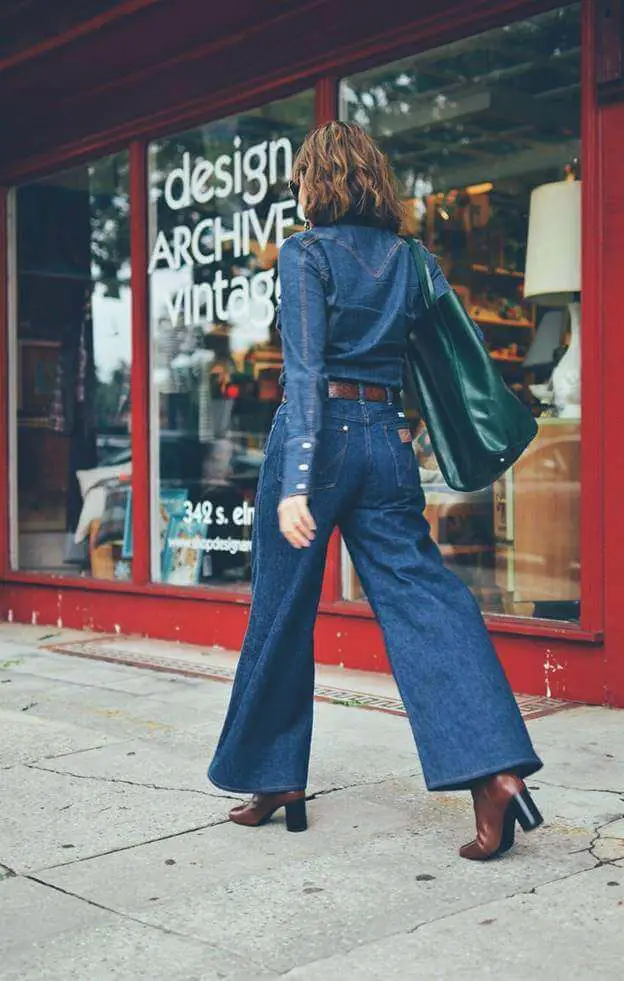 This green skirt has a slight blue hue in it. She deliberately chose a light-colored denim jacket, which creates a visual harmony. ▼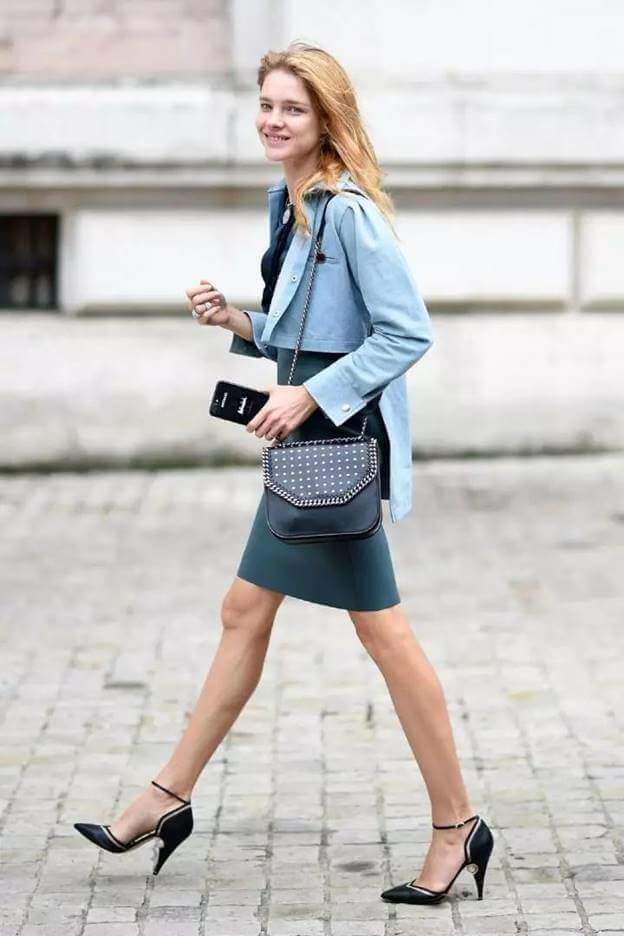 You can also try a deep green floral dress, a kind of pastoral style.~ ▼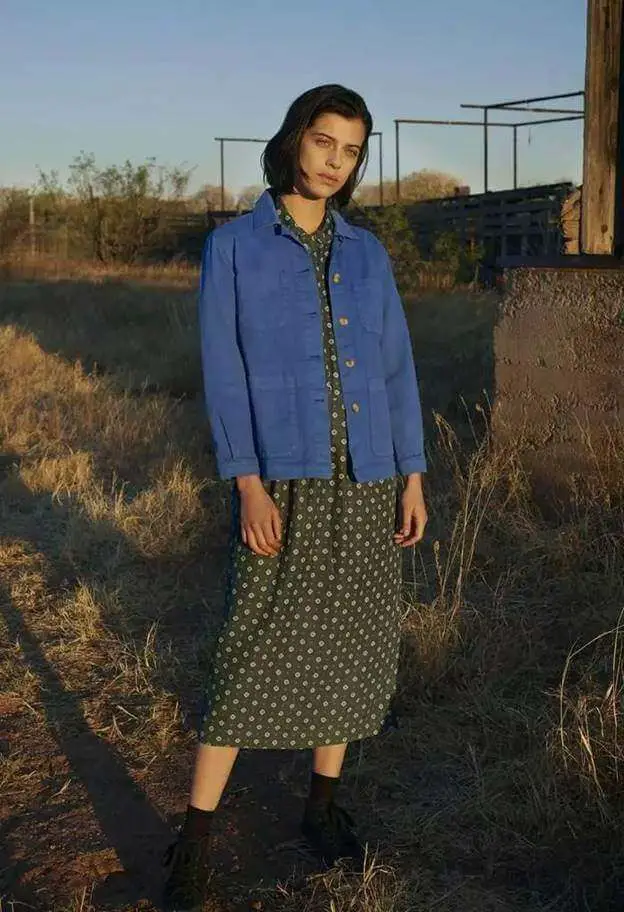 If it is spring and summer, fresh green will look fresher. ▼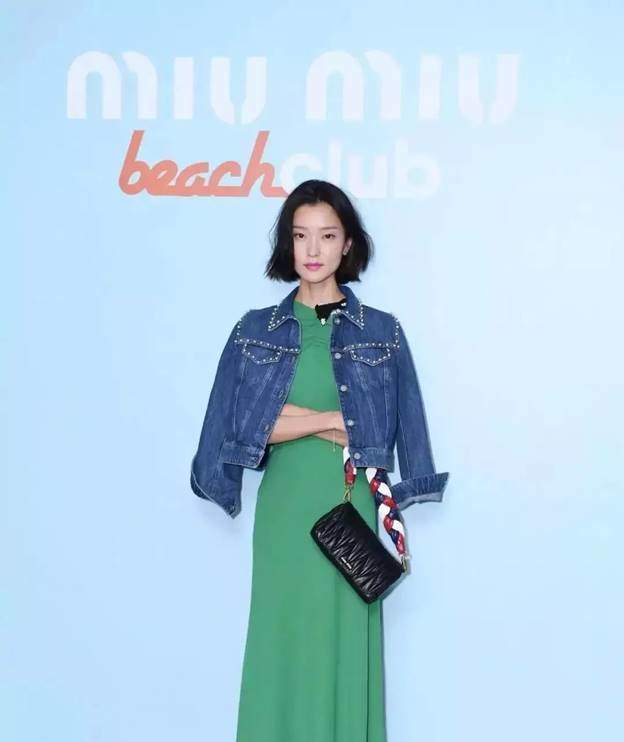 If the denim jacket is dark blue, the overall style will be cooler. Saray Martín not only has a green and white striped T-shirt; but also, a pair of exaggerated red earrings. ▼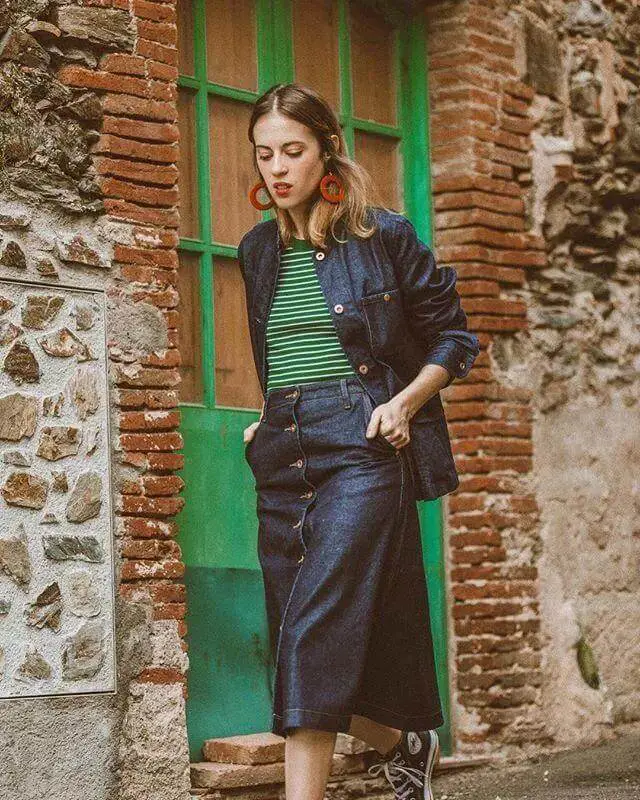 Last year's popular colors were not easy to match alone, and Aimee Song was expert in managing colors. The yellow car in the background is also very eye-catching. ▼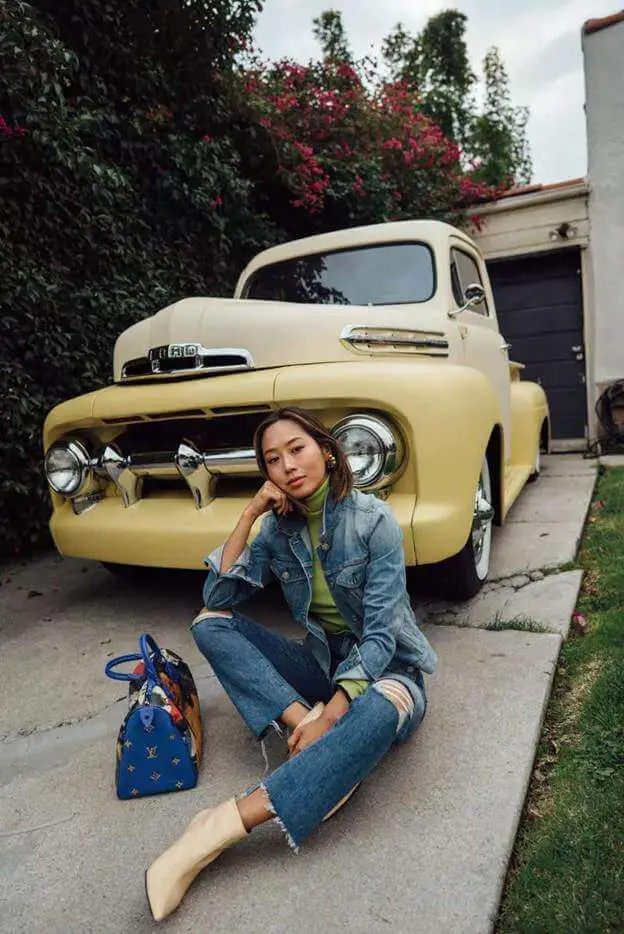 You can also choose a lighter, more low-key Morandi green, nor overly eye-catching neither too cold. It is very suitable for office workers who want a mediocre look without looking too boring. ▼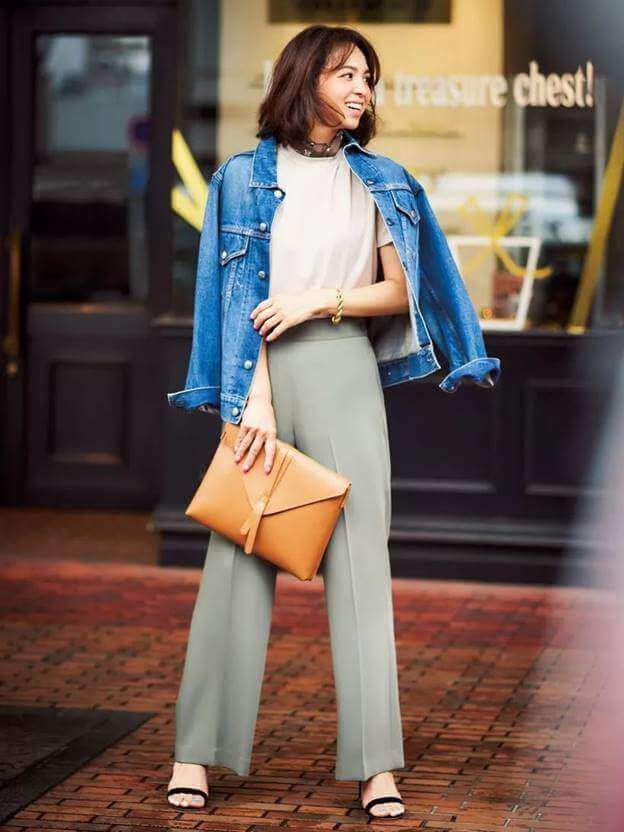 Mint green is the most suitable color for summer, wearing it brightens the skin tone. You can also wear a pair of green satin high heels, it looks really beautiful and bright. ▼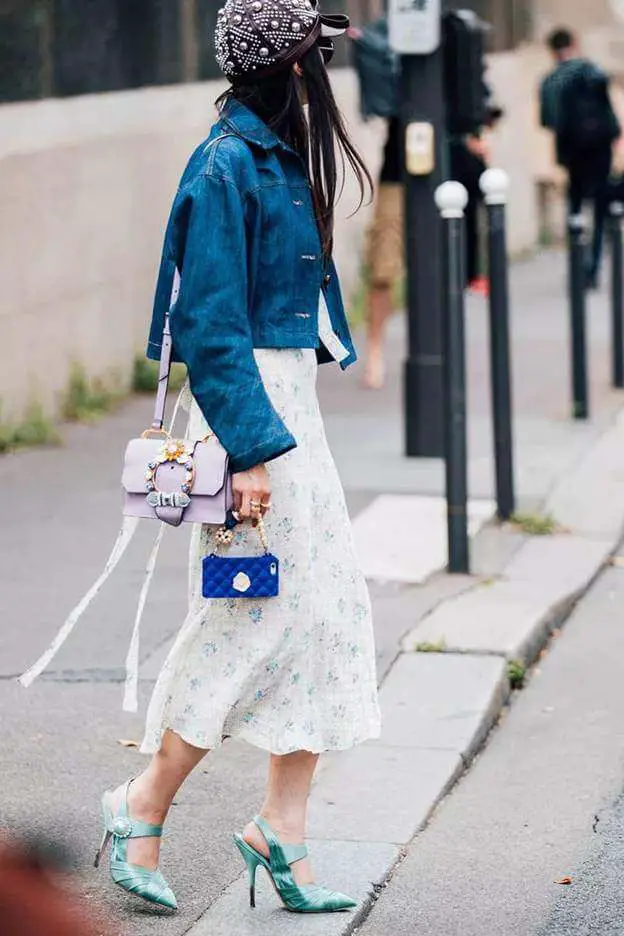 By the way, the combination of blue and green is also suitable for taking pictures. Wearing a denim jacket and you get a green background, don't forget to take a picture~▼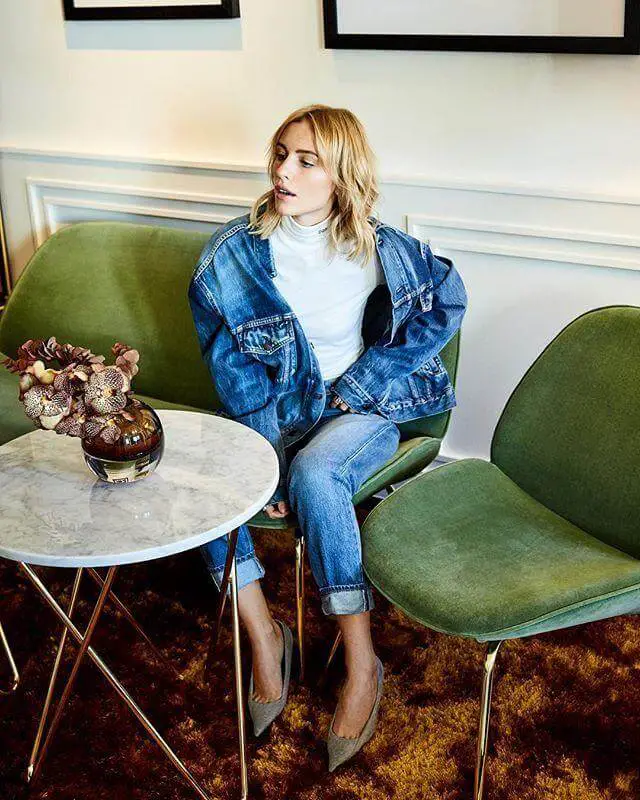 Blue + White + Cowboy Blue
In the end, don't forget to match it with dazzling colors. Deep blue and shallow colors are combined to give you a sense of unity. ▼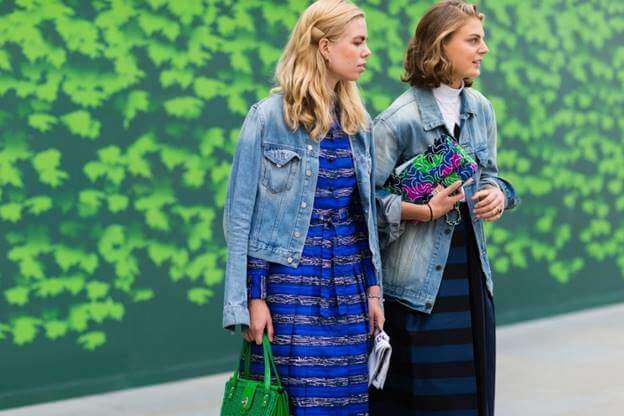 Collision of different materials seems even more impressive.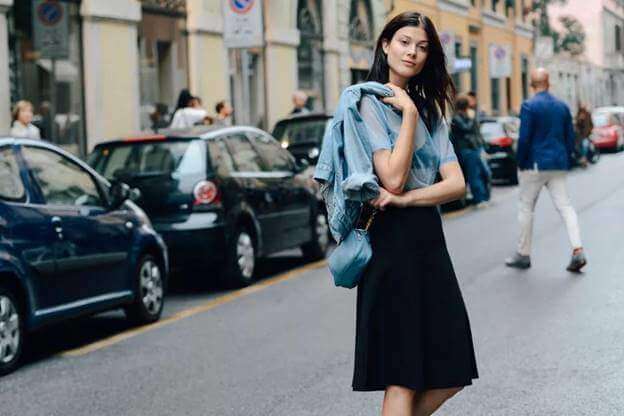 Check out this blue perspective jacket with a rare length…unique and adorable. ▼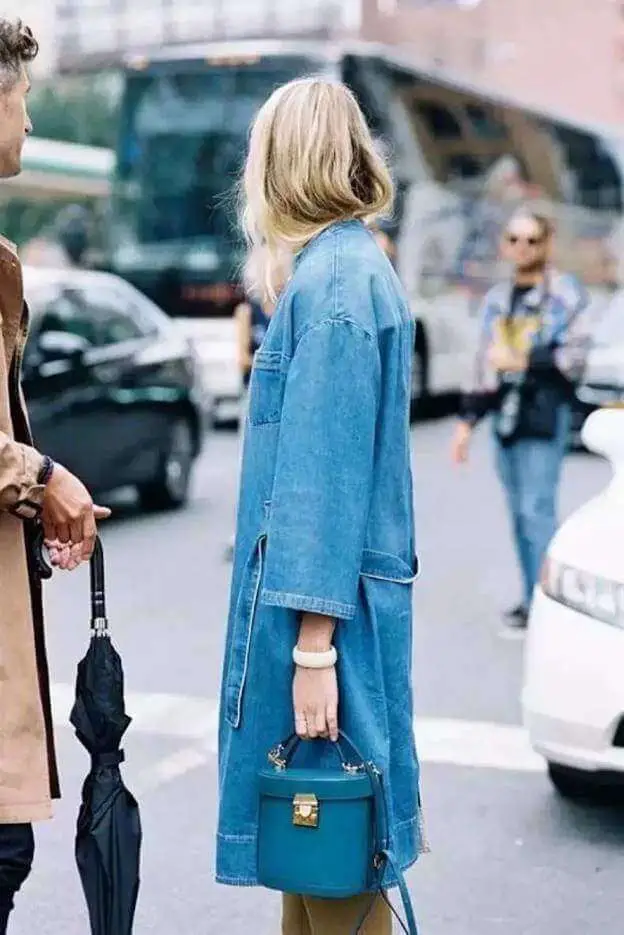 However, the blue color is a bit heavy, adding a little white is perfect, and the whole will be more refreshing. The following style has got the full-body covered in blue, the shoes are still white. ▼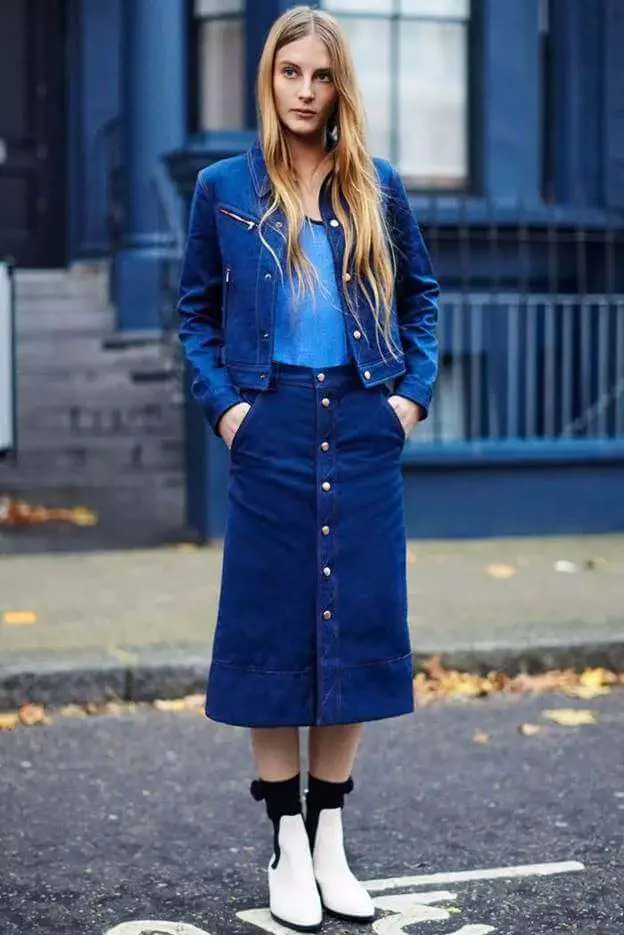 This model has paired up blue fashion accessories (bags and shoes) with a top adorned with black and white stripes. A little white like this is enough. ▼
The larger the white area, the higher the overall freshness will be. This classic street shot is here to prove the claim right. Not just the white tee but the white stripes in the skirt too add more to the overall style of the girl.▼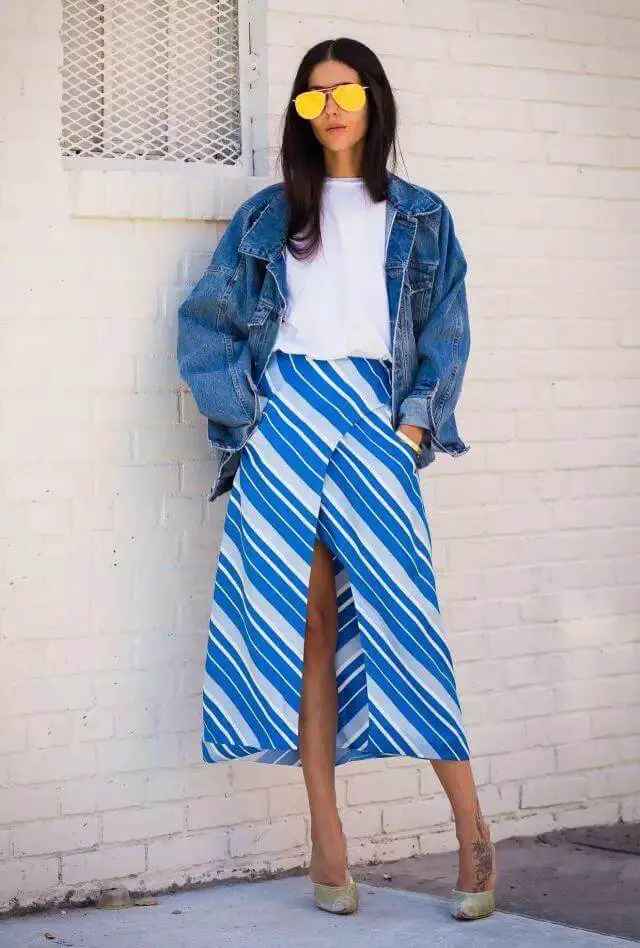 Light blue and white striped item layered up with denim jacket is the real combo to look for. If you pair it with white wide-leg pants, the look becomes fresher. ▼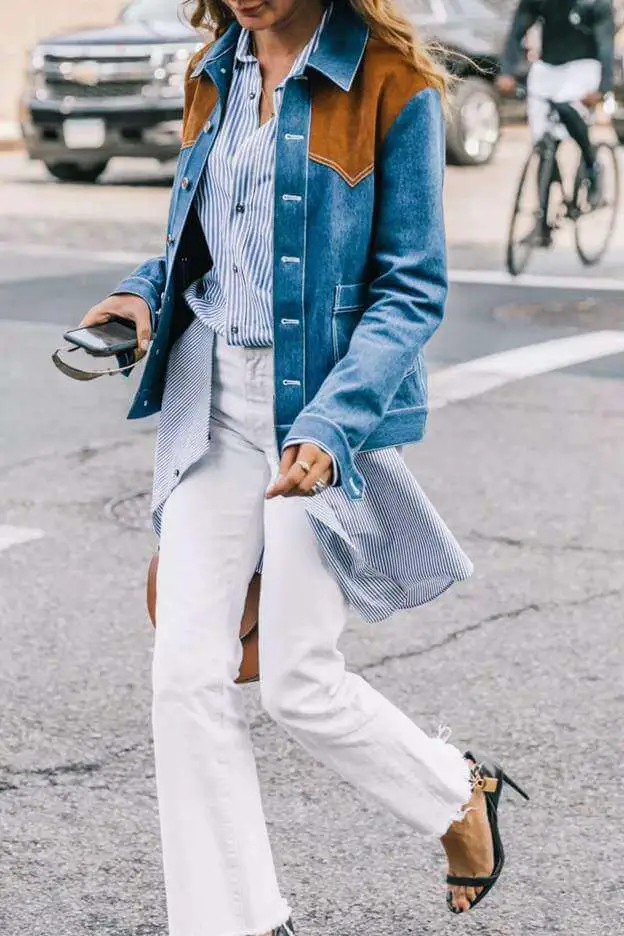 Before penning down the spring trends, I said that this year full denim sets are going to rock. Add a piece of white to it, and the level of fashion will rise even more. ▼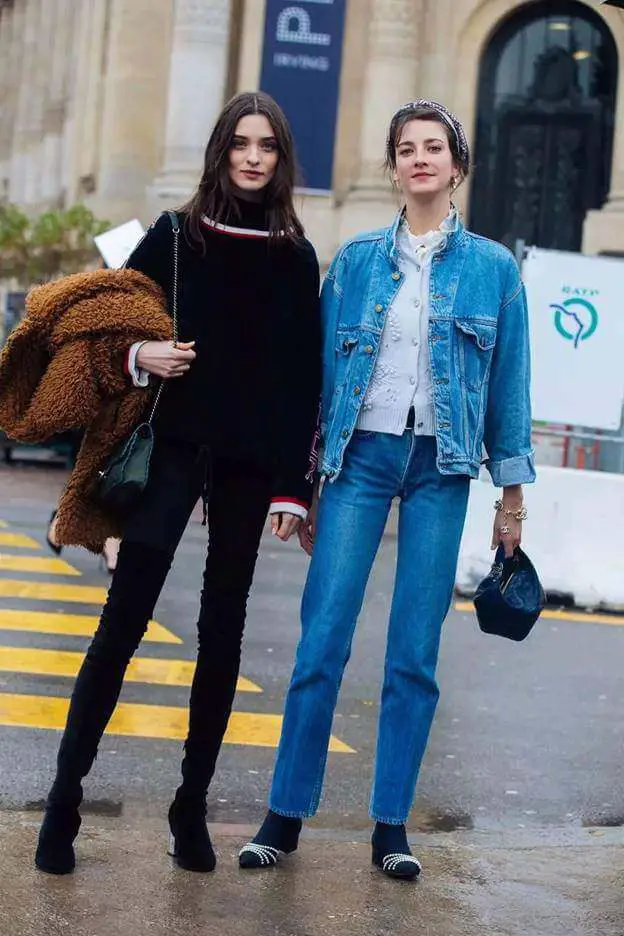 Blue and white striped products look good, when you team it up with a set of denim outfit. ▼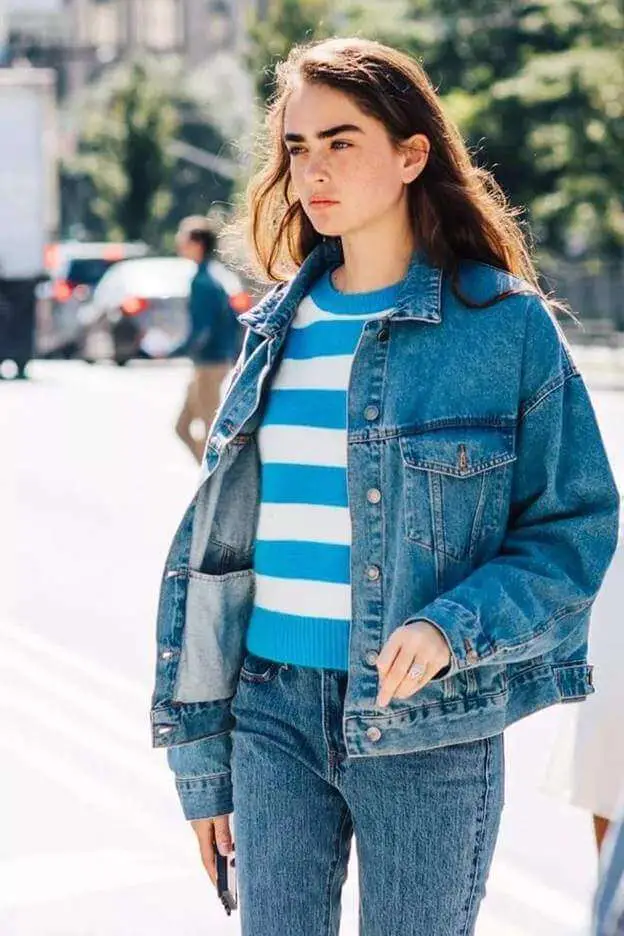 Here I have shared all the worth investing ideas based on denim jackets. Have you searched your wardrobe to restyle your long-lost denim jacket?