Why white is a must-have color
White is a beautiful color that suits any color skin. It can give a super fair skin an immaculate look, or can accentuate the beauty of dark skin: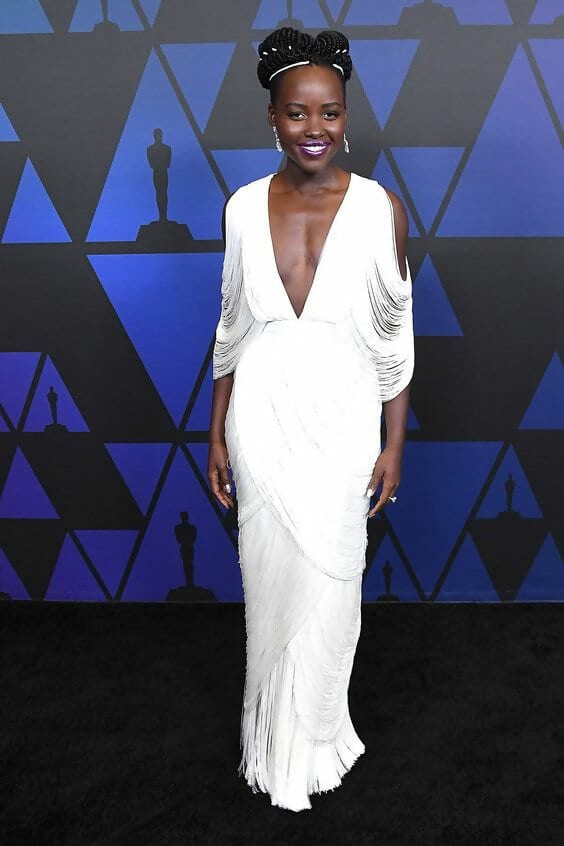 White represents purity, goodness, and perfection, among other similar associations. That's why you need to own several different pieces in this color, as it will bring freshness to your wardrobe clothes and the versatility to wear it as you please.
If you're planning on going to a specific celebration, all-white party outfits for women are a great and chic way of making a statement look with no effort at all. Few people try an all-white ensemble because they feel it's too much, and that's why you have to try this look to realize how simple and stylish it is.
It's a minimalist approach to styling, but it doesn't mean it's made only for minimalism lovers. Anyone can rock cute all-white outfits!
White party outfits
If you've been invited to a party where the dress code is an all-white ensemble, these top 31 outfit ideas for women will give you plenty of inspiration, helping you pick your favorite look and showing you how stylish white can be.
1. White dresses
A white dress for these kinds of parties is the easiest way to go. All you need is, literally, a cute white dress and a pair of white heels.
You can also choose any color for the shoes, but if you want to respect 100% the party's dress code, I'd suggest wearing white from head to toe.
Lace dresses are a super cute option for an all-white party outfit. They're very feminine and chic, and also a piece you can find almost anywhere, so if you don't own any lace dress you can easily buy one at your favorite store.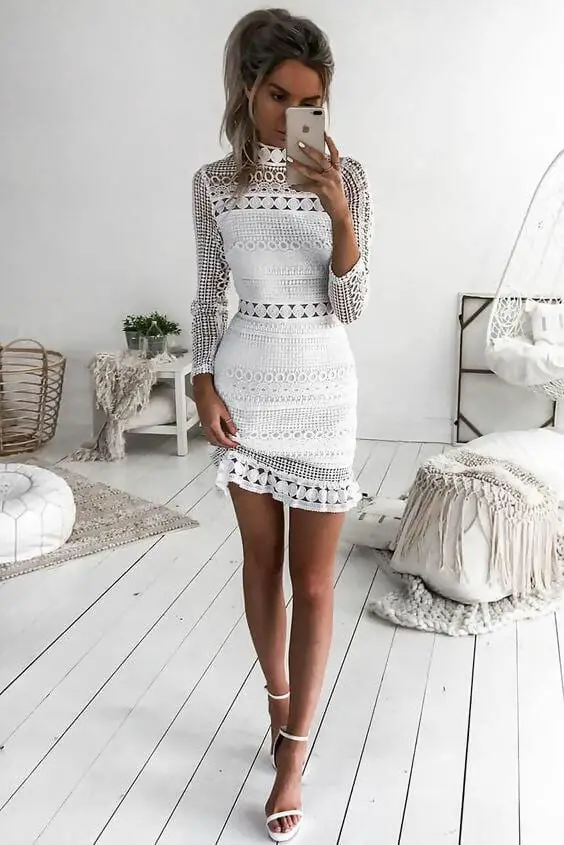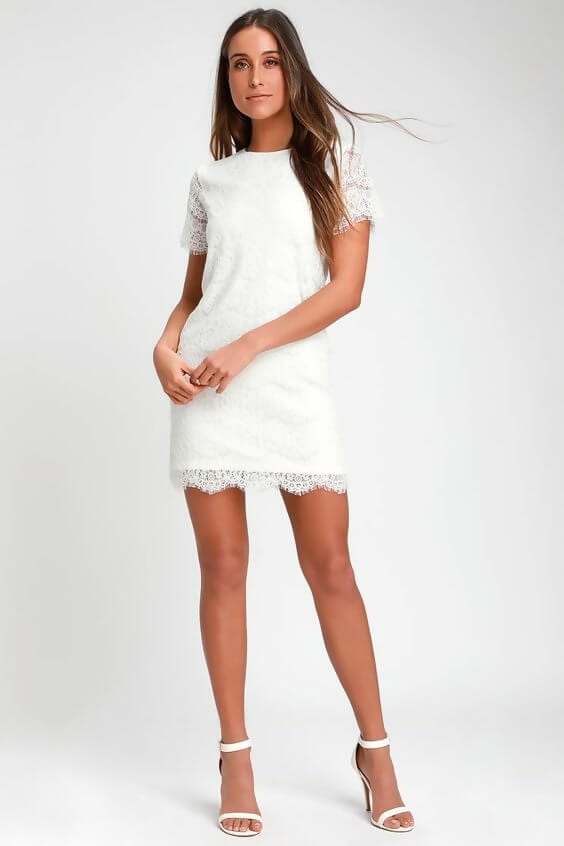 Shop white lace dresses

---
If you're not much into lace, a solid all-white party dress is at the same level of stylish: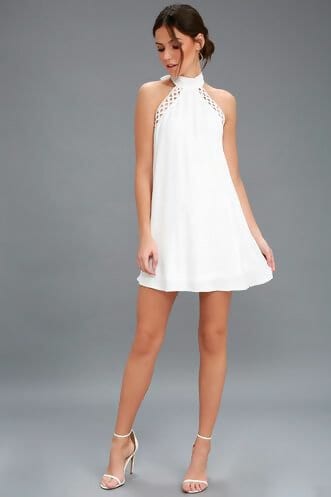 As you can see on these three examples, the models are wearing the same type of sandal heels. I believe these are one of the most basic fashion items you can own, not only for all-white party outfits but for any kind of look you want to pull out.
Shop white sandal heels: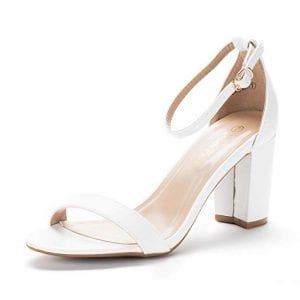 If you want to stand out from the rest because, well, everyone else is going to be wearing white too, you can opt for another type of shoes and a cute hair-do like Rihanna: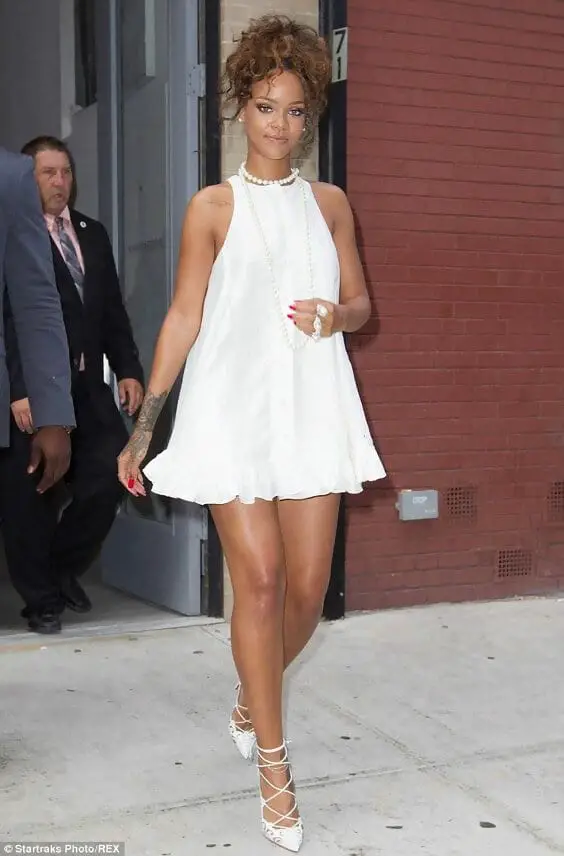 This look from Bella Hadid is the definition of cuteness overload. The pleated baby doll silhouette paired with pointy sling-back heels are the perfect combo for an all-white party outfit.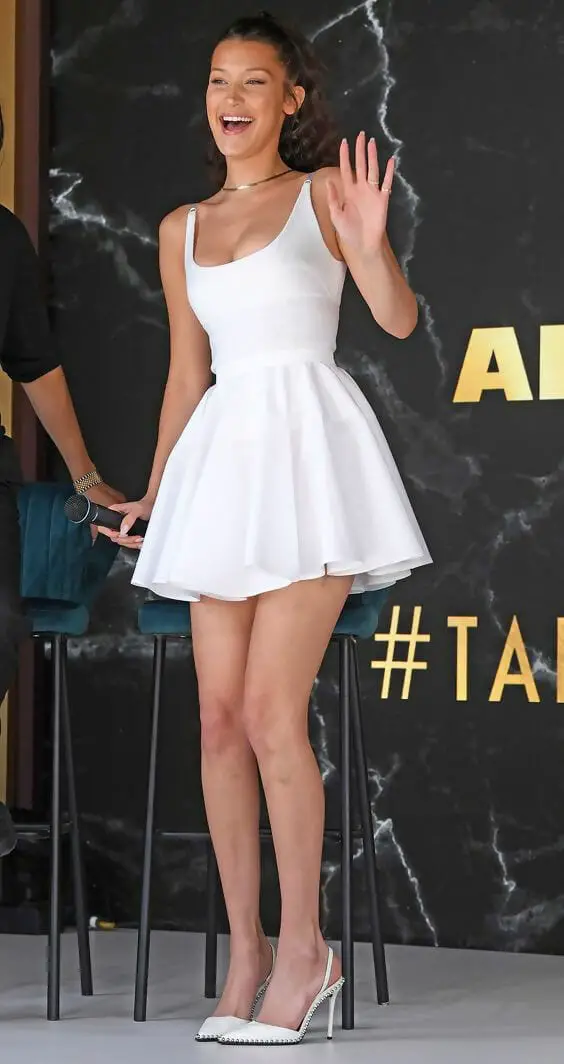 Shop similar heels: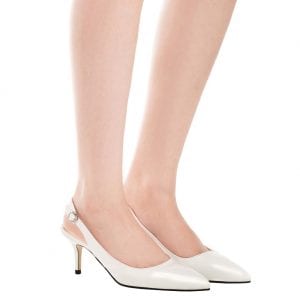 Shop white dress: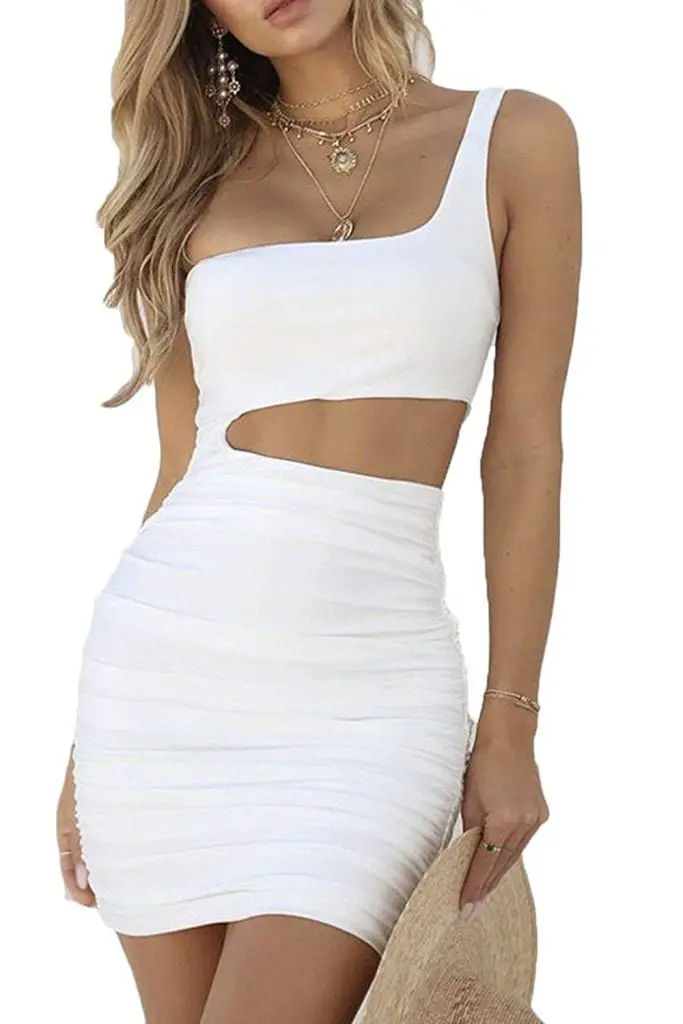 Casual all-white dress
If your party is set for day-time, a shirt dress is perfect for a casual all-white outfit. It's super comfortable, chic and just what you need for a day-time party: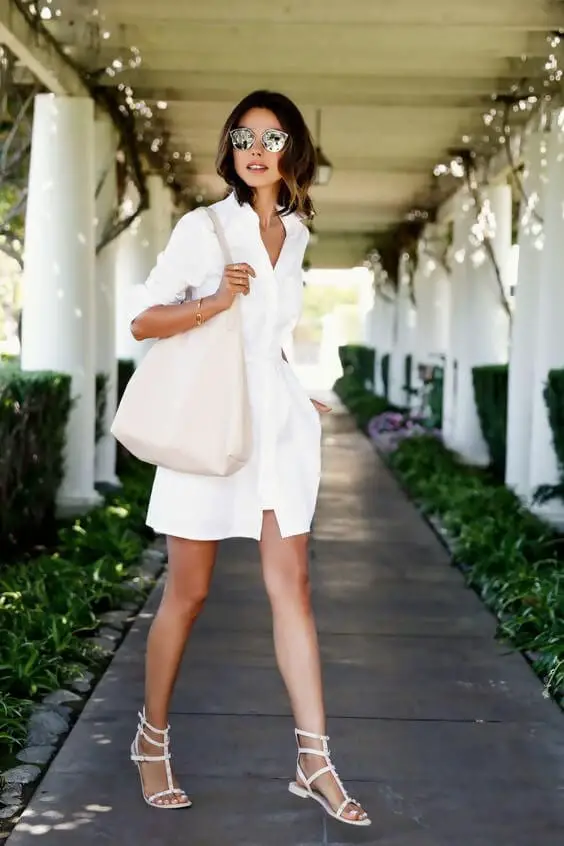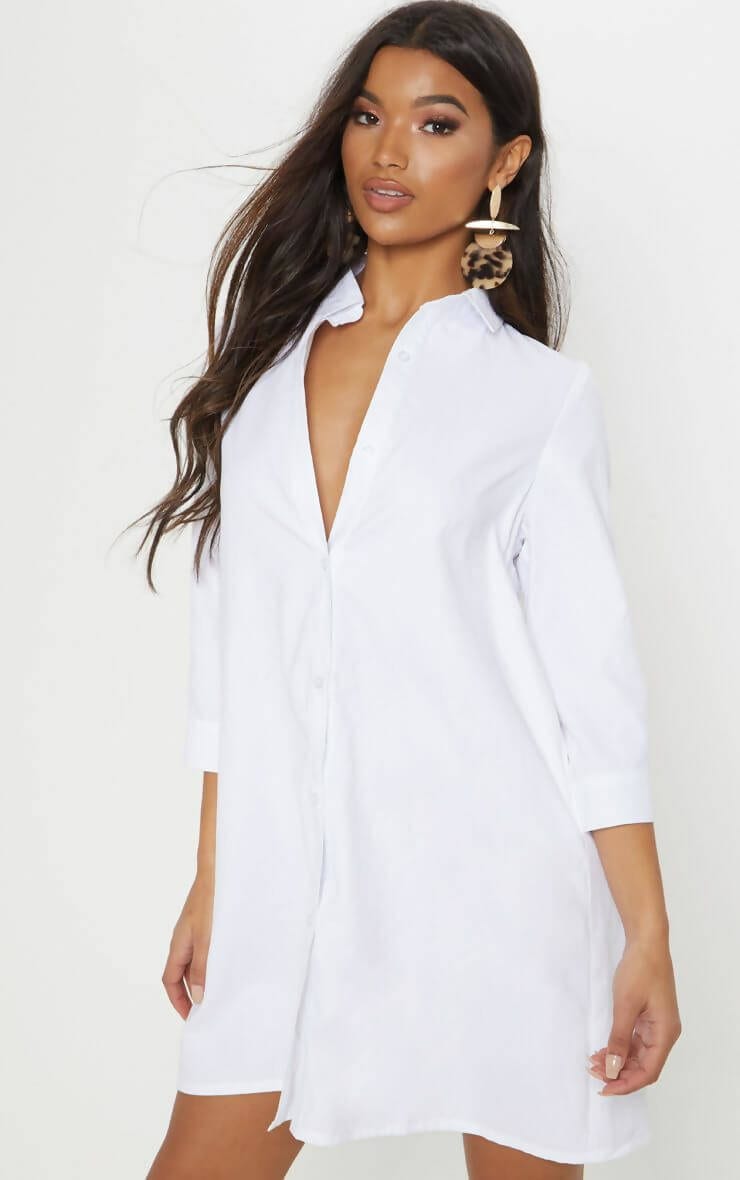 You can wear this type of dress with low heel sandals or any pair of white sandals.
Shop white sandals: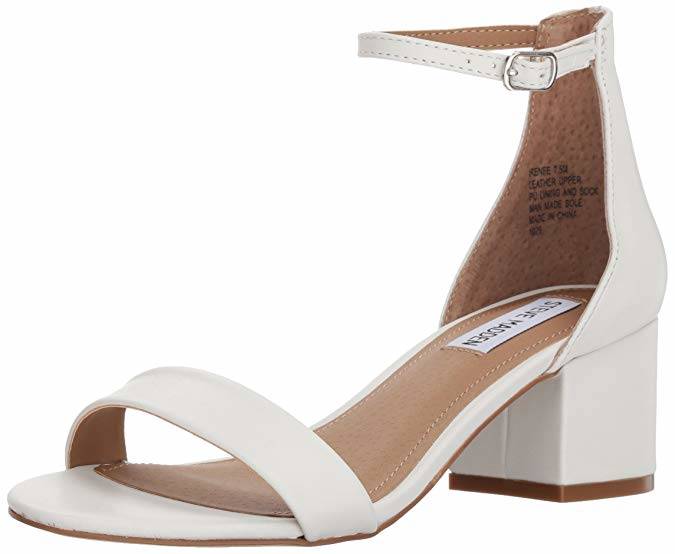 2. White two piece sets
If you want to make the most of an all-white party outfit, opt for pairing a white top and bottom, or wear any white two piece sets.
A cute asymmetrical crop top will make you look like a fashion pro and it's also a great option for a sexy all-white outfit: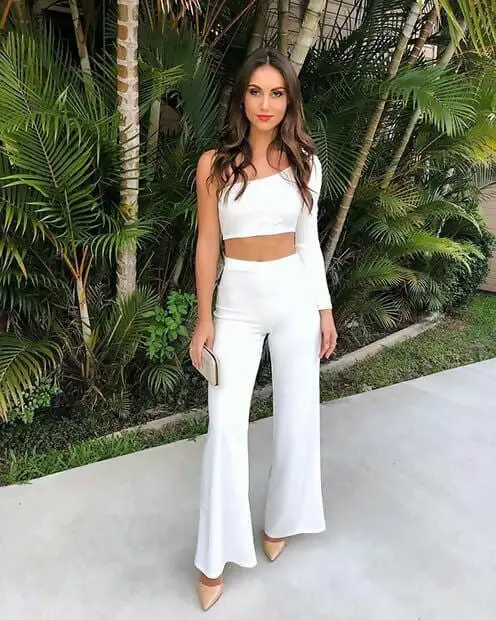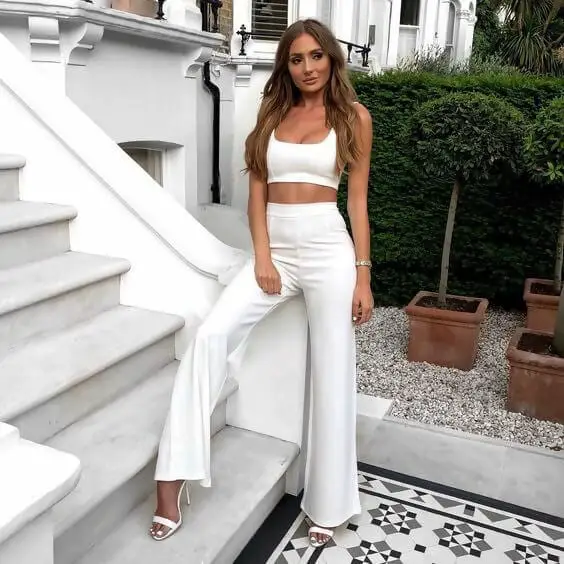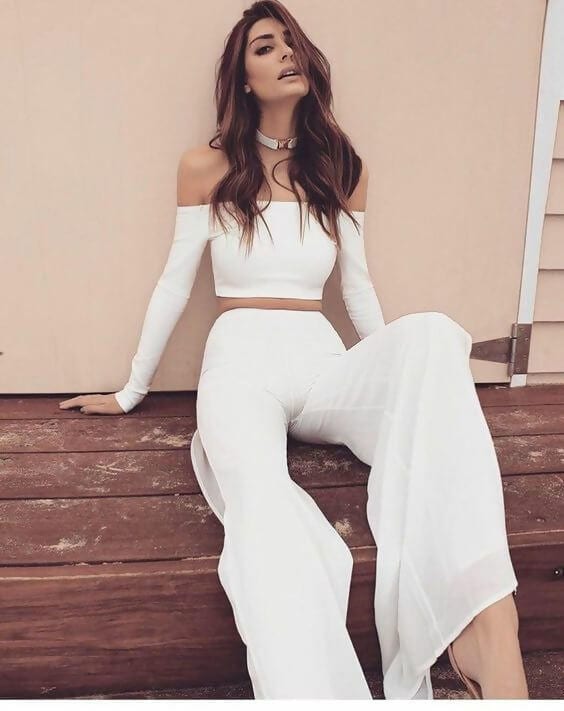 You can also wear cute two-piece sets as a skirt option: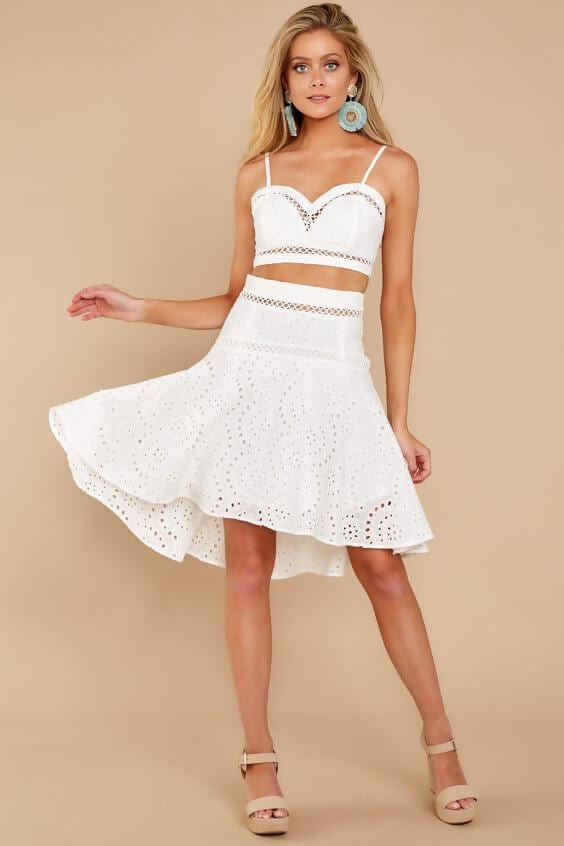 This is also a great option for a beach all-white party outfit because of its ruffles and pom trims, giving your look a cute tropical vibe: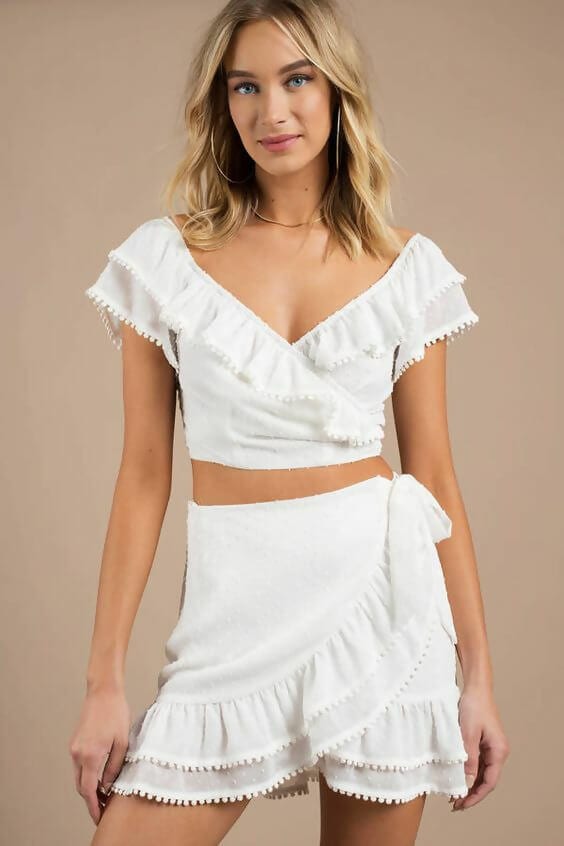 An all-white outfit dress code for a party can be a bit flexible, so opting for a subtle print, such as this polka dot two-piece set, can also be a cute idea to wear: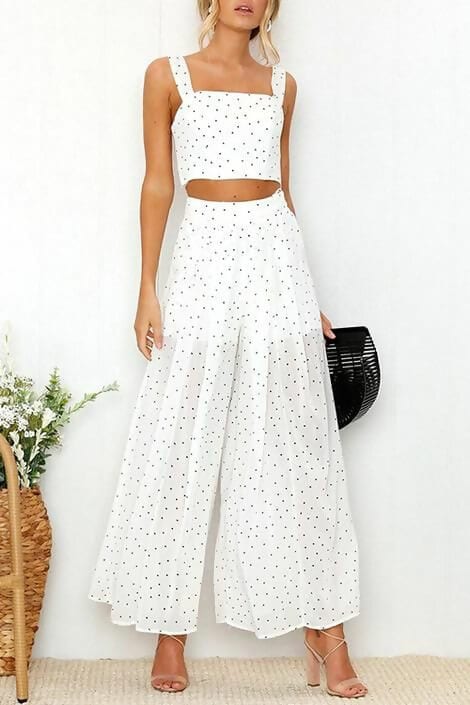 For a boho look, wear a maxi see-through lace skirt: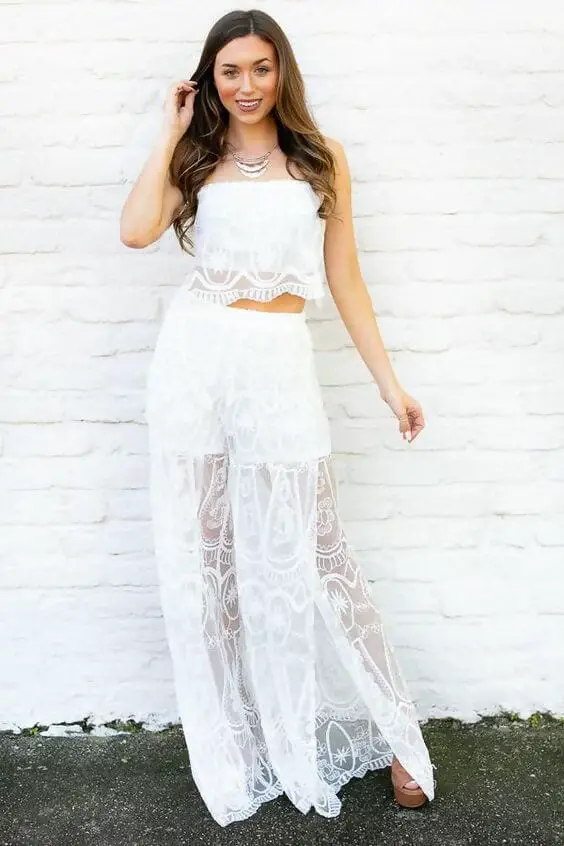 3. White top and bottom
If you already own either a cute white top or a bottom and are looking for something to complement it, these chic all-white ensembles can give you plenty of inspiration:
An elegant a simple A-line skirt with a cute necklace that bumps up your look: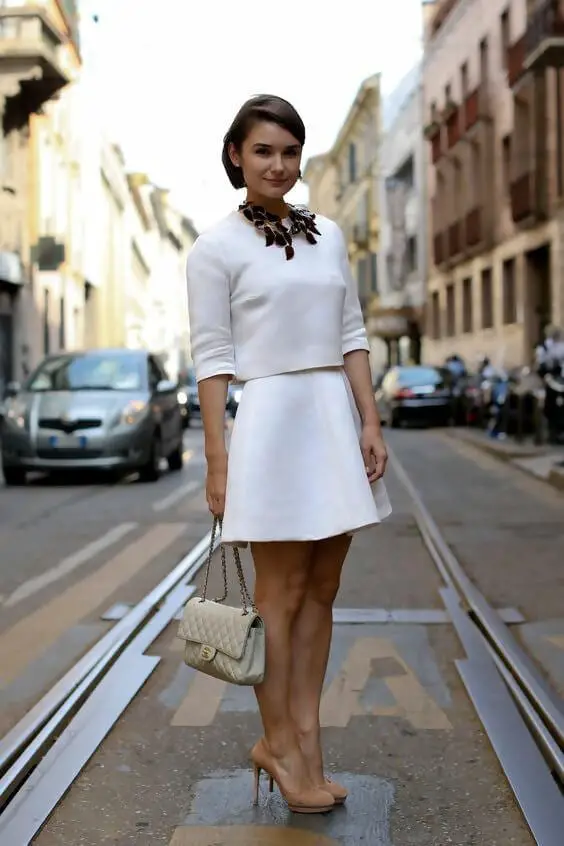 A straight-leg pair of trousers with a statement top. Look how beautiful this blouse is with its oversized sleeves: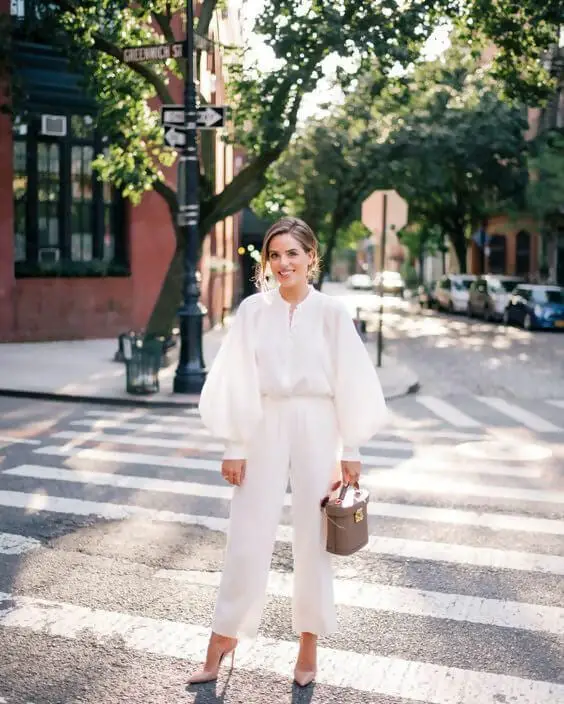 This maxi pleated skirt is the definition of elegance and chicness. If you want to opt for a polished look, wear your favorite white button-down with this kind of skirt. Perfect for an all-white outfit dress code!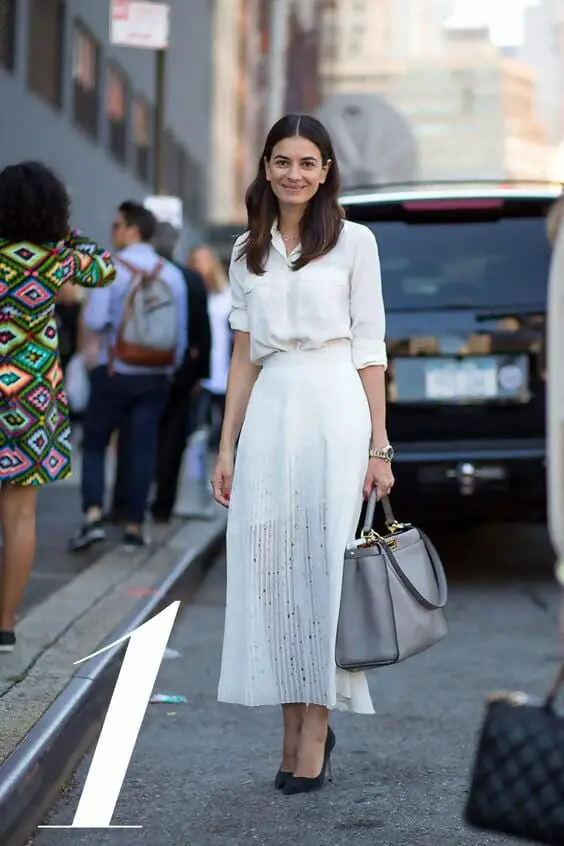 Or just wear a simple white top paired with a cute maxi skirt. You can accessorize your look with a super chic pair of heels or a cute statement belt.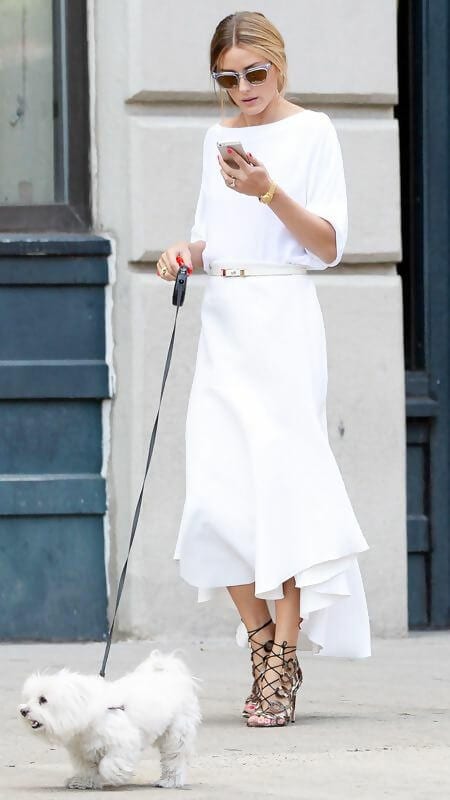 For a casual white outfit, a white tee is probably your best and chicest option. Just make sure it's still immaculate white: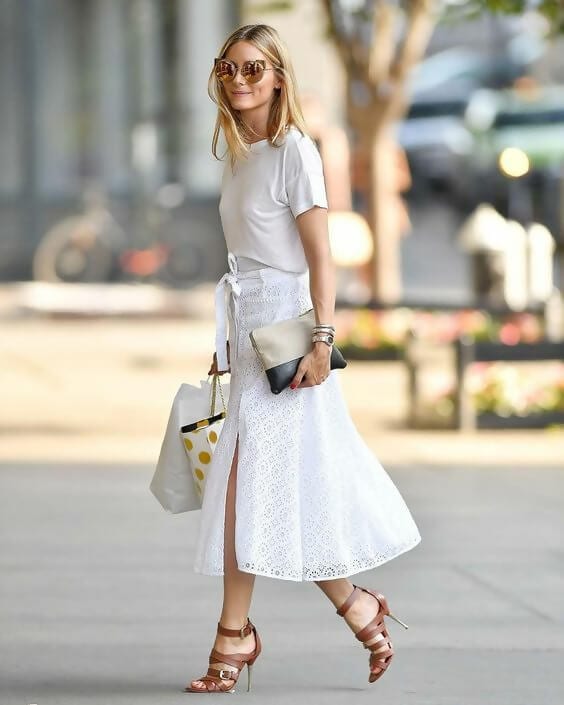 These strappy or lace-up brown high heel sandals are a perfect option to complement your casual all-white outfit.
Shop similar strappy sandals: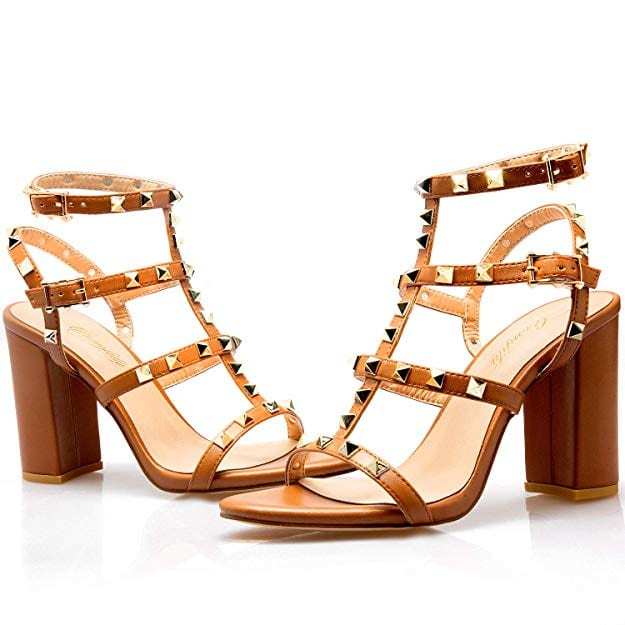 What about this asymmetrical pleated skirt? It looks absolutely chic paired with a solid white top and makes a perfect all-white outfit for colder weather.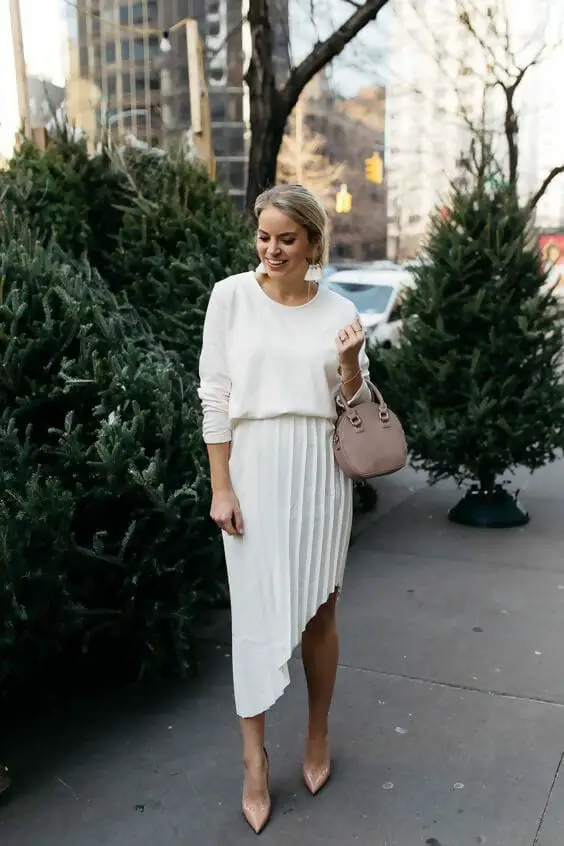 Or you can literally wear it with your favorite pullover sweater for a winter all-white party: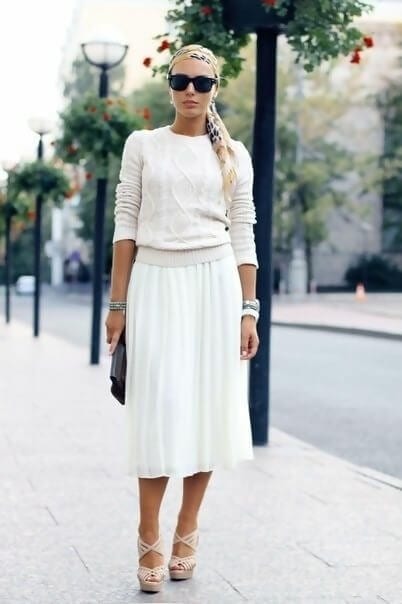 4. White shorts
White shorts are another cute option you can wear to a party.
I love how pleated shorts make you look like you're wearing a skirt, giving you the comfortability of a short and the femininity of a skirt: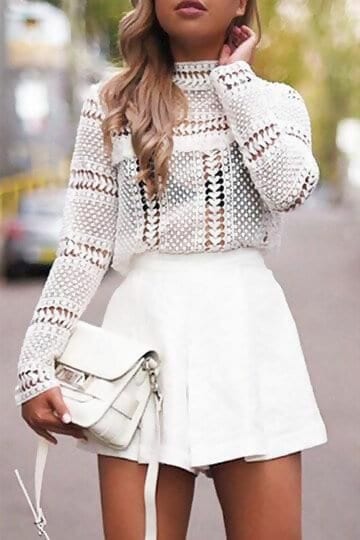 This is another cute short style, perfect for an all-white party outfit:
For a chic and casual look, pair your white blazer with a t-shirt and white denim short:

For a polished alternative, substitute the denim shorts for a pleated one and the t-shirt for a lace see-through top: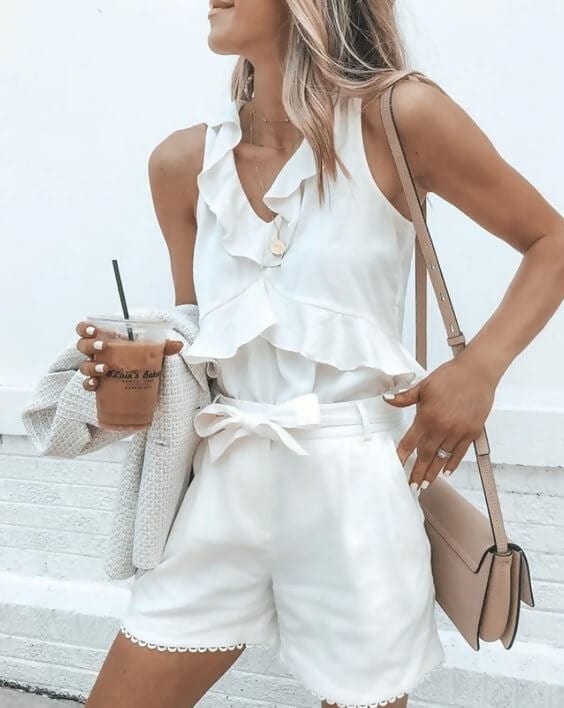 Shop white shorts: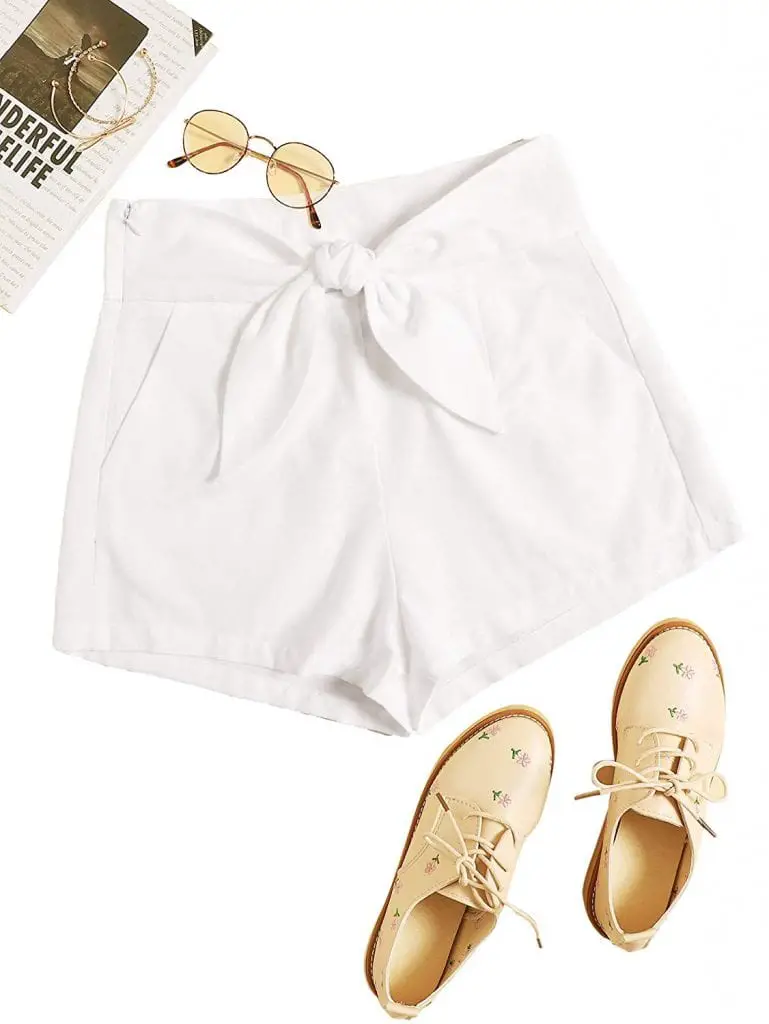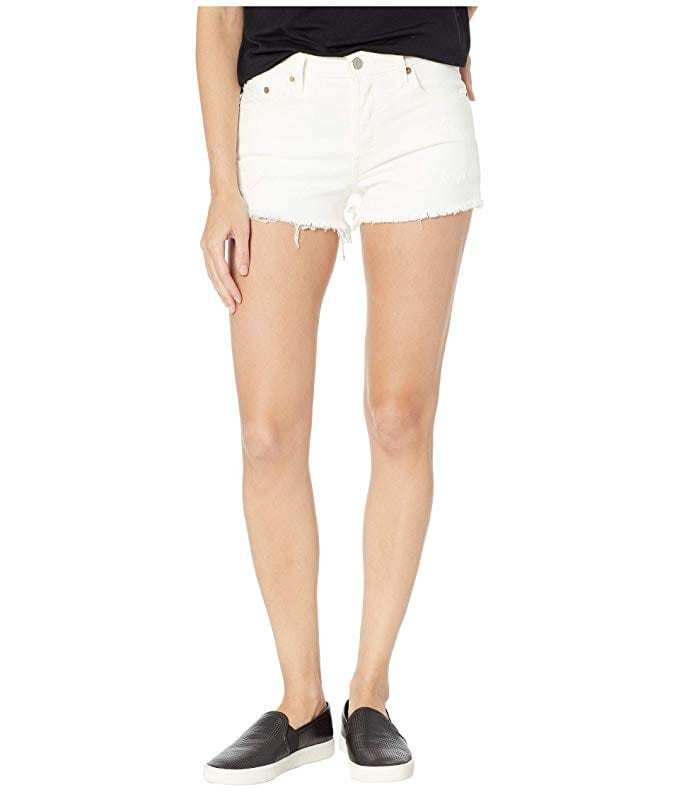 5. White layers
All-white party outfits for women can definitely include chic layers that go along with the dress code. This is especially for those parties held in winter, fall or at the very first stage of spring.
A cute white thick blazer will be your best compliment: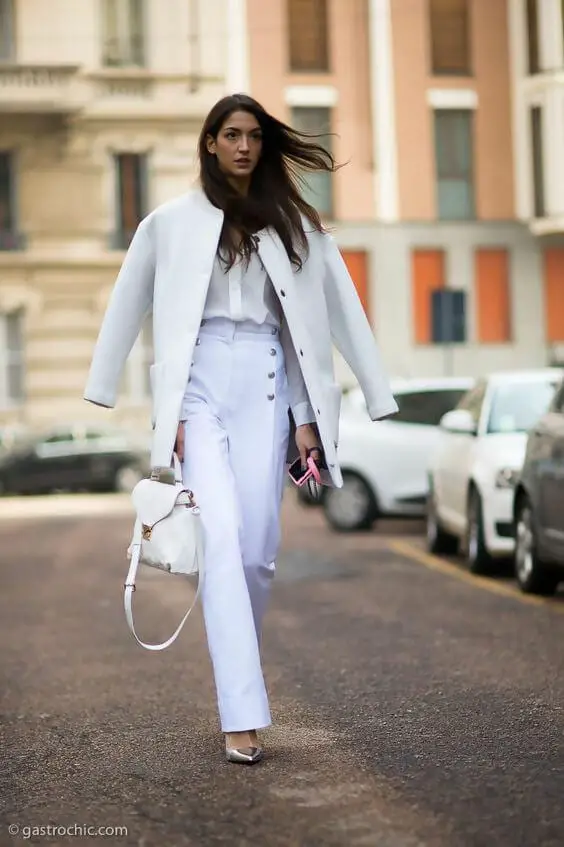 A white oversized coat will create the same stylish statement outfit: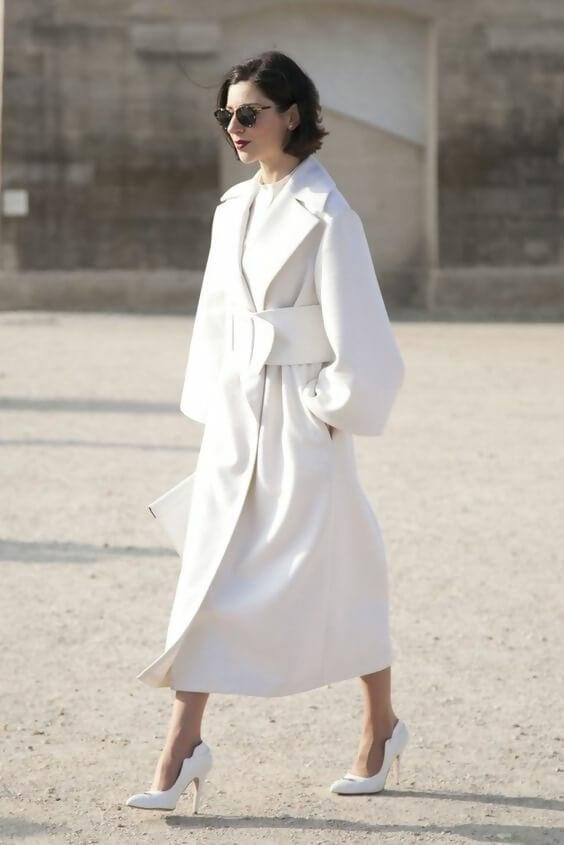 If the weather is not that cold, you can simply layer your outfit with an elegant white vest to rock a chic all-white party outfit: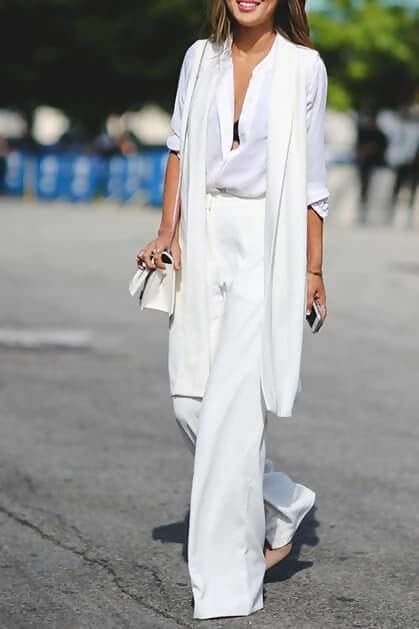 A ¾ sleeve blazer can be perfect when paired with a cute pair of trousers. You can also opt for a silver belt to accentuate your waist and create a unique and elegant look:
Shop white vest: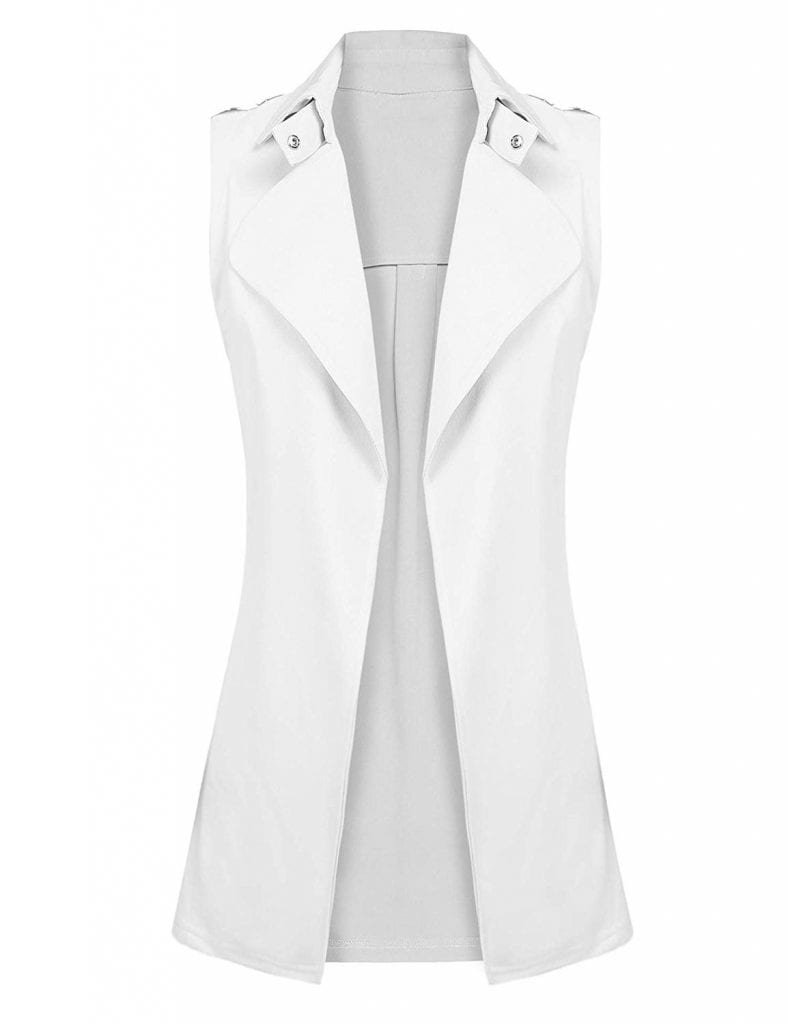 Shop white blazer:
And why not try a celebrity-favorite kind-of outfit? We've seen multiple A-list celebrities rock an edgy look with an all-white suit.
This is the perfect outfit for someone who's not that busty because otherwise, you will most probably feel self-conscious that you're not wearing any top.
An alternative for this suit look is to wear a stylish white bustier:
Wrap up:
I can show you endless chic all-white party outfits for women and still not cover all of the gorgeous looks you can wear. There are so many possibilities, and it will all depend on your personal taste.
Do you like dresses? Wear a cute mini dress like the ones at the beginning of the article. Do you always revolve around sexy and elegant outfits? Go for a white suit like Cara Delevingne's or opt for a bustier to complement your sexy suit look.
Again, there are endless outfit ideas you can pull out to create a perfect and immaculate all-white party attire.
My best piece of advice: get creative and think outside the box. Don't go with your first option. Just go through this article a couple of times and I can assure you'll be left more inspired than the first time you checked it.
And, of course, have fun at your party!