We are used to living in a binary society, where dressing should be either feminine or masculine. But there is also another fashion style that doesn't address to either one.
If you love to live by your own rules, then following an androgynous fashion would be a great way to express yourself.
What does androgynous mean?
Androgyny is the rejection of gender: there is no such thing as male or female. So when it comes to fashion, an androgynous style is that which avoids anything related to the typical male and female stereotypes.
This means that the body should not be sexualized: no accentuating of curves or demonstration of the female body. The body represents itself as "plain" as possible.
It used to be solely tied to the LBGT community, but nowadays we can see many people rocking this style, regardless of their sexual orientation.
How to be androgynous
If you're curious about this style and want to try it for yourself, or simply feel identified with what it means and stands for, then there are a few things you should take into consideration:
1. Avoid anything that accentuates your female body
An androgynous style wants to "break" the binary gender stereotypes and one way of doing so is by not sexualizing the female body.
How to do so? As a rule of thumb, stay away from clothes that will accentuate your curves.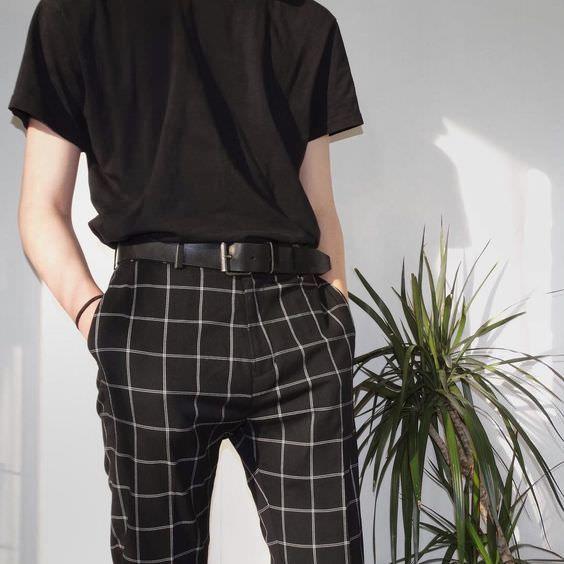 If you're curvy, this means that loose and baggy fits are what you should wear if you want to pull off an androgynous look. Or anything that's main focus isn't to show off your curves.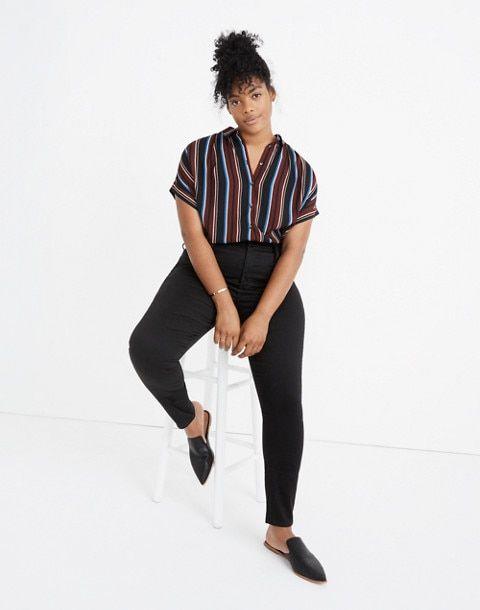 2. Buy from the menswear department
Menswear, of course, is based on men's body: no curves and straight lines. That's why it's a great idea to peek at the menswear department if you're serious about your androgynous fashion.
You can try wearing shirts in any size you'd like: from oversize to a bit more fitted. Either way, the silhouette should be the same: completely straight.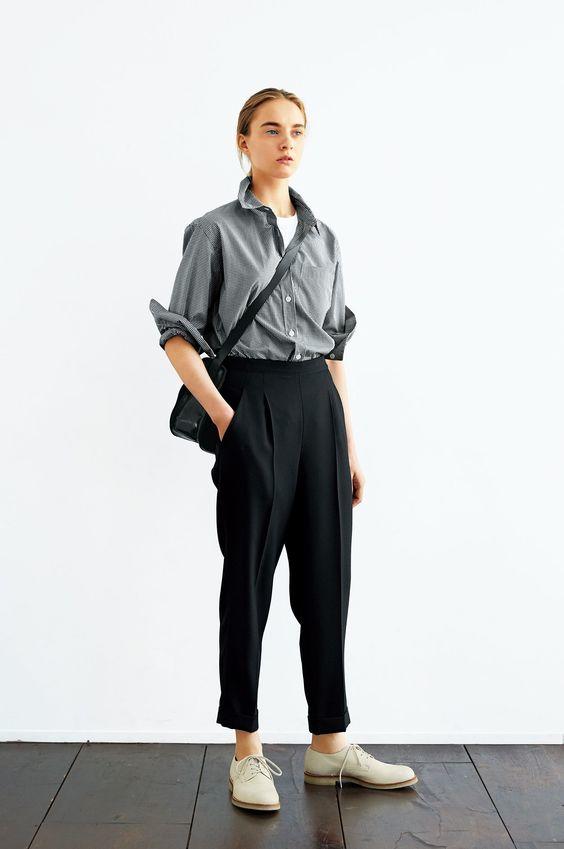 You'll be amazed at how cool dressing with men's clothes is. Try wearing simple pieces first, such as a t-shirt and a plaid shirt. You can later experiment with new silhouettes and styles.
But if it's your first time, you can try at least the basics.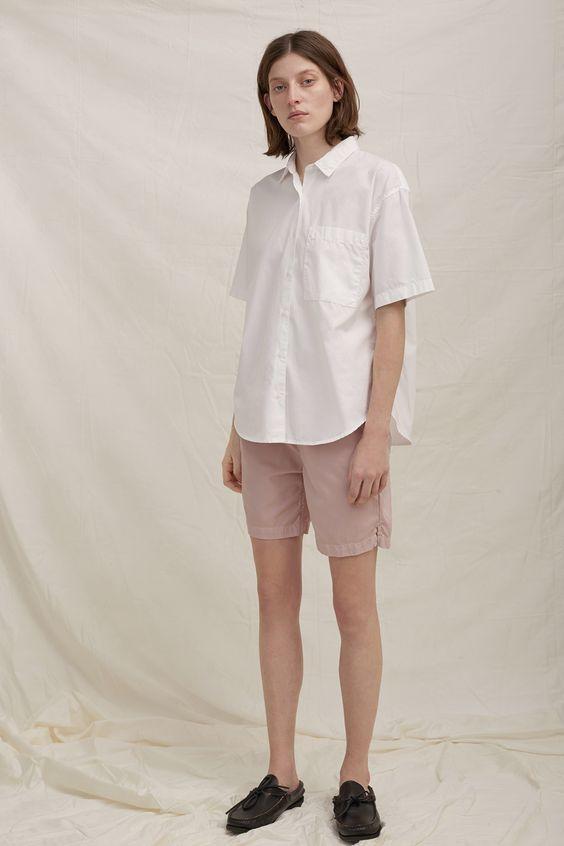 3. Few to no makeup
I know that makeup does miracles on your face, especially when you have been through all-nighters. So it's okay to wear some makeup, but try to stay away from eye shadows, mascara, and lipsticks.
The thing about makeup is that, first of all, it's a "female thing" so wearing a noticeable amount of makeup will only bring down your androgynous look. Always remember that anything that's considered "too feminine" goes against androgynous fashion.
That's why a clean face with some foundation is your best option.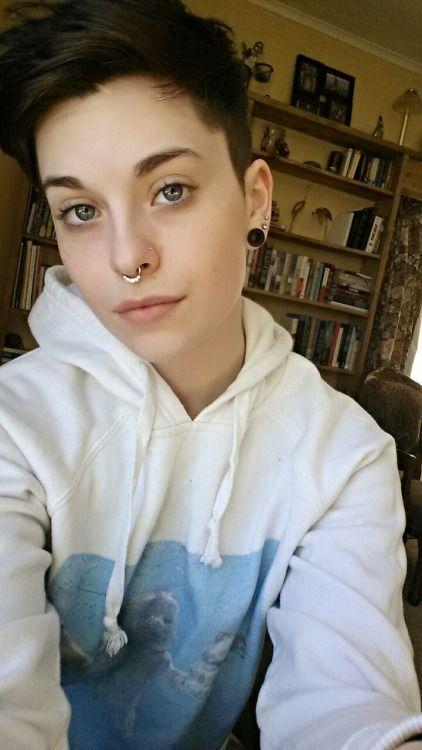 4. Get inspired by men
Apart from shopping from the menswear department, getting inspired by day-to-day male accessories or routines can help you come up with new ideas that you can implement.
For example, notice how a male hairstyle is usually sleeked back with gel. You can try this as well!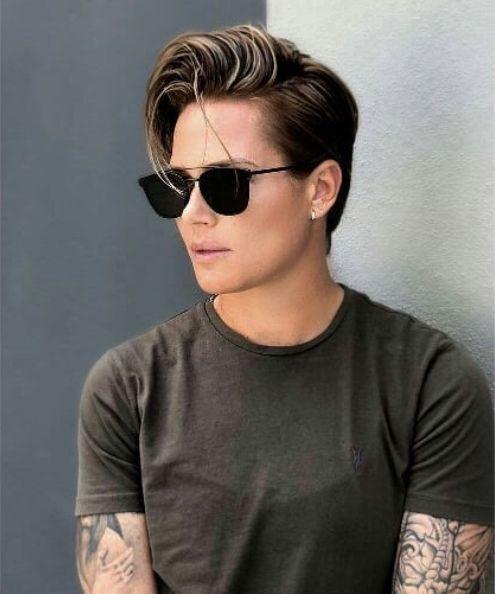 What are the accessories that men usually wear and how do they wear them? Wallets, for example, are basic items that we all use. The difference between men and women is that us, females, wear them inside our handbags whereas men carry them in their pants.
Get rid of your handbags and carry your wallet in your pants as well!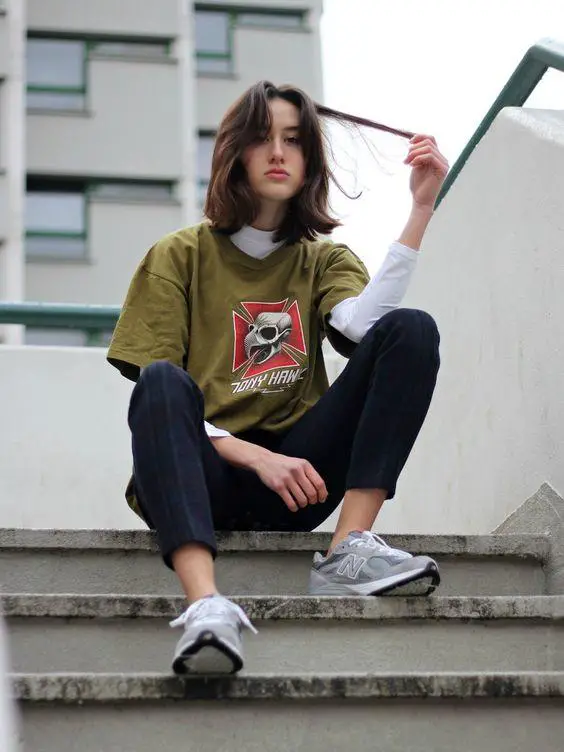 How to dress like an androgynous woman
Now that we've seen some tips on how to look more androgynous, let's talk about fashion!
I'll guide you through some cool androgynous outfits you can easily recreate. All you have to remember is: don't think like a woman!
This doesn't mean you have to lose your femininity, it's all about not showing too much of it. Your goal is to not look too womanly nor too manly.
1. Wear button-down shirts
A typical female button-down was originally inspired by menswear. Coco Chanel used to love breaking the female fashion stereotype by wearing men's clothes, one of which was a white button-down shirt.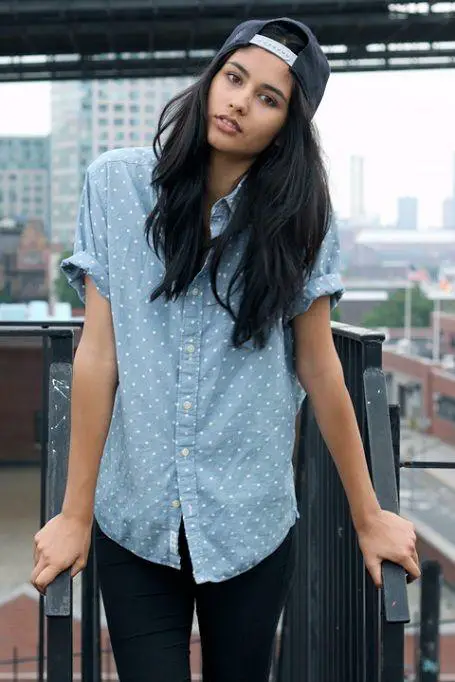 It doesn't matter if it's white or not. A button-down with a square silhouette will always have a manly vibe regardless of the style or color.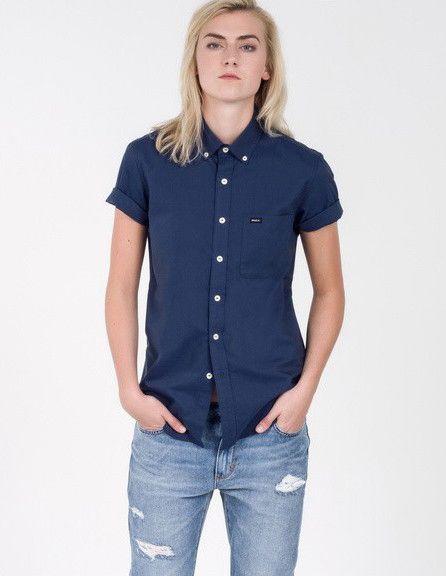 Wearing dark colors is another easy way of showcasing a perfect androgynous look. Black, for example, is a color you can't miss in your androgynous wardrobe.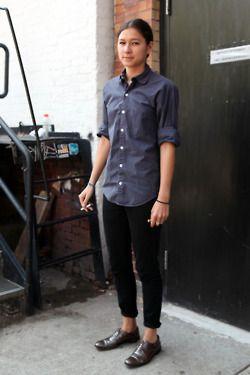 Another tip for rocking a cool androgynous outfit is to wear your shirts tucked inside with a "manly looking" belt. A camel belt, for example, is a typical and classic menswear piece, so wearing one will automatically give you an androgynous look.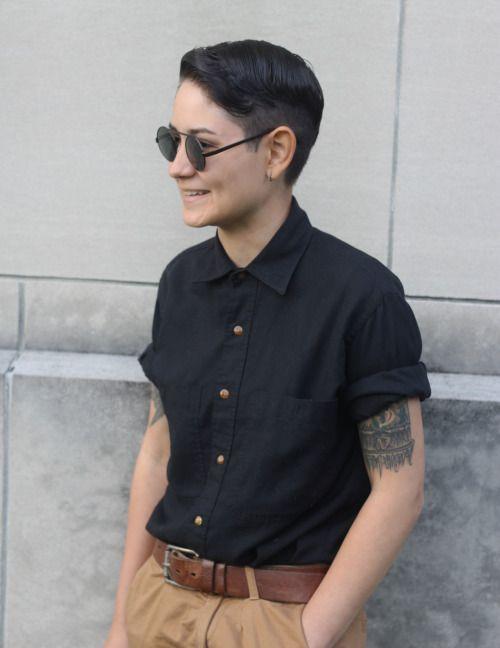 2. Wear moccasins or sneakers
These are other menswear-inspired shoes that women wear. If you want to rock a cool androgynous outfit, then opt for classic styles of moccasins or sneakers.
This means, no embellishments, intricate designs or colors. Remember that menswear is much simpler than womenswear, so opting for classic-looking pieces is the best way for anyone who's looking to master an androgynous style.
Black or white sneakers are a great example of how to rock a classic men's shoe: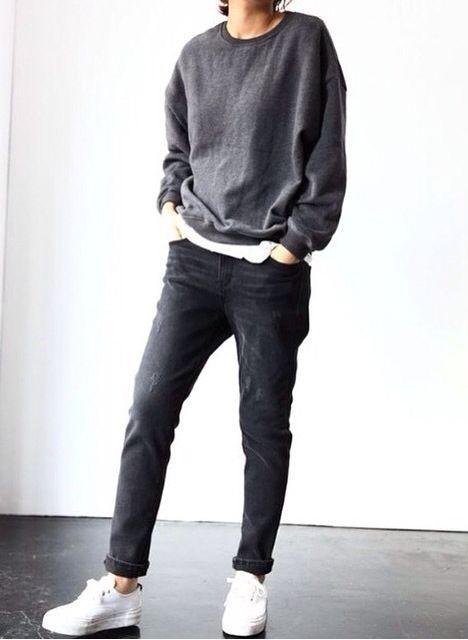 Black moccasins are other cool shoes you can wear on any occasion: from work to a casual lunch with friends.
3. Wear suits
Suits are another fashion piece that was the first design for men. When women started experimenting with menswear and society started accepting "new" female behaviors and dress codes, suits became a staple piece for women as well.
But, how to look androgynous with a suit? The best way of dressing like an androgynous woman is to wear a loose, oversize suit.
An oversized garment will always conceal any trace of curves and, therefore, any trace of a female body.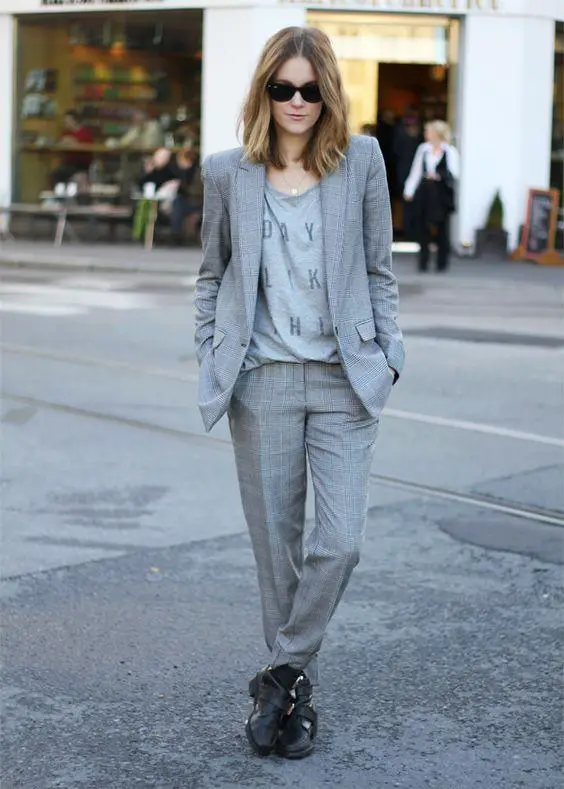 If you really want to puff off a genuine androgynous look, then pairing your oversize suit and shirt with black moccasins or loafers needs to be your outfit combo.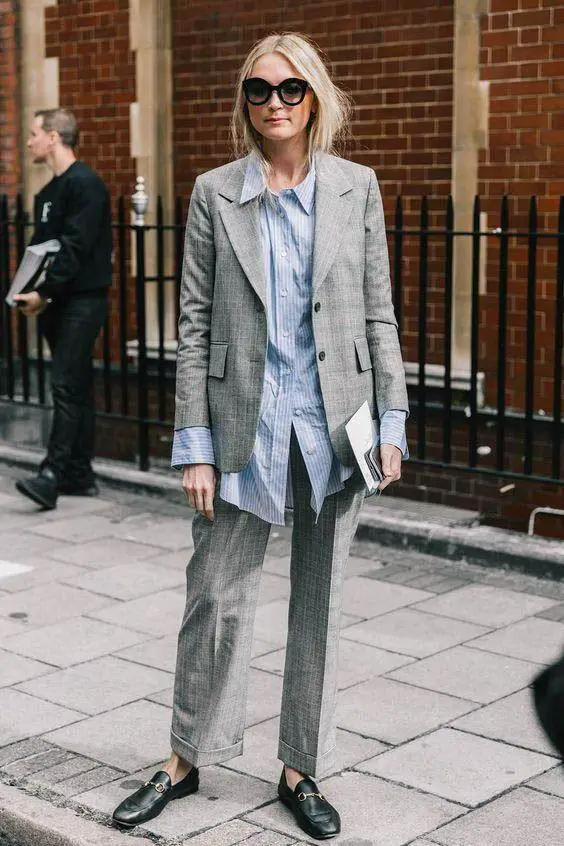 It doesn't matter if it's a plaid, colorful or solid suit. As long as it doesn't look too feminine, you will always showcase a great androgynous style.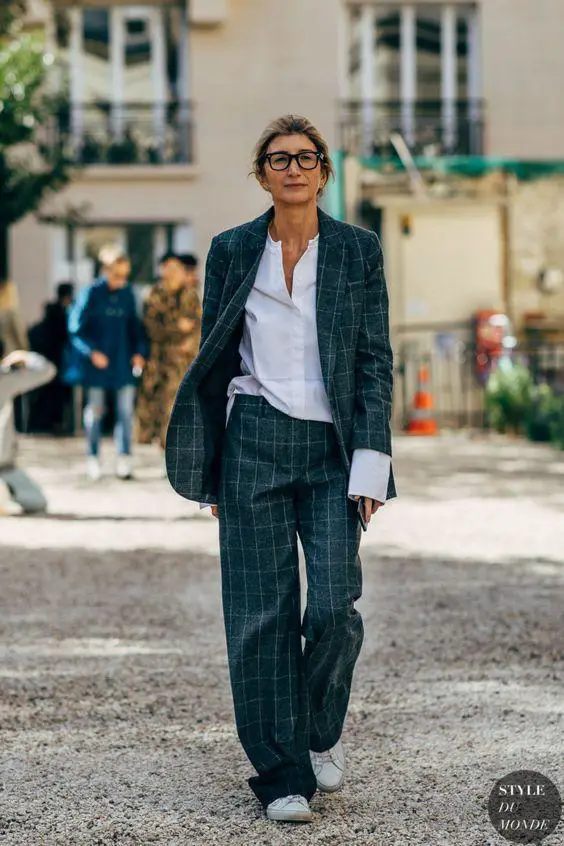 You can also wear an oversized coat to conceal your curves. A long trench coat, for example, is a cool way of dressing like an androgynous woman.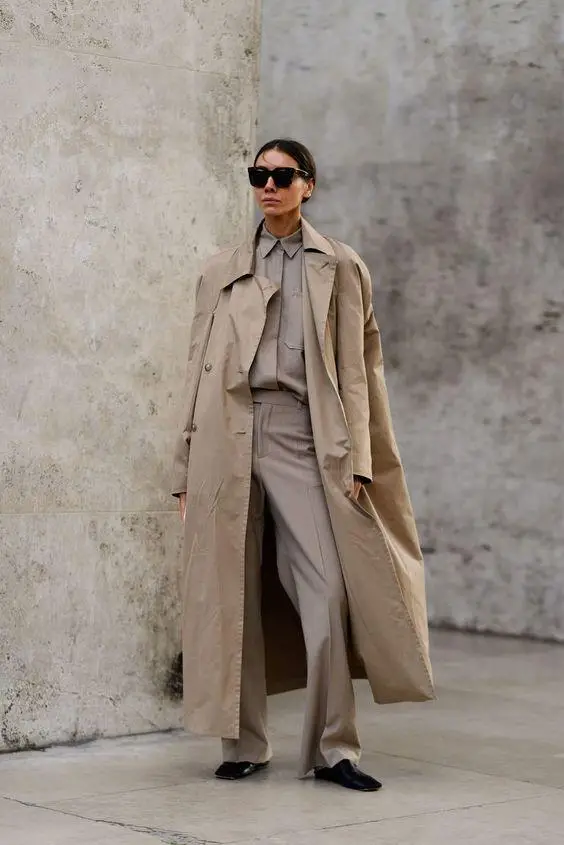 4. Be creative
Dressing like an androgynous woman doesn't mean it should be simple and boring. If you love colors and fun prints, you can still rock a cool androgynous outfit.
Get creative and experiment with silhouettes and patterns. All you need to remember is to avoid anything that looks too girly or that highlights your female body (aka your curves).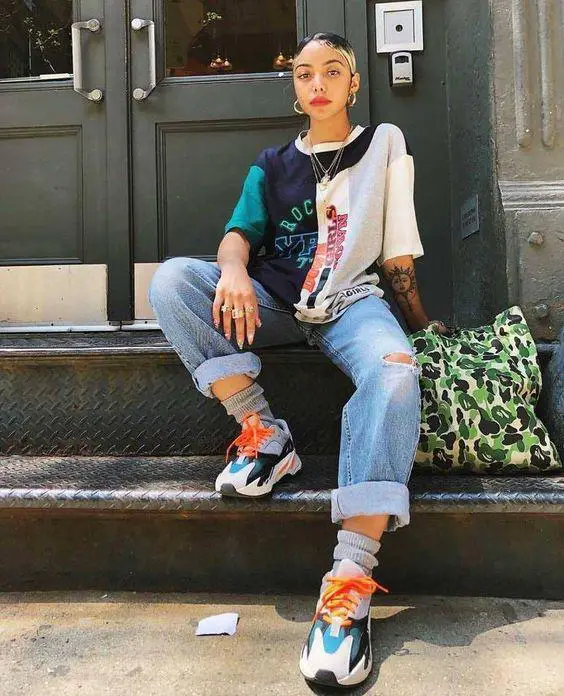 You can mix gender-neutral pieces with "male" pieces. A camo and loose-fitting pant paired with a t-shirt, for example, is one cool way of doing so.
Wearing edgy items such as chunky dad sneakers and an oversize graphic sweatshirt is another great idea for anyone who wants to look bold, edgy and androgynous.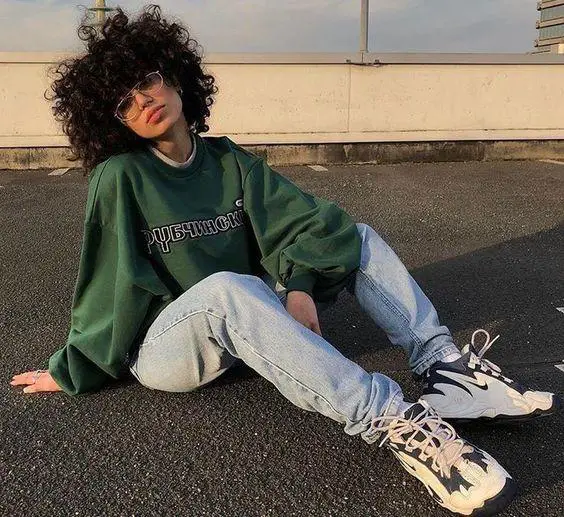 An all-black outfit is always a good idea. When in doubt, wear oversize pieces all in black.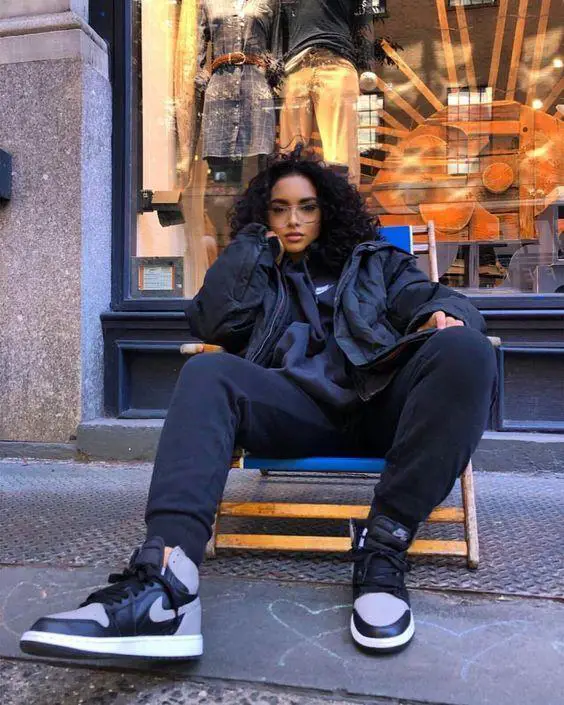 Wrap up:
An androgynous fashion style is all about rejecting the female and male sterotypes. This means that, for women, an androgynous look should always try to aim to look manly and, for men, to look more delicate and feminine.
The idea is that you can confuse others with your fashion style because:
– A woman will always have features that make her look, in some way, feminine. But if she gets dressed with men's clothes and doesn't show off any trace of curves, then she gets the best of both worlds. Not too feminine not too manly.
– A man, on the other hand, has even stronger "manly" features, so by dressing more delicately and feminine, he will also have the best of both worlds.
I hope this article has helped you understand what is androgyny and how to pull off a cool androgynous style.