Fashion isn't supposed to be addressed only at young women. We all deserve to feel and look beautiful, regardless of our age.
But when it comes to wearing a bathing suit, things get a bit more complicated because of the beauty and "sexy" standards that the fashion industry proclaims. That's why I've compiled the best bathing suits for women over 50: to help you find the perfect style that best suits your body type and personal style.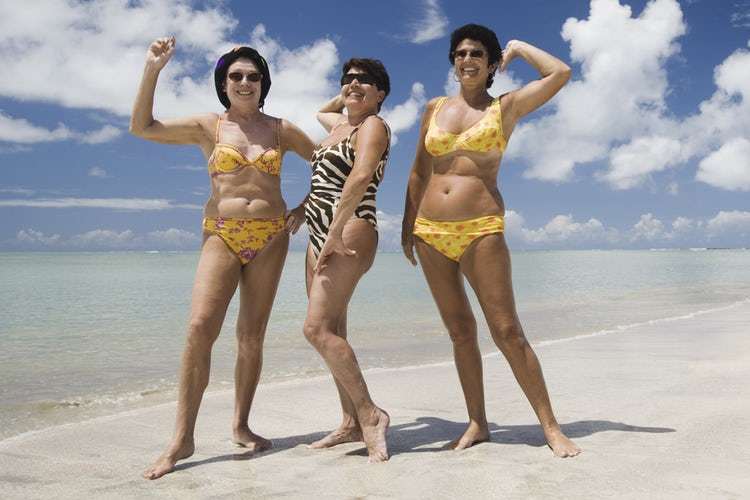 These are trendy, cute and completely appropriate for women this age because even if you love to show a lot of skin, many women prefer to keep it low key, and that's totally fine as well.
I'll show you styles for both types of women because, in the end, it's all about how YOU feel.
How to Find Bathing suits for women over 50
How to find the perfect bathing suit? Whether you're going on a vacation or simply want to take the sun at your own pool, it all comes down to comfort. There's nothing worse than feeling that your bottom is too tight or that your straps fall all the time.
Make sure that the size you're buying is YOUR size. Once you try it on, try walking, sitting, pretend to grab something from the floor, or you can even try jumping! All these things will help you notice if:
– You can move freely
– The neckline opens when you bent down
– You show the right amount of booty
– It's easy or difficult to put it on or take it off
– It flatters your figure
If finding the perfect underwear is quite a task, venturing for the best swimsuits for women over 50 is just the same. It all has to fit perfectly.
30 Best swimsuit styles for women over 50
Whether you love showing what you've got or feel more comfortable with a conservative swimsuit, looking great while taking the sun or swimming in the pool is a must. Check out these top 15 swimsuit styles for women over 50 to get inspired and ready to head to the beach.
1. One-piece swimsuits
One-piece swimsuits are the most popular style to wear among women over 50 because they can feel comfortable regardless of their body type. Let's remember that at 50, many of these women have already had babies and their bodies are simply not as they used to be.
That's why one-piece swimsuits are perfect for anyone.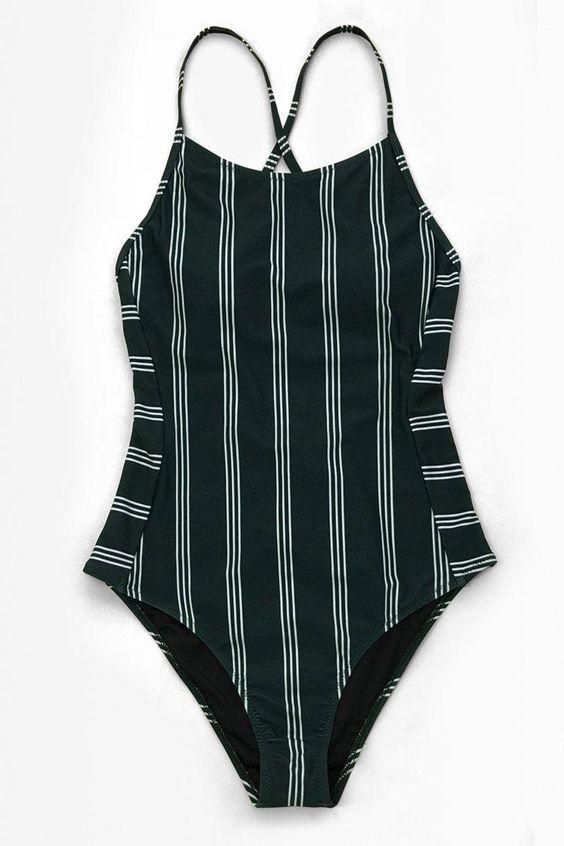 If you're small-busted, a strapless bathing suit is a great idea. You can choose a printed one for a cute and fun look, or opt for a minimal-looking black or white solid swimsuit.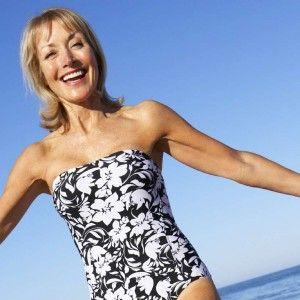 Opting for a high neckline is a great idea for those who are petite because it will elongate your figure, making you look like you're a few inches taller. If you want to look skinny, black is always your best ally.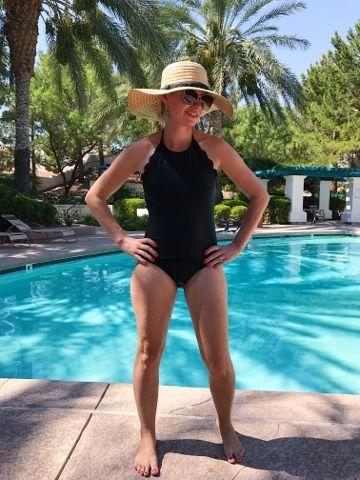 If you love classic pieces, a black scoop neckline bathing suit is just what you need.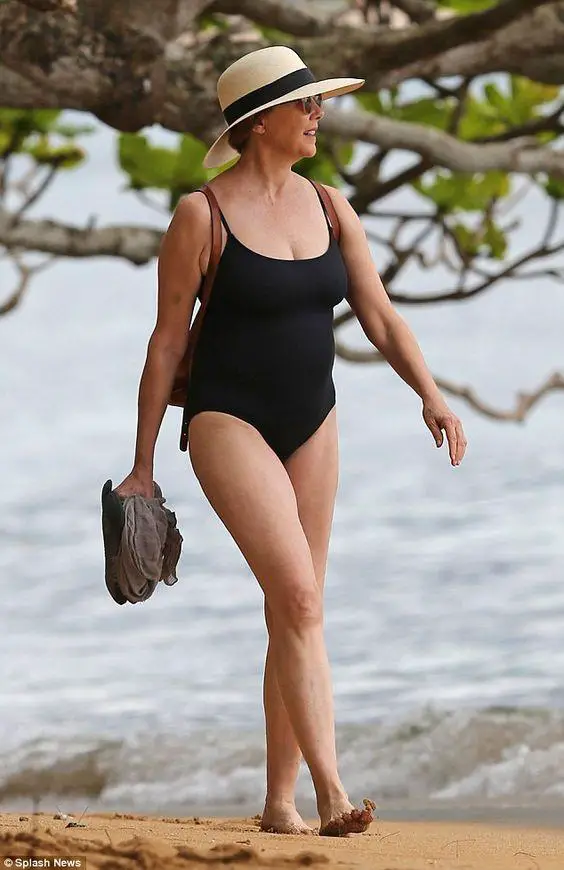 Ruched sides are another great idea for those whose belly is their problem area. It's a trick that many older women use because it makes them feel comfortable with wearing something tight but that "camouflages" their tummy.
It's also one of the easiest bathing suit styles you can find because it's so popular that almost any swimsuit brand has one.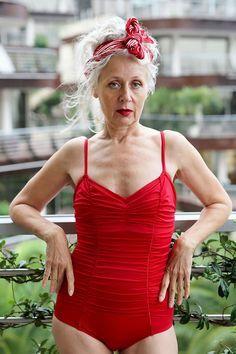 Halter necklines are perfect for anyone who needs extra boob support. If you're largely busted, always opt for bathing suits that have a built-in bra, otherwise forget about it.
As I mentioned, wearing a bathing suit regardless of your age should be all about comfort, and being a large busted woman requires to give your boobs some extra attention. Not only do you have to feel great, but you also have to look like you're feeling it.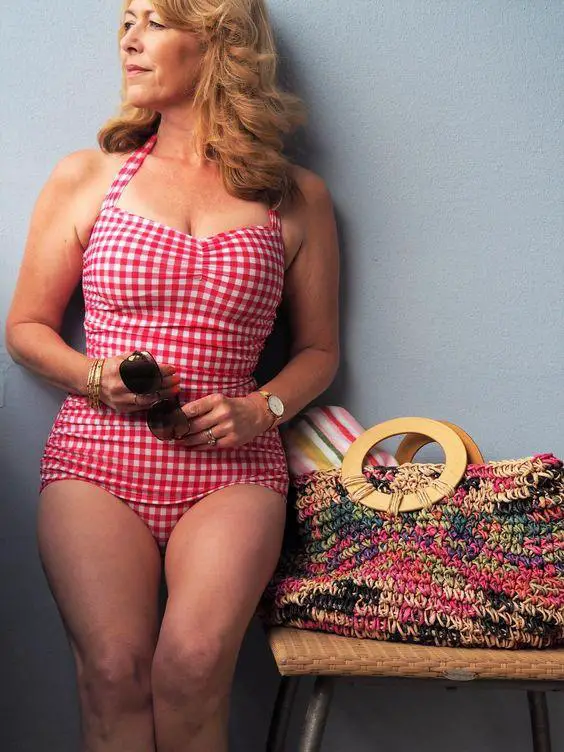 If you love prints, opt for trendy prints like animal print, stripes, checks, modern florals… Stay away from anything that screams "old-fashioned" because that's exactly how you'll look.
We all want to look modern regardless of our personal style, but when you've come to your 50s, looking modern and young is one of the things that will give you more confidence.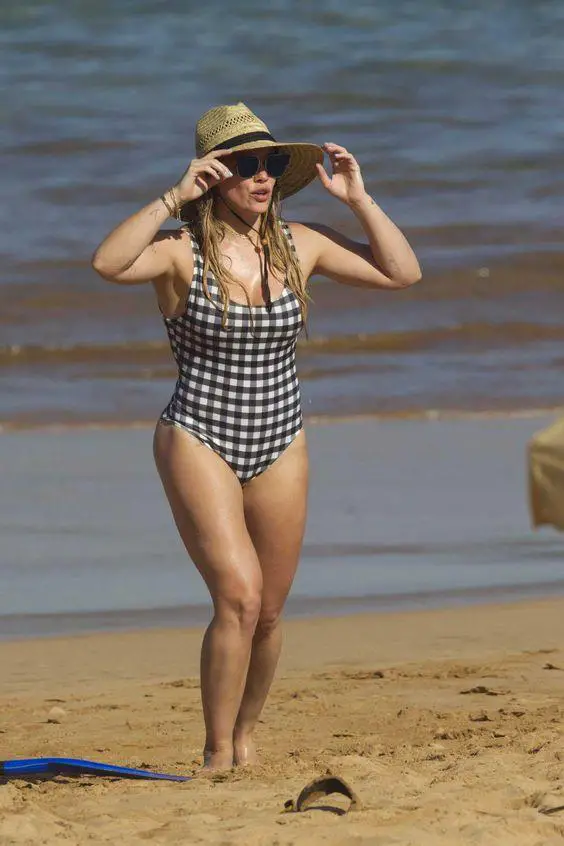 A floral printed bathing suit is perfect for a cute and feminine look. You just have to make sure that the floral print that you choose doesn't look dated.
Add a hat to your look for an extra dose of chicness: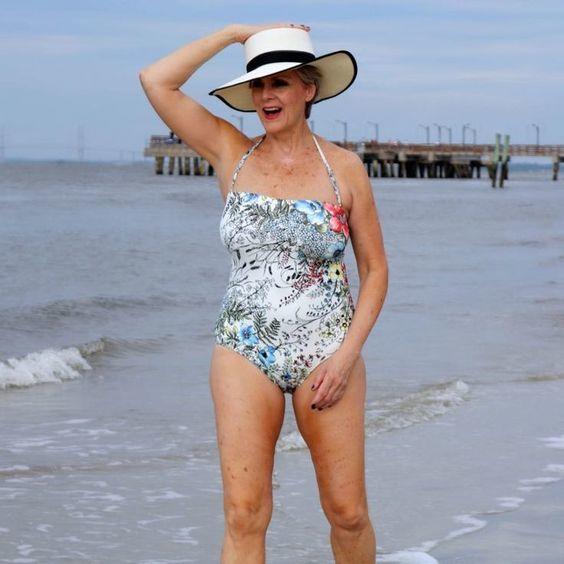 V-necklines are a style that flatters almost anyone. Again, you have to make sure that the swimsuit offers enough support to keep your boobs in place, even if you're small chested. Having a swimsuit that holds everything in its place will make you feel more comfortable.
Try wearing a modern one-piece suit: with cut-outs, geometrical lines, mesh panels… anything that looks young and fresh.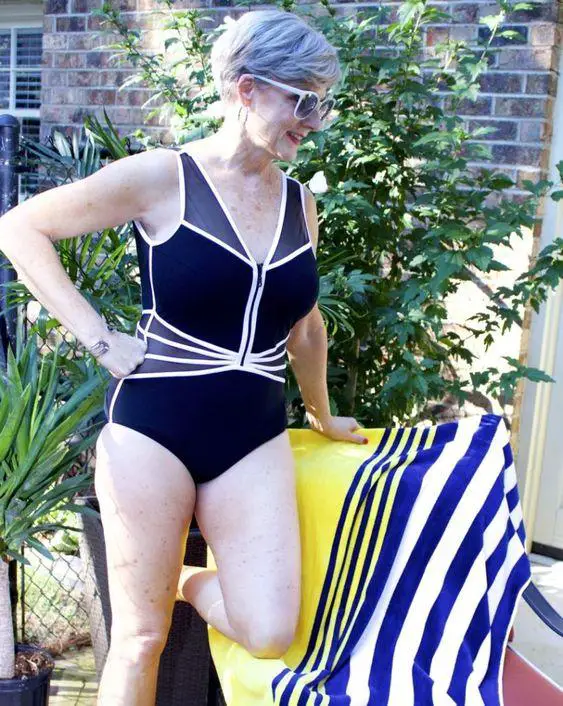 If you're small chested, try a sexy neckline, like a deep lace-up style.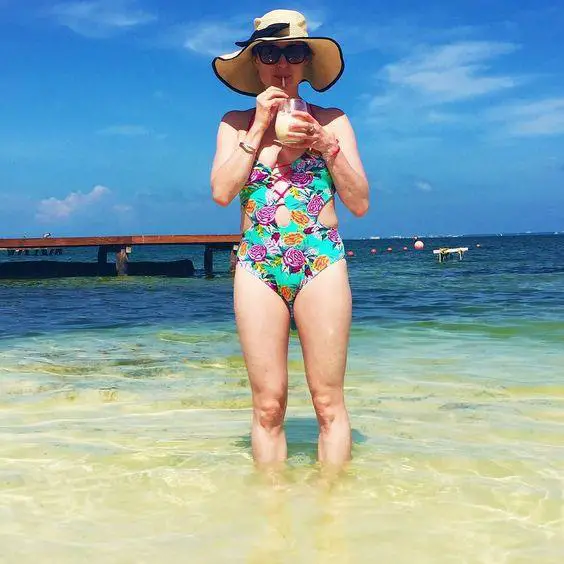 Opt for a fun bathing suit if you feel like showing off your whimsical personality.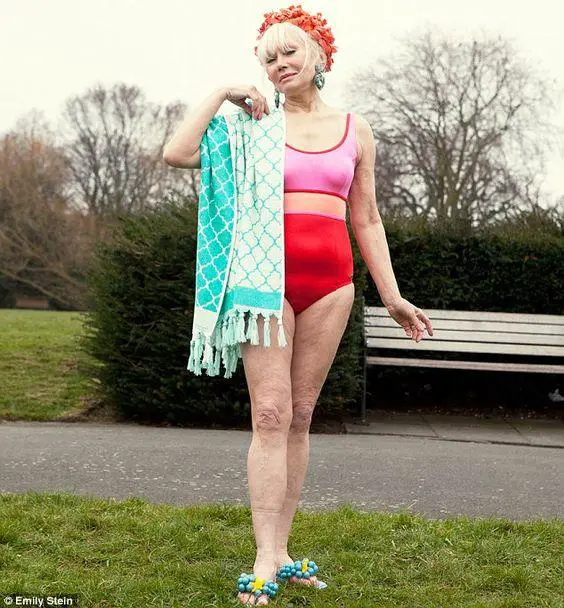 2. Bikinis for 50-year-olds
Forget about people saying that bikinis are only for a certain age. If you want to show off your skin, it's your choice!
The best part is that there are many cute and stylish bikinis for women over 50 that will make you look absolutely great. If you feel confident with your figure, why not show it off?
High waisted bottom
One way of making a bikini suit more comfortable or flattering is by opting for a high waisted bottom. It's not a secret that anyone who wants to hide their lower belly opts for this type of bikini.
High waisted bottoms also look super stylish and fashionable, so don't be scared of trying them!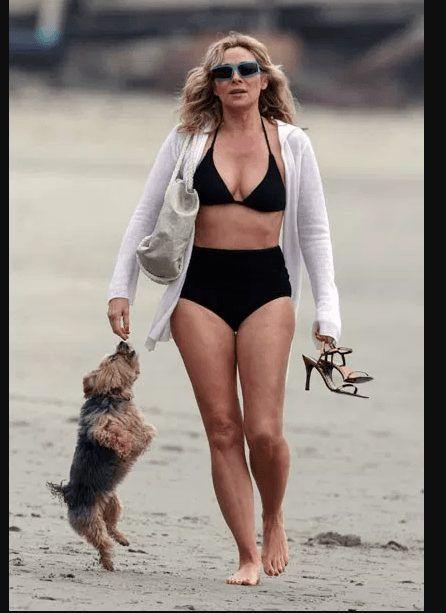 Accessorize your bikini looks with a cute cover-up or a classic hat. You'll elevate your outfit by simply adding one chic accessory, making you look even better!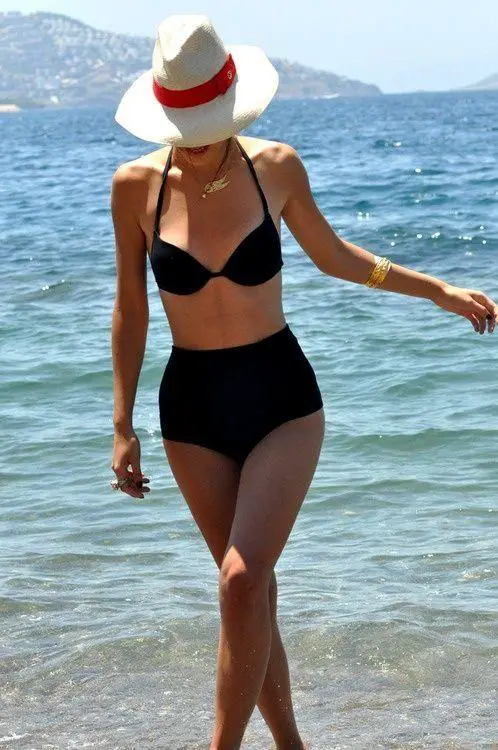 There are some bottoms what are super high waisted, leaving only a small part of your midriff exposed. This is perfect for anyone who wants to accentuate her waist and look sexy without showing too much.
You can pair these bottoms with a halter top that offers extra support for comfortable wear. Personally, I believe this red high waisted bikini is one of the best swimsuits for older women because it's the perfect balance between comfortable and sexy.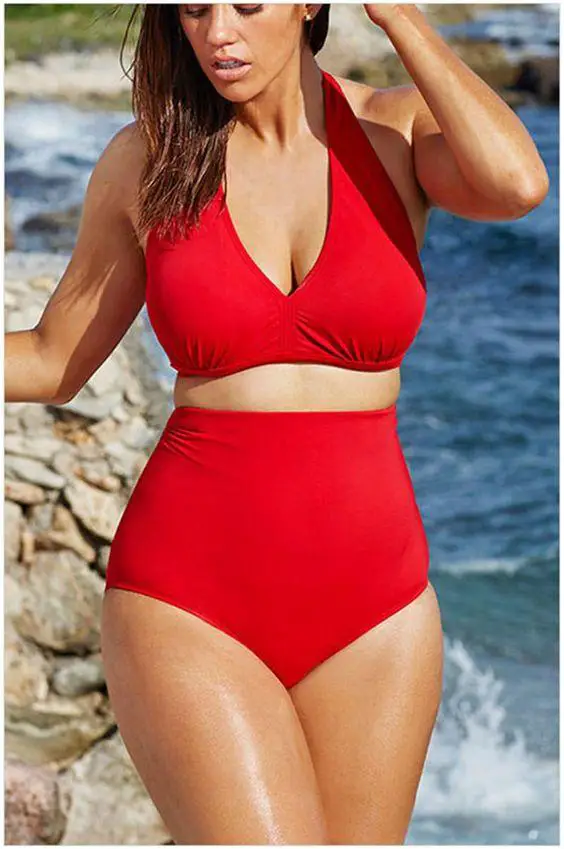 Regular bottoms
If you want to get a sexy tan, or simply don't mind showing you lower belly, a bikini will always be a great idea. I believe that when it comes to two-piece suits, the most difficult and important part is making sure the top fits properly.
The bottoms are much easier, you just have to make sure they're not too tight nor too loose.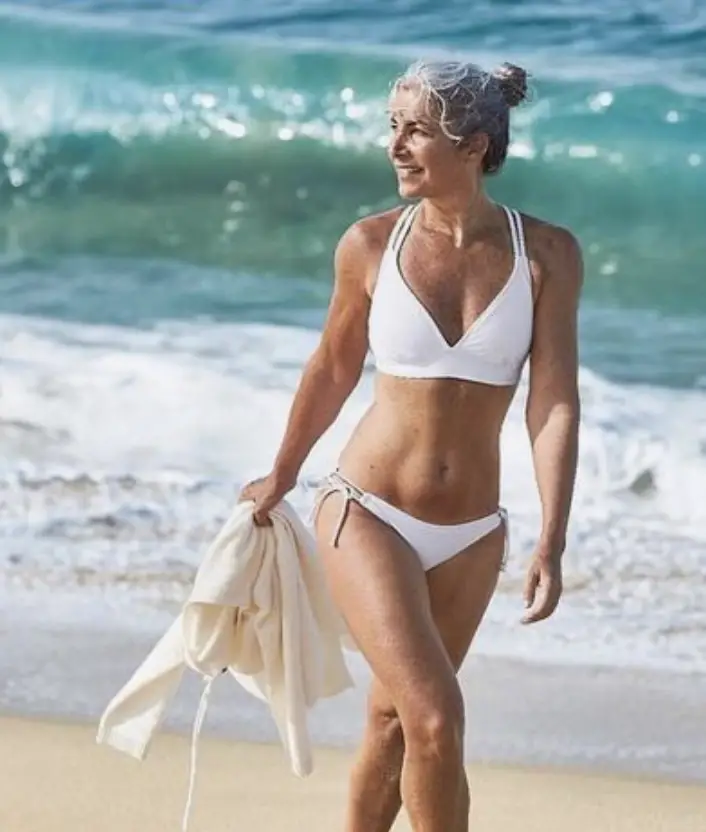 Always remember that rocking a bikini is not about showing off a "perfect body", if there is one. It's mostly about looking great in a cute design!
One of the worst mistakes you can do when wearing a bikini is to pick the wrong fabric or the wrong size. Flabby boobs will never flatter your figure, and that's why your bikini top should offer support with great fabric quality and built-in bra.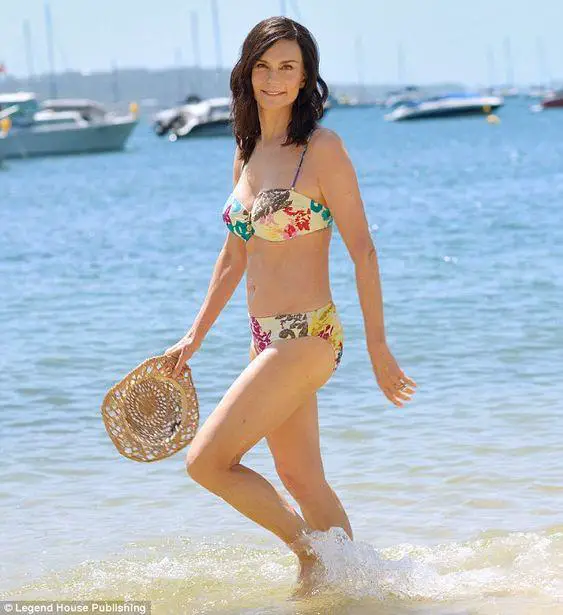 Show off your figure with a cute bikini: polka dots, small florals, checks… One tip for square or triangle shaped women is to wear a ruffled bottom to simulate visually the shape of an hourglass figure.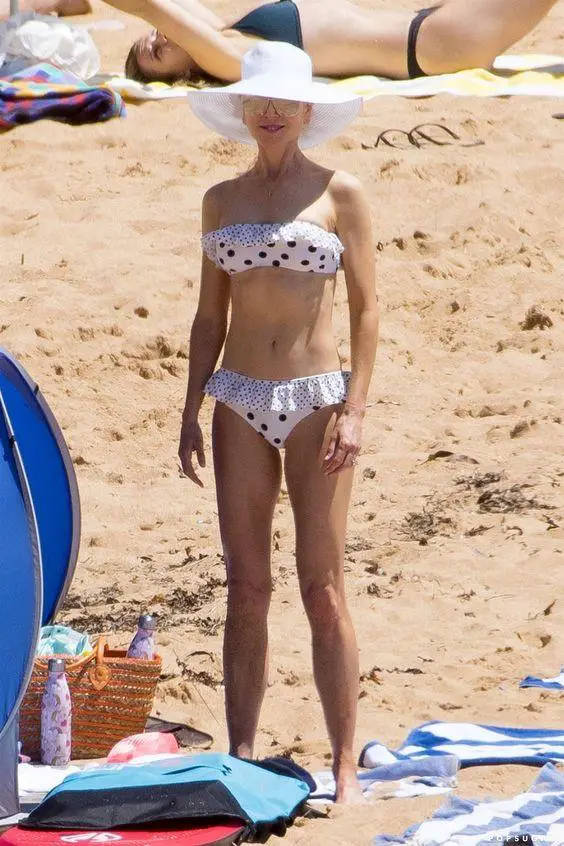 3. Celebrities over 50
Sometimes looking at people at our very same situation can make us feel inspired.
Celebs age, of course, just like normal people. The photoshopped images we often see of them only blinds us to the fact that they're human just like us.
That's why I felt the need to show you different celebs paste their 50s rocking a bathing suit body. We can't all be like Jennifer Lopez, and that's perfectly fine!
Hellen Mirren: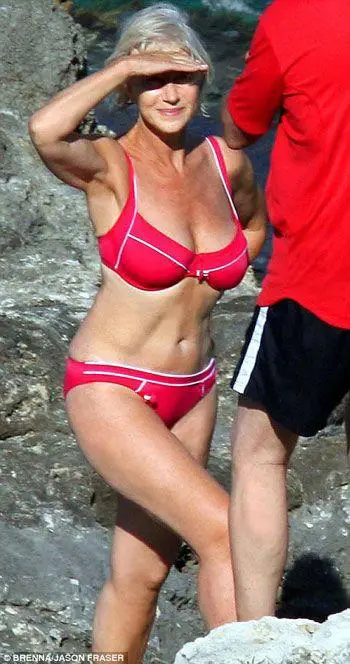 Nicole Kidman: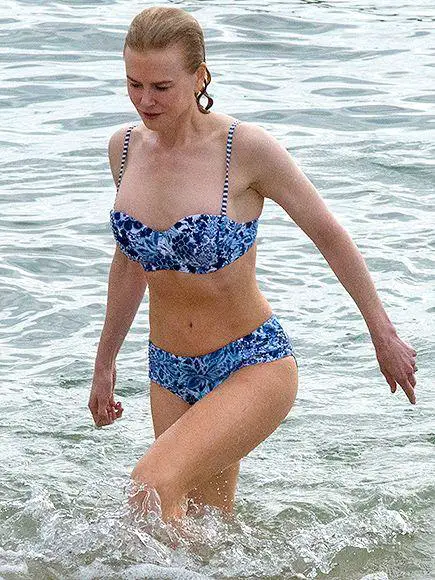 Goldie Hawn: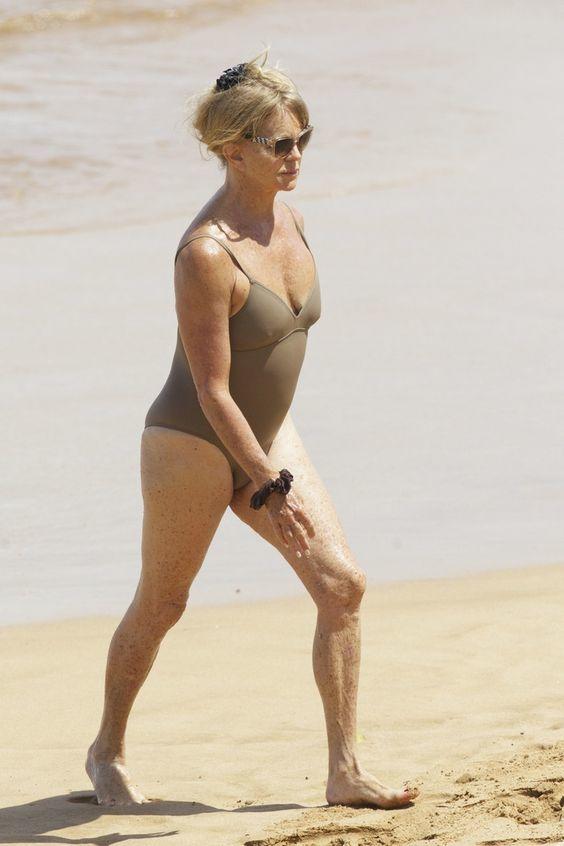 Debbie Harry: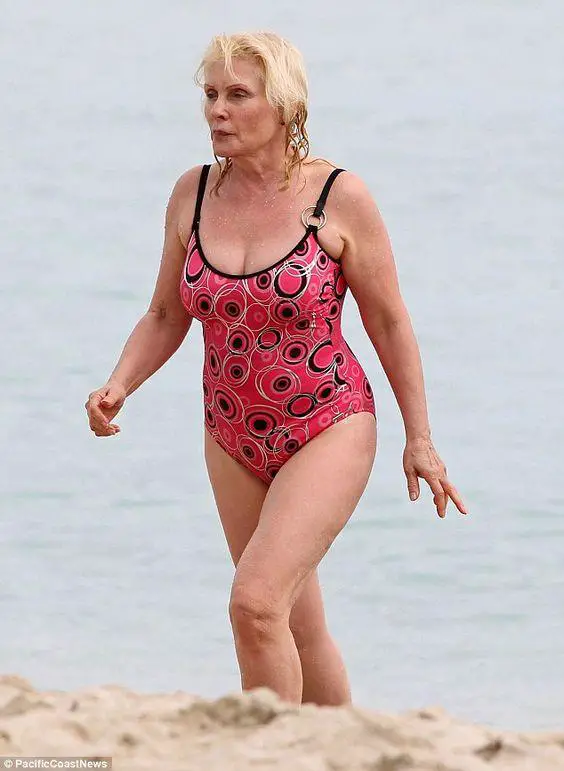 Yolanda Hadid: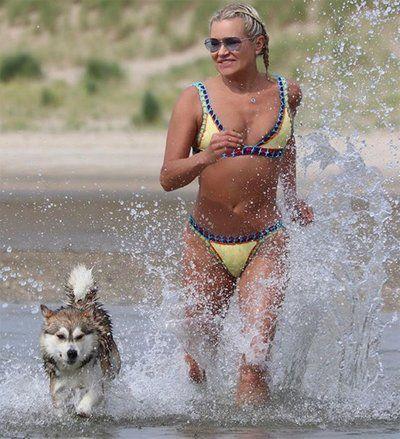 Salma Hayek: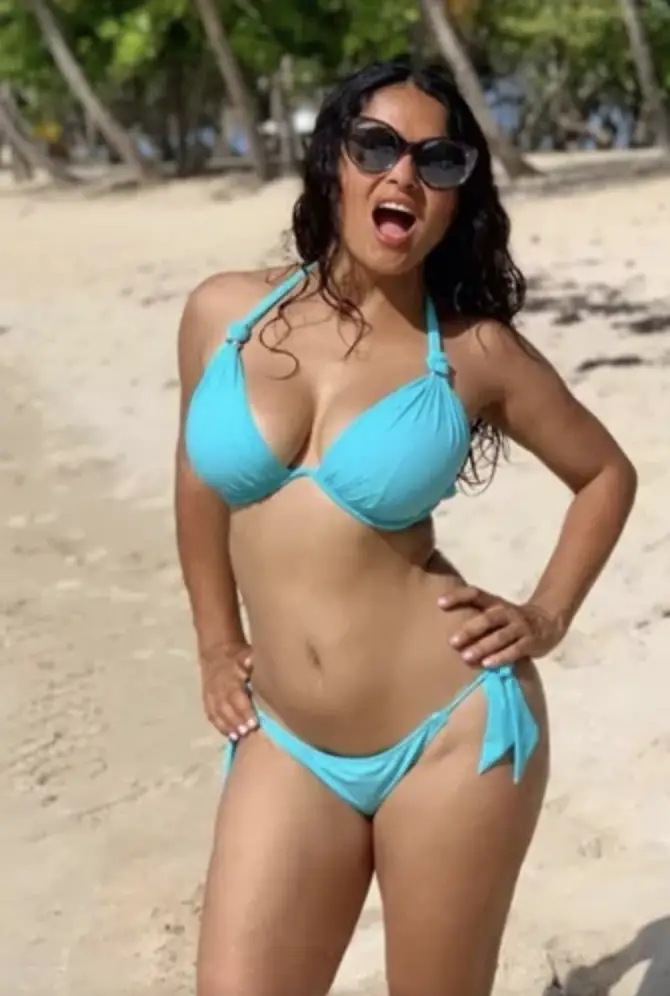 Wrap up:
Wearing a bathing suit when you're over your 50s can be quite a challenge sometimes. Not only do the stores offer a few options, but you also have to feel comfortable and confident.
These bathing suits for women over 50 are some of the many styles you can choose. If you keep in mind the tips mentioned above, you can wear anything cute that you find.
I hope these tips and ideas will help you pick the best swimsuit for your next beach getaway.