Well, do you have a red pant in your closet and do not know how to style it into a trendy outfit? Are you hesitant wearing such bold color pant out in the streets? Then worry no more ladies for you have come to the right place where you will find spectacular ideas about how you can effortlessly construct stylish red pants outfits.
How to Style a Complete Look with Red Pants
Red is a color very true to every girl's heart and vivacious red pants are the hot trend these days. Red pants are not only sexy and stylish but if paired with appropriate tops can even be a great sophisticated office look as well.
Often people are a bit hesitant to pull out such a bold look. But truly, it is only about how and what you pair the crimson and vibrant pants with. Let's have a look at some spectacular and easy to carry red pant looks which will for sure inspire you ladies to rock those bold and bubbly red pants.
1.How to Pair Red Pants With Black Tops For A Day Outlook.
Black is a true match made in heaven for red and the look here pulled up by beautiful Vanessa and portrays just that. A sleek black top never fails to complement red pants and overall enhances the figure as well and can be a perfect outfit for an official lunch or dinner as well as a girl's night out.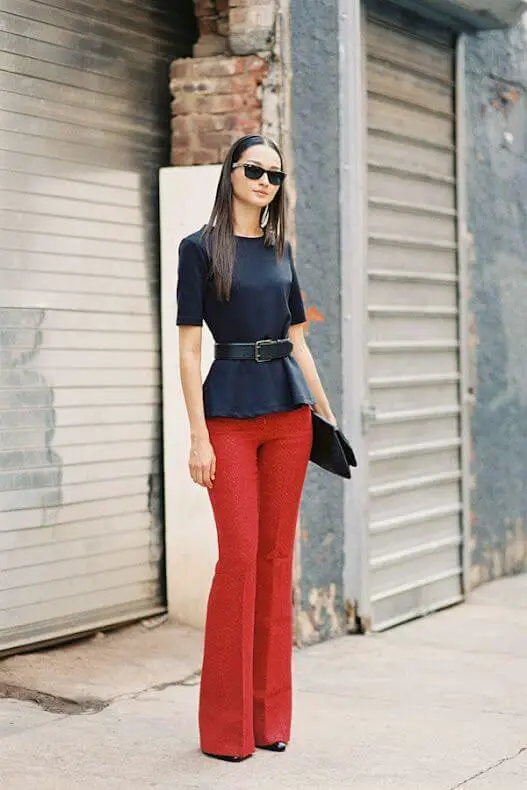 2. How You Can Pull Off an Office Look With Bold Red Pants.
Well, who says you cannot pull out red pant look as office wear and you will only have to weal dull black and white official outfits? A white shirt with a beige blazer paired with a formal pair of red pants will turn out to be an amazing combination for office wear. This is a pure classy and sophisticated red pant look that will never fail to make you look spectacular and stand out amongst the others.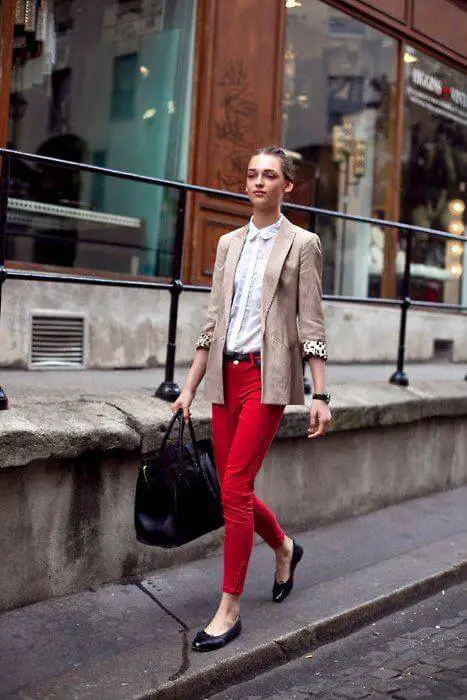 3. Ways to Style up a Vivacious Hot Red Palazzo
Red palazzos are the statement pants that give you a completely different look effortlessly only if you pair the right top with it. The classy crocodile print top will look absolutely stunning when you will tuck it in with a pair of high waist red palazzos. You can accessorize the look with a pair of statement belt to make the outlook more flattering.

4. How to Incorporate Pattern Blazers With Red Pants
A black and white striped blazer with large golden buttons looks spectacular if paired with vibrant hot red pants and a simple white tank top underneath. This is an extremely modish look that can be worn to so many events both day and night and even at outdoor official meetings and parties and trust me everyone's eye will be at you.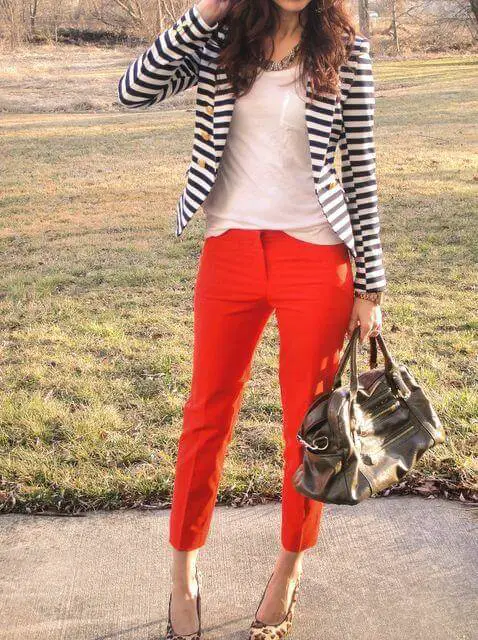 5. How You Can Pair Red With Whites.
Red pants, a statement laced top, a sleek white blazer and a pair of leopard print boots are all that you need to rock the streets in autumn and winter. White blazer and top is a perfect match made in heaven for red pants and looks absolutely stunning when you accessorize the outfit with gold accessories.
The boots really complement the entire look and bring the whole look together. You can even substitute the leopard boots with black boots; it will look equally fashionable and stylish.
But if you are going for a bit more casual looks, then simply put on a simple white top and a scarf and a pair of red leggings and you are all good to go. The image on the right is an ideal casual day to day look that is simple but yet equally classy.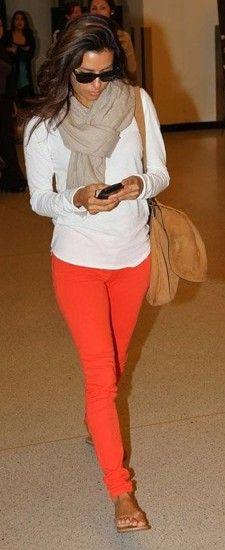 6. How You Can Carry Out Winter Looks With Red Pants and Bold Scarfs
Well, winter is almost here and it has started to get cold and is a perfect time to take out those sleek winter long sweaters overcoats and combining a black long sweater with red pants and a stylish leopard scarf will completely uplift the entire outlook. Accessorize the outfit with a brown belt and gold emblements to enhance the look even more.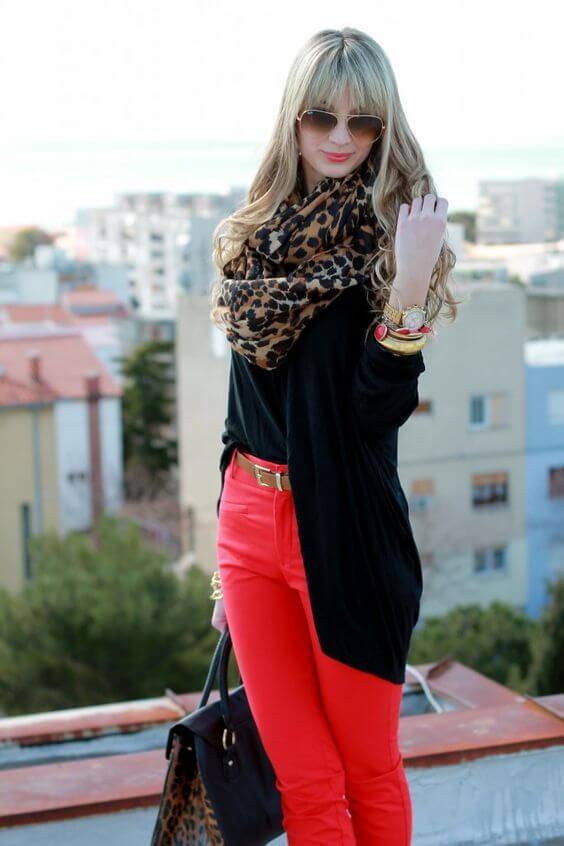 7. Can You Combine Denim With Red Pants?
Of course, you can ladies, just put on dark denim shirts with a hot red pant and a classic Burberry scarf and you are all set to put the streets on fire. It is a very simple and classic casual look that can never go wrong and is even work appropriately.
The blue denim perfectly complements the vivid red pants and escalates the entire outlook. It is simple and yet classic at the same time.


Fitted or lose, a denim shirt looks flattering with every red pair of pants. If you want to wear a loose and high waist pant then simply tuck in your denim shirt, put on a stylish belt and you are all good to go.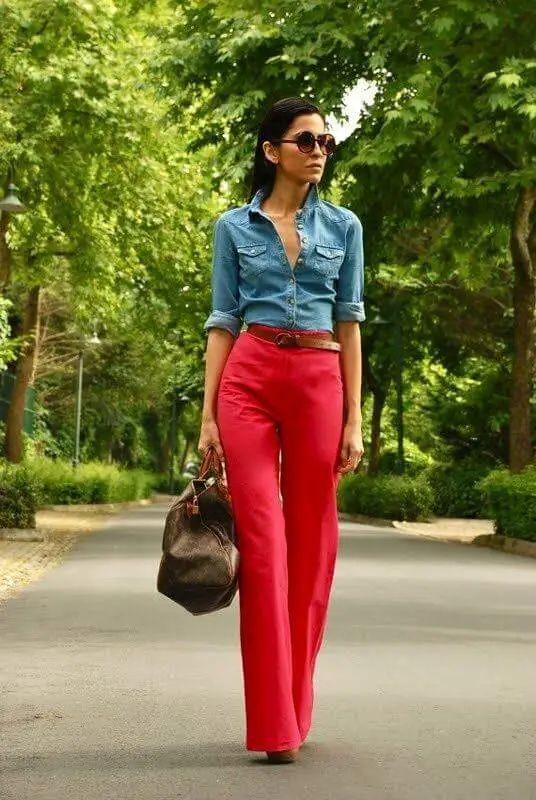 8. Do You Have a Brown jacket you are waiting to wear?
Brown jackets look spectacular with red tight leggings and are a great way to style a chic and audacious outlook. Leather jackets are a statement and classic and you can never go wrong with them. It will really enhance the entire outfit and give it a very trendy look.
The look will be even more flattering if you add on some hot red low ankle boots. Often people hesitate to wear red boots and red pants together with the fear of being too bold. But these low ankle boots will really balance and complete the entire look.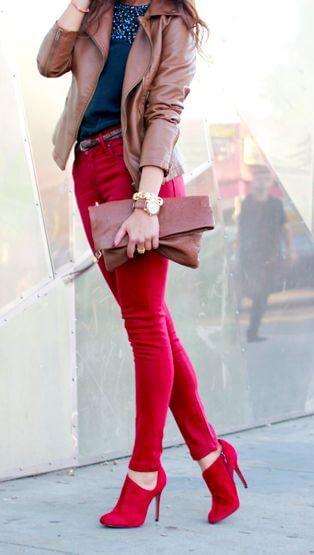 9. What is The Classic and Sexy off Shoulder White Top and Red Pants look?
This is a great look for a lunch date or dinner as it is very simple yet very elegant. The off shoulder top looks extremely flattering and sexy with the tight red leggings.
The slight hint of red splatter in the top really balances out the entire look. If you are planning on going out for a date, don't forget to put on a matching pair of pumps to complete the look.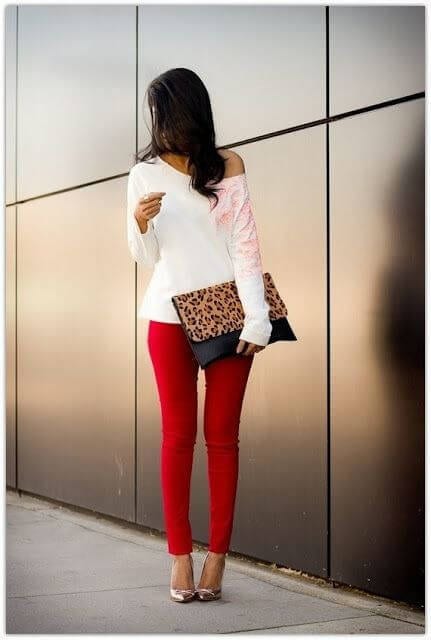 10. How You Can Spice Up a Simple Grey Sweater with Bold Red Pants?
Grey is a very classy color to play with a pair of red pants and looks even better if you style it with a matching grey or black printed scarf. With winter approaching near, this is an ideal look to rock the streets.
The grey asymmetrical top really brings out the effervescent tone of the red pants and really makes these pants stand out and pop and bring out a bright note in the entire appearance of the outlook. Accessorize the outfit with silver jewelry and a grey tote to enhance the look even more.

So all the beautiful girls and ladies out there don't be hesitant and put on those red pants that have been sitting in your closet forever, it's time to create some bold and classy looks with it. Hope these images will inspire you to match and play with different tops and jackets that you can wear with vivacious crimson pants to create amazing red pants outfits.