Many of us know what a bohemian style looks like, but few actually know how to rock this style.
Dressing bohemian is much more than long flowy dresses and bell-bottoms. If you're curious about this style or simply want to spice up your approach to boho chic, then this article is perfect for you.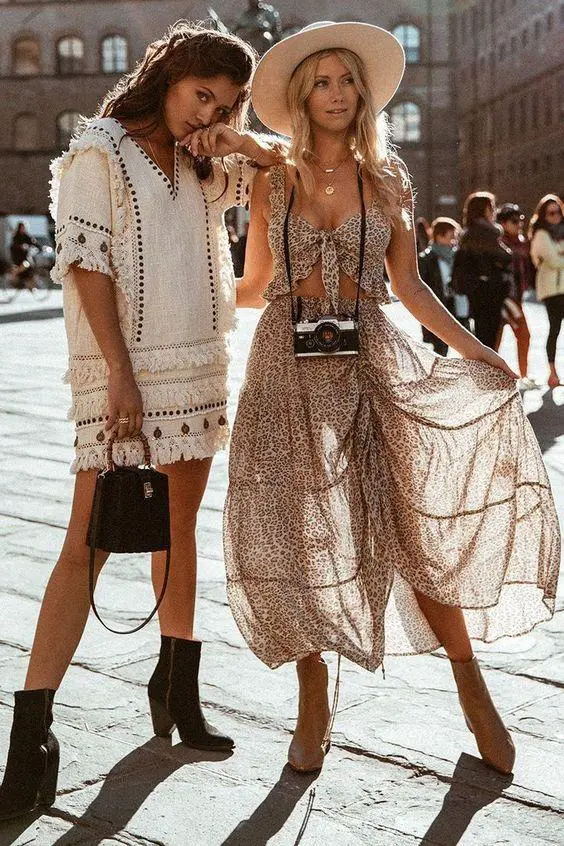 I've compiled 34 different bohemian outfit ideas that will show exactly what you need to do in order to dress like a genuine boho soul.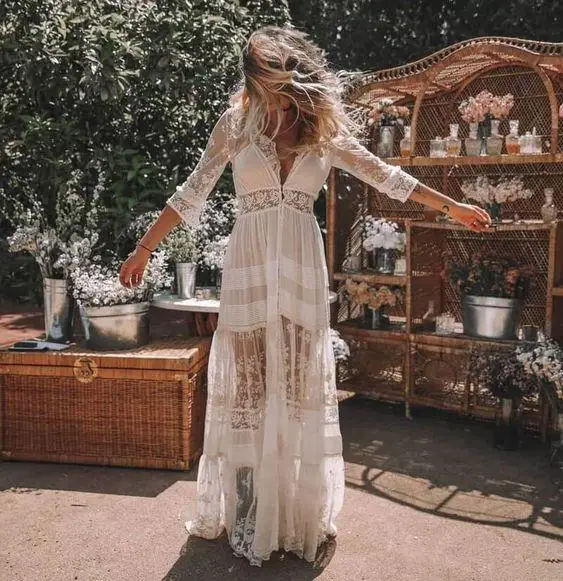 Bohemian dress style
But first of all, what is the bohemian style?
A bohemian (or boho) style is inspired by the free-spiritedness of the 70s. Loud, bold color and patterns, loose-fitting clothes, chunky jewelry, fringes, and layers are some of the things that characterize a bohemian style.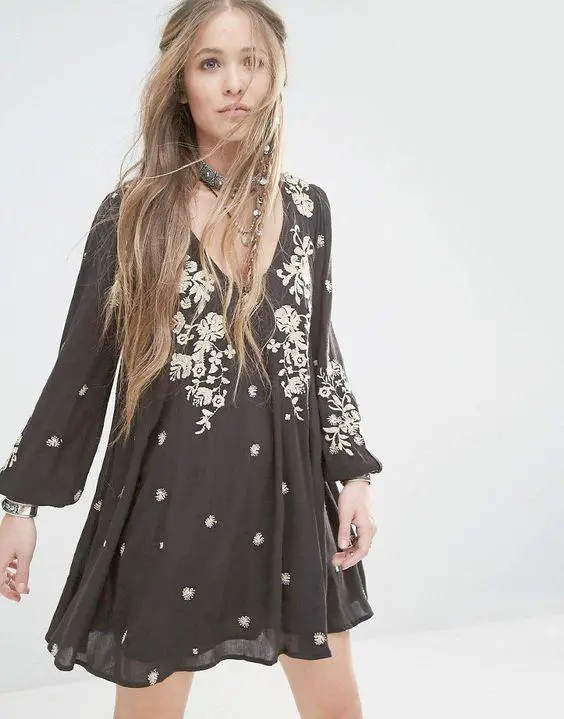 Remember that the 70s was all about love, freedom, and community, which was precisely what people from this decade wanted to communicate through their clothes. And that's just what you need to express as well.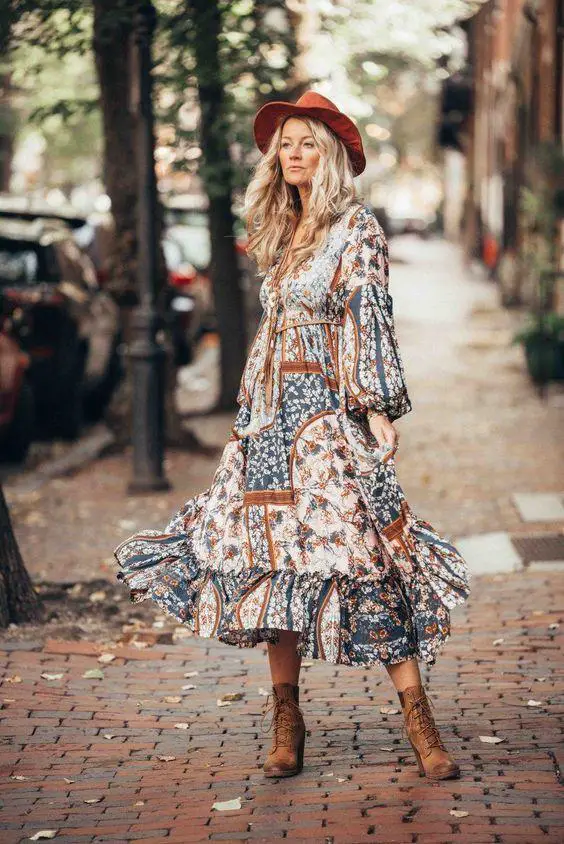 4 tips on how to style your bohemian dress
1. Accessorize with jewelry
One of the most effective ways of rocking a boho-chic style is by styling with accessories. Now, there are two ways of doing so, and whichever you prefer will depend on your personal taste.
The first one is the go-to option for many, and the genuine way of actually looking like a boho soul.
It's a universal truth that bohemians love chunky accessories and jewelry. From thick leather beaded bracelets to big and long silver necklaces, a bohemian look is nothing without accessories.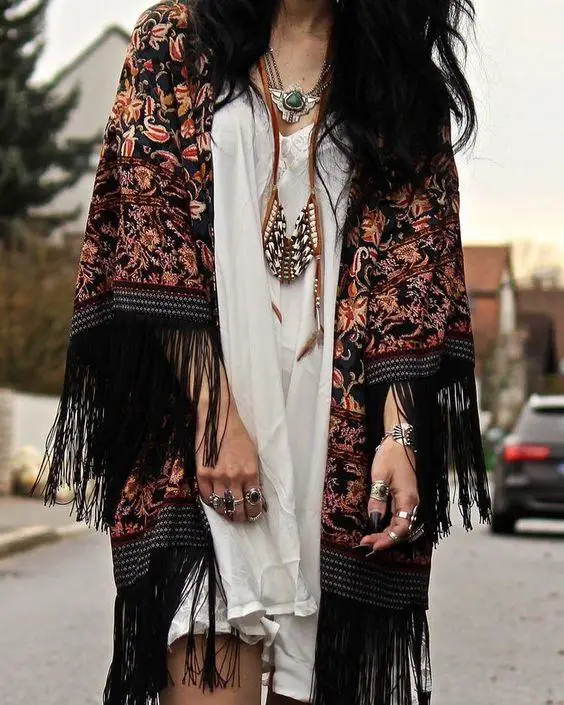 Chunky hand and foot bracelets, necklaces and earrings will all take your bohemian style clothes to the next level. It's almost impossible to look bohemian without them: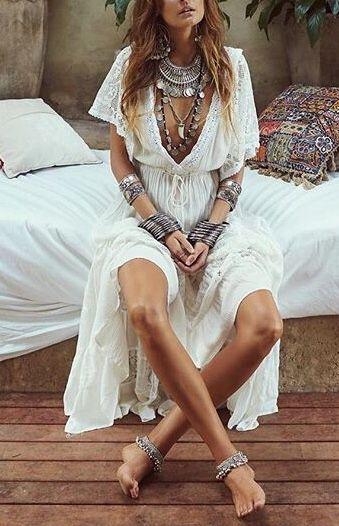 You can do a simple and easy updo to show off your necklaces. Don't worry about mixing silver and gold accessories. Not only is this an old-fashioned belief, but neither do bohemians follow "fashion rules".
The bolder the jewelry the better. Think outside the box!
What's important is that your accessories become equally (or more) important in your outfit as your dress. That's the secret to pulling off a killer bohemian outfit.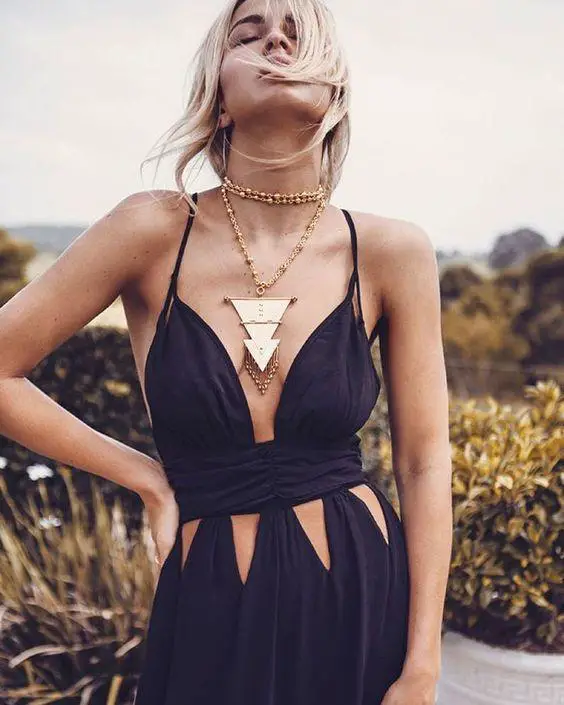 You can throw in some pops of color into your accessories. You need to remember that gold and silver aren't the only options: bright color tassels or beads will add that extra chicness.

If you're attending a music festival, a bohemian dress paired with multiple bold accessories is what will make you stand out from the crowd. This girl, for example, is wearing at least 8 different necklaces and big long earrings, which is what makes her outfit look so unique and special: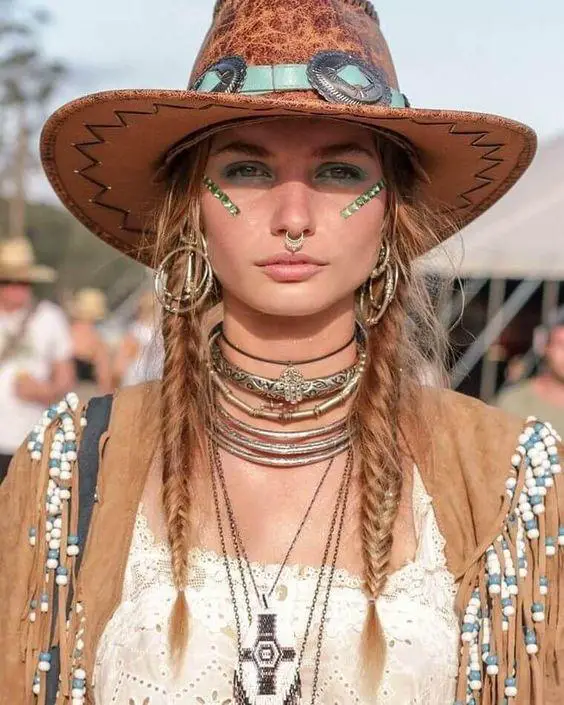 Don't be afraid of adding lots of color into your bohemian dress outfit. Tassels are a great example of how you can include bright and bold colors, especially if you're wearing a black or white dress.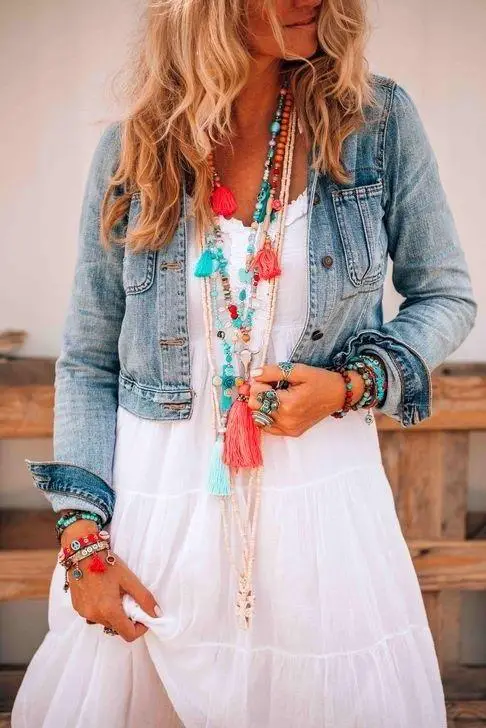 Apart from tassels, feathers are another go-to accessory loved by bohemians. Make sure to include them on your earrings or necklaces:

The second way how you can accessorize a bohemian dress is with lots of delicate jewelry. This tip is especially for anyone who loves to look chic and sophisticated.
As you can see in this outfit, the model is wearing three thin gold necklaces. That's exactly how you should do it. One simple necklace will not work: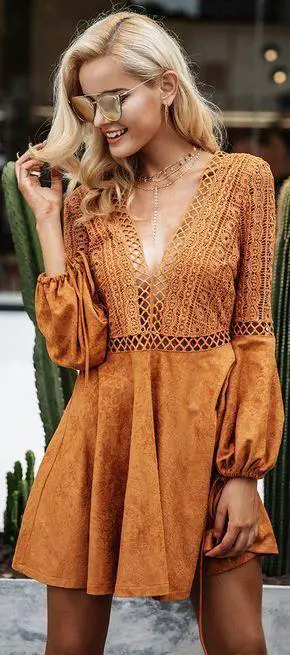 The same thing happens with other accessories like bracelets and rings. You need to include at least two in order to stand out.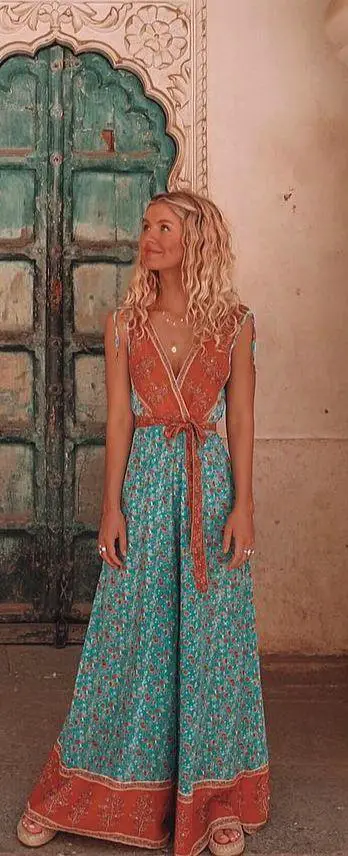 Three necklaces with different lengths each is one of the best ways of rocking a boho-chic style. Again, remember that it doesn't matter if you mix silver and gold necklaces into one same outfit.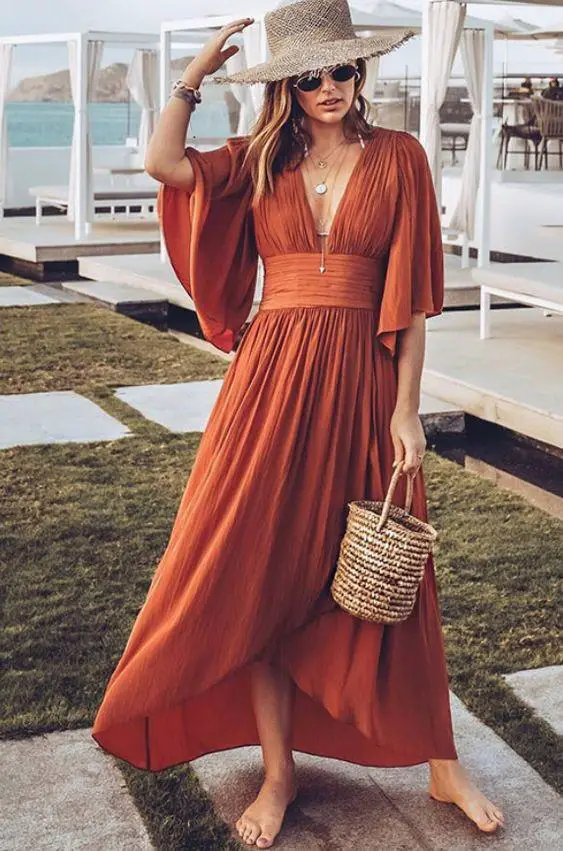 If you're more into a casual and sophisticated boho style, then layering chunky jewelry might not be for you. That's why you can also choose to accessorize with subtler necklaces, bracelets and earrings.
One long necklace can do the trick as well: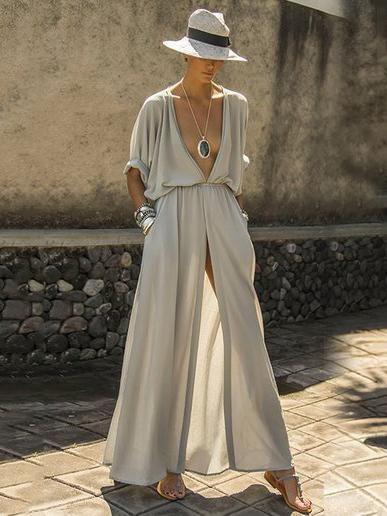 2. Pay attention to your hairstyle
The second tip on how to master a bohemian look is to pay attention to your hairstyle.
Many times we forget that we can accessorize or style our hair as well and we focus only on our jewelry. But doing this will only make you miss out on the amazing a killer bohemian looks you can create.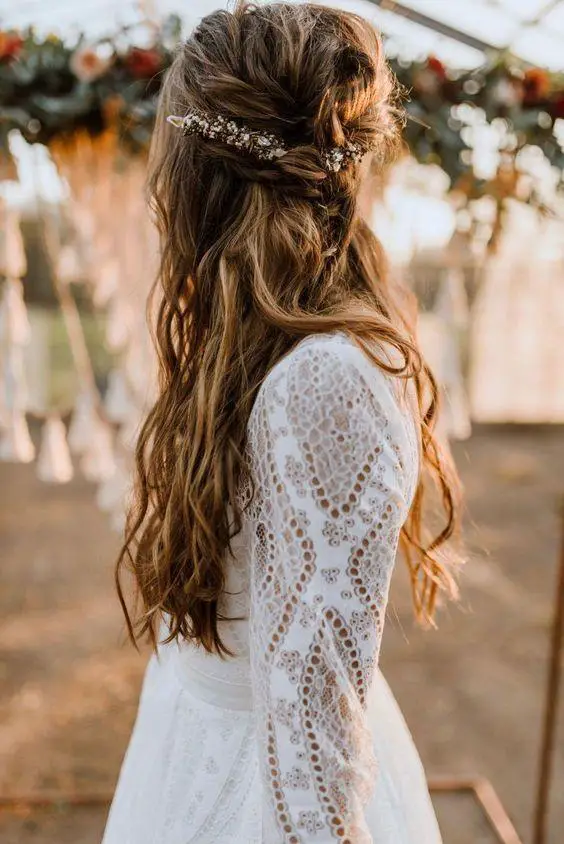 Braids are usually the go-to option for bohemian lovers. Not only are they cute and feminine, but they also add that free-spirited vibe to your look.
Get creative and give your boho dress an extra dose of bohemian vibes with different braided hairstyles.
Braids will never go out of style, and including them in your boho chic outfit will only take it to the next level. Accessorize with many chunky necklaces and bracelets, braid your hair and rock that long flowy boho dress.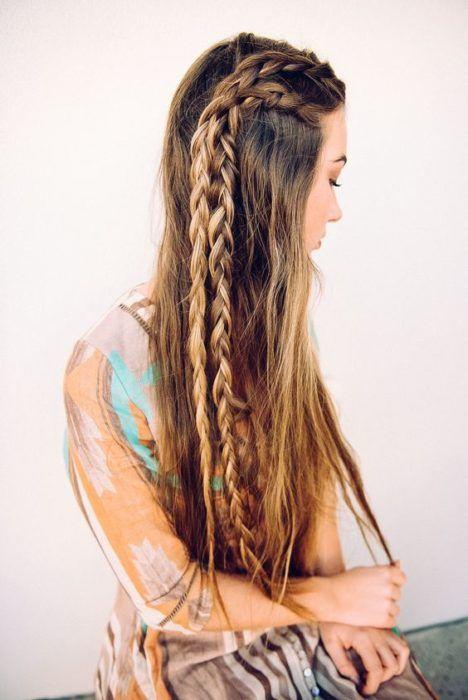 As I've mentioned, one of the best ways of rocking a bohemian style is wearing many different accessories. The same tip applies to your hair.
Get creative and add unique accessories. You can find feather clips, fake colorful braids and many other things you can include in you boho-inspired hairstyle.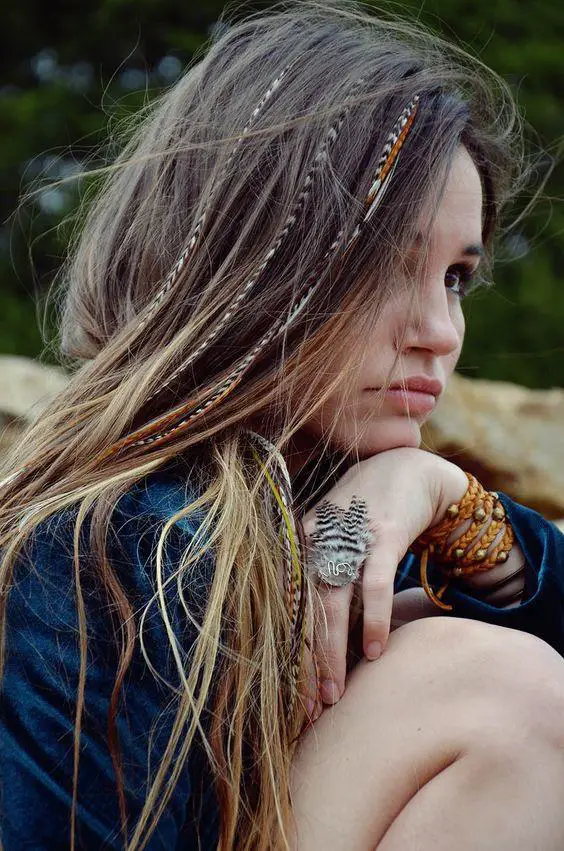 A bandana or headscarf is another accessory you can include in your boho outfits. Style your hair with a simple updo or ponytail and wrap a printed or embellished bandana around your head and you'll create a head-turner bohemian look.
Add many necklaces, rings and bracelets to add even more boho vibes to your outfit: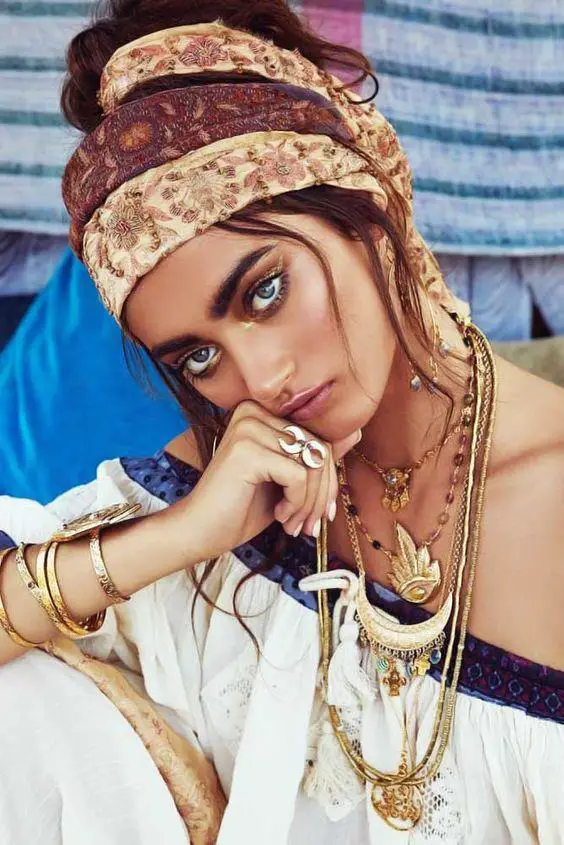 The secret to pulling-off amazing boho hairstyles is, literally, to get creative. Add pops of color and/or accessories, experiment with different types of braids and updos, and get busy finding new ways of rocking your hairstyle game.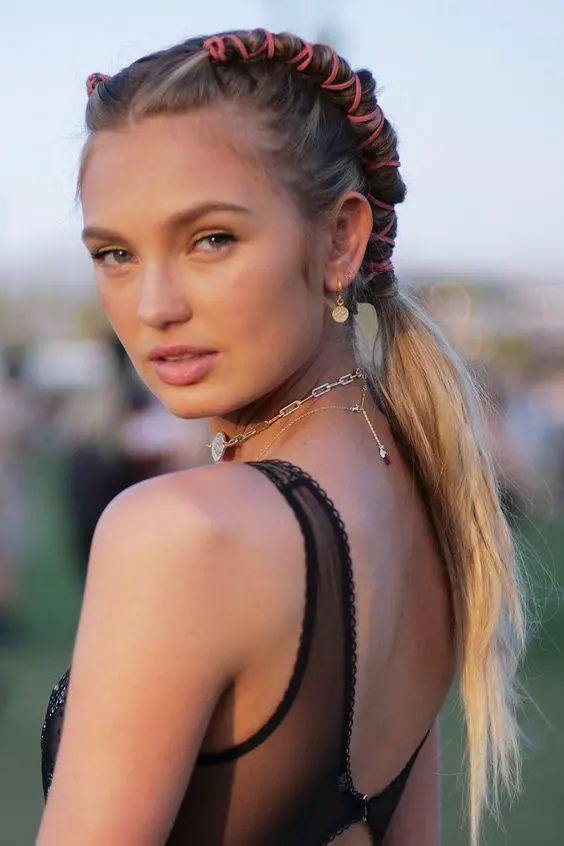 Achieving a boho-chic look is not that difficult. Sometimes a hat is all you need to pull off the perfect bohemian dress style.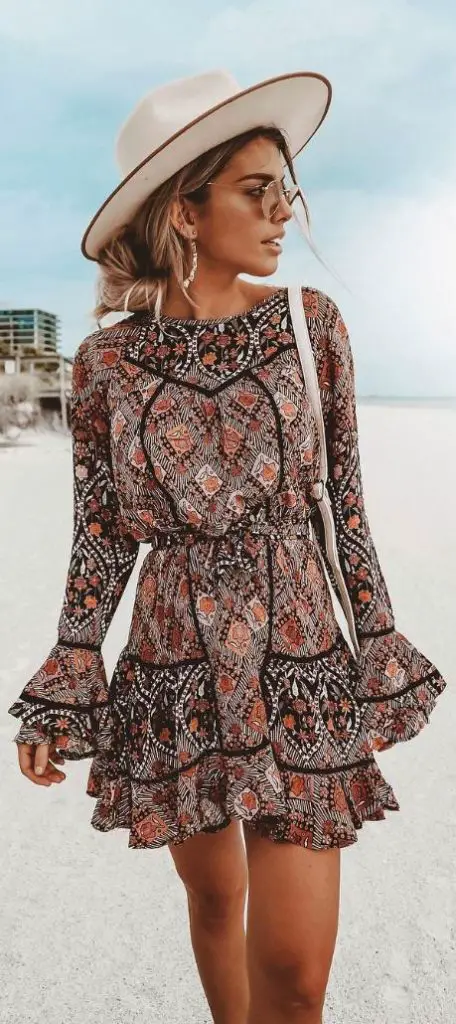 If you're not much into braids or other hairstyles, a cute hat will do the trick. A bohemian dress is not the same without this classic accessory, so don't forget to include it in your boho-inspired wardrobe.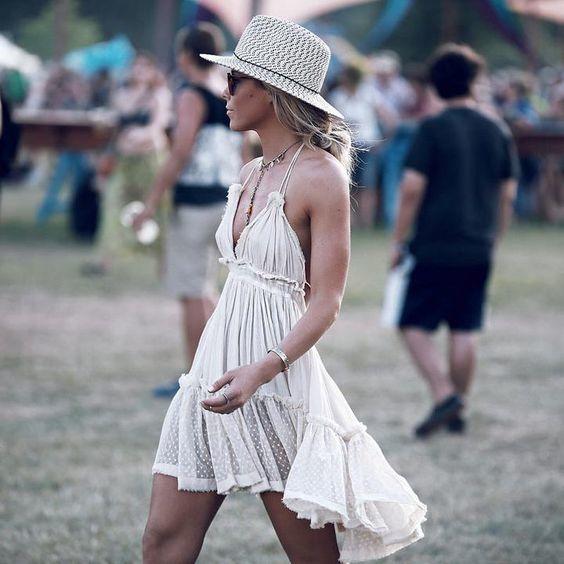 3. Layer your outfit
You may already know by now that bohemian lovers are the masters of layering. That's one of the reasons why a bohemian style is so fashionable: layers take their outfits to the next level.
For a cute fall bohemian outfit, try wearing a black leather jacket. You'll add some extra dose of edginess to an already-chic outfit: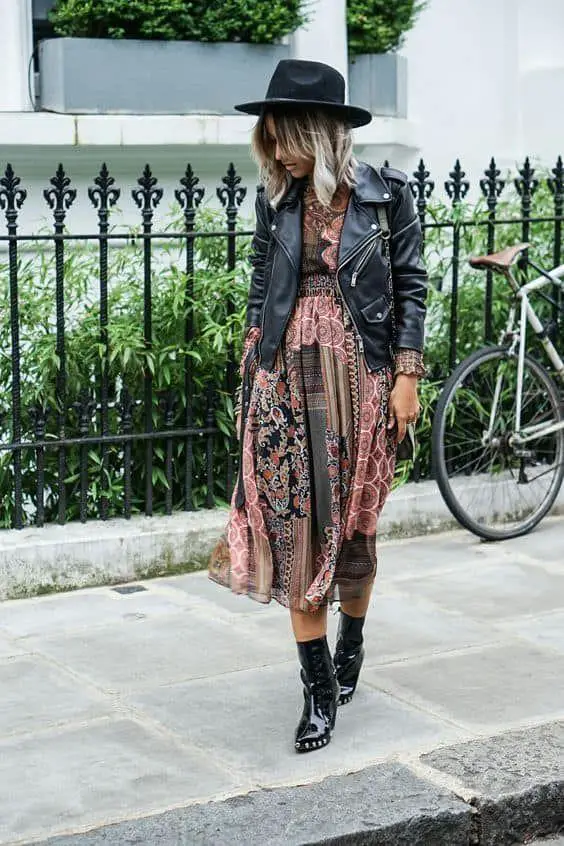 A duster, military jacket or denim jacket are other great options you can wear for layering your boho dress: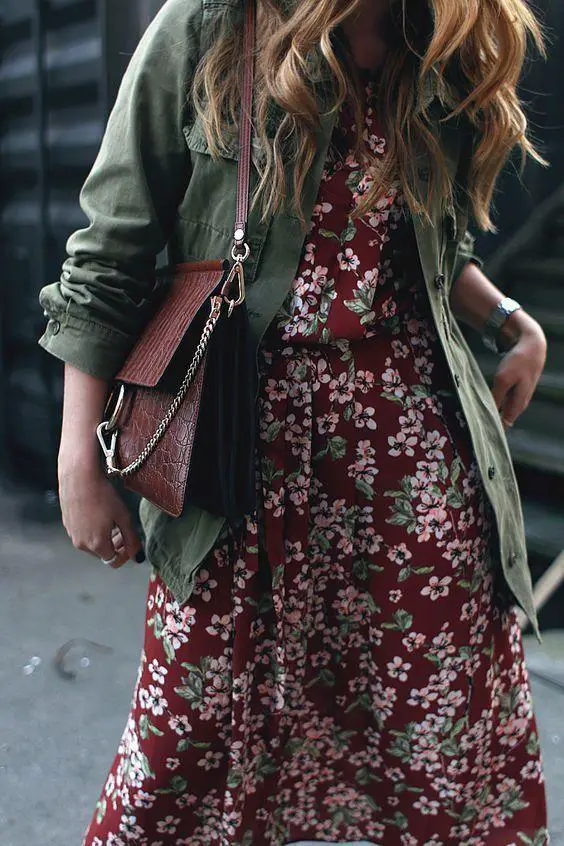 We all know fringes are one of the most iconic elements of a bohemian style. Adding a fringed layer, like a jacket or vest to your outfit will make you look like a boho queen immediately.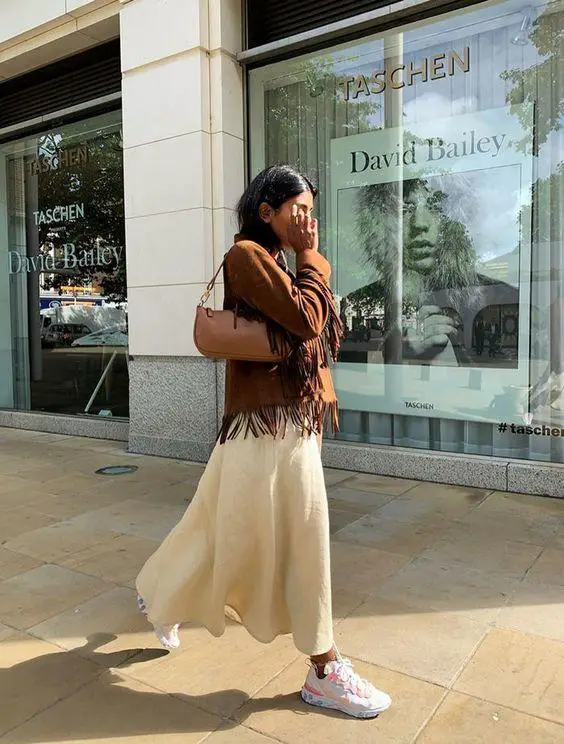 A chunky cardigan paired with your boho dress is another cute idea of how you can easily layer a bohemian outfit.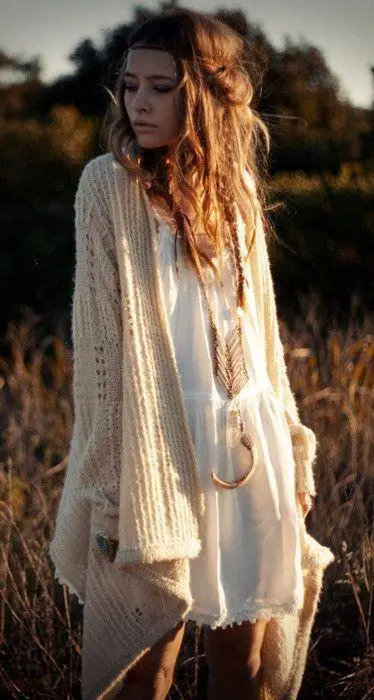 Add a pop of color to your outfit with a cardigan. Remember that a bohemian style is all about having fun with prints, color, and textures.
That's why you shouldn't be afraid of adding bold colors to your outfit: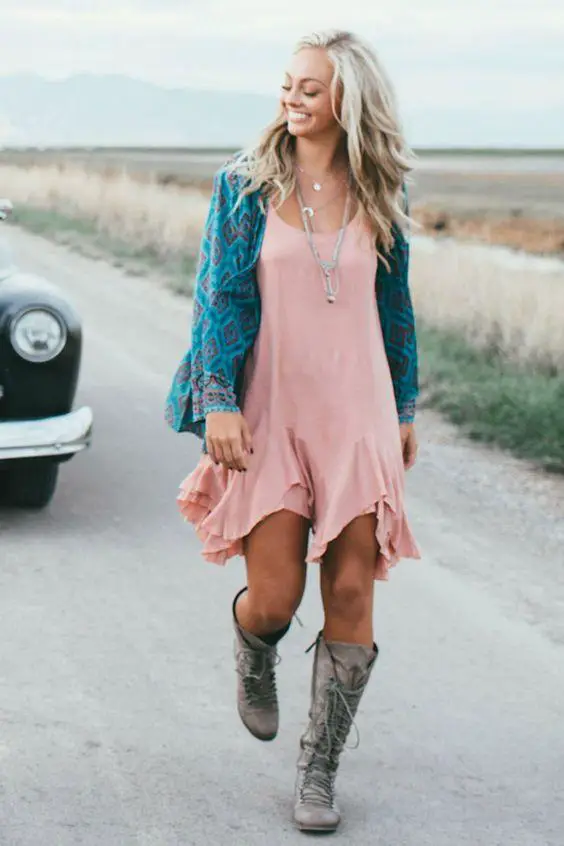 Long kimono-like cardigans are another must-have piece if you want to layer your bohemian looks like a pro: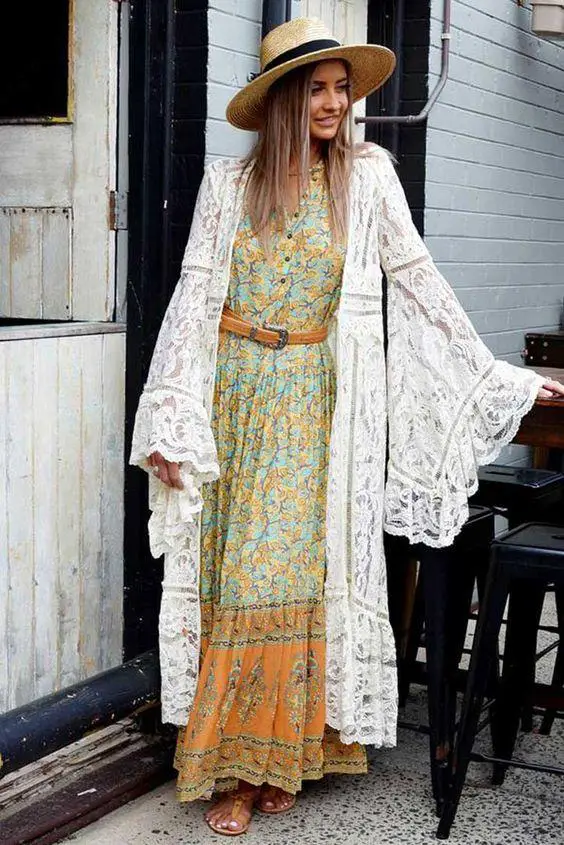 4. Finish your look with the right shoes
For a perfect head-to-toe bohemian outfit, you have to take into consideration the shoe types you can wear with your dress.
Whether you're wearing a mini, midi or maxi-length dress, all these bohemian-inspired shoes will look great.
For a cute and feminine look, lace-up sandals are the go-to option: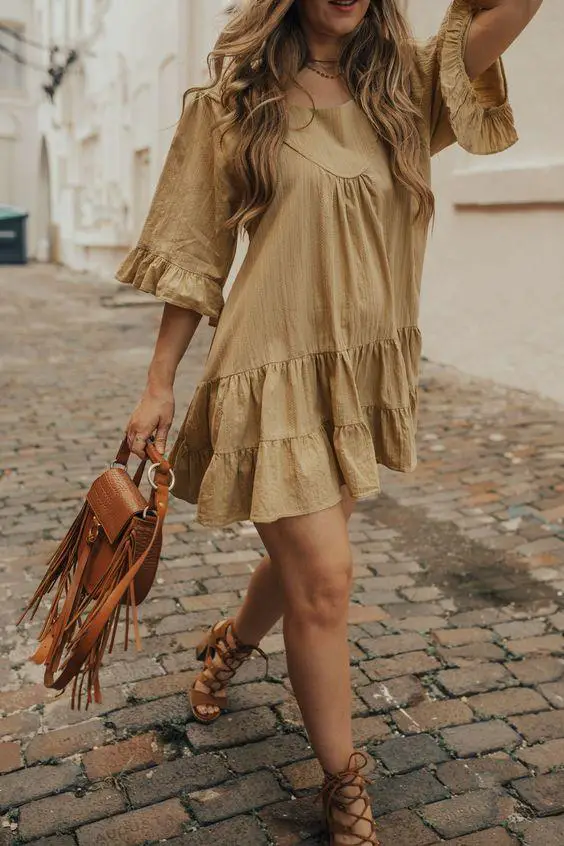 Lace-up Block heel, wedges, or flat sandals are perfect for showcasing a perfect bohemian style dress: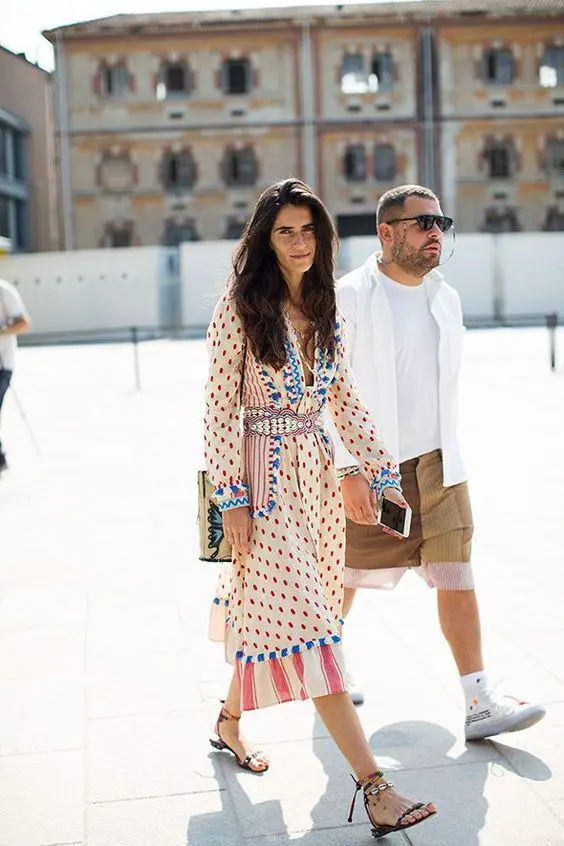 Over-the-knee boots are the perfect complement for a winter or fall boho-inspired look. Add a hat a couple of rings to bump up your look: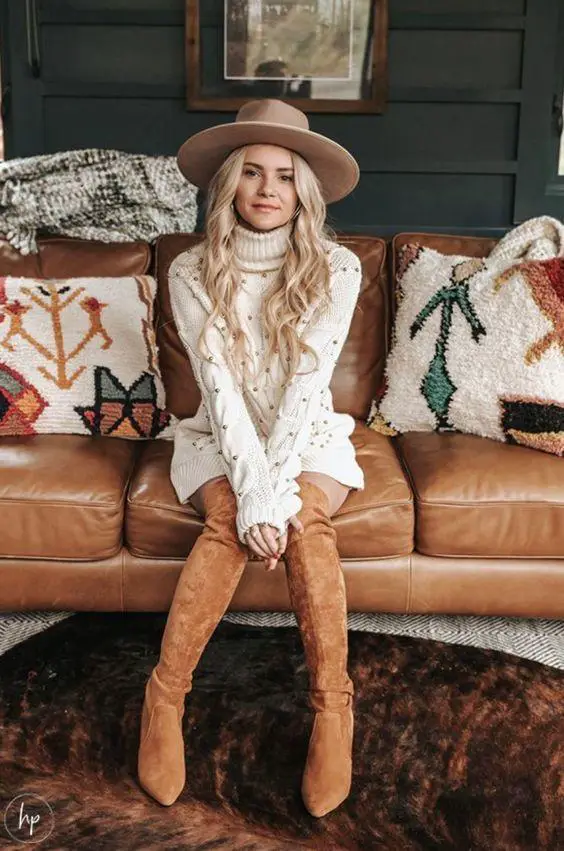 Actually, any type of boots will do the trick. Booties, mid-calf, black or camel, embellished or not…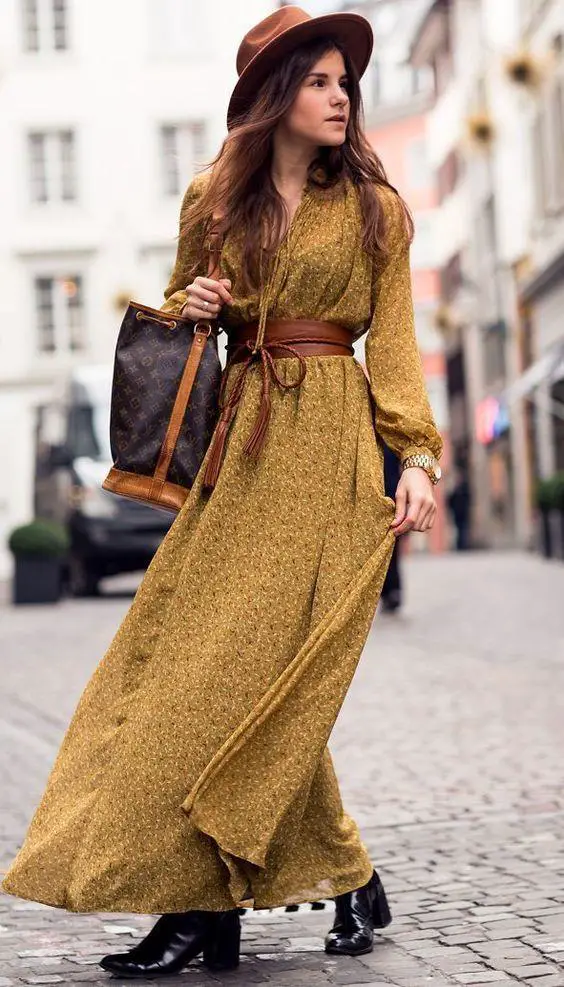 Long flowy dresses, fringes, accessories, hats, and cowboy boots are THE combination you need to try if you're serious about your bohemian style: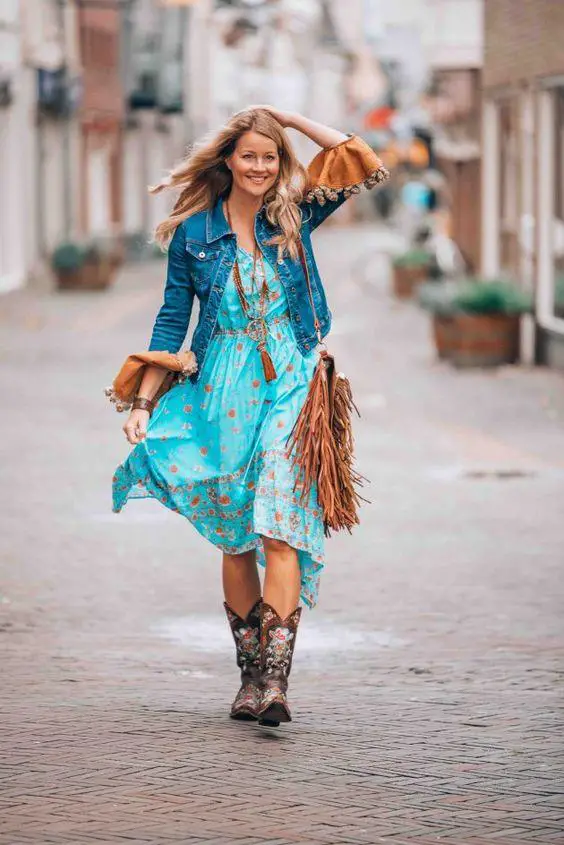 Rock a pair of cowboy boots with a maxi dress whenever you feel like wearing a showstopper kind-of-look.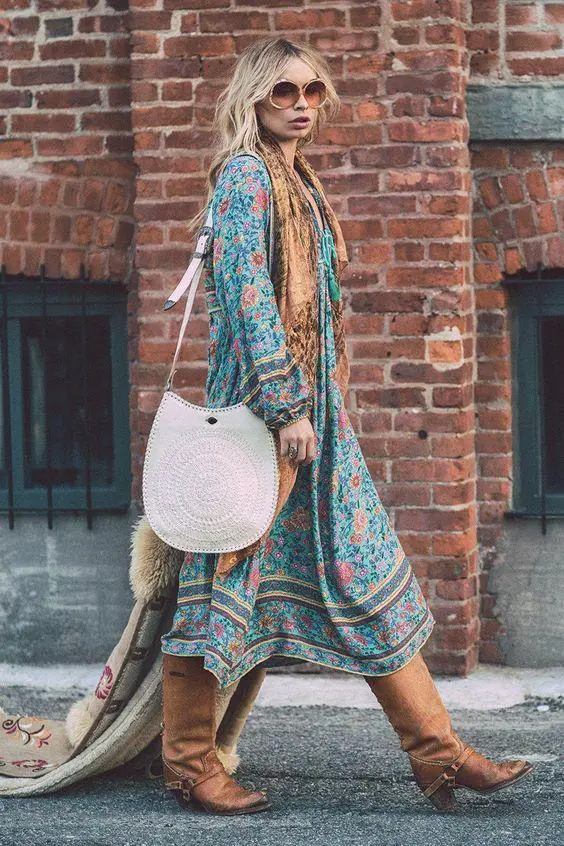 Wrap up:
A bohemian style has always captivated us. Sometimes stronger and trendier, and sometimes a bit subtler, but always present.
This boho-chic style guide is perfect for anyone who's a fan of long, flowy and boho-inspired dresses and wants to spice up her outfits.
Take your bohemian dress style to the next level by following these 6 easy tips, and feel free to come back whenever you feel like needing a little more inspiration.