Having a brunch planned for the weekend is what will get you going throughout those long week-days because, who doesn't love coffee, toasts, sweets and chatting with our girlfriends? That's why brunches are so popular among women: we get to talk and gossip while eating a delicious meal. Just the perfect plan!
But enjoying a nice brunch usually comes along with pictures, not only of the food, but also of you and your friends. That's why taking some time to consider what's best to pull off cute brunch outfits is something you should definitely do.
What is a brunch outfit?
First of all, let's be clear about what a brunch really is. Apart from being the perfect excuse for getting together with your friends, brunch is a meal late in the morning that combines both breakfast and lunch food.
So it's perfectly normal that you order coffee with a salmon sandwich or a tea with omelets and fries. And, of course, having a brunch means you are mixing both your breakfast and your lunch together, so there's no need in eating before or eating after.
That's where the word "brunch" comes from BR from breakfast and UNCH from lunch.
That means that for a perfect brunch outfit you'll need to wear an ensemble proper for a day-time occasion.
What to wear to a brunch
If the thought of fresh croissants and coffee doesn't water your mouth, then maybe these cute outfit ideas will get you excited for your brunch.
I've compiled 38 outfits that fit perfectly into the brunch look you want to achieve which are also perfect to showcase your fashion style in social media.
1. Winter brunch outfits
Casual outfit ideas for brunch
For a picture-perfect brunch outfit during winter days, opt for a cute sweater that will keep you warm and stylish. A pearl embellished pullover sweater, for example, is a great idea: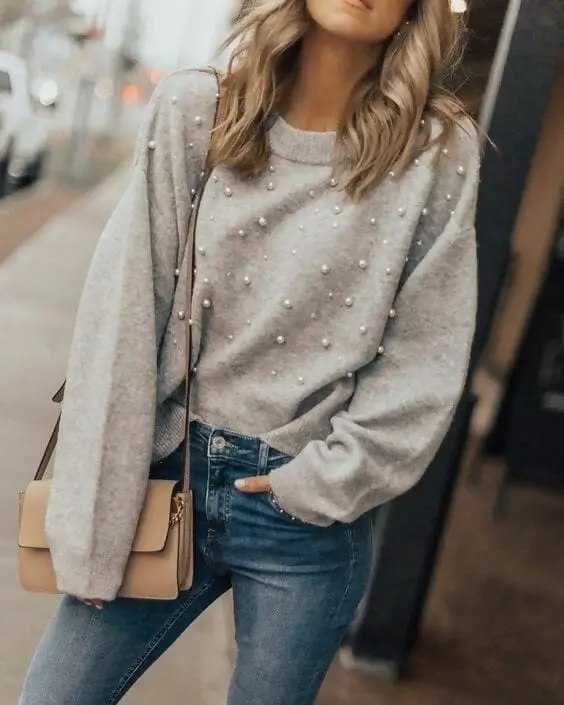 Or a cozy and chic sweater: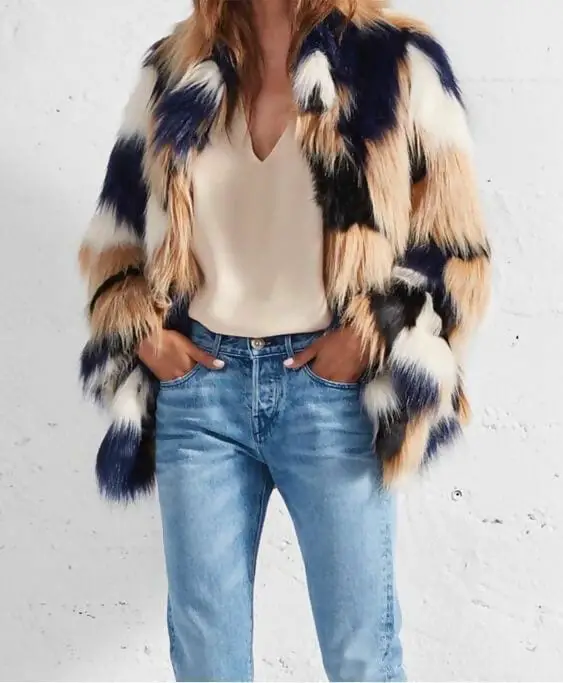 Any eye-catching sweater is a great idea. In those cold winter days, wearing a plain jacket or coat is perfect because once you take it off, a cute sweater becomes your statement piece.
That's why a stylish pullover or cardigan is perfect for brunch outfits during winter.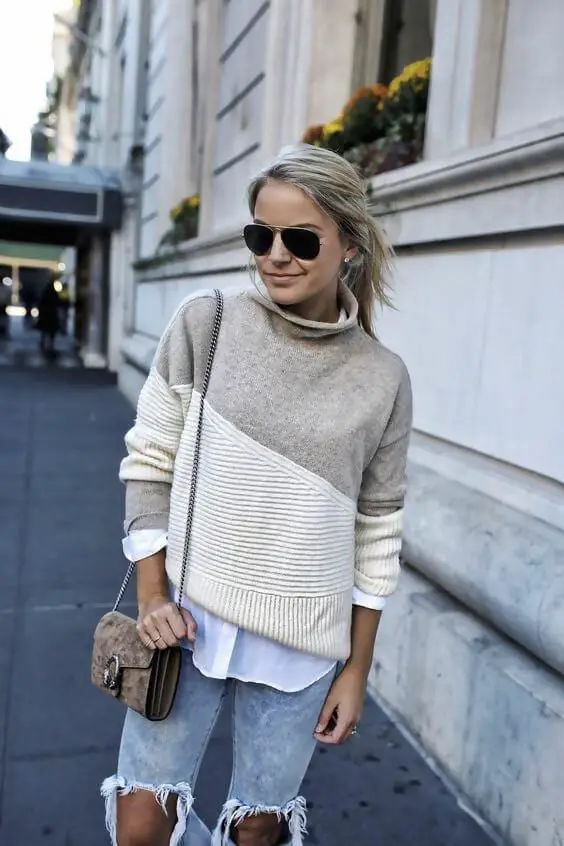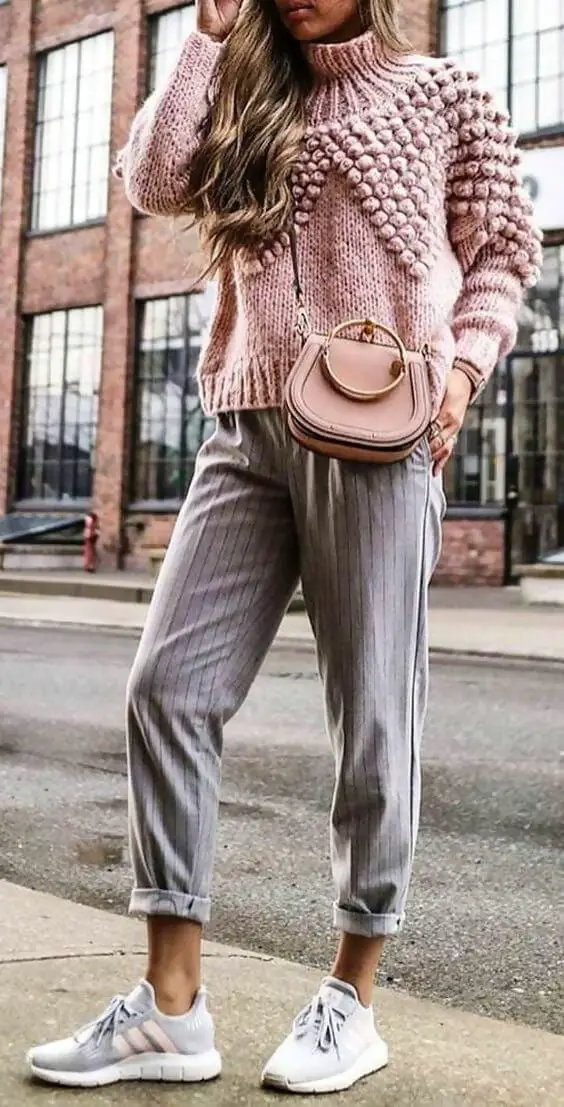 Winter is also the perfect excuse for showing off layers, and an embellished pullover on top of a white button-down (or any top) looks absolutely cute. Finish the outfit with a coat and you'll be more than ready for your brunch pictures: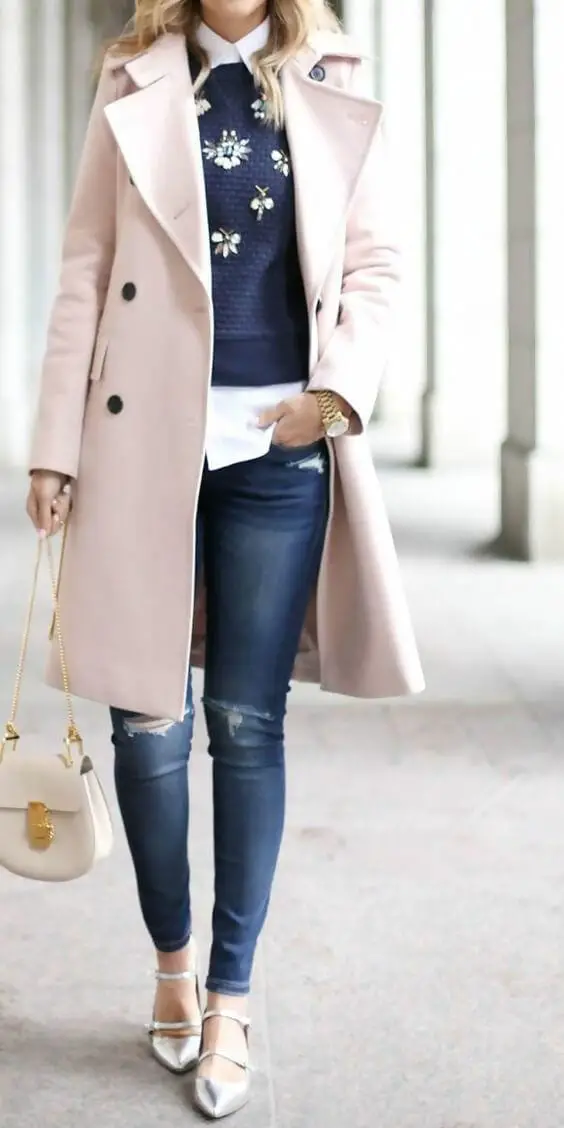 For a killer brunch look, opting for a coat in colors such as a pale baby blue, dusty olive or terracotta. As you can see in these pictures, the rest of the outfit can be left simple: a white t-shirt and a pair of jeans will work just fine.
The statement piece is the coat so there's no need to add much else apart from cute jewelry.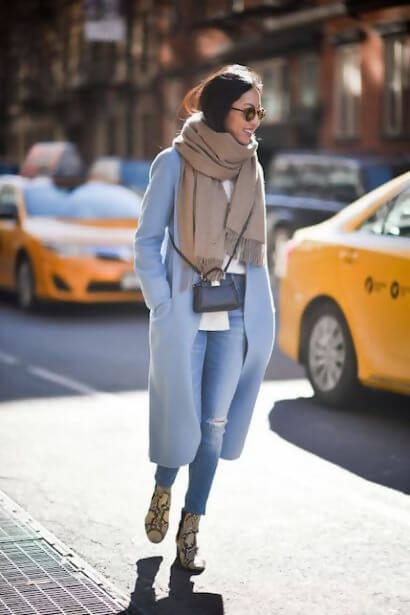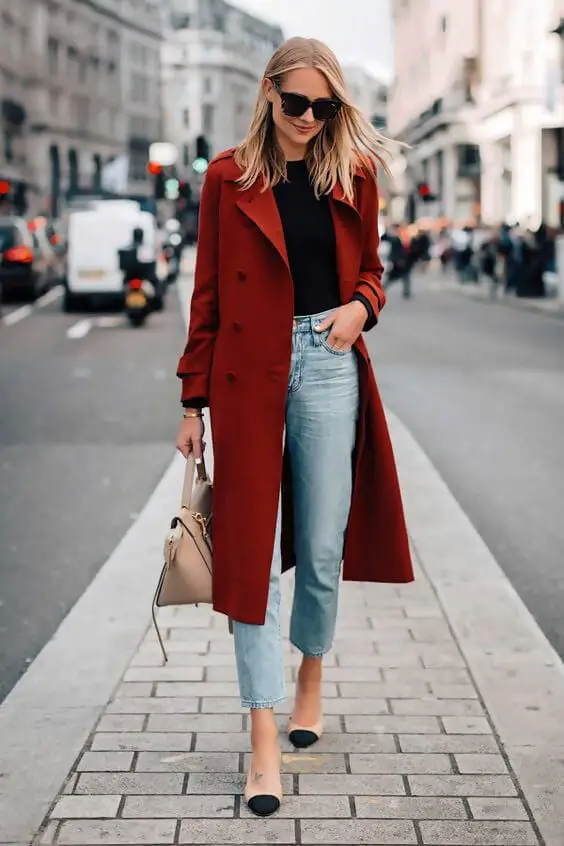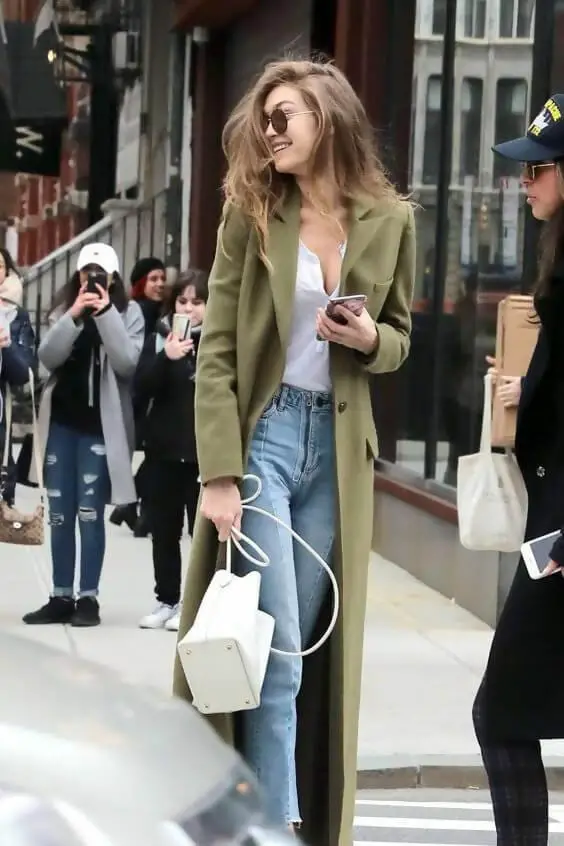 For chic and elegant brunch outfits, nothing can beat a pair of knee-length suede boots. They're the epitome of sophistication and look great on any winter outfit.
These are the perfect type of shoe that serves as an excuse for wearing a dress in winter.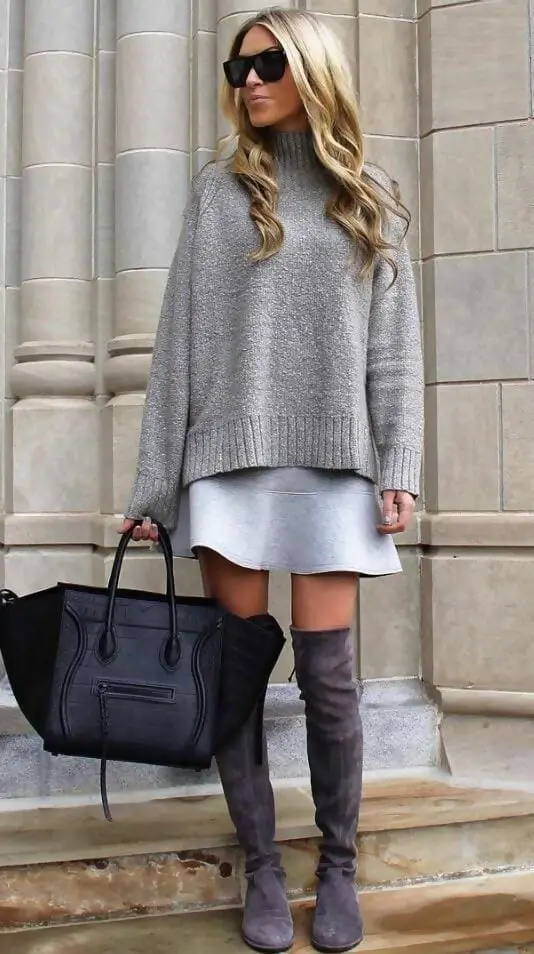 But knee-length boots are also perfect with jeans: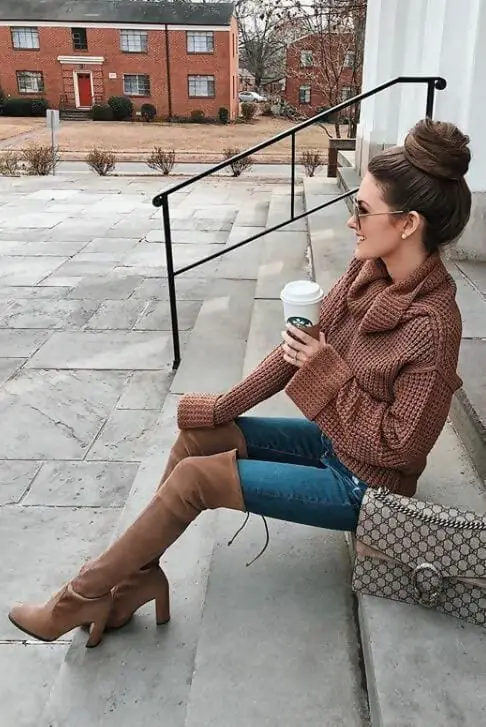 Formal outfit ideas for brunch
For formal brunch outfits during winter, a faux fur vest is an ultra-chic option you can wear. To take your style to the next level, try keeping the color palette as monochromatic as possible just like this model.
A monochromatic outfit looks very sophisticated and glamorous, so it's something to keep in mind when pulling off formal looks.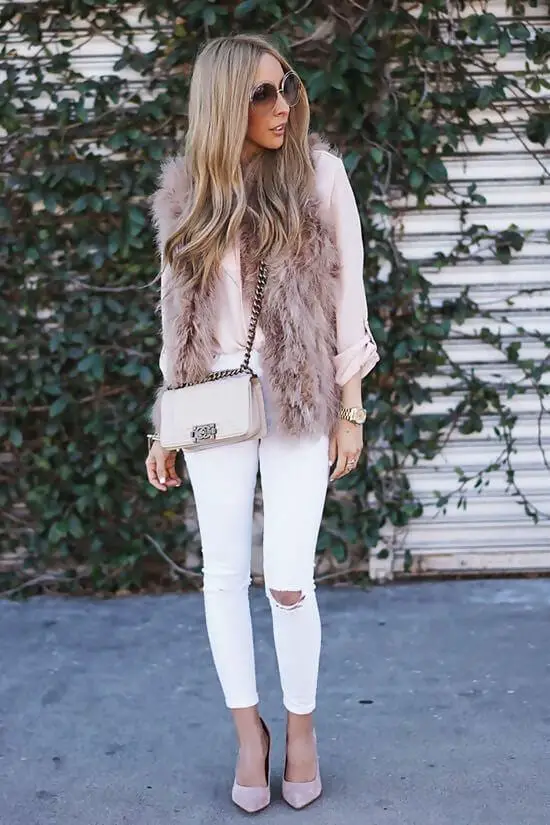 A plaid blazer has an instant formal and smart look, perfect for complementing your winter brunch looks.

Any type of blazer will transform your regular outfit into a chic and polished outfit. That's why no matter if it's plaid or not, a blazer will always come in handy for a brunch outfit.
Try adding a cute hat for a head-turner look: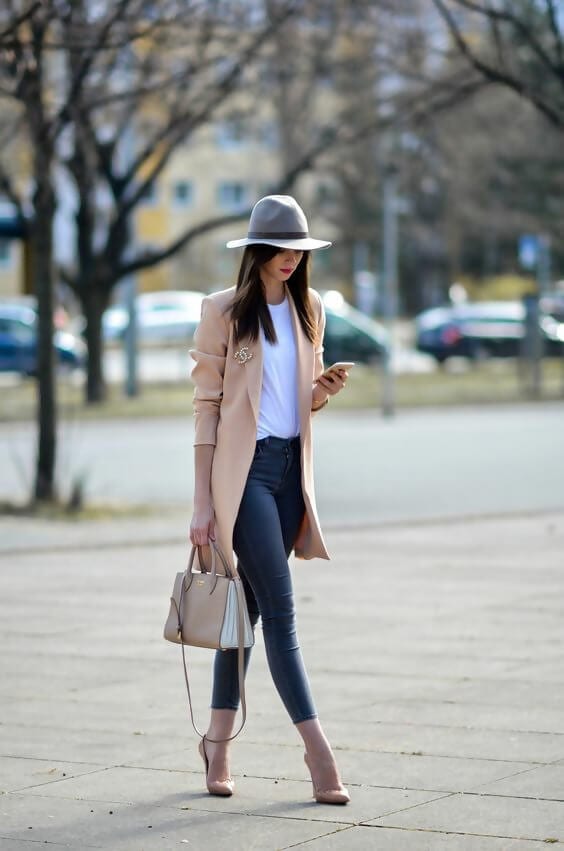 Knee-length coats will also give you a sophisticated look, and pairing yours with high heels will result in a killer outfit: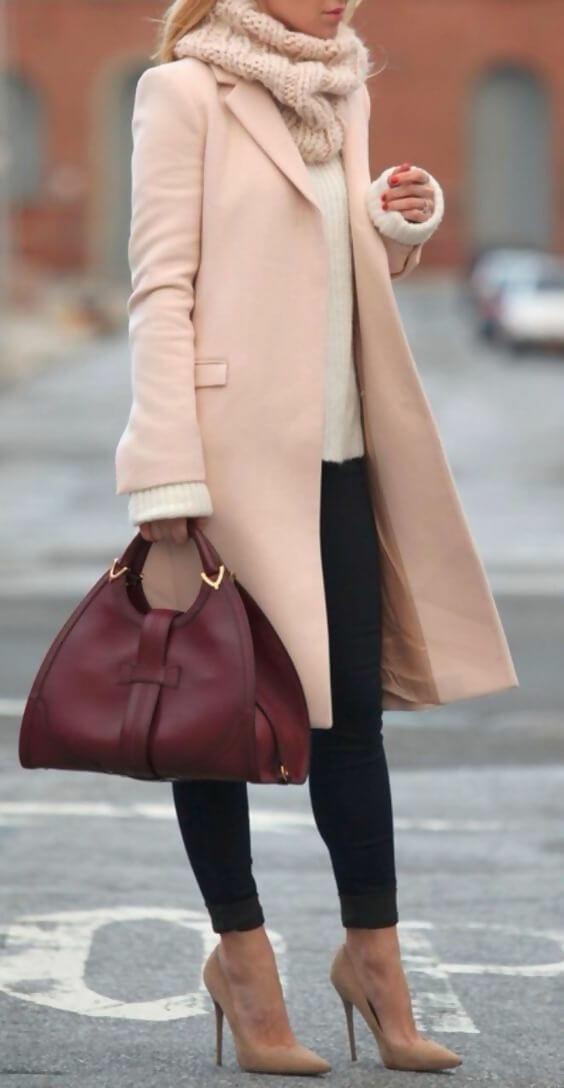 If it's a semi-formal brunch, wear the best of both worlds: denim and high heels.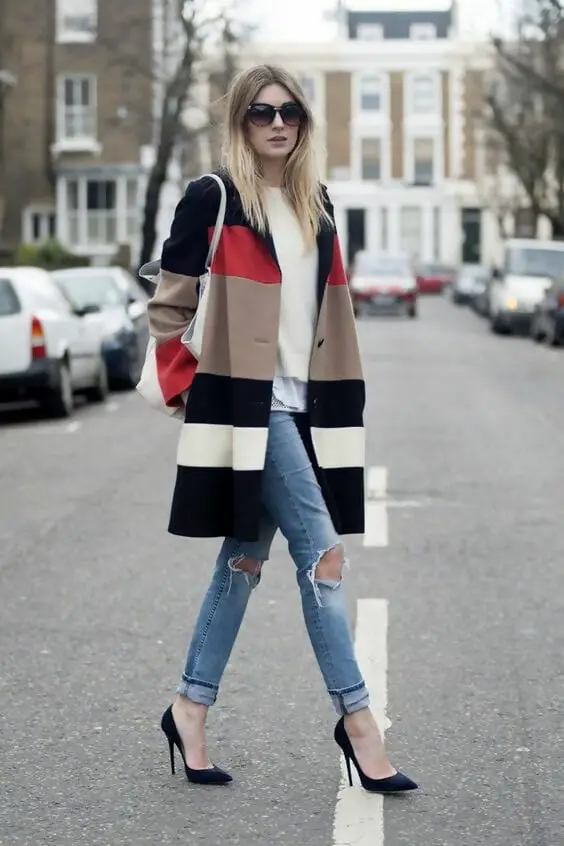 2. Summer brunch outfits
Casual brunch outfits
Few things are better than brunch on a sunny day, so your summer brunch outfit should display your excitement as well.
A long dress is a super cute option for a Sunday brunch outfit. Pair yours with chic espadrille sandals and mini handbag: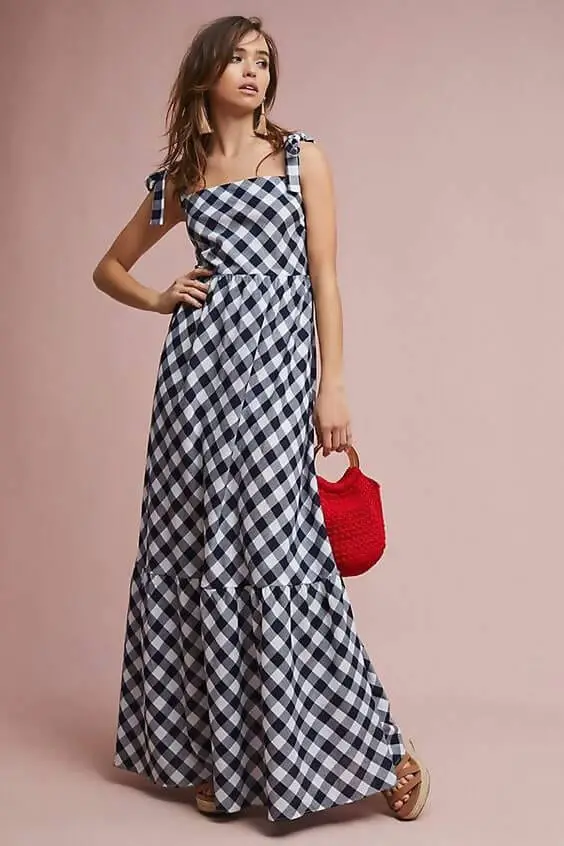 But if you're not much into maxi dresses, your favorite dress style is just perfect for a brunch date. As I've mentioned, brunches are held late in the morning, and a dress is perfect for day-time events so the equation fits perfectly.
Espadrille wedges or platforms look cute with short dresses, as they complement your gorgeous legs in the best possible way: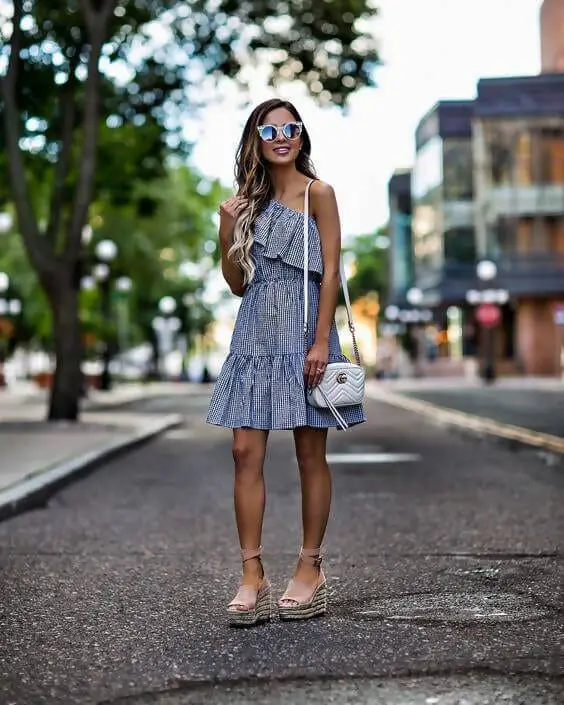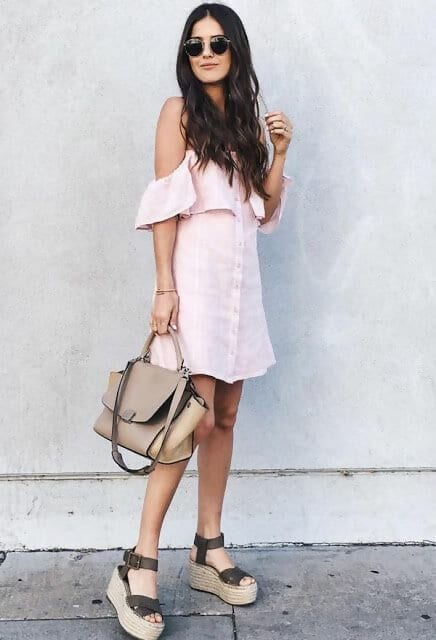 A casual jumpsuit is another alternative for stylish brunch outfits. For a laid back look, opt for nude sandals and a crossbody bag.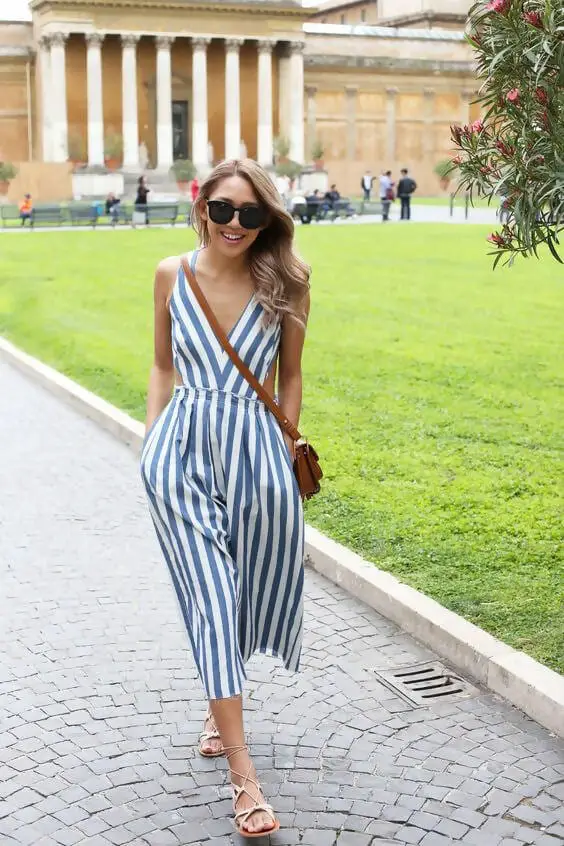 Vertical stripes have become a frenzy among fashion bloggers, so wearing any garment with vertical stripes is a complete win for your brunch date:
Crops tops are also brunching friendly! Mini printed tops in bright colors look so cute that will have you looking like a fashion pro: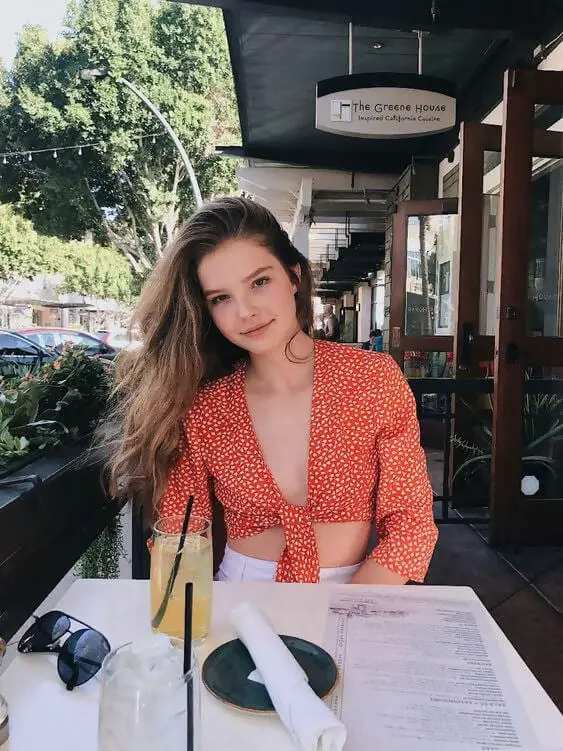 If a sophisticated look is what you're aiming for, what better way to showcase your style than wearing a pleated midi skirt? Dress it down with a t-shirt and platform sandals: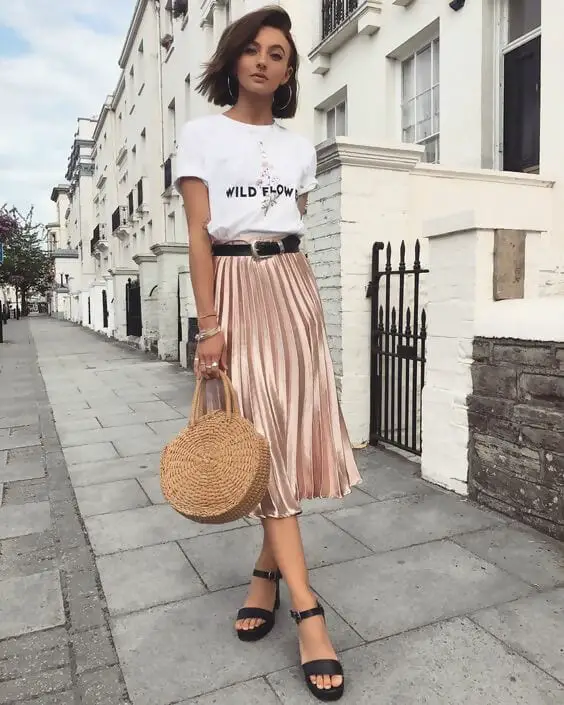 You can also look glamorous with a denim skirt and a pair of cute high heels like this model: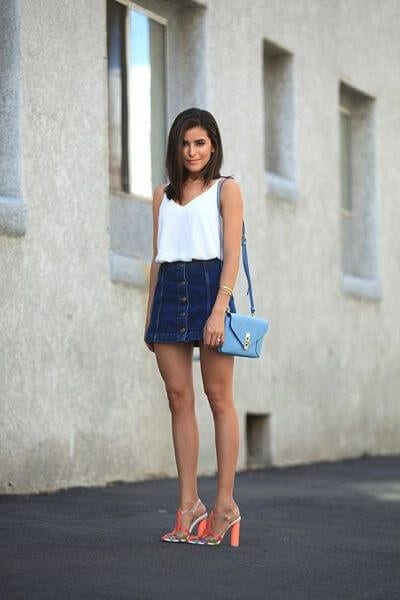 If you want to opt for something simple yet cute, a crisp white blouse with a pair of jeans and mules is a perfect combination. You can add a red lipstick to finish your brunch outfit.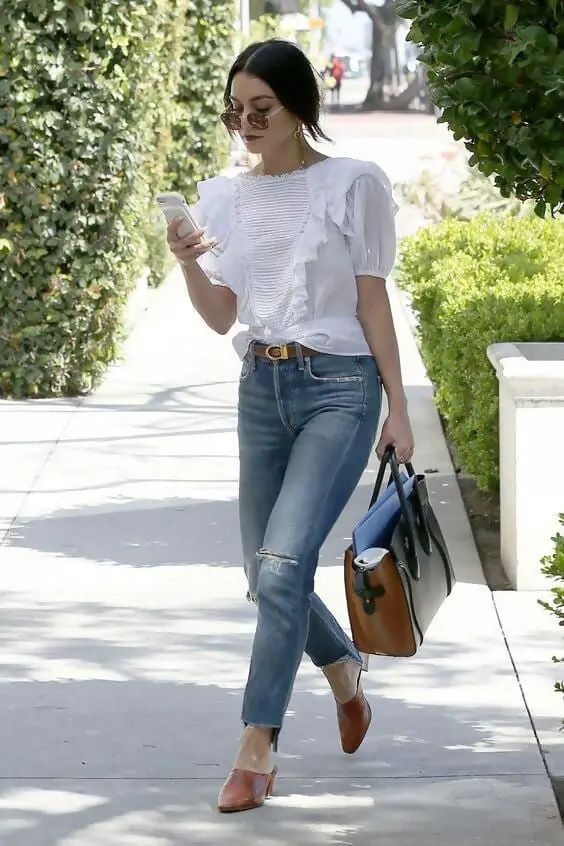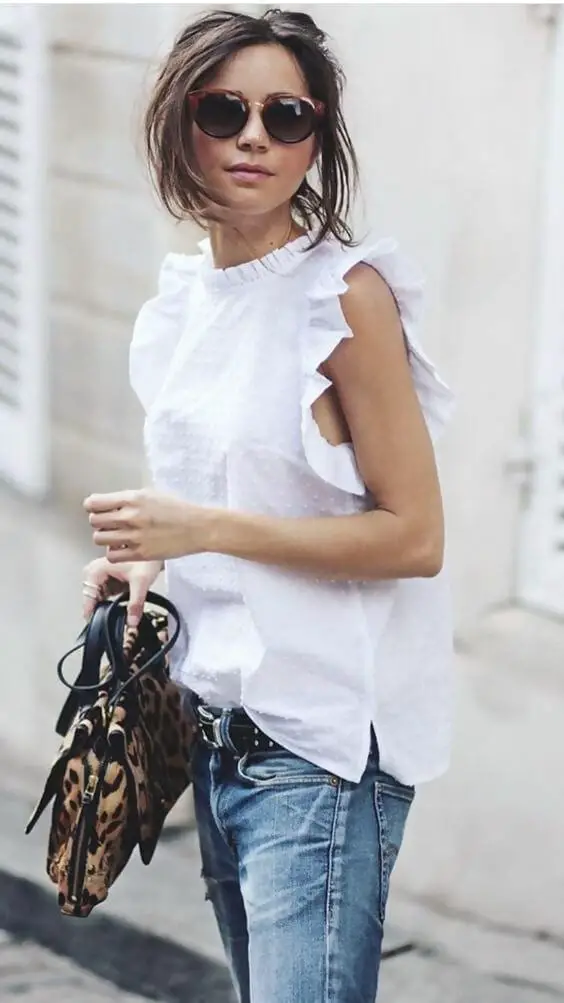 Formal brunch outfits
For a formal look, nothing can compete with a pair of high or low heels. You can wear a chic blouse, blue jeans, and your heels and you'll look just perfect for brunch: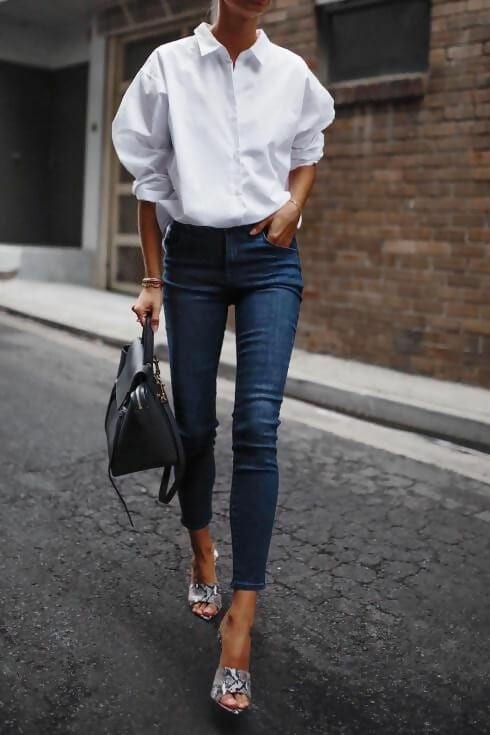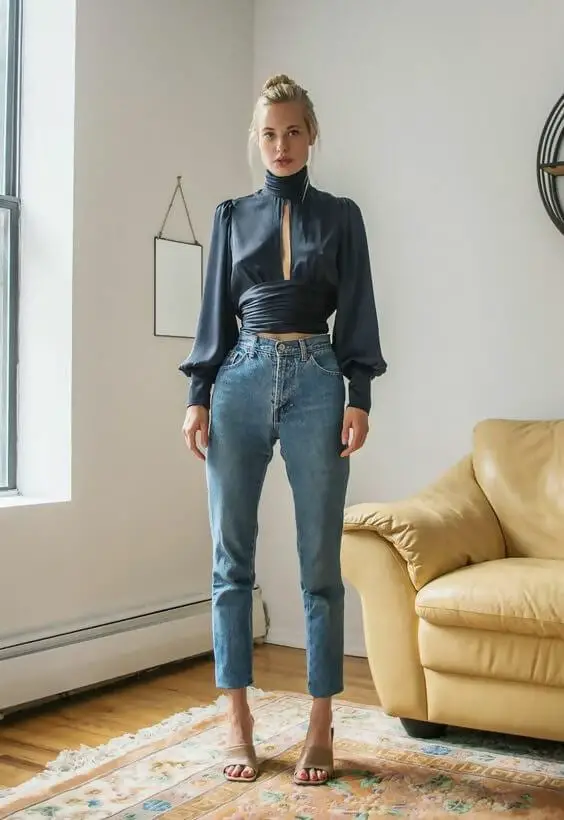 A pleated skirt is another fashion item that screams glam. The best way of styling a pleated skirt is with a white top, so the center of attention remains solely on the skirt.
This is a look perfect for formal brunches: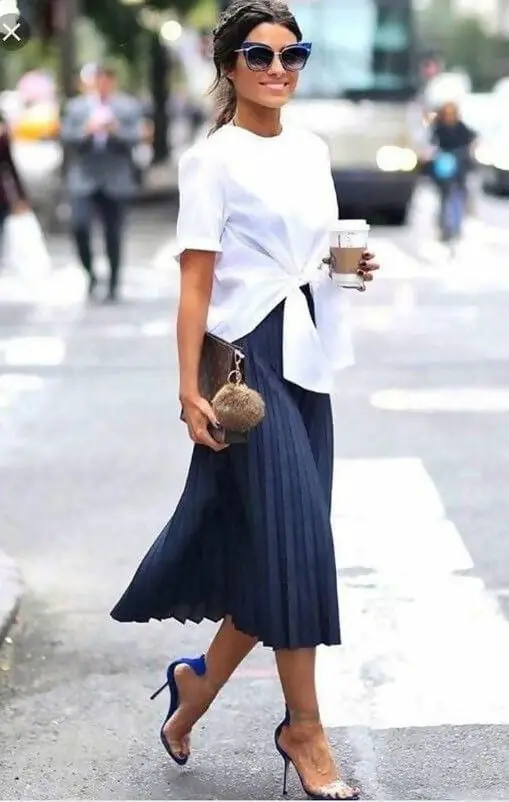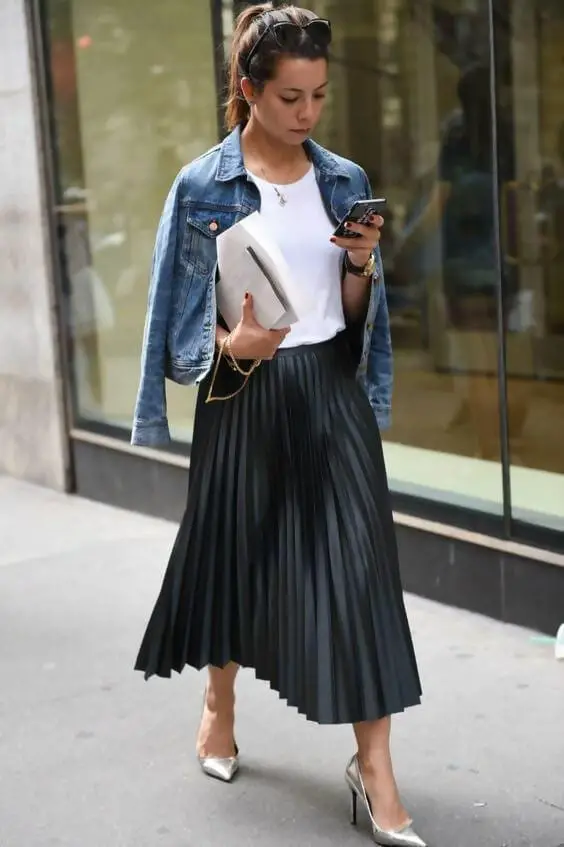 You can choose a pleated skirt in any color you feel most comfortable in: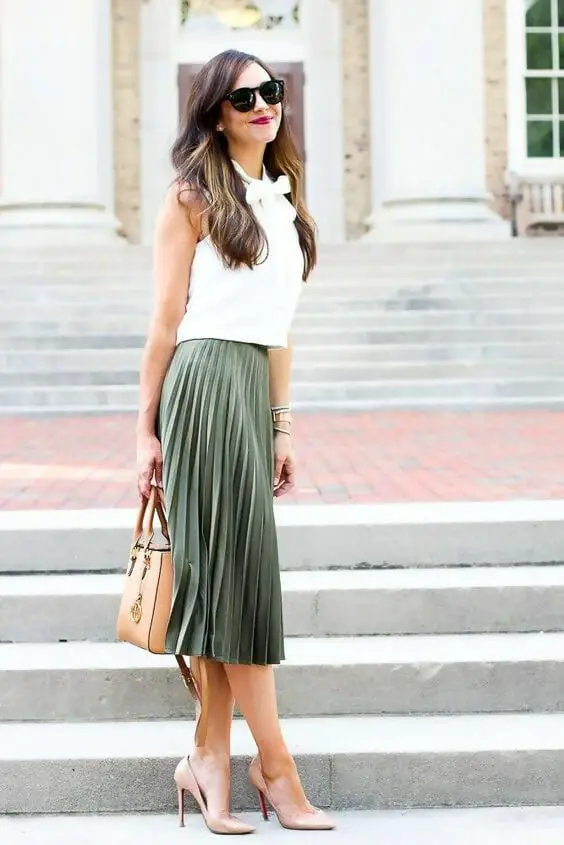 An alternative way of styling your pleated skirt is by pulling off a monochromatic look. As I mentioned earlier, a monochromatic color palette is absolutely chic and glamorous and can make your brunch outfit look expensive.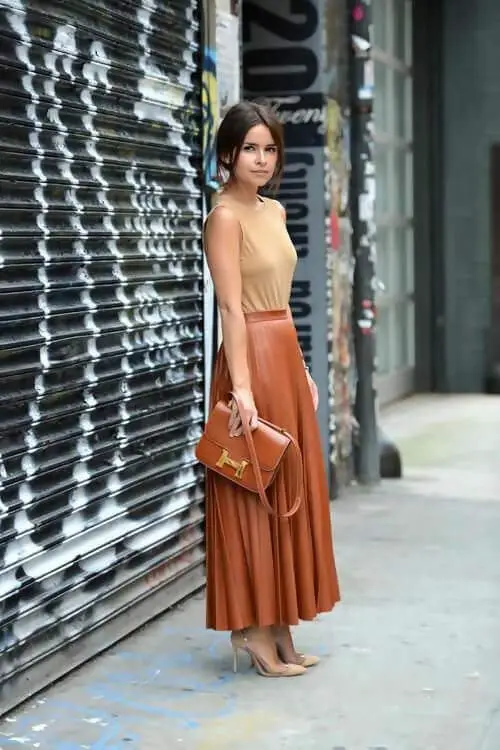 Palazzo pants are another stylish item that can be worn for a formal brunch outfit. Wear yours with a plain top and let your pants make a statement look: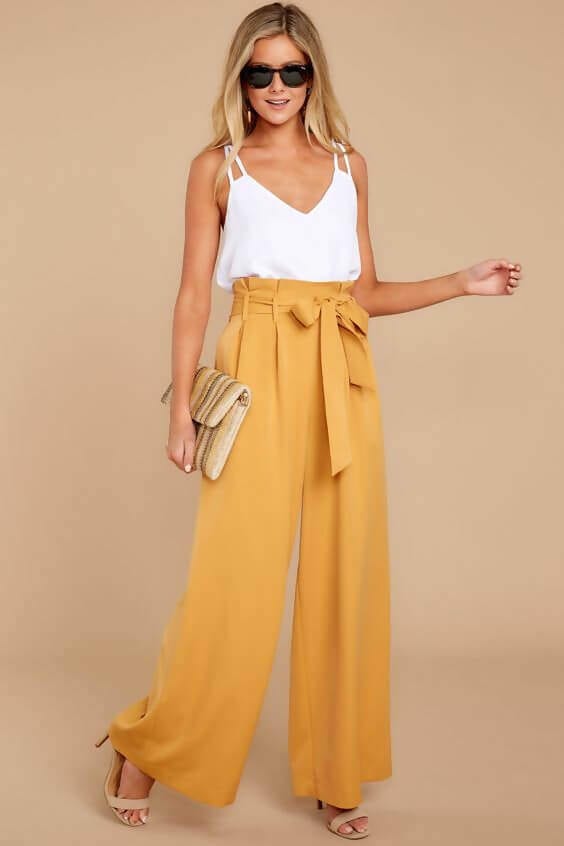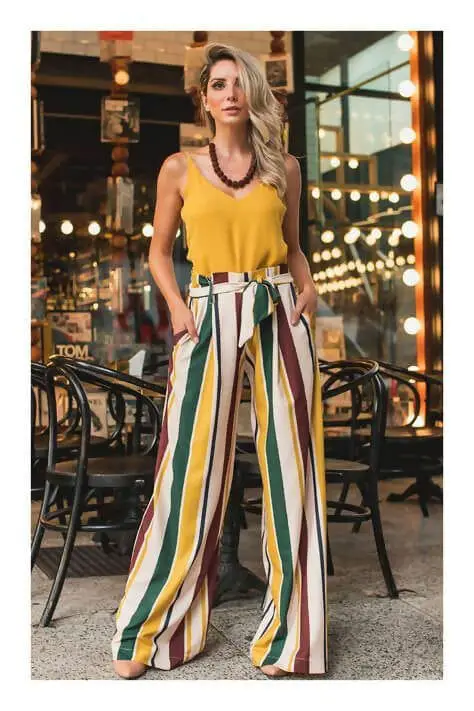 Cigarette pants with drawstring waistbands are another cute bottom alternative: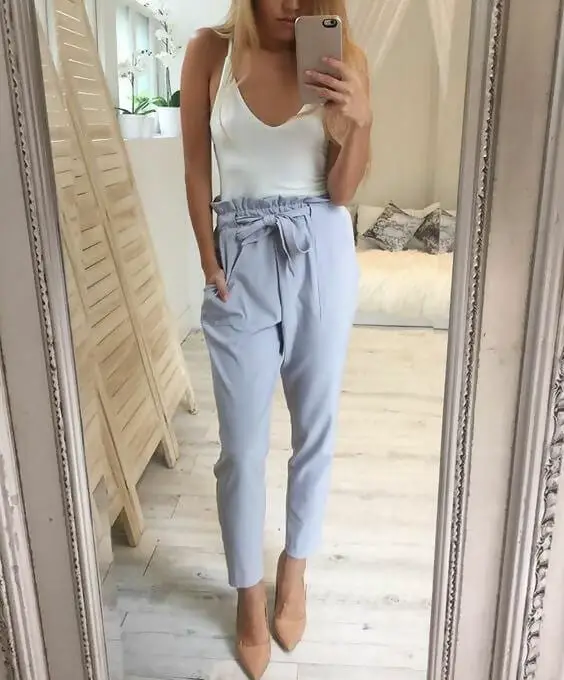 We can't talk about formal brunch outfits without mentioning dresses. My favorite style right now is slit cut dresses paired with high heels: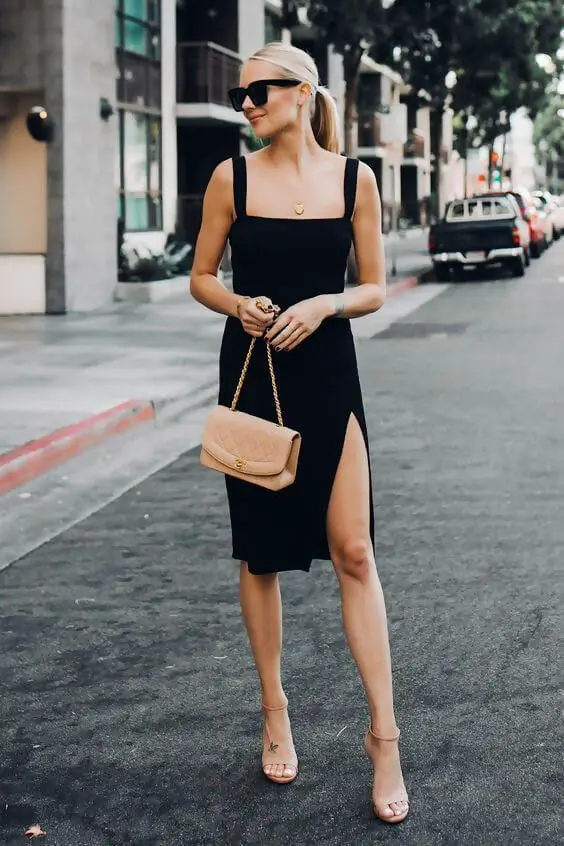 You can also wear a glamorous dress styled with cute strappy sandals to dress it down a little, just like Karlie Kloss:
And, of course, a printed chiffon crepe dress is always a good idea: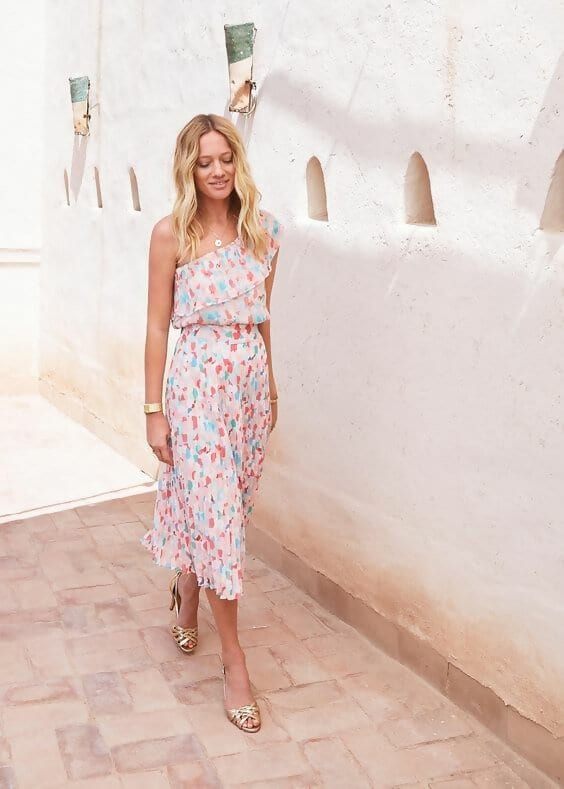 Wrap up:
Who doesn't love eating while having a good time with friends? That's exactly what brunch is about: mixing the best of both worlds.
So it's normal to worry about your brunch outfits since you're most probably going to share the pictures on social media. Looking chic and cute is a must!
These 38 outfit ideas for brunch will help you pick the best look, regardless of the weather or the formality of the event.
All there's left to do is enjoy your brunch!