Friday's around the corner and we can't wait for our weekend plans to begin.
I don't think guys know that for us, dressing and wearing cute clothes is equally as important as the plan itself. Whether it's going to the beach or to the movies, we plan our outfits a few days before.
It's normal for us to plan a night out AND at the same time plan our outfits because otherwise, we would find ourselves freaking out that we have nothing to wear a few minutes before going out. And we hate that…
That's why I'm bringing you today the best casual club outfit ideas that will help you decide what to wear to your next casual night out.
5 Tips to Create The Best Casual nightclub outfits
If you're planning on going to a nightclub this weekend but want to dress casual or laid-back, then this article comes in handy as I will guide you through simple club outfits that don't need much planning.
Going to a nightclub doesn't necessarily mean that you have to dress up in sequins, metallic and stilettos.
There are many casual clubs where you can enter with jeans and sneakers, all you have to do is make sure that the club you're going to allows it. Some will not let you enter and that's why it's important to check first.
So if you're wondering if you can wear sneakers to a club, the answer is yes! As long as you're not going to a super fancy club that won't allow ripped jeans, then don't worry, you don't have to wear stilettos and mini-skirts if you don't want to.
1. Club outfits with jeans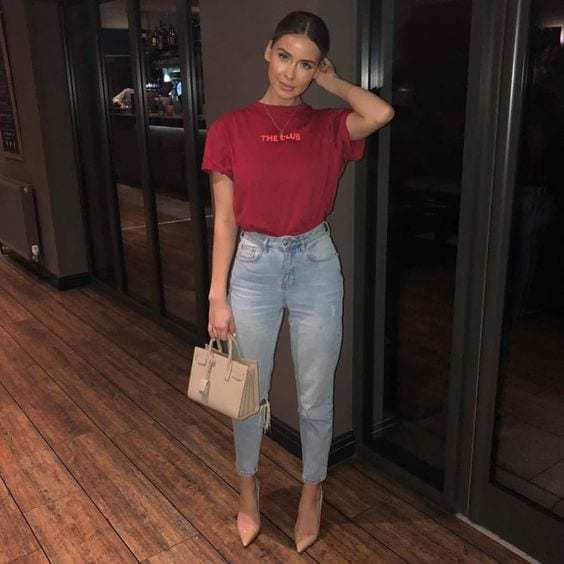 If you're a denim lover, you don't have to leave your jeans at home! You can perfectly wear them as a casual club outfit.
Jeans and high heels
If you want to spice up your style and look effortlessly cool, then wearing jeans AND high heels would be a great option. I don't know about you, but I've always felt that dancing with heels is much easier and fun than dancing with flat shoes.
So pairing jeans and your favorite high heels can result in so many stylish outfits because the jeans will make you look cool and laid-back but the high heels will polish your look, giving you a total fashion pro style.
As I mentioned, I'm focusing on simple club outfits, so basically all you need for this look is your favorite jeans and heels, and a solid dark color top. Since you're dressing for night-time, it's always better to wear dark colors because they will make you look a bit dressier and appropriate for the place and time.
To take your classy club outfits to the next level, make a cute up-do and put on some make-up, even if it's natural or soft. This will help you look effortlessly cute.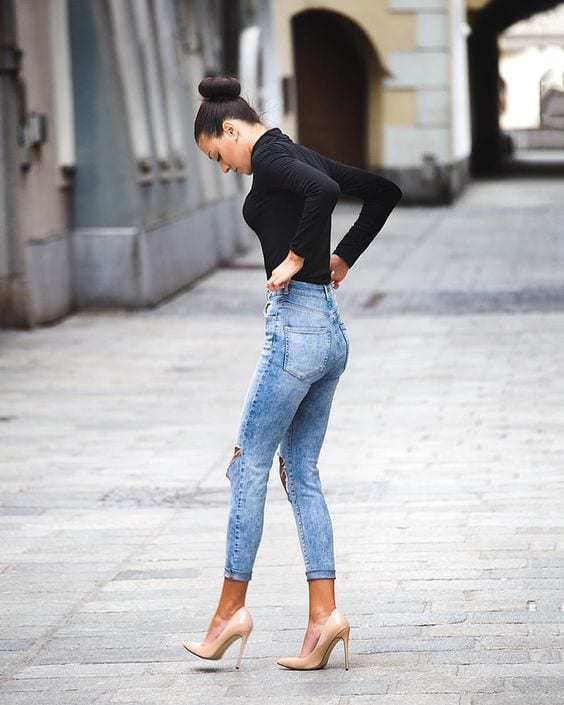 You can also wear a belt and a small crossover bag to finish up your nightclub look: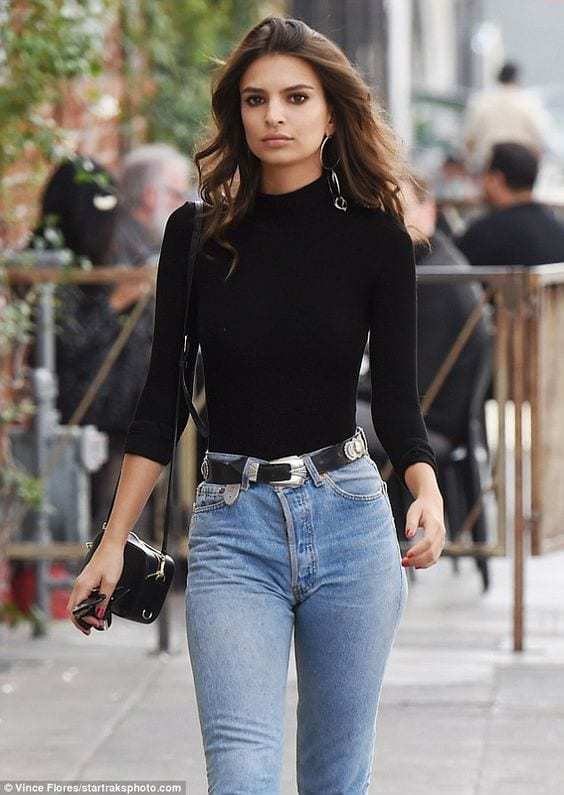 If you don't want to wear high heels, a pair of low heel boots will do the trick. The thing about wearing heels, whether high or low, is that not only will they make it easier to dance, but will also "elevate" your look, literally.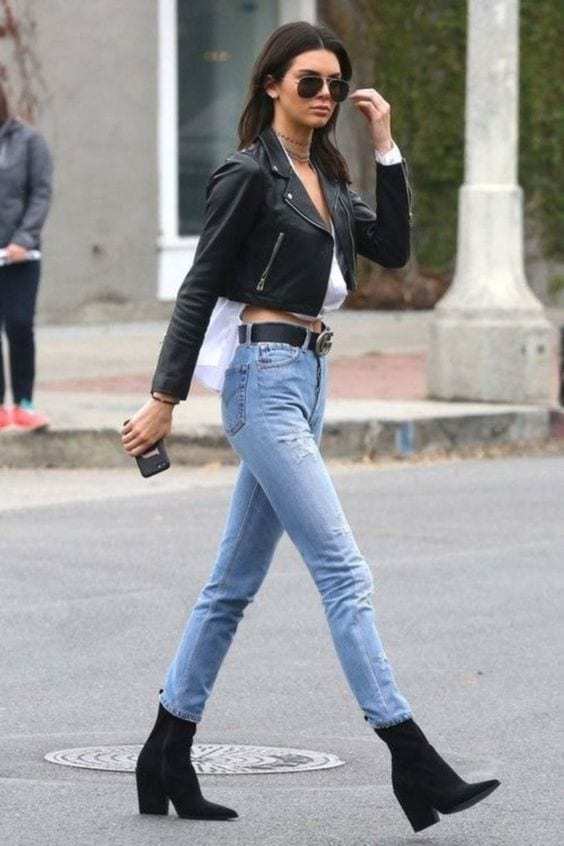 Kendall Jenner can be our casual nightclub muse. She's a denim lover and often rocks an edgy and effortlessly stylish look with jeans and heels: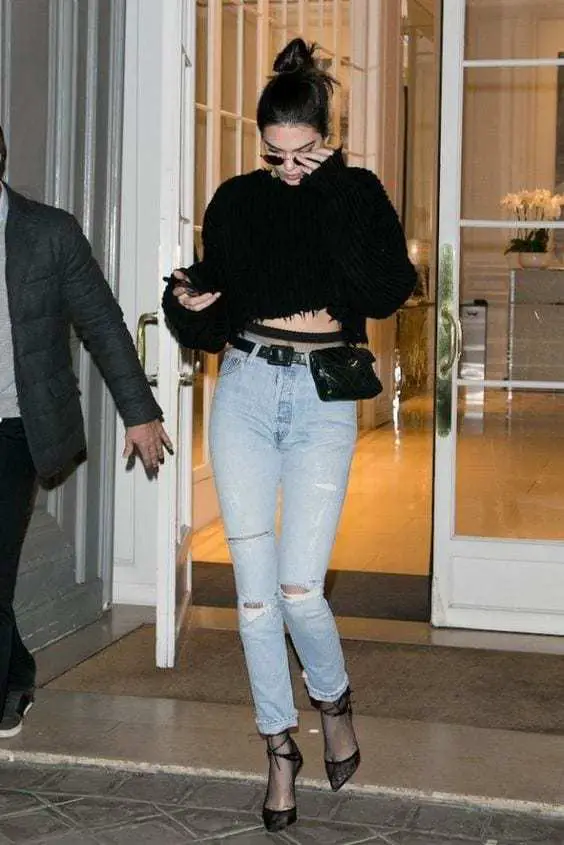 For a rocker look, steal Kourtney Kardashian's look by wearing a graphic tee with super distressed boyfriend jeans and your favorite high heels: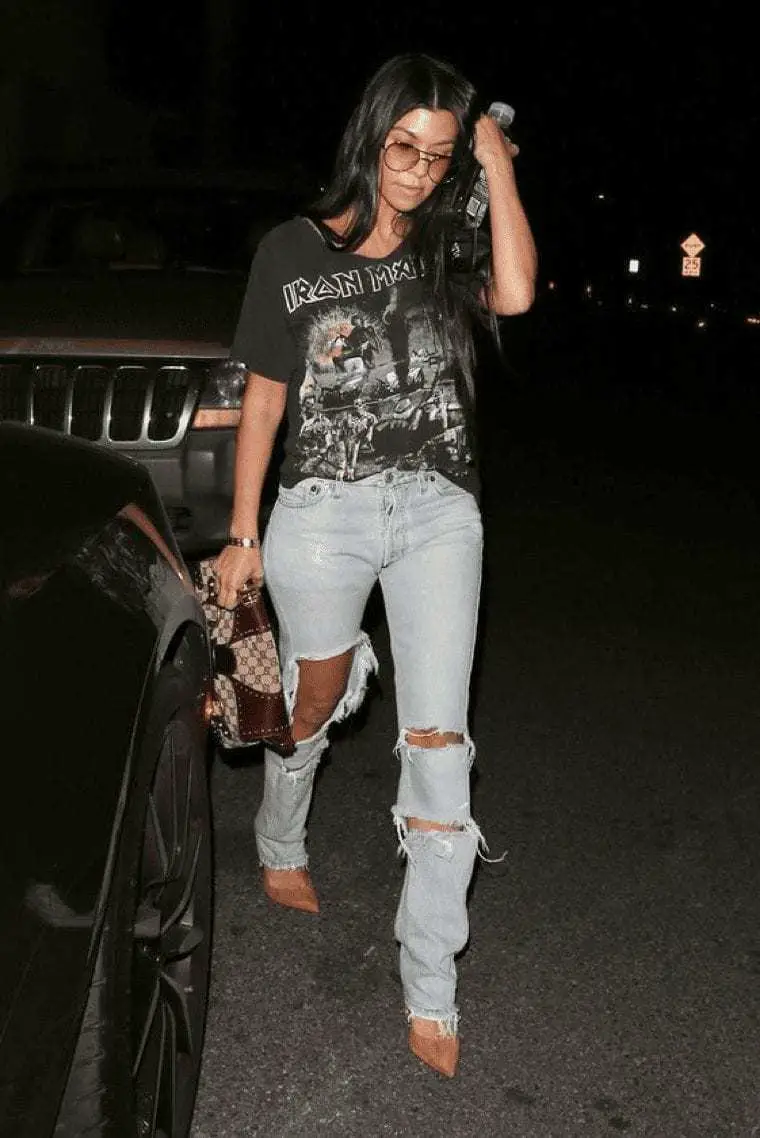 Even a simple "Brooklyn" t-shirt can spice up your look. The trick is to tuck your t-shirt inside your jeans for a polished and casual clubbing attire.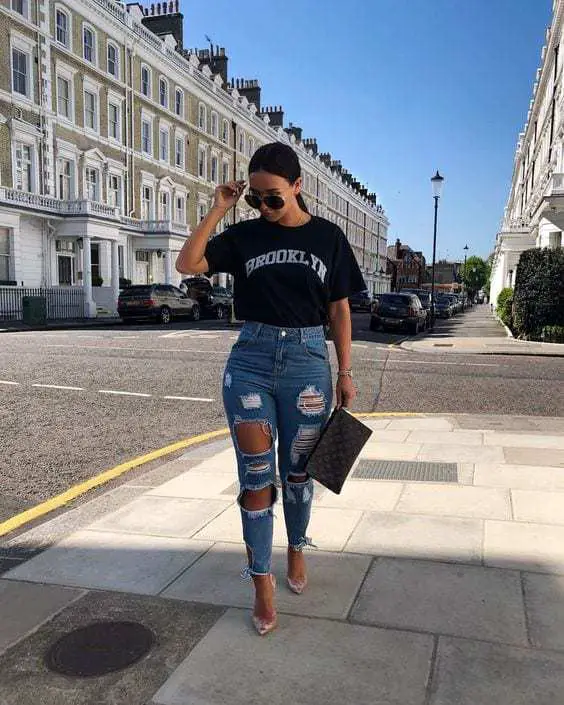 Skinny jeans, high heels, and a sexy top are another great combos you can't miss out. If you want to take your casual club outfit to the next level, showing off your back is a cute and sexy way of doing so without looking like you're trying too hard: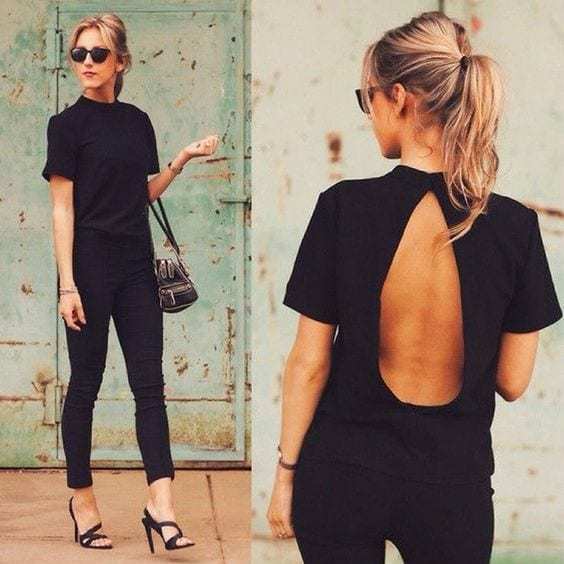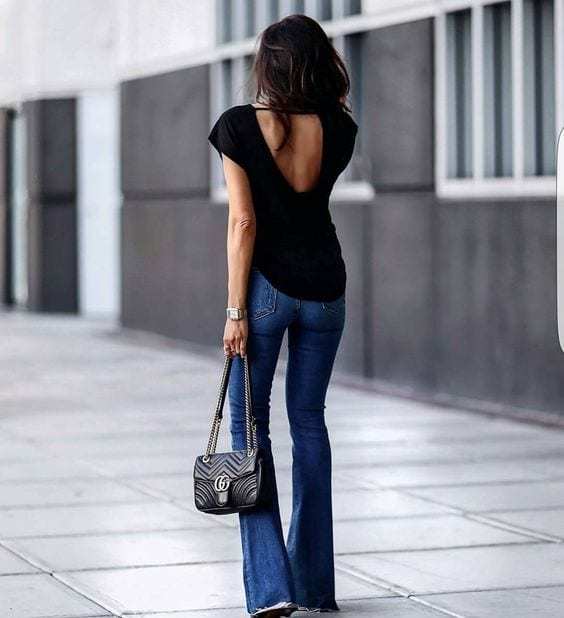 A cute and simple tank top tucked inside a pair of flare jeans is a chic idea you can easily recreate: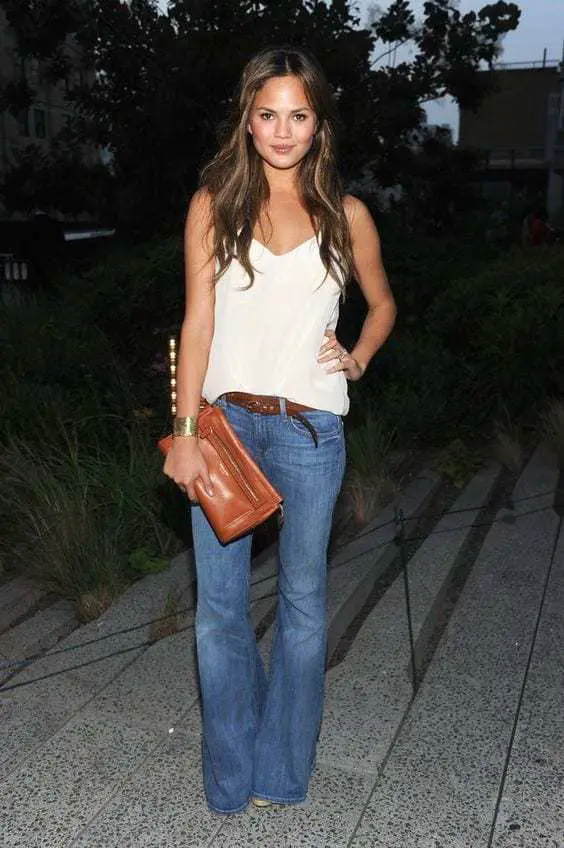 Jeans with flat shoes
People often think of a clubbing attire and automatically associate high heels with the total look. But high heels are definitely not the only shoe option you have.
If heels aren't your cup of tea, then flat shoes are your go-to option for a casual club outfit and don't worry, they're a total YES with zero risks of looking underdressed.
A cute clutch can elevate your look in the most effortless possible way. Don't ever underestimate the power of accessories! Especially when you're wearing a laid-back outfit.
I love how the ripped jeans and the leopard clutch give the outfit an edgy and stylish look: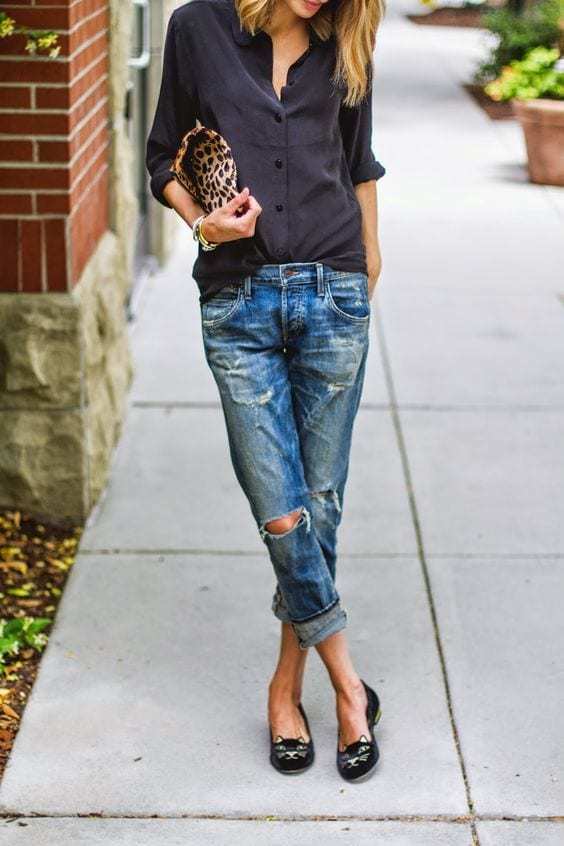 Wearing a leather jacket is a great idea you can pair with your fall club outfits. You can match your jacket with black flats and a black crossover bag for a coherent and chic look: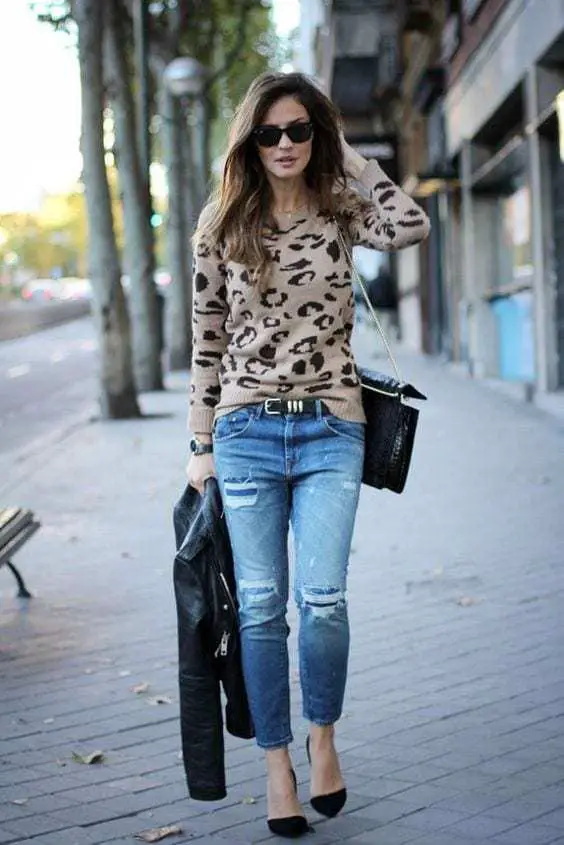 Flats are not solely for skinny jeans. You can pair yours with flare jeans for a boho and comfortable club outfit: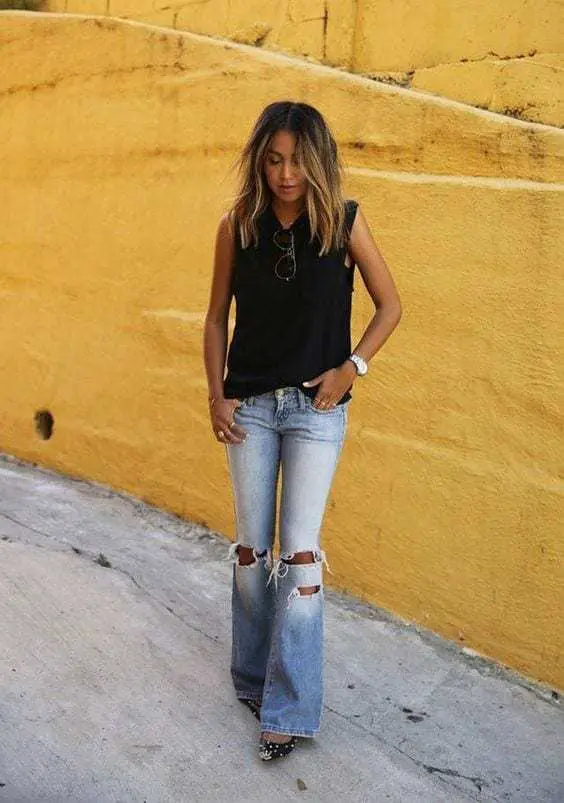 2. Jean jacket
A casual attire involves denim most of the times, so if you're planning on a laid-back night out look, wearing a jean jacket will be your go-to option for a classic and stylish club outfit.
The best thing about a denim jacket? You can wear it with absolutely anything!
My favorite look for a nightclub is with an all-black outfit: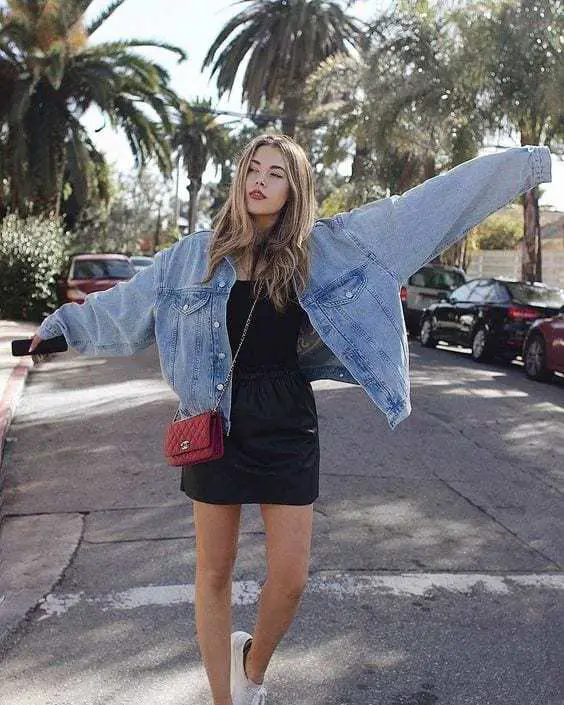 Or a little black dress: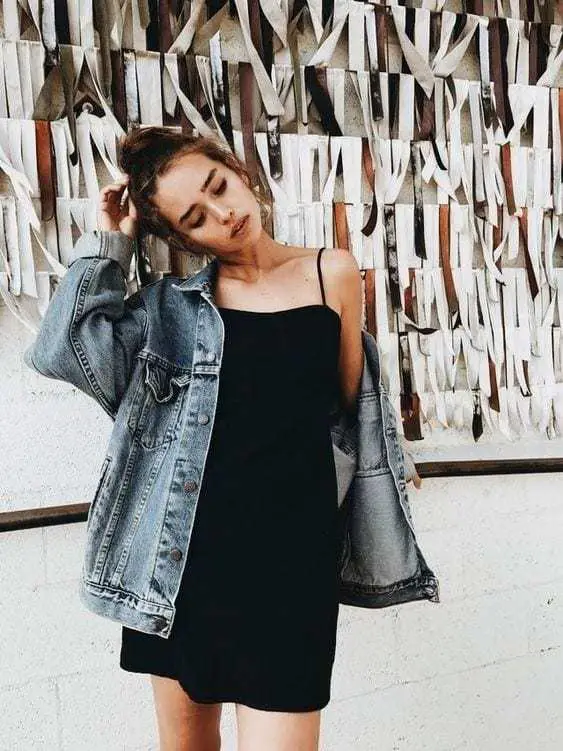 You can wear a denim-on-denim outfit for a cool look: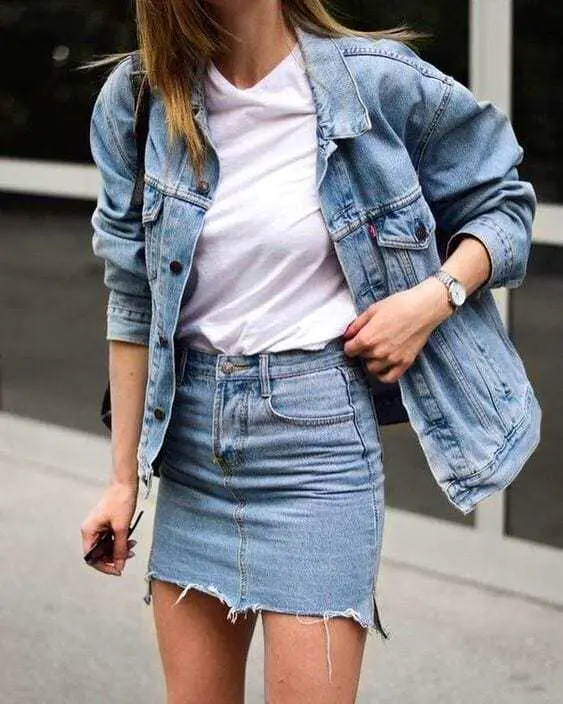 3. Hipster club outfit
A cool way of dressing for a casual night out is by pulling off a hipster look. There are multiple ways of doing so, and all of them will definitely make you look like the coolest girl in the club.
Blazer
Can you think of anything more hipster than wearing a blazer to a night club? It's actually one of the coolest items you can wear, making you stand out from the crowd.
The secret to pulling off fashionable nightclub outfits with a blazer is to wear them with a top tucked inside your jeans. If cool is what you're looking for, then grab a blazer and head to a club!
From a button-down to a t-shirt, any top will look great under your blazer: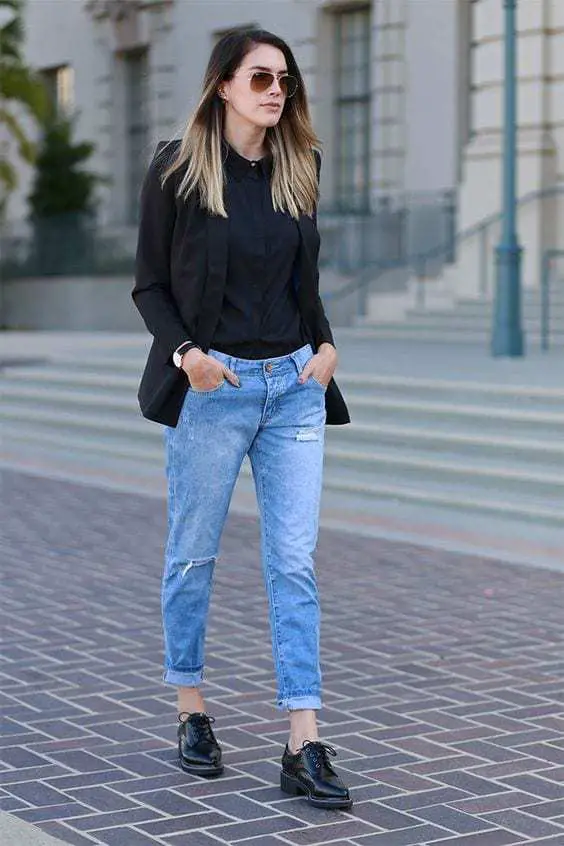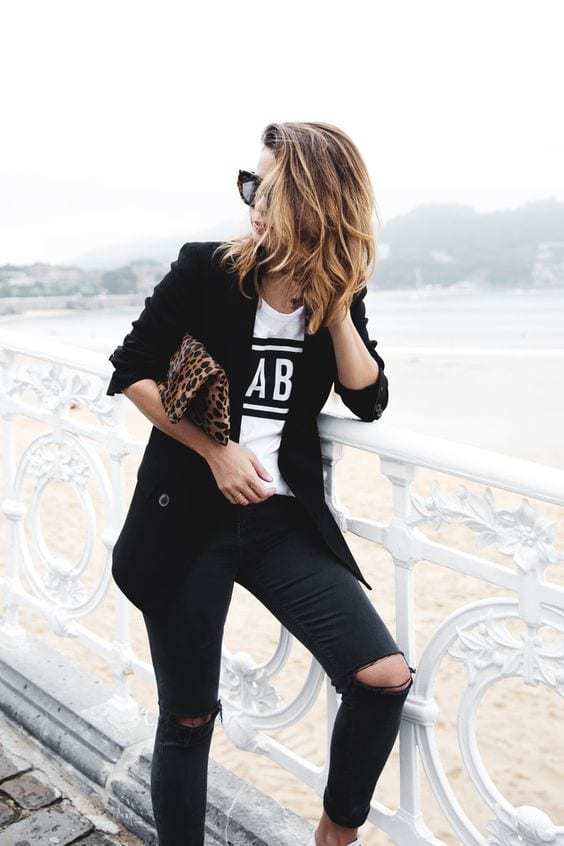 A rock band t-shirt is perfect for a nightclub look: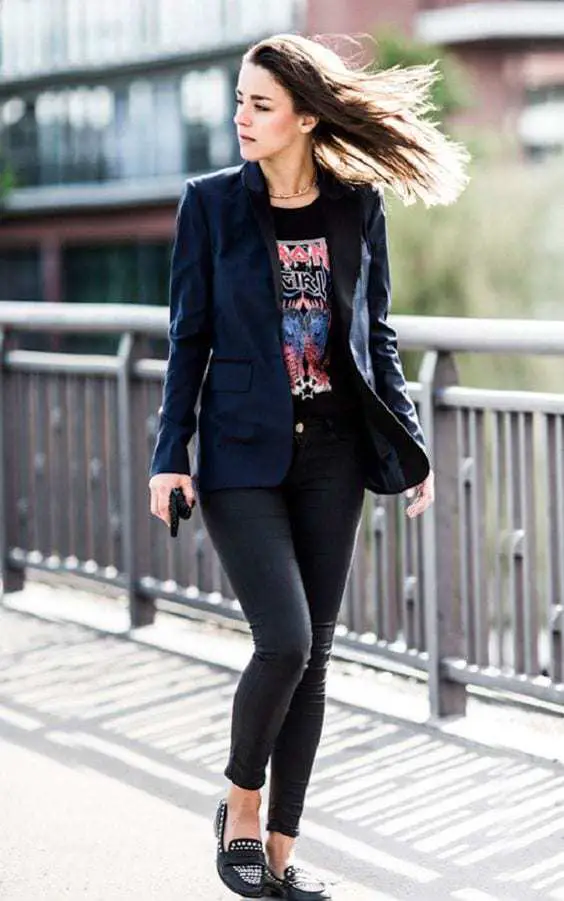 4. Shorts outfits for the club
If you want to show off some leg action, then what's a better way to do so than wearing a cute pair of shorts? They are perfect for summer night outs when clubs get too hot and crowded.
For a casual club outfit, nothing can beat a sneakers-and-shorts combination. A cute drawstring short paired with white sneakers is a cute way of dressing laid-back: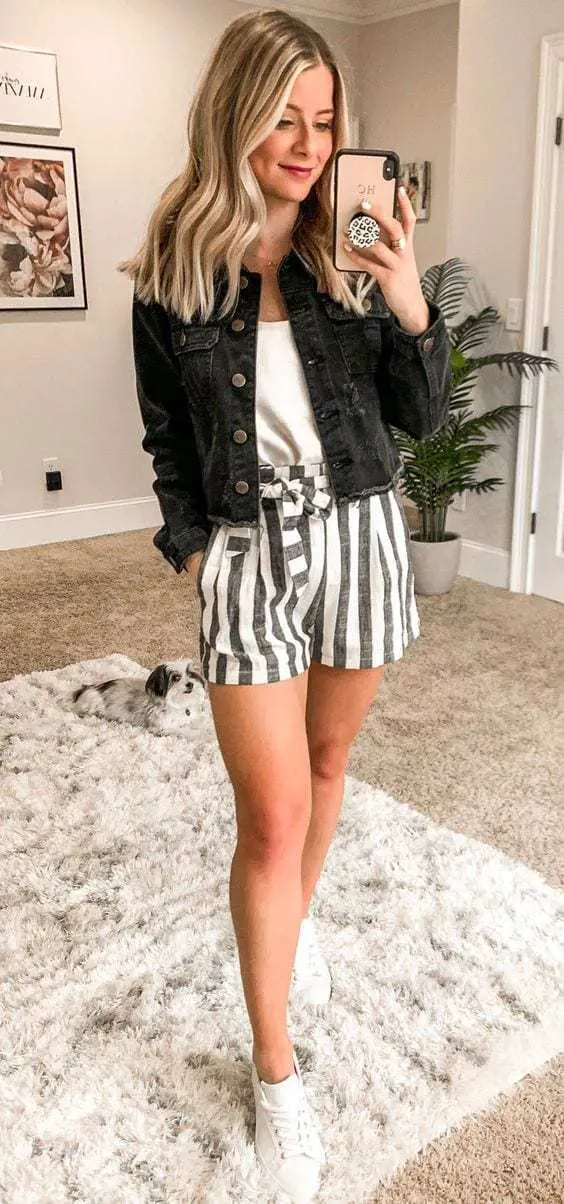 For an edgier look, a pair of leather shorts will be your go-to option. You can wear them with a graphic tee and sneakers, booties or high heels, whatever you feel most comfortable in: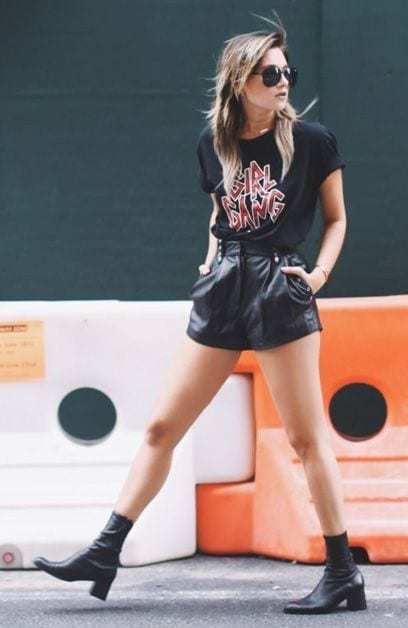 An all-black club outfit is another great idea of showing off an edgy look with your leather shorts: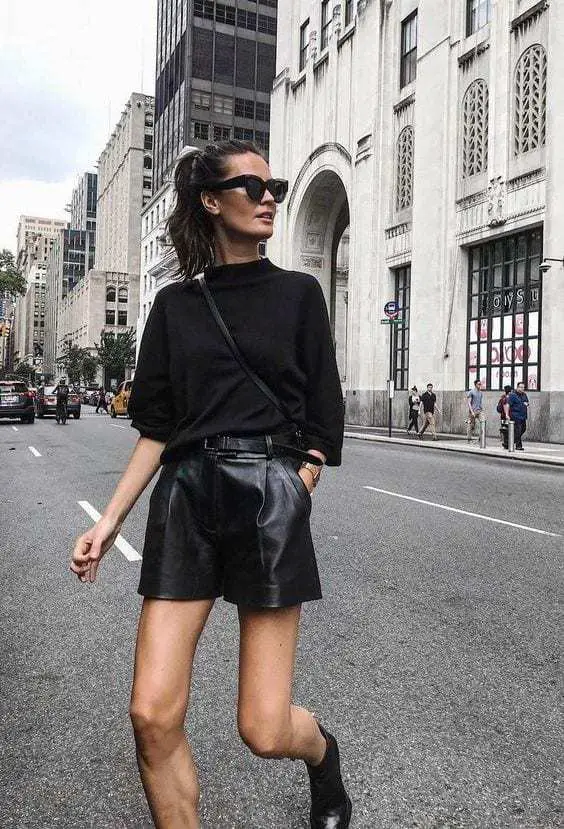 Platform sneakers and a crop top because, why not? Dua Lipa shows us how to do it: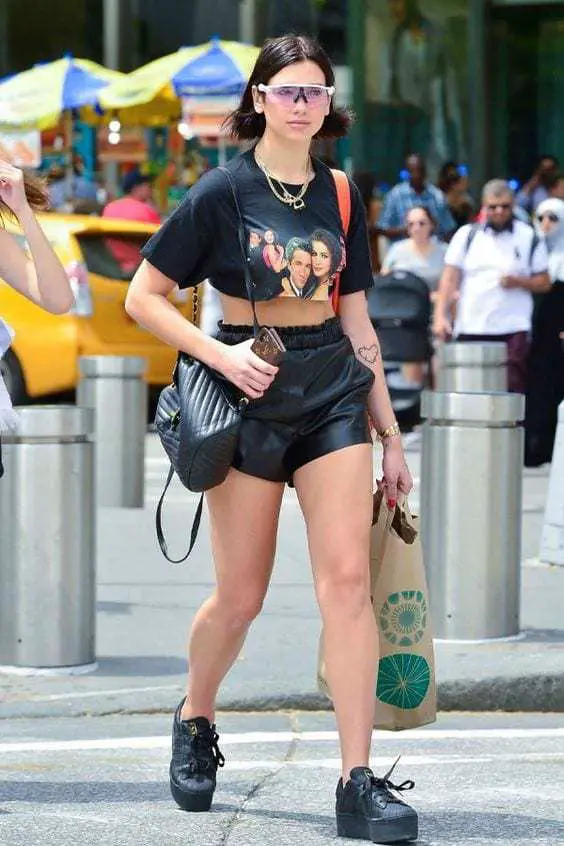 Last but not least, a pair of distressed jean shorts will give you the ultimate casual touch to your nightclub outfit: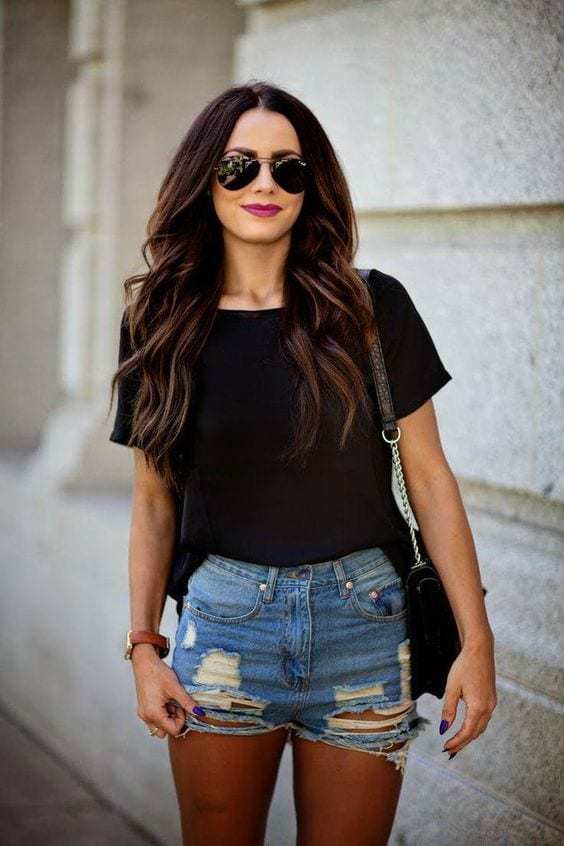 The Do's of dressing for a casual night out
Apart from these outfit ideas, there are some other tips that will come in handy for your casual nightclub look.
These are:
– Avoid white clothes: a club can be a bit messy or people can spill drinks or food on you, so white clothes should be the last thing you should think about.
– It's all about being comfortable: the thing about going out is to have a great time, so avoid wearing anything that may interfere with this.
– Check the dress code: I said it before, but it's important to make sure that the club you're going allows casual clothes such as ripped jeans or sneakers. It's better to double check than to miss out on a great night by getting out entrance rejected
– Plan your outfit with time: if you're one of those girls (like me!) who feels the need to dress perfect, then planning your outfit on time will save you some stress. It shouldn't take that long, you can check articles like this one to get some ideas on what to wear.
Wrap up:
Going to a nightclub doesn't necessarily mean dressing glamorous. There are many clubs that are "casual friendly" and a great idea for those nights when you just want to chill in a nice place.
These casual club outfit ideas will give you some insight into what to wear to these occasions, helping you pull off a cute and effortlessly cool look for a night to remember.