Whenever you look around, what will you see? All over the street are white shirts and white T-shirts. How can we dress differently than others? For a changed look, basic blue and white or black and white stripes are the must-have items for every fashion wardrobe.
By incorporating new color schemes in striped prints, you can look different in the crowd of many. ▼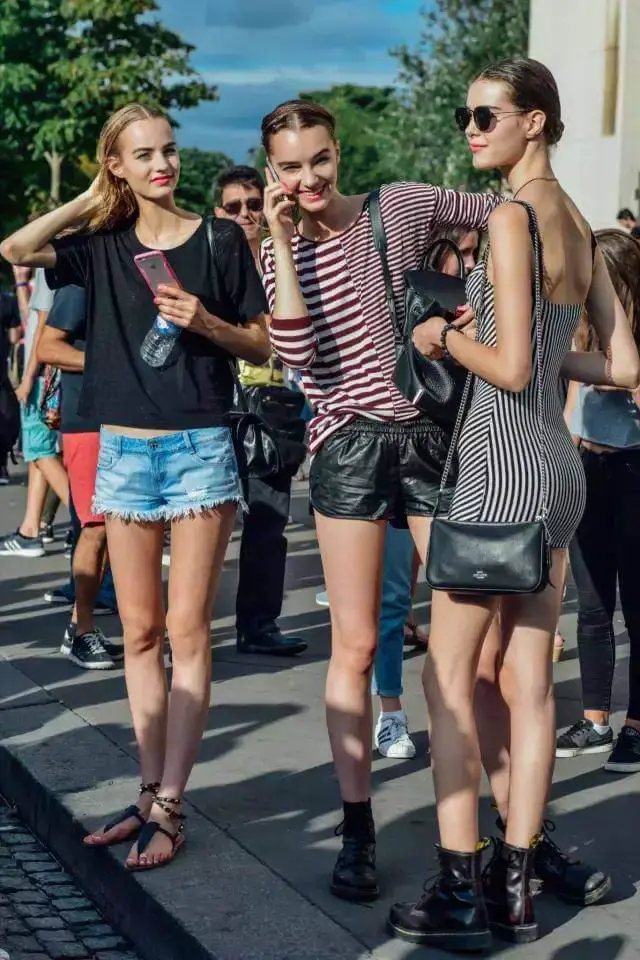 In addition to black and white stripes, red and white, blue and white, yellow and white, green and white stripes too have proven to be very classy and photogenic. ▼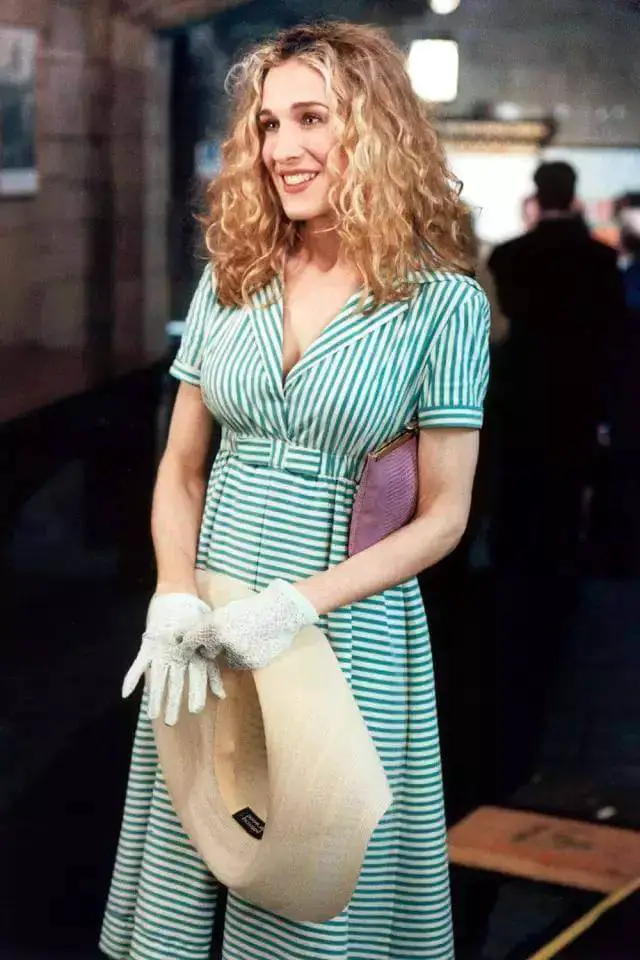 However, the single product I will introduce today is my most favorite color stripe this year. The color stripe I am referring to is the combo of three or more colors in a single piece. It is a stylish and easy-on-eyes item. Especially when you don't know what to wear, a color stripe item can easily upgrade your look.
Olivia walked in a striped skirt in a recent street shot, she opted for a white T-shirt for a purely casual feel. ▼
Gigi wore a striped suit in the street the other day. ▼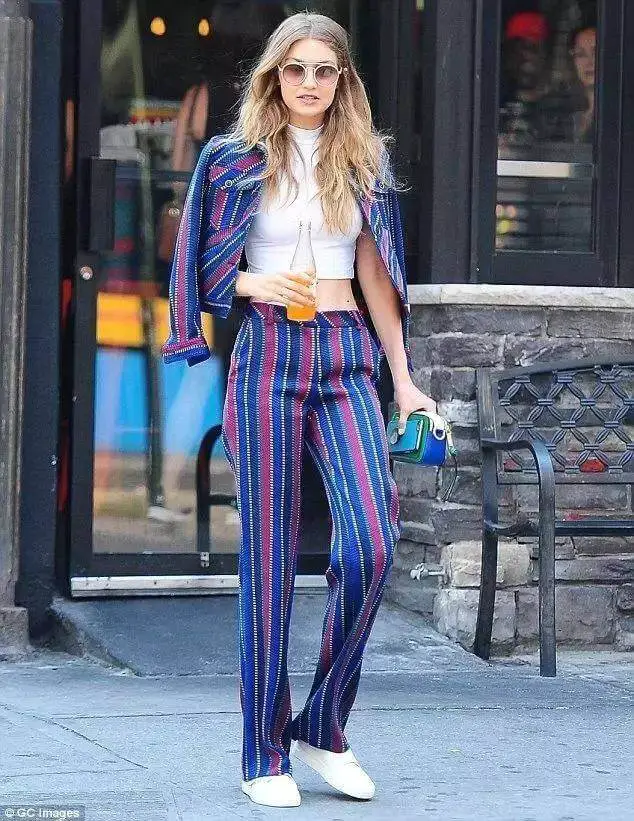 4 Best Worth Investing Stripe Outfits
Worth Investing Item No.1: Colored Horizontal Stripe Top
Striped blouse is the single product that I think is the easiest to buy and the easiest to wear. There are many types of tops, among which the colorful stripe T-shirt and stripe vest are the most flattering pieces.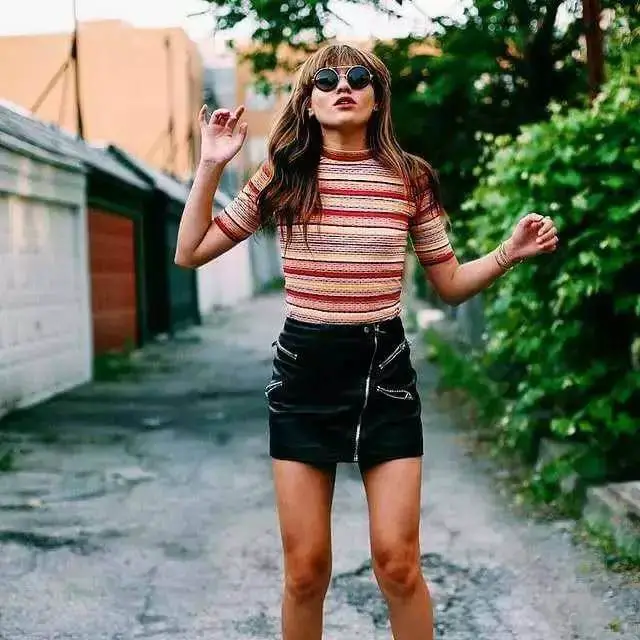 You don't need to worry about how to style color stripe top. Because no matter what the color of the stripes is, just take a blue jean and there you go! ▼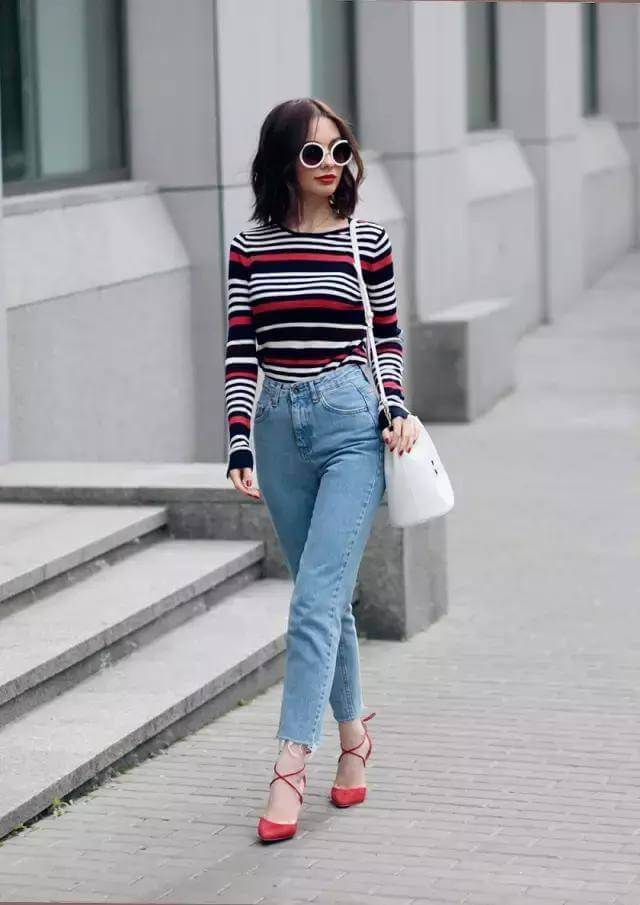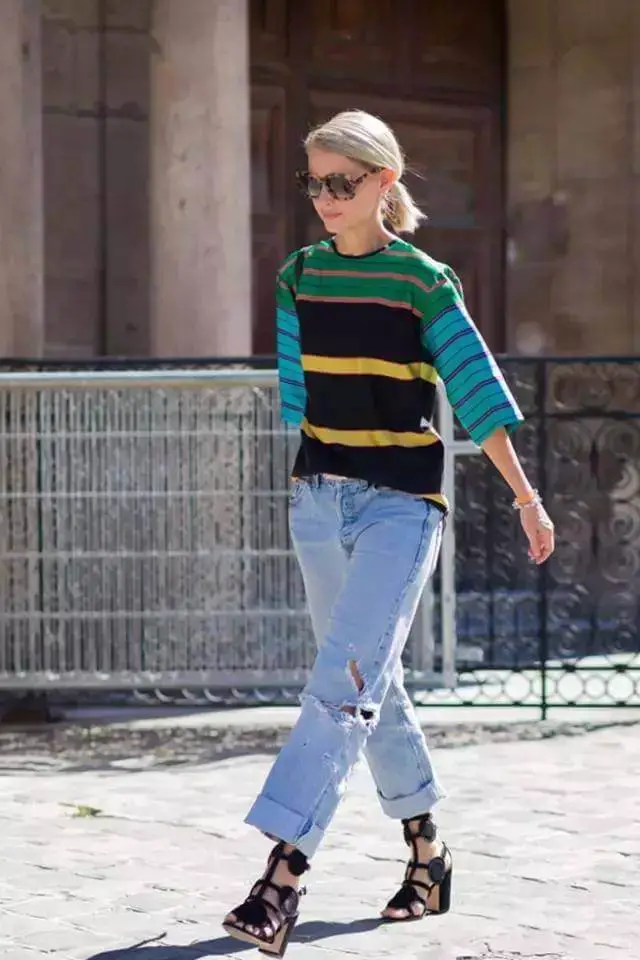 Obviously, with black tights, it won't go wrong.▼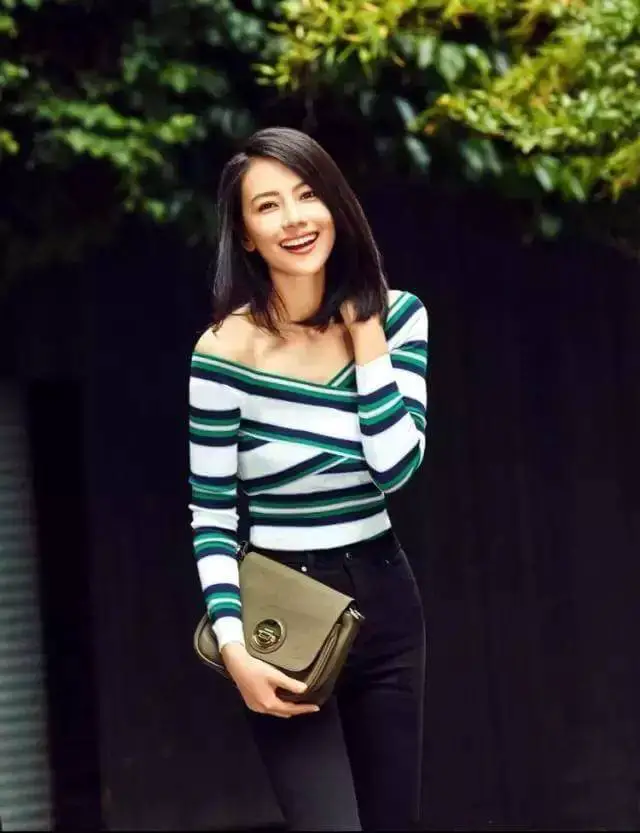 It goes great with different styles of skirts。▼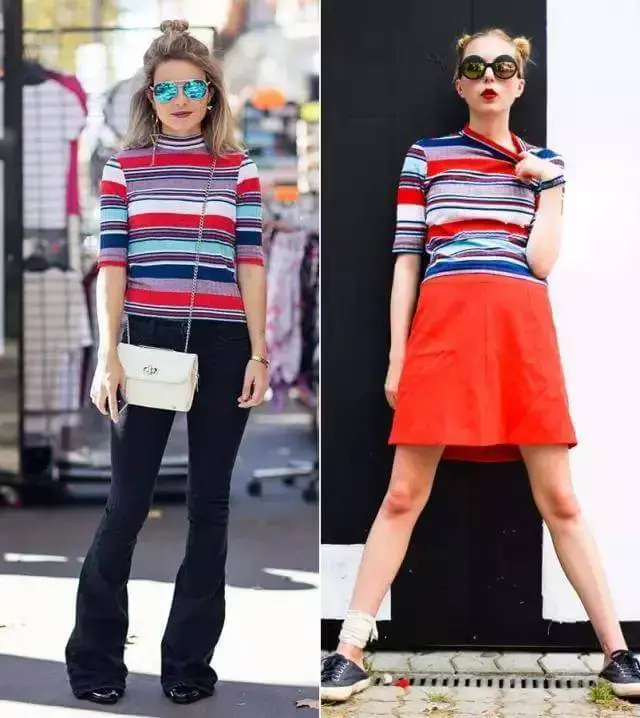 Color stripe itself is a vibrant element, you can try it to get a sport style. With relatively loose sports pants, you can get the style of a dynamic girl. ▼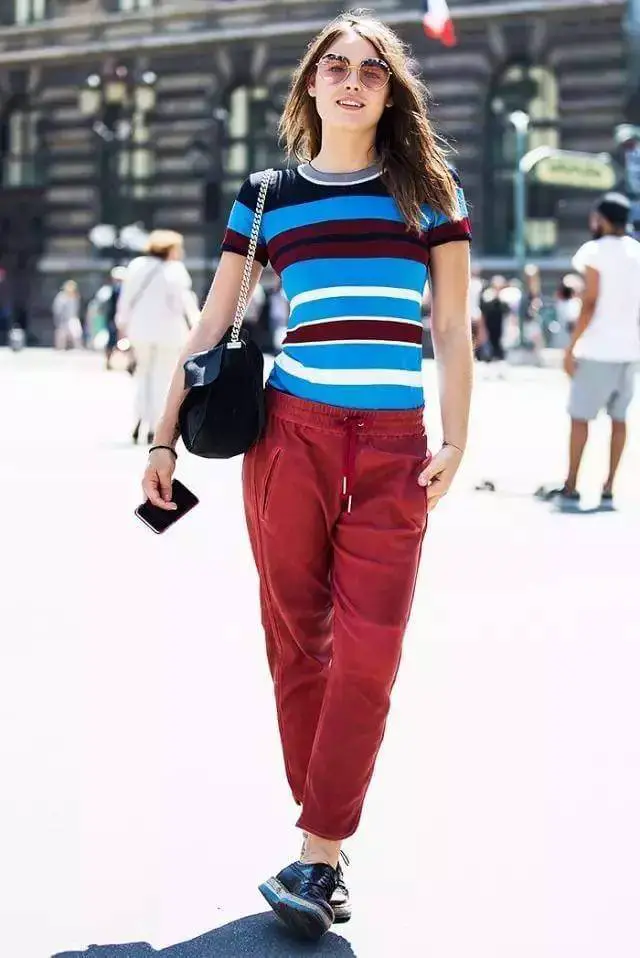 For more fashionable and bold appeal, use the "stripes and stripes" trick. ▼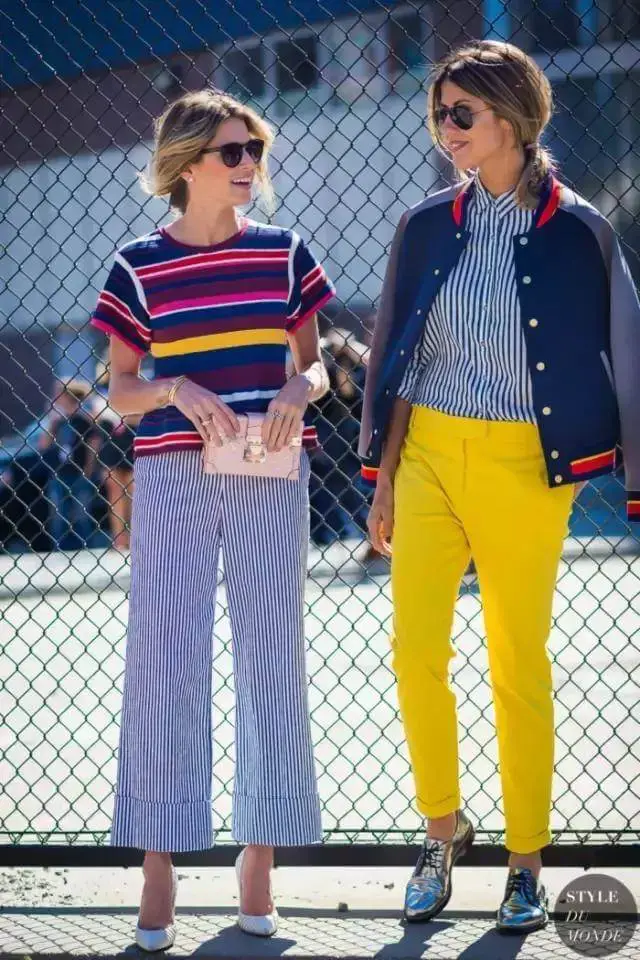 If you want to buy a striped sweater, just go for it.
Replacing the bottom with Svan's Midi skirt makes a stylish work wear▼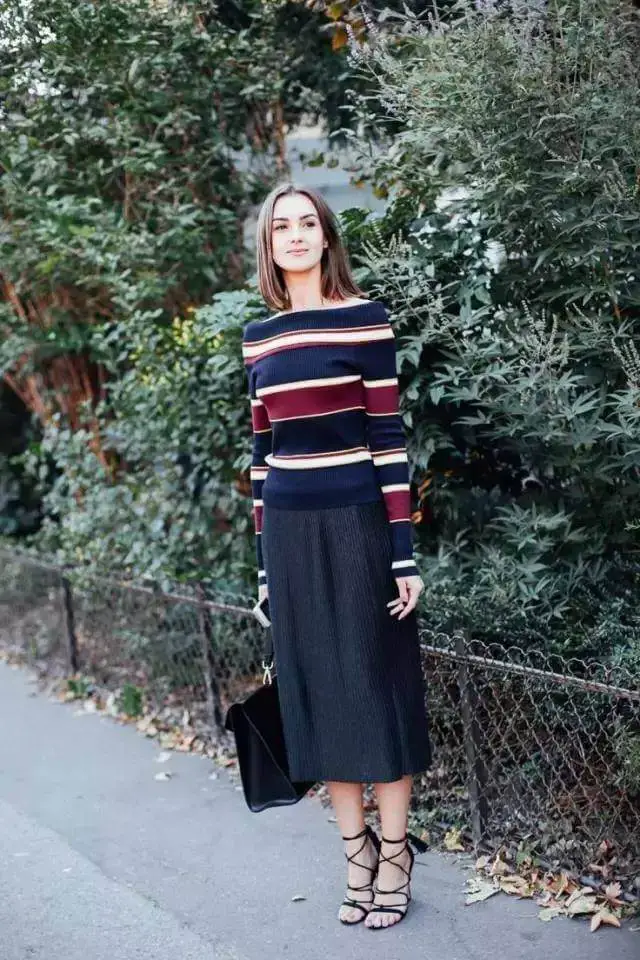 With a short skirt, you will feel very young. ▼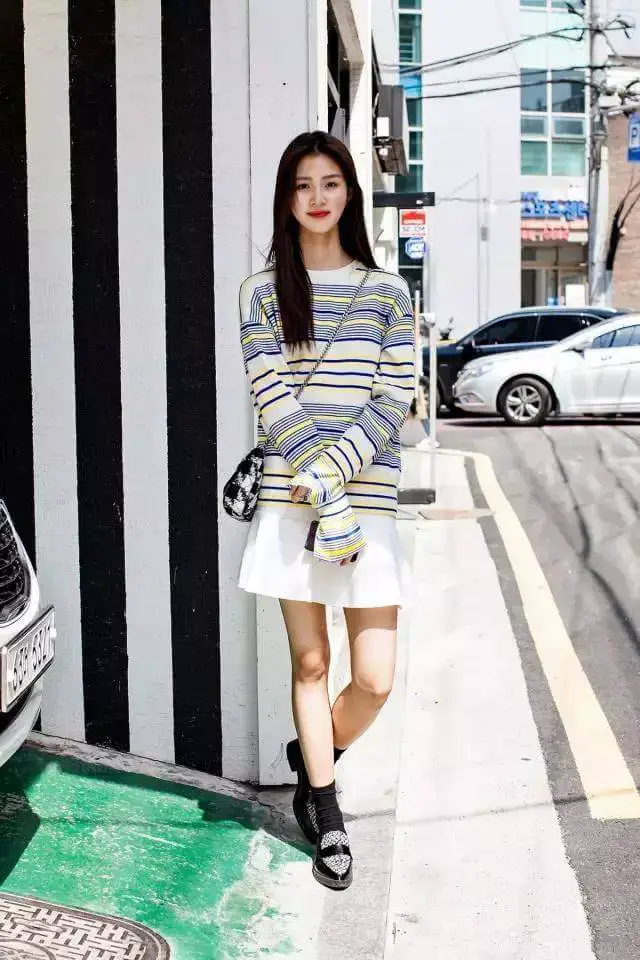 Color stripes with white shorts are also very refreshing. ▼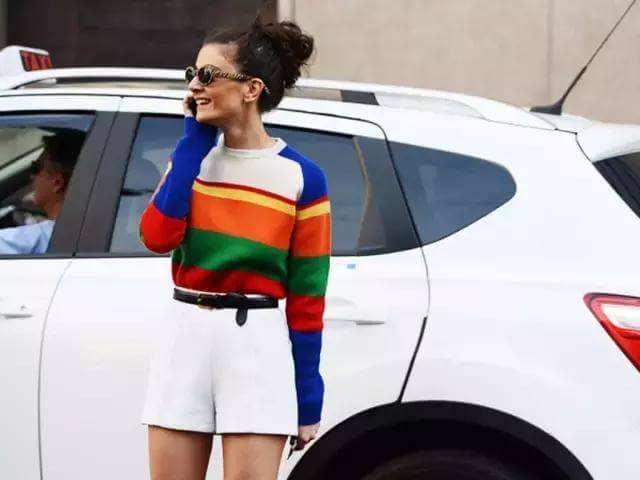 As a multi-color stripe top has many colors, to make it look uncluttered and easy on eyes, it is essential to match the bottom with one of those colors. ▼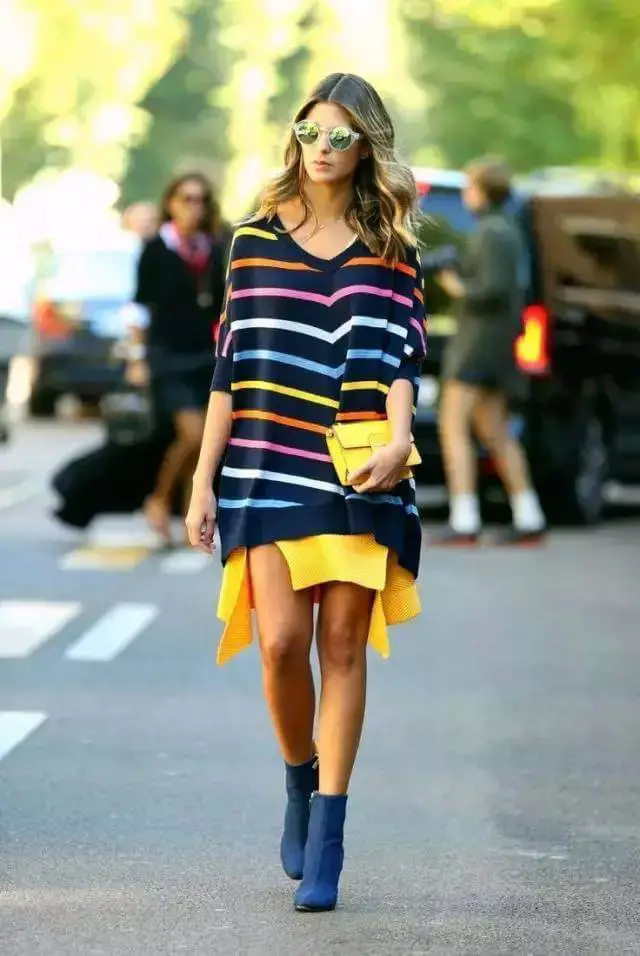 The reason why a blouse is the most worthwhile investment is because it can be worn as single item in summer; and you can layer it up in autumn and winter. ▼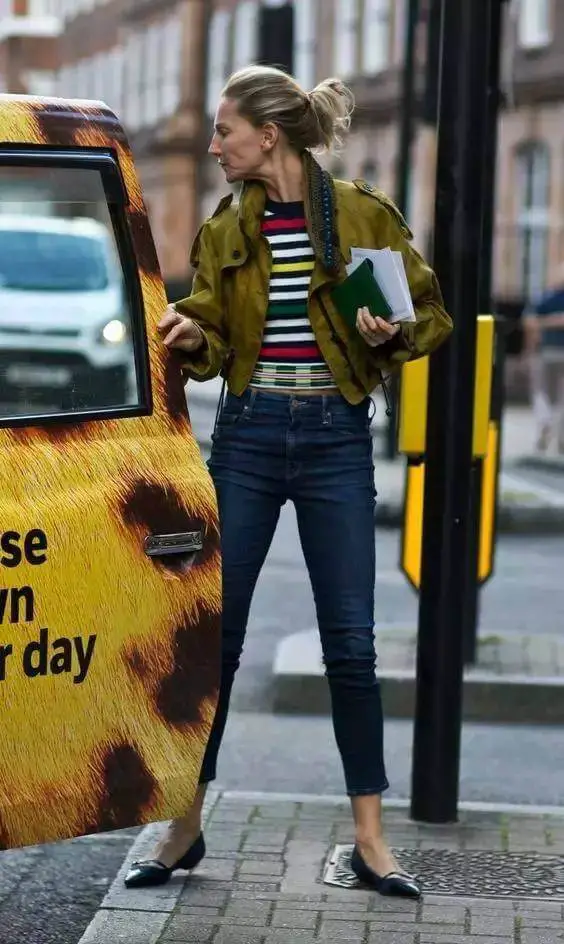 Worth Investing Item No.2: Colored vertical stripe wide leg pants
Sexy wide leg pants, have you tried them? I have bought several items myself. Want to buy something even more special? Consider what these models have to flaunt. ▼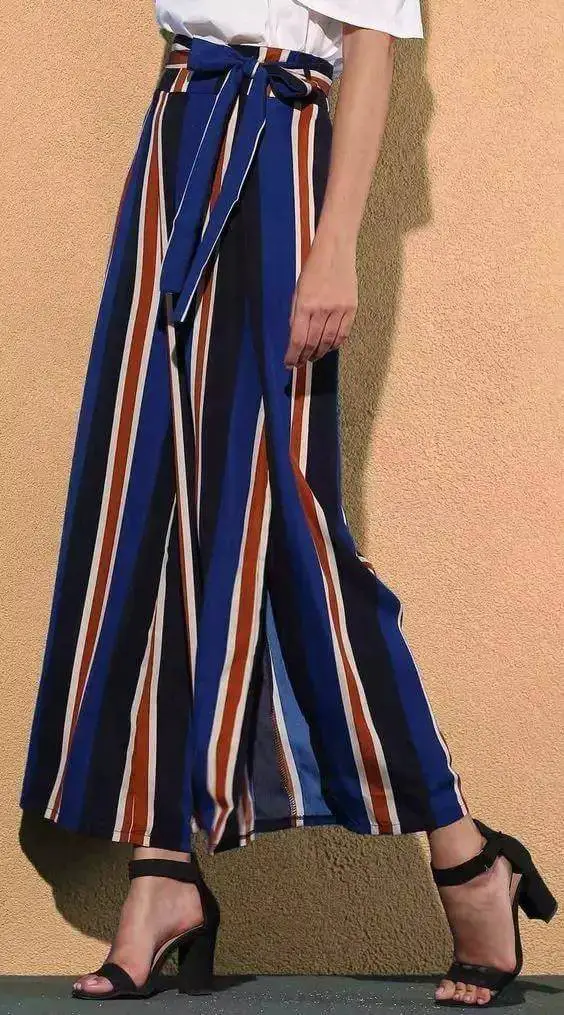 Color striped wide-leg pants are best suited with the basic white T-shirt, white shirt, white vest. All are cool and stylish ways to get a casual look.▼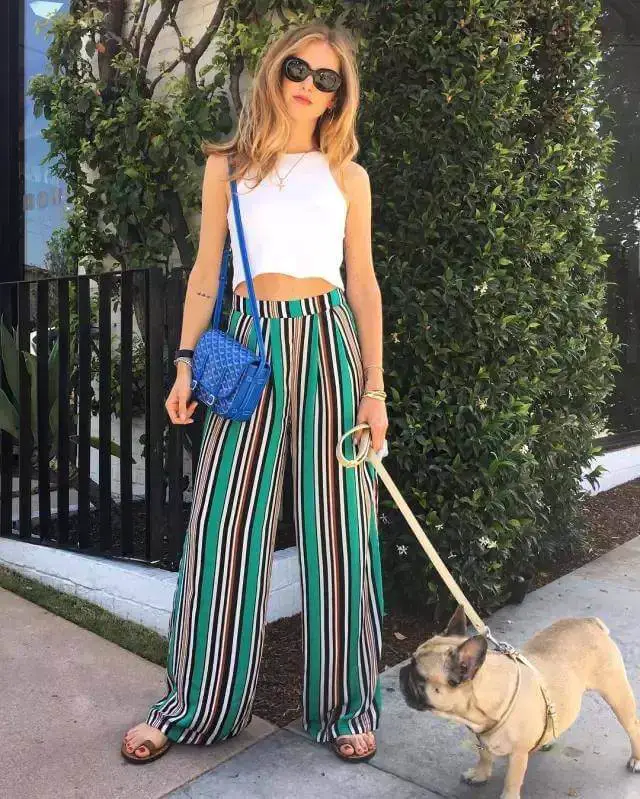 Fashion Director Anya Ziourova is more technical. What she tried is also a flattering idea. The trousers are red, white and blue. The blouse is actually a unique combo of all three colors, but the depth of the color is not the same.▼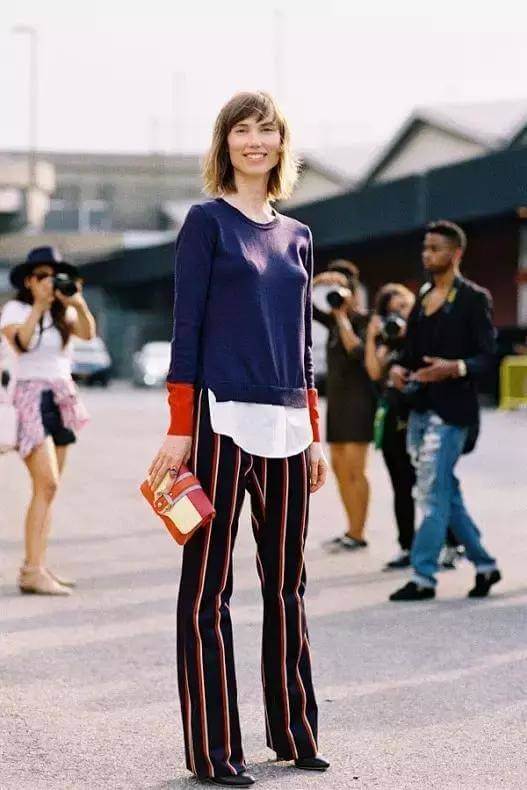 The following is also the" stripe & stripe" technique that I just mentioned. Colorful striped blouse is teamed up with striped bottom, without giving a messy look. Want to try this style? It is quite easy to choose the flattering style of the striped single product, just like these two lovely ladies.▼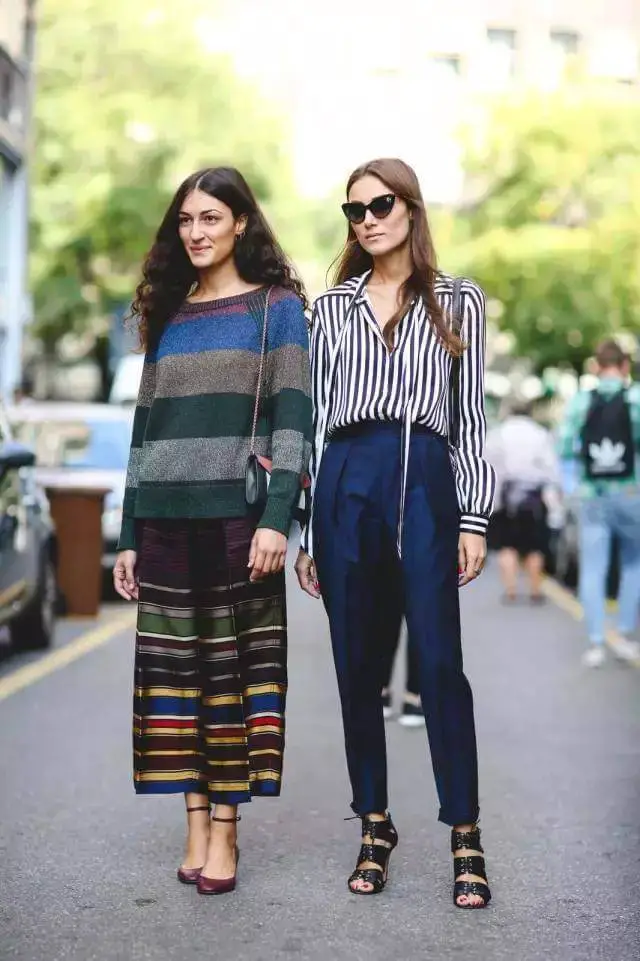 Color striped trousers with white shoes is a very nice combo, prefer white high heels with pointy toes, if it is about office wear. ▼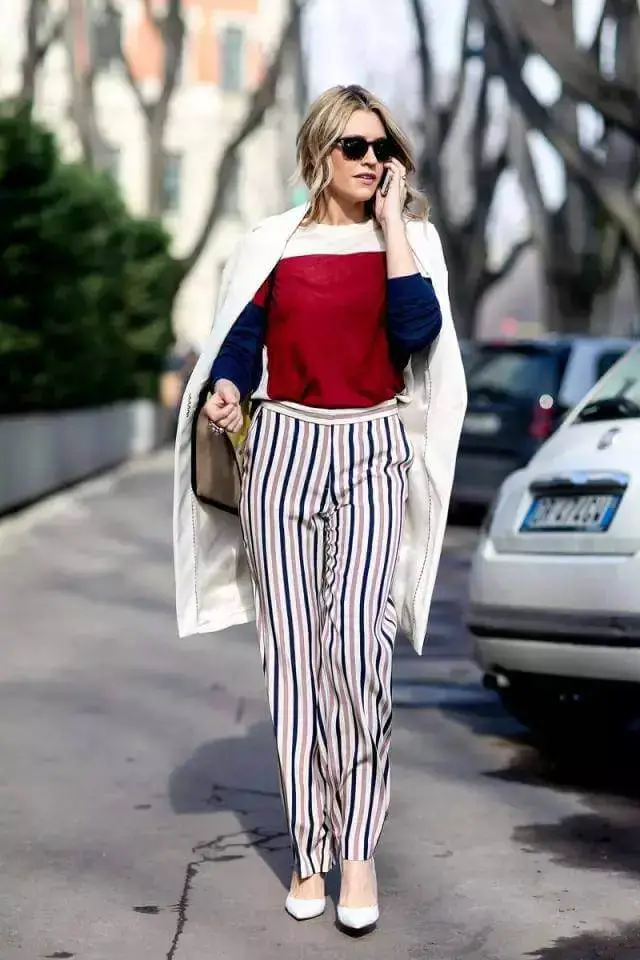 The slightly thicker nine-leg, wide-leg pants can be worn till autumn. ▼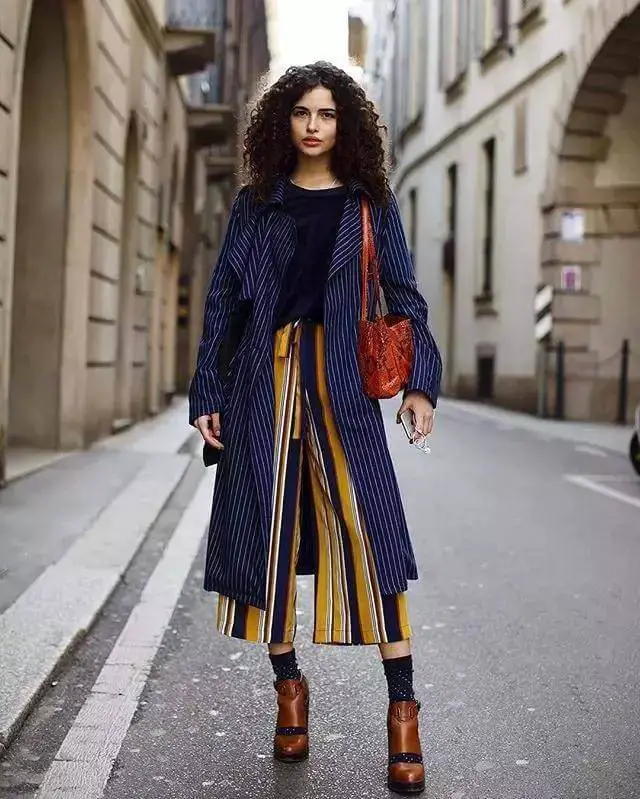 Trousers are even better. But this trouser's leg is a bit too long▼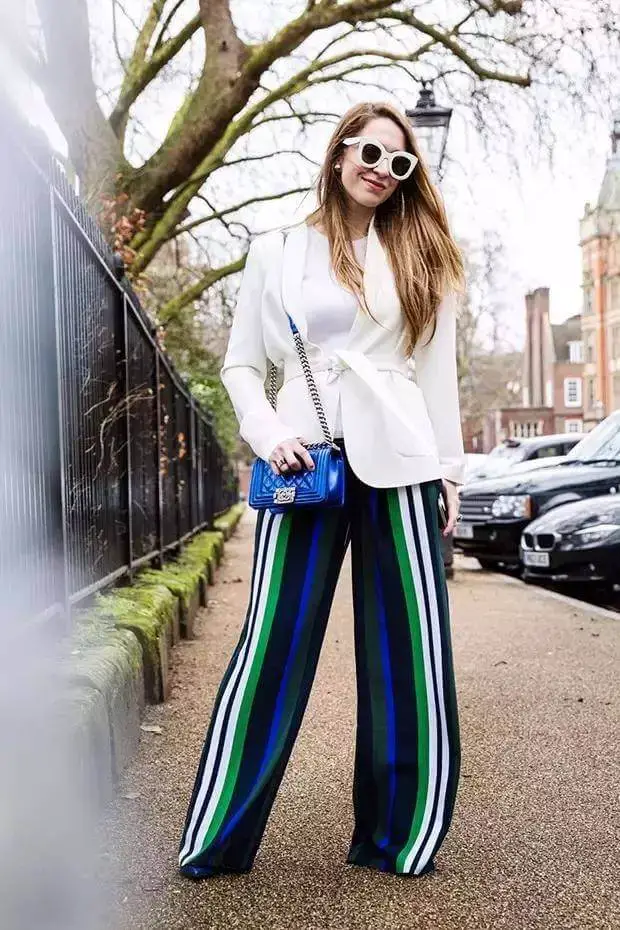 There are other colorful striped suits that can be bought—tops + wide leg pants style is one of them. Even matched set will not look tacky. ▼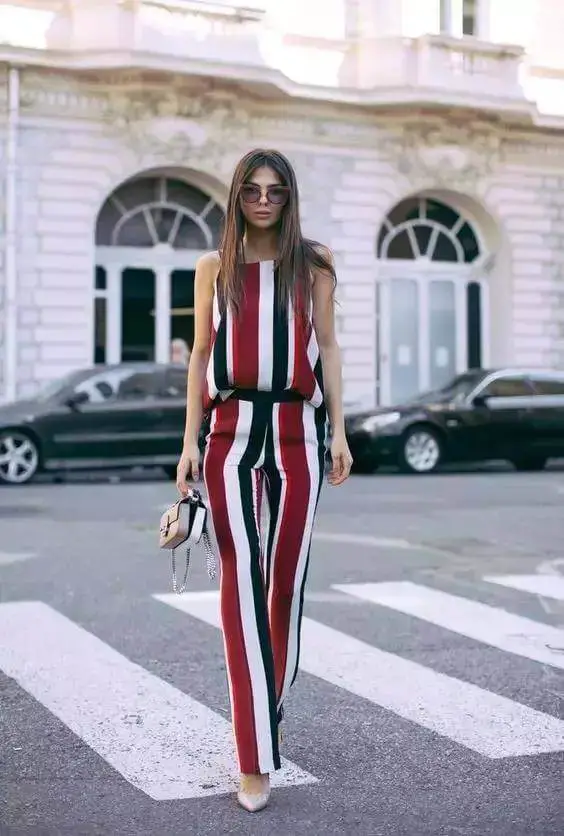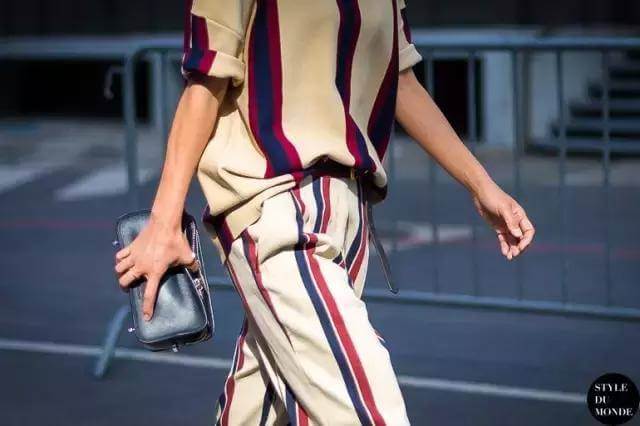 Besides loose color stripe wide leg pants, I also recommend color stripe carrot pants, PP loose with legs slightly tightened. It usually comes with vertical stripes and gives the illusion of height (good for petite girls).
If your workplace is not too strict about office attire, this style can be worn during working hours. White jacket with white shirt, very stylish. ▼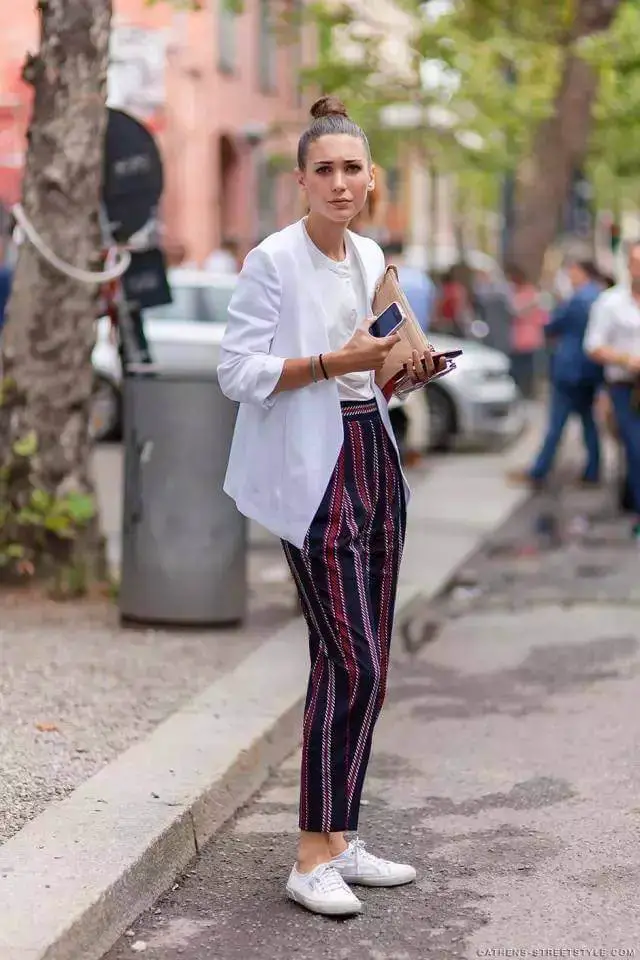 It is also a colored striped radish pant. The color of top goes great with the trouser. Don't you think the top is too high? ▼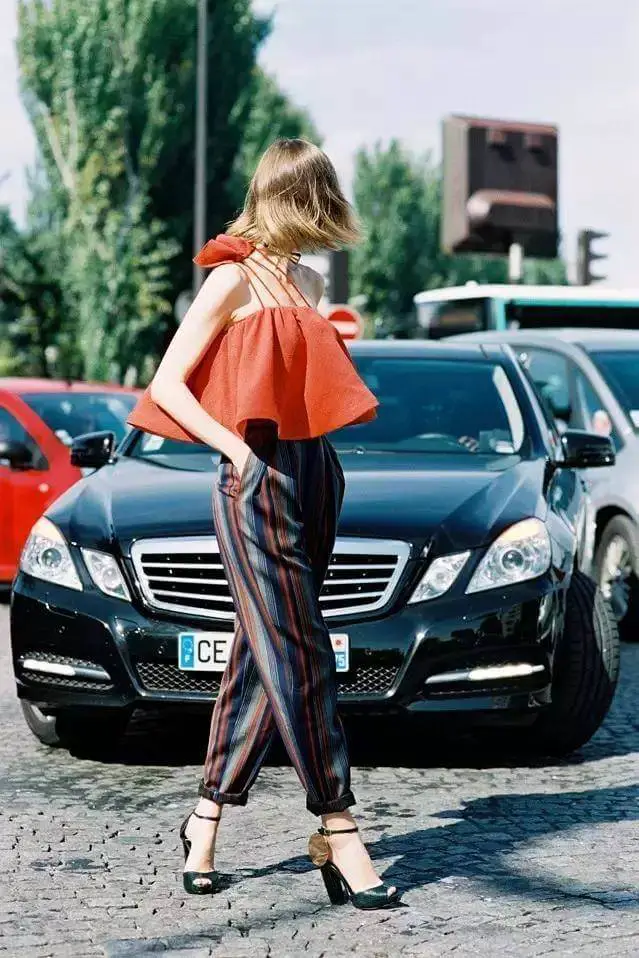 In comparison to the previous outfit ideas, over-tight striped trousers and wide-striped pleated bottoms are not so pleasing to eyes. Choose carefully. ▼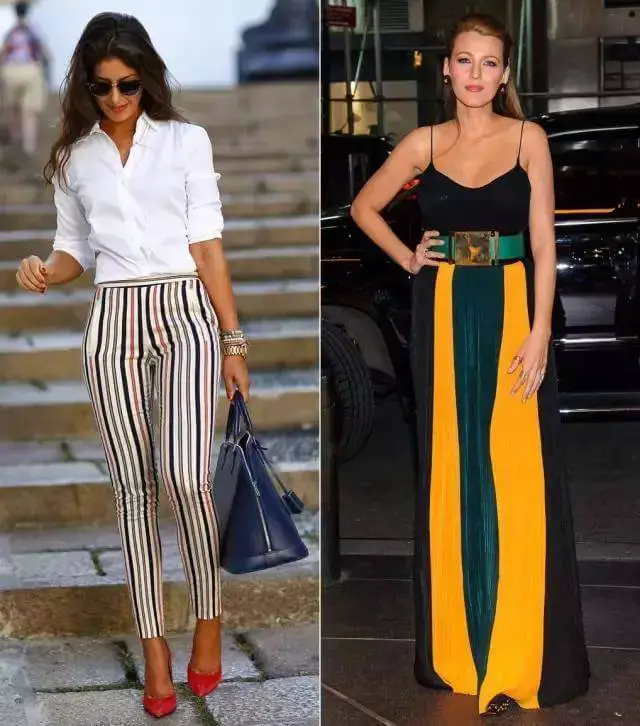 Worth Investing Item No.3: Stripe Half Skirt
The striped skirt is also a very good single item. Even if it shows only a little bit, it seems pleasing and colorful.▼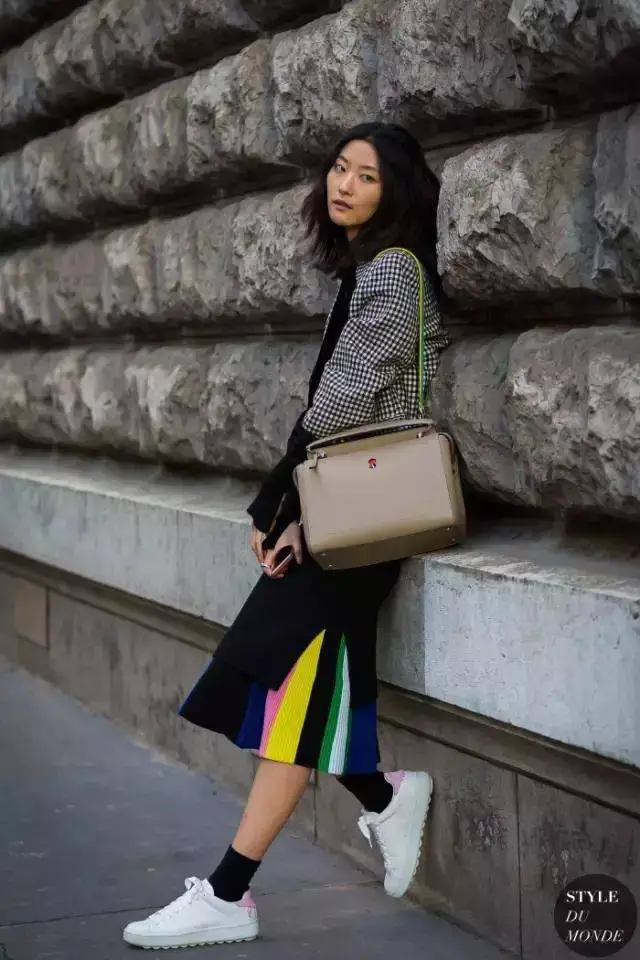 Blue and white striped dress has been one of the most popular striped items in the past two years. It comes with a very serene and elegant appeal. Adding some gray fringe skirts to it will be more special. Looking at the picture, you will know how this striped skirt and white blouse are the perfect matches. ▼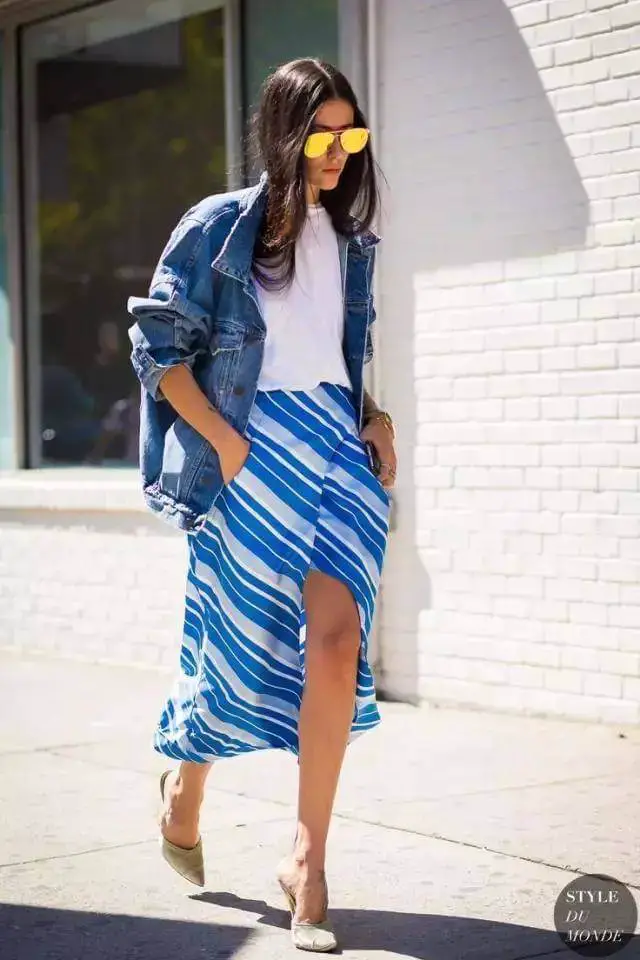 Just like colored striped wide-leg pants, colored striped skirts look best when paired with white shirts.▼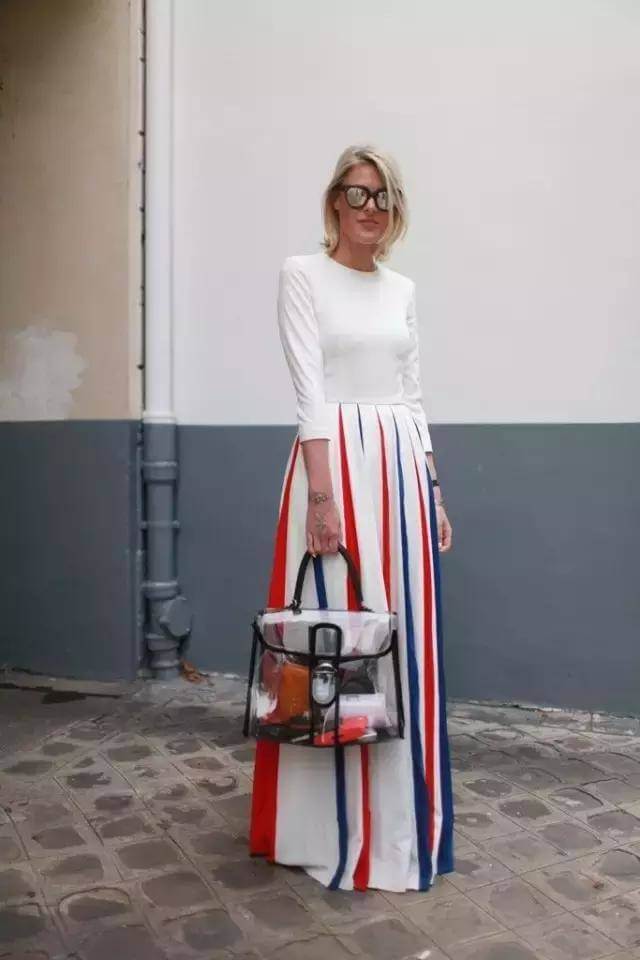 Color striped skirts with different shoes can also help in upgrading your style. It adds more to your femininity, when you pair it with A-word high heels。▼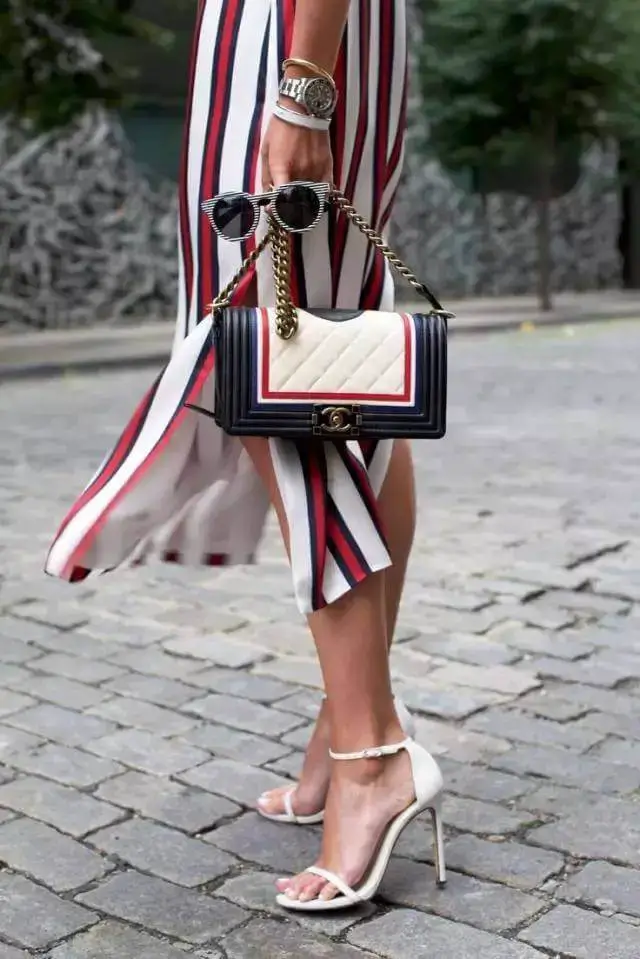 Pairing it with sports shoes brings a lot of energy. ▼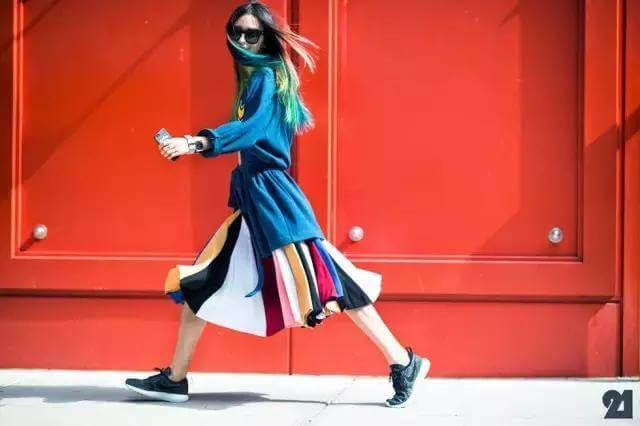 The blue-green combination is my personal favorite. Adding a touch of white or black refreshes the whole look. The loose strapless sweater and striped skirt combine to give a chic appeal. Fashion accessories like white pointy heels and green piggy bag complement the whole look. ~~▼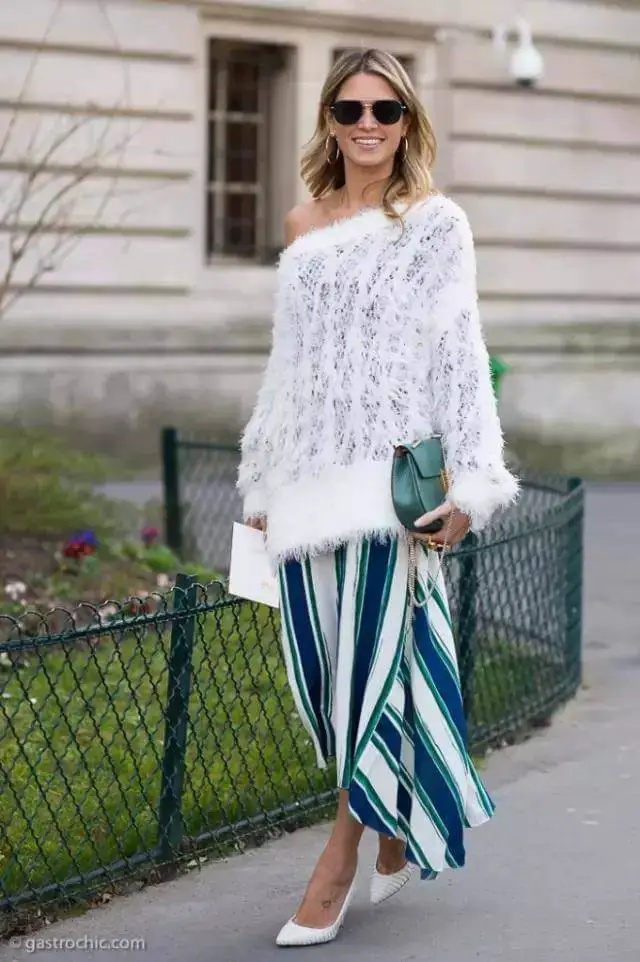 Worth Investing Item No.4: Colored Striped Dress
Last but not the least is a colored striped dress. Compared with other single products, a colored stripe dress comes with a retro appeal. This is something that always stays in style. ▼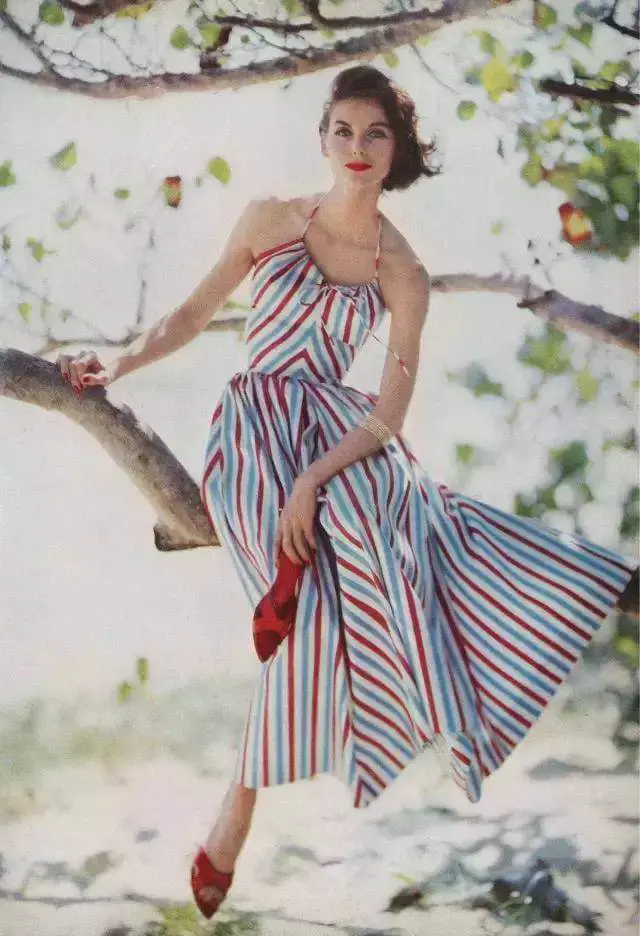 What do you think of this sassy skirt ?▼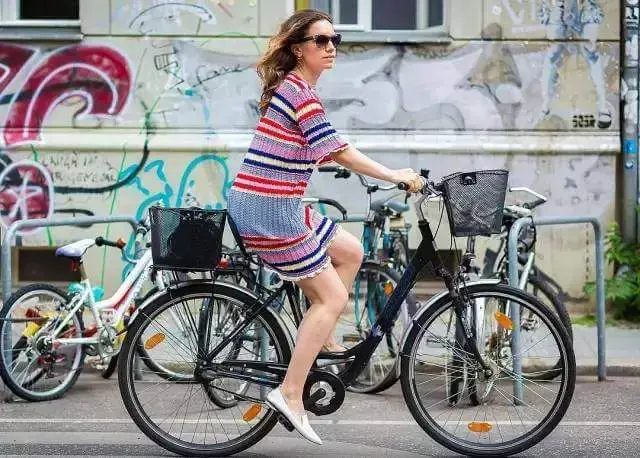 When you combine the year's most popular off-the-shoulder style with color stripe, this is what you get. ▼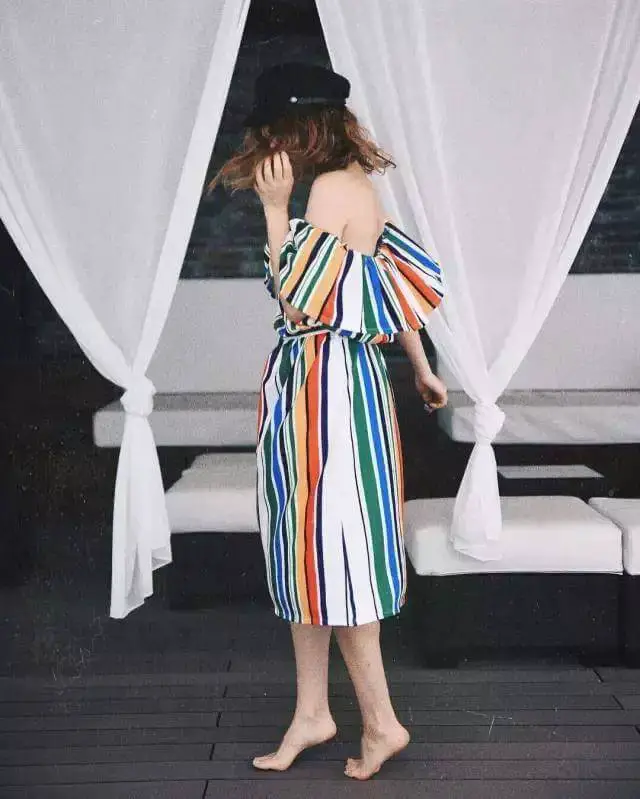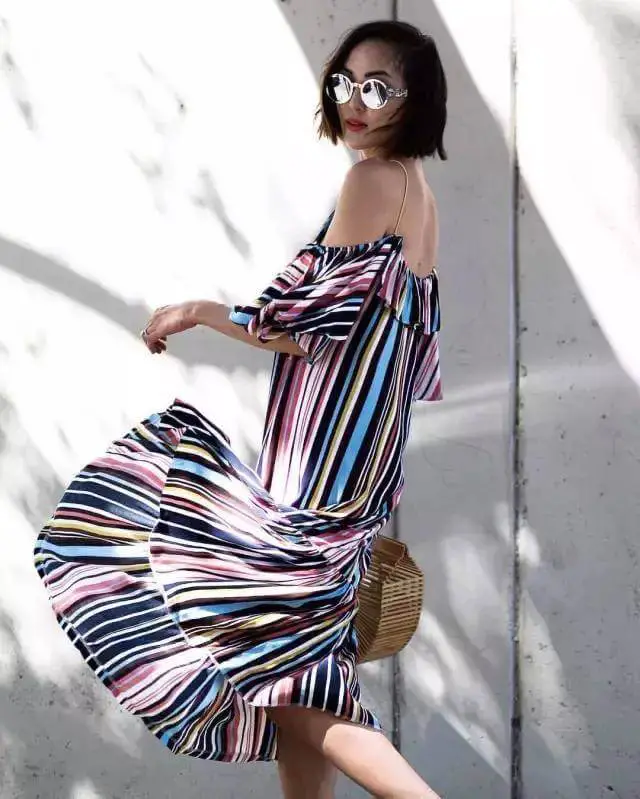 See the cooling combo of blue and green stripes.▼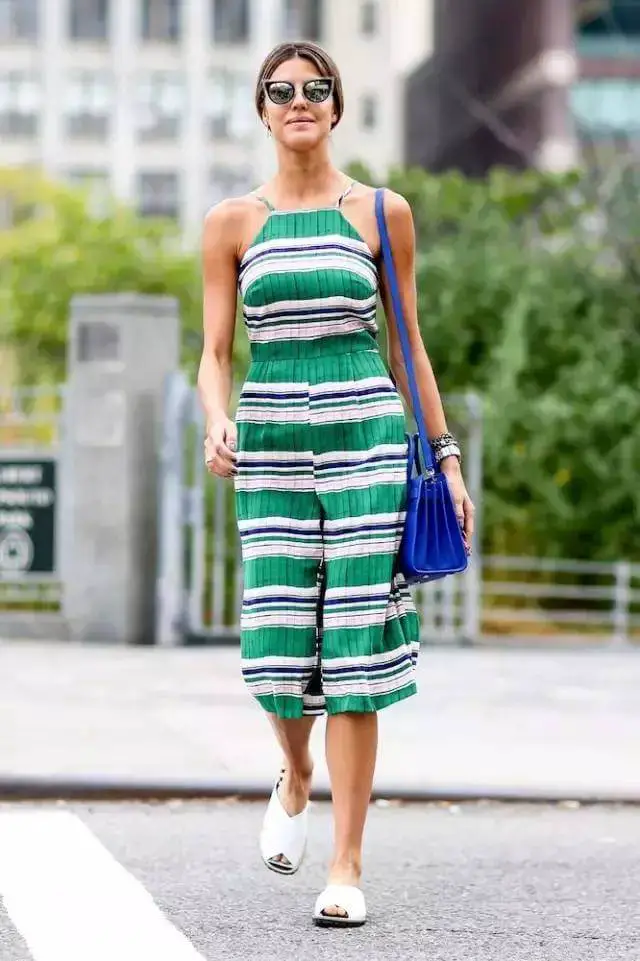 Whenever you buy colorful striped dresses, it is best to choose a style that promises more skin show. Prefer off-the-shoulder or suspenders styles. You can also choose a sleeveless strap or a large V-neckline. As the presence of colorful stripes is already very strong, exposing some skin gives a refreshing and easy-on-eyes look. ▼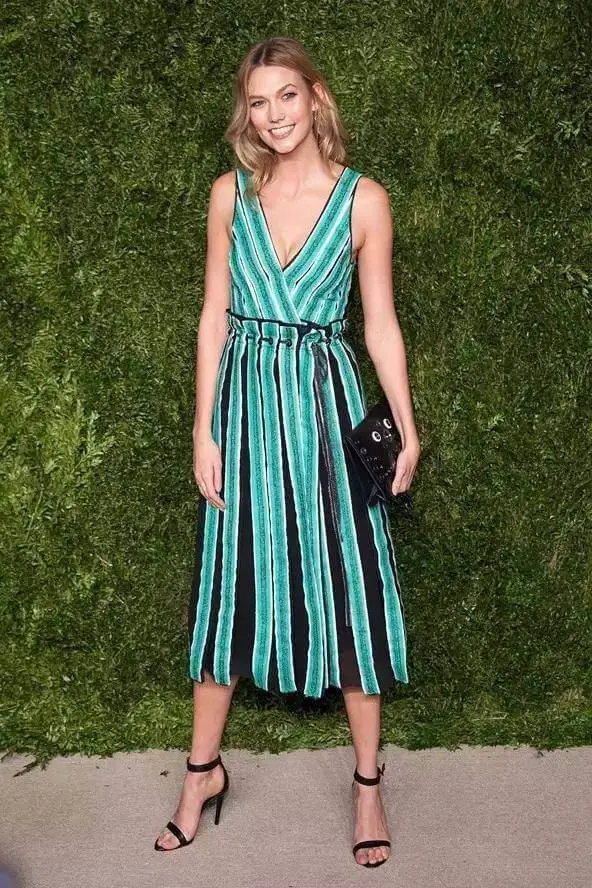 Moreover, this refreshing type of dress can also be used with knitwear or shirts underneath, and it can be worn in both autumn and winter.▼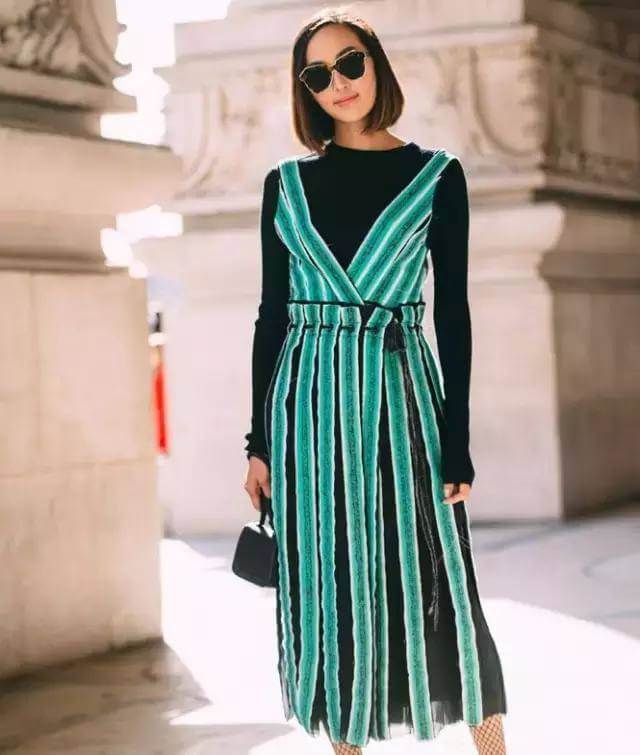 It's best not to buy colorful striped shirts or skirts that are too tight and have a high collar. They give a very heavy look. ▼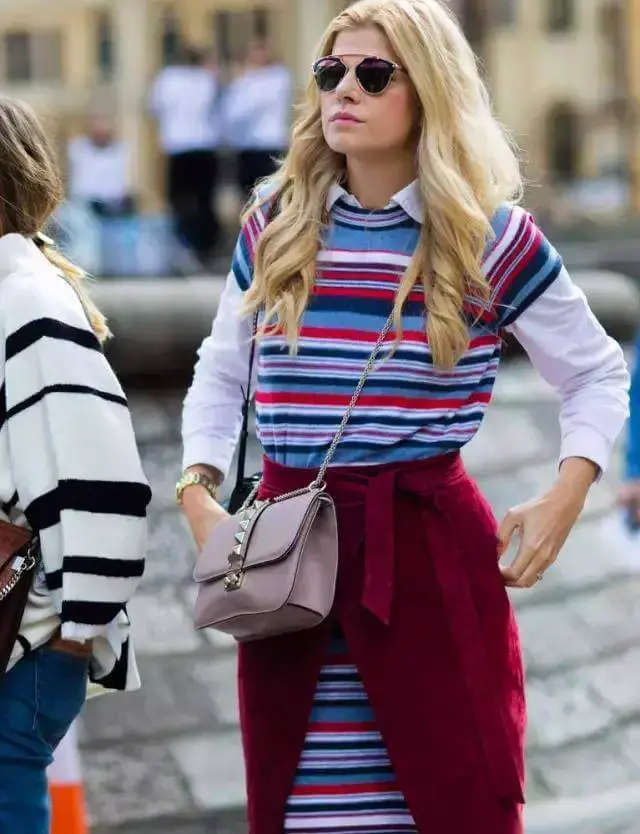 When we talk of striped prints, colors play a significant role. Make sure that the colors that you are going to pick, are easy-on-eyes and do not give a messy look. Avoid multiple colors in wide stripes. For example, this year's popular rainbow stripes do not feel good to eyes—at least not to me.▼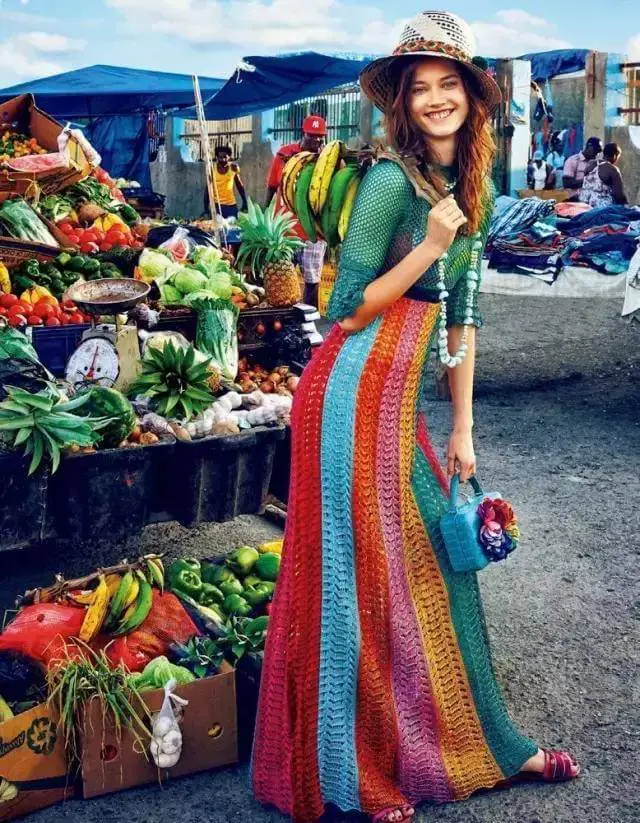 If you think your wardrobe has too much basic outfits, you only need to start with a colored stripe item to quickly upgrade your wardrobe. Pick easy and basic combinations and experiment with more colors to look more fashionable ~