There are some basic colors that are considered must-haves because they will let you easily mix-and-match many different pieces throughout the years. However, some other colors are not that versatile.
Orange is a great example of how a color can be quite "complicated". It may not be everybody's cup of tea, but it's a fascinating color that, once you learn how to team it, you will definitely be turning heads.
Colors that go with orange
The color orange means warmth, expression, joy, and fascination. It's a passionate color that, in its different shades, can suit anyone.
If you're looking forward to starting this new year with an updated wardrobe, incorporating bold and different colors will do the trick. Follow me as I guide you through different color combinations and outfit ideas that will prove once and for all that orange is a color that can be as fashionable as black.
1. Orange and denim
Orange and denim is probably the go-to combination for almost everyone. It's simple, easy and a complete yes, with no risk of looking too bold or "weird".
If you want to elevate your orange and denim outfit, try adding a denim jacket as well. Denim on denim is one of the coolest and easiest types of outfits you can pull off. If you're feeling trendy, try wearing an oversized or cropped denim jacket.
Orange looks great paired with other warm colors such as camel or leopard print. Pair your orange top with skinny jeans and animal printed accessories (shoes, for example) for a casual and cute orange outfit:
If you have an orange blazer or jacket, try wearing it with trendy pieces in neutral colors. Straight leg jeans, sneakers and a vintage t-shirt is a great combination you can wear on those days when you feel like wearing a cute but trendy look: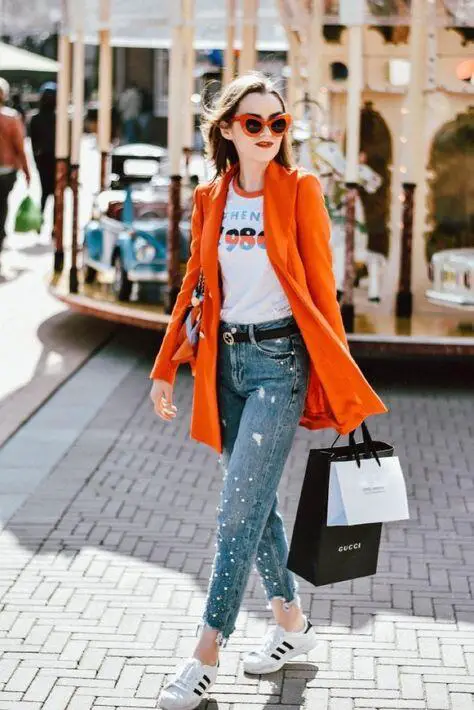 Orange is a statement color all by itself, so pairing it with neutral colors is probably the best way to pair it without looking like "too much".
Dark washed jeans and a black top are the perfect "canvas" for rocking an orange coat or jacket: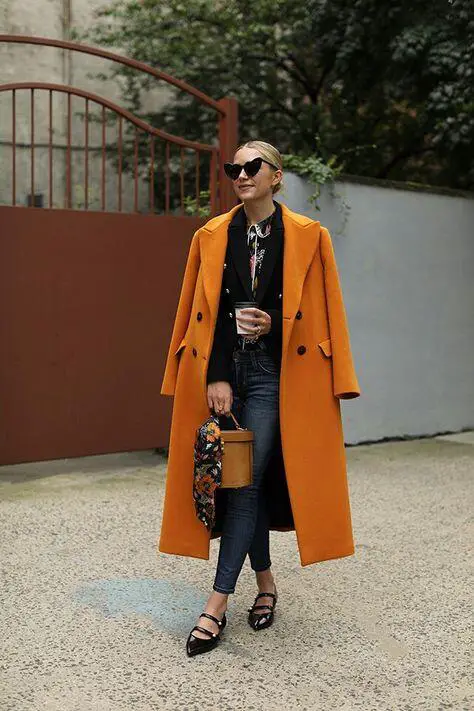 If you want a bolder look, pair your orange top with cool printed jeans. The secret to mastering head-turner looks with orange is to pair this color with an piece that has an equal statement look.
You can't pull-off showstopper looks this easily with neutral or basic colors such as white or black, and that's the magic of orange.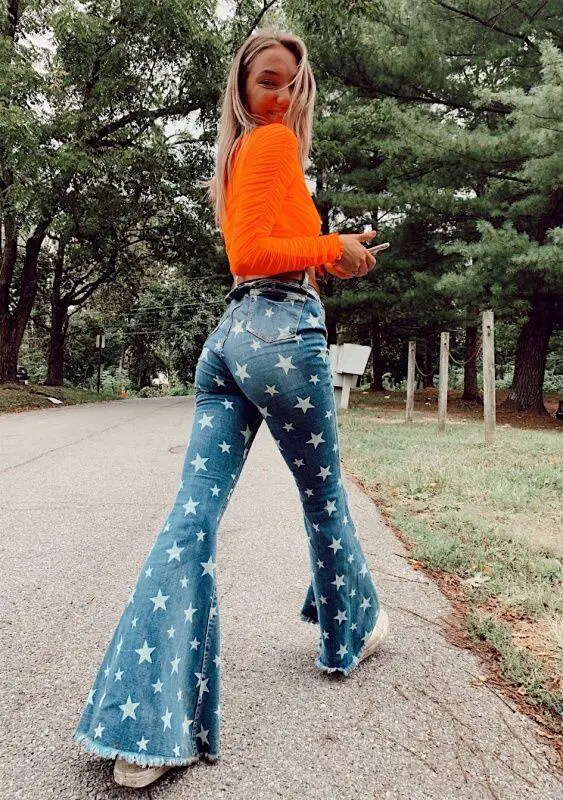 2. Orange and black
The orange and black combination may have some Halloween vibe, but that doesn't mean it doesn't look good.
I believe the secret to mastering a black and orange outfit is to choose trendy and/or edgy pieces. A cool outfit in a not-so-common color combination will be turning heads: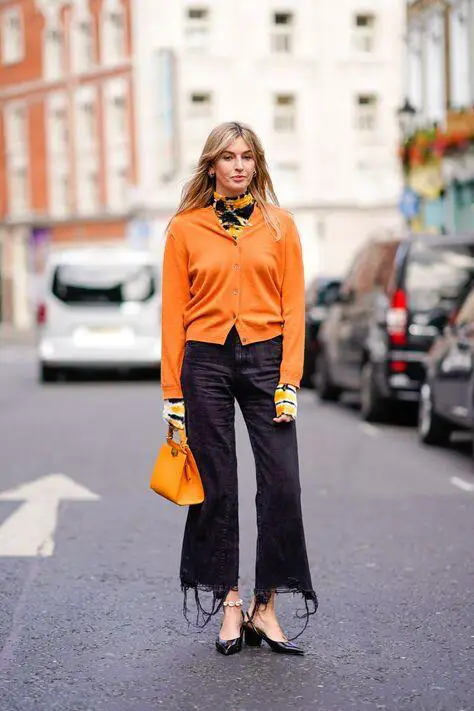 You can also pair black with a muted or darker shade of orange for a vintage-like outfit:
For an edgy look, nothing can beat a pair of ripped black jeans and combat boots. An orange sweater will add that statement look that will transform a basic outfit into a cool and bold outfit.
Orange is a bold color. No doubt about it:
You can also pair black and orange for a dressier outfit. For a cool and stylish look, pair a cropped orange top with high waisted black pants, and for a chic and laid-back work attire, pair paper bag orange pants with a simple black top:
An orange dress is a must-have piece for anyone who loves a bold and trendy style. Try wearing yours over a black t-shirt for an elevated and edgier street style look: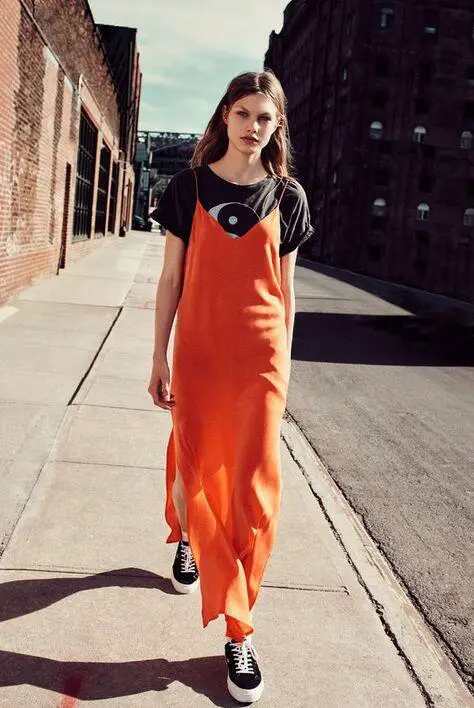 An orange and black combination doesn't have to be with clothes only. If you have an orange accessory, such as a handbag, you can perfectly pair it with an all-black outfit:
A black leather bottom paired with an orange top will make you look like a fashion pro. Few people actually have orange clothes, so pairing it with edgy and chic pieces like a black leather skirt or leggings will definitely make a statement: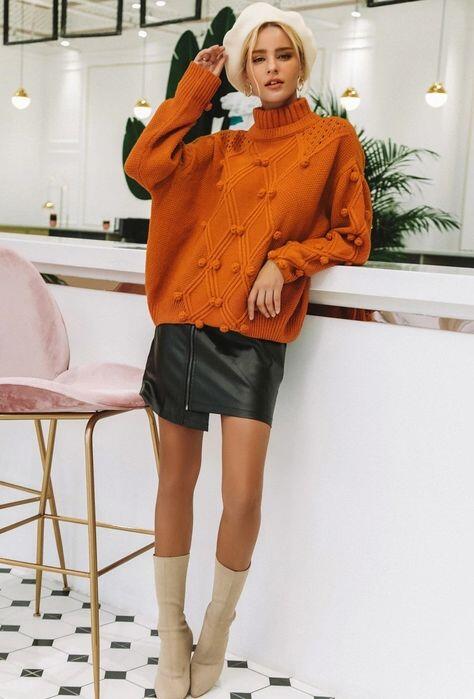 An orange dress will look perfect with black accessories, especially if you're attending an evening event: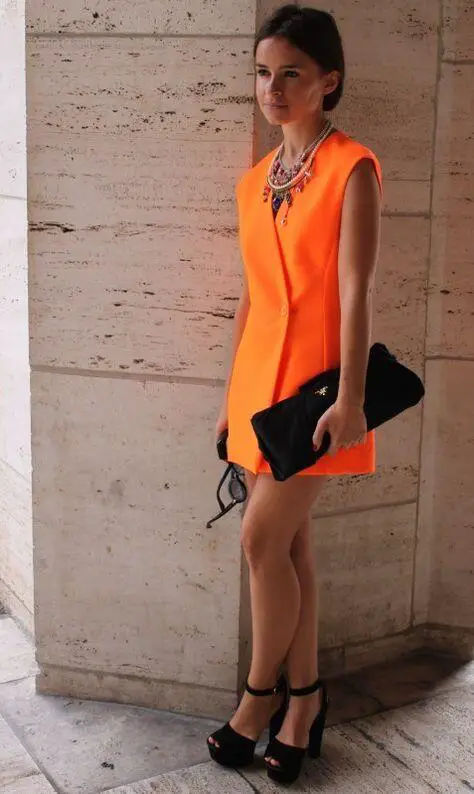 3. Orange on orange
Wondering how to wear orange? Why not with orange!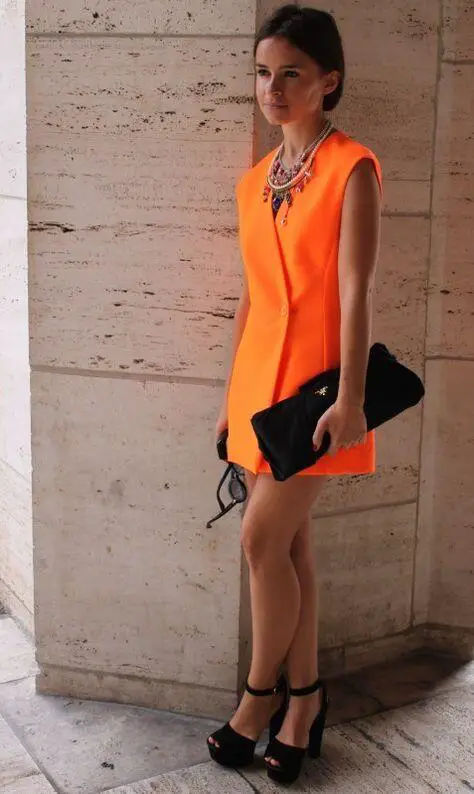 Monochromatic outfits have taken the world by storm. If you want to take your fashion style to the next level, try wearing an orange on orange outfit.
I can guarantee this look will be one to remember. Few people actually have orange clothes, let alone orange bottoms AND tops. So pulling-off an all-orange outfit will make you look like a fashion pro: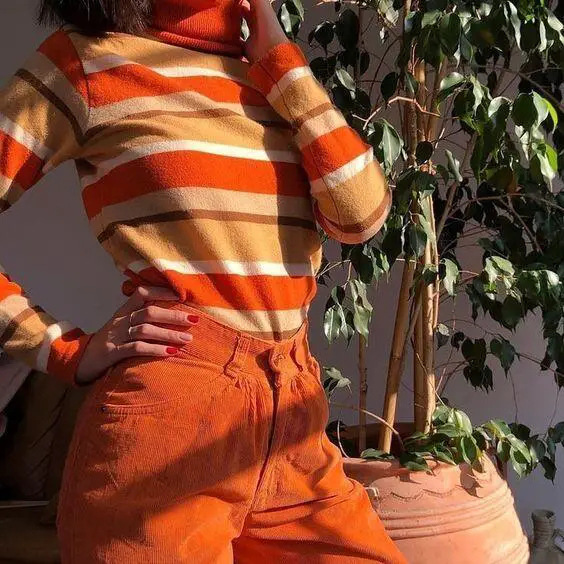 One of the best ways of wearing an all-orange outfit is to pair different shades together to create an interesting low-contrast: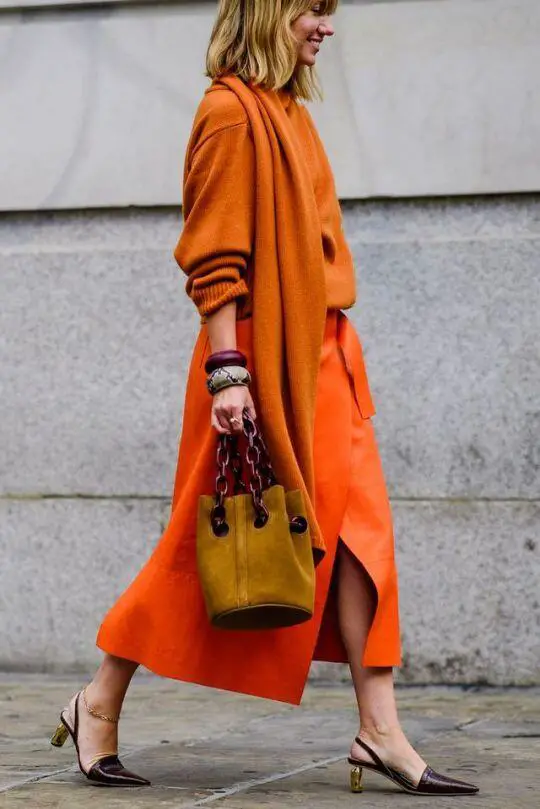 You don't have to wear orange from head to toes. If you have an orange printed top or bottom, you can perfectly pair it with a neutral piece and an orange layer.
This is an example of how it would look like: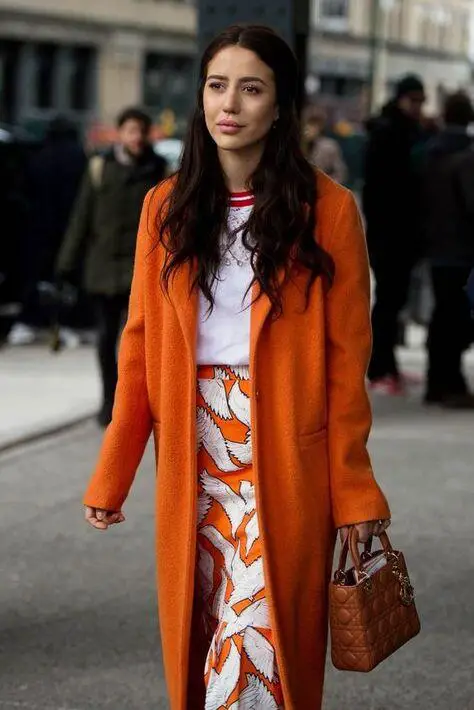 If you want a bolder look, wear orange in all of your pieces, from shoes to layers and handbags: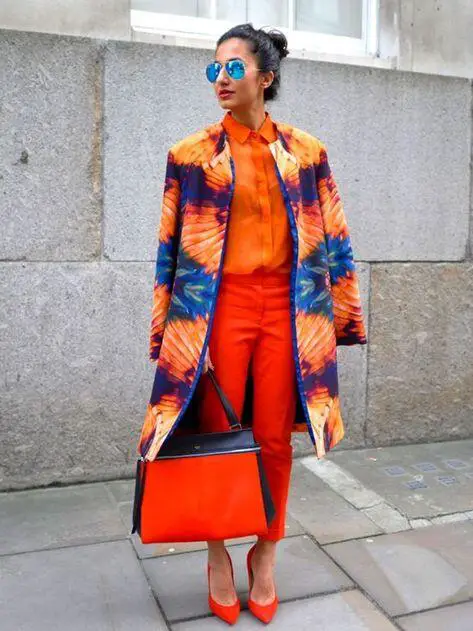 Forget about pairing solid shades of orange. Small printed orange pieces paired together will create a street style look worthy of a fashion icon.
As I mentioned before, orange is a statement color that, if you want to take it to another level, pairing it with another orange piece will be the easiest way of doing so: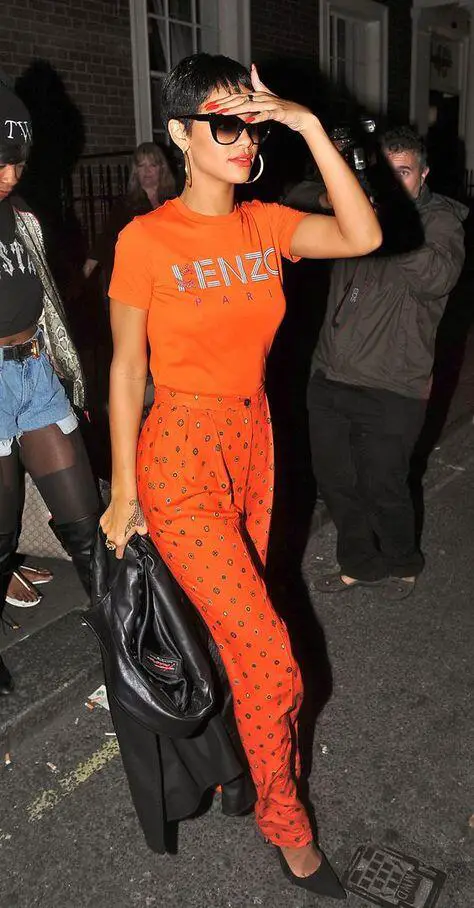 4. Orange with blue
Orange and blue is one of the boldest combinations you can make, especially if it's a royal blue. If you want to look like a street style icon, you should definitely try this color scheme: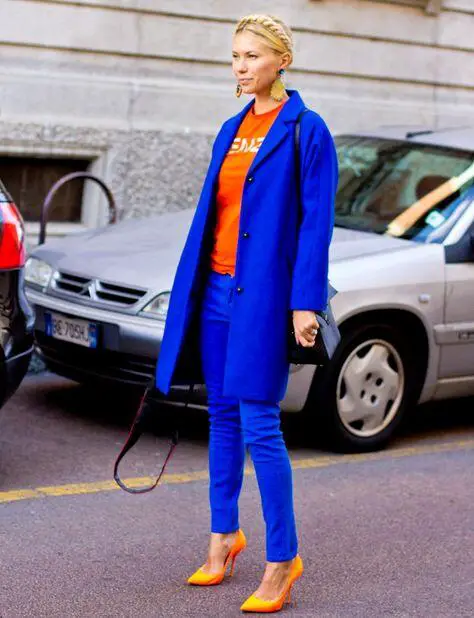 If royal blue seems like too much for you, then you can perfectly pair orange with a lighter shade of blue.
A pastel metallic blue with a bright orange will make you look trendy and cool: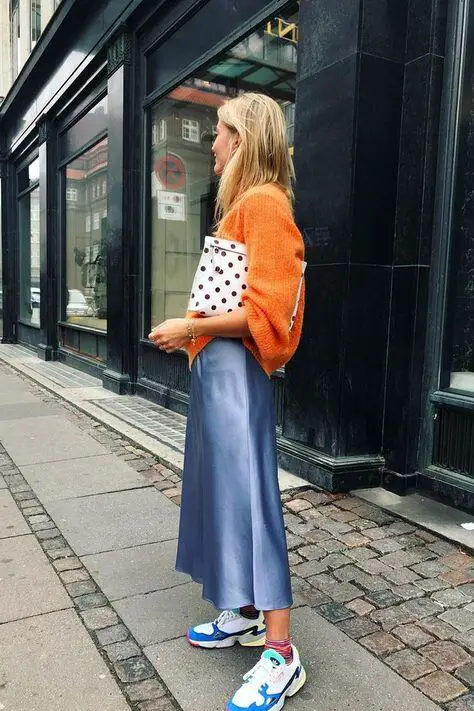 For a cute and bold outfit, try wearing different shades of blue with orange. A baby blue jacket over an orange dress teamed with a royal blue accessory will do the trick: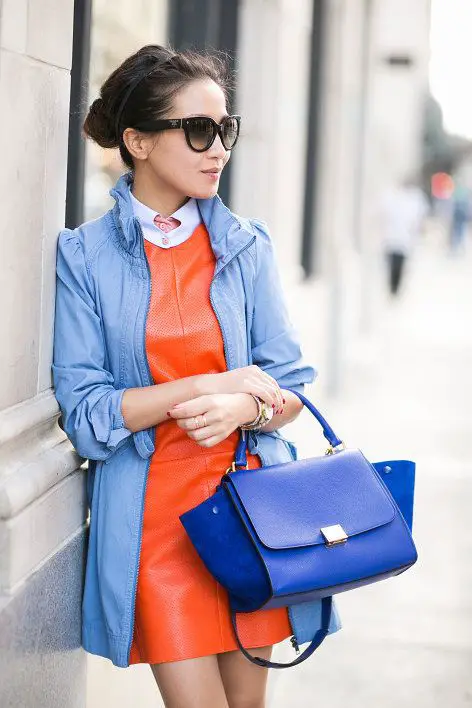 Pastel colors look great paired with bright and electric colors. You can wear a pastel baby blue jacket over a saturated orange (or the other way around) for a cool and trendy outfit: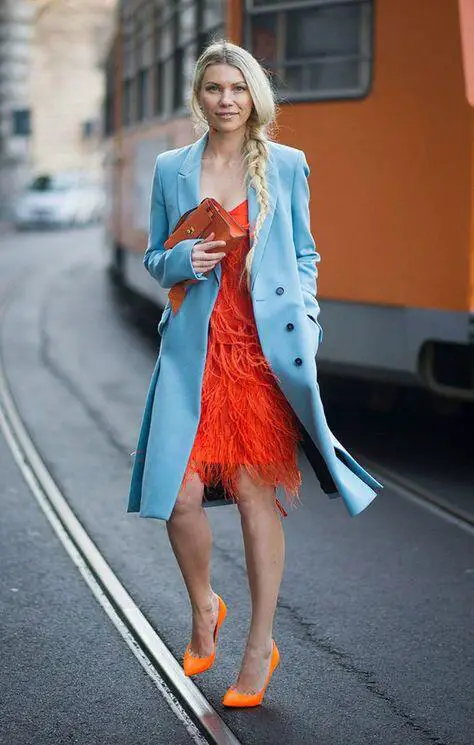 Navy blue is a basic color that looks great with any other color. If you want an easy and "safe" styling look for your orange accessories or layers, you should always consider an all-navy outfit.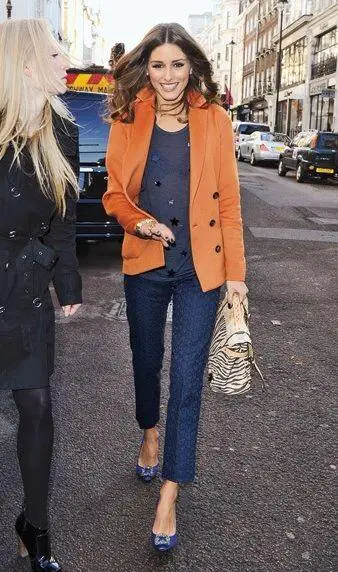 5. Orange and green
Orange and green is one of the cutest combinations you can make.
Forest green is one of the chicest colors as well, so it only makes sense that you pair your orange pieces with forest green pieces.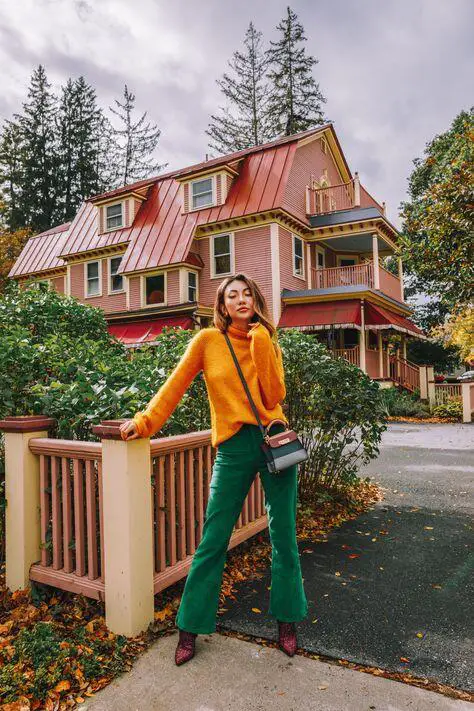 Silk green pants will look stunning next to a bright orange top. As you can see in the following picture, the girl with the green and orange outfit stands out 100 times more than the other girl:
Green accessories look great with orange clothes. If you want to try a green and orange color combination, try doing so with accessories. Later on, when you're feeling a bit bolder, you can move on with an all green-and-orange outfit.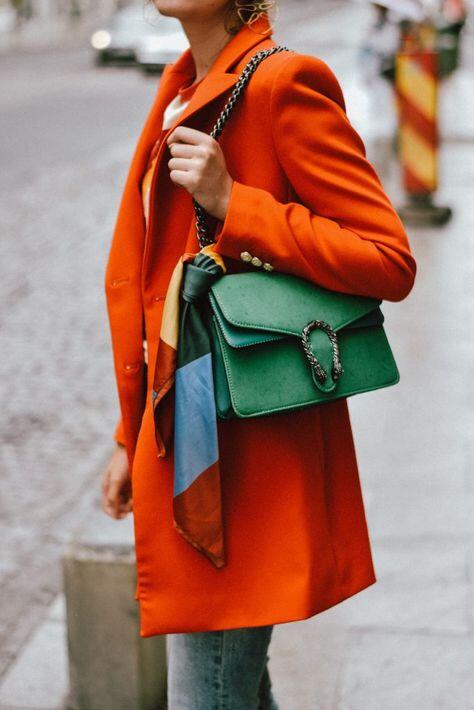 6. Orange and burgundy
Burgundy is another chic color that can be easily paired with orange. It's perfect for fall or winter outfits, and will look super sophisticated if teamed as a dressy outfit.
A burgundy blazer and pants paired with an orange accent, such as a tank top, is a great way of elevating your business outfits: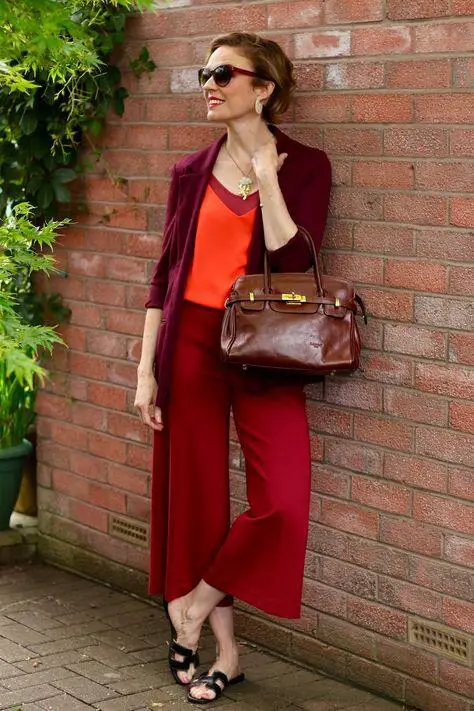 Add to your shopping wish list an orange coat. I can guarantee it will become your go-to option whenever you feel like wearing a head-turner outfit.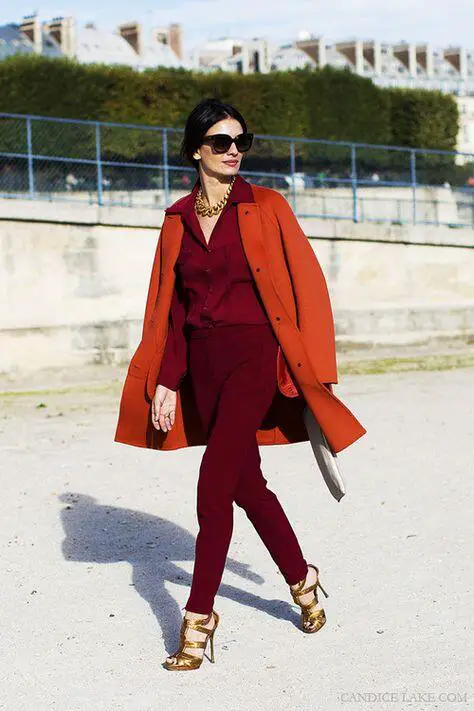 An all-burgundy outfit will be instantly elevated with an orange jacket or coat: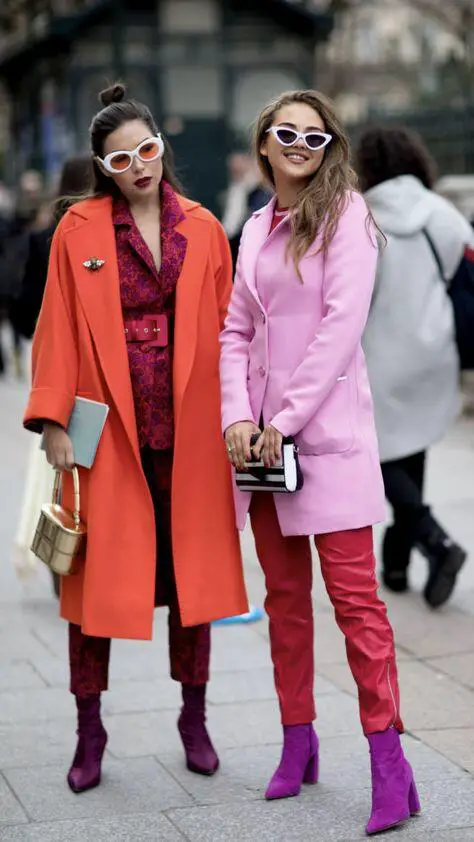 You can also pair your orange pants with a burgundy top and finish your look with another warm color, such as yellow or mustard: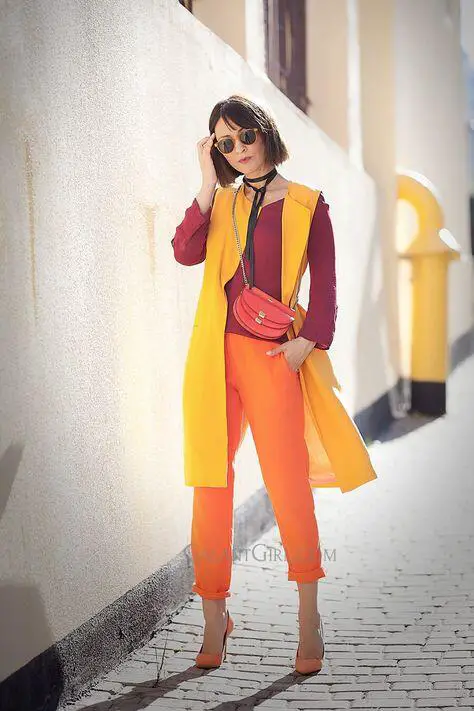 For a cute and classic fall outfit, try pairing your orange dress with a burgundy duster and nude or brown accessories: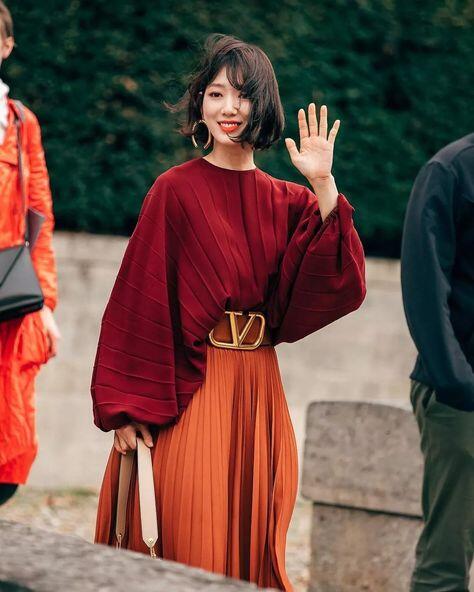 A dusty shade of orange paired with burgundy is for sure a chic combination that will make you look like a fashion icon. To finish this article, I'll leave you with this stunning outfit from Valentino's summer 2019 collection: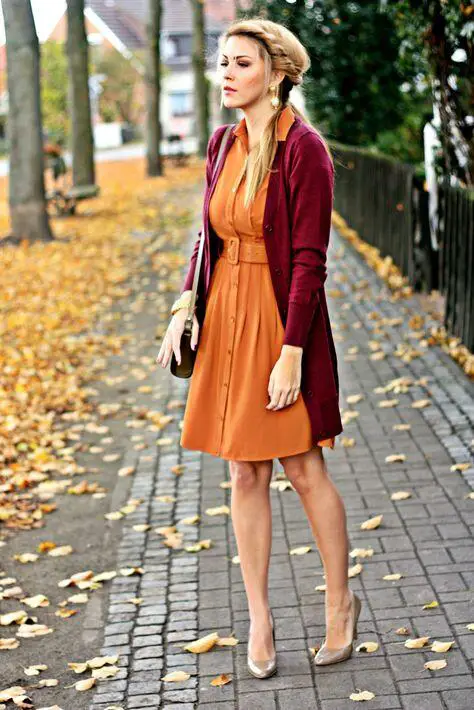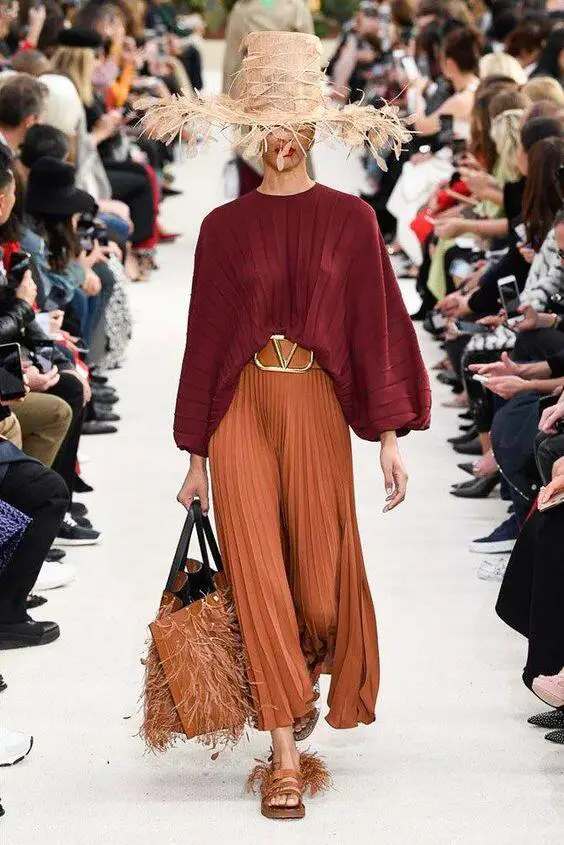 Wrap up:
Wondering what colors go with orange is a common fashion concern we all have been through. Orange is a bold and statement color, so pairing it with a random color simply won't do.
These 6 ideas on what colors go with orange will help you open your mind to this amazing color. Many people shut down bold colors such as this only because they don't know how to pair them, so having a clear idea of the color schemes and looks you can make will help you embrace this cool color.