Beginning of a new academic year; everything will be new—new books, new classmates, new ambitions and new school outfits. Talking of school outfits, what comes to mind is a dull, boring and tailored look. That is quite true; but with a few tiny tweaks you can actually get an all-new and updated look for the start of school. Nah! Don't take me wrong—you don't need a stylist. You just need to read on, really! Just count on me as I am going to guide you on getting an awesome next-level look by putting together the same old outfits from your own closet.
Do's and Don'ts of School Outfits
Before sharing ideas for cute outfits for school, let's have a look at some do's and don'ts of school ensembles.
Comfort comes first! For spending hours in school, it is imperative to wear outfits that keep you cool and comfortable.
Avoid clothes that are too tight and cause trouble in movement.
Too much revealing dresses are not suitable for an academic atmosphere. It may cause you discomfort by unnecessary attention from the people around.
Do not wear high heels in schools—heels make it tough to flit between classes. Footwear like sneakers, flats and ankle boots complement your look for the school.
Do not over-accessorize yourself. Staying simple is the best option to go with.
Easy Styling Hacks for your School Outfits
Before we proceed with some campus-ready ensembles, remember, season plays a key role in determining the type of your outfit. Here we are going to enlist some whooping ideas for your school outfits, keeping in view the variety of seasons. We hope our creative ideas would save you from first-day school outfit struggle.
Embroidered Jeans
Leave those boring blues behind and single out jean with some touches of embroidery. Addition of those pretty pops of colors would brighten your whole look. For summer, pair it up with a plain top; for colder days, layer it up with a trench coat or a funky cardigan.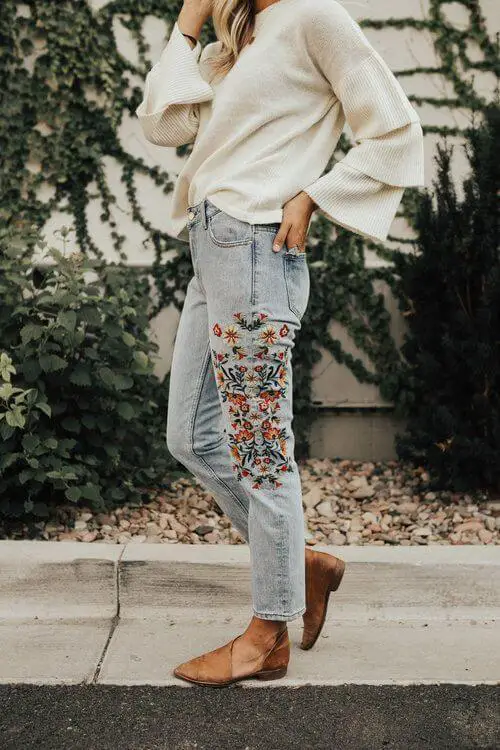 Cute Dress with Rocker-Style Jacket
As temperature drops, wearing your polished-up dress seems impossible. No worries! Layer it up with a bold, leather jacket. Addition of nude tights and chunky footwear is sure to get you noticed.
Oversized Cardigan with Skinny Jeans
As halls and classrooms in schools are cold and frigid, prep up to get cozy. Baggy cardigan paired with a skinny jean adds the perfect amount of comfort.
Shorts with a Breezy Top
Playing around with summer staples can bring you a flattering look from every angle. For hotter days, go with shorts (leather, denim) paired with a breezy, lace top. Make sure the short you are wearing is not too short.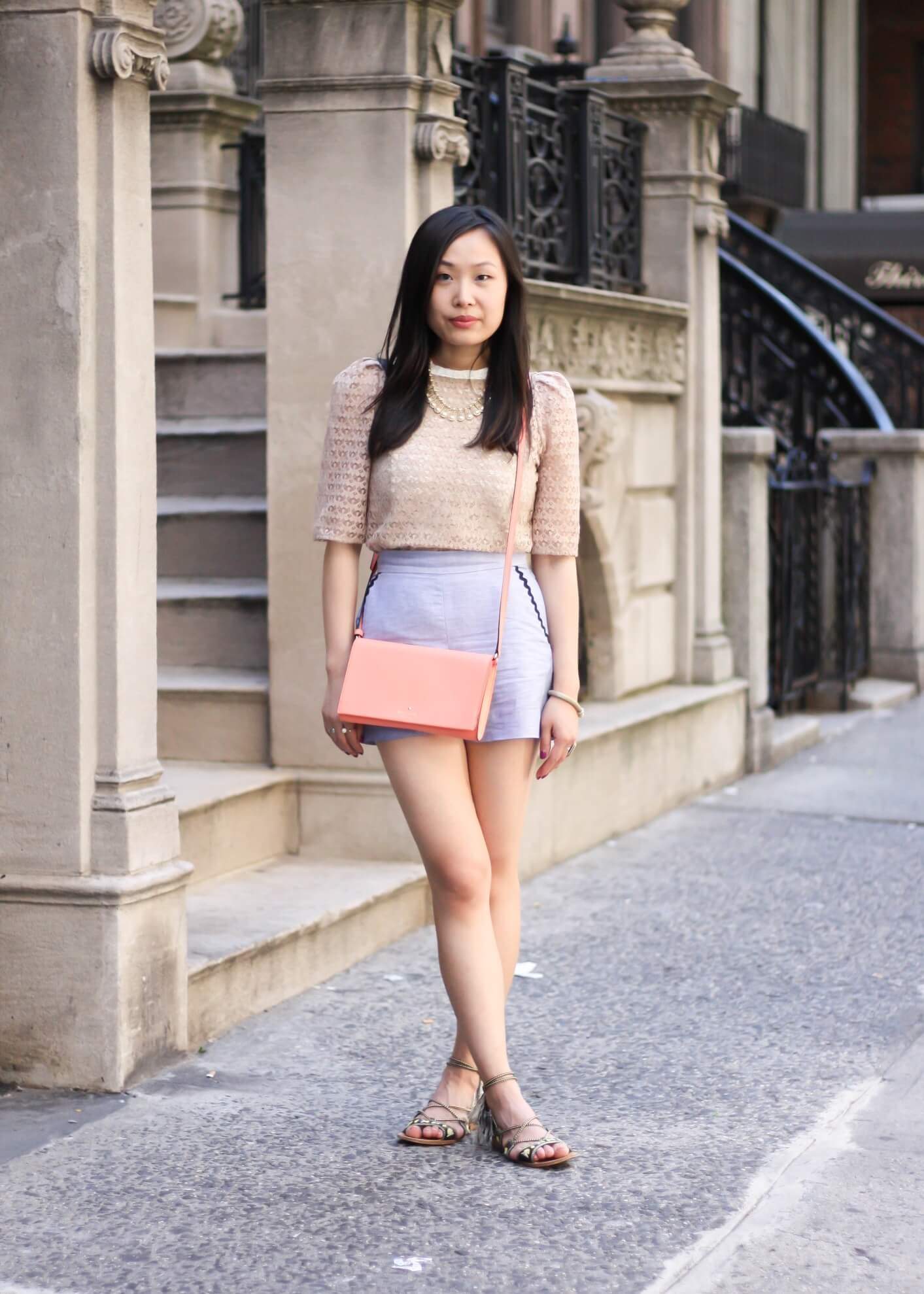 Skater Skirt with Sneakers
If you are not feeling like wearing jeans, skater skirts are the girly staple to get a preppy look for school. The lady-like skirt should not be too long or too short. Ideally, it should hit above your knees. For midsection, wear some nice top; if it is winter, pull off a cardigan with tights to brave the weather. To complete your look, single out some funky or playful sneakers.
Mismatched Jeans
When we look for easy outfits for school, jeans top the chart. How to get a different look, when all the gals are flaunting jeans? Try mismatched jeans, it can give and edgy and funky style. Adorn your top area with anything that goes right with a season (jacket, blazer, cardigan or a simple tee).
Denim Short with Slim-fit Jacket
Combination of denim shorts and a smart jacket gives an adorable and cute look in summer. It promises a style that can go from school to after-hours with ease. Check out for yourself.
Boyfriend Jeans with Printed Blazer
For spring, get an elegant look by pairing up a printed blazer with boyfriend jeans.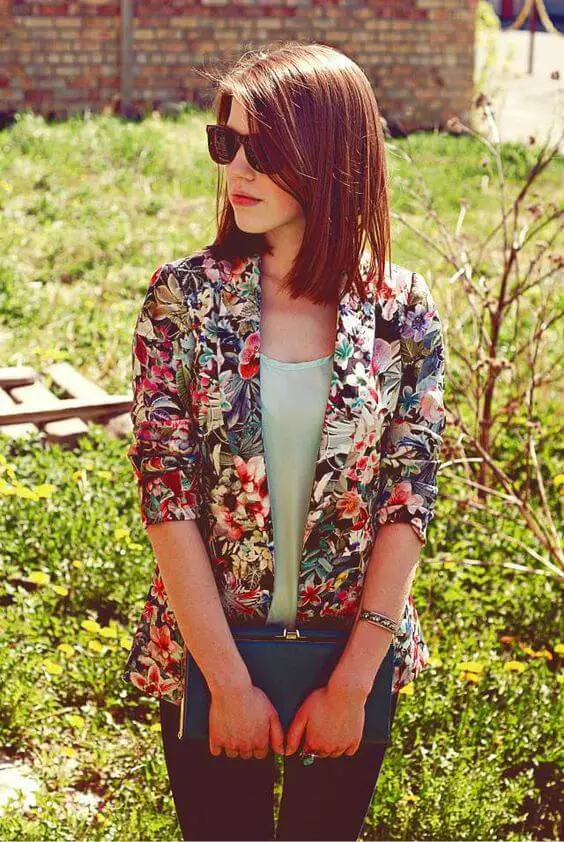 Floral Skirt for Summer Days
Show off your funky teenage style with a quirky floral skirt. It would make a perfect staple for spring/summer season.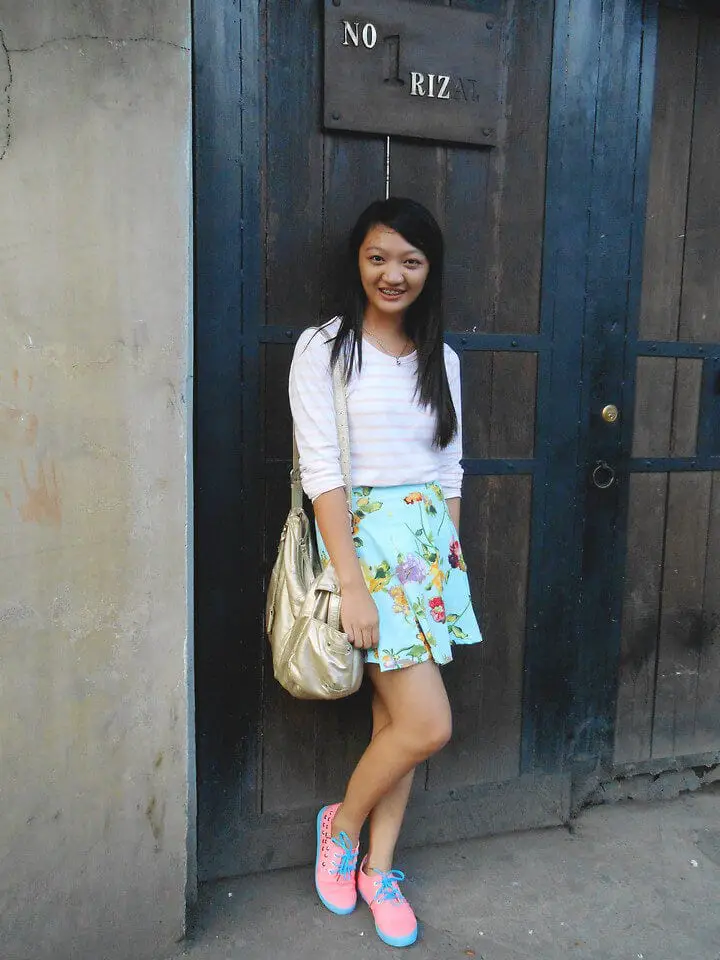 Patchwork Jeans with Plain Top
Spring/Summer is all about colors. To get a chic look, give a try to patchwork jeans that have been trending of late. With a decorative bottom like this one, you are advised to wear a plain top.
A-line Skirt with Polo Shirt
Are you a girl who wants to enter the premises of school in a simpler look? Pull out that polo shirt, lost somewhere inside your closet!! You might consider it outdated, but it never goes out of style—especially in summer. Simply pair it with an A-line skirt and get an updated look with ease.
Denim Frock with Flats
When it is about cute outfits for school, this look must be tried. It is not just about cuteness; pairing up of a denim frock and flats offers a comfortable fit without compromising fashion.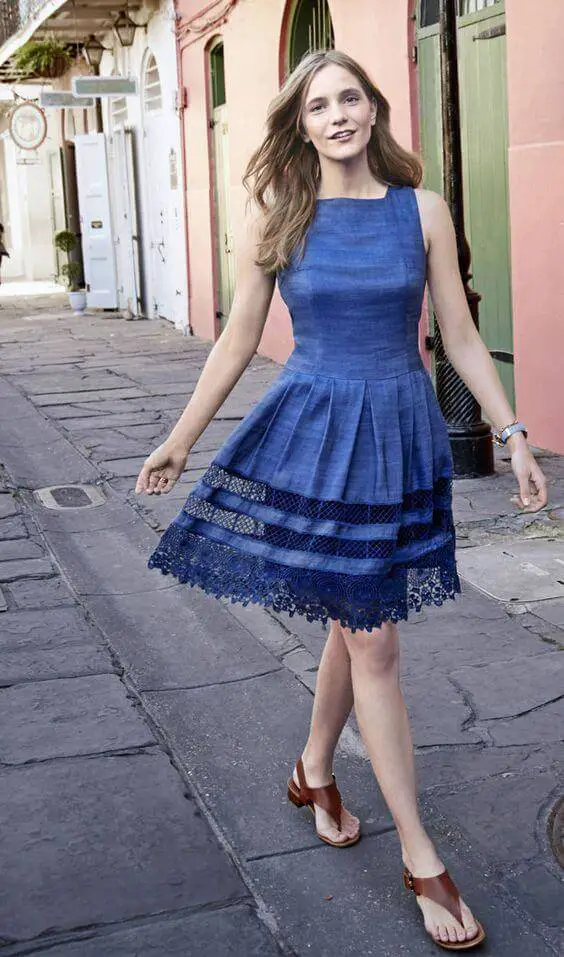 https://www.pinterest.com/pin/AZFrq2xDTwg9vIa7d9ZJ9XanzOWt1_9zDTyWWMXRYOv9vxpVxyk2ZTr6DnxA2D5RWmsKJR2QfCIvyo5_JHrIgmI/
Denim Jacket with a Classic Dress
Make sure you are picking some easy outfits for school. To look good and feel good, opt for a classic dress that fits in remarkably. Prefer colors that accentuate your natural skin tone. Pair it up with your blue denim topper—no doubt denim jacket is one of the top wardrobe essentials for school.
An Ensemble with Bohemian Vibe
Cool up your summer look in a dress with boho-chic flair. To ensure all-day-comfort, bohemian pieces are the best recommendations. Be it a boho outfit updated with lacey details or a boho-inspired top, paired with denim skirt—bohemian fashion is all about comfort without compromising on style.
Denim Overall with Shirt Underneath
For open season, find sassy staples to light up your look with style. An attention-getting denim overall worn over a shirt gives you a chic appeal. Just check out the image below;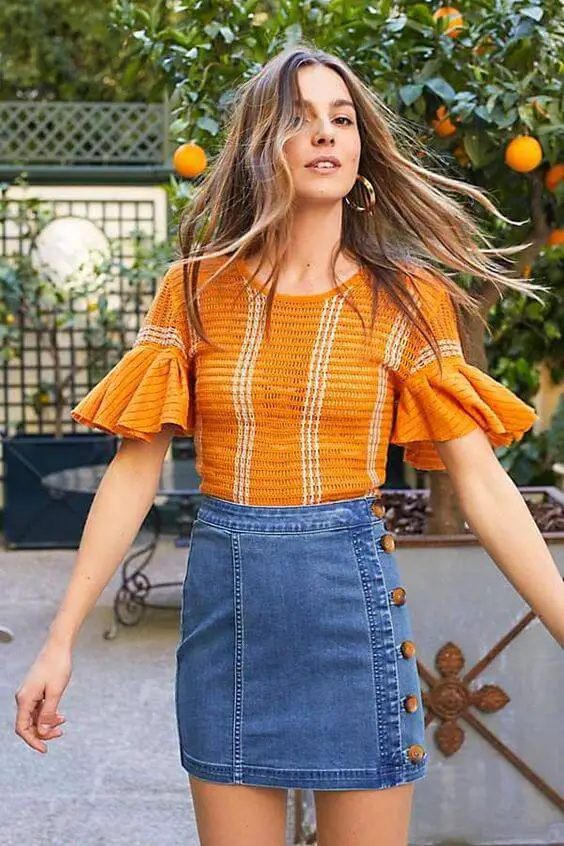 Striped-Pencil Skirt with Tee
Make a stand out addition to your school outfits collection with a striped-pencil skirt and casual tee. This unique combo will surely put you in spotlight.
Gingham Pants with Leather Jacket
Are you looking for some unique back to school outfits? Get a jazzed-up look with a gingham pants and leather jacket. It would make great outfit for fall/winter season.
A Hippie Avatar for First Day at School
Hippie-inspired lacey dress is a comfy summer staple. An ideal outfit for hotter days, you can pair it with a short denim jacket, especially when it is a rainy or cloudy day outside.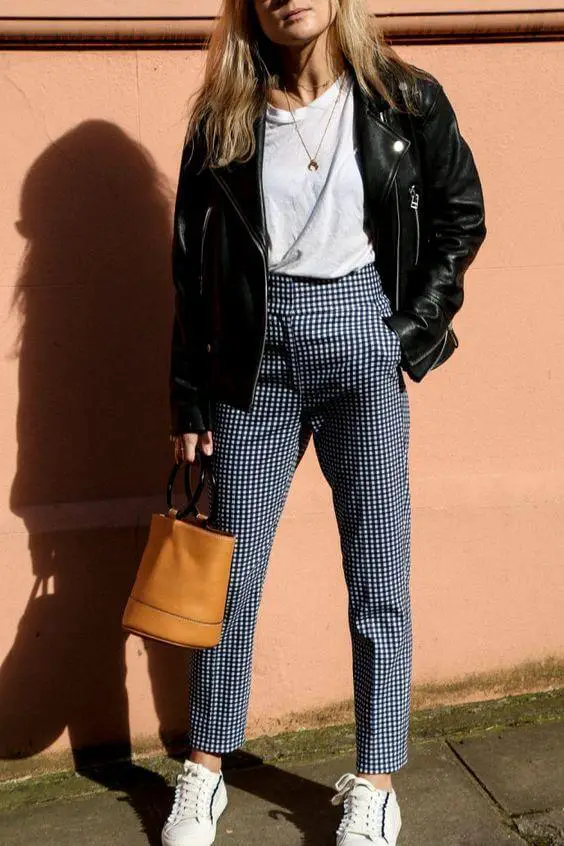 Wrap up:
When you are going back to school, your first impression matters a lot, not just for your schoolmates; but also, for the teachers around. In this article, I have tried my best to come up with the best school outfit ideas. My purpose is just to make your debut look appealing and trendy. I hope it worked.
Besides clothing, don't forget to carry a practically quirky bag to carry all your essentials. For fashion accessories, keep yourself restricted to small earrings and bold bracelets. How did you find this article? Don't forget to give your feedback.