What would the world of fashion be without denim? When we think about it, denim is just as basic and necessary as cotton.
It's not only durable and versatile but also the perfect complement in any type of outfit. Literally.
You can be wearing anything from a colorful assemble of clothes to only black, and denim would still fit perfectly.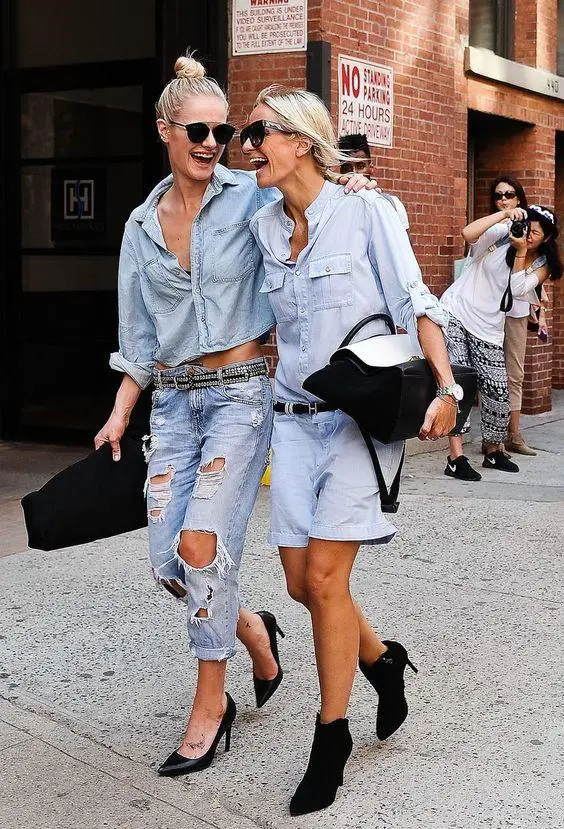 Denim on denim outfit Ideas
Denim is an important part of our daily lives but, is denim on denim too much?
Absolutely not.
Few people would venture into wearing a denim on denim outfit only because it makes them feel like it's way too much when in reality, there are many cool and stylish ways in which you can wear this type of outfit.
Follow me as I guide you through the best 35 jean on jean outfit ideas that will convince you that when it comes to fashion, denim will always have your back.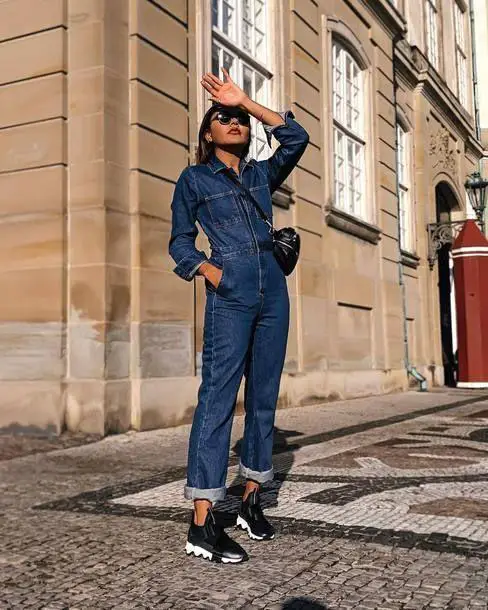 1. Play with trendy silhouettes
My best advice for anyone who wants to wear denim on denim outfit is to play with trendy silhouettes. This will make you look modern and stylish, helping you feel confident with your outfit.
A wide-leg cropped jeans with a button-up jean shirt tucked inside is a way of effortlessly showing off your trendy style: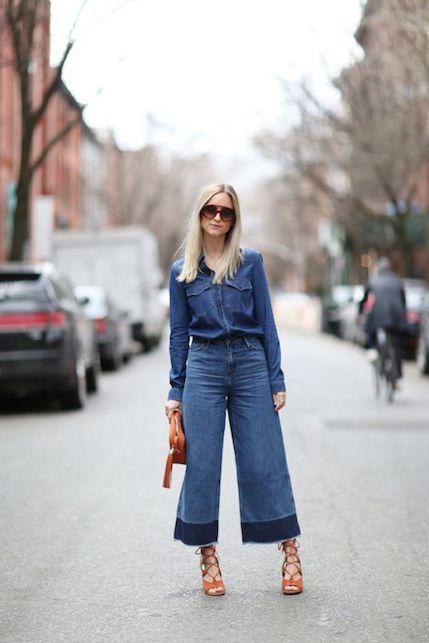 Personally, when it comes to an all-denim outfit, I prefer to add pops of color to make my outfit more interesting. You can pair your denim outfit with bright color shoes and handbag.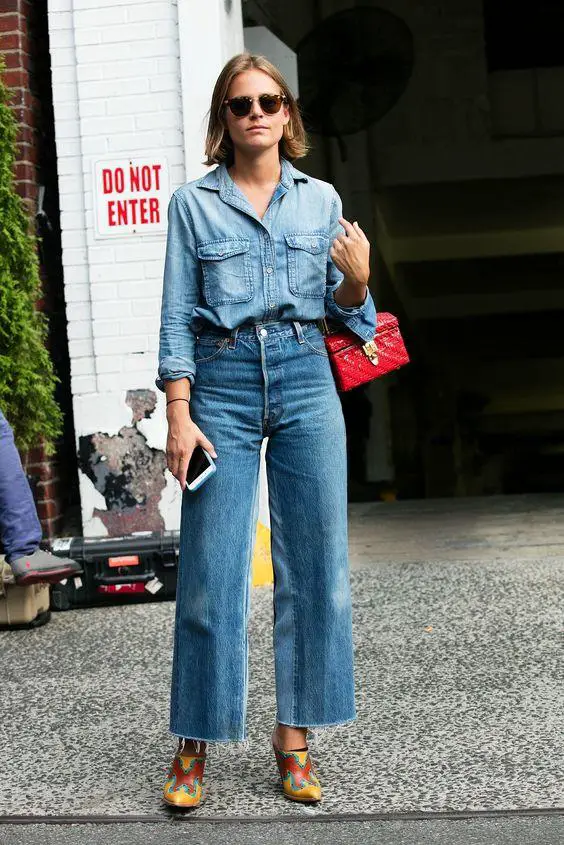 If you're not a fan of wide-leg jeans, then mom jeans are your best option. This style has taken the world by storm, so including it on your denim on denim look is a great idea as well.
You can add a belt in order to create a focal point on your outfit: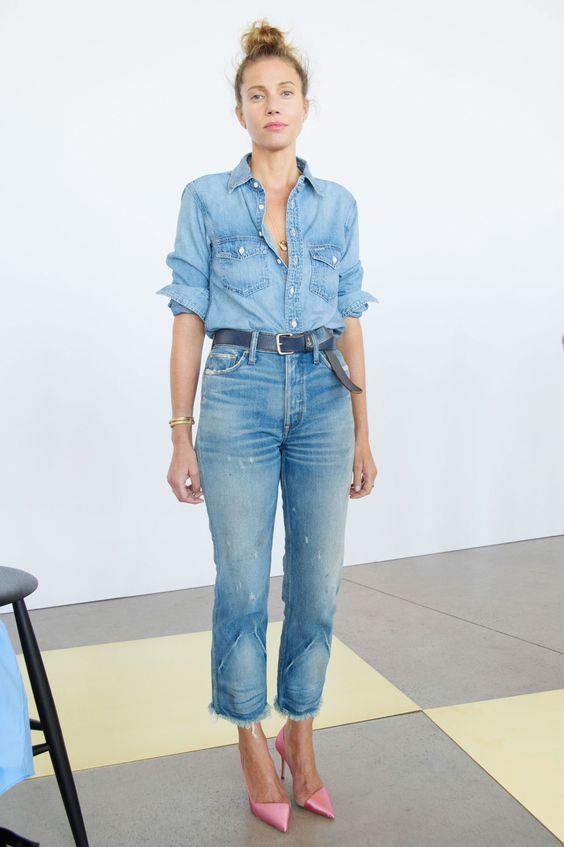 It doesn't really matter if you choose a dark wash to predominate your outfit or a light wash. You can even mix both into one, but if you want to make a statement, opting for one same wash on your bottom and top is the best way of doing so.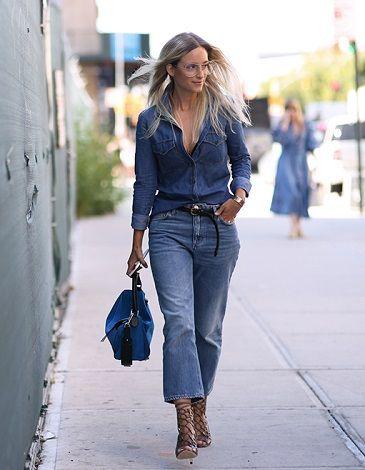 2. You can always go basic
If you feel like mixing a trendy jean silhouette will make you feel like "too much", or simply love a skinny jean outfit, you can always pull off cute denim on denim outfit with the basics.
If classic is what you want, a button-up denim shirt tucked inside your skinny jeans will do the trick. You can pair your outfit with neutral colors like black, camel or brown for an extra dose of classy: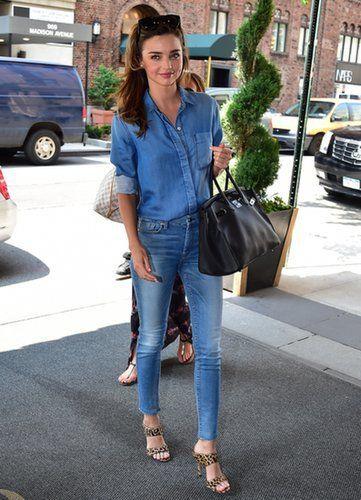 You can always pair dark wash denim with a light wash top to create a contrast. I would always go with this combination whenever I feel like wearing a classic but cute look: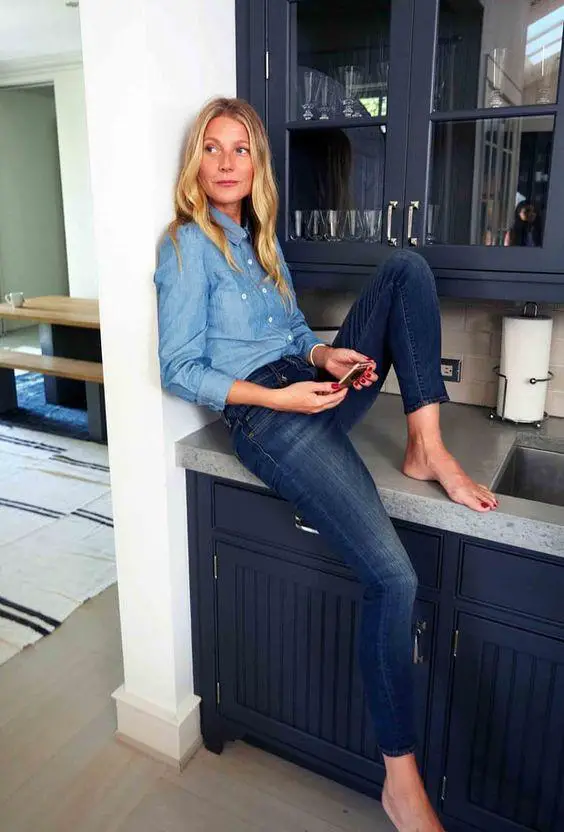 Celebrities love this denim on denim look, and Gigi Hadid is for sure another jean lover: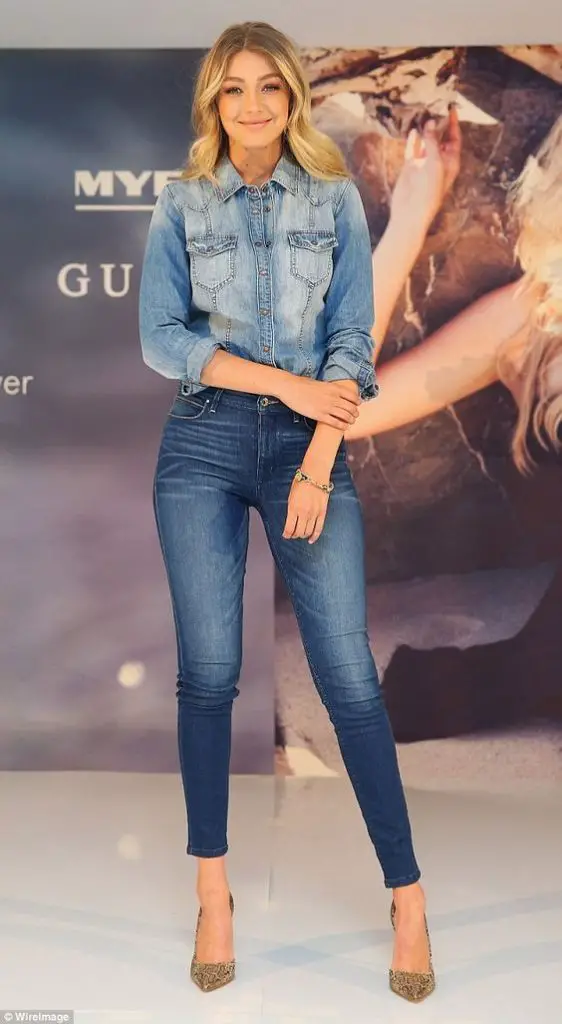 You can also match perfectly your top with your bottom's wash in order to create the idea of a jumpsuit.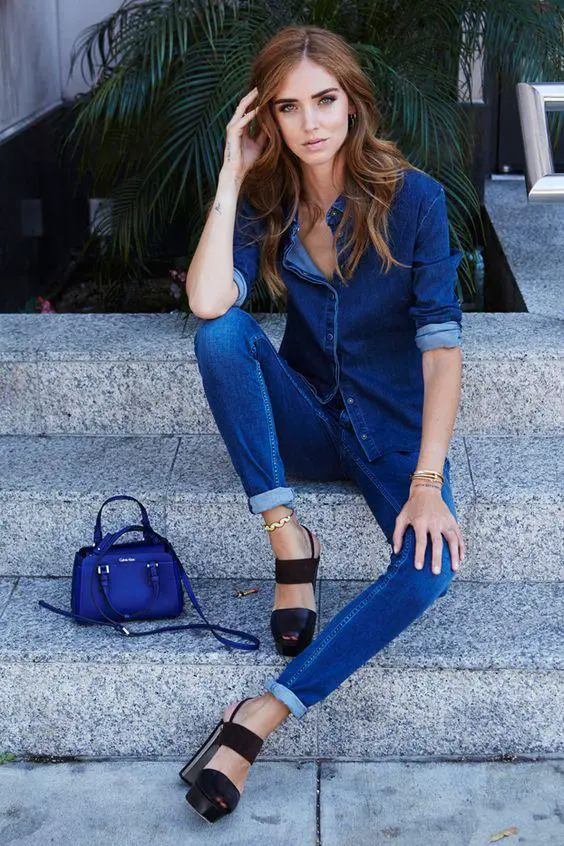 During winter, you can pair your double denim outfit with a statement vest to bring your style to the next level.
Olivia Palermo shows us how it's done with this long vest styled with a hot red handbag that adds a pop of color: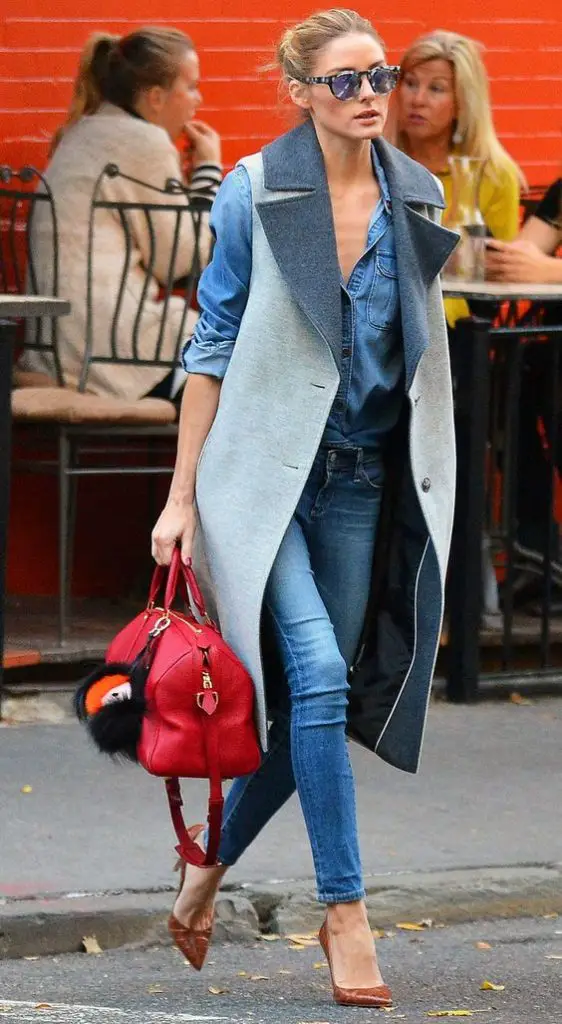 You can also opt for cool skinny jeans in order to bump up a classic look. Patchworks, for example, will definitely do the trick: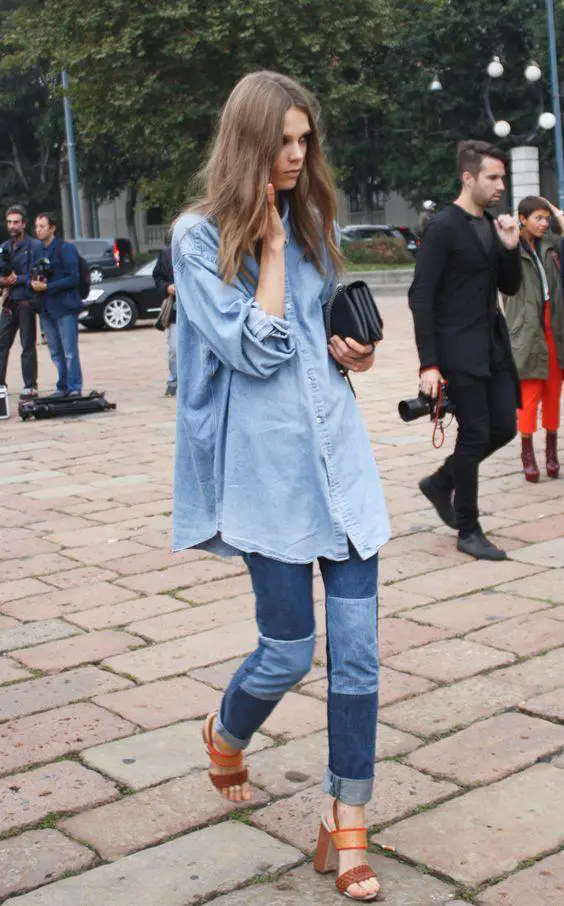 Or you can always opt for the classic distressed skinny jeans look: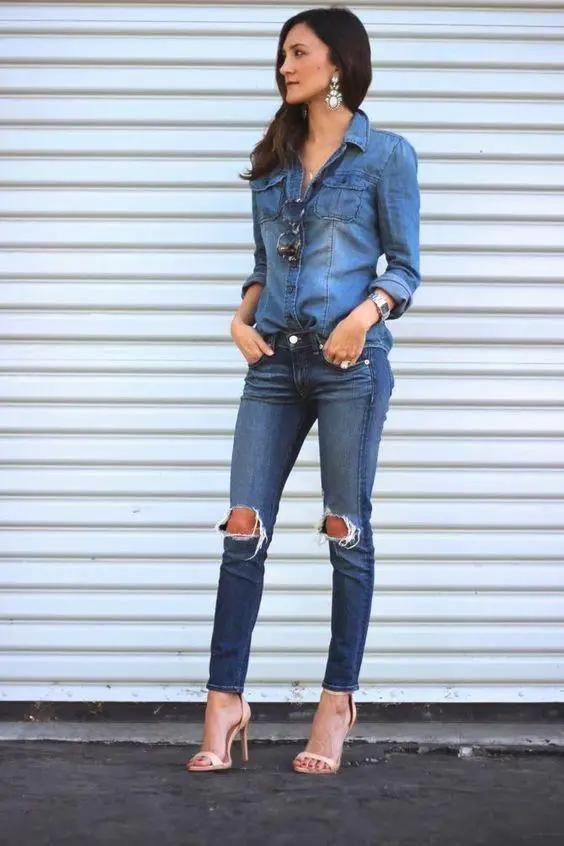 3. Denim jumpsuit
If you're serious about upgrading your denim style, a jean jumpsuit is definitely what you should be wearing right now. This is one of the coolest ways of pulling off a jean on jean look while showcasing a great sense of fashion: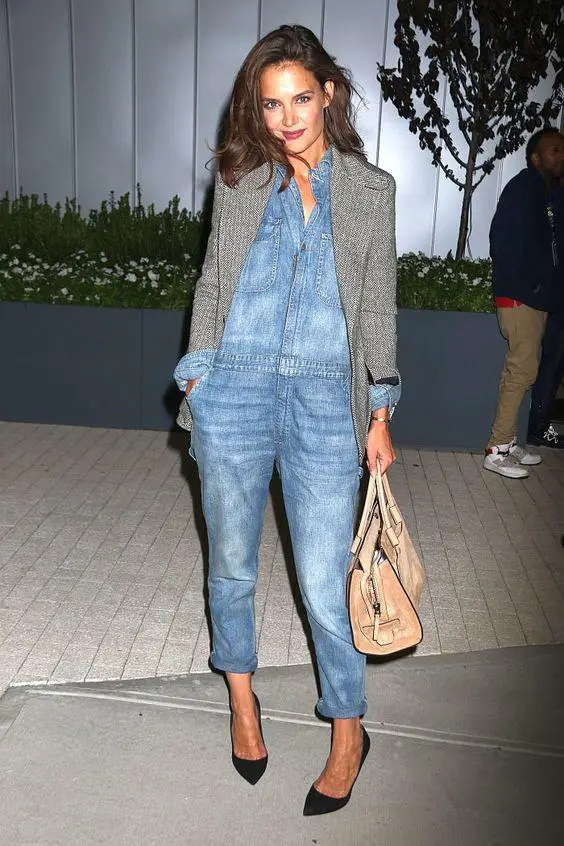 You can wear your denim jumpsuit for a fun ladies' night. Pair it with a belt and cool booties and I can guarantee you'll be turning heads as you pass by, just like top model Shanina Shaik: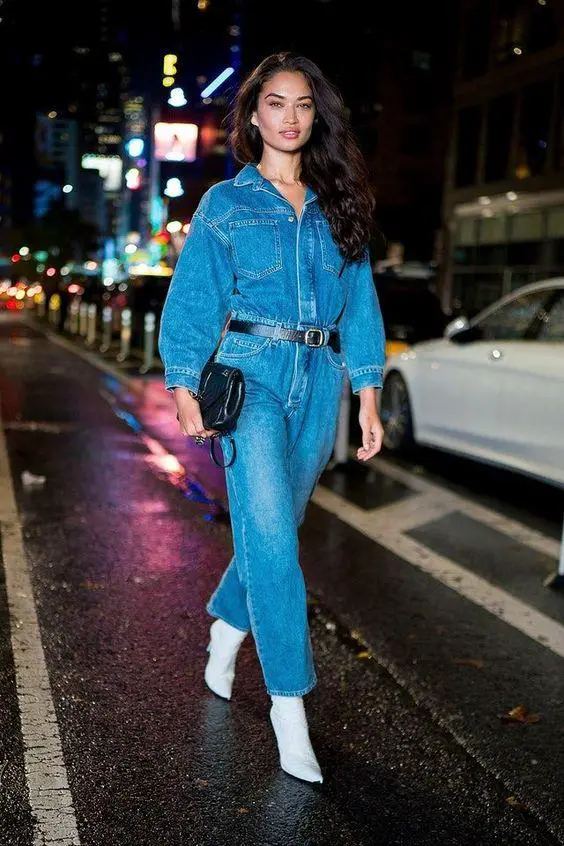 This is also a fun look for strolling around the city. If you're planning a vacation, this has the potential of being your best outfit.
You can wear a top know to elevate your denim outfit: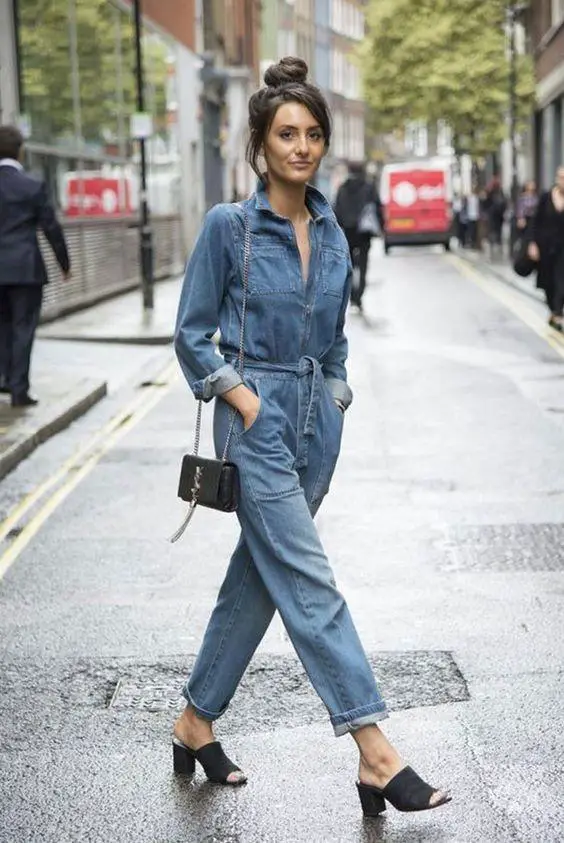 For a casual and bold look, pair your denim jumpsuit with cool dad sneakers and a statement handbag: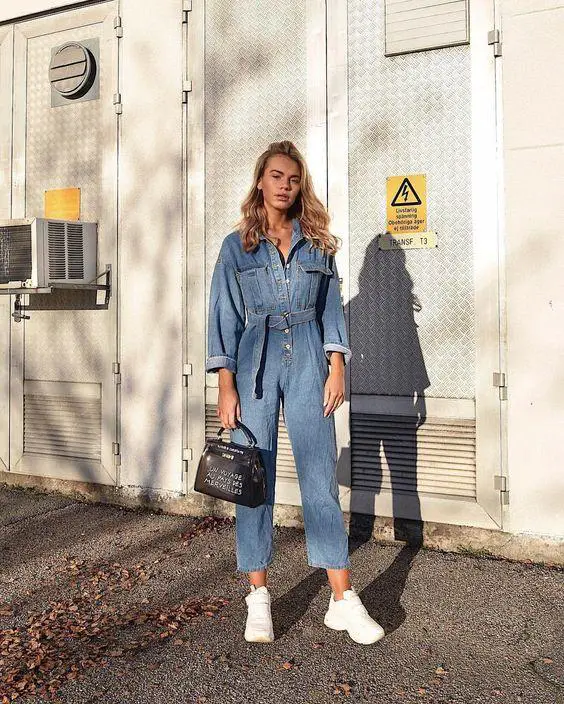 You can always opt for cool shoes like loafers or mules for a modern jean on jean outfit.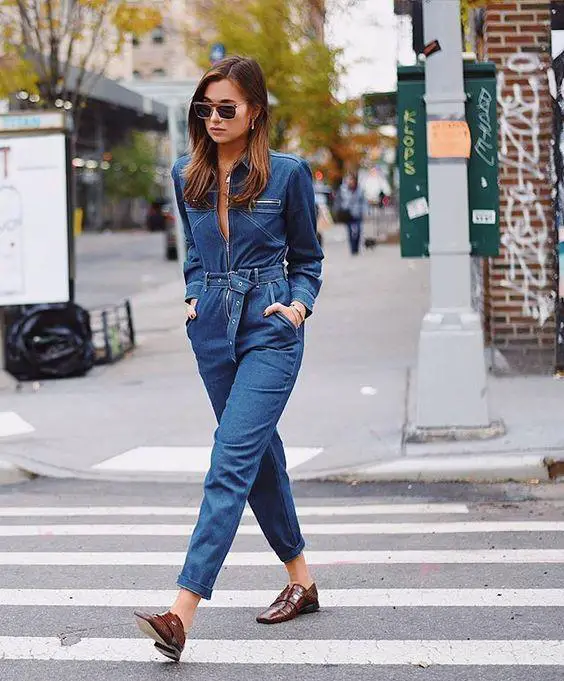 What I love about denim jumpsuits is that they make you look like the coolest girl in town. All you have to do is let your jumpsuit speak for you!
You can find many different denim jumpsuit styles: long sleeve, short sleeve, wide or straight leg, light or dark wash…. But honestly, any style that you choose will do the same trick: make you look like a fashion pro.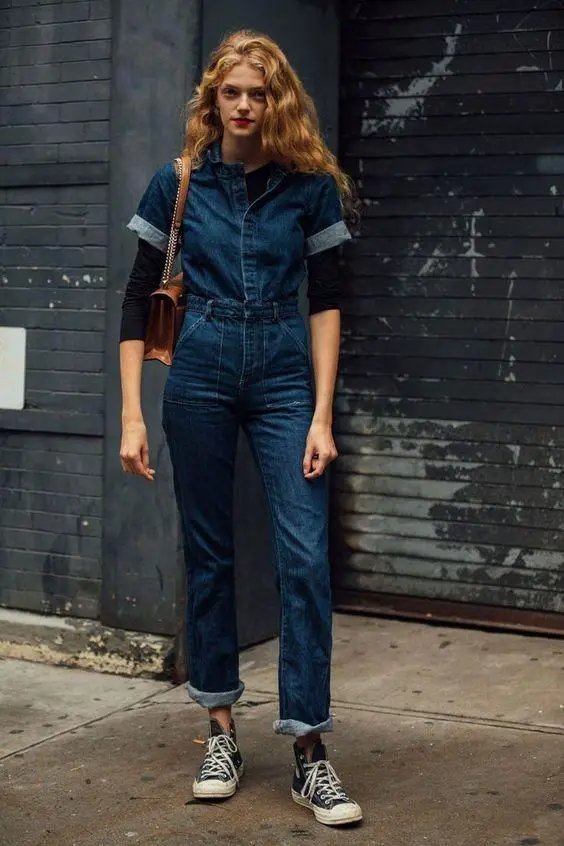 4. Denim skirt
For a spring or summer look, you can always opt for showing off your killer legs, and what better way to do so than denim on denim outfit?
Denim skirts make the perfect excuse for pulling off a jean on jean outfit.
One of my favorite double denim looks is a pencil jean skirt paired with a denim shirt: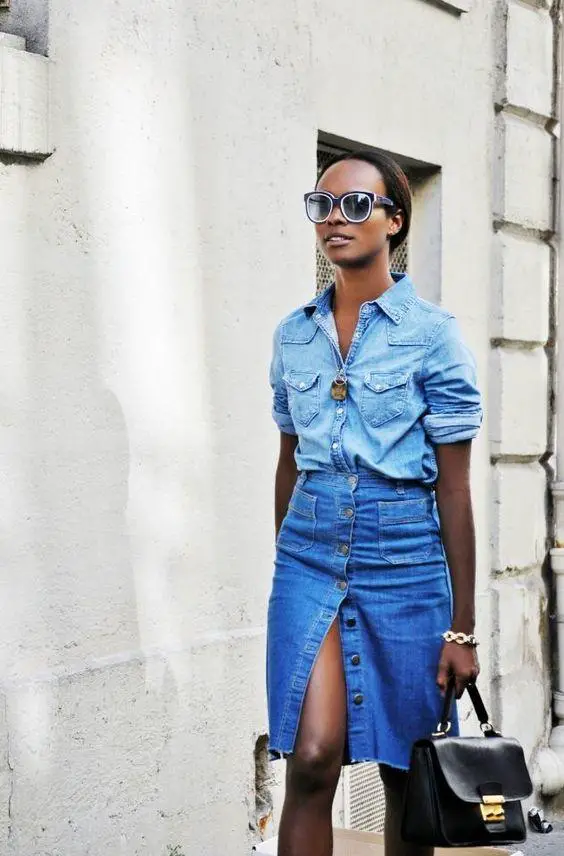 The best thing about denim on denim outfit is that you can pair it with any color you want. If you love purple, wear your purple pumps with a pencil jean skirt and your jean shirt for a cool and stylish look: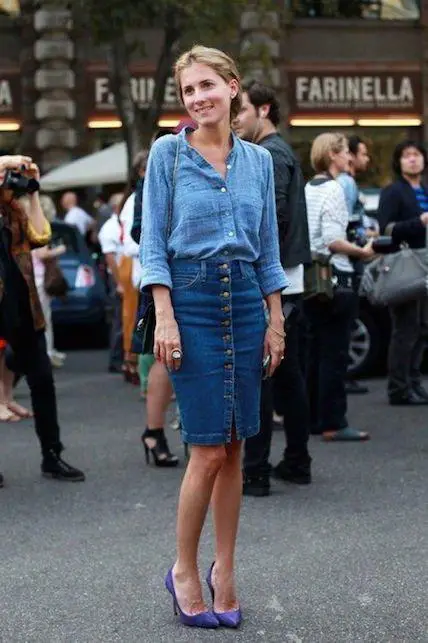 If Olivia Palermo approves it, then you should take is as a command. Wear your favorite belt for a unique look: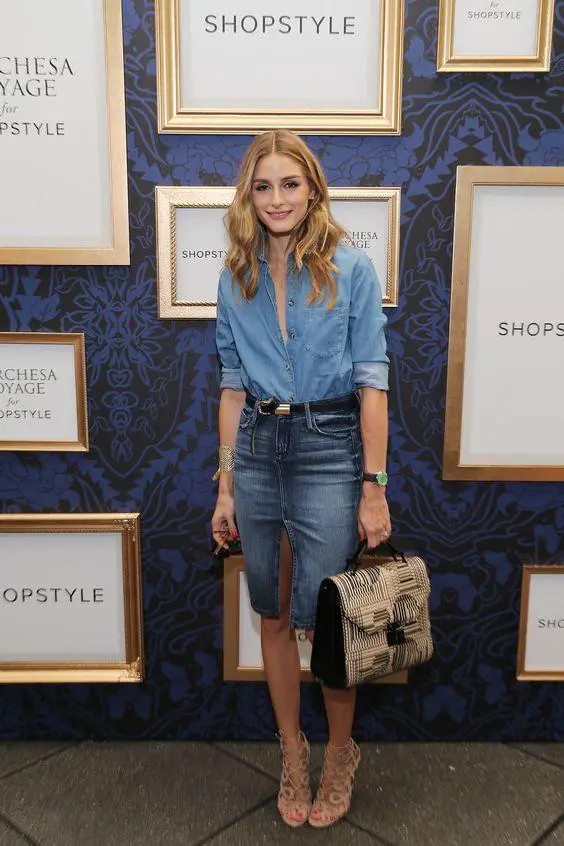 Pencil denim skirts are perfect for elevating a casual look, but if you want a laid-back outfit for a casual lunch with friends, a mini denim skirt is a great option as well. This is the best excuse for showing off your legs AND your trendy style.
Pair your outfit with the coolest shoes you own: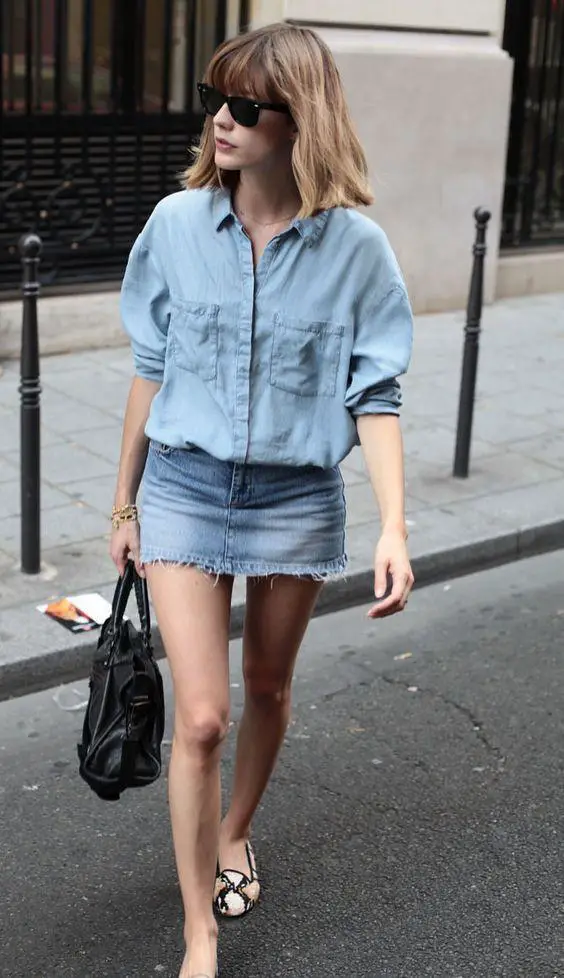 You can always wear your denim shirt half-tucked with a belt around your waist. In other words, you can always recreate this cool denim on denim look: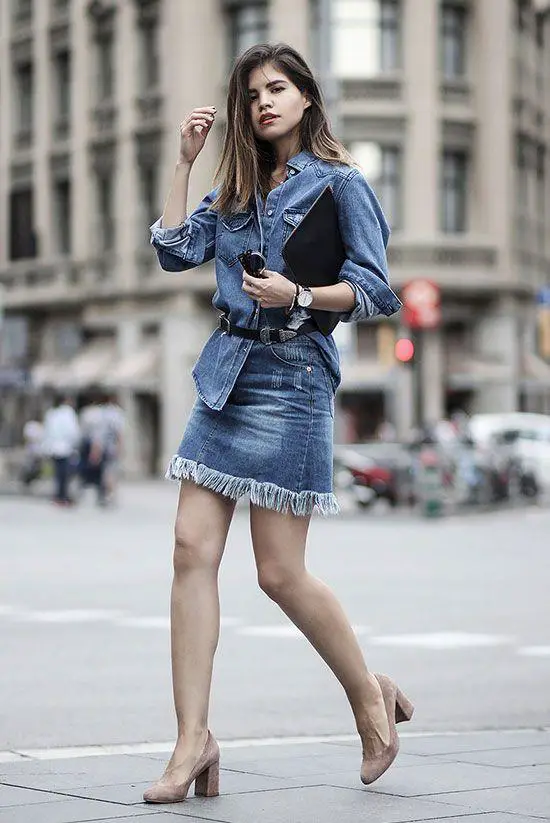 If you're a true denim lover, then wearing layers of the denim will not scare you off. A denim jacket is always the perfect complement: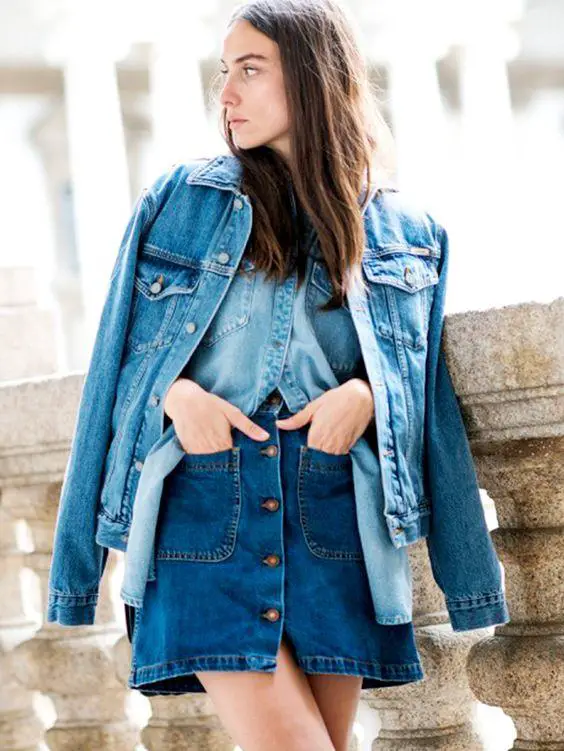 You can bring your jean style to the next level with a cool street style look. All you have to do is wear statement booties and sunglasses, and a cool attitude: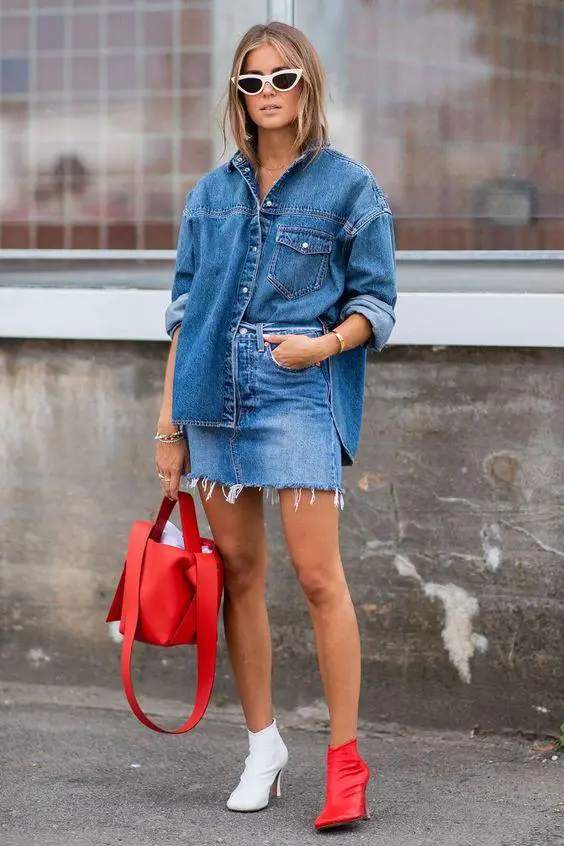 And why not combine two different jean colors? A black denim skirt with a blue jean jacket goes perfectly together: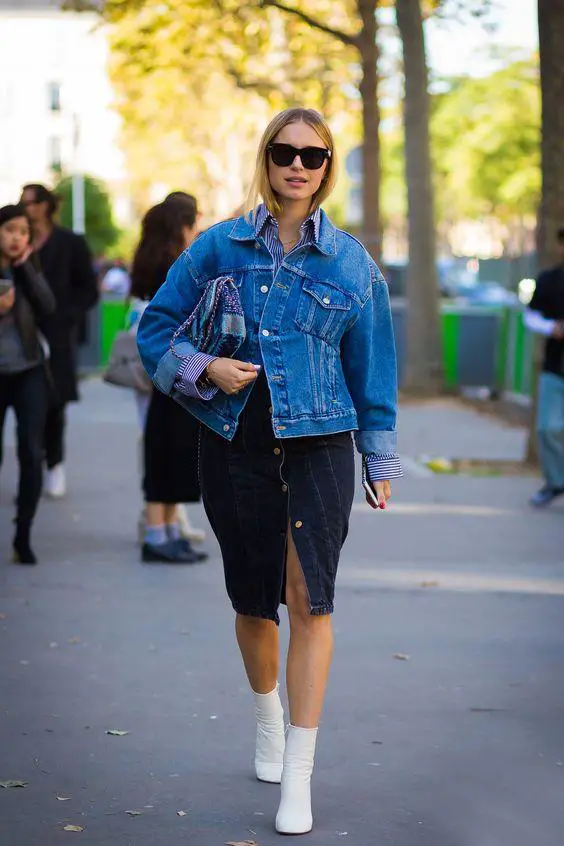 5. Denim shorts
Just like a denim skirt, jean shorts are also perfect for spring and summer. You can wear your best denim shirt with your shorts for a casual yet cool look.
A denim shirt with embellishments or patchwork will look amazing with your denim shorts: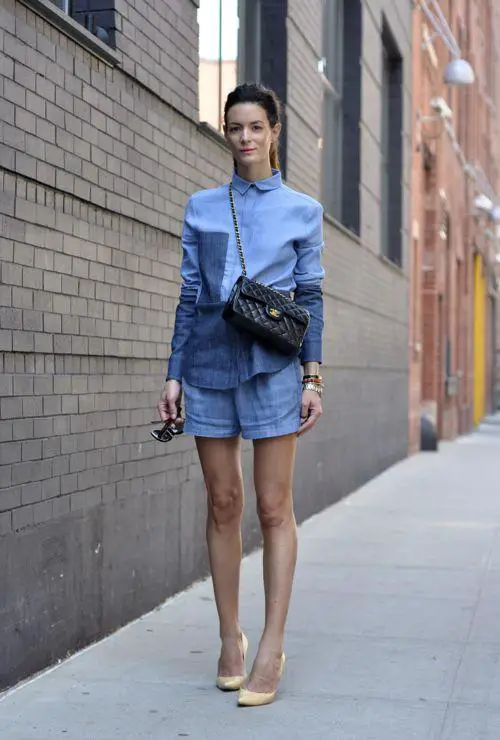 It's all about making a statement!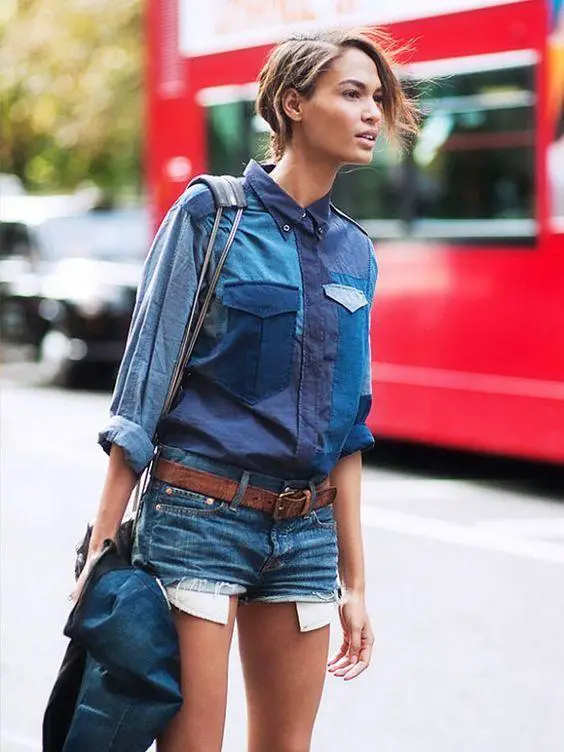 6. Denim jacket with jeans
If you don't want to wear a denim shirt with jeans, or simply don't have any denim shirt, then pairing your jean jacket with your jeans will do the trick.
A jean jacket is a staple piece you can't miss in your wardrobe, just like skinny jeans. That's why pulling off a double denim outfit is a no brainer: you already have two denim pieces that go perfectly together.
For a cool denim jacket look, try to match your jeans' and jacket's wash. If you have an oversized denim jacket, much better: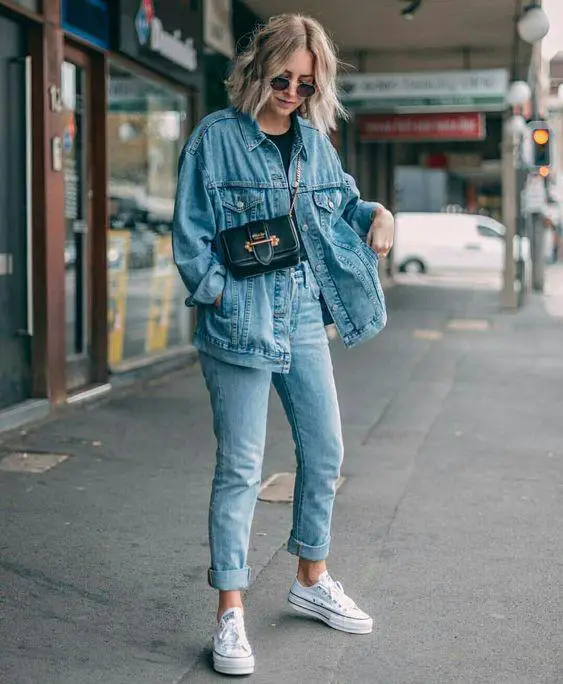 A light wash double denim look will always add a vintage vibe to your look, especially if you're wearing straight leg jeans: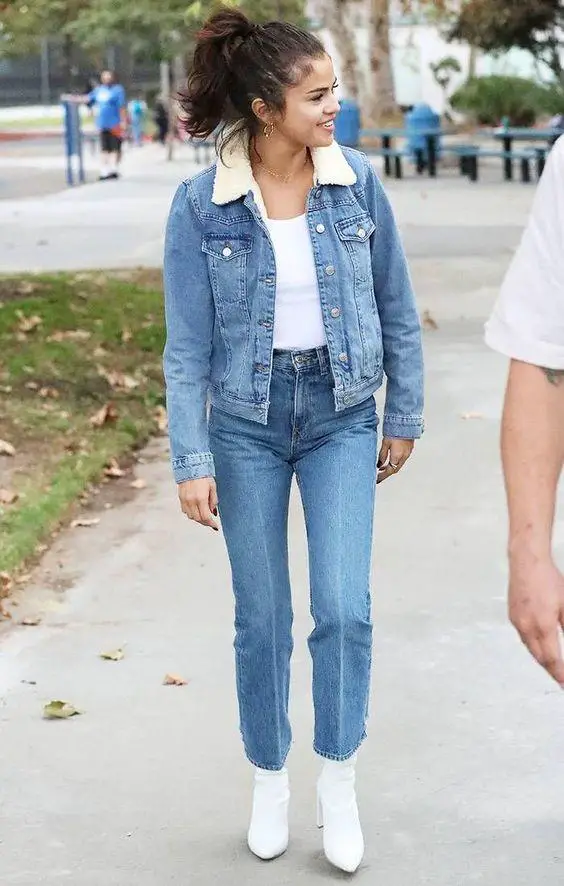 You can pair a cropped denim jacket with a crop top and high waisted jeans for the coolest look in the city: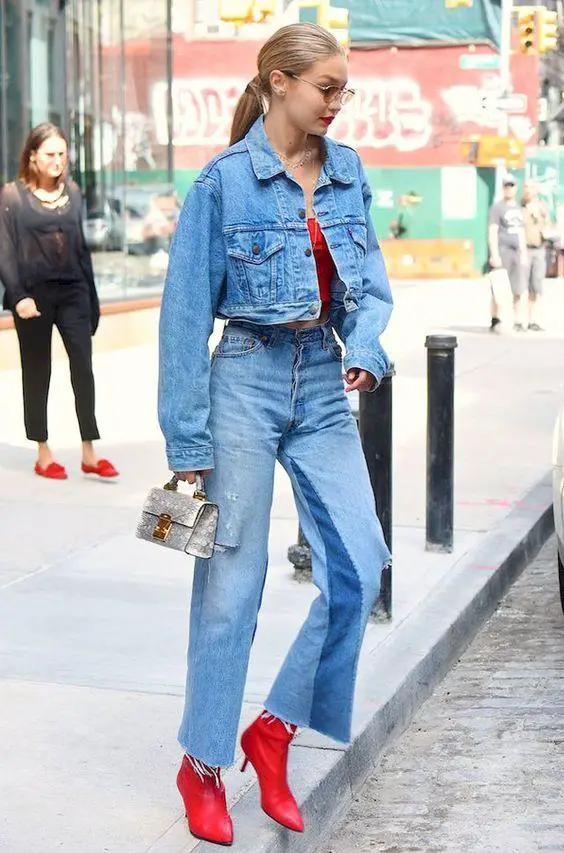 A super oversized jean jacket with mini jean shorts looks absolutely cool. It makes your jacket look like it's all you need in order to look like a fashionista: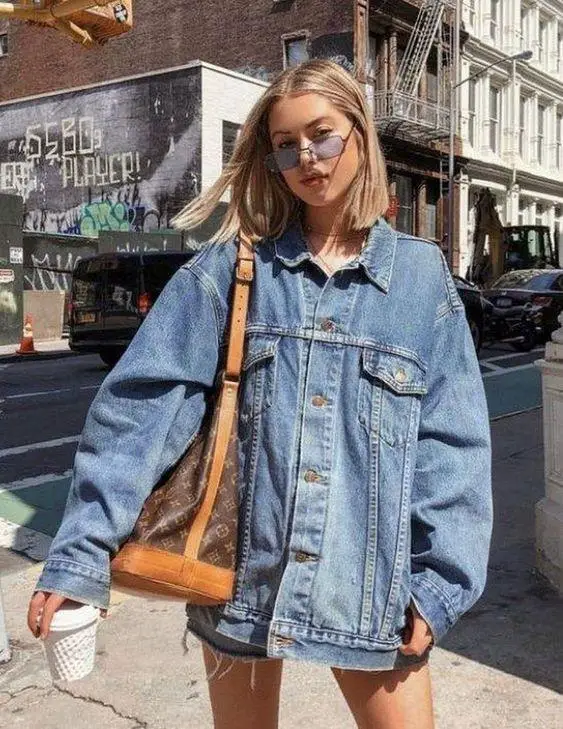 Last but not least, you can always opt for skinny jeans. These are your lifesaver, and a denim jacket will always be their best complement: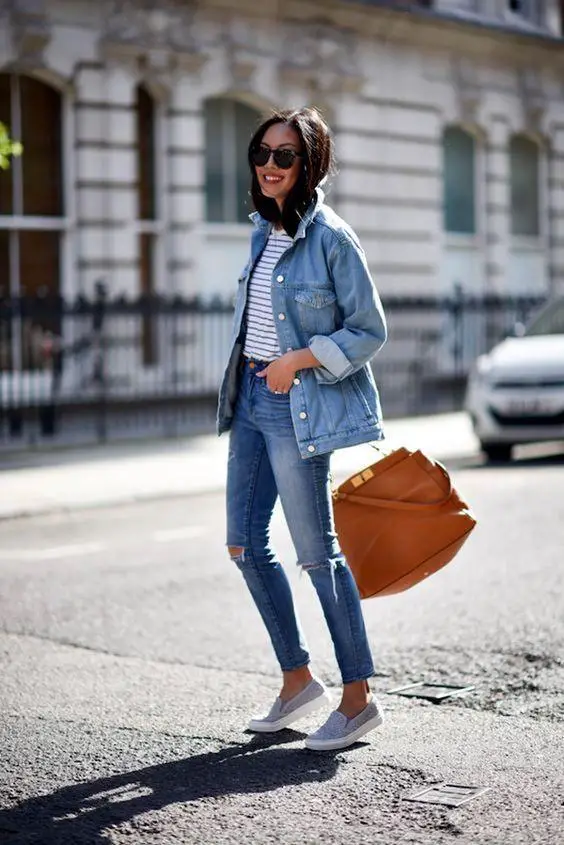 Wrap up:
If you're a denim lover and want to upgrade your style, this denim on denim outfit ideas will definitely do the trick.
All you have to do is assemble your best denim pieces and see what you can make with them. Most probably, you're more than ready to recreate at least some of these cool outfit ideas.
You can always invest in one denim piece because, let's face it, denim is never going out of style.