Denim is one of the most beloved fabric ever created. From jeans to jackets and accessories such as handbags or sneakers, denim is definitely a must-have fabric.
Classic, fun, casual and relaxed is what any piece made in denim will express, but most importantly, it's a versatile fabric that will allow you to wear it in multiple and different contexts.
Denim skirt outfits
Denim and skirts make a cute and classic combination which we can't get enough of. It has been reinvented with each new season, which has given us plenty of denim skirt styles to experiment with: from straight 90's inspired silhouettes to midi and flare silhouettes.
If you're a denim skirt lover, this article comes in handy as I will guide you through many different, chic and cute outfit ideas that will let you come up with your own version of the denim skirt fashion.
By going through multiple silhouettes, you will fall in love with this iconic piece and hopefully will make you want to experiment with them as well!
1. Denim mini skirt outfits
Ah..! Denim mini skirts…
What can be better than showing off your legs with a classic yet cute denim mini skirt? This is one of the most versatile pieces you can ever wear.
Regardless of your personal style, a denim mini skirt will always find a way to make you look stylish and fashionable. Here are some of the multiple type of looks you can pull off with this classic skirt:
French girl style
If you're a Parisian chic lover, then a denim mini skirt is a great ally to create cute and chic outfits.
This style is characterized by its feminine, minimal yet romantic and classic look. The best way of styling your mini denim skirt is with cute and simple tops such as a white t-shirt and a blazer on top to add an extra dose of edge.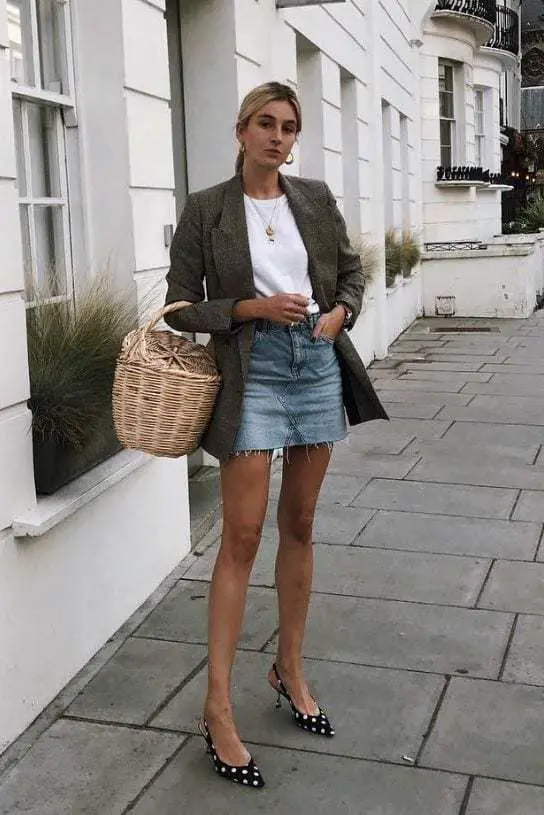 A cute black and white outfit is perfect for a Parisian chic look. Pair a crisp white blouse with black accessories and voilà! You're more as French as Coco Channel.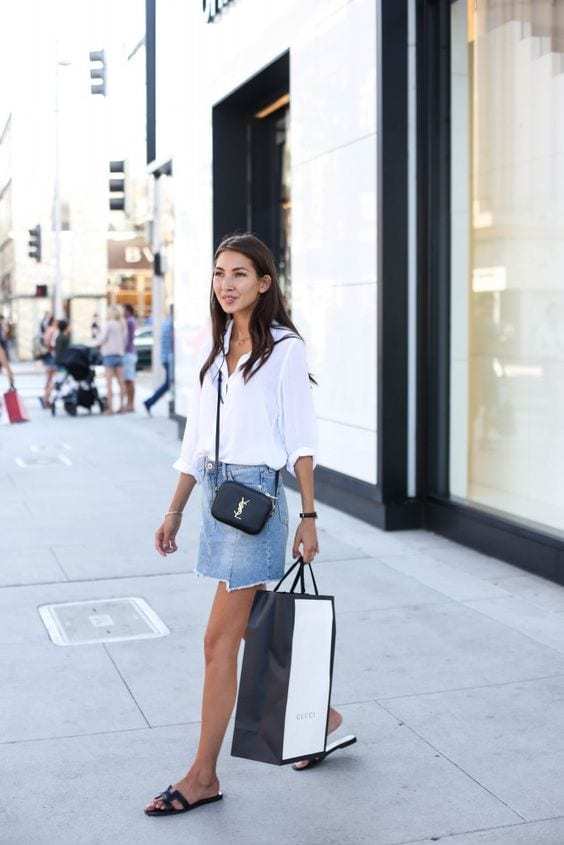 And of course, only because it's a denim skirt doesn't necessarily mean it has to be blue. A black denim mini skirt outfit is a cute way of showcasing a great fashion style and pulling off Parisian chic inspired looks.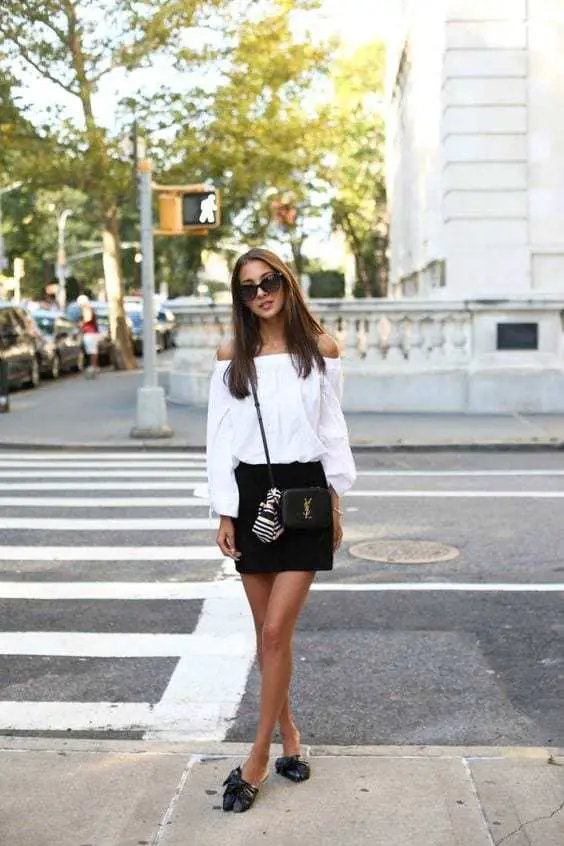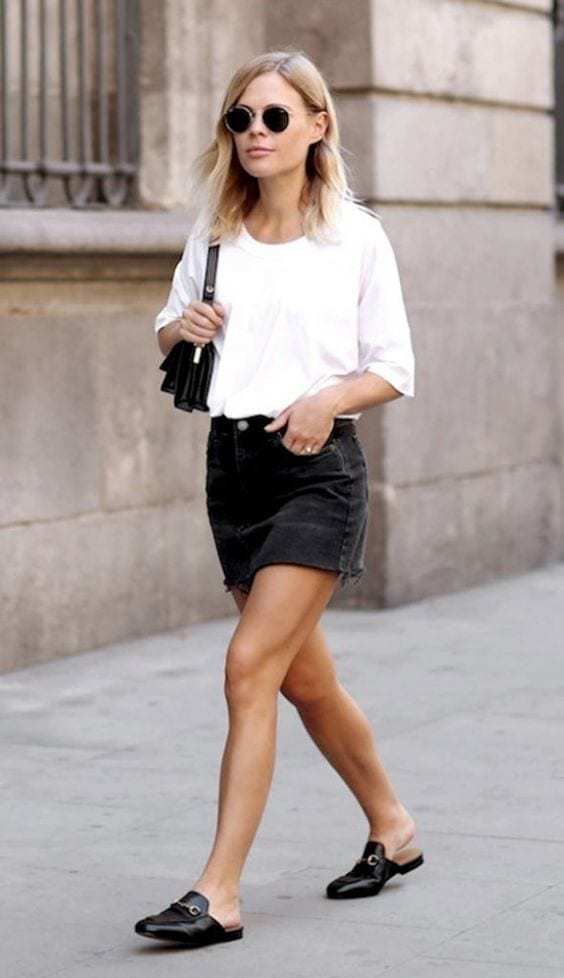 Pair your black denim skirt with black mules, loafers or slip-on sandals for an elevated casual look: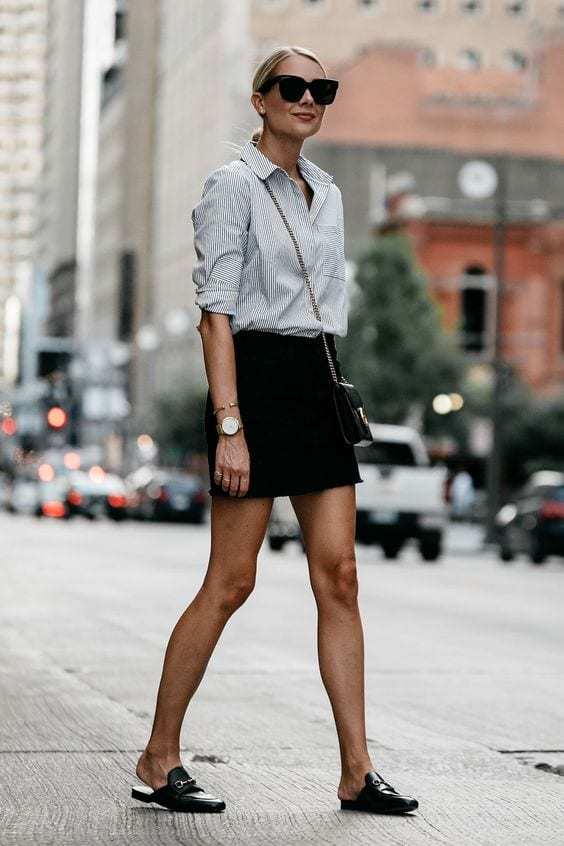 Edgy and bold
You can also look edgy and bold with a denim mini skirt. Forget about polished looks, this skirt is pure magic as you can perfectly rock a cute and easy edgy style.
The best way of pulling off an edgy outfit with a mini denim skirt is with an all-black outfit: black leather jacket, chic belt, and black tee tucked inside.
Try wearing combat boots and you'll be amazed at how edgy you can look with basic pieces. Add a leopard print item such as an oversized coat for a pop of color.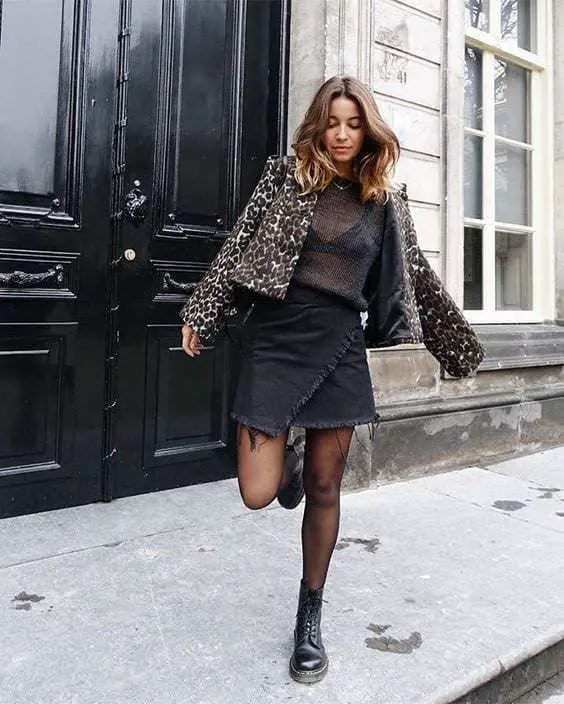 You can also wear a blue denim mini skirt! Just add black pieces and combat boots like Bella Hadid: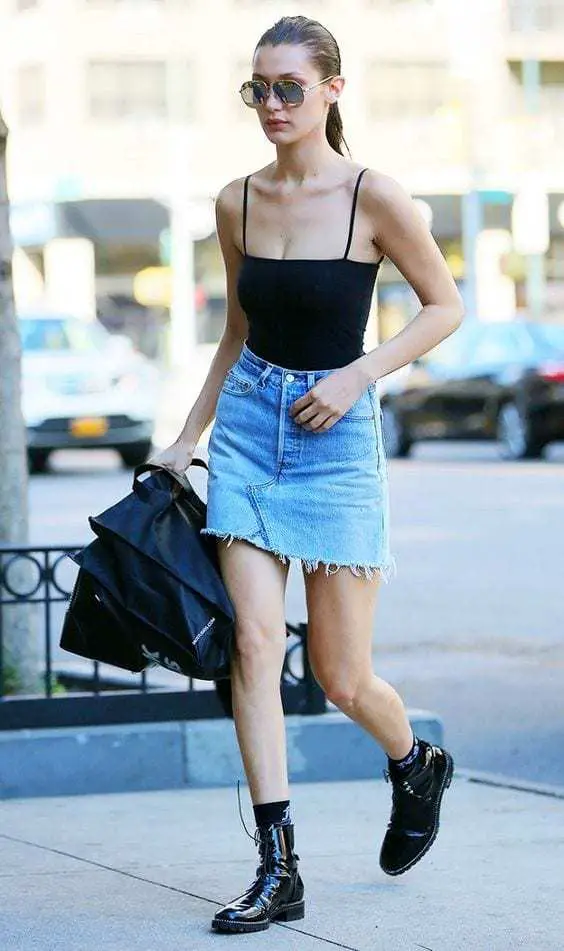 Or wear a crop top and your favorite black ankle boots: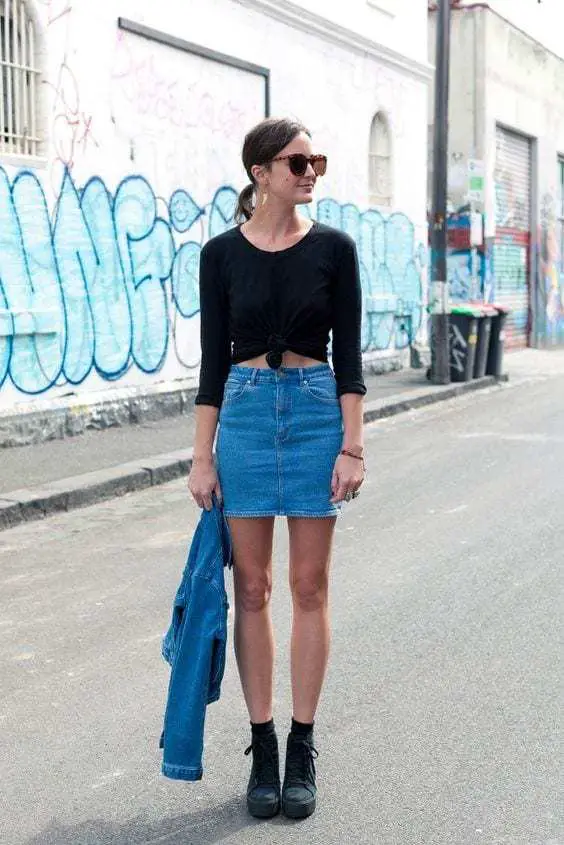 If you don't want to look "too edgy" but rather modern and bold, adding pops of color is a great idea. Mix bold prints into one same look for a fun and fashion pro look.
Think of your denim skirt as a canvas, where you can have fun pairing different silhouettes and colors together.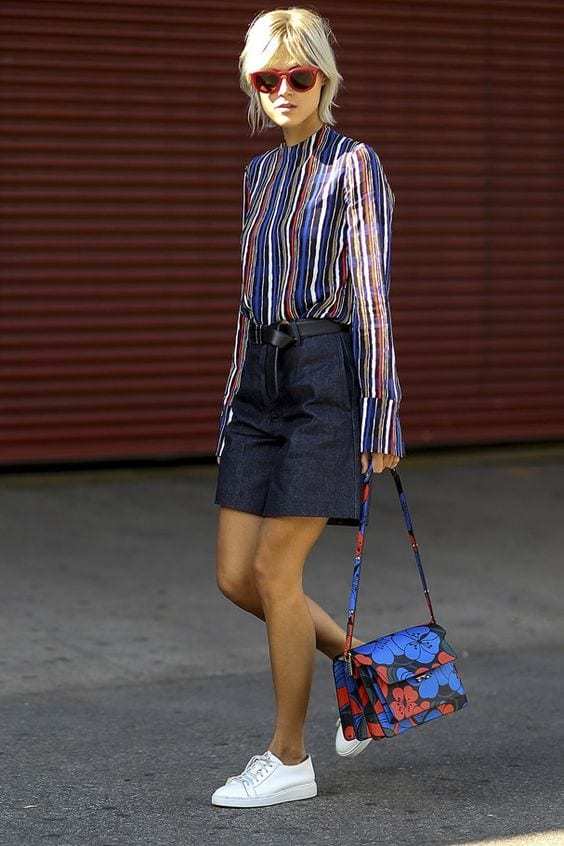 Girly and preppy
If you're super feminine and love classic and preppy looks, a denim mini skirt is a great option to showcase a cute style.
An off-shoulder or cold-shoulder top is one of the most effective ways of creating girly denim mini skirt outfits. Tuck it inside and pair it with cute strappy sandals or sneakers and finish your look with a sophisticated handbag.
Perfect for a casual date with your special someone!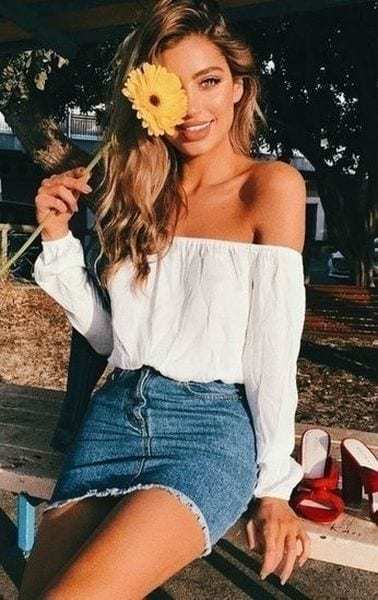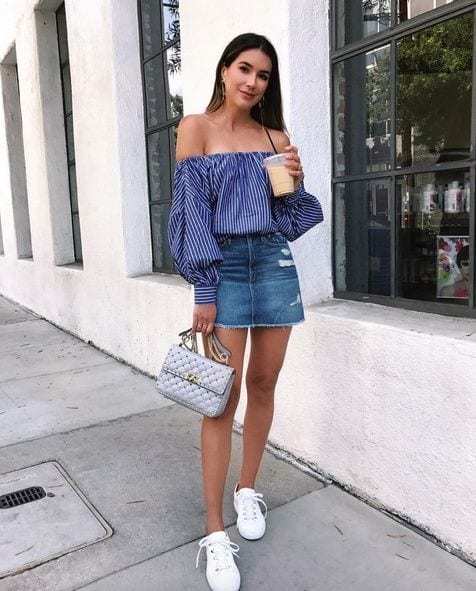 You can also opt for any type of print: florals, polka dots, stripes or geometric. As long as you show off your waist by either wearing a crop top or tucking it inside, your outfit will look absolutely feminine and stylish.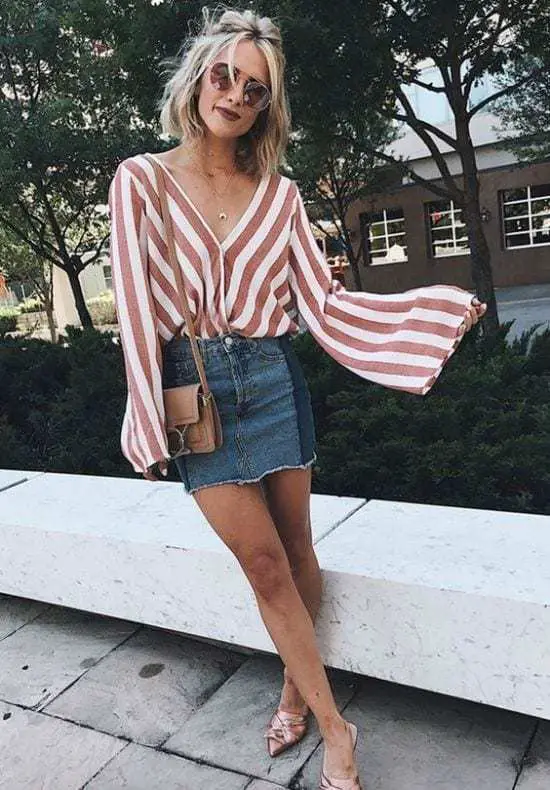 You can also make your shoes the star of your outfit. If you're a shoe lover, try wearing your mini denim skirt with a neutral color top such as white, black or nude, and show off a cute pair of high heels.
Your shoes will be directly stared at, but your whole outfit will be on point!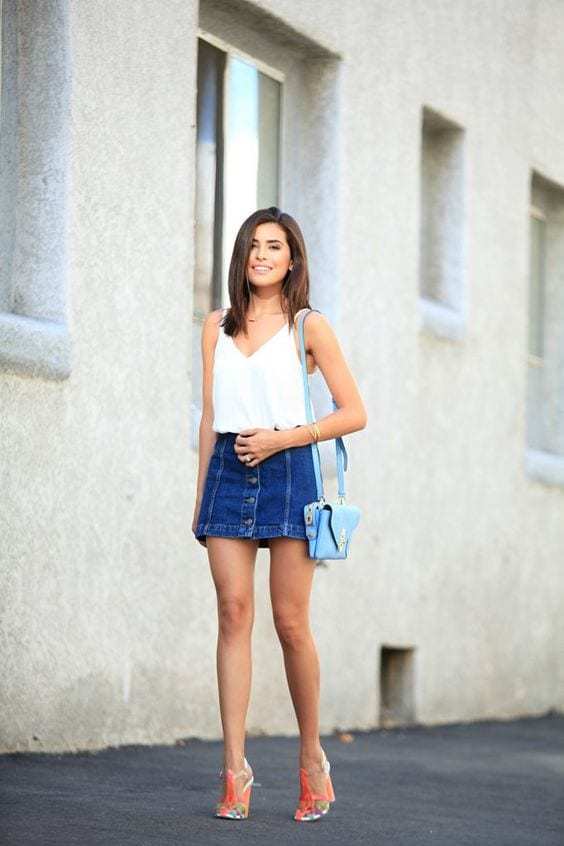 2. Long denim skirt outfits
If there is one way of pulling off a fashion pro look, that is by wearing a long denim skirt.
A jean skirt outfit is not only exclusive for mini length skirts. Long skirts also deserve a mention because they're different and, by wearing one, you will be definitely turning heads.
The mini-skirts I mentioned above are classic pieces, but a long one is a statement piece that has to be styled perfectly in order to look cute and fashionable.
What to wear with a long jean skirt? Here are different looks you can easily recreate:
For a vintage look
This type of denim skirt already has a 70's look, so pulling off a retro and vintage look is a no brainer. An easy way of doing so is by pairing it with a plain stripe t-shirt in a dusty shade of mustard, mauve or olive.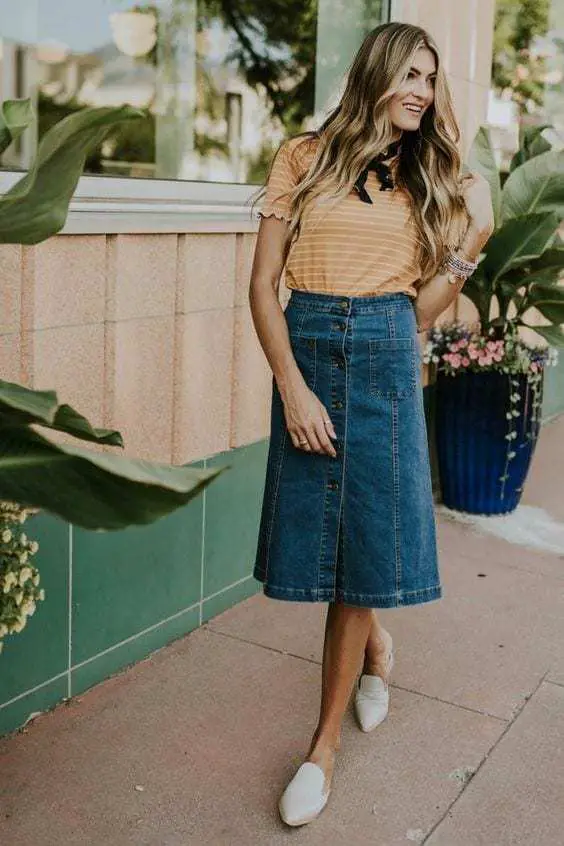 A short sleeve knit sweater top is another great way of showcasing a vintage style. If you want an extra dose of retro, add John Lennon-inspired round sunglasses: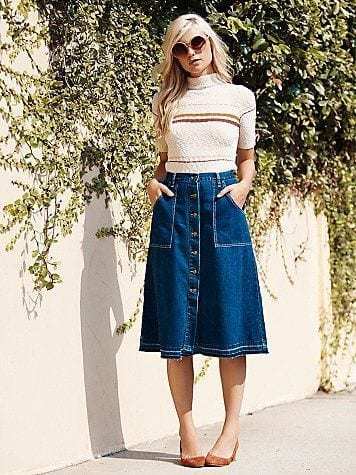 Stripes are a go-to option to pair a long denim skirt with for a vintage look. You can also add ankle-length boots: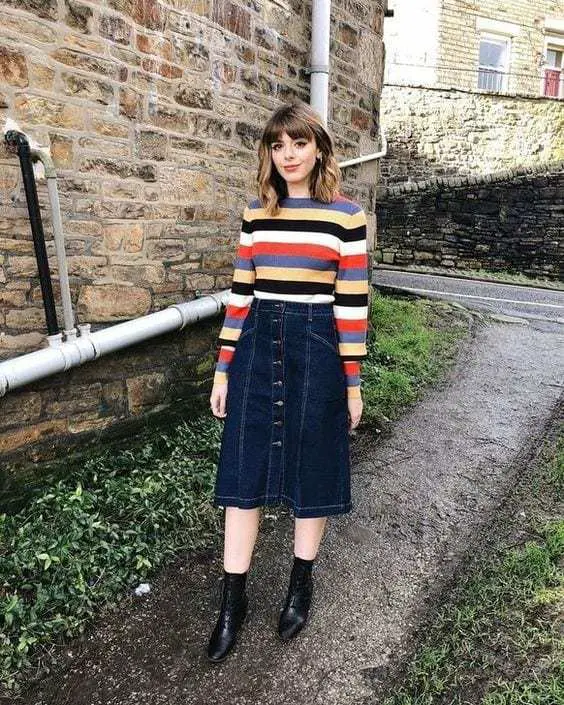 A blacktop is another color you should try. You can also wear a belt to accentuate your waist and add more vintage vibes to your outfit: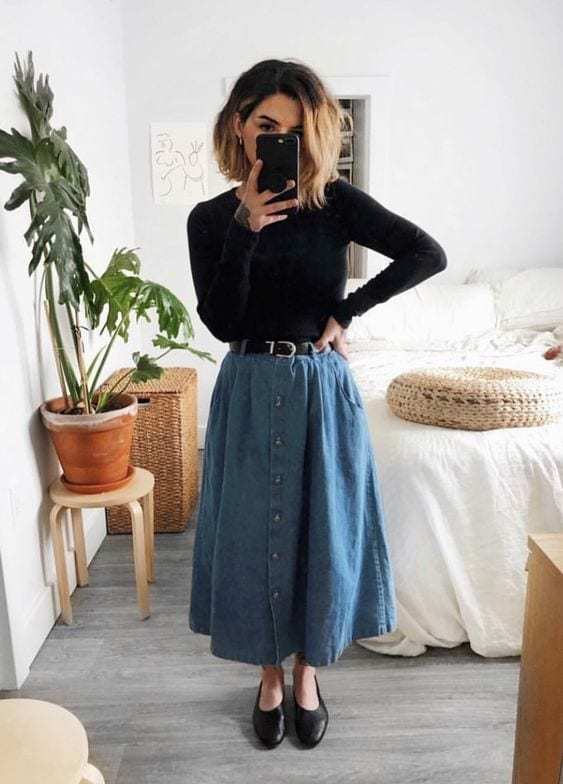 Low heel sandals are a cute way of dressing up your vintage-inspired long denim skirt outfit.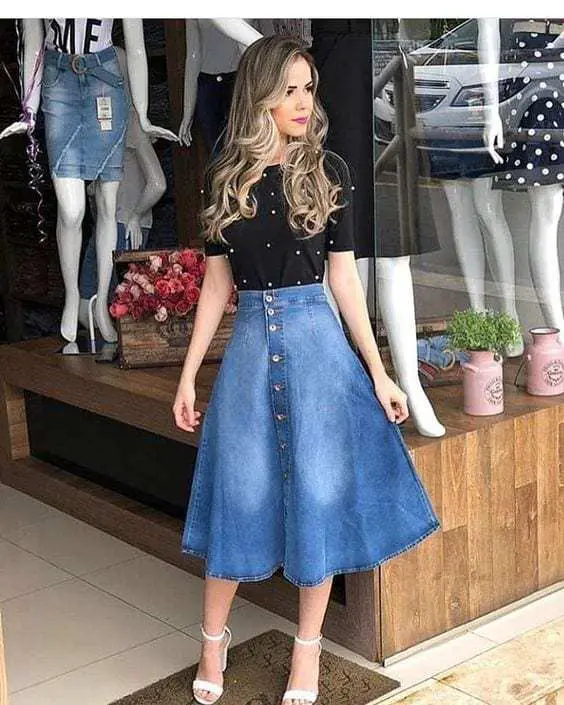 Want to give a major throwback feel with your look? Try wearing Chuck Taylor All-Stars sneakers: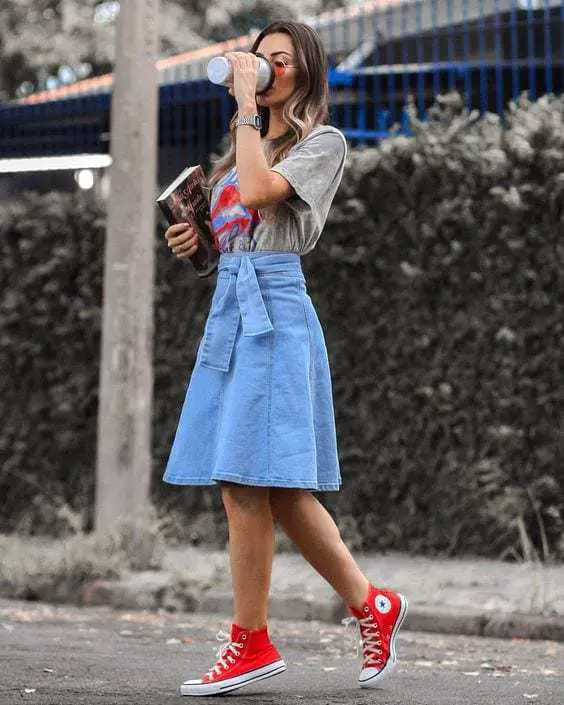 Stylish and chic
If you're looking for a sophisticated look, a long jean skirt is a perfect way of pulling of this type of outfits.
You can wear one for a chic and fancy lunch or event. Just pair your long denim skirt with high heels and a button-down tucked inside and you're ready to go.
Pencil denim skirts are a perfect match for high heels. You will look sophisticated and fashionable, turning heads wherever you go.
The reason why you'll create a killer look with a pencil denim skirt is that a mini-length type is the most popular denim skirt and few women adventure to wear a long-length denim skirt.
Moreover, a pencil skirt is a staple piece, so adding denim to this equation makes it much more stylish than any other bottom you've owned.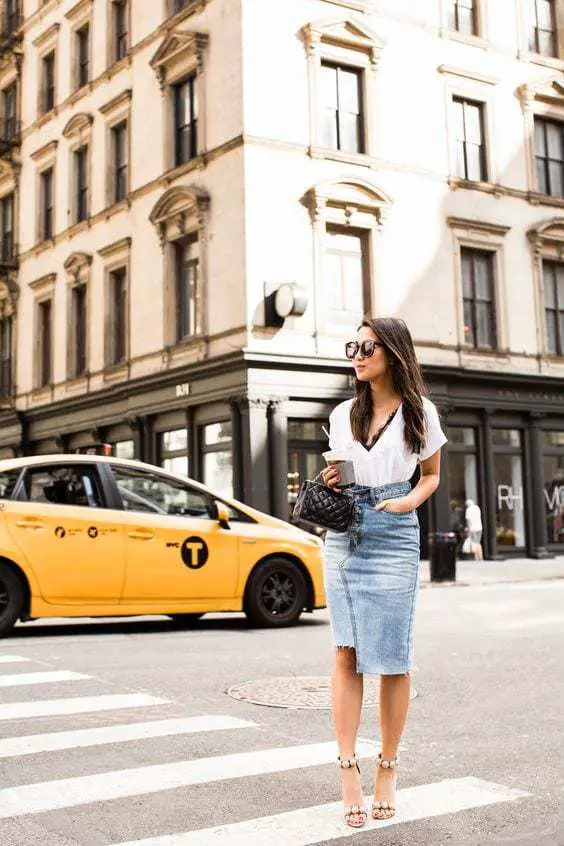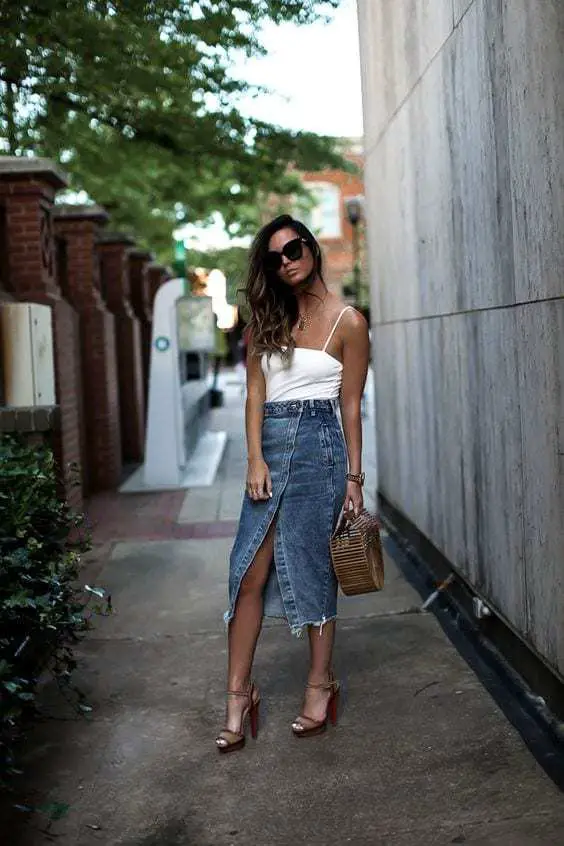 You can create amazing and killer looks with this type of denim skirt: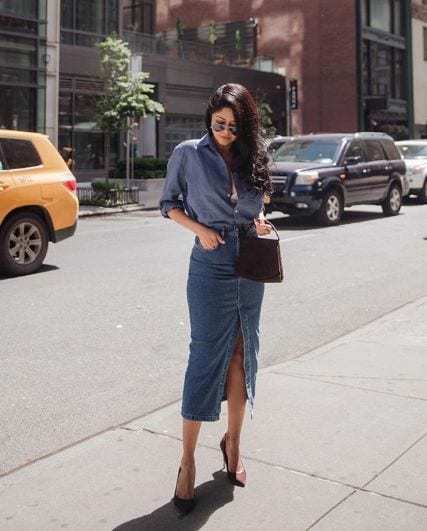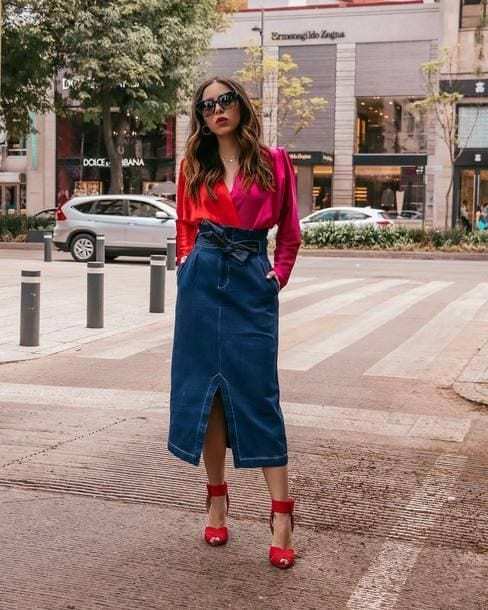 You can also wear these skirts with flat shoes such as sandals, sneakers or mules. My only observation is that if you're short and petite, this length will surely shorten your legs. I wear them on days when I don't mind looking a bit shorter, so it's entirely up to you whether these skirts deserve a chance or not.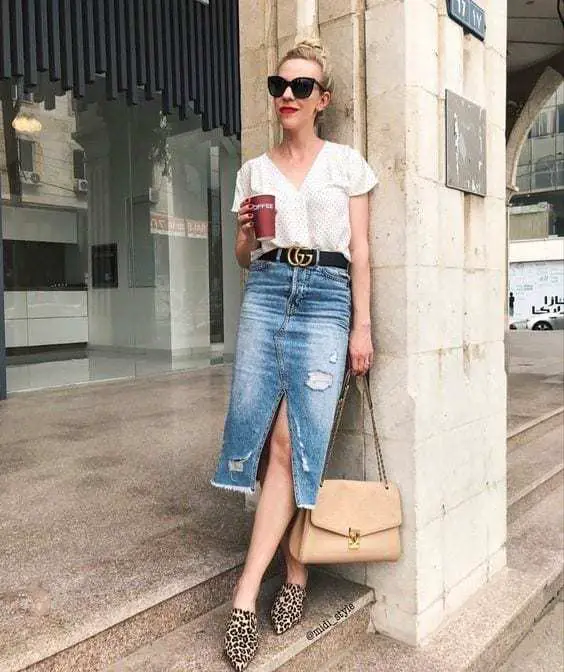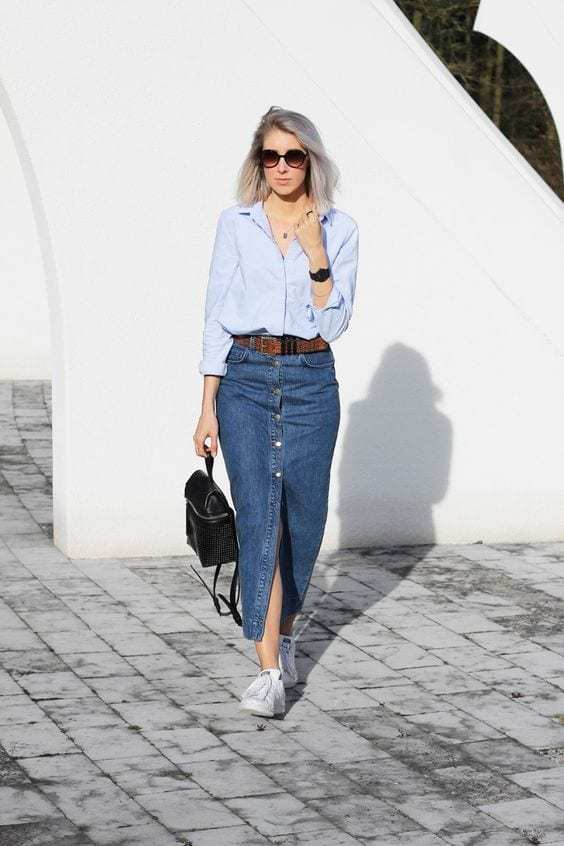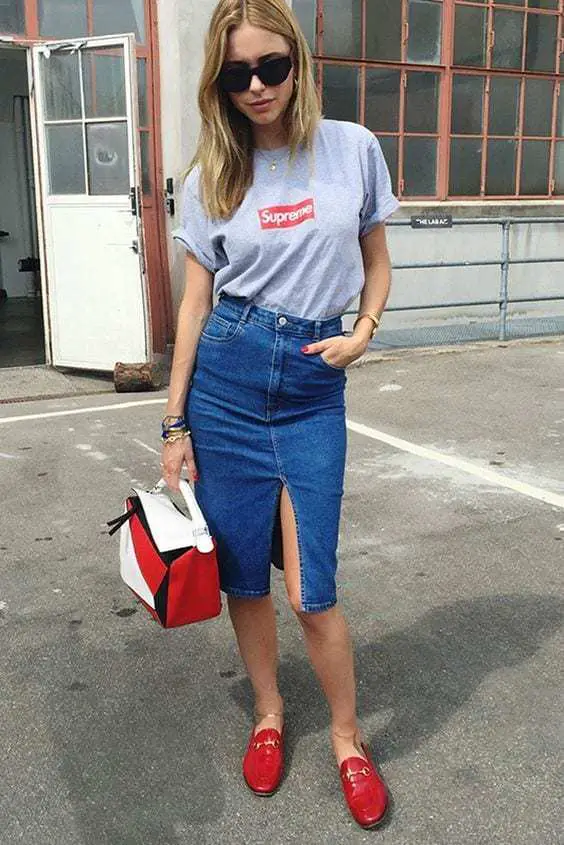 Last but not least, what about maxi denim skirts and ankle-length boots? This is a killer combo that's perfect for fall outfits. All you have to do is wear a solid top and let your lower body be the star of the outfit: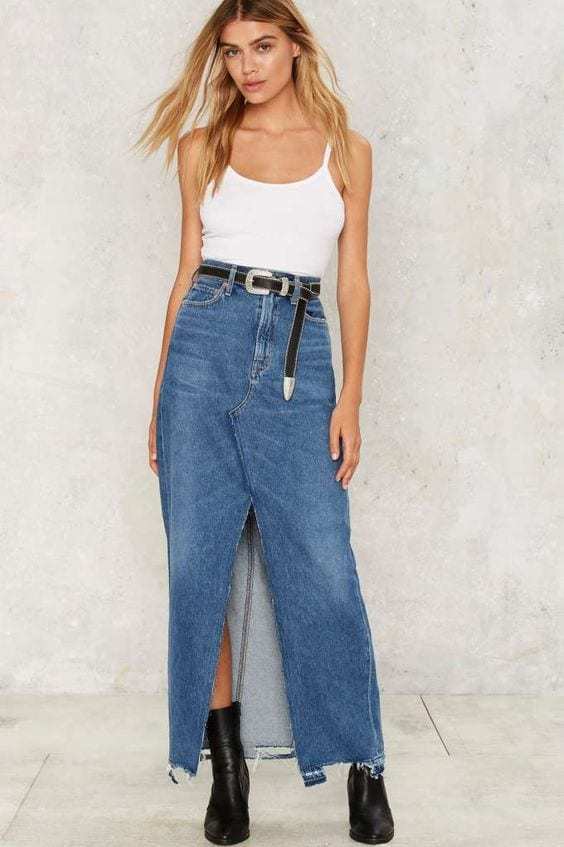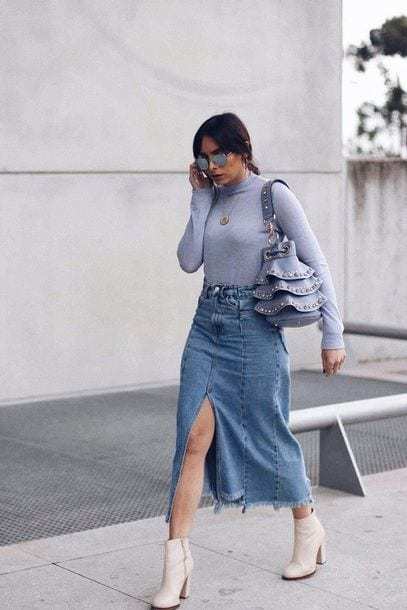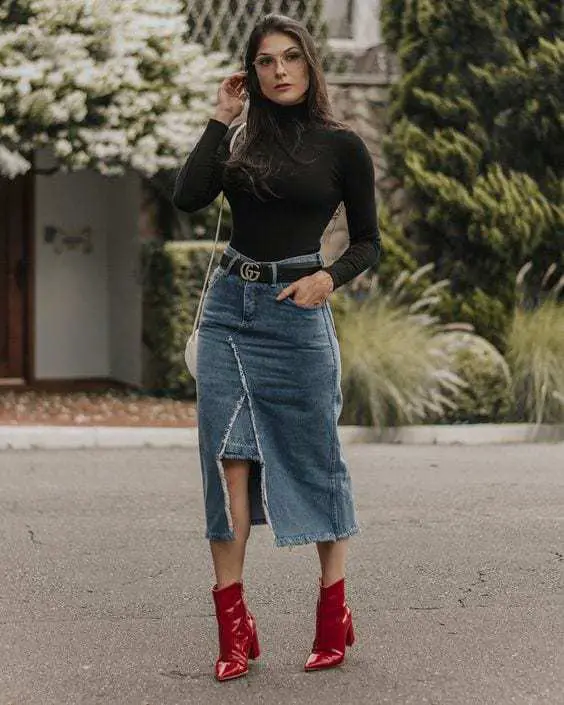 Wrap up:
If you're looking forward to spicing up your wardrobe, try wearing a denim skirt. It might sound too traditional or too classic, but as you can see from the examples shown above, this piece can work as a canvas on which you can experiment with different looks.
A mini denim skirt is a cute way of showcasing multiple styles, and a long denim skirt is a statement piece by itself. Either way, owning at least one or two denim skirts will easily help you come up with stylish outfits for many years to come.
These denim skirt outfits are a great way of getting inspired and ready to pull off your very own.