Dress codes are there to give us some guidance as to what to wear for a certain occasion. However, they might slightly confuse us or won't give us much information about what type of clothes should we wear.
The dressy-casual dress code is self-explanatory, but at the same time, we still might find some confusion or simply don't know how to pull off the perfect dressy casual attire. That's why I invite you to follow me through these tips and outfit ideas on how to rock a dressy casual dress code.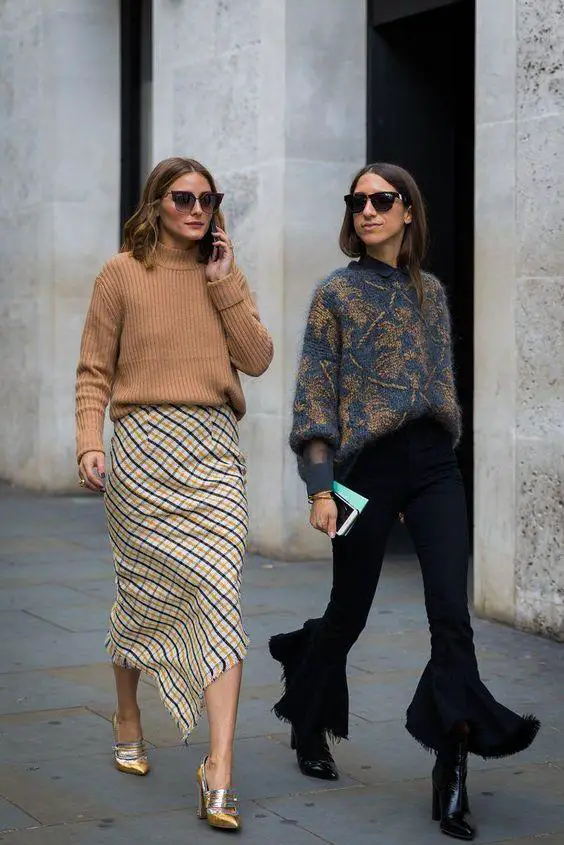 What is dressy casual?
To simplify its meaning, a dressy casual attire simply means to dress up a bit more than your go-to casual look. It's not formal nor casual: it's the in-between.
To help you better understand just how wide your range of possibilities are, let me guide you through the do's and don'ts of a dressy casual look.
The do's of dressy casual
1. Slacks
Slacks are commonly used for business wear. However, let's forget about the typical office look and imagine cool fitted slacks that only make our figure look perfect.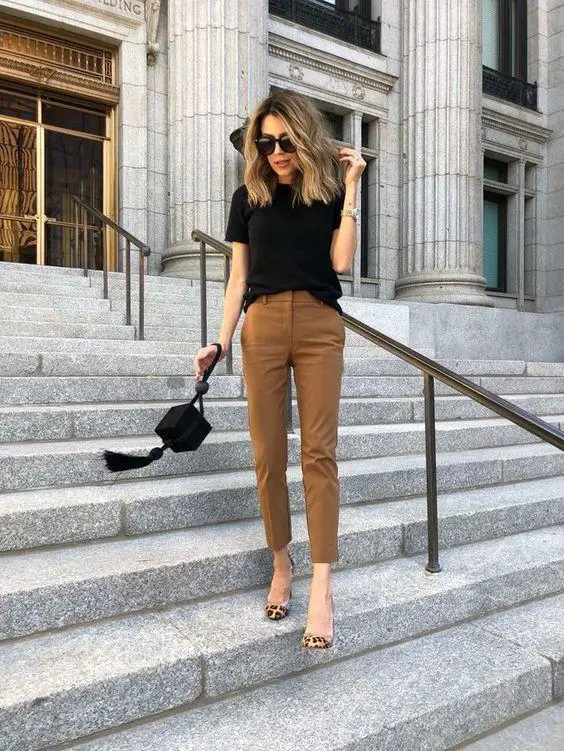 Perfect fitted slacks are what will help us achieve that put-together look, but there are other ways in which you can wear a dressy casual outfit that's modern and sophisticated without being too much,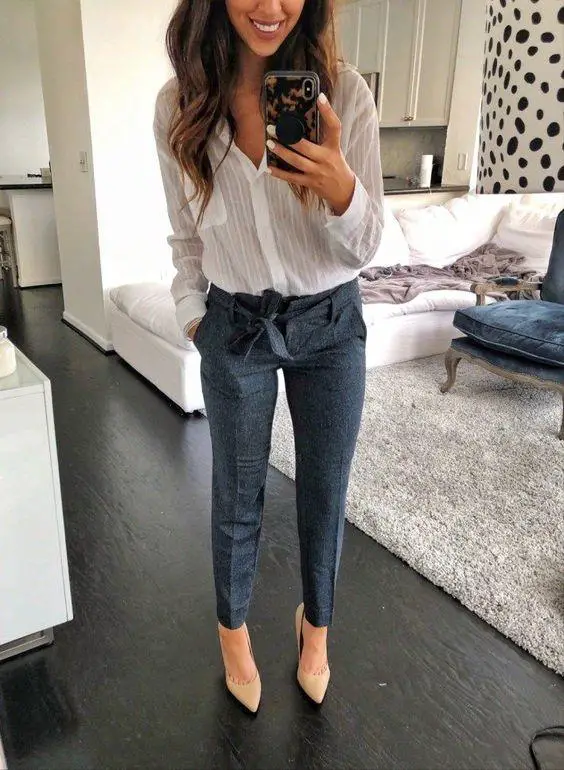 High waist anything is just a big thing among the trendiest of the trendiest. That's why you should select a pair of high waist slacks that accentuate your waist.
As I've mentioned, we need to forget about the stereotypical office attire. We're dressing for an elevated casual event, so we need to make some adjustments in order to exceed the expectations.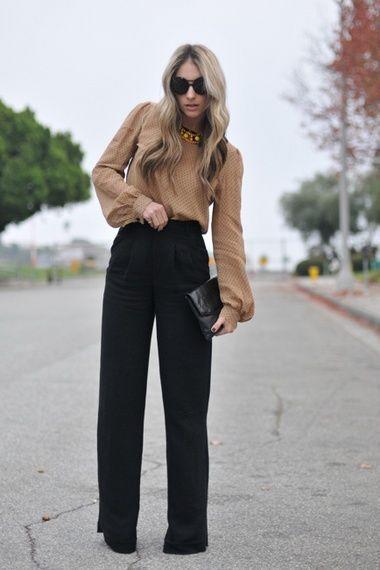 First of all, let's pair our slacks with a high-quality t-shirt. Yes, the t-shirt, but not the one you wear every day. Try to wear one that looks high quality and expensive. If it's white, it needs to be an immaculate white.
And last but not least, it needs to fit properly. Since it's a dressier version of casual, an oversized t-shirt simply won't do.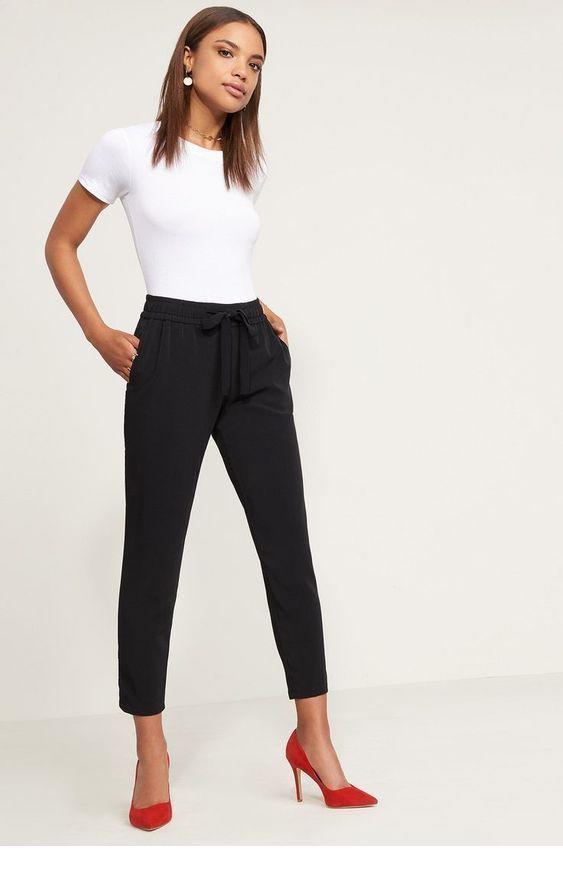 Another way of modernizing your slacks is with a cute but simple shirt and a cool blazer. It can become the star of the outfit if you choose a blazer with a nice texture, print or pattern such as plaids, checks or stripes.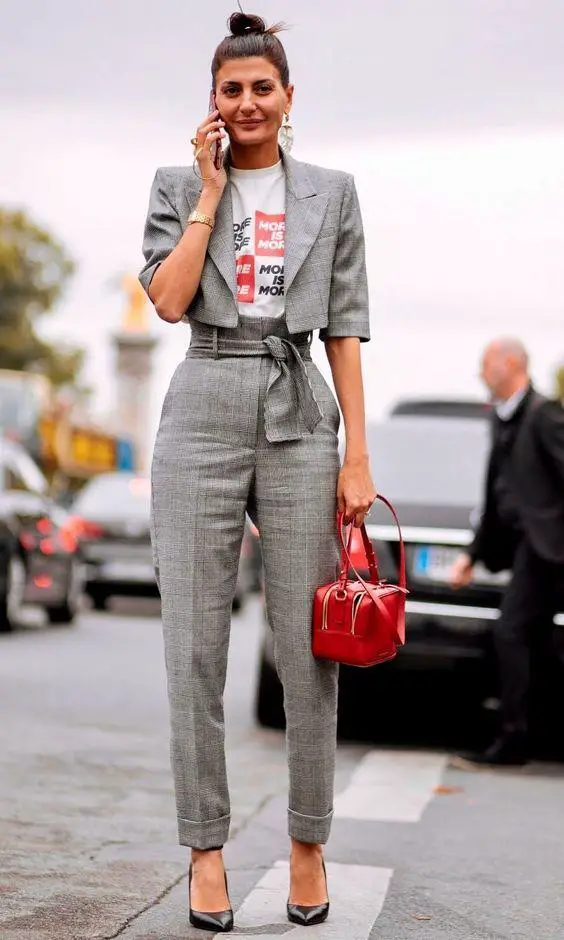 Another way of elevating your typical slack look is by pulling-off a monochromatic outfit. Try doing so with a nice sweater and high heels for a winter or fall look.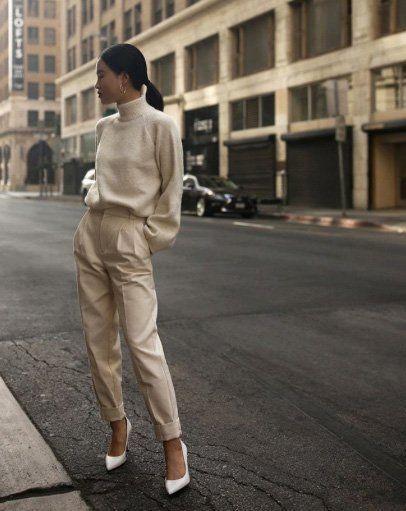 Animal prints are everywhere, and that's reason enough to include them in your dressy casual outfits. Whether as tops or accessories such as shoes or handbags, animal prints will surely add that modern pop that slacks often need.
If you're feeling bolder, a pair of animal printed slacks will definitely do the trick. You can pair it with a black top and low heels: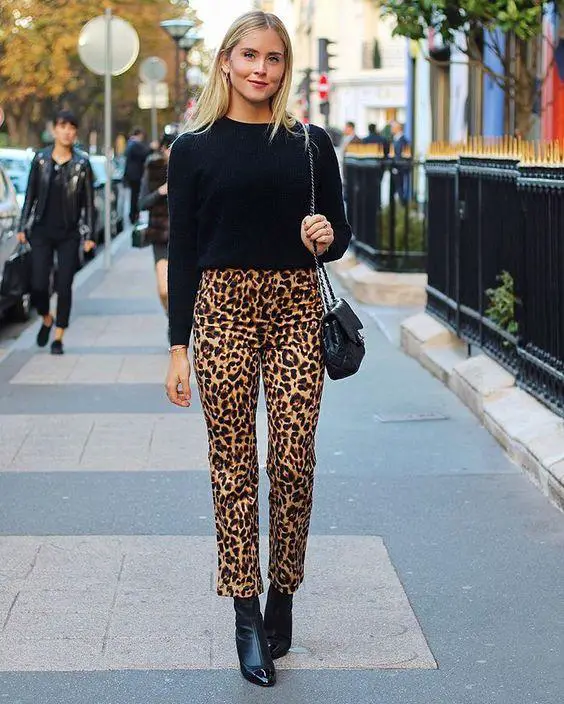 2. Midi skirts
Wearing midi skirts for a dressy casual dress code is the safest way of wearing skirts. Mini skirts might be too "revealing" and maxi is not as easy to wear as midi-length skirts.
If you want another reason as to why midi-skirts are a great option, the simple fact of being one of the trendiest bottoms in 2019 should be enough.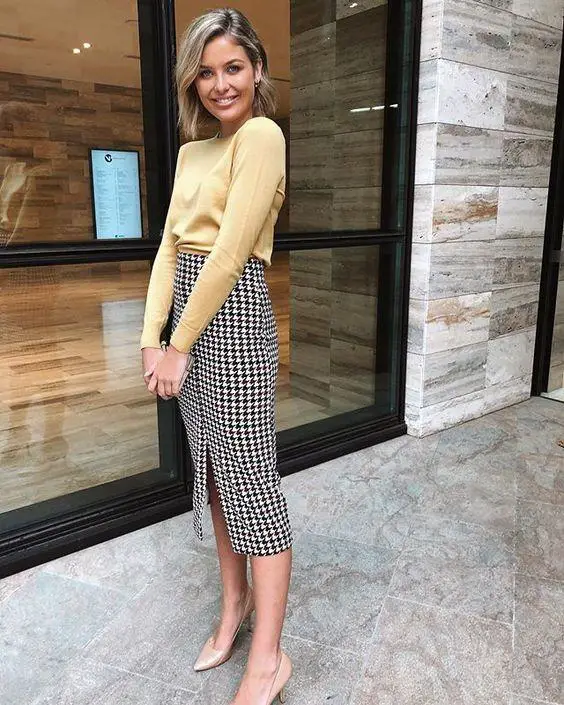 Midi-skirts are fashionable, chic and can elevate any type of outfit. For a dressy casual look, you can follow the same styling tips I gave you on how to modernize slacks.
An immaculate-white t-shirt perfectly fitted and tucked at the waist is for sure a cool way of styling your midi skirt. If you're going to wear a super casual top, you need to wear dressier shoes. That's why high heels are always the go-to option for a cute dressy casual look.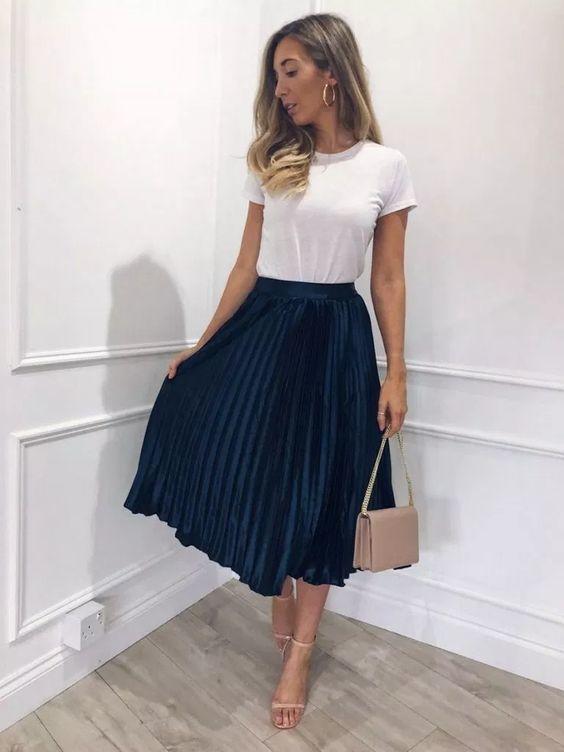 If you want to wear a sweater, pair it with a silk or pleated midi skirt to give your outfit that sophisticated look. You can also switch your go-to heels for a pair of pointy-toe leather booties.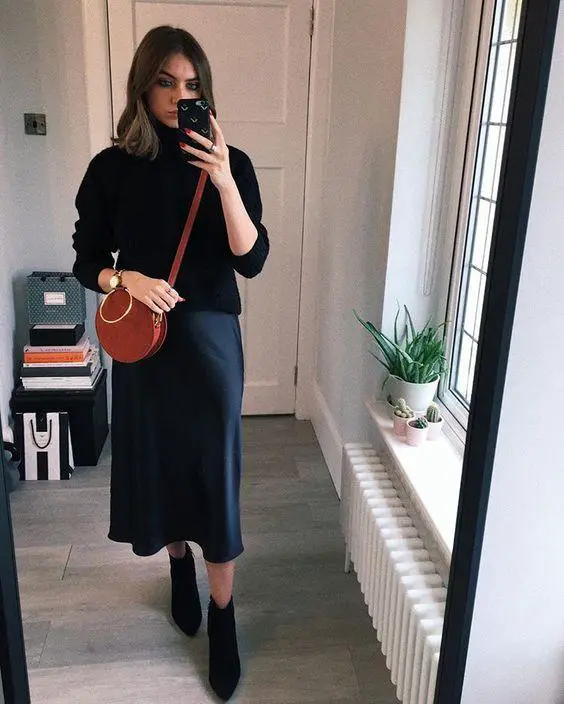 Midi pencil skirts are another great option for a chic dressy casual outfit. These are already formal-looking, so you can pair it with a casual shirt and high heels: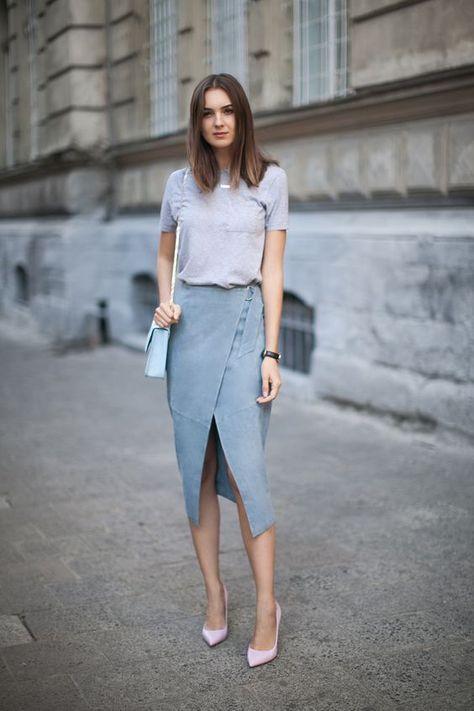 Or with a dressier shirt such as an updated button-down top and cute low heel booties: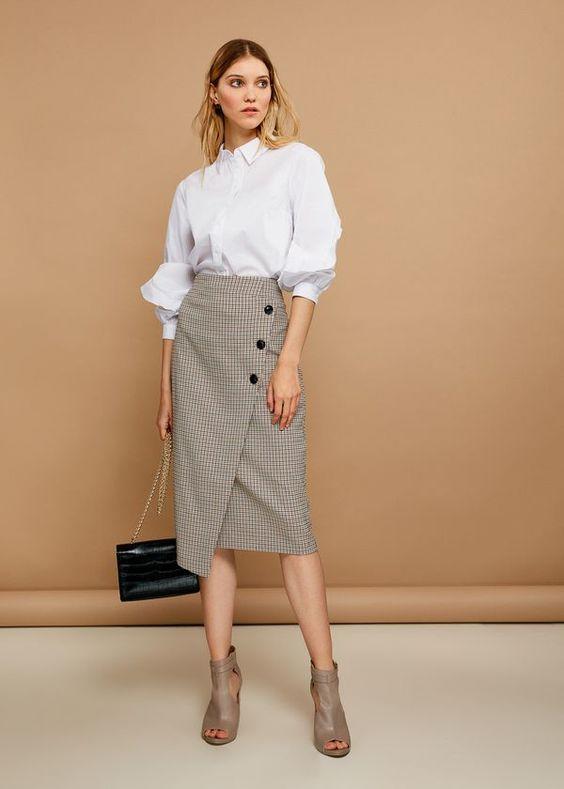 For a cool winter look, a plaid wool midi shirt paired with a long sleeve shirt and high heels is the cool and chic dressy casual look we all strive for: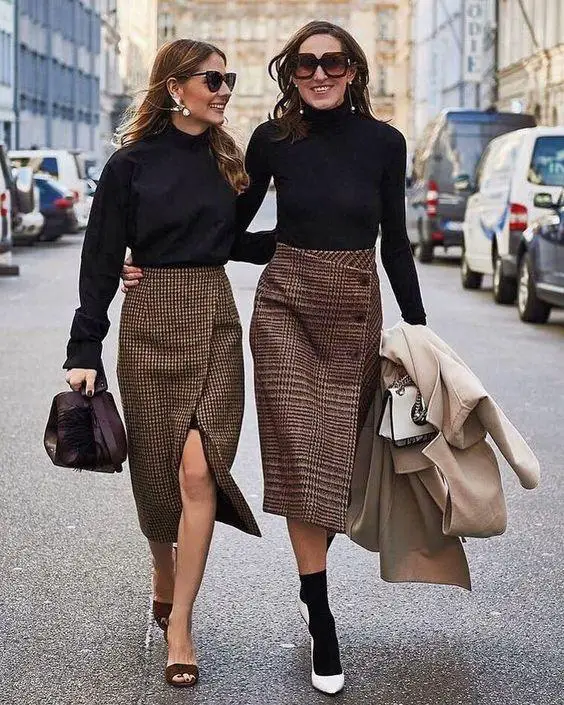 Another reason why midi-skirts are a great option for a dressy casual dress code is that they already have that formal and professional look to it because they're often worn for business attire.
That's why it's also crucial that you modernize your midi skirt look with trendy and sophisticated pieces. Silk and animal prints is a great combo that will instantly lift any boring-looking outfit: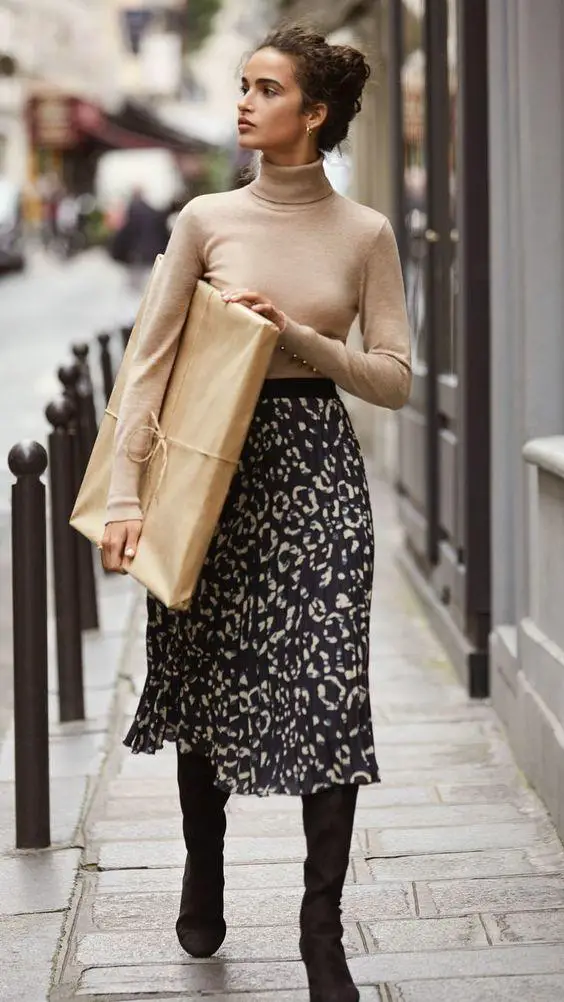 3. Dresses
When it comes to dresses, you have a wide variety of styles to choose from. However, you may want to stick with knee-length or midi-length dresses to keep that formal look in your outfit.
Since you don't want to look like you're wearing business attire, try wearing flowy-er versions of knee-length dresses. Wrap dresses are a great example of how you can wear a cute knee-length dress and still look cute and trendy: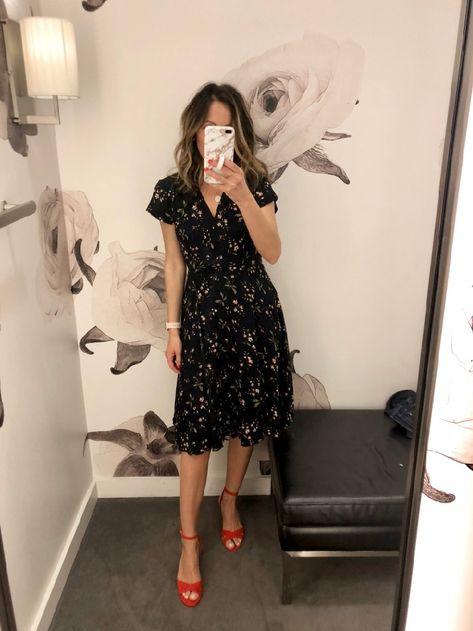 If you want to wear a form-fitting dress, a sheath style is a great option for you. However, stay away from serious-looking patterns, fabrics, and colors, as these will only add a "office attire" label to your outfit.
Bold prints or colors and a relaxed fabric will help you update the typical sheath dress look: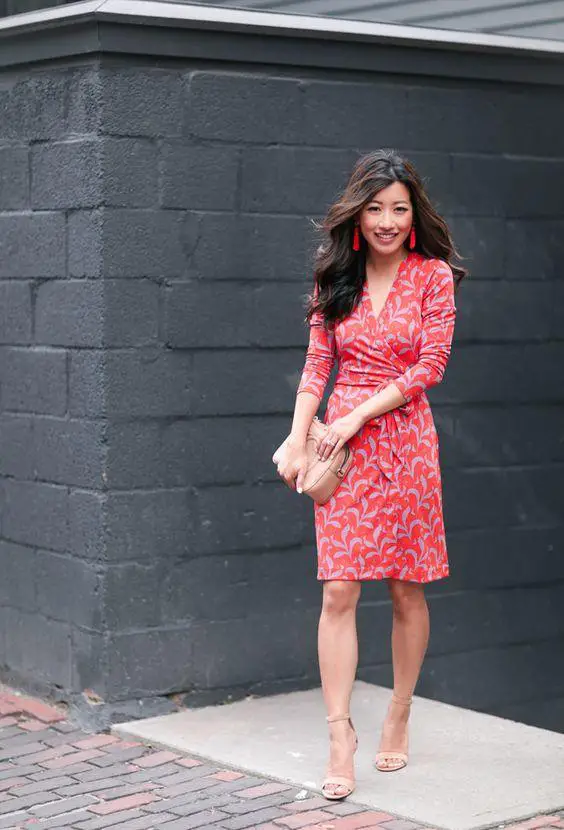 A sheath dress makes up a great look you can wear for dressy casual wedding attire. Again, opt for a cool and unique print that will make you stand out: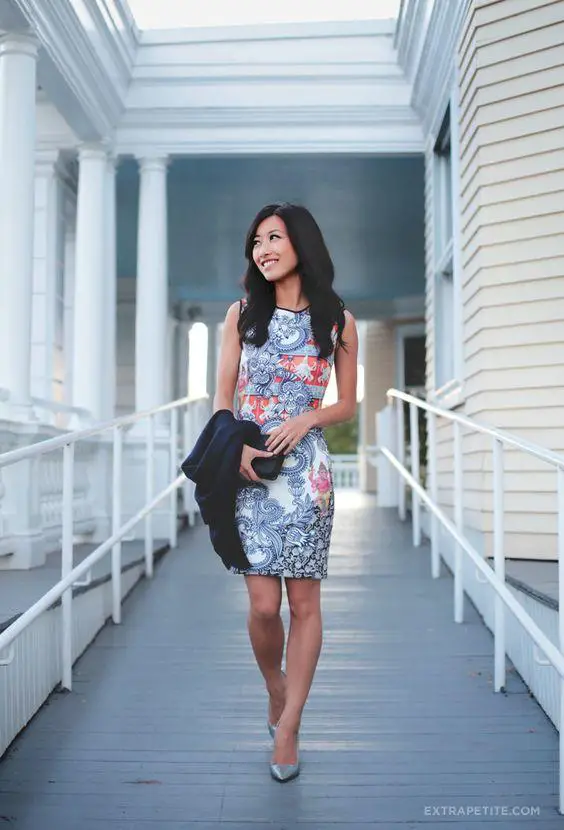 You can also wear flats if you don't feel like walking in high heels. All you need to keep in mind is that flats are relatively casual shoes, so you need to elevate them with a "dressy dress" and sophisticated accessories.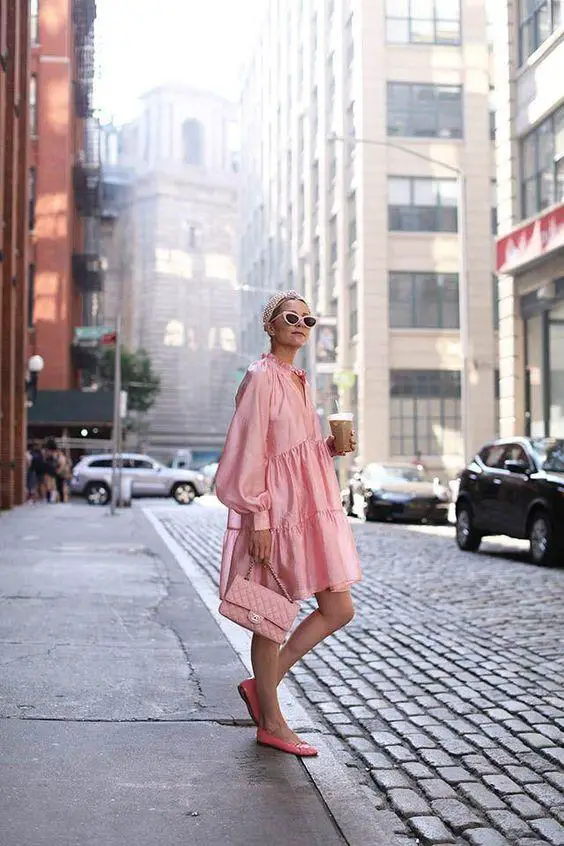 4. Statement tops
If you want to take your dressy casual look to the next level, you should definitely opt for statement tops. You should keep in mind two things:
If they're made of a casual fabric like cotton, then make sure you pair them with dressy pieces like slacks, jewelry, silk skirt, a formal handbag, high heels, etc…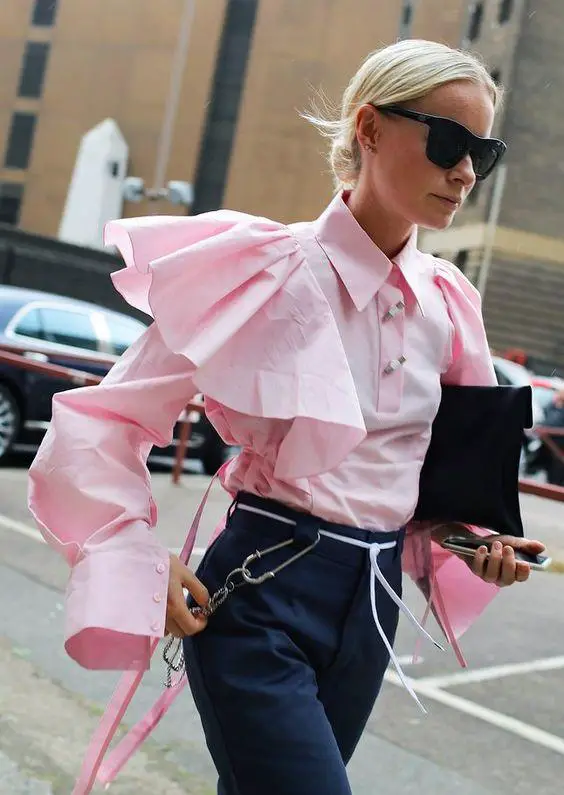 Cotton and linen are an example of fabrics that are "casual-looking", so you have to put some effort into styling them properly.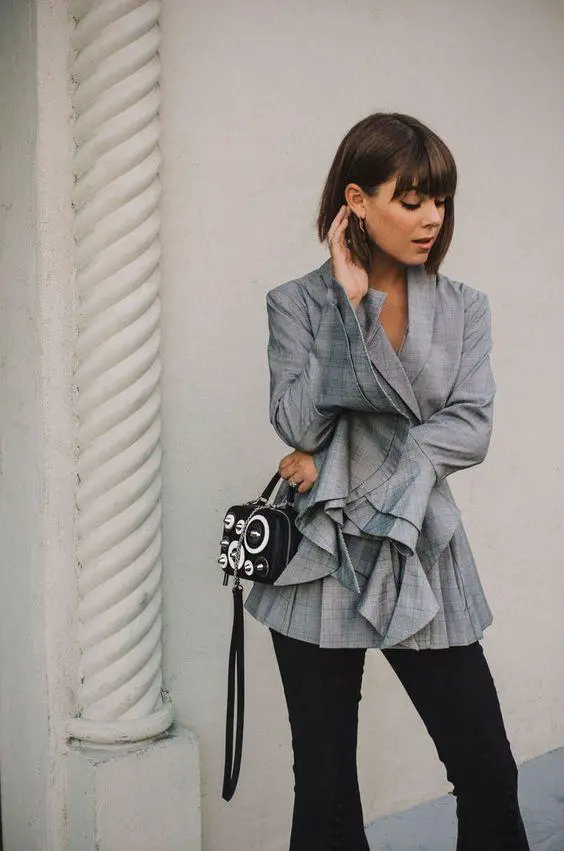 High waisted slacks or midi-skirts are great bottom options you can pair your statement top with. Bold prints or oversized sleeves are some ideas of how a top can become the star of your outfit:
A silk blouse will always be a great idea for any dressy casual attire, especially if it has a bold print or color: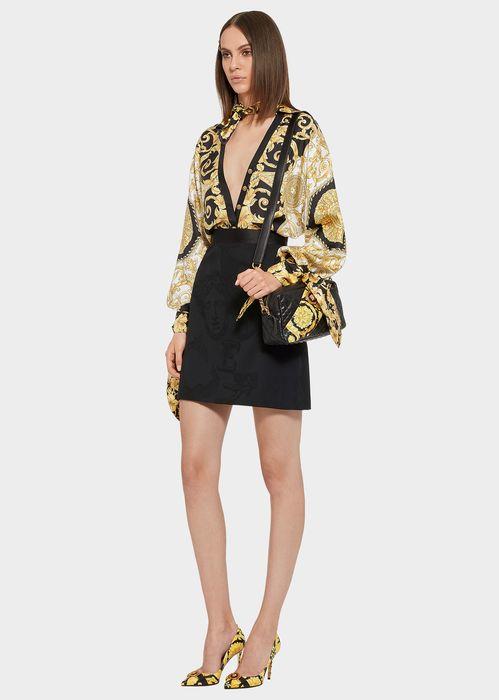 5. Jumpsuit
Jumpsuits are one of the boldest pieces you can wear anyplace. If you're deciding on wearing a dressy casual outfit, then a cool jumpsuit will do the trick.
My advice is to pair your jumpsuits with high heels as a must in order to look formal enough. You can leave your hair slightly undone and wear a natural makeup look to avoid looking too formal.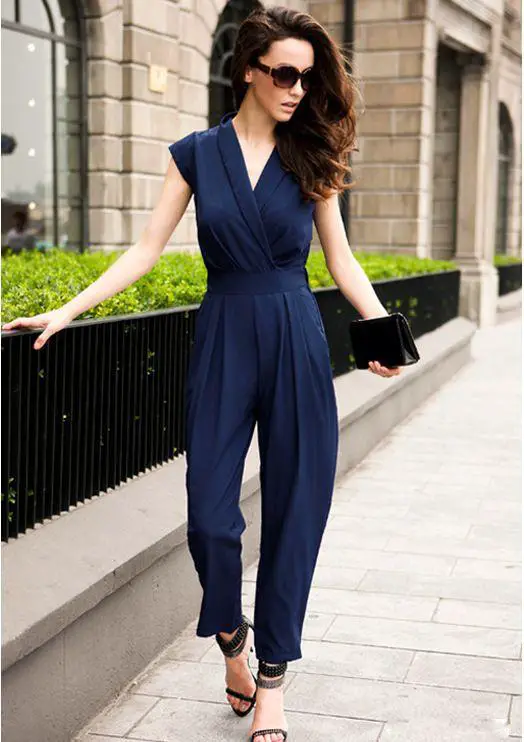 You can always opt for a head-turner jumpsuit look. A bolder version of a jumpsuit includes belts, wide-leg pants, pleats, contrasting fabrics, and colors, or a button-down top: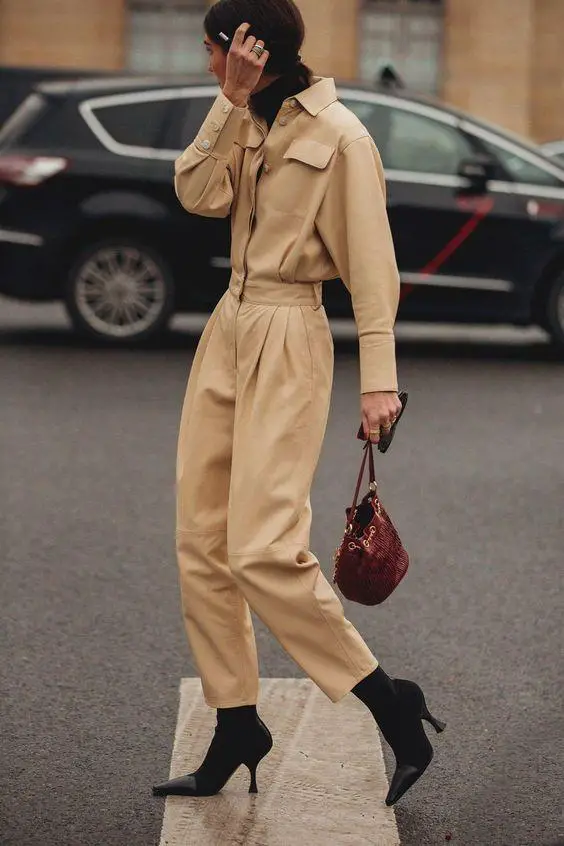 The don'ts of a dressy casual look
Now that I've shown you cute dressy casual outfit ideas, let's talk about the things you should stay away from.
1. Jeans: Yes, you can wear jeans for a dressy casual look because there are gazillion ways of elevating them. However, you may want to double-check how strict the dress code of the event your attending really is. If it's being held at a hotel salon, then stay away from jeans. Most of the times jeans will look too underdressed compared to other attendees' outfits.
2. Sandals, sneakers, espadrilles… Almost every type of flat shoe should be avoided. Some flat shoes that might work are ballerina flats or loafers and only if they're dressy enough.
3. Gowns: just like jeans and flat shoes are too casual, maxi gowns are way too formal and a complete no for a dressy casual look.
Wrap up:
Dressy casual attire is nothing but an elevated version of a casual outfit. However, there's nothing worse than under or overdressing for a specific event, so having cute and easy outfit ideas can make us feel more confident.
I hope these dressy casual tips and outfit ideas will help you achieve that perfect-looking attire, making you stand out from the rest,