We've all been invited at least once in our lives to an event which requires a certain dress code. Normally, the invitation you receive has a little note specifying how the hosts want their guests to be dressed.
Unfortunately, that specification is reduced to "formal attire" only. How easy would it be if it also listed some examples of the things you could wear!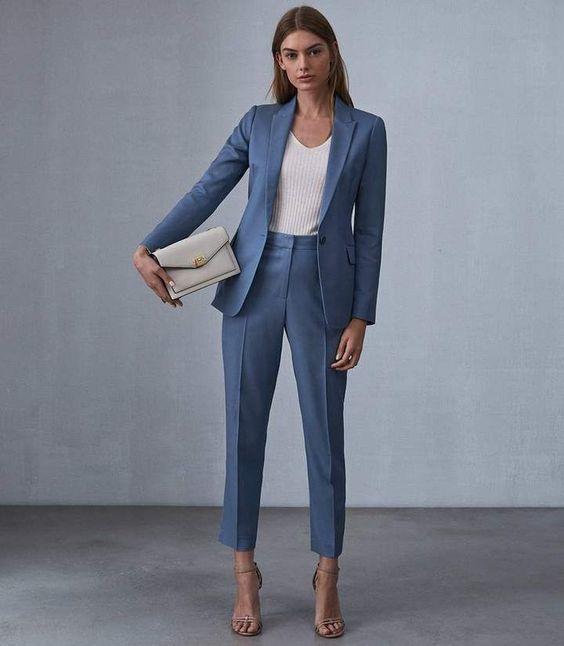 Formal outfits can range from workwear formal to wedding formal, so it's a huge topic to talk about. However, I've summarized as best as possible the requirements of "formal dress code" and different scenarios that normally require this type of attire.
What is formal attire?
But, first of all, what does a "formal attire" really mean? To make it simple and easy, it means that you have to dress up a bit more than you would normally do on a Sunday, for example.
10 Rules Of Formal Attire 
1. Heels
By heels, I mean ANY type of heel. There are some women who can't stand stilettos, so their go-to option would normally be kitten heel, block heel, wedges or small platforms.
What matters is that you give some importance to the event you're going. In some way, heels represent elegance and by wearing them you also get to dress up your formal outfit much more.
It's amazing what a pair of heels can do to an outfit. Try wearing your formal attire with flats or sandals, and then switch to your favorite heels to see some real magic.
Some of the best types of heels for a formal event is:
1.1 Stilettos
These are one of the chicest shoes you can ever pair with your formal outfit.
Personally, as someone who can barely walk with high heels, I get some sense of confidence and sophistication whenever I see someone rocking a pair of stilettos.
For me, it means that she gets to dress formally on a daily basis and have mastered the stiletto game, which basically translates to someone who has an important job or attends many social events.
That's me, but I guess I'm not the only one who thinks that. So if you want to elevate your formal attire, try wearing a chic pair of stilettos.
Just please make sure you can handle them. Don't ever make the mistake of wearing them for the first time on the day of the event.
You can wear them for absolutely anything: from a formal work event to a wedding. Although I suggest them to avoid them if you're planning on dancing all night.
1.2 Pumps
The height of pump heels can largely vary. But whatever height you choose, make sure they match with the rest of the outfit.
Platform pumps are one of the most popular types of heels to wear to a formal event because they add some extra inches to your height and makes it much more comfortable to walk in them. If you're not a fan of high heels, I suggest opting for low platform pumps.
Same as stilettos, you can wear pumps to ANY formal event.
1.3 Block heels or kitten heels
If you're striving for trendy formal wear, then block heels or kitten heels should be your picks, especially if high heels are not your cup of tea.
You can wear them for a cocktail or for a networking event. I suggest avoiding kitten heels for super elegant events or celebrations, such as weddings or hotel parties, only because they can be borderline casual.
Usually, high heels are the ones that dress you up, rather than low heels. That's why I'd wear these trendy shoes for a relaxed yet formal event.
2. Dress for a formal event
As I've mentioned, formal events can largely vary: from networking events to a Christmas party. That's why you should take into consideration several things like:
2.1 Where is it going to be held?
It's not the same to attend a formal beach wedding than a fund-raising gala at the fanciest hotel in town. Here are some examples of how formal dresses can vary based on the location.
If it's a day-time cocktail, you can opt for knee-length, midi, maxi or high and low dresses.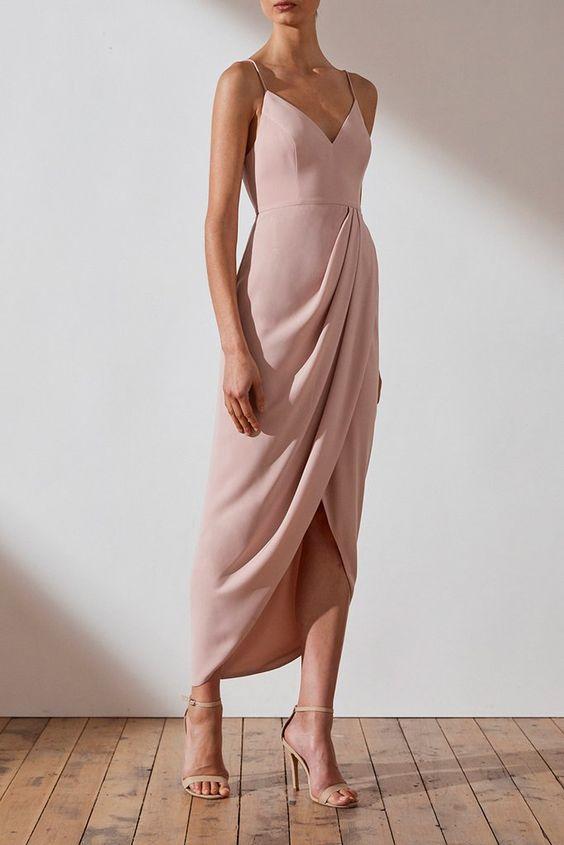 If you're wondering what to wear to a formal wedding at a hotel, then these are some cute ideas you can wear. If the invitation says "formal attire" or "formal dress code", preferably opt for maxi or high and low dresses.
Some graduation parties are held at hotels and require formal attire. Maxi dresses are the best option for these occasions.
What about knee-length dresses? These dresses can be worn for formal events as well, but that's why it's important to know the location.
If it's a cocktail at anyone's house, then knee-length dresses are a great idea. Stay away from maxi gown dresses, or else you'll look way too fancy.
2.2 Is it in the morning or at night?
Knowing the time of the event is as important as knowing where it's going to be held because only then can you choose the colors and accessories.
For example, sequins and metallics should be worn only during the evening. Stay away from them if you're going to a formal brunch or day-time cocktail.
Some cool night-time outfits for formal events include sequins and metallics. But silky or glossy-looking pieces will also elevate your look.
If, however, the event is being held at day-time, fabrics like cotton, organza or chiffon are some great options. A flowy dress is one of the most popular silhouettes to wear during day-time events, but you can perfectly choose a fitted midi dress, for example.
2.3 What's the reason behind the event?
If you're being invited to a wedding, the reason of the "event" is quite self-explanatory. But it could happen that you get an invitation for a fundraising event for a Christian charity or for an art gallery, and the formal outfit for both can vary drastically.
If you dress with a deep cleavage and skin-tight dress for a Christian or religious event, you might probably turn heads for the wrong reason. That's why it's important to know the reason behind the celebration or the event.
For a fashion or an art-related formal event, try your best to look trendy and modern. Here are some cool formal outfits that can spark your imagination:
Knowing the specific motive behind the event will also give you some ideas of the list of guests, and if you feel like practicing your networking skills, I'd suggest wearing a unique and statement-like outfit. Just make sure it's not "too much", otherwise you'll look like you tried too hard.
Here are some examples of the great statement but somewhat low key formal outfits:
Once you've made sure you know these three variables, remember this easy tip: as a rule of thumb, asking someone close to you who are also attending the event what she'll wear is a never-failing trick.
Sometimes knowing what others are wearing will also give you a clear idea of what and how you should dress for that event. It might happen that you misunderstood something from the invitation and asking a friend can save you from an embarrassing moment.
3. Non-dress formal outfits
Does a formal attire dress code only require dresses? Let's say dresses are, most of the times, the best option only because they elevate your attire in the easiest and chicest way possible.
But, keeping in mind the three variables I mentioned above, you can also opt for non-dress outfits. Blazers, wide-leg trousers, maxi skirts or jumpsuits are some alternatives you can wear to a formal event as well.
Here are some chic non-dress formal outfits you can recreate:
Wrap up
Seeing the "formal dress code" phrase written on an invitation isn't that big of a deal. As you have seen in this article, there are some must-wear pieces that apply to almost any type of formal event.
High heels, knee to maxi length dresses and nice make-up are the basics of formal outfits. All you have to do is adapt them to these three variables: location, time and occasion.
But the most important aspect of dressing for a formal event is to show respect through your clothes: it's like saying "hey, I care about you or about this event, so I dressed in my best clothes".
Last but not least, remember to have a great time!