I'm 100% sure every girl owns at least one pair of black leggings because let's admit it, it's probably one of the only items that can be perfectly worn for a Netflix-and-chill plan, but also for a night out with friends or as business attire.
They're the definition of what a classic and ultra-basic garment is; you can never go wrong with a black legging. But when we think about leggings in other colors, we might have some trouble picturing an outfit.
Let's talk about grey, which is one of the most versatile colors in fashion. A grey leggings outfit can be worn exactly the same as black, and that's why you should consider having them in your closet.
If you don't know how to wear grey leggings, don't worry, I've got you. You'll see how many cute outfits with grey leggings you can pull out while looking like a total fashion expert.
What to wear with grey leggings
Grey is a very elegant and cool color but can get a bit trickier than any other because of the many shades you can find in stores. Because of this, wearing a grey legging can be a bit overwhelming sometimes.
That's why I'll show you fashionable ways to style your grey legging outfit by talking about the most popular shades of grey.
1. Light grey leggings outfit:
Probably the most casual shade. A light grey legging has a sporty look, and that's why it's perfect for day-time occasions.
One of the easiest ways to style this color is by wearing a pair of sneakers. A white top will give your outfit a minimalist look as well: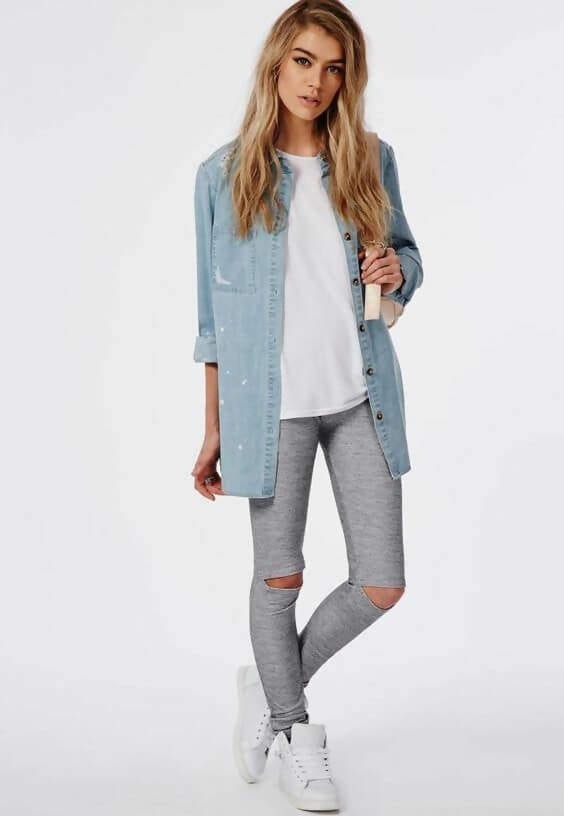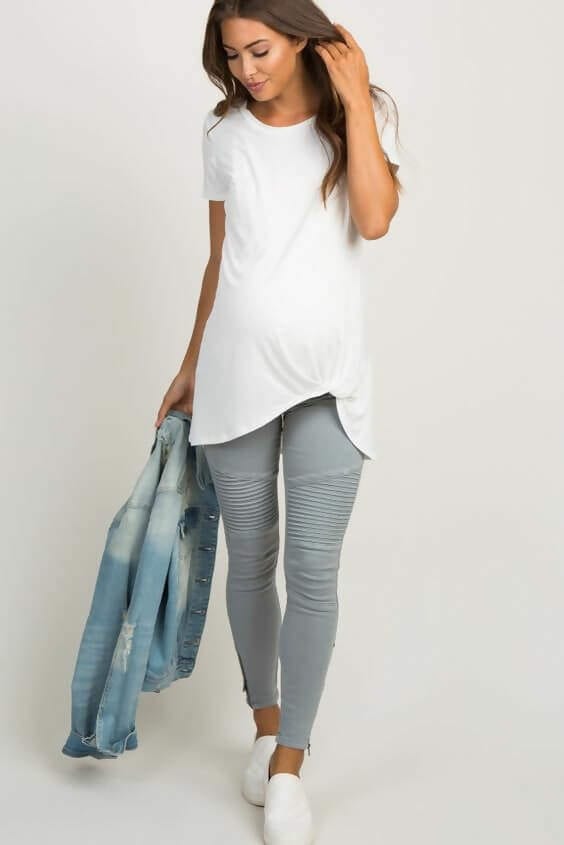 Shop light grey leggings:
Something so simple as two pairs of zippers will dress up your grey leggings outfit.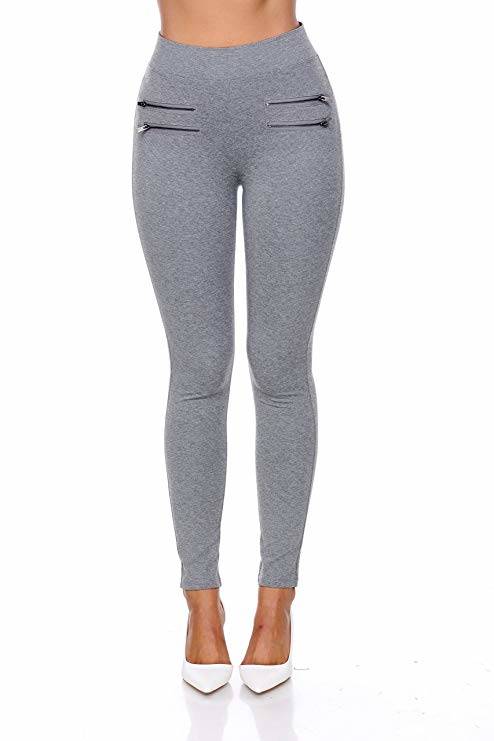 Or just fully embrace the sporty look and pair it with your favorite hoodie. Same as black, a light grey will look absolutely great with any color you like.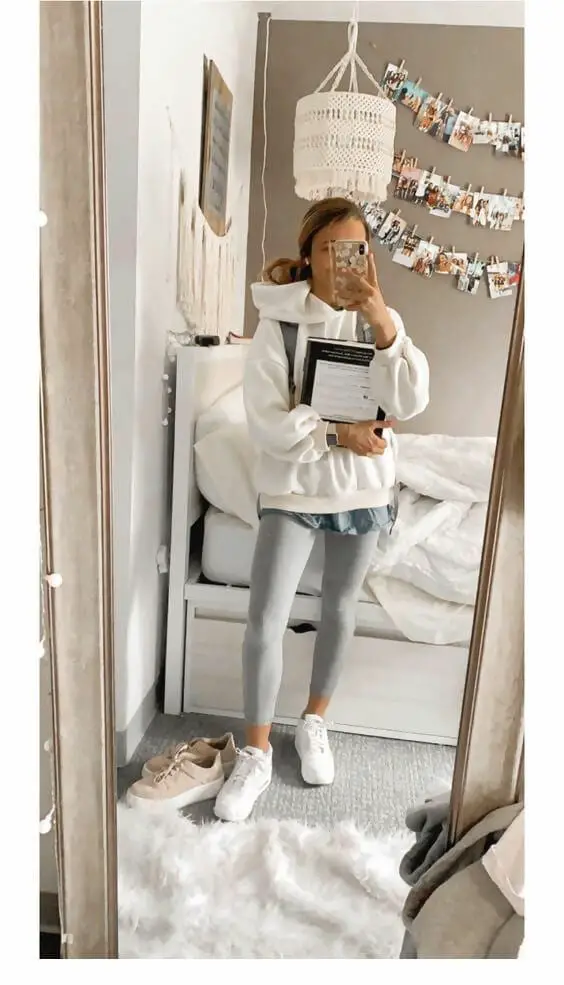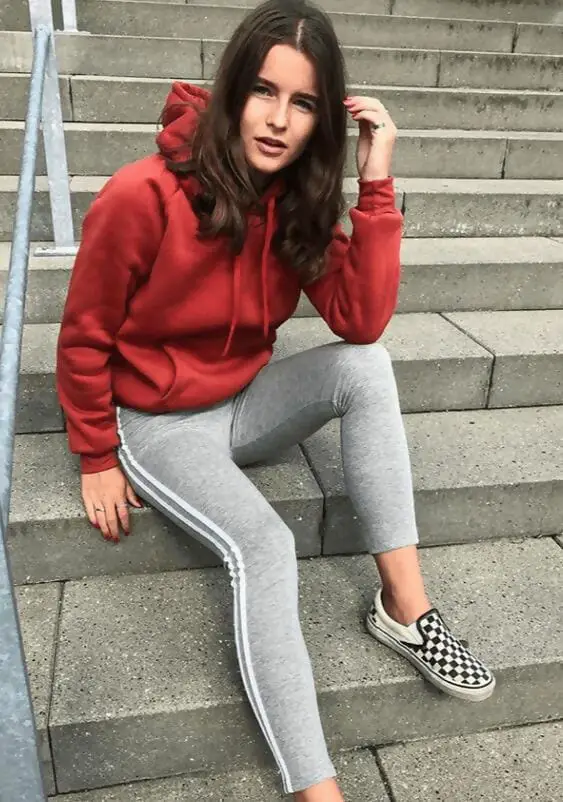 For a cute outfit with grey, leggings opt for soft shades of pink or coral, which will make you look very girly and fashionable.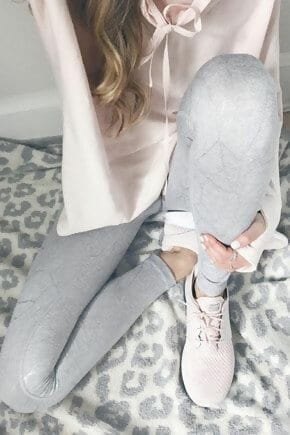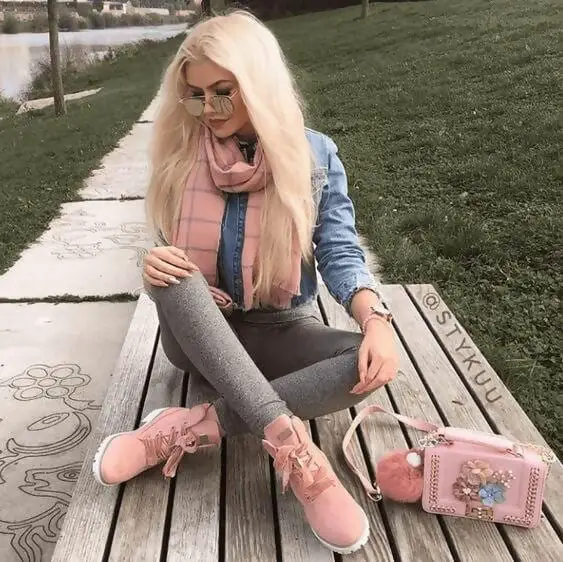 Shop light grey leggings
A simple pair of light grey leggings that you would normally wear for your yoga class can also be worn paired with casual garments like the above examples.
Grey is a super chic color for winter, and the most stylish way of rocking your grey leggings outfit is by creating a monochromatic look.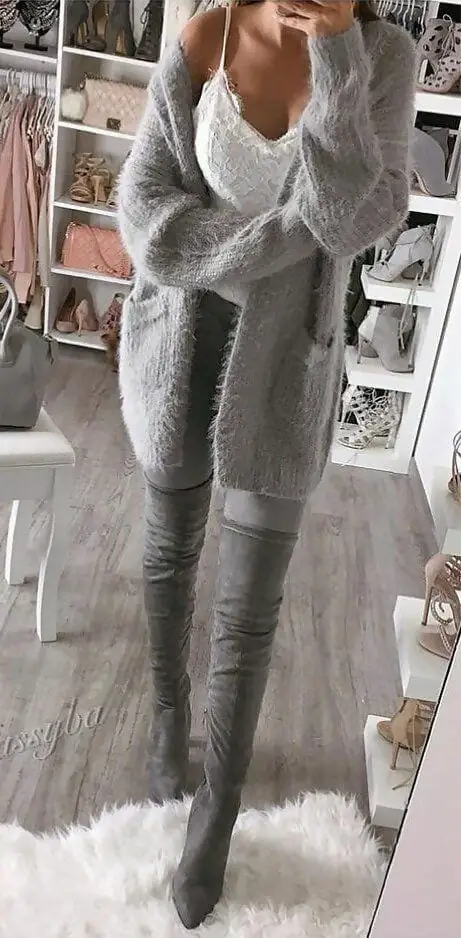 Or simply pair your leggings with black for a more dressed up outfit: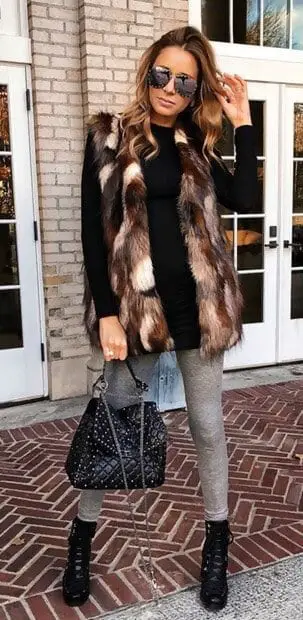 2. Silver grey leggings outfit:
A silver-grey has a shimmery look, which makes it perfect for pulling out a super cool and fashion-blogger-like outfit. This type of grey may not be the easiest color to find in stores but is definitely worth the try.
It's also not necessarily for night-time events. If you wear a super casual top, like a t-shirt, you will take your grey leggings outfit to the next level.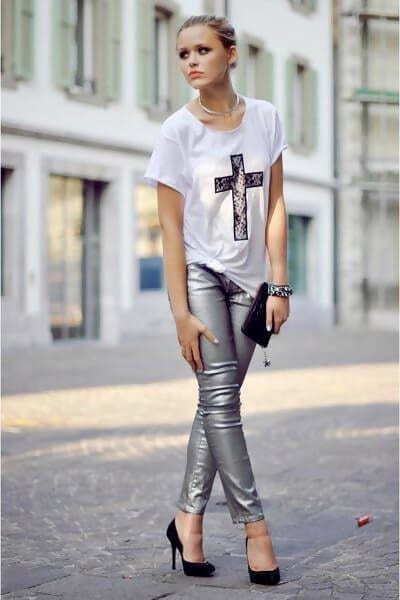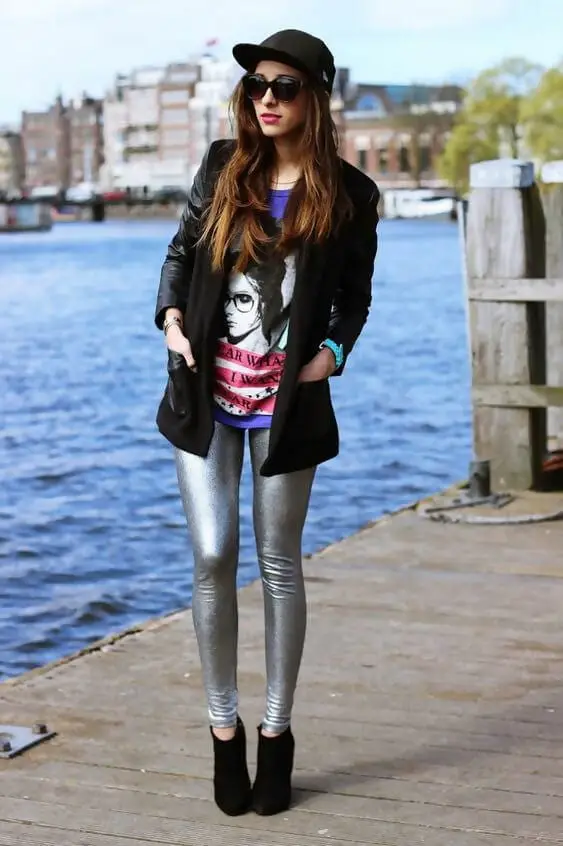 I am just completely obsessed with how cool and edgy a pair of silver-grey leggings can make you look.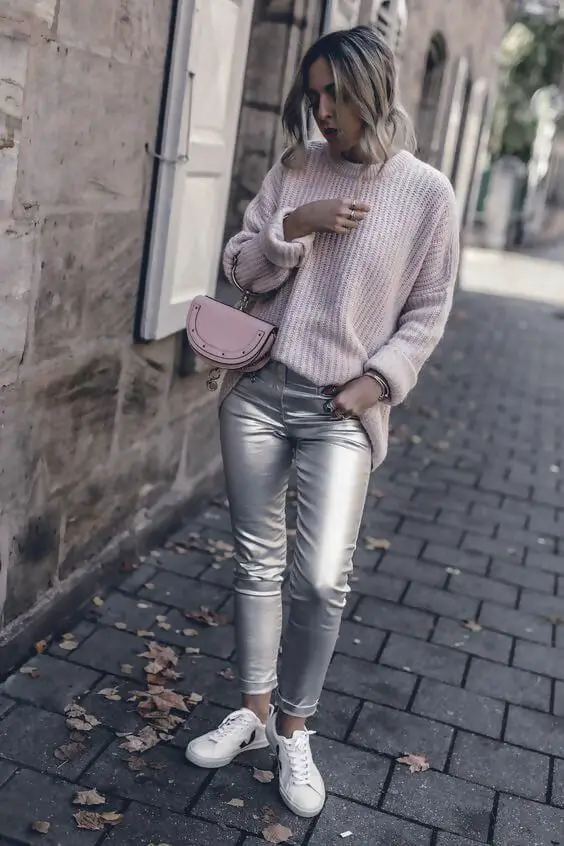 A hoodie is another casual item you can pair your silver leggings with. Add pumps and you will create a head-turner outfit.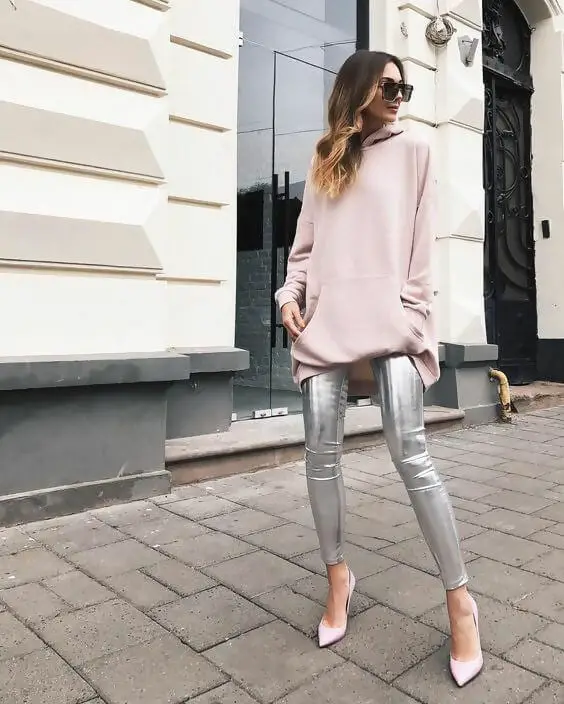 Party time? Silver leggings got your back!
For a super edgy outfit, pair your leggings with a black see-through top, a leather jacket and a pair of black ankle boots.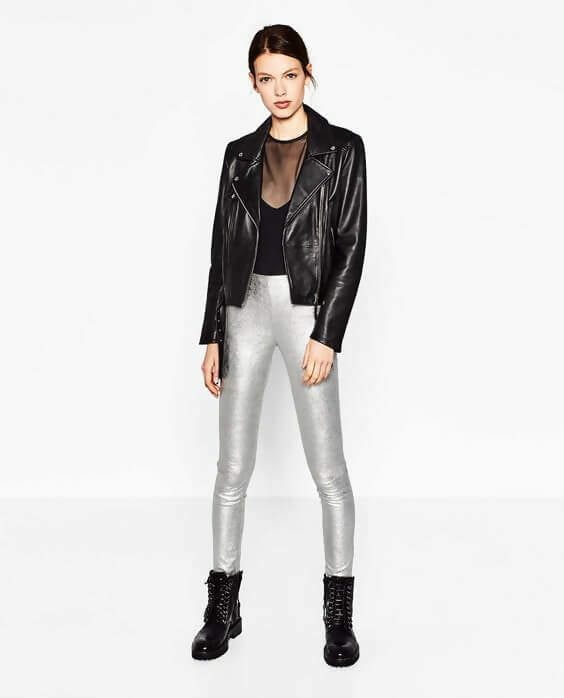 For a chicer look, you can also opt for black shoes and top, just add a cute clutch: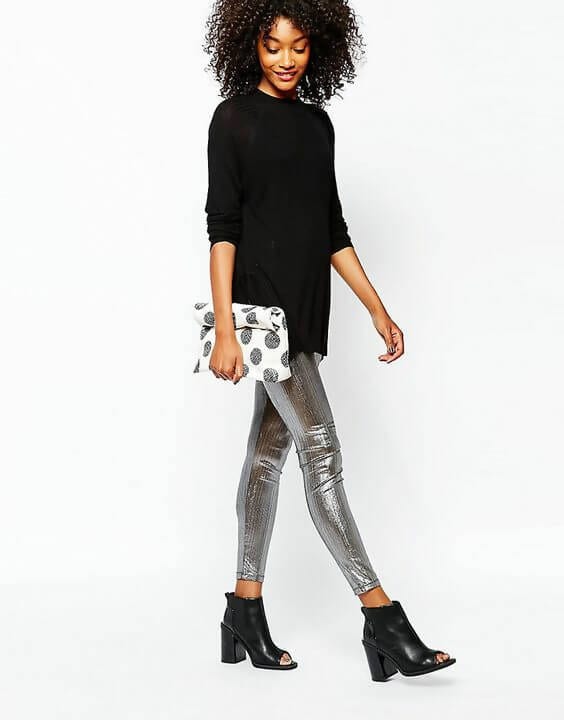 For a dress-up day-time outfit choose a white top and cute high-heel sandals.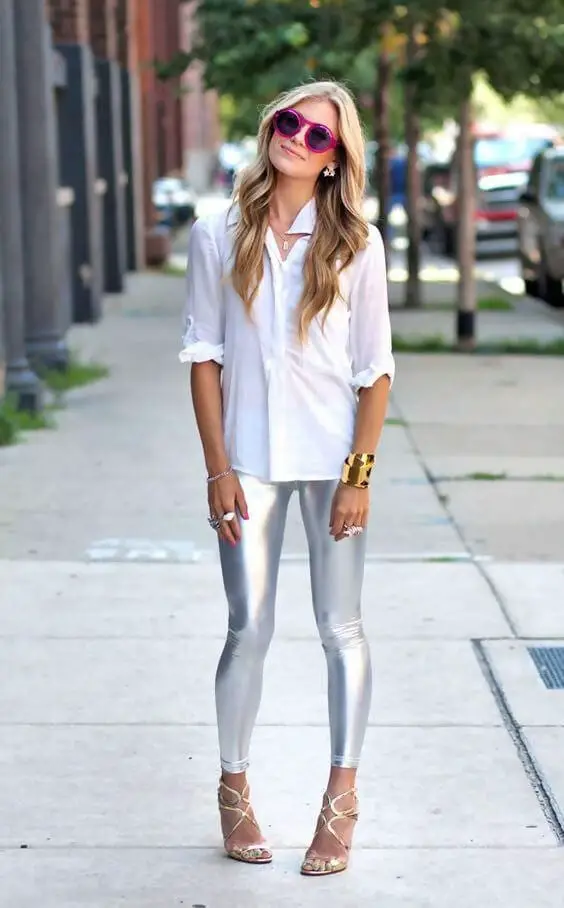 Pro-tip on what to wear with grey leggings: you can also wear golden accessories. Thinking silver clothes need silver accessory is an old-fashion idea that doesn't belong to the 21st century at all.
Pairing your silver grey leggings with a neon top or colorful accessories is a styling tip that will make you look like a fashion pro.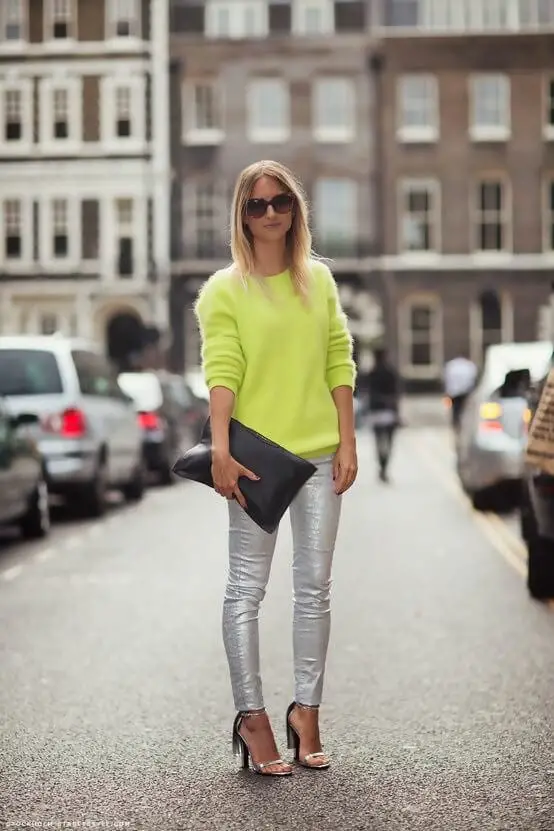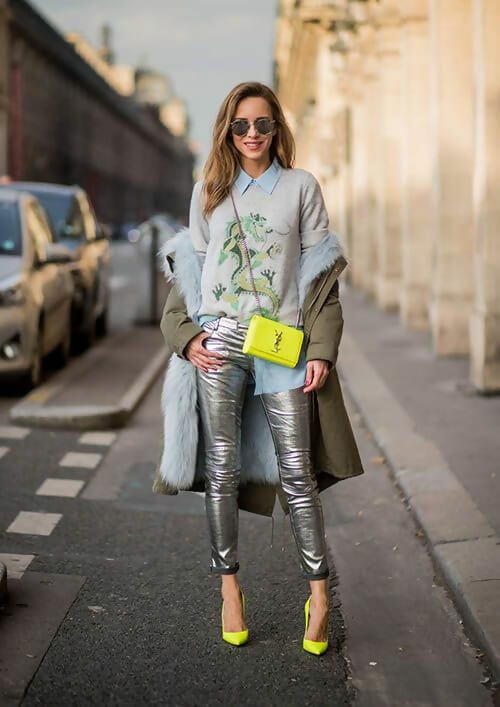 Or opt for a monochromatic silver look: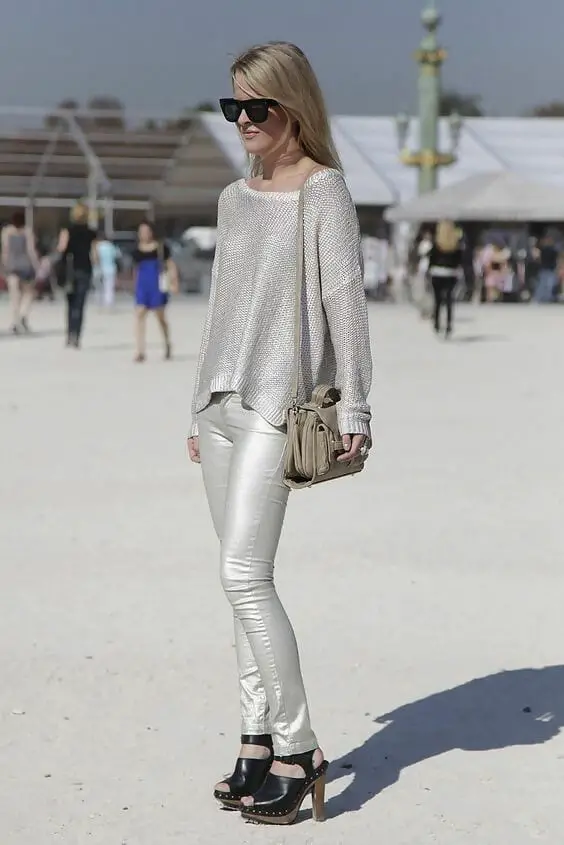 Shop silver-grey leggings: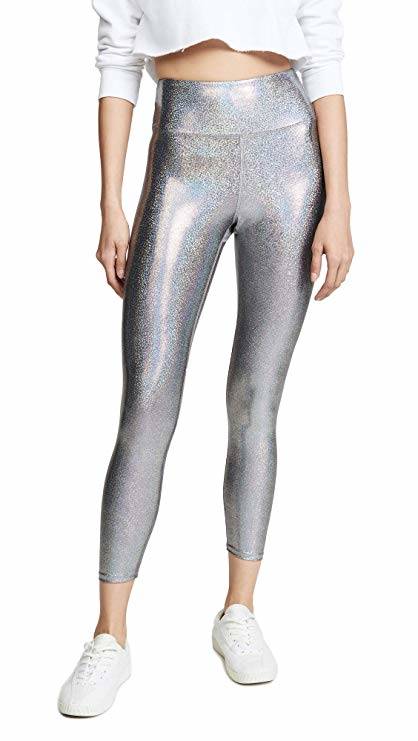 3. Heather grey athleisure leggings:
This is not necessarily a color, but it's an "effect" created by interwoven yarns of a different color, which result in a blended kind-of-color. Grey is one of the most common heather colors you can find in stores, especially for sportswear.
But as you may already know, a sporty style has become a trend we can't ignore, and that's why adding a chic pair of athleisure leggings is another great option for a grey leggings outfit.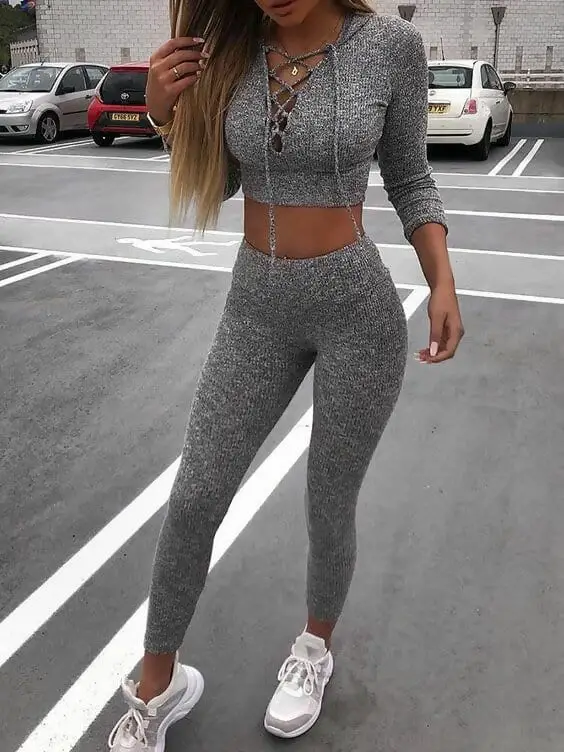 As mentioned before, you can make a grey leggings outfit super casual by wearing a t-shirt and a denim jacket. You can also wear the chicest bag you have to make the outfit much more sophisticated.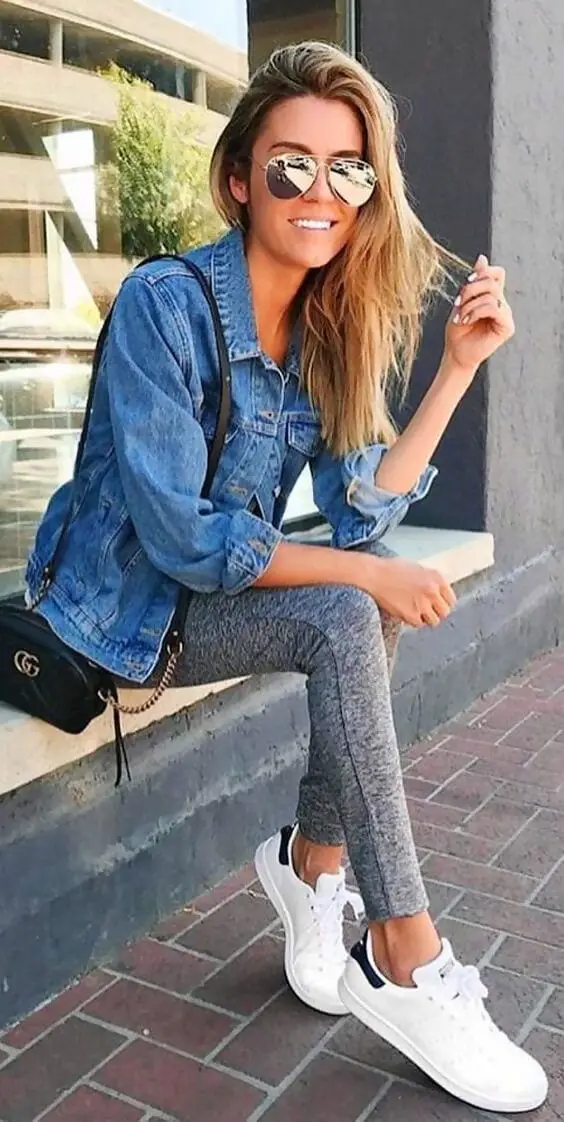 Your leggings can also have a heather grey panel but still look super cool: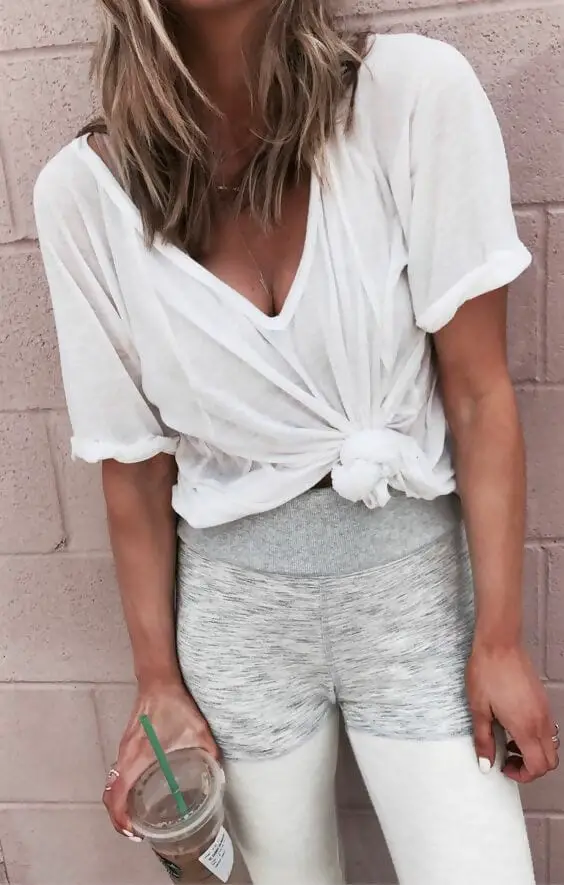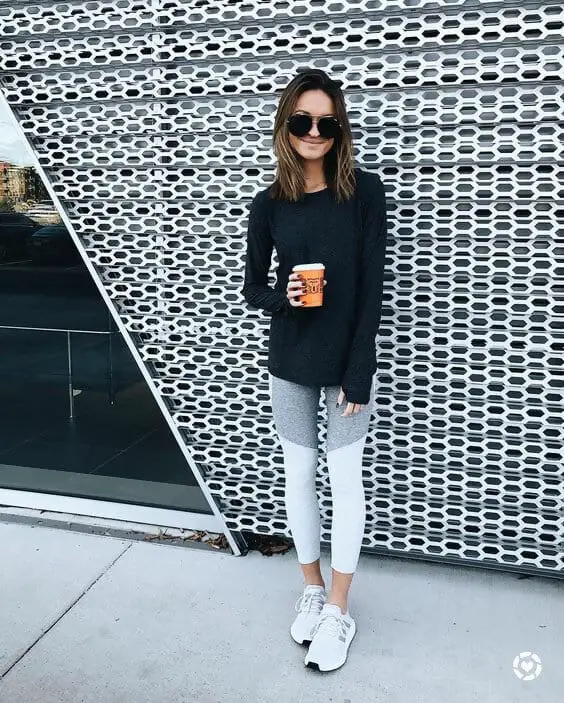 Shop heather grey leggings:
Panels or patchworks on leggings are super trendy, and they're a great option for rocking a sporty look.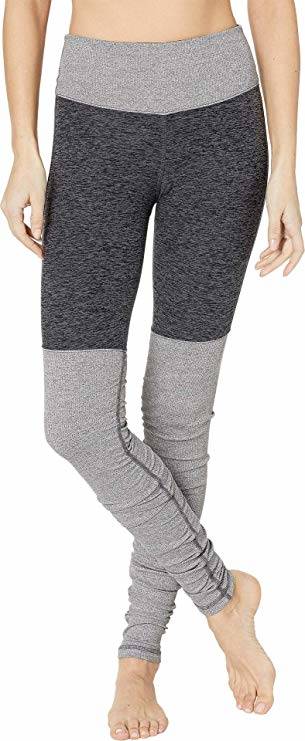 A dégradé effect is another chic option for your heather leggings: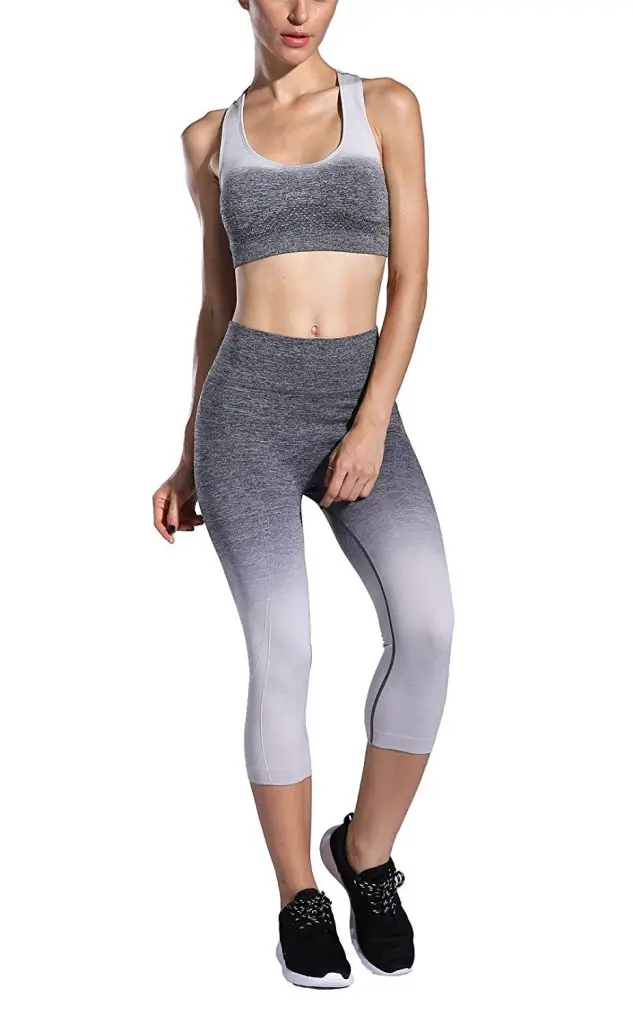 4. Dark grey (or charcoal):
All shades of grey are great options for a chic leggings outfit, but some might be a bit better for certain occasions.
For example, for work attire, a dark grey is probably the easiest shade to style, as dark colors tend to have a formal look. It's also a shade that's more flattering to any body shape, as it makes you look slimmer and elegant.
Burgundy and beige are great options for a dark grey leggings outfit, especially for winter. Wear a loose or tunic-length top to cover your hips: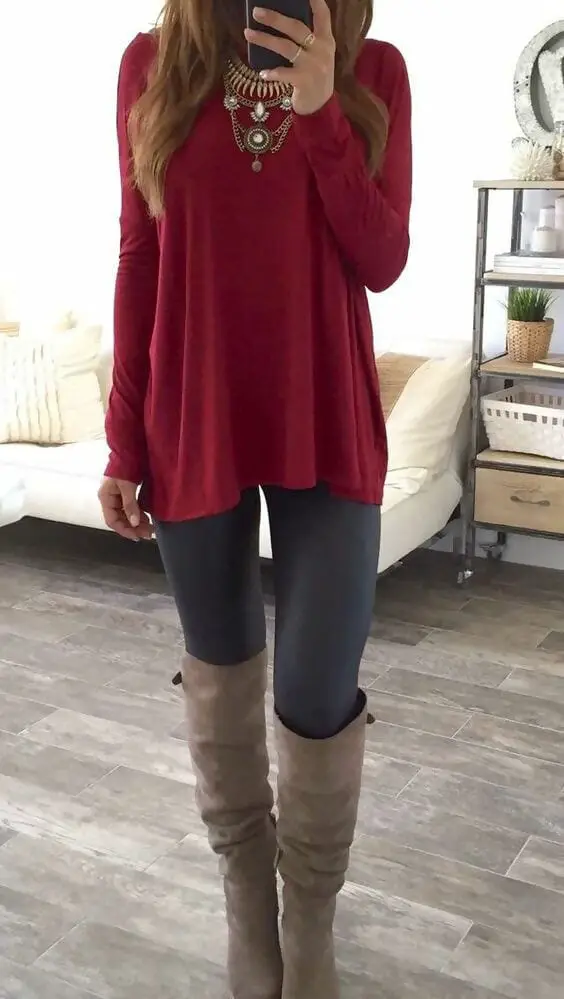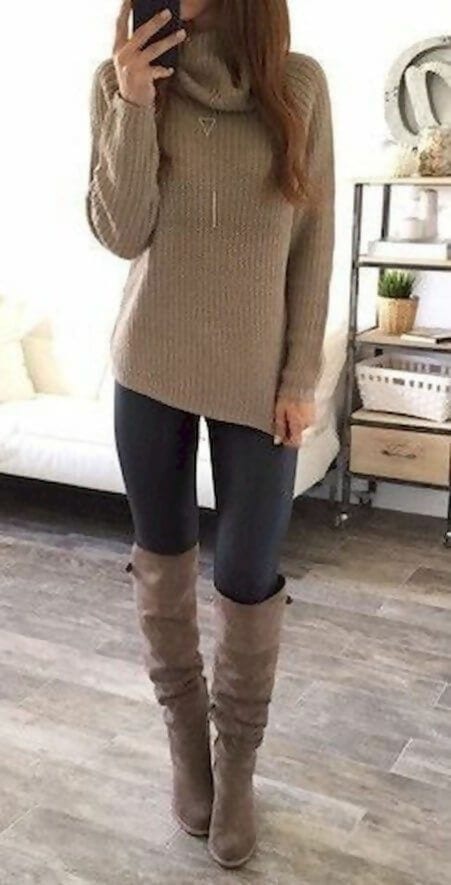 Another super stylish way of pairing your dark grey leggings is by wearing them under a mini dress, which can be black, white, or another shade of grey. This is a perfect option for work attire because you can actually wear a short dress without worrying of showing too much skin.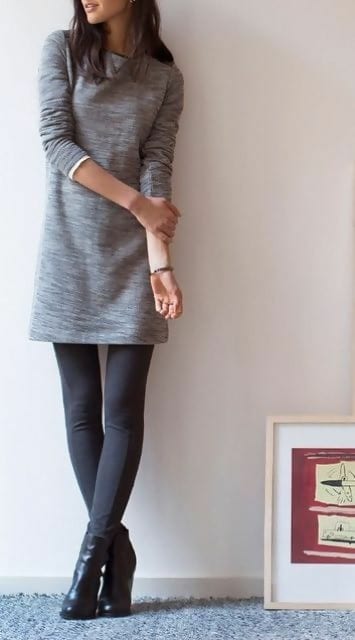 You can also wear a dress with any type of length. I love that this outfit looks as if the leggings are worn just for the sake of layering, and let's admit it, not everyone adventure into the layering game, making you look like a fashion pro.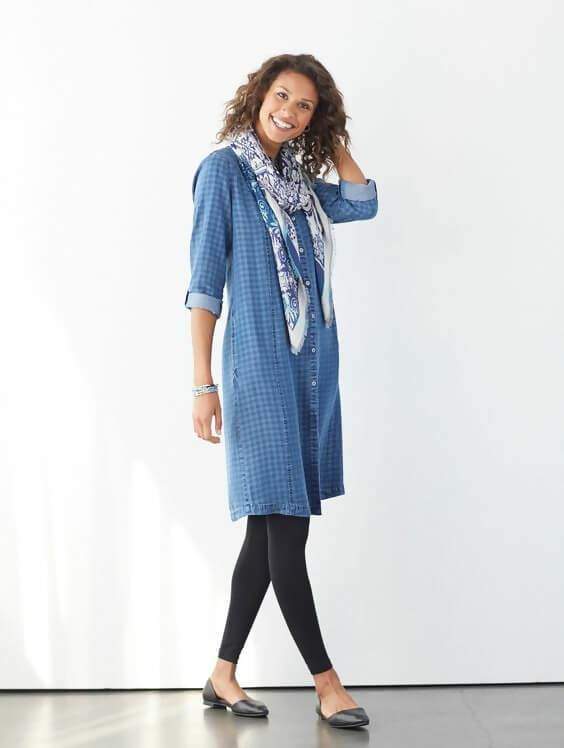 A white and grey palette for your dark grey leggings outfit will give you a sophisticated look: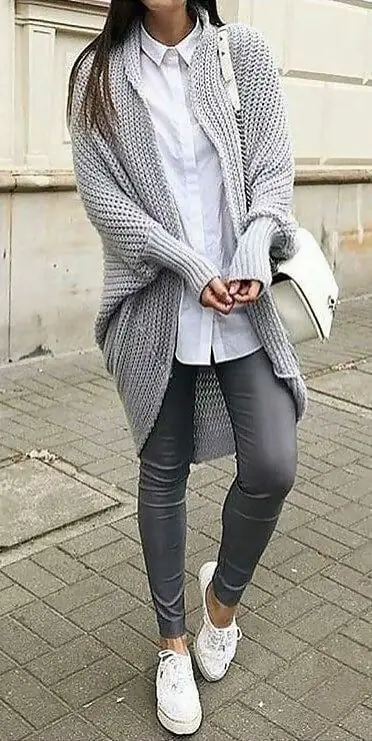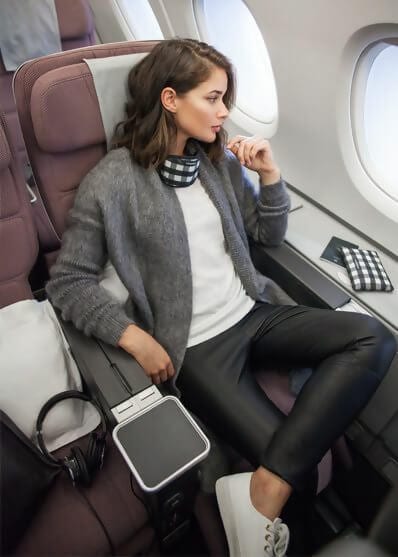 A denim jacket is another garment that will look absolutely fashionable (as always) with your dark grey leggings: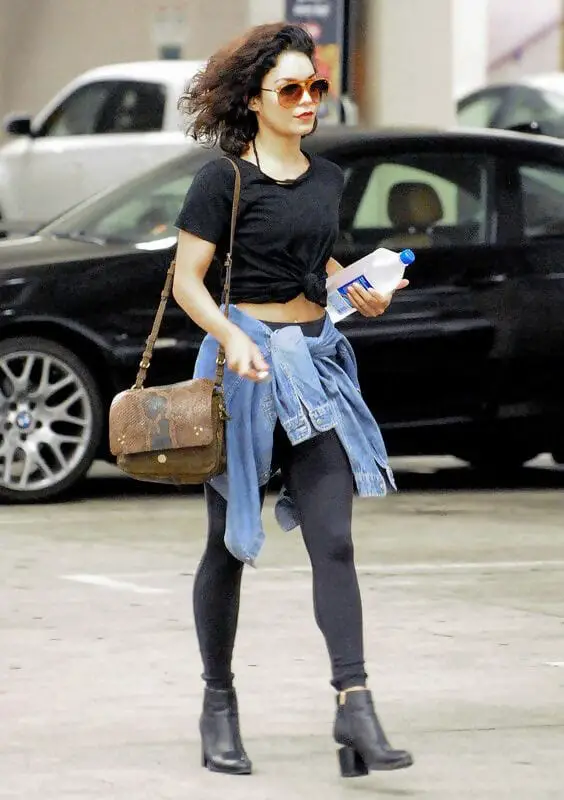 The best part of a dark grey leggings outfit is that this color is so close to black, you can wear absolutely anything with it. Don't be afraid of choosing bright colors!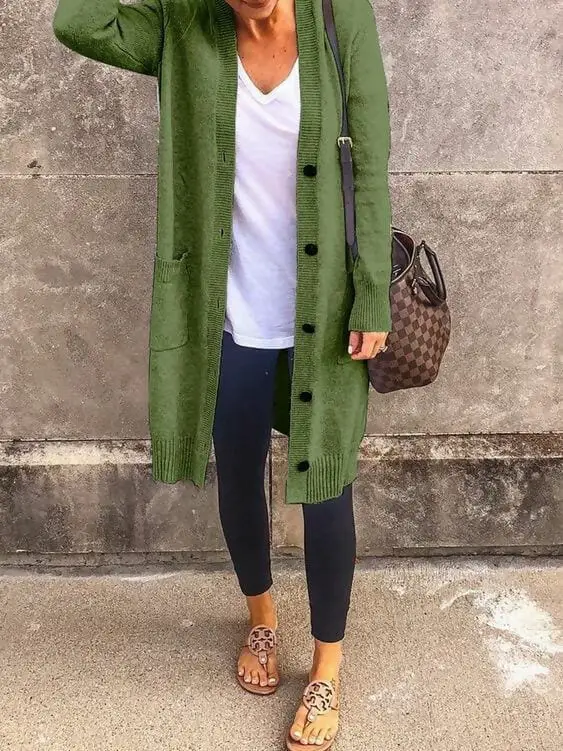 What about a textured or printed dark grey leggings? They don't have to be solid, that's for sure. Look how cool these camouflage leggings look: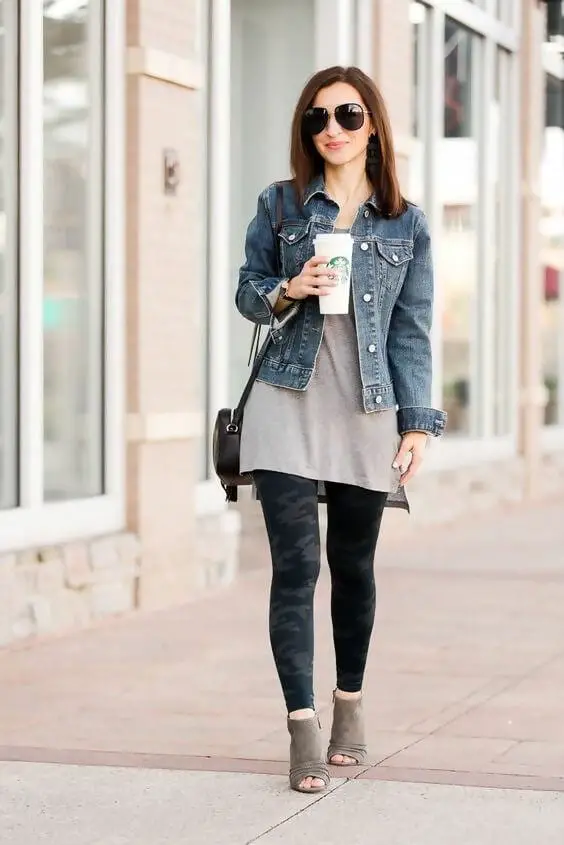 Shop dark grey leggings
Camouflage leggings, as shown above: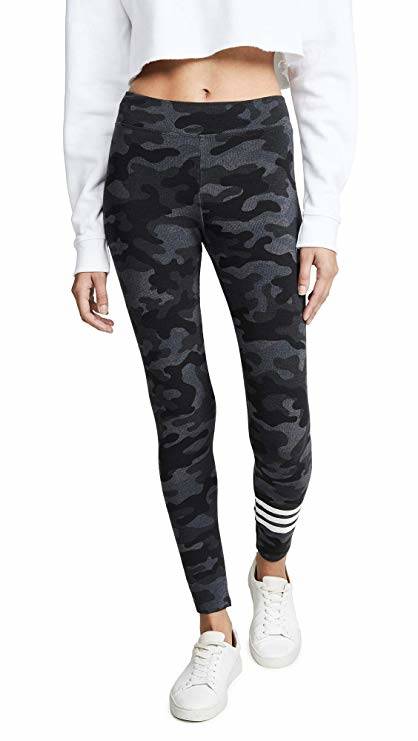 Same as the camouflage example, a ripped legging can also be an edgy alternative for your grey leggings outfit.
Or just a regular solid charcoal legging:
Wrap up:
Forget about your black leggings, grey is definitely the new black.
As you have seen, this color can look ultra-chic and casual at the same time, while creating a beautiful color palette paired with the right colors. Black, white, burgundy, pink, pastels and denim are some color examples with which a grey leggings outfit can perfectly harmonize.
From athleisure wear to dresses, grey legging can be very versatile as well, and that's why I love them so much. You can pull out a sporty chic outfit and a stylish work attire with the same pair of leggings.
Now that's what I call an investment!
Check The 10 Best Affordable Leggings Under $25 >>