Skirts are one of the most comfortable fashion pieces we can ever own. They can be flirty, fun, sexy, edgy or classic, making them ideal for any personal style you may feel identified with.
But high low skirt outfits take the skirt game to another level.
They have become highly popular among fashion icons, which has made thousands of stores and brands seek this beloved skirt style. The perks? They're stylish, girly and super chic, perfect for pairing with a plain white t-shirt or a tucked in button down, or even a cute crop top!
But every rose has its thorn, and this type of skirt is not the easiest to style, as it can be a bit too girly for some girls or might not be that flattering to others. For example, for really short girls, a high and low skirt is not the most ideal thing to wear, as it tends to shorten your lower body.
Either way, who plays by fashion rules? My rule of thumb is that I can wear whatever I feel comfortable in, and if it happens to be a high low skirt, then so be it (even if I'm really short)
High low skirt outfit ideas
If you're wondering what to wear with a high low skirt, then this article comes in handy as I've compiled 5 different stylish ways of wearing it which I'm sure you're going to love.
So take notes and enjoy!
1. Crop top
High low skirts are usually high waist, and what's a better way of wearing a high waist bottom than with a crop top?
You can choose a bustier or a tight tank for a cute look. I love how this girl is wearing a casual and minimal outfit in such a stylish and effortless way. The secret here is to choose pieces that are either monochromatic or simply solid and keep your accessories to a minimum.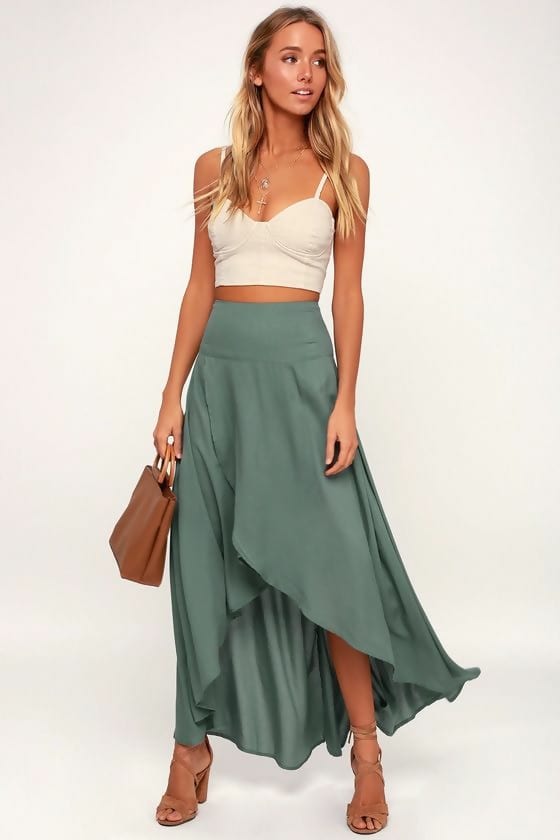 You can also choose the same approach but for a formal look, like a cocktail party or a fancy dinner.
As you can see, it's all about keeping your outfit colors harmonized and toned down. And let's not forget to wear super cute heels because either way, you're going to be showing off your feet.
The secret to high low skirt outfits is to make the best of it by wearing cute shoes. Whatever type you choose, remember that the high and low contrast makes your feet very noticeable.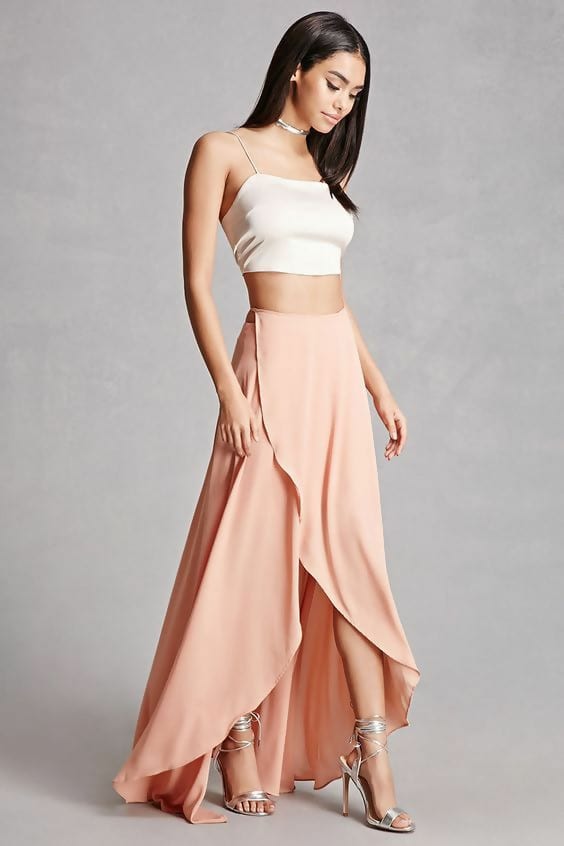 A printed high low skirt outfit paired with a simple tank top looks effortlessly cute. Finish your look with your favorite sneakers (the whiter the better!):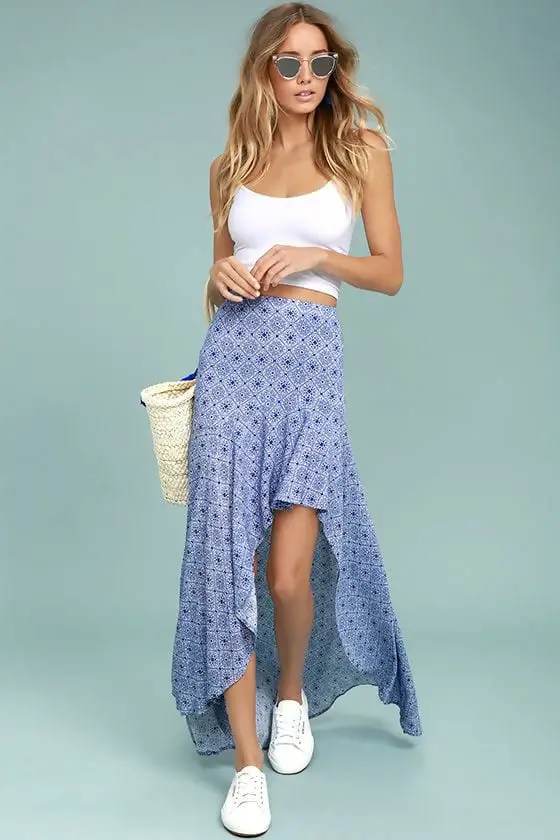 A plain crop top t-shirt can also do the trick, which will demonstrate that styling a high low skirt is a no brainer. If you don't own a crop top t-shirt, you can either cut it or tie a knot wherever you please: front, side or back.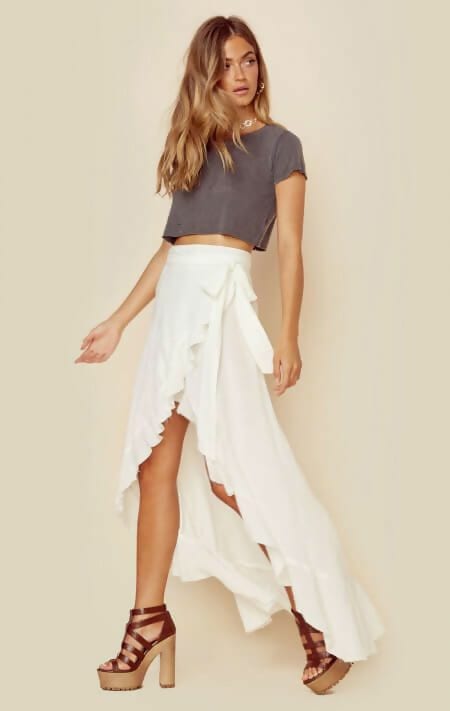 You can opt for a solid t-shirt or a slogan, mini printed or logo t-shirt. Here are some cute examples that are easy to recreate: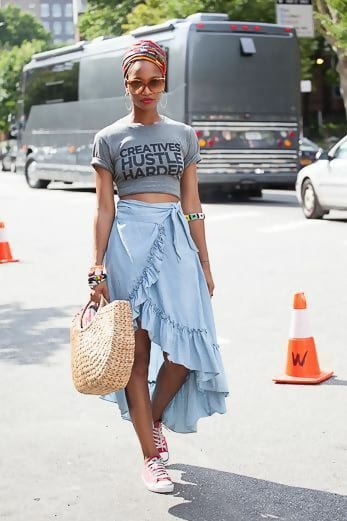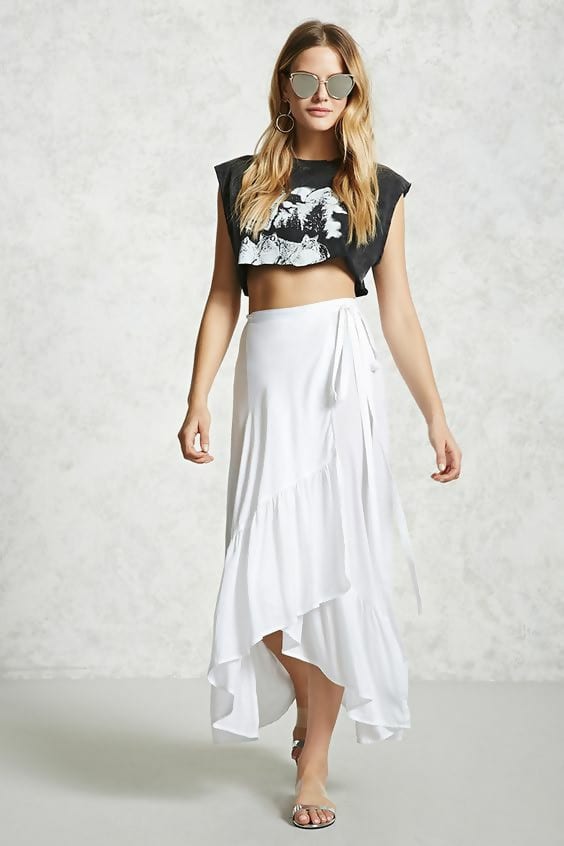 For a sweet and feminine look, you can also choose a wide pleated high low skirt. This girl, for example, is wearing a cute lace top paired with a pale bubble gum pink pleated skirt, and looks absolutely cute: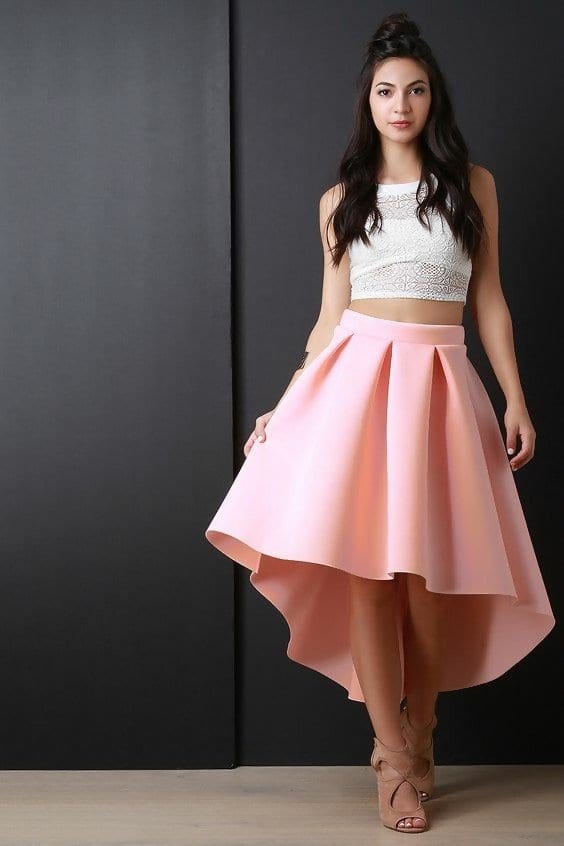 2. Tight tank top
Wearing a plain tight tank top along with your high low skirt is one killer look for sure. And the best part: it's so effortlessly cute that you will look like a total fashion pro.
A tight tank top is another perfect match for this type of bottom because a high low skirt is usually flowy and long, so the tightness and simplicity of a tank top makes it the ideal complement.
You can create a chic look with a high low ruffled hem skirt. I love how this woman decided to keep the colors toned down, making her skirt the star of her outfit.
I'd suggest that if you have a high low skirt with an interesting silhouette like the one below, then you should also stick to toned down colors: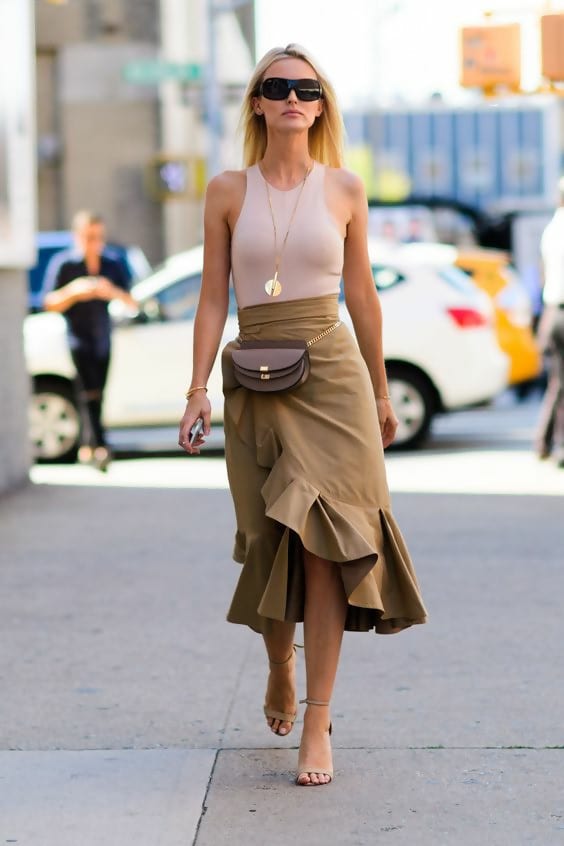 This is another example of an outfit that keeps the colors very simple and harmonized. The skirt has a cute print so she decided to make the most of it by matching similar colors on the top, belt, and shoes: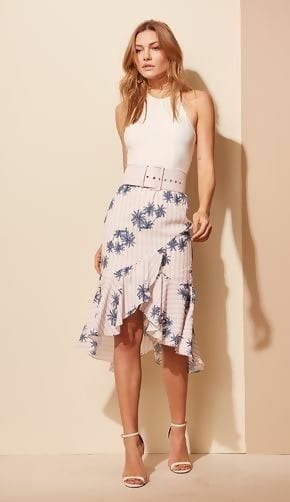 For a formal look, you can do exactly the same trick: choose the darker color on your printed high low skirt and match it with your top, shoes, and clutch, like these examples: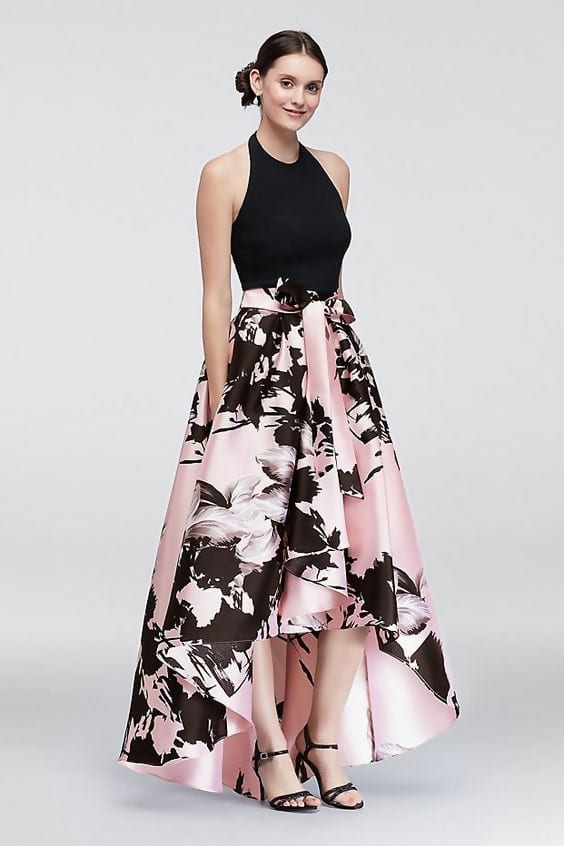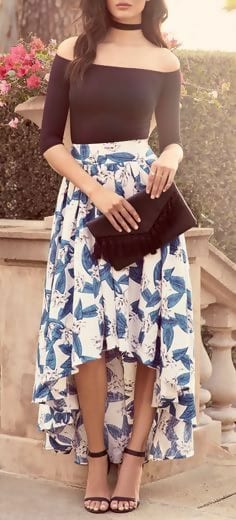 3. Lace top
If your style is girly, cute and sophisticated, then opting for a lace top will do the trick. Pair your high low skirt (which is already a very feminine piece) with a lace top to make the most of your unique style.
This is a cute look for a beach getaway, a country concert, or any casual event where you want to dress up a bit more: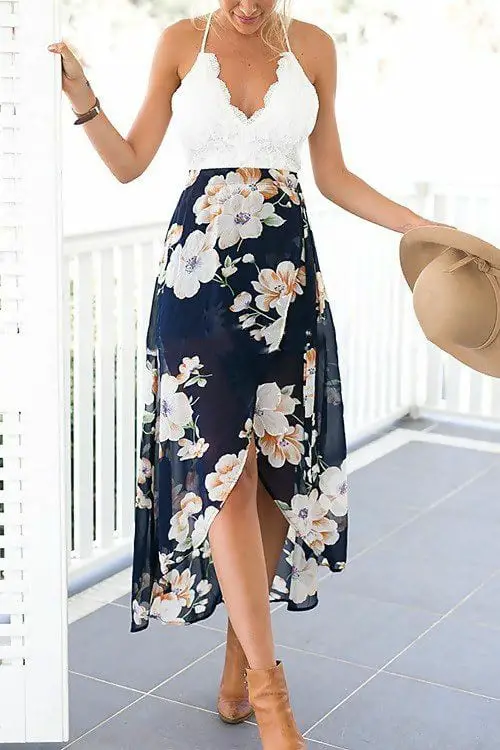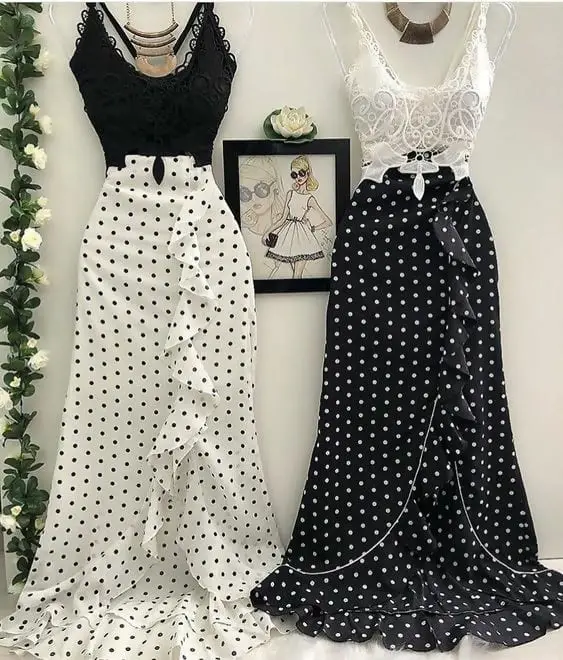 Your top doesn't need to be 100% lace. It can have a subtle added detail on the sleeves' hem for example, or on the border of the cleavage: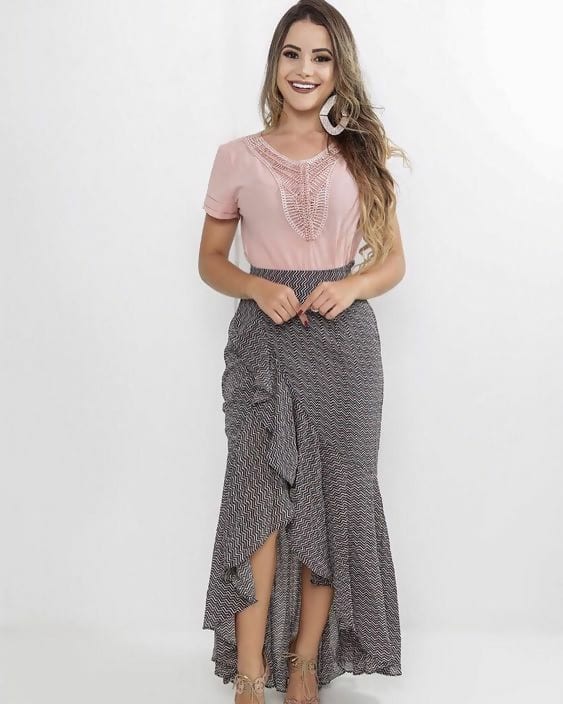 4. Long sleeve top
For colder weather, wearing a stylish long sleeve top will definitely save your day, proving that high low skirt outfits can be worn throughout the year.
All you have to do is choose one long sleeve top that's not too lose, and if it is, then tuck it inside your high low skirt. A plain long sleeve tee can definitely bring the best of your outfit: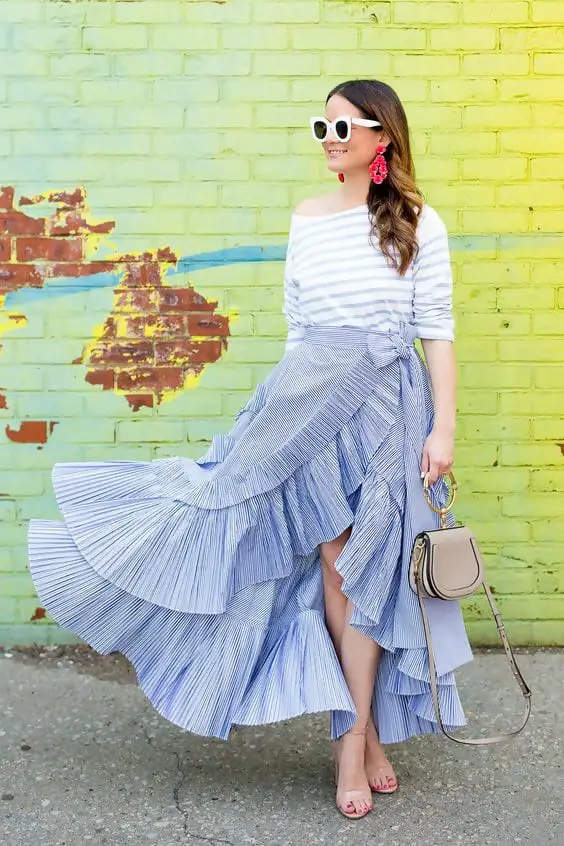 An embellished or ruffled long sleeve top looks also super chic paired with your skirt. I love how this lady chose to wear a black and white high low skirt and kept the top black and her shoes black and white, playing with only two colors in order to harmonize them into one whole outfit: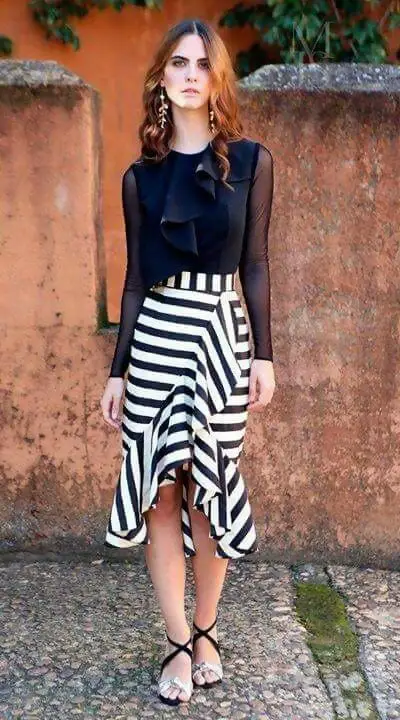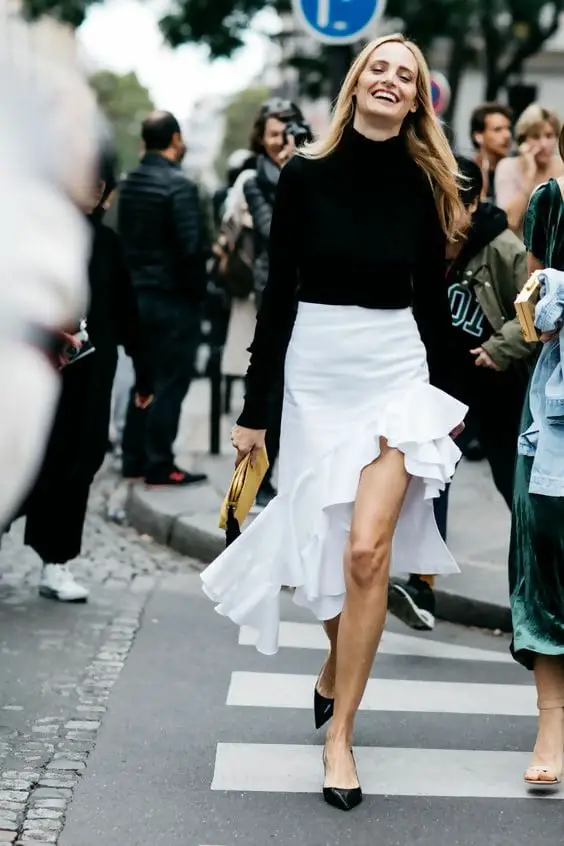 Wearing a top with statement sleeves is another chic way of completing your outfit. A high low skirt is already a super stylish piece, and if you add this type of tops, then you will create a head-turner kind of outfit: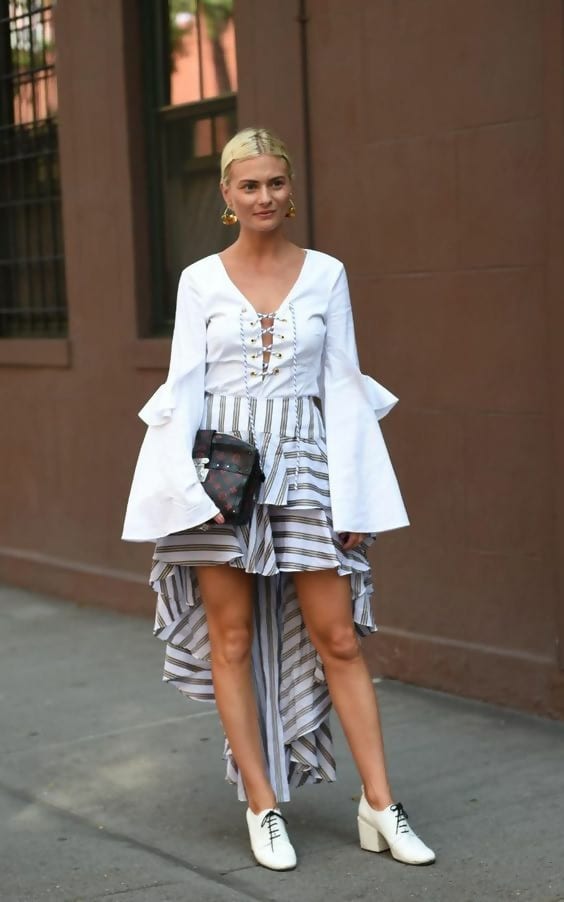 5. Two-piece sets
If you're still wondering how to wear a high low skirt, then go for the obvious: match it with your top. You can find so many cute two-piece sets nowadays, that I strongly suggest you try one.
It's definitely one of the cutest ways of making the most of a high low skirt.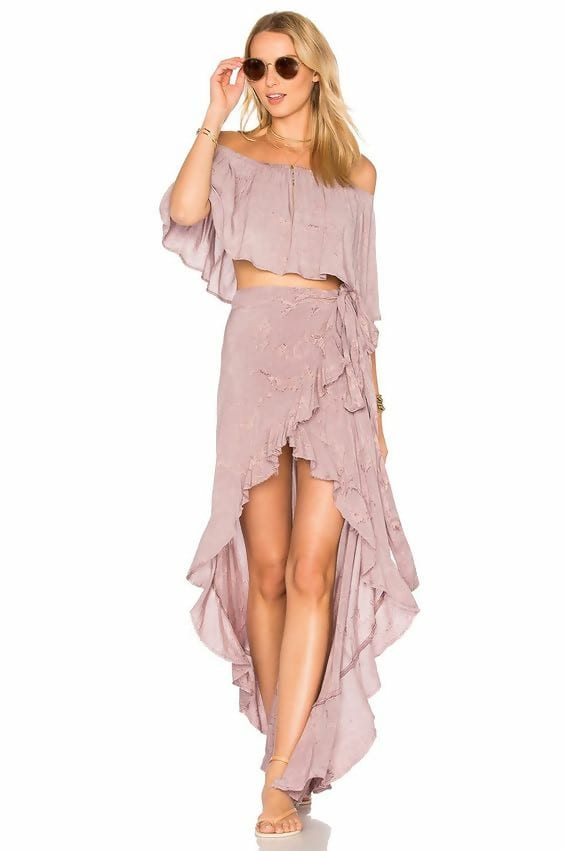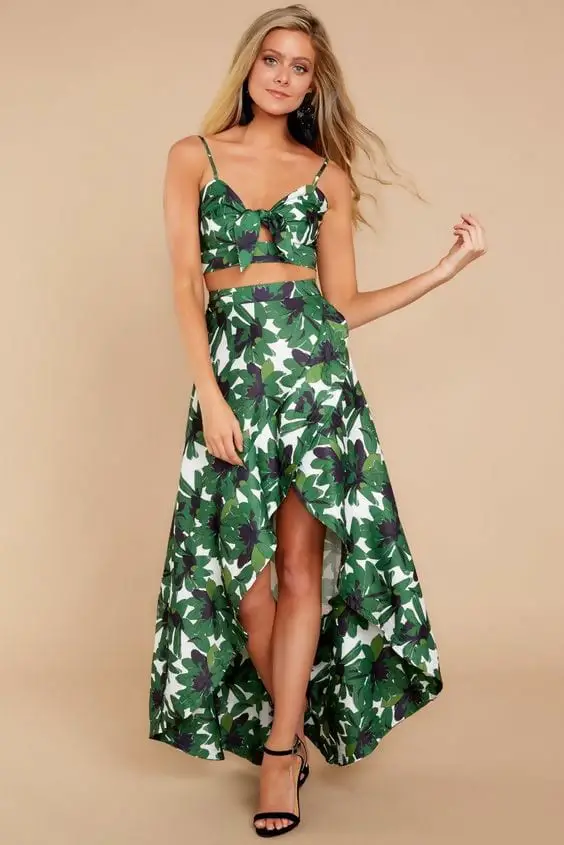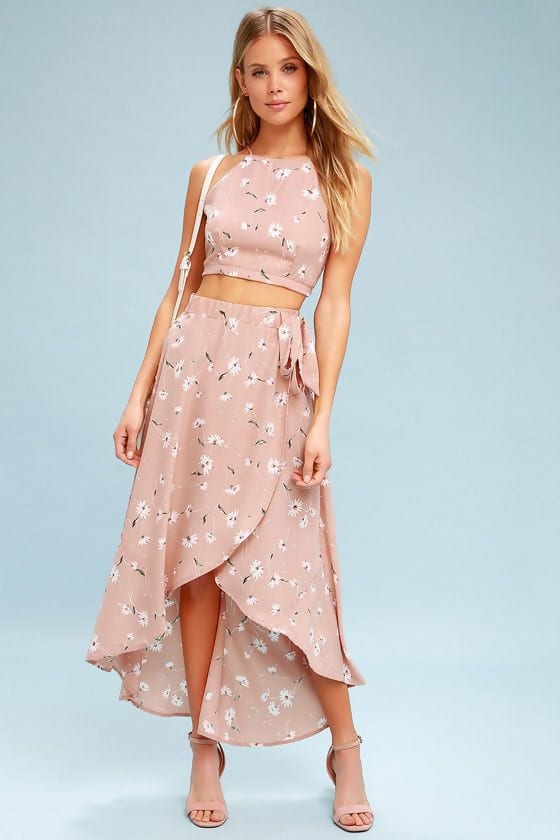 Wrap up:
High low skirts have been a trending piece for some time now, but sometimes we might find it difficult to come up with ideas on how to pair them because they are already a statement piece all by themselves. That's why choosing the right tops and accessories can become confusing.
I hope these 5 ideas on how to wear a high low skirt will help you transform a so-and-so high low skirt outfit into a cute and stylish outfit in the most effortless way possible.