It's time to party!
Who doesn't love holiday parties? They've got everything you need: friends, family, good music, food, dancing, games… you name it!
That's the reason why everyone gets excited whenever they host or are invited to a holiday party.
But dressing up to the occasion may not be the easiest task out there. So many possibilities and so little time to think it through.
The one thing to remember is that holiday party outfits should reflect the spirit of the holidays. They should be fun, sophisticated and perfect for some hours of dancing.
What to wear to a party
Sequins, embellishments, velvet, metallic… These are the most popular fabrics when it comes to dressing for these events. They all serve one same purpose: make you look stunning without even trying!
So whenever you find yourself struggling in finding the perfect party outfit, remember to go with the option that makes you look special and sophisticated.
And if you've just been invited to a party, then consider yourself lucky! I'll guide you through many cute and chic holiday party outfits that will make you look like a star.
I'll show you the best fabrics and materials to wear to a party, making it easier to pick the perfect outfit that suits your personal style.
1. Sequins
Sequins have always been on the fashion radar. They elevate any outfit in such a sophisticated and elegant way, that makes it hard not to fall in love with sequined fabric.
The best feature of sequins is that you can go simple with the silhouette: a classic straight and short dress will do the trick.
That's why if you're looking for simple party outfits, a sequin little dress should be your go-to option. It is simple in terms of silhouette, but it will definitely make you look glamorous and sophisticated.
In other words, there's nothing bad about wearing a simple dress, as long as it has sequins!
A slip-on dress it's another example of how a minimal silhouette can bring the best of sequins. A pale gold sequined dress is a perfect option if you have olive or tanned skin.
You can choose nude color shoes to make your sequin dress the star of your holiday party outfit.
For a unique and special party outfit, try wearing an edgy sequin blazer dress. Shoulder pads and sequins bring an instant 80s glam vibe that will make you look like the coolest girl in the party.
A cute baby doll sequin dress is a cute option for a sexy holiday party look.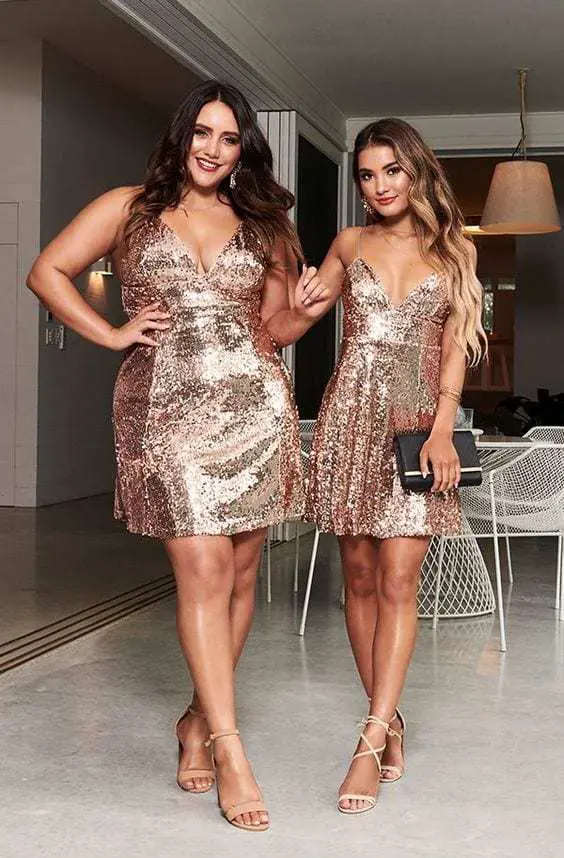 As you may have seen on these outfit ideas, styling a sequin dress is a no-brainer. Sequins don't need much in order to look stunning, that's why wearing nude or neutral accessories are the perfect option to style your sequin dress.
However, that doesn't mean you shouldn't take sequins to the next level. You can wear bright color heels to contrast your sequin dress's color in order to create a killer look.
Math your heels' color with your lipstick to finish your holiday party outfit:
2. Embellishments
Sequins are perfect for a glamorous look, but an embellished dress is the best option for a sophisticated but feminine party outfit.
You can find endless embellished dresses online nowadays, so trying to pull off the best holiday party outfit should be as easy as getting dressed.
Flower motifs are a cute idea if you want to highlight your feminine style.
You can spice up your holiday party outfit with an edgy leather jacket:
A mini dress is always a good idea for a fun party look and, if it's embellished, much better:
Pearls are another embellishment you can opt for. Pearls are classic and sophisticated, so if you're striving for a classic and chic look, a pearl embellished dress is your go-to option:
And, of course, an embellished dress doesn't mean it should be covered in embellishments. This is a perfect example of how embellishments can be a small but statement part of your look:
Embellishments can transform a classic silhouette into a cute and modern dress. That's why embellishments have always been popular among nightwear dresses: everyone can rock them and look stunning, regardless of their personal style.
3. Velvet
The velvet frenzy is a trend that has been recurrent in the last decades. Fast forward to 2019, and velvet is still one of the coolest fabrics you can wear.
But velvet is especially perfect for parties because of its sophisticated and elegant look. In other words, when it comes to what to wear to a party, remember that you can never go wrong with velvet.
You can find many stylish and edgy dress styles in almost any store, so choosing the perfect velvet dress for you shouldn't be a hard task.
From the sexiest dress to the most classic one, velvet is one of the safest options if you want to pull off a cute holiday party outfit.
A dress with draping looks absolutely gorgeous on a velvet fabric. The shiny effect that draping creates makes anyone look super chic and stunning.
Ruffles are another thing that makes velvet shine and turns heads. A flowy velvet dress with ruffles will make you the star of the party.
Make the most of a velvet dress by dancing all night long and letting your outfit shine with you.
A maxi dress is another great idea if you're looking for an elegant holiday party outfit. It's also the best look for a winter party because not only will it make you look super stylish, but will also keep you warm and cozy.
For an edgy and modern look, a pair of black ankle boots will never fail. A maxi dress and these shoes will make the perfect party combo:
If you're petite and want to rock a velvet outfit, my suggestion is to wear one that shows some skin: a slit cut, a deep cut neckline, sleeveless… Whatever you prefer.
The reason is that velvet is a heavy-looking fabric, and wearing "too much" of it will swallow any petite woman.
This is a perfect example of a velvet dress that's perfect for slim and short women:
4. Metallic dresses
Last but not least, metallic dresses are the best option for a killer party look, hands down.
Metallic pieces are super edgy and sophisticated, which makes them perfect for a fun party outfit. If you want to turn heads, opt for this type of dress.
Metallic dresses can be silver, gold, bronze, rose gold, multicolor… So many cute options to choose!
If you want to opt for a classic look, silver or gold metallic dresses are what you need. But only because they're classic colors doesn't mean they're boring.
Here are some cute gold and silver dress outfits you can recreate: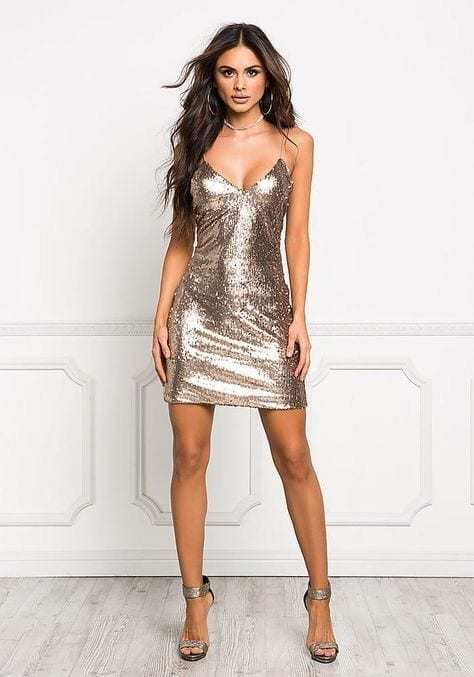 If you want to throw some major 20s vibes, a metallic fringe dress is a super cute option to wear to a holiday party. Think of how stunning you'll look while you dance!
A fringe dress is an absolute head turner outfit, no doubt about it.
However, if you want to pull off the best holiday party outfit, I suggest you to choose a colorful metallic dress. It's chic, fun but most of all, different and unique.
Not everyone's a fan of color, especially when it comes to dressing for a party. That's why this is your best chance to showcase a fashionable style.
Wrap up:
Everyone loves a fun holiday party, but dressing up to the occasion may not be the easiest task out there.
However, that doesn't mean it's not achievable. This article has guided you through the best fabrics and materials to wear for a cute holiday party outfit.
If you know which fabrics are perfect for a party, then searching for the best outfit will come easily. All you have to do is know which kind of statement you want to make.
For a classic and sexy look, opt for sequins. If edgy and sophisticated is your thing, velvet is perfect for you…
Last but not least, enjoy your holiday party! Your outfit should be cute and stylish, but it will do nothing if you're not wearing a big smile and a confident attitude.
Enjoy!