Turning up the cuff of your jeans is just like a phenomenon to all fashionistas. Be it some busy street of Los Angeles or a fashion magazine, you would often find women of different age groups flaunting their legs in cuffed jeans. Do you want to roll up your jeans in the most trendsetting style? What if you do not know why and how to cuff jeans? No worries! You are in luck as we have got something to save the day.
Many of our readers have been asking us to share some ins and outs of cuffed jeans. Keep scrolling to know the basic hem rolling strategies; add them to your repertoire to get a transformed look for your jeans every day.
Why Roll up your Jeans?
Cuffing jeans is a simple task that helps in uplifting your look in multiple ways. Many times, girls roll up their jeans' hem simply because they are following a trend, without even knowing the pros or cons of doing so. Before we let you know about how to cuff jeans fashionably, you must have some idea about the reasons why you should go with this particular trend.
Cuffing your pants not just shows off your funky style; it highlights your statement shoes as well.
Cuffing provides you a chance to step out in a new style every day, in the same old jeans.
Besides fashion, finessing your jeans' hem accurately adds more to your overall outlook.
Roll up your jeans because tucking it (even skinniest one) inside your shoes not just gives a stumpy look, it also causes an irritable scrunching to the wearer.
On multiple occasions, I have seen girls wearing denim that is pulled over their boots. That too seems quite odd to eyes (bootcut and flared jeans are two exceptions in such cases). So, rolling it up to an inch or so can be the best way to avoid becoming a fashion disaster.
If you don't cuff your jeans, you are likely to have no break in the leg line at your ankles. And if your ankles don't peek (even an inch of it), you will get a petite look.
Trendiest Styles for Cuffing your Jeans
Every girl comes with her own style to roll up her jeans—and that very style says a lot about her personae. Since there are no hard and fast rules about cuffing jeans—whatever style you pick, becomes a trend. Without much ado, we are going to share a bevy of techniques to cuff your jeans perfectly.
The Once-Rolled Cuff
This one is the most common yet trendy way to cuff your jeans. To make it, fold the bottom hem for once only—the cuff should hit your ankle bone. For leg-lengthening effect, it is essential to leave an inch of space for ankle showing. This type of cuff goes great with a mule or any other type of ankle boots.
Most importantly, to make the cuff sit flat against your ankles, avoid rolling the hem too narrowly. A narrow roll would end you up on a ring-like circle around your legs—which does not seem pleasing to eyes.
The Raw Hem Cuffs
Jeans with cutoff hem are around each season. No doubt they look cool. But sometimes that dangling sensation of fringes might cause irritation. To get rid of that feel (or to follow the trend), simply pull the bottom hem once (just like in once-rolled cuff) and there you go. Adjust the length to as narrow or as wide fold as you want.

Thick Roll Up
Calling it the most versatile cuffing style would not be wrong. Rolled cuffs are best made with boyfriend jeans. To complete your look, get it paired with ankle boots and sneakers. To create a perfect cuff, follow the below-given steps;
The first step should be the pinching and tucking of the bottom seam of your jeans.
Now fold up the hem of your jeans twice or thrice to create a solid and thick cuff right above your winter booties.
The size of the cuff should not be less than an inch—or else you would have to face weird bunching around your legs.
Iron the crease of the cuff to make it symmetrical and smooth.
Extra Large Cuffs
This one is a comparatively bolder style (recommended for heightened girls only). Extra wide cuffs are perfectly paired with common footwears like heels or sneakers. This cuffing style flatters with wide-leg or a stiff straight jean only.
Making this cuff is quite simple, just go for one big (3 to 6 inches are the recommended length) fold on each leg (with equal measurement) and that's it. Like other jean cuffs, it should also hit above your ankle bone.
The only con of wide cuffs—they tend to shorten your leg line and give you a petite look. So, the short-height girls with thick legs must opt for smaller cuffs only.
For the ladies who wear denim jeans, one giant fold is the best option—because thick denim texture gives you a tough time in rolling up the hem twice or thrice. Still, if you do that, it would give an odd bulky look.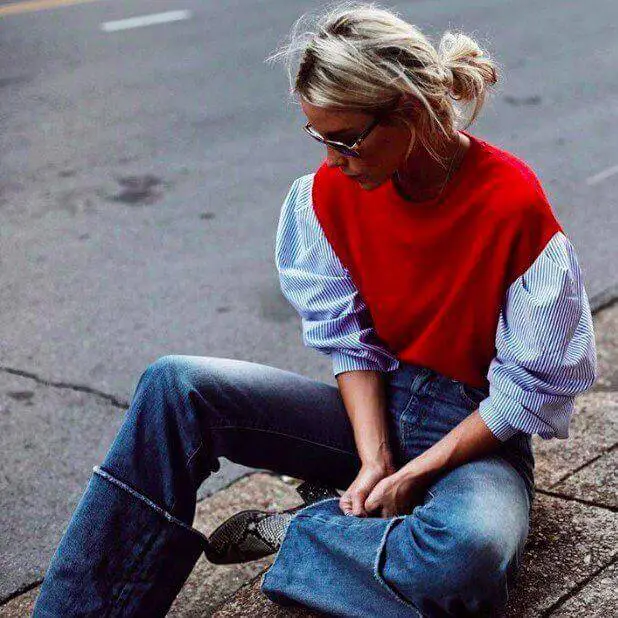 Skinny Cuff
Skinny jeans are an essential part of every girl's fashion wardrobe. You can't play with your skinny jeans' hem, the way you can with others like boyfriend jeans or the straight trousers. For a perfect skinny cuff experience, opting for a streamlined silhouette is highly recommended. To make a cuff out of skinny jeans, follow the steps given below;
Begin with folding the hem to half an inch.
Refold that cuff to another half inch and make it double cuff of half an inch in total.
Smooth that cuff out with your hands or by using an iron to get a balanced look.
The Under Cuff
In your quest of doing something different, give a try to the under-cuff style. This one looks fab with slim-fit jeans. It is also a great way to shorten the length of long trousers. Easy to create, all you need is to follow these steps;
Fold your jeans' hem to one to three inches (it's up to you).
Press the seam of the fold to get a solid crease.
Now flip the pressed cuff in an inside-out position.
Iron the flipped area to get a firm seam.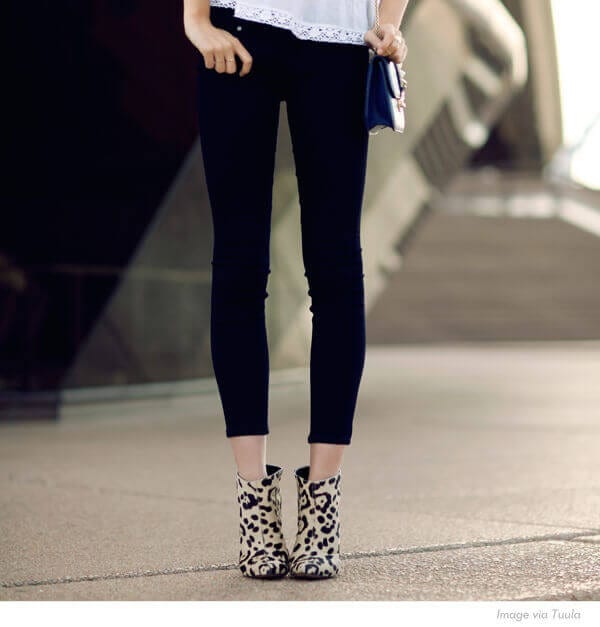 Messy Cuffs
Sometimes the messier you are, the chicer it seems. Same is the case with the messy cuff style. To create this look, read on;
Fold your jeans' hem in one or two inches' cuff.
Now hold the cuff from one side and refold a corner.
Leave the opposite corner with a single fold.
Repeat the same process with the other leg—no ironing, please.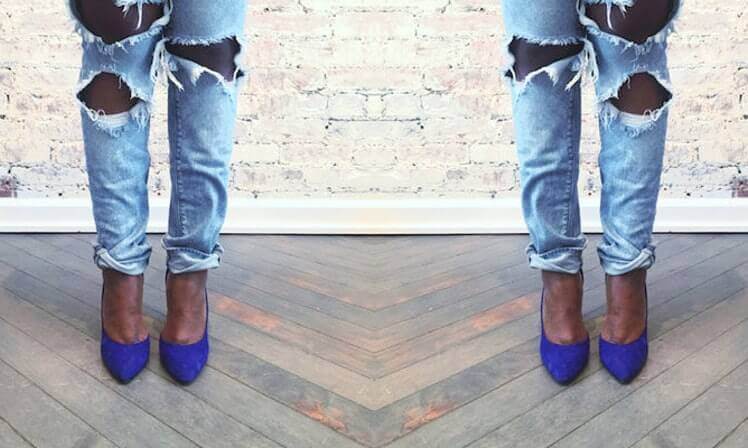 Things to Remember!
Overdoing is forbidden—rolling too little or too much, both are unacceptable. Cuff length should always be proportional to your height.
Before you start cuffing, make sure you are wearing your jeans and footwear. Doing so would be helpful in determining the right amount of ankle showing.
Whichever shoes you are wearing, make certain there is an inch's gap (minimum) between your jeans and shoes. That little glimpse of skin is essential for getting the illusion of elongated legs.
You are free to fold once, twice or thrice—that depends on the style you are looking for or the type of jeans (denim or chino) you are wearing. Just be sure that each fold is equal to the first one.
Wrap up:
Concluding this fashion guide, I am pretty sure to have solved the most confusing dilemma of every girl's life i.e.—how to cuff jeans perfectly? Next time when you are about to create a sassy cuff, be sure, you are accessorized with the most glamorous items like—statement sandals and vibrantly-hued blazers. Did you find this article helpful? Would love to get some feedback from you.