Everybody comes with different body shape. Most of the Asian girls have a pear-shaped body. What is the pear-shaped figure? In the pear-shaped body, bottom and thighs are relatively thick and waist is thin. On the whole, the upper body is slenderer and the lower body is relatively thick (just like a pear). Most of the girls around us are of this size, isn't it?
How to dress up a pear-shaped figure effectively.
Because the troubles of the pear-shaped figure are mainly connected to the lower body area (the heavier one), so we need to pay special attention to the selection of the lower body staples. Read on to know the best lower body outfits.
Skirt
To do: A-line dress, pleated skirt, midi skirt, high-waist skirt and pencil skirts that are not too tight.
Not to do: Ultra-short tutu, high slit dress, stretch pencil skirts are not your cup of tea.
In general, pear-shaped girls look better in skirts than pants. However, not all skirts are suitable for pear-shaped figures. Selection of style and length is a critical step.
To understand the situation, take a look at the figure of Kristina Bazan, a Swiss blogger. She is often discussed as a perfect demonstration of a pear-shaped body. Can you see if she is pear-shaped?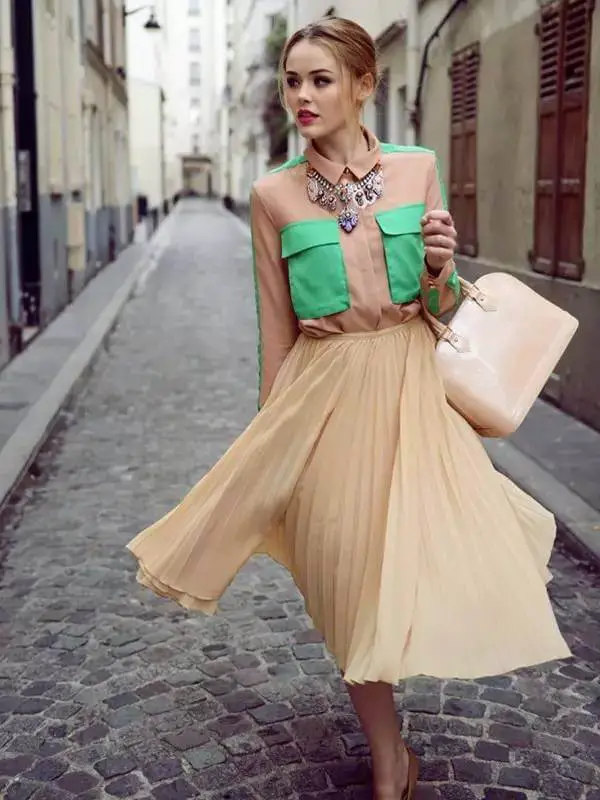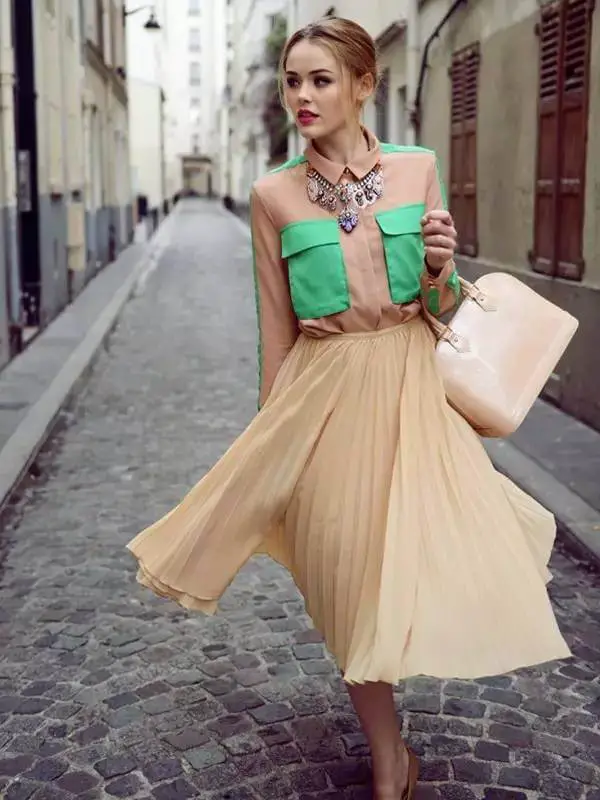 Take a look at her bikini, the waist is very thin, but the thighs are thick and the hips are wide. It is a typical pear-shaped figure. ▼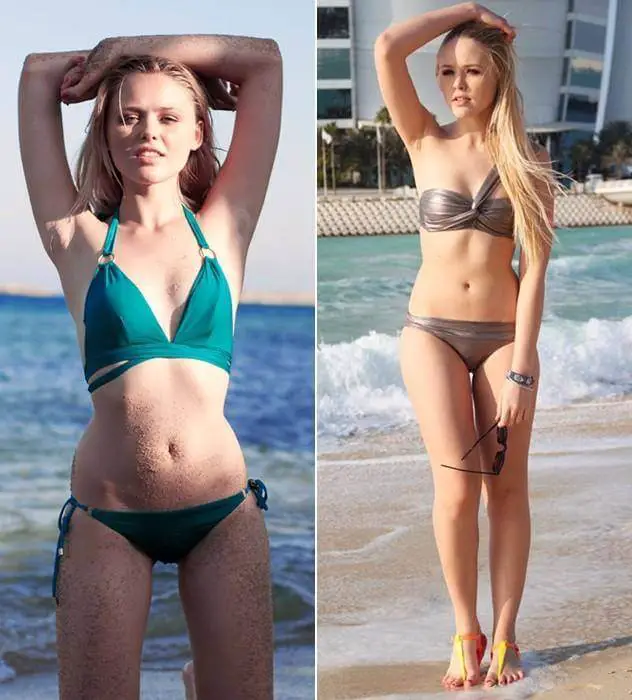 As I said before, the A-line dress (stamp blue can be reviewed) is suitable for all girls, especially the pear-shaped girls can wear A-skirts without any pressure. ▼
Yes, Rihanna is a typical pear-shaped figure, and her example is often cited whenever we talk about this body type. ▼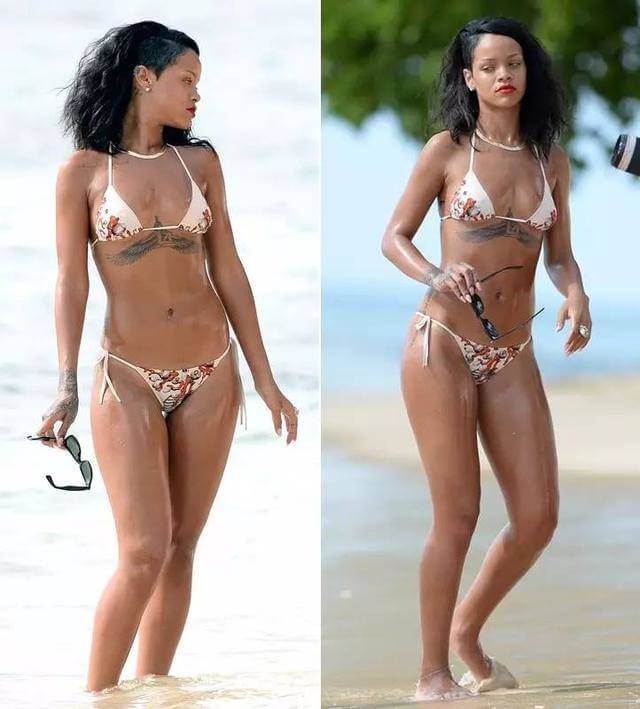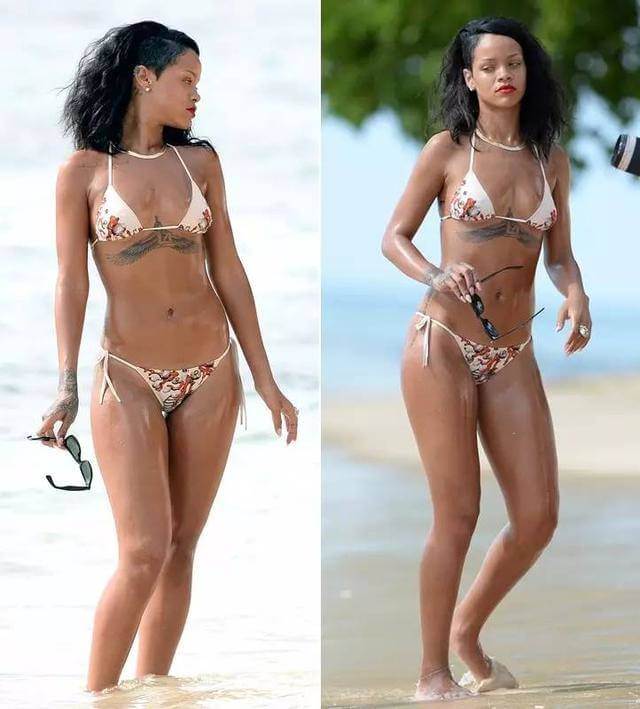 Queen B–Leighton Meester from 'Gossip Girl' also has a pear-shaped figure, but her arms and legs are slim. ▼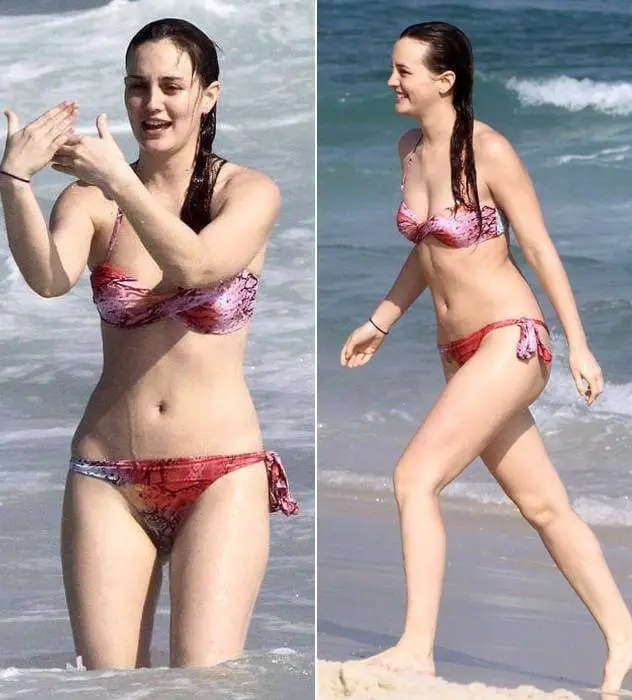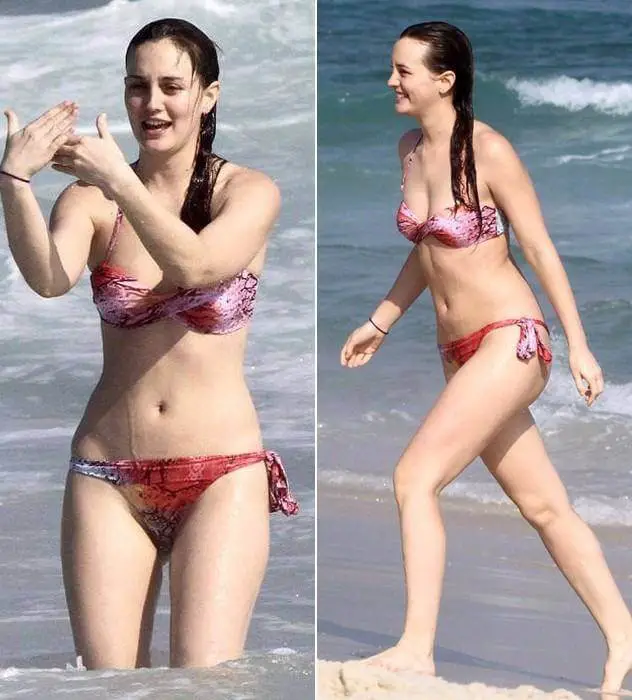 Whether it is a dress or a half skirt, be sure to pay attention to the length of the skirt. Choose the length that covers your buttocks and thighs. You can freely expose the lower leg part. ▼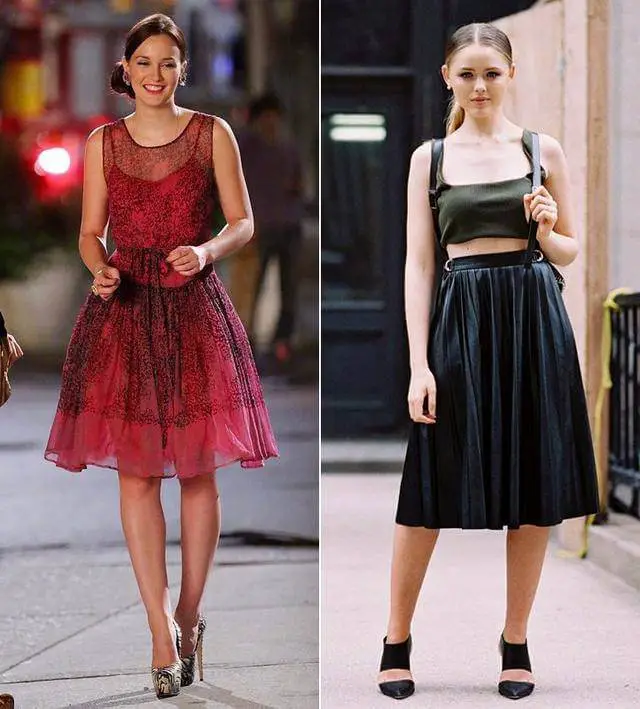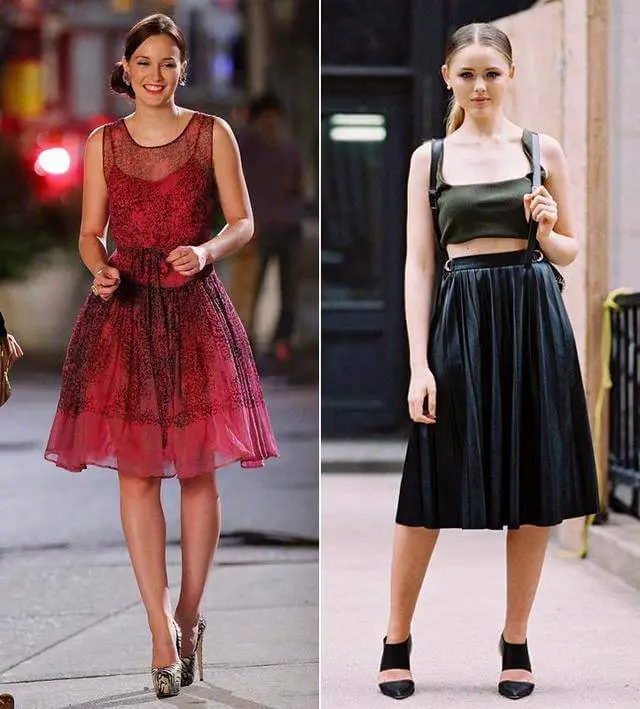 The waist hem A dress is a must-have for a pear-shaped figure. ▼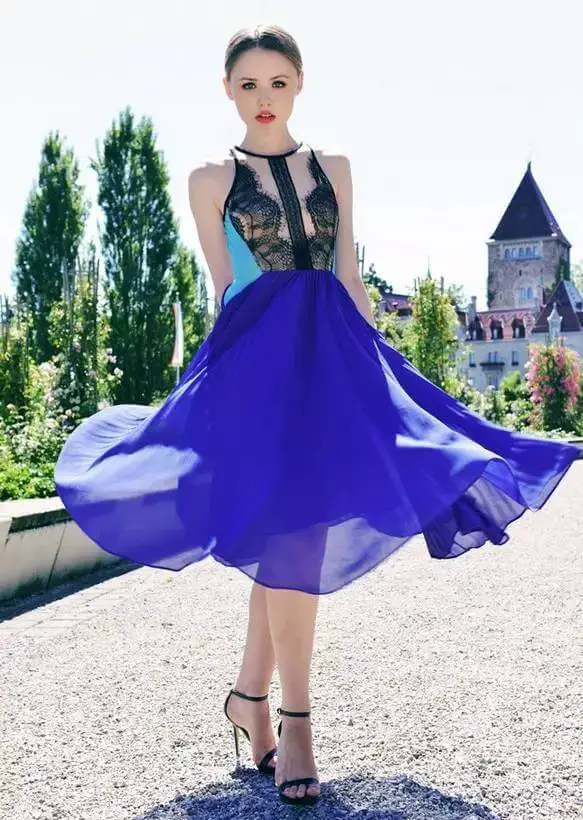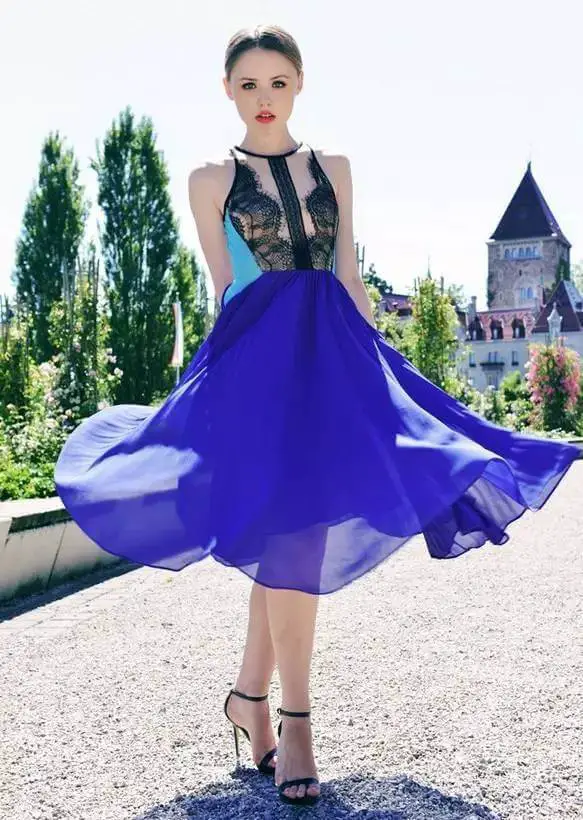 This year's popular obliquely slit skirt can reveal sexy thighs. However, people with pear-shaped figure must be careful while choosing this big split skirt. Look at the two sets of style to know why you should stay away from such skirts ~ ▼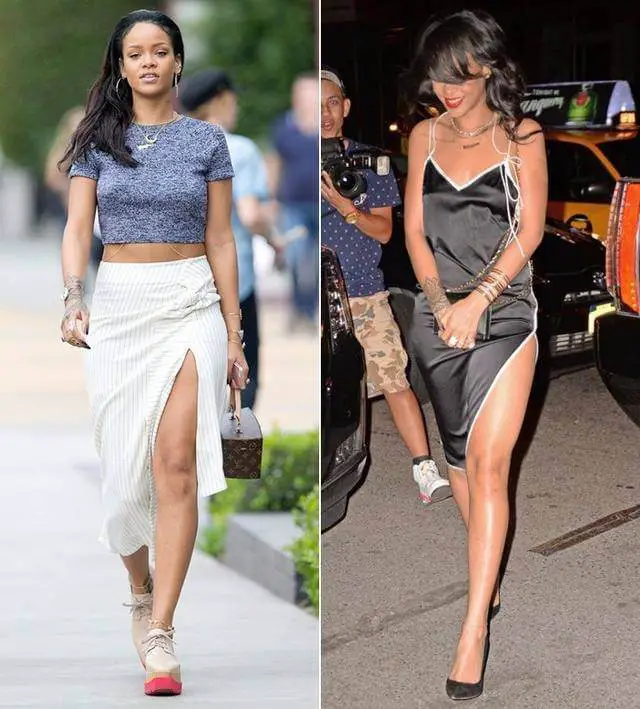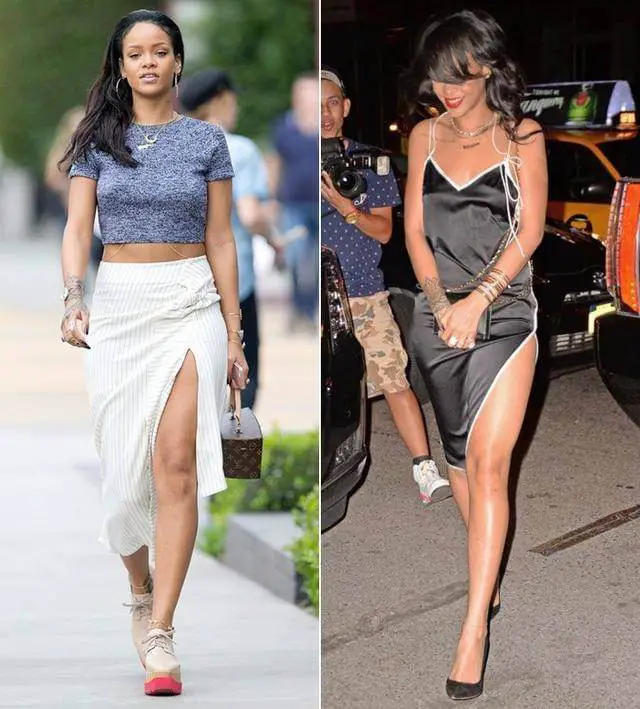 The princess style's ultra-short petite skirt is also risky for a pear-shaped figure. Although it may appear to be relatively high, it also exposes the legs terribly. ▼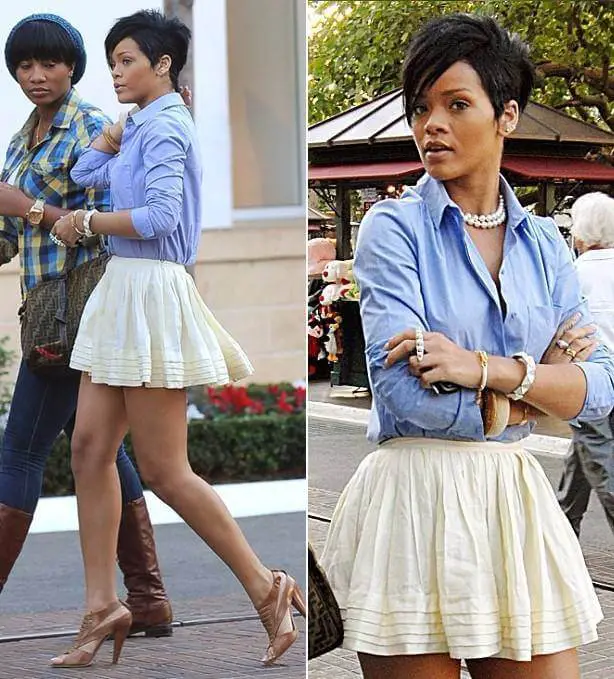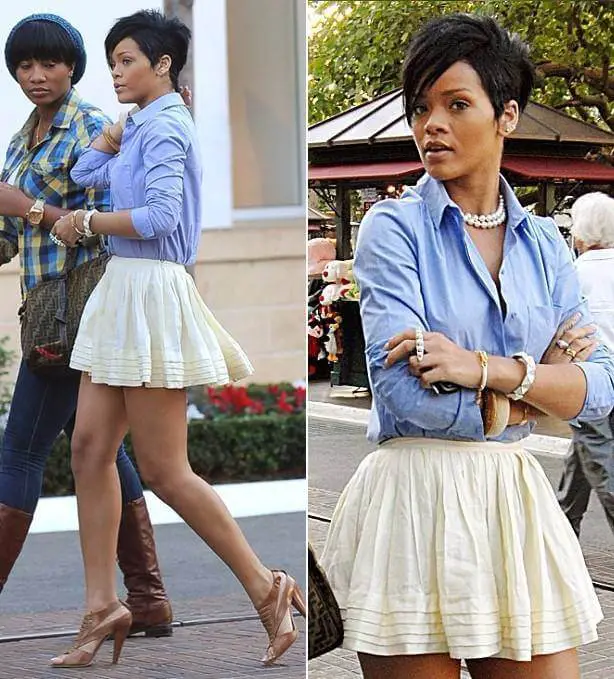 Check out this skirt pulled off by Leighton Meester. ▼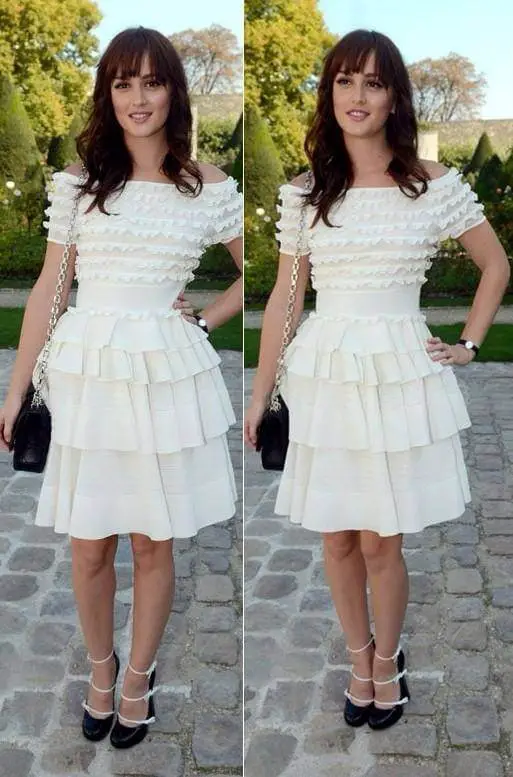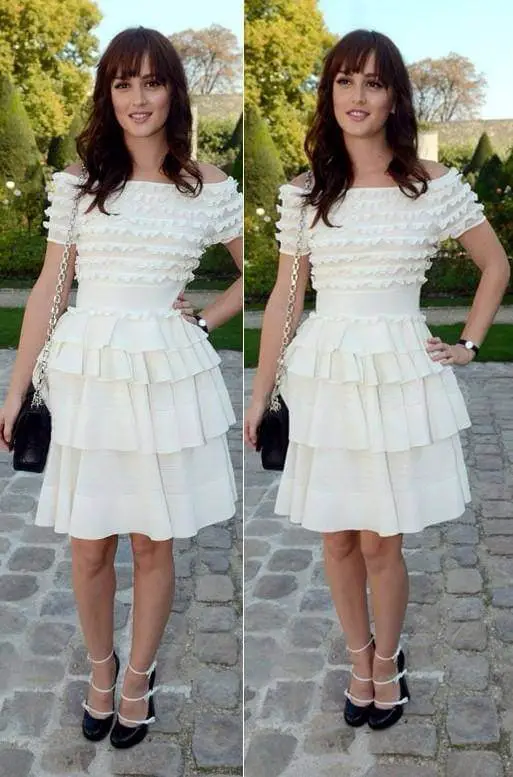 Or choose a simple style. ▼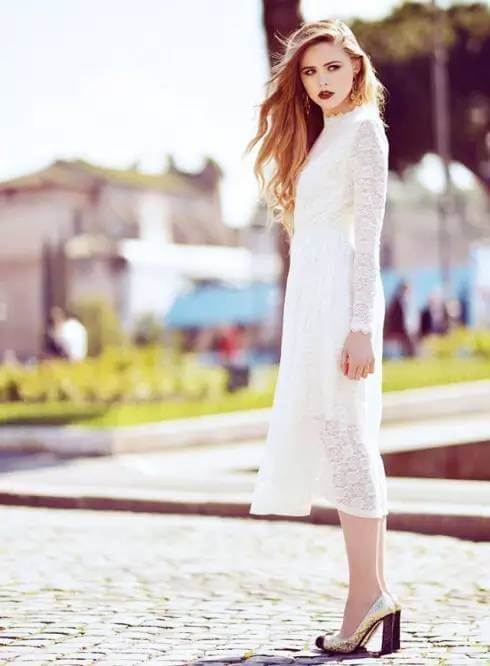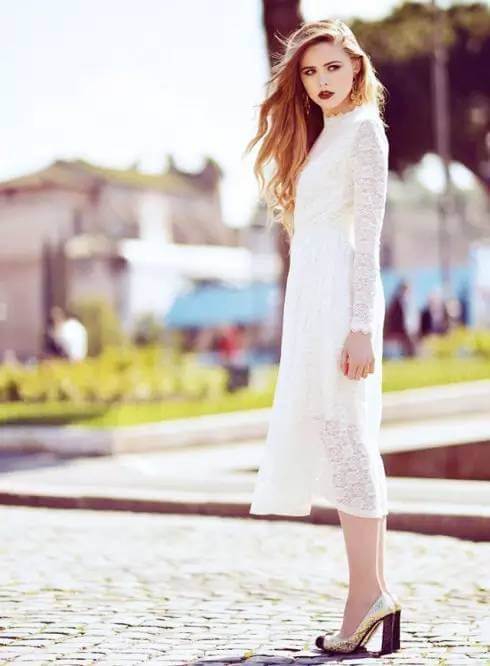 What about the pear-shaped petite girls who want to wear a short-length skirt? Kristina Bazan, the Swiss fashion blogger, teaches you the best of both worlds by wearing a high-waist skirt. Let the focus be on your waistline. From the following two images, the tuck-in style is far better. ▼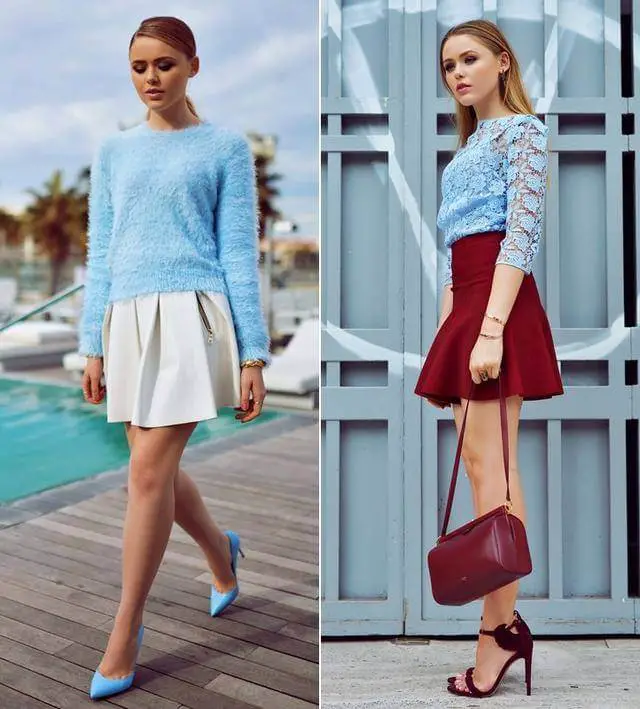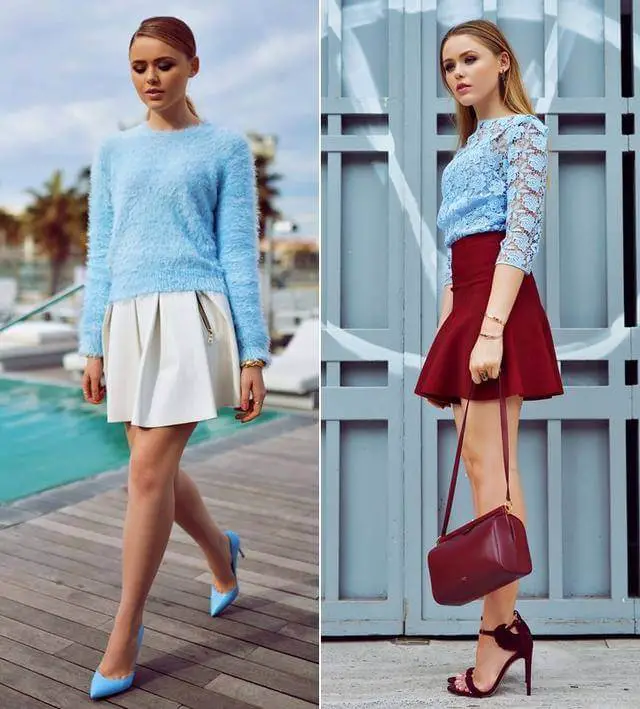 The jersey style pencil skirt can highlight women's curves. But the kind of skirt that wraps the lower body too tightly is not suitable for a pear-shaped body. Leighton Meester wore these two sets of styles: it looks too tight with the illusion of wider hipline. ▼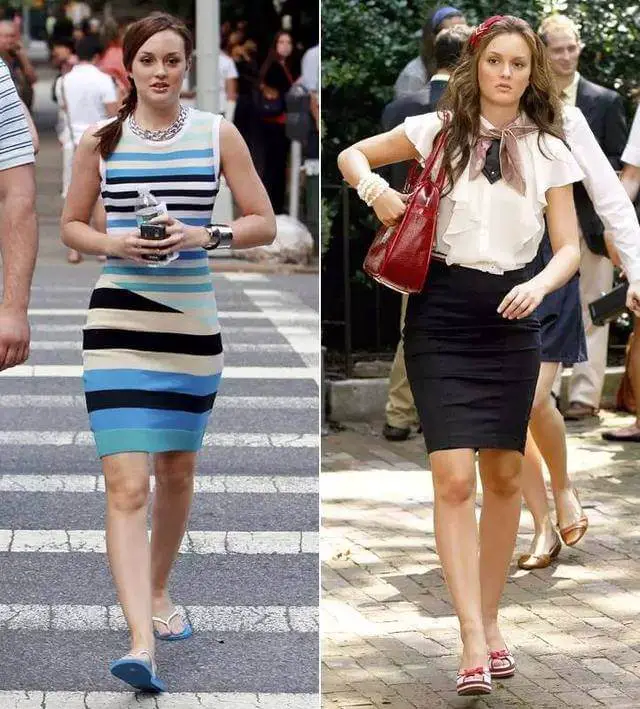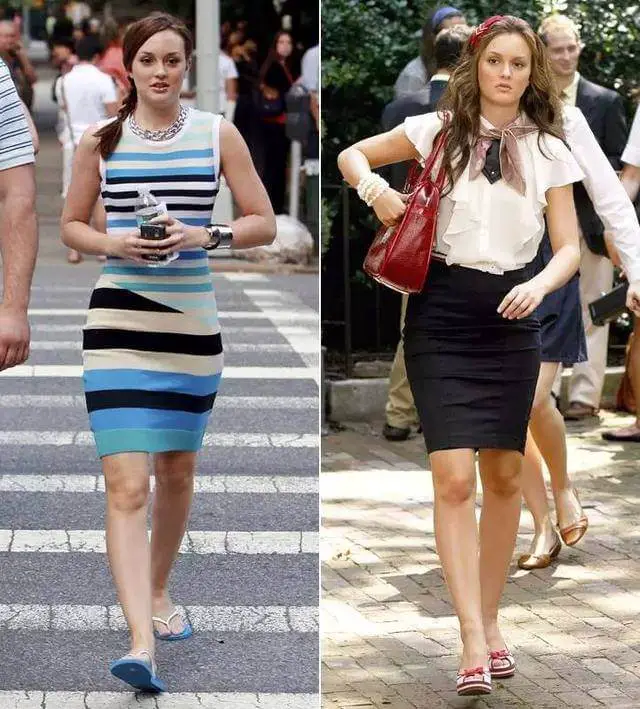 This same short and fit style is adapted by Rihanna, but fortunately, she showed off thin waistline plus a confident smile complements her look ~ but unfortunately, her lower body looks very stout. ▼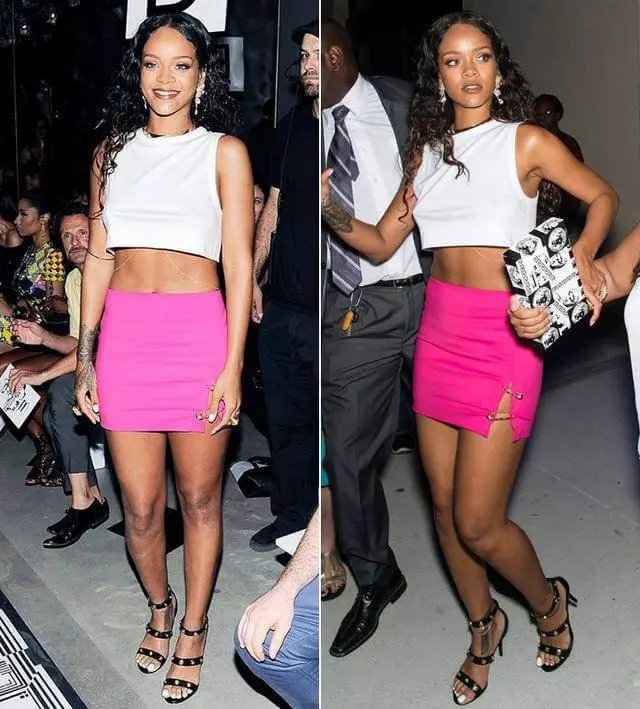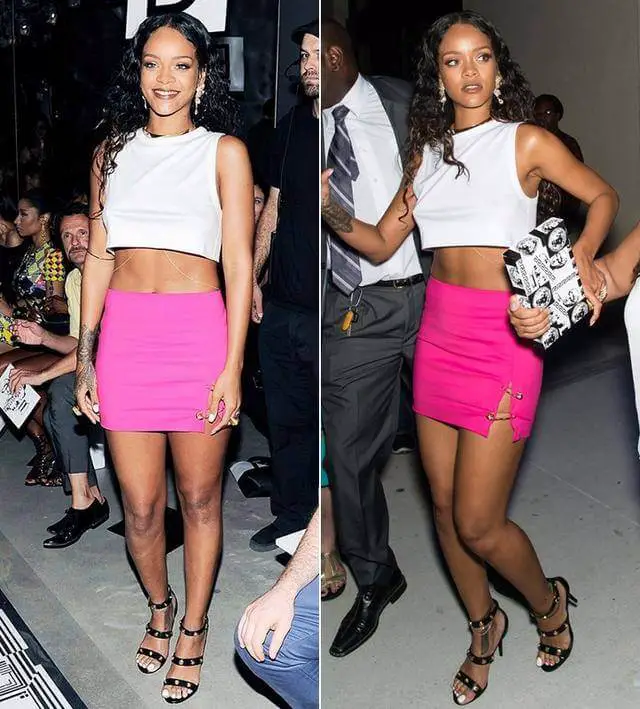 The same pencil skirt style with a much-improved look, this set is certainly better. High-waisted style, hard denim material, coupled with a narrow upper and lower body. She looks flattering from every angle. ▼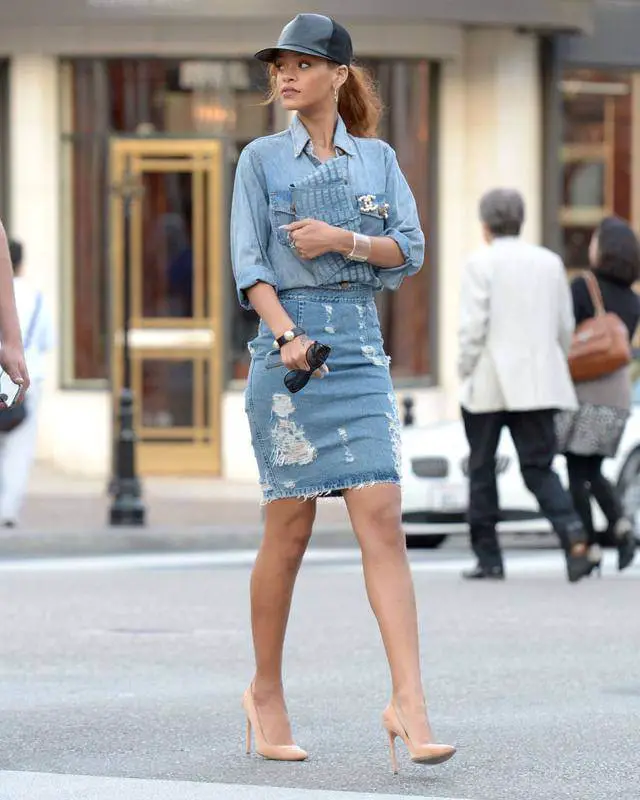 Not all pencil skirts are forbidden for a pear-shaped body. As long as the material is tough, fitting is not too tight and it is high waistline, things can look quite suitable. ▼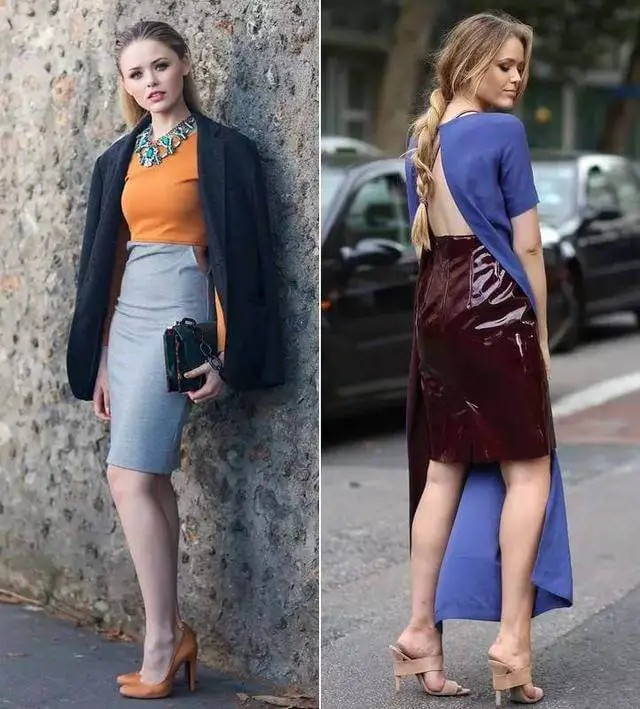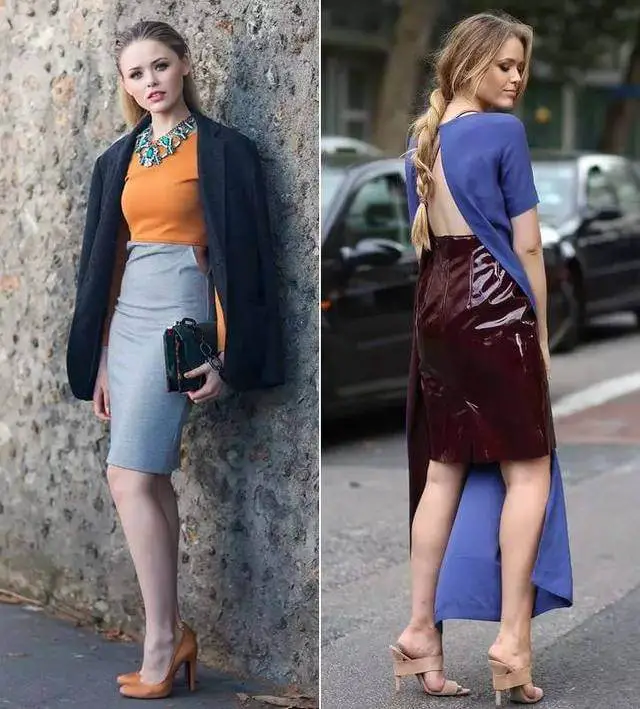 If we talk of the ideal length of a skirt, below the knee and above the calf is the most suitable length for pear-shaped figures. As the pear-shaped figure is wider around the thighs, so exposing your calves would be OK. It is best not to choose too long skirts. Compare by seeing the images below. ▼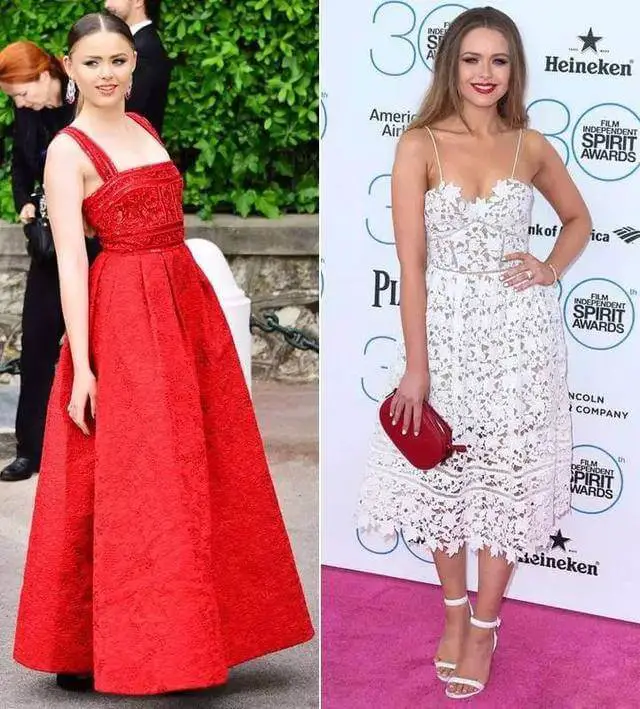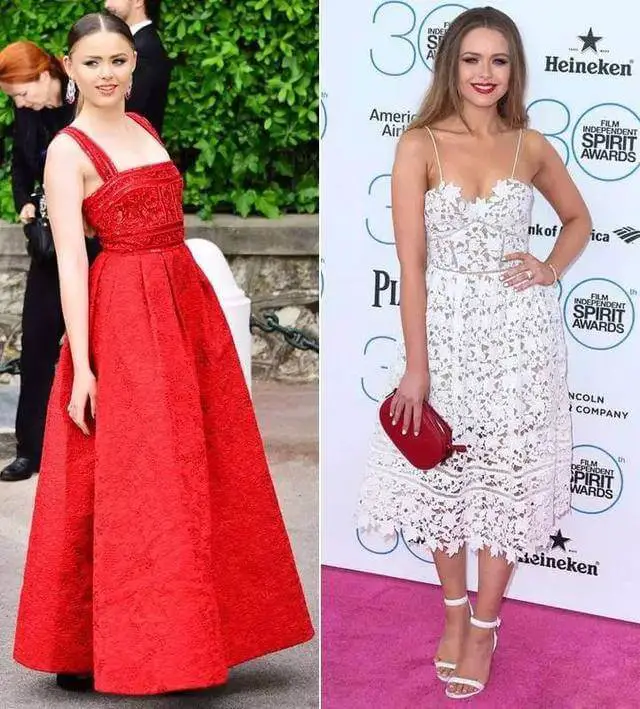 Pants
To do: straight shorts, high waist pants, wide leg pants, flared pants
Not to do: middle and low waist tights, tight shorts
Although skirts are more suitable for the pear-shaped body than trousers; there are a few pants styles that must be in your closet. The most important thing about the choice of pants for a pear-shaped figure is that it should not be too tight, otherwise it will make your legs look even thicker. Of course, there are also some techniques that can give the illusion of smart legs.
Kristina has used a long coat to cover the lower body, but because the jean is too tight, the thick legs can still be seen. ▼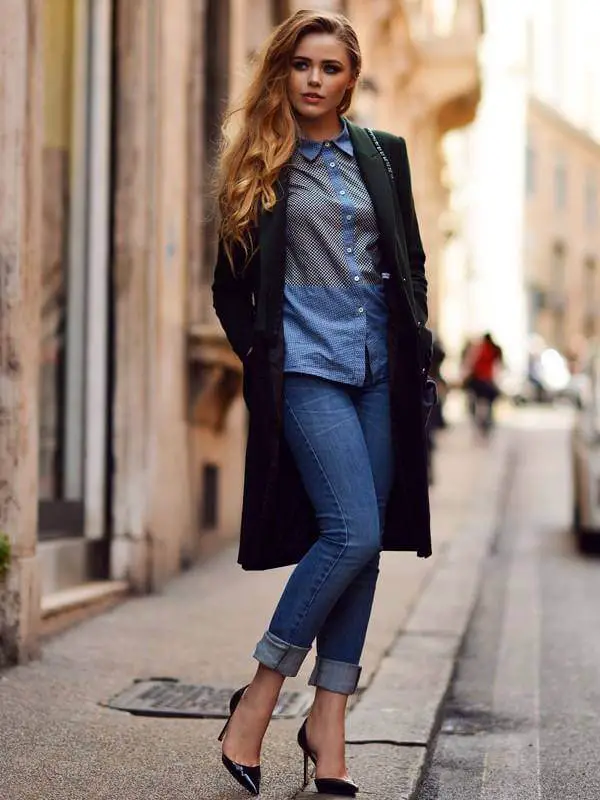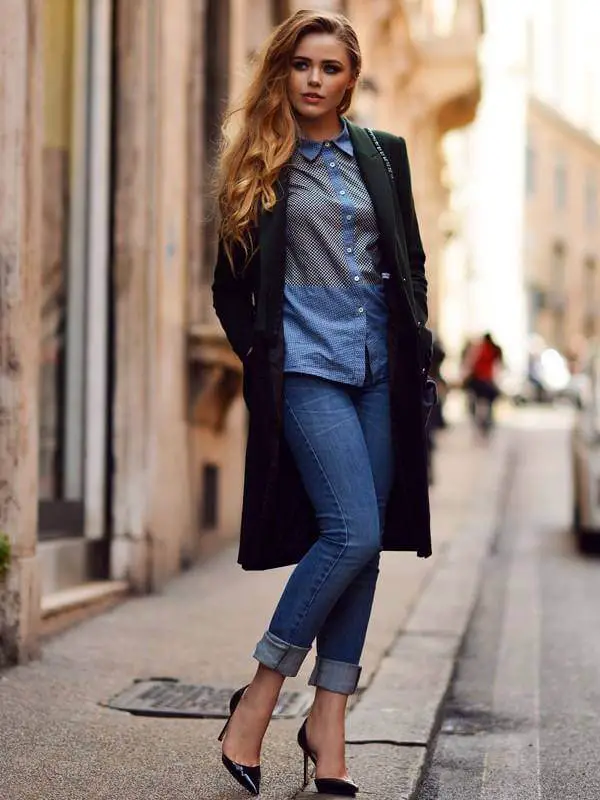 Pear-shaped people should carefully select tight jeans. If you wear a ripped or distressed jean, you have to be very careful in selection as the thighs are the focus. ▼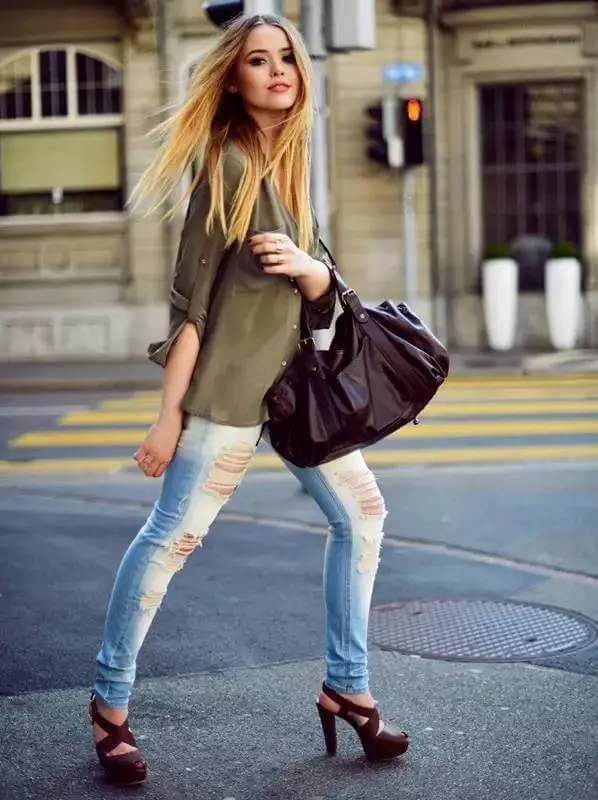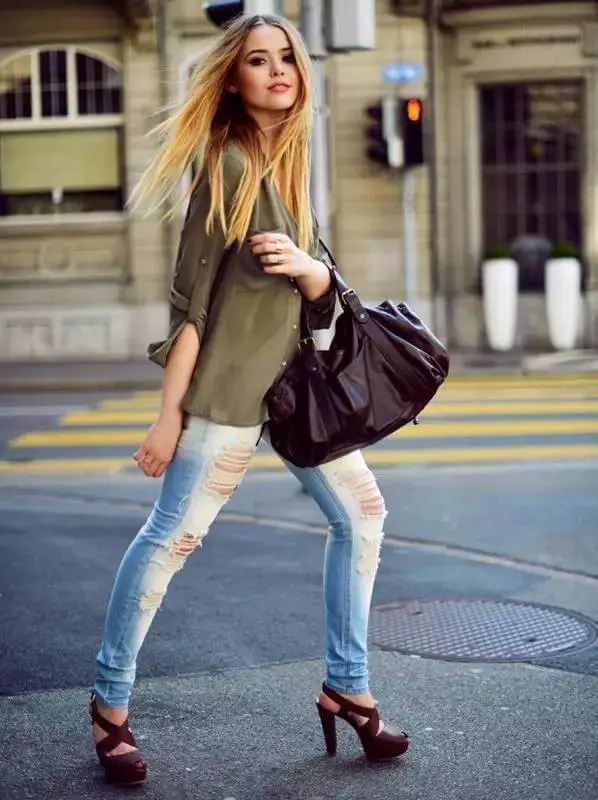 Light-colored leggings will make your legs look thicker and shorter. ▼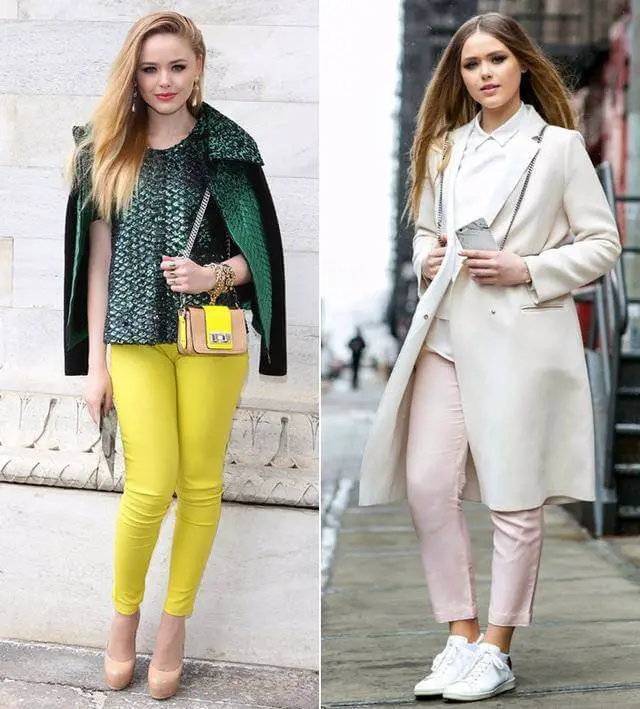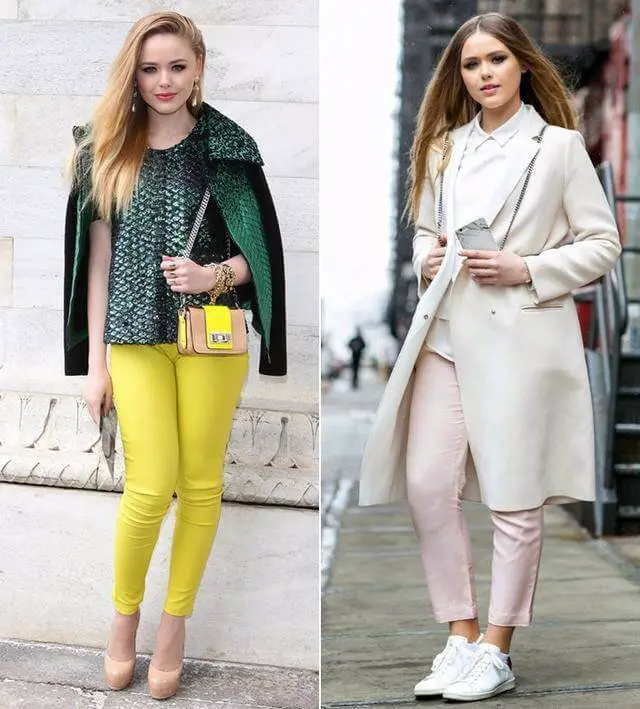 It is better to choose dark color pants for a pear-shaped body. However, it is not that light pants cannot be worn, but it is necessary to choose the right version. Let's feel the difference in the contrast chart. ▼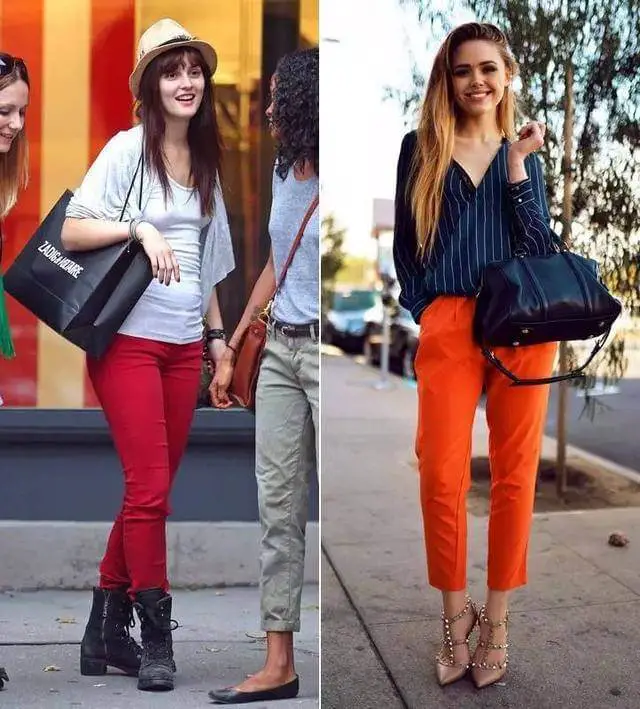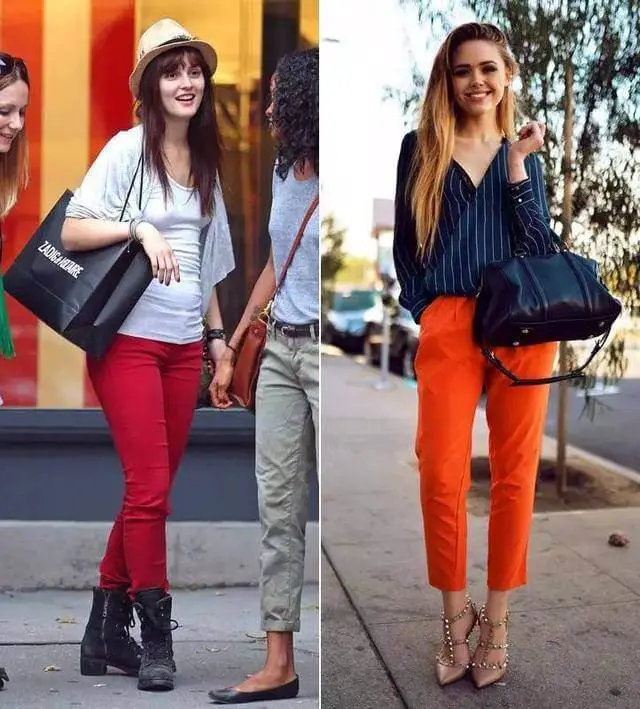 A high waist is a good friend of a pear-shaped figure. Whether it is a skirt or a pair of pants, choosing a high waist gives a curvy look. ▼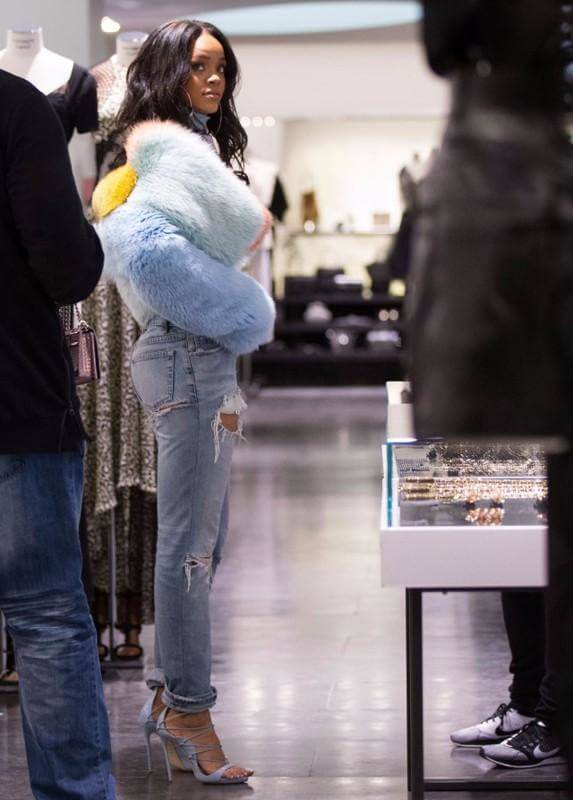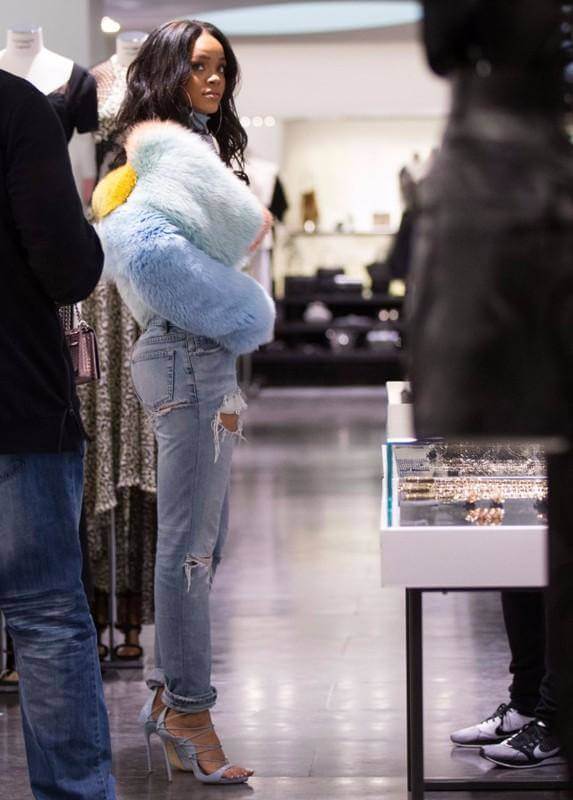 High-waisted pants not only turn large buttocks into hips, but they also shift the sight from thighs to the waist. ▼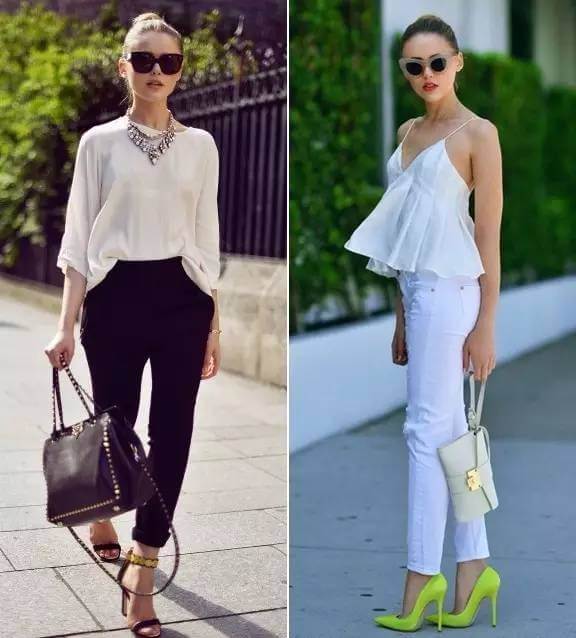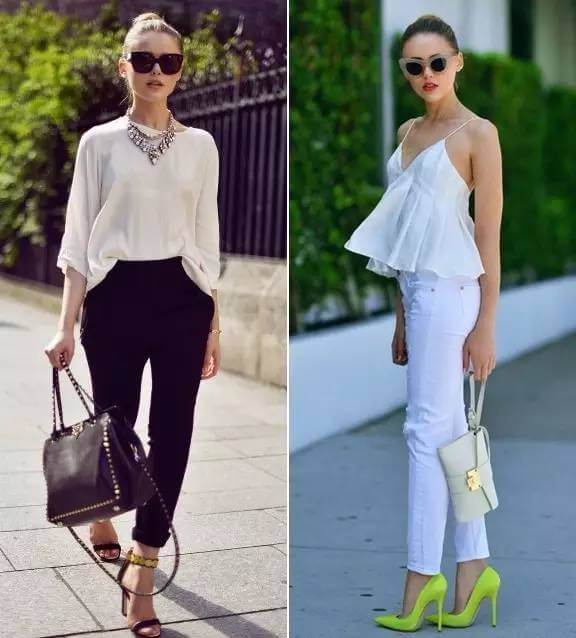 If you want to wear tight jeans, pair it up with a loose fit top. For example, this loose shirt with tight jeans looks handsomely beautiful.▼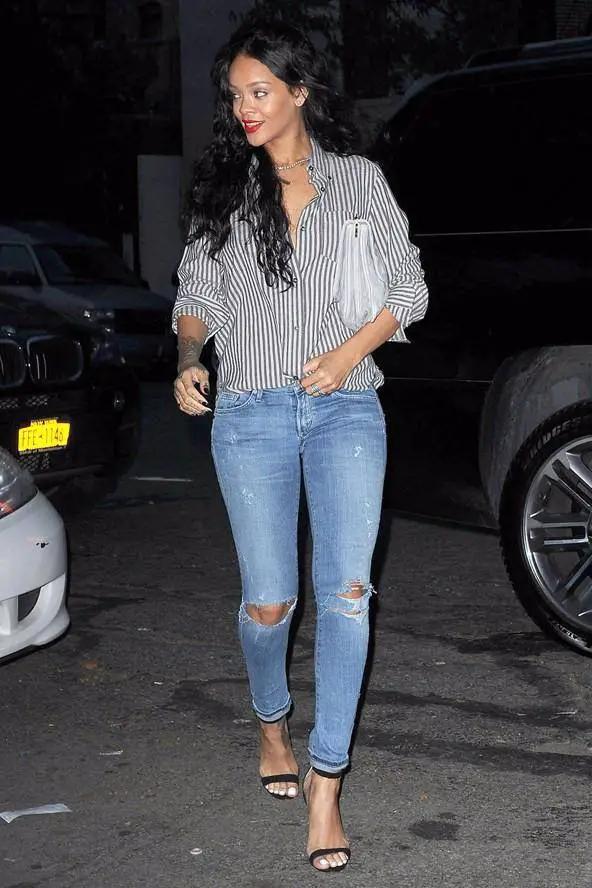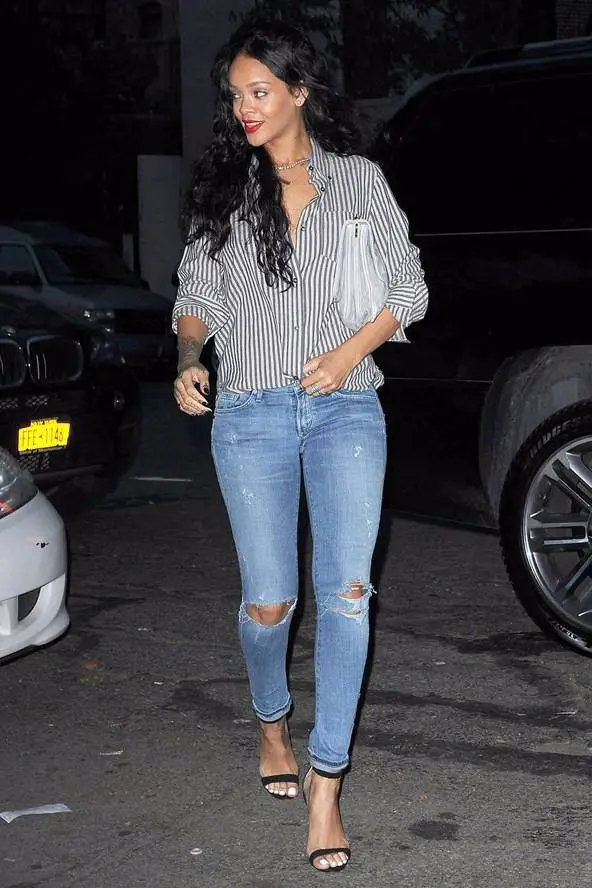 Boyfriend style jeans will be more suitable than skinny ones. ▼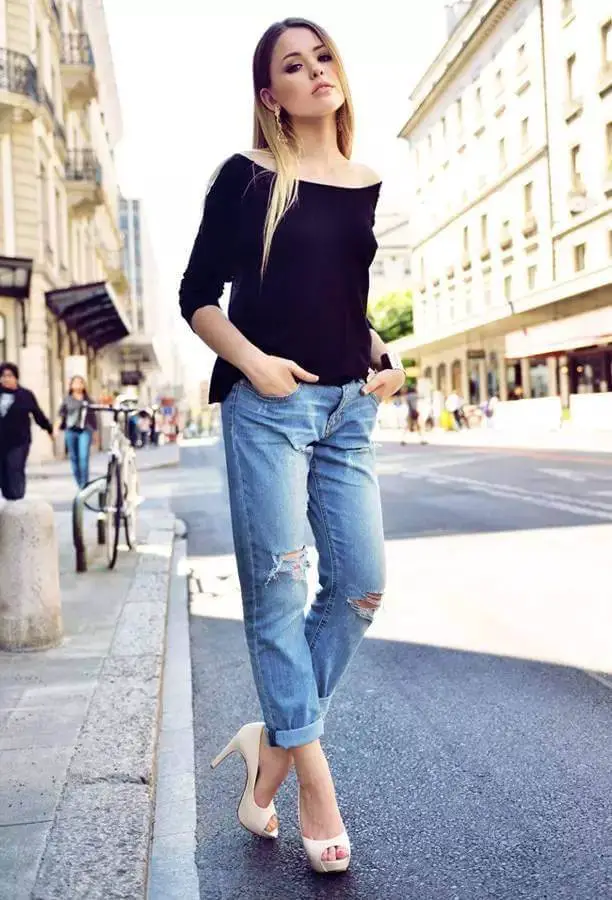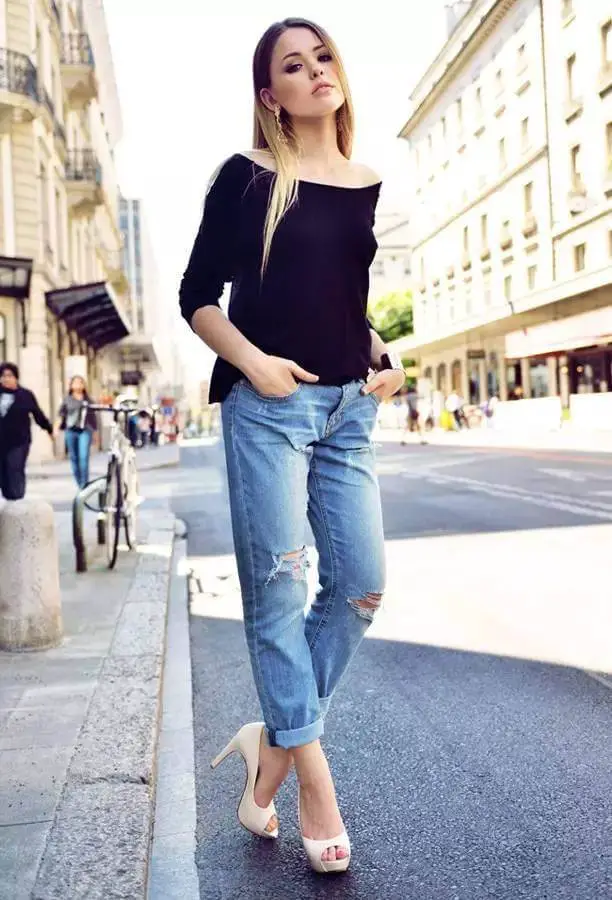 Wide-leg pants and bell-bottoms balance the large crotch area. For the Hobbits, the favorite is, of course, a high-waist wide-leg trouser. ▼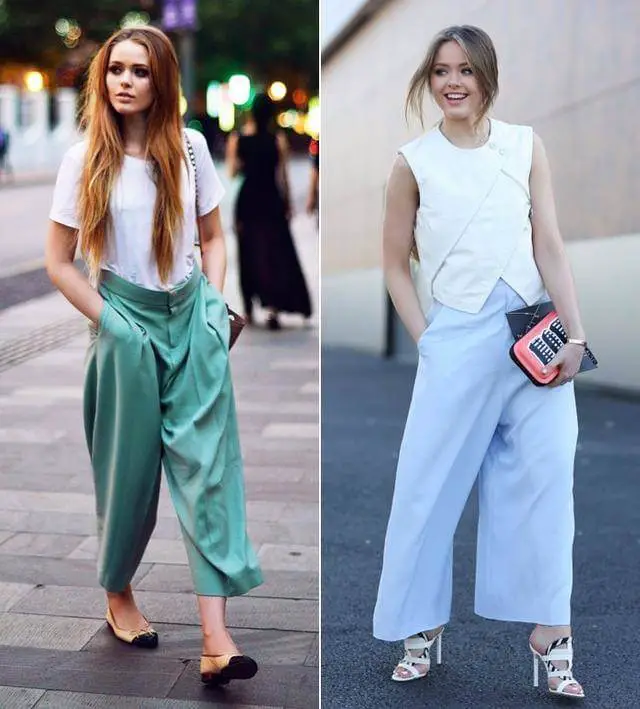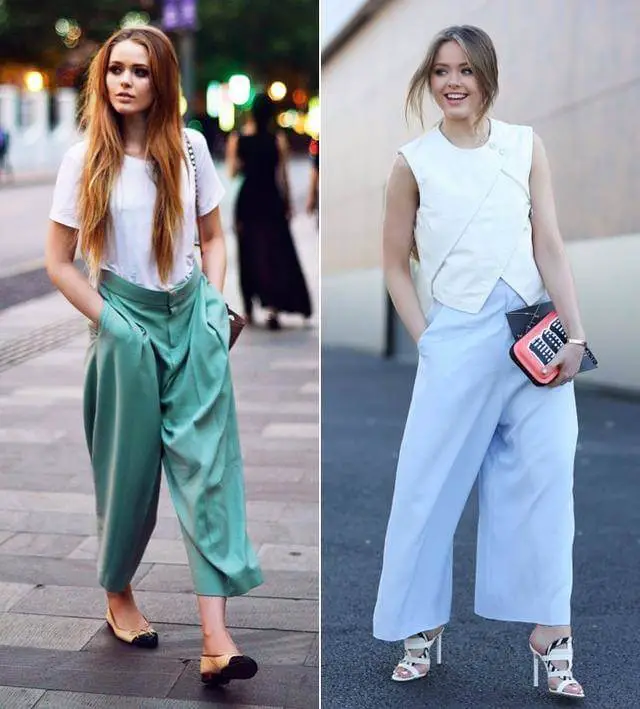 Walking in the street wearing shorts is a common trend. For the pear-shaped body, we don't recommend denim shorts that are too short and too tight. They will directly expose the pear-shaped thick legs. ▼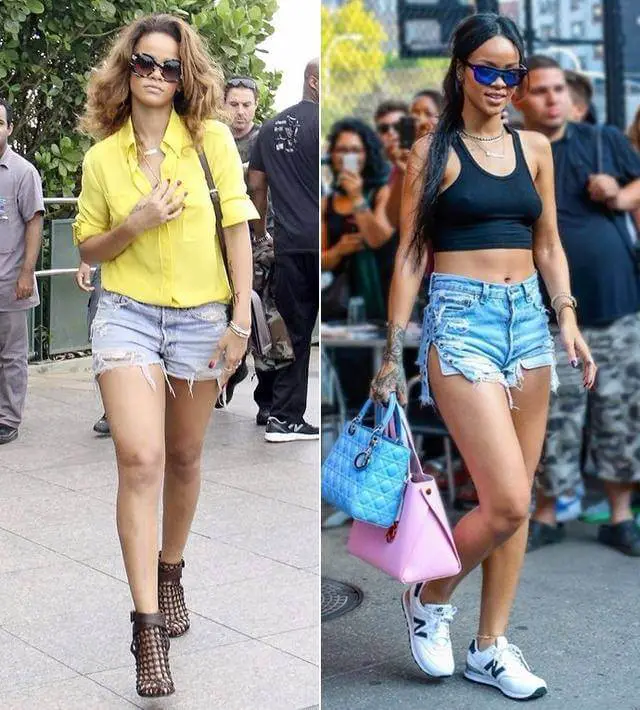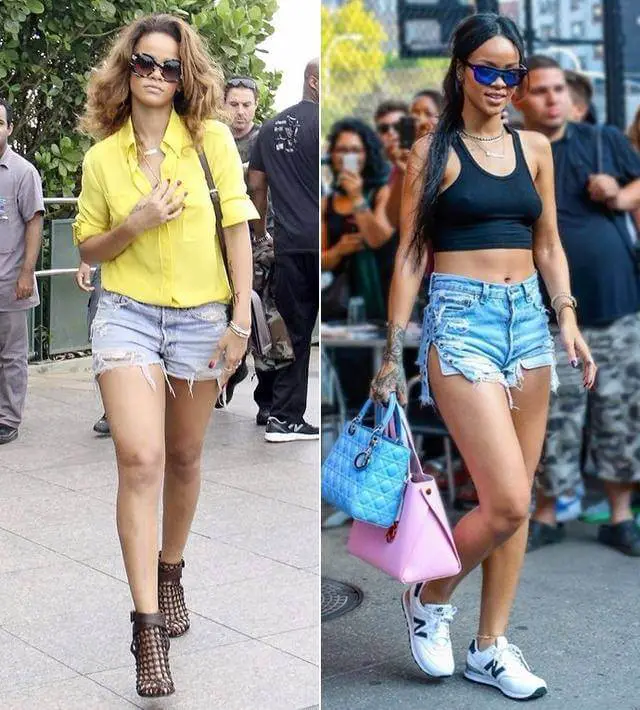 This shorts style is also a fashion disaster ~ Fortunately, her pretty face has diverted a lot of attention. ▼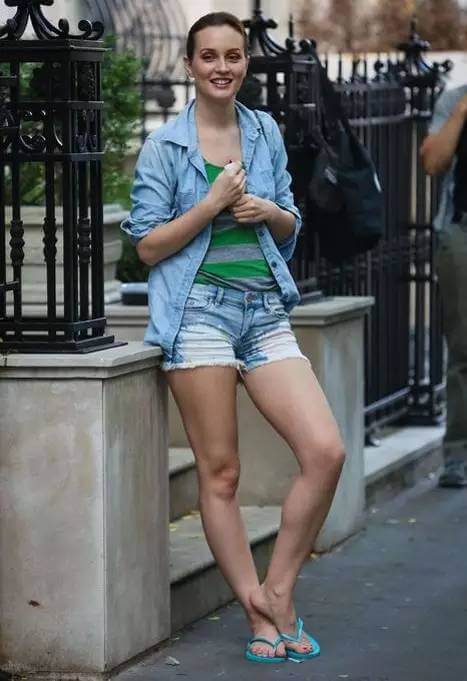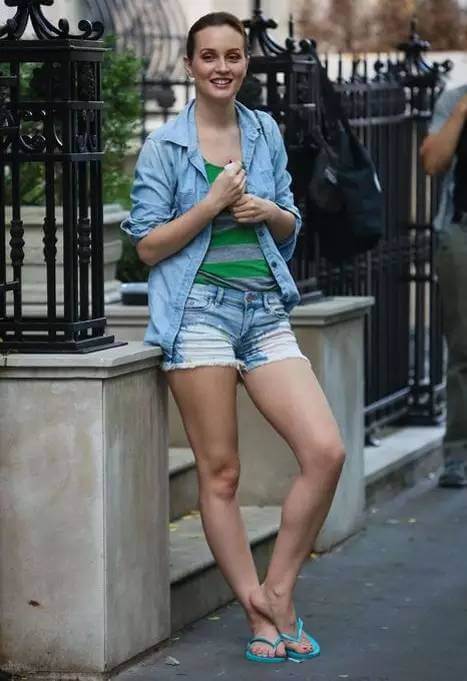 Not only denim shorts, but shorts made up of other materials also expose thick legs. ▼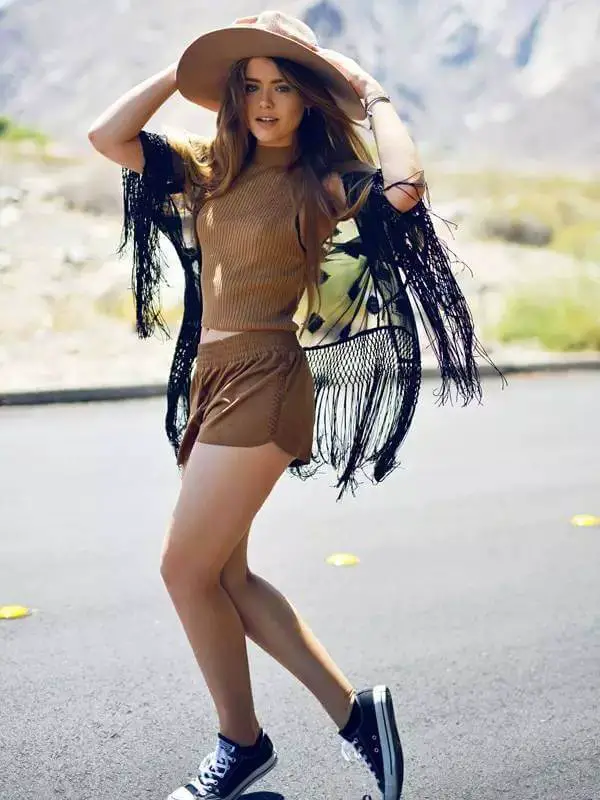 For thicker legs, opt for straight shorts. The relatively large openings, give the illusion of thin thighs and legs. Check the images here to see how to choose shorts according to your size. ▼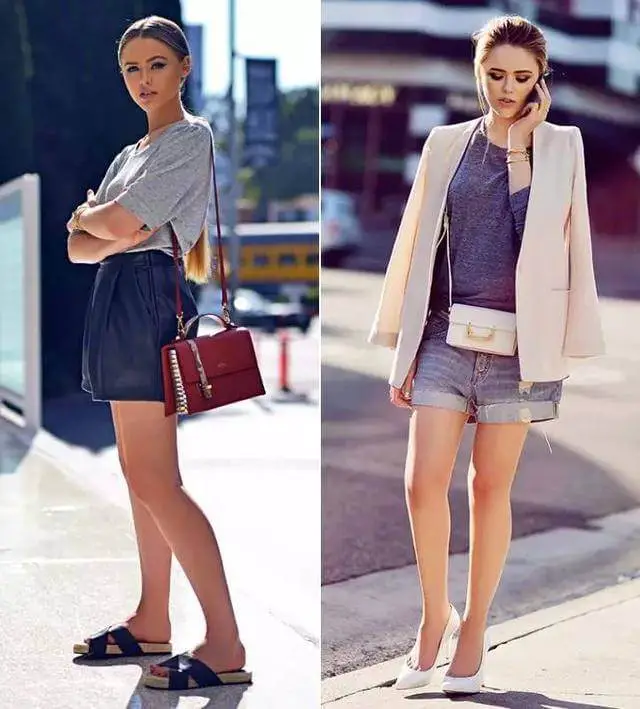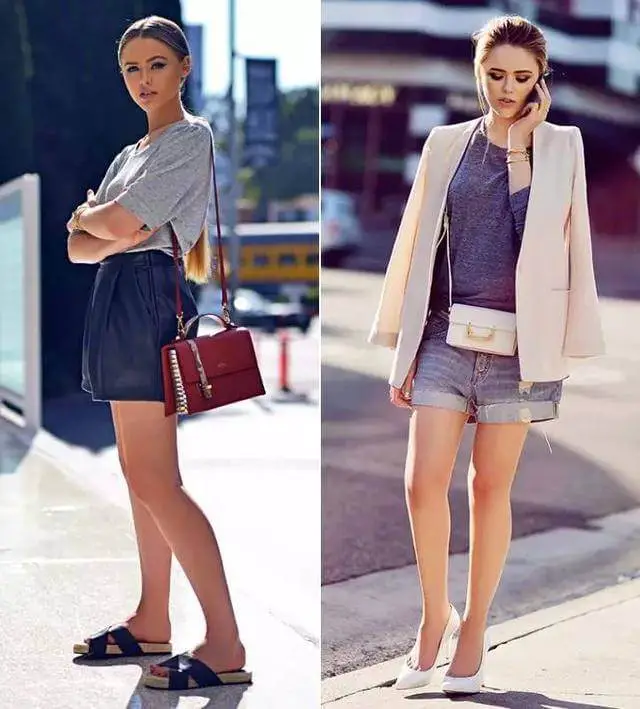 Tops/Shirts
To do: loose-fitting, peplum tops, mid-length coat tops, sleeved tops, tops with soft material, and open stomachs.
Not to do: Overly-Tight shirts, short coats
Tops with tight fitting are not suitable for a pear-shaped body. Check out Rihanna's style. Her top is too tight but the scarf and sunglasses she has worn, add more to her style, but she still has a wide and thick look. ▼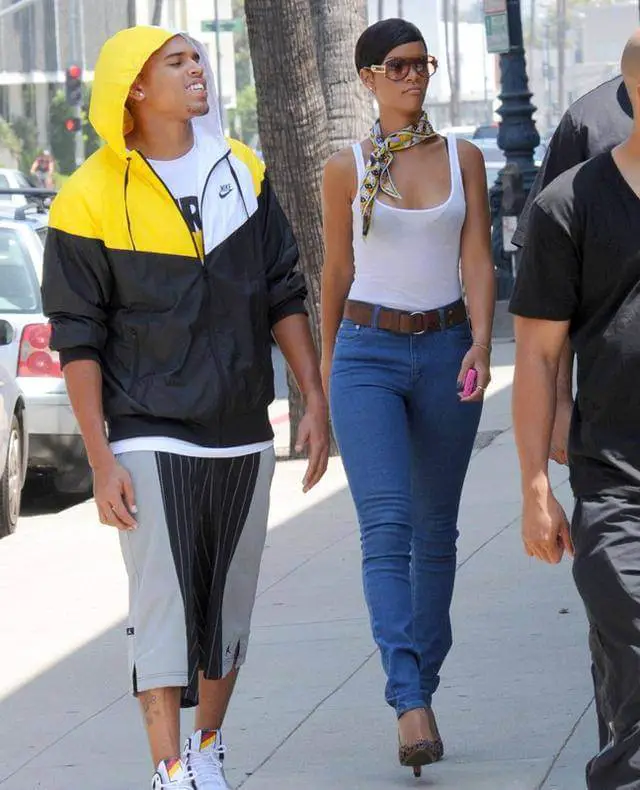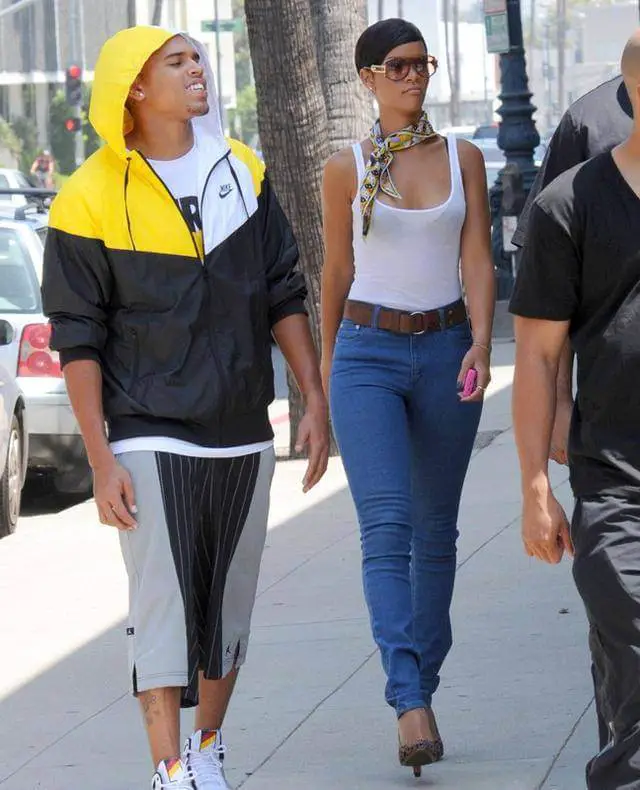 Leighton Meester also wore a body-hugging top. ▼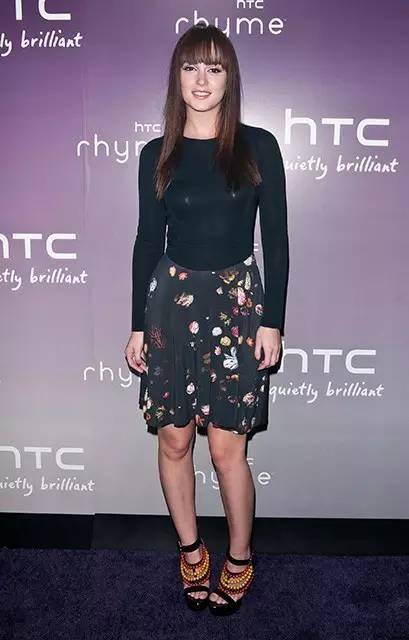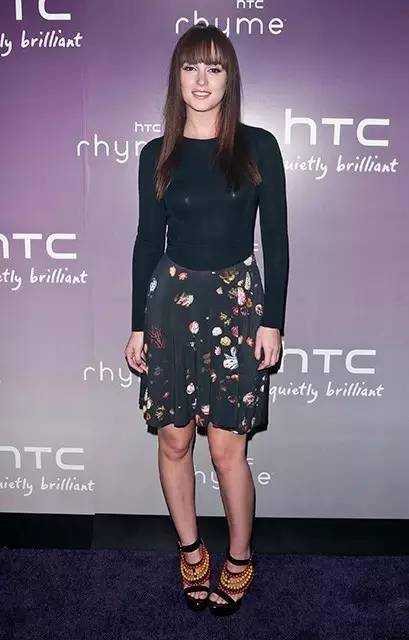 There are many ways that can be utilized to shift the view from wide hips and thighs to the upper body area. For example, loose-fitting tops will help to balance the feeling of a "stiff" lower body. ▼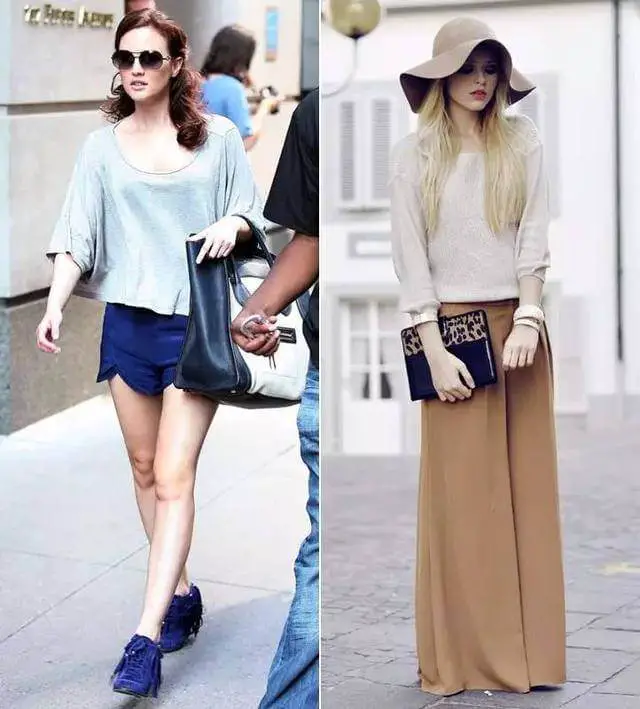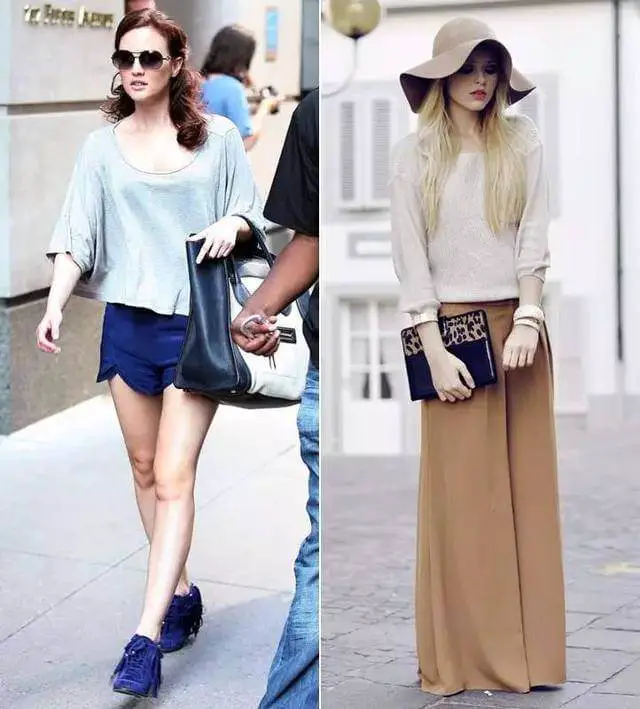 The correct way to wear a loose T-shirt is to tuck in the shirt in the front, it makes you look taller. Leave the shirt loose on the backside to hide the heavy bottom area. ▼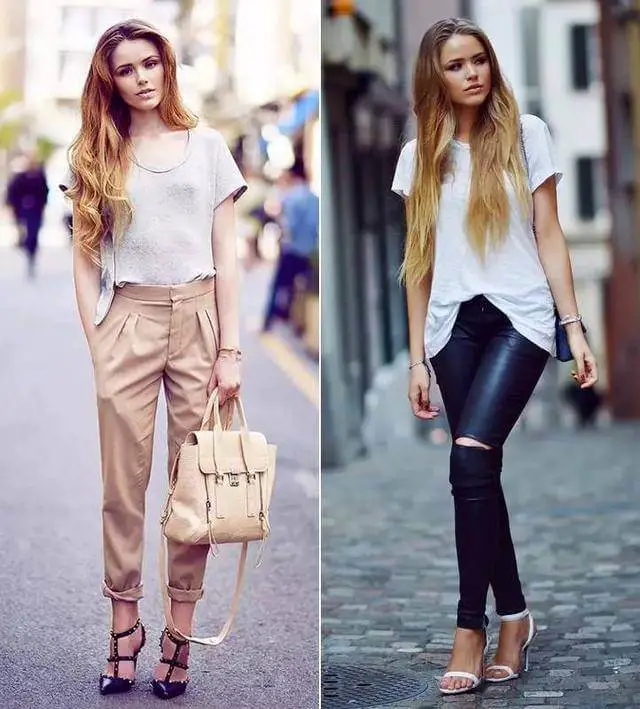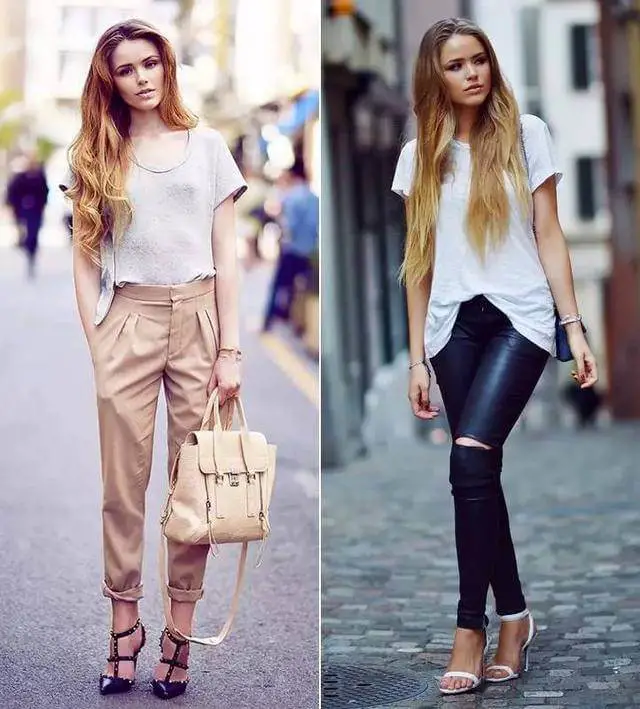 How about using this high-low style top? ▼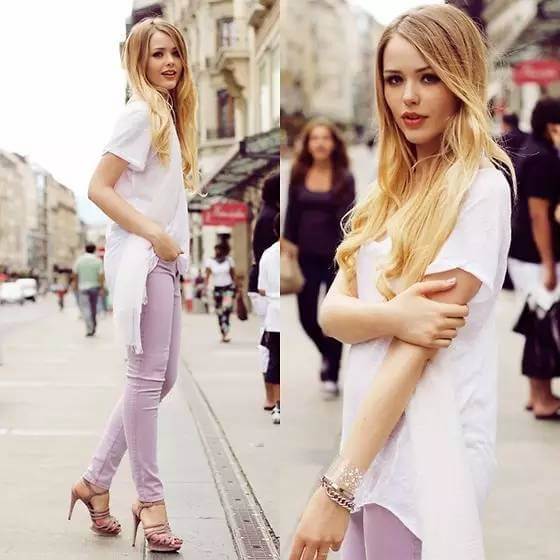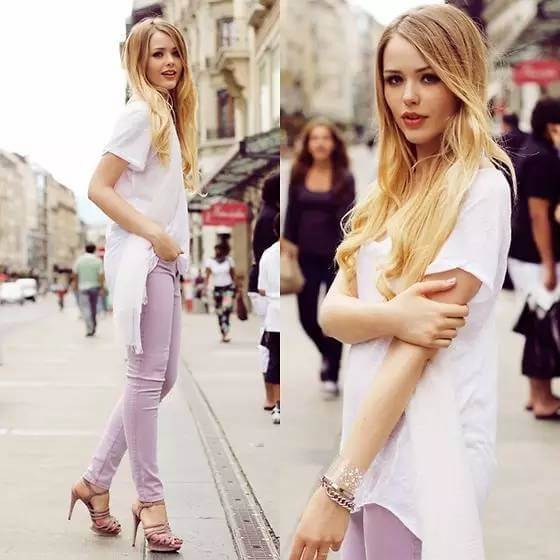 This peplum blouse can also be a good cover for the big butt area, and it will also balance the thick legs. ▼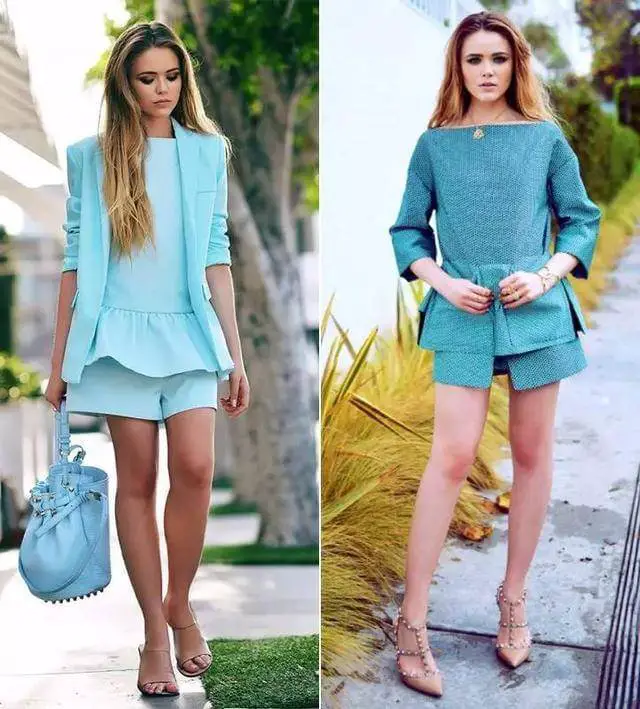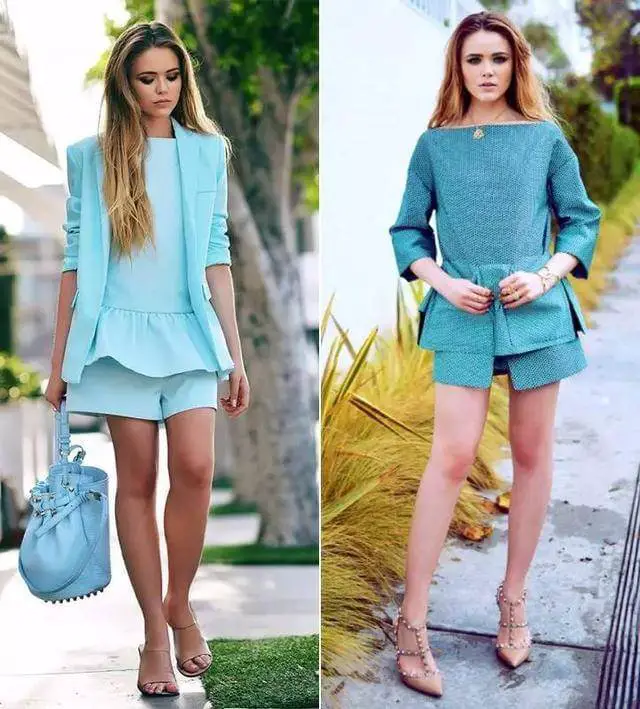 Leighton Meester is also looking very nice. ▼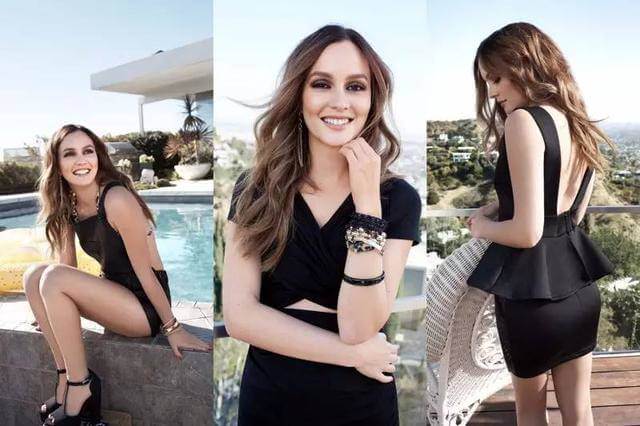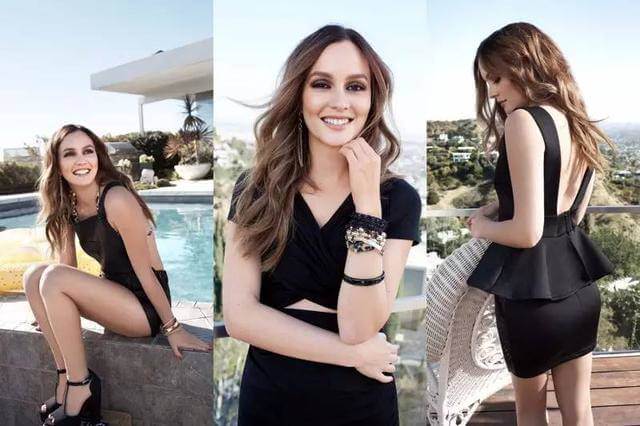 Rihanna's style of showing her belly diverts the focus from wide bottom to the upper body area. ▼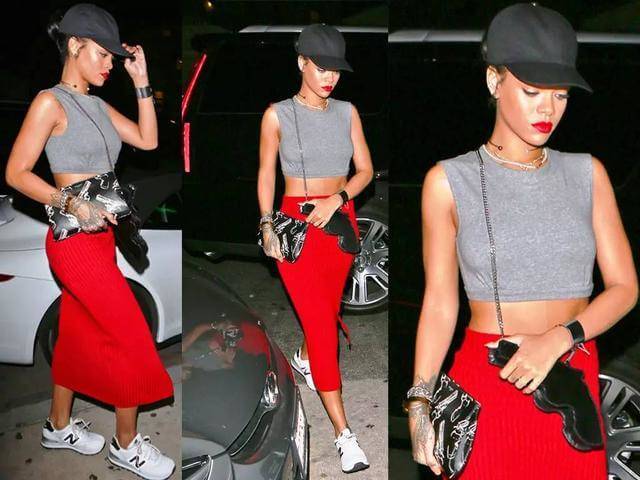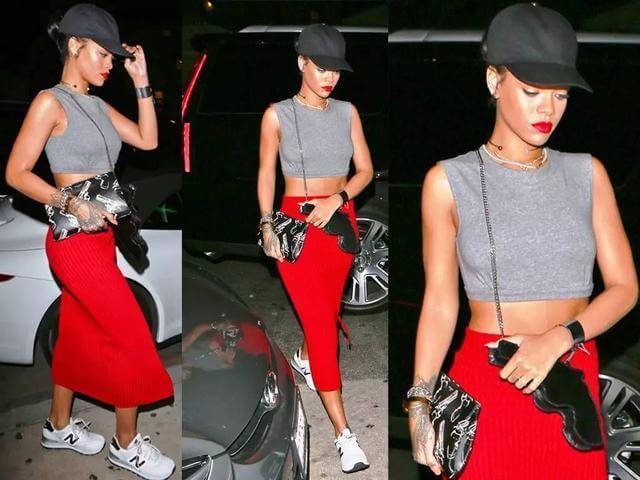 However, exposing the stomach does not work with skinny tights. It makes you look even bigger and wider in shape. ▼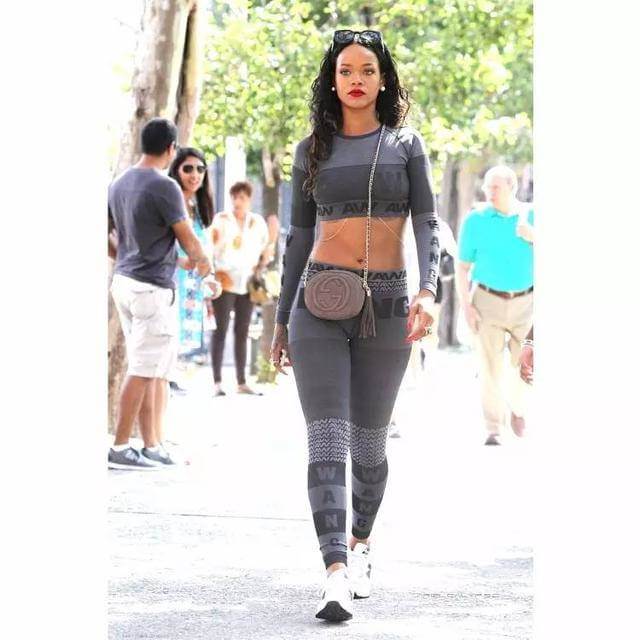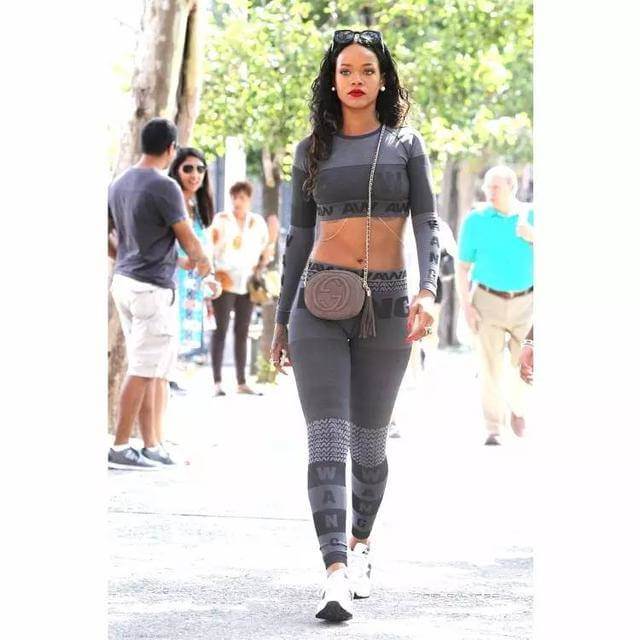 In summer, the upper part of the body can be exposed to divert the focus. Wearing sleeveless styles in summer is also a cool and adorable style. If you have heavy-looking arms, avoid wearing sleeveless style.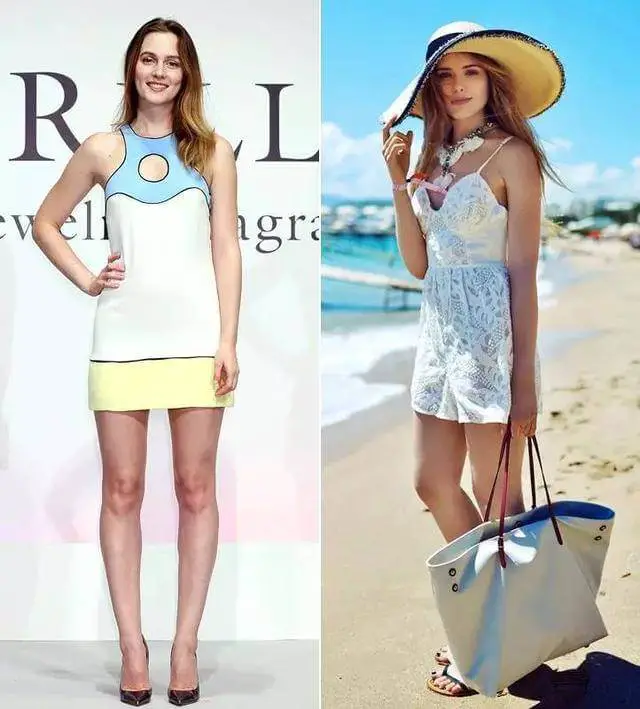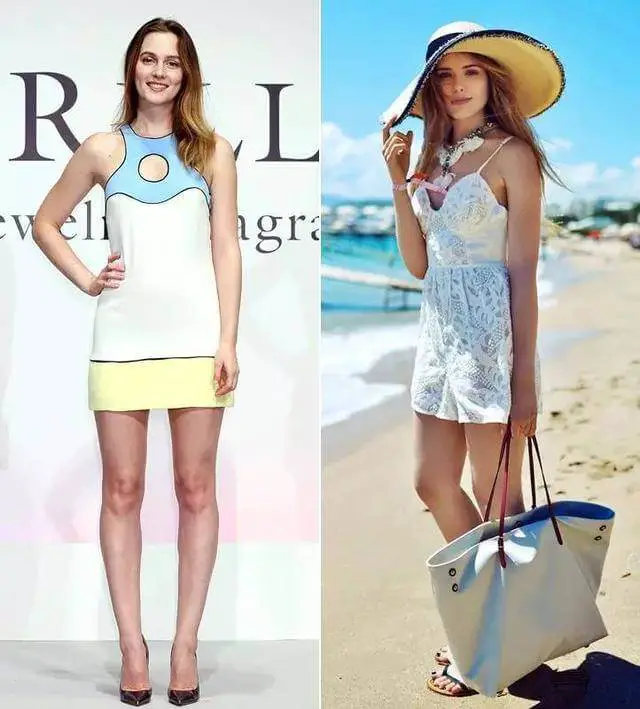 Sleeved blouse can also help in shifting the gaze to the upper body. All kinds of strapless shoulders, shoulder pads, puff sleeves, and bat sleeves are suitable for you. ▼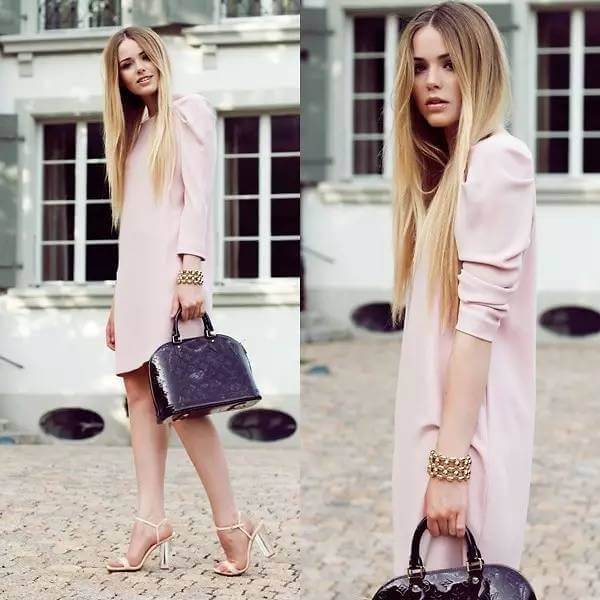 Flat chested pear-shaped girls should dare to wear deep V neckline. ▼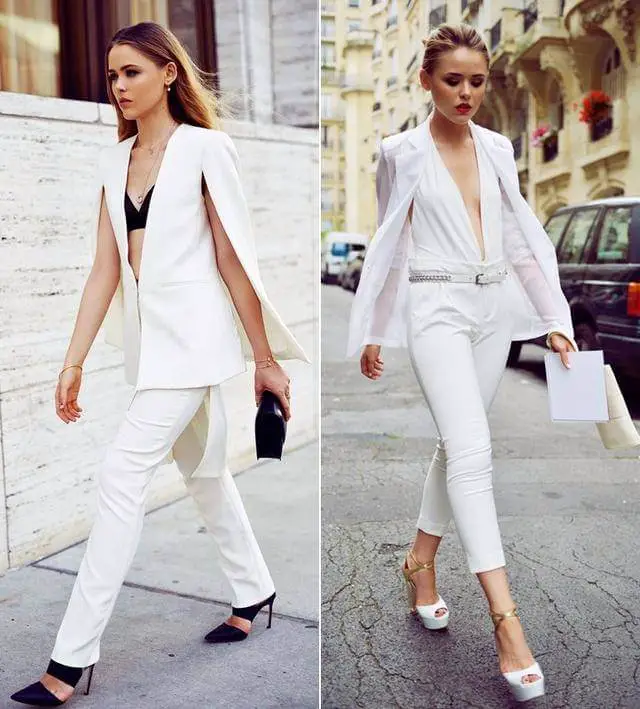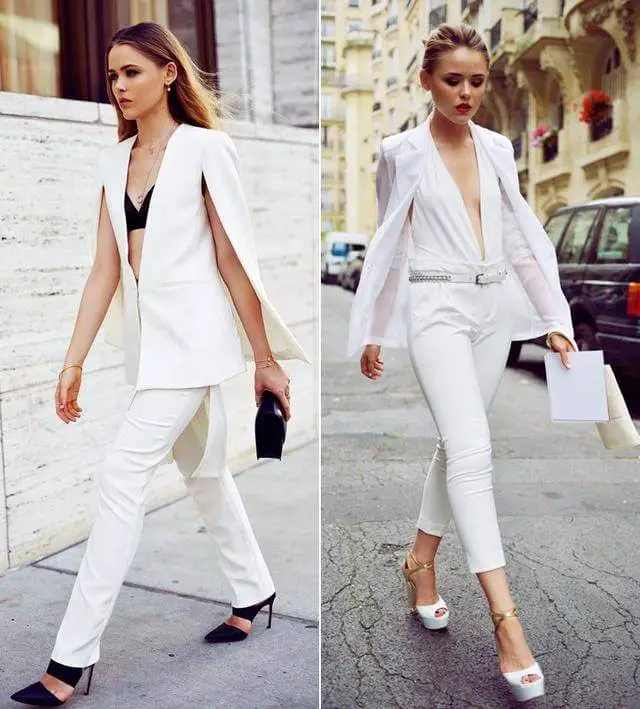 Relatively speaking, a jacket hitting at the middle of the thigh is more suitable for pear-shaped body girls, especially when wearing tights or tight skirts. Along mid-length jacket helps in balancing the look. ▼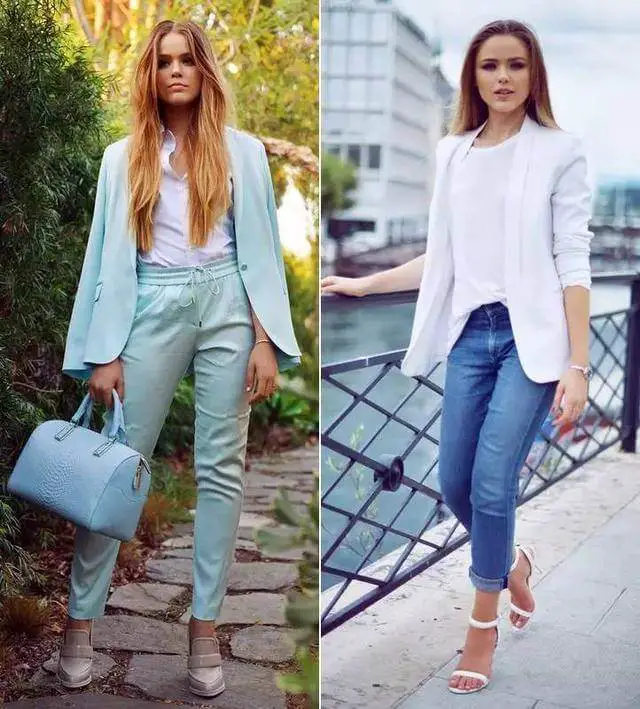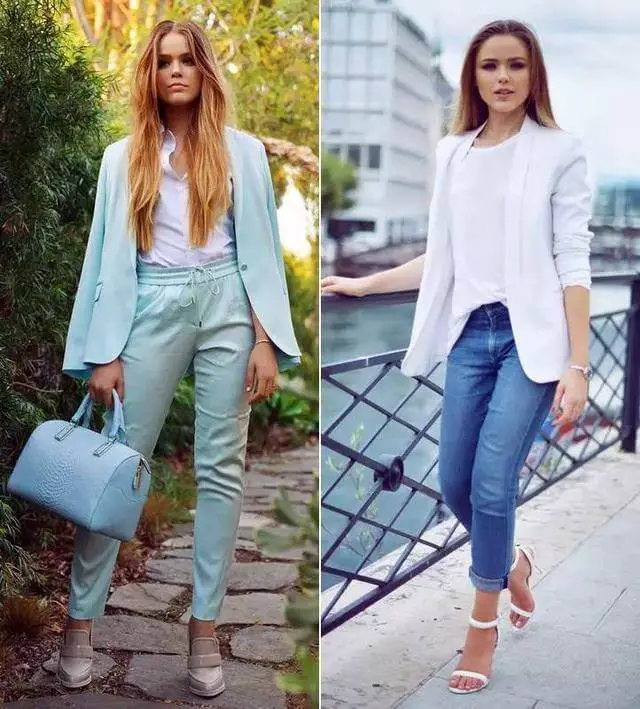 Short coats, tights, tight pants ~not suitable for you. ▼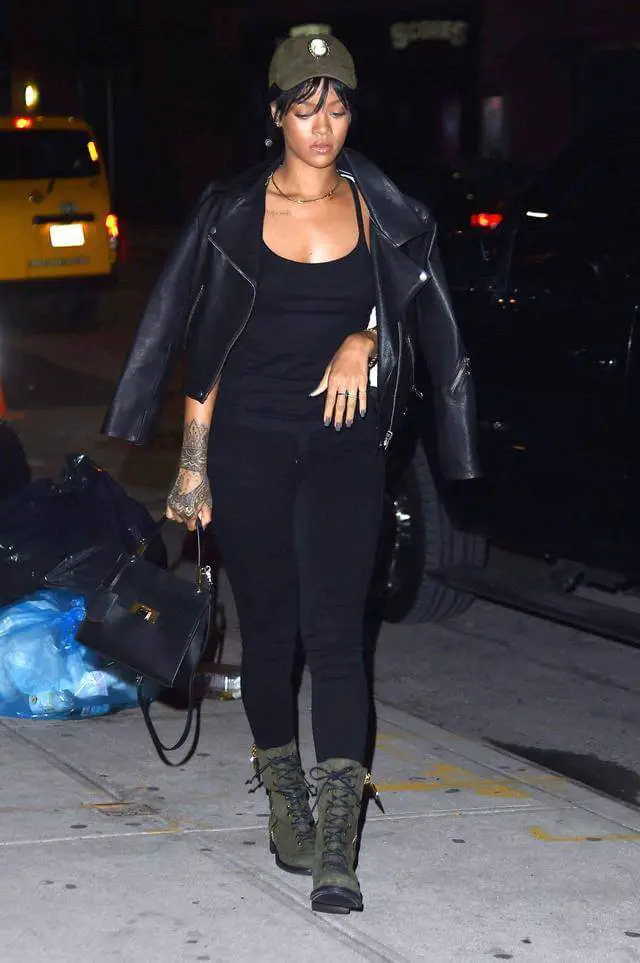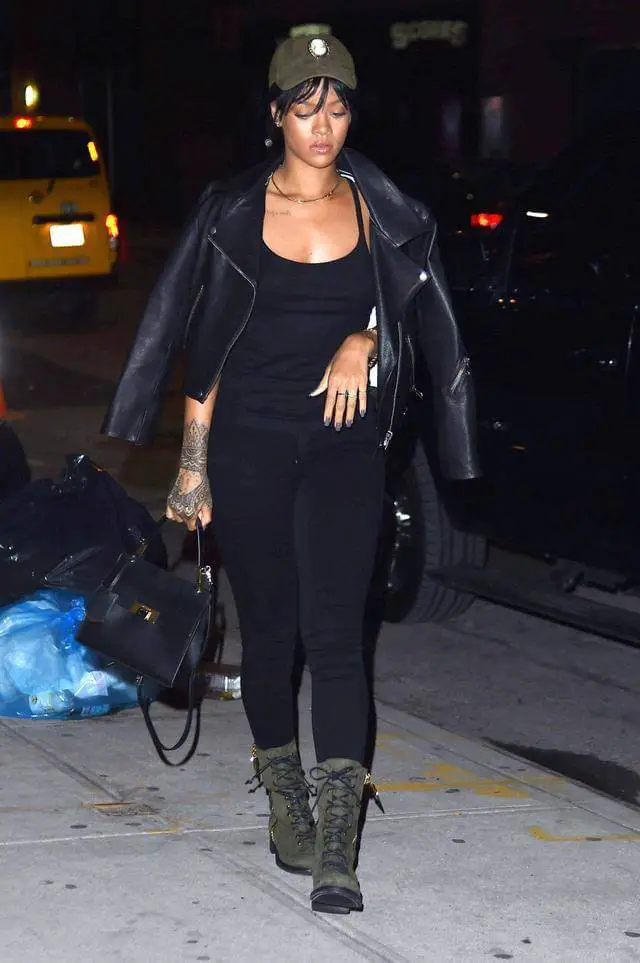 Mix and Match
To do: fitted on the waist, dark shades
Not to do: too tight bottoms
The one and only tip are to minimize the visual effects of buttocks and thighs. According to this principle, choose the upper and lower body pieces with the right amount of width, tightness and of course, color shades.
The right combination of the upper body and lower body is the most important thing. ▼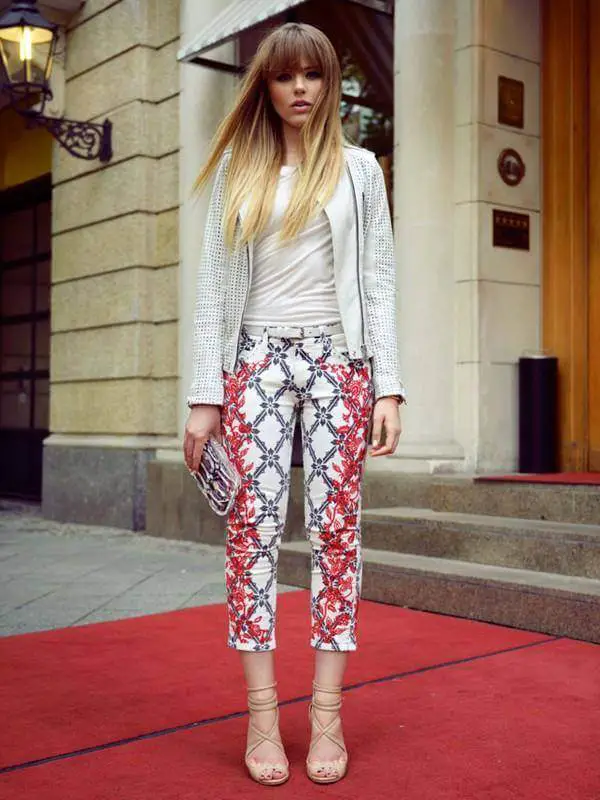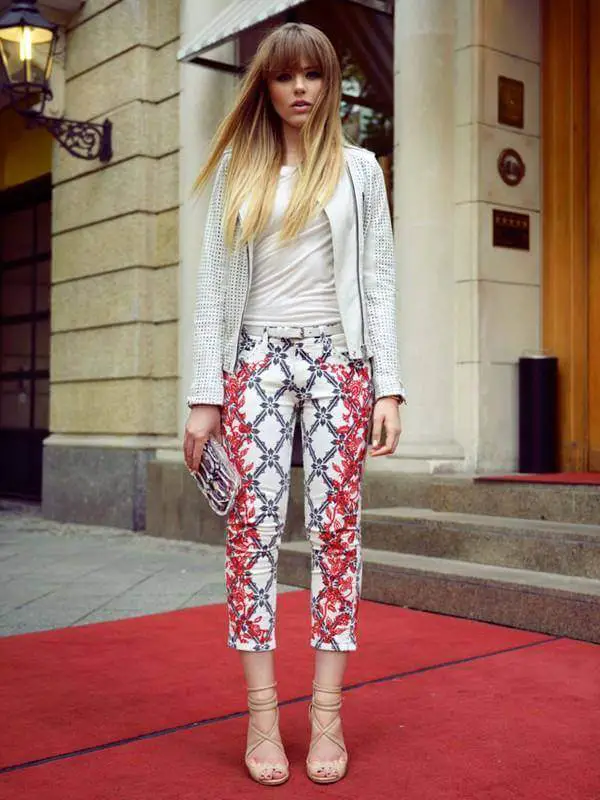 The best condition is to wear a well-structured piece on the upper part. Even if you are wearing tight pants and the top is loose (with right length) the overall appearance will be concise. ▼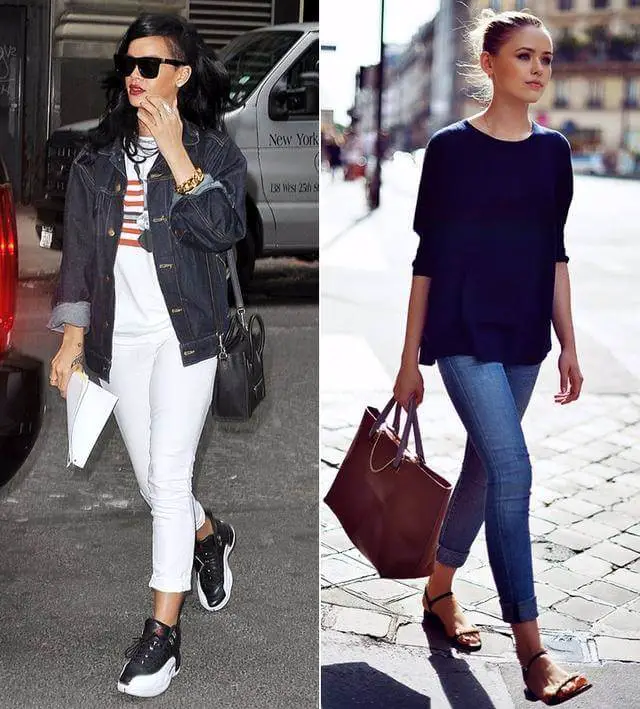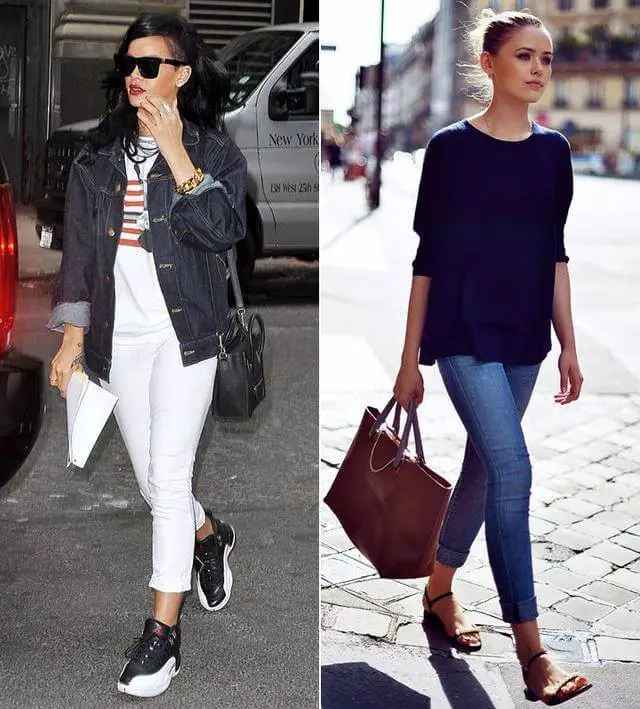 Even if you are wearing denim shorts with the right blouse, you can get an eye-catching style. As long as the overall look is good, no one will look at your flaws. ▼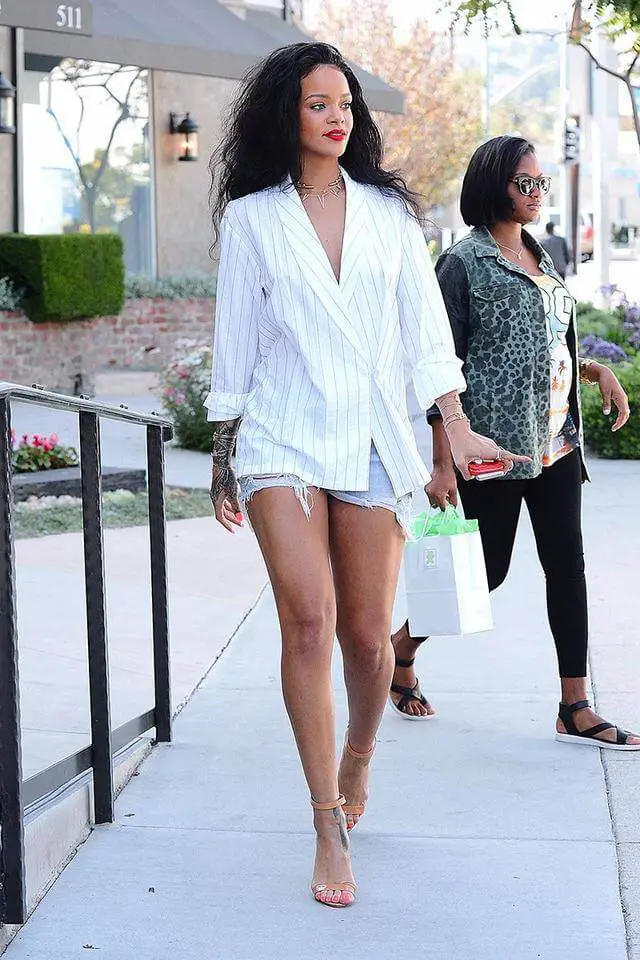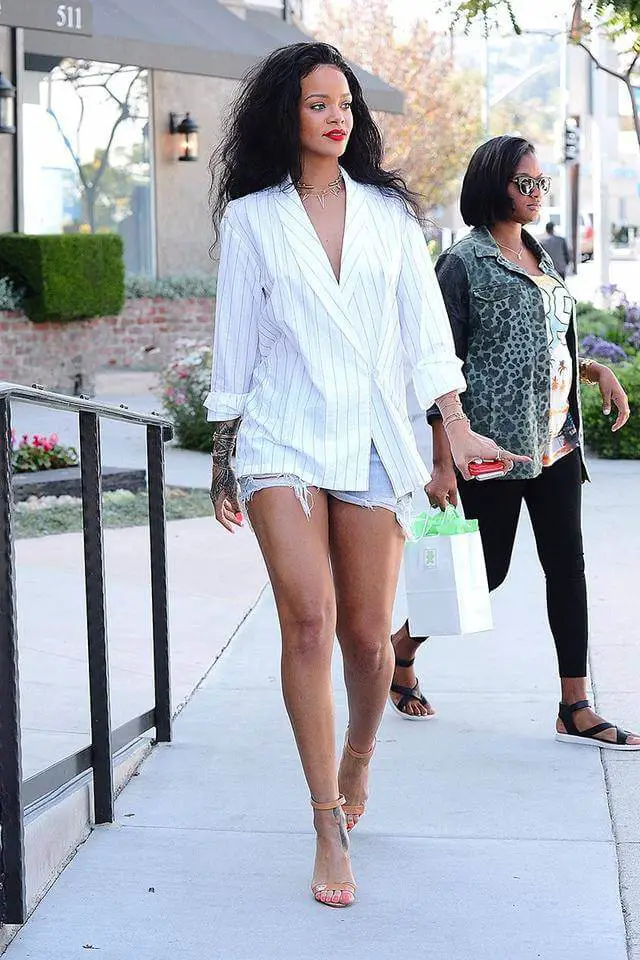 Color matching should be perfect to get a deep and impactful style. ▼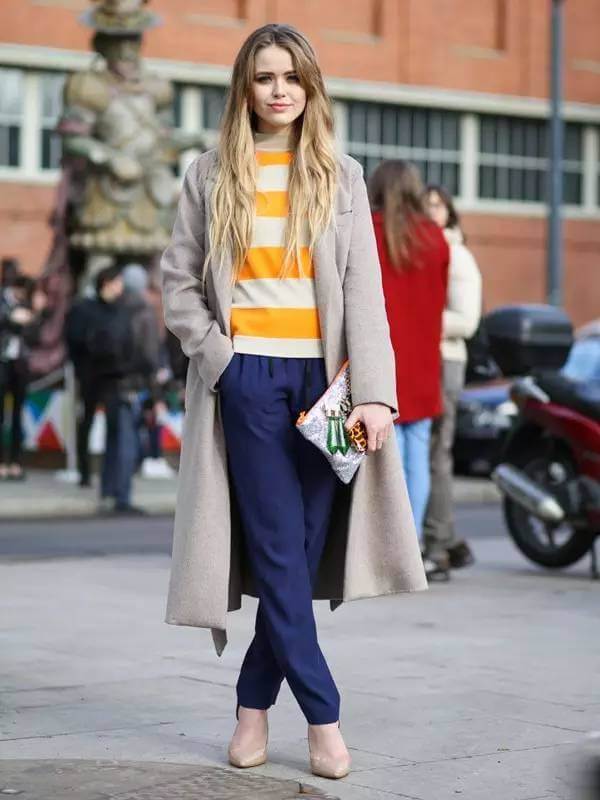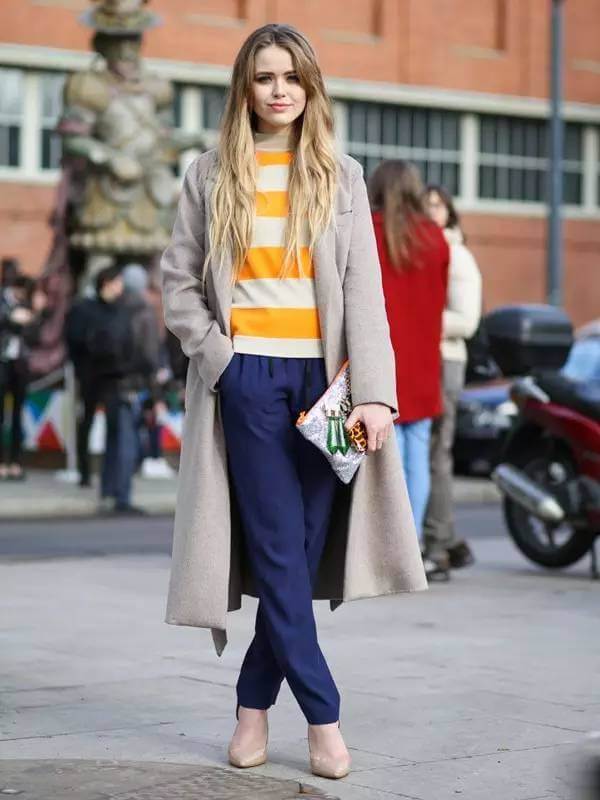 Dark on and off. ▼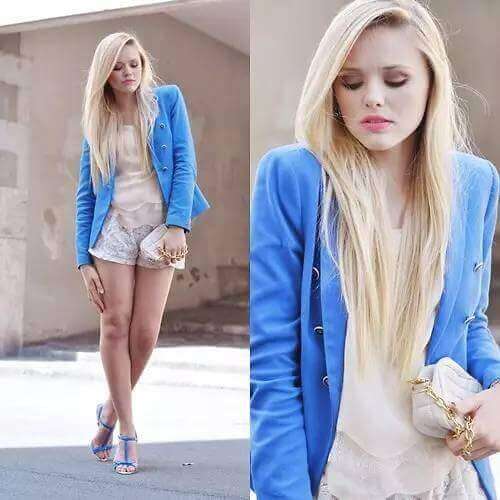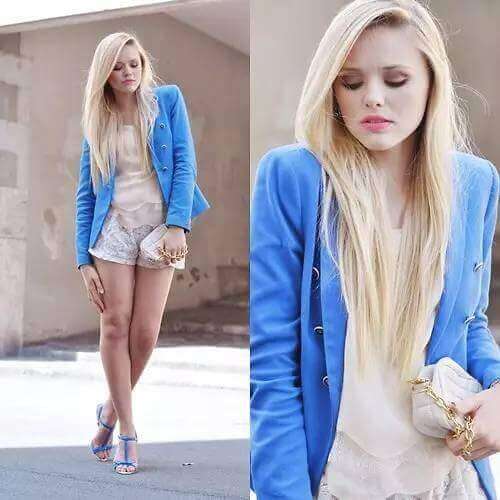 Black and white match is very suitable. ▼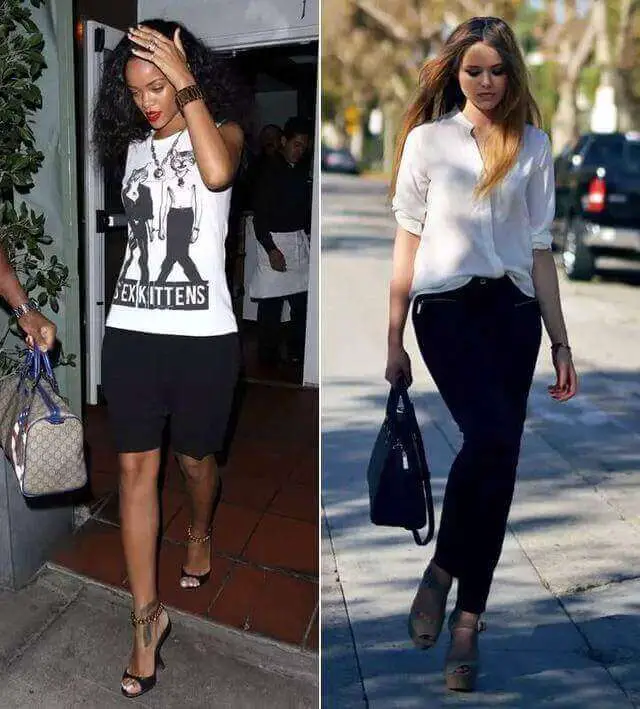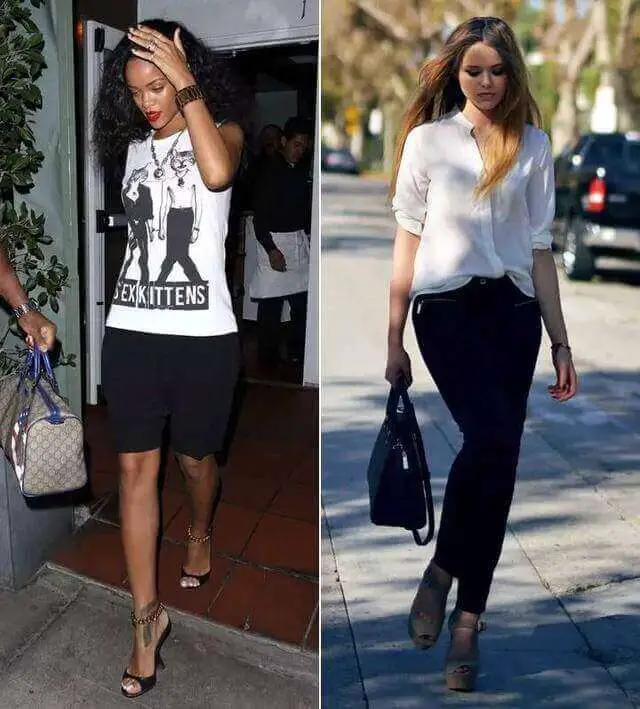 Accessories
To do: belts, ornaments
Not to do: Leather pack
Belts, ornaments, etc. divert the focus on the upper body. The best part of a pear-shaped figure is the upper body area. Remember to highlight your waist. ▼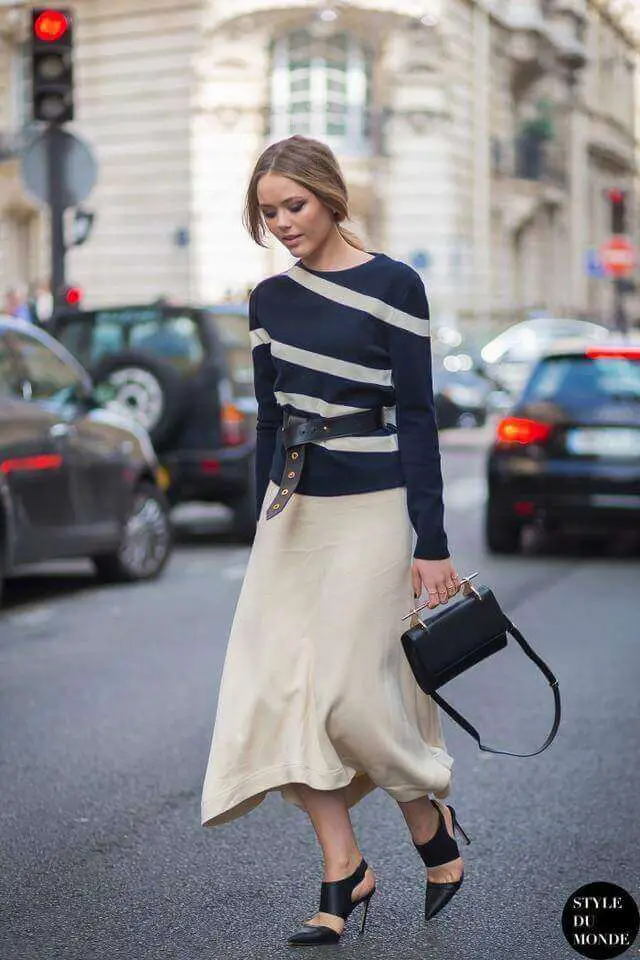 Wearing some exaggerated necklace is also very eye-catching. ▼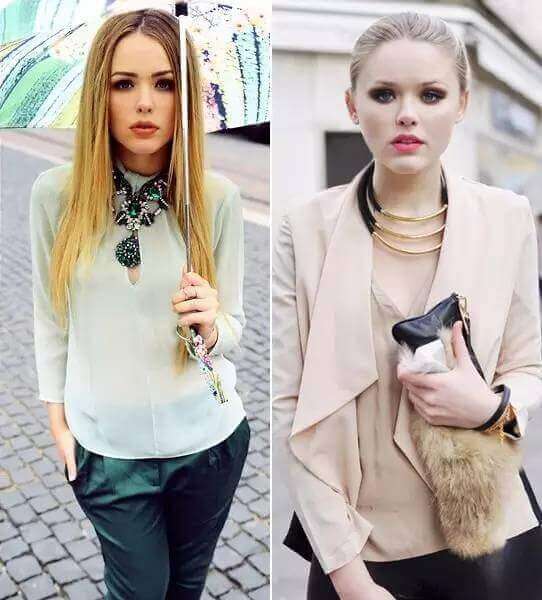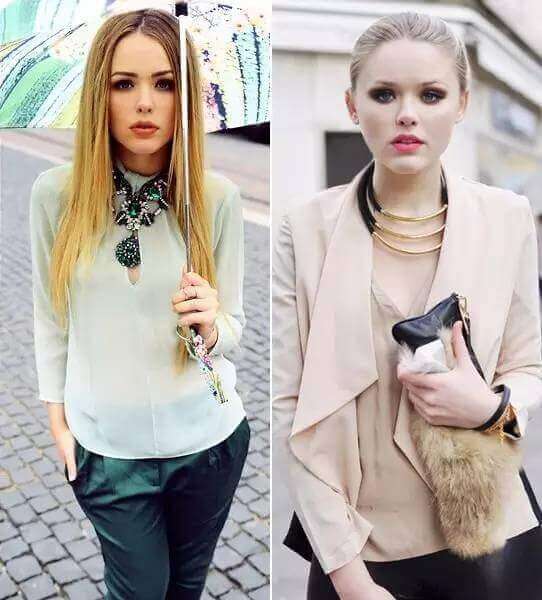 Wearing these exaggerated earrings every day is a great way to divert the focus on top. ▼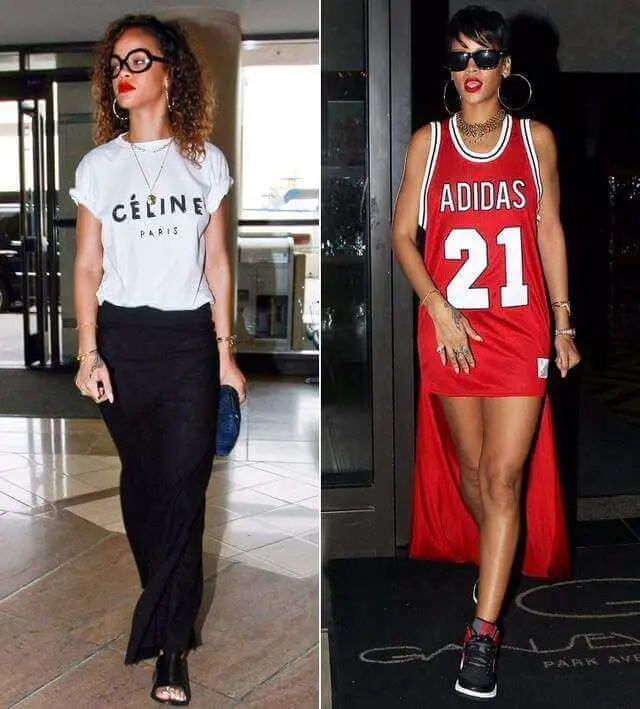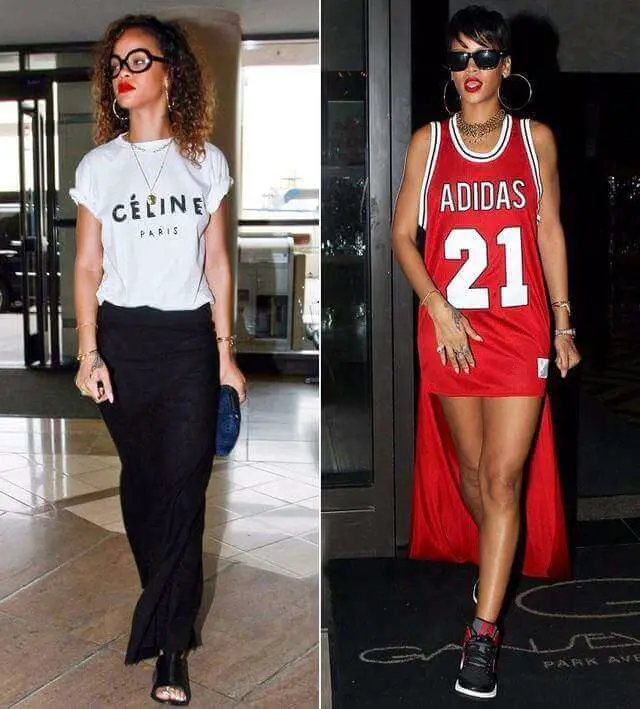 Pear-shaped girls must learn to highlight the waistline. A belt can play the best protagonist. Contrasting colors look best, such as the following golden belt with black clothes, red belt with blue clothes. ▼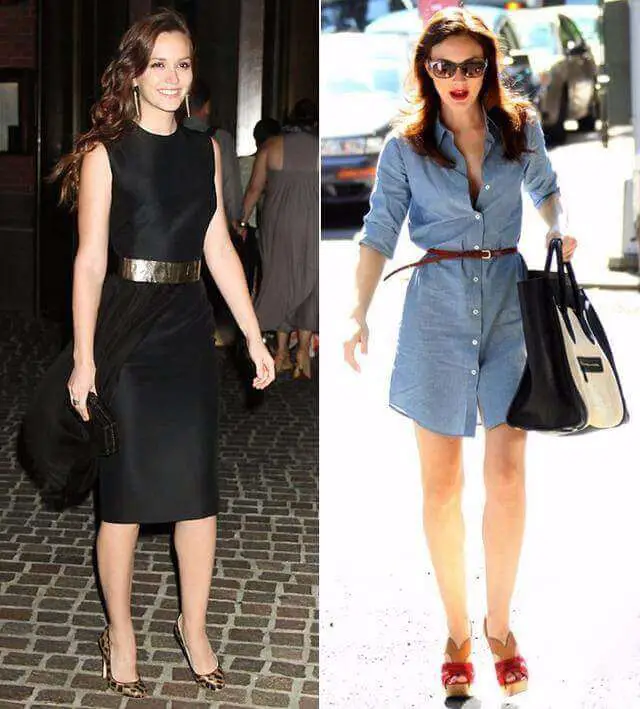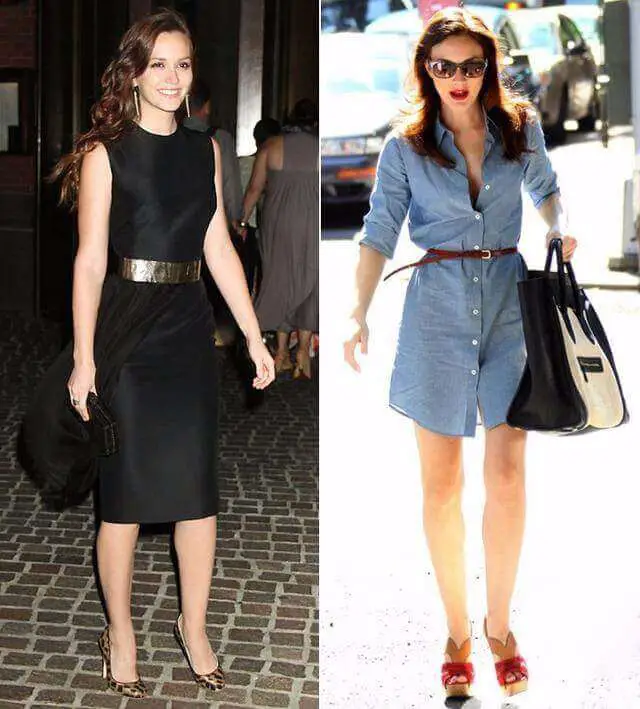 You don't need to use any detailing to highlight the crotch, such as the pockets that are now coming back. The design of this Chanel outfit highlights the waistline skillfully. It gives a very slimming effect to the waistline. But the purse has made her crotch look bigger. Recently, many big names have experimented with pocket style. Don't just follow the trend. Be careful as you don't want to accentuate your bottom.▼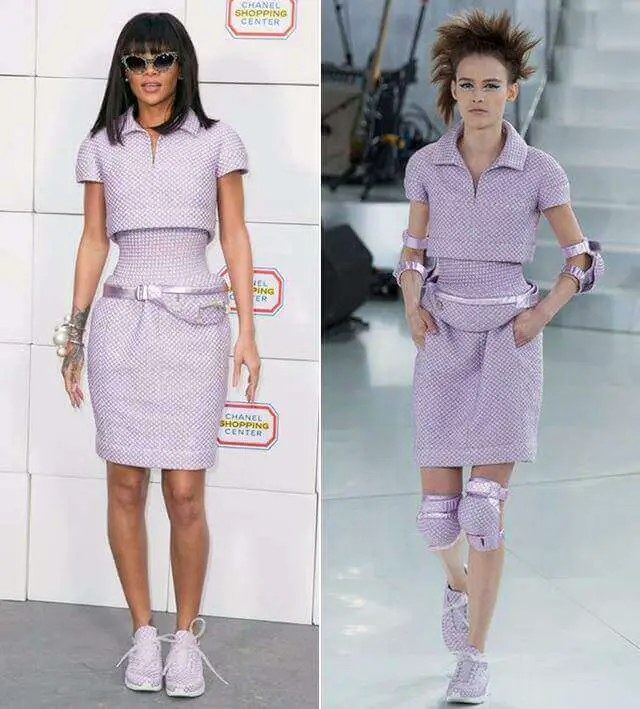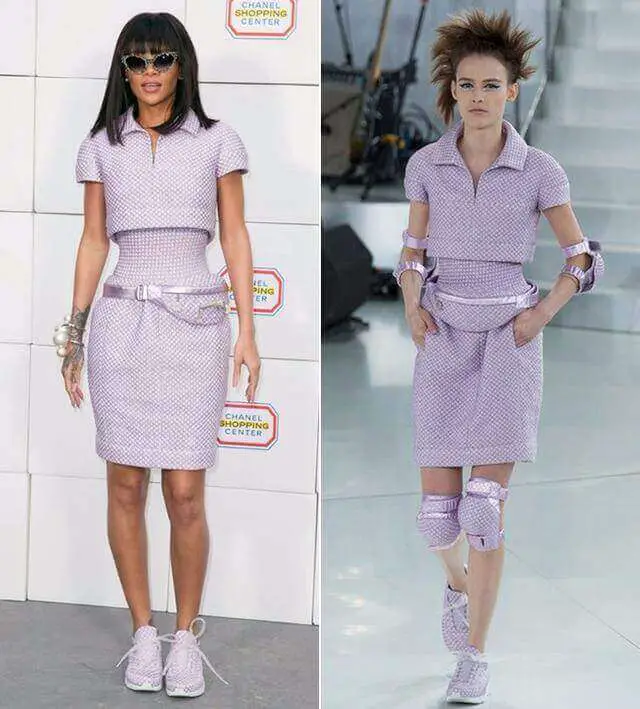 Worried about the pear-shaped body? All you need is to master two principles: know how to use the colors to reach the visual balance of the upper and lower body. Choose the style that modifies the bodily defects and you get a well-proportioned look as a whole~
One thing to emphasize is that for a pear-shaped figure, it is not so easy to shrink the hip or lose the flesh on the thigh. When exercising, it is necessary to opt for waist and butt-targeted training.