A little black dress is a must-have for women's wardrobes. Chanel's founder, Ms. Coco Chanel, said that a woman's wardrobe must not lack a small black dress. A basic black dress skirt with different fashion accessories is a perfect fit for different occasions. Every girl who likes the basic outfit style, should never ignore the "little black dress". In short, a small black skirt must not be overlooked oh ~
For more than 80 years, no matter how people change the concept of beauty, the little black dress has maintained its image of elegance and perfection in people's minds. It is the charisma and charm of a little black dress that countless Hollywood ladies ignore the glittering gorgeous dresses and choose such a black low-key LBD, to appear on the highly anticipated red carpets.
In 1926, designers Coco Chanel and Edward Molyneux led the "Little Black Dress" trend. The earliest black dress that appeared in fashion magazines was from Chanel in 1926. Coco Chanel's little black dress grew to her knees and it was quite suitable for her slenderness. Its appearance revolutionized the thoughts of the women belonging to the new era (then).
In 1994, Princess Diana visited London again in Christina Stamboulian's black dress, and her sexy elegance left deep impact on all.
In 1961, Audrey Hepburn's small black skirt with pearl necklace stole the show (remember "Breakfast at Tiffany's) and it became an ever-famous classic image.
Since 1926, Miss Coco Chanel has shown this little black dress (LBD) as the synonym for classic and timeless in the fashion world. The little black skirt became the "elegant" benchmark. You know what the best part? It makes you look slimmer and shaped.
Didier Lodot, the famous French vintage owner, wrote in "The Little Black Dress": "There is no future for a woman without a black dress." This sentence illustrates the classic status of the little black dress, and Hepburn became a hit. Givenchy's little black dress is the most outstanding example. Its 4G design styles— Gneteel (classical), Grace (graceful), Gaiety (pleasure), Givenchy (Gifford) are also quite inspirational—that is the reason why women love it.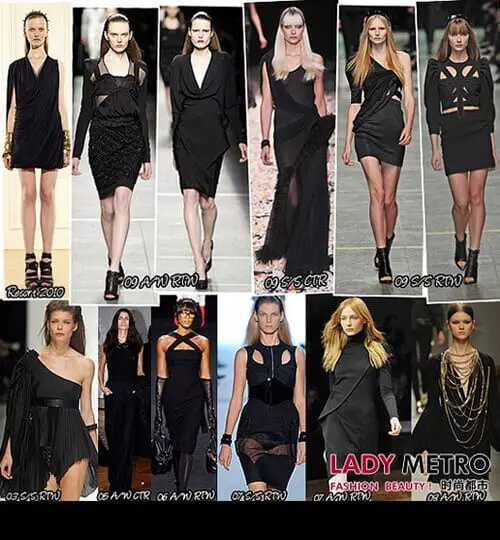 The secret of Givenchy's classic little black dress: Givenchy has been redesigning the little black dress all the time. But the classiest design is always the sleeveless and wrap-around style. The colors of the fabric are made by dyeing white cotton. Black outfits designed with silk, lace, ruffled detailing or made up with any other light fabric are best to highlight women's femininity.
 
Which style of little black dress would you pick?
 
1-X Skirt Type
This particular style is suitable for all body types. The X skirt highlights the waistline and gives you a slimming effect with more feminine appeal.
2-H Type Skirt
Compared to the X-skirt (X & H on the left), the H-shaped little black dress hugs around the torso area, exposing the curves clearly. Its fitting looks like the classic Givenchy style. This type of skirt is suitable for a variety of body sizes such as H-body (hourglass), micro-A body (pear-shaped), etc. Talking of the most appropriate length, a length that hits around the mid of thighs is best, especially for petite girls. While the commuter style should be somewhere around the knee (up or down).
3-A Skirt Type
This skirt has a simple style with a unique charm. The A-style black skirt has a widened hem, which can be used to finely modify the O-type (apple) shape in the lower abdomen and the A-type (pear-shaped) body with thick hips and thighs. Talking of the skirt type, how should the black skirt be accessorized?
In fact, for basic black dress, the best match should be the principle of less is more. The less decorative the accessory is, the better you can highlight yourself.
You can also choose a style of accessories to highlight your small black dress. It would be helpful in defining your own style. Opting for an exaggerated big necklace or a dazzling belt can also give a flattering look.
Little black dress is an absolutely universal dress. You do not want a black monochromatic look, you can match it with different bold colors. The little black skirt can easily match with different types of jackets. A little layering up with a suit jacket, promises a classy business look.
The best layering up partners for a little black dress are—a leather jacket, baseball jacket, and denim jacket … … have them to have a chic upper body immediately.
When it is about making the choice of a little black dress, it does not make difference whether you pick from HM, Givenchy, or Araya. All that matter is a perfect fit. If it fits you perfectly, you can wear it for years. Girls with chubby or petite body should avoid wearing black dresses that are too tight. Look for the bigger pieces with a slight surplus of 0.5 yard.
Girls who are not very much decisive about their outfits must have two little black dresses at least.
Are you ready for your own little black dress?