A bomber jacket hits around your shirt. For me, a bomber jacket is a casual staple, just like a white shirt or striped tee. Wearing it conceals whatever you are wearing underneath. Even if that happens, I am OK with it.
Today everyone has got a pilot's bomber jacket but how to wear it in order to reflect a new styling dimension?
Tips 1: Change the Inside wear, the basic items can also bring a new look
For example, it looks adorable and no mistake can be made in an all-black look.▼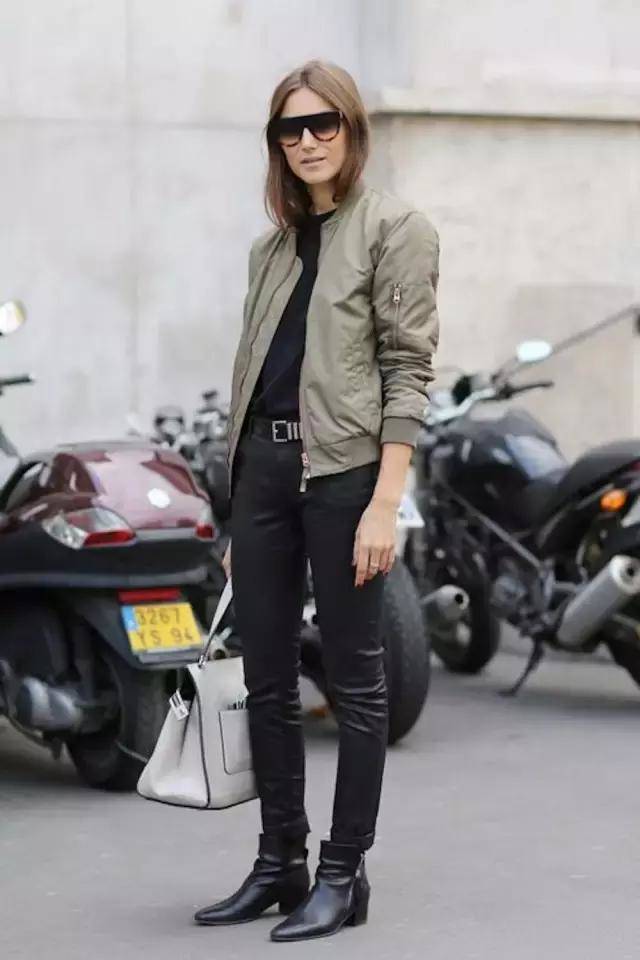 A variety of looks can be tried with a bomber jacket. For example, replacing the black shirt with a soft white shirt, without changing any other item can get you a soft and refreshing look.▼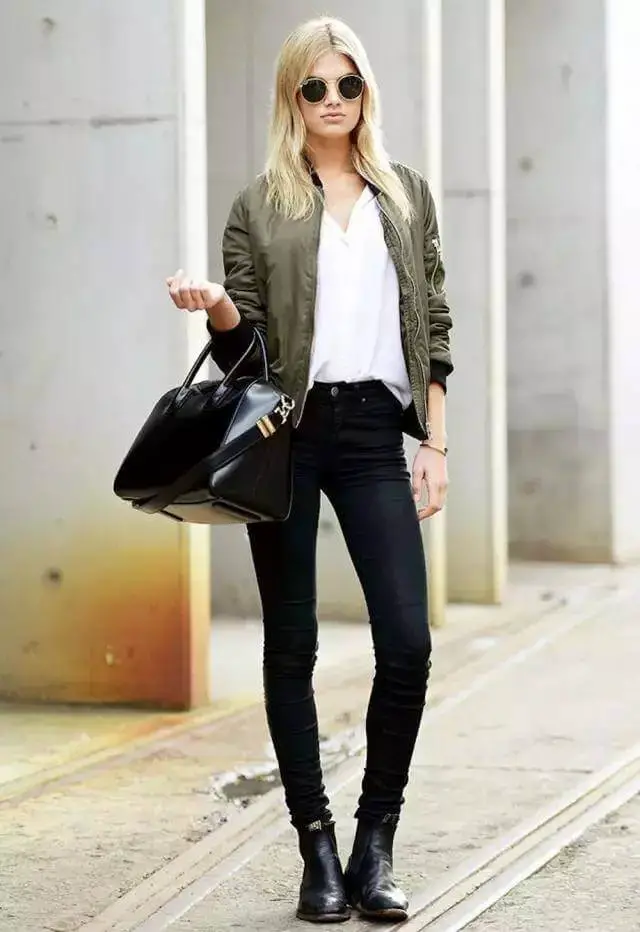 Asians with a yellowish complexion should not wear the classic military green bomber jacket with a black inside wear. Contrarily, the white inside will not just brighten the skin but it will also give an easy-on-eyes look.▼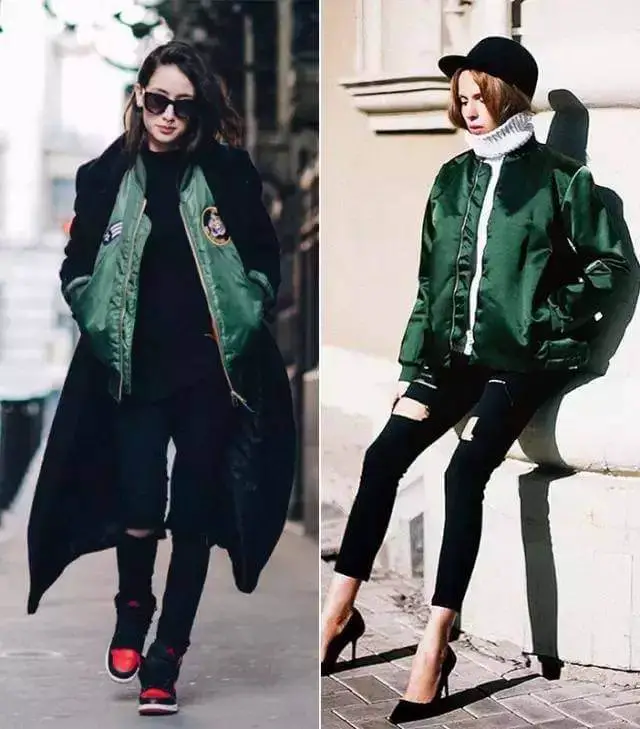 Black and white striped shirt plays a good inside wear with common pilot jackets.▼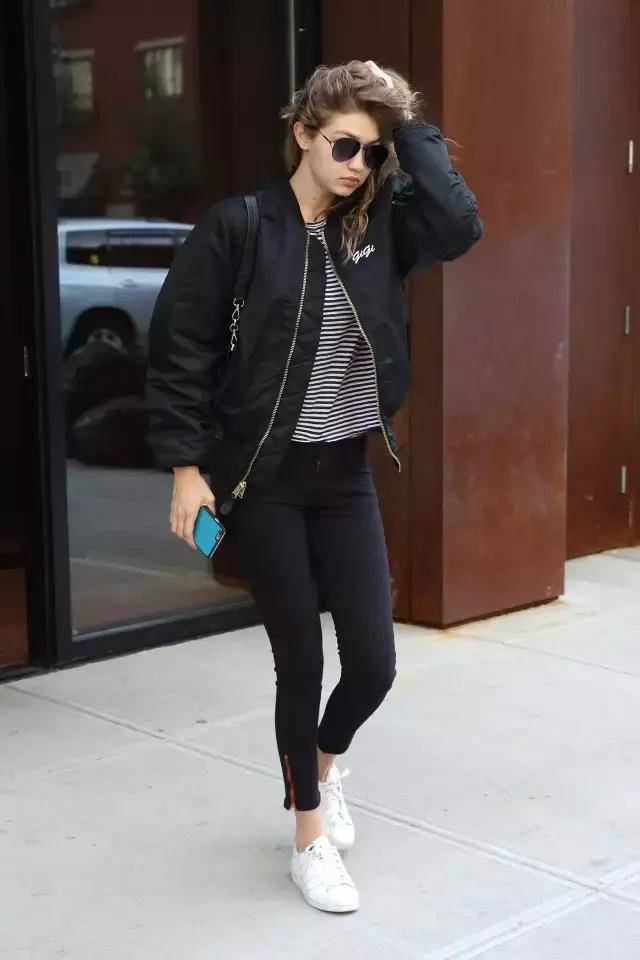 However, if you want an exceptional look, you can try some bolder options.
Tips 2: Try the Color Ride
If you want to look funkier and livelier, you can freely handpick some boldly hued inners.
A bomber jacket can be worn with a red inner. The sizzling combo of red and black promises more visual impact ~~▼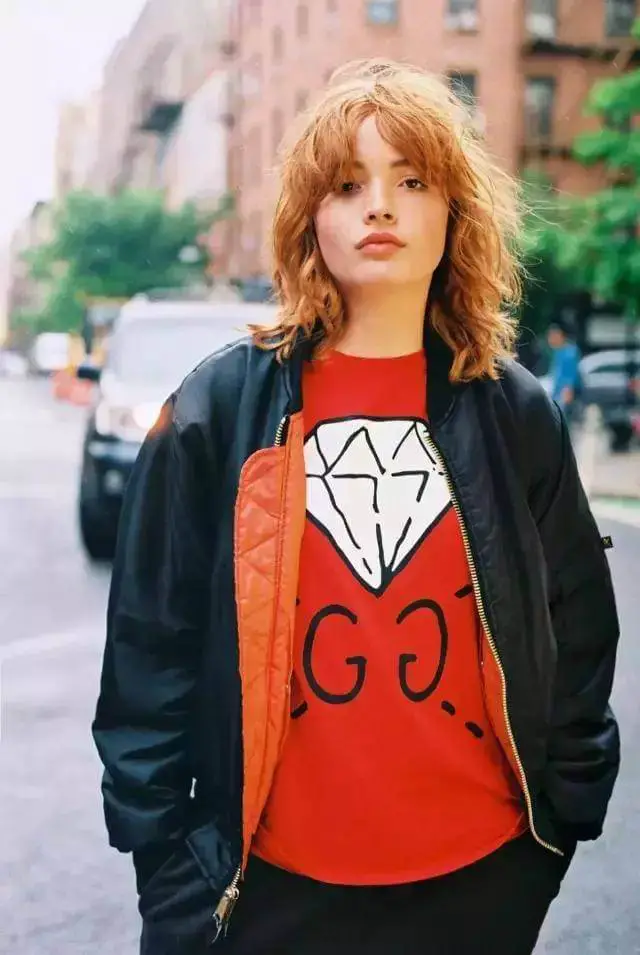 You can also choose some yellow or orange inner ride with military green jacket , it is the easiest way to get an excellent look~▼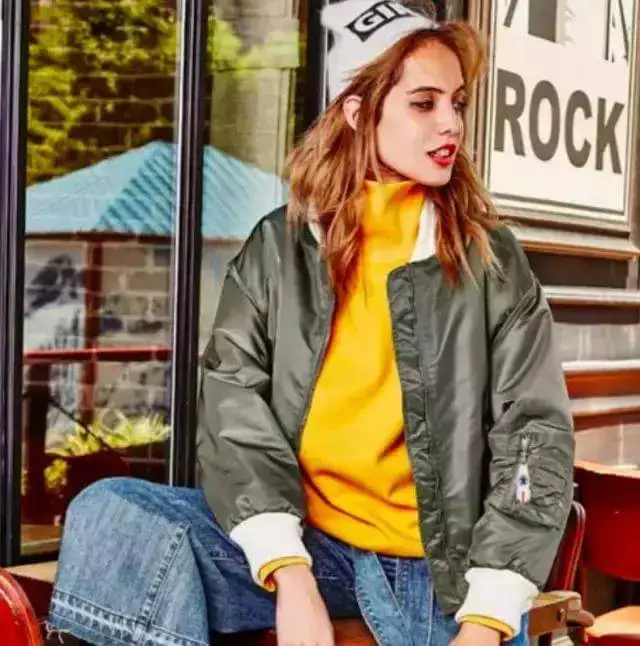 Olivia too flaunted an orange inner wear, over a printed dress.▼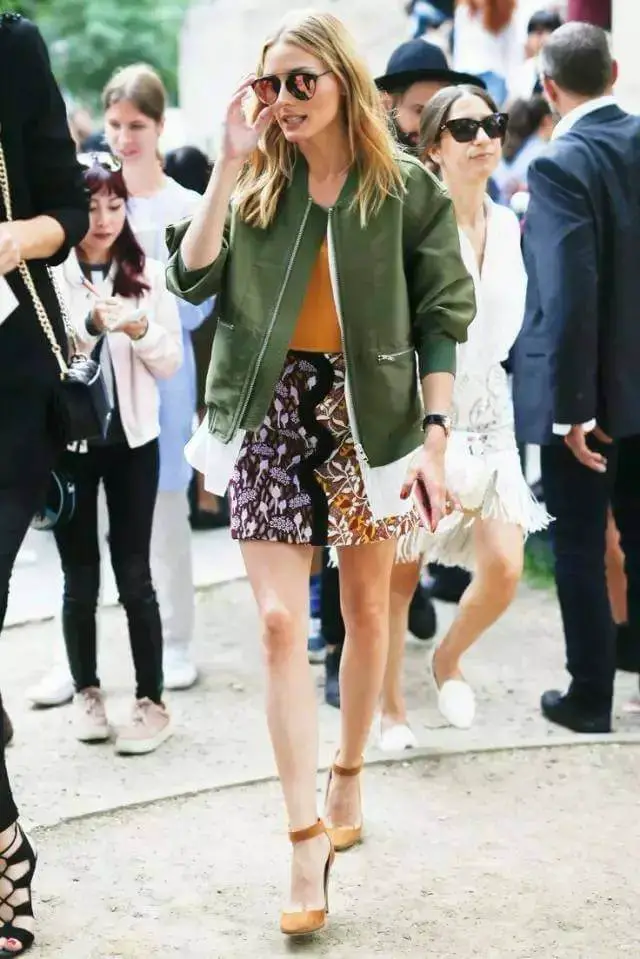 The other military green tops can also be paired with a green military jacket to create a harmonious color scheme. However, this style is more suitable for white skinned girls ~▼
Wish to look more vibrant? Try a colorfully striped dress as inner.▼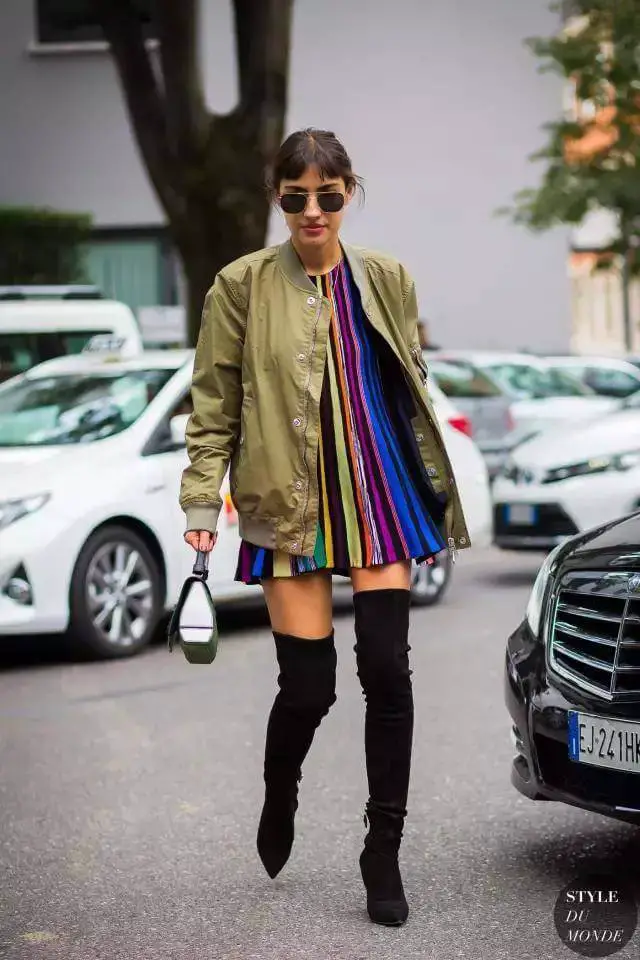 Tips 3: Change the Style
Besides incorporating the colors, you can also work on more innovative styles. For example, pilot jacket and hoodie are a perfect match. The combo promises a sporty and funky look~▼
Replacing the basic T-shirts and shirts with oversized ones adds a cool appeal.▼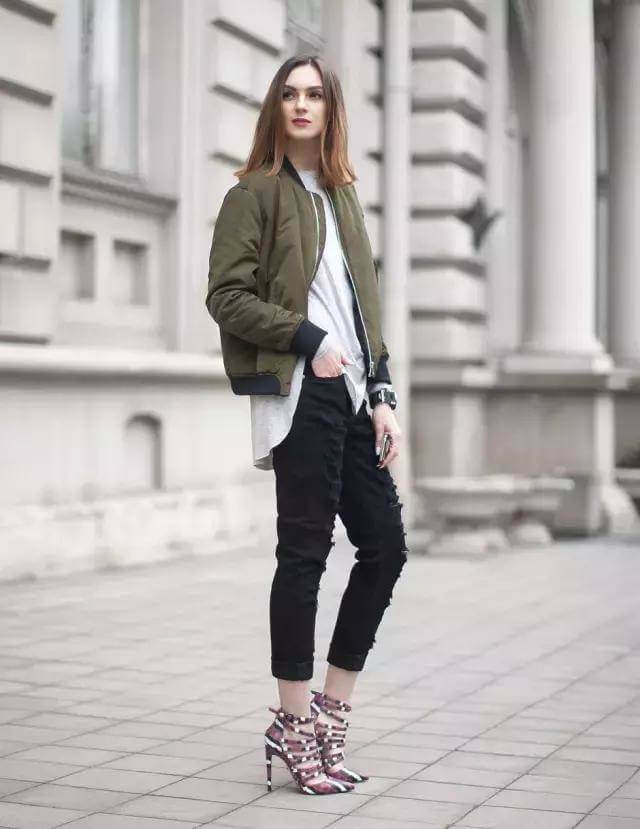 Expose the arms to avoid a bloated look ~▼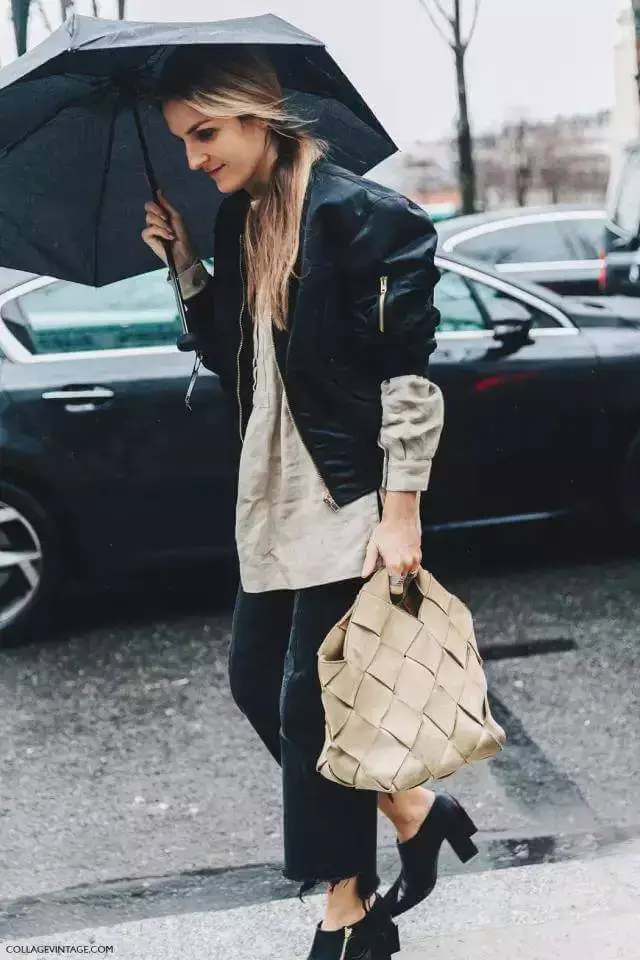 Tips 4: Stacking keeps warm and beautiful
As I mentioned earlier about the unsuitability of green military jacket over yellow Asian skin, the other point that Asian girls (with flat facial features) must pay heed to, is the design of small round neck. You can try something different on your collar. For example, adding a collared shirt to the sweater and jacket uplifts the whole look.▼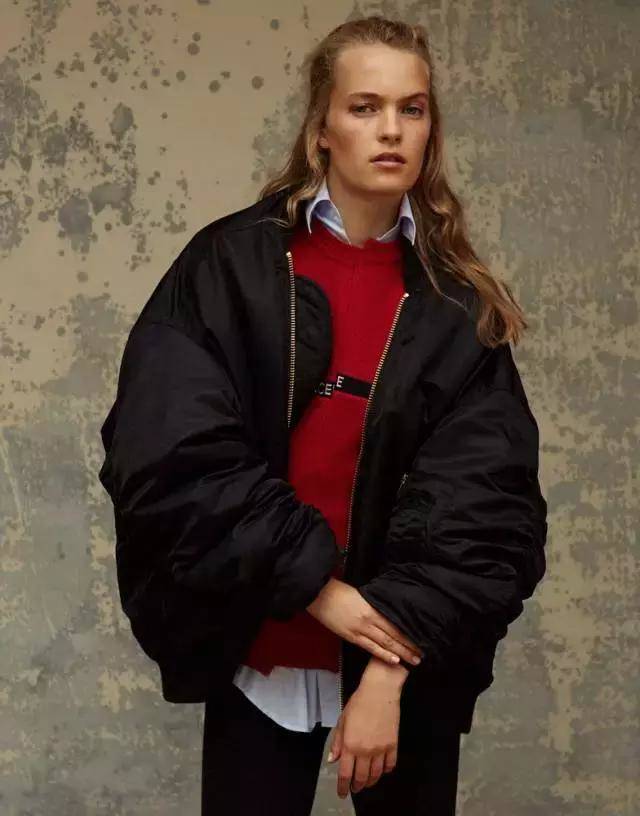 Gao Junxi gets a bolder look with a retro small collar to make the pilot jacket a little more sweet.▼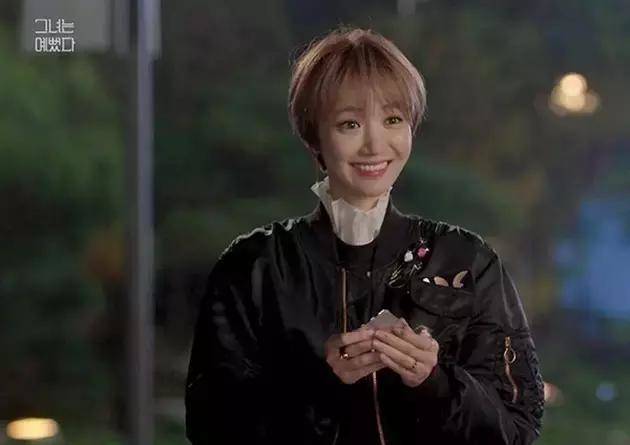 Lace dress with high collar inside, the beauty of opposites!▼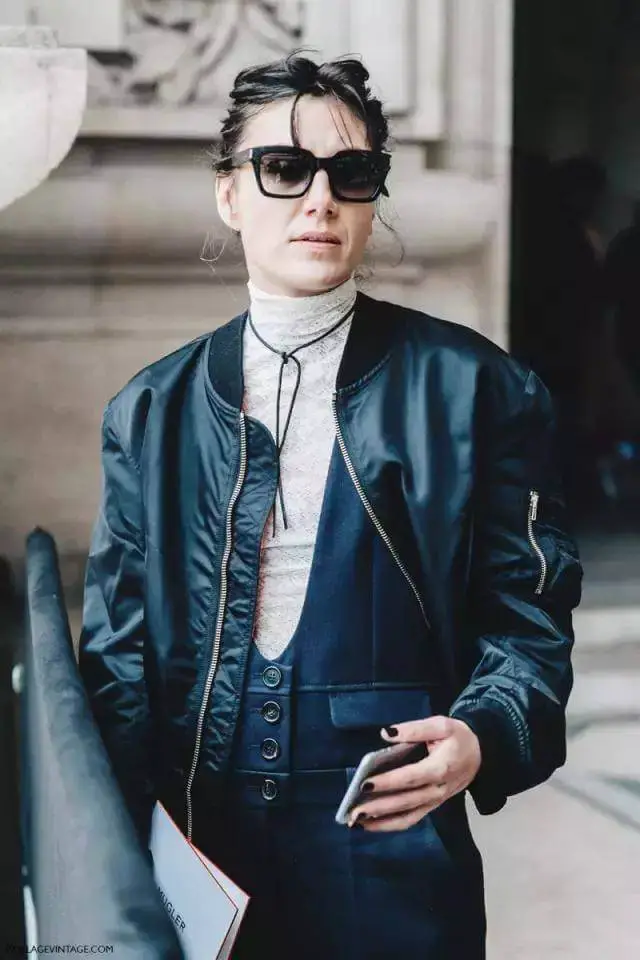 Many pilot jacket designs are slightly oversized with large shoulders and sleeves which makes it easy to stack. This style not just gives a chic appeal but it also keeps you warm in winter.
Some large sized jackets have enough space to wear something thick as inner. For example, the following figure stacks in motorcycle leather jacket and hoodie ~▼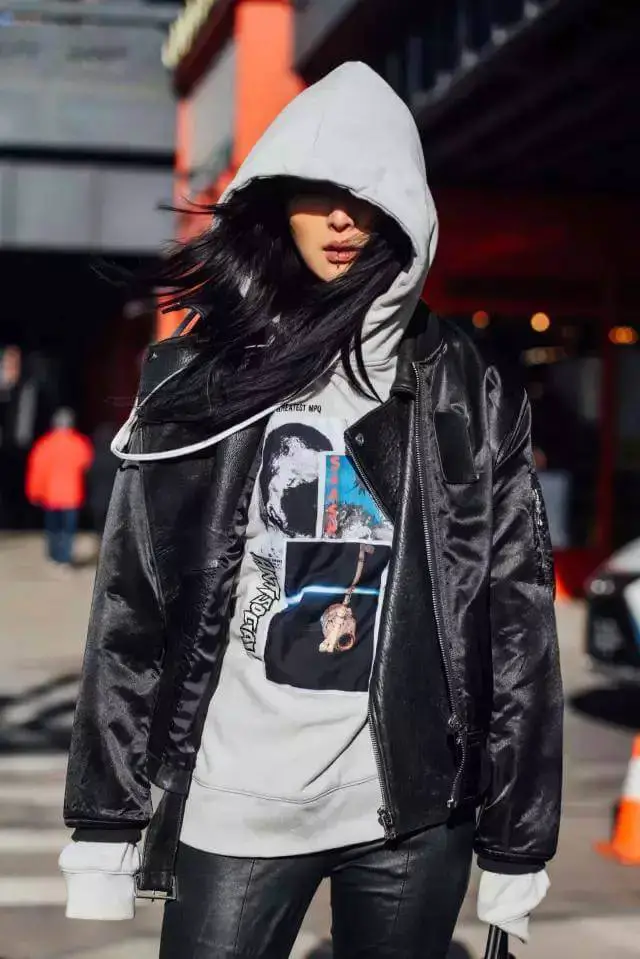 Small suits and plaid shirts can also be worn inside the bomber jacket.▼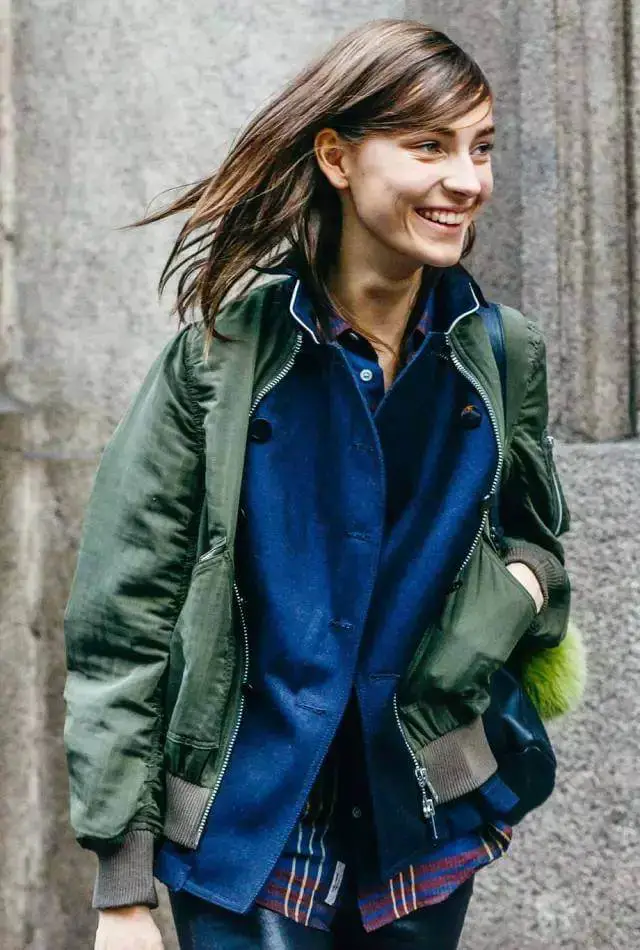 There are some fashionably advanced girls who can experiment in a unique style by wearing the pilot jacket directly outside the coat or jacket. This style is based on personal preference, still not common among masses.▼
Tips 5: Try different lower body Items, just a bomber jacket is not enough to Look Stylish
Because a pilot jacket offers a round silhouette, many people can't help but pairing the tights to create a loose upper and tight lower body. That is a cool style., right?
Pants can also have many options:
For example, replacing the tight-fitting jeans with high-waist straight-leg pants offers a more retro appeal. The picture shows the supermodel Li Jingwen who is very famous at the moment. The difference between the two sets is mainly due to the change in the style.▼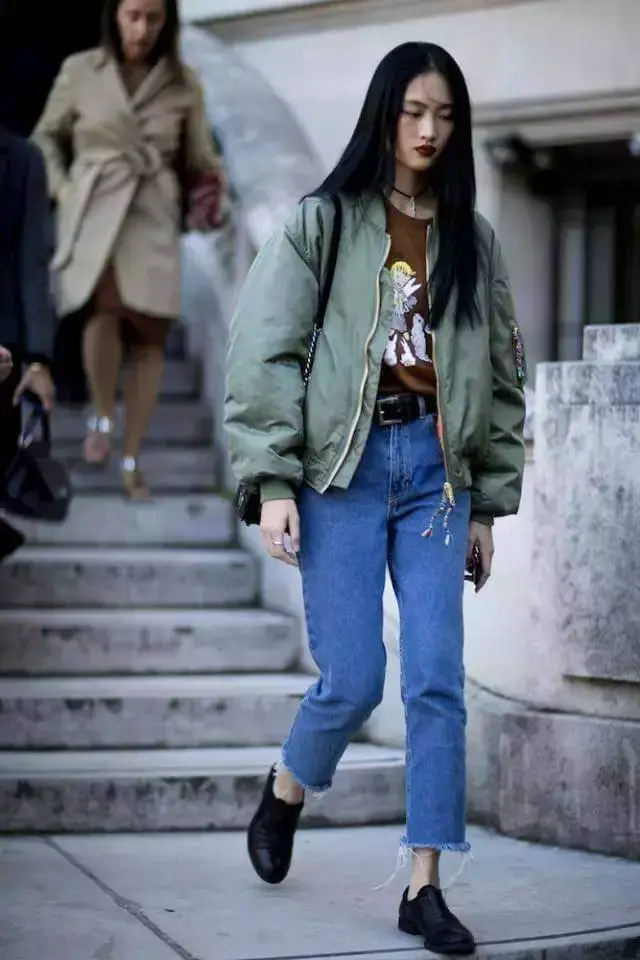 Duma used this short pilot jacket to look heighted.▼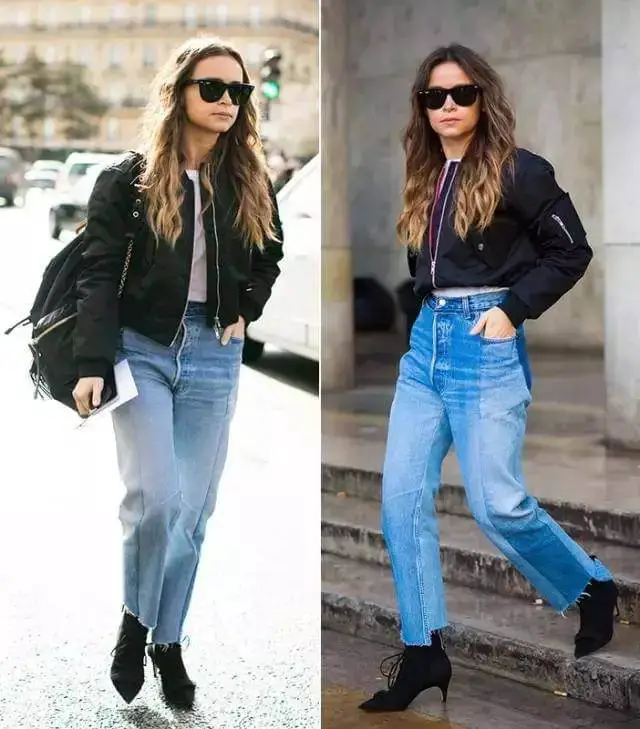 Take this year's very popular nine minute micro-pants, these look relatively smarter.▼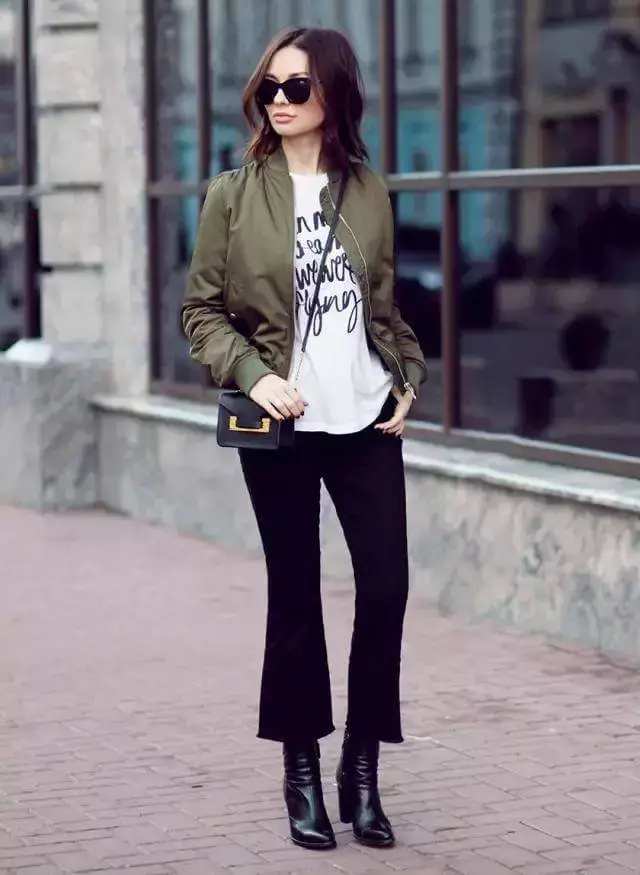 Diletta Bonaiuti used a bomber jacket with bib pants. Combining this classic with a jacket perfectly shows off your trendsetting style ~▼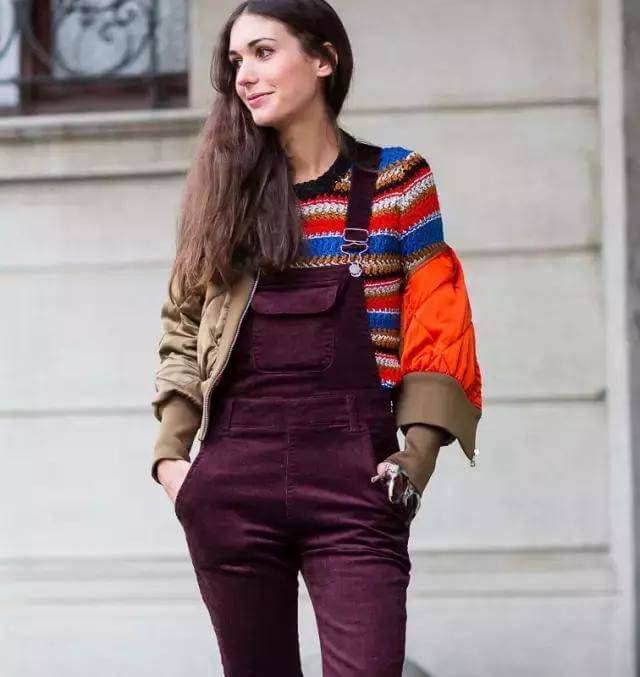 If you want to look more stunning, you can try a short pilot jacket with wide leg pants.▼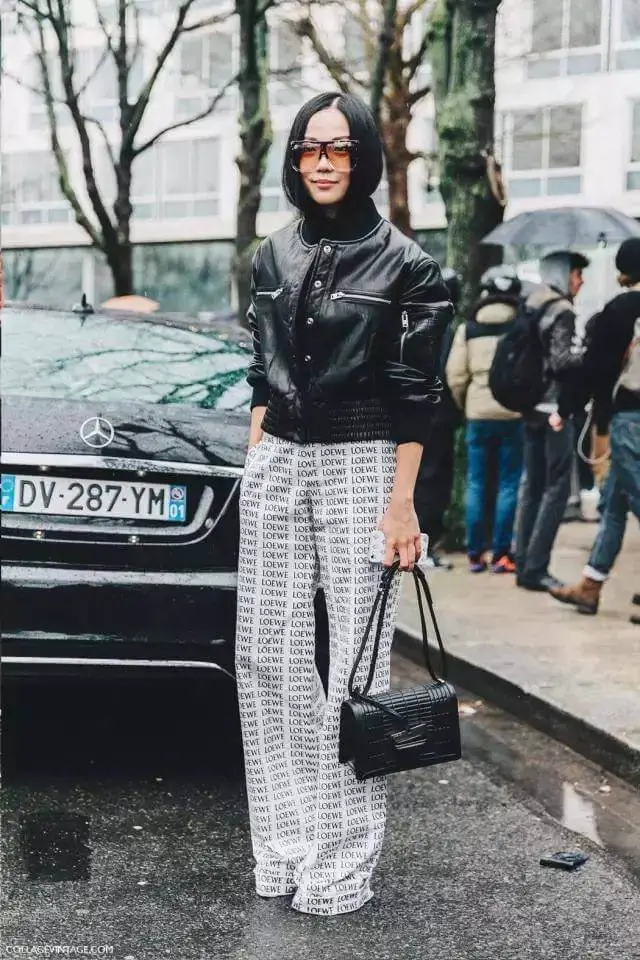 Tips 6: In fact, a bomber jacket looks cool with skirts
That's right, the bomber jacket looks good with skirt.
The best skirt type for a regular style bomber jacket is a pettiskirt. Army green bomber jacket, when teamed up with denim skirt, creates the eye-catching combo of blue and green.▼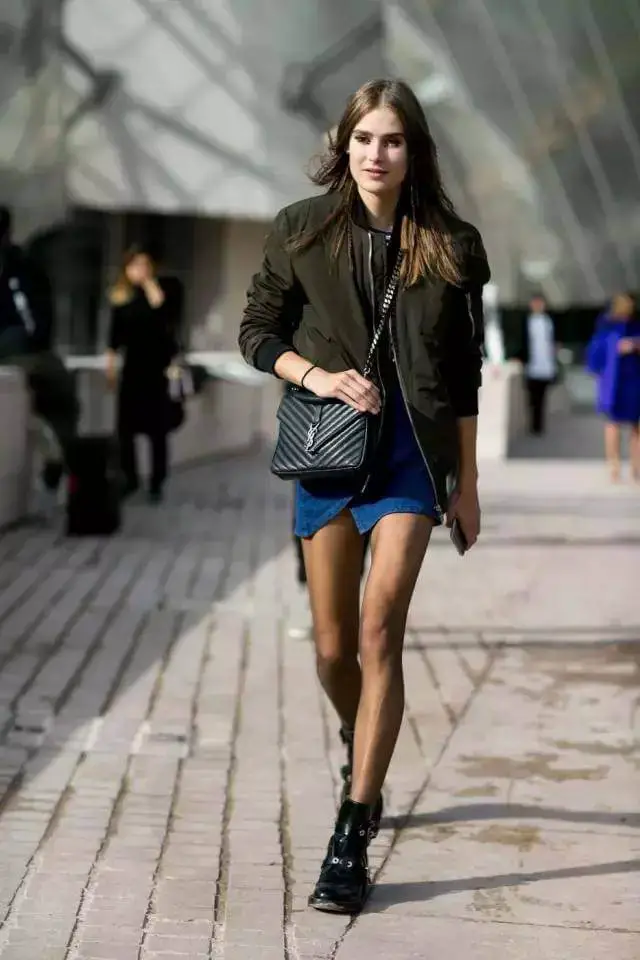 Black pilot jacket with black leather skirt can also look handsome.▼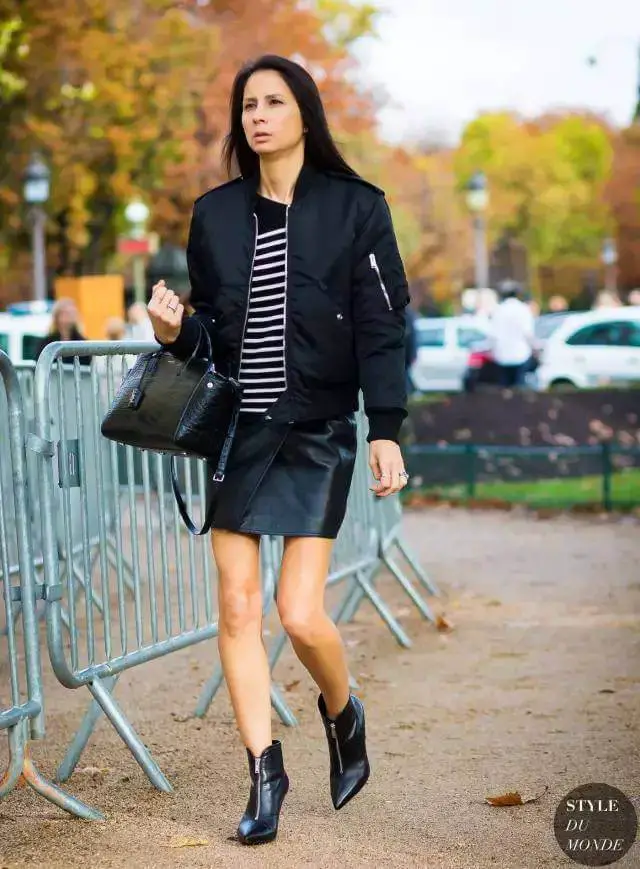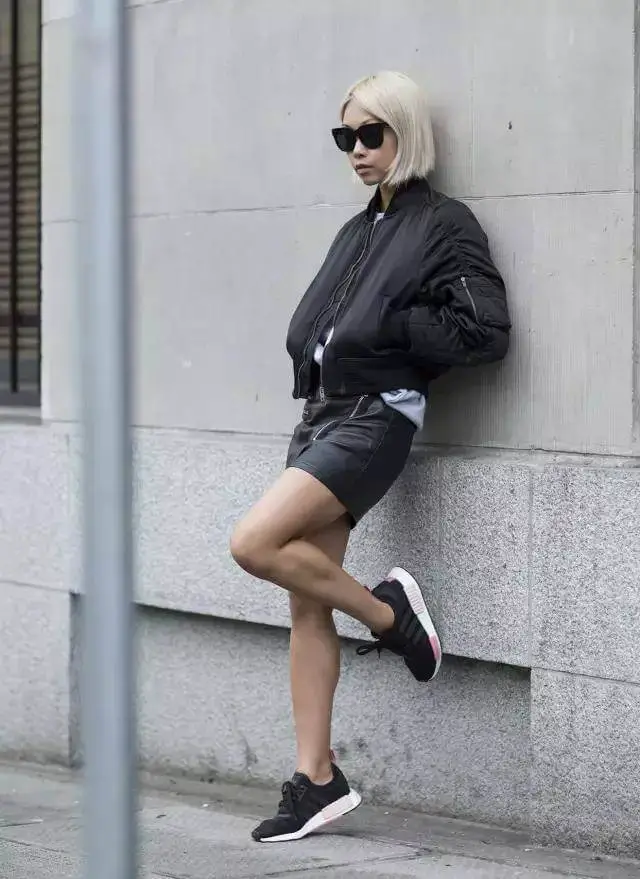 Those who want to get a unique look with bomber jacket, can't ignore accordion skirt. Check out the image, a bomber jacket coupled with white pleated skirt is quite refreshing. However, it is best to choose flat shoes, such as flat white shoes or leisure shoes.▼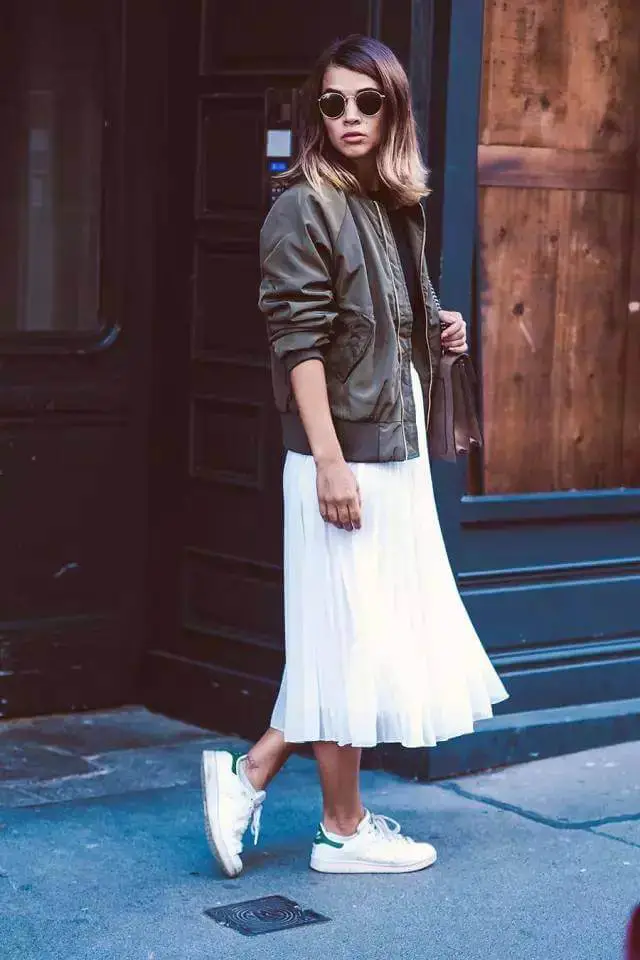 A bomber jacket can also be worn on the outside of the knitted skirt. Different materials combine to give a new look.▼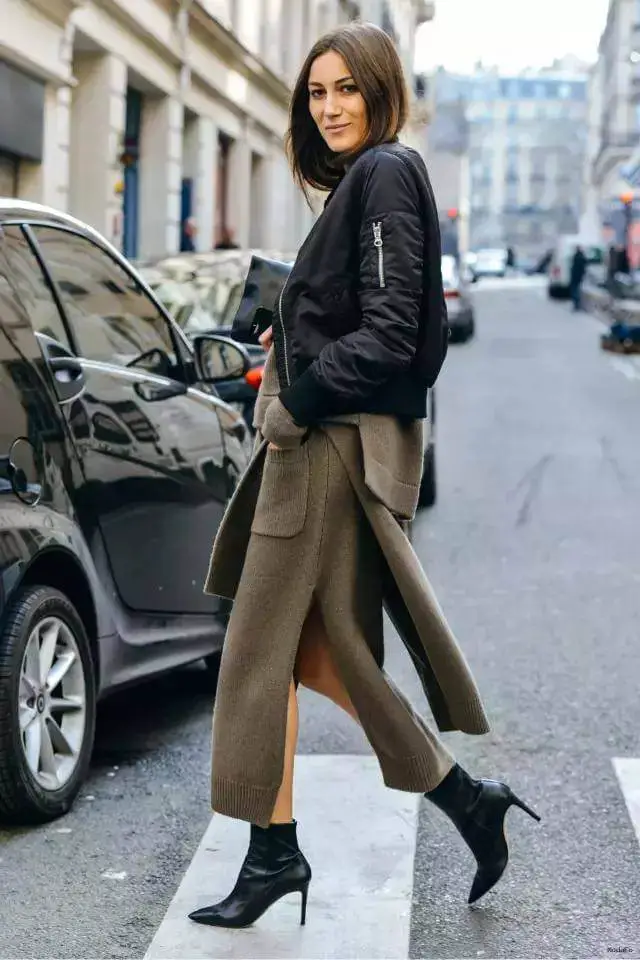 The slightly longer pilot jacket with a dress ~ wear this look to get a sexy appeal.▼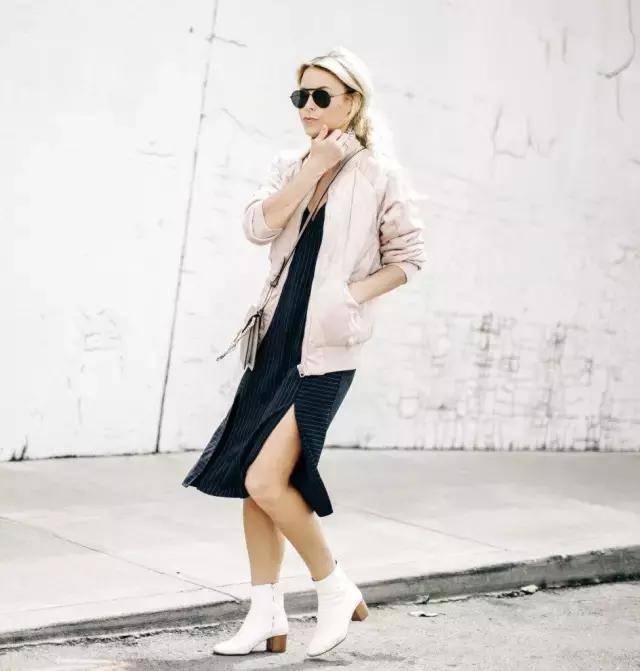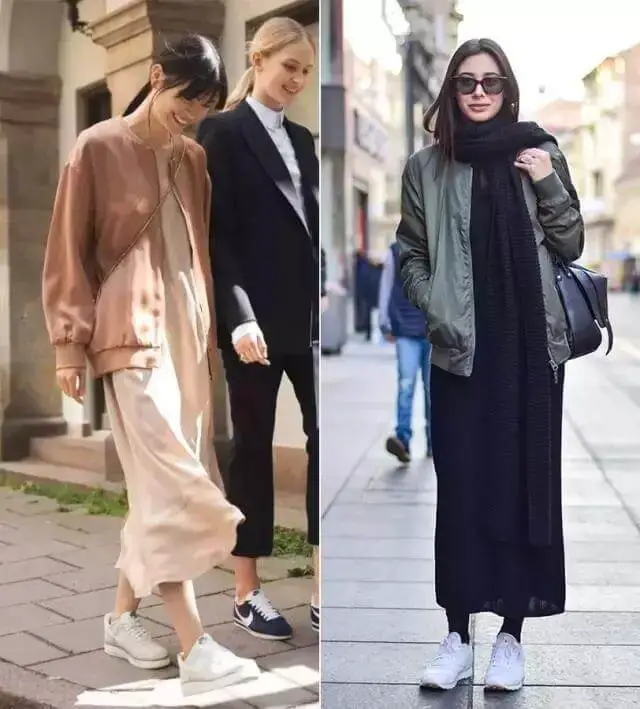 When using a bomber jacket with skinny pants, I prefer to use it with black shoes that are slightly higher than sneakers and other athletic shoes.▼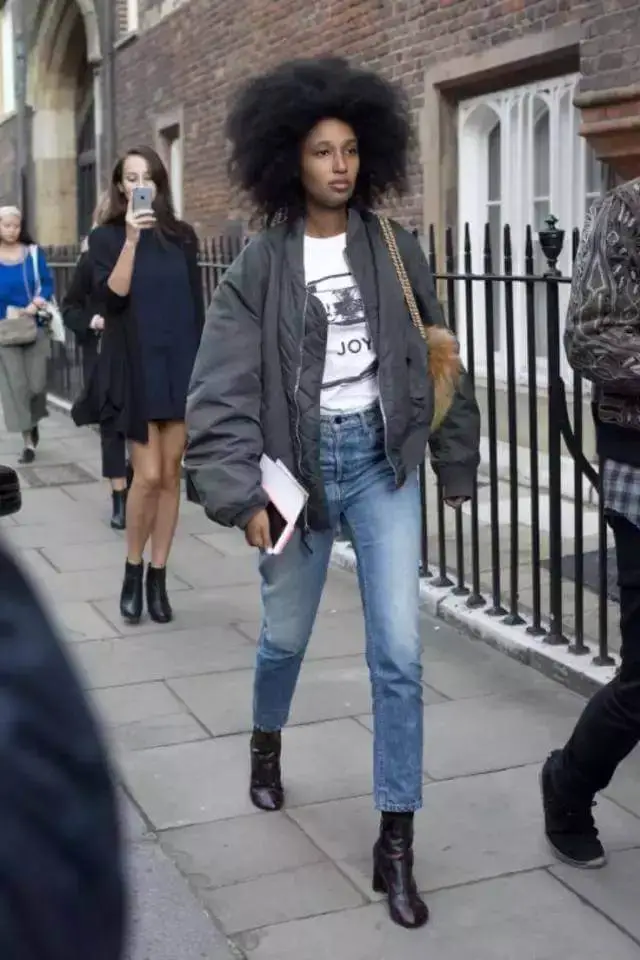 The combination of the pilot jacket + black tights + black boots is even more appealing.▼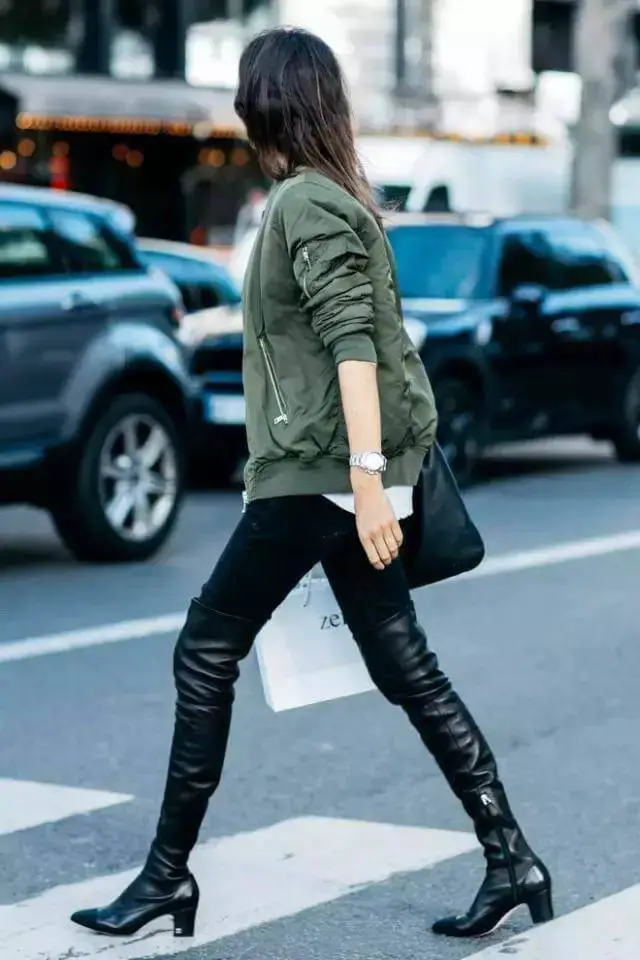 Tips 7: Add accessories to create your personal style
With all other useful tips, the simplest is to light up the overall look with dazzling fashion accessories.
The classic accessory for the pilot jacket should be a choker. This photo from "This killer is not too cold" is quite familiar to everyone. Isn't it?▼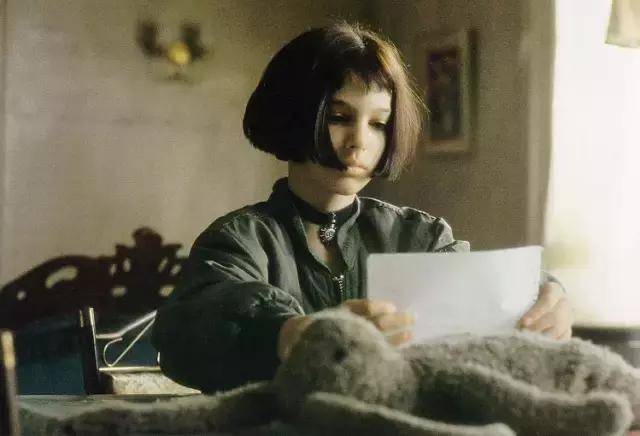 Are you tired of this combination? You can replace the choker with a small square scarf. A little change can break the dullness. ~▼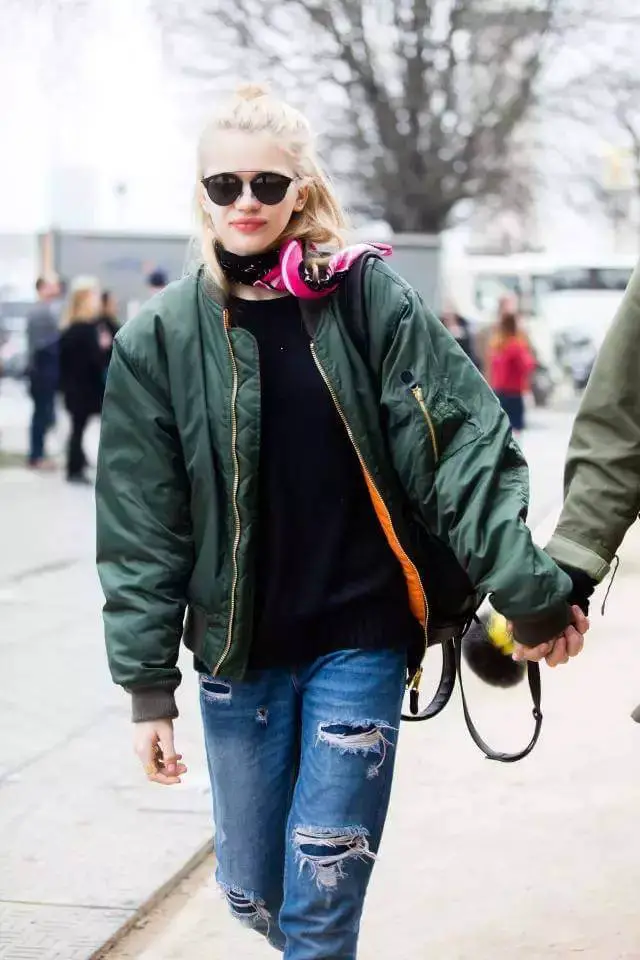 Many street models use long scarves and the results are too good to believe.▼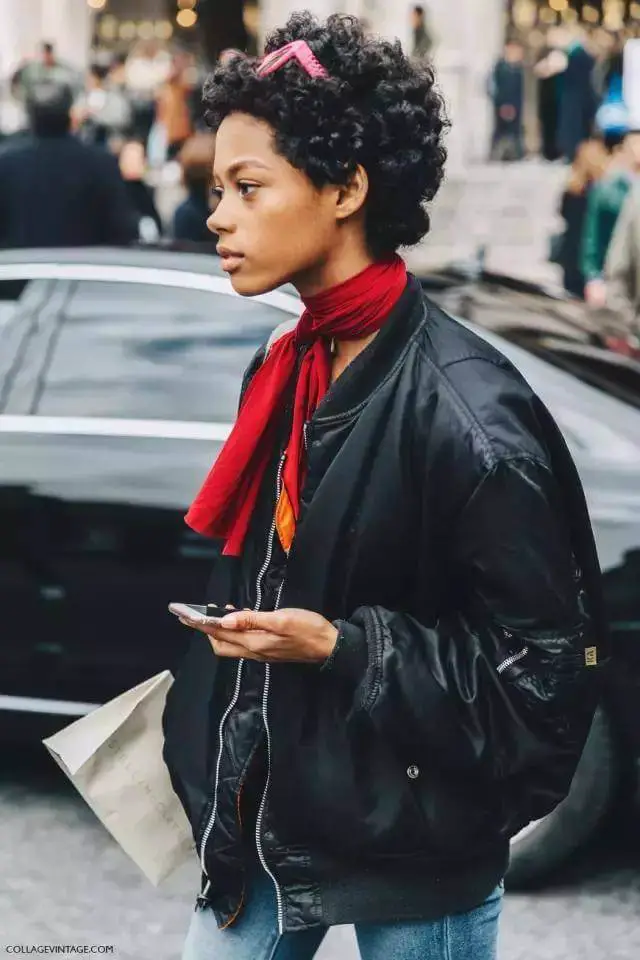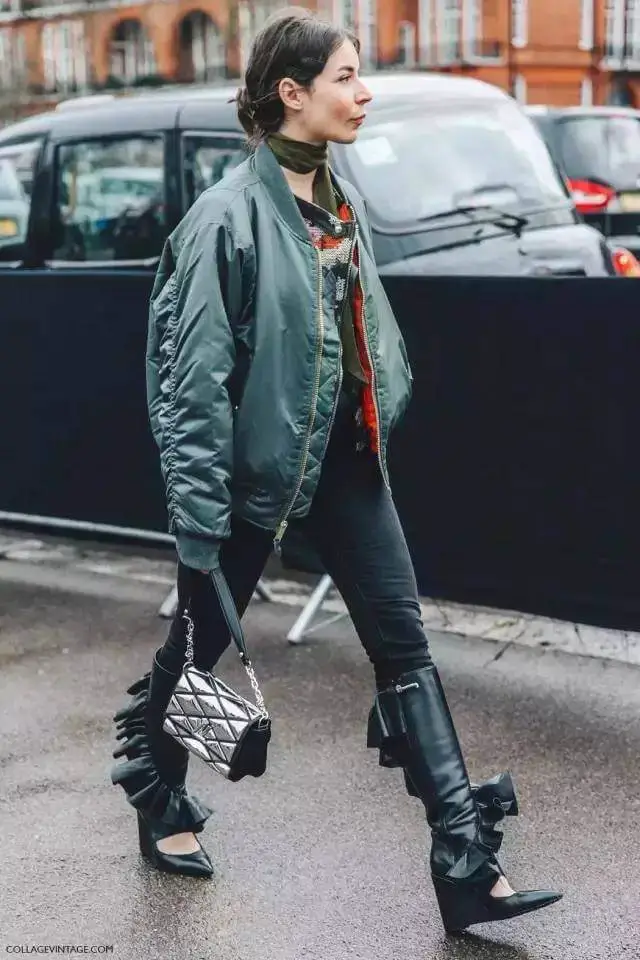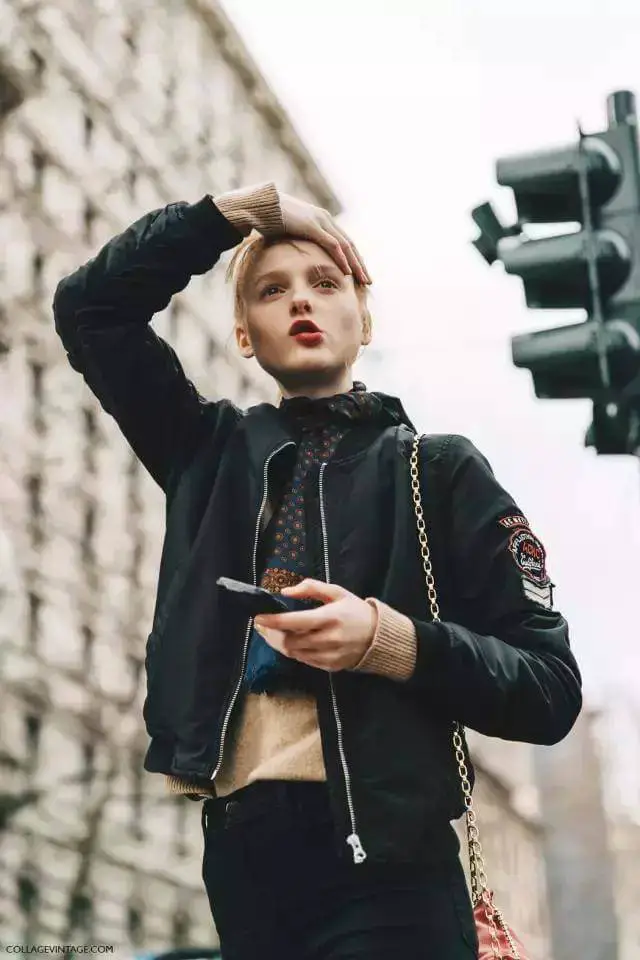 Tips 8: Finally, simply buy something special!
If you still feel that you can't get a creative style, it is because your heart yearns for more.
After the popularity of flight jackets and the classic items we mentioned earlier, the top brands are now introducing "advanced models." The hottest is the trend of oversized models. It is something that I was dying to have recently.▼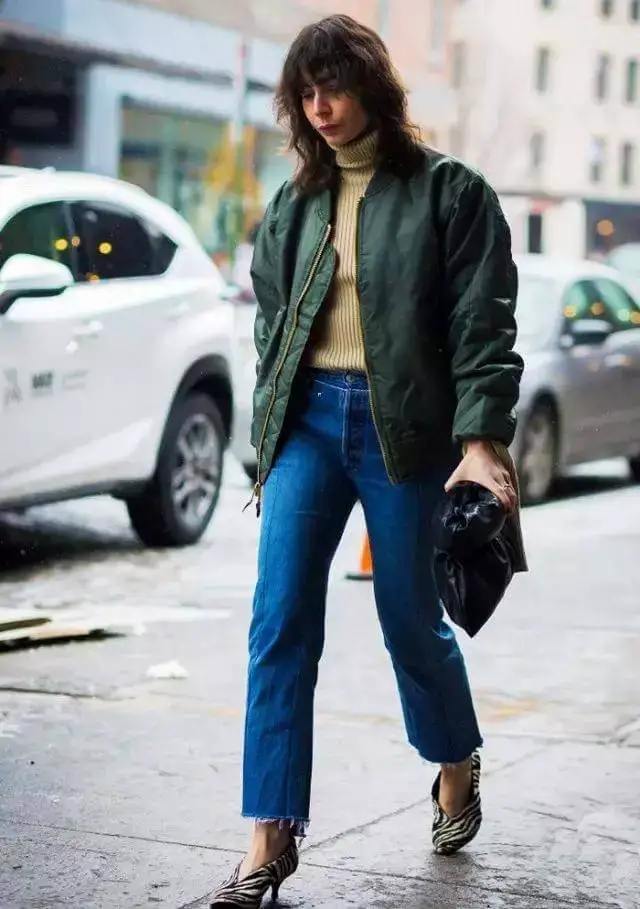 Or buy a pilot jacket with a special color. For example, a pink jacket with a grey sweater is gentle and beautiful to eyes.▼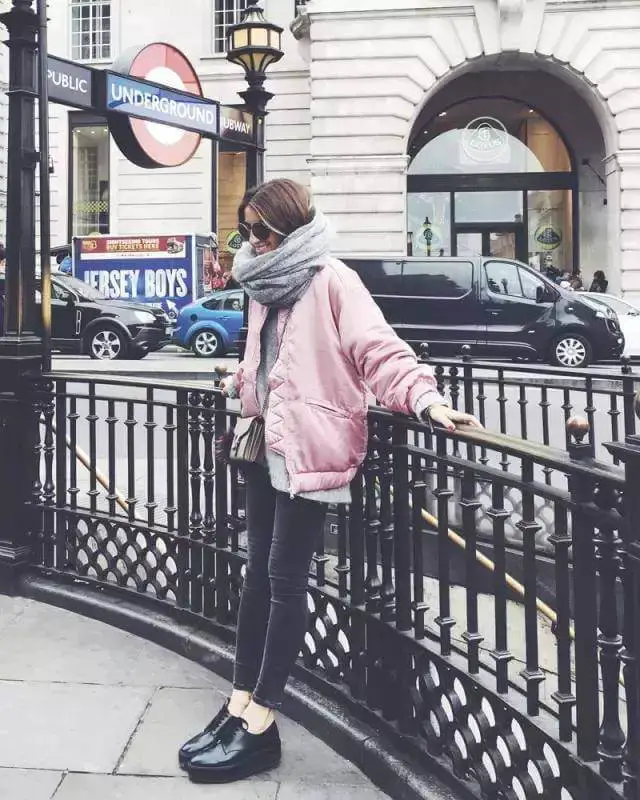 Chiara put on a skirt with pilot jacket—the combo of pink and blue is quite appealing▼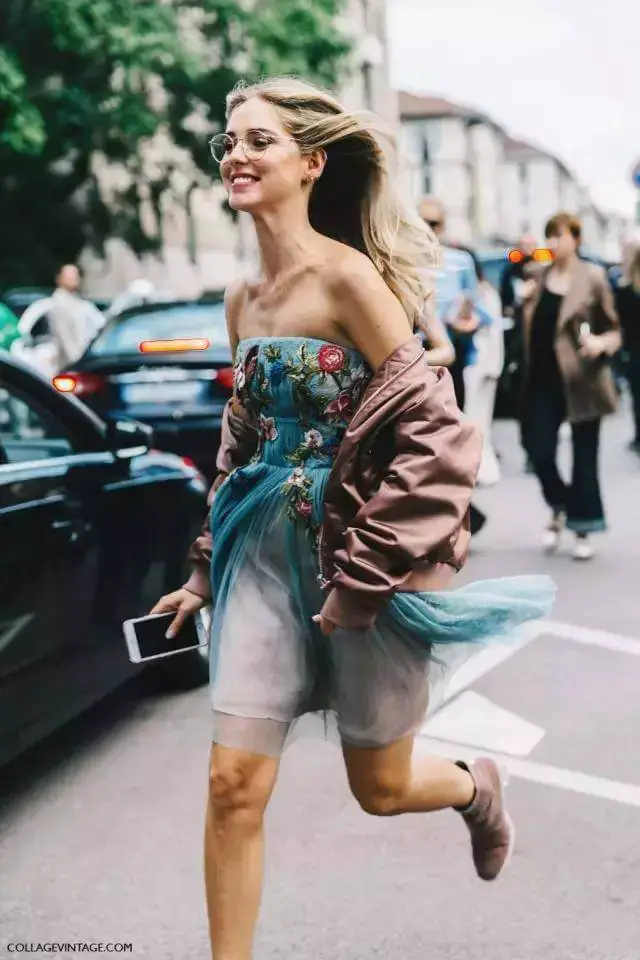 Ginger pilot jacket can be used with a small black dress. Take a striped T-shirt to get a youthful look~▼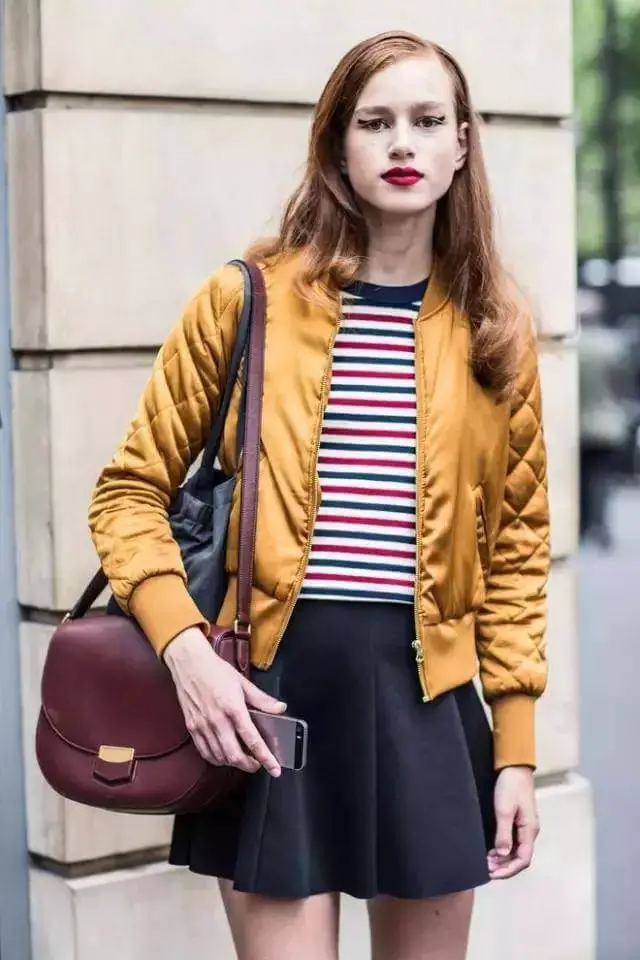 Ultra-short jacket's trend is also on fire. If you want to get a good proportion, you can use a shorter pilot jacket with a high waist skirt. But overall, I think the short style is not as easy to match as the long style.▼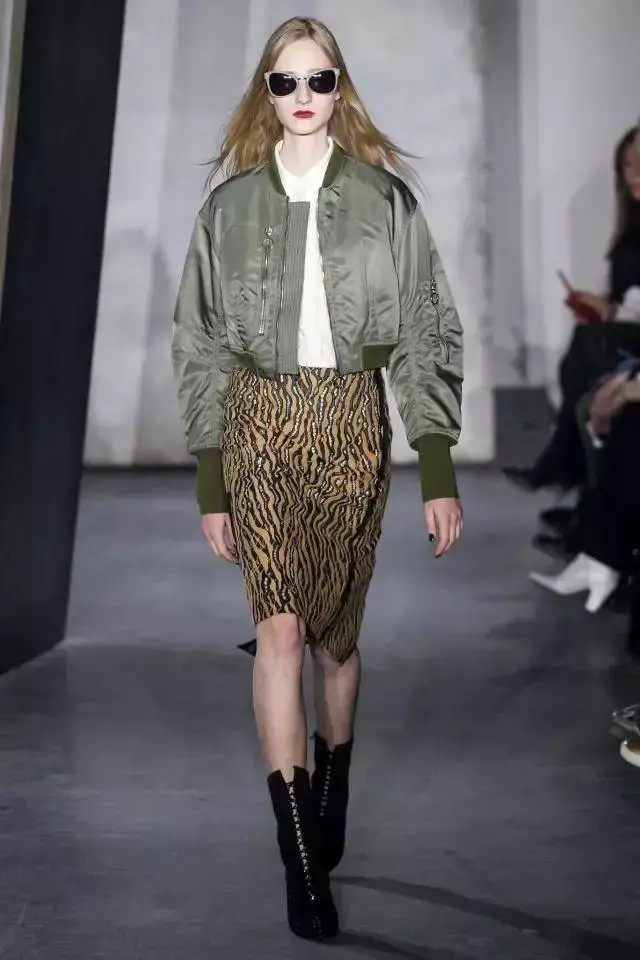 Compare the pics: same slim models, almost the same matching. With the difference of style (long and short jacket) and dress, you can appear slim or heavy.▼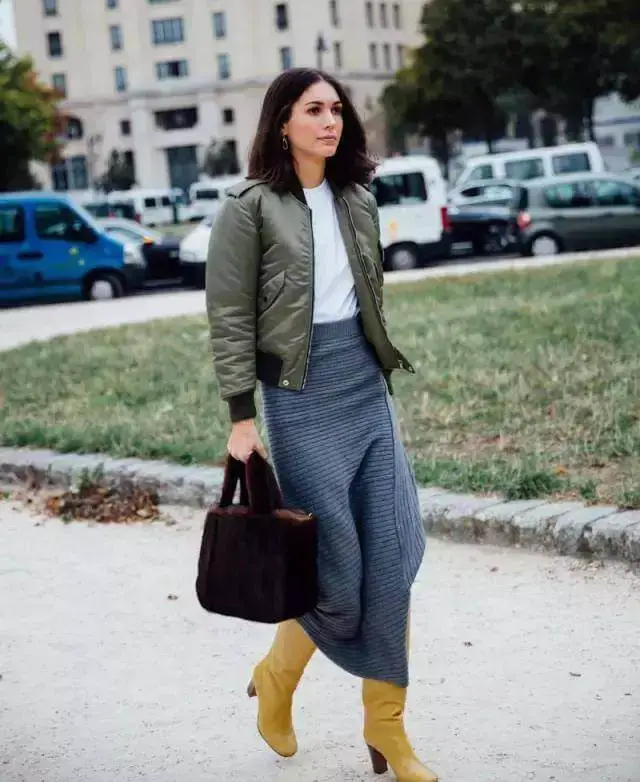 There are some more special designs.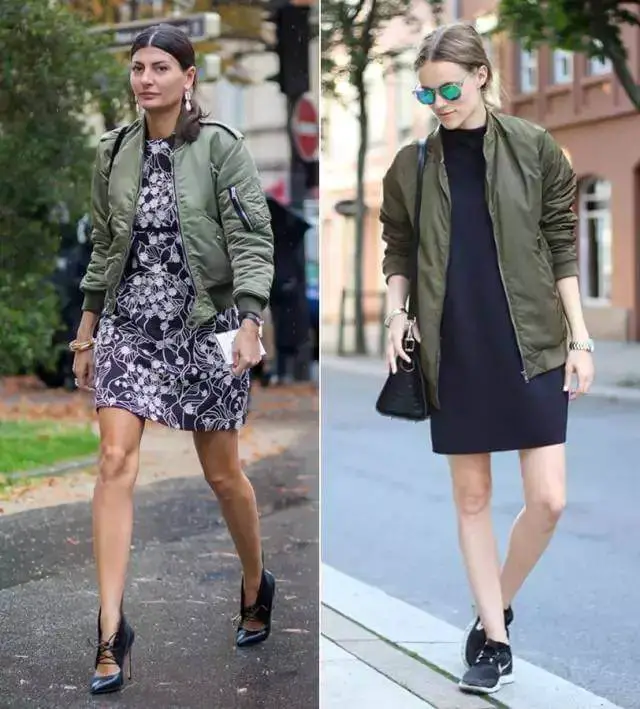 For example, Olivia's fake two-story layered bomber jacket has a shirt hem. Do not know that she was wearing a shirt inside or not, very special indeed~▼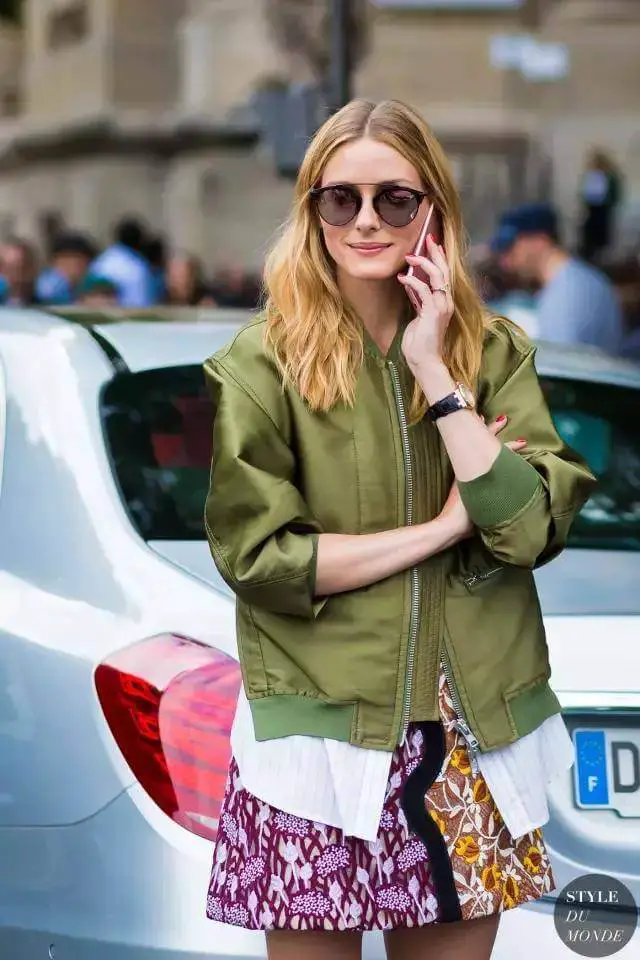 There are several brands that have introduced fur collar styles. The items that come with fur give a sense of quality. You can also DIY them on your own.▼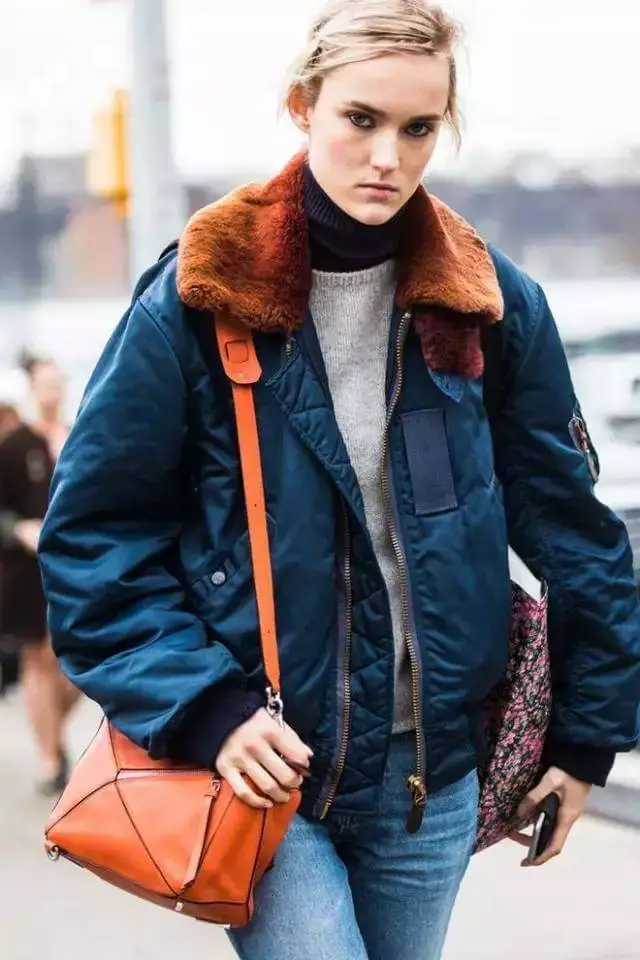 With so many TIPS, next time you wear a jacket, you must look the most stylish.