One of my best advice when it comes to dressing chic and sophisticated is to add layers to your outfit. Jackets, cardigans, sweaters, vests… you name it.
Layers make your outfit look put together while showcasing your ability to combine and style a 3 (or more) piece outfit.
That's why kimonos need to be included in your layering game. They're a statement piece that will instantly and effortlessly uplift your outfit like (almost) no other layer.
How to wear a kimono
If you want to spice up your casual style, then follow me through these styling tips and outfit ideas on how to wear a kimono.
If you don't have any kimono yet, this article will convince you to get one right away, and if you already have, you'll be left wanting many more to your collection.
1. Kimono cardigan
Kimonos have a world of their own. You can find different types of kimonos, and the one you choose should reflect your personal style.
Kimono cardigans, for instance, are made of knit fabric and are perfect for slightly warming you up.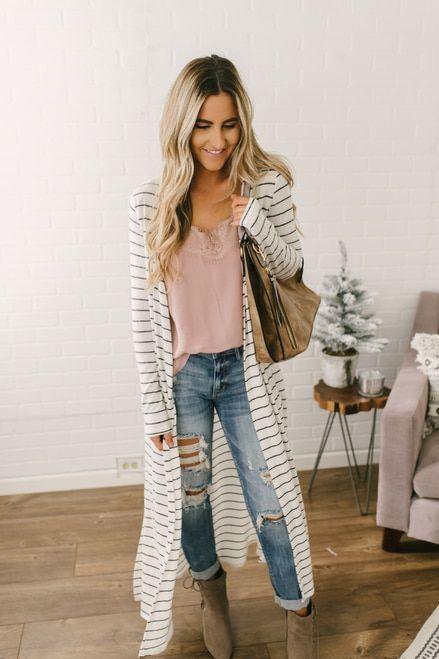 You can wear these for spring or for summer, or take it with you whenever you go to a restaurant (with A.C.), or anyplace where you feel like you might get a bit cold. They're not heavy, so you can easily take them with you in your handbag.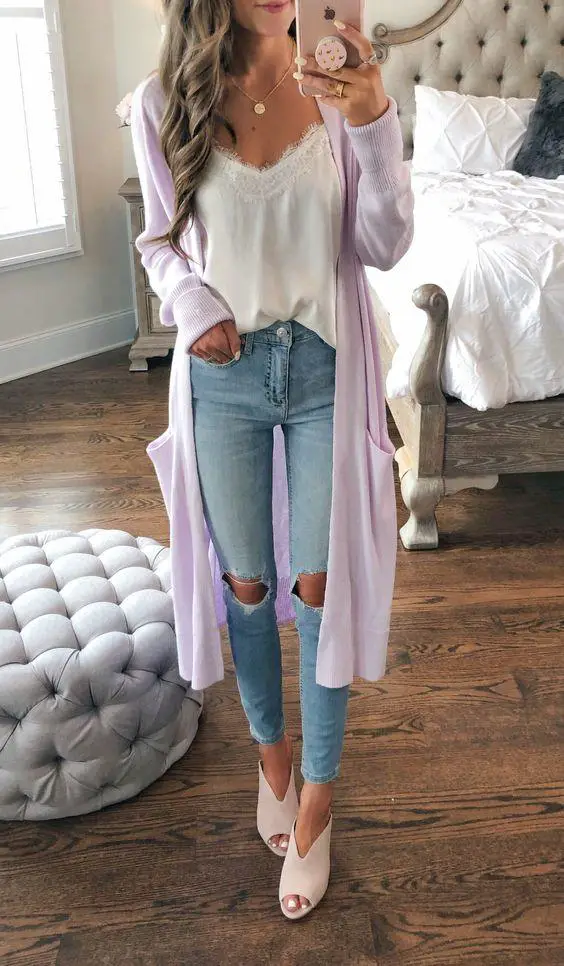 Kimono cardigans are also perfect for fall. Wear a light kimono at the beginning of fall, and switch to a chunkier one as to fall transitions to winter.
Neutral colors like grey, black, camel or white make up a great fall layer you can pair with fall other basics: booties, jeans, and long sleeves.
You can also opt for statement kind-of kimono cardigans. Animal, camo or floral print are perfect for bumping up a basic casual outfit.
Take this one as an example. Imagine the same outfit without the camo kimono. It would be a nice casual look, but the kimono definitely takes it to another level. That's what a statement kimono does.
Jump into the animal print trend with a cheetah, leopard or zebra kimono. The best part is that you don't have to put much effort into the other pieces: a simple white tee and jeans will be just great. Let your kimono do the talking.
Any type of kimono does one same thing: help you out whenever you feel like not knowing what to wear, or not finding anything cute.
Just put on your basic top and bottom and add a kimono to the equation and voilà! You'll have a fashion pro look in the blink of an eye.
2. Silk kimono
This is probably one of my favorites. Okay, it doesn't have to be 100% silk, but it should definitely have that silky, buttery soft feel to it. That's what makes this type of kimono ultra-special and chic.
What I love the most about silk-like kimonos is that you get to find them with many different amazing prints. Florals, geometric, Japanese-inspired, modern and bold… So it's a perfect way of showing off your unique style.
If you're into a feminine, romantic and chic style, a floral printed kimono will do the trick:
Don't worry about the length. I'm barely 5 ft tall and still feel like a queen with my maxi kimonos.
If you want to take your kimono style to the next level, then forget about layering it over basics. Grab your trendiest jeans or pants and a crop top, and accessorize with equally as trendy pieces:
You can also wear your kimono wrapped around your waist. Your outfit can be completed hidden under your kimono and you would still look cool and chic.
This styling tip is perfect for a head-turner kimono outfit:
Kimono fashion doesn't necessarily have to include a pair of jeans. You can switch your jeans to your favorite trousers.
A monochromatic look will look stunning layered with a colorful kimono:
And then again, who says you have to wear pants to rock a kimono? Dresses, skirts, shorts, even jumpsuits are perfect for your kimono style.
Kimonos and dresses are a great combo you should definitely try, especially with maxi dresses.
Don't be scared of looking drop-dead-gorgeous from head to toe. Add bold accessories to your kimono outfit for a memorable and one-of-a-kind look:
You can even wear your kimono as a dress by simply cinching it at the waist:
You can also match your kimono with your pants for a killer look. Looking like a fashion pro has never been easier than this:
3. Embellished kimonos
Embellished kimonos are the perfect piece for a killer look. They will make you look like a fashion pro in the easiest way possible.
Let your embellished kimono do the talking by simply layering it with a basic jeans and shirt. Sequins, beads, embroidery… anything that makes your kimono a one-of-a-kind piece will do the trick.
You can also spice up your kimono style with other trendy pieces: graphic tees, wide-leg pants, sneakers…
An embellished kimono will always make you stand out, no matter where you are:
A sequined kimono is a perfect piece to wear for a night out. Pair it with an all-black outfit and you'll be the star of the night:
You can also dress down your sequined kimono a bit with a white t-shirt and your favorite skinny jeans. Add sneakers or mules and you're ready to rock a killer casual look.
When it comes to kimonos, creativity is the key. You can find so many different types of embellished kimonos that it becomes a tough task to decide which one to buy. At least you know that styling a kimono is a piece of cake.
You already know by now that a t-shirt and jeans outfit is the easiest, fastest and chicest type of combo to wear with your kimono, regardless of its style:
An embellished kimono is perfect for a fancy first date night. Imagine the impression you'll make on your special other when he sees you in an all-black outfit and a sequined long kimono… He will think you're a keeper.
4. Lace kimonos
You probably already know that kimonos are a great layering piece to wear to the beach. The best type of kimonos for a cute beach style is lace kimonos.
They're perfect because not only are they see-through and let you show off your swimsuit, but they're also lightweight and flowy, which will give your look instant beach vibes.
5. Fringed kimonos
Fringed kimonos are quite popular among boho lovers. They're chic, relaxed and bold at the same time, which makes them the perfect complement for your casual looks.
Fringed kimonos are perfect for music festival outfits. Pair yours with booties or lace-up sandals, distressed shorts, a crop top, and a hat and you'll create a classic but stylish music festival look.
You don't have to be a boho fashion pro to rock a fringed kimono. Again, all you need is a pair of jeans, a t-shirt, and heels:
6. Short kimonos
Not all kimonos are maxi or mid-length. You can find equally as stylish kimonos with a much shorter length.
You can make a strong statement with short kimonos. For a bold and edgy look, wear a band tee or any graphic t-shirt with distressed jeans or shorts and finish your look with black leather booties:
You can wear a short kimono with absolutely anything. Jumpsuits, overalls, jeans, dresses… Just like maxi kimonos, these are the perfect complement for any type of outfit.
Repeat with me: kimonos can be layered with anything. It's all a matter of creativity.
You can rock a short kimono with similar color pieces for an almost monochromatic look.
Don't be scared of trying unexpected combinations: this knee-length skirt paired with a white tee and golden high heel sandals is probably not a combination you would expect, but it's definitely a killer one:
Wrap up:
Kimonos have always had a special place in our fashionista hearts. They're cool, easy-to-wear, and an invaluable friend for those boring outfits we can't dress up on our own.
Kimonos come to the rescue to uplift any basic outfit, and that's one of the reasons why they've always been so popular.
I hope these styling tips and outfit ideas on how to wear a kimono will make you a fan of this chic and unique layering piece, and if you already are, then maybe this article could've helped you in stepping up your kimono game.