There are some colors that are easier to pair than others, which is the case of neutrals. That's why a versatile wardrobe will always include neutral colors, allowing you to mix-and-match quite easily.
In today's article, I'm going to show you different chic ways in which you can wear a white dress: what color palettes you can create, what accessories look best and other tips on how to wear this type of dress.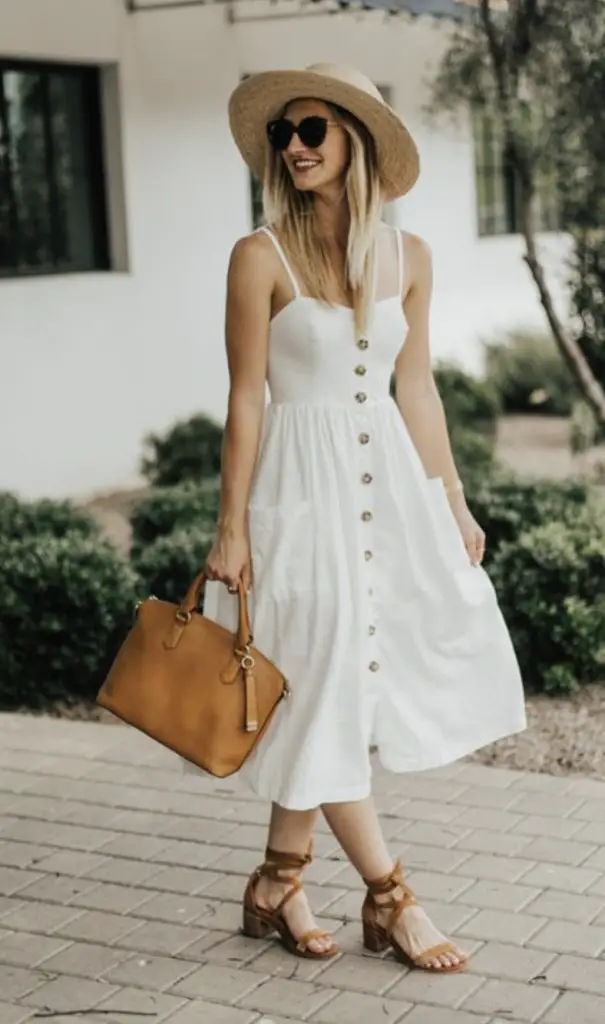 How to wear a white dress
When we think about white, we probably think of a canvas where you can do absolutely anything on it. And truth is, a white dress is almost like that.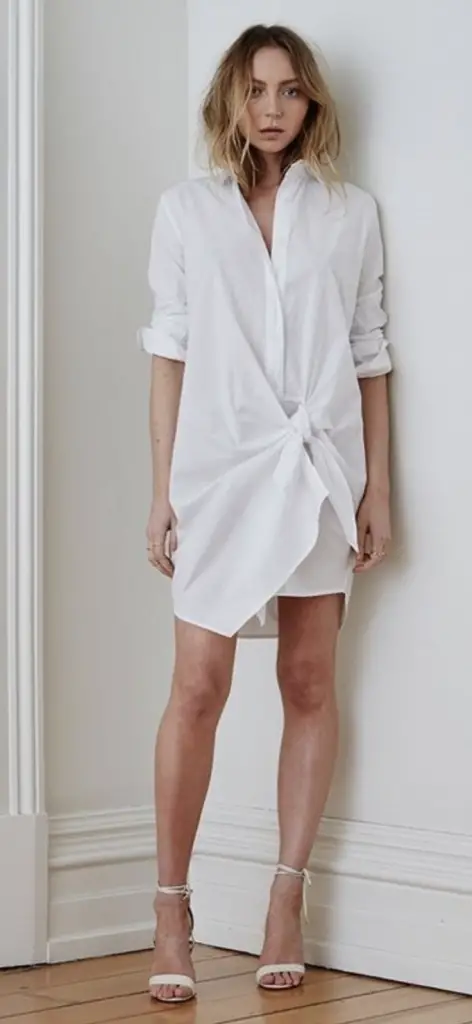 But having so many possibilities is what makes styling a white dress so challenging. You can wear anything from a hot pink clutch and emerald green shoes to nudes and soft shades of pink.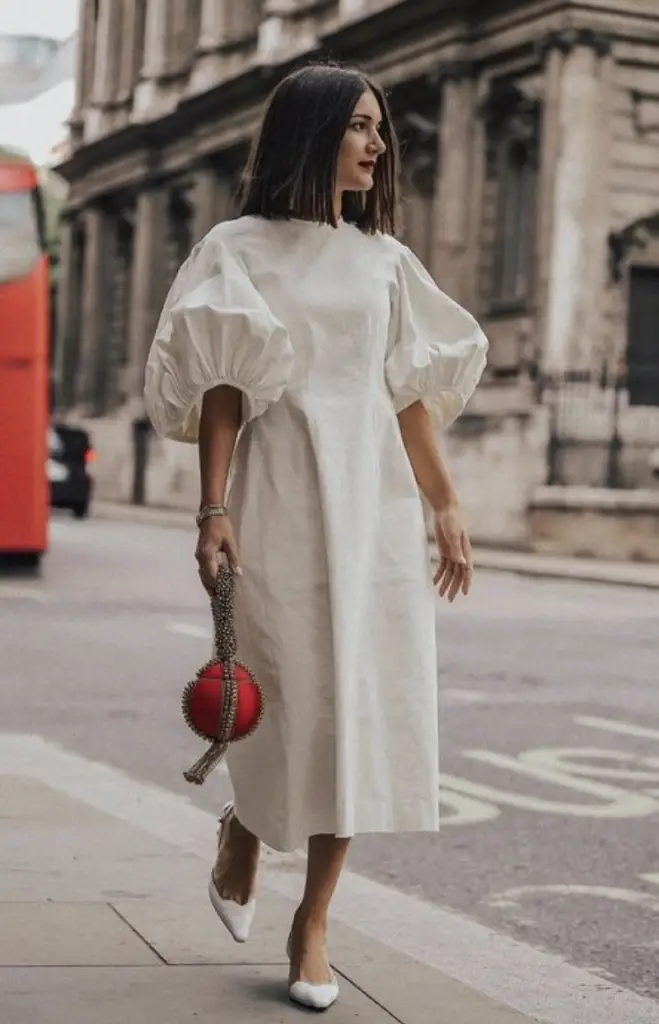 At the end of the day, it totally depends on your personal style and what you want to communicate through your outfit.
However, I will show you the chicest ways in which you can style your white dress, giving you plenty of options you can choose from and helping you decide what will look best on you.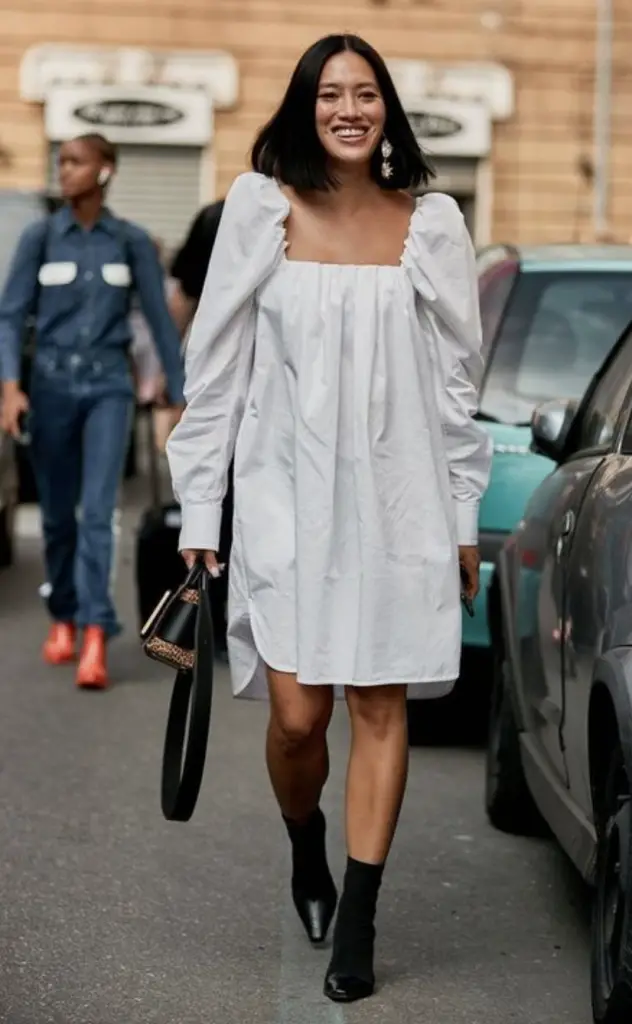 What color shoes to wear with a white dress
1. Neutral outfit
Neutral colors are always there to save the day. Whether it's more about balancing a statement look or simply wearing a chic monochromatic outfit, you can always rely on neutral colors.
If you want to wear a white dress but want to look chic, sophisticated and classy, then these types of colors are what you should opt for.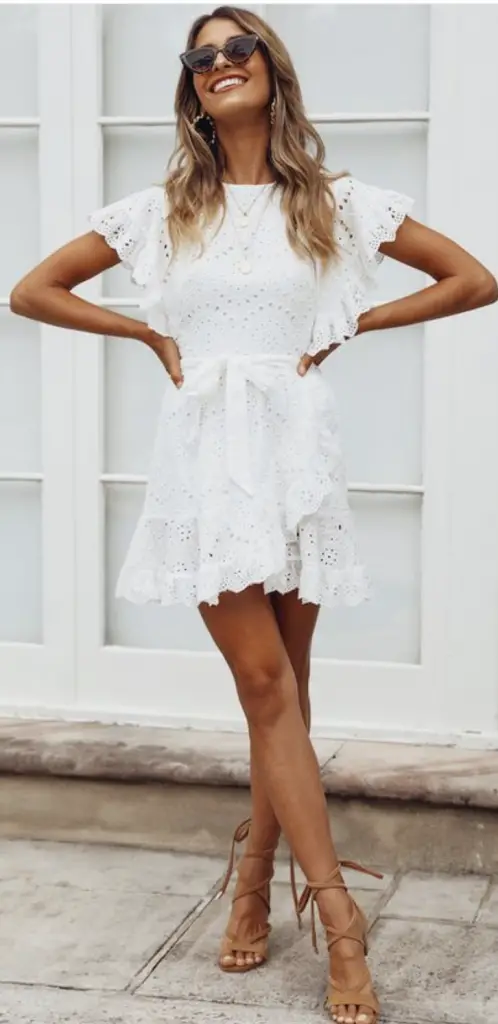 Wearing shoes in colors such as camel, beige, nude or blush will help you create a classy look. This color combination looks great on a day-time event, such as a Baptism, a brunch, a fancy breakfast… It's elegant and sophisticated, so there's truly no way you can mess this look.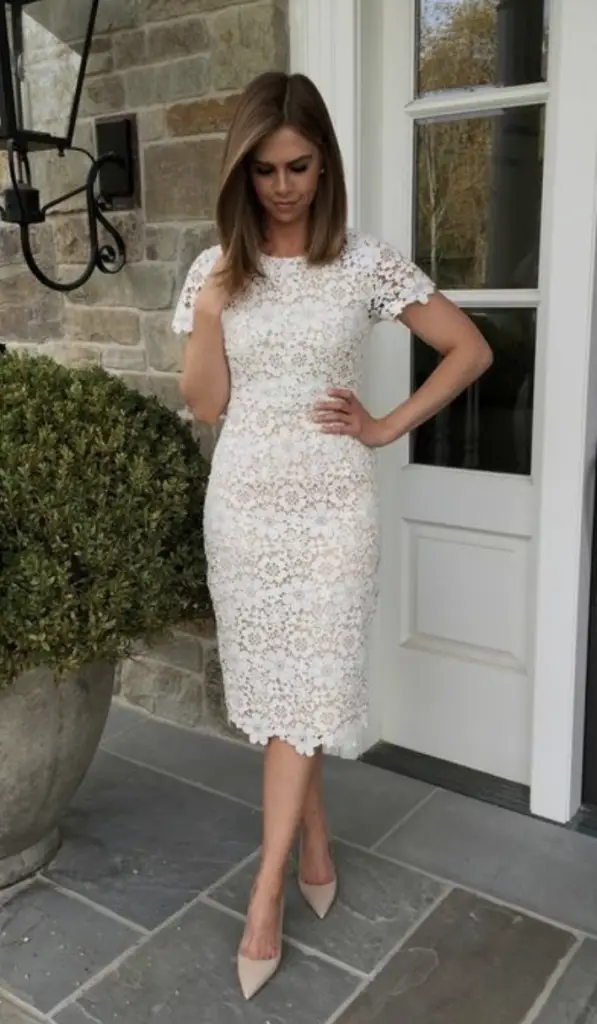 Wondering what color shoes to wear with a white dress can become a difficult task only because there are endless options for you.
White is a color that looks good with all types of colors, so figuring out what shoes to pair your white dress with is all about the options you have.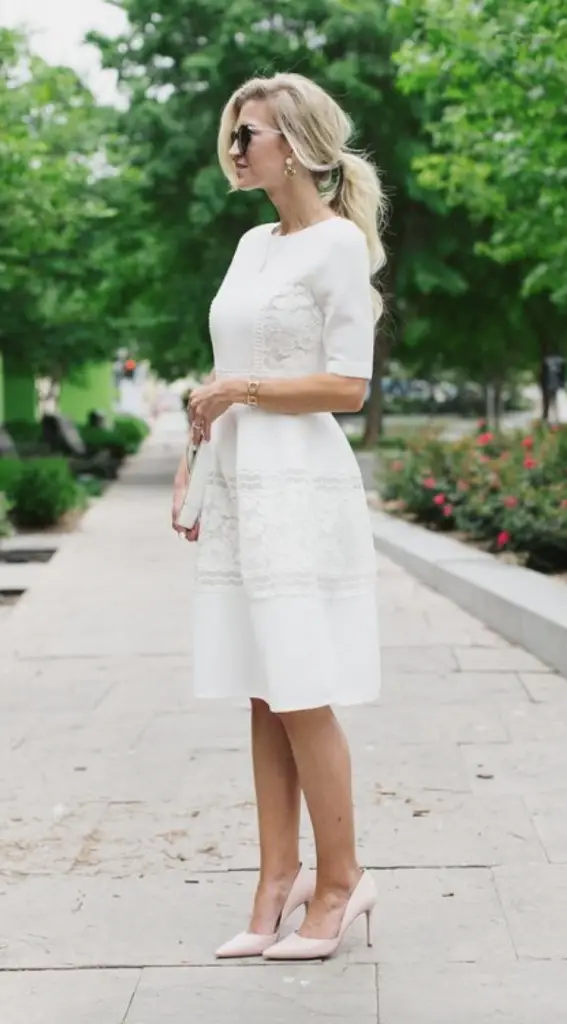 Neutral color shoes are something we all need to have in our wardrobes, so whenever you feel like going for the first option or don't feel creative enough as to think of another option, then your neutral shoes will do the trick.
Pointy nude heels are a great option for short girls or anyone who has small feet. They create the visual effect of elongating your legs and feet while making you look super chic at the same time.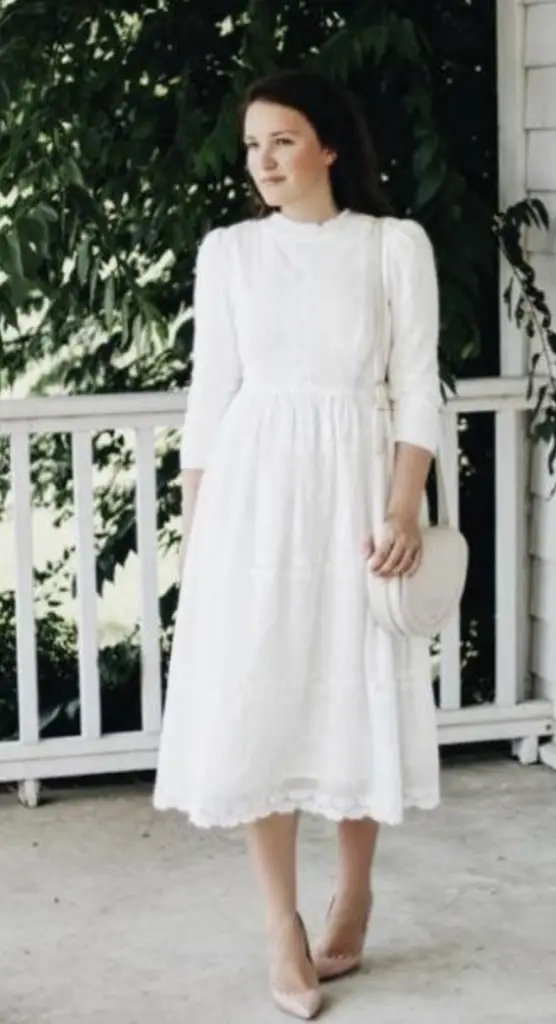 If you want to take your neutral white dress outfit to the next level, try wearing transparent heels. Not only will you look cool and different, but you will also add a modern twist to your look.
In this case, a classic eyelet dress paired with transparent shoes looks like the type of outfit any top fashion blogger would wear to a runway show: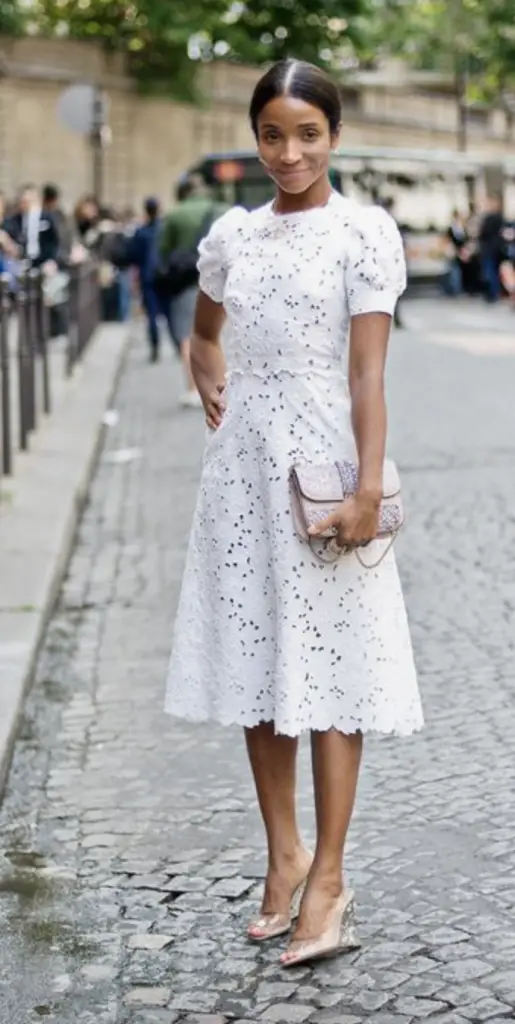 2. White dress and white shoes
Opting for white shoes for your white dress is not as obvious as it sounds. Many of us forget that a white dress can look absolutely on point when matched with the same color shoe.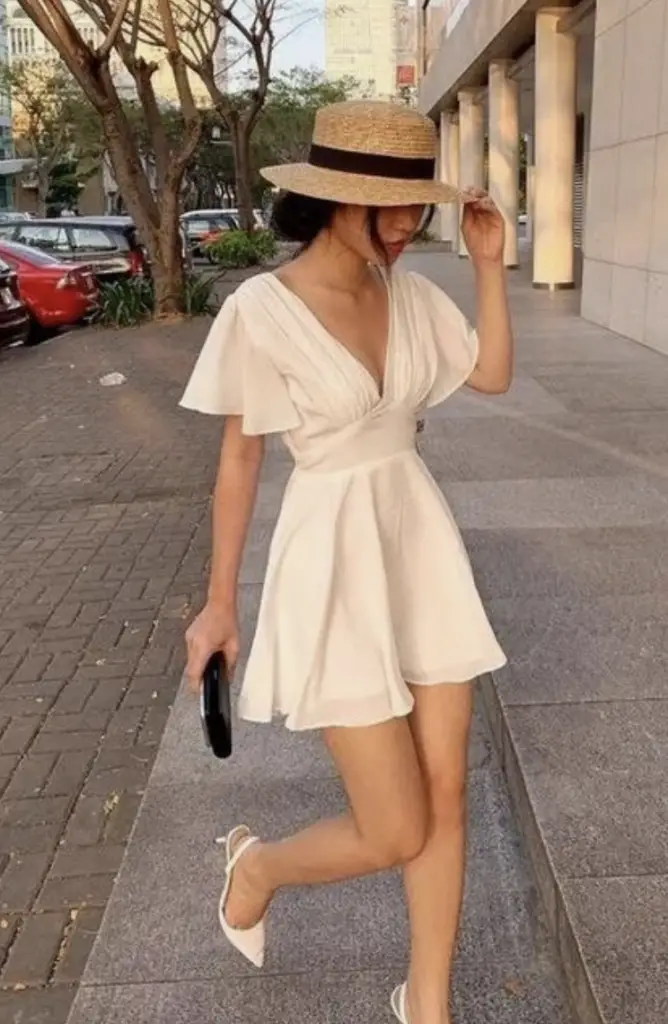 Try pairing white sandal heels with your white dress for a classy and elegant look: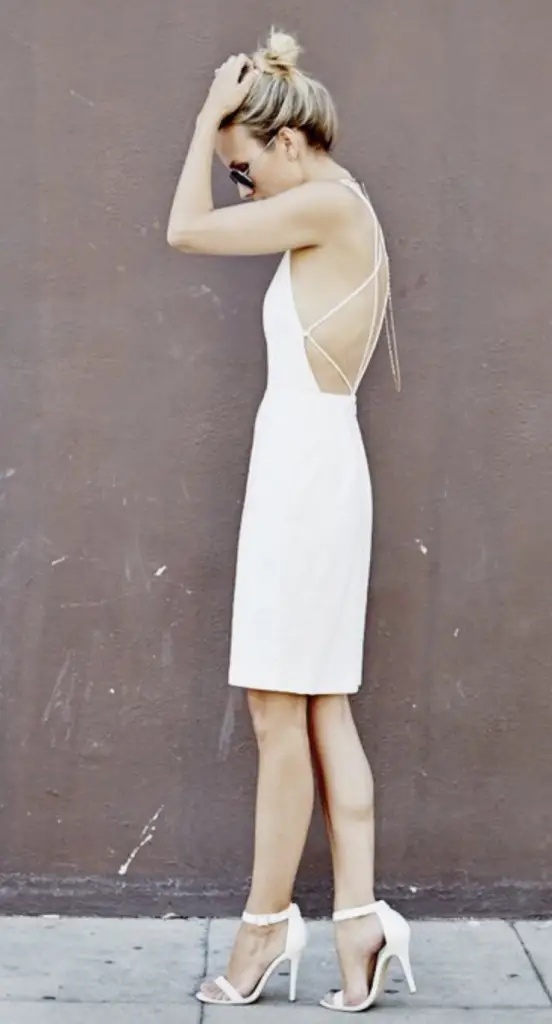 Your white shoes will always look great with your white dress. Some might think that this is an obvious or expected combination, but it's a great option to wear for a special or formal event. White on white is as chic as black on black.

But your white shoes don't need to be all-white. You can opt for heels or sandals with white details, such as these transparent heels with white ankle straps: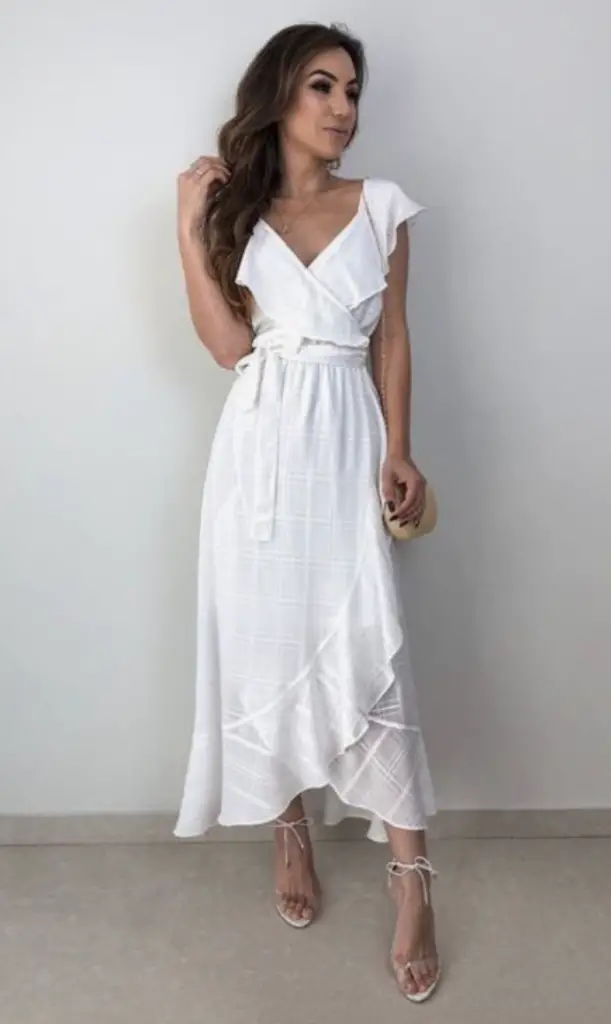 When top models such as Bella Hadid wears something, then you know it's been approved. White on white is a combination she knows looks absolutely great: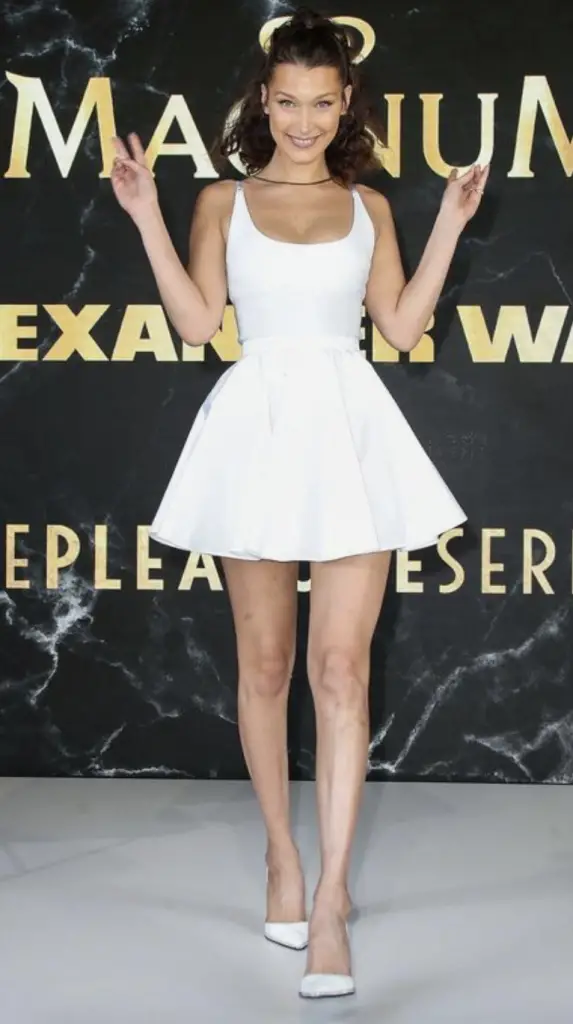 3. Gold or silver shoes
Gold or silver, whatever you like the most, paired with a white dress creates a classic color combination I'm sure almost everyone has worn.
You can pair your white dress with gold or silver sandals to elevate a casual look: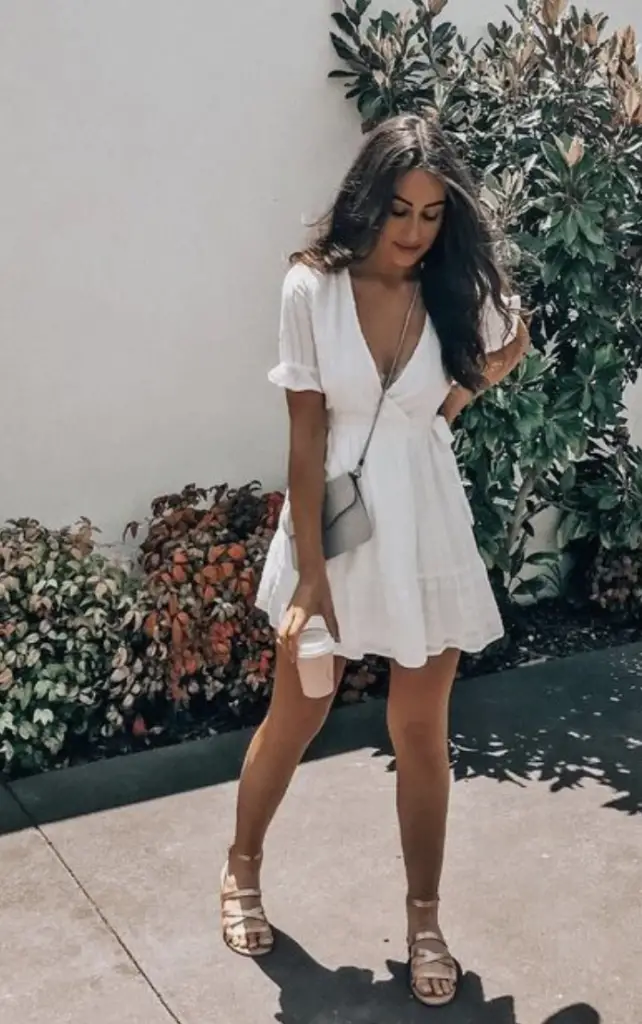 Any color shoe with gold or silver details is a huge plus to your outfit. Both colors will add a touch of glam, elevating your white dress look: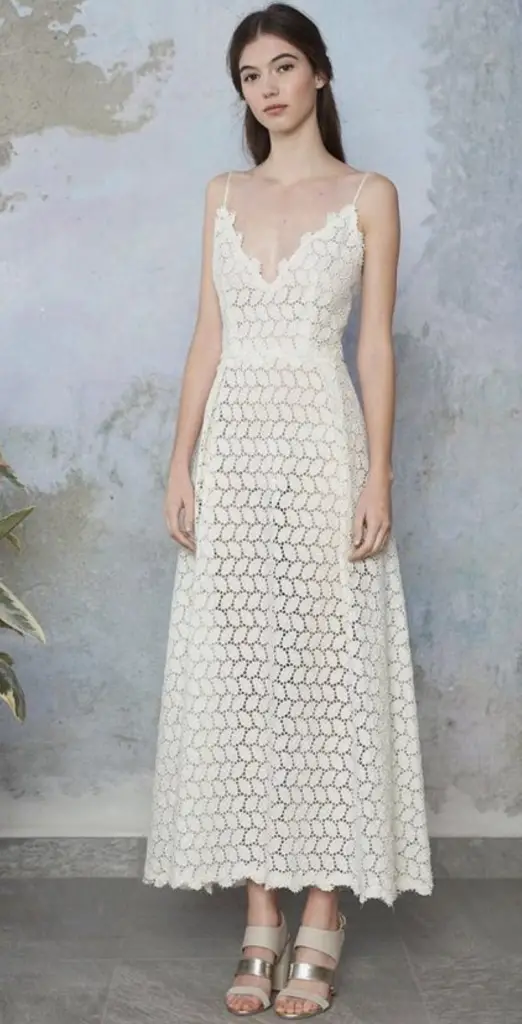 Even a casual outfit can look super cool with a pair of silver or gold shoes. That's why I love this combination: it makes your outfit look sophisticated even if it's a casual lunch-with-girlfriends type-of-outfit.
Gold accessories and shoes will look extra chic with your white dress. Some people lean more towards silver, but personally, nothing can beat gold accessories: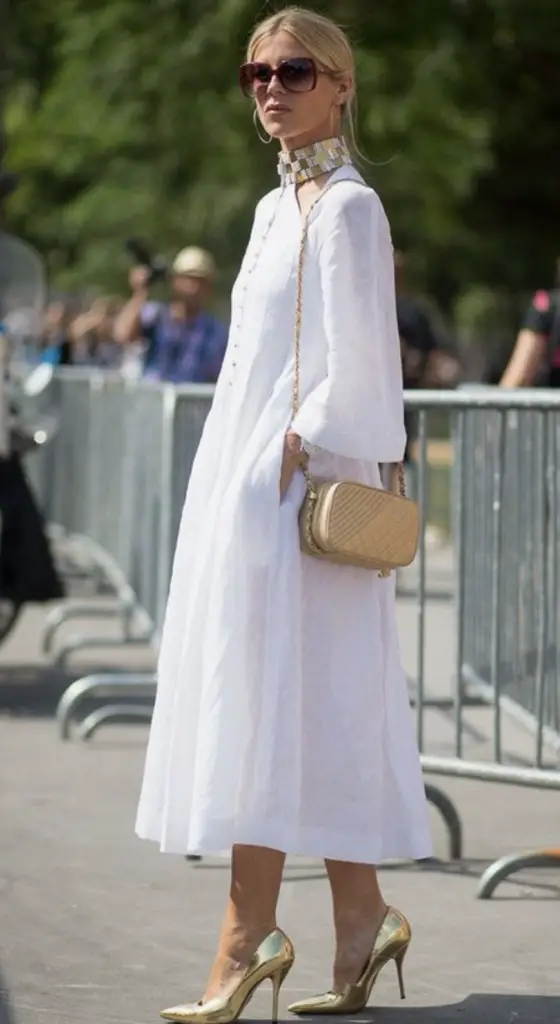 4. White dress with black
White dress with black shoes is probably one of the most popular combinations out there. But only because it's been worn by everyone doesn't make it less fashionable.
You can pair your white dress with low heel black leather slides for a casual stroll around the city: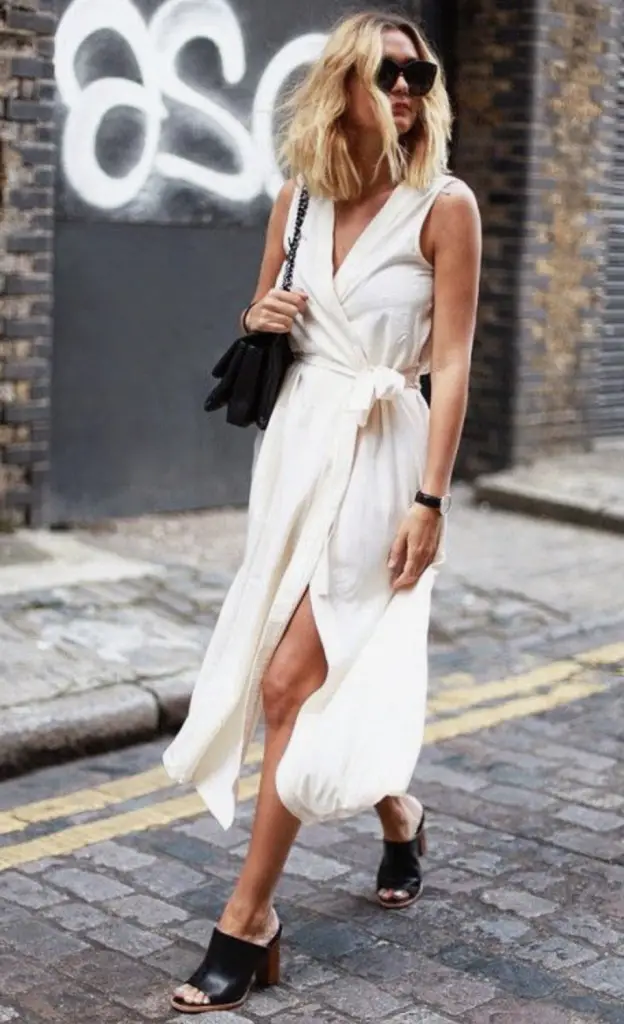 Or with classic black pumps for an elevated look. Black and white are one of the chicest color combinations you can ever make, and black shoes are another staple piece you probably (should) already own, so pulling-off a black and white look is a no-brainer:
You can wear a black handbag and add a pop of color in any other accessory, such as sunglasses, for a cool and sophisticated white dress look:
5. White dress and red shoes
Red is one of the most sophisticated colors you could ever wear. It's sexy, flirty and classy, so pairing red shoes with a white dress is a total yes.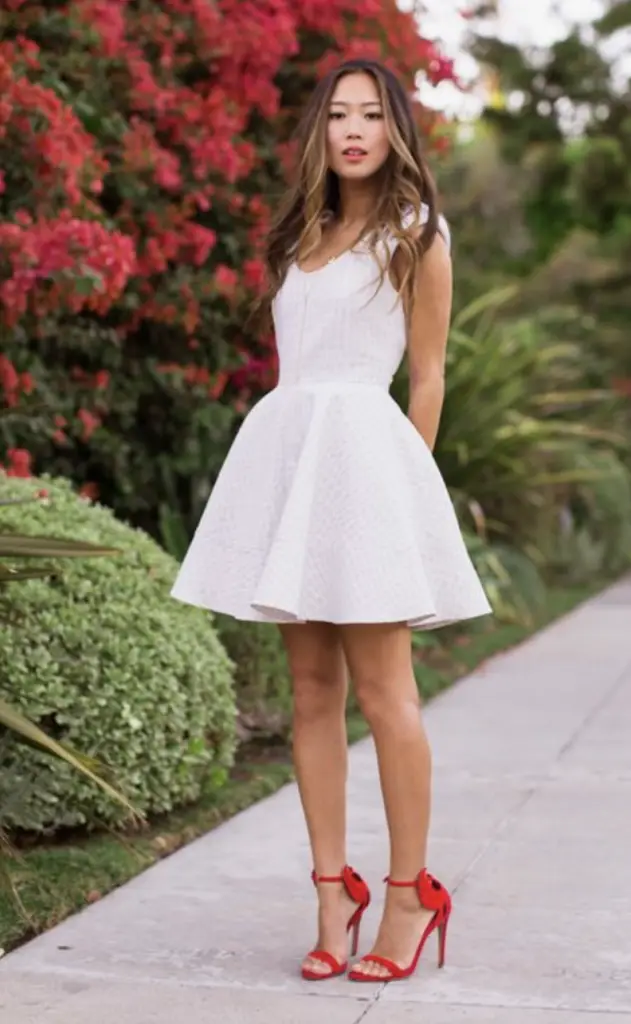 Red shoes and a red handbag will add that sophisticated touch to your outfit: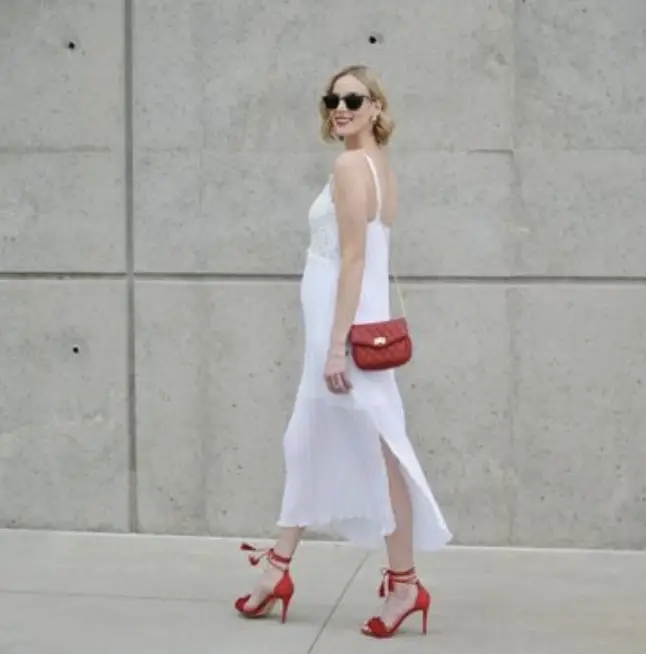 Whether it's a formal or casual look, red shoes will always look great with a white dress. Lily Rose Depp matched her block heel ballerina shoes with a casual white cotton dress for a cute day look: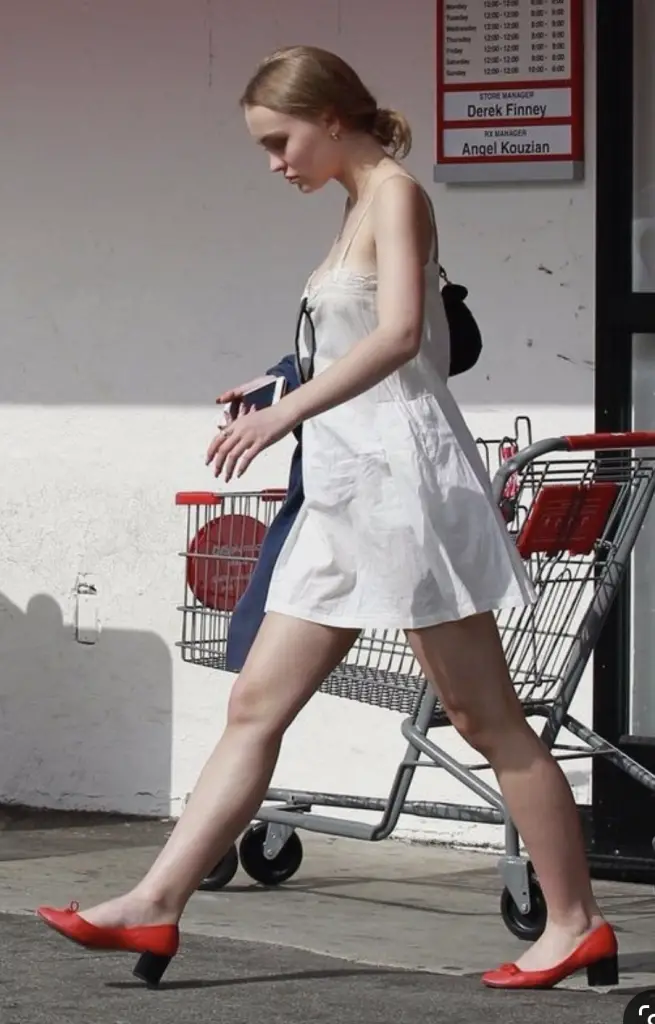 6. White dress and bold color shoes
As I've mentioned, you can do almost anything with a white dress. You can either go in the classiest direction, with nude shoes or in the bold and fun direction, with colorful and unique shoes.
Hot pink shoes, for example, will make your white dress look fun and feminine: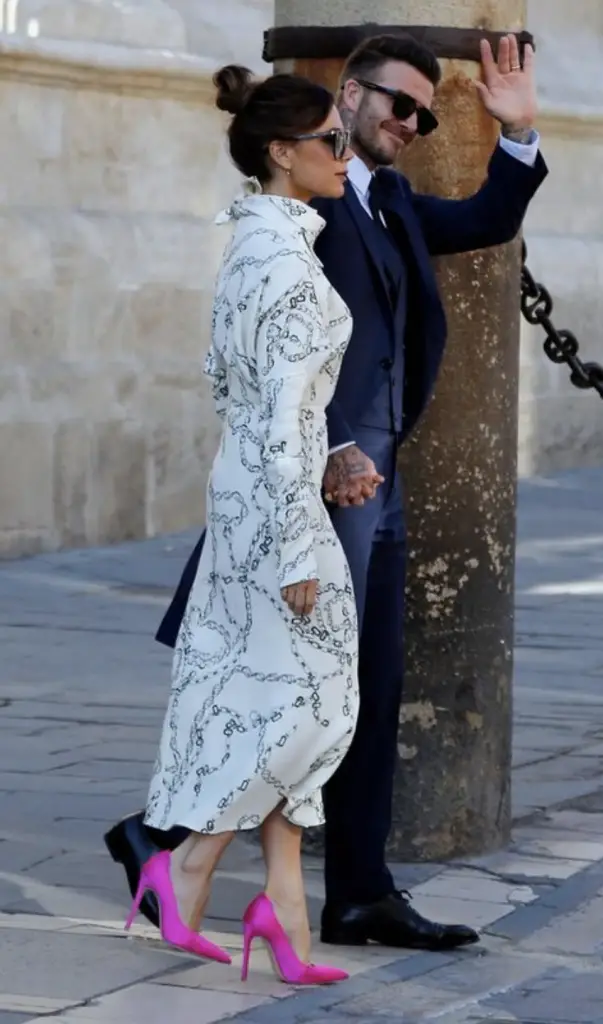 One way of elevating white dress fashion is with unexpected combinations. That's why bright and bold color shoes look great and should be taken into consideration next time you plan on wearing a white dress: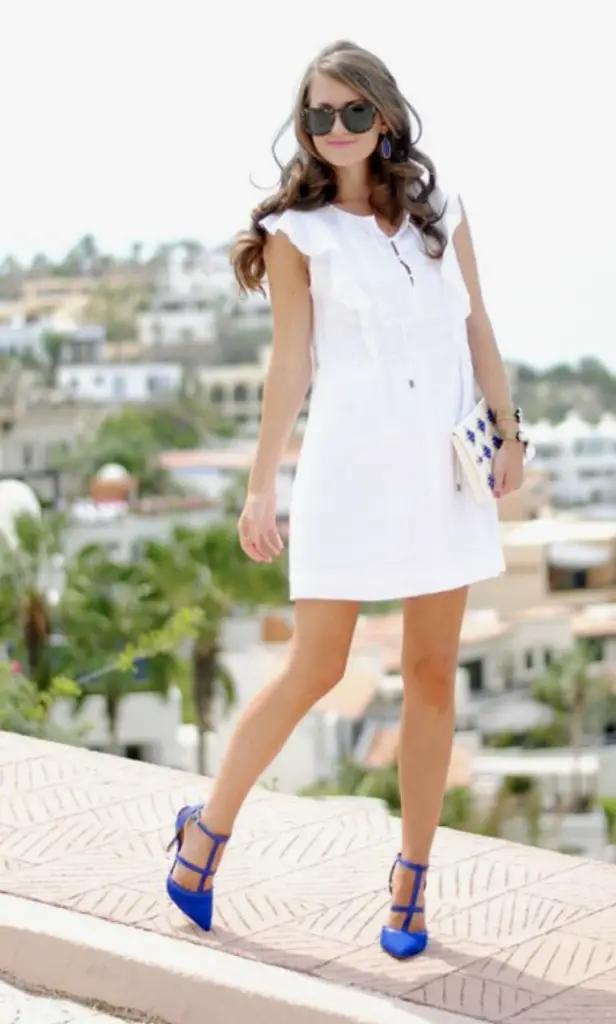 Whenever you feel like wearing fun and sophisticated outfit, remember to wear your boldest color shoe: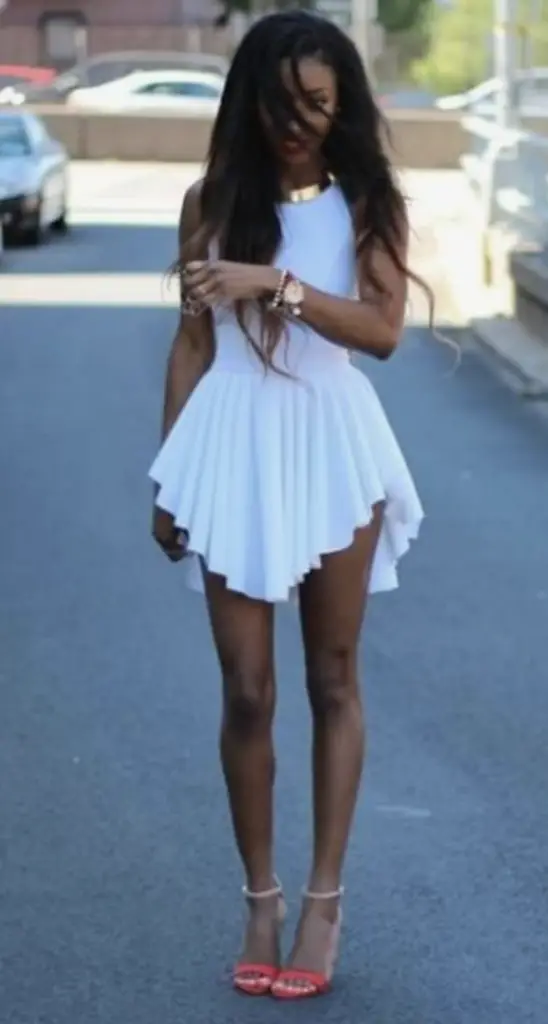 What accessories to wear with a white dress
If you're wondering what to wear with a white dress that will help you elevate your look, then these are cool ideas you can easily recreate. Accessorizing a white dress is not that difficult, but given that there are endless options, I decided to simplify your life with these cute options.
You can dress down a white dress with sneakers, a crossbody bag and sunglasses. It might happen that we already own a semi elegant white dress, so choosing the right accessories is key to transform it into a casual dress:
White dresses don't have to be super girly or classic. You can pair any type of white dress with cool dad sneakers and edgy sunglasses to transform it into a trendy street style look: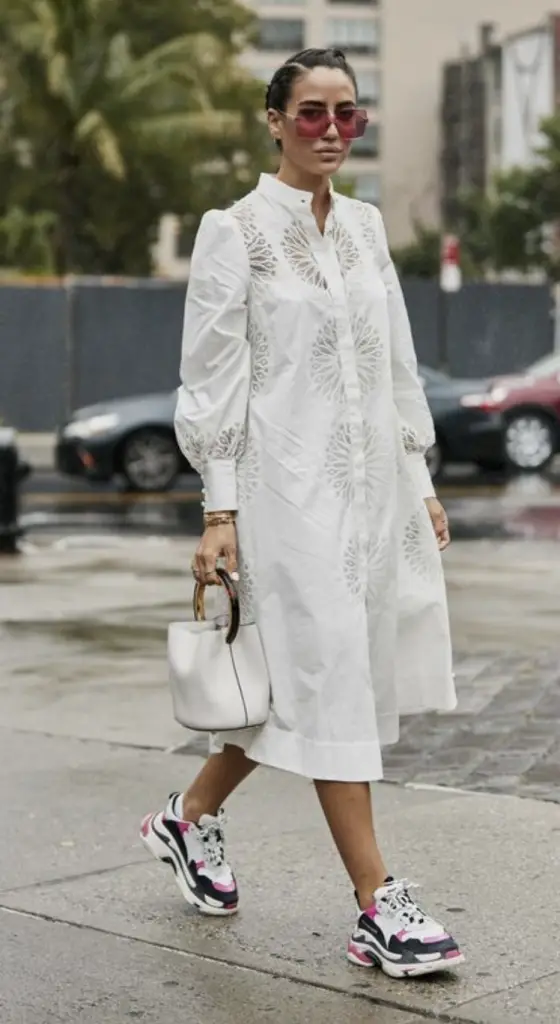 You can do almost anything with a white dress. Why not add a cool and unique belt to accentuate your waist, and add your favorite jeans underneath? This is one of the coolest and boldest white dress fashion looks: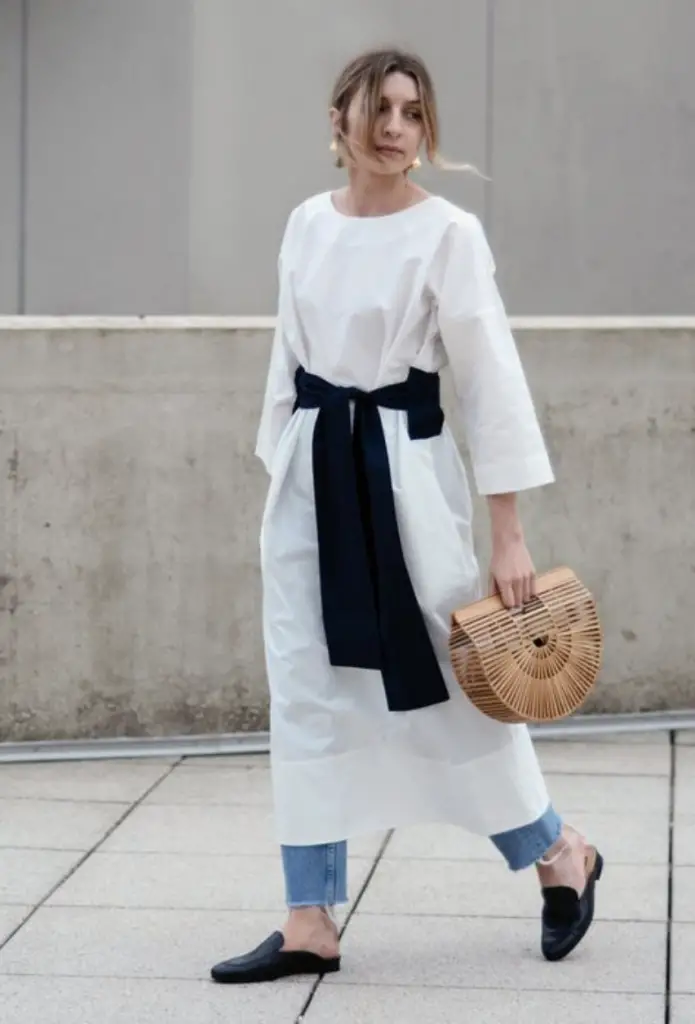 You can also wear your mini white dress on top of your jeans: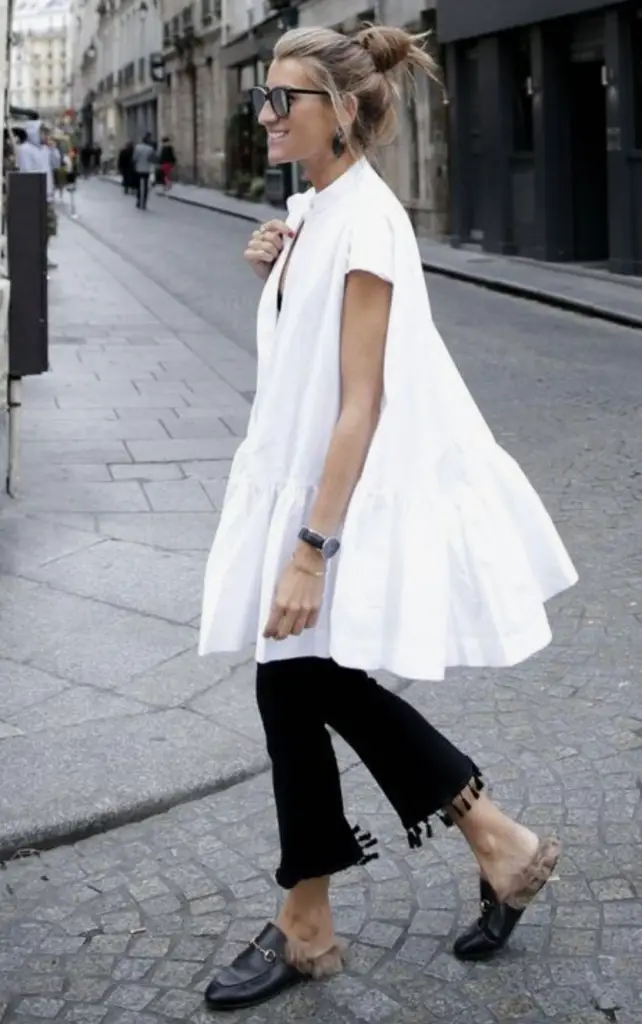 To bump up your white dress outfits, try adding hair accessories, such as bandanas, hair clips, hats… You can also add a cool layer like a printed kimono or a leather jacket: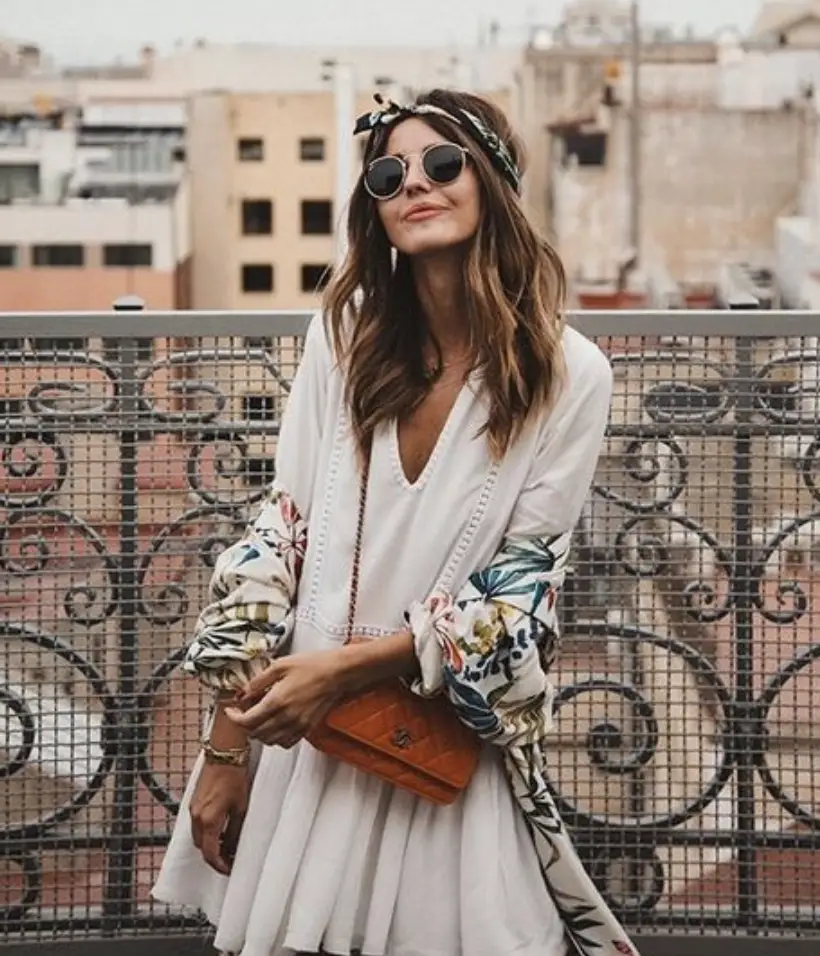 For a cute and fashionable white dress look, add a black belt right at the waist and a chic hat. This look is perfect for hot summer days: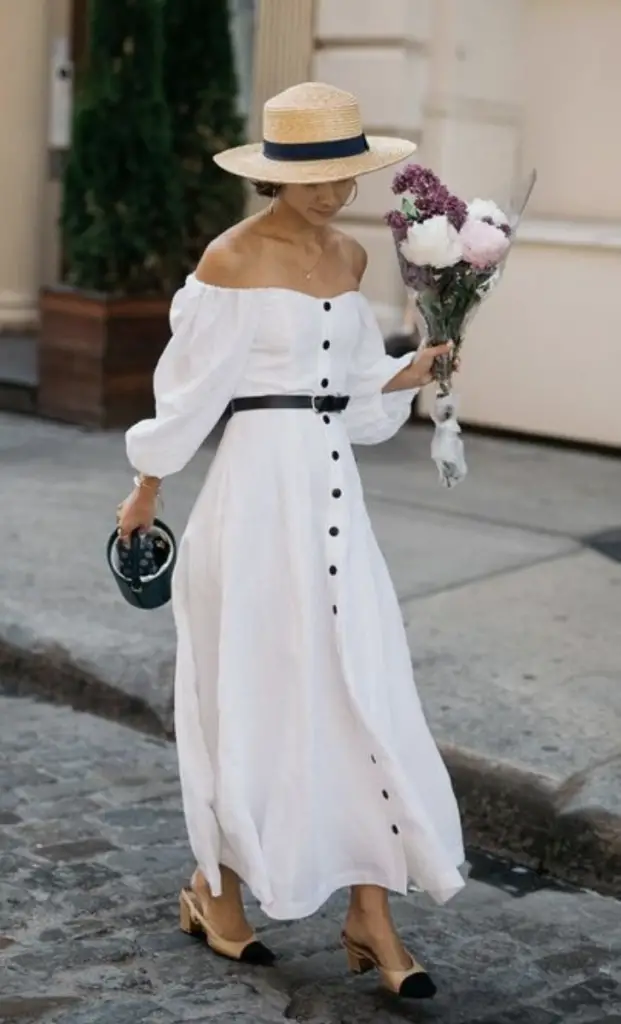 Wrap up:
Wondering how to wear a white dress can sometimes take time only because there are so many options and pieces you can pair it with. White is a color that you can combine in endless ways, so basically it's all up to your imagination and creativity.
I hope these white dress outfit ideas and tips will give you a glimpse of all the looks you can create with a little bit of creativity.