Can you imagine a couple of decades ago when bikinis were the hottest trend? After so many years of complete coverage, women were finally able to show off legs, stomach, and some cleavage.
Fast forward to the 21st century, and bikinis are all over the world, worn by the majority of women. They're sexy, comfortable and allow us to tan in the best possible way!
But, if we're going to talk about bikinis, there's someone we HAVE to mention: the American model and actress Kate Upton.
Kate Upton bikini
Don't get me wrong. Absolutely anyone can wear a bikini.
But there's "anyone" and then there's Kate Upton.
In fact, she gained fame thanks to her covers on Sports Illustrated Swimsuit Issue, a magazine which named her "Rookie of the Year" on her very first issue. Since then, she has been modeling for Beach Bunny Swimwear (and many more brands) and has appeared in multiple magazines which have named her "Women of the Summer".
These recognitions weren't because of her beautiful blonde hair or her cute smile. They exalted Kate Upton's most recognized feature: her drop dead gorgeous body. In a bikini, of course…
If you're in search for the perfect bikini for your summer vacation, then take bikini queen Kate Upton as inspiration. She has modeled many cute and sexy swimsuits that make it hard to think about bikinis and not have her name immediately come up.
So let me guide you through her swimsuit modeling years, showing you the best designs she's worn in hopes that you will find bikini ideas for your next vacation.
But most importantly, even though Kate Upton rocks a bikini like nobody, you can AND will look gorgeous with your new bikini as well!
Kate Upton swimsuit archives
This beauty has delighted us with years full of swimsuit photoshoots, modeling cute, sexy, modern, sophisticated and sporty designs.
What do they all have in common? How gorgeous they look on Kate Upton!
1. White bikinis
White is one of the best colors you can wear on your swimsuits. Even if you have very fair skin, once the sun starts making its effect, believe me, the contrast of your white bikini against your tanned skin will make you glow!
Here we can see white bikinis being modeled by the gorgeous Kate Upton. This is a cute design with a skull in the middle of each triangle. She's looking sexy in a snow-covered mountain, making it seem easy to model a bikini while pretending you're not freezing to death.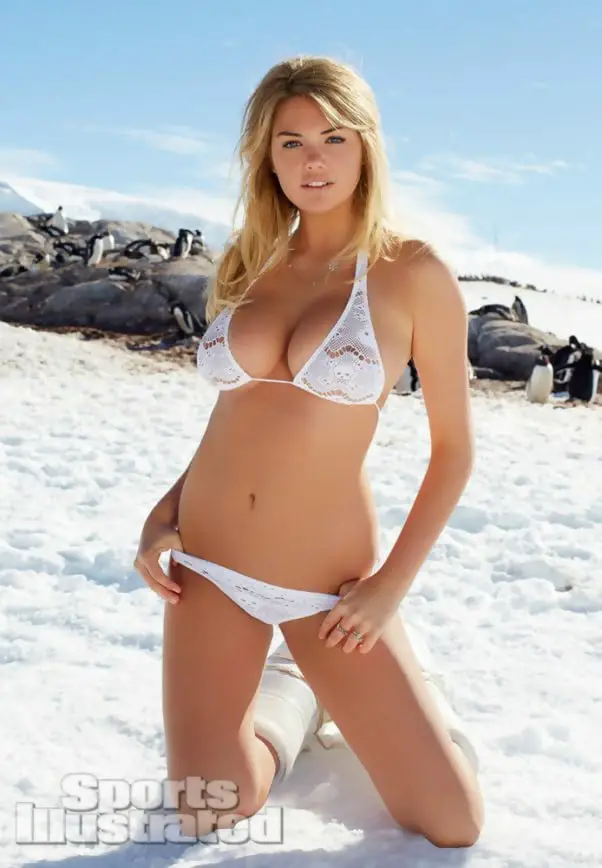 These other two white bikinis are from a Beach Bunny Swimwear photoshoot in 2017, and although it's been a couple of years now, these designs are still as trendy as ever.
I also believe both flatter her in the best possible way, as she has a rectangle body shape and tying her bottom on her hips makes her look curvier than she really is. But one thing's sure, the second bikini's golden detail makes her look like a Greek goddess, rectangle shape or not.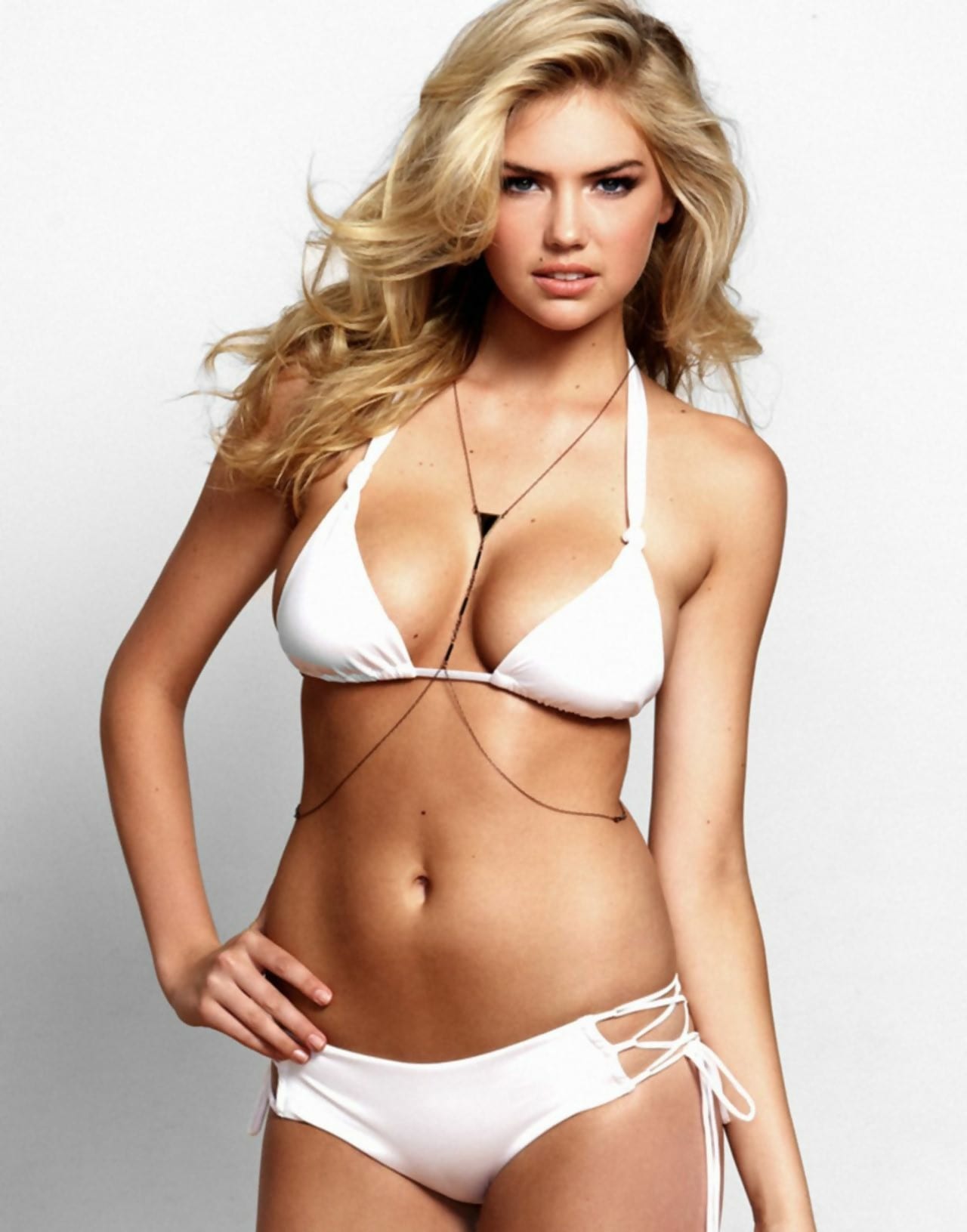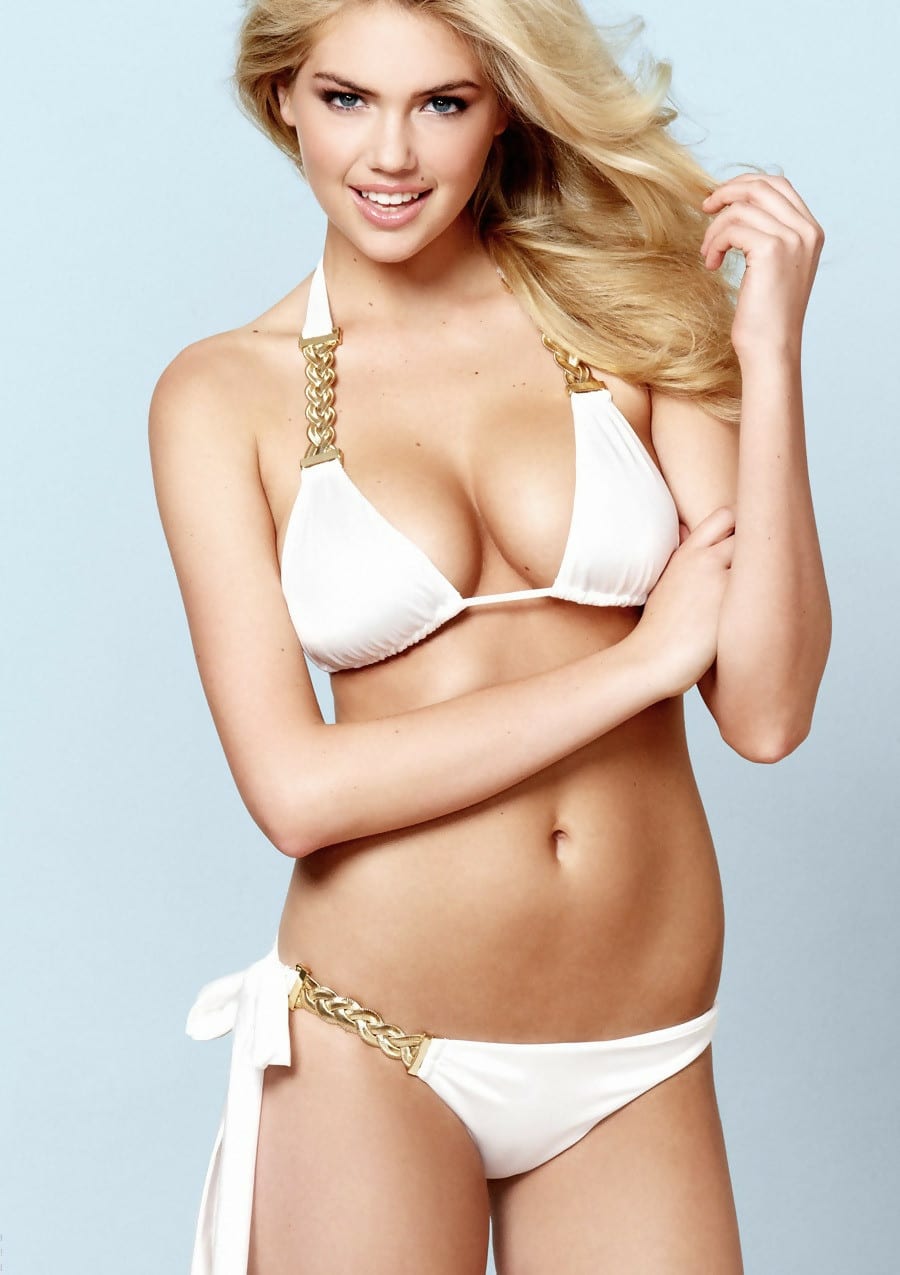 If you're not much into an all-white bikini, then you can opt for one that has colored panels or details such as this one, for a fun and sexy look: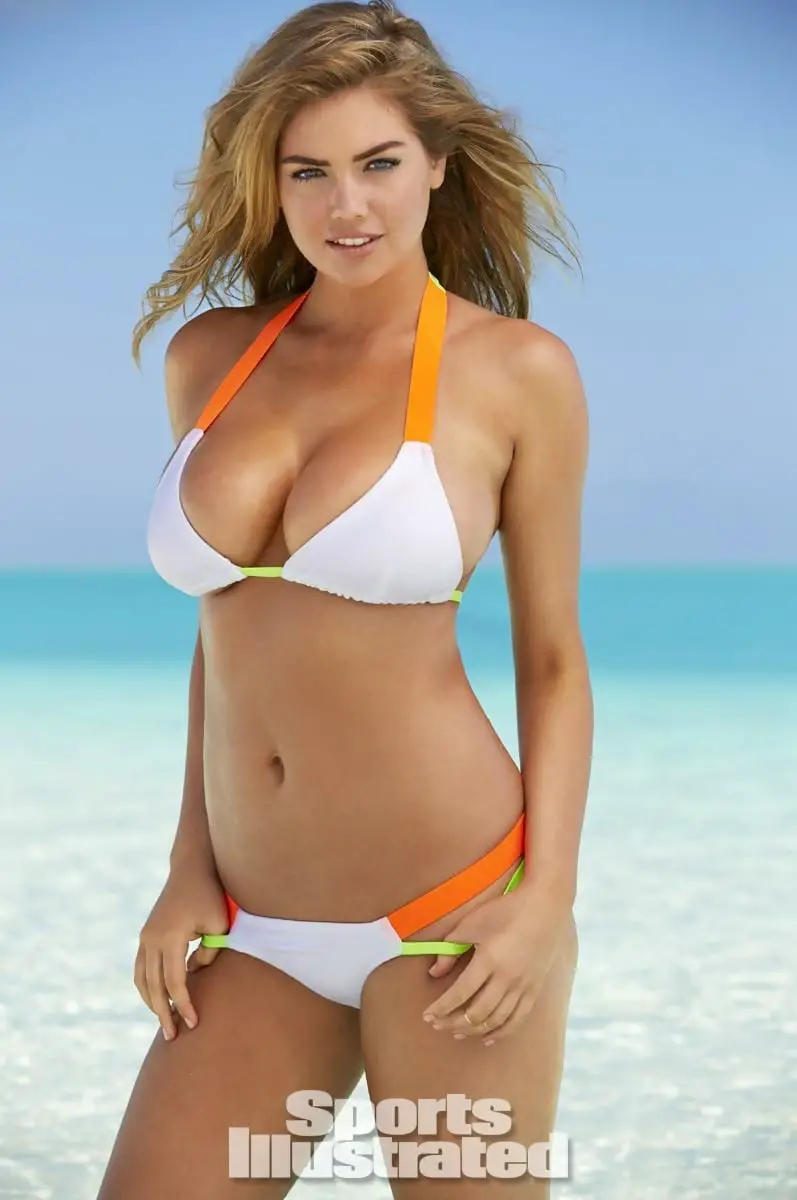 Or a white bikini that has embellishments such as these: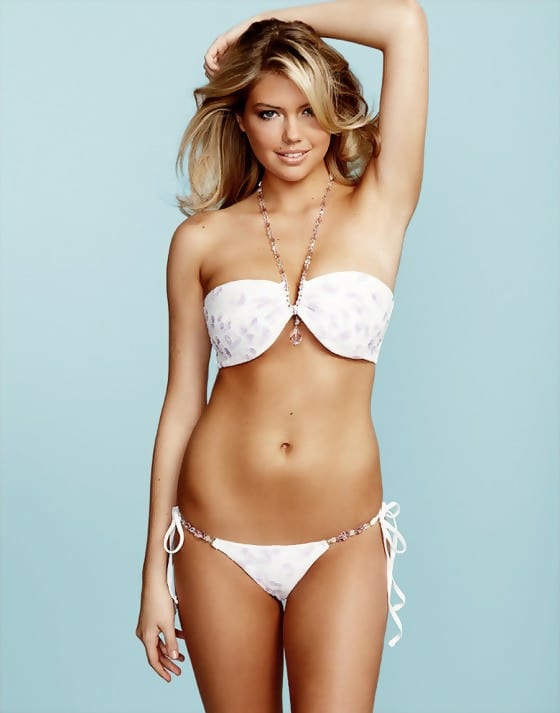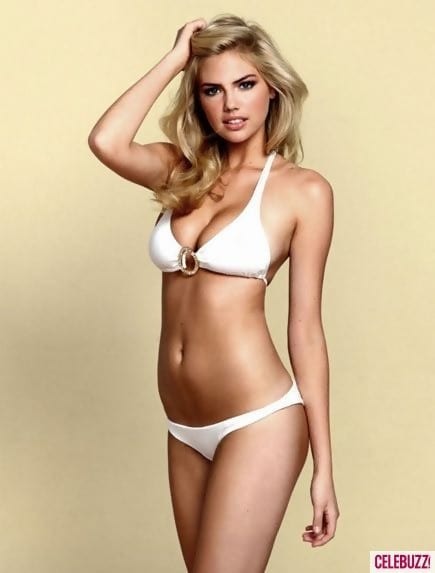 2. Black bikini
Black is one of the sexiest colors, no doubt about it. And Kate Upton brings the black bikini game to the next level.
Pair your black swimsuit with a black see-through cover up for a chic and sexy look: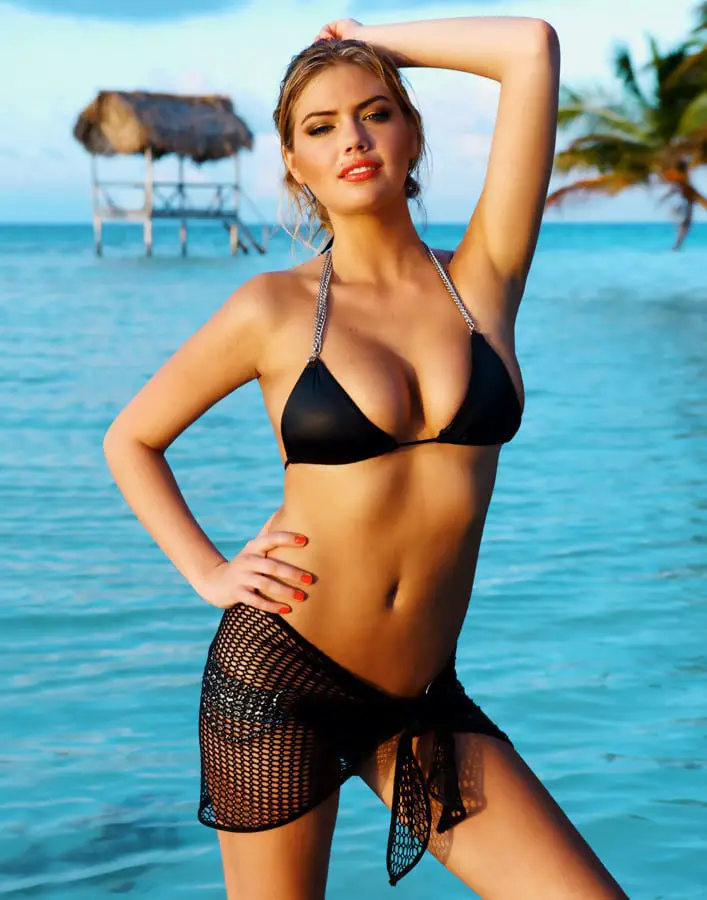 And even though we're not willing to wear thighs on the beach, we can still opt for a cute embellished black bikini. You can also add some bracelets for an extra touch of sophistication: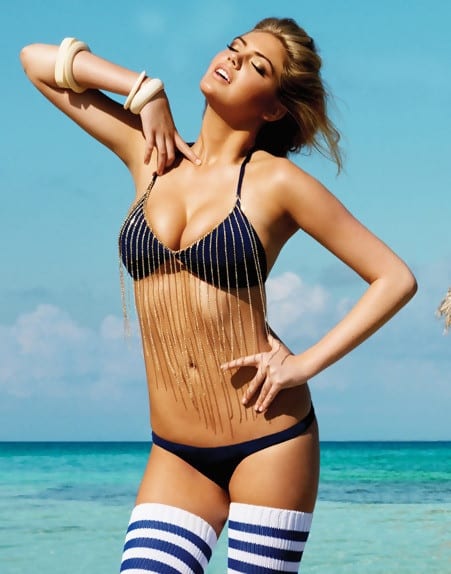 If your bracelets match your bikini's embellishments much better!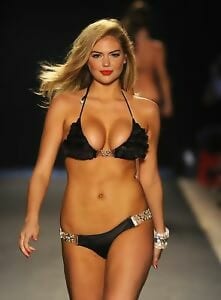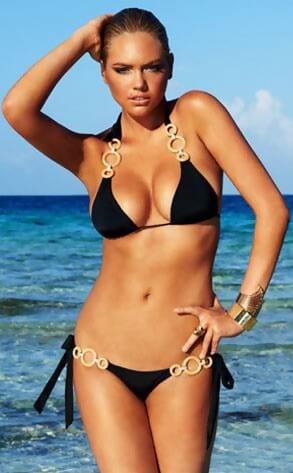 I also love how a black bikini looks with colorful details such as embroidery, embellishments, sequins or beads: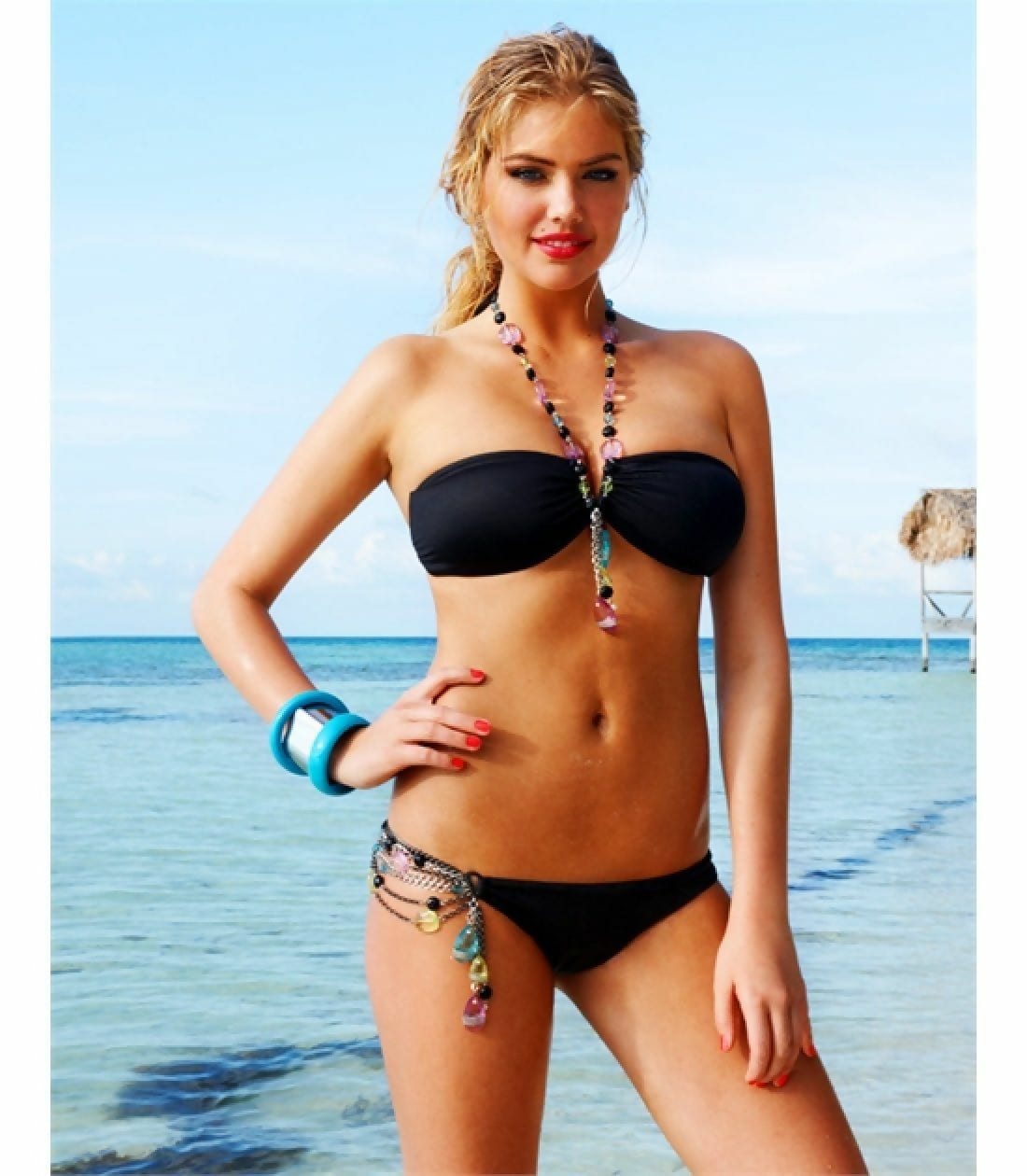 Here are other black designs modeled by this beauty queen: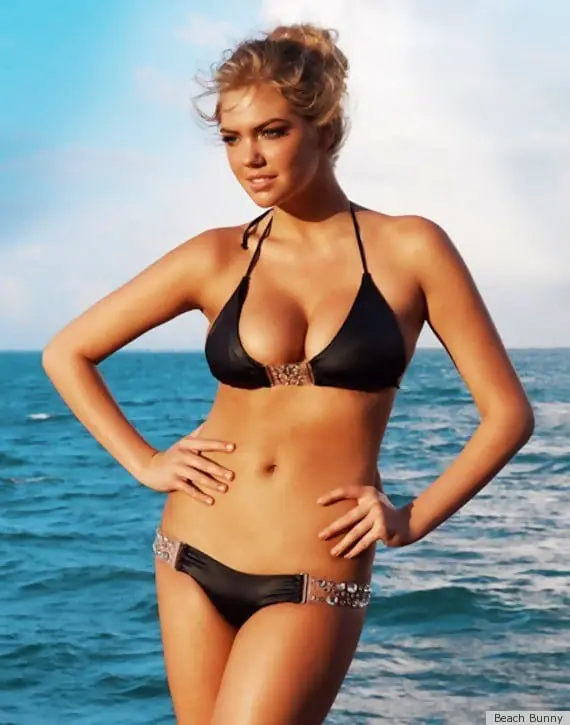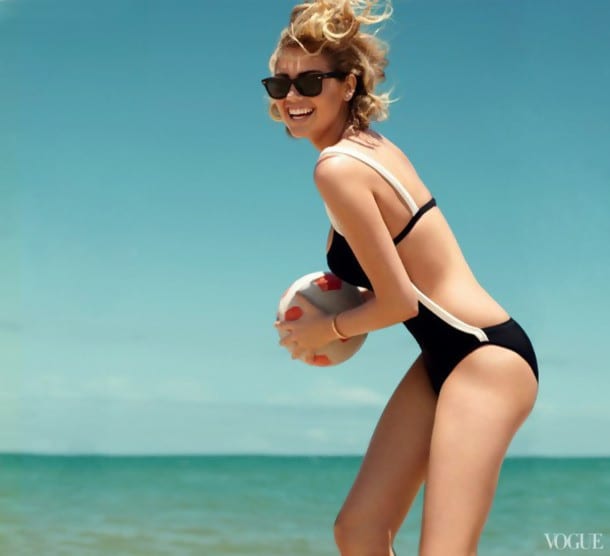 3. Red bikini
If there is one color that suits Kate Upton, that's red.
I also believe most women can pull off red, so if you're open-minded with your bikini search, then I suggest to try this color. Red is a head-turner color that will make you feel confident and sexy.
Here are different and cute designs modeled by this bikini queen: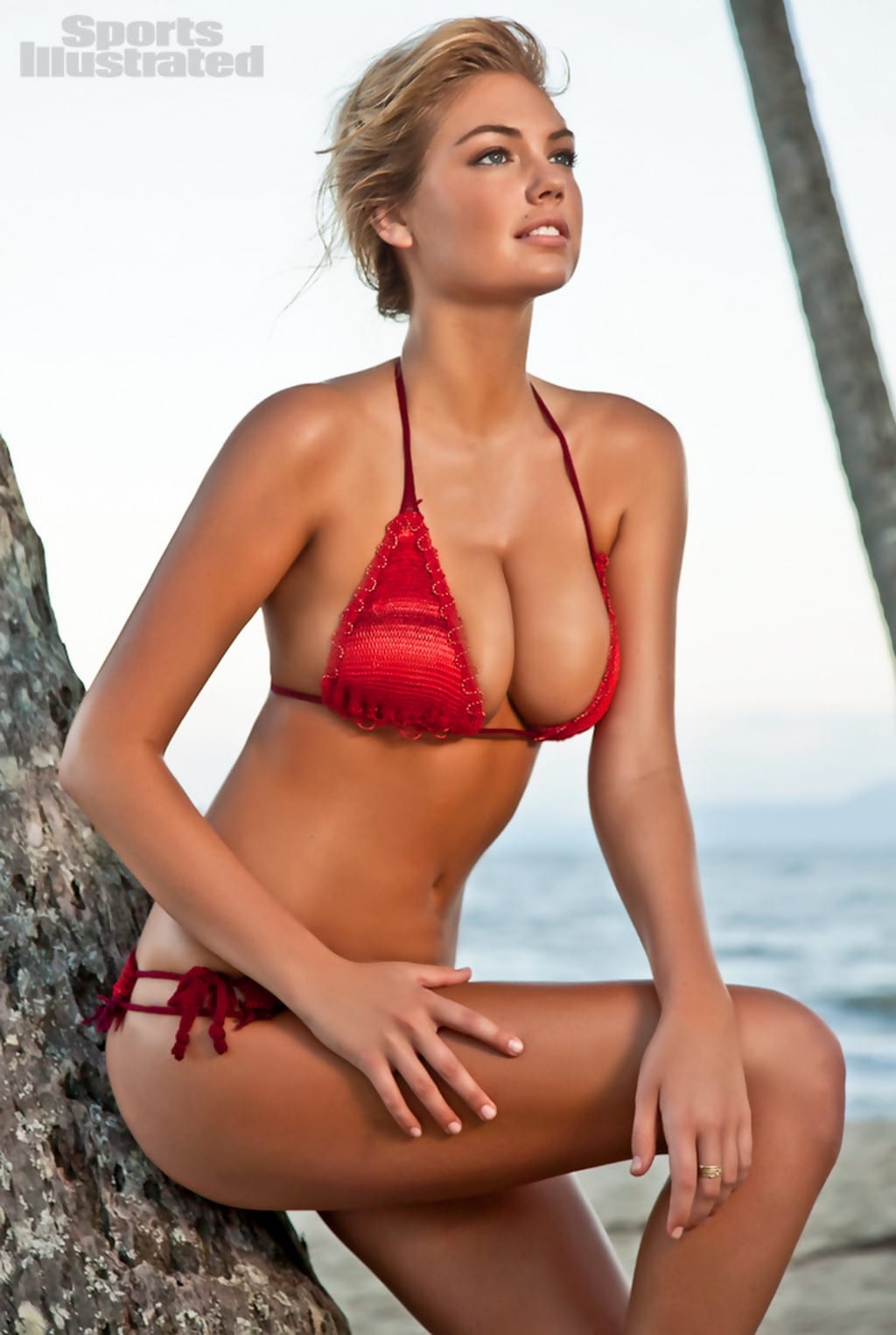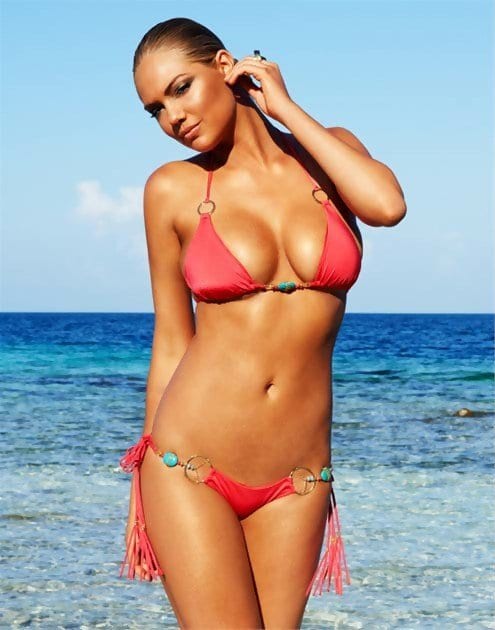 If you want to avoid tan lines, a strapless bikini top is also another option you can look for: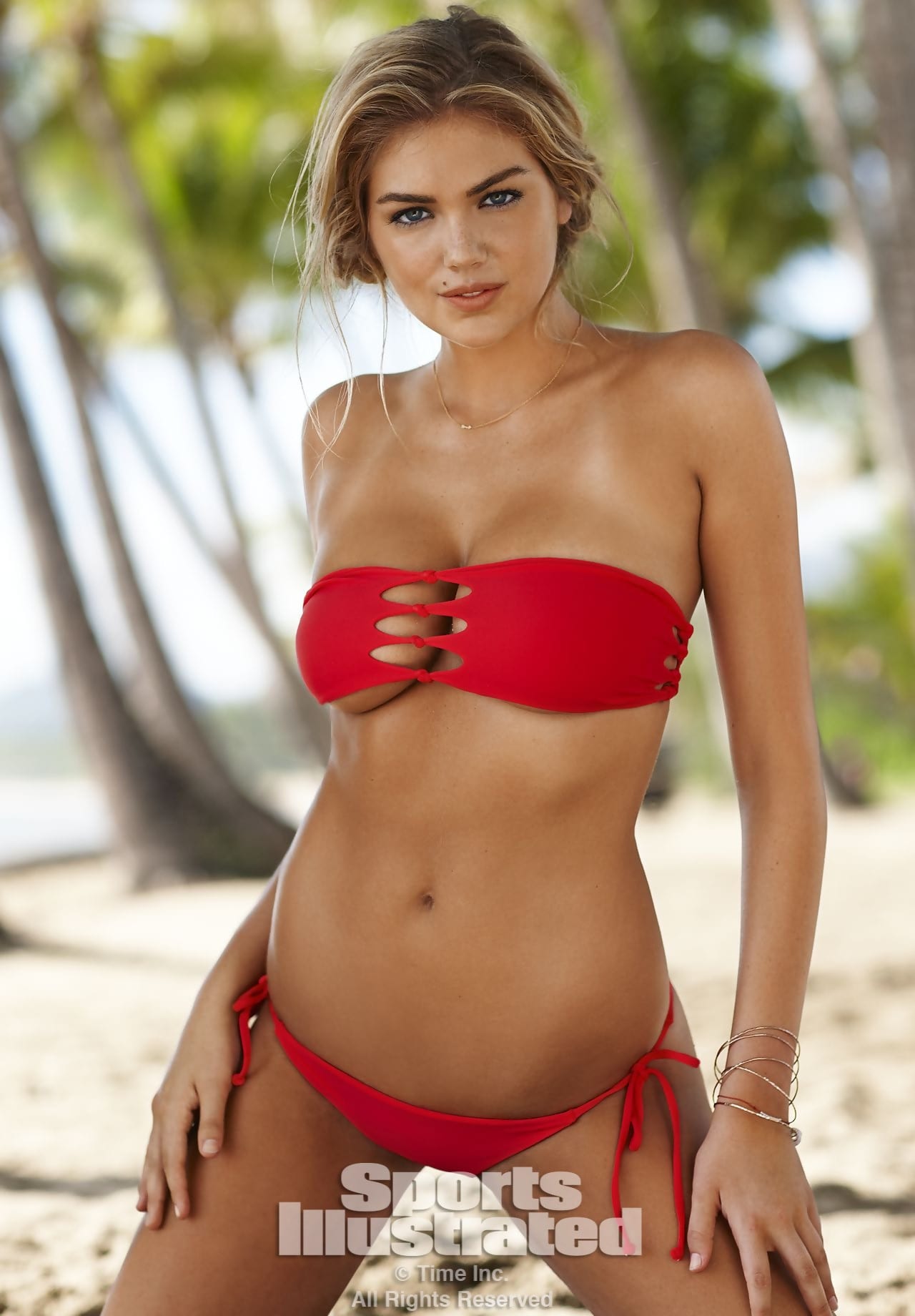 If you're not much into bikinis, a one-piece red swimsuit will also do the trick: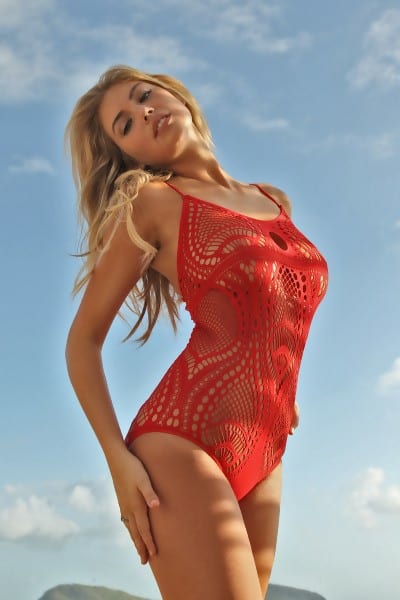 4. Blue bikini
A blue bikini is another great option that suits every skin color, Kate Upton's included of course.
You can delight yourself with these stylish blue bikinis modeled by her: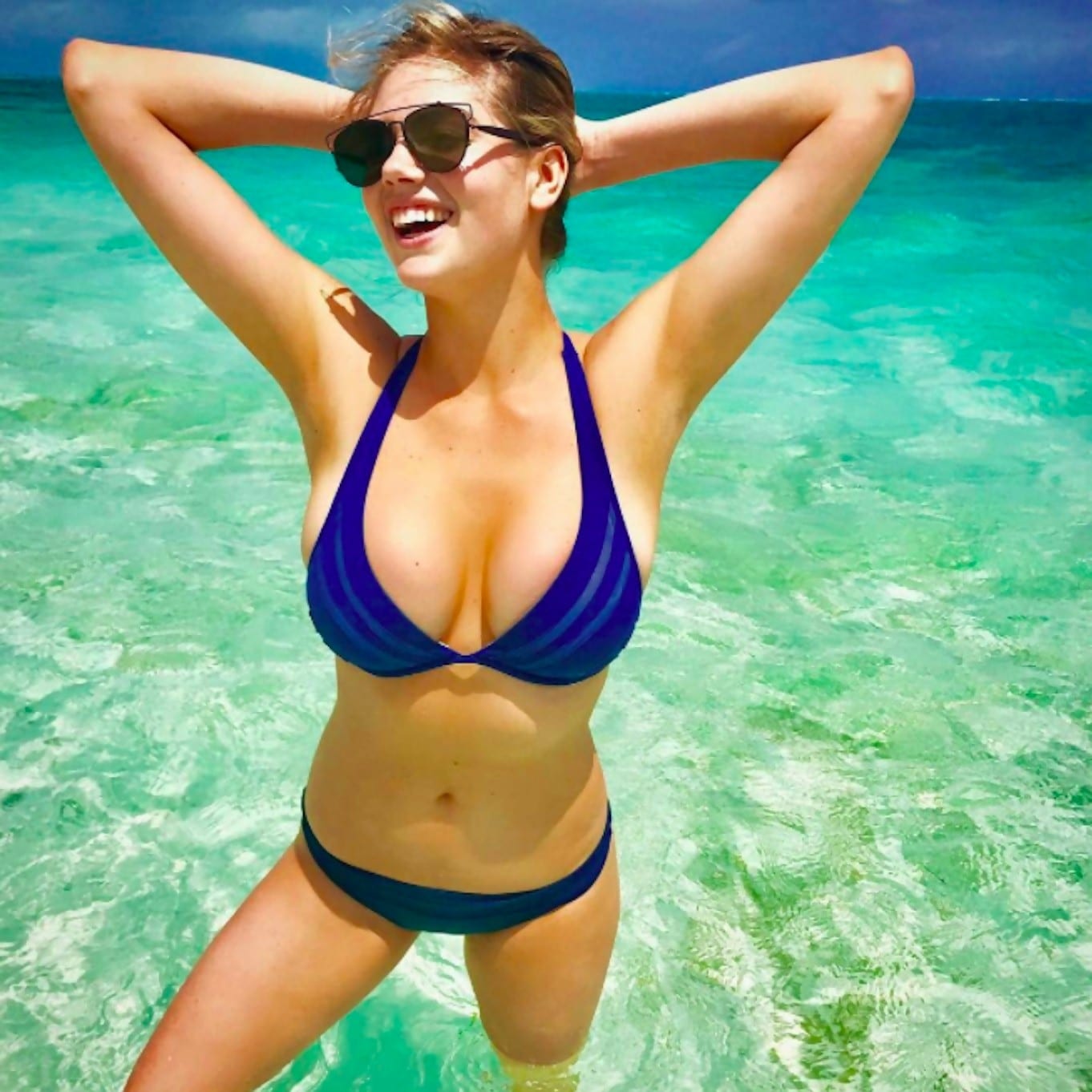 Golden details on a navy blue bikini is a killer combo! If you can't find any bikini like this one, then you can always opt for accessorizing your look: choose golden hoop earrings or bracelets. Or even golden nail polish!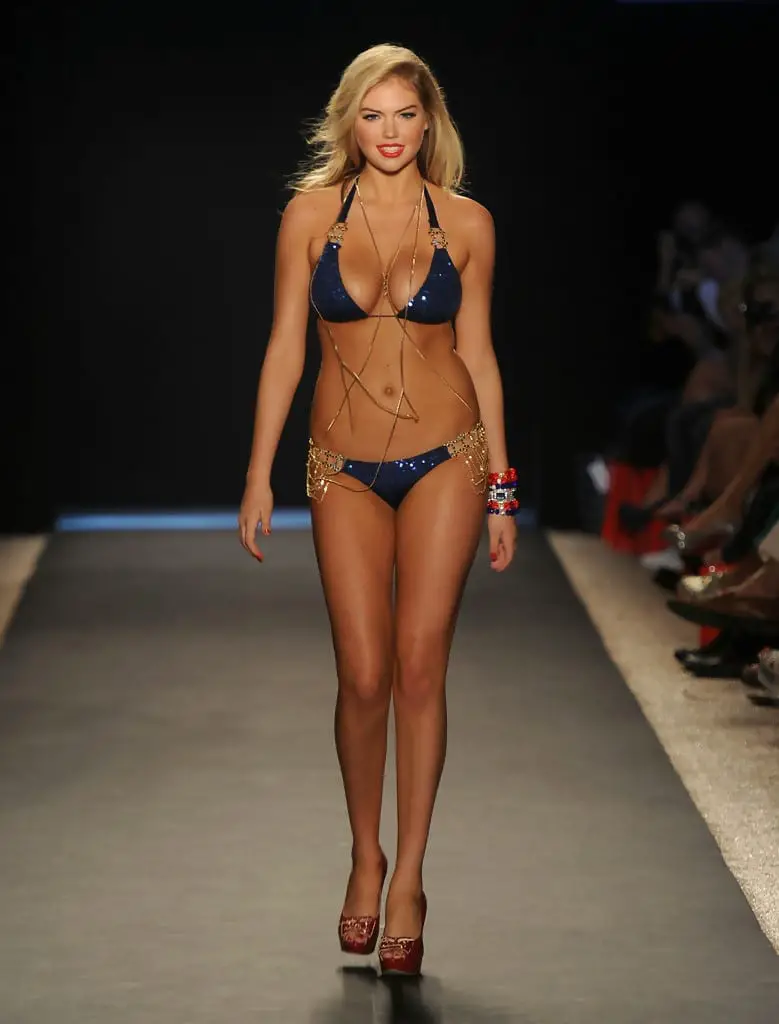 You can also choose a cute mini print blue bikini like this one. I am obsessed with how sweet yet sexy this design is! Kate Upton's blue bikini is by far one of my favorites.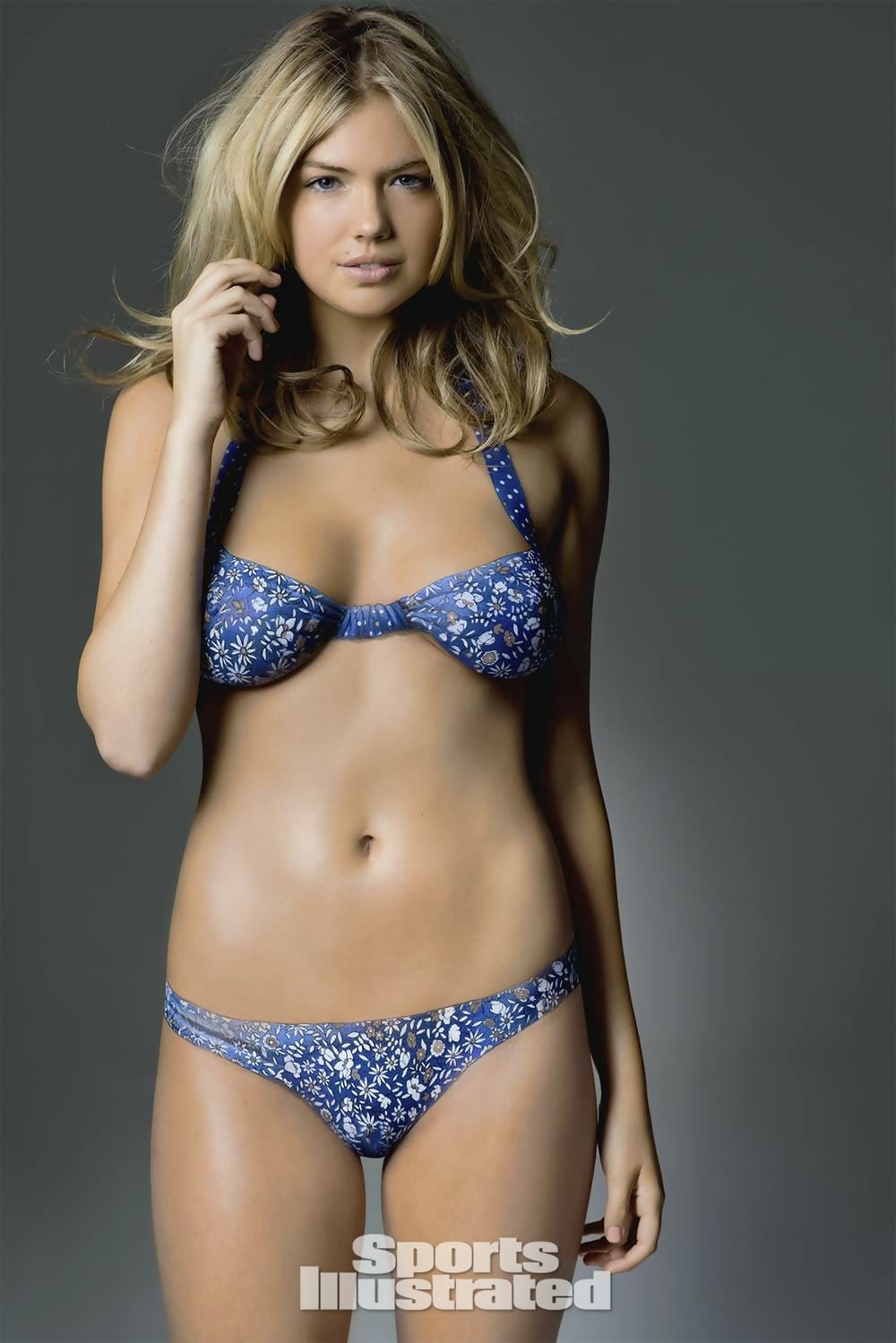 5. Multicolor bikinis
If you're not a fan of solid colors, a multicolored bikini like these ones can definitely save your summer fashion dilemma.
All you have to do is know in which colors you look the best, and look for bikinis or one-piece suits that include these colors.
A cute yellow and pink combination will make you look sexy and sweet. What I love about this design is the lace details, which takes the bikini to another level: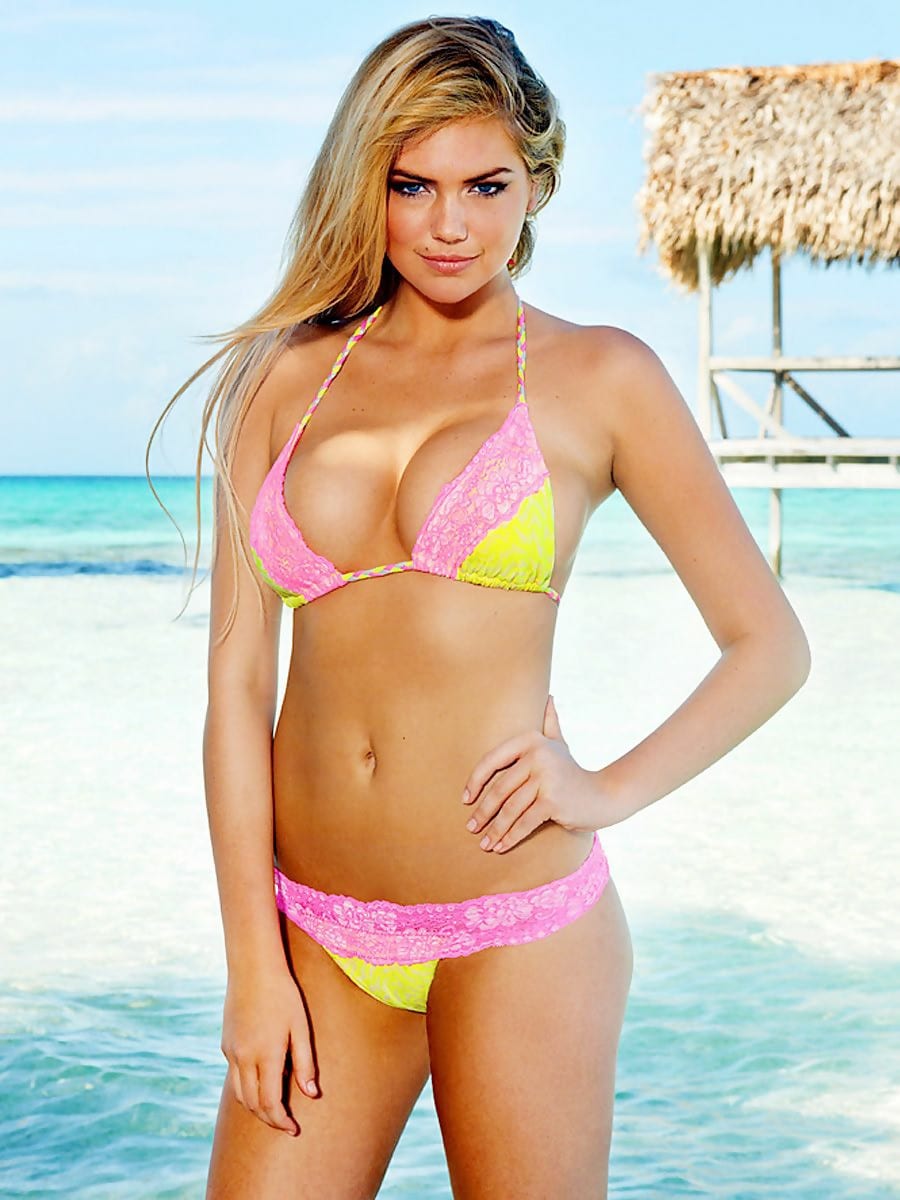 Pink with bronze is not the most common combination, but that doesn't mean it's less sexy: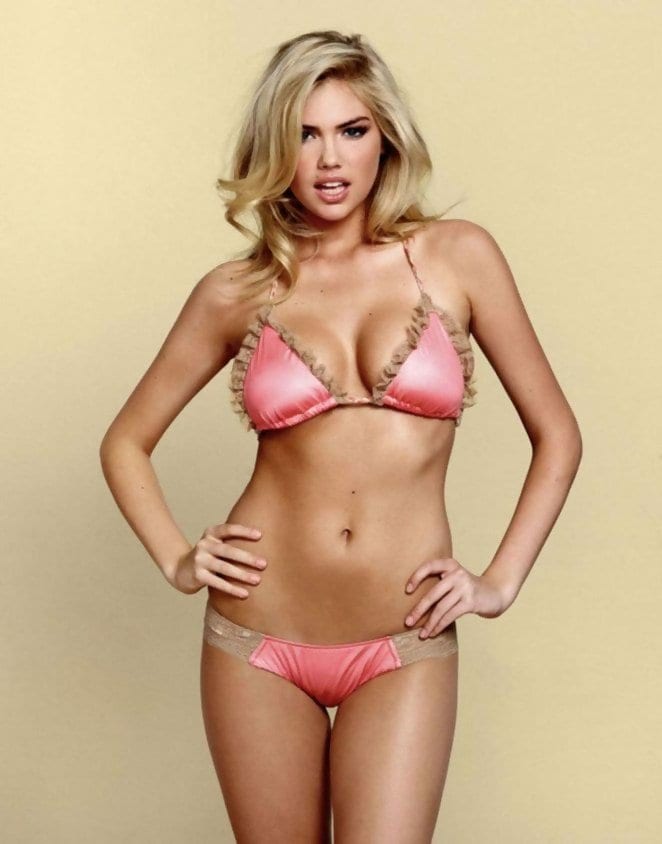 Here are other designs that can help you have an idea of what you may be looking for: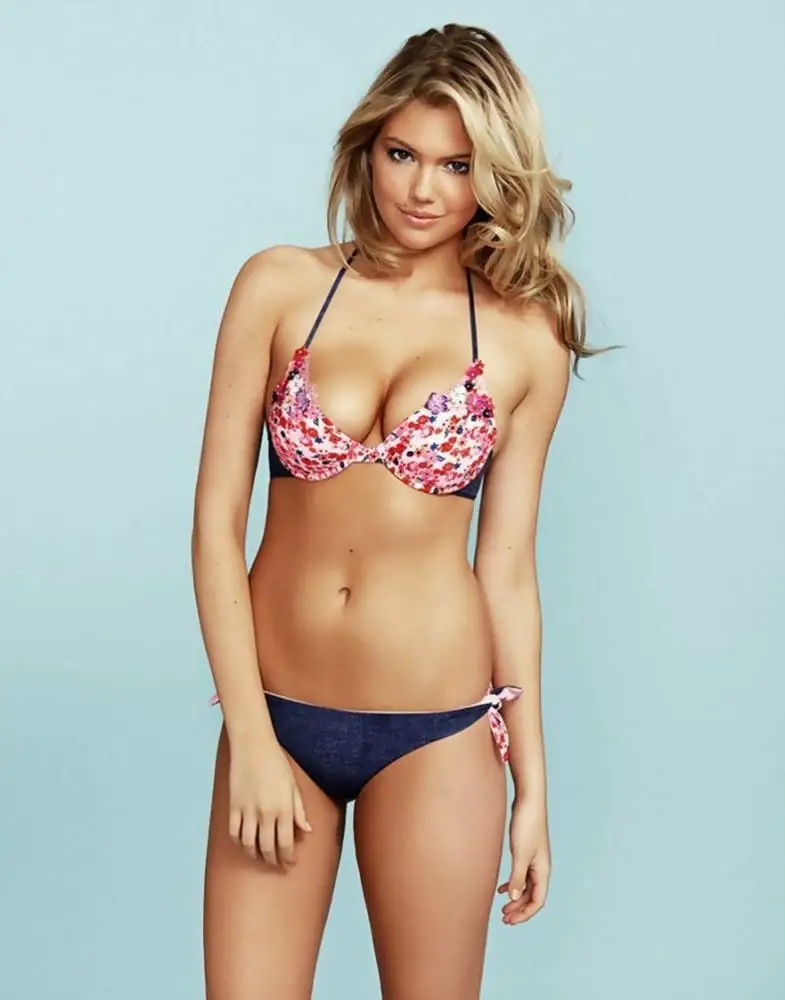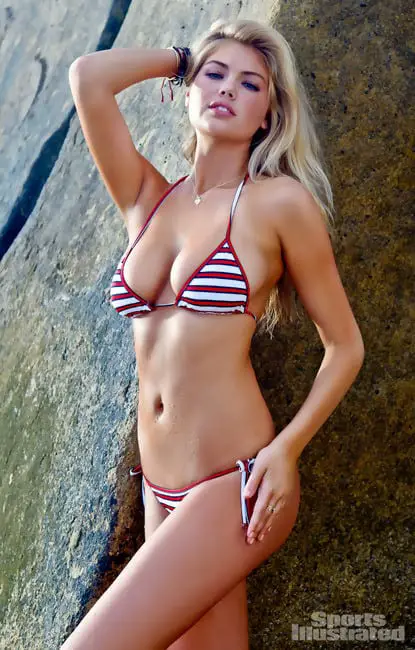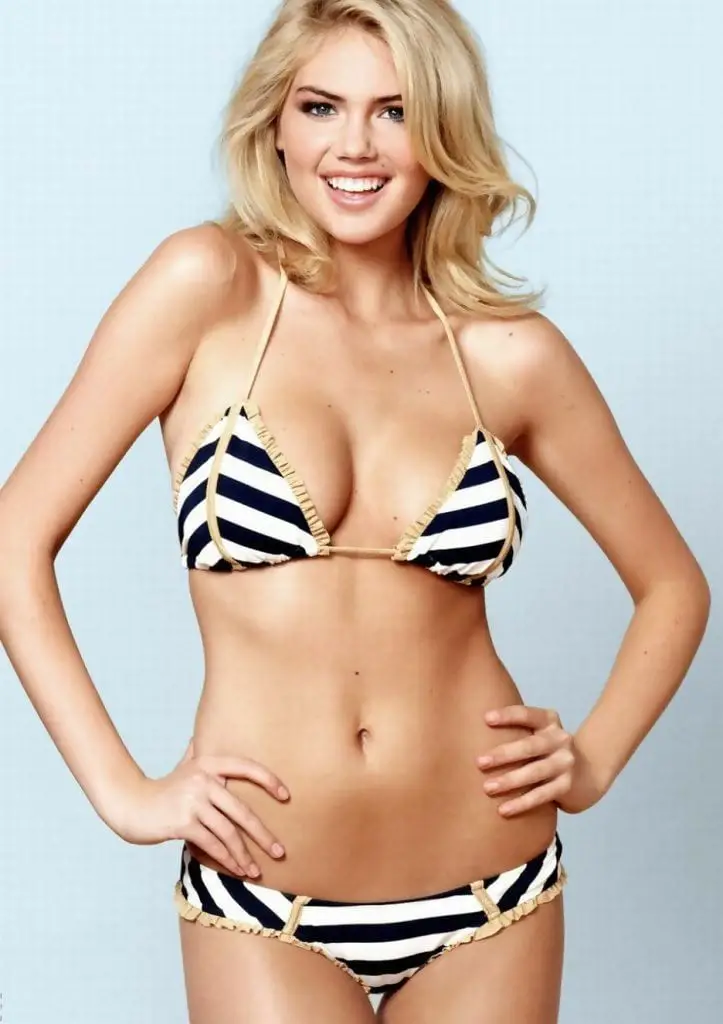 Wrap up:
If you were looking for some bikini inspiration for this summer's vacation getaway, then this recompilation of Kate Upton's bikinis can help you define what you may be looking for.
Sometimes we know we need something but we don't know how we want it. That's why it's ideal to look for some visual ideas and what better way than looking through Kate Upton's bikini archives?
She demonstrates that when it comes to bikinis, no one can take the crown from her.