Khaki pants are one of those items almost every woman owns, regardless of their skin color. You can find many different tones and shades of khaki that it's nearly impossible not to find the one that best suits your skin color.
That's why khaki pants have always been a must-have item: because they can flatter anyone and it's a versatile and formal color that's perfect for work wear.
But khaki pants outfits are not exclusively for work. Now more than ever the combination of formal and casual wear is more than welcomed, allowing you to create super stylish outfits while mix-and-matching different items that were once considered only for specific situations.
Khaki pants are one of those items that were once thought of as must-have for workwear.
That's why I'm going to guide you through different and stylish ways of wearing your khaki pants for every occasion, helping you make the most of them. If you were wondering what else you could do with your khaki bottoms, then take notes and enjoy the following outfit ideas.
What to wear with khaki pants
First of all, let's remember that khaki is a color that's mostly neutral, and I say mostly because as I've mentioned, it can be found in different shades and tones.
These are some color variations you can find in khaki pants fashion: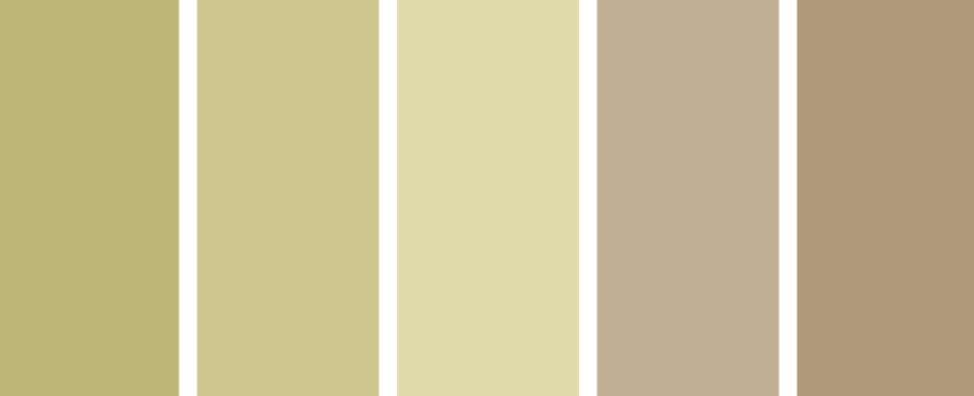 That's why you can combine it with any color you like, making it easy to pull off different outfits with the same exact pant.
So, having that into consideration, remember that your pair of khaki pants can be worn with all of the clothes I'll show you. There's no need in owning more than one pair.
8 Casual khaki pants outfits ideas to copy
1. White and khaki
One of my favorite combinations is khaki with white because it's sophisticated and even if you dress casual it can effortlessly add a chic touch to your outfit.
Therefore, the easiest way of wearing your khaki pants is with a white or ivory top. Wear espadrilles, flats or sandals for a casual and chic look:
You can keep a monochromatic color palette by wearing a camel handbag: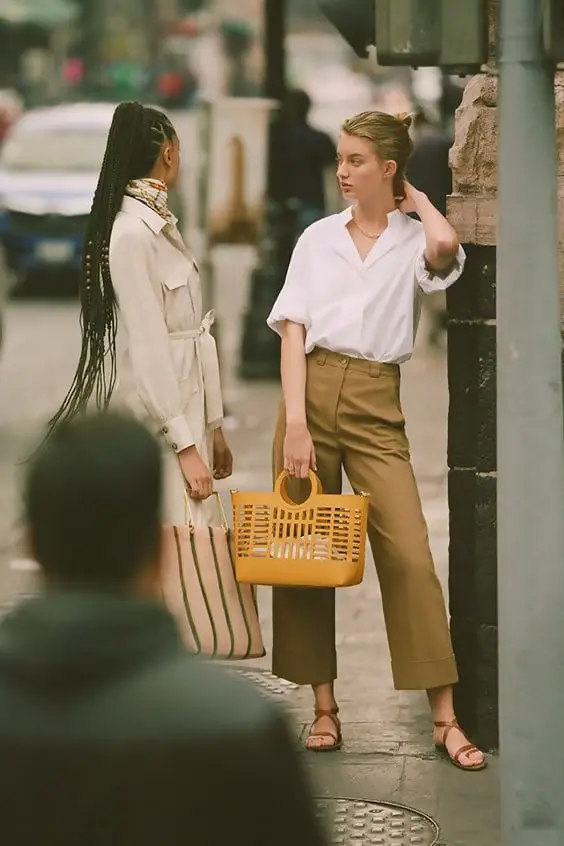 Or a camel jacket. I love how adding a contrasting color in a small dose can create a visually interesting outfit. See how this woman added a blue floral printed scarf as a belt to break the monochromatic outfit she's wearing: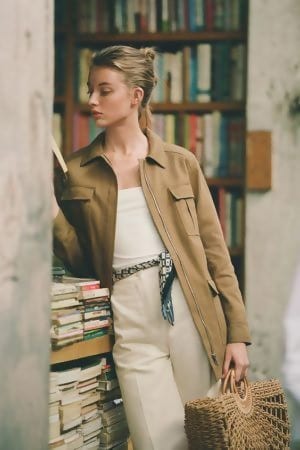 A white t-shirt with khaki pants is another effortlessly chic outfit you can pull off: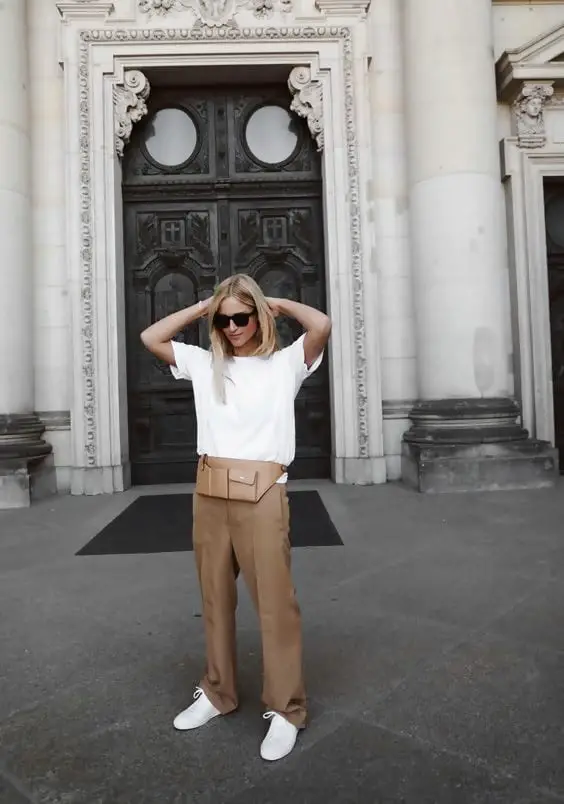 You can also wear white sneakers for a comfortable and stylish look: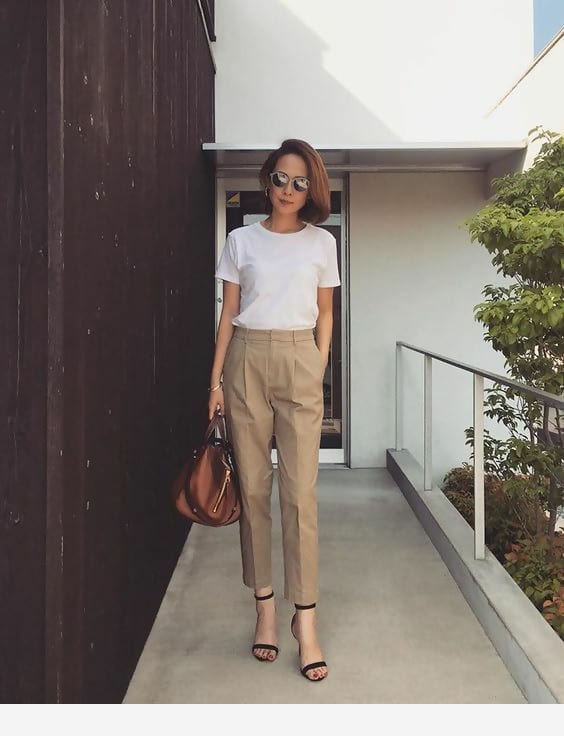 Switch your sneakers for black high heels and you'll be ready for a business casual meeting: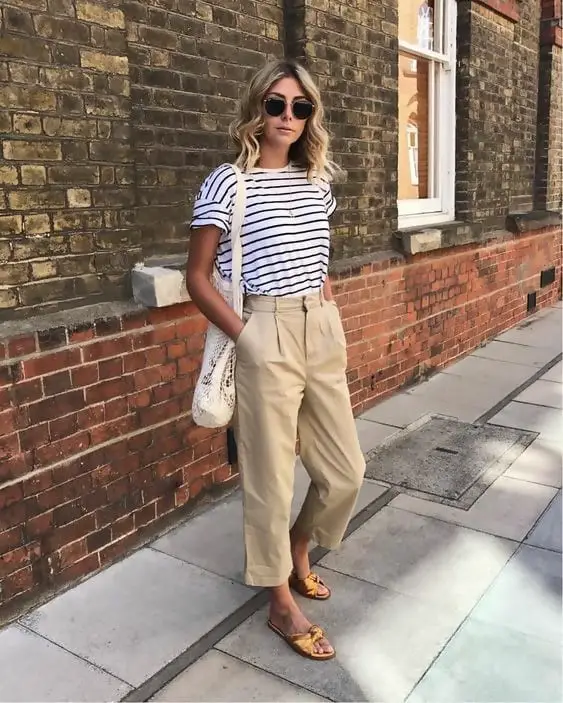 2. Stripes and khaki
Black, navy, and white are great colors to add into your khaki pants outfits. You can wear a striped top with these colors to add texture to your outfit.
It's also another alternative for an effortless look. Switch your white top for a striped one if you're looking for other ways of styling your khaki pants.
Plus, horizontal stripes are naturally very casual.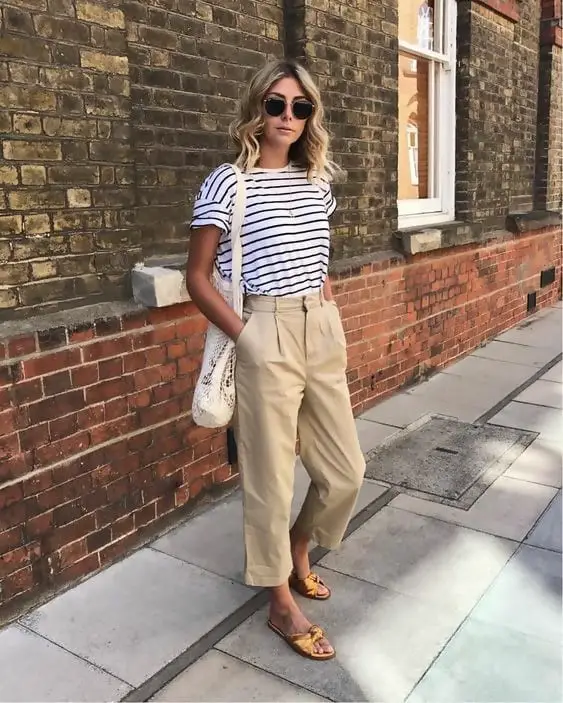 Add a pop of color with cardigans or shoes: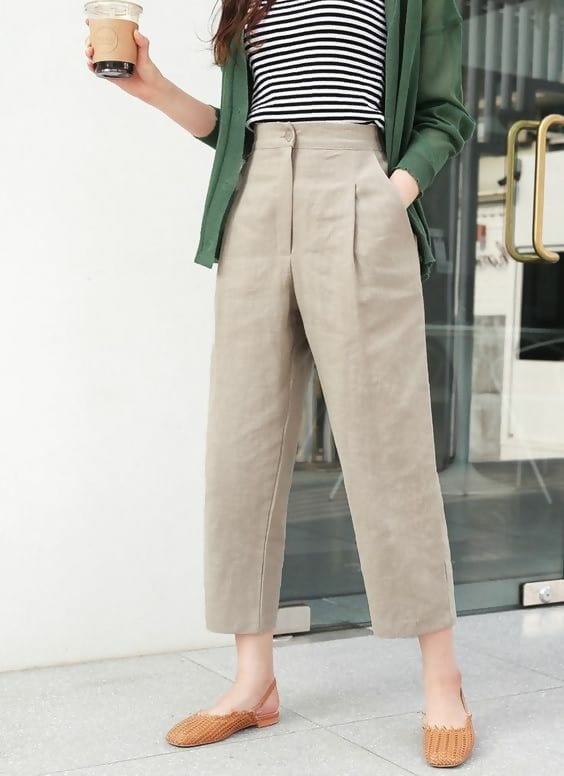 Add high heels to your look if you're looking for a polished casual outfit: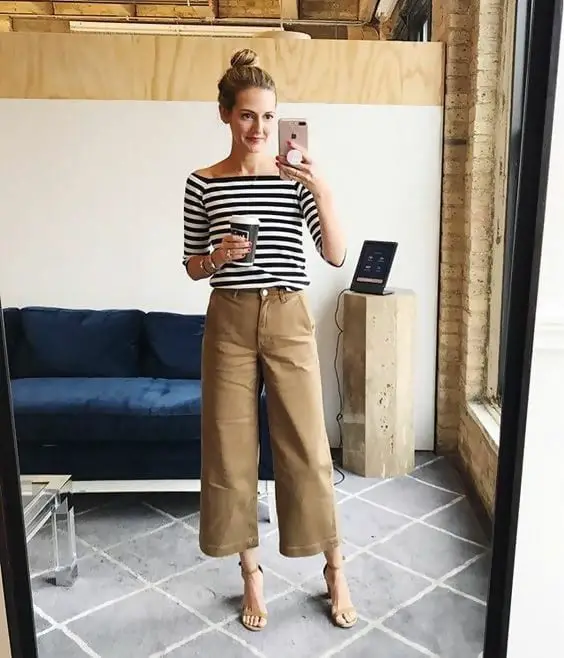 3. Chambray or denim with khaki
If you're not much into monochromatic looks, you can perfectly wear a chambray shirt or add a denim jacket to your khaki pants outfits.
These combinations look casual, preppy, feminine and stylish.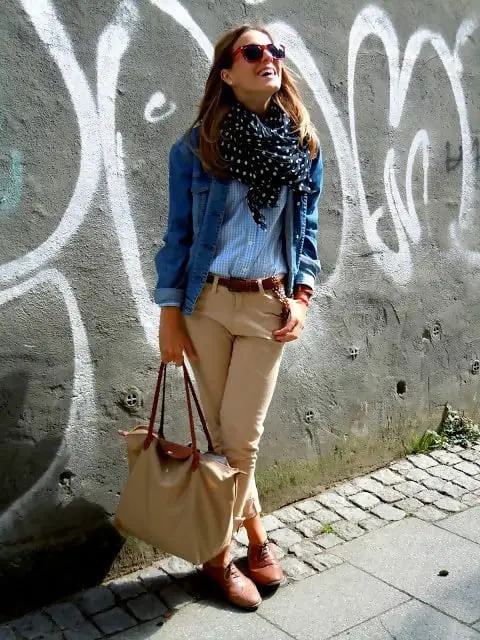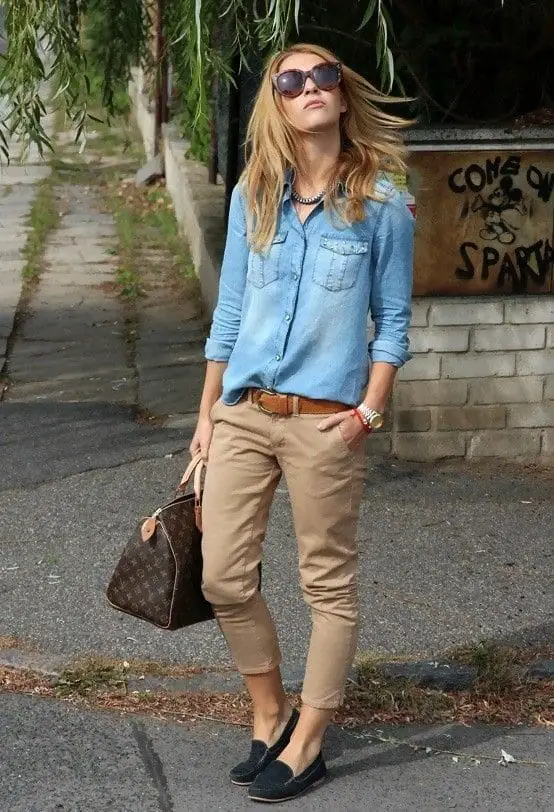 Buy Similar Here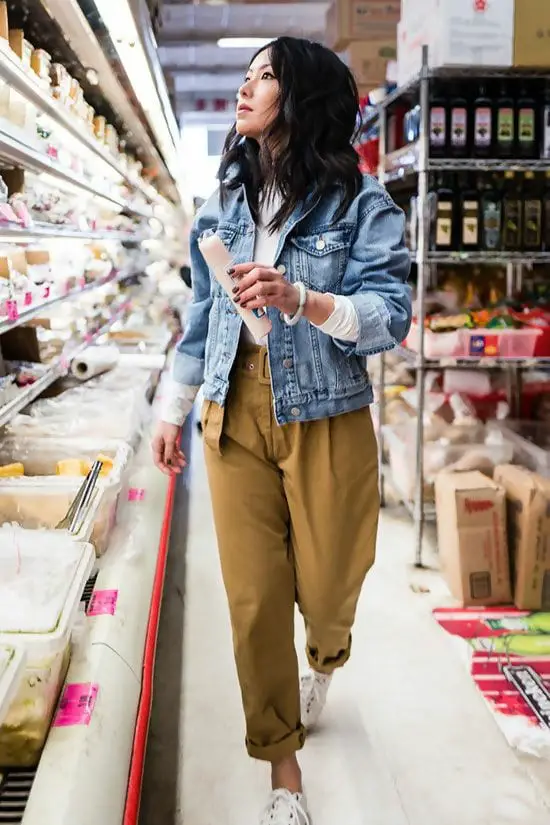 4. Black and khaki
A black and khaki color palette is super chic and looks great for both formal and casual outfits.
However, if casual is what you're looking for, dress down your outfits by adding sneakers, denim jacket, sandals, flats…
Crop tops are another great idea for casual wear: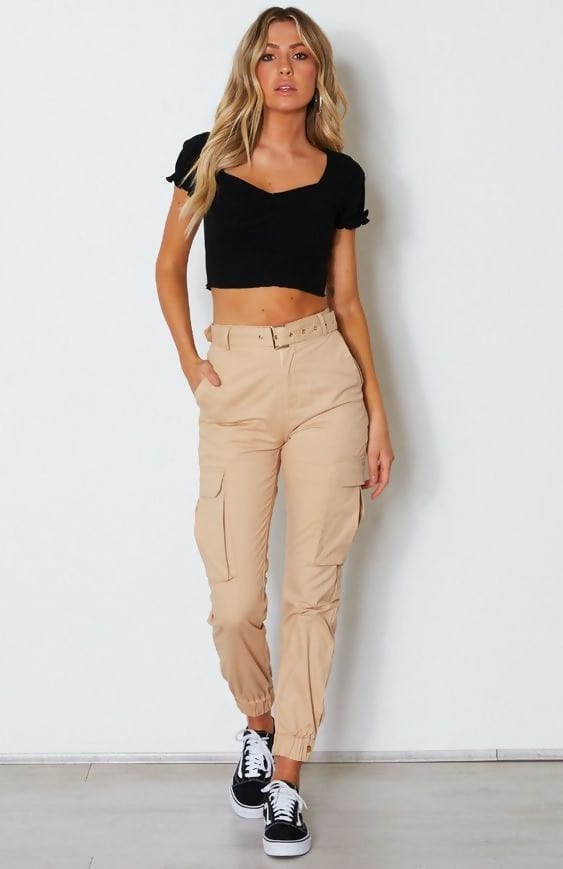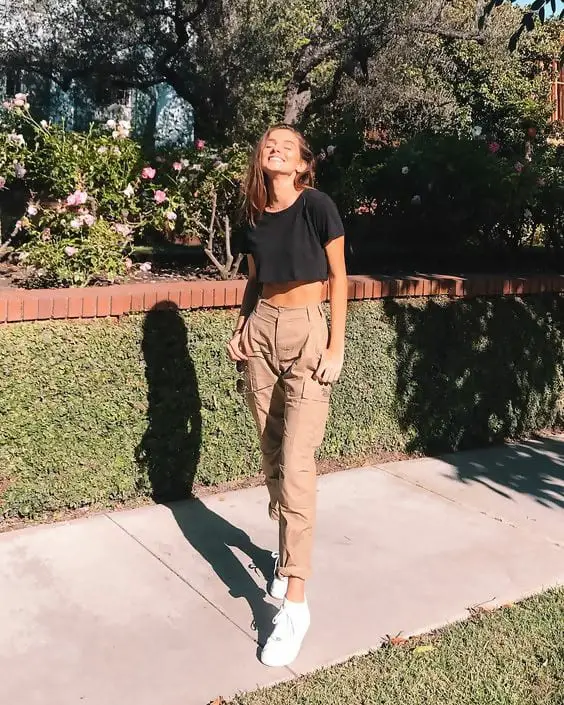 Wear black sandals and black top for a polished casual look: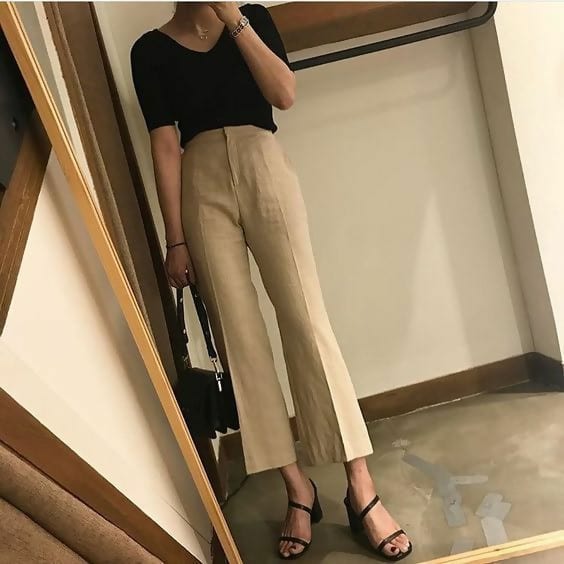 Or any casual shoe you prefer. A black and khaki outfit doesn't need much in order to look fashionable: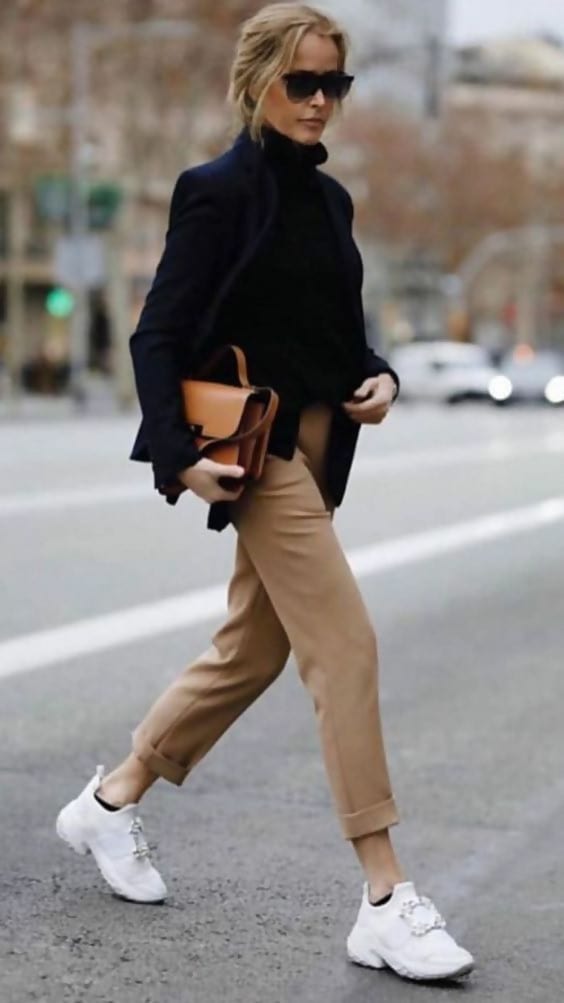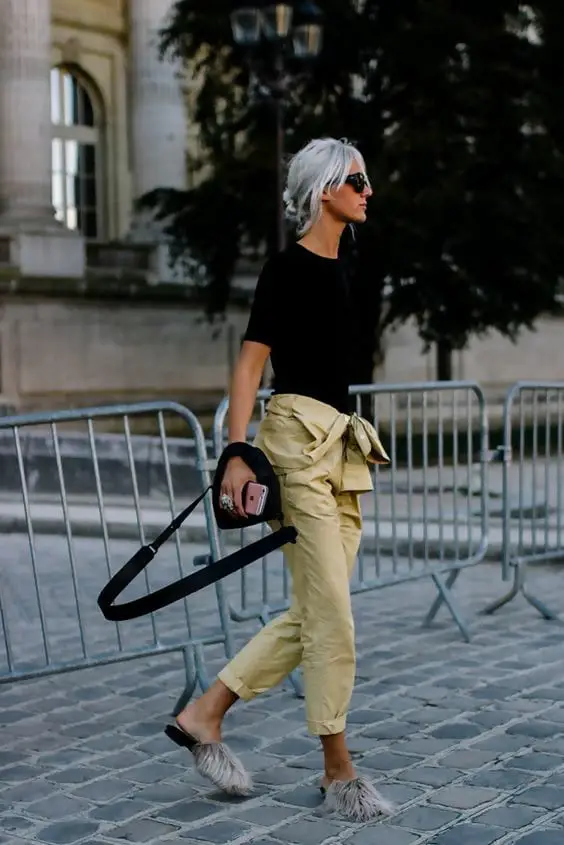 5. Other color combinations
Khaki and lavender: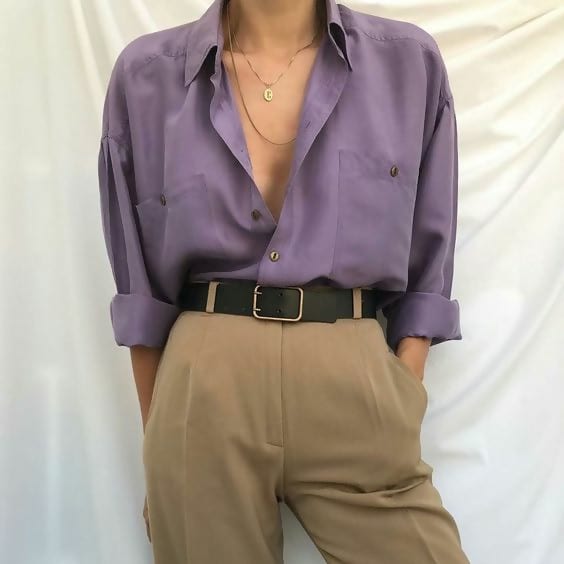 Or animal print: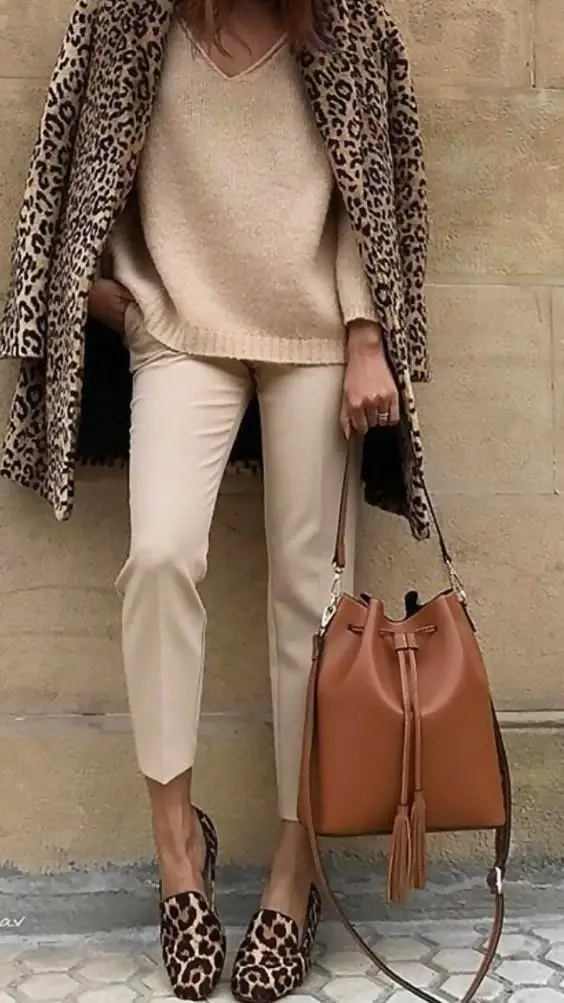 A bright red will create a statement outfit along with your khaki pants: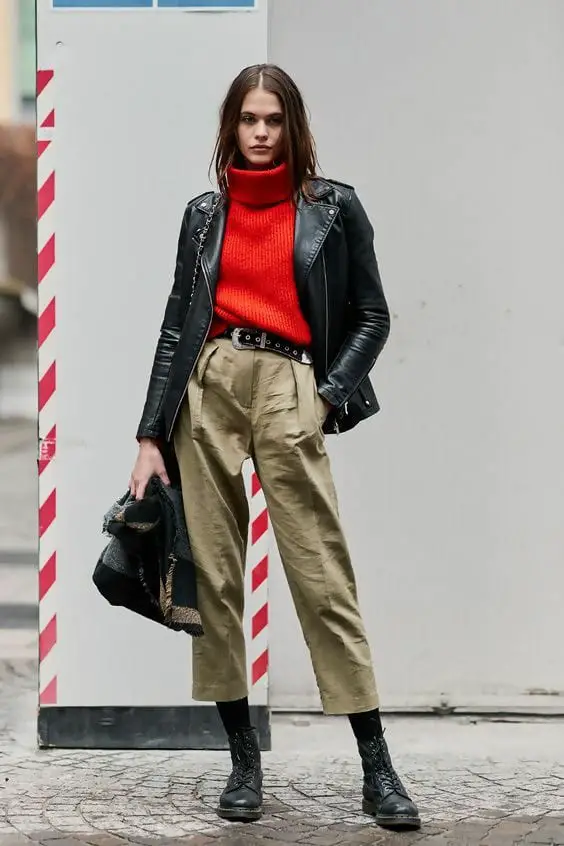 Or a blue top along with camel and brown items: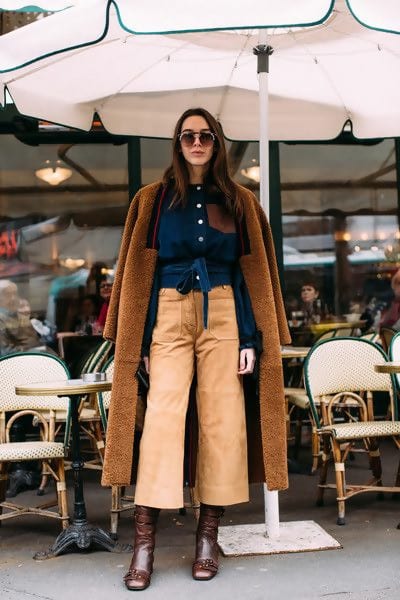 Different shades of green look great with khaki pants: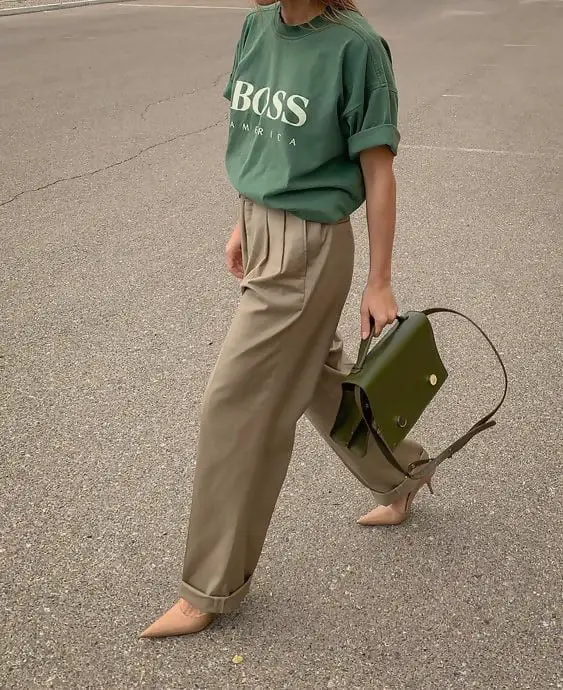 Formal khaki pants outfits
You can perfectly wear the same colors mentioned above but the trick of transforming a casual outfit into a formal or work appropriate outfit is in the styling.
1. Heels and handbags
To style your khaki pants outfits into a formal look, make sure to wear heels: from low block heels to pumps or stilettos.
You also have to pay close attention to the handbag you wear because it can have the power of dressing your outfit up or down.
Let's see some examples:
These outfits have been modified into a formal look or work attire with the mini bag and the high heel sandals. Plus, the black and khaki color palette is ideal for formal outfits.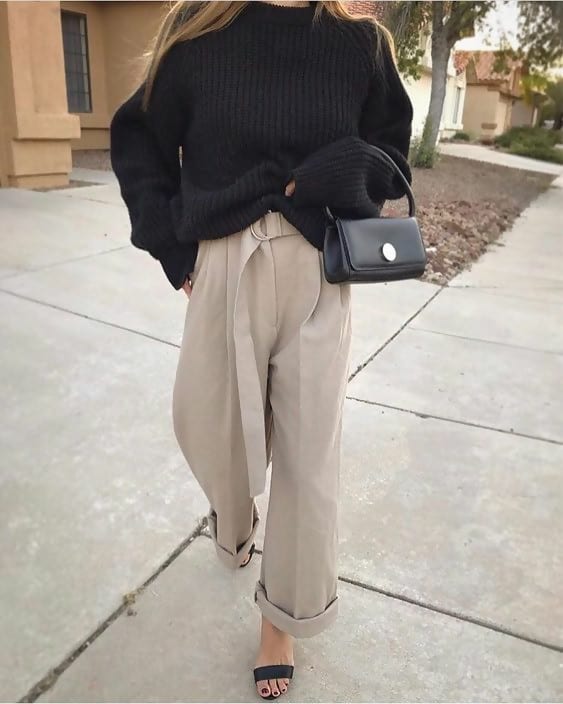 This is another example similar to the one above: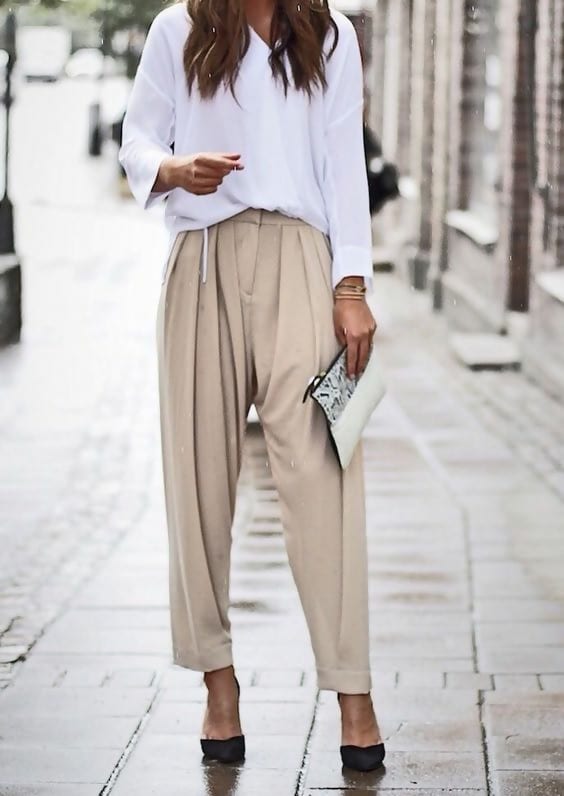 A handbag that matches your shoes will result in a coherent and stylish look: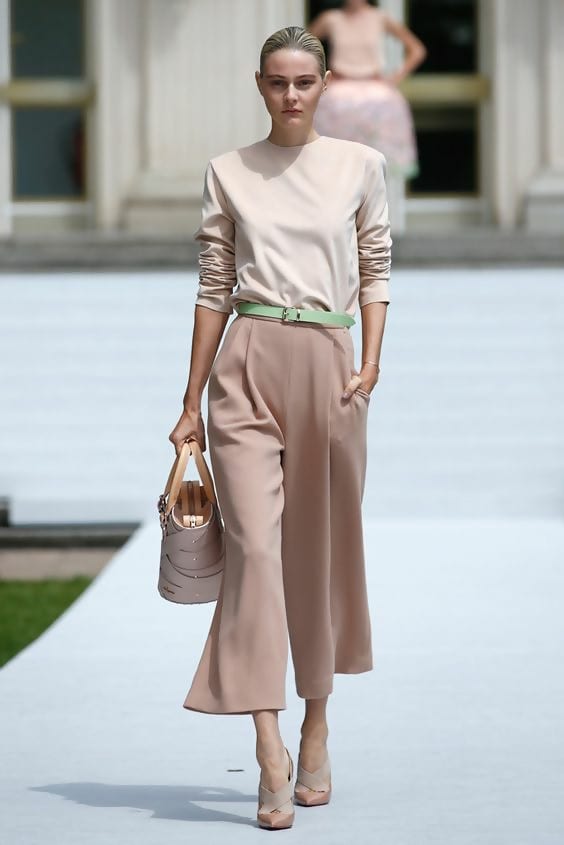 A mini and cute handbag along with a button-down is another great way of styling your khaki pants into formal wear: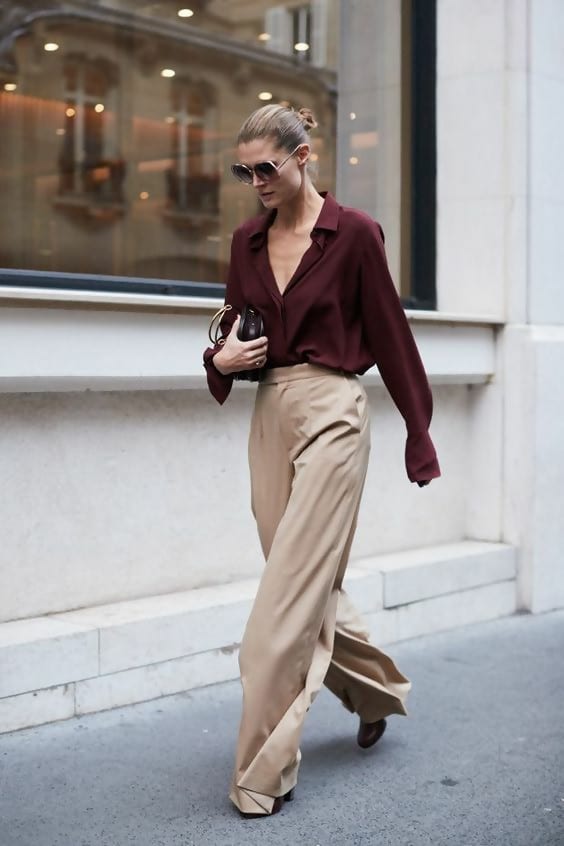 If you've ever wondered what shoes to wear with khaki pants, just remember to ask yourself what is the type of look you want to pull off. If you want to make a statement with your shoes, wear monochromatic clothes and a bright colored pair of heels: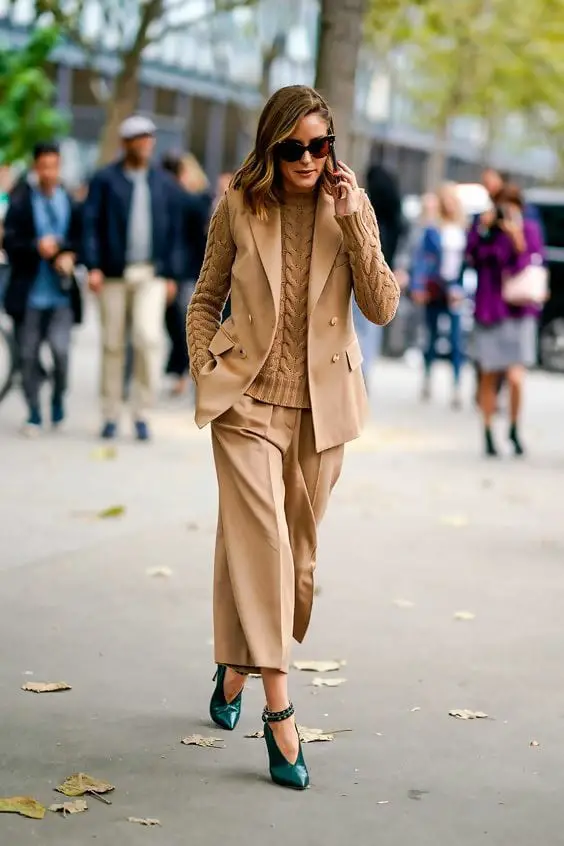 2. Belts
A khaki pants outfit can be transformed into formal wear by simply adding a belt. This look can be preppy or super feminine, but either way is completely appropriate for work wear or formal events.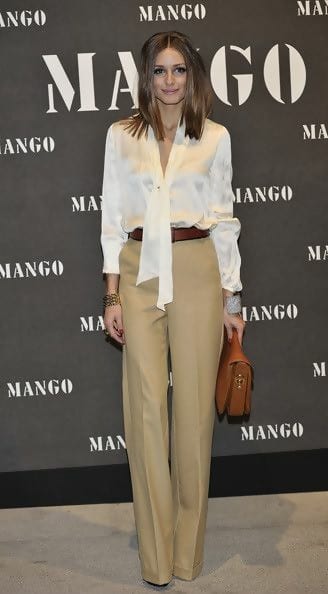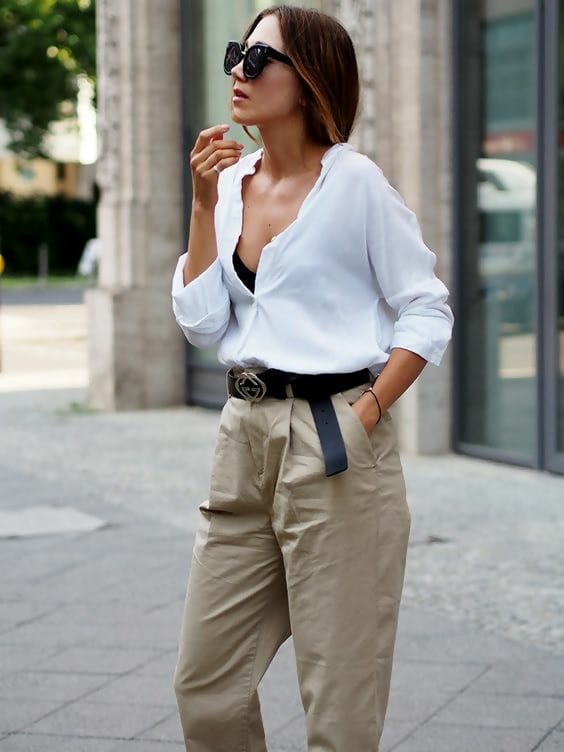 Although this might not be the most formal outfit, if your work is flexible with the dressing code, then you can recreate this look for a head-turner workwear outfit. Just make sure to add a belt to add a touch of chicness: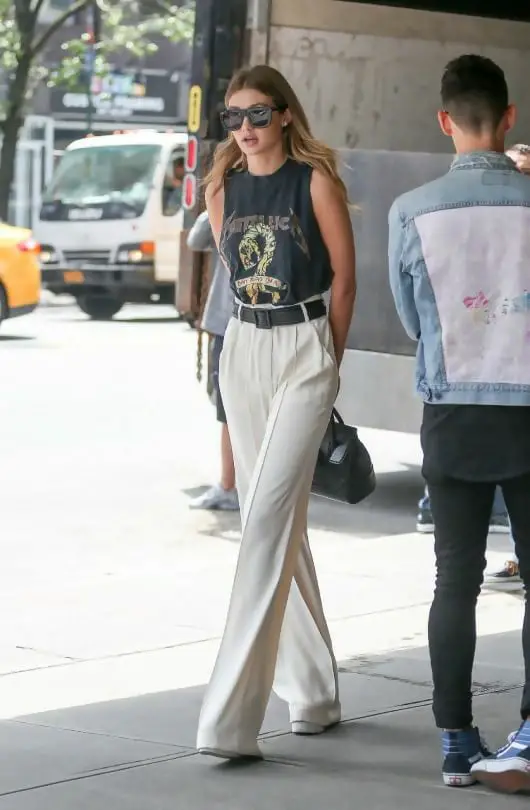 3. Add a blazer
For a business casual look, you can wear sneakers and a blazer along with your khaki pants. Dark grey or black are great blazer colors you can pair with khaki: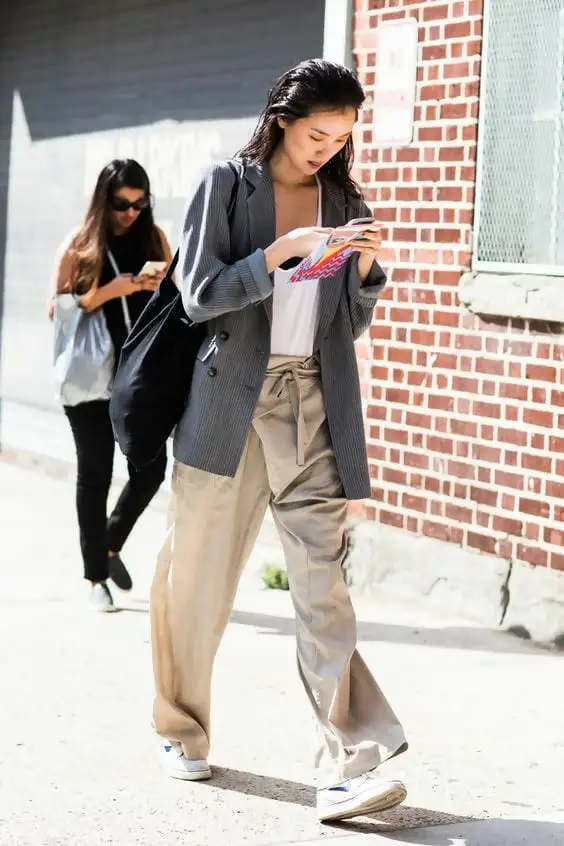 You can also wear a khaki suit or a separate blazer that matches the color with your khaki pants.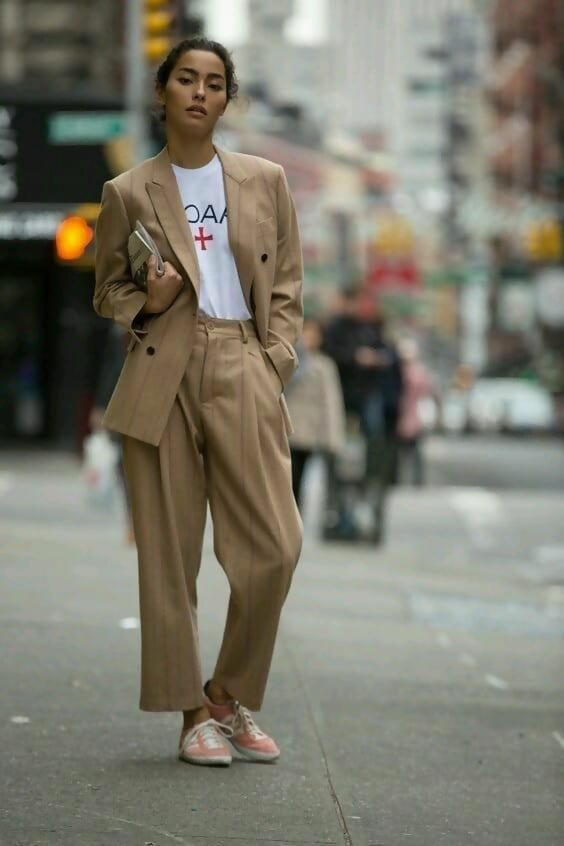 Wrap up:
Khaki pants outfits are chic, casual, formal, feminine, edgy.. anything you want! The way you style them will determine the words to describe them, but one thing's sure: khaki pants are timeless and absolutely fashionable.
I hope these outfit ideas will give you plenty of inspiration the next time you're deciding what to wear with khaki pants.