Leather jackets… what can I say that you don't know already? These are one of the most treasured fashion pieces to date, always have, always will.
The reasons why leather jackets have always been popular among fashionistas is because it's super warm, it's chic and edgy, and it's an expensive and durable item. You wear one with any outfit you like, and somehow you feel more empowered as if the jacket boosts your confidence, and how can anything else compete with that?
That's why the display of leather jacket outfits in the streets, magazines, collections, stores, etc, is a common view. We all love them, no doubt about it.
If you own a genuine leather jacket, regardless of the color or cut, then you know what I'm talking about.
5 best leather jackets outfit ideas to copy
Now that I've talked about what makes a leather jacket so special, let's move on to what we really care about: how to pull off cute leather jacket outfits. (And by leather I also refer to faux-leather)
These jackets can be worn for absolutely every occasion: school, college, cocktails, parties, workwear, fancy dinners… you name it! And that's another reason why we love them.
But if you've run out of ideas on how to wear a leather jacket, or simply want to spice up your fashion style with this item, then grab a pen and a paper and get ready to be inspired with these 44 leather jacket outfit ideas.
1. Leather jacket and jeans
Let's talk about basics first. Blue jean and a leather jacket are all you need for an effortlessly chic casual wear.
My favorite way of wearing this combo is with a pair of blue skinny jeans. As simple as that.
You can choose to wear a simple tee and still manage to look cute. And only because you're wearing a black leather jacket doesn't mean you have to wear black shoes and handbags, as you can see in the first picture:
You can wear any wash you like, but I suggest to keep it lighter during the day and darker for nightwear.

You can wear an all-black ensemble and choose statement shoes to create a super chic leather jacket outfit: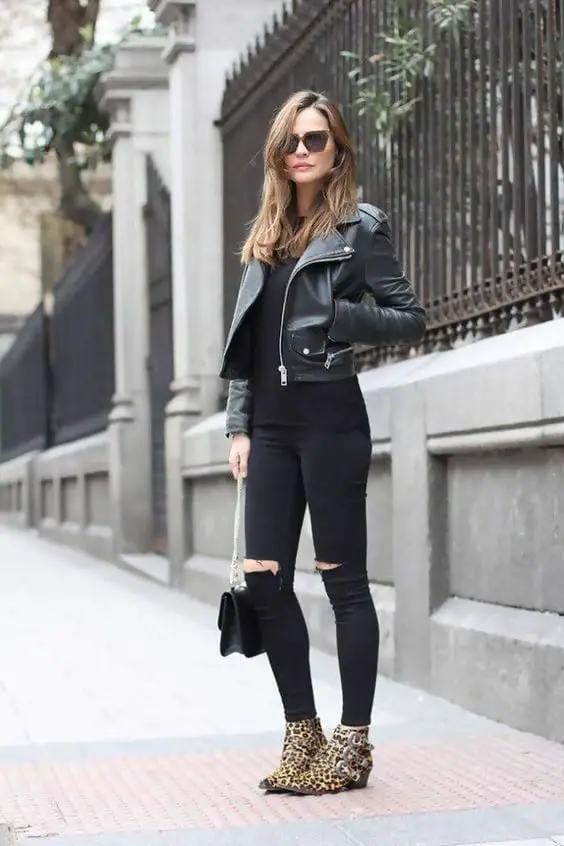 Black skinny jeans are also a great option to pair your leather jacket with. If you're looking for an edgier look, then I suggest going with this option.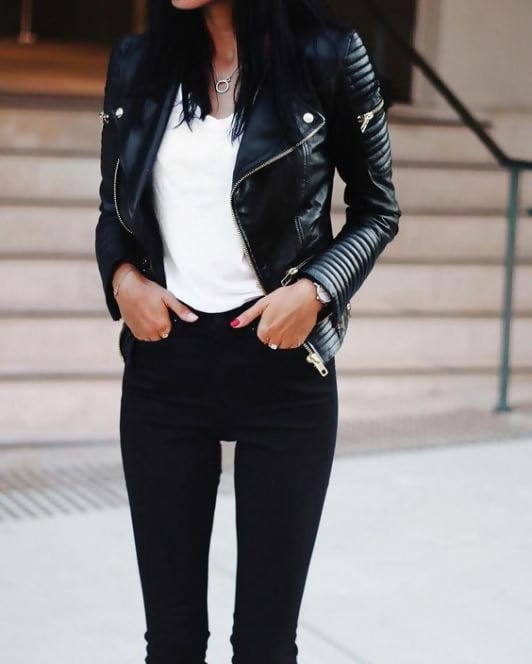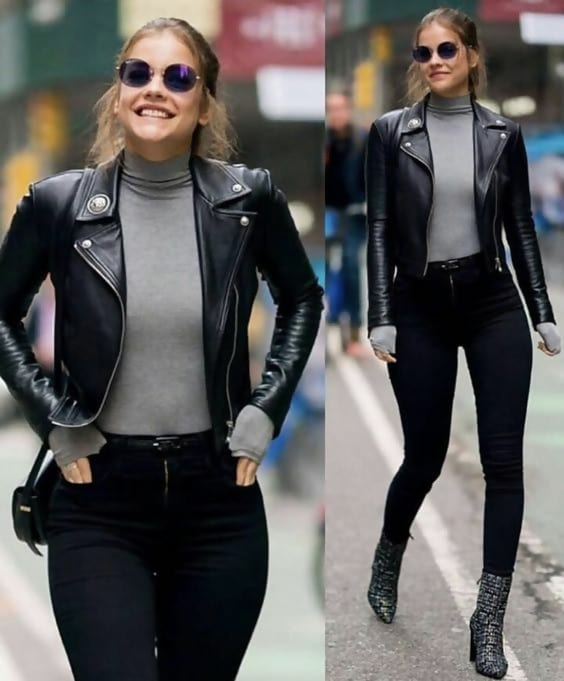 Wear a black top to create an all-black ensemble or another neutral such as grey, white, beige…
Leather jackets are not all black, you can find them in multiple cute colors. If you own one in a light color such as pastel pink, beige or soft sage, then wear it mostly for day-time outfits.
Pairing your light colored leather jacket with a white skinny jean is a great way of showing off a cute and feminine style. These are some stylish options you can recreate, all you need is a pair of white jeans, your leather jacket, and a neutral colored top: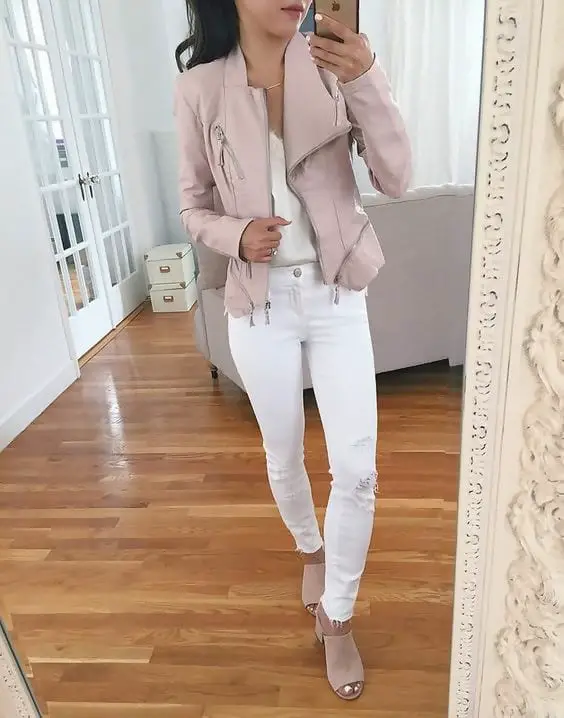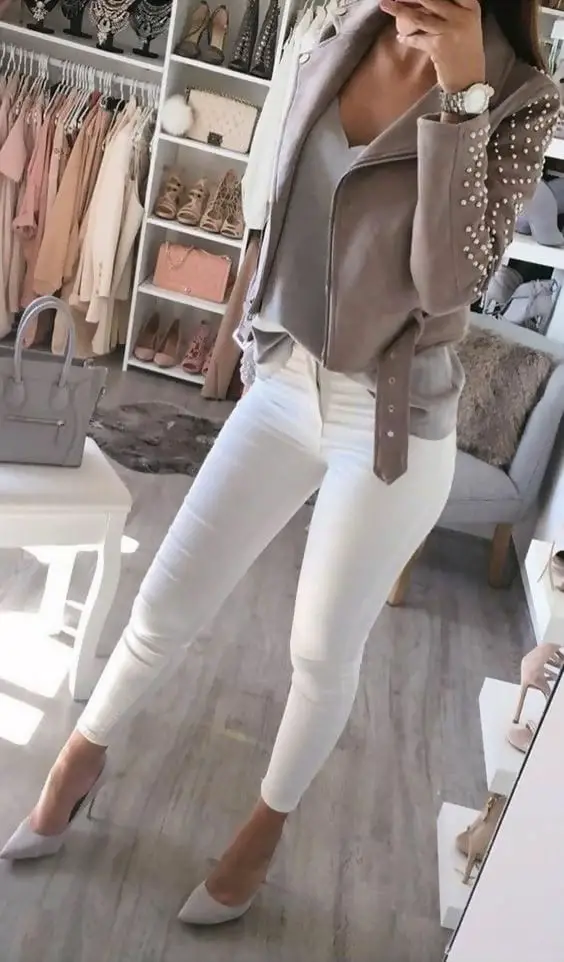 The thing about wearing a neutral colored top along with your white skinny jeans and a light colored leather jacket is that they all create a toned-down but super chic outfit. It looks sophisticated and feminine in such an effortless way.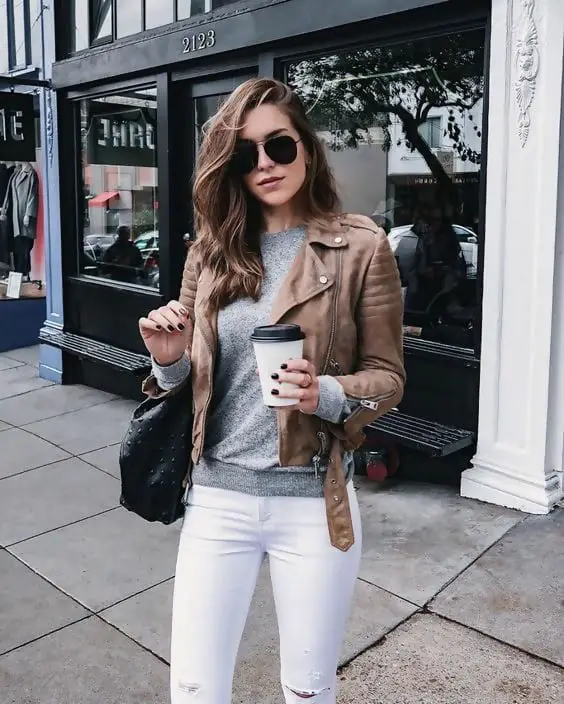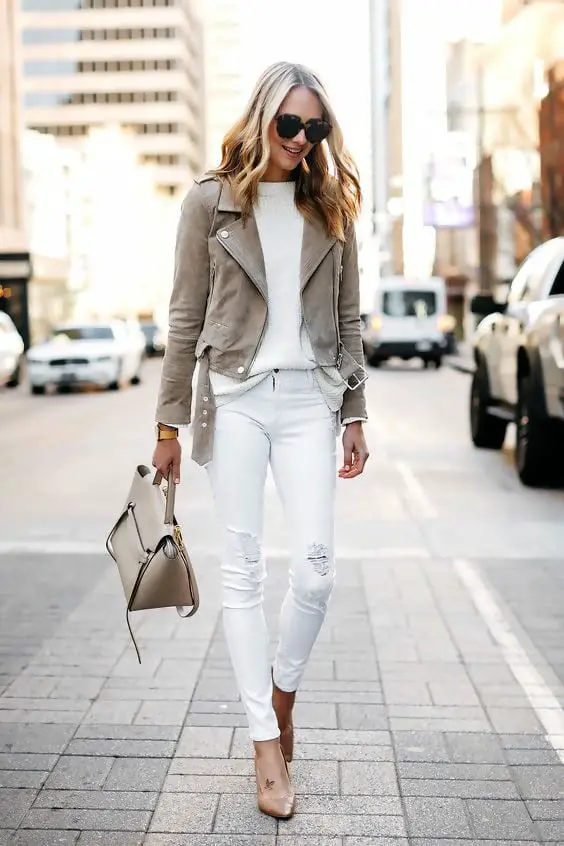 Going back to black leather jacket outfits, let's not forget we can now find many different silhouettes in denim: mom, boyfriend, slim, boot cut, cropped, flared, wide leg…
If you're tired of your skinny jeans, you can perfectly opt for any of these options. If trendy and chic is what you're looking for, then I'd say try different patterns, washes, silhouettes… get creative with denim!
A leather jacket and a pair of jeans, regardless of their style, can never go wrong, as long as both fit you correctly.
Let's take a look at these different options that can give you ideas on how to wear leather jackets with jeans.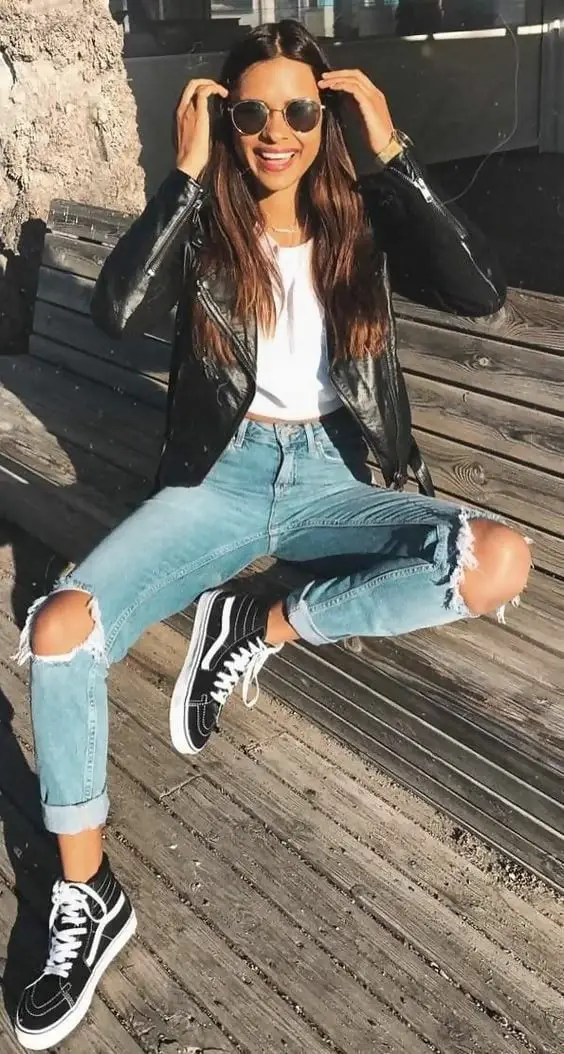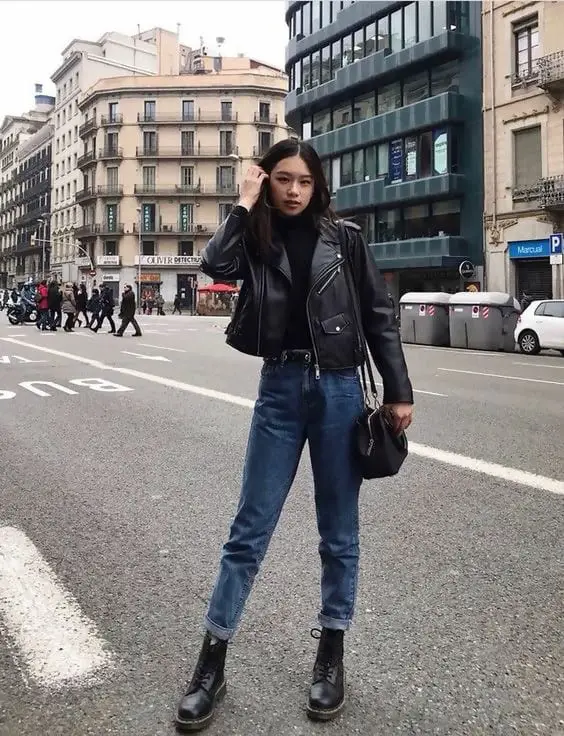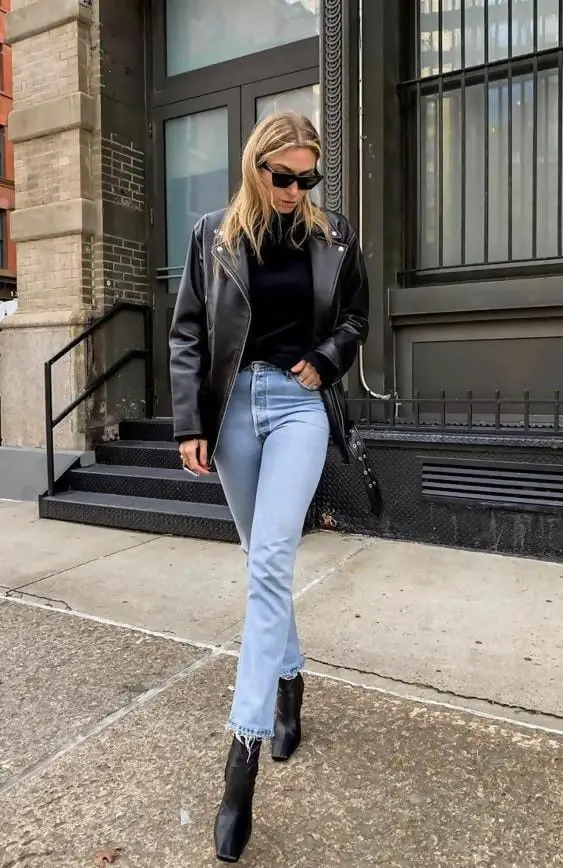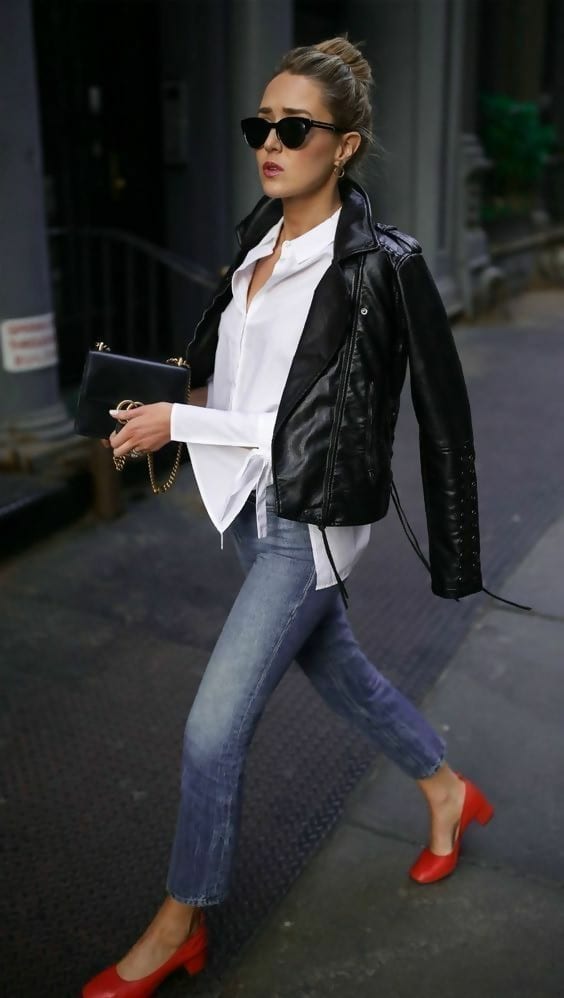 If you're looking for red leather jacket outfits, the easiest way to go is with jeans as well. Black, white, light blue, grey, dark blue… any wash you like, a red jacket will always look great!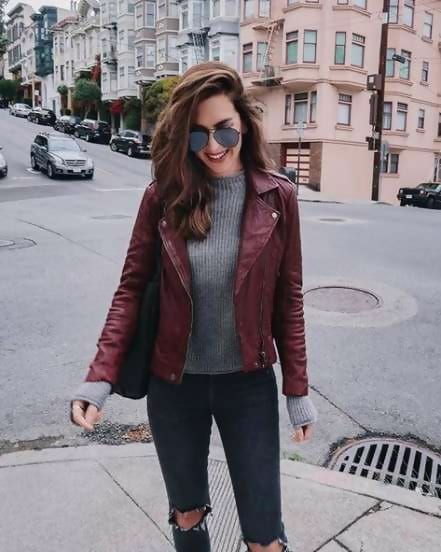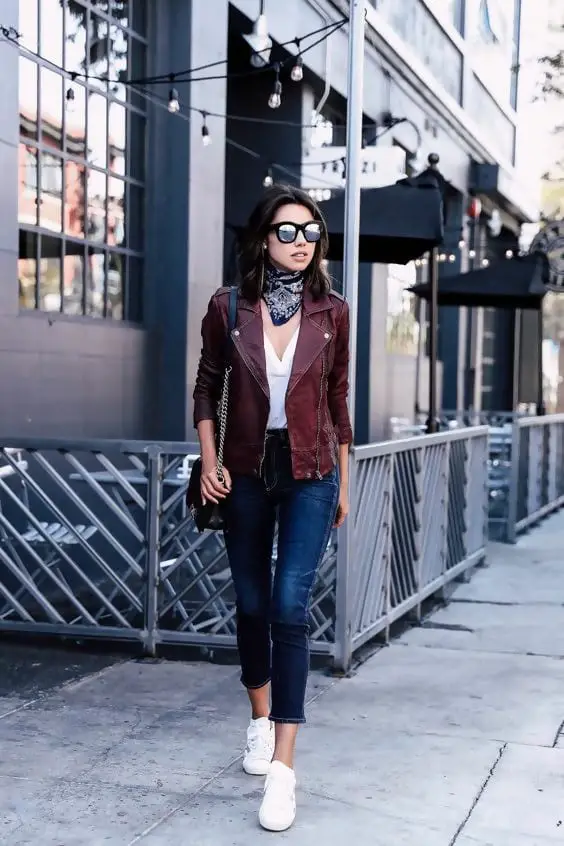 White leather jacket outfits also fit into the same formula: jeans and jackets equal stylish and chic.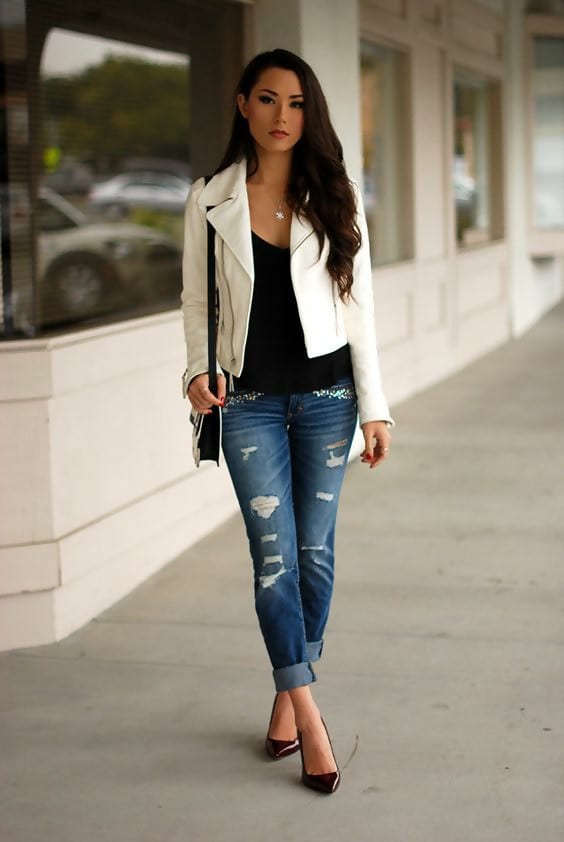 For a bold and edgy leather jackets look, wear your white jacket with an all-black ensemble: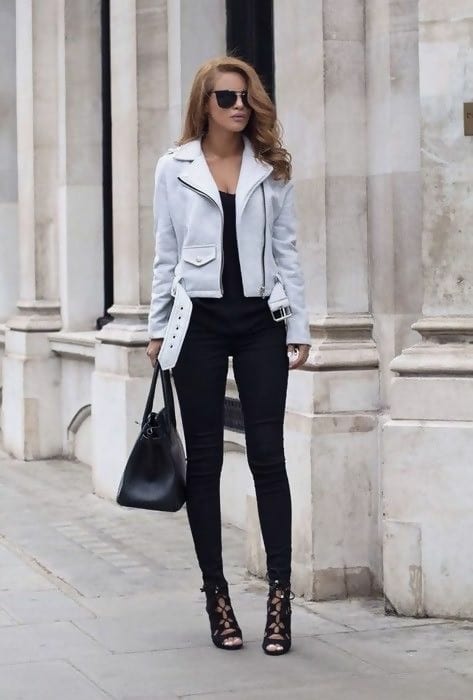 2. Leather jackets and skirts
Leather jacket and skirts look absolutely cute and feminine, yet have a touch of glam and edginess that only a leather jacket could give. Even if you wear the girliest skirt ever, if you pair it with a black leather jacket, you create a cute contrast of girly and rocker.
If you take off the leather jacket from these girls, then a so-and-so outfit comes to light. But this item has the "power" to transform it into a fashion pro outfit.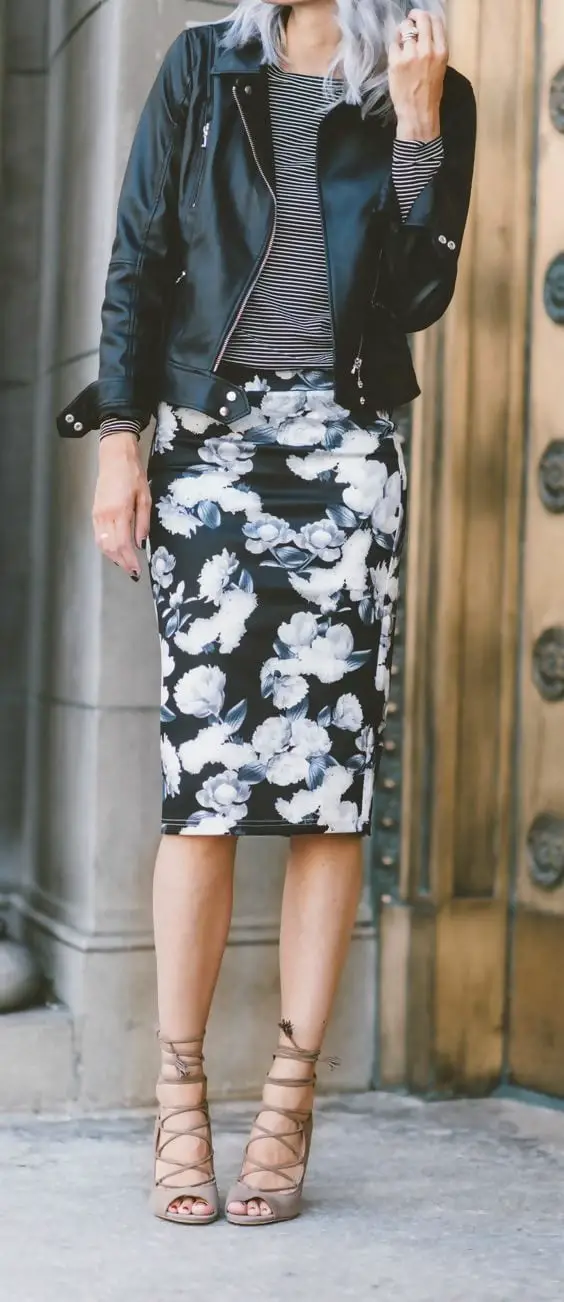 A tight or mini A-line skirt also looks edgy and sexy. If you're planning on wearing a flirty outfit or simply want to go and grab some drinks with your friends, this is a go-to option. You can also pair your mini skirt with black tights for a chicer look: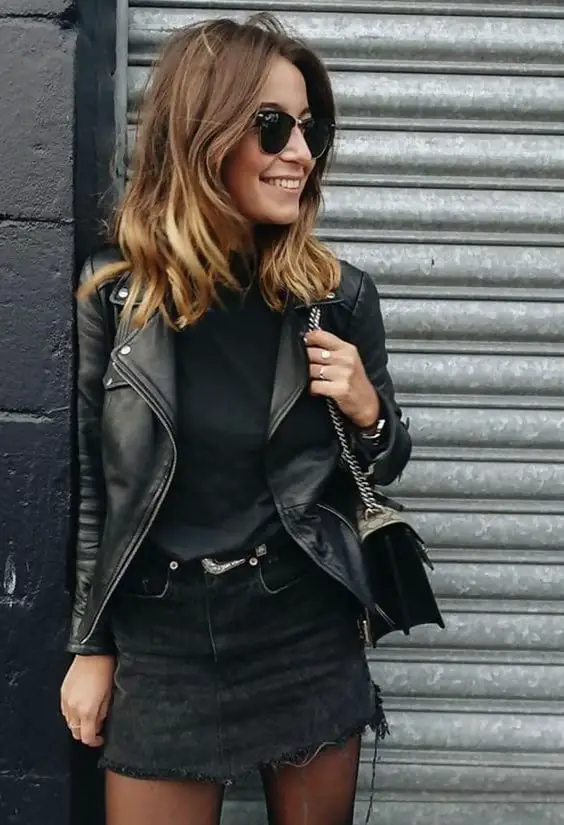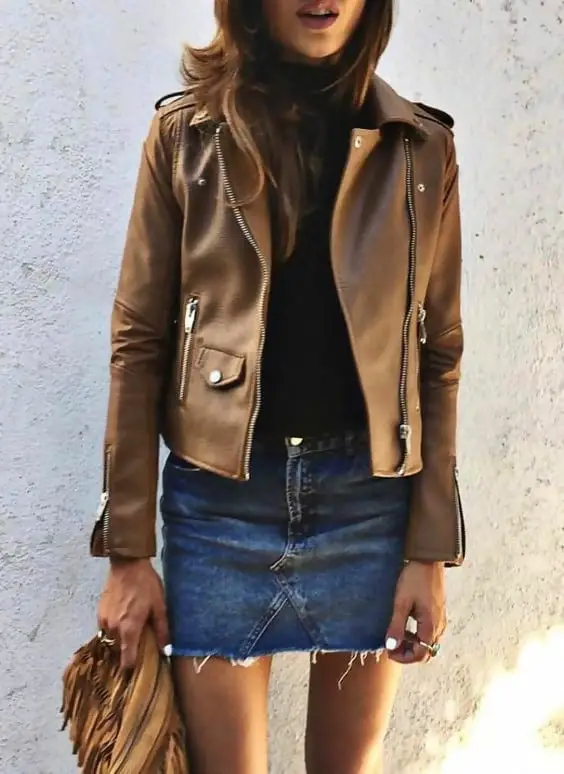 If you want a rocker look, turn to Hailey Baldwin's leather jacket outfits for instant inspiration: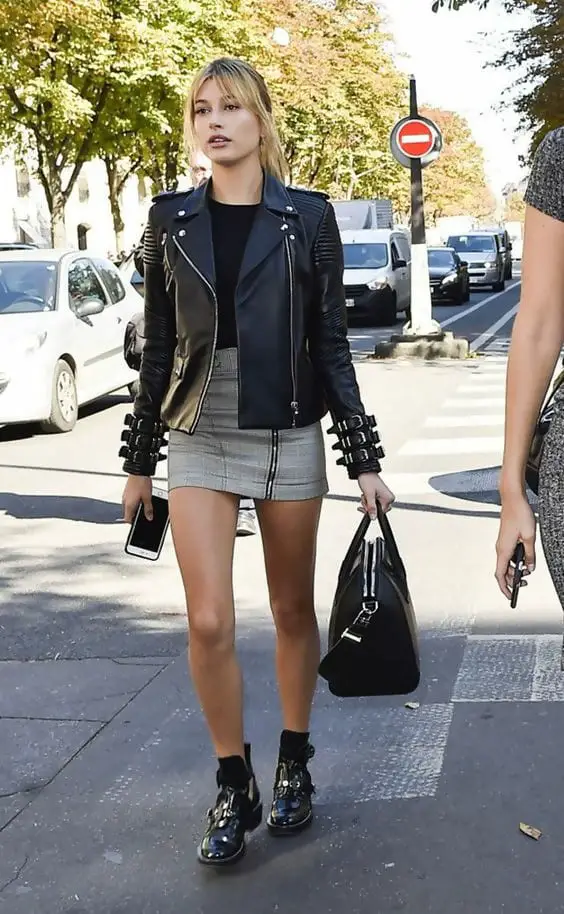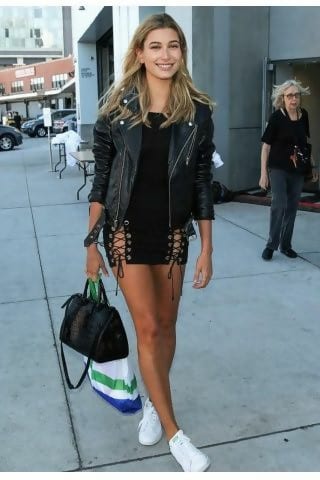 Maxi or midi and flowy skirts can easily create a boho look, but if you add a leather jacket, you transform that boho looks into a cool, edgy and feminine outfit. Again, that's the power of a leather jacket.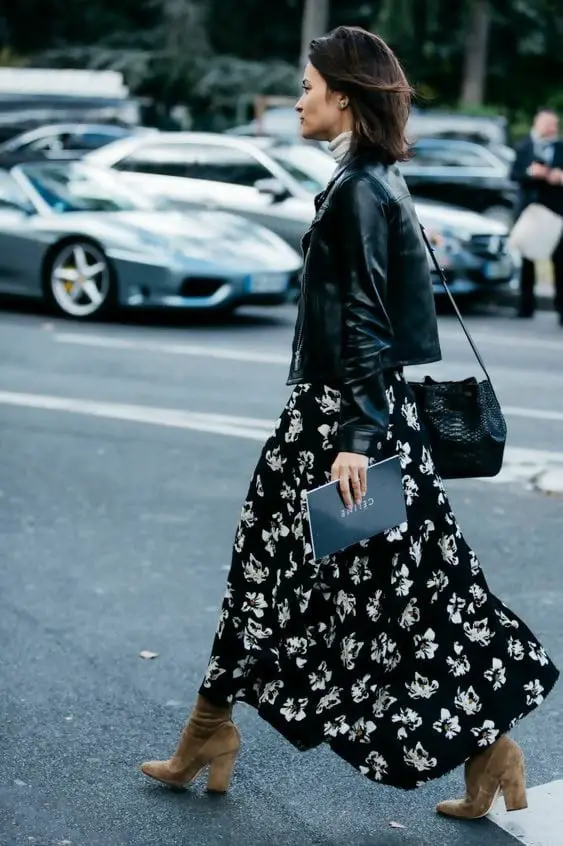 Animal print and a leather jacket are a total YES: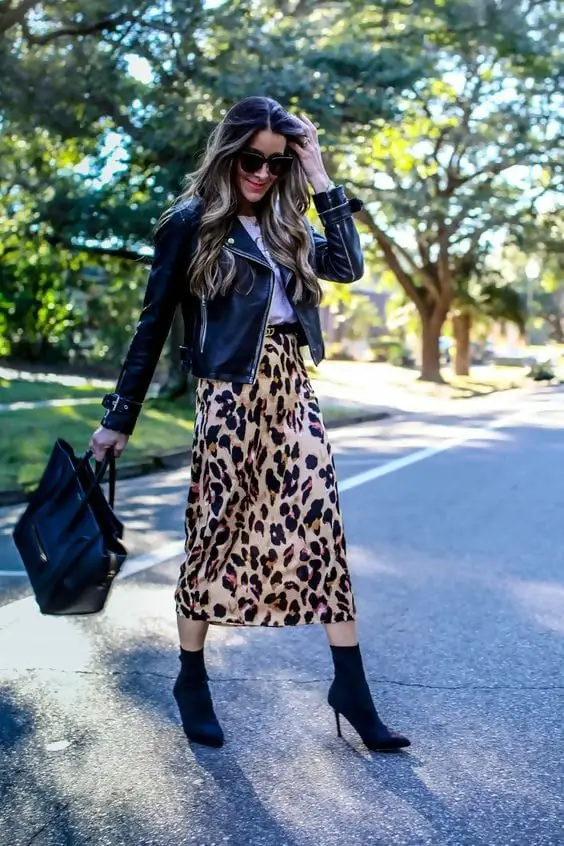 Even the chicest and most polished skirt can rock a leather jacket outfit. You can also wear an embellished or studded leather jacket for an extra dose of chicness: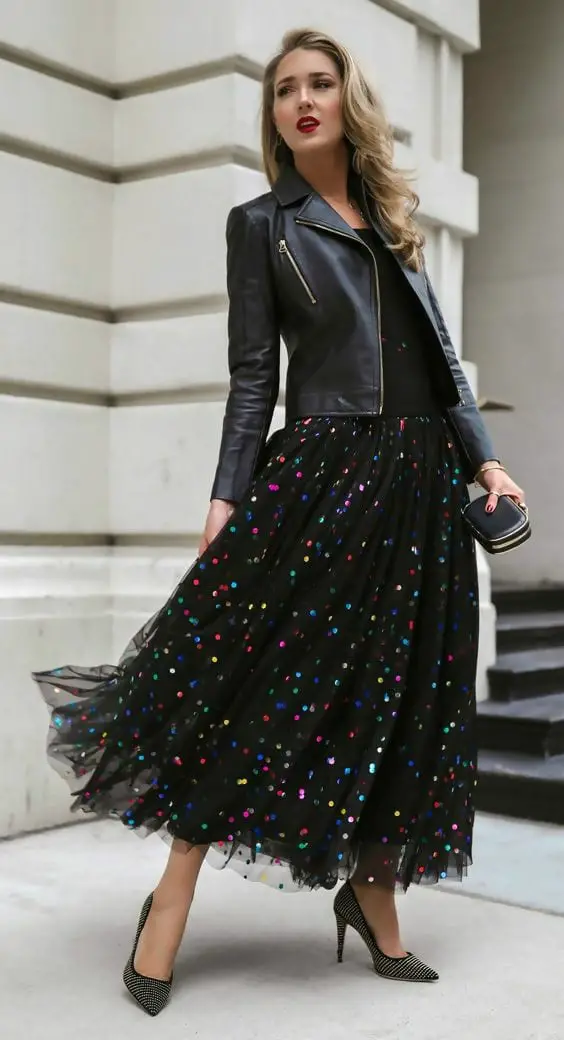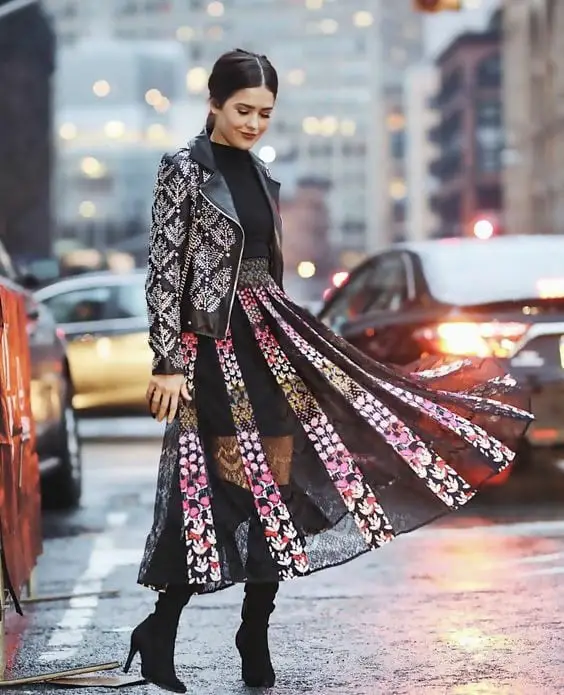 3. Leather jackets and shorts
Shorts and leather jackets are other combinations you can make if comfortable, stylish and/or sexy is what you're looking for.
You can opt for a casual and polished look with a pair of ripped denim shorts: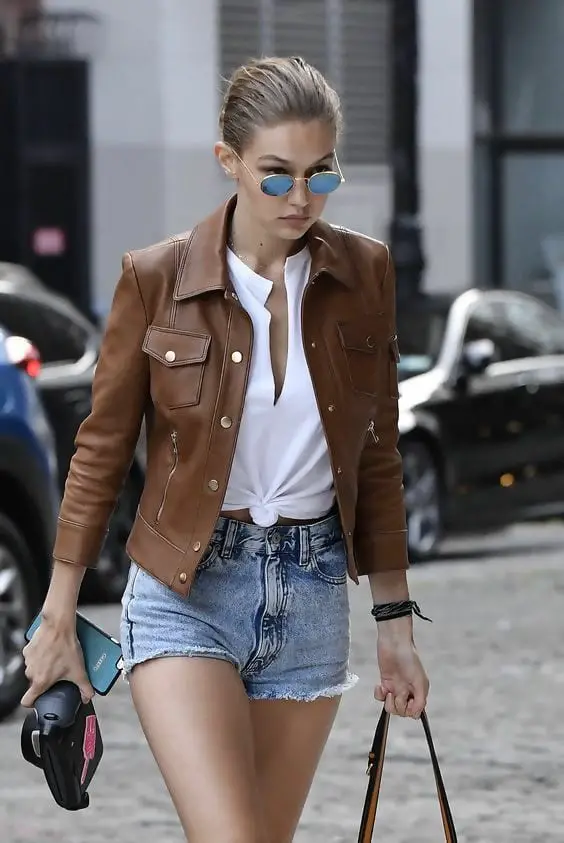 Or opt for a cuter pair of shorts, such as waist tie shorts, and pair them with your leather jacket: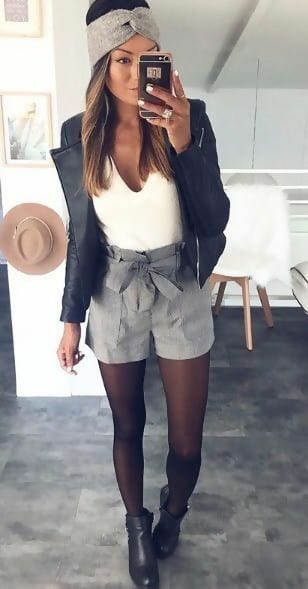 You can choose any type of short you like, as long as it looks coherent when paired with your leather jacket.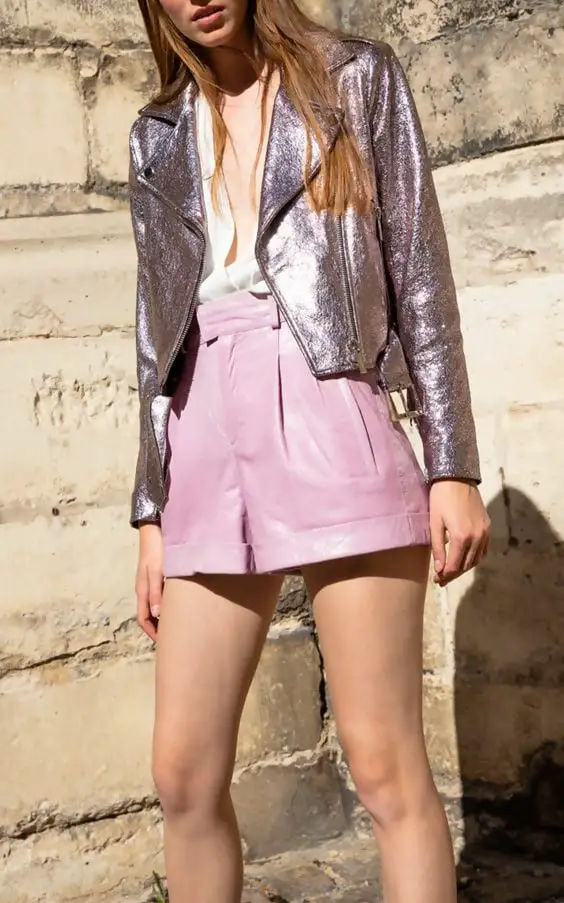 What to wear under a leather jacket? Apart from neutral colors, you can also opt for a color that will stand out and make a statement.
For example, this girl has a red/orange hair that looks great with an emerald green tee. The rest of the outfit was kept black and white so that the whole ensemble looks coherent and chic together.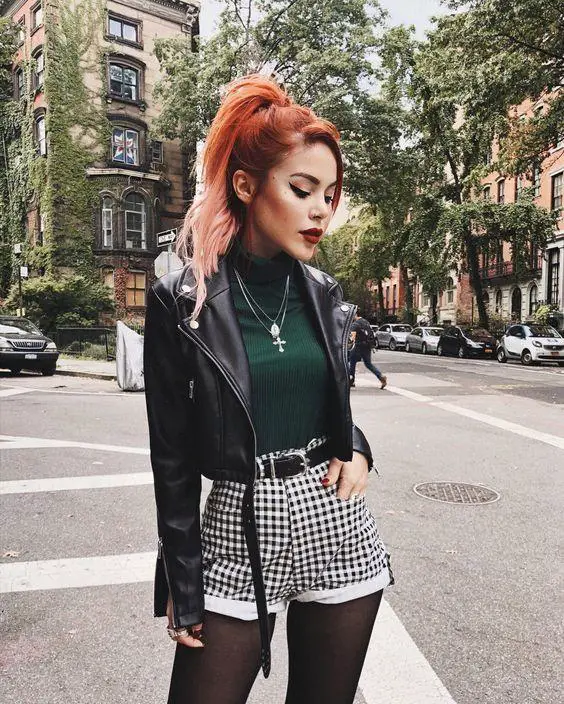 4. Leather jackets and dresses
We can't talk about leather jackets without mentioning dresses. Apart from jeans, dresses are my favorite way of pairing my leather jackets.
A sweet and cute dress can be transformed into an edgy and rocker dress by simply adding a leather jacket. From a simple black knit dress to a maxi printed dress, a leather jacket will always complement it in the best possible way: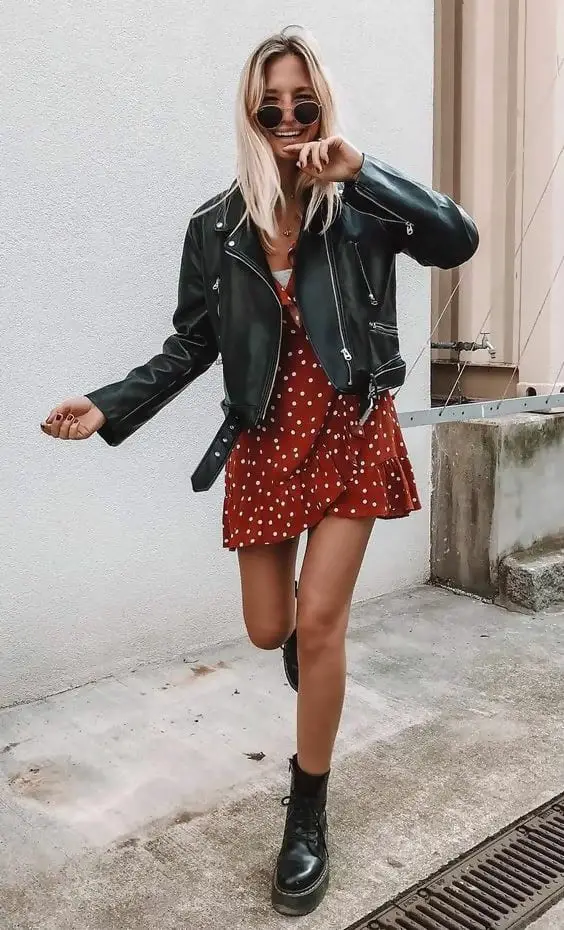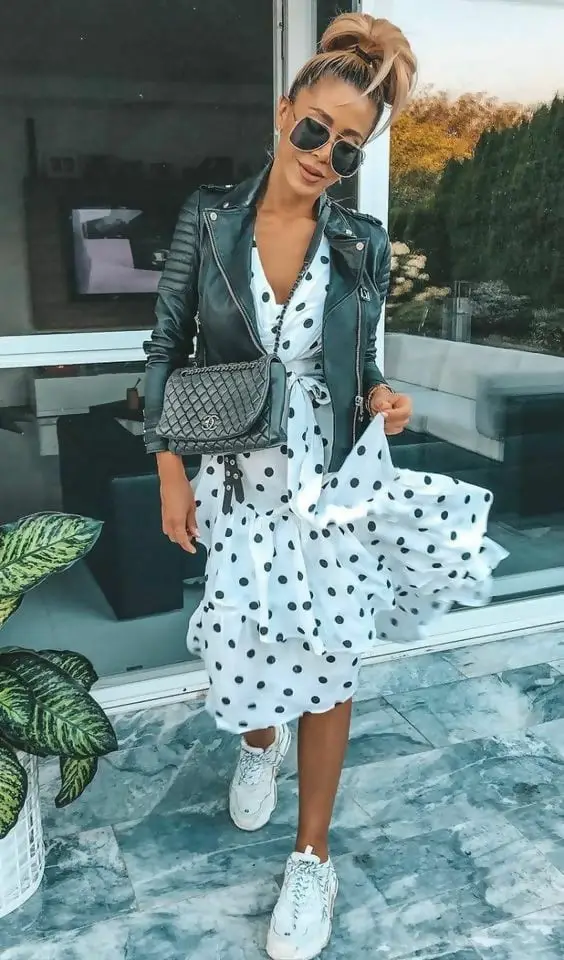 Even brides wear leather jackets!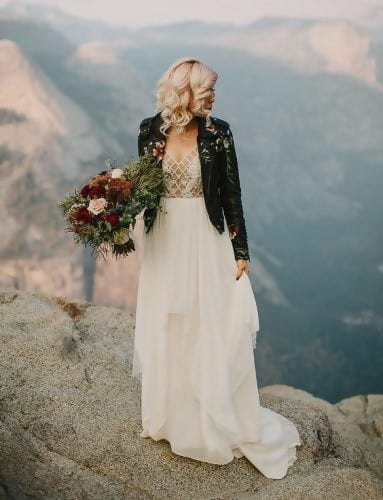 5. Leather on leather
Wondering if wearing a leather jacket with a leather bottom is much? Well, it is. But in the best way!
If you want to add an extra dose of edginess and glam, don't be scared of pulling off a leather on a leather outfit. I personally love this look for night-time wear, but you can also wear it for day-time too!
You can wear a tight miniskirt outfit with your favorite screen tee: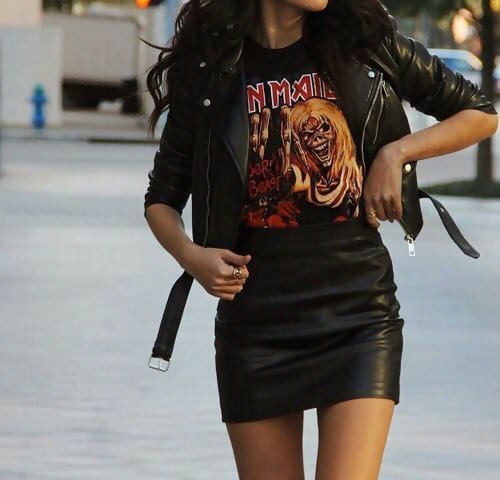 If you have a statement kind-of leather skirt, opt for a simple white tee to complement your leather on the leather look: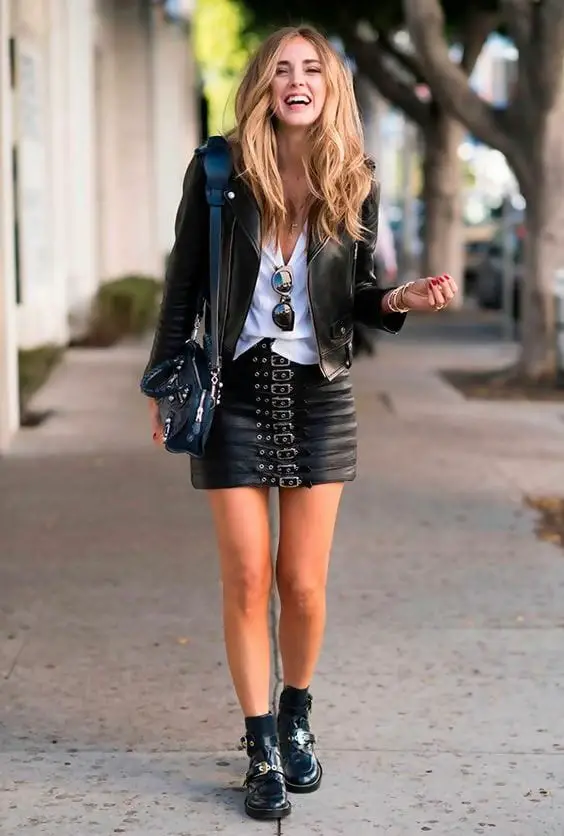 Leather leggings and leather jackets are a killer combo. You can wear them for a fun night out with friends or for a casual stroll around the city. It all depends on the top you're wearing.
For night-outs opt for an embellished or sequin tank top, and for a casual outfit, t-shirts are the go-to option.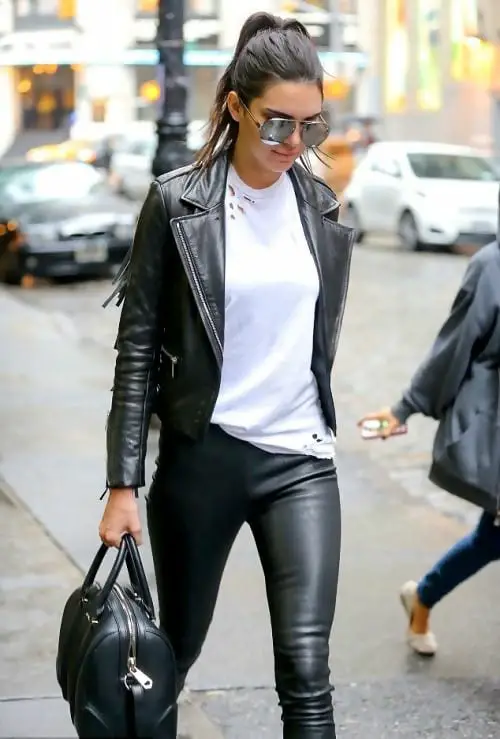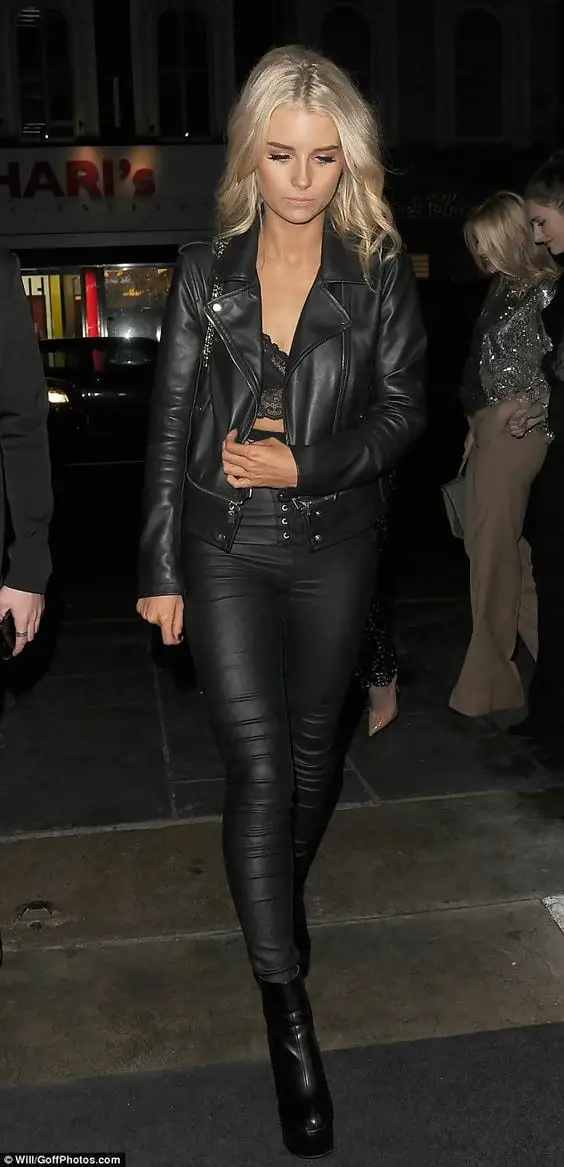 And, of course, black on black is the same as leather on leather: black will always be the new black.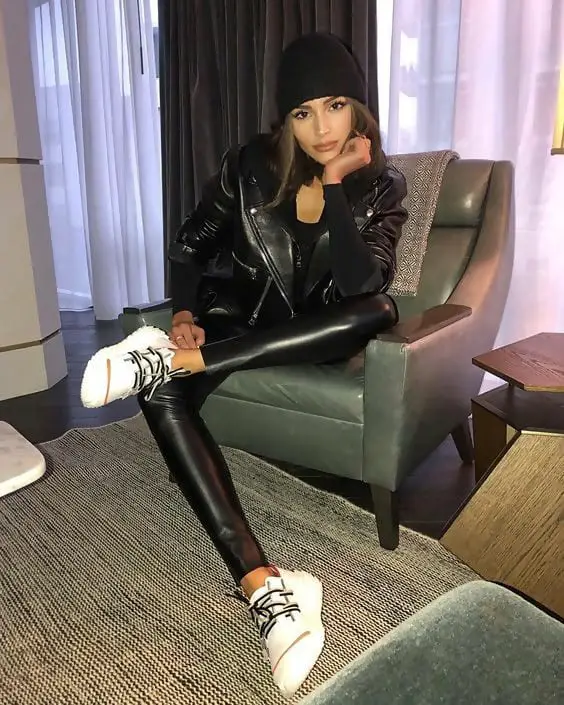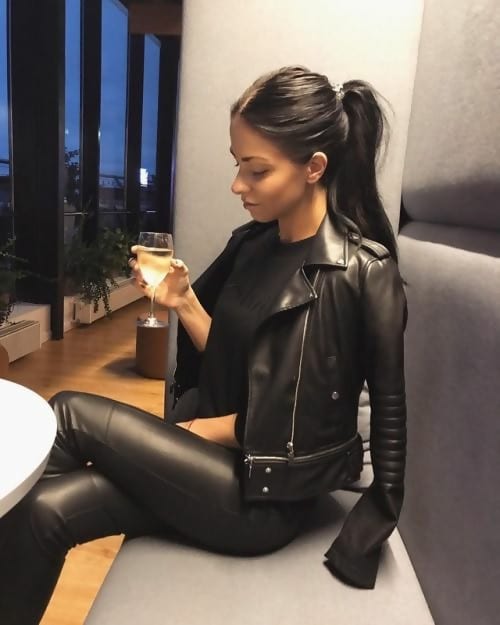 Finally, for a killer look no one will dare to compete with, pair a leather dress with a leather jacket. This outfit is the definition of an empowered and confident woman: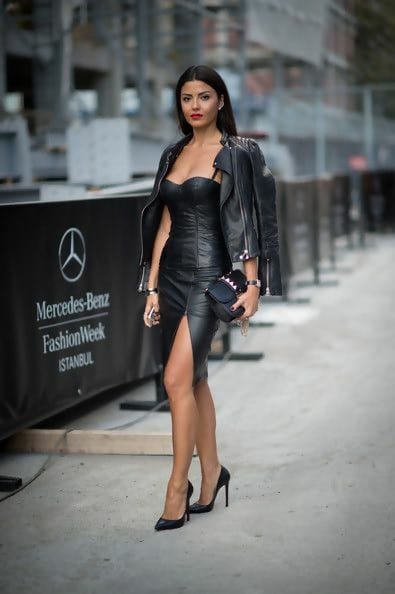 Wrap up:
If you didn't have reasons enough as to why leather jacket outfits are the best thing in the world, I hope this article serves to give you plenty.
Leather jackets will always be a thing, not only because of how they look, but also because how they make us feel: empowered, chic and sexy. Few fashion items can give us that boost of confidence that leather jackets give, so don't be scared of getting creative with leather jackets!
And remember: leather jacket looks are never out of style.