Sleek and understated, leggings are one of the most comfortable items you can wear for an effortlessly cool look. However, this go-to wardrobe staple has its detractors—style rules like "leggings are not pants" which makes some women count them out completely. Whether you wish to go for an athletic route or a casual chic style, keep on reading for our styling tips on creating an outfit with leggings combos, so you'll maximize your wardrobe potential and create perfect pairings.
7 Chic outfit ideas to Wear Leggings
Go for an athletic theme—perfect for a lazy day look
Athletic leggings can look great even outside the gym, especially if you mix them with structured, chic pieces. When you need a comfortable outfit in a flash, you could never go wrong with leggings worn with sneakers and a sporty jacket, which makes the whole look incredibly comfortable and casual. But, add some polish to your looks with a structured bag as supermodel Karlie Kloss did. It's an outfit combination that can be worn anywhere from a gym to a casual day out.
A baggy shirt or even an oversized sweater will look put-together with leggings—it's an outfit combination that can keep you warm without compromising your style. The key is to stick with simple silhouettes, neutral colors, and comfy footwear. The bulk of the oversized sweater offsets the narrowness of the leggings, but you can also opt for a loose tee or a boxy top. Supermodel Kendall Jenner showed her signature style in a mix of athletic pieces. Whether you're grabbing a coffee, running errands, or just having a lazy day, a cozy sweater worn with leggings and sneakers will give you an effortless vibe in the colder months.
Stylish tops paired with leggings will give you a comfy yet classy look.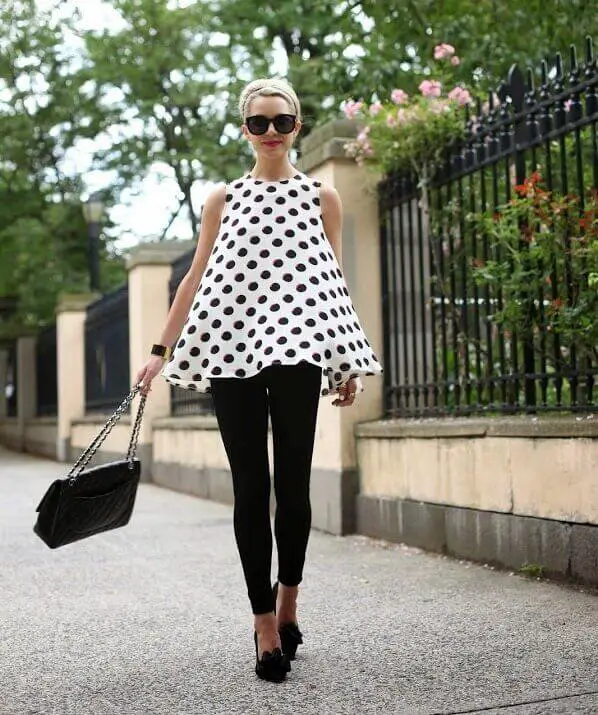 When choosing your top, consider the fabric thickness of your leggings as most of the time it isn't thick enough to give you cover—a reason why style mavens say don't treat leggings as pants. Opt for longer tops with a hemline that falls right below the hip or even mid-thigh to avoid a revealing look. Tunics, asymmetric tops, button-down shirts, peplum-style tops, chambray tops, breezy blouses and such are great options.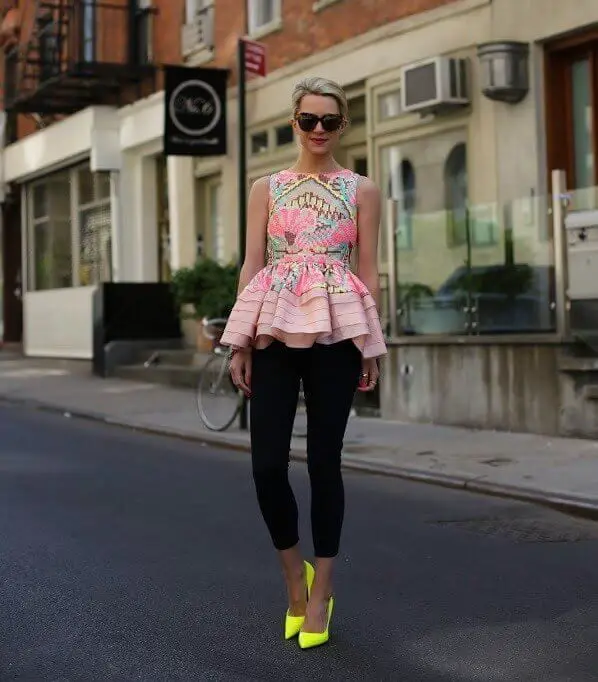 If you're planning to wear a shorter top with thicker leggings like ones made from leather, better go for darker colors. If you may wear bold colored shoes with your printed top to draw the eyes away from your hips. Fashion blogger Blair Eadie wore a chic printed top in peplum style teamed with black leggings and neon pumps—a comfy and classy look that's perfect for a Sunday brunch.
Check the article for 38 Brunch Outfits For All Fashionistas 
Dress up your leather leggings with a chic blazer for a night out.
Leather leggings are the comfortable alternative to jeans, and when styled the right way can make the perfect night out outfit. If you're going to spend your girls' night out at a bar or around the town, go for comfortable footwear. Cropped leggings are a huge fashion trend, but when going for ankle boots, go for full-length leggings which look more flattering, and dress up your outfit with a chic blazer.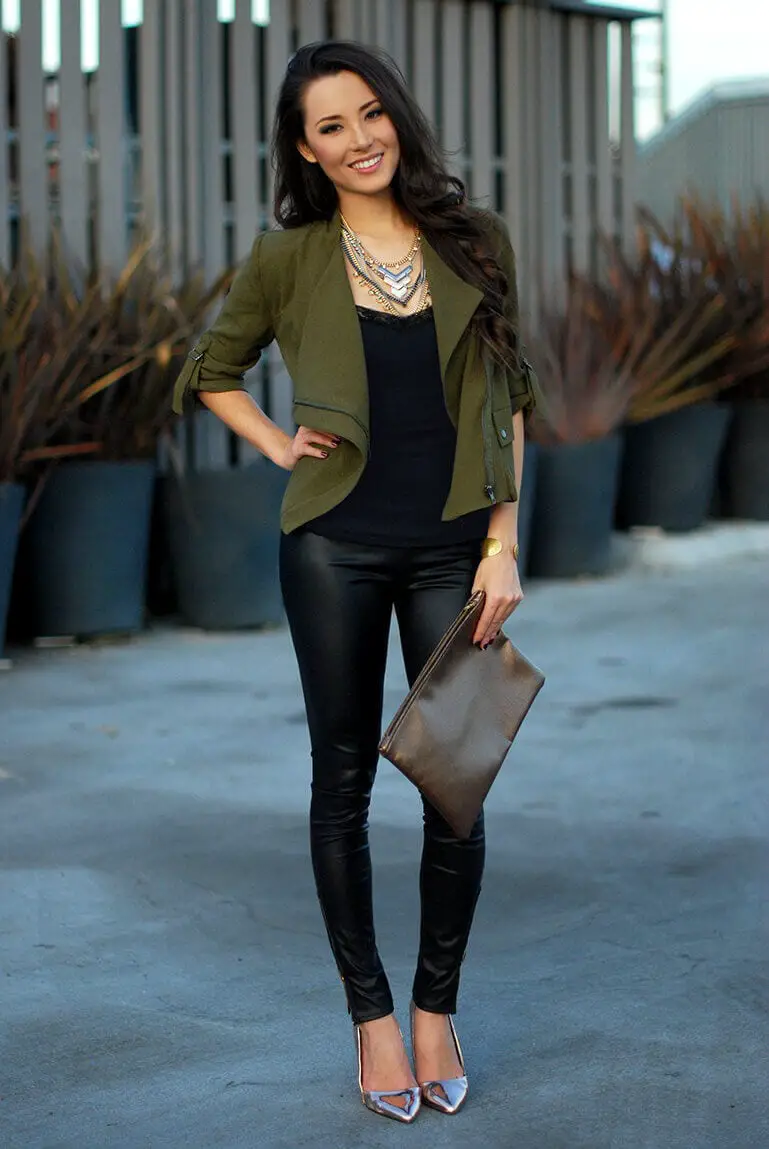 Leather leggings get the girls-night-out treatment with a chic blazer, statement necklace, and perhaps an evening clutch—making your evening look sexy and edgy. Where can't you wear this easy, edgy-chic look? Since a solid black pair of leather leggings can mimic skinny pants, you can wear it a black tank top that will also elongate your frame. Just go upscale with layered necklaces, envelope clutch, and a pair of metallic silver pumps that will work for a date night.
Leather jacket worn with leggings gives you an edgy look.
You could wear a tee-and-leggings outfit combination to run errands on weekends, but why not try putting together something more fashionable? Besides being an essential layering piece, a leather jacket comes in handy when you wish to give your outfits an edgy classic statement. Quilted biker jackets, as well as ones with studded details, add interest to your outfit, especially when you wear plain black leggings.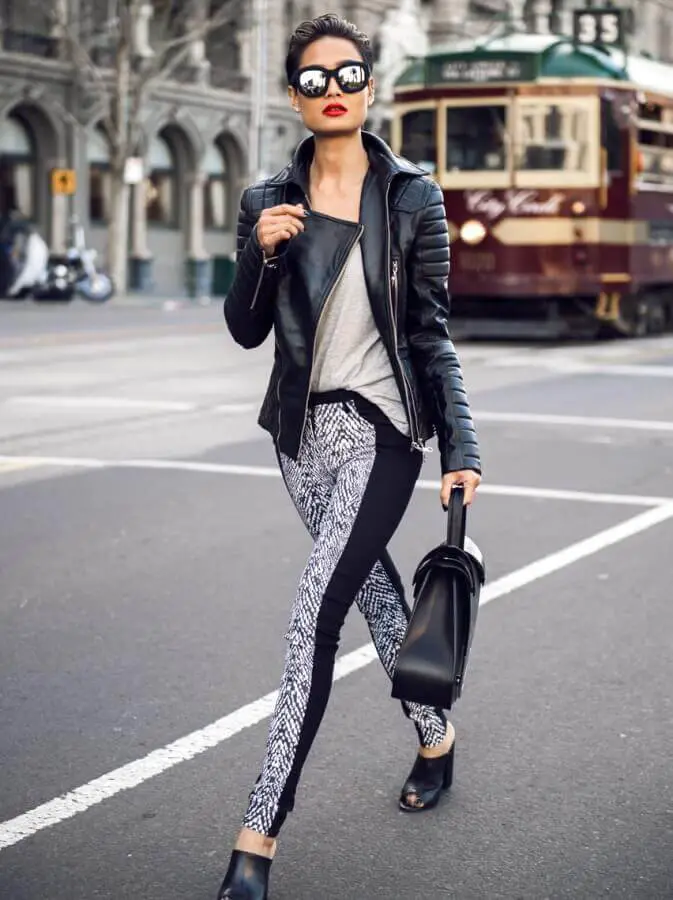 If you wish to get a model-off-duty look, opt for high waist leggings and a crop top that will look effortless with sneakers and a leather biker jacket—like supermodel Kendall Jenner did. To elevate your look from a dinner out of the town to a concert, add some mercury sunglasses, a structured handbag, and a touch of red lipstick. For a confidently stylish look, tuck your top into your leggings, accentuating your shape, especially when wearing a shorter leather jacket.
Wear your leggings with a coat for a business casual look.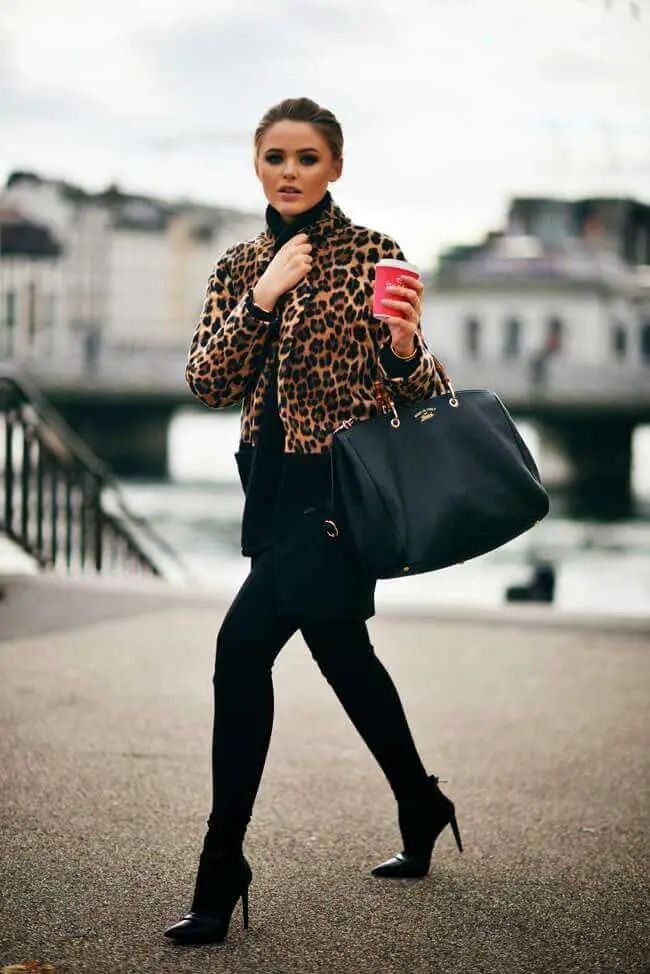 Finding well-fitting work pants for women is a challenging process. If you work in a non-traditional field, where you can play with your fashion choices at work, think of leggings—they aren't just for lazy days and working out. You can wear leggings in a place of straight leg pants or skinny jeans to the office, as long as you keep everything sleek and professional. A crisp button-down shirt, structured coat, tote bag, and heels bring class to the off-duty staple, making it work for a casual Friday.
Also, you may go for an all-black outfit teamed with a leopard print coat, or add some polish to your button-down shirt and leather leggings with a trench coat and metallic pumps. Remember, you want to look and feel great with your sexy work outfits, so be creative and stylish. Yes, you can wear leggings to work when pants are too much to deal with.
Dress with leggings
In the colder months, don't neglect layering—leggings are basically just better tights so you can wear them with a dress, which is also a great way to look stylish and stay warm. In fact, it's the best solution to a dress that feels too short, as leggings provide comfort and ease of movement. This outfit combination is great when you want to look dressed up without looking like you tried too hard. Leggings can tone down the formality of your dress, making it work for more casual settings.
When picking a dress style, go for short to midi lengths that work best with leggings. You may even get a trendy look by layering your button-down shirt with your graphic print skirt and black leggings. Just let the print of your dress steal the show and keep everything simple.
Get a bold statement with graphic leggings and stylish tops.
Leggings don't always have to be black. Graphic leggings are a trend that's here to stay, so elevate your weekend looks with the right print that speaks to your personality. For a sophisticated look, go for leggings in a classic print—stripes, checks, leopard prints, and polka dots—and pair it with stylish tops. Just be careful about picking your prints if you're bottom-heavy as they can highlight your flaws.
Leggings are not just a fashion staple, but also a means to express your personal style. Want to create a fun and lively look that's not overly sweet? A purple top paired with graphic leggings in metallic style should do the trick—perfect for a fun streetwear or a night out on the town.
Indeed, the possibilities of creating different outfits with leggings are endless—so master the look and make a street style statement.