Here comes the bride!
And along with the bride, the most important gown she'll ever wear…
Not to add any pressure, but if you're getting married soon, this is a slightly important reminder that wearing the right wedding dress is all you need to think about. Wedding dresses are worn once in a lifetime (or a couple of more…), so deciding which design or style you'll wear can be really nerve-wracking.
Pippa Middleton wedding dress
If you're a fan of the royals, or simply follow the latest bridal trends, then you must have already fixed your eyes on one of the most elegant, beautiful and breathtaking wedding dresses of the last decade.
That dress was Pippa Middleton's, the sister of the Duchess of Cambridge.
She got married in September of 2017, but we still haven't got over her gorgeous wedding dress, that's why I've compiled 23 dress designs that might help you on your look for one as similar as possible as Pipa's.
But first, let's talk about the 4 details of Pippa Middleton's wedding dress that are a must-have in order to look as beautiful as she did.
– High neckline
– Cap sleeves
– Lace from head to toe
– Form-fitting waist
And let's not forget about a traditional sheer veil: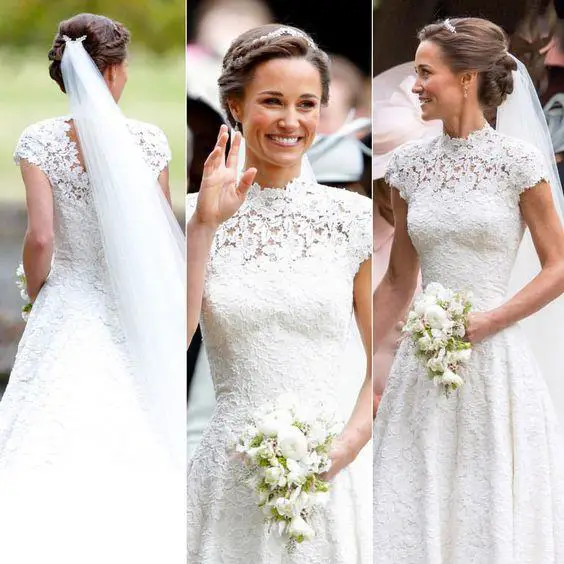 These are the four characteristics that your wedding gown should have in order to replicate in some measure the beauty of Pippa Middleton's. Add some royalty vibes to your own wedding with these Pippa Middleton wedding dress inspired ideas.
Wedding Dresses Similar to Pippa Midleton's
1. High necklines
High necklines are a very traditional style that looks absolutely elegant and sophisticated. It might not be the most popular neckline cut, but it's definitely worth trying. Just look at how breathtaking Pippa Middleton looked!
You can opt for an all-lace upper half and the skirt made of multiple layers of chiffon: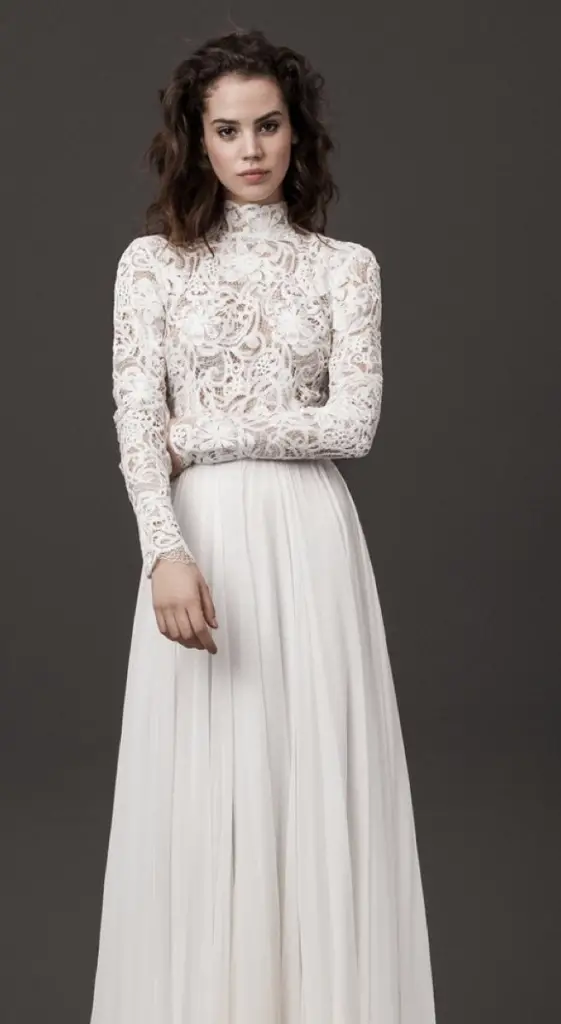 If lace is not your thing, you can still maintain the high neckline style with a crepe or peau-de-soie fabric. What I love about a high neckline dress is that it elongates the figure and can make you look not only super elegant and sophisticated but can also add some inches by a simple visual effect.
If you're a petite girl like me, a high neckline sleeveless dress is a perfect option!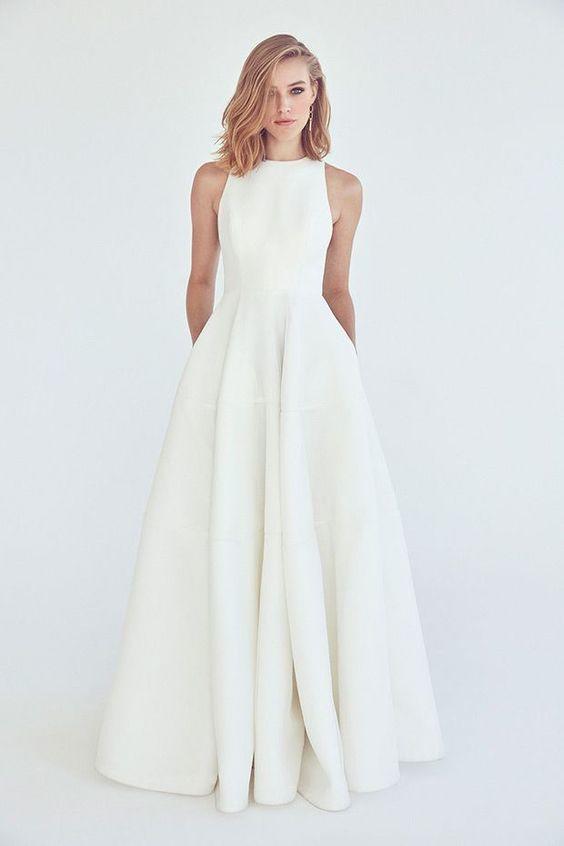 You can also opt for a sexier dress with a see-through skirt and a high neckline top made of lace. This design is perfect for anyone who wants to accentuate her waist and look elegant at the same time.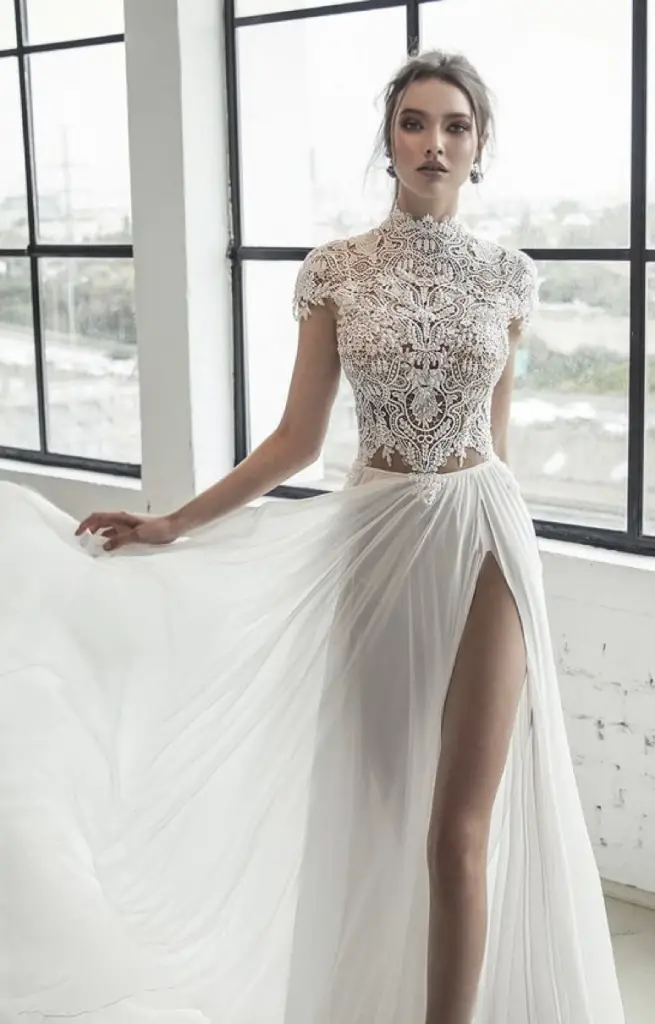 It doesn't matter the dress's design: if it's an all-lace dress or not, if it's form-fitting or not…What's important is that you maintain the high neckline style of Pippa Middleton's wedding dress.
2. Cap sleeves
Cap sleeves are also not the most popular sleeve style when it comes to wedding dresses, but that's another reason why you should try it for yourself. If you want a unique but sophisticated and traditional wedding dress, you can emulate Pippa Middleton's design by option for a cap sleeve dress.
You can go simple and elegant with a crepe fitted design, but with lace detail in the sleeves: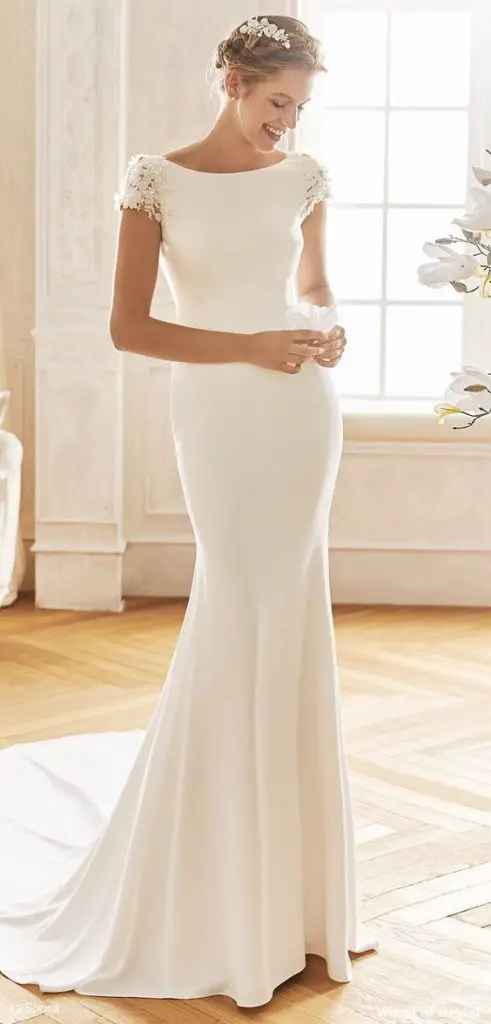 You can also show off some skin by wearing a V neckline with lace details at the sleeves. This cut is beautiful for a square or triangle body shape figure, as it accentuates the chest.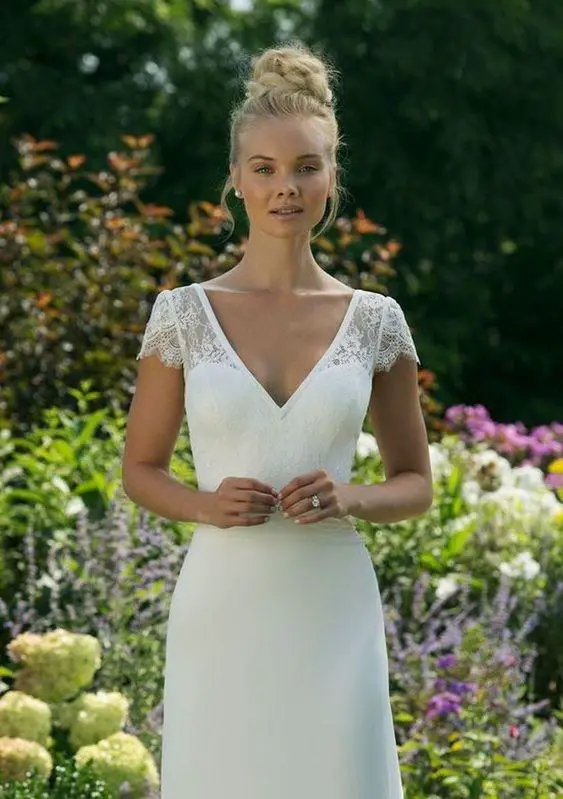 If you really want to wear something similar to Pippa Middleton's gorgeous design but lace is not your thing, or feel like Pippa's had too much lace for your taste, you can opt for a replica of her wedding dress but without the lace, or with a "softer-looking" lace. But don't forget about the cap sleeves: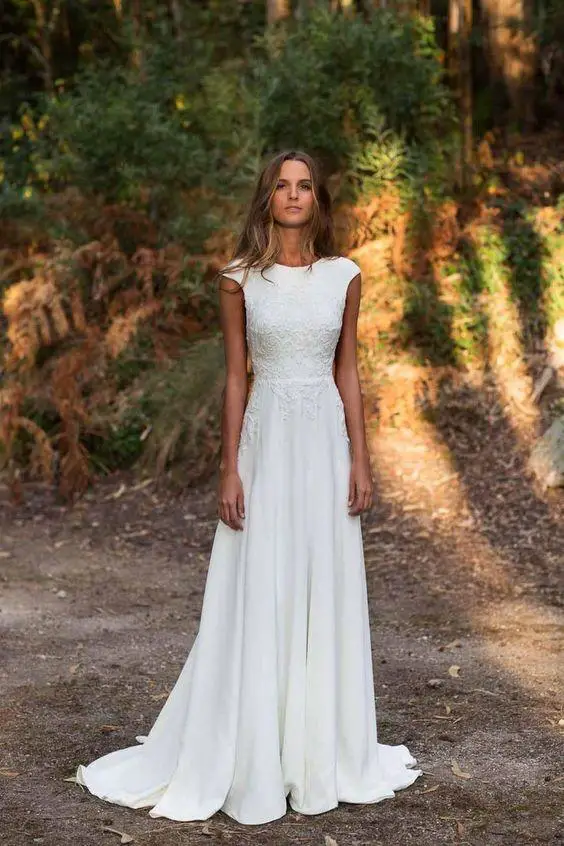 You can also opt for a boho look but with Pippa Middleton's style, which would look similar to this one: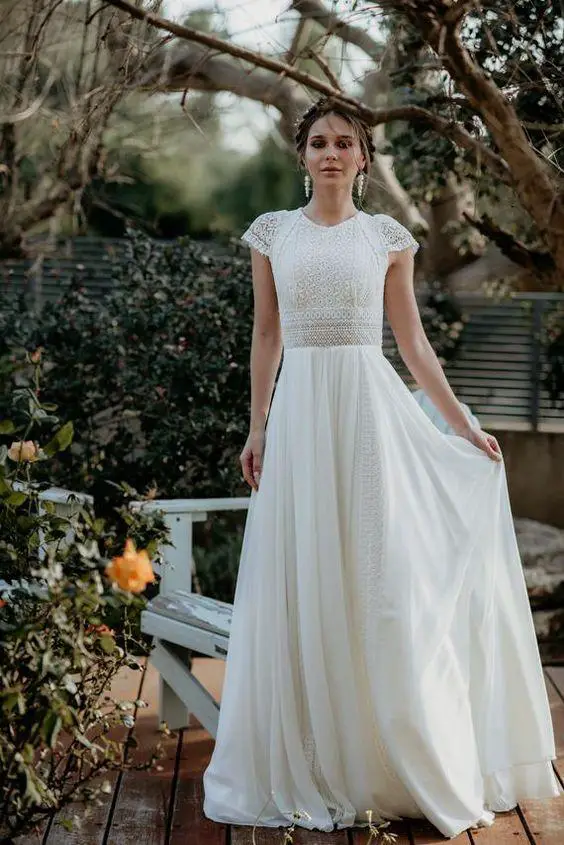 You can emulate Pippa's dress but in your own style! Boho, minimal, sexy… you name it.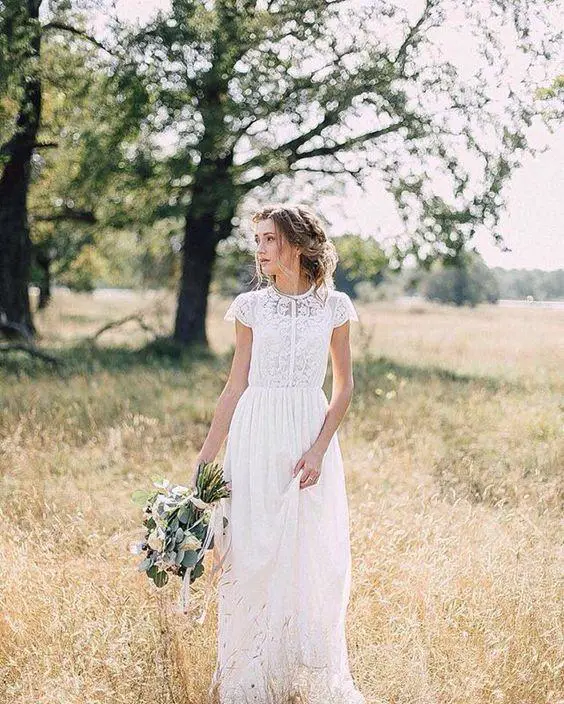 And don't forget a beautiful back! Cap sleeves give you the freedom to do whatever you want on the back, as opposed to other styles such as sleeveless, spaghetti strap or halter.
Trying to wear a wedding dress similar to Pippa Middleton's is not only about the front, but also about the back.
You can emulate the back of Pippa Middleton's wedding dress with an elegant back cut: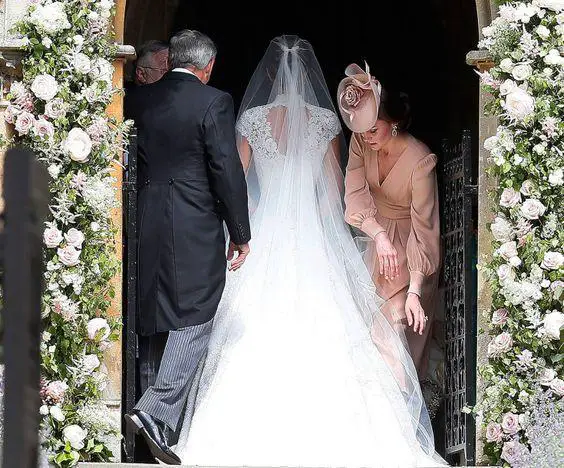 Pippa wore a discrete back cut, but you can make it your own with a deep oval back cut for a sexier look. This design, for example, has a modest front with an all lace high neckline but as soon as the bride turns, you can see a beautiful back design that contrasts with the front's modesty.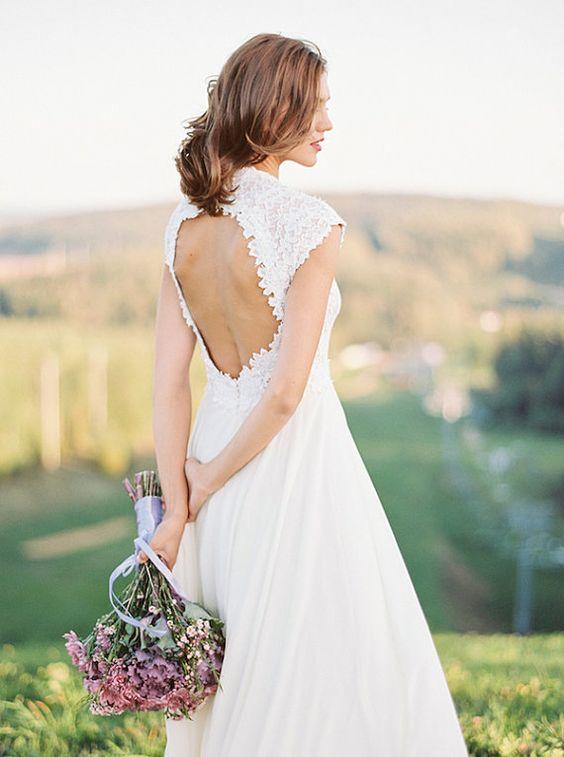 3. All-lace dress
An all-lace dress is a popular choice among excited brides, and the reason is that lace is the definition of feminine, elegant and traditional wedding gown. So we don't blame Pippa for choosing such an iconic style.
And the best part is that if you're not going to design your wedding dress, you can still find thousands of all-lace dress designs, making your wedding dress hunt much easier.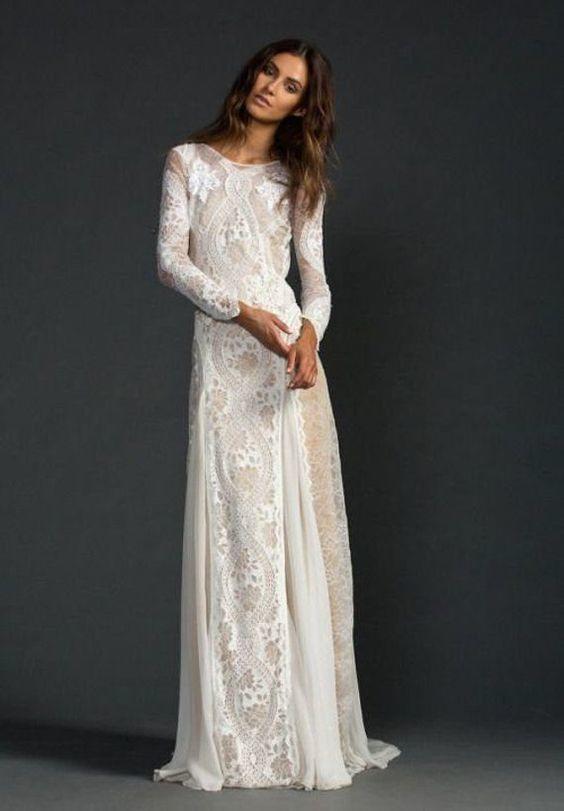 A-line dresses are one of the most popular wedding dress styles because the skirt elevates the bride and separates her from the other attendees.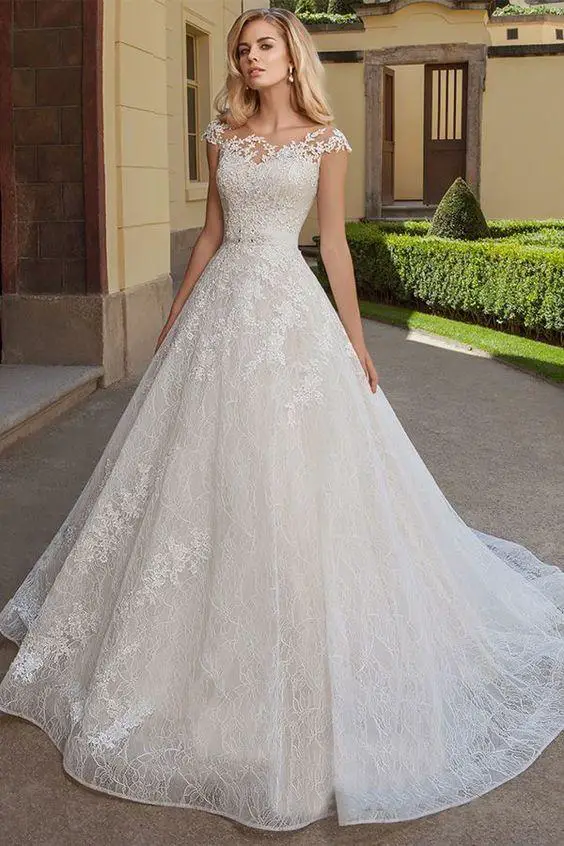 If you want to emulate the regality of Pippa Middleton's dress, then opting for an all-lace gown is your go-to option. Choose a dress that has an A-line cut and is made all of the delicate and elegant lace.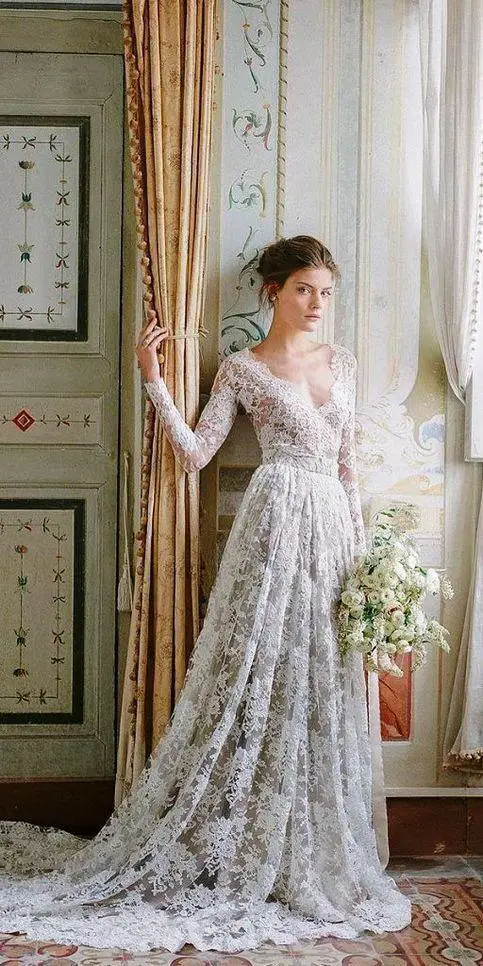 Lace gives brides such an exquisite look that makes it impossible not to consider it when thinking about your own wedding dress. That's why Pippa Middleton decided to go for an all-lace design.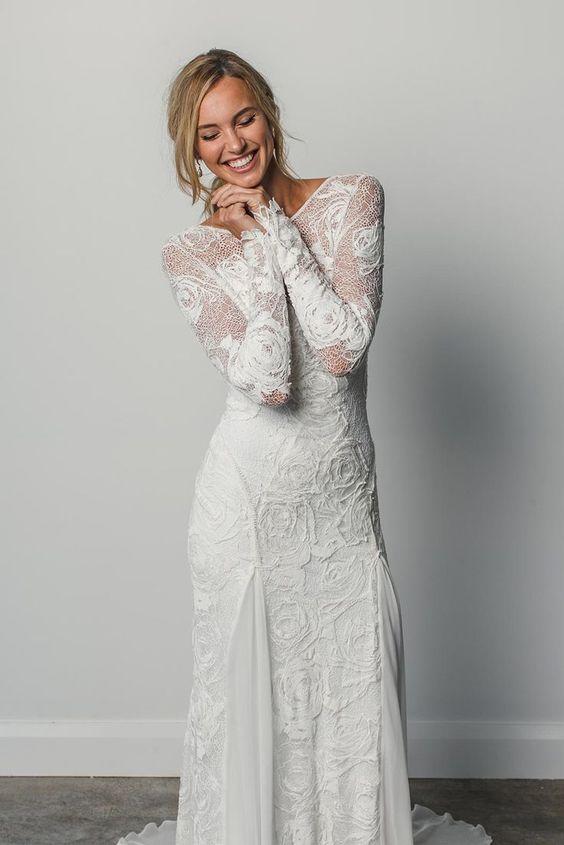 If you want to go for a traditional yet super feminine style, then an all-lace dress is just what you need. Whether your design looks exactly like Pippa Middleton's wedding dress or not, wearing lace from head to toe is what will give you a touch of royalty.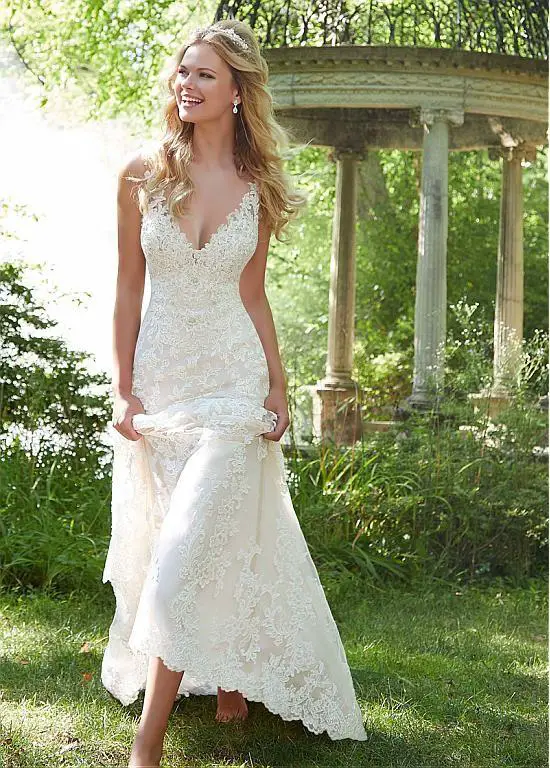 An all-lace dress will also make your groom fall in love all over again!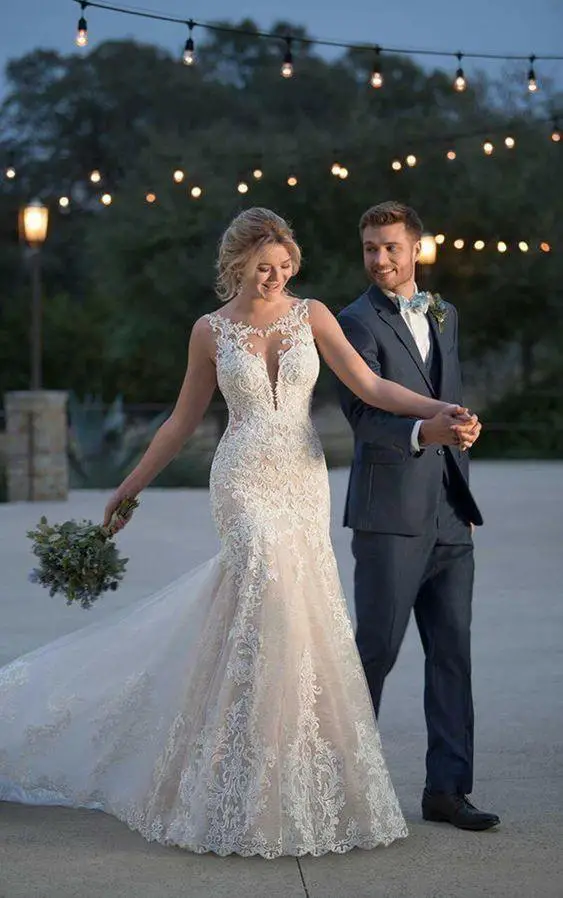 And, of course, don't forget about a beautiful back: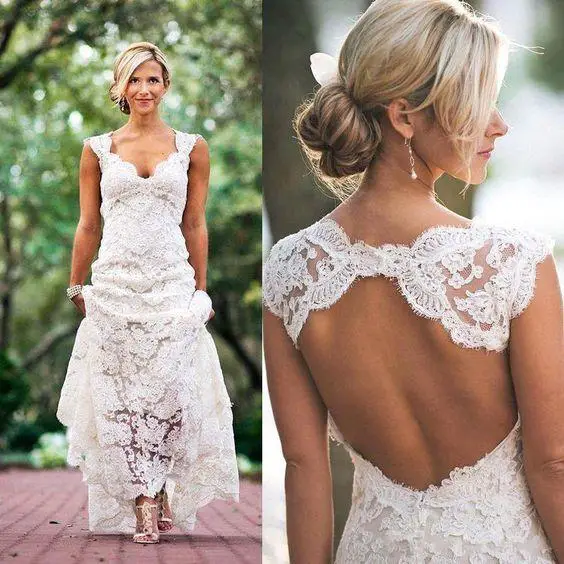 4. Form-fitting dress
The last but not least characteristic of Pippa Middleton's wedding dress is the form-fitting silhouette that made her look absolutely stunning.
Form-fitting dresses are the ultimate definition of sophistication, and if you add lace, cap sleeves, and high neckline, you get an iconic wedding dress as a result.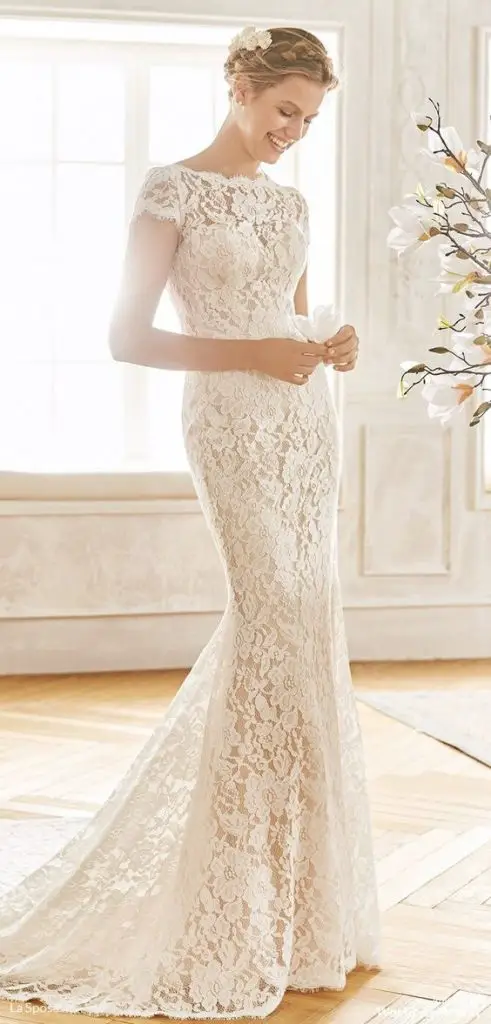 But going only for a form-fitting silhouette is enough to bring some royal vibes to your look. The best part? You get to show or accentuate your booty!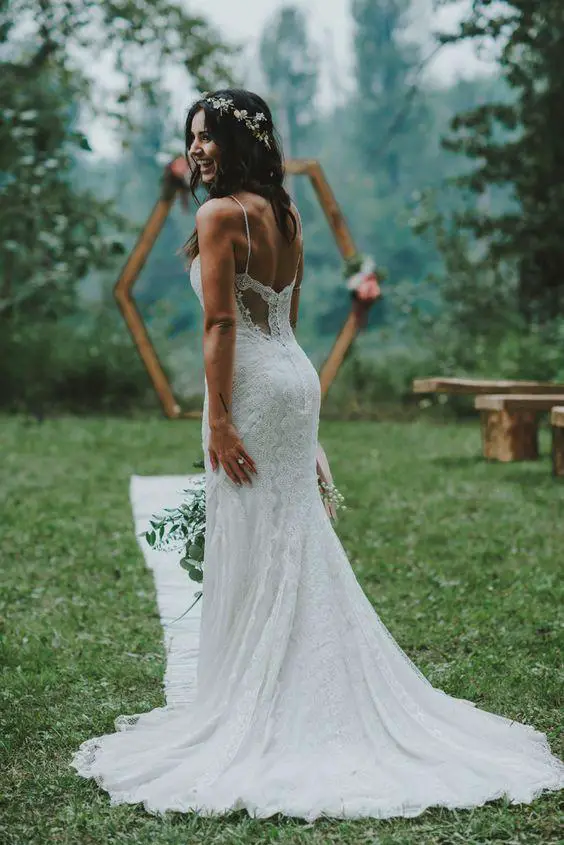 You can opt for any kind of neckline, what's important is that it makes you look and feel amazingly beautiful.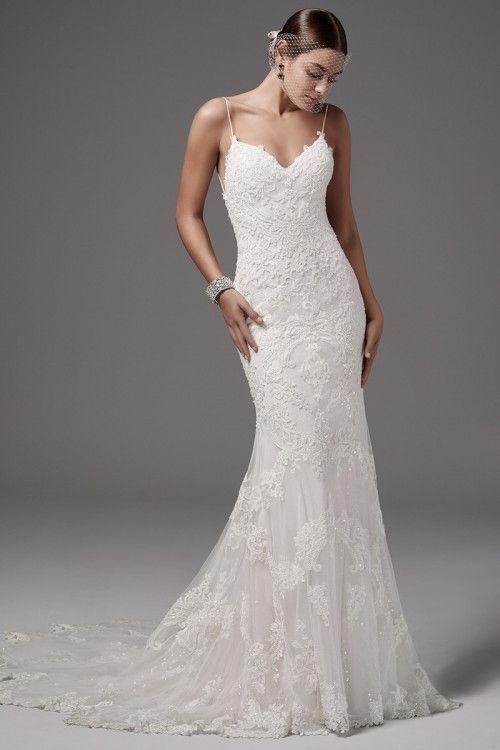 A form-fitting wedding dress like Pippa Middleton's flatters any body type and can make you look relaxed but sophisticated. If this is what you're aiming for, then opt for a dress that accentuates your waist and upper hips and falls with a subtle flair to the floor.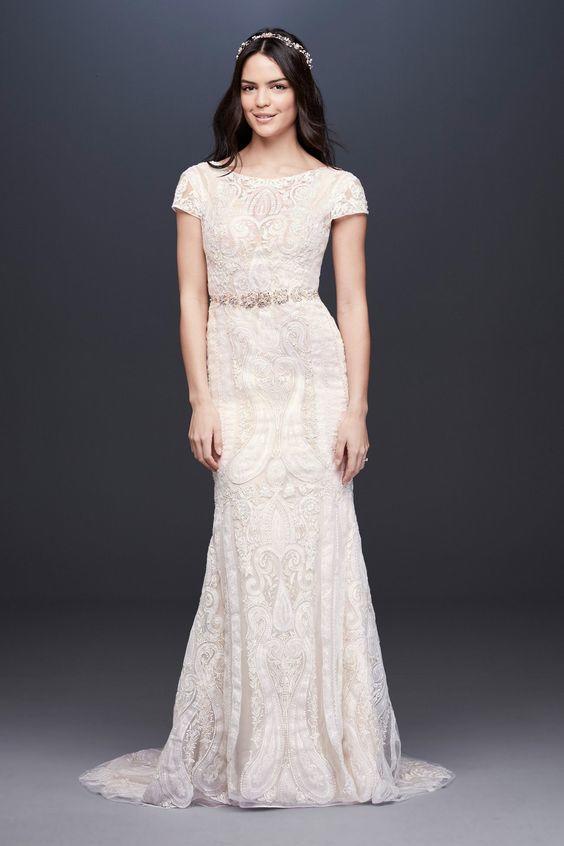 What I love about a form-fitting dress is that you can create whichever look you want: from boho chic to sophisticated and simple. Anything you've dreamt of, this silhouette will surely meet your expectations.
This type of silhouette also looks stunning with cap sleeves, just like Pippa Middleton's wedding dress. If you're serious about recreating Pippa's look, then choosing cap sleeves along with a silhouette that flatters your curves is just what you need. Lace might not be your thing, but if your dress has these other two characteristics, your dress will be absolutely stunning (and royal!).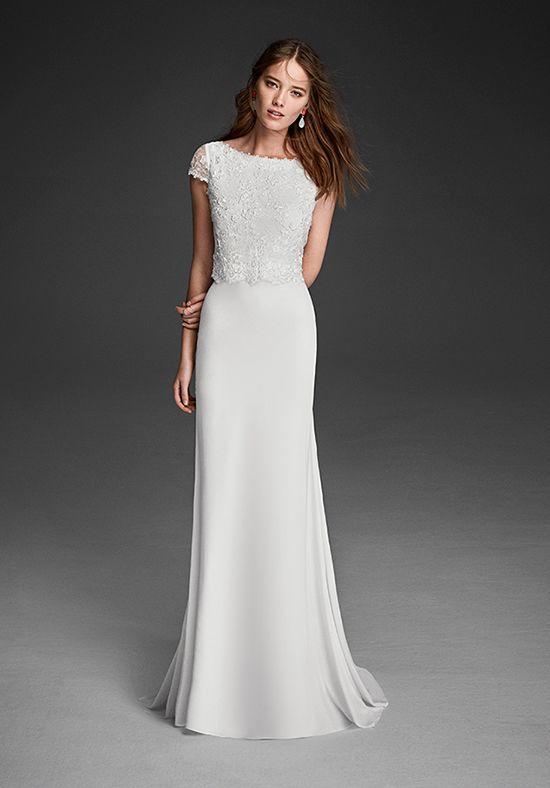 Wrap up:
If you're looking for wedding dresses like Pippa Middleton's that are elegant and modern, then hopefully this guide has left you inspired and ready to hunt for the perfect dress.
These 22 designs demonstrate that when it comes to weddings, no one can do it better than the royals. And even though these wedding dress designs might not be exact replicas of Pippa Middleton's, they still have a touch of royalty because they all bring back some of her iconic dress's characteristics.
All you have to do is choose at least one of her wedding dress's characteristics!
Come back to this Pippa Middleton's wedding dress guide whenever you feel like having a mayor royal inspiration.