Summer is one of the best seasons. Not only do we get to have vacations (or at least we used to), but we're also able to enjoy a warm-weather AND cute outfits.
It's all about colors, florals, textures, cotton and linen, and flowy, relaxed silhouettes.
But unfortunately, there are few options for plus size women when it comes to fashion. That's why I've compiled 10 pieces that will help you create the perfect plus size summer outfits that you can immediately buy on Amazon, helping you save lots of time (and money) figuring all out by yourself.
Plus size summer outfits
These summer outfits have been selected based on current trends, price, and fit, and all feature pieces you can easily mix and match, guaranteeing a good investment!
1. Cute and comfortable dress: AMZ Plus size scoop neck
This AMZ dress is perfect for those warm summer days when you don't want to be wearing pants. It's a flowy high-and-low dress that will make you feel super comfy while flattering your figure.
It's made of 95% rayon and 5% spandex and comes in 26 different colors you can choose from.
What customers say
"Love the material," said one happy customer who claims she "can't stop wearing it". The stretchy material makes it super comfortable to wear and is thick enough as to not be see-through at all.
Other customers love how flattering it is! The flowy silhouette suits absolutely any body type.
2. Perfect for a stylish and casual look: Nemidor Women Short Sleeve
This dress is perfect for anyone who's not a fan of showing off her legs, or simply anyone who loves to look chic and casual. It's lightweight, cute, and easy to dress up or down with the right styling.
Wear it with cute sandals for a casual stroll around the city, and you'll be surely turning heads as you pass by.
What customers say
Customers have loved how perfectly this dress fits, hiding any tummy they might have. The fabric is another great feature they have valued, since it's thick and not see-through at all, as opposed to other low price dresses.
Other customers claim they'll be buying more colors since they can't get enough of this dress.
3. The best statement dress for summer: Milumia Plus size short sleeve wrap dress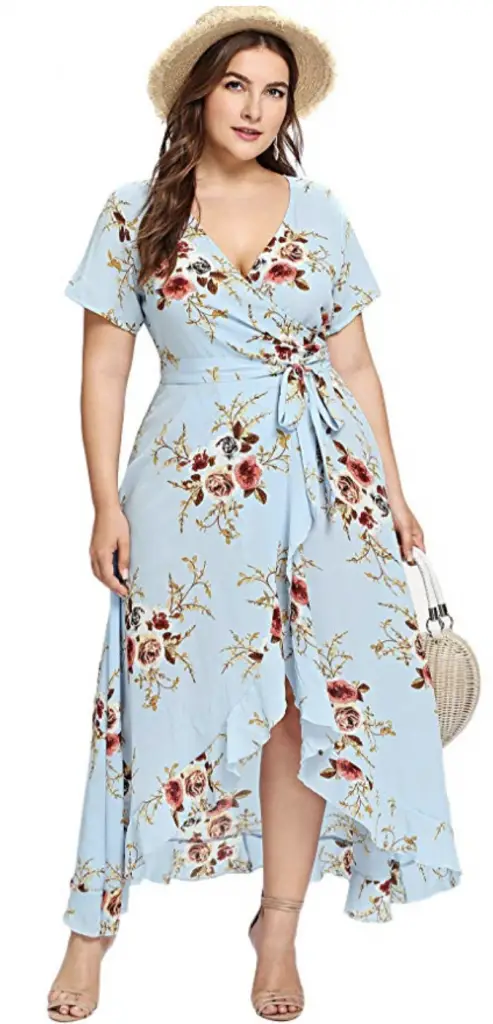 If you love statement pieces, you'll be head-over-heels for this cute Milumia maxi wrap dress. It's comfy, absolutely cute and trendy, making you feel like you're a famous fashion blogger.
Add a hat, sunglasses and a chic handbag and you'll be looking like a fashion pro. If you're heading for a dreamy summer destination, make sure to include this dress in your suitcase.
What customers say
"Beautiful dress", "Lightwiehgt and good quality', "amazing dress", "slimming, flattering, beautiful" and "such a win" are some of the great reviews this wrap dress has received from happy customers.
4. Cute and simple skirt easy to dress up or down: Regna X Boho Women's Summer Mazi Skirt
This Regna X skirt is the perfect complement on any simple and laid-back plus size summer look.
You can simply wear a t-shirt and tuck it inside (or tie a knot for a crop top look) and add your favorite sneakers for a casual summer outfit. If you want to dress it up, switch the t-shirt for a fitted blouse tucked inside and add wedges or low heel sandals for a polished casual look.
What customers say:
Customers have loved how great the fit is. It's "long and fits your curves", making you feel and look on point. The material is not see through but at the same time as lightweight as any comfy summer piece.
5. Perfect for dressing up any summer outfit: Kate Kasin Women's High Waist Skirt
This pleated high waisted maxi (or midi) skirt is the perfect excuse for showcasing a polished and sophisticated plus size summer fashion. You just need to wear a cool graphic tee and your favorite fashionable sneakers and you'll be ready to look like a fashion pro.
You can choose from 10 different solid colors, giving you plenty of option to pick the one that best suits your personal style.
What customers say
"Would definitely recommend", "flirty and flattering", "amazed at the high quality" and "gorgeous" are some of the great reviews that this fashionable plus size skirt has received.
6. Show off your legs with this classic skirt: Shine women stretch denim mini skirt
A denim skirt is the definition of a summer staple piece. That's why this Shine skirt is just what you need: versatile, stretchy for a comfortable wear and has 5 (real) pockets. The best thing about this skirt is that its great quality will guarantee many years of different cute summer outfits for plus size.
What customers say
Customers love how comfy this denim skirt is. "It's soft and comfortable", "quality is nice", "perfect thickness" and "great quality" are some of the great reviews customers have made regarding the skirt's fabric and quality.
7. Super cute skirt for a feminine and sophisticated look: Exlura Women's High Waist Skirt
If we're talking about cute plus size summer outfit ideas, then this Exlura skirt is definitely a must-have piece! It's cute, flirty, casual and trendy, making it the best purchase you'll do on summer.
You can wear it for your summer vacation or simply on ANY summer day. If you need to add a skirt to your current wardrobe, let it be this one!
What customer say
Customers have loved this skirt's lightweight fabric and perfect fit. But one of its best features is the two hidden pockets at the sides. Yes, it's not only fashionable and cute but also super functional!
8. Cute basic plus size top perfect for any type of outfit: IN'VOLAND Women's V neck wrap shirt
What's a plus size summer outfit without basic shirts? Owning at least one in a neutral color like white is the key to pulling off thousands of cute looks. You can wear this IN'VOLAND shirt with any of the bottoms I mentioned above.
What customers say
"Essential for any wardrobe", "comfortable and fits great", "love this shirt" and "gorgeous and flattering" are some of the great reviews that this batwing shirt has received. Its great quality is another loved feature, since it has a heavy cotton that makes it definitely worth the price.
9. The perfect flowy blouse for summer days: Romwe plus size floral print peplum shirt
Is it even summer if there's no floral print? Definitely not! Make sure to include this must-have print in your summer wardrobe with this cute Romwe shirt.
It's flowy, comfortable and the perfect statement piece to wear with shorts, jeans, or leggings.
What customers say
"In love!!!" is what a happy customer says, claiming that she's definitely ordering it again in different colors.
" Really love this top", "good for big bust and arms", "perfect fit" and "the cut and fit are great" are some of the reviews this flowy plus size top has received.
10. The best summer pants for a comfortable wear: Grace Karin Women's cropped paper bag waist pants
A summer wardrobe can't be completed without the perfect pair of trousers. That's why these Grace Karin cropped pants for plus size women are the best option you'll find on Amazon.
They're the perfect excuse for accentuation a small waist, with its high waist design and tie. You can rock these pants with a casual shirt and sneakers for a casual look, or with a tight crop top and high heels for a sophisticated summer look.
What customers say
Customers are happy with their purchase, claiming that the fit, size, and material is perfect. "These pants are so cute", "comfortable", "very flattering for a curvy bum" and "couldn't be happier with these pants" are some of the great reviews these Grace Karin pants have received.
Did I forget to tell you that these pants have side pockets? Absolutely yes! And this is another feature loved by customers.
Wrap up:
These ten must-have pieces will help you create different cute and trendy plus size summer outfits worthy of an Instagram influencer.
They're all affordable, cute and have great reviews, which I hope will convince you into buying some of them. Get ready to master the art of summer outfits!