You probably know by now that the fashion language is sometimes odd or funny. Such is the case of the term "pussy cat bow", which generally refers to a large bow that many blouses have.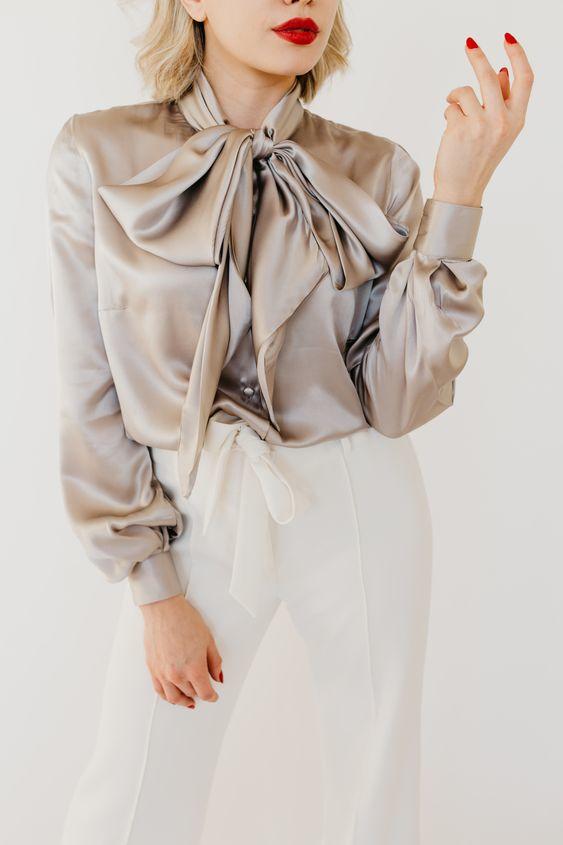 If you're curious about what's a pussy-bow blouse, you've come to the right place.
I've compiled all the necessary information you need to know about this type of blouse. I'll guide you through the meaning of this odd and kind-of-funny term, its origins, the types of pussy bows, styling and outfit ideas, and ways in which you can tie them.
If you want to learn something new about the language of fashion, follow me!
What is a pussy-bow blouse?
Pussy-bow blouses are a super feminine and some-what preppy type of blouse. They feature a bow around their neck which, as opposed to a normal-looking bow, this one is larger and wider, resulting in a big bow tied around the neck.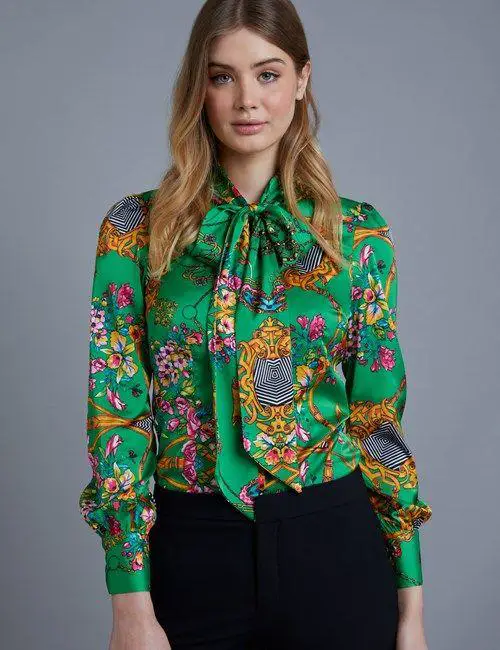 The term "pussy bow" is because of the similar look of these blouses and a kitten's and cat's bow. How clever! (Not really…)
One thing's sure, both are really cute and girly.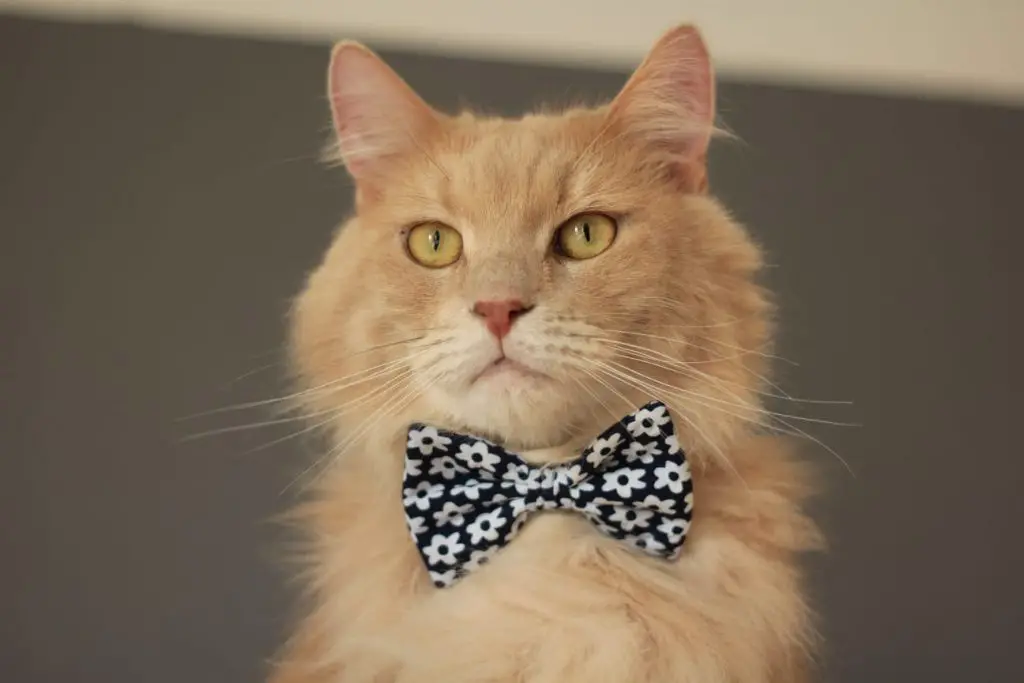 Origins of the pussy bow blouse
Pussy bows' origins date back to the 19th century, but the term was first coined at the beginning of the 20th.
The typical pussy-bow blouse became quite popular around the '30s, but it's not until the 60's that they actually became a thing. High-end designers such as Coco Chanel and Yves Saint Laurent incorporated pussy-bow blouses to their collections, spreading the trend all over Europe and America.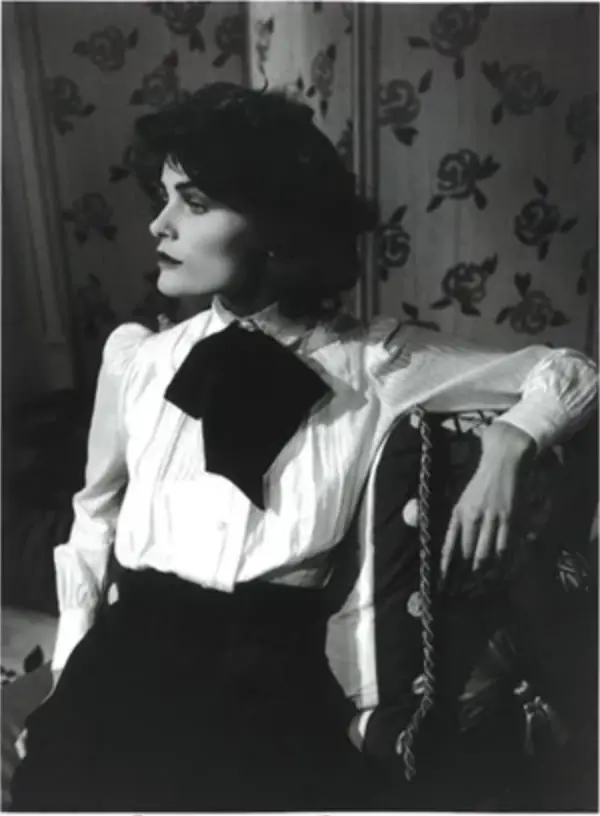 By the '80s, the Prime Minister of the U.K. adopted the pussy-bow blouse as her signature style, which resulted in many working women around the world using this type of blouse as a symbol of education, women empowerment, and femininity.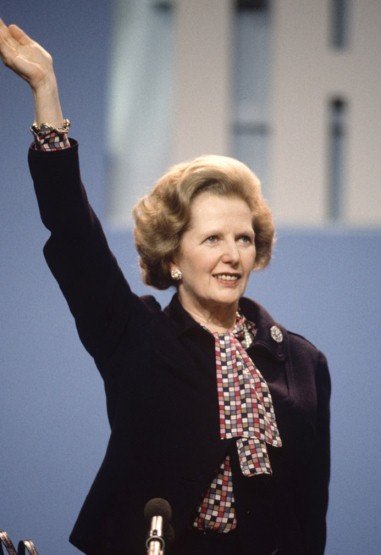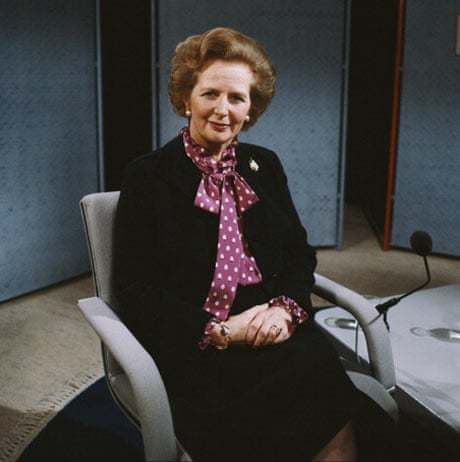 Fast forward to the 2010s and almost every high-end designer is featuring a pussy bow design among their collections, trickling down to the mass market. Gucci's creative director Alessandro Michele made it his duty to recreate the classic bow-tie neck style, including the multiple times on his designs for womenswear and menswear.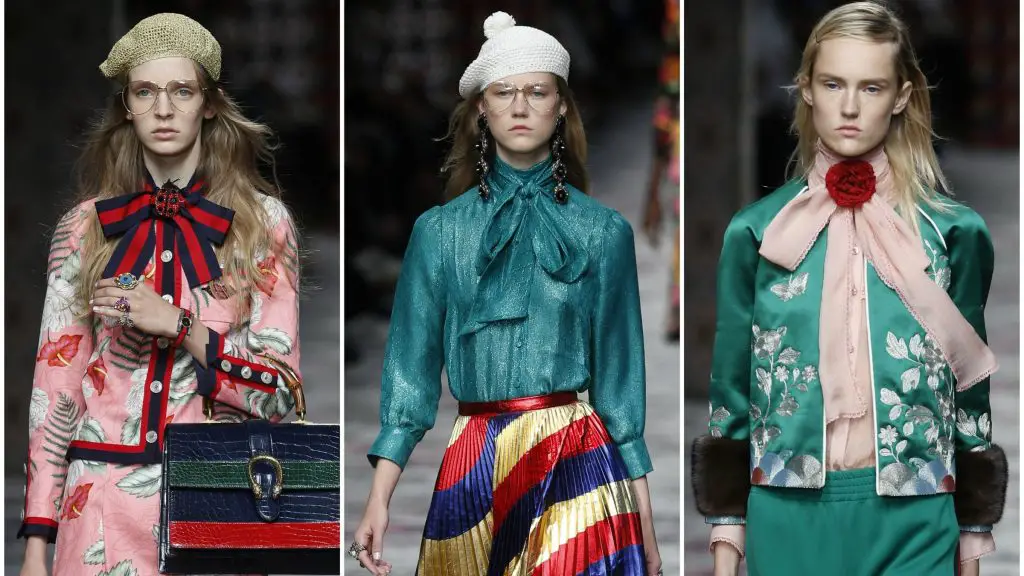 It's no wonder you can see this type of blouses or dresses in every store and worn by many girls.
And who can blame them? A pussy-bow blouse is feminine, elegant, classic, smart-looking and preppy. You can't go wrong with this type of blouse!
Pussy-bow styles
There are many stylish (and not so stylish) types of pussy cat bows in fashion. You can find them in different lengths, widths, materials, and pieces: from tops and dresses to blazers and sweaters.
The typical pussy-bow blouses feature a silky long-sleeve blouse with a long tie at the neck, with a length from around 1 meter to 1.6 meters long. They're usually in a silky, polyester or satin-like fabric because this guarantees that the bow will not wrinkle.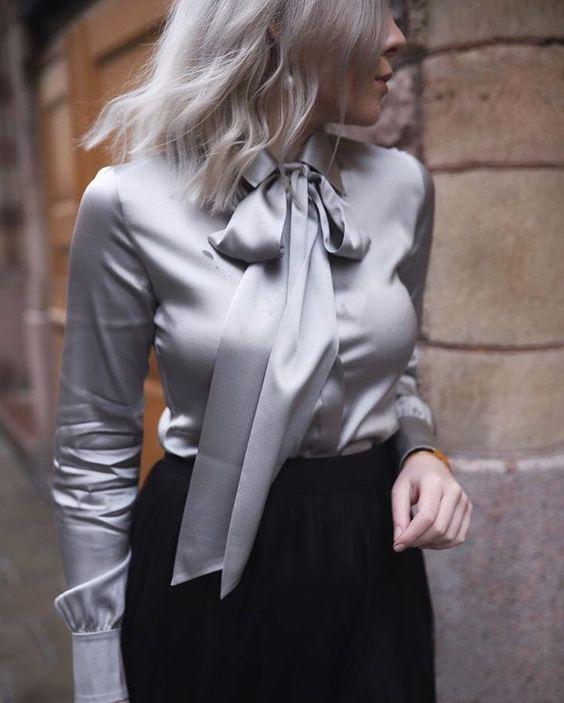 You can also find them in chiffon, which can make the look a bit sexier due to the see-through quality of this fabric: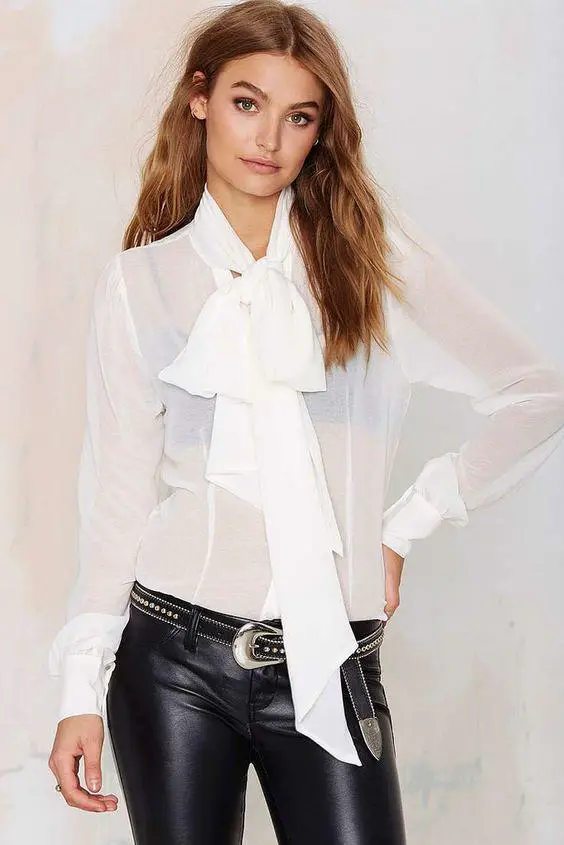 These pussy-bow blouses can also feature a contrasting tie that makes the blouse an absolute statement piece all by itself: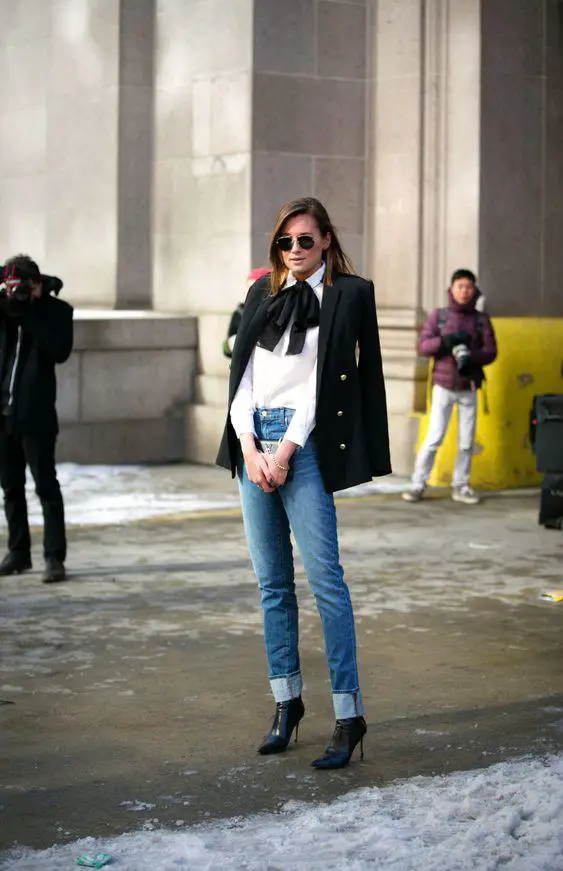 The tie can be as long as the designer wants them to be, so don't feel intimidated by their length. All you have to do is tie them in a way in which you feel most comfortable and let your blouse speak for itself: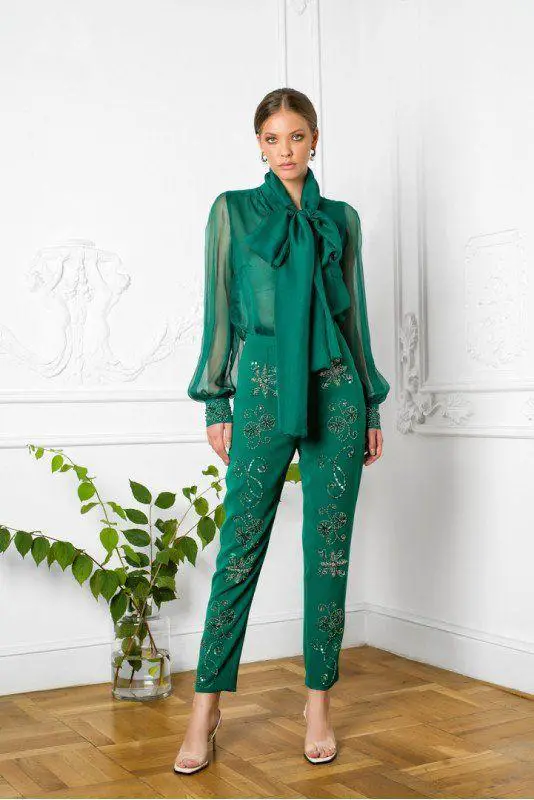 They can also be super short and serve only as a cute detail on an edgy and bold outfit: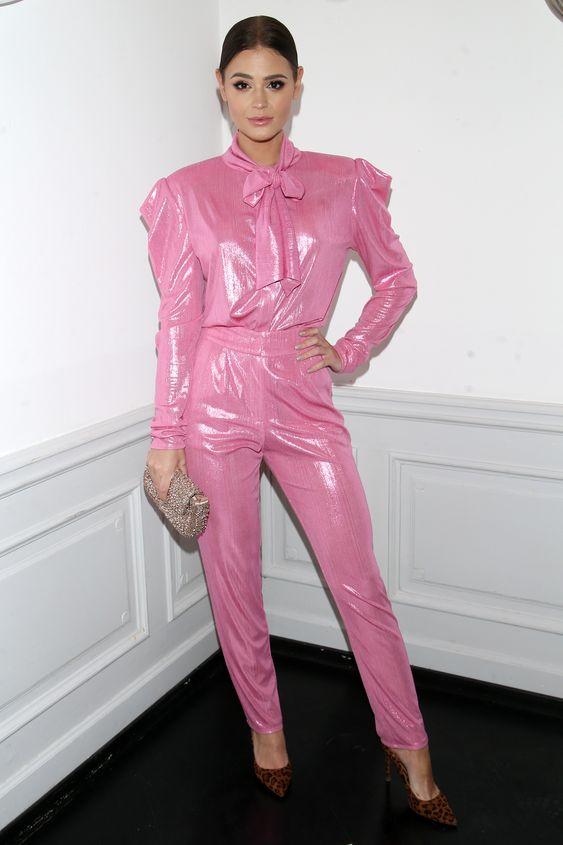 Or serve as an element to add a smart look to the blouse. Preppy girls love this look because it makes them look feminine, smart and polished: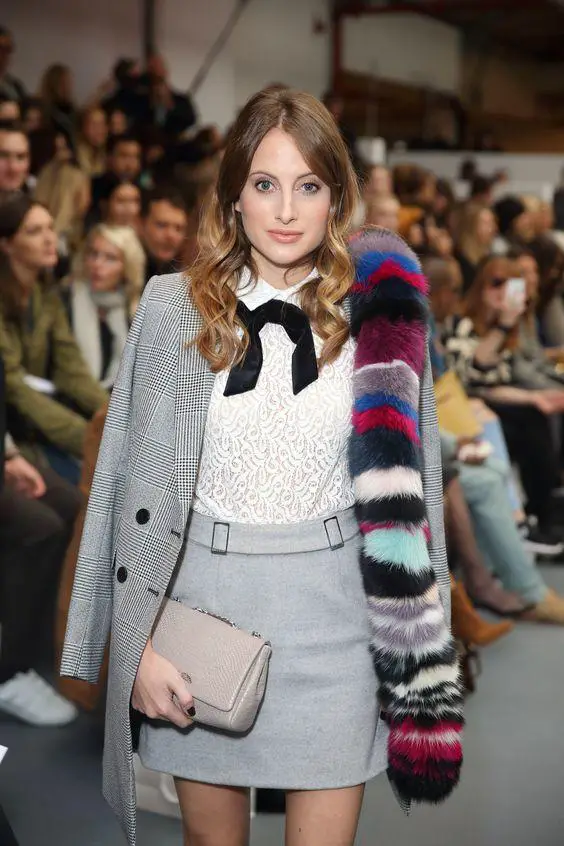 Lastly, you can find small and subtle pussy bows: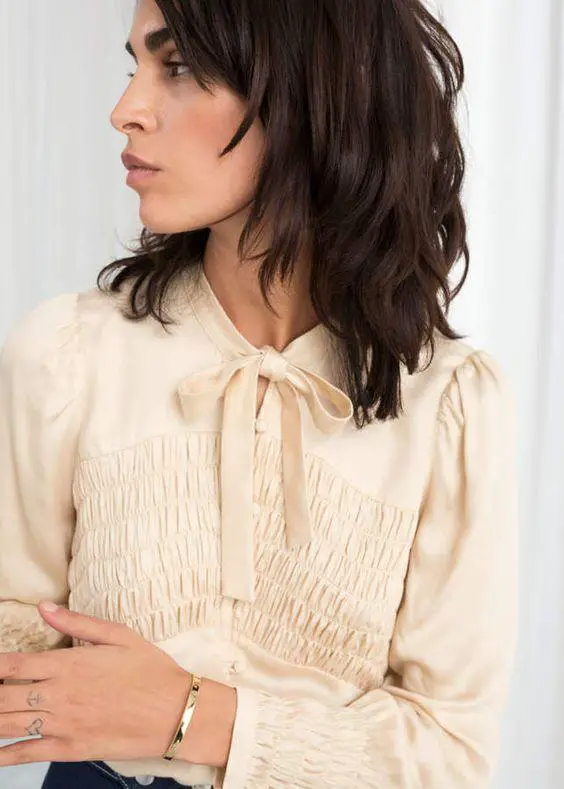 How to tie a pussy bow
Do you need to know how to tie a pussy bow? Not really. It's just like tying a normal bow, same as you would do with your sneakers.
However, the way in which you tie it can determine the length of your bow ribbon's and therefore the look of your blouse. For example, on the images bellow, you can see that the first model has tied her bow in a way in which the ribbons are double the length of the shells, as opposed to Kate Middleton's which the ribbons fall almost at the hips level.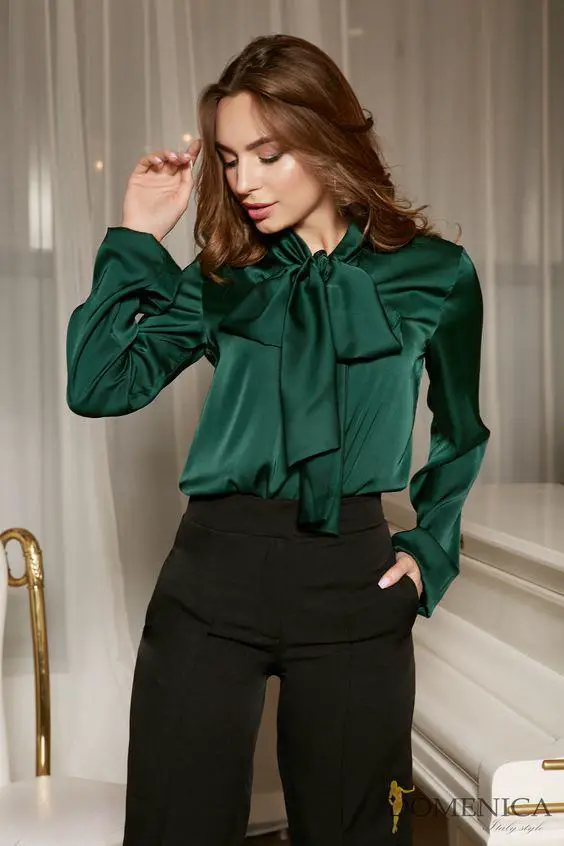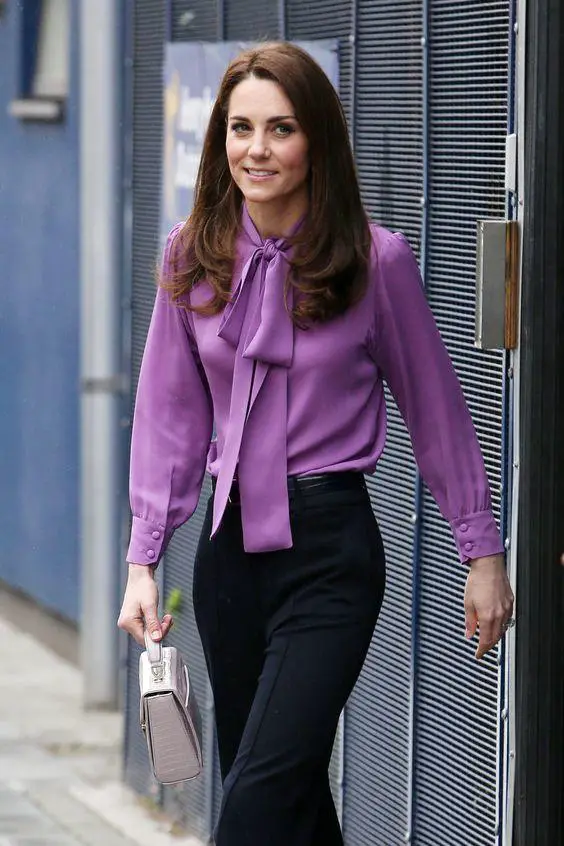 However, as a rule of thumb, don't let your bow's caps fall below your chest. It's better to leave the ribbons much longer than having the caps weirdly lying below your chest because what this will create is the optical illusion of having saggy breasts.
That being said, you can tie your bow like this: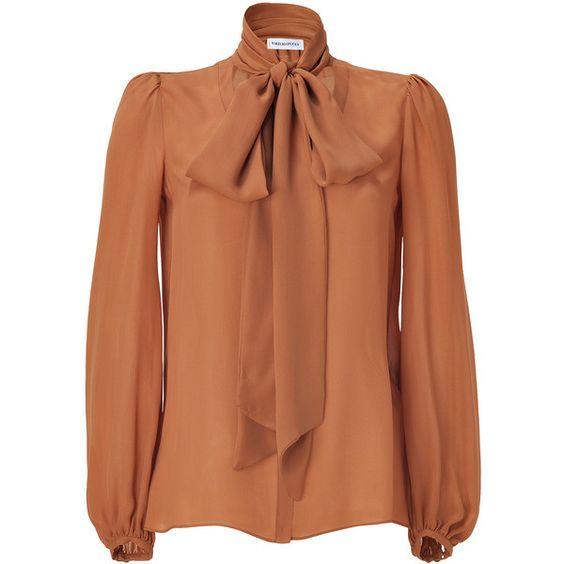 Or like this: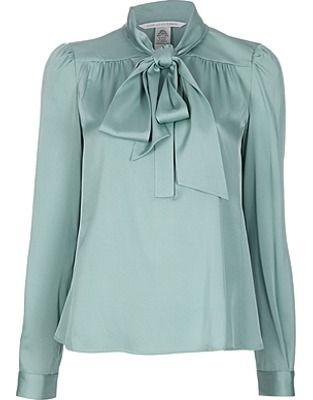 Of course, the length of pussy-bow blouses varies greatly, but you can choose to keep the ribbons close to the caps (like the example below) or not. Again, just remember not to leave the caps hanging below your chest.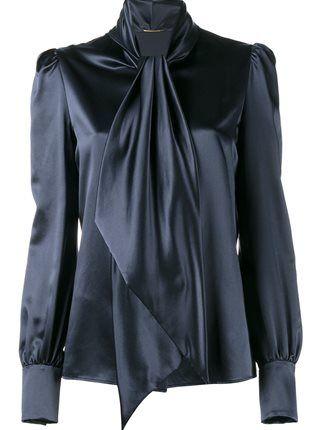 You can also leave your blouse untied. There's no rule that says pussy-bow blouses NEED to be tied under every circumstance. If you feel like having a bow below your neck is too much, or simply have a large chest and a bow will only make it bigger, you can perfectly opt for leaving your pussy bow untied: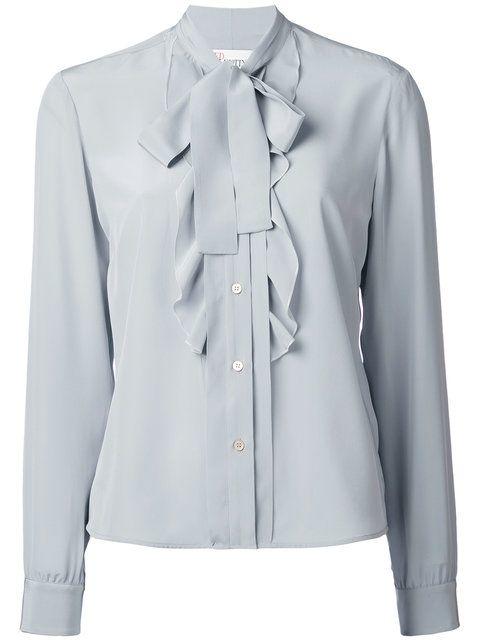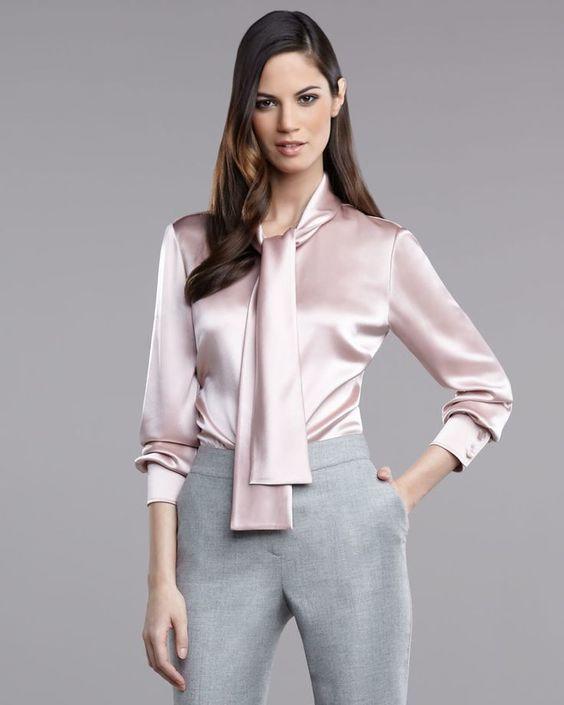 Pussy-bow blouse outfits and how to style them
Now that we've talked about the type of pussy bow blouses you can find in stores, let's move on to styling them and cute outfit ideas you can perfectly recreate.
The easiest way of pulling-off a cute pussy bow blouse outfit is to pair it with your favorite jeans. Don't forget to tuck your blouse inside your jeans for a modern look: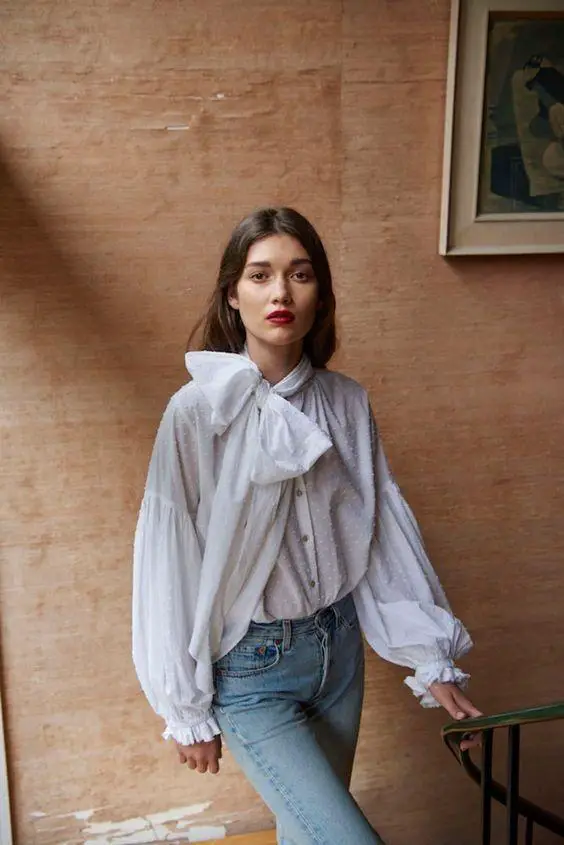 Don't feel intimidated by your blouse's pussy bow length. As long as you're more than 5'3 feet tall, you can definitely pull off this head-turner look: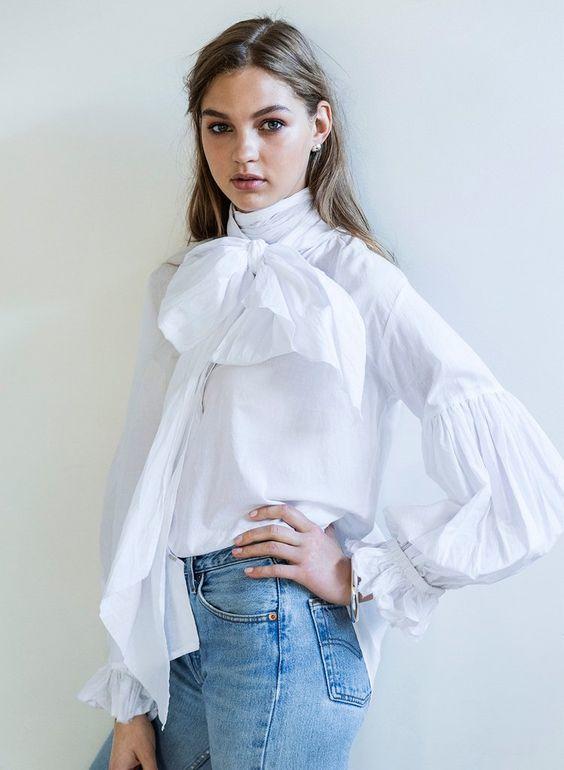 If your blouse is see-through, you can wear tank in a similar color to add up to the romantic look a pussy tie bow gives. You can also pair it with a darker shade of pants for a monochromatic-inspired look, similar to this one: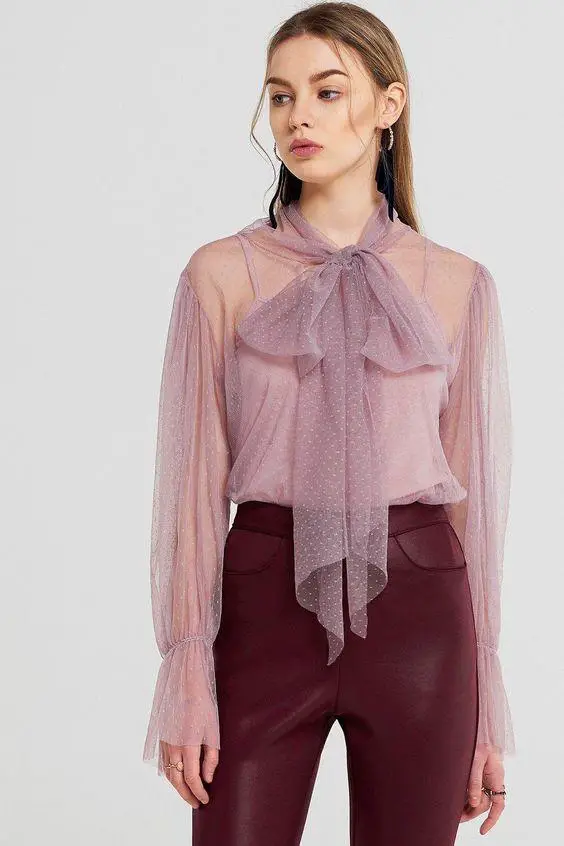 You can also wear bow-tie blouses to work. These modern pussy bow blouses are actually inspired by working women in the 80's, which is the perfect excuse for rocking a smart workwear style:
Pussy bow blouses are generally statement pieces all by themselves, but if they have statement sleeves as well, then be ready to create a killer look. As long as this blouse is not in a bright and/or bold color, you can perfectly wear this type of statement looking top for work:
If you have an edgy style but secretly love all-things preppy, or the other way around, you can perfectly wear a pussy bow blouse with a leather bottom, such as a tight mini skirt, for a fun night out look: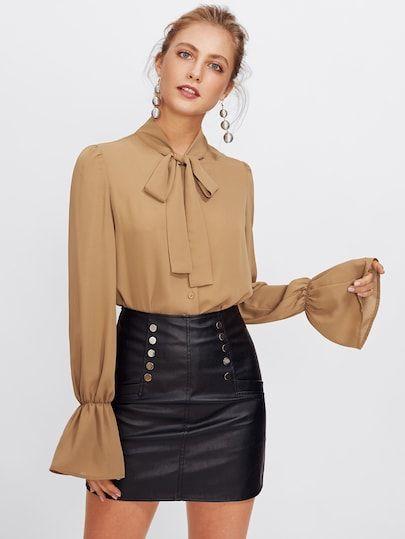 If you want to add some mystery and edge to your date-night outfit, opt for an all-black look: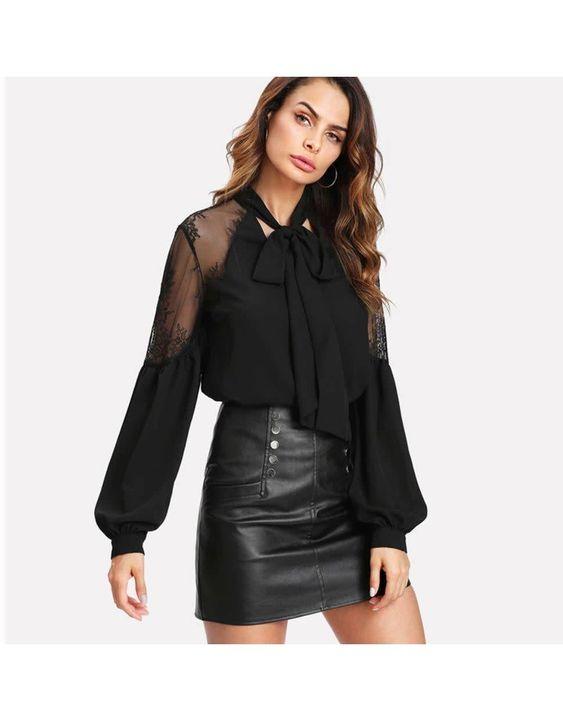 Pussy bow blouses are usually associated only with a preppy style, but the possibilities of styling them are endless and can result in the edgiest and boldest looks.
All you have to do is pair them with the trendiest pieces, transforming a classic and preppy blouse into a cool and modern one. Pair your pussy-bow blouse with a midi leather skirt and cool shades for an edgy yet preppy look: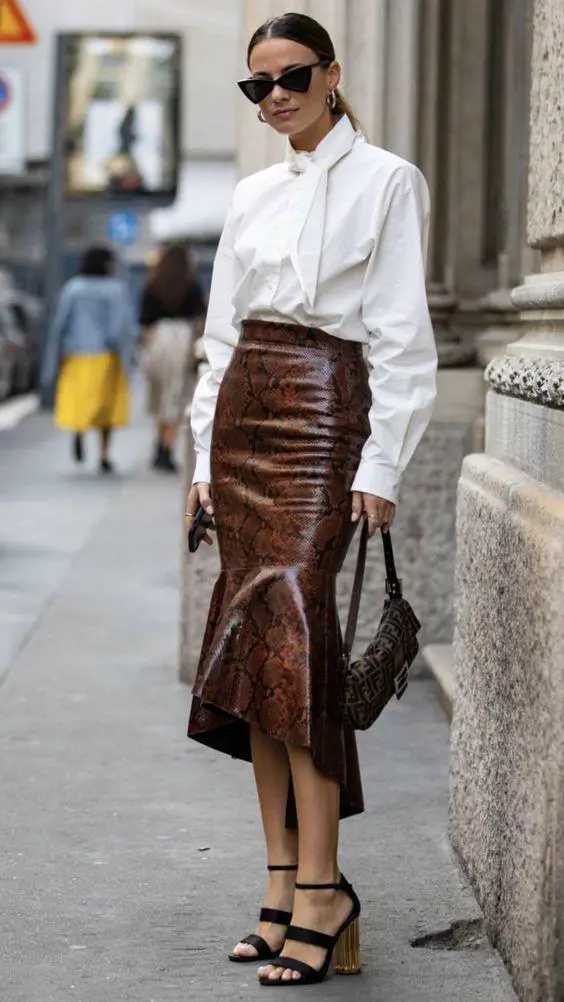 You can also add interesting pieces such as a cool and unique crossbody bag and a beret: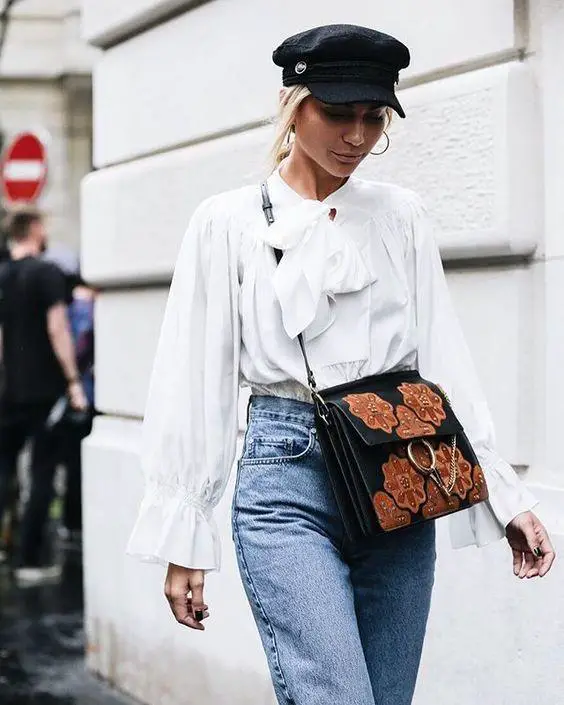 Or pair it with bright or bold colors. You'll be surprised at how edgy and cool a pussy bow blouse can look: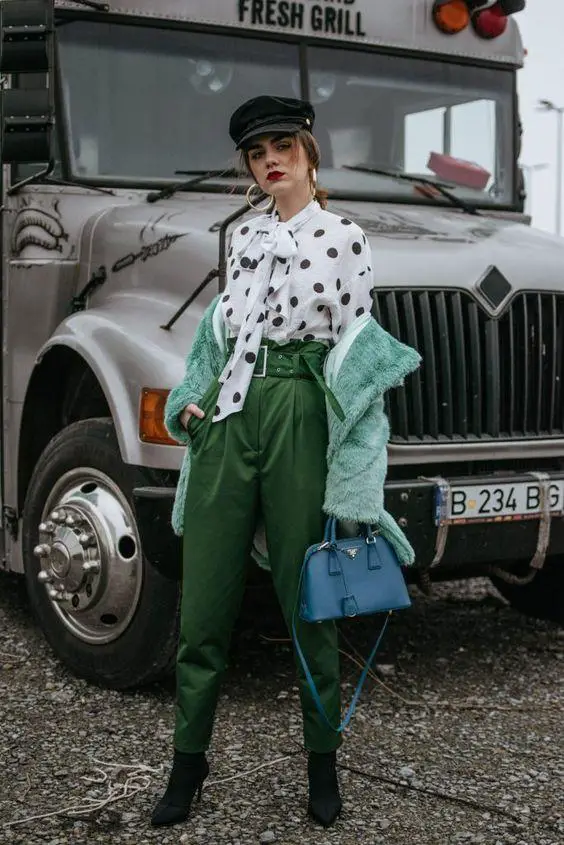 But if preppy and chic are what you're aiming for, this type of blouse will never go wrong. Ever.
All you have to do is pair it with other preppy pieces: A-line skirts, tights, moccasins or loafers, a plaid blazer, tailored outerwear, crew neck sweaters…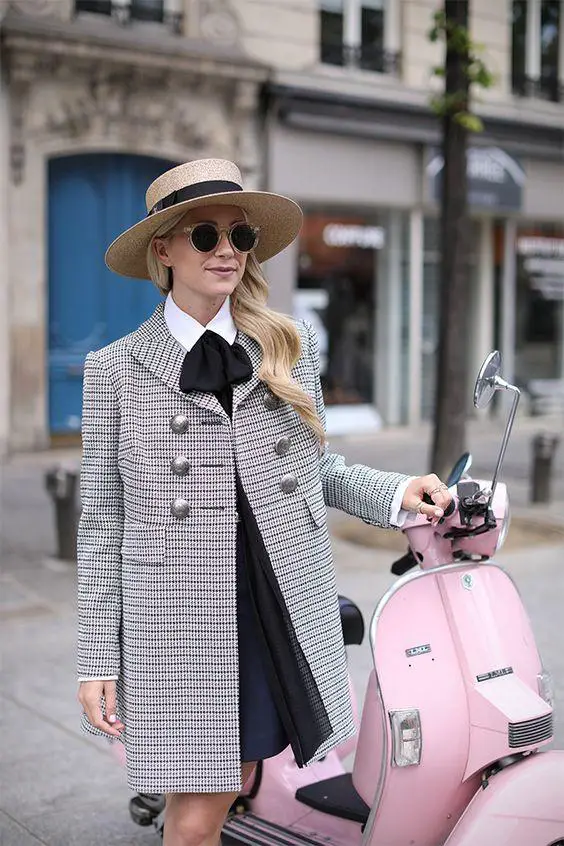 Wrap up:
It's never too late to learn something new! Especially if you're a fashion lover.
That's why this article has gone through everything you need to know about pussy-bow blouses. From their origins to outfit ideas, after just some minutes you can add this term to your fashion dictionary.
Last but not least, pussy bow blouses demonstrate that one single item can have the power of transforming a so-and-so outfit into a statement, smart and stylish outfit.