Leggings are a staple piece you probably already have in your wardrobe. They're classic, versatile, super useful and a neutral basic that lets you dress it up and down really easily.
However, we may fall into the same routine of pairing our staples with the same thing over and over again. You may already have a specific outfit that you always wear with your black leggings, for example, and thinking outside of the box can get a bit difficult.
That's why I've compiled 30 different shirts to wear with leggings, giving you plenty of options you can choose from in order to spice up the style of your leggings.
If you feel bored with your leggings, then keep on reading!
The 6 shirts to wear with leggings
1. Long t-shirts
Leggings are tight and sometimes sheer, which is why the best type of top to wear them with is a mid-hip or longer length top.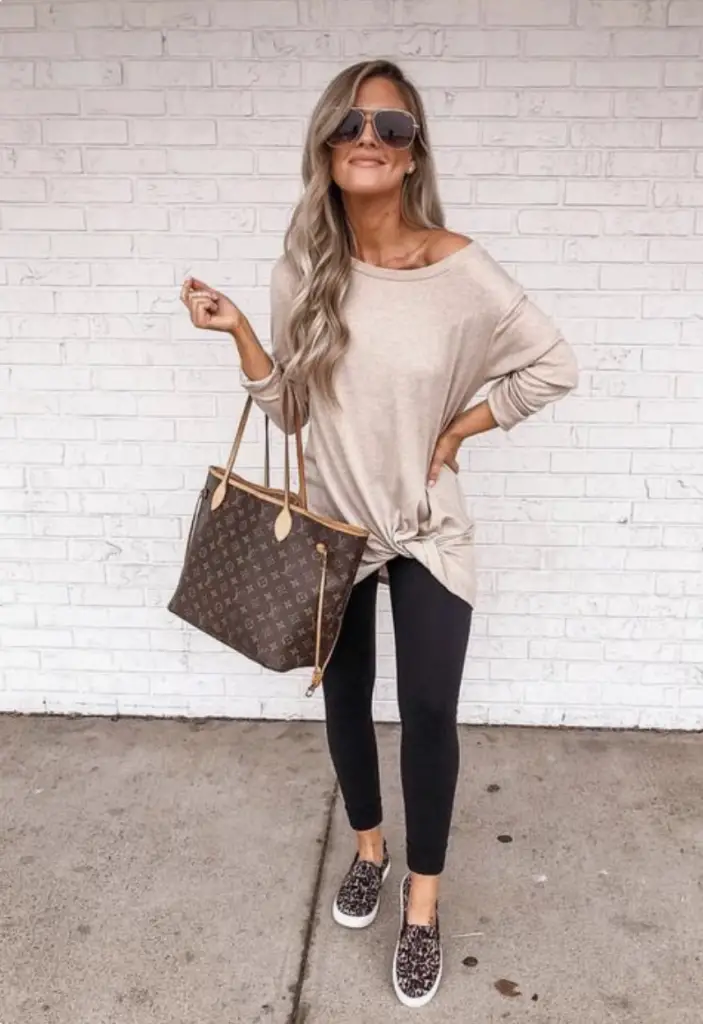 Long t-shirts make the best excuse for pulling off a cute and casual leggings outfit. They're easy to wear, comfortable and a perfect match for your basic leggings.
If you're looking for long t-shirts to wear with leggings, these ideas will help you out: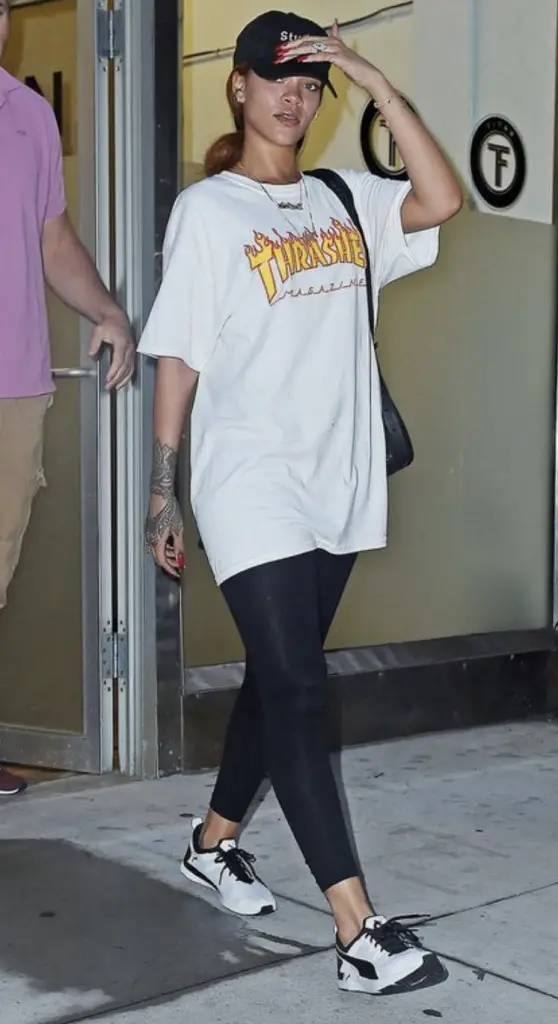 Whenever you feel like wearing something simple but cute, a legging and t-shirt combo will do the trick.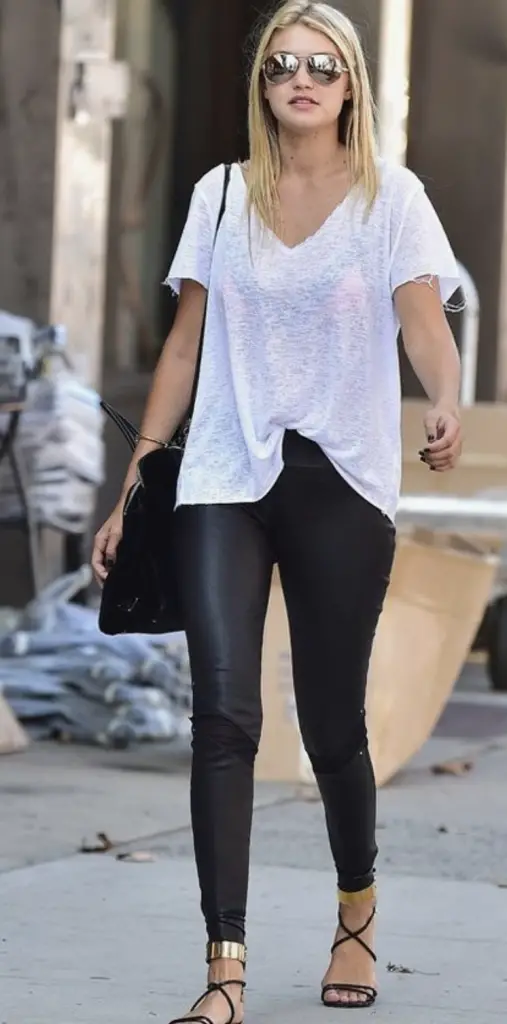 You can also half-tuck your t-shirt to variate your t-shirt and leggings style. Simple tuck your front side and let the rest cover your booty. If not, you can always tuck in the whole front: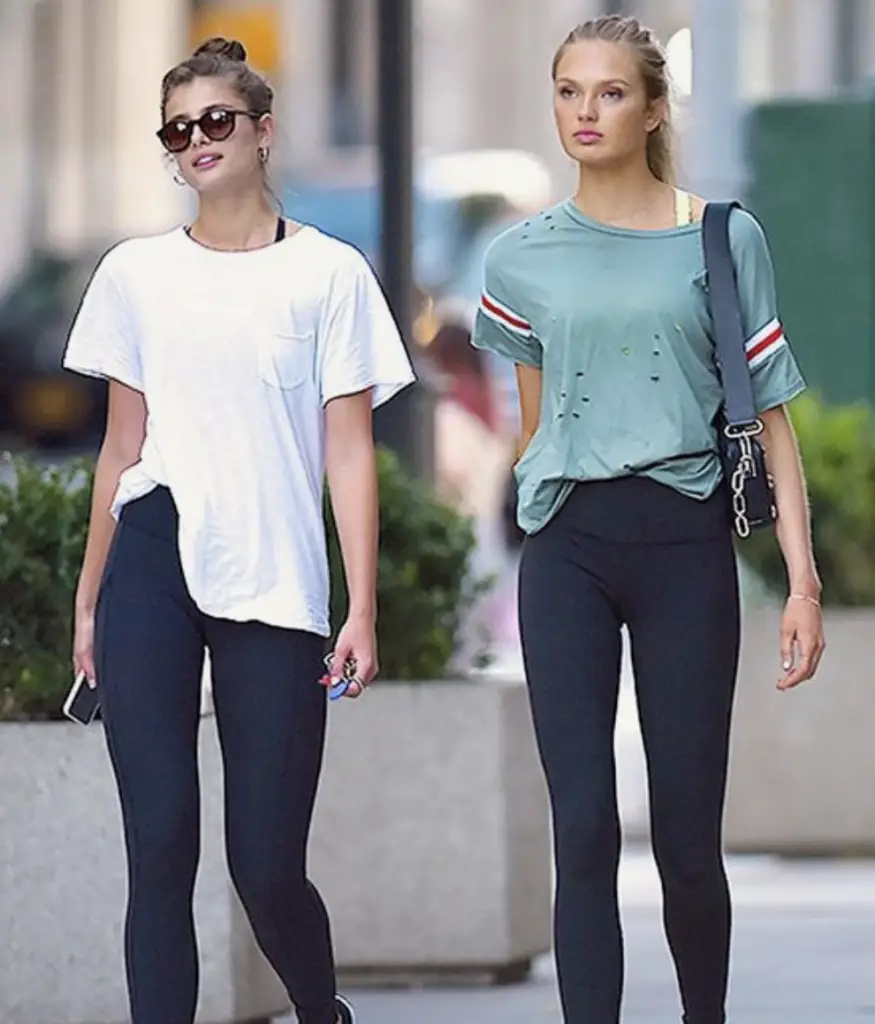 Untucked long t-shirts and leggings make up a great fall outfit. Pair ir with your favorite boots and you'll have a basic but cute legging outfit.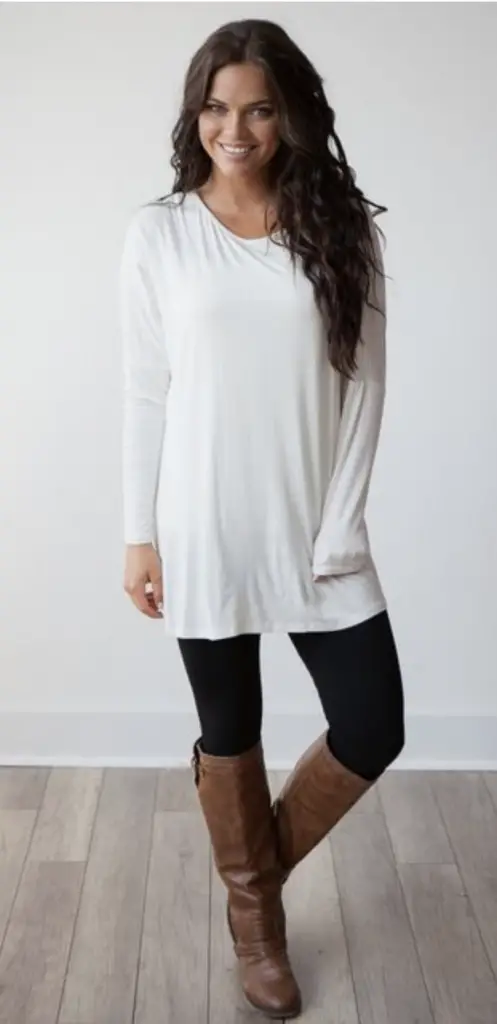 A long sweatshirt is another type of top that's perfect for a casual and laid-back weekend look. You can also wear this outfit for school, college, or for staying home taking care of your kids. It's cute, casual and comfortable: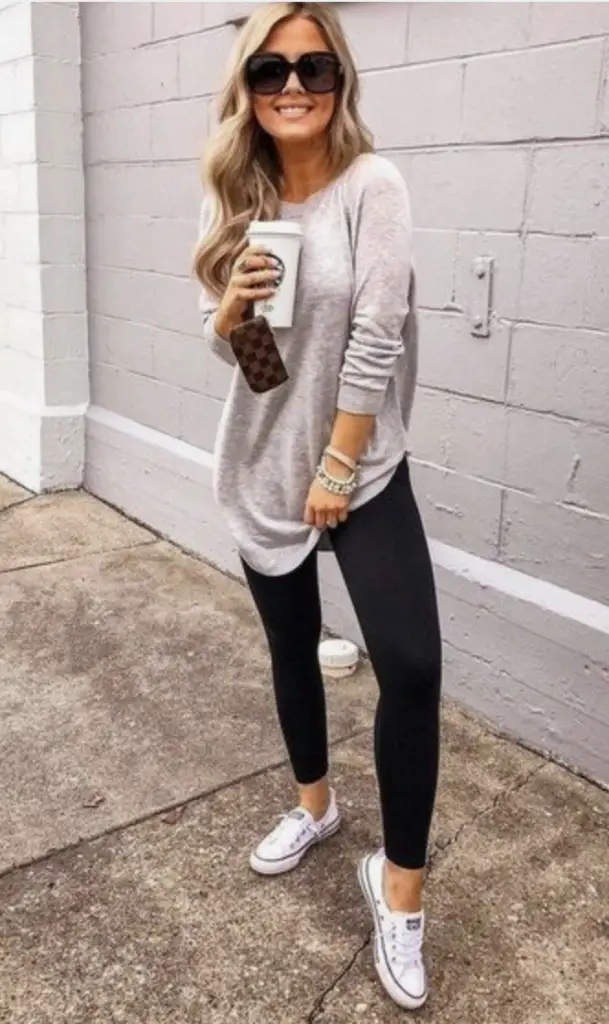 If your t-shirt isn't as long as you'd like, then pair it with a long cardigan or jacket to make sure you don't leave your booty exposed. This is a cute look you can try for the gym: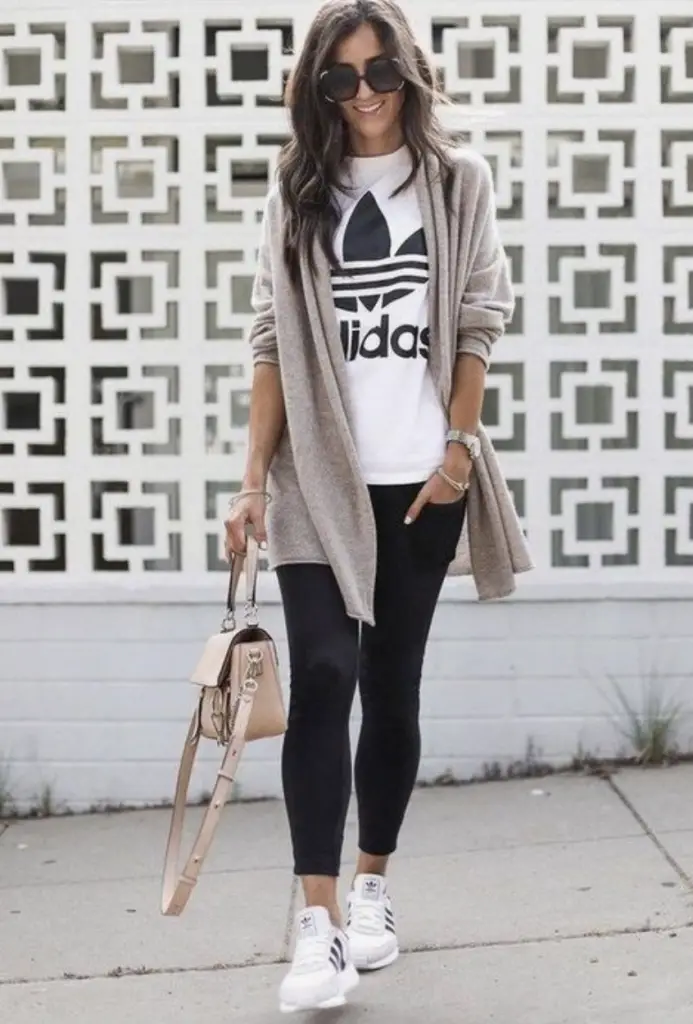 Remember that layering your outfit will always make it look more sophisticated. If you're traveling, nothing can beat a t-shirt and leggings outfit, especially if you add a cute jacket.
Comfortable, cute and easy! Just what everyone loves:
2. Oversized shirts with leggings
If you're looking for big t-shirts to wear with leggings and can't find one, then always remember to check your dad, boyfriend or brother's wardrobe for a t-shirt: it will be the perfect oversized top to wear with your leggings.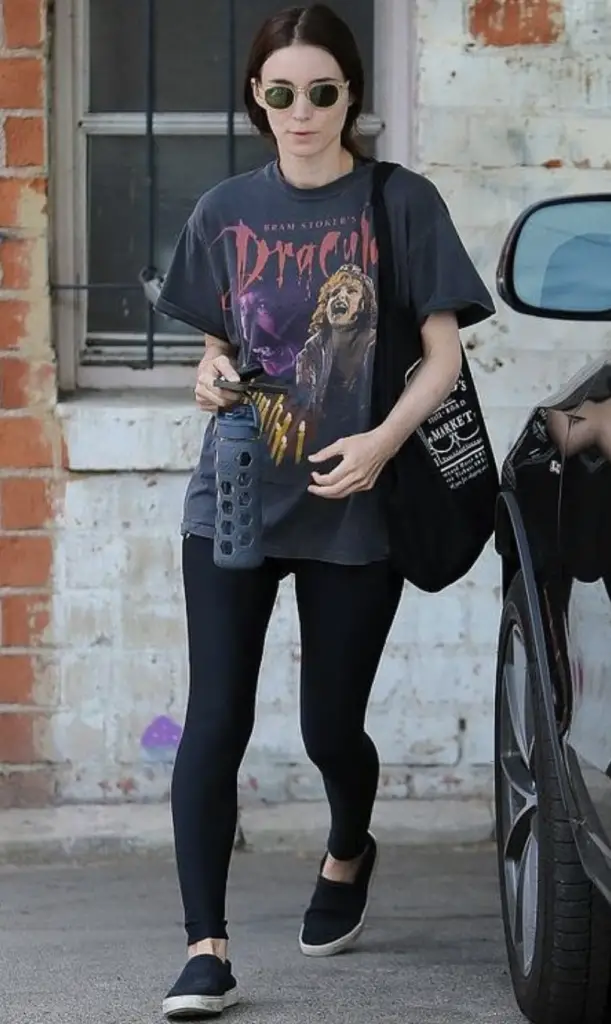 A long and oversized t-shirt will look super trendy with your black leggings. If you want to spice up your legging outfits, opting for a trendy top style is the best way of doing so.
An oversized t-shirt will definitely make you look much trendier than a simple good fitting t-shirt.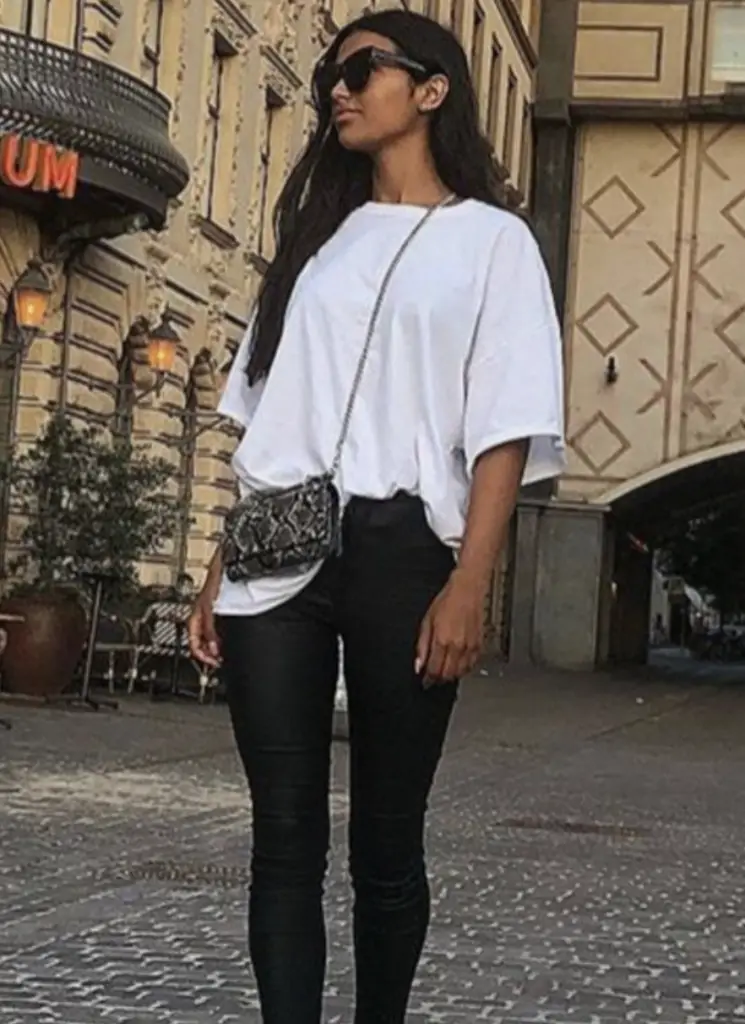 Oversized t-shirts are one of the biggest trends that have emerged in the last couple of years, becoming a must-have in your wardrobe, just like leggings.
If you have black leather leggings, try pairing them with an oversized graphic t-shirt for a cool and edgy night outlook.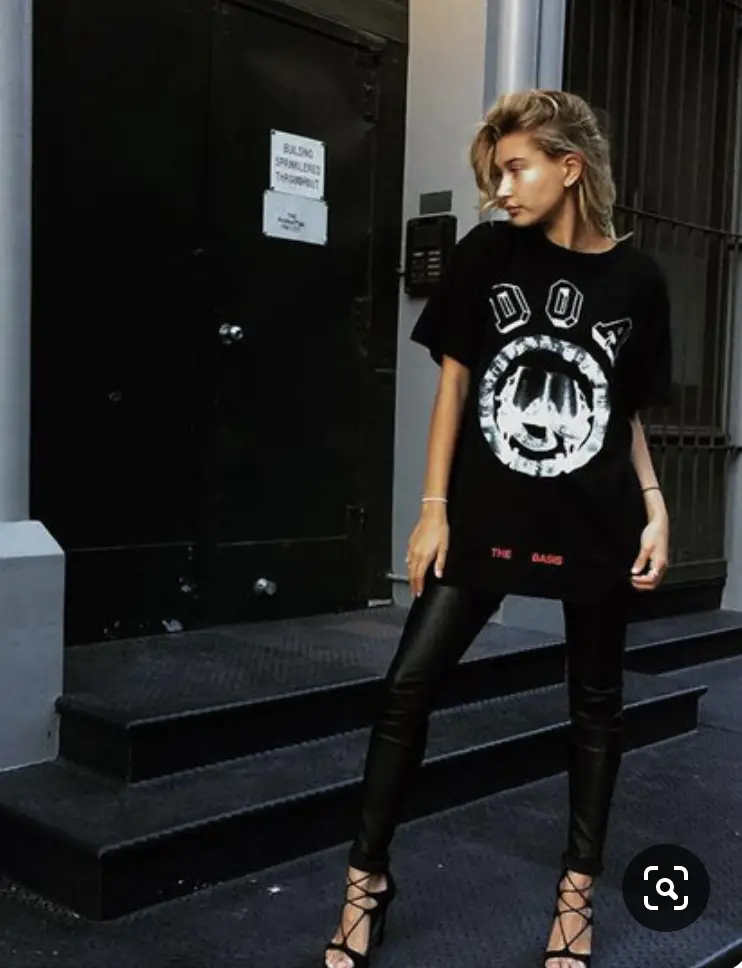 Workout leggings and long oversized sweatshirts are another gym look you can pull off for a casual weekend outfit. Since athleisure wear has become quite a thing among fashionistas, wearing your gym leggings is now an acceptable thing to do.
Make the most of the athleisure wear trend with your leggings, sweatshirt and sneakers:

An oversized t-shirt with short leggings (or biker shorts) is another way of spicing up your style. If you love trendy and bold looks, this is a combo you should definitely try for a casual look: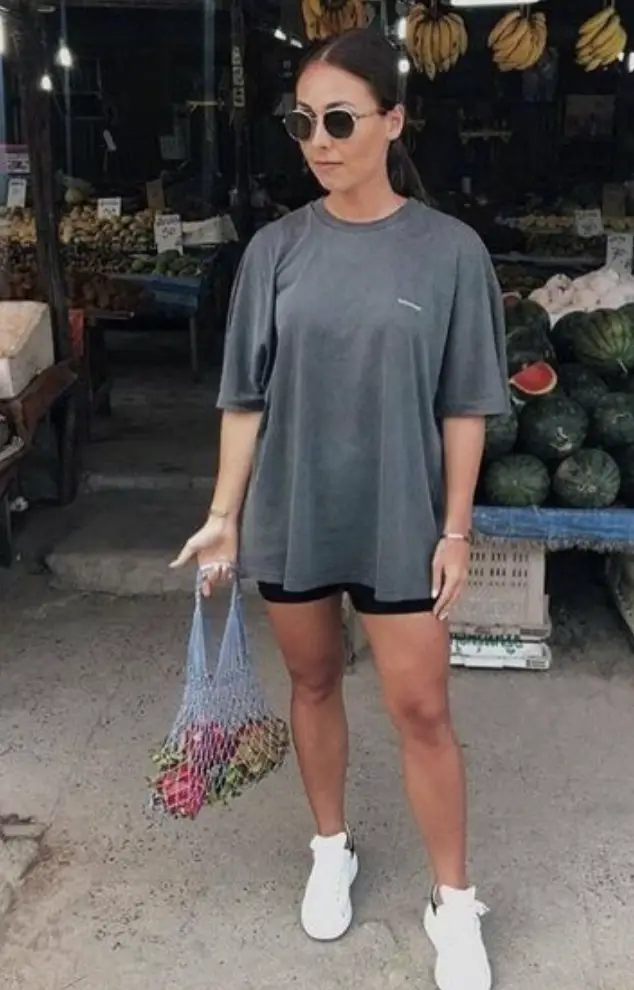 3. Jean jackets and leggings
If you can't find any cute shirts to wear with leggings, don't worry, a jean jacket will save your day.
Jean jackets, just like leggings, can be worn with absolutely anything. That's why including them in your everyday looks will always be a total YES.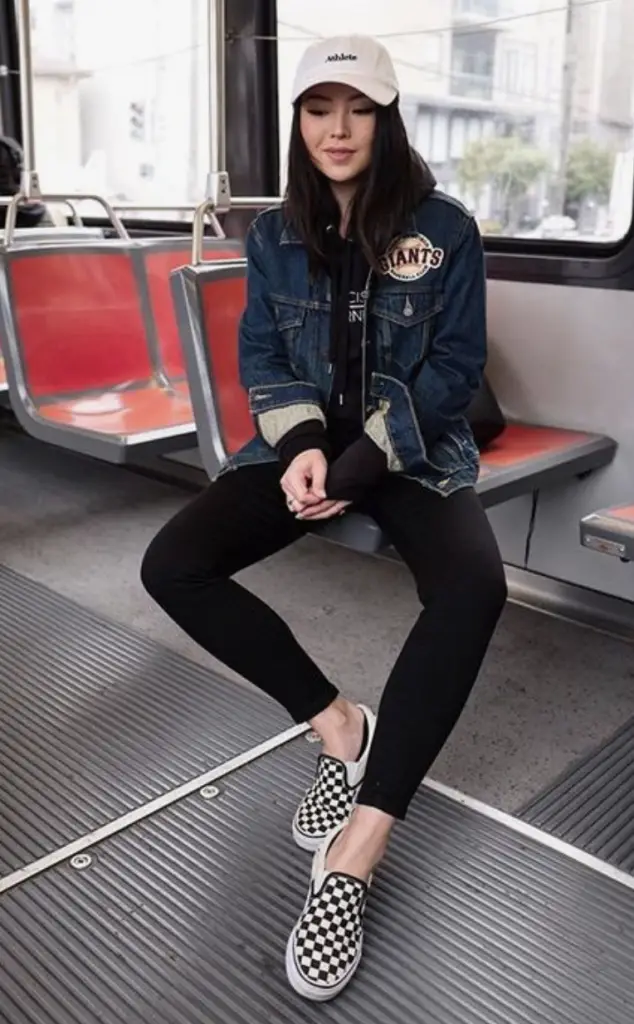 Jean jackets and leggings are the perfect combos for any casual occasion: from school to workout looks, this is a basic outfit anyone can wear.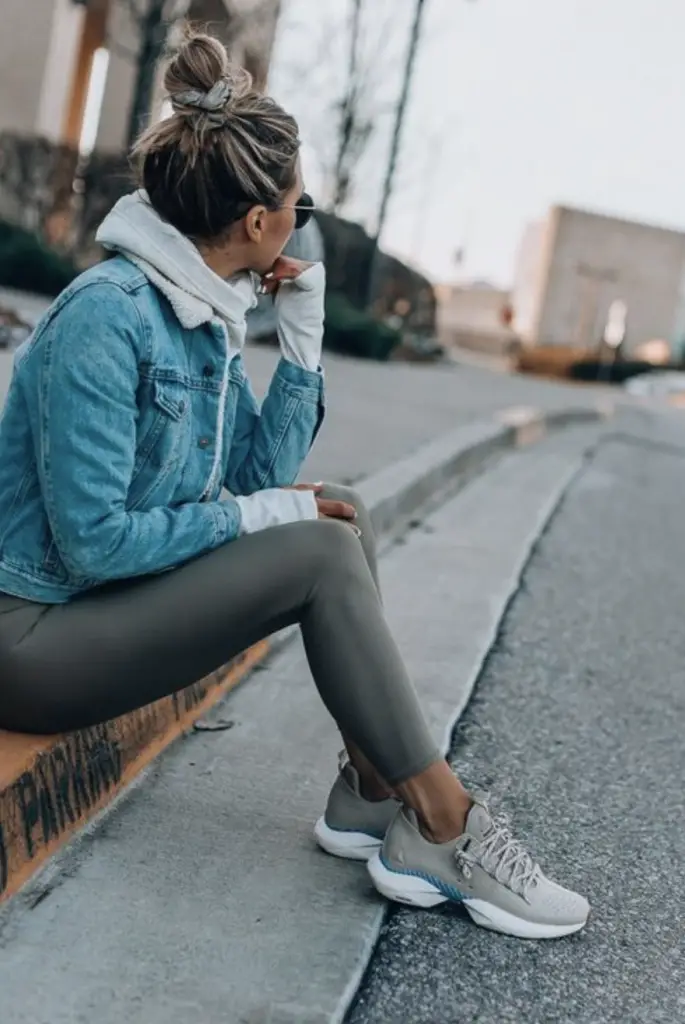 For a trendier look, an oversized denim jacket will do the trick. What I love about leggings is that they're like a white canvas you can do anything with.
A fitted jean jacket and leggings is perfect for a classic look, and an oversized one with the same leggings will instantly transform this look into a trendier and edgier one.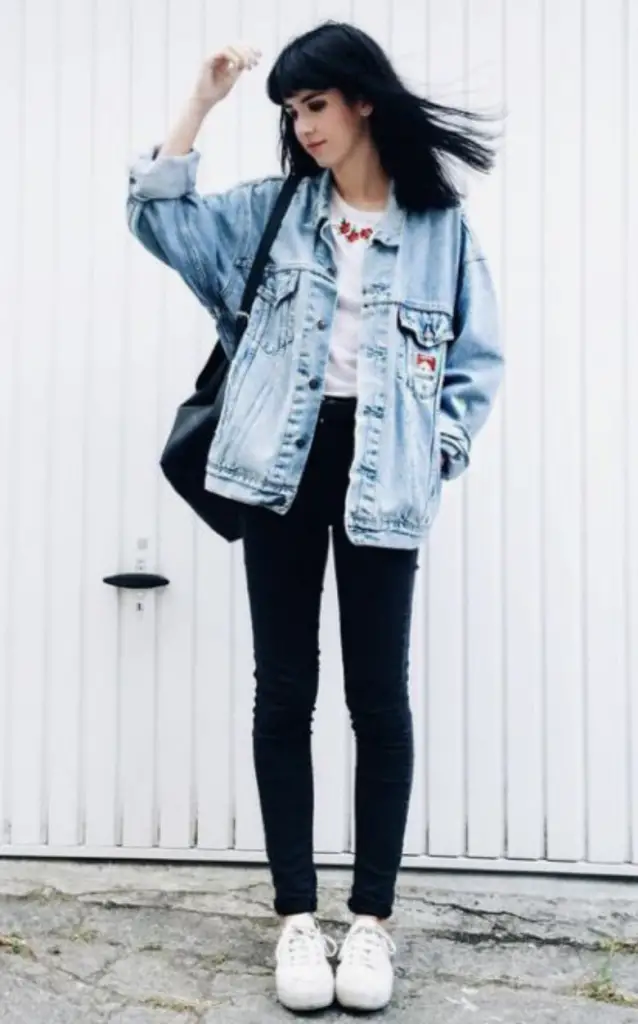 Black leather leggings and a denim jacket are the perfect combinations for a night out look. You can wear this outfit for a first-day look or for a fun club night with friends:
Denim jackets will always be the best compliment for your basic black leggings.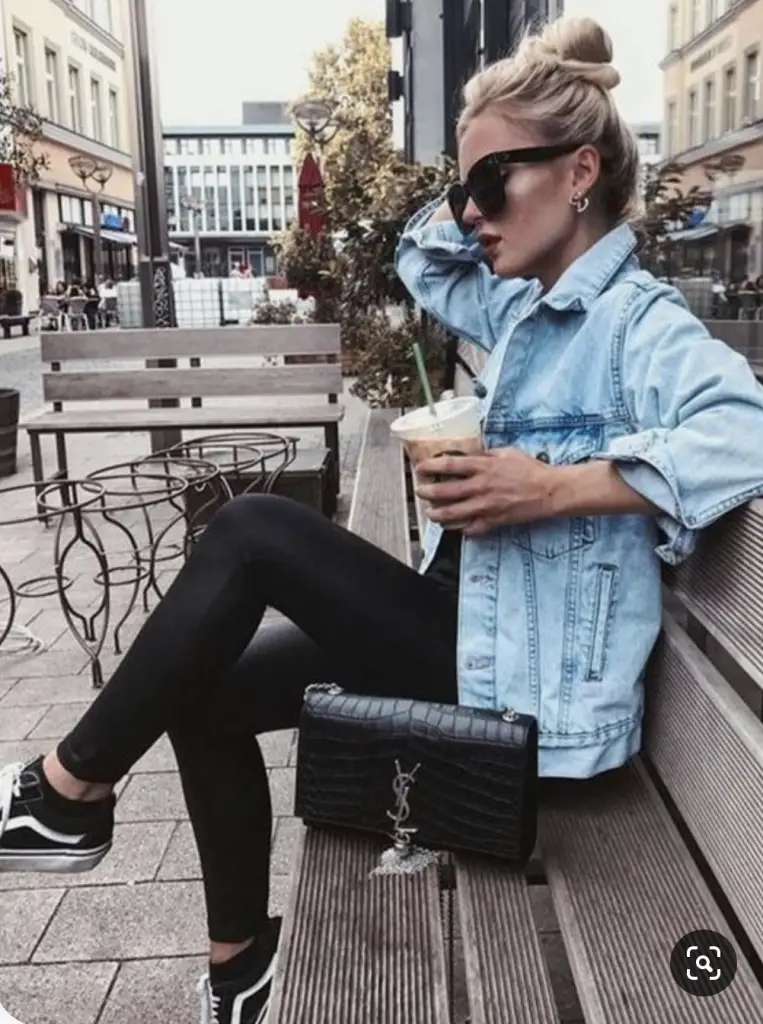 4. Leggings with sweaters
Leggings are the perfect bottom to wear for a cozy chilly day. But if you want to add an extra dose of comfort, a cardigan or sweater will do the trick.
Try wearing a comfy t-shirt and your favorite pullover sweater for a chic, easy and casual fall look, and finish your look with cool sunglasses and sneakers: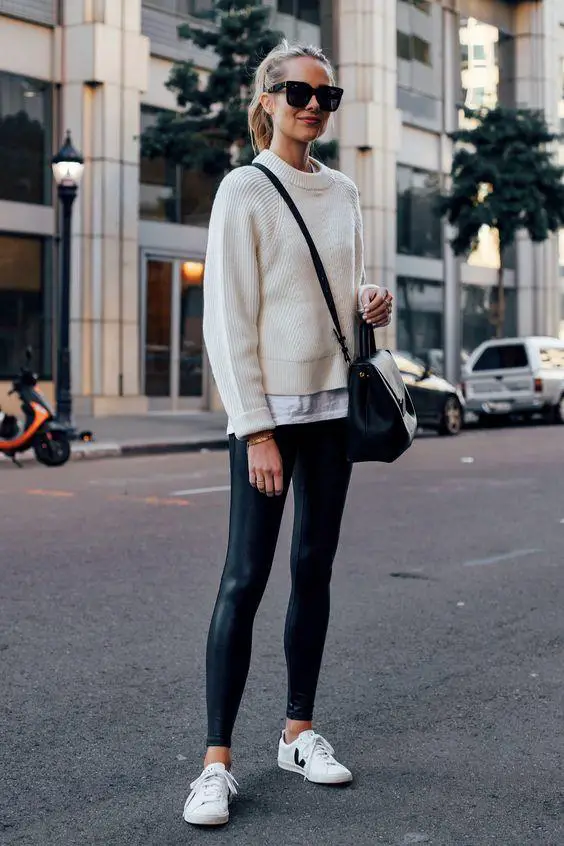 Leggings are perfect for complementing any statement top. A sophisticated and unique sweater will look best paired with a neutral bottom, and a black legging is just the definition of neutral.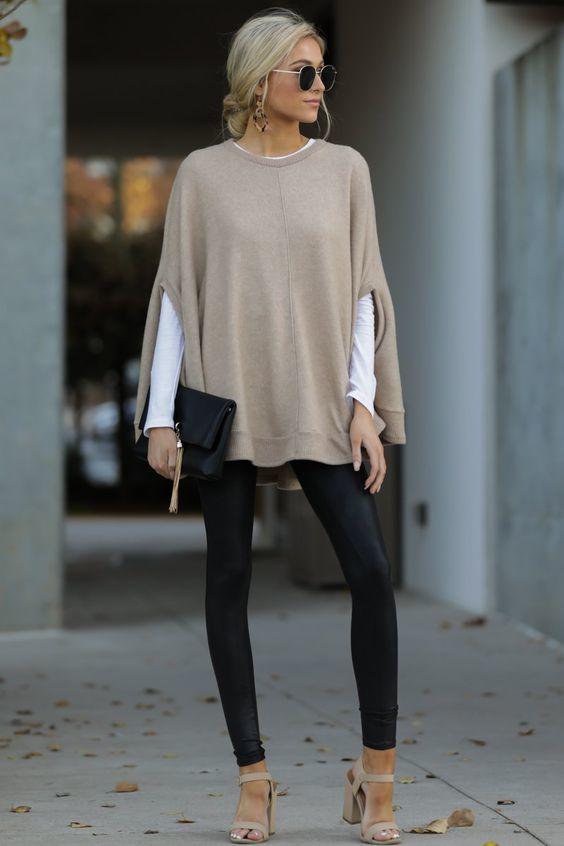 Black leather leggings are perfect for either casual or fancy occasions. Try wearing an all-black outfit with a pair of booties, black leather leggings and a simple black sweater.
This look is perfect for a date night, a semi-casual dinner or for a business casual attire.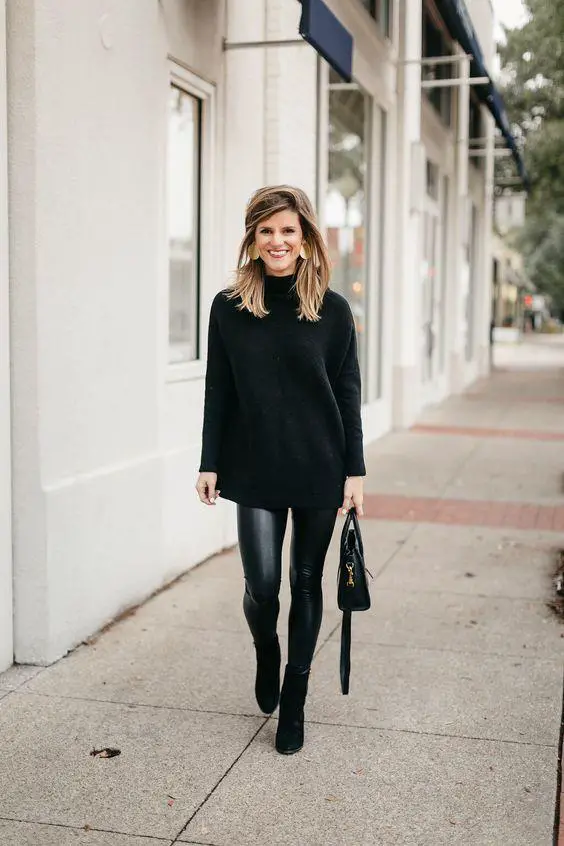 5. Leggings with button-up shirts
Button up shirts are usually long (right past the mid-hip) and that's why they're one of the best shirts for leggings. Both are also basic pieces, so it makes complete sense to pair them together.
The best part is that you also get to dress them up or down quite easily.
For a casual chic look, wear your leggings and button-up shirt with your favorite sandals and a statement accessory, such as a colorful handbag: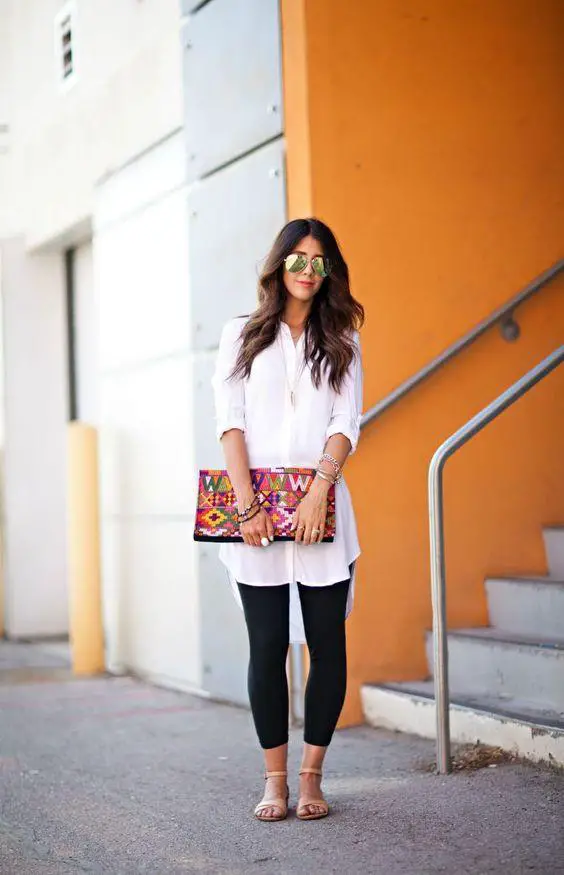 You can also wear an oversized or fitted shirt unbuttoned over a basic tank top. This is a cool and effortless casual look perfect for the weekend. All there's left to do is accessorize with anything you'd like: sandals, sneakers, booties, scarf, hat…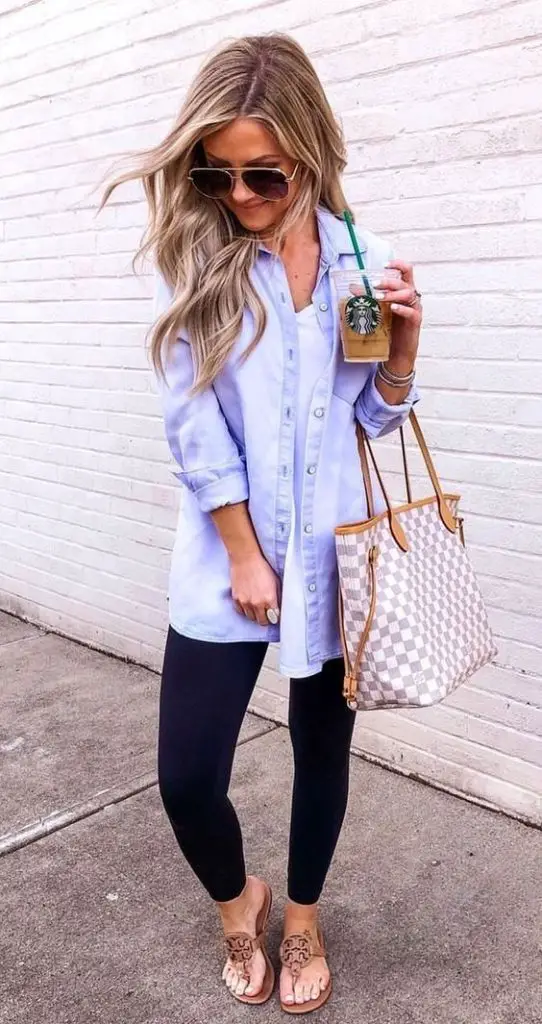 For a classic and minimalist look, opt for a crisp white shirt and your favorite leggings (leather is a great option) and finish your look with neutral color shoes. This can be a chic business look (with heels) or a casual but sophisticated look as well: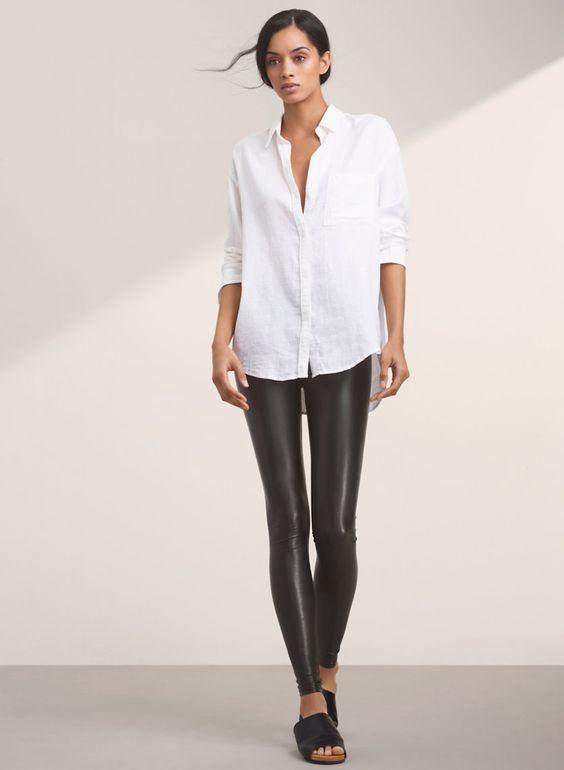 6. Leggings with crop tops
If you feel comfortable with tight clothes, then wearing a pair of leggings with a crop top is a great option for you.
Just make sure that your leggings are not see-through at all, and that your underwear is seamless. There's nothing worse than getting a full view of someone's underwear.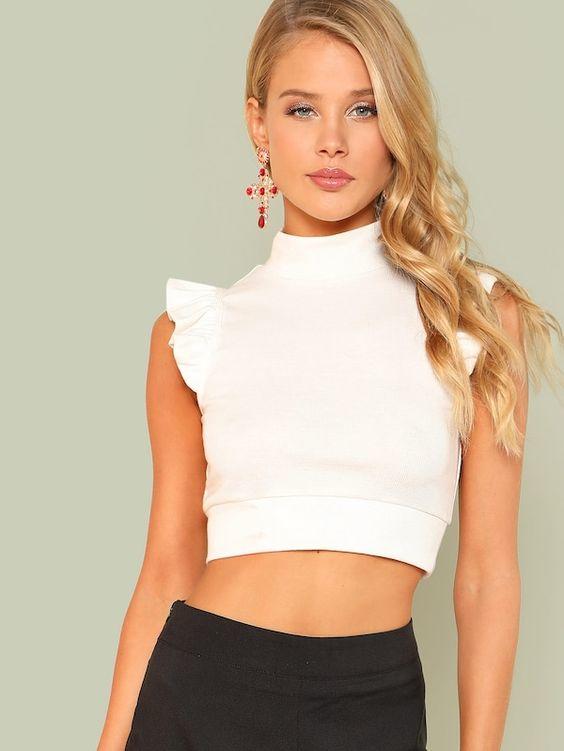 A crop top and leggings is the perfect combo for a club outfit. You can add sequins, metallics, leather, velvet… anything that makes you look like you're ready to party.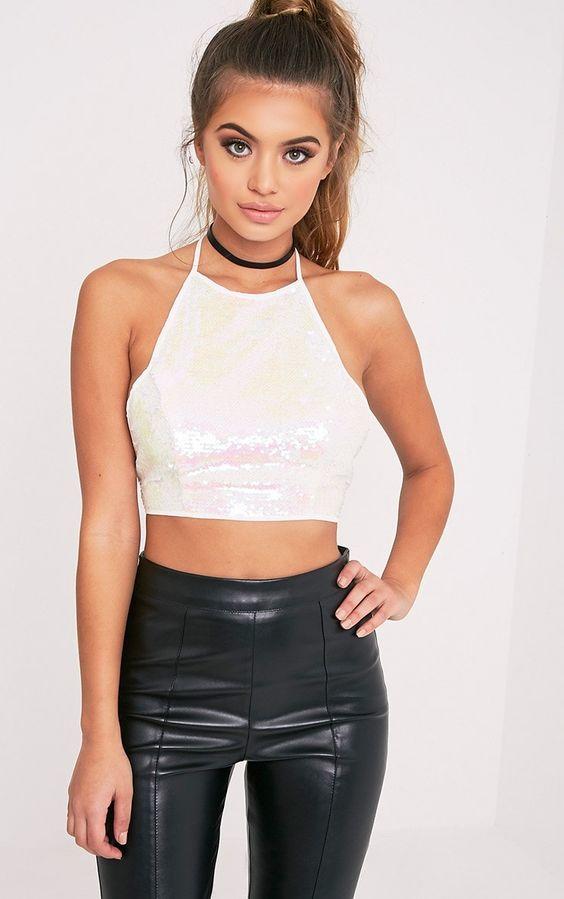 Crop tops are not only for partying. You can perfectly wear a crop top and leggings look for a casual lunch with friends by adding a jacket, blazer, cardigan, or any layer that you'd like.
This is an example of a stylish, simple and modern leggings outfit: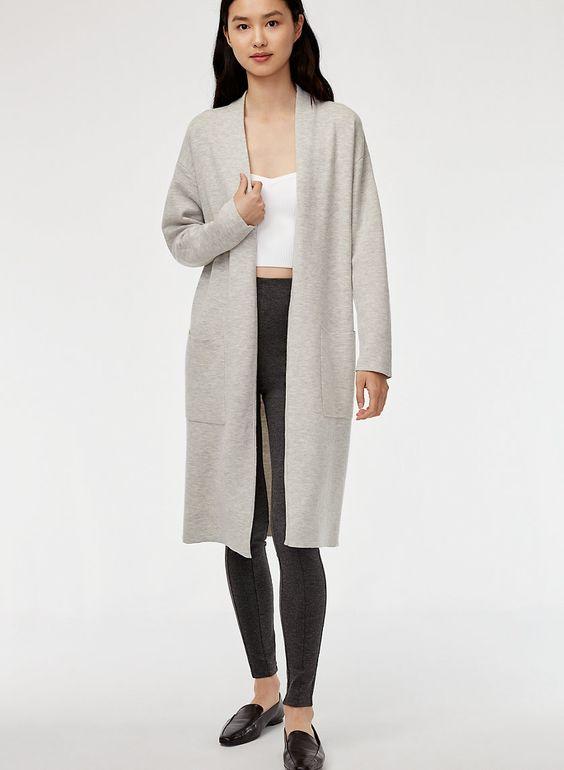 Crop tops are great with leggings because these are usually high waisted, so you don't have to worry about showing off your lower belly. What's more, if they're good quality, your tummy will be comfortably tucked in, making you look slimmer.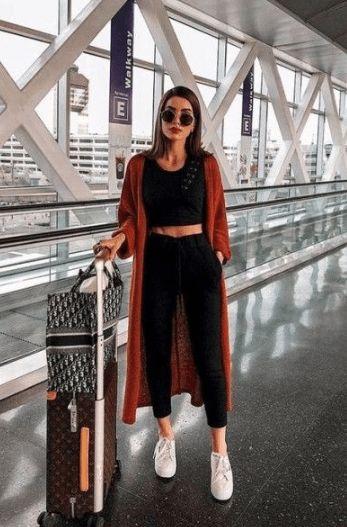 Last but not least, an athleisure wear inspired look will always be a total YES. Wear a cropped t-shirt with your favorite pair of leggings and sneakers for a cool and casual look: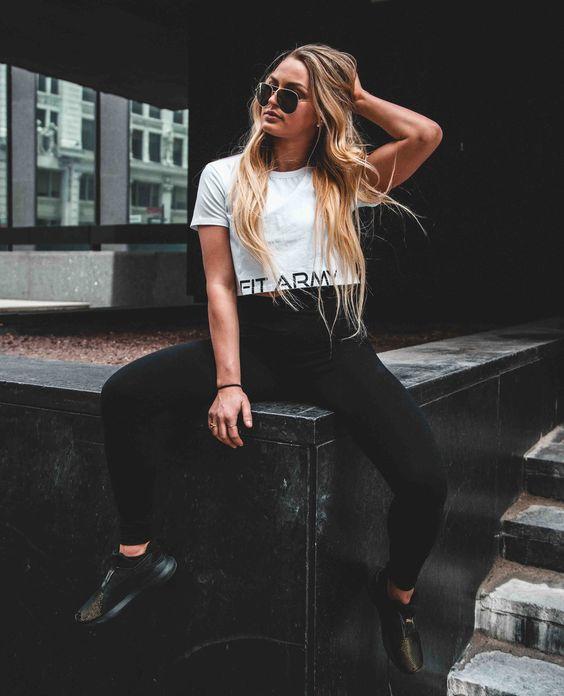 Wrap up:
Leggings are a staple piece you can't miss in your wardrobe. Whether it's summer or winter, they will always have your back and will let you have fun with different types of outfits.
The best part about leggings is that they're the literal definition of basic and versatile. Not even jeans are as versatile as they are, because you can get to wear your leggings for the most casual outfit or for a fancy date night with your other half. Jeans can't!
I hope this article on what shirts to wear with leggings will help you spice up your casual and formal style.