Complement your outfit with the right shoes
Shoes are usually left out when people plan their outfits, but the importance of making a complete fashion statement from head to toes is what you should always aim for. Wearing the right pair of shoes will complement your outfit in a way no other accessory will ever do.
Even if you think of shoes for long dresses, you shouldn't fall into the trap of "no one will see my feet", because people will definitely see them. When you walk or sit with your legs crossed or stand leaning on one leg, your feet are exposed and therefore, looked at.
So when it comes to long dresses, your pair of shoes should be picked with the utmost care.
The problem is that sometimes we might find it tricky when we think of flattering shoes that complement our long dress. Should they be high heels or flats? Sandals or boots? Do long dresses look good with sneakers? Are wedges a good option for long dresses?
What shoes to wear with a long dress
Long dresses or maxi length dresses are super comfortable and chic, and so should be your shoes. I'll guide you through the chicest shoe styles for long dresses, giving you plenty of inspiration for your next long dress outfit.
1. Sneakers
Let's start with the most casual type of shoe: a pair of sneakers. Consider yourself lucky, as nowadays you can find endless sneaker style options, making it easier to find the one that best fits your personality or lifestyle.
The best pair of sneaker shoes for long dresses are:
White sneakers
You can never go wrong with a pair of white sneakers! An absolute must-have that's perfect as a casual long dress shoe option.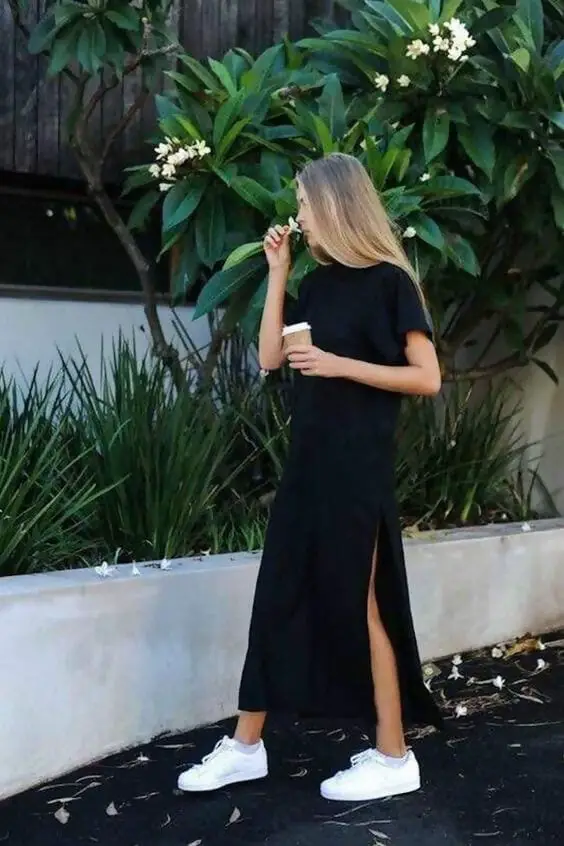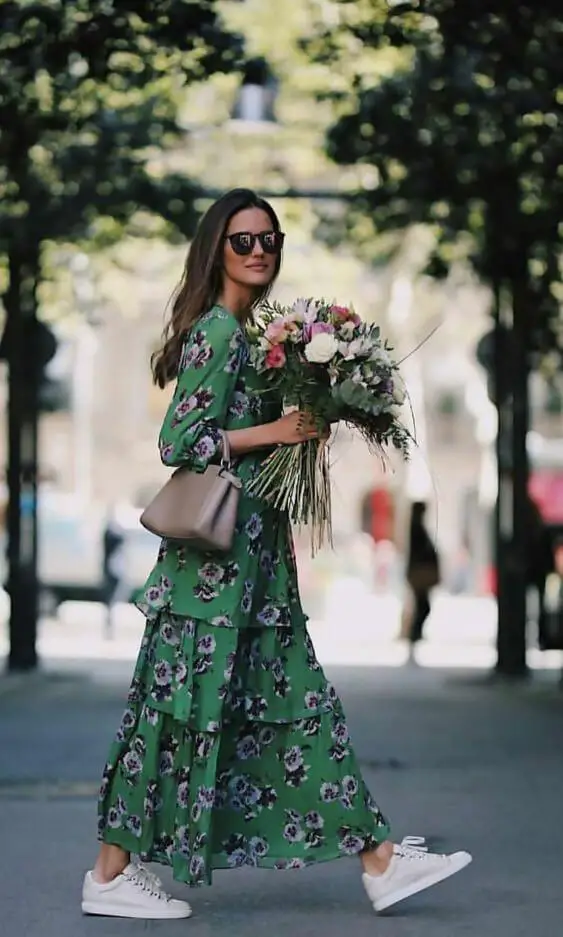 Shop white sneakers:
White platform sneakers, especially jute platforms, are a super chic way of styling your long dresses: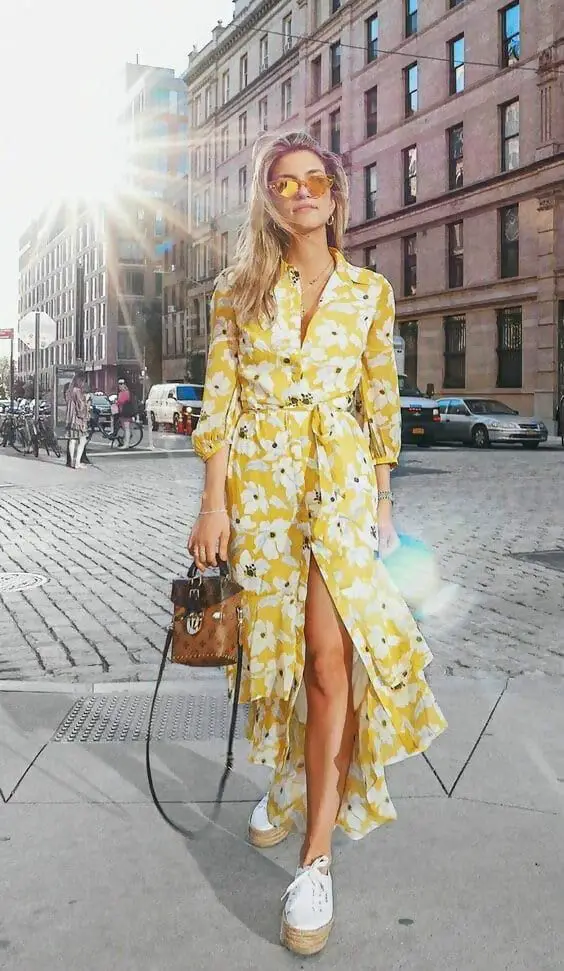 Shop jute platform sneaker:
Black sneakers also look great with maxi dresses, as they add an edgy and cool vibe to your outfit: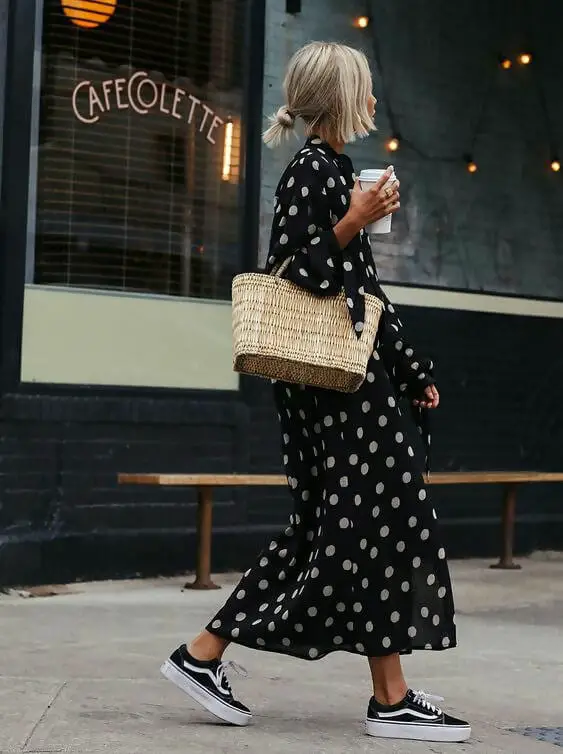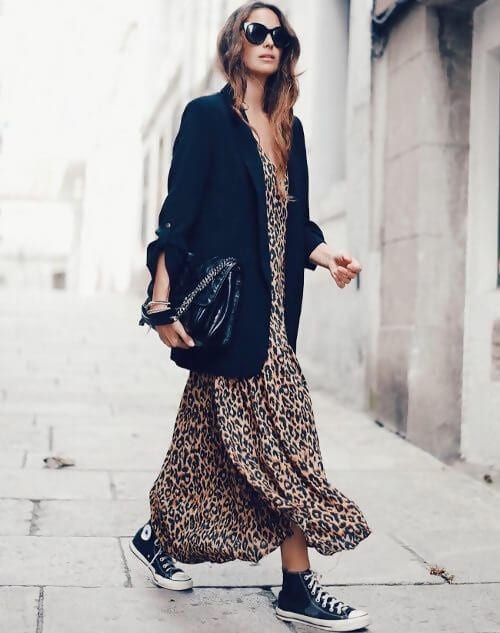 Shop black sneakers:
For fun and bold look, long dress shoes can also be colorful. I love how cool Adidas' Gazelle style looks paired with maxi dresses: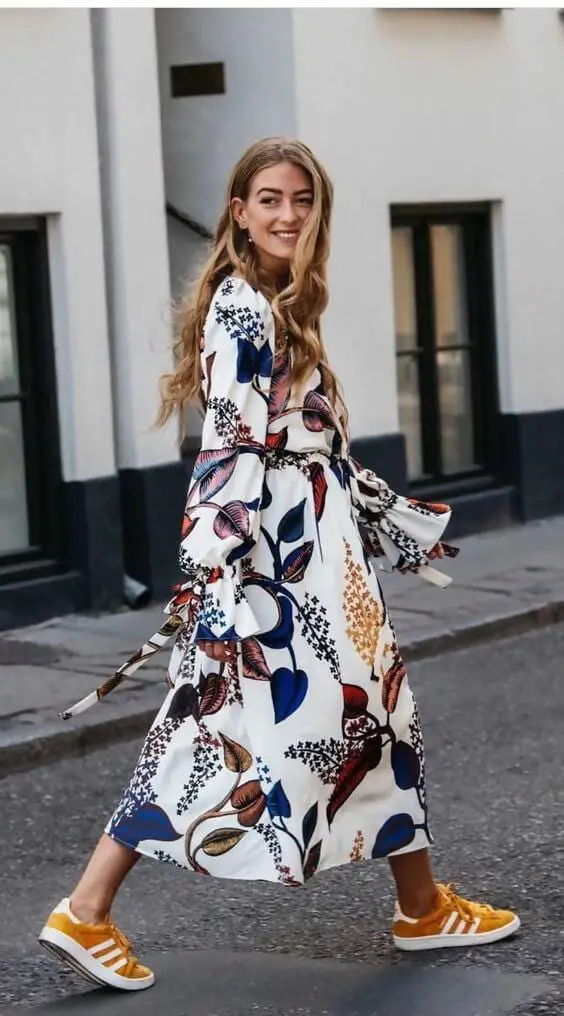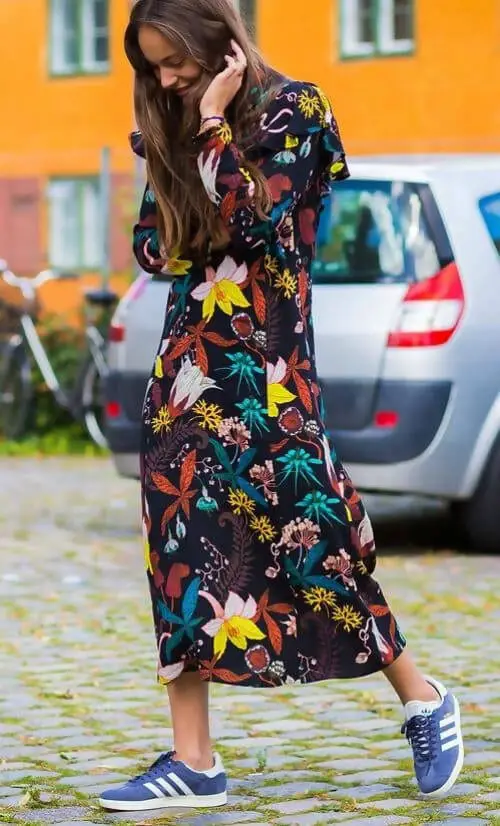 Shop Adidas Gazelle sneakers:
Dad sneakers are the definition of a millennial style, and even if some people might hate them, we can't deny they look super chic with long dresses: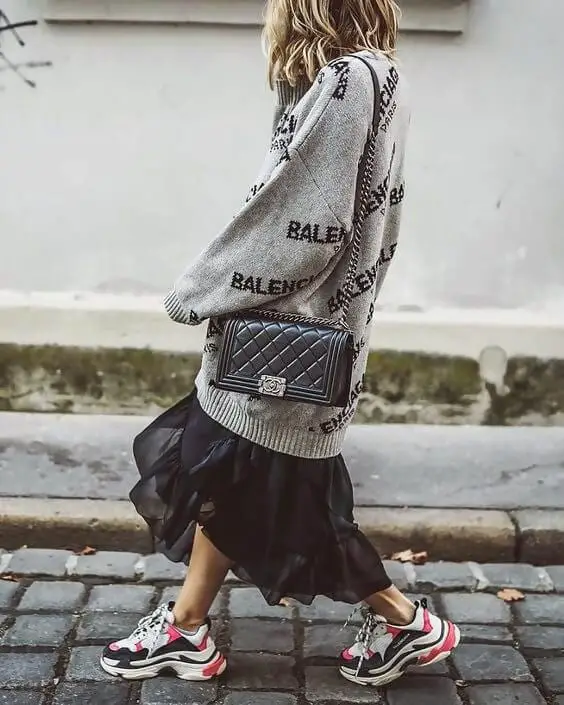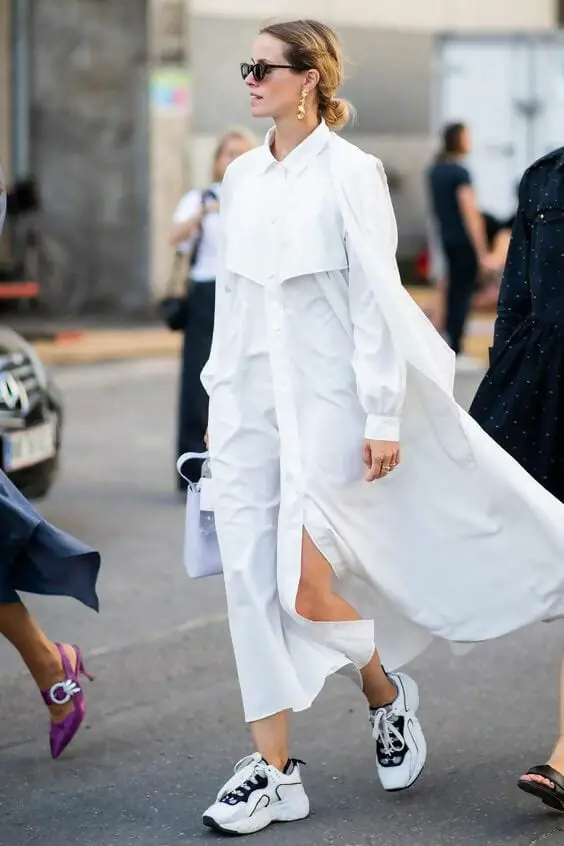 Shop dad sneakers:
2. Sandals
Apart from sneakers, sandals are the ultimate casual wear shoe for long dresses. They're the perfect option for sunny and summery days, as well as for your perfect Instagram pictures.
If you're planning your summer vacation outfits, I'd say opt for flat sandals. Remember that you will be wandering through your destination's cute streets, and your feet will definitely thank your pair of comfortable sandals.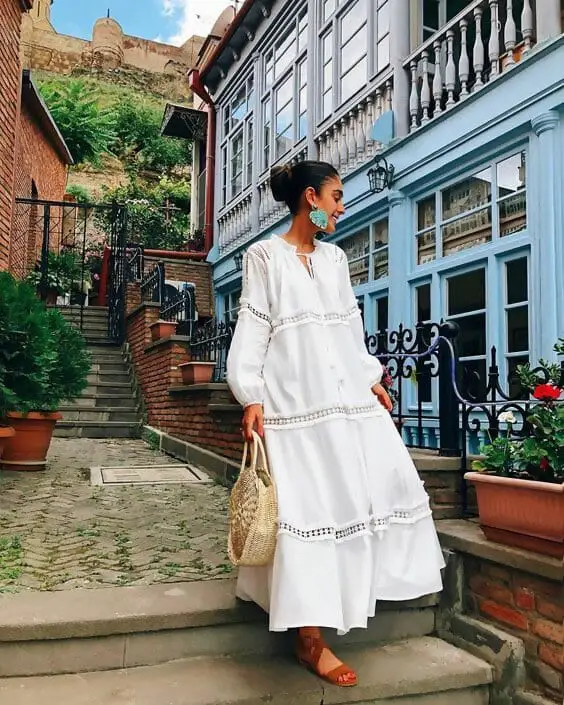 Sandals look absolutely great with any kind of long dress, such as a clean and solid one: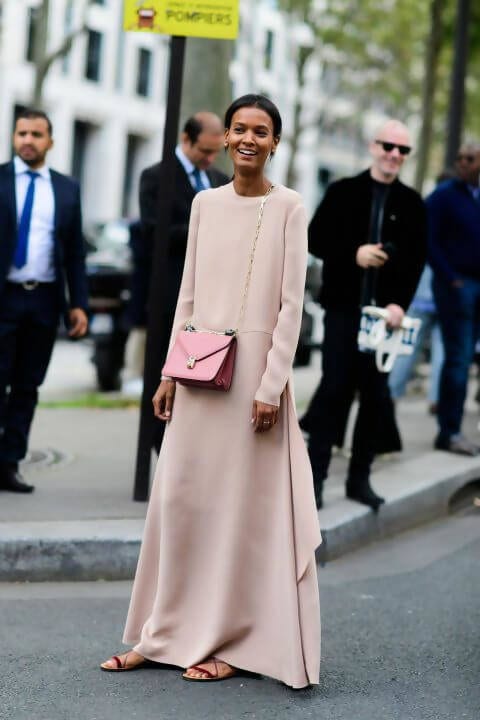 Or an all-over printed long dress: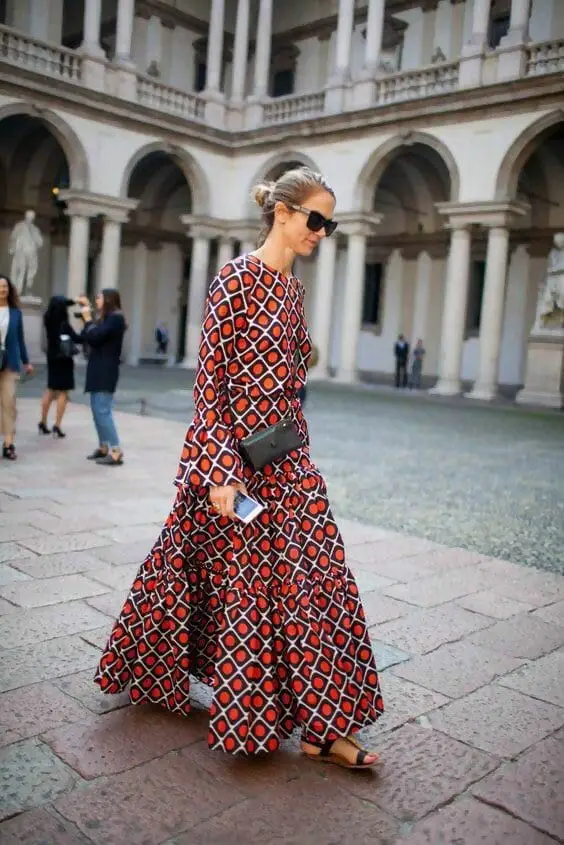 Shop sandals for long dresses
---
Click the picture to buy
3. Platform wedges
Platform wedges are probably one of my favorite type of shoes, because they are super comfortable but flatter anyone by adding some extra inches. Plus, they're very feminine and also a great long dress shoe option.
AS you can see, they're perfect for a girly look: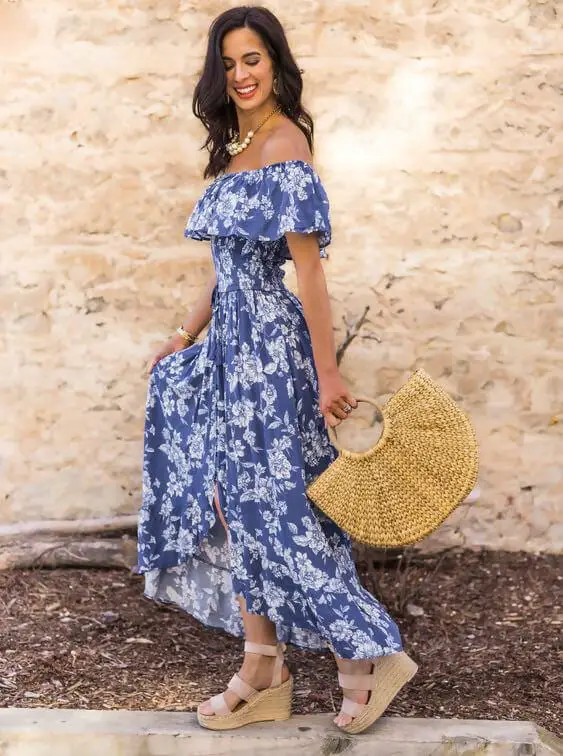 Or for a trip to the country side: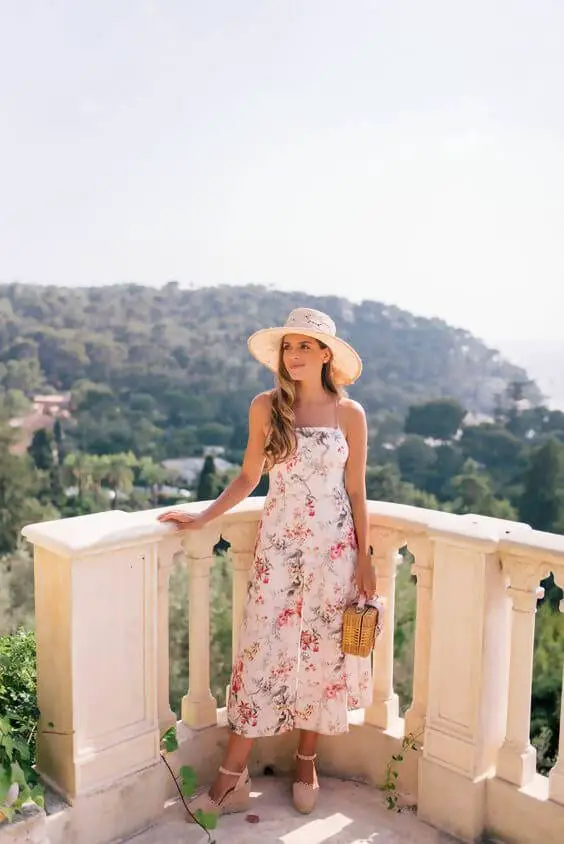 They're also a perfect option for someone who wants to rock a boho chic outfit. Opt for lace up platform wedges for this kind of style: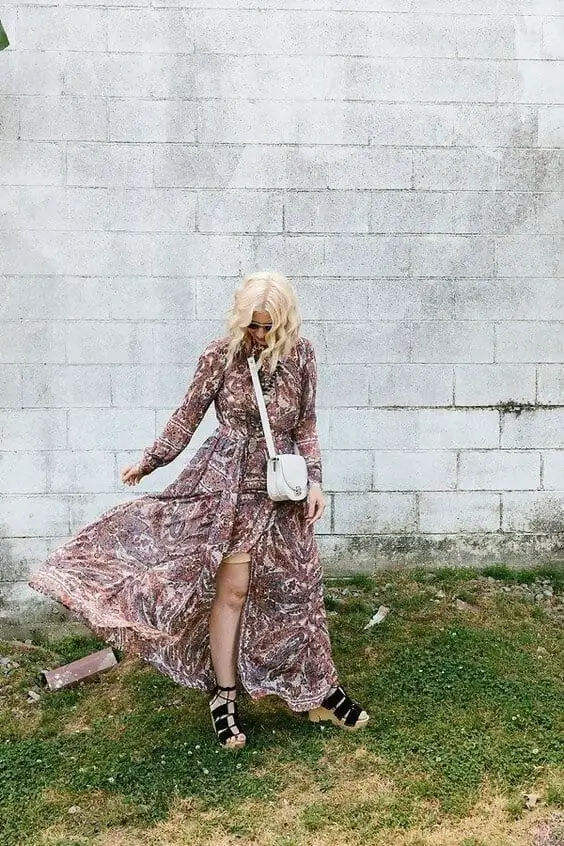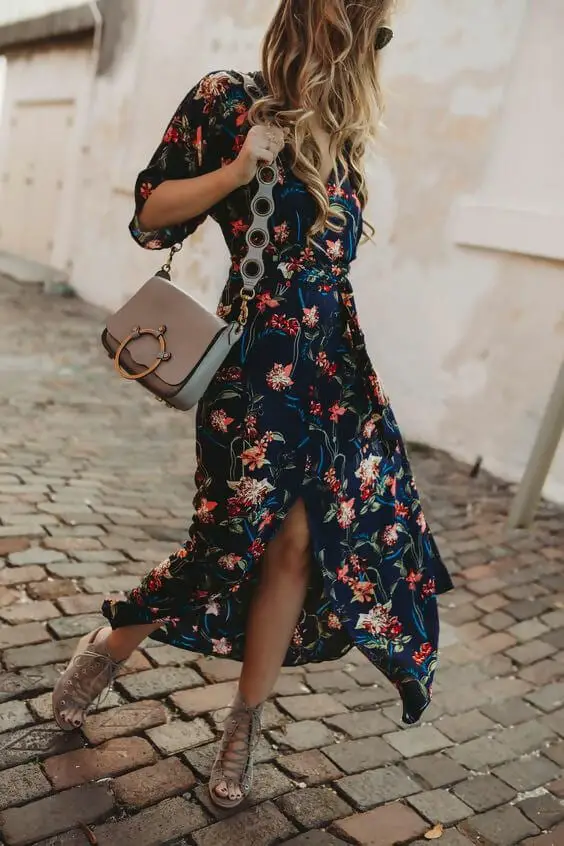 Shop platform wedges for long dresses
---
Click the picture to buy
4. Loafers
A perfect shoe option for your long dress is a pair of loafers, because they're very modern and chic, AND every fashionista wears them.
A studded pair of loafers will make you look super cool: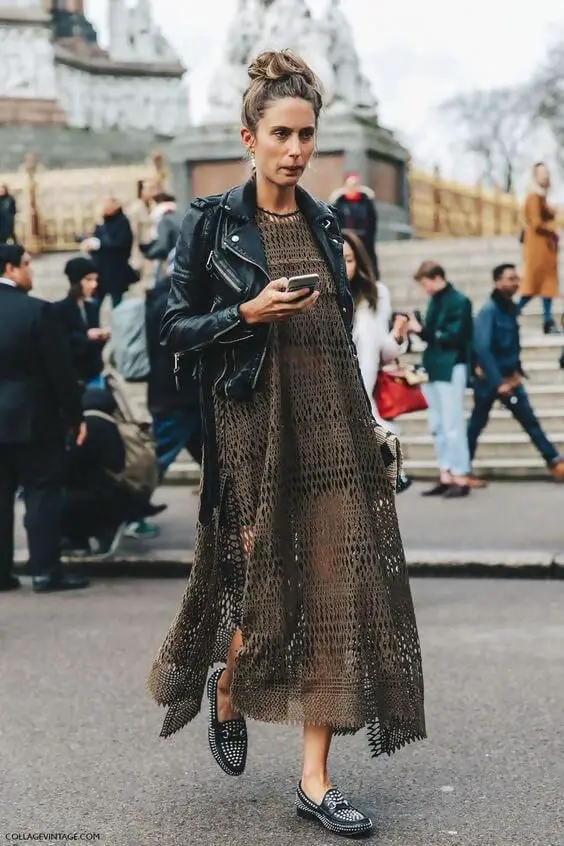 A regular pair of black loafers are perfect if you already have a head-turner dress: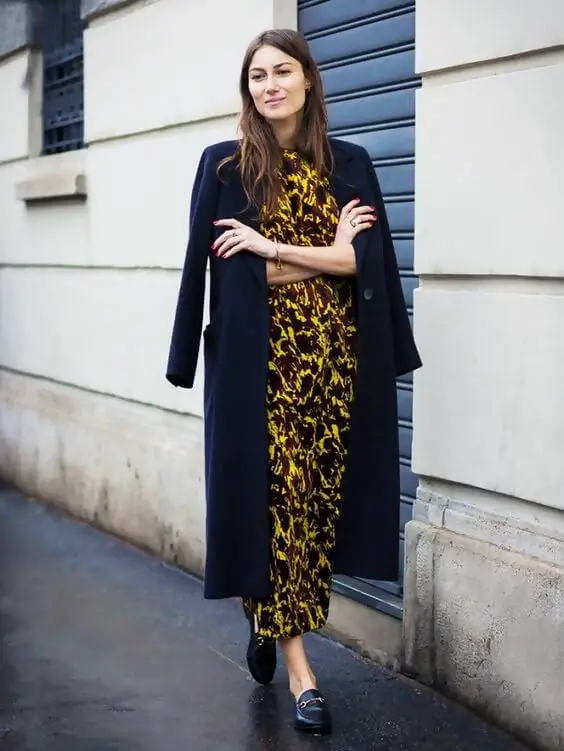 Take your long dress shoes to the next level by wearing a pair of socks: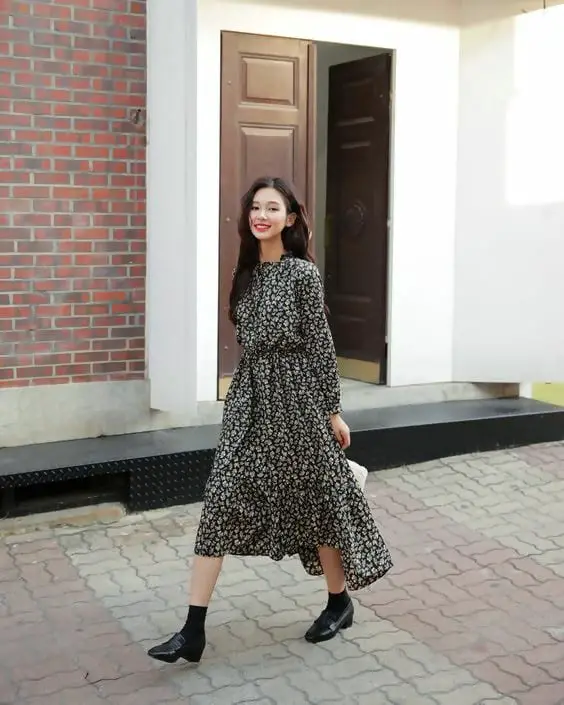 Shop loafers for long dresses
---
Click the picture to buy
5. Mules
Mules are another shoe style that has gone viral after Gucci's iconic black mules. Definitely my favorite type of shoes for long dresses.
Black mules will be the most versatile shoes you'll own this year, and why not wear them with your maxi dress?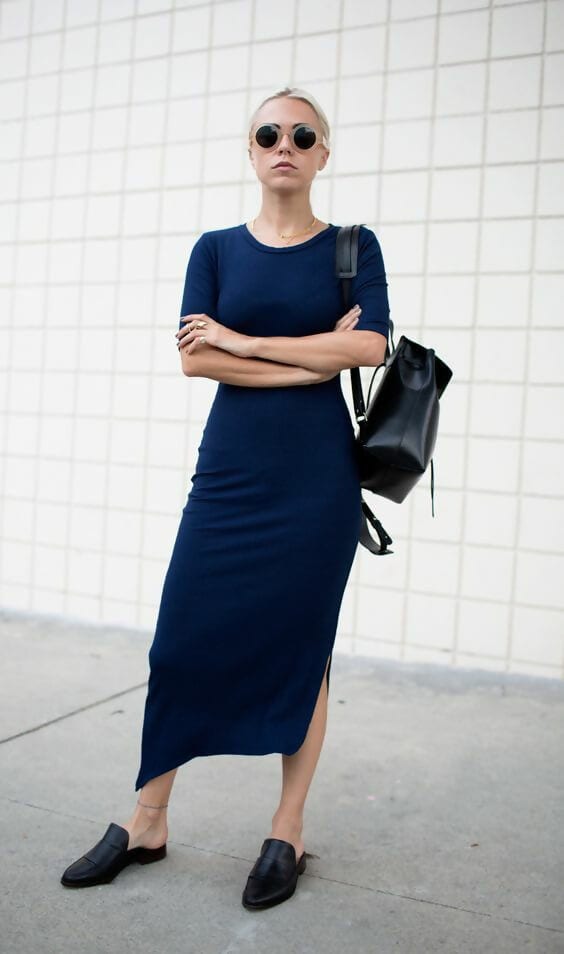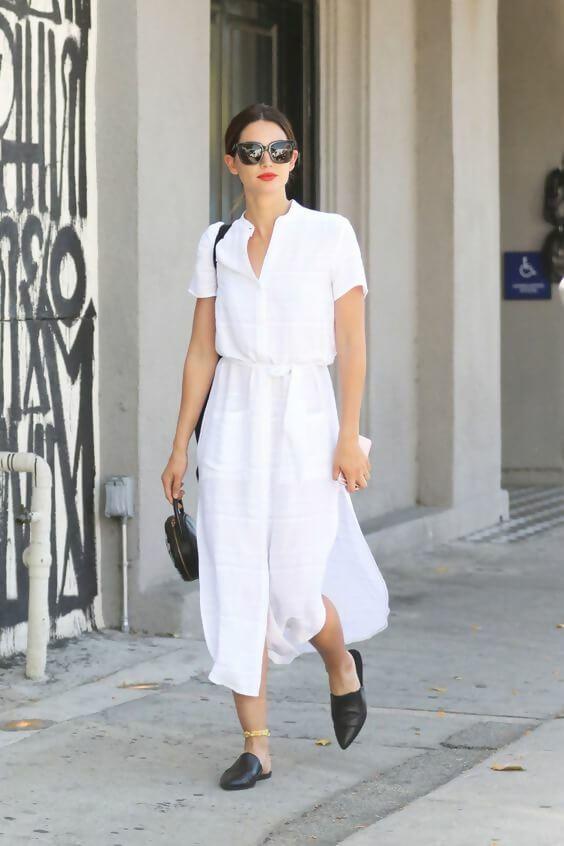 Nude mules are also a great option:
You can also opt for colorful mules for a fun and stylish look: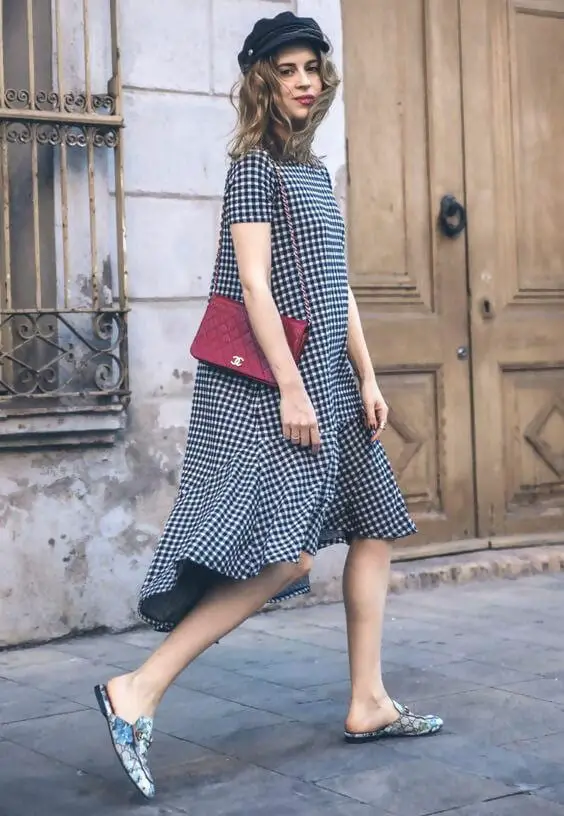 Opt for a golden or silver pair of mules for an extra dose of chicness: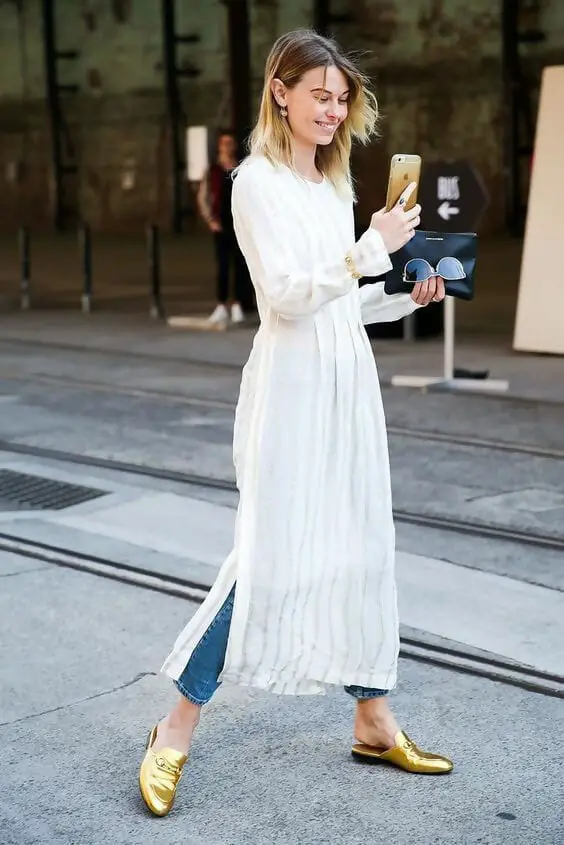 Heeled mules are absolutely fashionable shoes for long dresses, and will look great for a work attire outfit: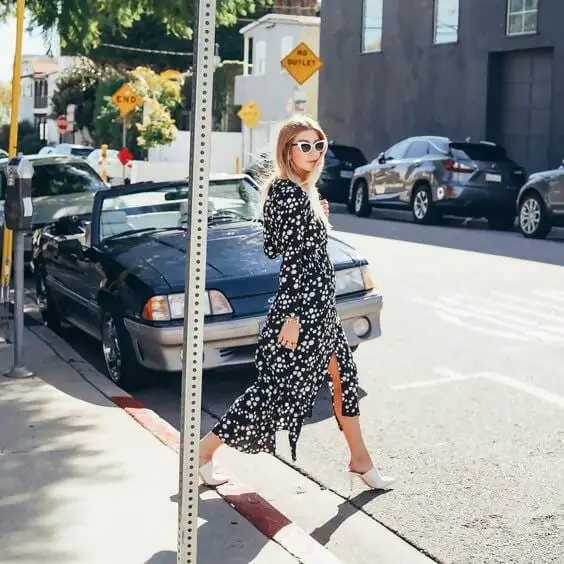 They can also complement your boho outfit: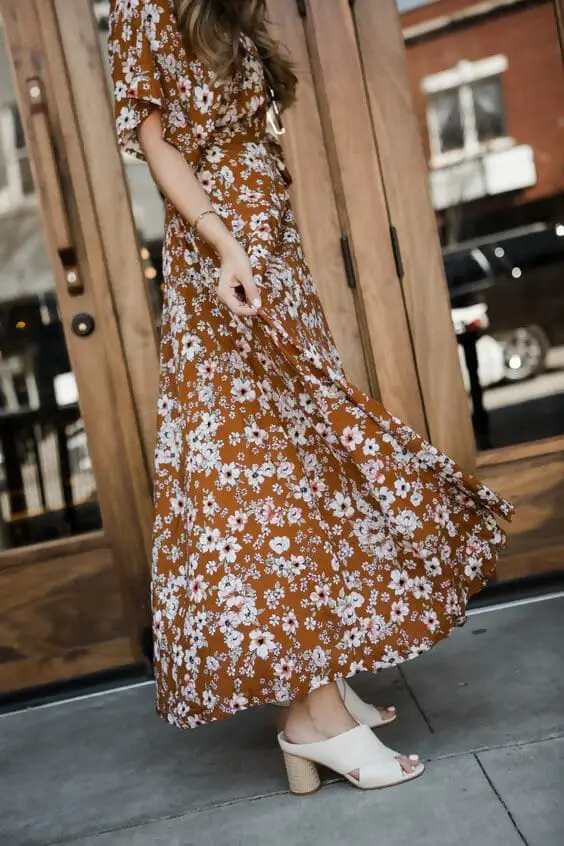 Opt for a pair of modern low heel mules for a fashion pro look: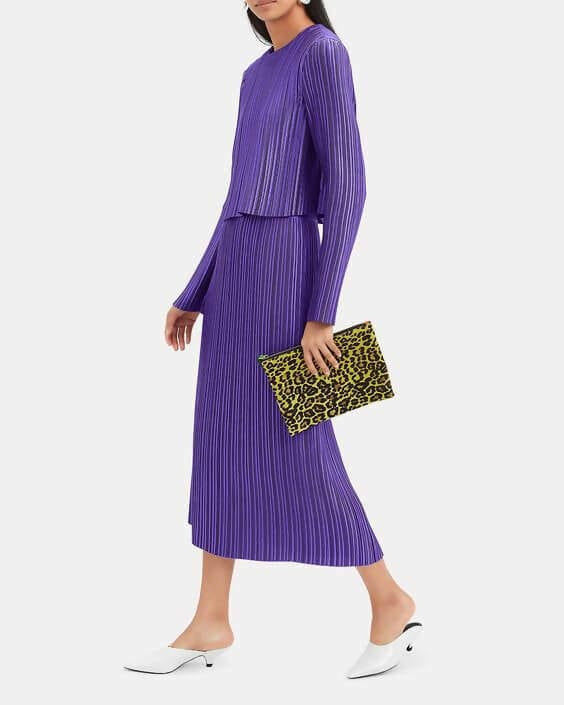 Shop mules:
6. High heels
High heels are a must-have item for any fashion lover, there's no secret in that. But the best characteristic of these shoes are how chic and flattering they are, no matter the outfit.
And that's why they can't be ignored when talking about what shoes to wear with long dresses.
Sandals
High heel sandals are perfect for dressing up your long dress, especially when you're heading to a formal event: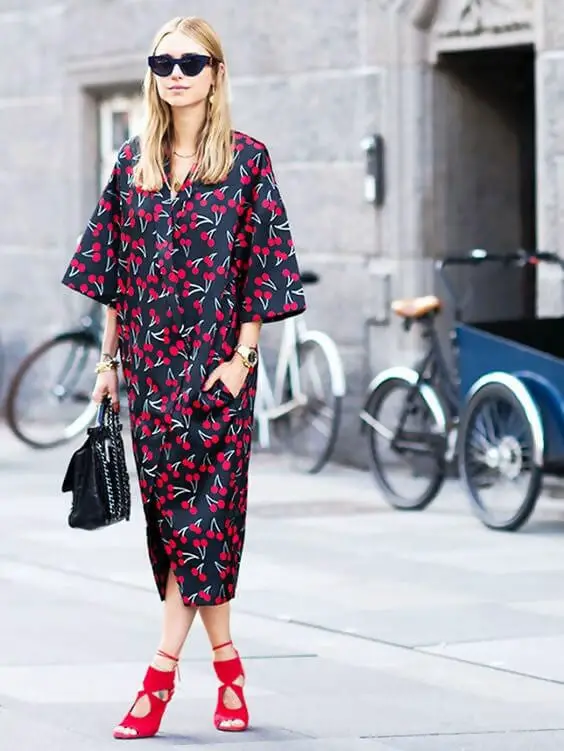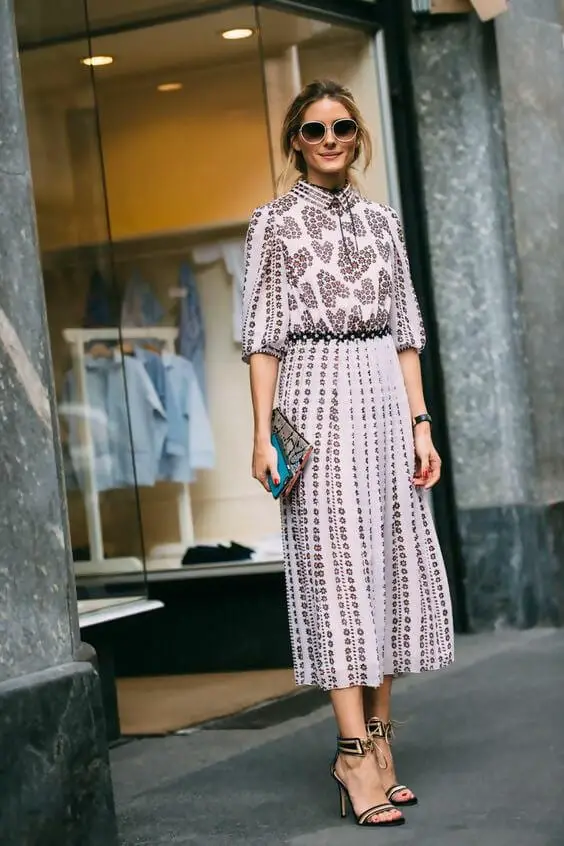 Stilettos
Super classy, the perfect option when your dress is already a fashion statement item. Opt for black or nude stilettos: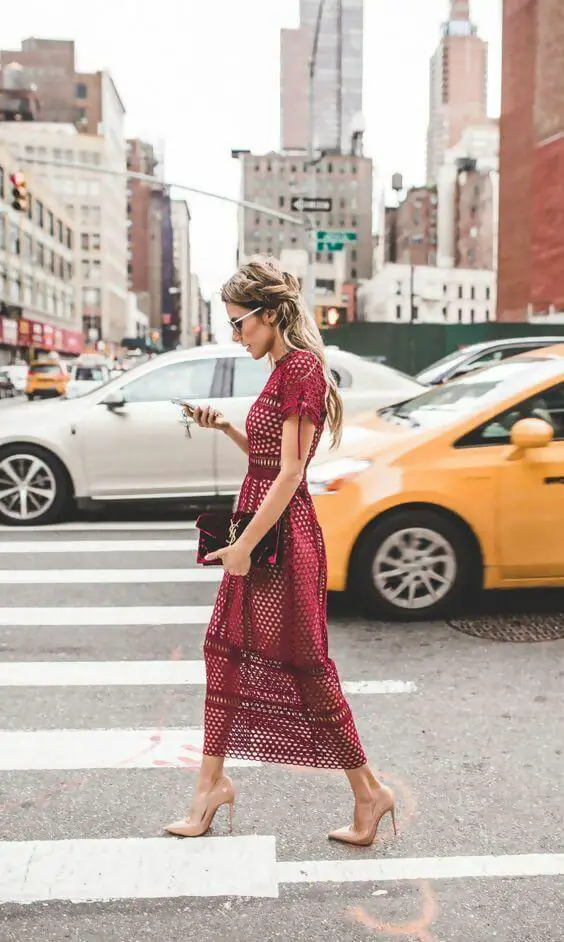 Mary Jane
High heel Mary Jane shoes are super vintage and feminine, a perfect complement for a chic long dress: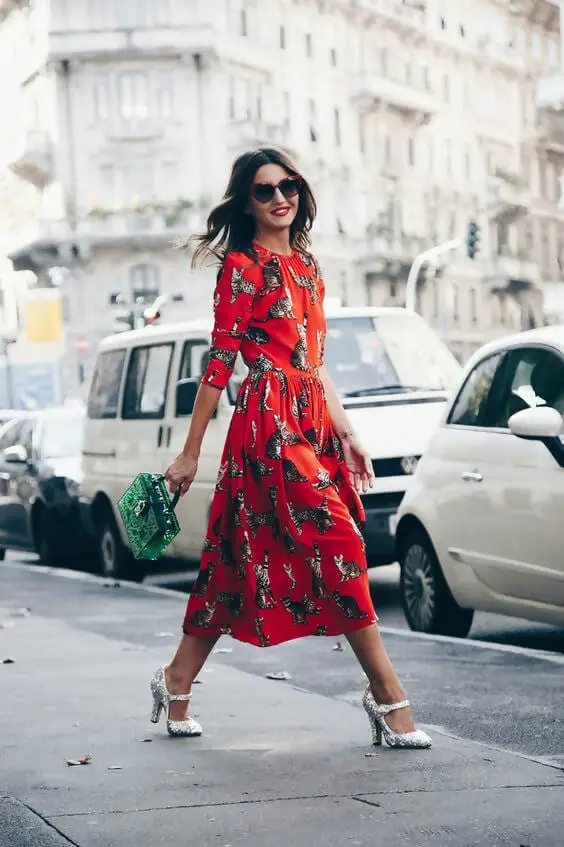 Oxfords or ankle boots
Oxfords for a vintage look, and ankle boots for a boho style: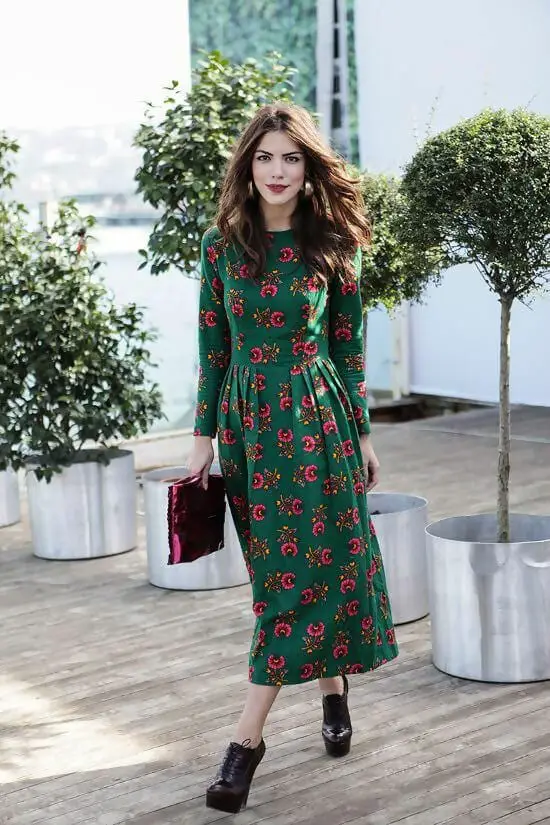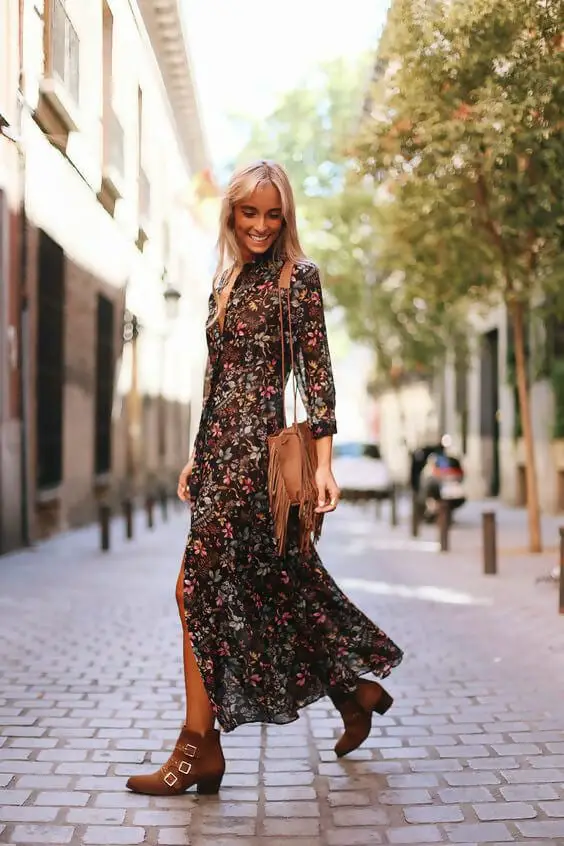 Knee boots
Super chic and sexy, they're the perfect pair of shoes for long dresses when the weather is getting colder.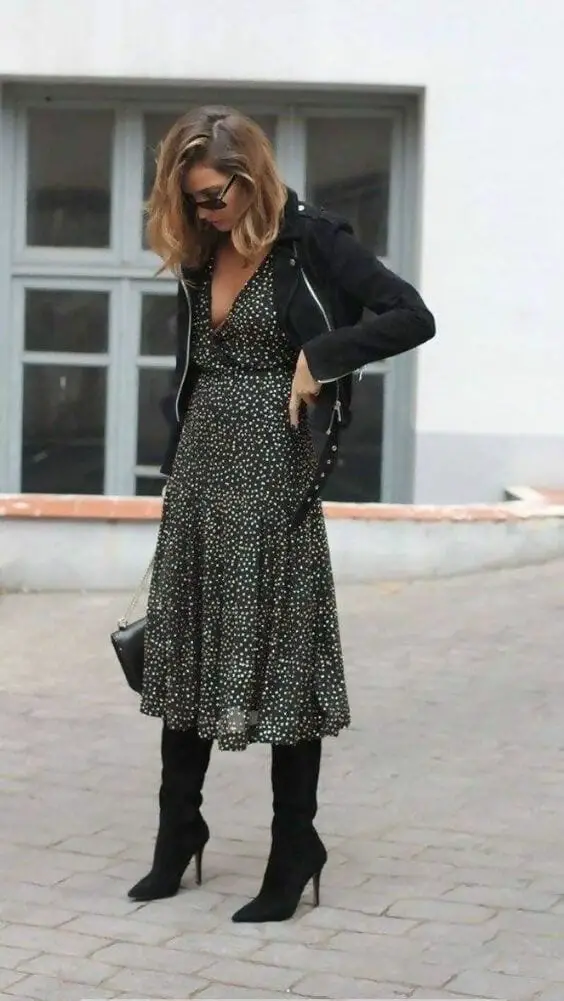 Block heel sandal
An alternative for high heels, block heel sandals are perfect for either formal or casual occasions.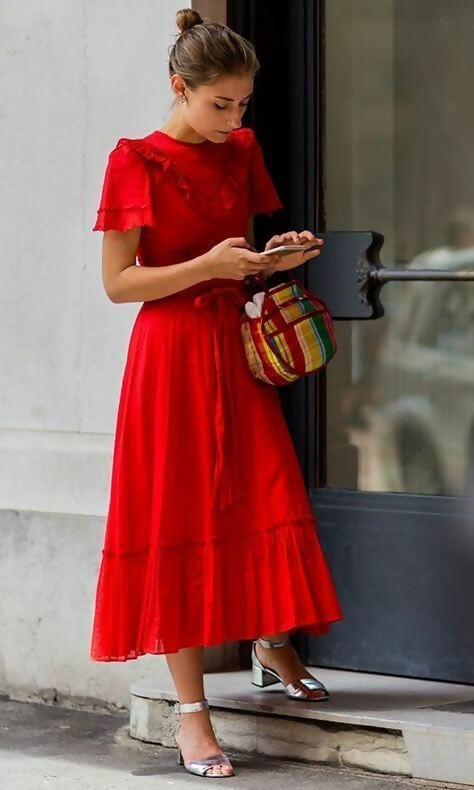 Shop similar heels:
Wrap up:
Long dresses are a statement outfit that needs to be complemented with the right pair of shoes. As I've shown you, there are many trendy shoe possibilities you can choose from, and your pick should depend on your dress' occasion of use.
Shoes for long dresses need to be thought of as a way of displaying an ultra-chic outfit, and therefore they should be carefully chosen. I'm a total shoe lover, but even if you're not, don't make the mistake of leaving your shoes out of the super-stylish-outfit equation.
Remember: there's always someone peeking at other's outfit from head to toes, and you will feel very confident knowing your pair of shoes is definitely worth the stare.