Skater skirt outfits are one of the top street style clothing items. This girly fashion staple is fitted on the waistline and flared in 'A' shape on the bottom. Skater skirt is a versatile fashion staple that you can pull off a whole year long. Want to know how? By incorporating differently styled tops and fashion accessories. A skater skirt is a season-less item so you can easily adorn your bodies with it in each season. Wanna know how? Just scroll down.
How to Wear Skater Dress in Summer?
Summer is more about light, airy and short clothes with more skin show. Before you try a skater skirt outfit in summer, just remember these important points.
For hotter months of the year, just go on for mini lengths, cool, bright colors and floral prints.
For tops, lightweight tees, sleeveless pieces, and tank tops are the best. Get yourself styled in airy fabrics particularly chambray, cotton, crochet, chiffon or tulle.
If you are comfortable in a more revealing look, go on with off the shoulder tops paired with a mini skirt.
For footwear, skater skirts outfits with converse are the best combo. Other than that, you can also try feminine heels, pumps, ballet shoes and strappy sandals with it.
Do not over accessorize yourself with jewelry pieces. Just wear light and feminine items like earrings, necklace, and a designer handbag.
How to Wear a Skater Skirt in Winter?
For colder months, we need to apply different rules. Just check what we have whittled down below.
Unlike summer, winter season requires you to opt for some legwear underneath your skirt. It does not just help in braving the severity of the weather, it also promises a chic and stylish look in winter. So, for your lower body part, you must have items like long socks, tights, leggings, pants or toned pantyhose in your winter fashion wardrobe.
As we recommended mini skater skirt for summer, it would be great if you opt for knee-length skater outfit in fall/winter.
For the torso, sleeved tops in woolen or other warmer fabrics are a good option. You can also doll up in show-stopping cardigans, or embroidered tops in thicker fabrics like velvet, denim or flannel.
Where floral prints are summer-specific, winter is more about checks and stripes.
Your winter look is incomplete without a flair of leather—do not forget to try a leather jacket over a skater skirt.
Winter is all about layering up fashionably. Layering is the only way to protect yourself from colder winds and also to look stylish and chic all the time. Just incorporate the winter fashion pieces like beanie, woolen scarf or muffler in your everyday street style.
For footwear, you are free to experiment with items like booties, ankle length boots, knee length boots, stiletto heels, and sneakers.
Best Skater Skirt Outfits Ideas
Let's move on to our list of best outfit ideas for wearing a skater skirt both in winter and in summer.
Red Skater Skirt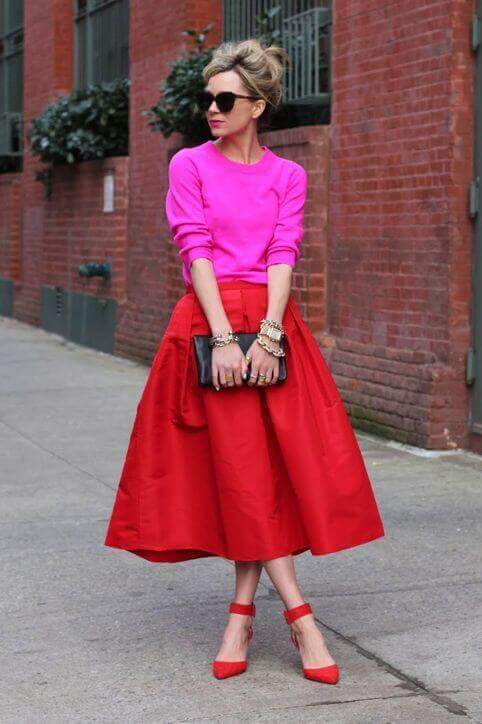 Red looks awesome in winter. Just pair up your red skirt with black leggings, blazer/denim jacket or with a cardigan—you are all set to steal the show.
Shop The Look
---
Click the picture to buy
Denim Skater Skirt

Shop The Look
---
Click the picture to buy
Are you a young fashionista, and all you are looking for is a chic and sassy look? Try a denim skater skirt—especially in spring-summer seasons. As denim is more about an urban look, pair them up with sneakers as footwear.
Grey Skater Skirt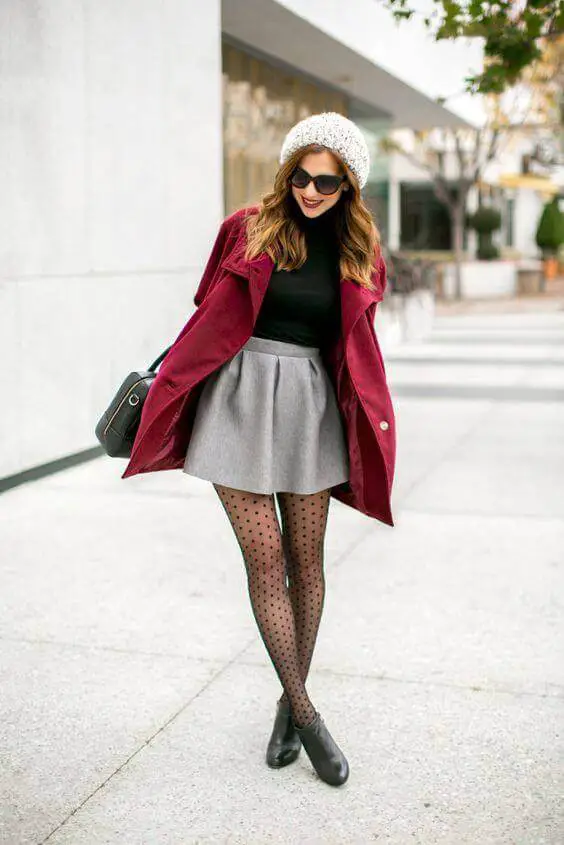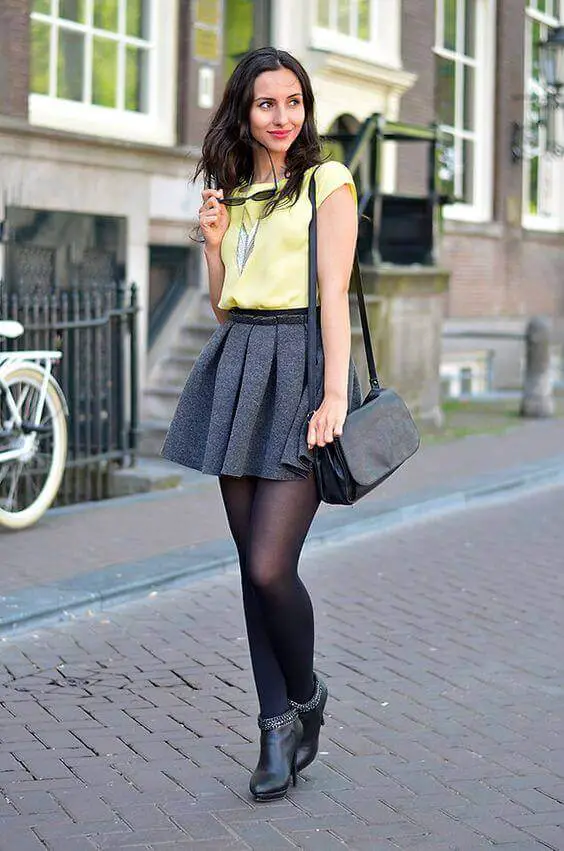 Shop The Look
---
Click the picture to buy
A light hue like ash or silver grey is highly suggested for colder months. As grey itself is a dull shade, the addition of a brightly hued top/blazer can uplift the whole look. How about incorporating lemon yellow shade in the top or in a coat? Team up this combo with black leggings and stiletto heels and you are surely going to get in the spotlight. Take a look at the images below for inspiration.
Fancy/Sequined Skater Skirts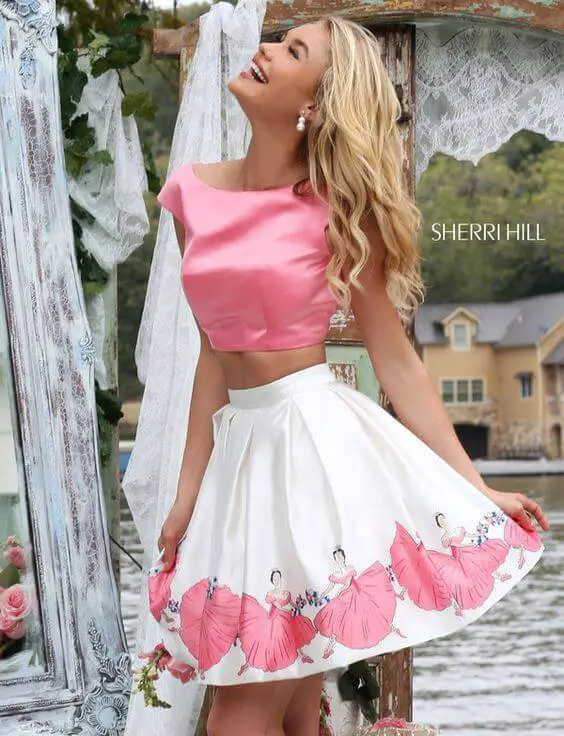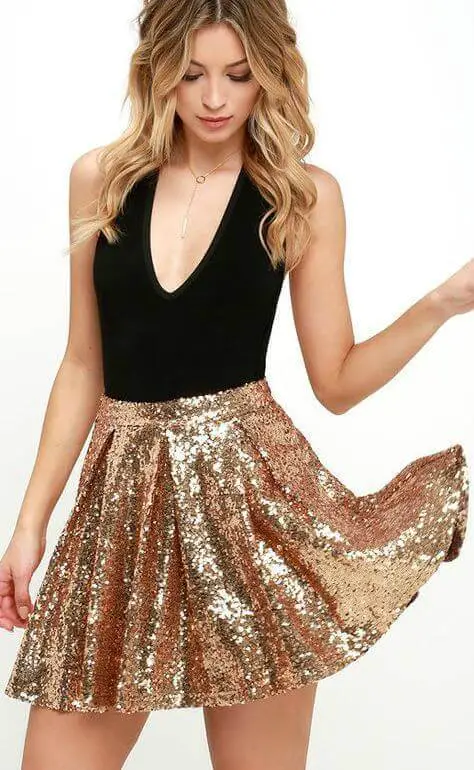 Skater skirt is not just about a casual and street style look. It can be a part of more formal occasions like a prom party or a Sunday brunch. If you are looking for a skater skirt outfit for such events, look for fancy fabrics or the pieces with sequined detailing—blouse should be plain or simple.
Shop The Look
---
Click the picture to buy
Burgundy Skater Skirt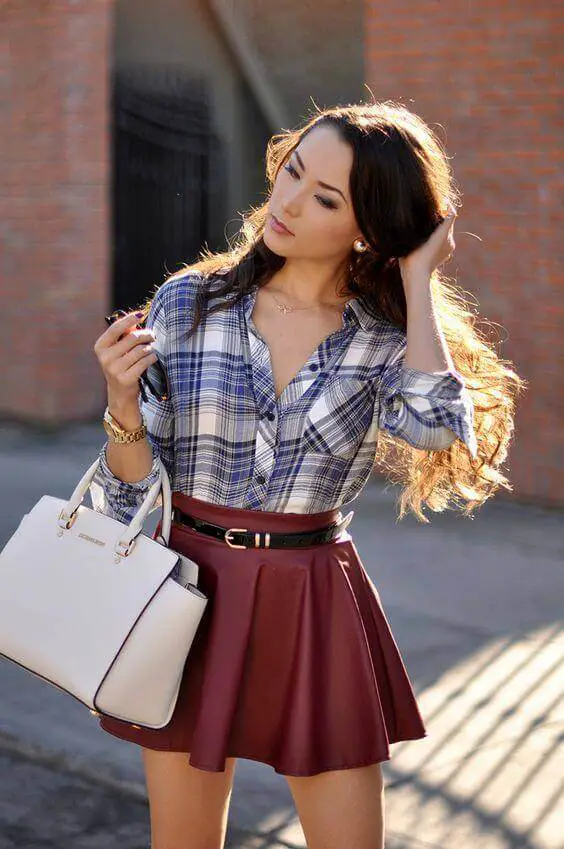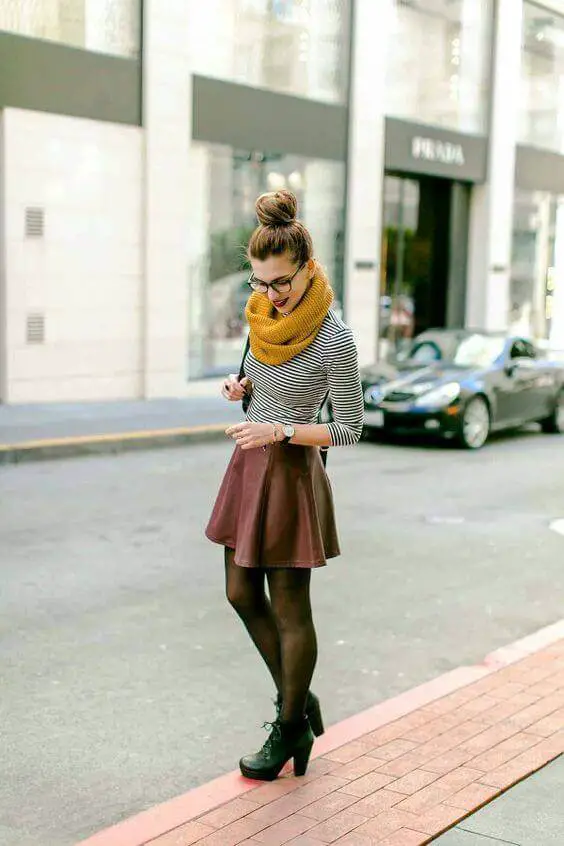 Shop The Look
---
Click the picture to buy
No doubt burgundy is an elegant hue that soothes the eyes in the season of fall. Check out this burgundy leather faux skater skirt—it looks chic when paired with a plaid or striped top. This comb promises a casual and easy-on-eyes look.  
Skater Outfit with Floral Print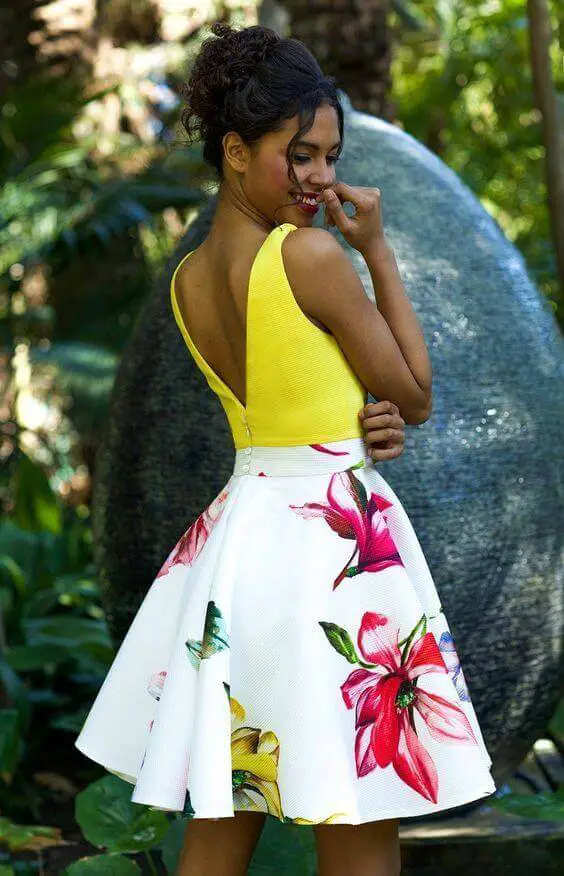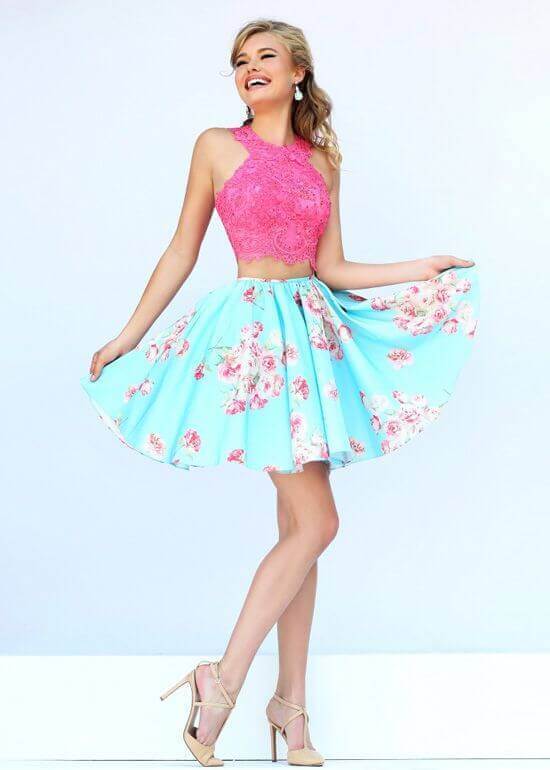 Shop The Look
---
Click the picture to buy
Lively and fresh seasons like spring and summer requires outfits with a pretty pop of colors. Skater skirts with floral prints seem refreshing in summer. The only rule to follow here is—team up your floral skirt with a solid top. In case of having floral top, opt for a neutral skirt. It is really important to create a balanced look or else you will end up looking like a fashion disaster.
Skater Skirt with Bralette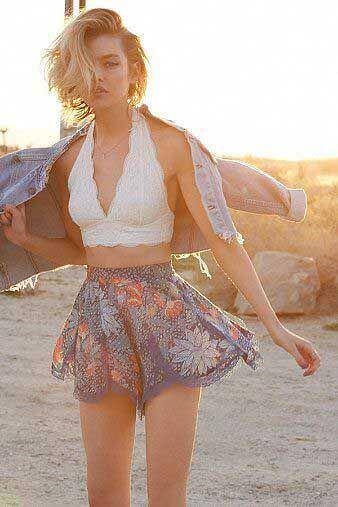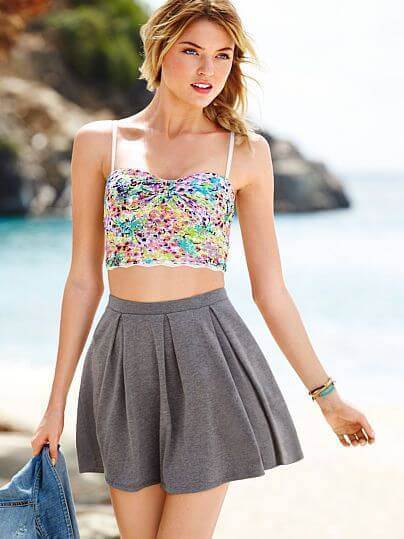 For hotter days in summer, when you don't feel like layering up, just try the sexy combo of a skater skirt with an eye-catching bralette as a top.
Skater Skirt Outfit Plus Size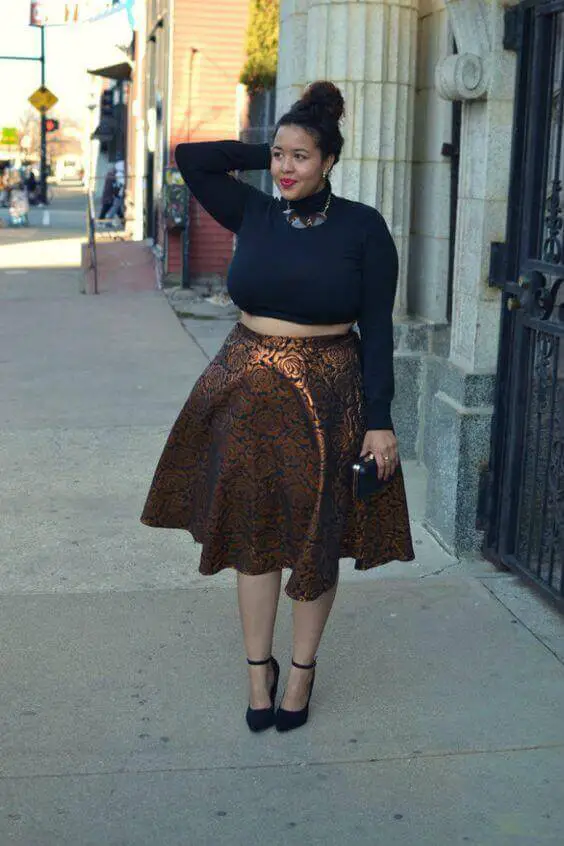 Is it Ok to wear a skater skirt for a plus size girl? That is one of the most common questions that we are often asked. Even if you are a plus size girl, you can flaunt a skater skirt as stylishly as a slim girl does. The best way is to wear a knee length skirt. Revealing too many legs can make you look fatter and shorter.
Skater Skirt with Polka Dots
We all accept the versatility of polka dots in terms of styles. Not just dresses or blouses, polka dots promise great look even in skater skirt style. For winter season, the combo of black and white is the best. For summer days, colorful and pastel shades should be preferred.
Leather Skater Skirt
Leather trend dominates with the arrival of winter. Set new boundaries by opting for a leather skater skirt and get an adorable and irresistible look.
An Unusual Style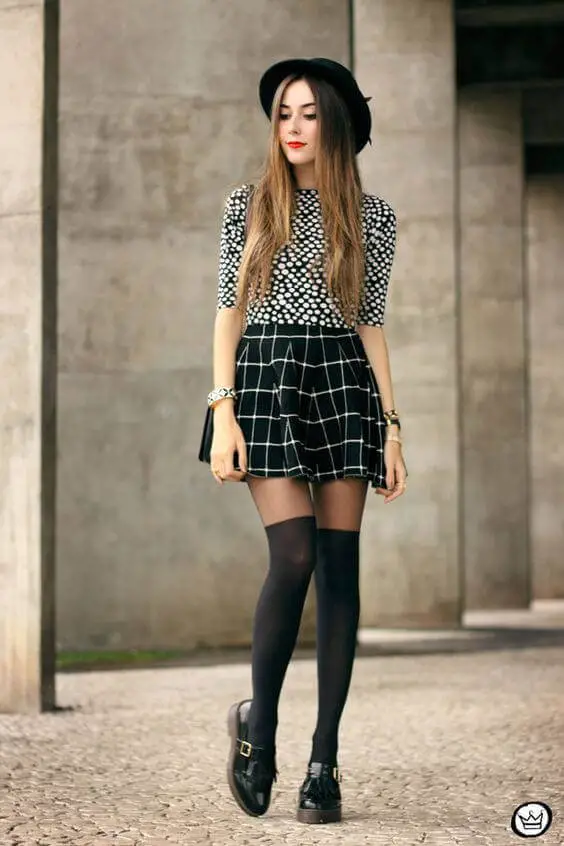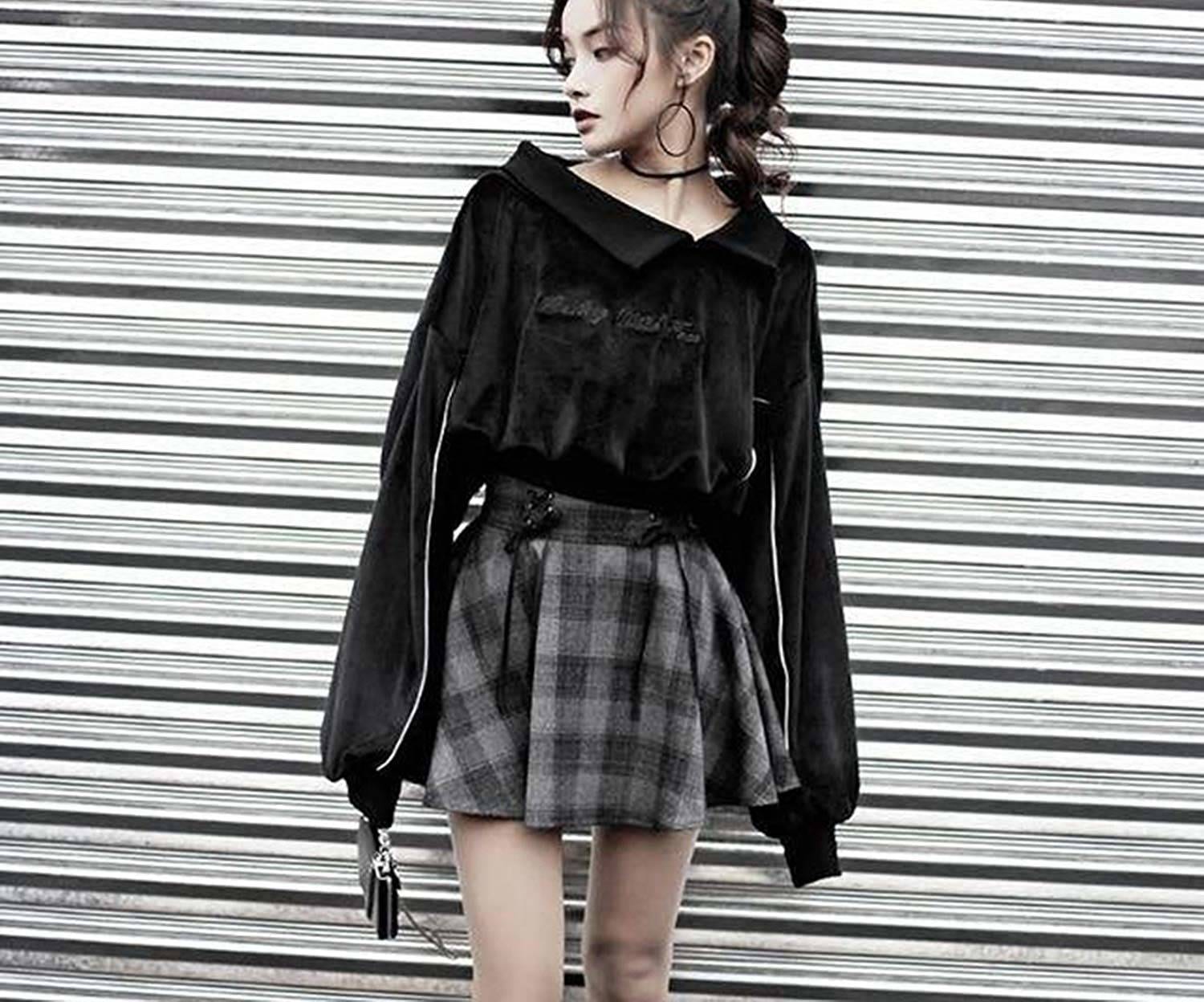 Have a look at this unique skater skirt style. When it is about the winter season, let's just combine two quintessential of winter—polka dots and plaids in black and white.
Velvet Skater Skirt
Shop The Look
---
Click the picture to buy
How about trying a velvet skater skirt with leggings? Check out this outfit idea for a bolder you.  The warmth of velvet makes it an amazing fabric to try in winter. For the top, handpick a leather jacket or a blazer.
Wrap up:
Skater skirts are trending universally. They are something that you can pull off casually or in a dressy style. Girls of all body shapes and sizes can flaunt them fashionably. All that you need is a little bit of change according to your own individuality. I really hope that by now you would have a number of season-based ideas to utilize a skater skirt innovatively.