Activewear has been in our radars for a couple of years now and honestly, I couldn't be more in love with it.
The rise of people who have become conscious about their well-being has been opting for multiple ways of exercising, a social behavior that involves fashion and affects its demand for sporty clothes.
This is one of the reasons why activewear has become so appealing for high-end designers, tackling their designs down to mass-market producers. People wanted to feel fashionable and express their honest concern about their well-being, and the fashion industry answered with the most stylish (and sometimes expensive) sporty designs.
But what has made activewear so hip and cool are definitely fashionistas and celebrities with their great street style looks? They get to experiment and transform fashion trends for us, pulling out amazing sporty outfits while we watch and hope someday we can look like that.
But truth is, sporty outfits for women are super easy to achieve and are definitely not exclusive for top models like Bella Hadid. You'll be surprised at how many cute and stylish looks you can copy with no effort at all while looking absolutely chic.
I've compiled 32 of the trendiest and most common sporty outfit stereotypes, having celebrity fashion icons as our inspirational muses while showing you how their looks can be completely adapted into your own style.
Sporty outfit ideas
Before we go into further details, I need to address the main characteristics of a sporty outfit. This will help you adopt this style more easily and effortlessly.
The most important things you need to understand about rocking a sporty look are:
– It's all about feeling (and looking) comfy
– Oversized garments, especially tops or sweaters, are your best friends
– You need to own at least one pair of sneakers/trainers
– Sweatshirts and joggers are another must-have
– Don't worry about truly being active: anyone can wear sporty clothes
That being said, let's start our visual tour with the best sporty outfit ideas.
1. Sports bra + sweatpants
Probably the easiest look to achieve.
All you need is your sports bra and a wide-legged pair of sweatpants, and you'll look ready for the gym (even if you stay home watching Netflix).
Bella Hadid will be our inspiration for this look. As you can see, she's wearing a solid colored sports bra that matches with her sweatpants, showing us that it's not necessary to go crazy with the colors or patterns.
Wear your favorite shades and a pair of hoop earrings for a cooler look.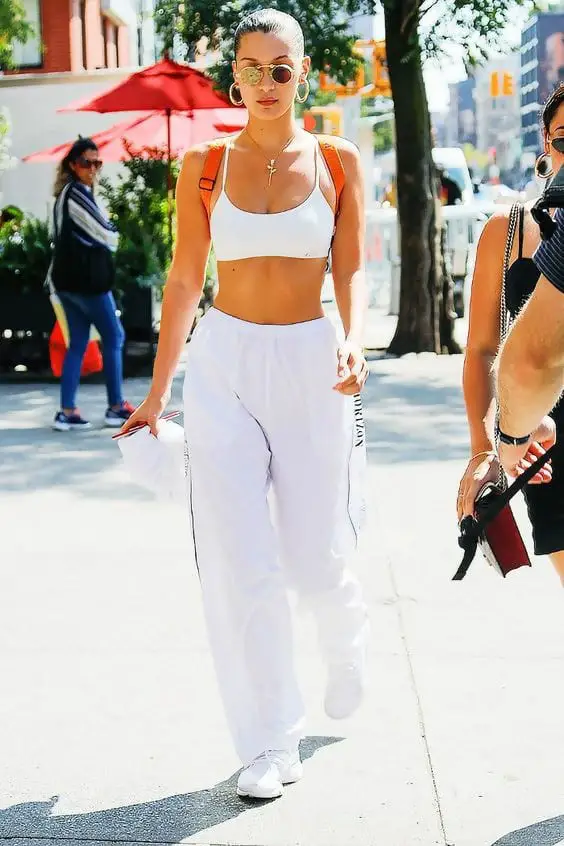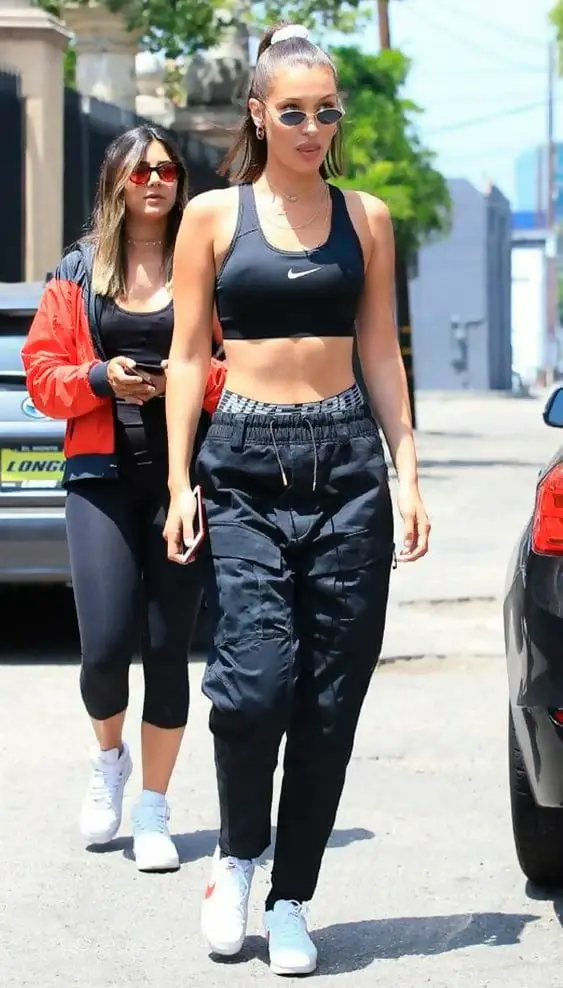 2. Loose top + biker shorts
2019 is all about biker shorts, and who's complaining? They look really cool and are a perfect garment option for a sporty chic outfit.
Emily Ratajkowski and our sportswear queen Bella Hadid show us a stylish way of pairing our biker shorts. You just need to add a cropped sweatshirt or a loose knit top.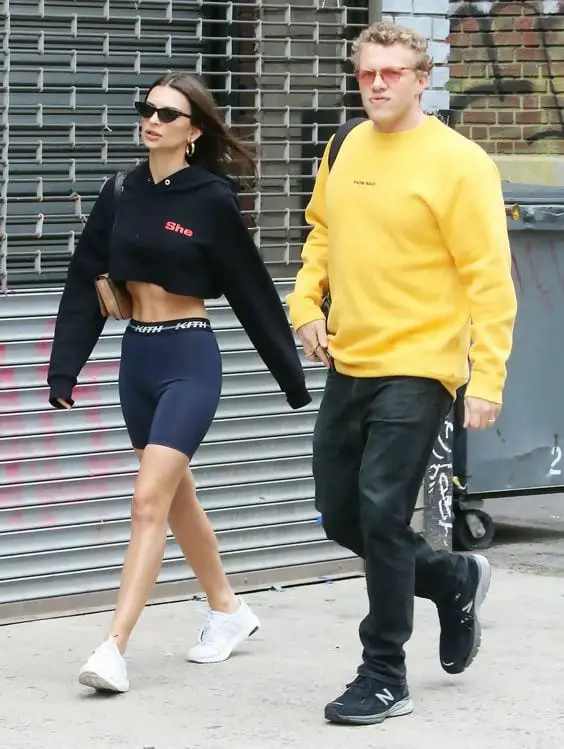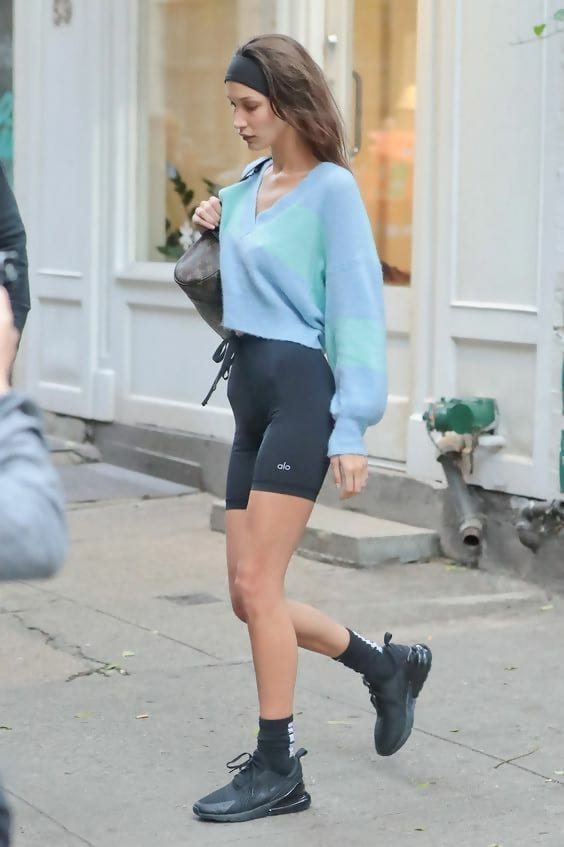 3. Oversized sweater + short tights
If you're not crazy about biker shorts, just substitute them with a regular pair of short tights, like Kendall Jenner and Kaia Gerber. An alternative for your top is an oversized sweater.
Include a chic handbag for a more fashionable look: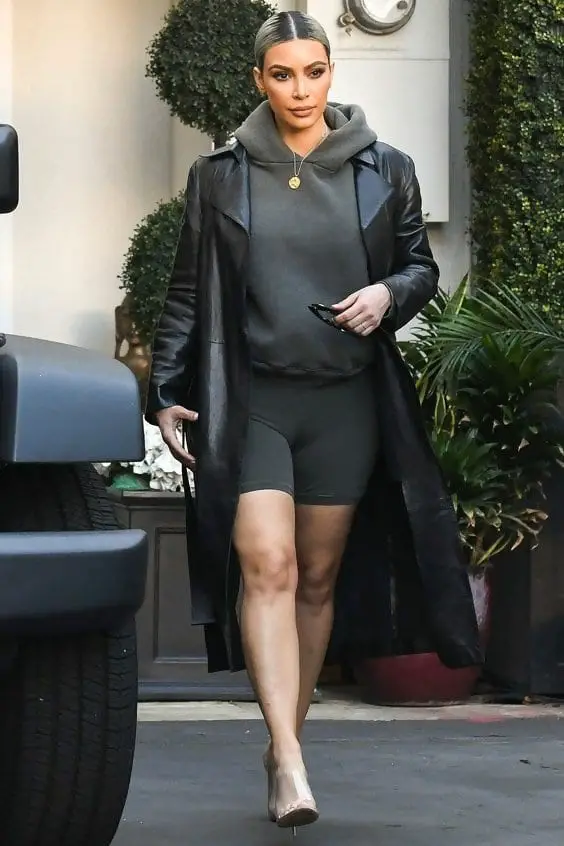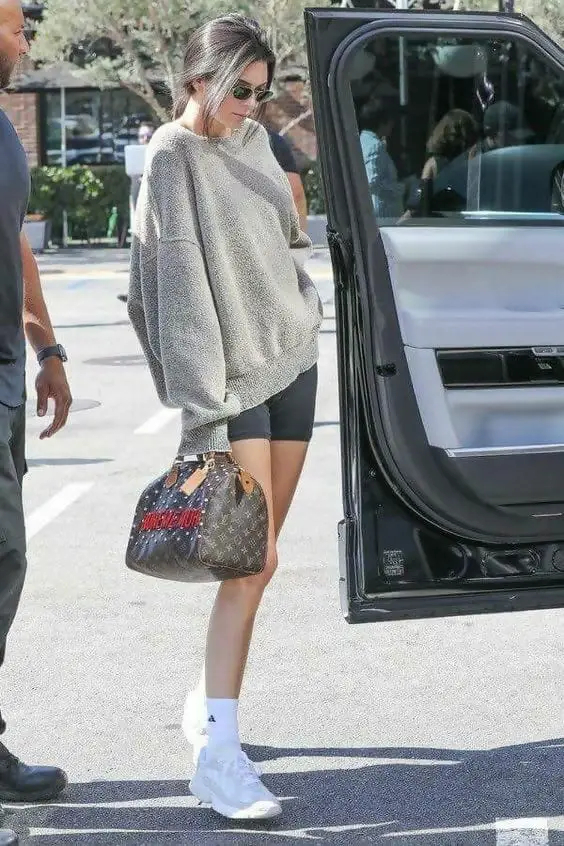 4. Add high heels
For a super sporty chic outfit, a pair of high heels will be your must-have. As you can see, the Kardashian-Jenner sisters are applying the same stereotype look from above, with a slight yet powerful change in their shoes: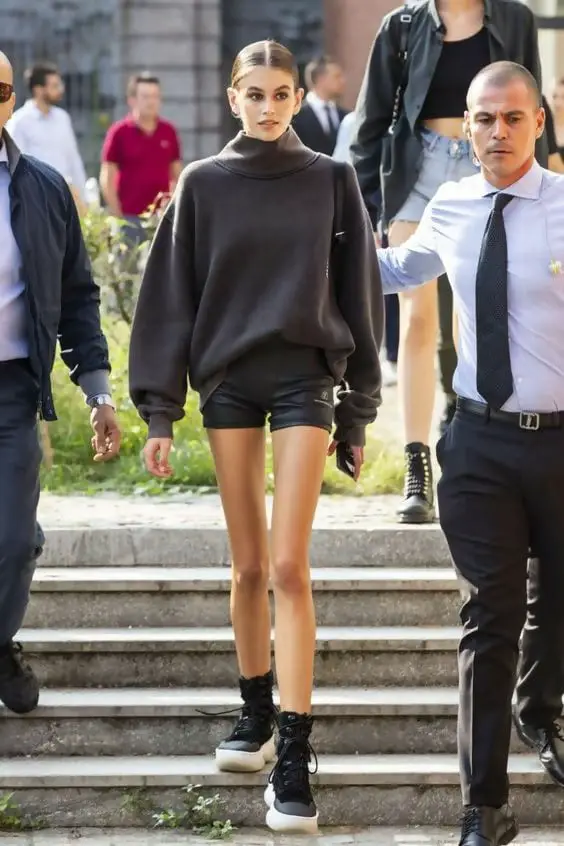 Another alternative for a chicer sporty outfit is adding a lace detail as Kim has in her shorts: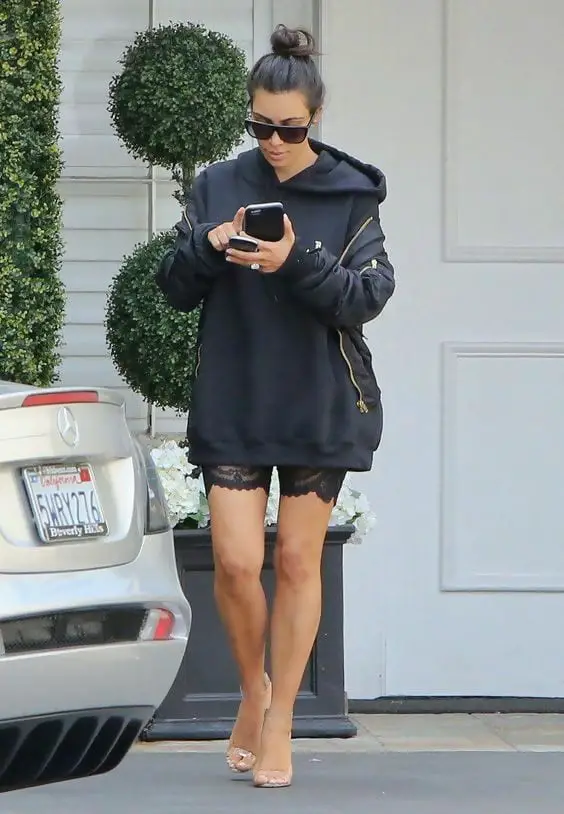 5. Cropped top + leggings
Because what's sportier than cropped tops and leggings? Show some abs and your gorgeous legs with this sexy and stylish sporty outfit for women.
Hailey Baldwin and Kourtney Kardashian are our inspirations for this style: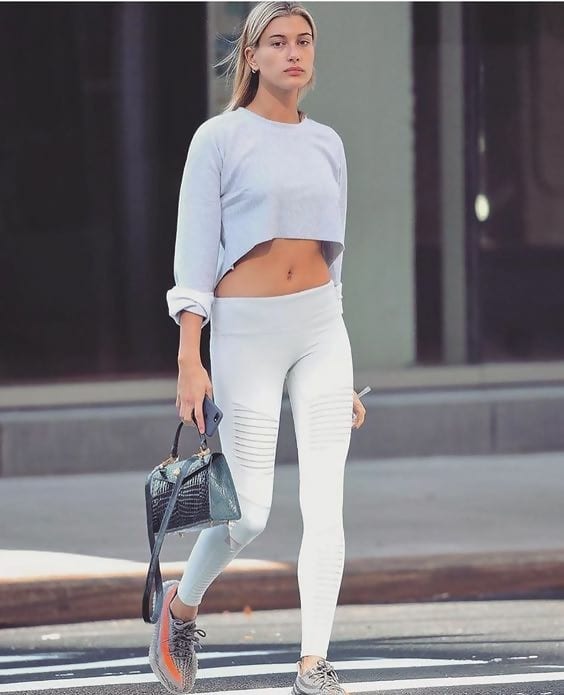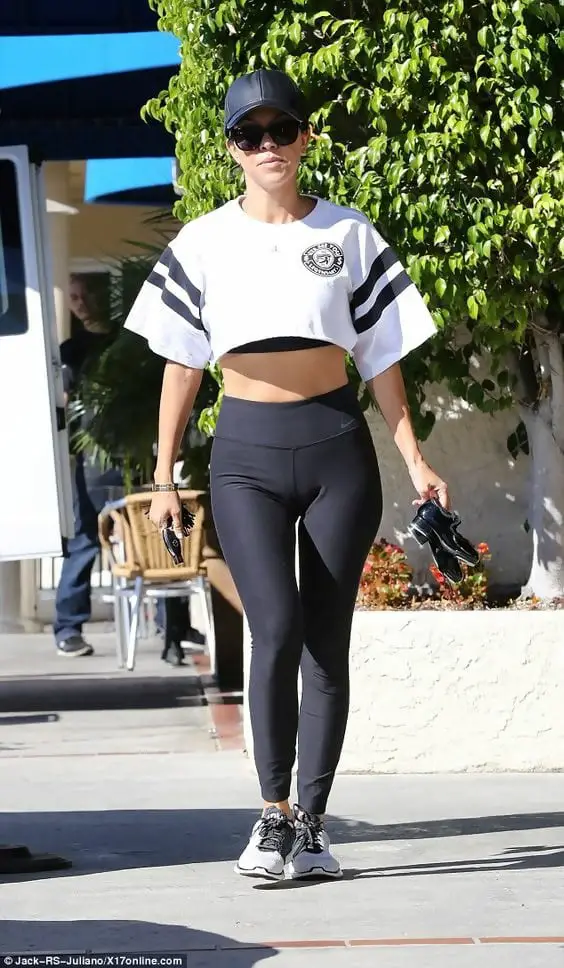 6. Waist wrapped hoodie
An alternative for the above examples is to simply add a hoodie wrapped around your waist as an "accessory", just like Ariana Grande's sporty outfits: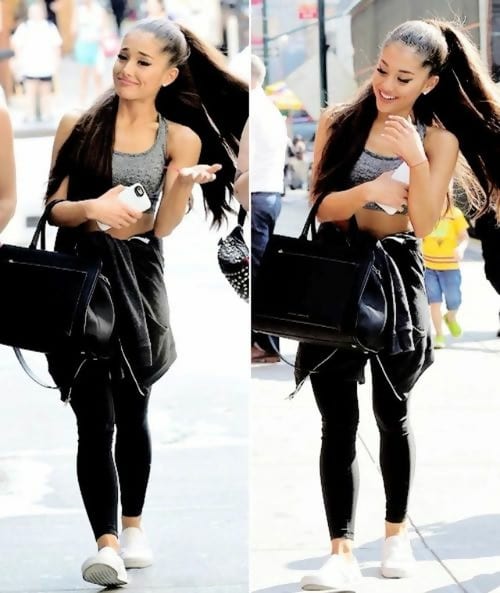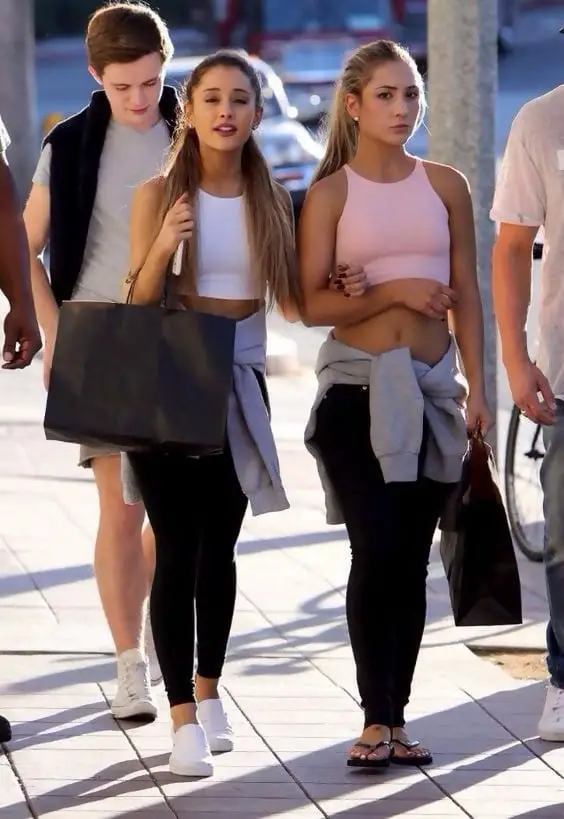 7. Matching tops and bottoms
Rocking a monochromatic look is another common sporty outfit idea because it is inspired in tracksuits. These colors can range from bright reds to soft pastels or shades of beige.
Selena Gomez and Hailey Baldwin show us how edgy and fashionable you can look when matching your sweatshirt color with your joggers.
PLUS, they took their outfit to the next level by simply wearing high heels. Can't get chicer than that.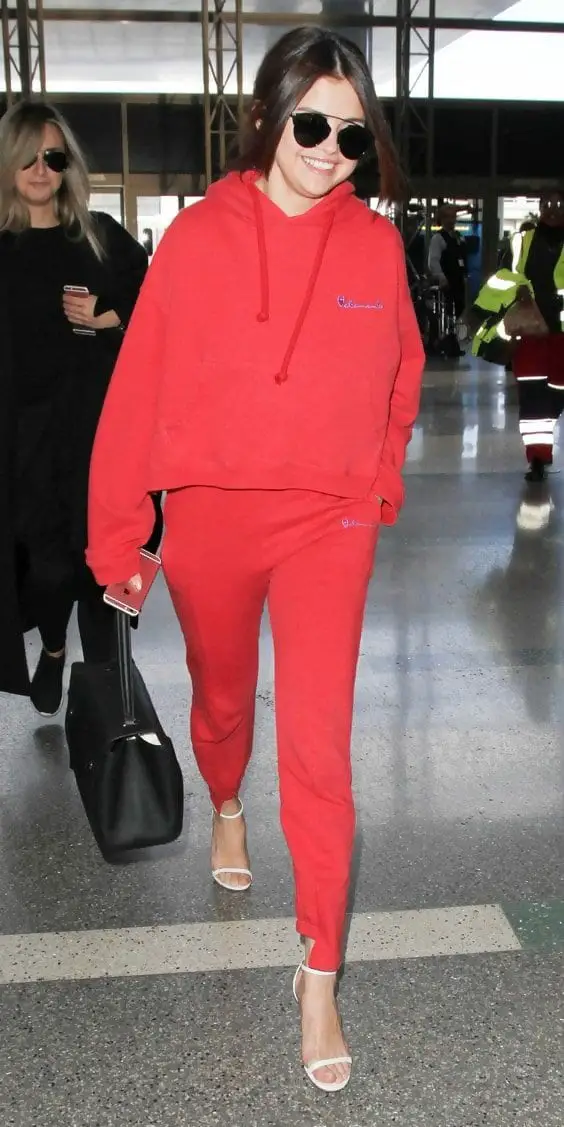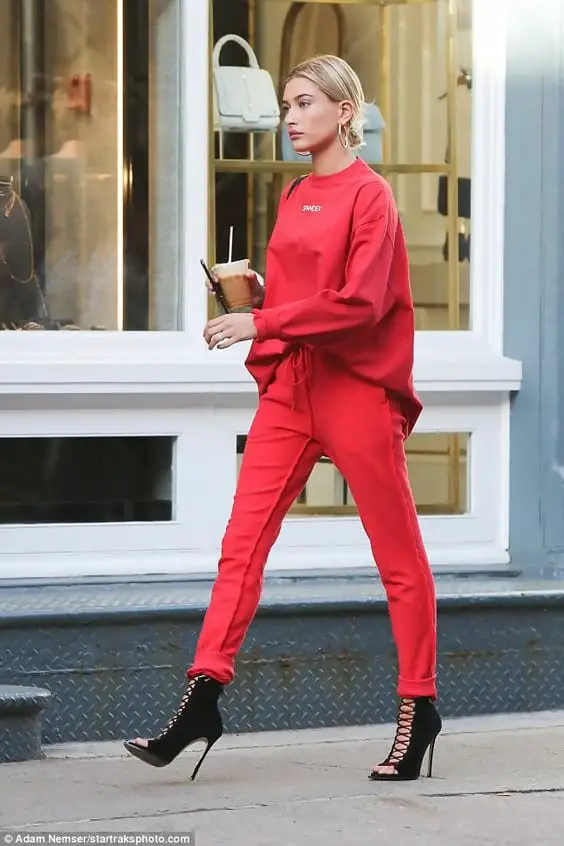 Gigi Hadid loves to match the color in her sportswear clothes, showing us different ways to pull out a cool monochromatic sporty outfit: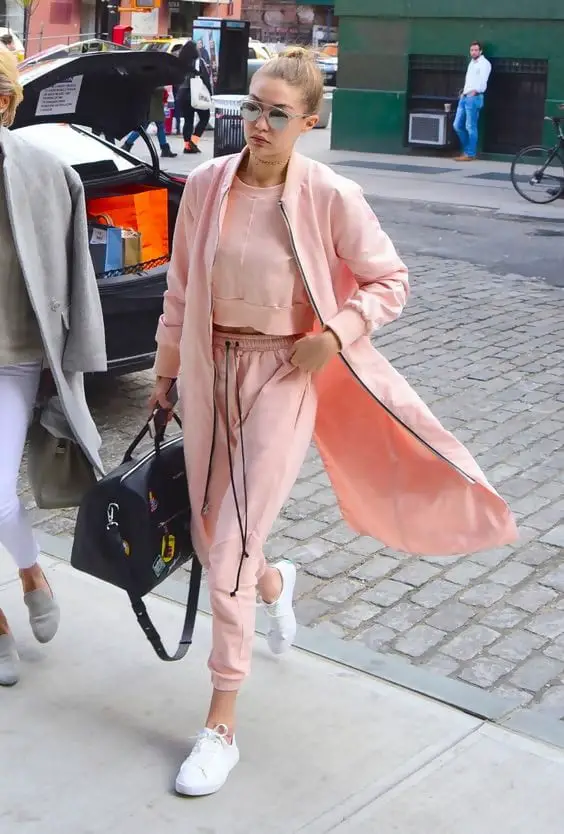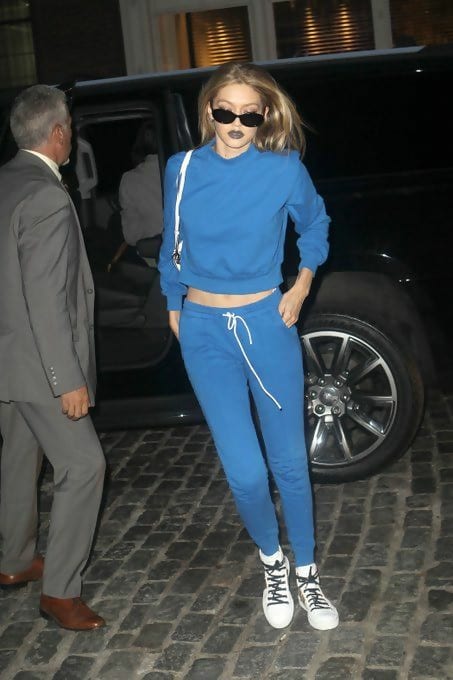 8. Show off your favorite brands
The most effective way to master the sportswear style is to display brands' logos, especially in your tops. The most popular logos are from mainstream brands such as Adidas, Nike, Puma, Champions and New Balance.
Again, create a super sporty outfit by matching your top and bottom. Tracksuits are perfect for this style, just like Selena Gomez and Kylie Jenner's Adidas look.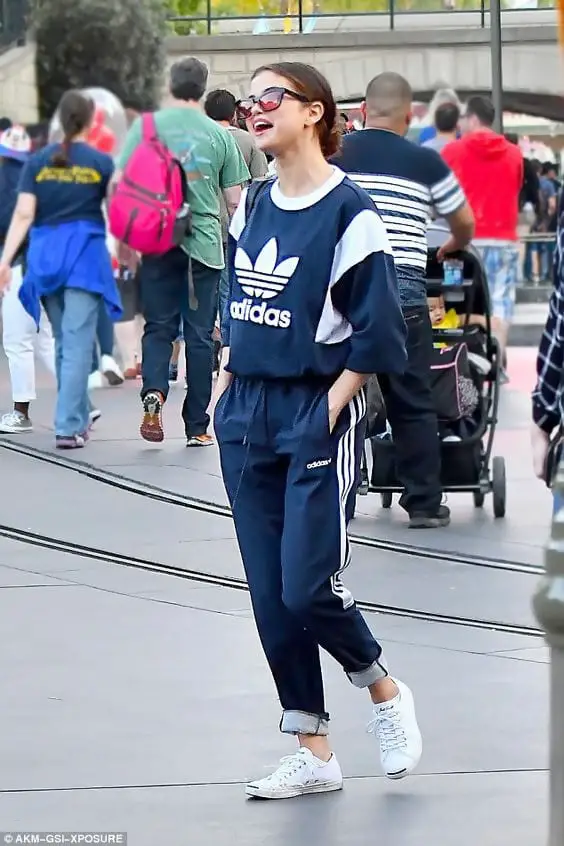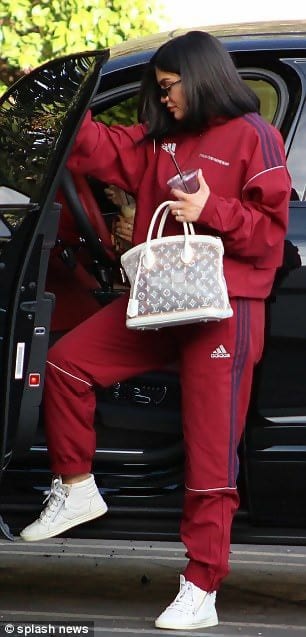 An oversized hoodie will also help you look super sporty. Hailey Baldwin owns budget-friendly brands like Champions and still look very cool, making this outfit completely affordable.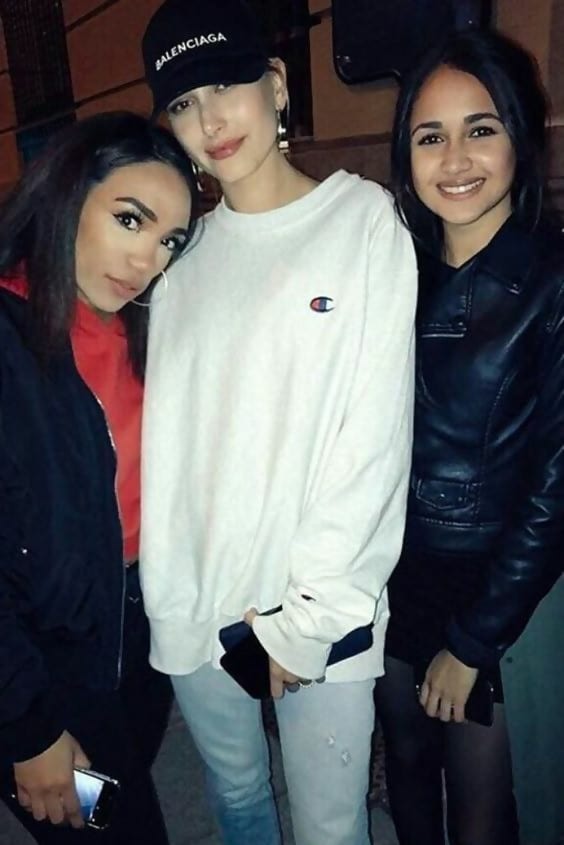 9. Sweatshirt dress
Wear a super oversized top such as a sweatshirt or hoodie that will make you look like you're wearing a dress. Make sure to wear super a short bottom to cover your underwear.
You can wear this kind of sweatshirts with sneakers like Rihanna or knee-length boots like Ariana Grande: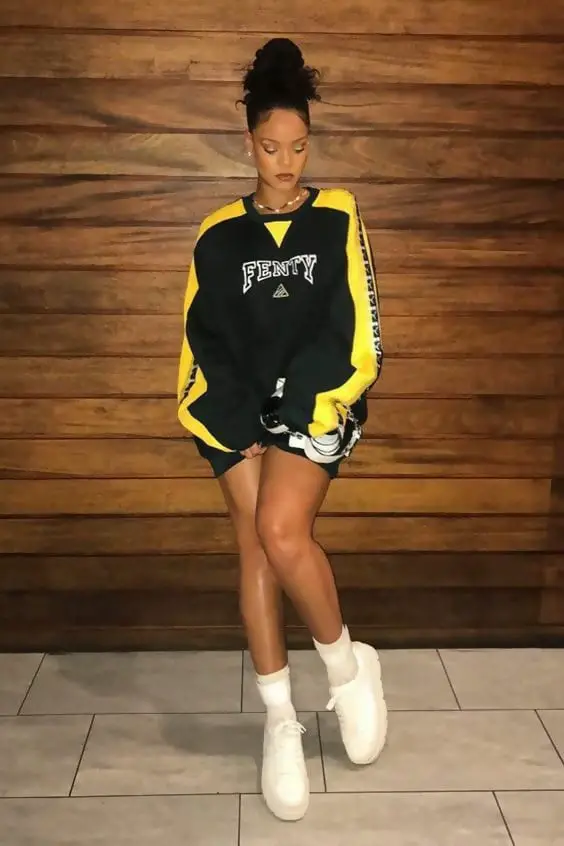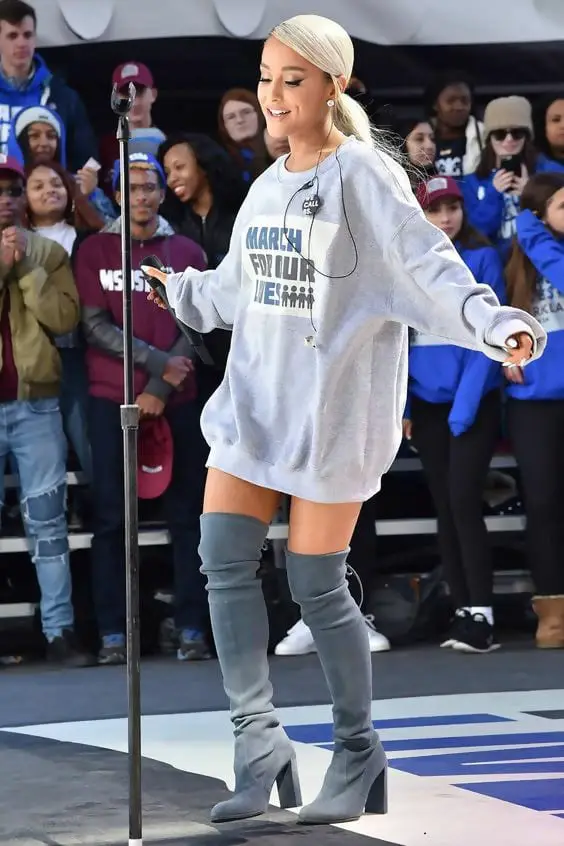 Again, Hailey Baldwin gives us plenty of inspirational sexy sporty outfits. As you can see, she's wearing tiny denim short.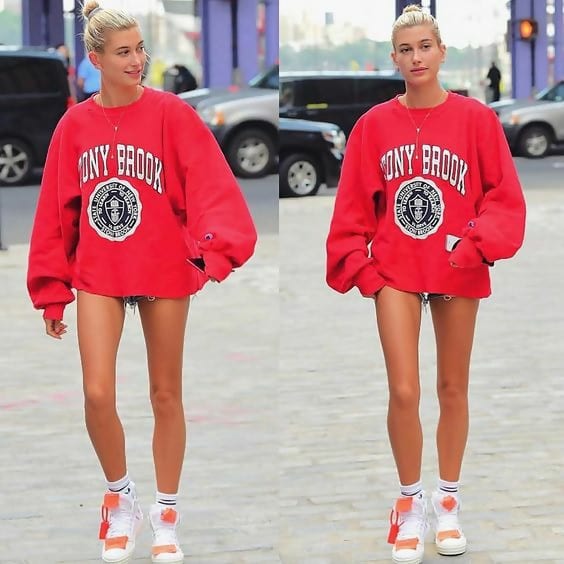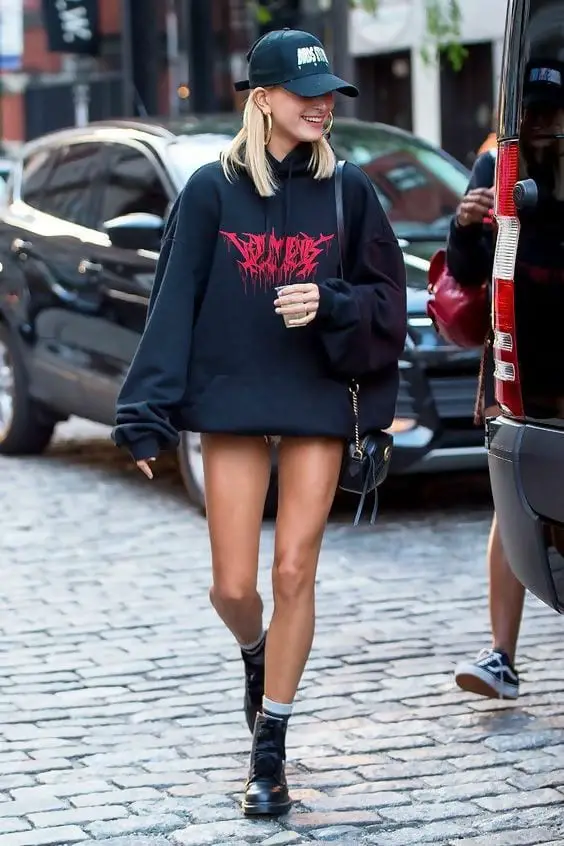 10. Chic sporty outfits
A sporty outfit doesn't necessarily mean you have to wear real sports clothes. A sporty look is a style and can be adapted into many different garments and outfits.
It also allows mix-and-match items, like wearing joggers and a button-down or a Nike hoodie with trainers and a midi skirt.
Here are some sportswear-inspired outfits that will also make you look super sporty without having to wear athleisure clothes from head to toes.
Gigi Hadid seems like she's wearing a pair of joggers, and since her outfit is completely yellow, it has that tracksuit vibe that definitely makes her outfit look sporty.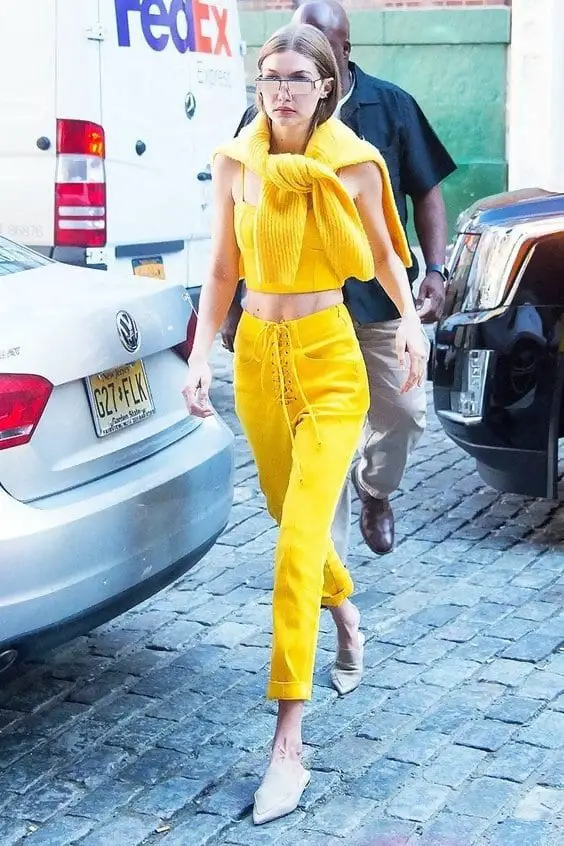 What about a fancy sweatsuit? The top model is definitely bringing athleisure wear to the next level.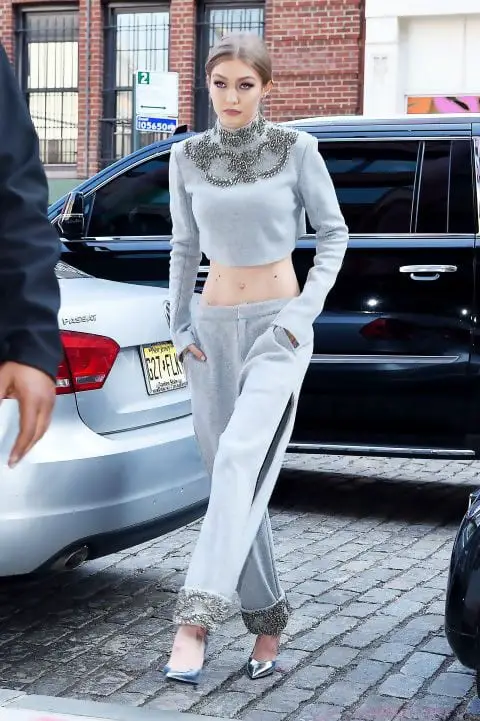 Ariana Grande's see-through coat is also activewear-inspired. She's wearing a super chic white jumpsuit while adding a subtle sporty vibe with this type of coat.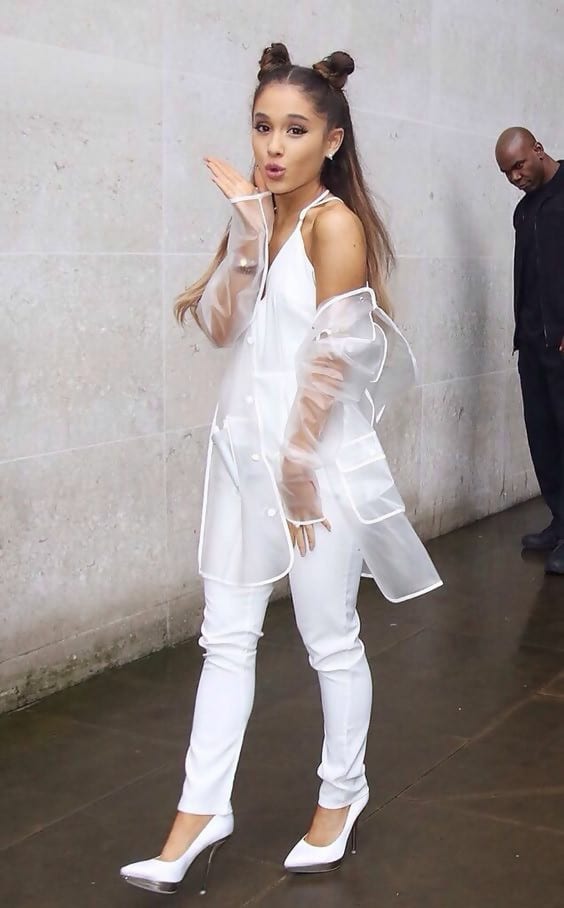 As you can see, if you add just one sporty-looking item to your outfit, you will definitely make a statement and change the overall vibe of your look.
Chrissy Teigen is another example of how a pair of biker shorts transformed her elegant attire into ultra-chic and sporty.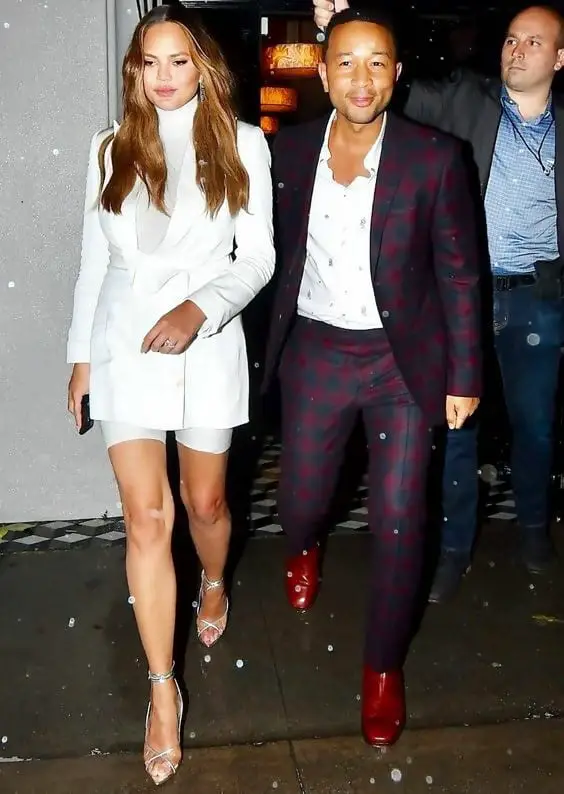 You can also do the opposite: wear a complete sportswear look and add a super glamorous item for an extra dose of chicness, just like Kendall Jenner: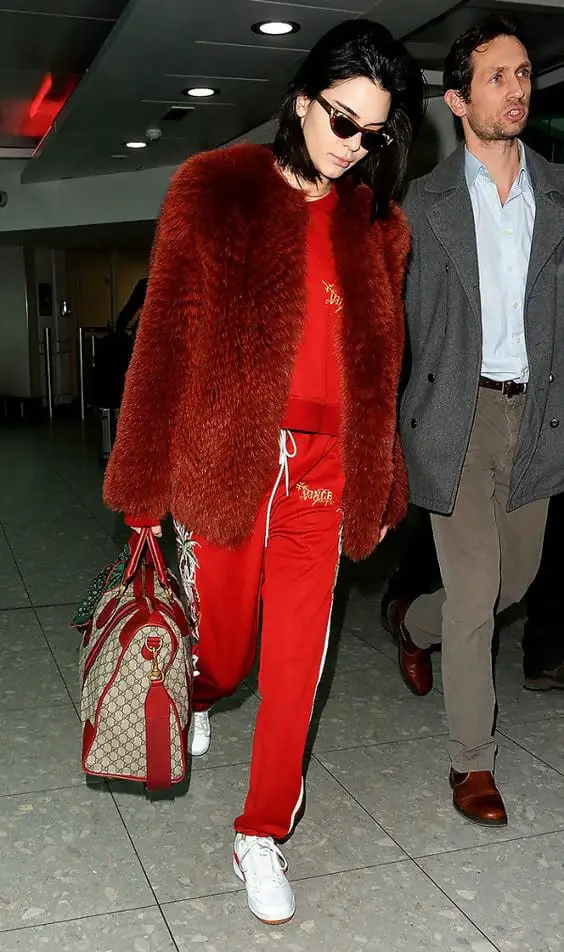 Gigi Hadid brought us a fashionable and stylish sportswear 2018 collection with Tommy Hilfiger, and it's definitely worth looking at. It's the perfect example of how a sporty outfit can be absolutely chic and edgy: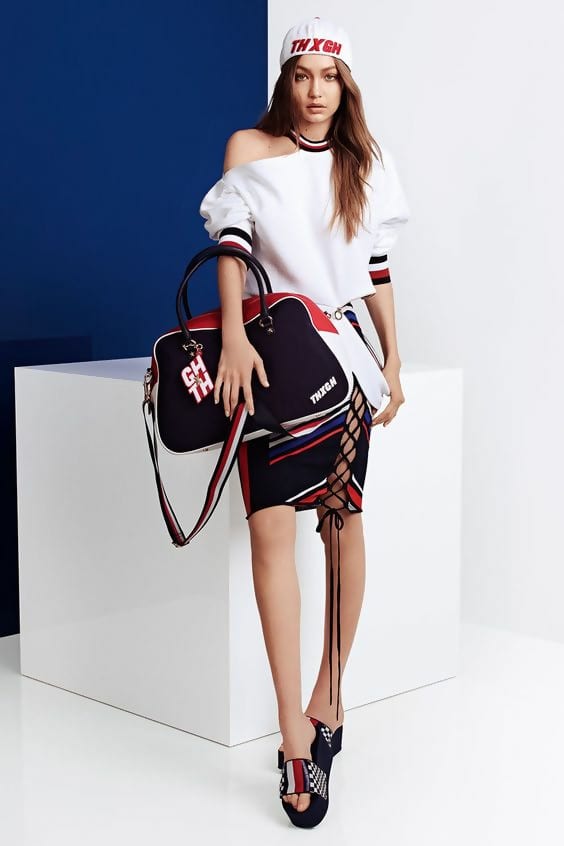 Wrap up:
There are endless sporty outfit possibilities that can be street style friendly at the same time. Celebrities such as Hailey Baldwin and Bella Hadid are great examples on how to rock a sporty look while staying completely cool and fashionable.
You don't have to be a gym lover or be super active in order to wear sporty clothes. Thanks to the fashion industry creatives, anyone can look stylishly sporty without actually having an active lifestyle.
If you want to wear chic and comfy clothes, this style is tailor-made for you.