It's finally spring and we can feel the Spring fever all around. It is not just about the season, it is also about an all-new look for a spring celebration. Wanna know what are going to be the biggest and hottest trends of the sunny season? You are in luck as I am going to get you an exhaustive lowdown on the fashion forecast on spring fashion trends.
Spring Runway Trends
Rubberized Outfits
We know chiffon, cotton, linen, and organza as the trendiest fabrics for spring. This year, what spring 2018 runway trends showcased, is quite unusual and a wee bit surprising to many of us. Check out CALVIN KLEIN'S industrial-grade pencil dress. Created with synthetic rubber, these rubberized silhouettes look amazing; and most importantly, these are here to stay. Don't you think so?
Something Lavender!
We all know millennial pink as the color of spring; but this year, springtime is going to be a bit lavender. Looking at the fashion week spring 2018 trends, we see a number of models walking the ramp in lavender suiting, formal wear, and knits. Being a fashionista, you too should strive to get a few pieces to your spring fashion wardrobe.
Fancy Pants
A number of designers have come up with unique and decorative pants to doll you up for beautiful springtime evenings. Bejeweled and embroidered trousers are going to rule as evening party's staple. No doubt, this is going to be one of the top spring 2018 clothing trends. Are you ready to have some?
Super-Size Flared Trousers
Swing into spring with the sixties and seventies inspired flared trousers. As spring 2018 style trends suggest, you will see less skinny and more of flared trousers. So, next time when you are out for shopping for your seasonal staple, don't forget flared pants—as they say, "the bigger the better".
Outfits with Ruched Detailing
Forget about stiff corsetry look and give a try to the captivating trend of ruching. Be it a plain sheath dress, a pencil skirt or even a sassy top, the body-hugging and pull through detailing on the outfits accentuates your curves beautifully.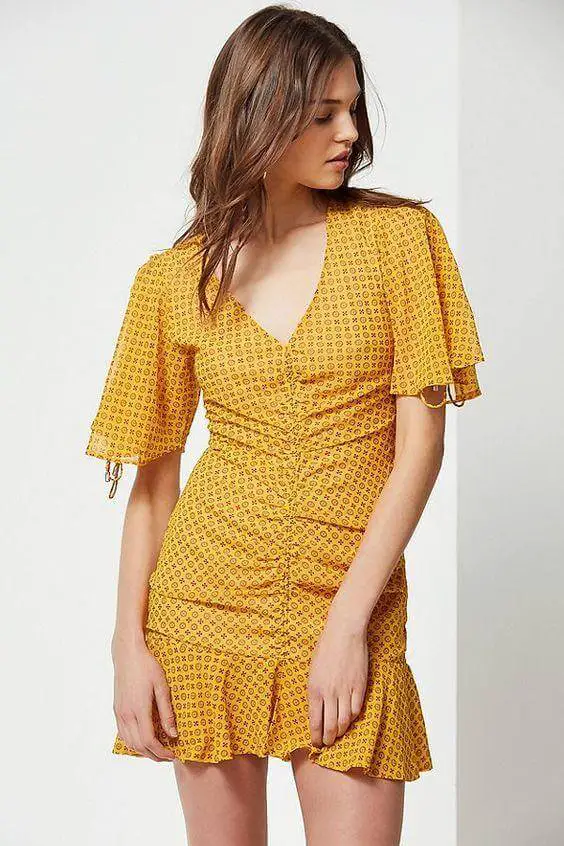 Something Asymmetrical
A well-balanced look is what we all recommend; but sometimes it is good to go with something unusual and imbalanced, just like an Asymmetrical hemline or neckline. Both are the talk of the town this spring.
Jumpsuits
Just have a few of these in your closet as your spring shopping is incomplete without them. You will get whatever style or size you like as fashion houses have innovated a large variety of jumpsuits for all.
Mix and Match
Are you bold enough to try something different and untraditional? Just go on to mix different prints in a single outfit. In spite of being different, these prints seem aesthetic to eyes.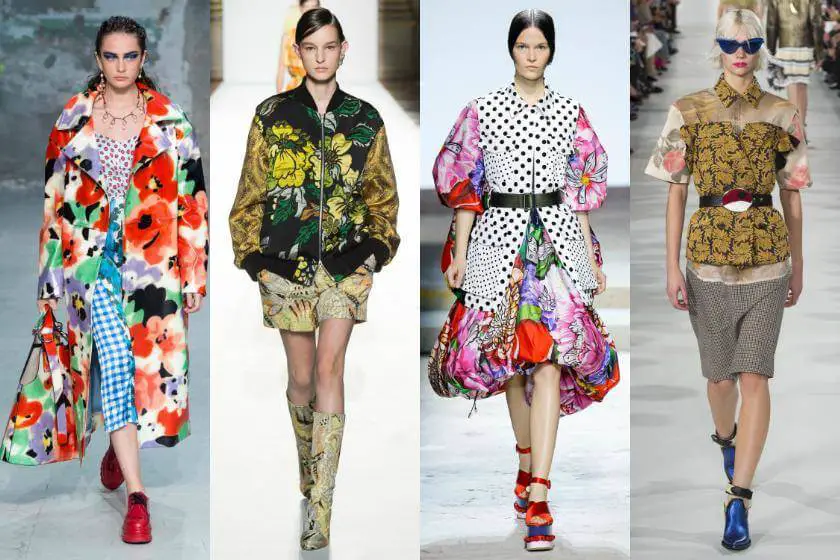 https://personalshop.me/blogs/fashion/spring-summer-2018-fashion-trends-ss18
Dark Denim Suiting
The resurgence of denim happens each year. But this spring denim hits back with a change. Dark denim will be trending more than the lighter ones. Not just trousers, pairing of denim trousers with denim tuxedoes and tops is the next big thing.
Monochromatic Outfits
They are never outdated, even in spring 2018, a monochromatic look is going to be the most sought-after style, no matter where you live.
Dresses with Sheer Detailing
Step out in style in some stylishly cut, skin-revealing outfits. The soft and see-through outfits add a glamorous appeal.
https://personalshop.me/blogs/fashion/spring-summer-2018-fashion-trends-ss18
Tulle Rocks!
Wanna know which fabric rocked Milan spring fashion shows? It is tulle. The utilization of this lightweight and sheer fabric is surely going to get you noticed.
Anorak Jackets/Parkas
This spring, get a look influenced with an urban style—you will get to see a lot of anorak jackets, parka or windbreakers. These are available in countless styles (plain and printed) and sizes—all are trending.
Show-Stopping Sequins
Sizzle the show with glamorously sequined fashion staples. Be it the evening galas or daytime wedding events/parties, sequins are here to stay. Even shoes are adorned with colorful sequins, reminding me something similar to Cinderella shoes. You don't believe me, look out for the spring fashion shows by Gucci, Chanel, Dior, Marc Jacobs, and Tom Ford.
Go Transparent!
Earlier plastic was more about raincoats in spring. But this season, the waterproof material has bounced back in a fashion-forward style. You will see a number of fashion outfits and accessories made up of transparent plastic material. Check out the rainboots by Chanel, plastic skirts and corsets adorning the fashion models.
Fringes
Create the illusion of a fully styled lady by wearing an outfit adorned with fringed detailing. Normally we see fringes as a winter trend, but this spring it has surprisingly surfaced as a dominating trend on fashion ramps. Check out the image below.
picture credited:harpersbazaar.com
Ruffles
Add an air of femininity by incorporating the vintage-inspired ruffled detailing. All the big names from the fashion world can be seen projecting their designs with ruffled style. Just like this cutesy one.
picture credit:harpersbazaar.com
Checks are Back!
Just like ruffles, checks to are considered a pure winter trend. But this season checks are dominating, even in spring. Spring season checks are more about pastel and soothing hues (quite unlike winter checks). Not just the toppers, even checked tights promise flawless fit and standout style.
90's Inspired Sunglasses
Shades are going to be a must-have accessory in the coming days. Replace your modern ones with the influence of '90s. Pick out the ones with laser edges, just like the X-girl.
Floral Dresses
Last but obviously not least, no spring fashion wardrobe is completed without a few dresses with floral prints. Symbolizing the beauty of spring outside, these prints are enough to remind you of the sweet sights of spring.
Wrap up:
Springtime consists of longer days and brighter sun. That is the reason why we recommend lighter hues utilized in airy and comfy styles—but not without a chic appeal. We really hope that women from all age groups are going to get benefitted by the spring fashion trends 2018 broken down above. Which trends are you going to follow this year? Do share with us.
Happy Spring!