Upgrading your dressing game
Wearing a dress is probably the comfiest option you'll ever find and, at the same time, the easiest garment to style. You don't have to think about how to pair your top and bottom and honestly, styling two pieces together can take some effort and time.
That's why casual dresses should always have a place in your closet.
But what if we take our outfit to the next level by wearing an oversized or long t-shirt? If you've never worn one, I know switching your regular dress for a t-shirt can sound a bit scary and crazy.
Trust me in this, a t-shirt dress outfit is a super stylish way of upgrading your traditional clothes. Plus, just like any regular casual dress, there are many ways in which you can style it, making you fall in love with this item.
How to wear a t-shirt dress
There are so many possibilities on how to wear a t-shirt dress outfit, but at the end of the day, it will all come down to the accessories you use.
You can perfectly wear a t-shirt dress for grocery shopping or to your euro trip because, as I mentioned, it's a super comfy garment that fits perfectly for those days when you don't want to think much about your outfit but wants to look stylish at the same time.
Likewise, a t-shirt dress outfit can be appropriate for multiple occasions, but it will depend on its length and style and with the right accessories, you can dress it up or down.
**I'd say they're usually not a workplace-friendly garment, as most of them tend to be above the knee. But if your work's dressing etiquette is flexible, or you find an appropriate length, then you should definitely go for it!
What to wear with a t-shirt dress
Let's enjoy spring with these cool t-shirt dress outfits I've compiled for you, and hopefully, they will convince you that this is an item you need to have in your closet right away.
1. Stripe lover
Stripes never go out of style, and if you are considering buying a t-shirt dress, a striped t-shirt dress should probably be your first option. It's super casual and classic without the risk of losing any chicness.
It's also a perfect style for absolutely any day-time occasion. The best and easiest way to style it? With white sneakers and sunglasses.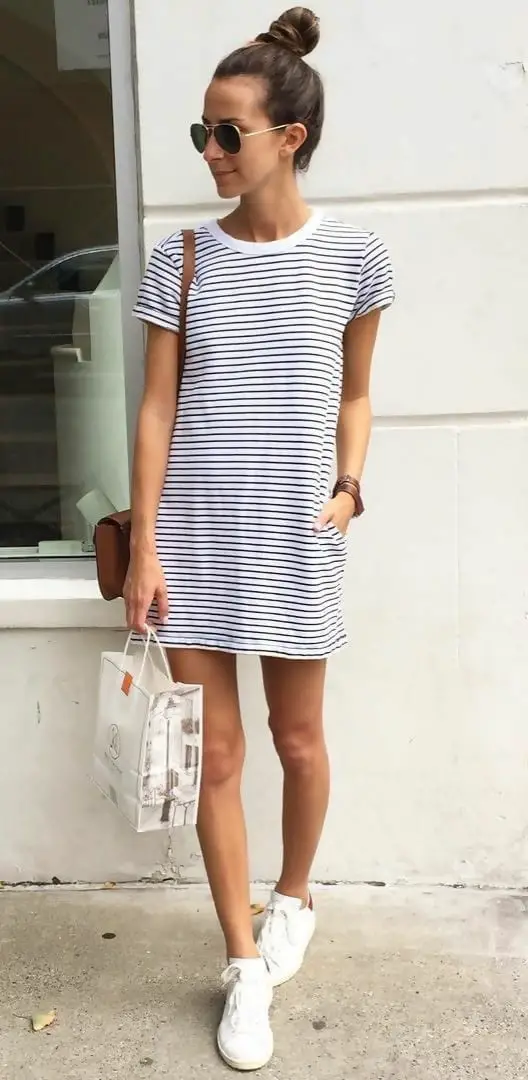 If you're wondering what shoes to wear with a t-shirt dress outfit, don't think too hard. Styling your outfit with shoes is a no-brainer because you can wear any kind of shoes, not only sneakers.
Sandals are a great option for those warm days: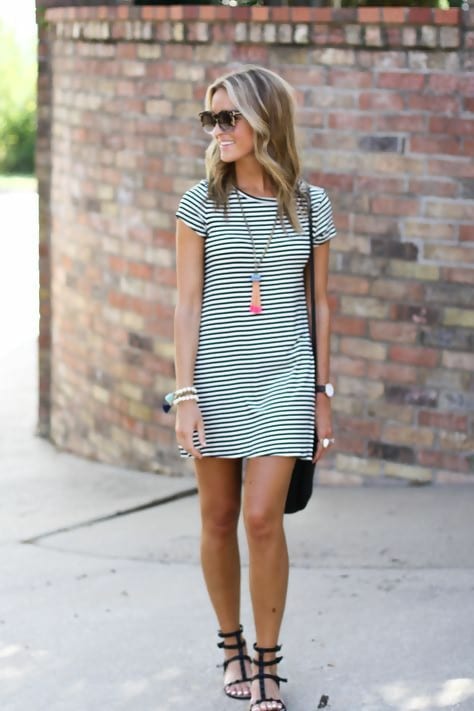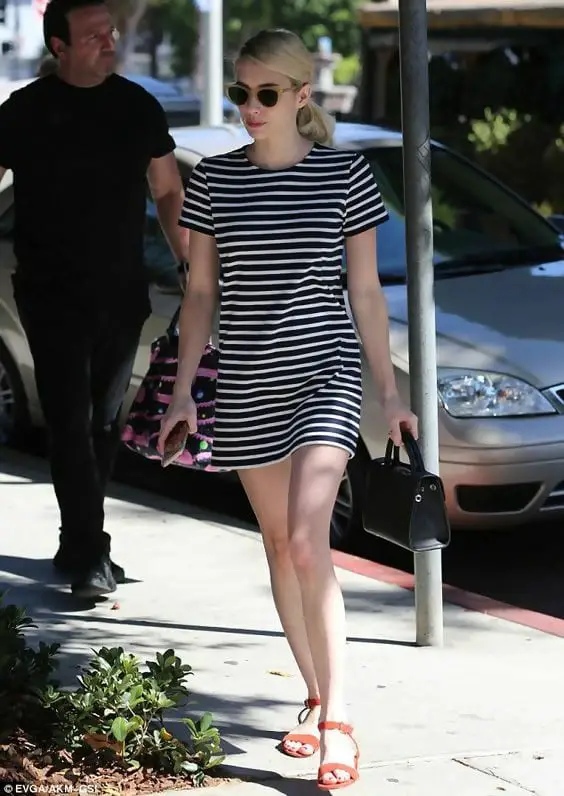 Black boots also look super chic and edgy paired with any type of striped t-shirt dress: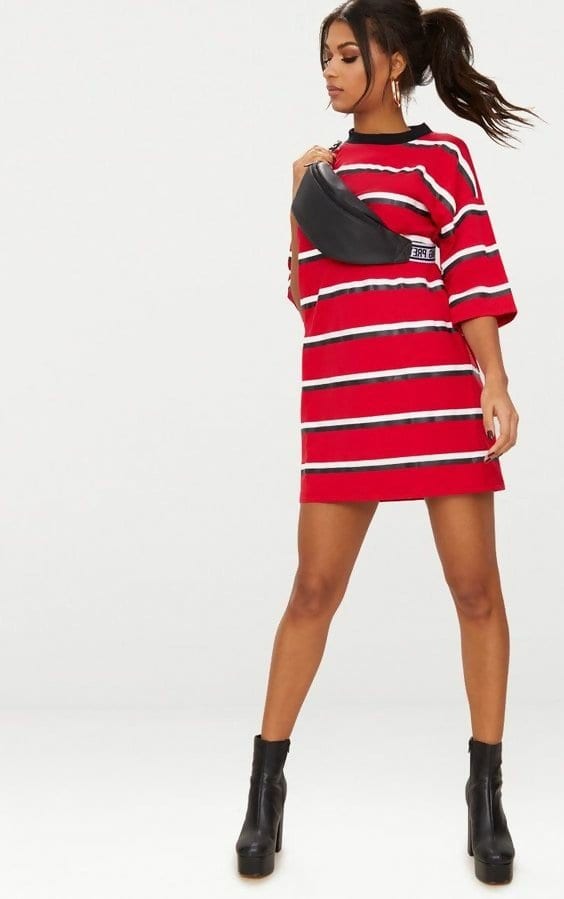 Or a bright colored pair of sneakers for an athleisure wear vibe: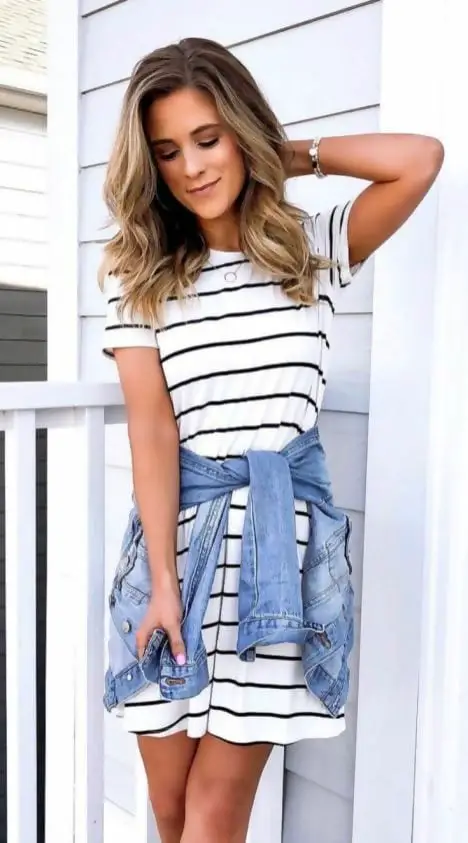 As always, a denim jacket will save your day by making you look fashionably and effortlessly casual. I love how chic it can look tied around your waist:
A denim or chambray unbuttoned shirt is an alternative if the weather is too warm for a jacket, making the same effortlessly fashionable statement: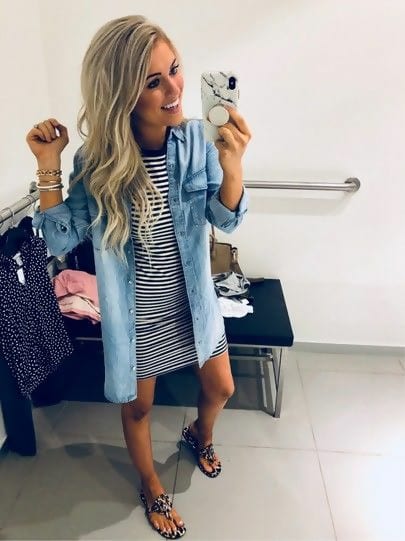 To take your t-shirt dress outfit to the next level, opt for an oversized fit and colorful stripes. They will give you that hipster and cool vibe while making you feel extra comfy.
Remember to wear a short tight to avoid an accident, and by accident, I mean unconsciously displaying your underwear.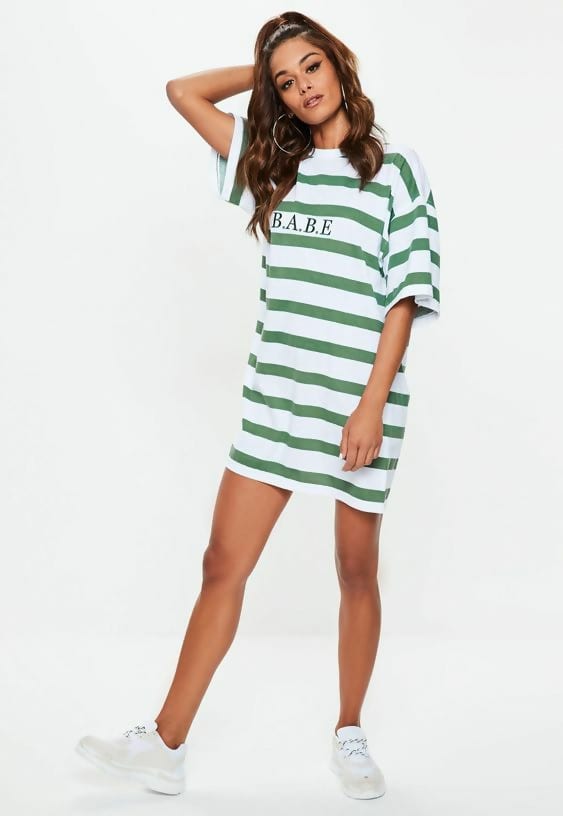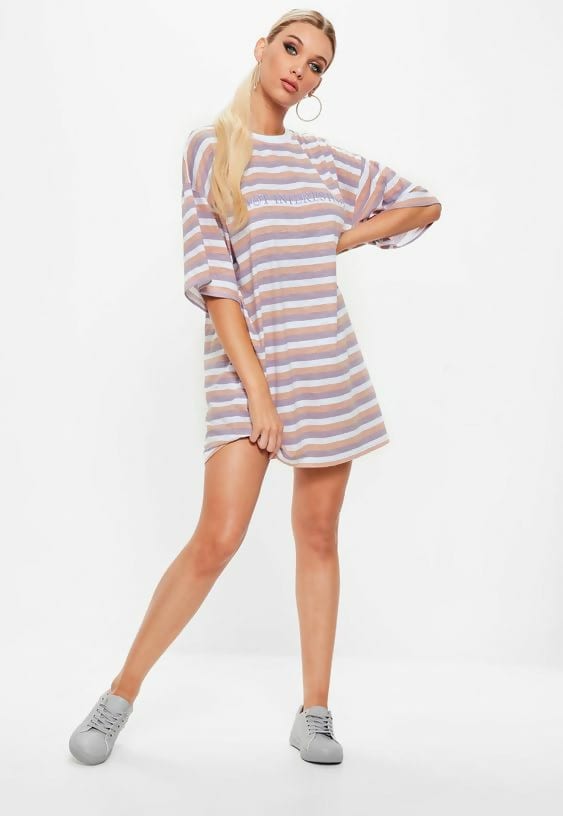 2. Slogan Tee
Another t-shirt dress style I love is a solid colored one that has an embroidered/printed slogan, or an edgy and cool text.
To dress up your t-shirt dress outfit try wearing a nice makeup and a pair super chic earring such as the ones on the model: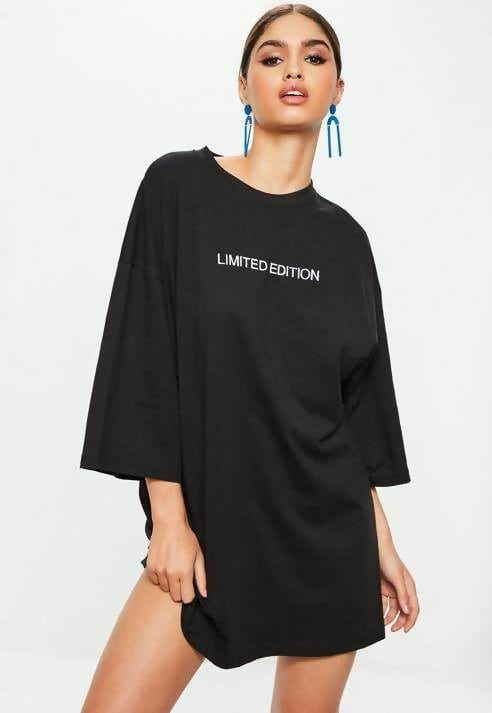 A t-shirt dress with boots will always look great together. Sock boots are a cool option if you want to look fashionable: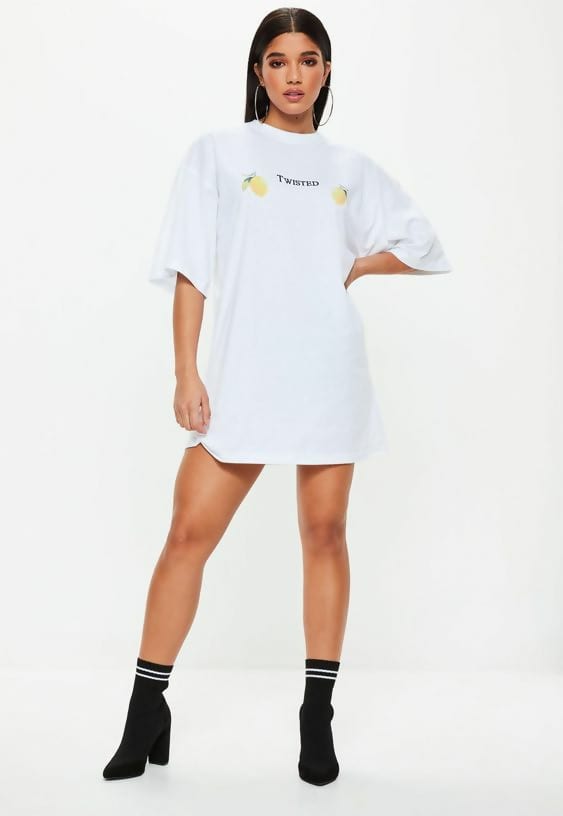 For an extra dose of chicness, wear a pair of thigh-high boots: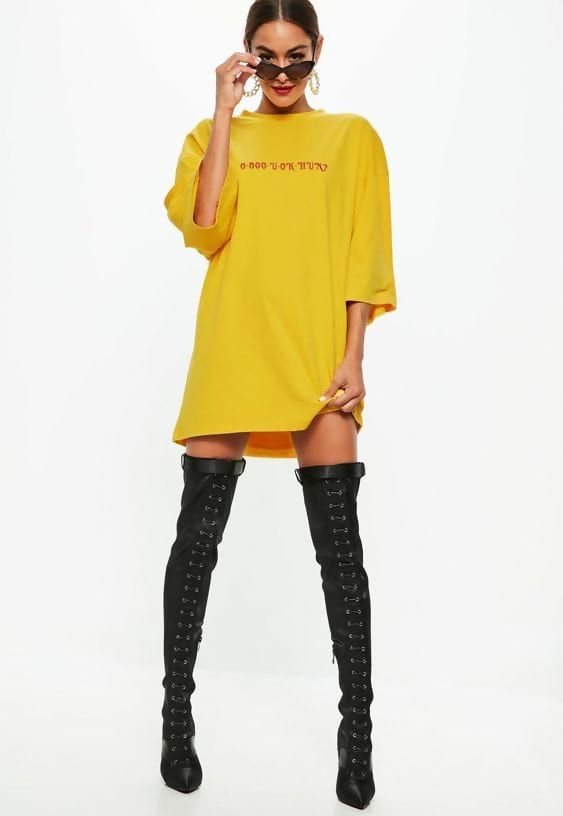 3. Logomania
As we've seen on fashion icons and in the last couple of runway shows, it's all about logomania. But you don't need to wear Gucci or Balmain logo t-shirt.
Affordable yet super cool options are sportswear brands' logos like Adidas or Champions. They will add some sporty vibes to your t-shirt dress outfit.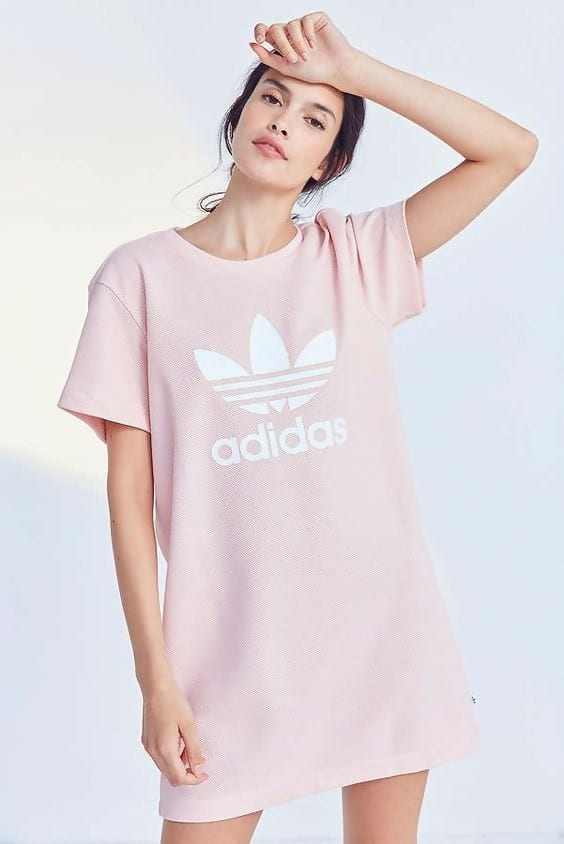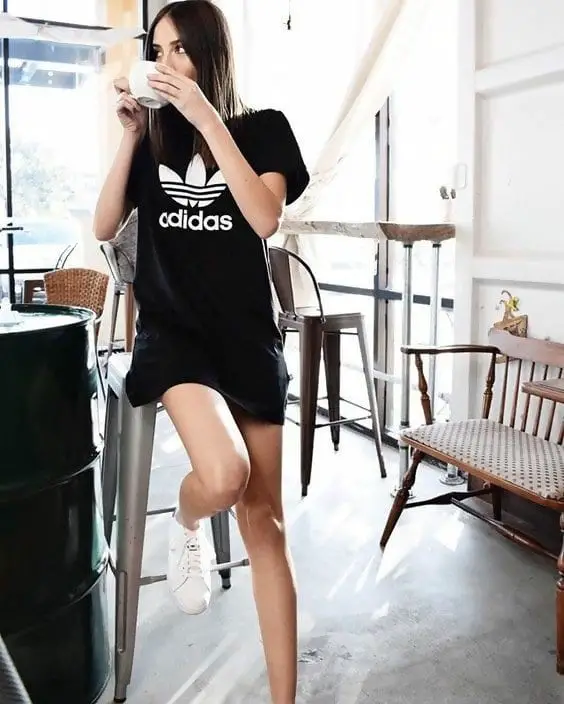 As you can see, a t-shirt dress is already making a strong statement to your outfit, so styling it becomes really easy. You don't need much except any shoe style you like, sunglasses and any accessory of your preference.
This logo printed t-shirt dress looks also super stylish for school as well: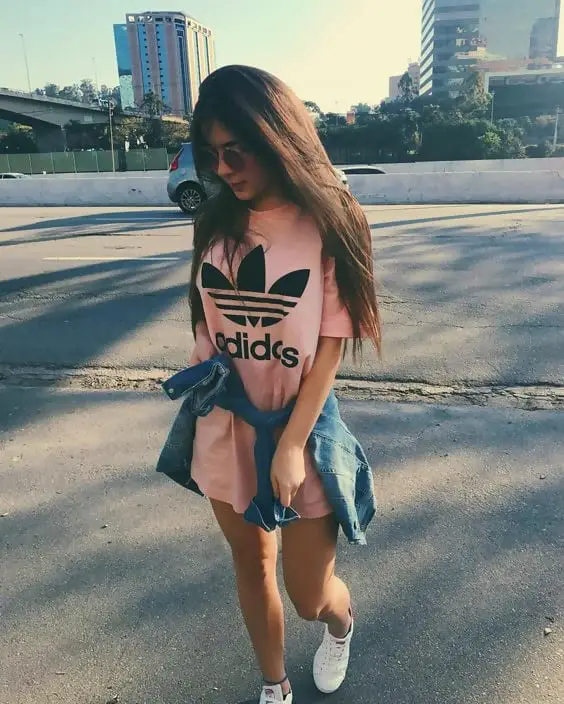 4. Band Tees
For a vintage and rock & roll inspired t-shirt dress outfit just opt for an oversized t-shirt with prints like these: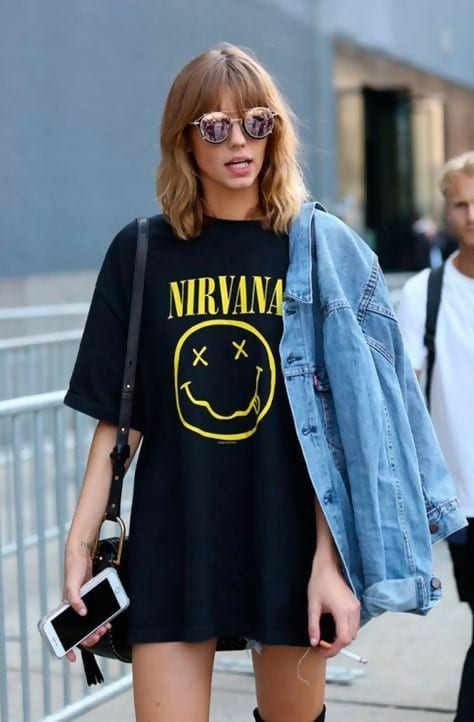 A classic Rolling Stones oversized tee is another great example.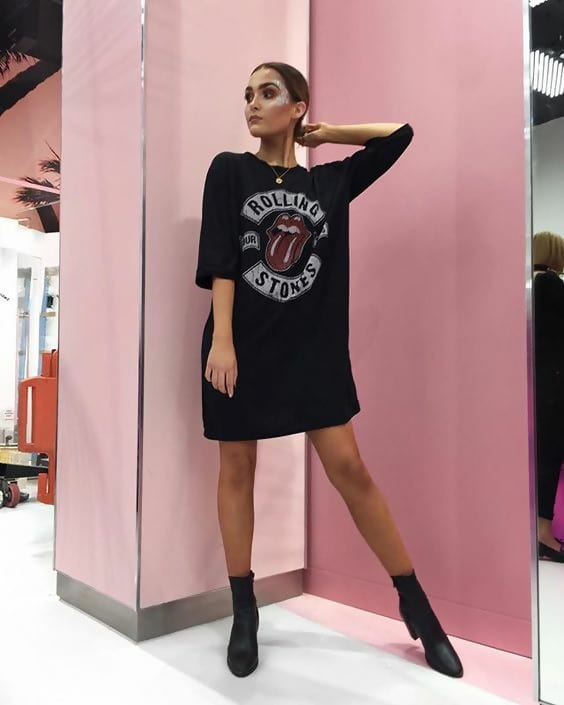 This kind of t-shirts will also add a tomboyish look to your outfit, which I think is absolutely cool. Wear a pair of black stockings and ankle boots to create a strong tomboy statement.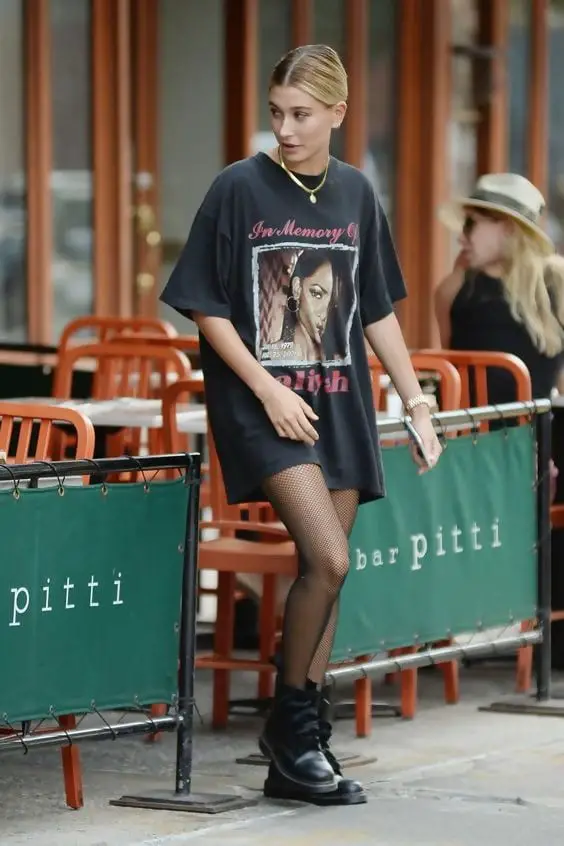 5. Sporty look
An alternative for band tees is a sportswear-inspired t-shirt dress outfit.
I suggest you should take a look at your dad, brother or boyfriend's wardrobe. I'm sure you'll find more than one sporty t-shirt that you can perfectly wear as a dress.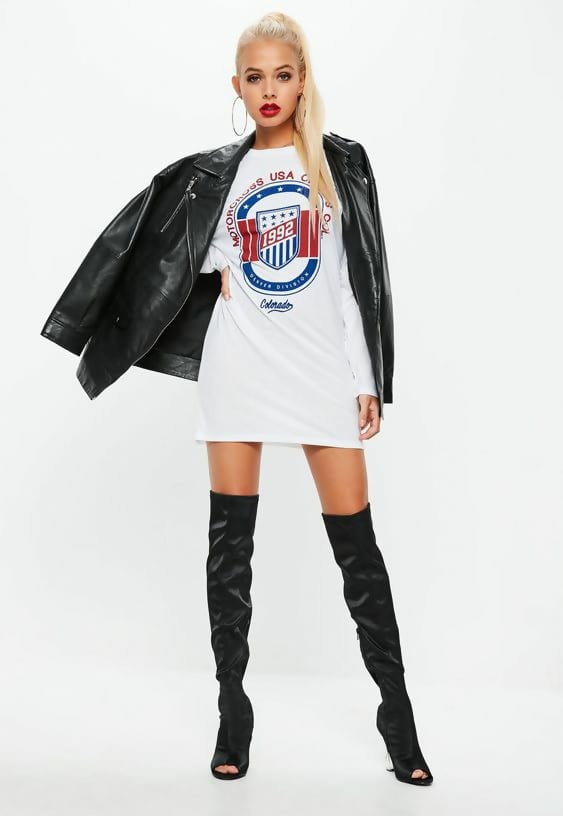 6. Leave it all black
A black t-shirt dress outfit will make you look super cool. There's no other color that's easier to style than black, which will definitely simplify your life.
A solid black t-shirt can be found literally anywhere, so there's no excuse for not owning one already.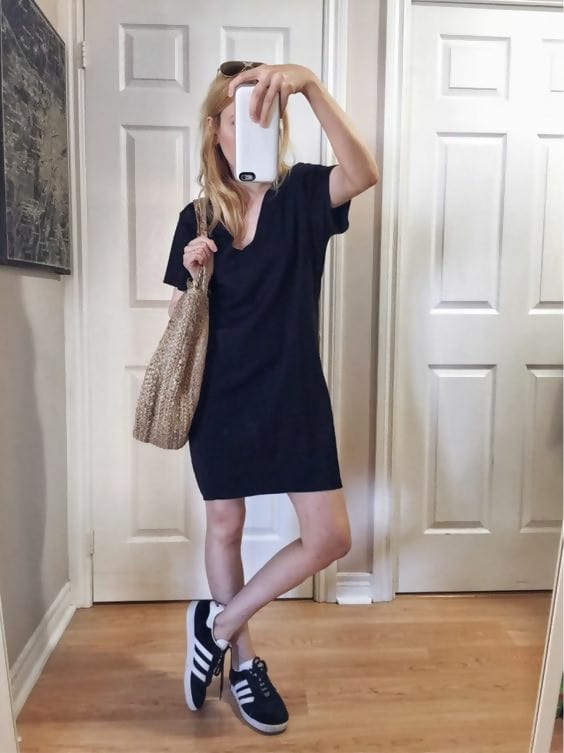 Add a pop of color to your outfit with an accessory, such as a handbag: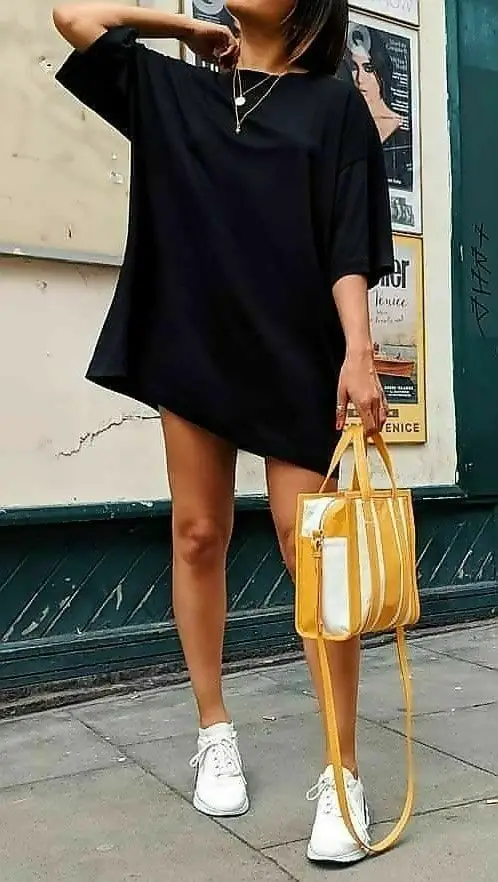 Your t-shirt dress outfit can also be very feminine, just wear a chic handbag and a denim jacket: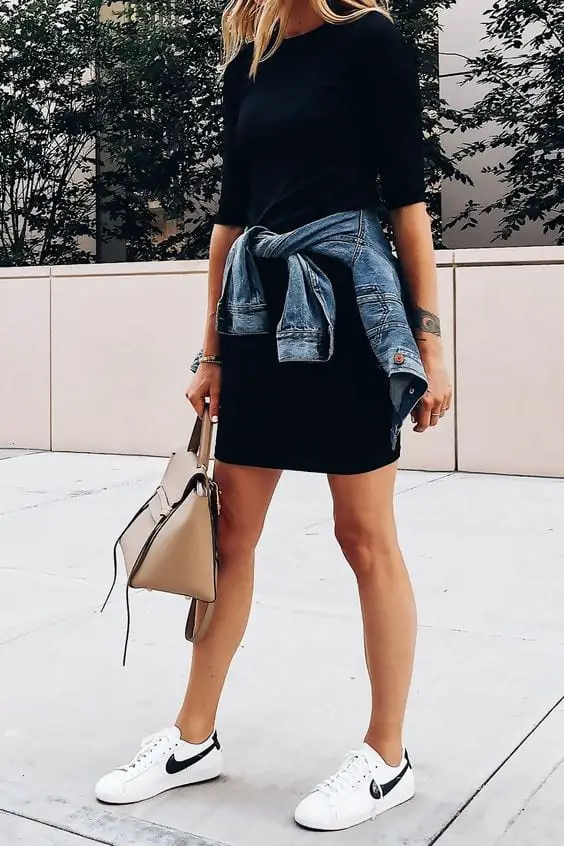 Or transform your outfit into a minimalist-inspired look: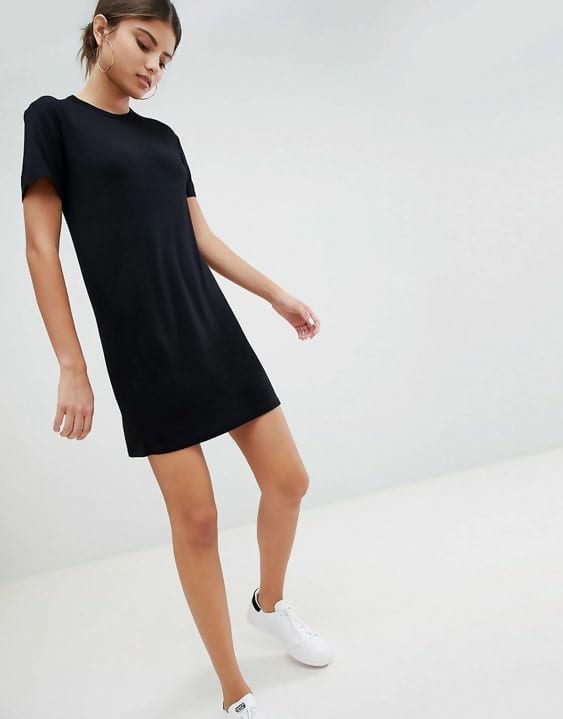 Wrap up:
If you ever found yourself wondering what to wear with a t-shirt dress outfit, remember that this item already makes a strong fashion statement and style it should be simple and easy. As seen in the above examples, most of the girls are barely wearing any accessory at all.
That's the best part of a t-shirt dress outfit. You can wear your favorite pair of shoes, no matter the style, and a denim or leather jacket and you're ready to go.
It's a very minimalistic approach to styling, but at the same time super fashionable and cool. I can't think of any garment that can do both in such an effective way.
In other words, you shouldn't be scared of trying a t-shirt dress outfit. Trust me, it's not only a super comfortable dress, but it's also one of the best investments you'll ever make.