Thigh high boots have taken the world by storm. They're chic, ultra-sophisticated and the best pair of boots you'll own this year.
These boots also are a statement all by themselves, so wearing them instead of regular ankle length boots can instantly transform a so-and-so outfit into a head-turner outfit. But you also have to choose the clothes with utmost care because if you pick something that doesn't flatter your thigh high boots, then the whole outfit will be ruined.
Don't worry, thigh high boots outfit is not as hard to create as it seems.
I remember that when I first bought my own pair of thigh high boots, the instant I tried them on I felt a boost of confidence that I had never felt with any fashion item. They just seemed to MAKE me feel great and sexy and sophisticated.
I was just wearing a pair of blue skinny jeans and a tee, but that was enough as to compliment my boots in the best possible way. That's when I realized how silly I had been at feeling intimidated by a thigh-high boots style.
How to wear thigh high boots
Now that you know that thigh-high boot outfits are not as complex as they seem, let's take a look at WHAT makes these outfits worthy of stare.
These 8 stylish ideas on how and what to wear with thigh high boots will make you crave at least three pairs of boots because you will just not get enough with only one. So take notes and enjoy!
1. Jeans
Thigh high boots with jeans are the easiest way of pulling off a cute and fashionable outfit. Of course, these jeans NEED to be skinny, otherwise, your boots will never close or you would be too uncomfortable with the excess of denim pressed on your legs.
Tip: The trick is to wear at least one item that matches the color with your boots. This can be anything you choose: from your belt or a motif from your sweater's pattern to a jacket or a purse.
This girl sure knows how to create a killer look. As I mentioned, the boots are matching with her belt, making the whole outfit super coherent and stylish.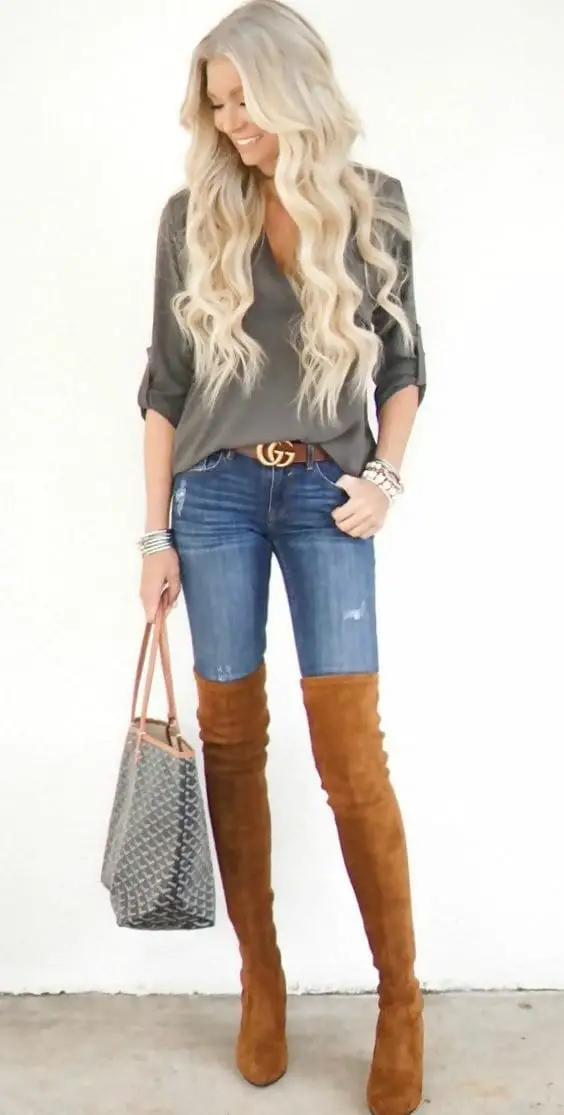 And what better and easier way to matching your boot's color than with an all-black outfit? If you own or are planning on buying a pair of black thigh high boots, then this look should be a must-do!
It's easy, sophisticated and gives you an air of mystery that will make head turns as you pass by.
Tip: when wearing an all-black outfit with thigh high boots, my suggestion is to choose a dark washed pair of skinny jeans. A light was will just make the whole outfit look weird because the contrast would be too notorious.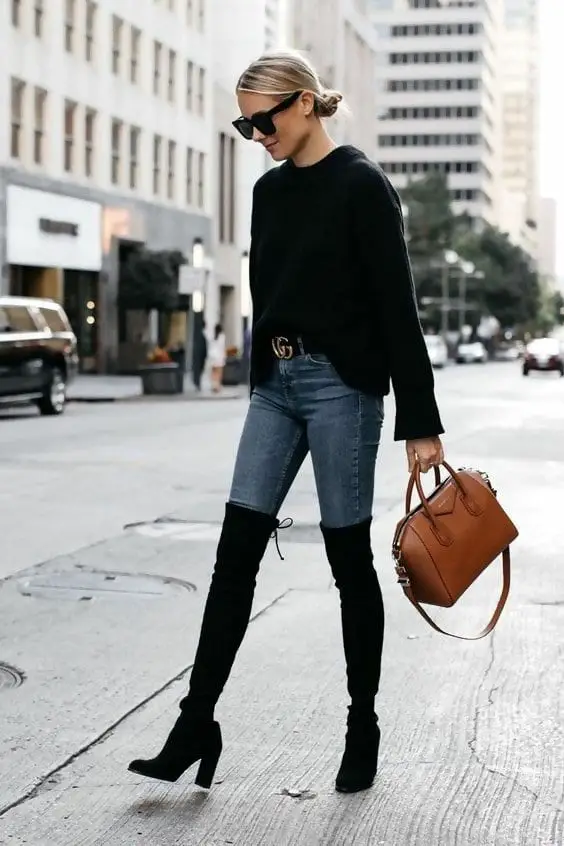 You can pick accessories that contrast nicely with your black clothes. Although most colors look good with black, the ones that harmonize better and create a chic color palette are mustard, medium grey, camel, beige, ivory, and red.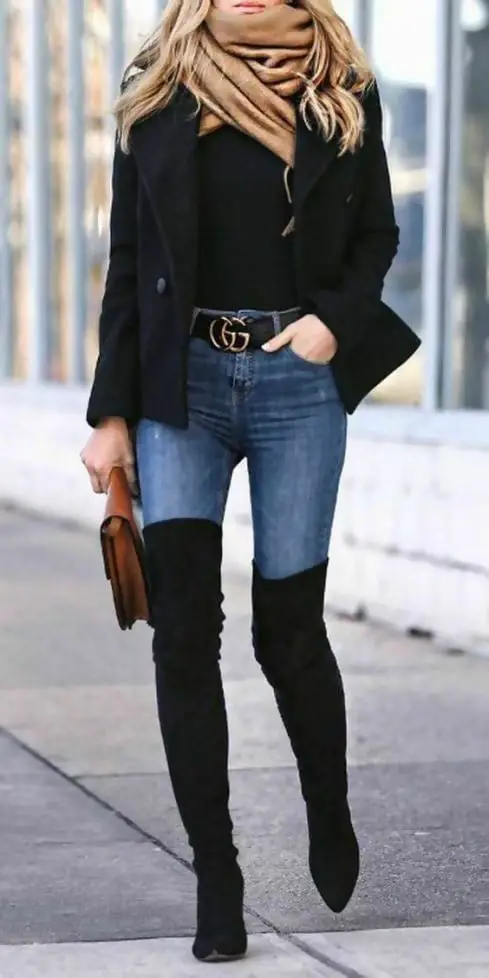 These are other examples of how you can match your thigh high boot's color with any accessory you choose: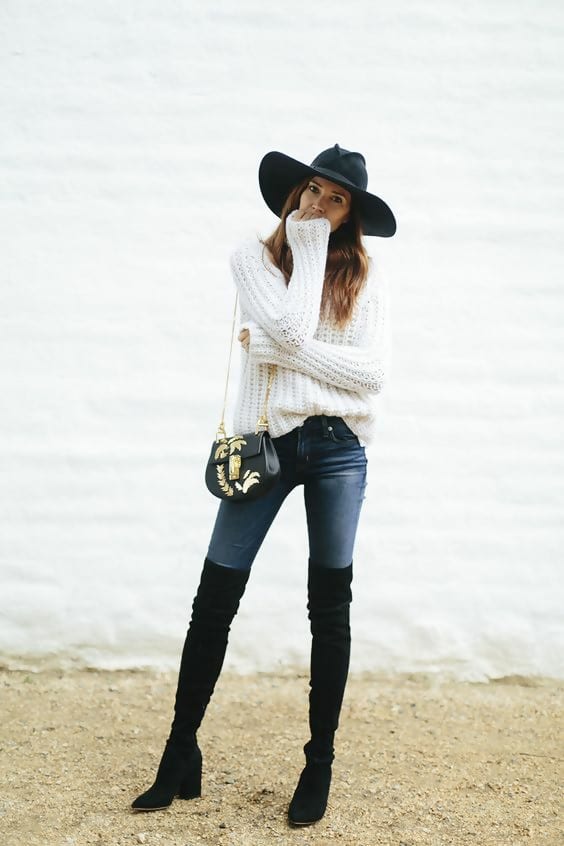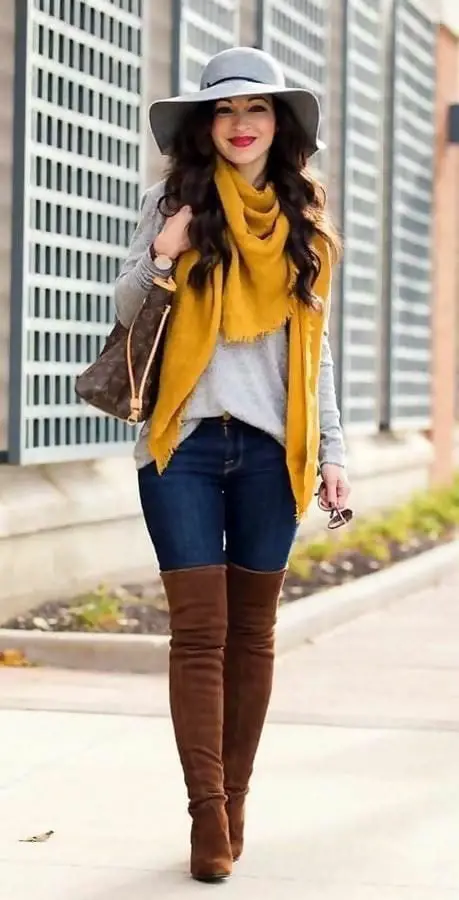 2. Skirts
Almost any type of skirt looks great with thigh high boots. But the best options you can choose from are:
Straight or tight mini skirt
The classic and vintage-looking straight skirt is a great option to bring out the best of your boots. In fact, it's my favorite type of skirt for these boots.
They look so cute and stylish because thigh high boots are already a sexy but chic item, and a mini skirt will only make the most of it by emphasizing your silhouette. You'll create a sexy, flirty but at the same time classy and chic thigh high boots outfit.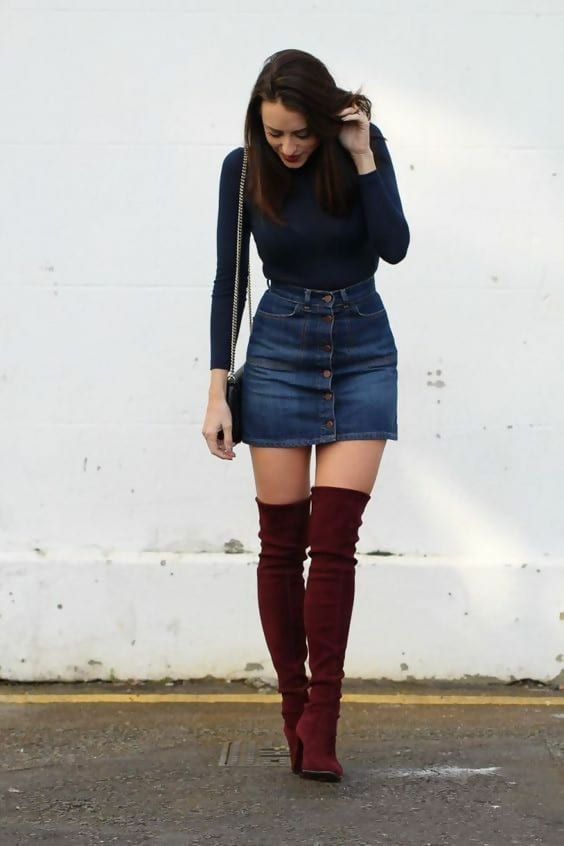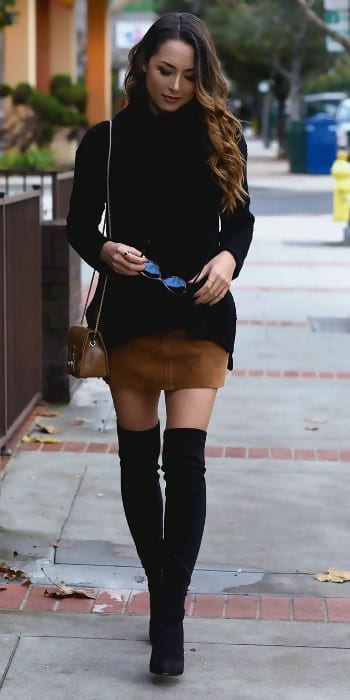 Wear your black thigh high boots with sheer tights during chilly weather: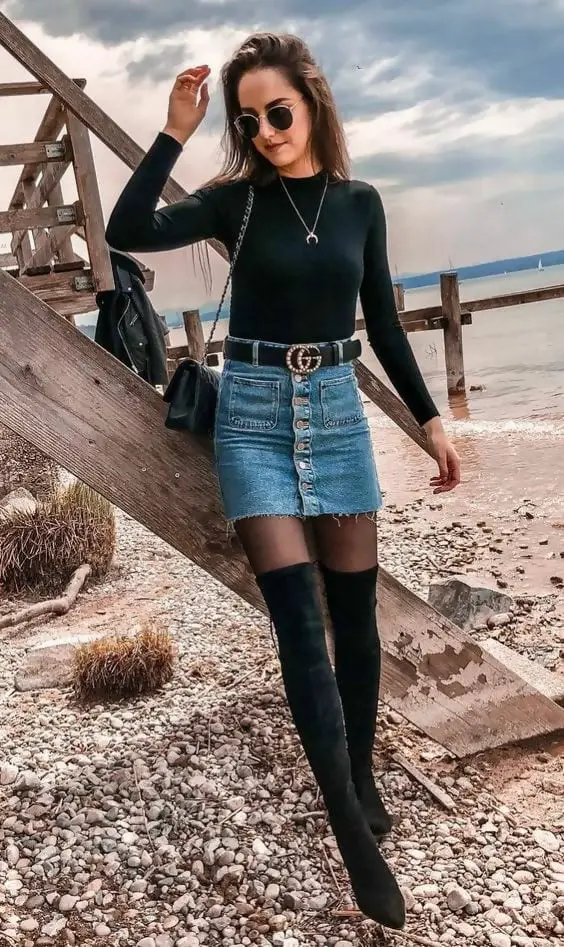 What about a black leather skirt? Few outfits can beat a look like this one: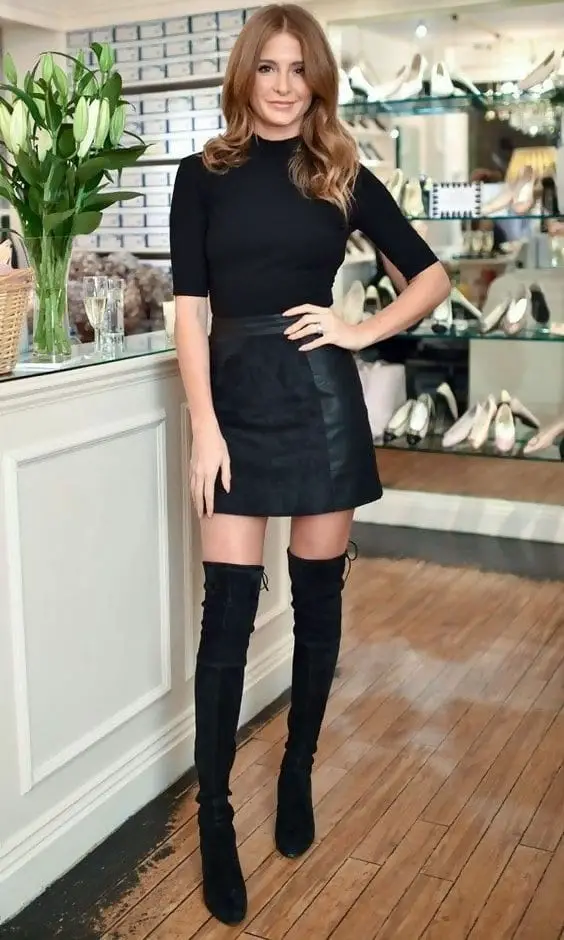 You can also choose to look super classy and feminine with a tweed mini skirt:
If you rather go tighter, then these are other cute outfit ideas you can recreate with your mini skirt and thigh high boots: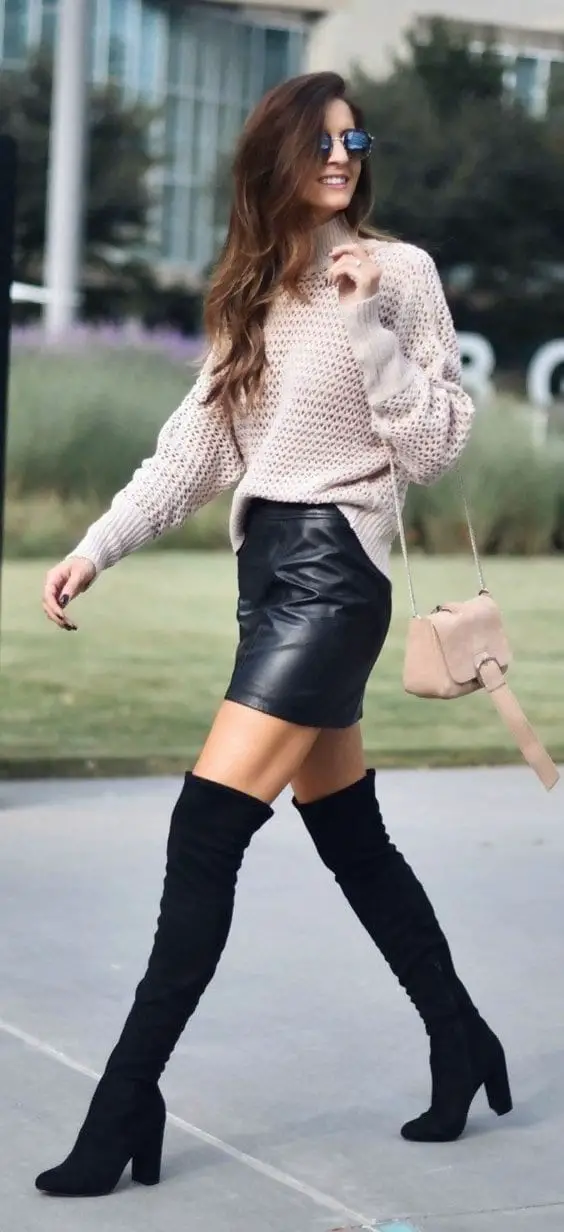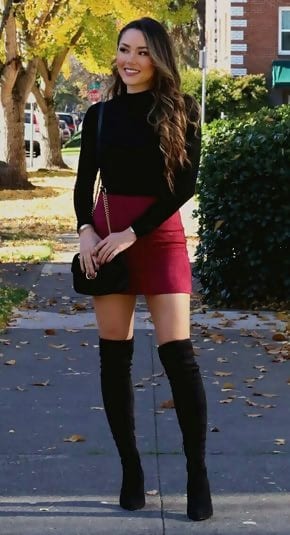 For a stylish and unique thigh high boots outfit, pair your mini skirt with a long or oversized button-down shirt. I guarantee that you'll take the thigh high boot game to the next level: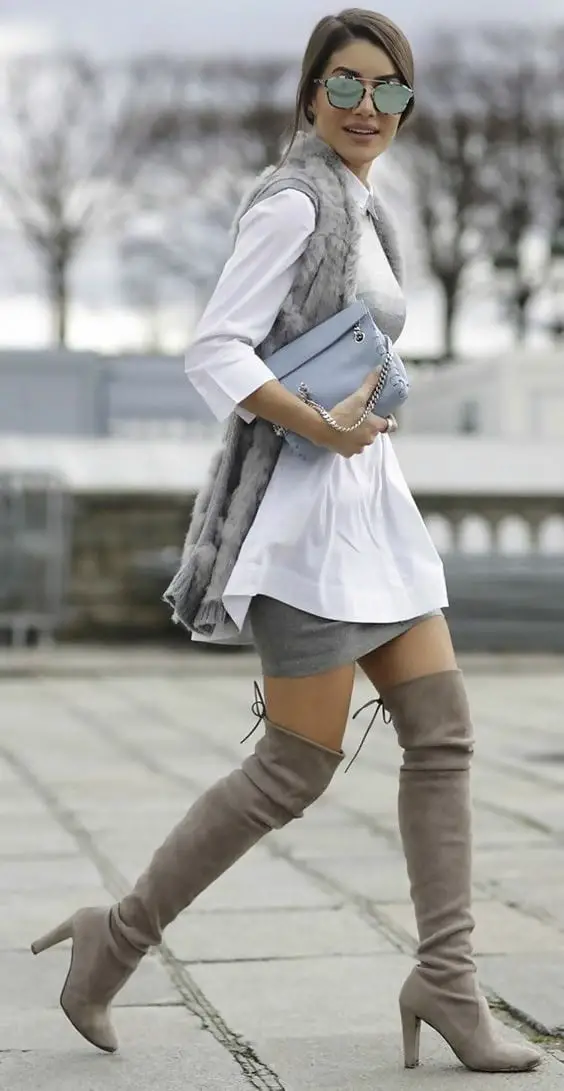 A-line or circle skirt
If you're more into a girly style, then an A-line or circle skirt is the best option for you. Not only are these skirts sweet and cute, but they can also look sexy and edgy with a pair of thigh high boots.
Tip: When choosing an A-line or circle skirt, make sure that it is a mini length so that you can still leave some skin exposed. Otherwise, the whole outfit will look weird and old-fashioned.
A simple way of pairing your high thigh boots is to match their color with any garment or accessory.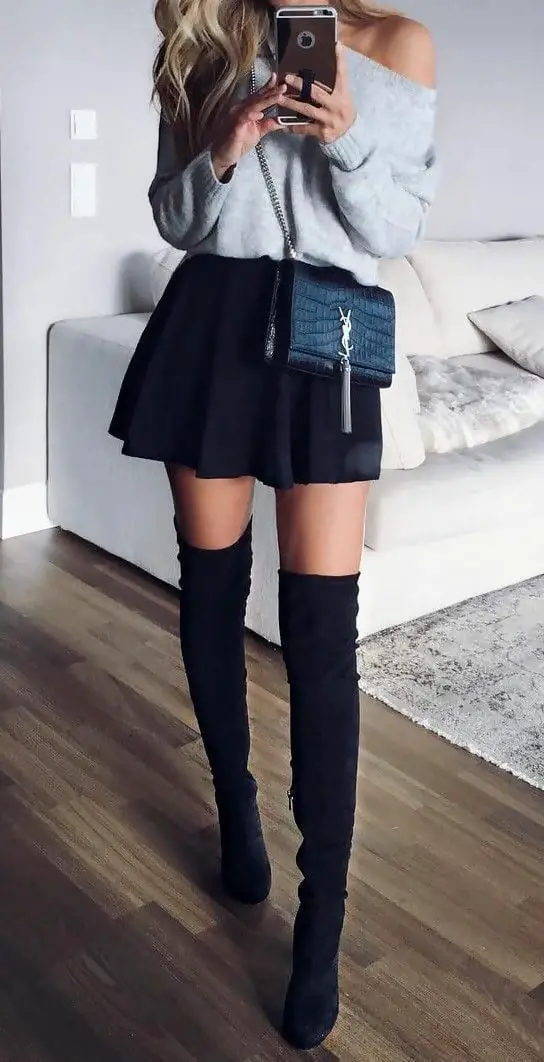 Tip: You can also choose to dress with neutrals instead of matching colors within your outfit: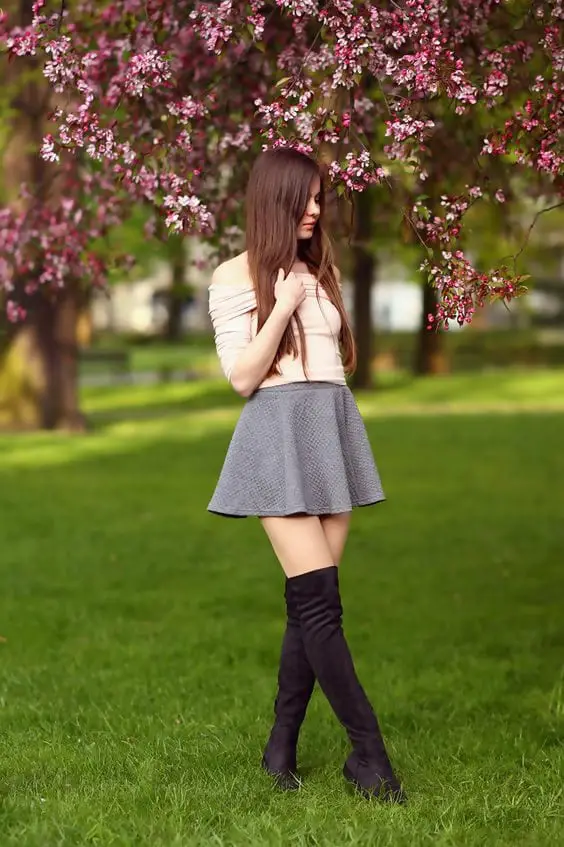 Grey thigh high boots can also create chic and cute outfits. They're a great option if you want to wear or buy thigh high boots that are not as common as black.
Grey will look great with neutrals as well: camel, black, white, shades of grey, beige…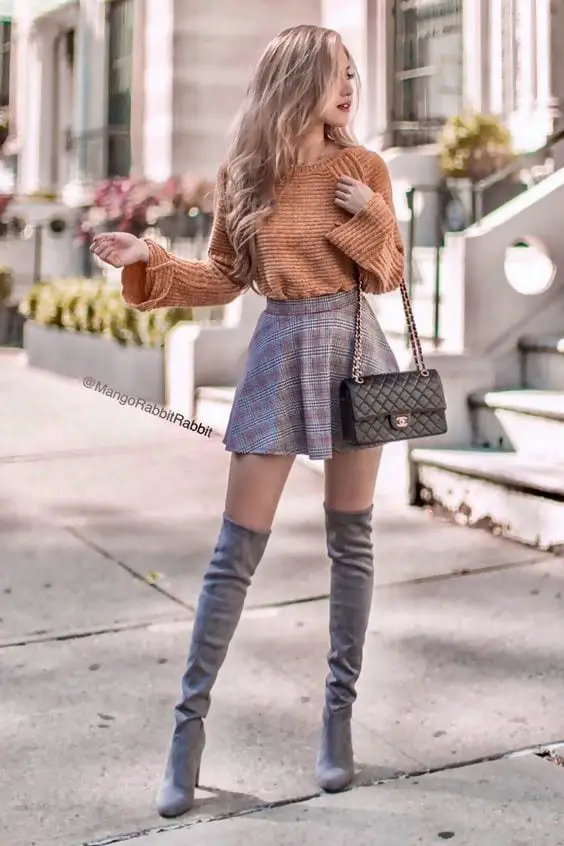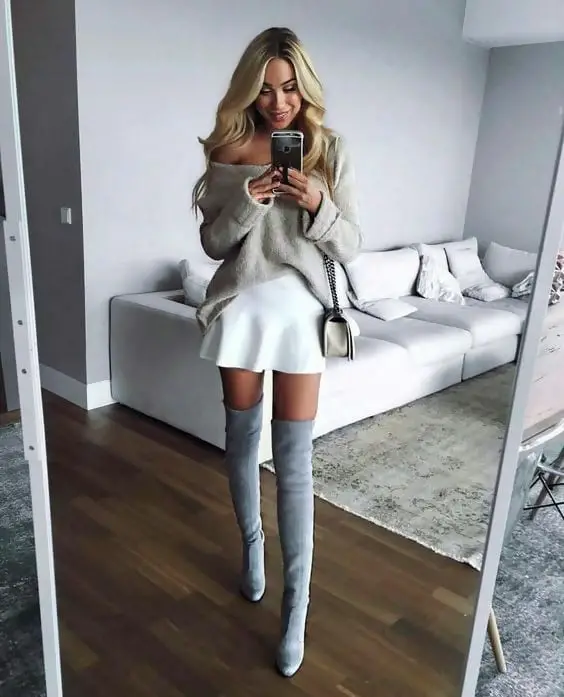 Maxi or midi length skirts
If you've always been a boho lover, or simply want to take your thigh high boot style to the next level, then there's a no better option than wearing maxi or midi length skirts.
Tip: half-tuck your top inside your skirt for a chicer look
You can choose a floral printed slit cut maxi skirt: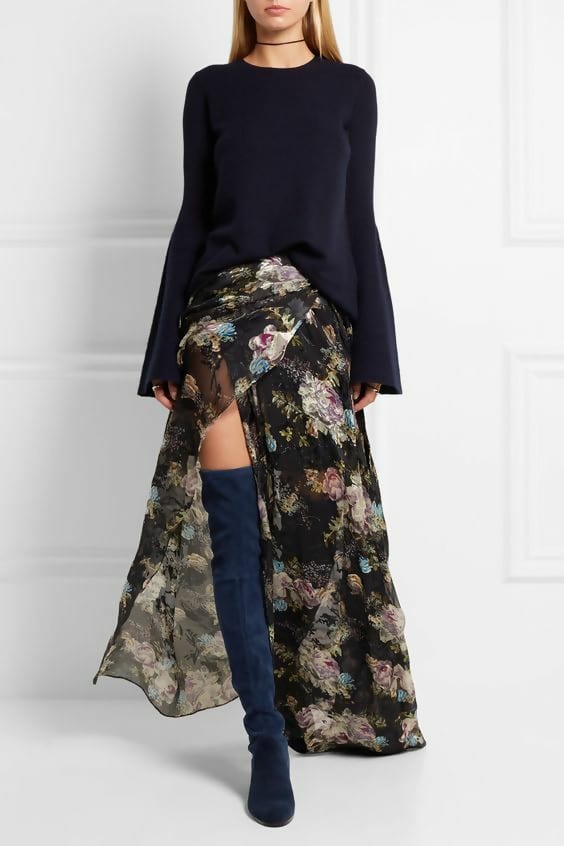 Or polka dots or mini prints: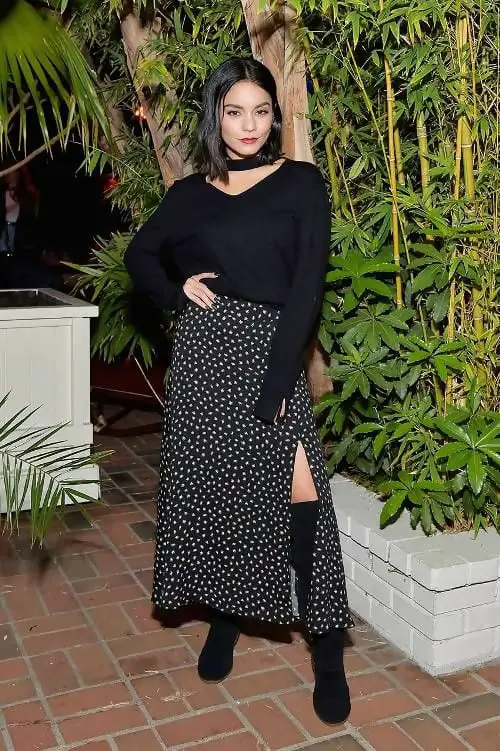 You can also spice up your thigh high boots look by wearing a sleek slit-cut maxi skirt. The best type of maxi/midi skirts for thigh high boots is those with slit-cuts because of they show-off your boots with each step you take.
Otherwise, your boots would be kept hidden under your maxi skirt.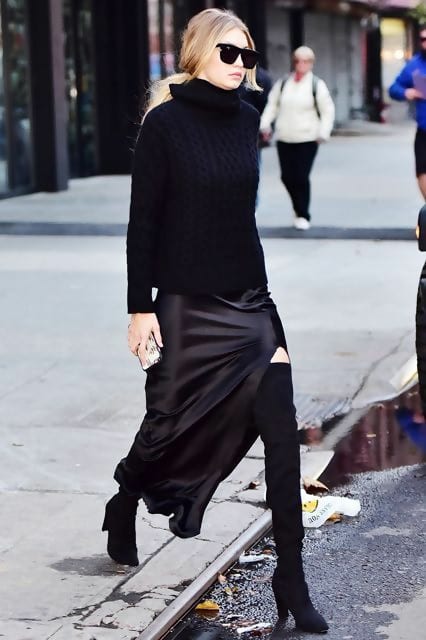 But you know what they say, when it comes to fashion, there is no such thing as rules. You can wear a leather midi skirt with no slit cuts if you feel like breaking the so-called rules: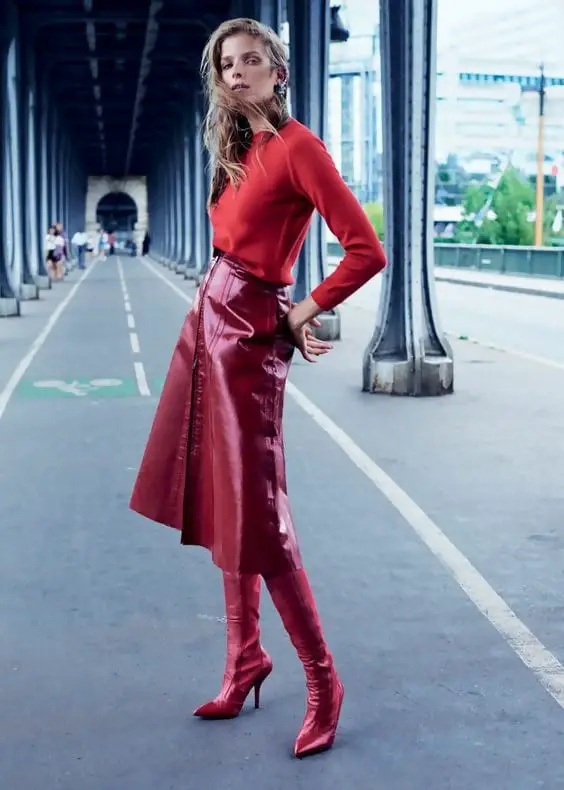 3. Shorts
A bit less popular, but equally stylish, a short can also bring out the best of your thigh high boots.
My favorite type of shorts to wear with thigh high boots are high waist denim shorts. I believe these make your outfit look super stylish but at the same time casual and laid-back: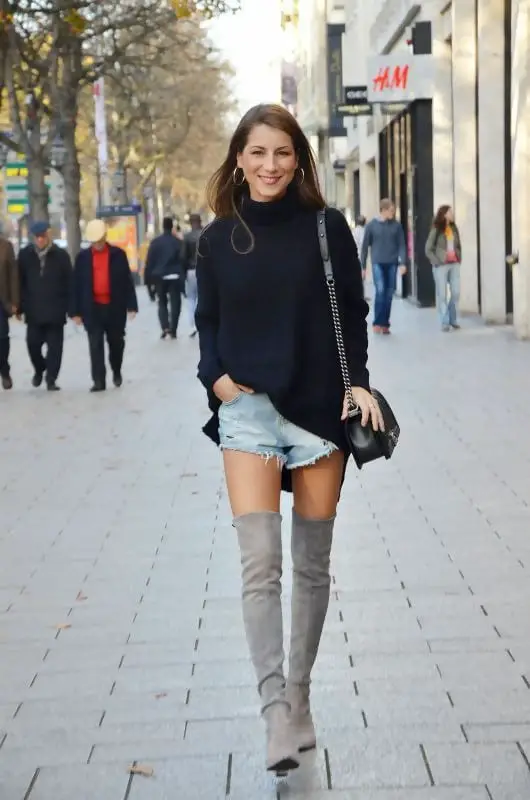 For an effortless look, denim short will definitely do the trick: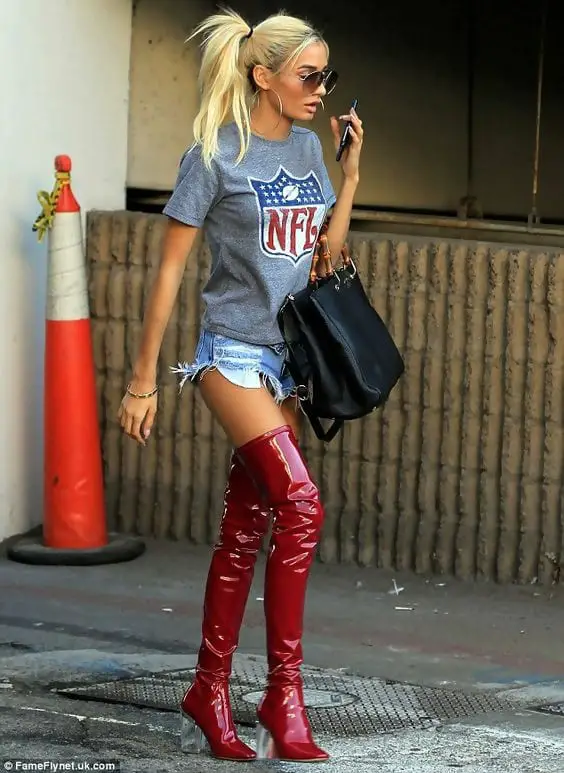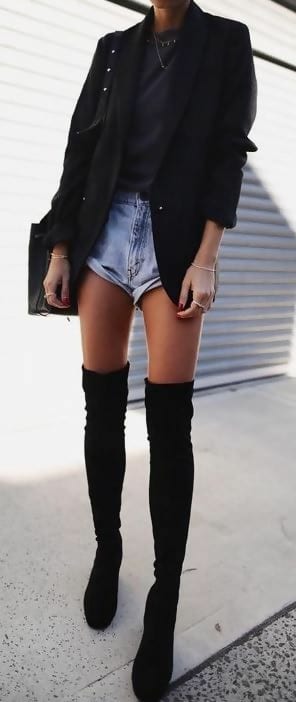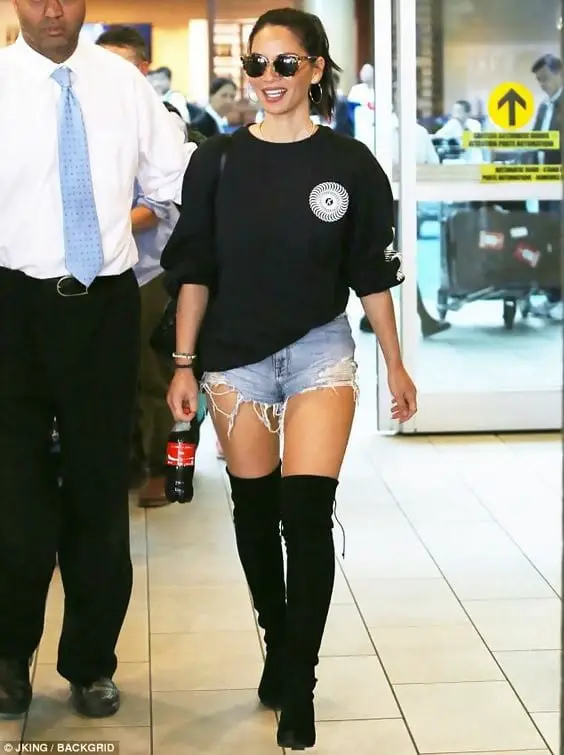 If, on the other hand, you're looking for a polished and dressier outfit, straight line short will be the best option for you.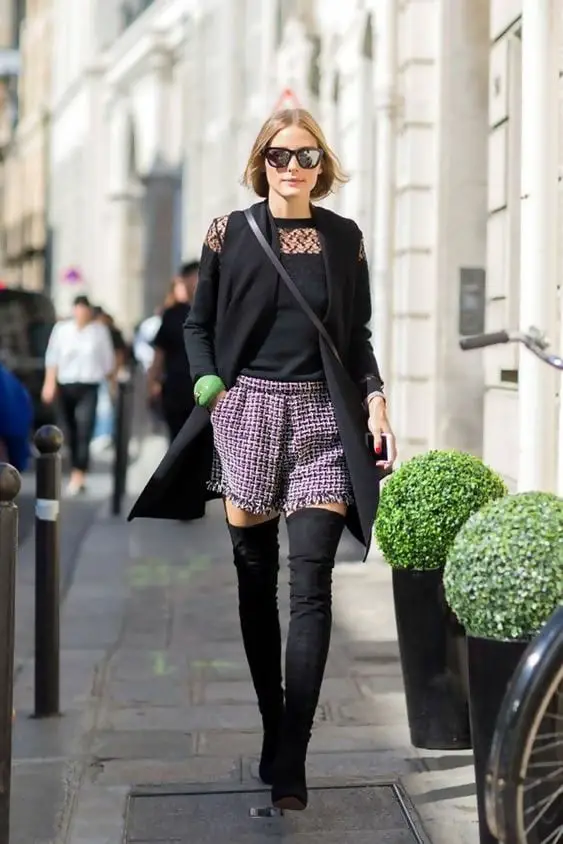 My favorite is a pair of high waist vintage-looking shorts in an all-black outfit: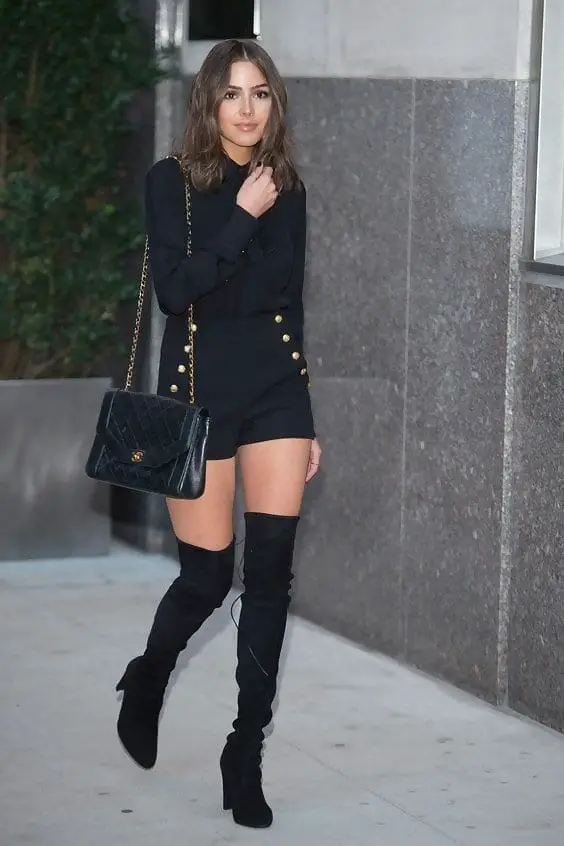 A pair of loose fitting leather shorts also look great with black thigh high boots.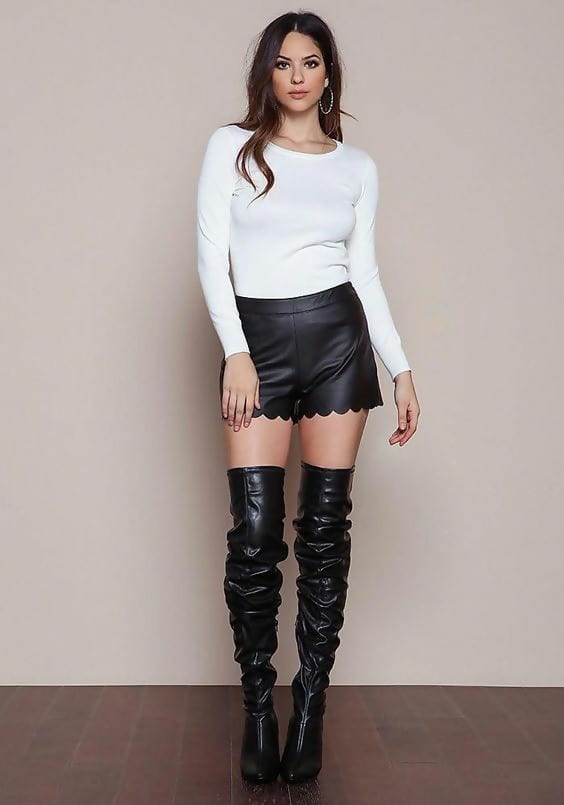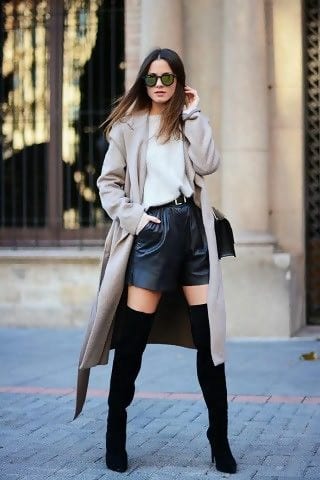 4. Dresses
And finally, we need to talk about dresses with thigh high boots because they're definitely a thing.
Same as skirts, there are so many types of dresses that in the end, it will depend on which style you feel most comfortable in. However, there are some that need a special mention because they guarantee to take your style to the next level of chicness.
Loose fitting mini dresses can look amazingly stylish with a thick belt that matches your thigh high boots. Personally, I can't get enough of this look.
It's a killer thigh-high boots outfit from head to toe, literally.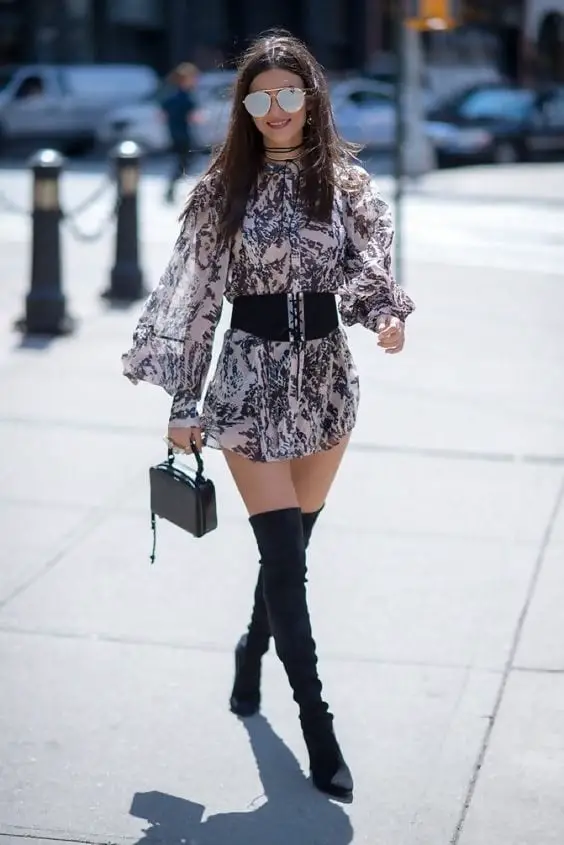 What about a dress with a bold print? A killer look for sure!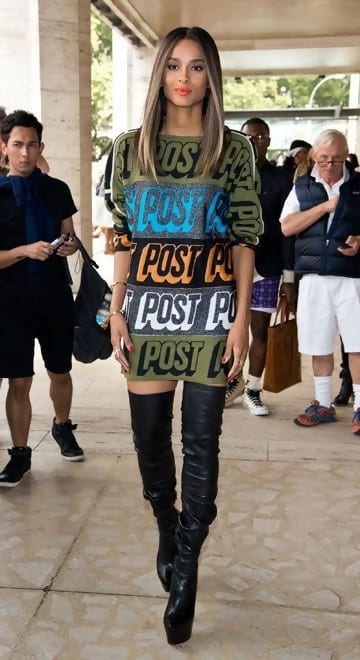 A knit winter dress is a perfect match for thigh high boots: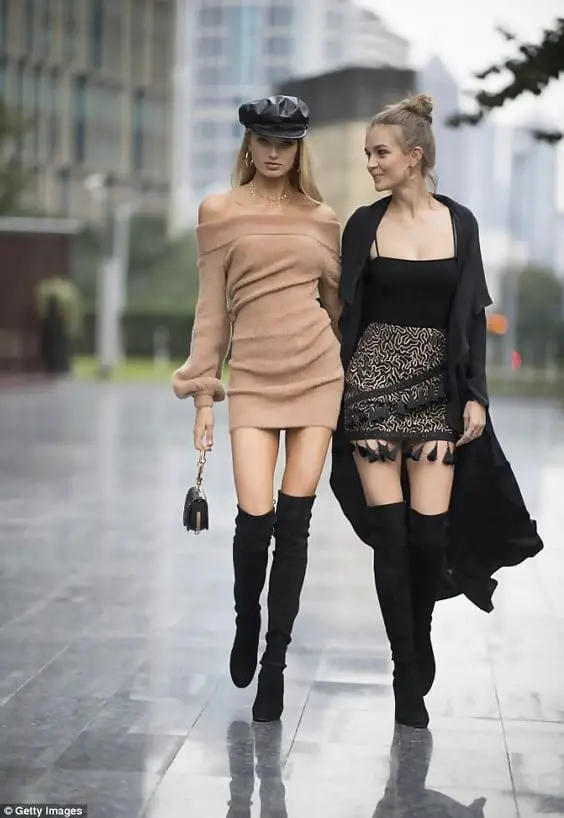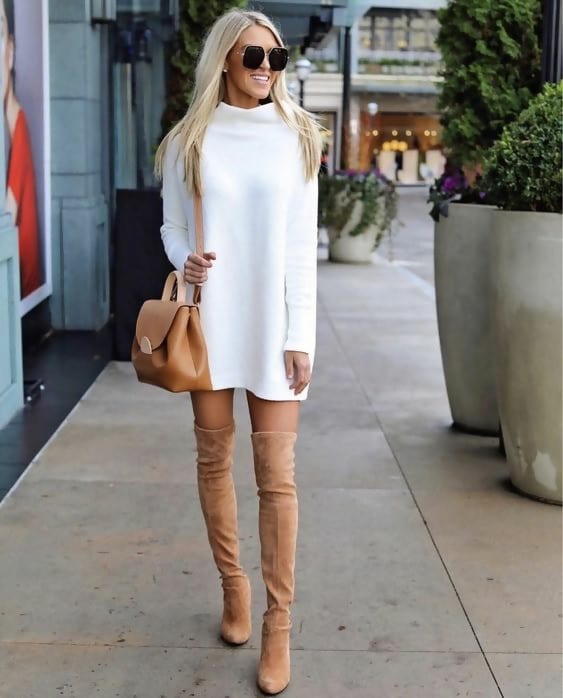 You can also create a one-color outfit if going edgy and bold is what you're looking for: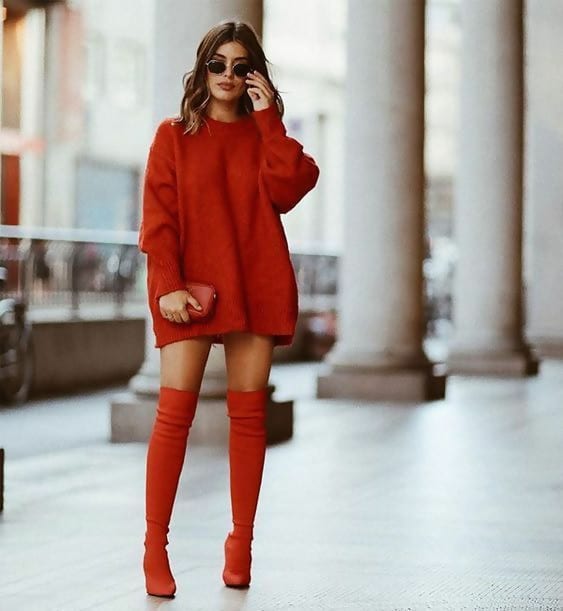 A plain black and tight fitting dress will also do the trick.
Tip: When in doubt, opt for a classic or easy silhouette. Remember that your boots are already a statement piece, so there's no need in going crazy with your clothes.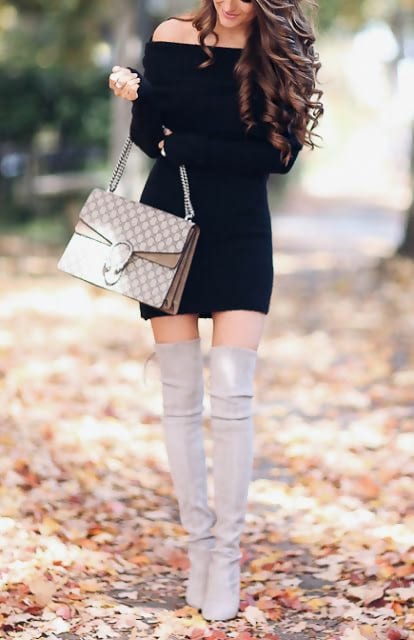 Wrap up:
If you have been wondering how to pull off a cute and stylish thigh high boots outfit, then this article is here to demonstrate that doing so is a no brainer. As I've mentioned, these type of shoes are a statement piece that will transform any so-and-so outfit into a killer look, so styling them is not the hardest task out there.
But if you're still debating whether thigh high boots are for you, double-check these outfit ideas to boost your creativity. I'm sure you're more than ready to show-off your thigh high boots style!