As obvious as it sounds, not every girl on this planet loves pink, high heels, flowers, and pastels. Thinking that pink is for girls is as old-fashioned as saying that trousers are for men.
In a world where feminism has taken such a significant and influential role, women feel the need to express who they really are, especially if this means breaking up the feminine stereotype. Nowadays, the tomboy look has become more like a synonym of freedom and many women have tried this style at least once in their lives.
Even though an item of male-influenced clothing has existed for women since the beginning of the last century, street style fashion has been responsible for transforming tomboy outfits into the coolest and trendiest thing.
What does tomboy mean?
The Merriam Webster dictionary defines "tomboy" as "a girl who behaves in a manner usually considered boyish". Probably this behavior includes playing videogames and soccer, smoking and drinking, wearing vans and beanie hats, and having a special love for black.
Do you feel like I've just described a regular girl? That's because nowadays any girl can have "boyish traits", and even if you don't feel completely identified with it you can still try tomboy clothes and realize this style is for everyone and is definitely worth trying.
How to wear tomboy clothes?
As I mentioned, most of us are not 100% tomboys, and might sometimes feel scared of looking too boyish if we try this style. But tomboy clothes can be at the same time very feminine.
One thing's sure, tomboy outfits will make you look cooler than ever. Here are 91 outfit ideas for women who want to experiment with tomboy fashion or have run out of ideas on how to dress according to their style.
Caps and ripped jeans
Nothing simpler than that. The best part is that caps can be found literally everywhere.
Tomboys make caps look cooler than any other style, so it doesn't matter if it's one you got from a souvenir shop.
Black ripped skinny jeans will add an edgier touch to your tomboy outfit. As you will see in the following pictures, many girls are wearing black ripped jeans, making this item a must-have in your tomboy style: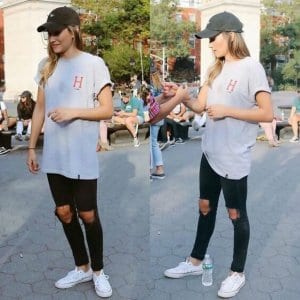 You can also opt for light-washed skinny jeans for a more vintage look: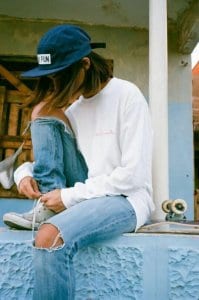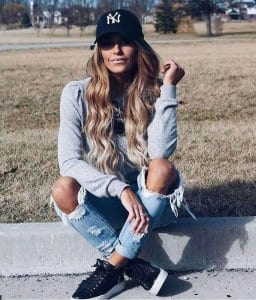 Shop The Look
---
Click the Picture to buy
Or just caps…
Forget about everything else, caps are the ultimate tomboy item you need to have. They have such a strong male look that will instantly transform your outfit into cool and boyish.
It's as easy as that. Just pair it with any t-shirt and you'll have an instant tomboy vibe.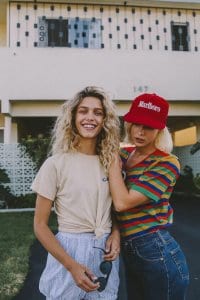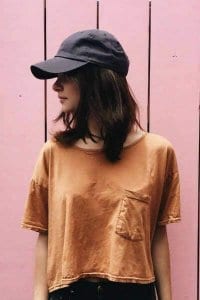 Here are other cap ideas that you can buy, or borrow from your brother or friends: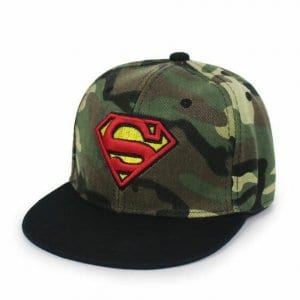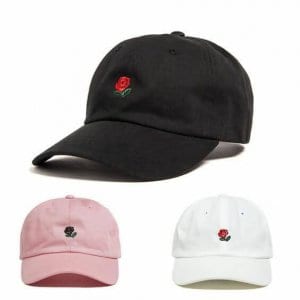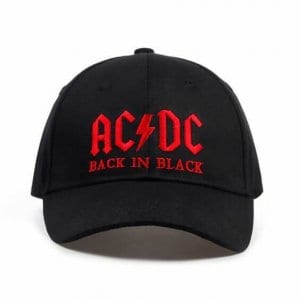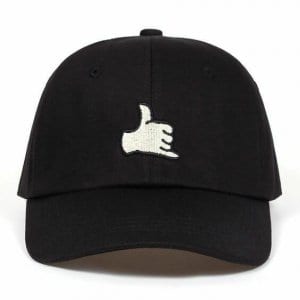 Try This: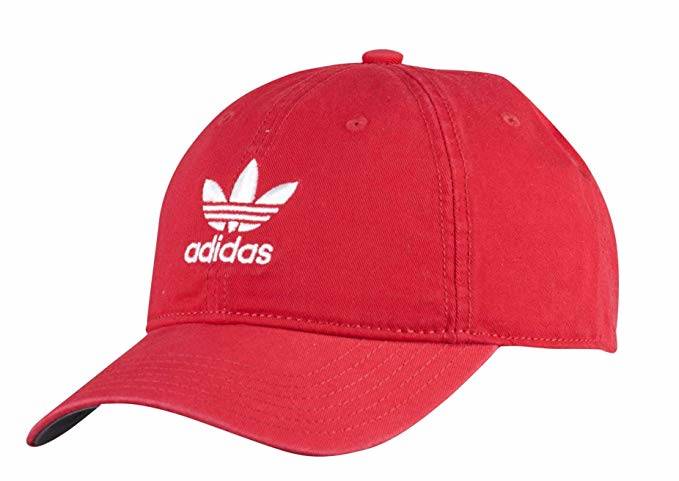 Other accessories for tomboys
Apart from caps, the most important accessories that can't be missed in your tomboy wardrobe are the following:
1. Black shoes
My favorite brands for a tomboy look: Vans, All-Stars and Dr. Martens. As you will see in all these pictures, black sneakers and boots are definitely a tomboy's favorites: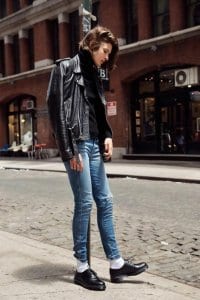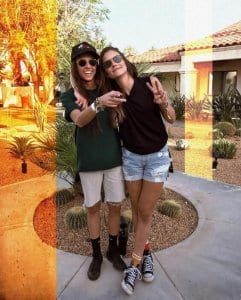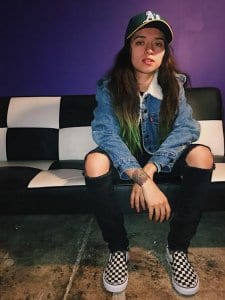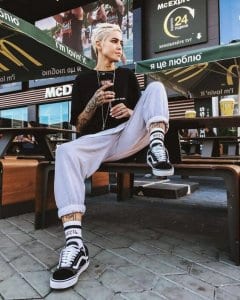 Shop The Shoes
---
Click the Picture to buy
2. Beanies:
Beanies are perfect for those chilly weathers when wearing a cap seems impossible: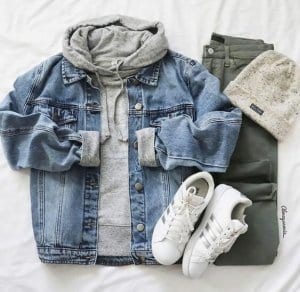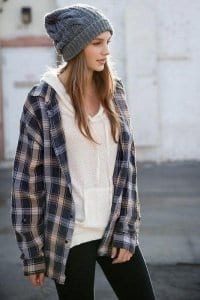 Try this:
3. Sunglasses:
Classic sunglasses are the best option for this kind of style. Wayfarer and aviator styles are great options for a tomboy look.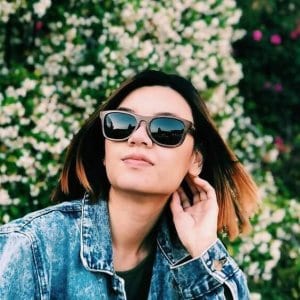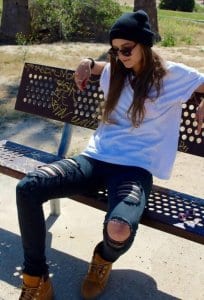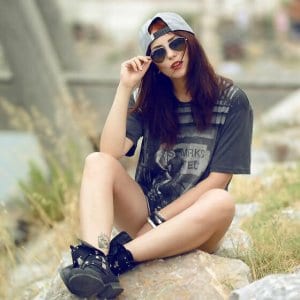 Try this: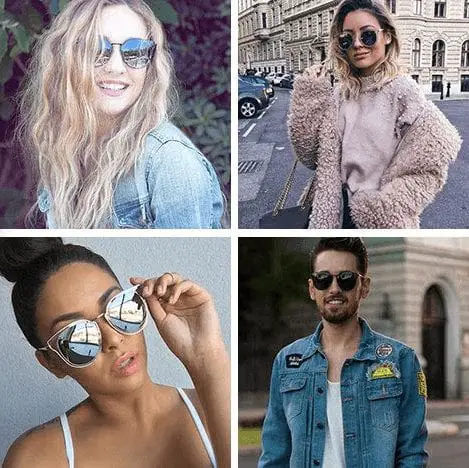 T-shirts
T-shirts play a major role in any tomboy outfit. These can be printed with your favorite band's name, dyed washed or just plain solid t-shirts.
Truth is, when it comes to t-shirts, any kind can be worn perfectly fine, as long as they're at least one size bigger in order to give you that comfy and baggy look: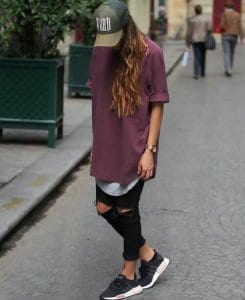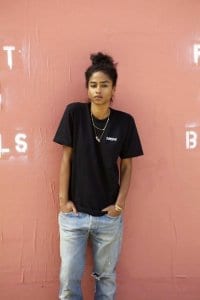 Even floral printed t-shirts can be included in your tomboy clothes. Just keep the colors very desaturated or monochromatic.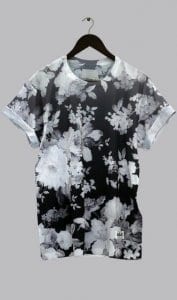 I love how rock bands' logos can easily give you an edgy and boyish look: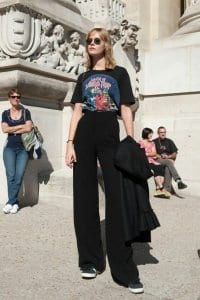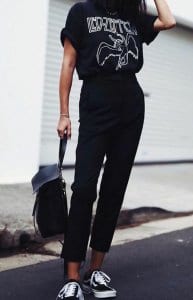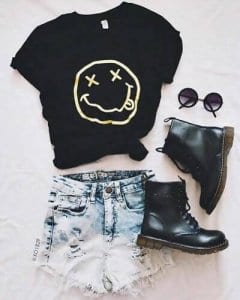 The best thing about an oversized t-shirt is that if it's big enough, you can just wear it as a dress.
Tip: make sure you wear a really short and tight bottom (or stockings), as these "dresses" can be really short. You don't want anyone looking at your underwear.
Some ideas on how to wear these ultra-baggy t-shirts:
With sneakers and socks: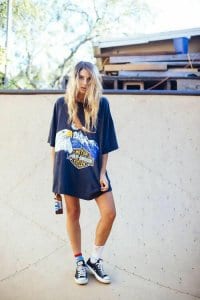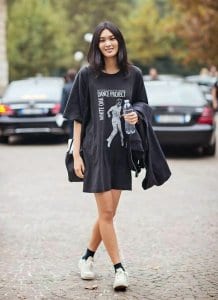 With black stockings: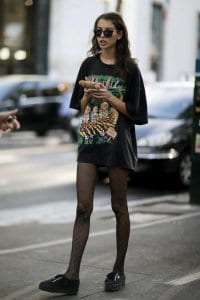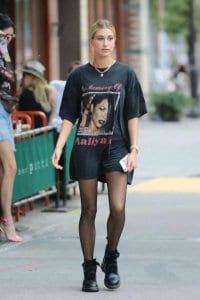 With ankle boots: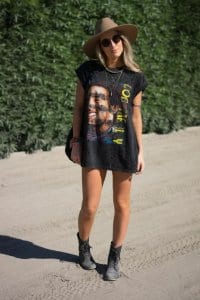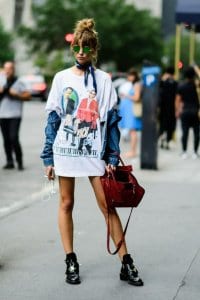 And baggy t-shirts paired with high heels because, why not? A tomboy style can definitely be worn with "feminine" items as well, but we tend to make the mistake of thinking only of sneakers or chunky boots.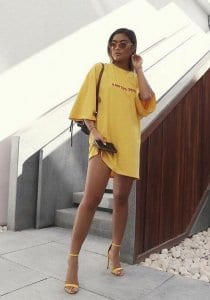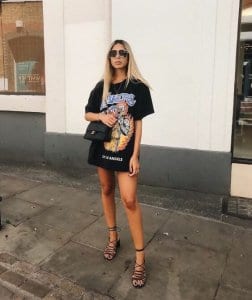 Shop The Look
---
Click the Picture to buy
Oversized Layers
Because a tomboy outfit is mostly characterized by its comfy and baggy style, your jackets and sweaters can also be one or two sizes bigger.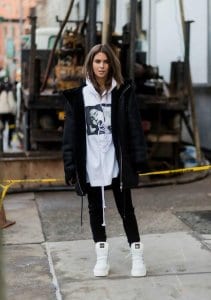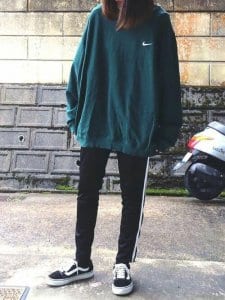 This doesn't mean that absolutely every jacket and sweater needs to be oversized. You can still look tomboy wearing a denim or leather jacket that's in your exact size: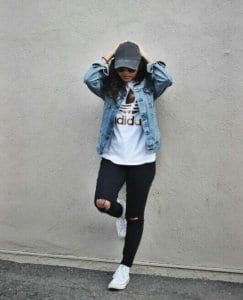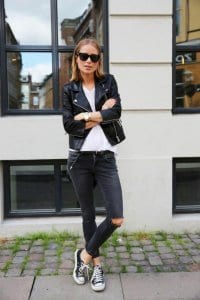 Polished tomboy outfits
Tomboys also go to work, obviously.
A real tomboy doesn't care much about revealing her feminine silhouette, so it's important to keep this in mind when you dress for a formal occasion. But at the same time, super oversized clothes, as shown above, tend to give a casual vibe to your outfit.
To dress with a polished or formal-looking outfit, stay away from clothes that are too baggy and slouchy. This will help you look like you care, which is kind of like the opposite situation for a casualwear tomboy look.
This means your clothes should look comfortable but fit well to your body at the same time.
1. Suits
Black suits and white button-down shirts are a great example of a polished tomboy outfit, probably because they're entirely inspired in classic menswear.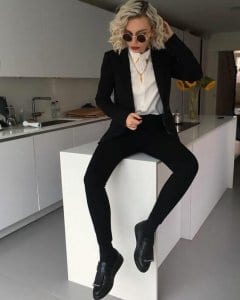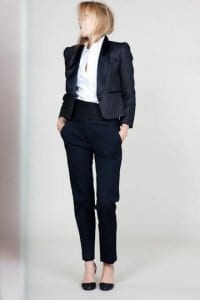 A grey suit is another great option: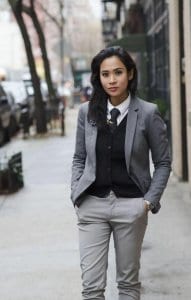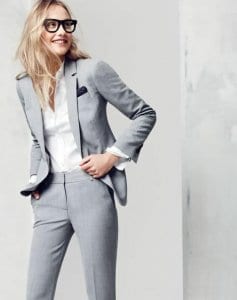 Shop The Look
---
Click the Picture to buy
Or basically ANY type of suit.
It's an easy way for having a cool tomboy look because suits used to be exclusively for men and we still have a little bit of that male connotation when we see them.
For an edgier tomboy outfit, wear your suit with loafers, mules or any flat shoe such as sneakers.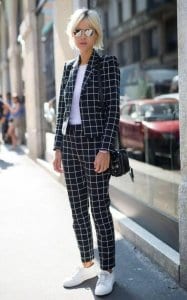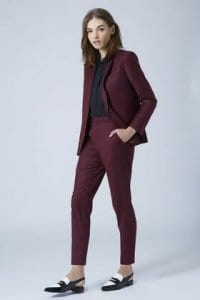 If your tomboy style tends to be a little bit more feminine, a suit with high heels will also make you look super-hot and man-like.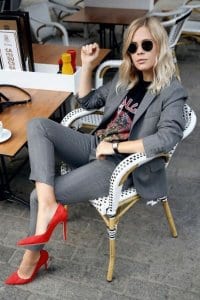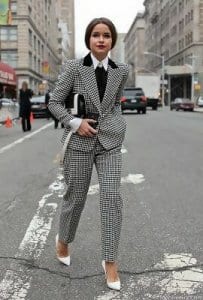 I truly believe a woman looks sexier in a suit than a man, maybe because it makes her look very professional and business-like. A woman with attitude is the perfect type of person that will look absolutely stunning in a suit.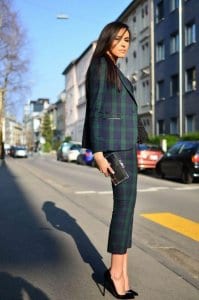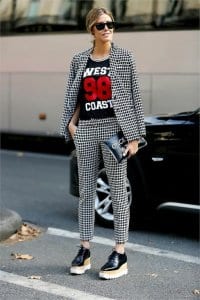 Shop The Look
---
Click the Picture to buy
2. Blazers
If a suit feels a bit too much for you, you can always opt for blazers paired with jeans: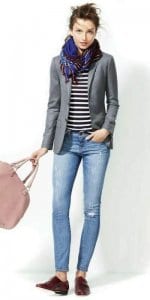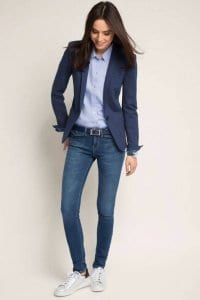 Or blazers with any kind of bottom: leather pants, straight leg trousers, leggings…: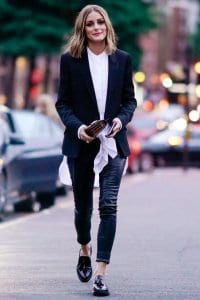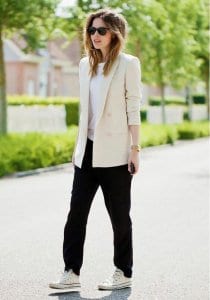 Shop The Look
---
Click the Picture to buy
How to look feminine with tomboy clothes?
If you feel more identified with a girly style but still love how cool tomboy fashion is, you can always adapt these following ideas into your unique style:
– Include bright colors in your outfit, especially in your accessories: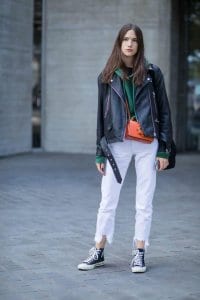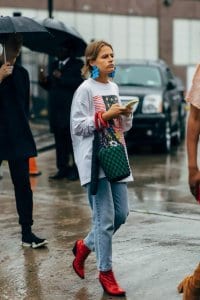 – Heels never fail: either block, low or high heels, these will absolutely make you look more feminine: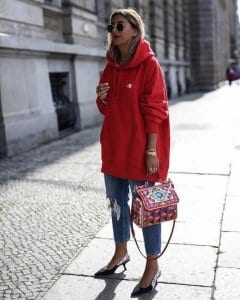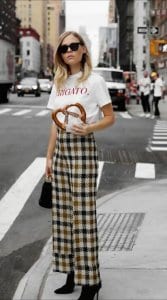 – Wear something that's usually associated with women: floral prints, a chic handbag, a bow in your hair, something pink, a red lipstick…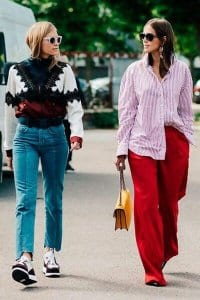 Celebrity tomboy look inspiration
My top favorite tomboy style inspiration comes from Kristen Stewart, Ellen Page, Hailey Baldwin, and Rihanna: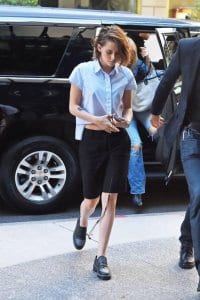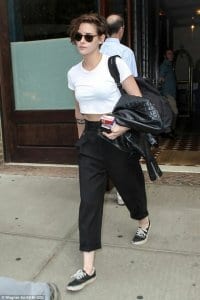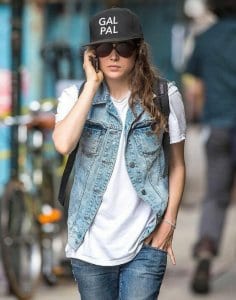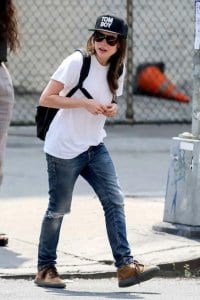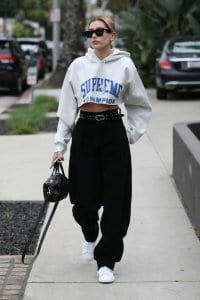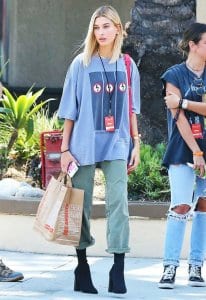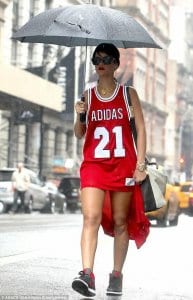 Other fashion icons that every once in a while include tomboy clothes are Olivia Palermo, Blake Lively, and Victoria Beckham. And because they're famously known for their chic style, they can teach you super stylish ways to dress like a tomboy: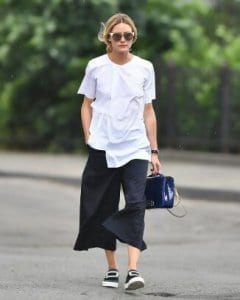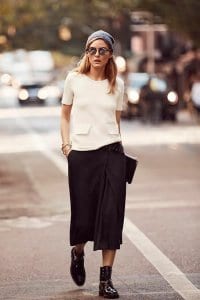 Wrap up
Street style and the rise of feminist movements have given the perfect platform to women to express their true style through fashion, even if it means breaking up with feminine and girly standards.
Whoever feels identified with a tomboy style can still look amazingly stylish, and doesn't mean she has to be always dressed in super baggy clothes. These outfit ideas I've given you serve as an example of the many ways in which tomboy clothes can be fashionable and trendy.
If you love tomboy outfits and are dying to try them for yourself, my last and best piece of advice I can give you is: when it comes to fashion, think like men. This means that you should go and look for real men clothes next time you go shopping.
As I mentioned, tomboys usually wear oversized garments, and if you buy men clothes for yourself, they will definitely fit you much bigger. Also, menswear silhouettes tend to be straighter and more "boxy" because men don't have a defined waistline.
This is why I can't stress enough how effective shopping in the menswear section is. Try it for yourself and you'll be surprised at how many cool tomboy outfits you'll pull out.