I don't know if you've noticed that plaid elements are trending immensely from past two years. They are often seen in street photography and fashion shows.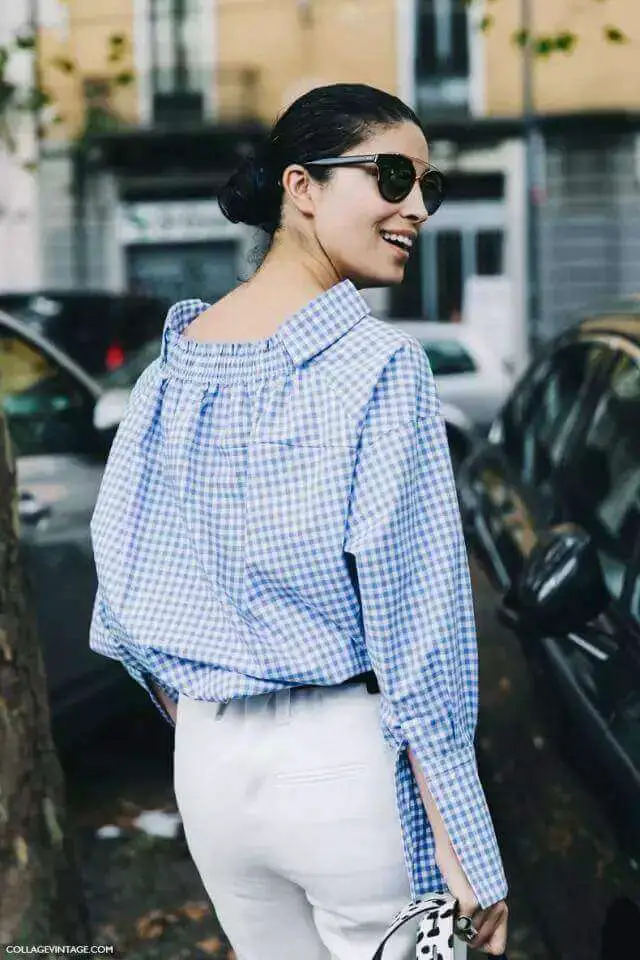 Many big fashion houses have showcased their spring and summer collections—and plaids were dominating all. This year is more about fun styles and colors in plaids, it looks quite stylish ~ below are the models from House of Holland and Carolina Herrera. ▼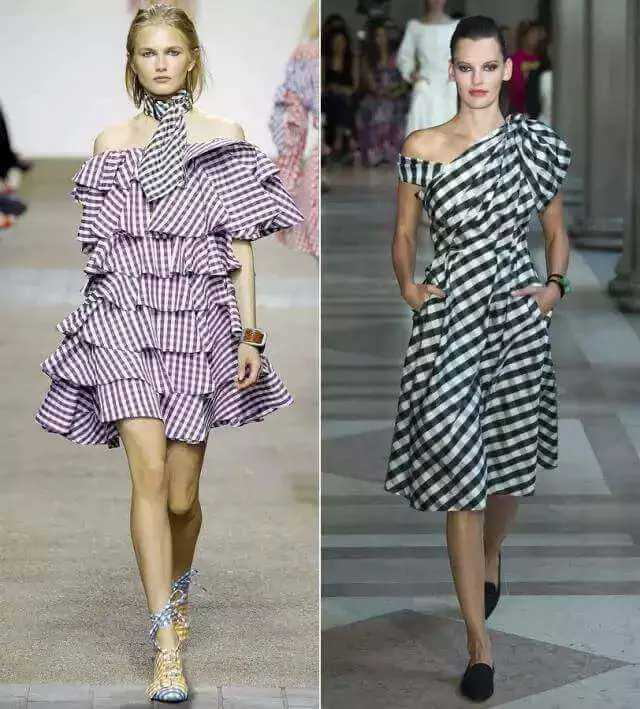 Pringle of Scotland, plaid style on the Marissa Webb fashion show presented some simple and refreshing styles. ▼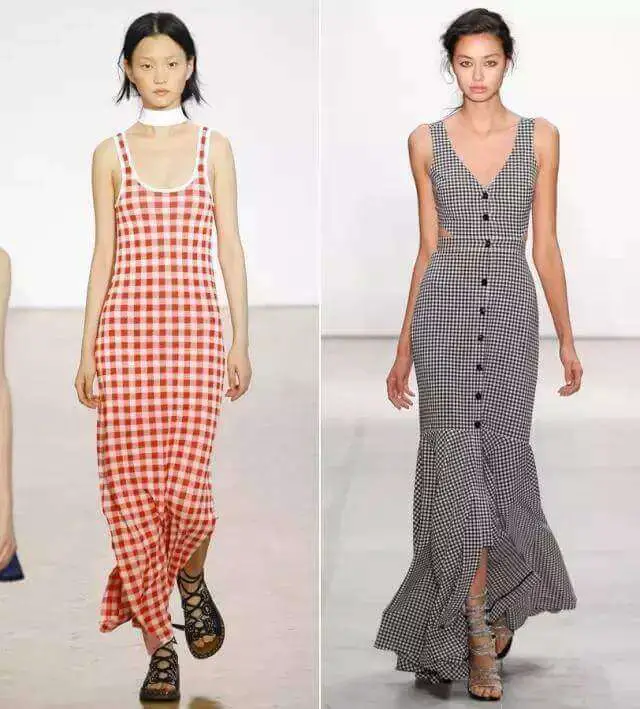 In the past, when people used to talk about plaids, many disagreed with the idea, as plaids can also give an old-fashioned and rustic look. Plaid shirt is the standard for men and women, it especially reminds me of them weeding.
This year's plaid shirts have been fully counter-attacked. This year you will not see the common color schemes like red with black, yellow and green; but refreshing combos like blue and white, black and white, pink and white or green and white will be more in vogue. Plus, each outfit will bear special styles and designs… It's just a big deal – ▼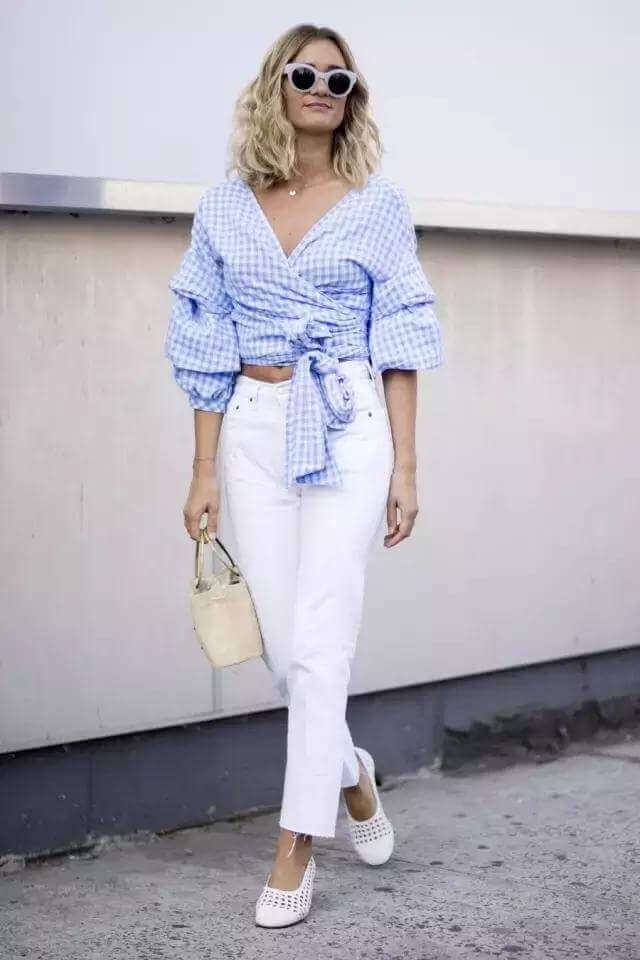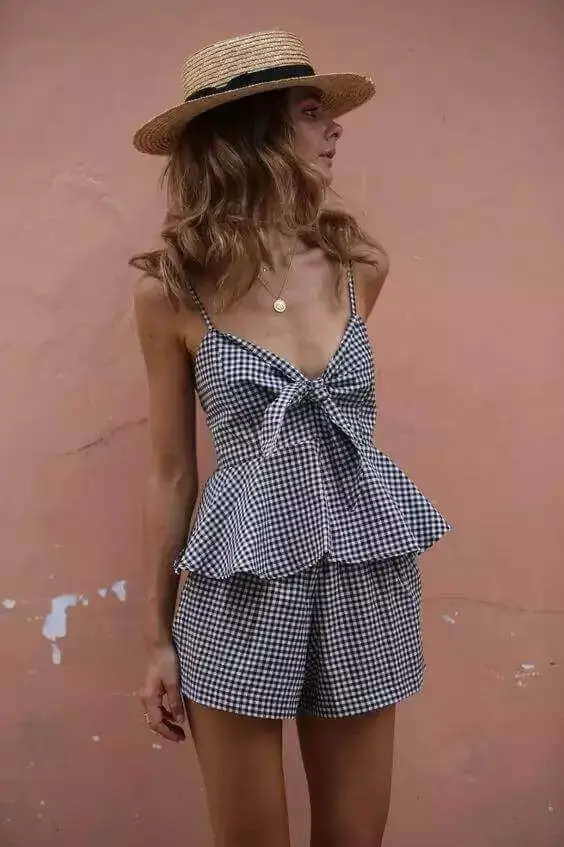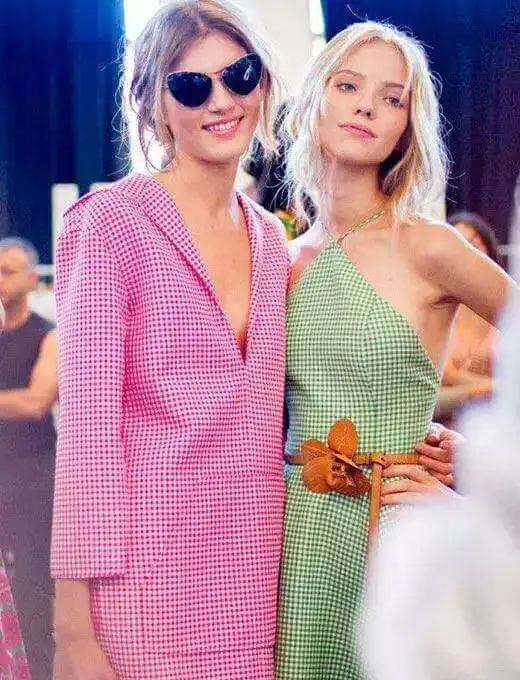 Today we are going to talk about the hot element of the fashion world this summer: Gingham.
 
Fresh and Retro Vichy has been there for centuries!
Plaid is actually a large family, the choice of color, the size of the grid, the thickness of the lines are some elements that make each plaid different. Many Plaids come with exclusive names: Scottish Plaid, Prince of Wales check, dimension Higgs, a checkerboard pattern, houndstooth pattern… All have different styles and temperament.
Test your knowledge, what are the following checkers? ▼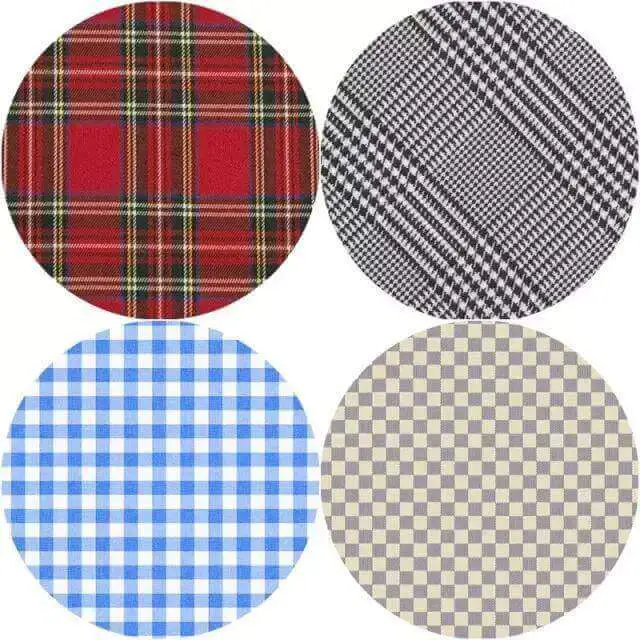 (from left to right, top to bottom: Scottish Plaid, Prince of Wales Check, Vichy Check, Checkered Check)
Did you find the type of Vichy?
Its recognition degree is actually very high—generally on the basis of white background, horizontal stripes and vertical stripes of the same color and thickness, superimposed on each other at equal distances, to form squares one by one. As the color of the overlapping areas is much deeper than the surrounding area, that is why we see three colors in the check pattern. In addition, there will be no extra lines and patterns.
Some people may confuse it with the checkerboard, but it's not quite the same. The checkerboard is a simple two-color square pattern. The Vichy checkered pattern has three patterns. Compare. ▼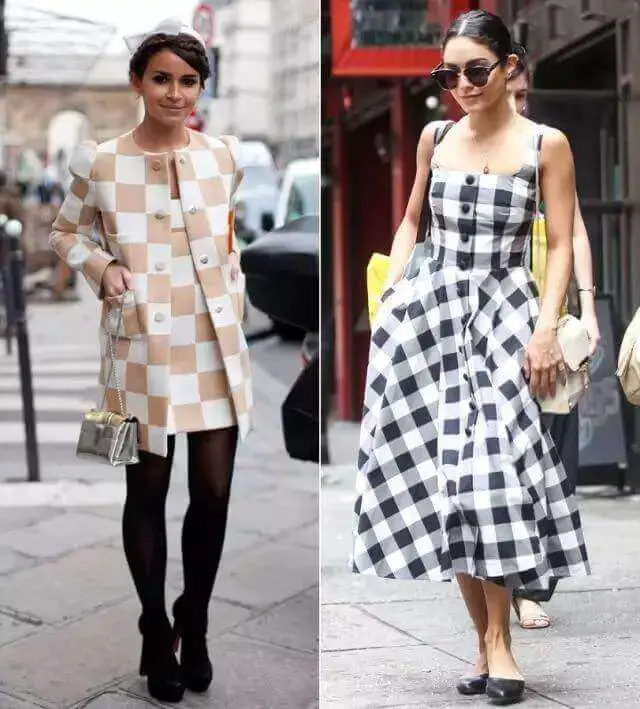 Vichy is the French word for the English checkered style named 'Gingham'.
Gingham was originally a fabric cloth from Southeast Asia. It dates back to the 18th century. It is cheap and very durable. It gradually became popular around the world. Every country has a different name for it.
In France, Gingham is a fabric made in a small town. They call it Vichy.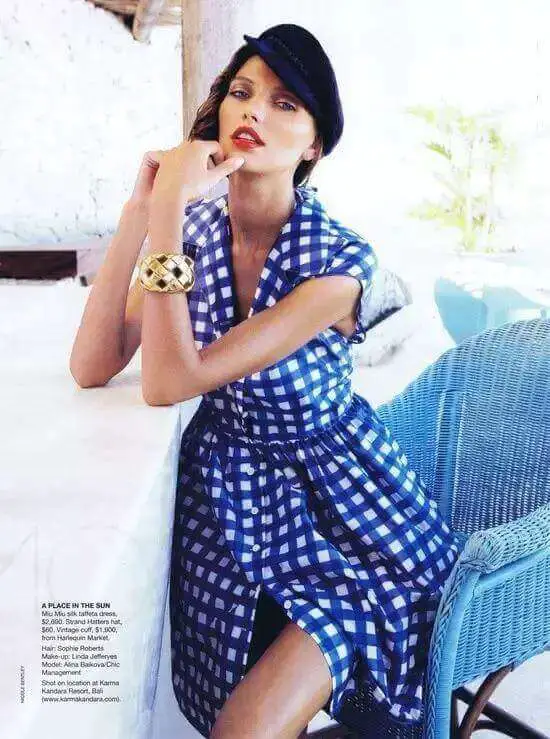 Talking of Vichy, who could forget the sexy wildcat Brigitte Bardot. The black blouse she wore in the movie is a classic with a Vichy checkered umbrella skirt. Sketched her slender waist, because it was a popular item of its time. ▼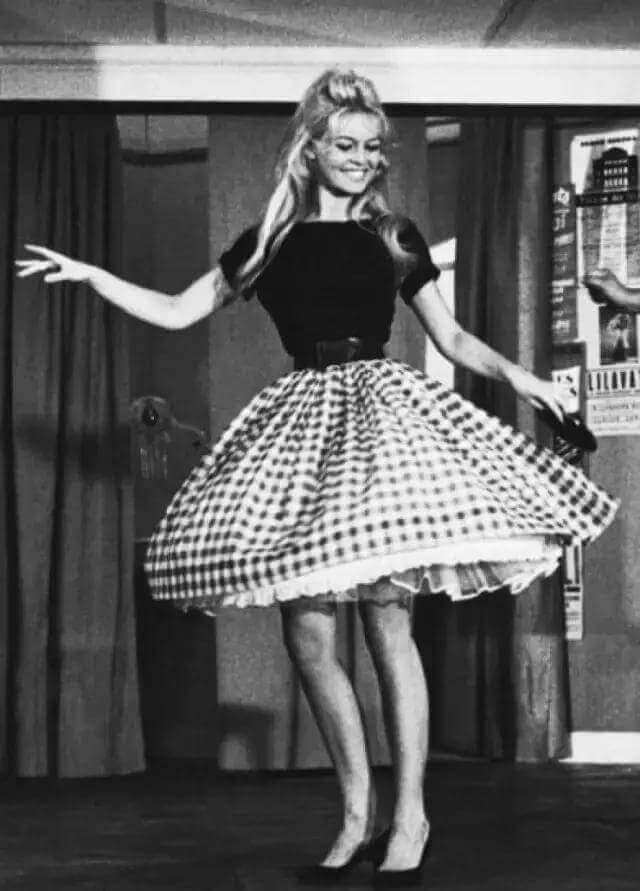 In the 50s and 60s of the last century, Vichy was very popular. Many Hollywood stars loved it. Audrey Hepburn is wearing a Vichy checked trouser in this classic cycling photo. ▼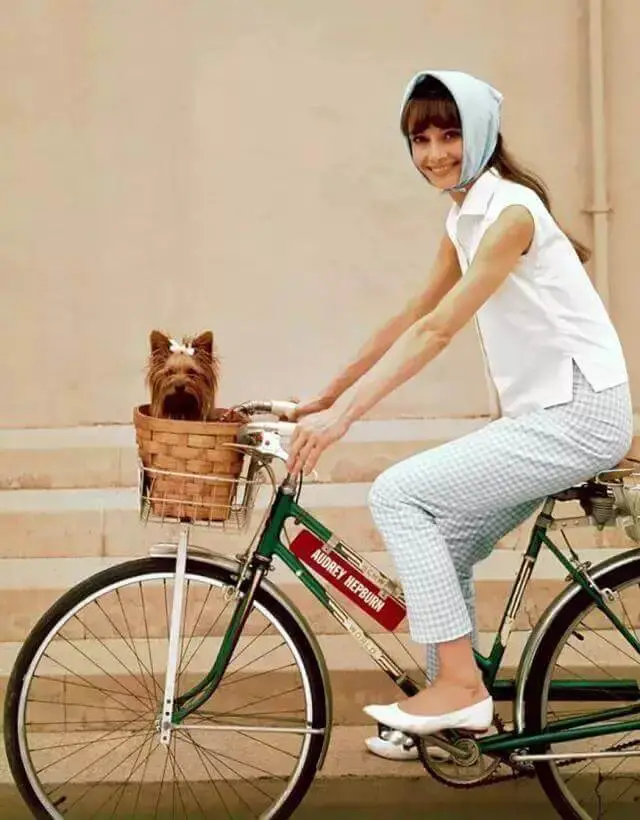 Catherine Hepburn's Vichy Checkered Dress is also accompanied by a girdle that has been popular for two years. Isn't she looking elegant?~▼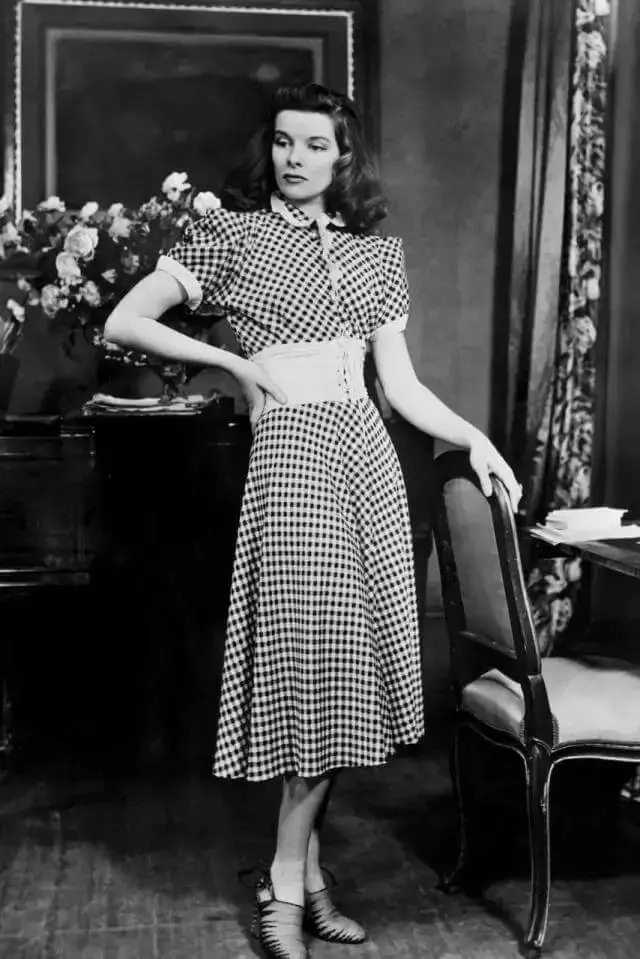 Vichy has never been out of fashion in fashion circles. In "Friends," Rachel also walked in a Vichy dress. ▼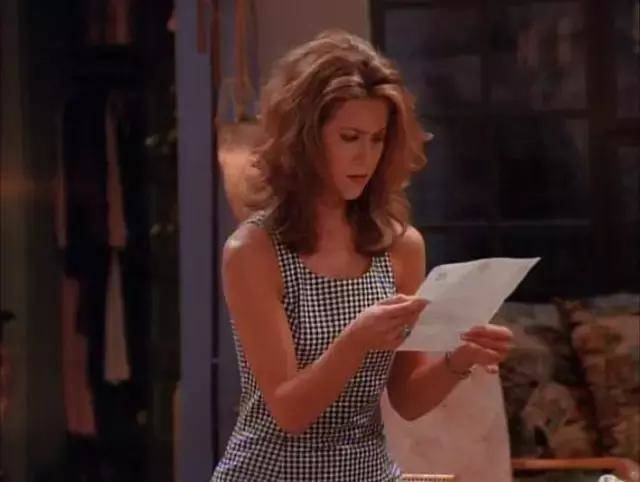 Many brands have also been keen on designing Vichyhedron items. Prada was very impressed by this style in 2013. ▼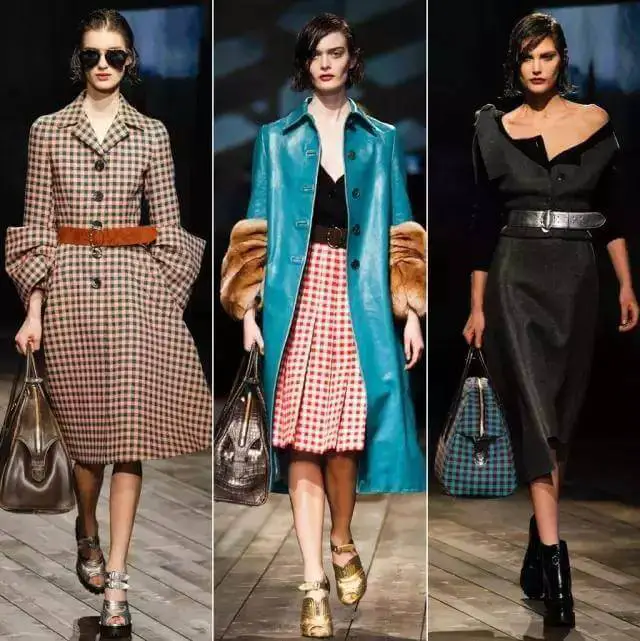 I just adore Altuzarra's entire series of spring/summer 2015 and I have always been reluctant to delete it from my ipad. Haha. ▼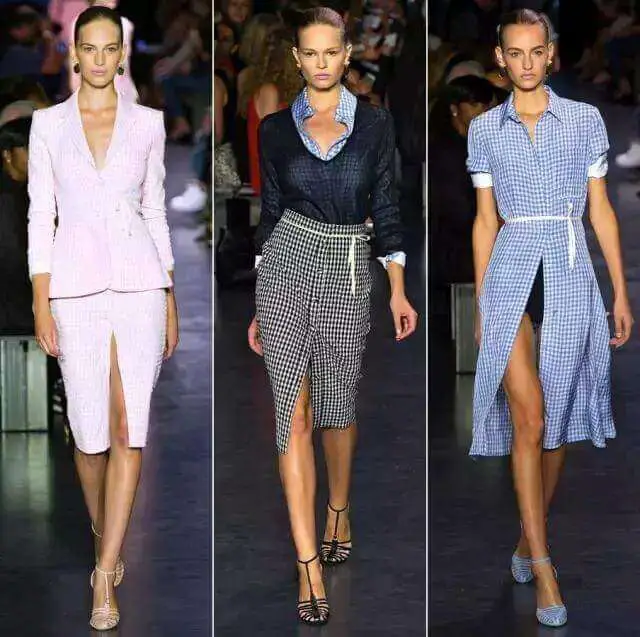 It's also very good-looking this year. ▼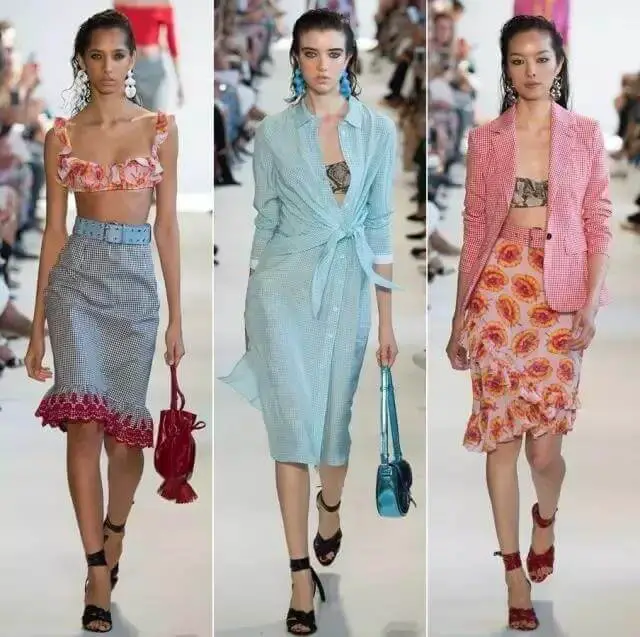 As compared to other plaid prints, this style gives a retro appeal; not just this, it is also quite easy to carry. I think it is the worthiest of a checkered pattern. So, what single items are the most worthwhile investment?
Most worth investing in the first place is a tailored shirt design.
Although Vichy Checkered is considered to be a fresh and elegant style in plaids, it is not so easy to get rid of the rustic style associated with Vichy pattern. See the demonstration of Stone Sister and Square Face. ▼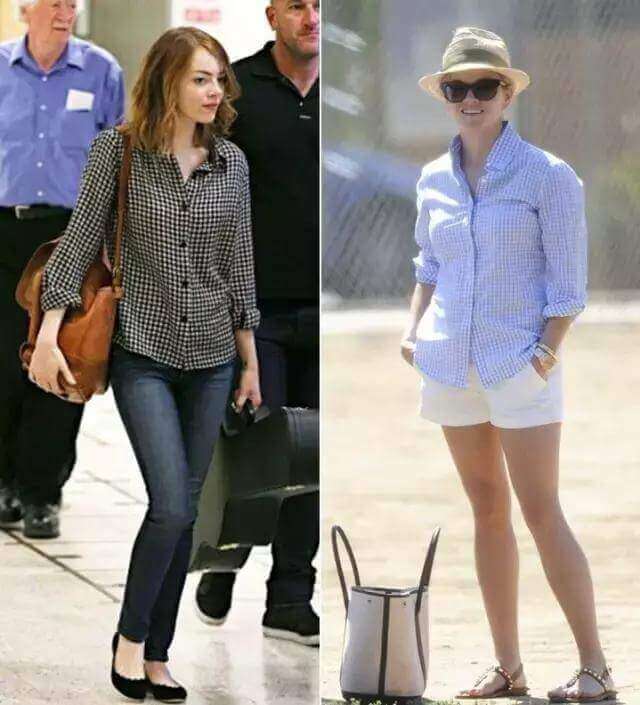 If you want to wear fashionable clothes, you can try some mix and match styles. A plaid shirt with white shorts will be more refreshing. A pair of red shoes can also play an eye-catching role. ▼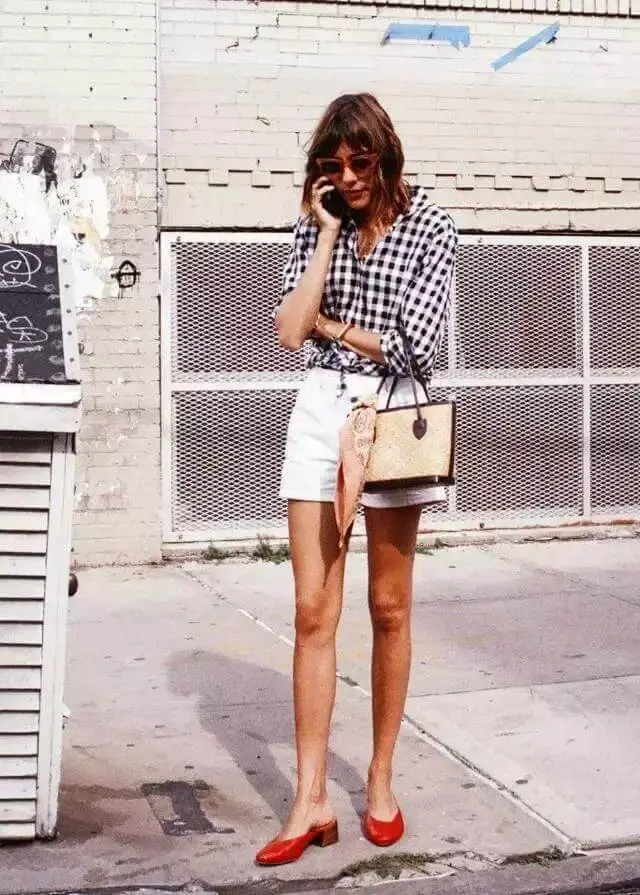 It can be tied to the waist to highlight the waist line or simply used as an inner wear. ▼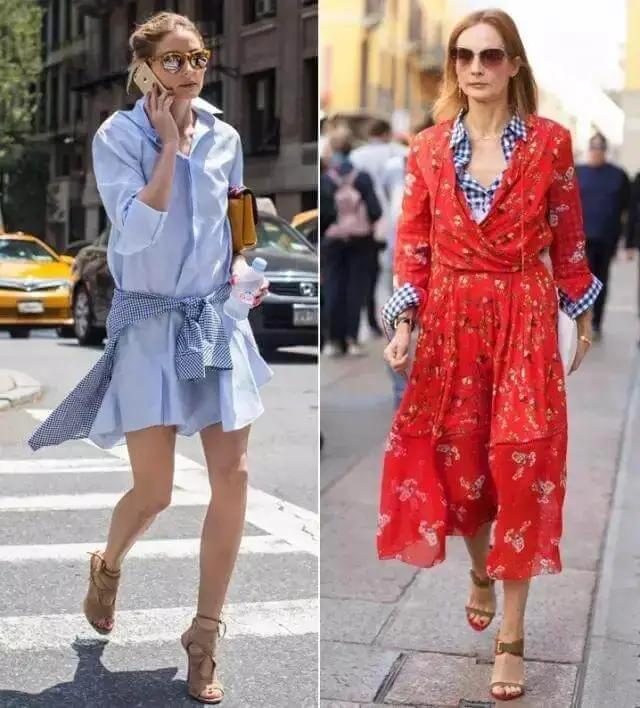 However, I still recommend that you do not buy regular check shirts. Instead, you should start with a special cut-out design. Plaid shirts with a bit more design will bring a unique sense of style.Vichy Checkered with this year's popular off-the-shoulder design reveals sexy collarbone. The casual and laidback flair looks more appealing visually.▼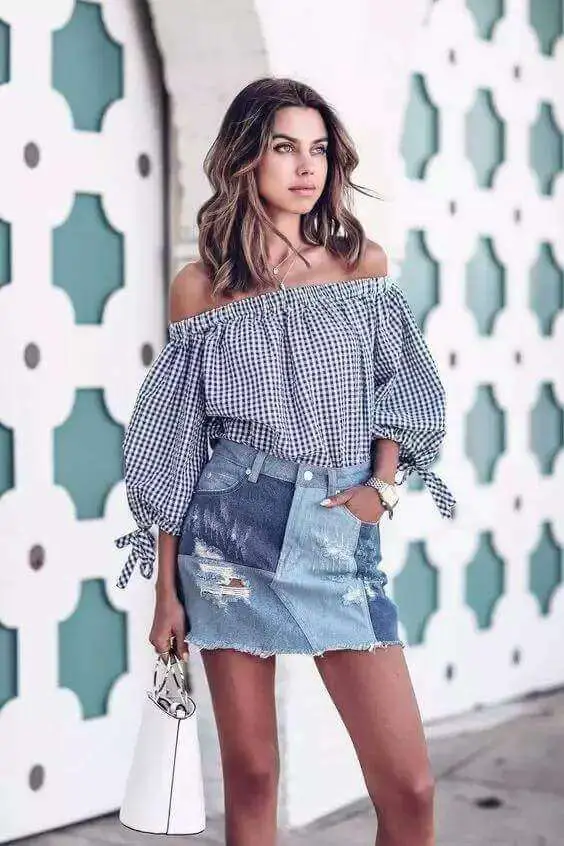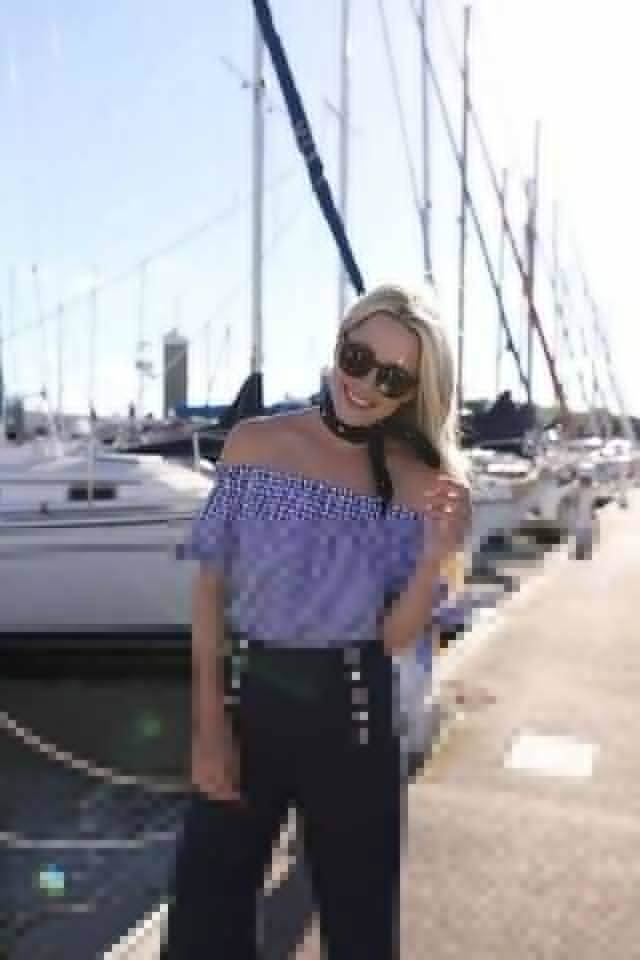 Even with the small details like ruffles and puff sleeves, the look will be refreshingly playful. ▼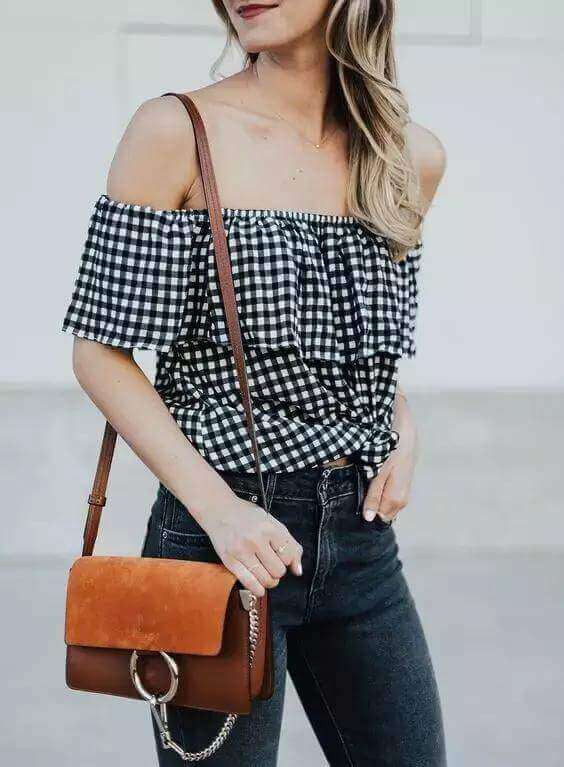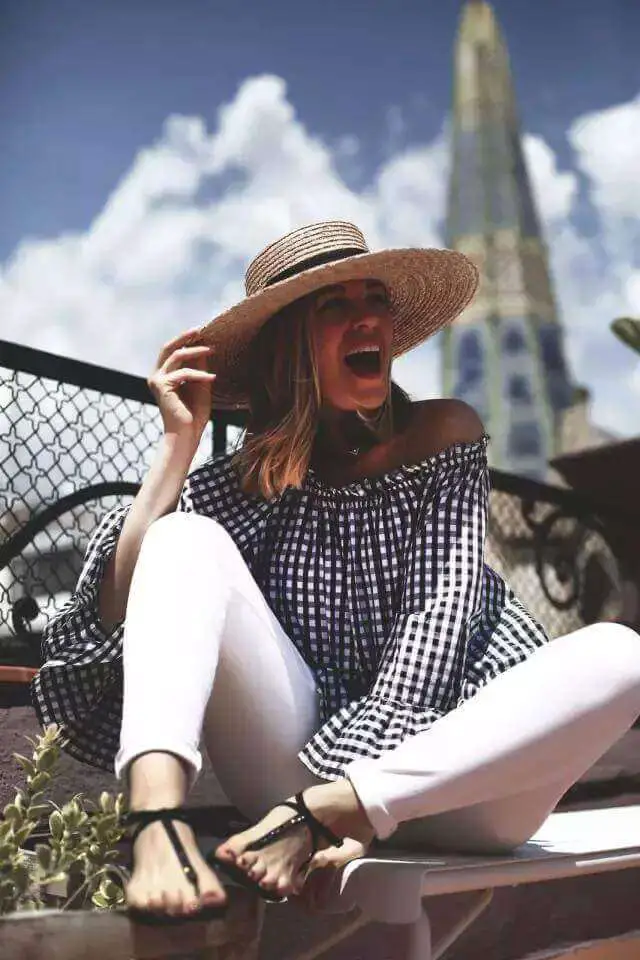 This large V-neck and wrap-around checkered shirt is tied with a bow at the hem of the blouse. It not only accentuates the waistline but girls adore such cutesy styles as well. ▼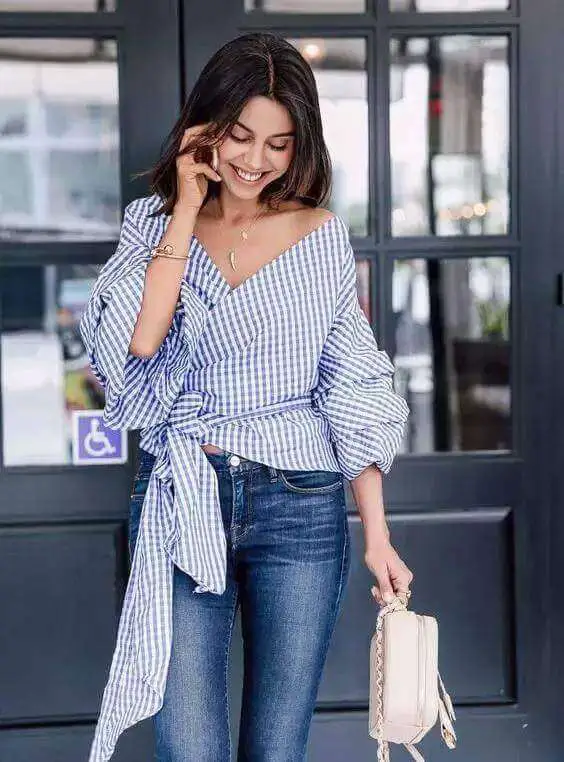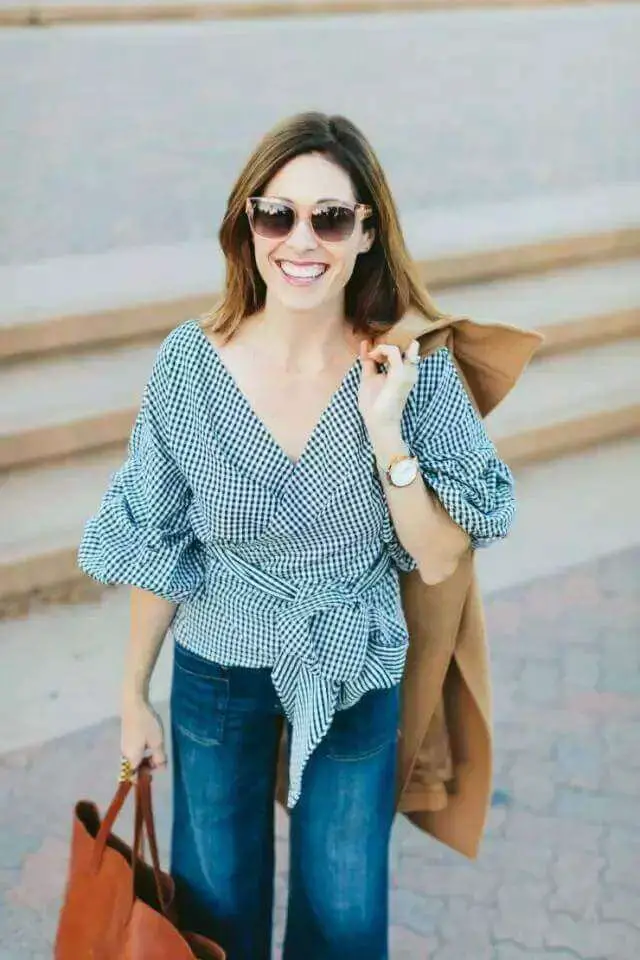 This checkered shirt with choker also gives a sexy appeal. ▼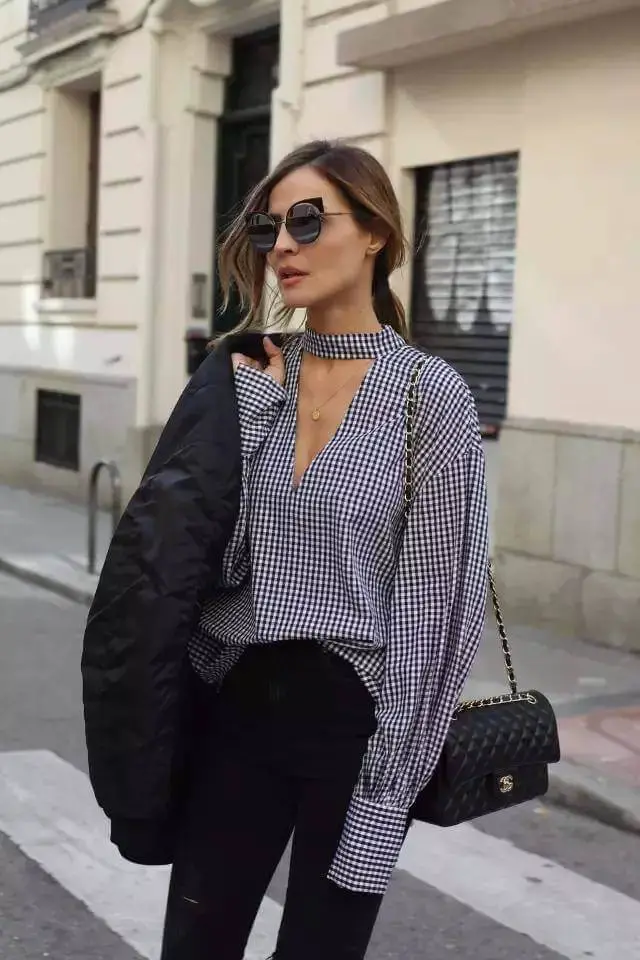 Plaid shirts with exposed designs also look appealing to eyes. Checkout these few inspirations with exposed belly and bare shoulders.▼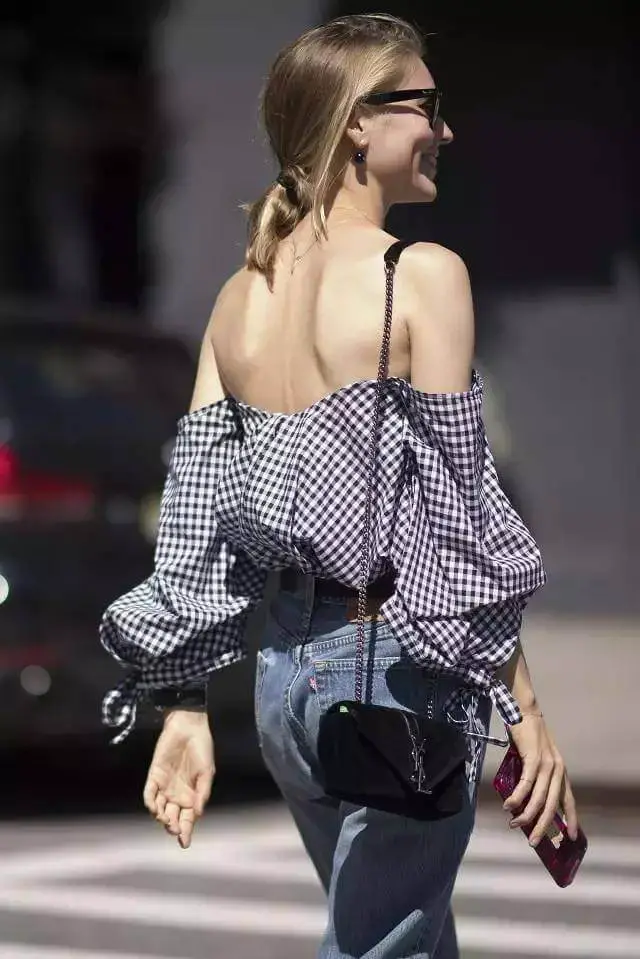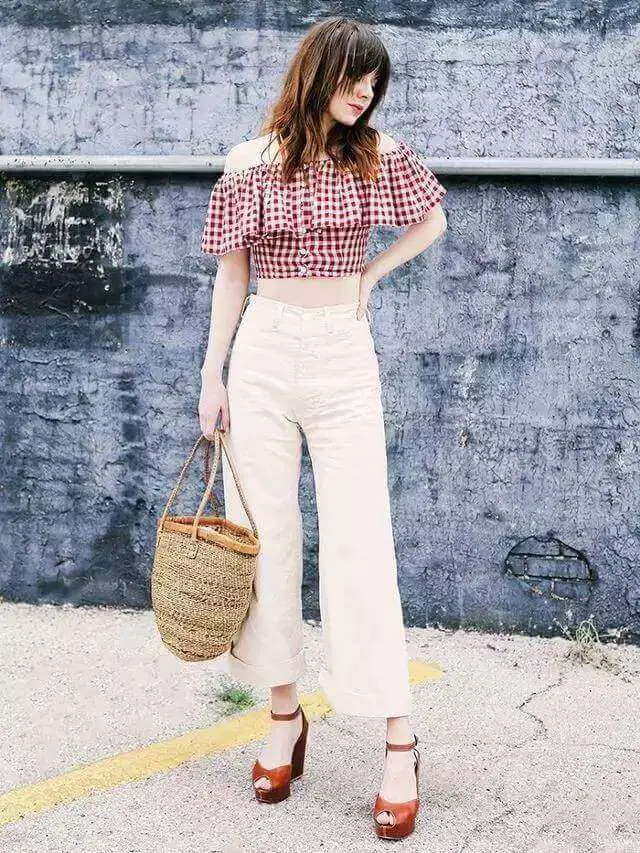 On the contrary, this fully covered design is unique in itself. But still it is not a very common style among people. ▼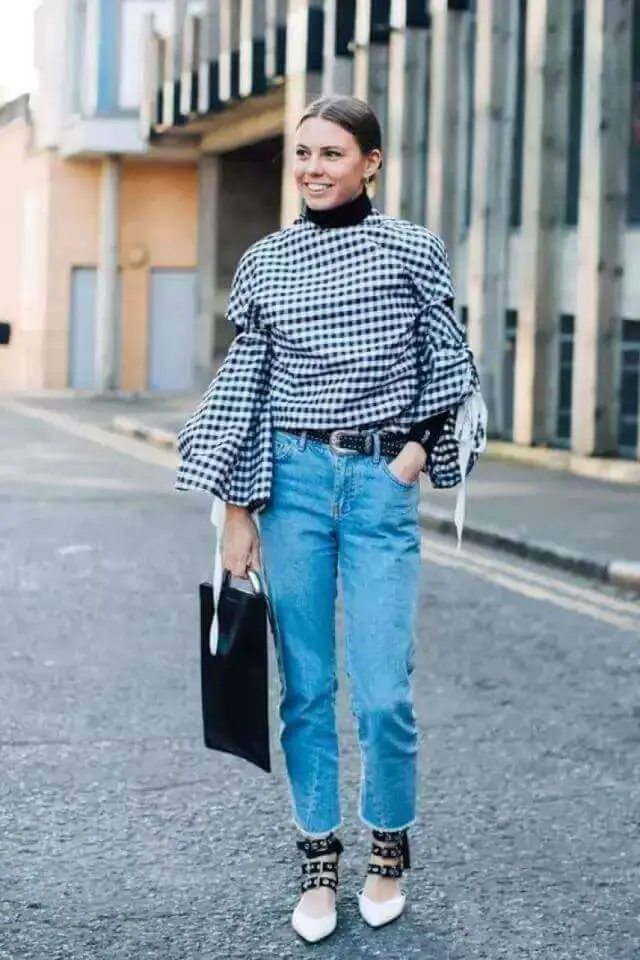 Most worth investing in the second place: retro style dress
Once your Vichy checked shirt meets a dress, it becomes a strong retro style. Miss Watson and Emmy Rossum are carrying a sweet and retro style. ▼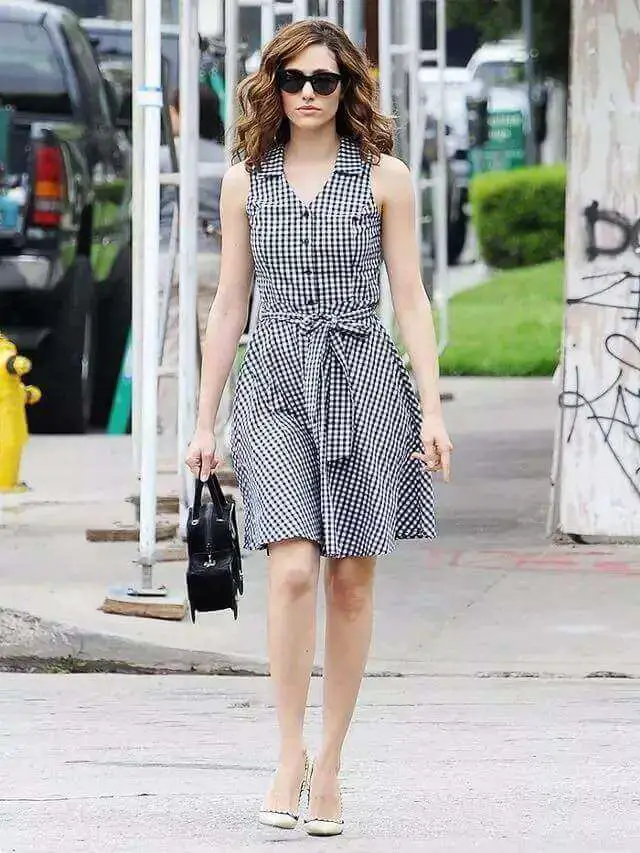 This relaxed black and white Vichy check dress also has a comfy and literary appeal. ▼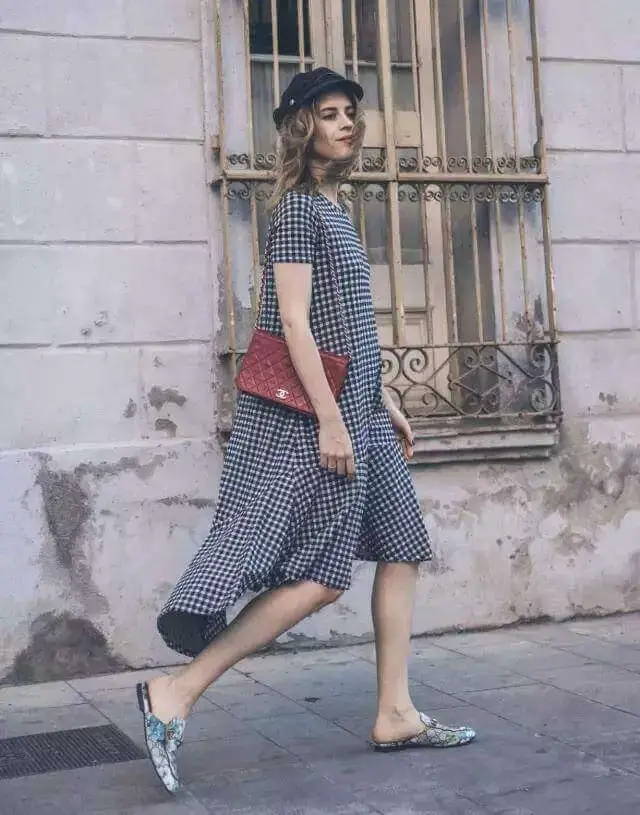 I personally feel that the simpler the Vichy Checker dress design is, the easier it is to look good. Like this simple short strapped dress. It is quite suitable for summer days. ▼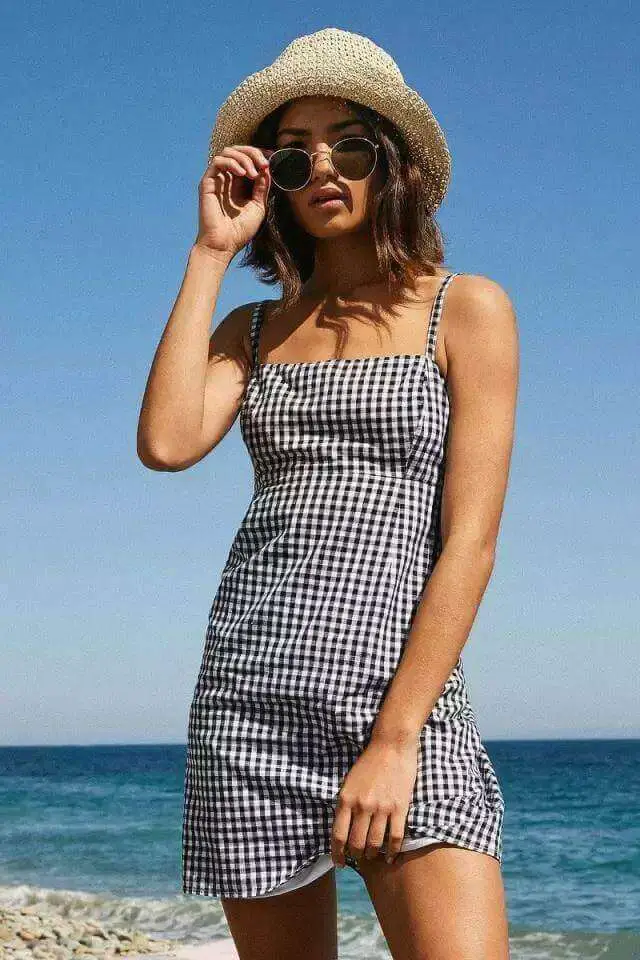 This simple design is also very special. ▼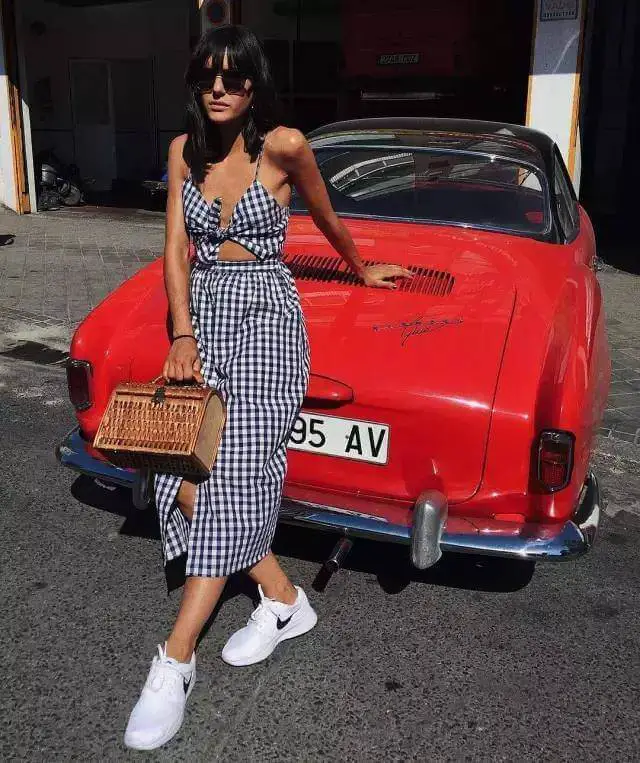 Backless design is even hotter. ▼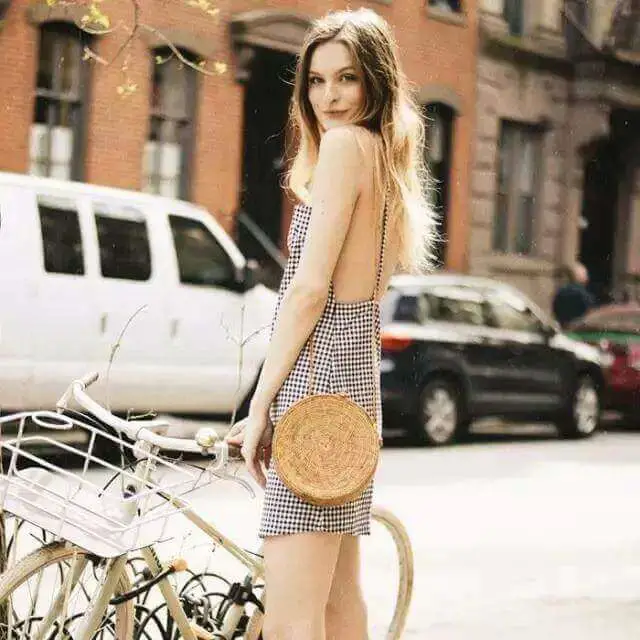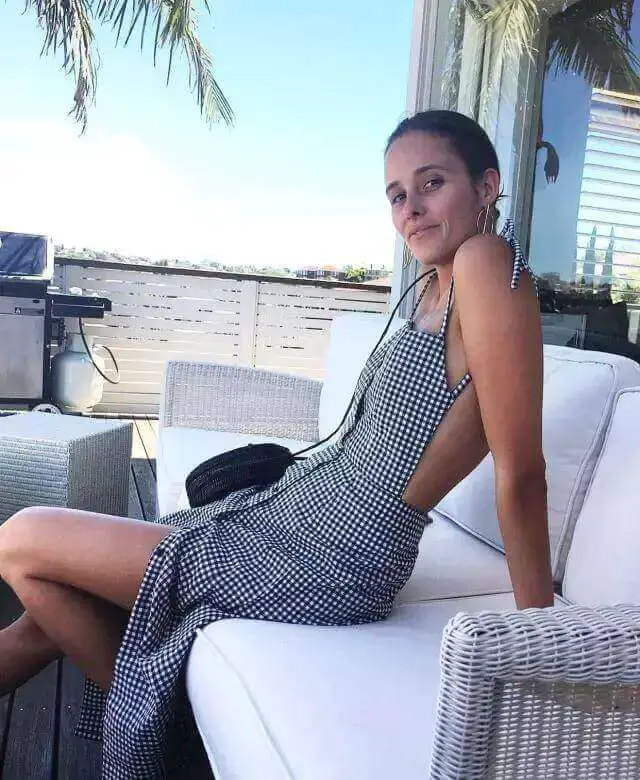 These waist skirt designs promise a retro appeal. ~▼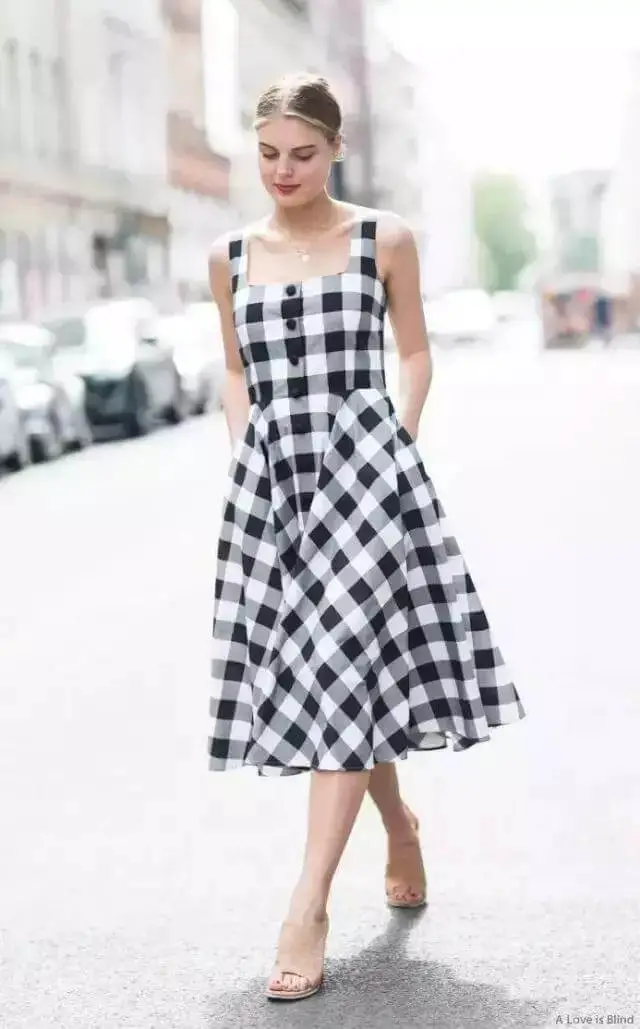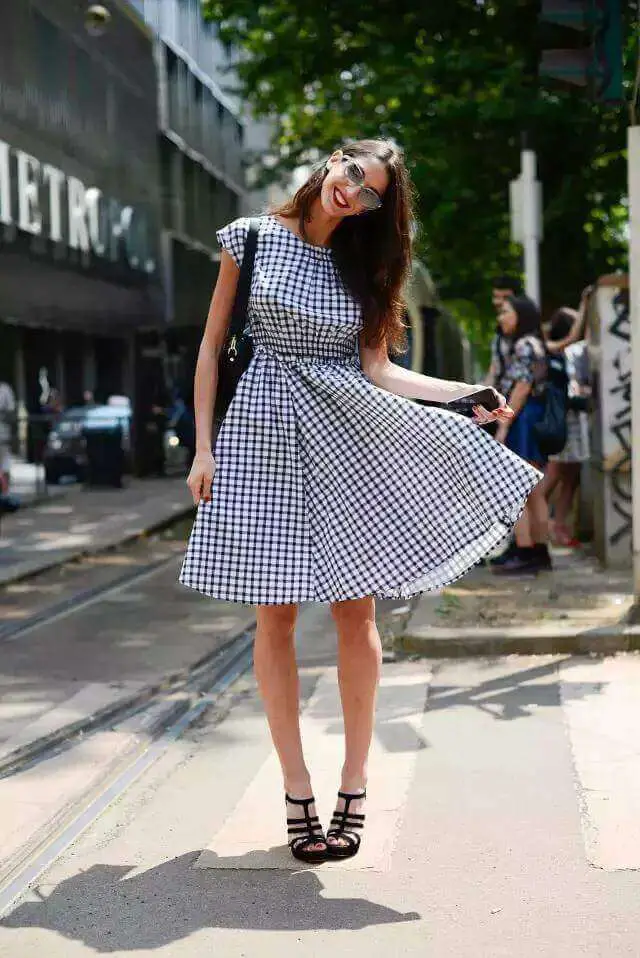 This shirt-style Vichy Check Dress is ideal for commuting to work. ▼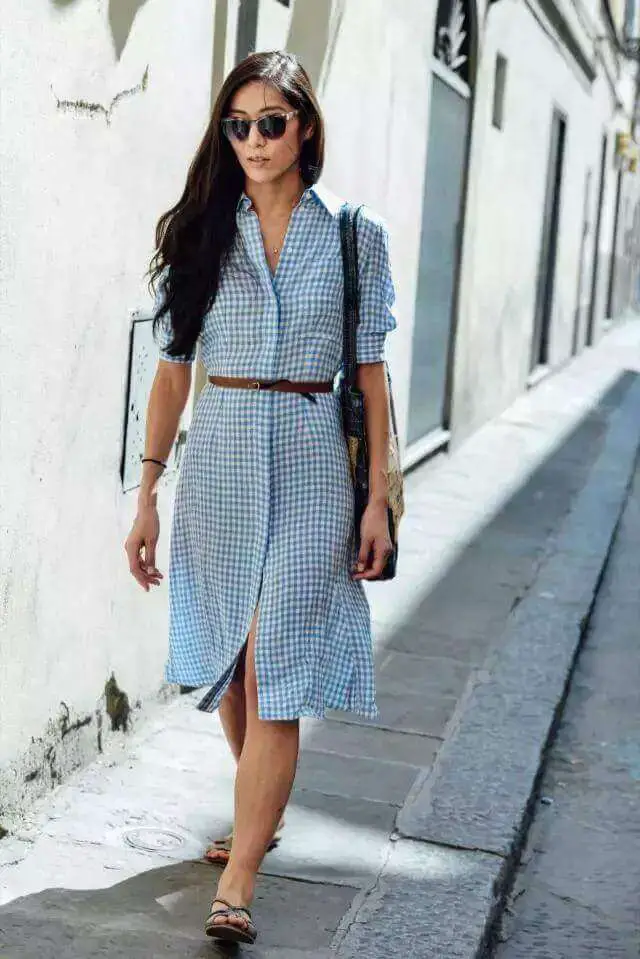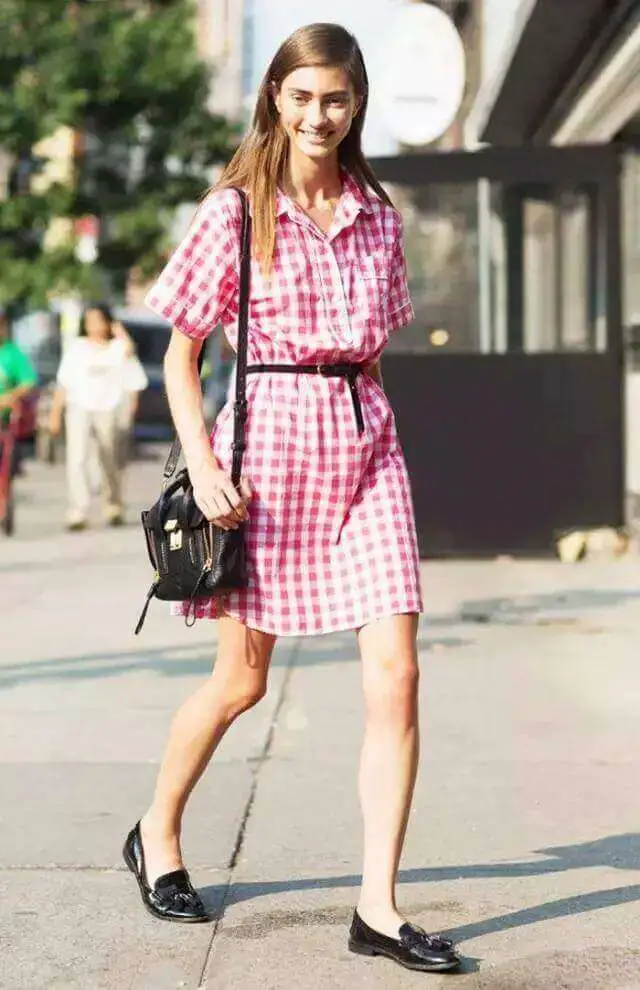 But it should be noted that such complex styles of the dress can easily give a "maid-like look". So be very careful while designing the outfit. Especially we do not recommend it for too skinny girls, choose carefully ~ ▼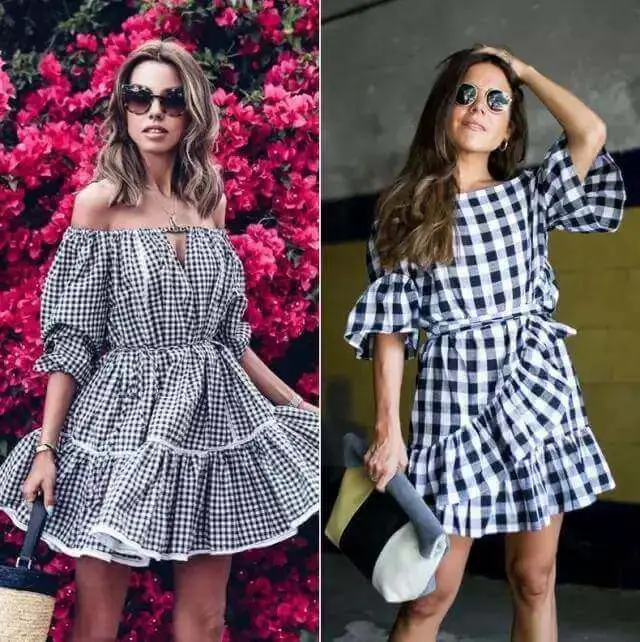 In addition, despite the fact that Vichy has a small size, no matter what kind of single product you are wearing, I would recommend everyone to choose small pattern. Which are more exquisite and easier to carry. ▼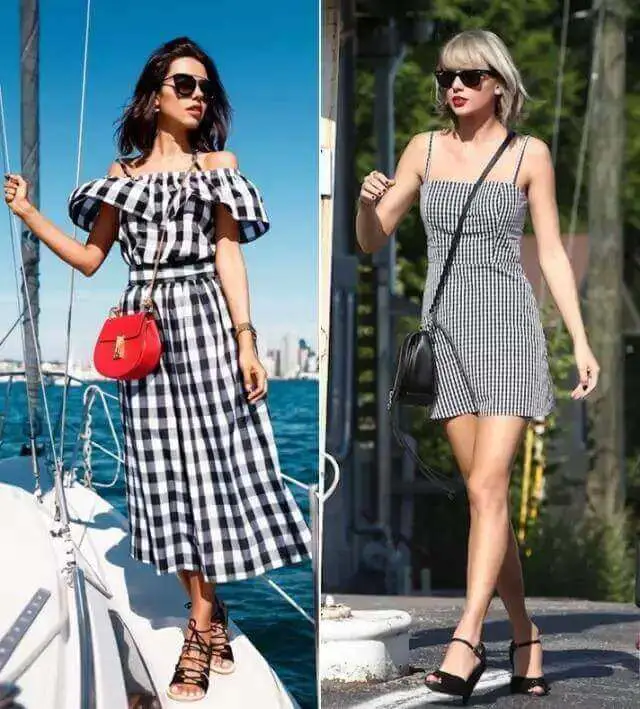 Most worth investing in the third place: Slim pants and skirts
Do not want to wear jeans every day, to change the taste, you can try Vizigwen cropped pants. It has a kind of retro flair. Audrey Hepburn and Marilyn Monroe too loved to wear this style. ▼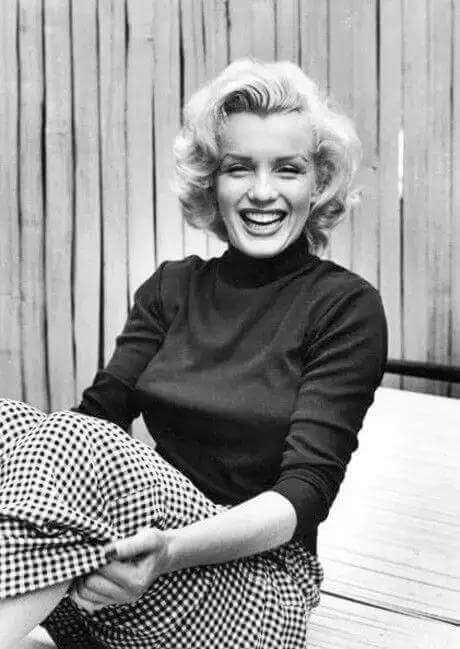 Miss Chung and Olivia also walked in Vichy's trousers and looked great with high heels or loafers. ▼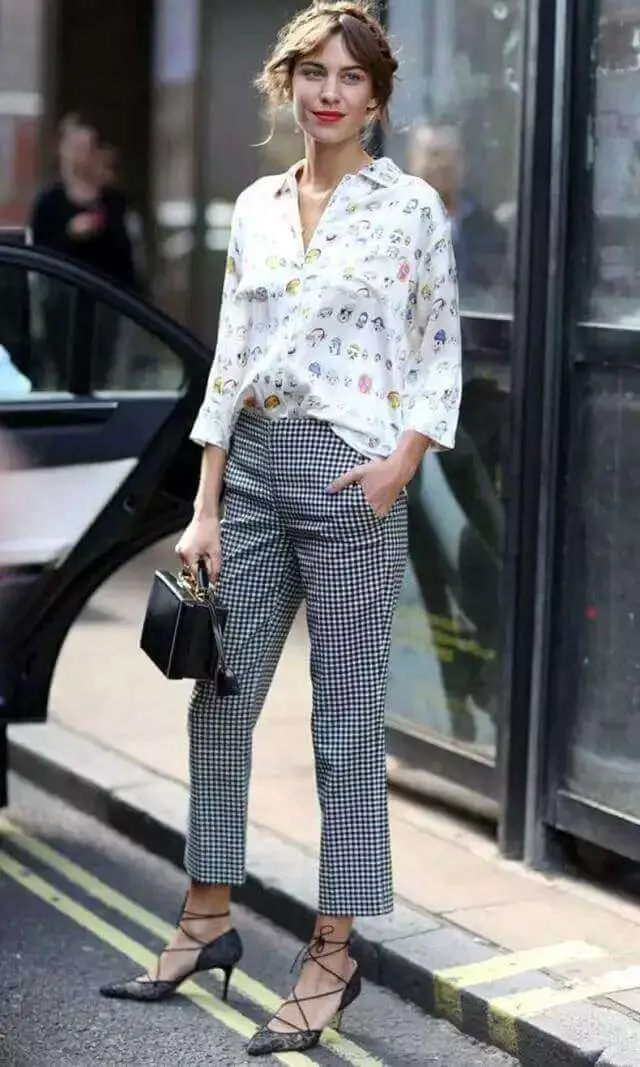 The Vichy Checkered Trousers have a slight sense of formality, but they are not too boring. They are also very suitable for fashionable trousers. ▼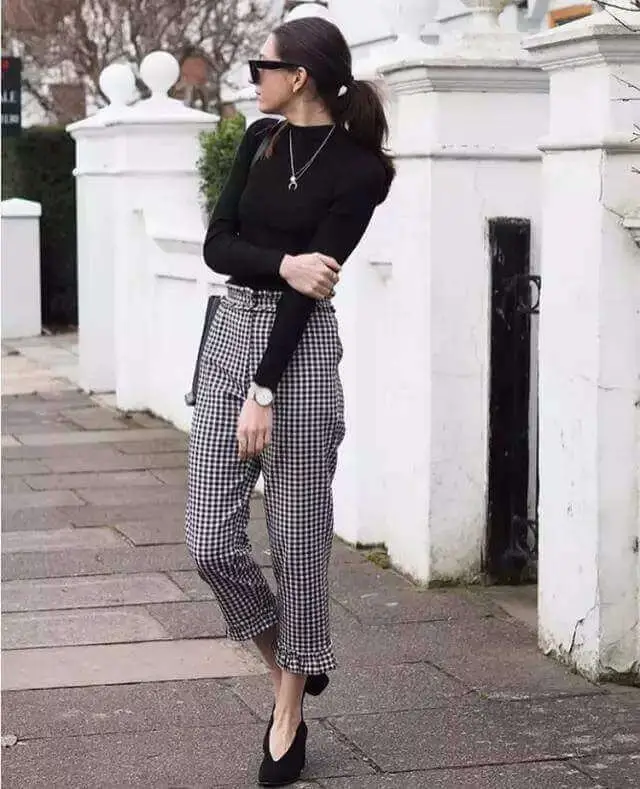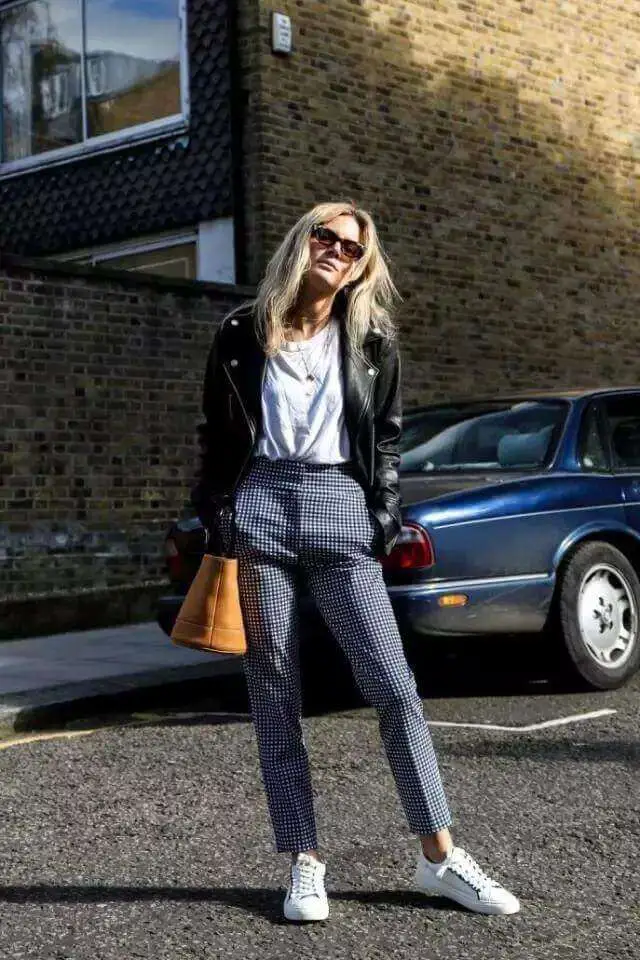 If you want to be more refreshed, you can choose some checkered trousers with a special color. ▼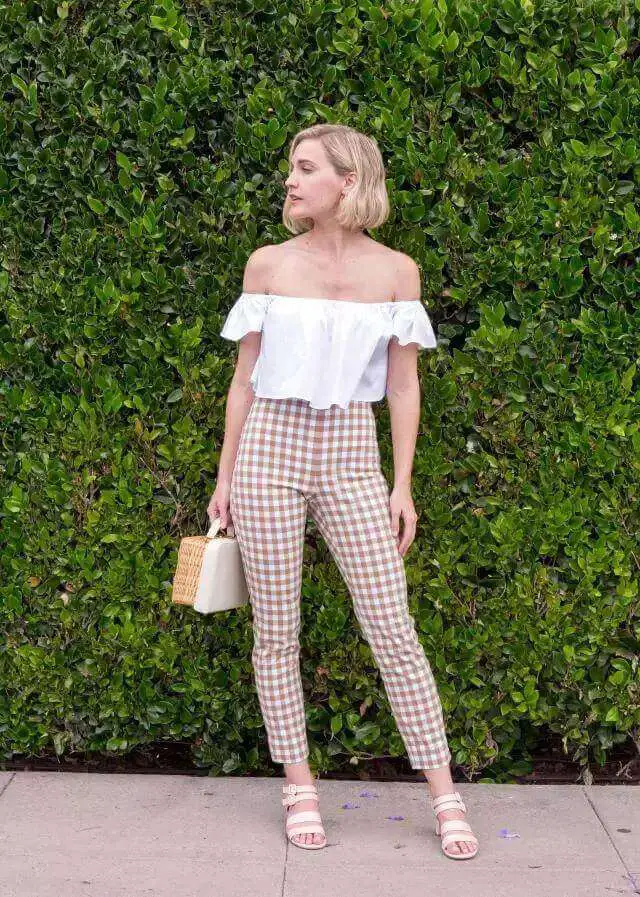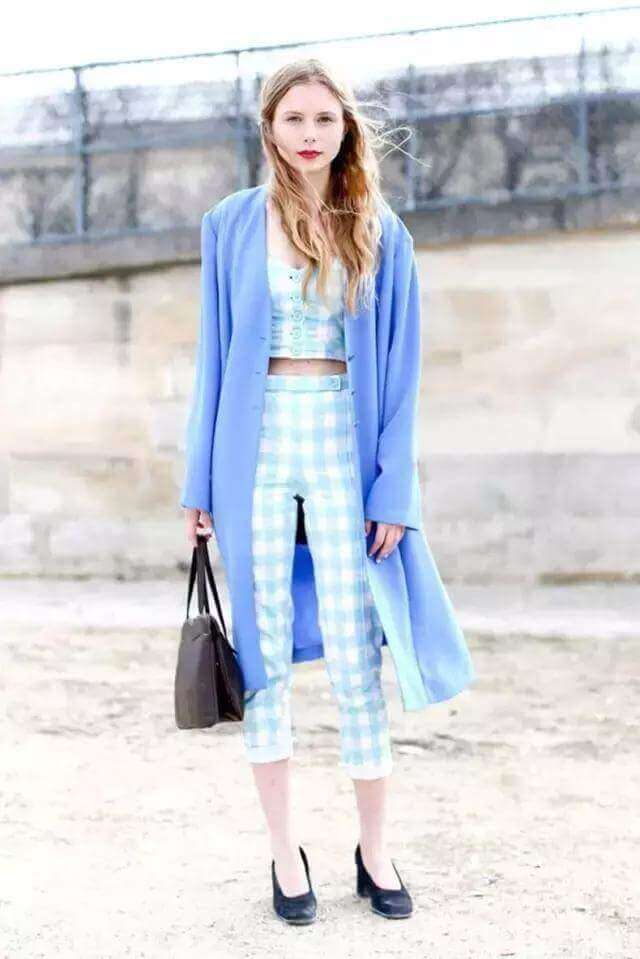 If you don't like to wear pants, you can also choose Vichy Checkered Skirt. It has always been very popular—especially in the street photography. The most common one is the large lattice. ▼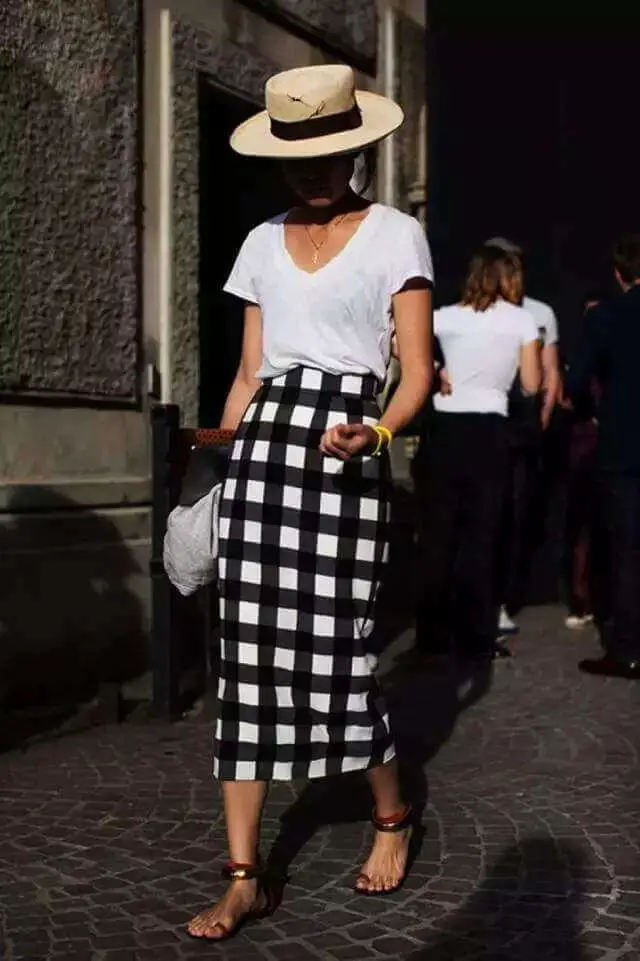 This year we are witnessing new designs in checkered skirts. They give a highly updated fashion look. Things become even better when you pair it up with a white shirt. ▼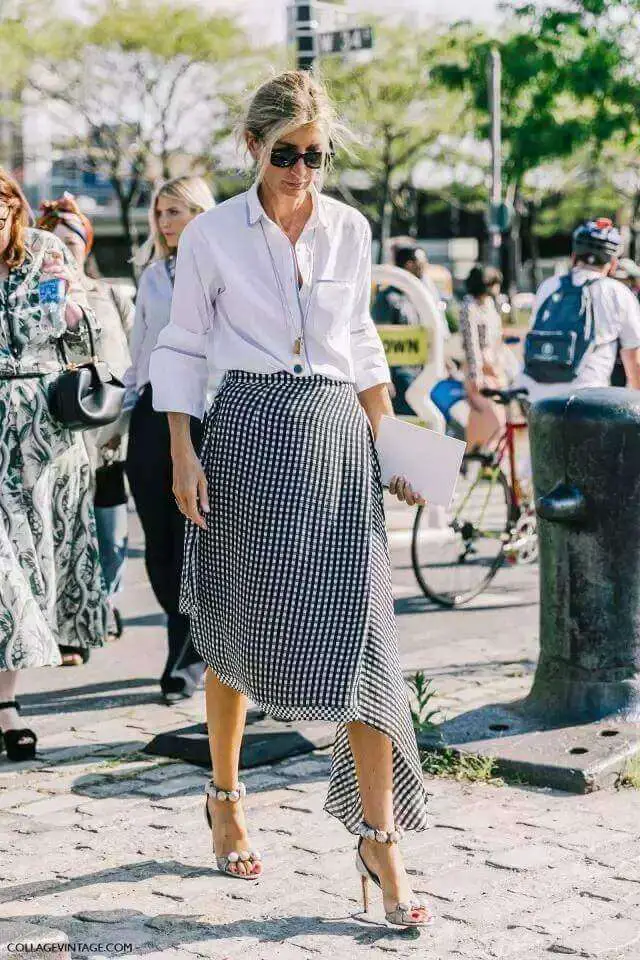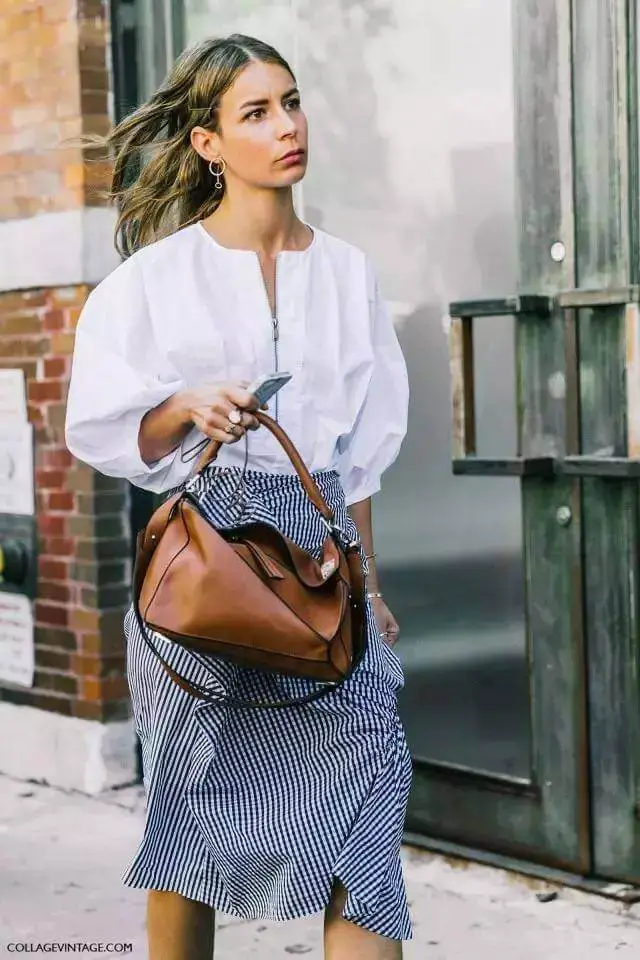 Short skirts are the real favorites of young girls, especially with a white T-shirt. ▼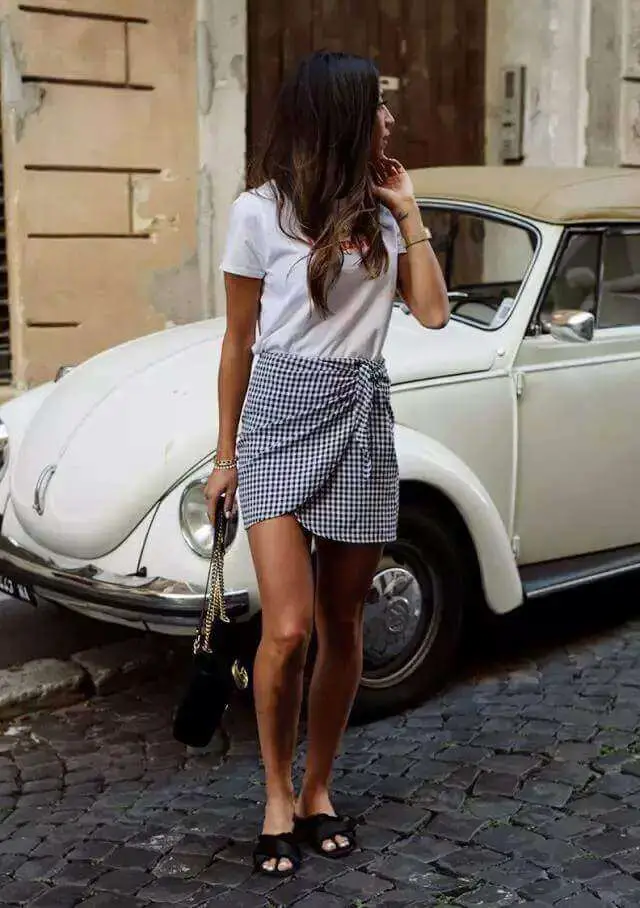 Office workers can choose this type of pencil skirts, but for tops, do not follow the image below, haha ~ ▼
If you want to dress more stylishly with Vichy Checker, you can boldly try a striped top that is fun and clutter-free. ▼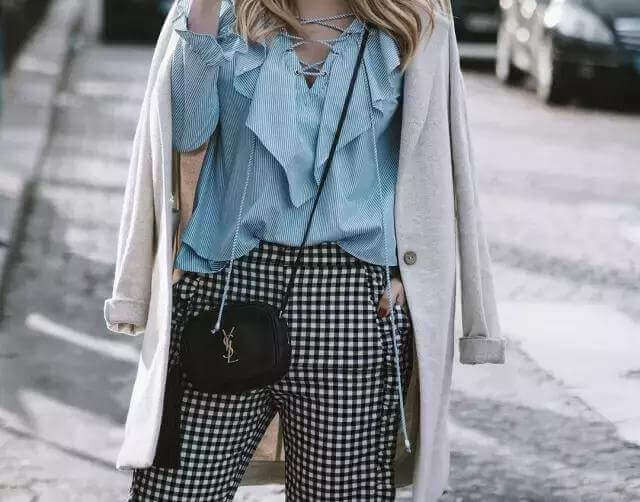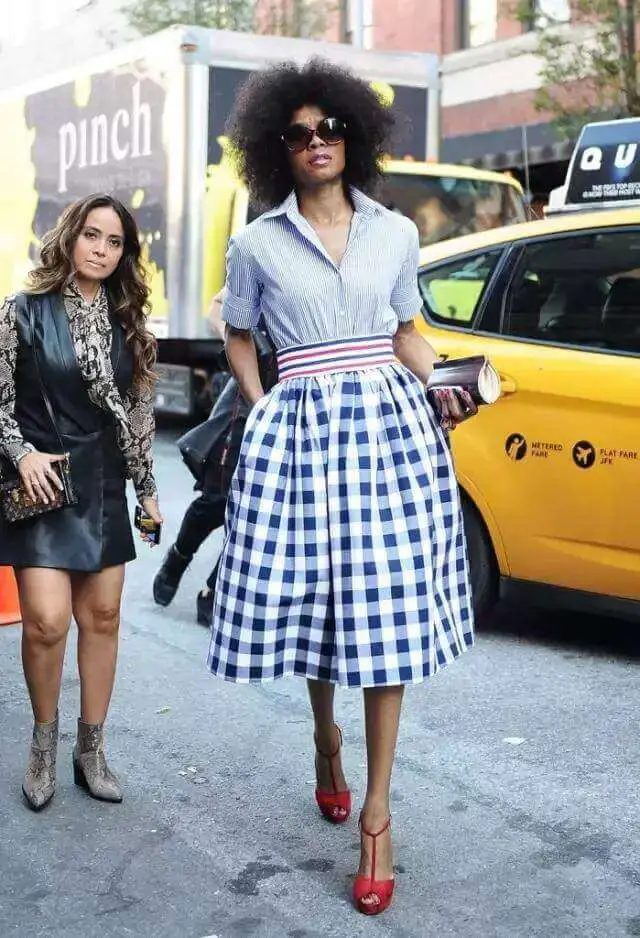 Fourth most worth investing item: Vichy Check Shoes
Plaid elements have a strong sense of style, and sometimes just a little bit is enough to impress, Miu Miu's last year's several explosive shoes straps were adorned with Vichy elements. ▼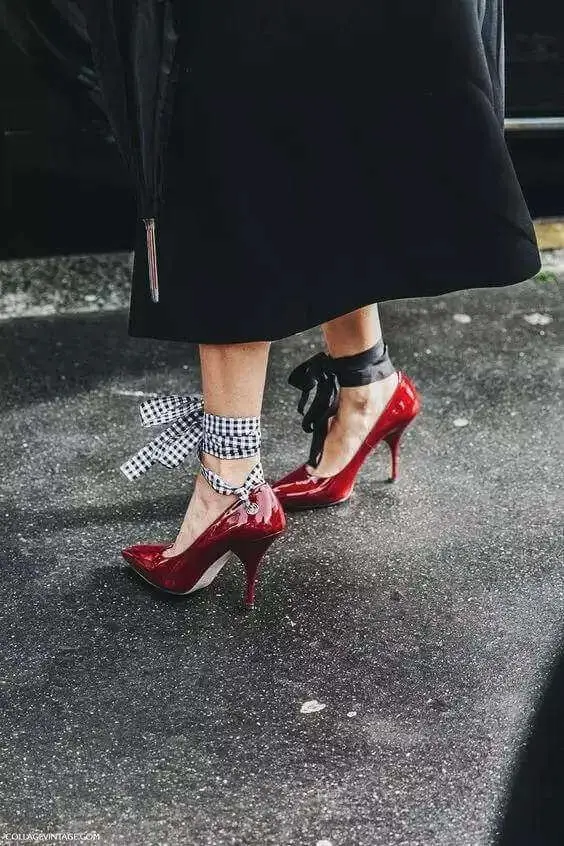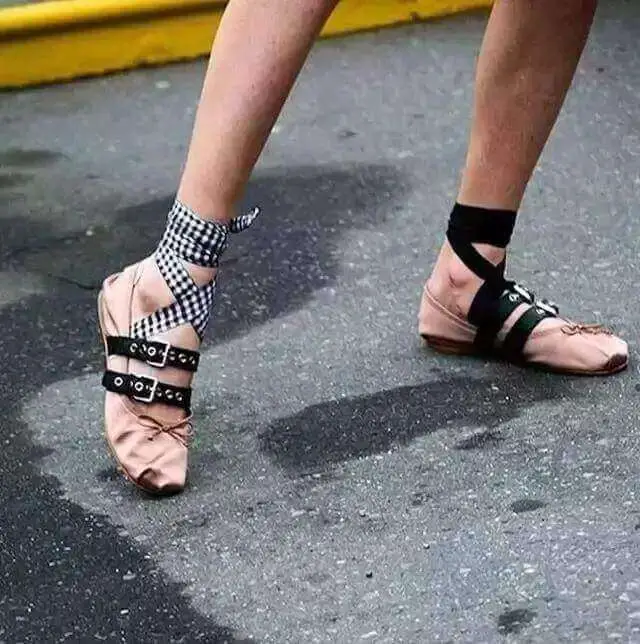 Girls really like Vichy pattern, and the pair of bows on the back is also worn by many girls in the street photography. ▼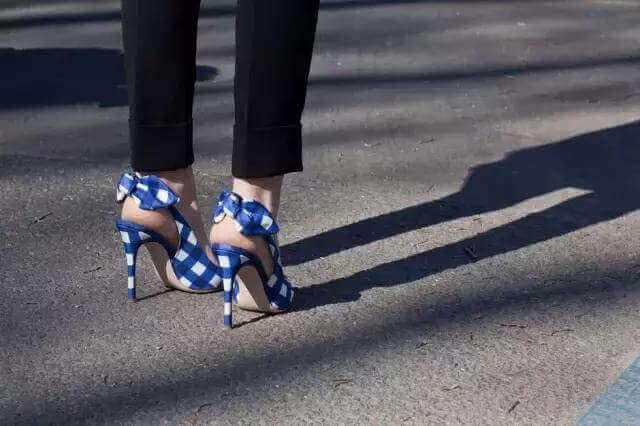 The biggest advantage of Vichy Checkered Shoes is that it will stand out from the whole crowd! ▼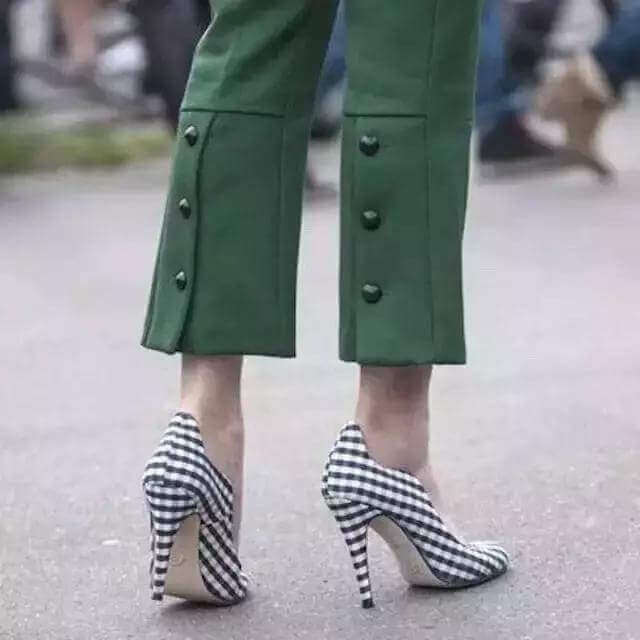 Bella Hadid recently put on a pair of checkered shoes—adorable pair!▼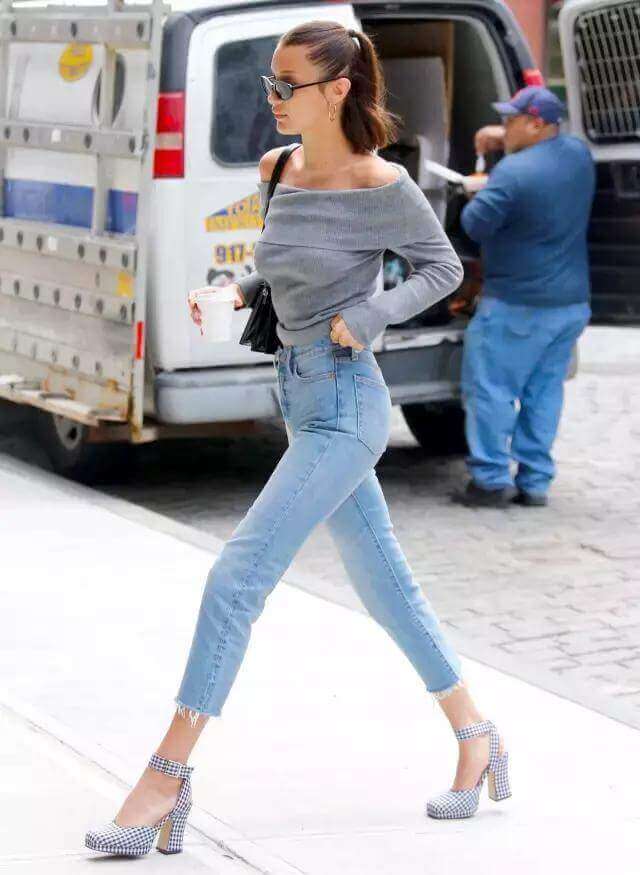 Finally, I found that the bathing suits of Vichy swimsuits are also very good-looking. Although I don't have much chance to play on the beach, but still it looks adorable~ ▼