Navy blue pants are a versatile color for both men and women. They can be dressed up or down depending on the outfit you are wearing them with. Whether you are looking for a sophisticated look for an office setting or a more casual vibe for weekend wear, navy blue pants are a great option. Here are some tips on how to wear navy blue pants for both men and women:
What colors go with navy blue pants for women
White is usually the color that pops up in our minds when we think about what color shirt to wear with navy blue pants, but it is certainly not the only combination that looks great.
In order to talk about what to wear with navy blue pants, we need to discuss further about the colors. Learning the color combination, you can make with navy will allow you to have more freedom when it comes to pulling off cute navy pants outfits.
The cutest and chicest color combos you can make are:
1. Navy blue and olive green
This is probably one of the most popular combinations, apart from white and navy. It's classic and a go-to option for work: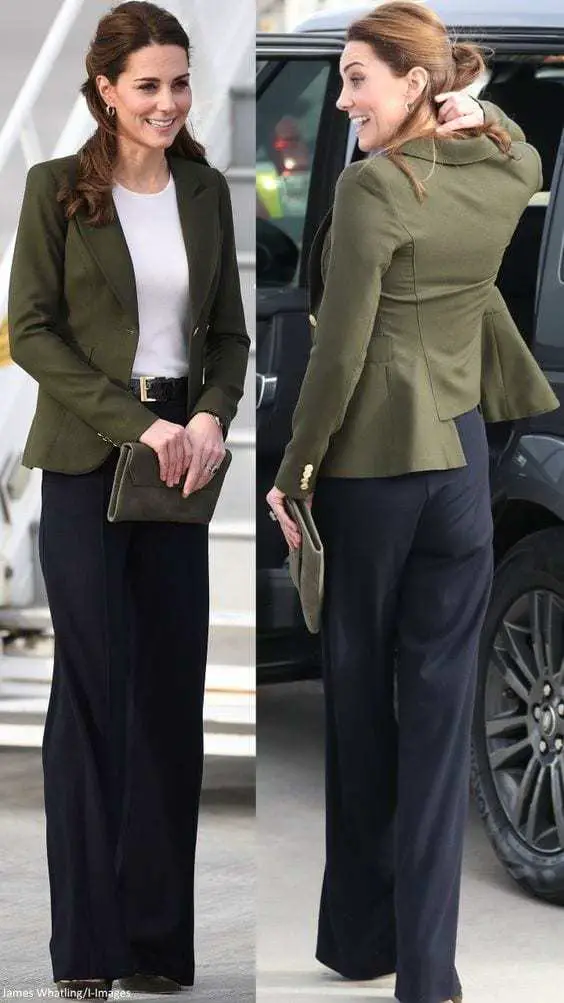 2. Navy blue and emerald green
Navy and green are a great combination because both are cold colors and harmonize well together. Emerald green is the chicest green combination you can make with navy: it's not as popular as olive green, which will make you stand out, and contrasts with the dark and deep navy blue.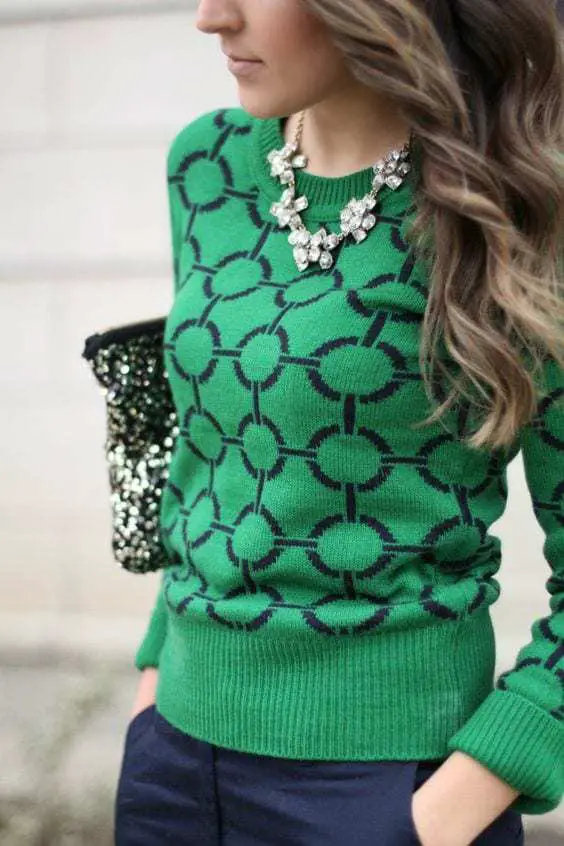 3. Navy blue and cobalt blue
Cobalt blue is a chic color that's highly popular in fashion. You can combine your navy blue pants with any shade of cobalt blue for a sophisticated look: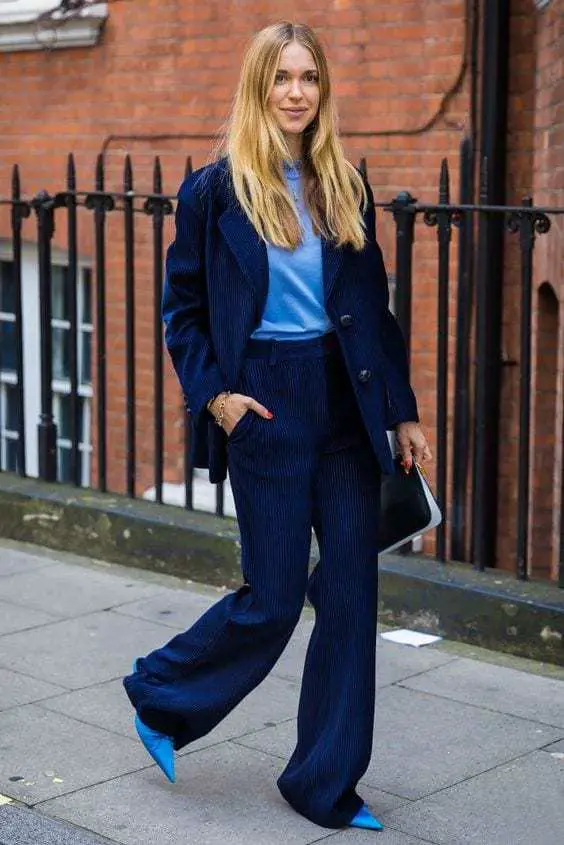 4. Navy blue and burgundy
Navy blue and burgundy is a sophisticated and formal combination, perfect for winter or fall outfits.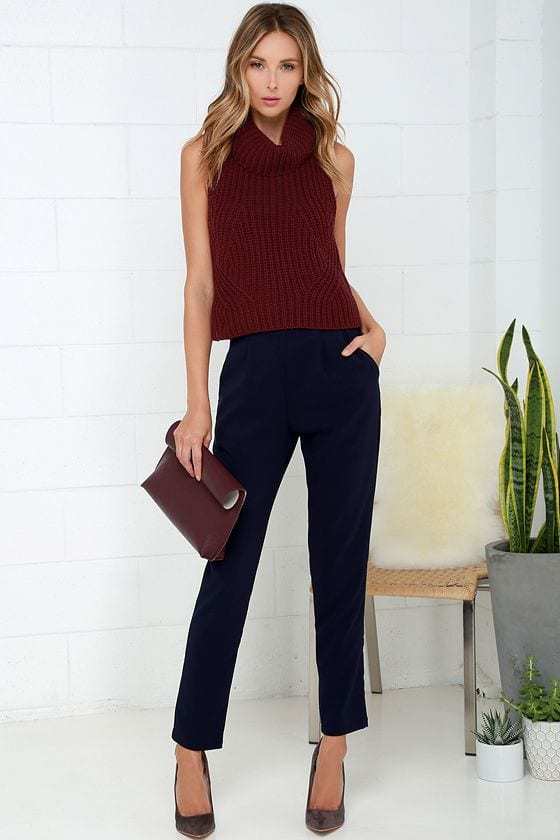 5. Navy blue and yellow
Yellow is a tricky color to combine with navy blue. It has the power of creating a chic outfit but at the same time can bring it down by making it look tacky.
The best way of pairing navy blue with yellow is to choose a shade of yellow that suits your color skin and accessorize with neutral colors. Avoid adding more colors into your outfit when you're doing a navy-yellow combination.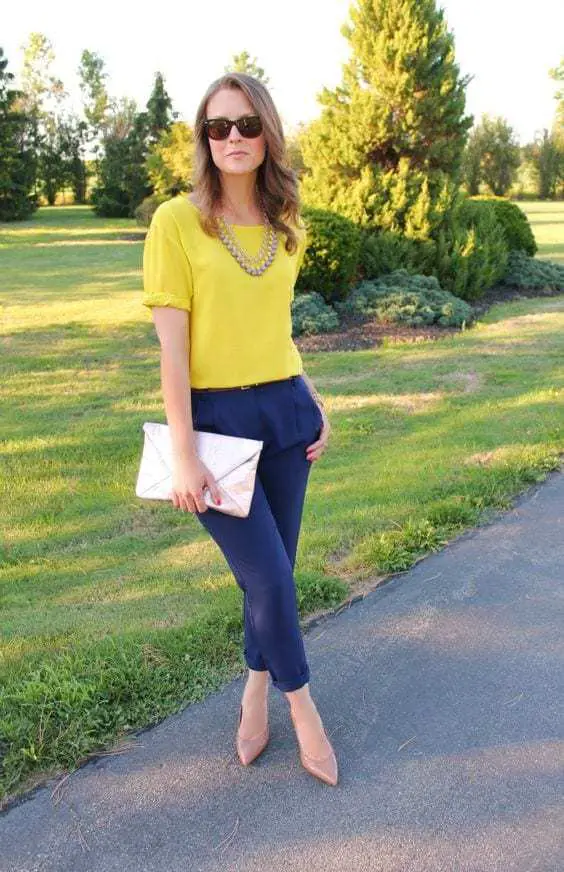 6. Navy blue and mustard
Mustard yellow is an easier color to combine with navy blue pants, as opposed to the primary yellow color. You can accessorize with camel, brown, black or red accessories: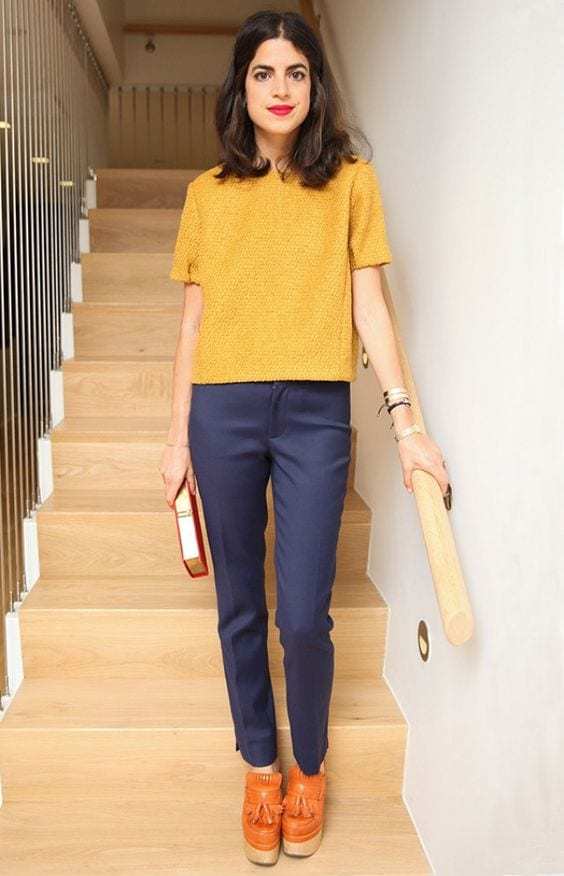 7. Navy blue with nude colors
Neutrals with neutrals is always a great idea, that's why navy blue pants will always look great with nude colors. Navy and nude colors will result in a sophisticated color palette and a chic outfit as well: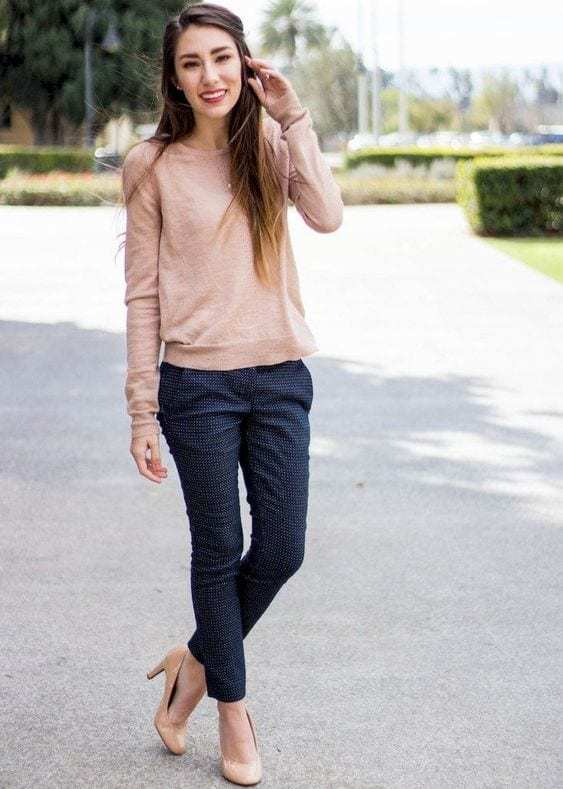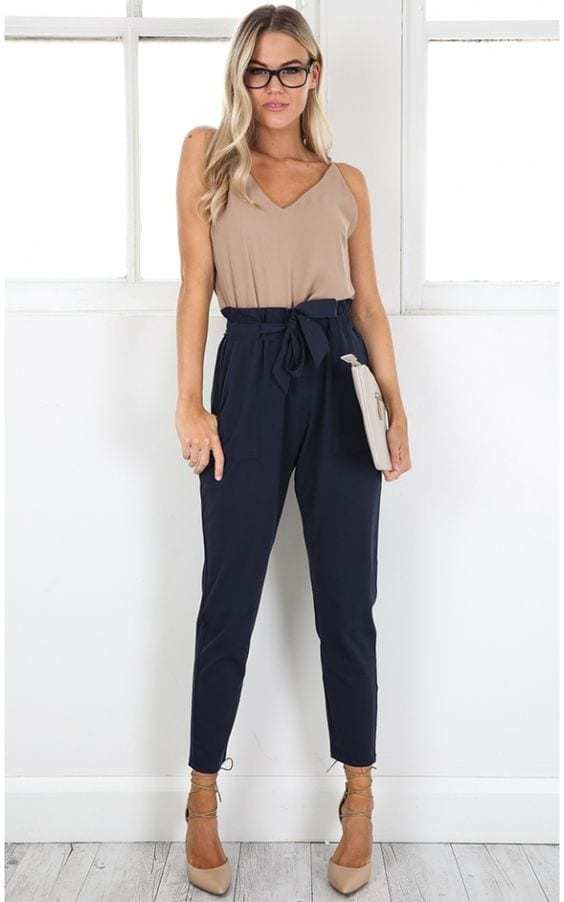 8. Navy blue and denim
Monochromatic looks have become a thing among fashionistas, and navy blue with denim is a great idea if you want to join this trend. From dark to light wash, denim is always a chic option to pair your navy pants with: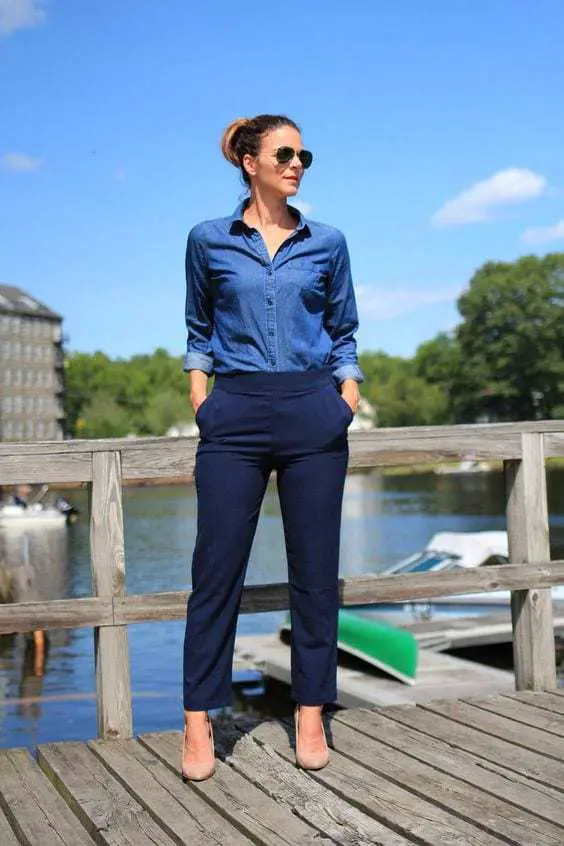 What to wear with navy blue pants
Now that we've gone through the chicest color combinations you can make with navy pants, it's time to move on to WHAT to wear.
As I mentioned before, navy blue pants are a must-have in your workwear clothes, and most of these outfit ideas are going to be perfect for your business casual or business formal looks.
Navy is a shade of blue that represents loyalty, wisdom, and confidence, and if these aren't attributed you want to display at work, then maybe that's not the right job for you!
Everyone wants to look professional, even if their workplace dress code is relaxed and casual. That's why navy blue pants should be your go-to option whenever you feel like dressing stylishly yet professional.
5 Navy Blue Pants Outfit Ideas for women
Here are some navy pants outfit ideas you can perfectly recreate for work or for any occasion you'd like.
1. Stripes
If you're wondering what to wear with navy pants, stripes are a perfect and easy top option you can choose.
Stripes and navy pants is a classic and feminine combination that you don't want to miss. It also has a nautical vibe that can elevate your day-to-day looks.
My favorite of accessorizing this combo is with nude or came accessories: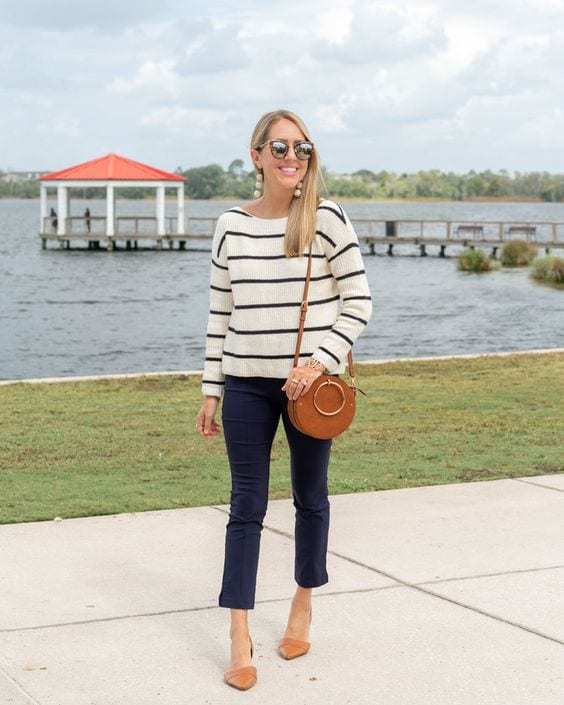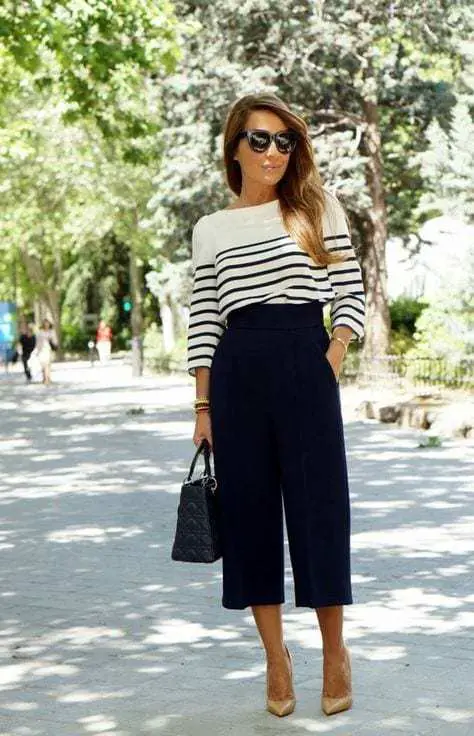 You can switch the classic horizontal lines for a vertical striped top: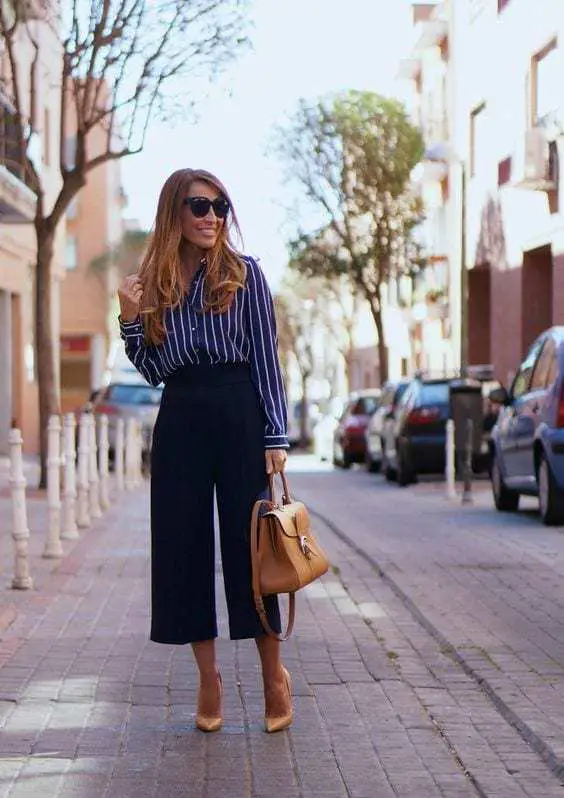 Stripes and navy blue pants are always a good idea, even if the stripes are barely noticeable, like on this top: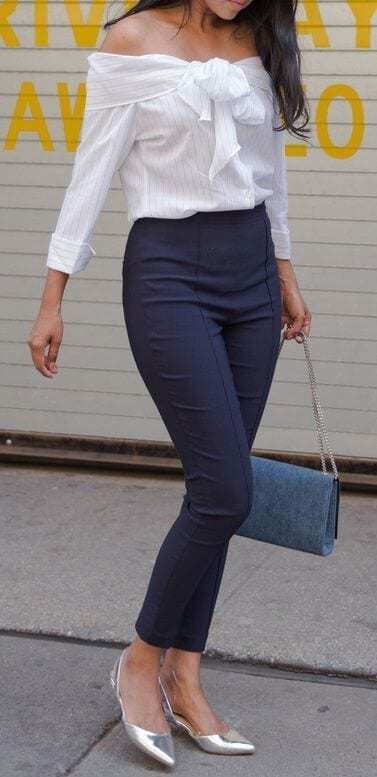 2. Checks and polka dots
Other popular things to pair with navy blue pants are checks or polka dots. If classic and feminine is what you're looking for, then I suggest you try these combinations.
You can add chic sunglasses for an extra dose of sophistication. Also, If you want to take your navy blue pant outfit to the next level, a pair of high waist wide leg or palazzo navy pants would be the best option for you!
They create the illusion of a small waist with no effort at all, which is what every woman looks for: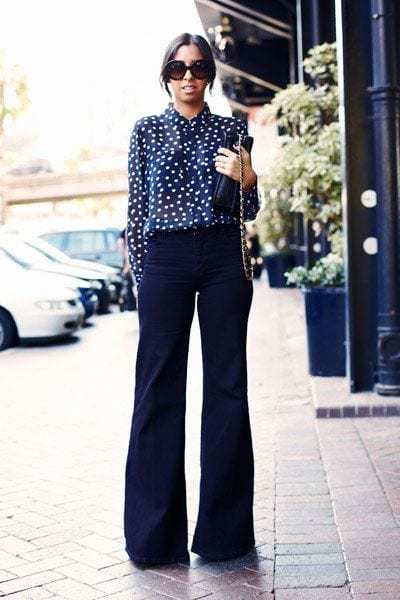 3. All-navy outfit
An all-navy look will make you look sophisticated and chic, taking your navy blue pants outfit to the next level.
And since navy can subtly vary its shade and tone, you can create a low contrast look by matching a super dark navy pant with a lighter shade of navy. This is a cool way of stepping into the monochromatic look trend.
Next time you step into your workplace you'll be turning head for sure with these looks: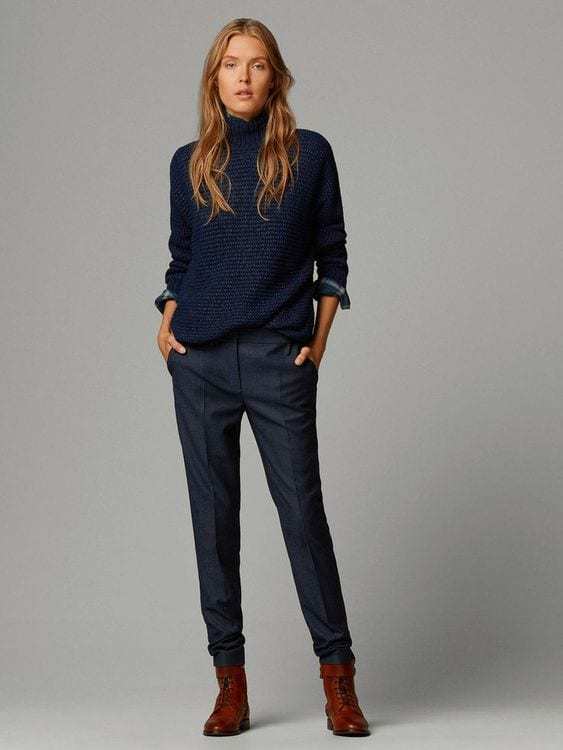 4. Navy blue blazer
Wearing a navy blue suit is a classic and timeless look, which makes it investment worthy of any woman's wardrobe.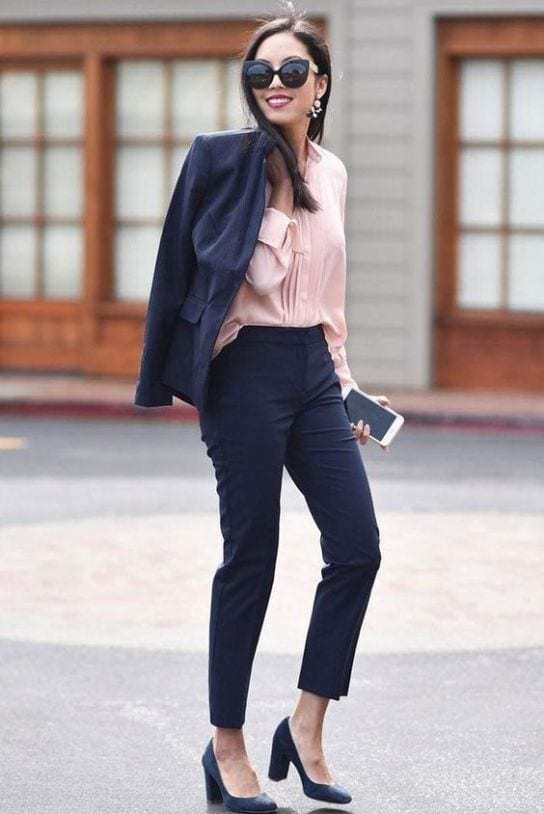 And, if you're wondering what color shoes go with women's navy blue pants, the easy answer is a pair of navy or nude heels.
But if you really want to step up your game, try wearing a bold color such as an orange-red pair of stilettos: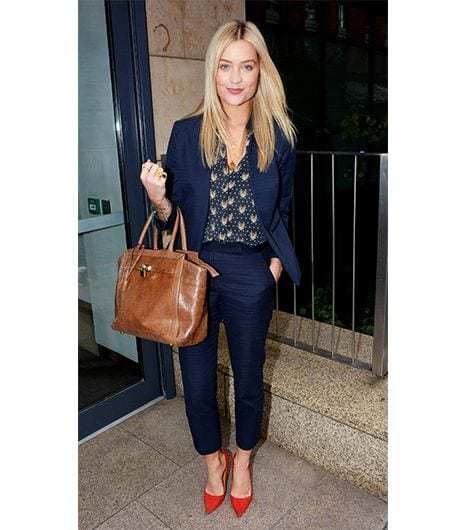 But you can also pair your navy pants with a blazer with a wavy pattern, such as embroidery, print, jacquard, beads… Anything that matches the color with your pants will be a great option!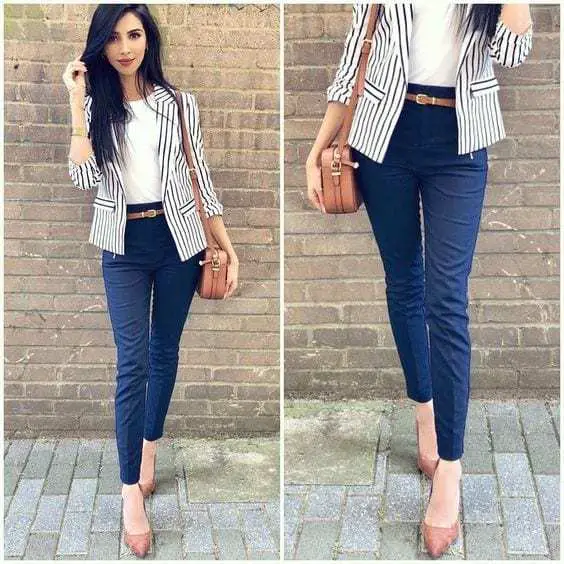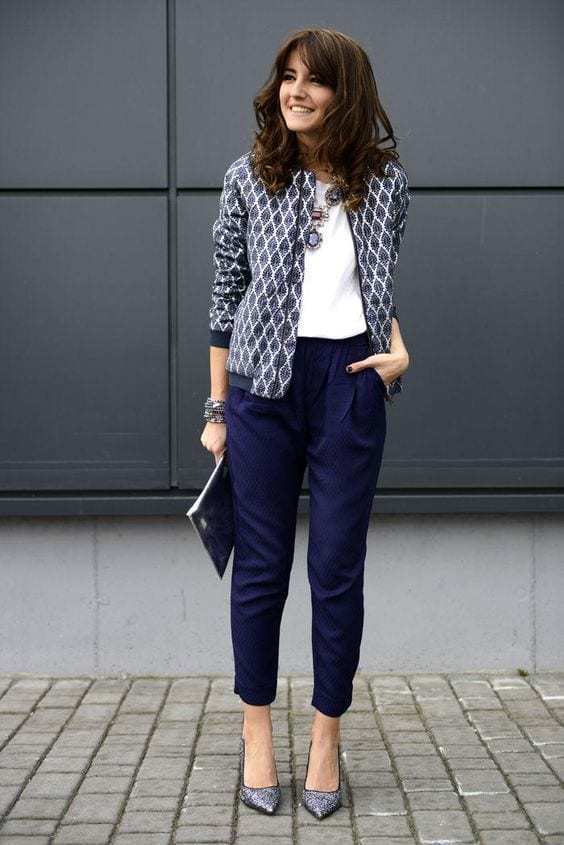 5. White top
If classic is what you're looking for, nothing can beat a white top.
From a white t-shirt to a white button down, this color is a total YES, no doubt about it. All you have to do to elevate your look is to accessorize with pops of color: red shoes, camel belt, striped clutch… whatever you have in hands!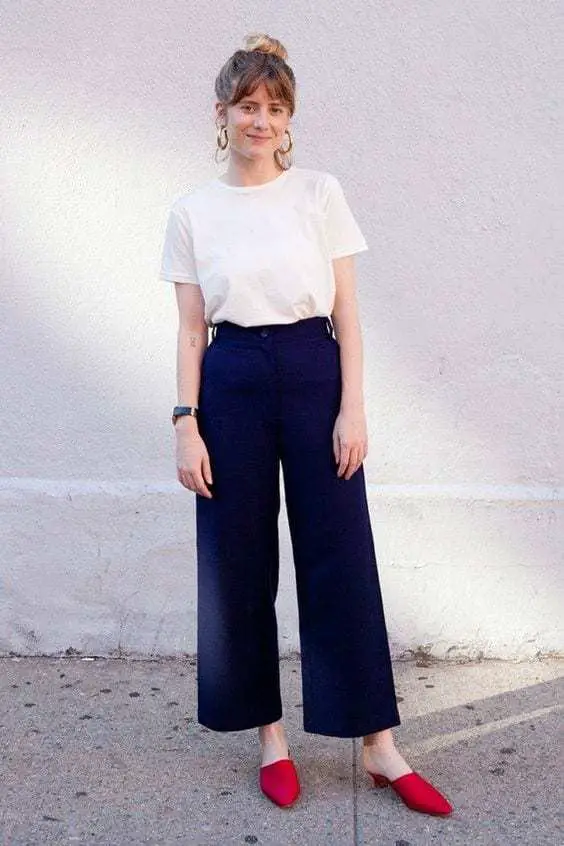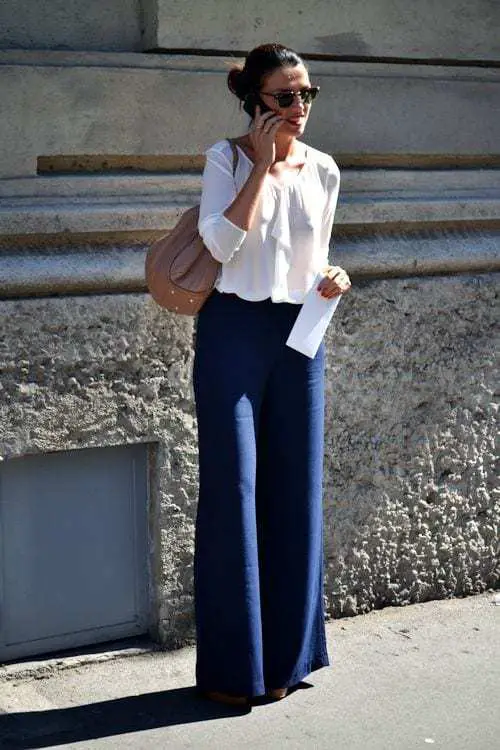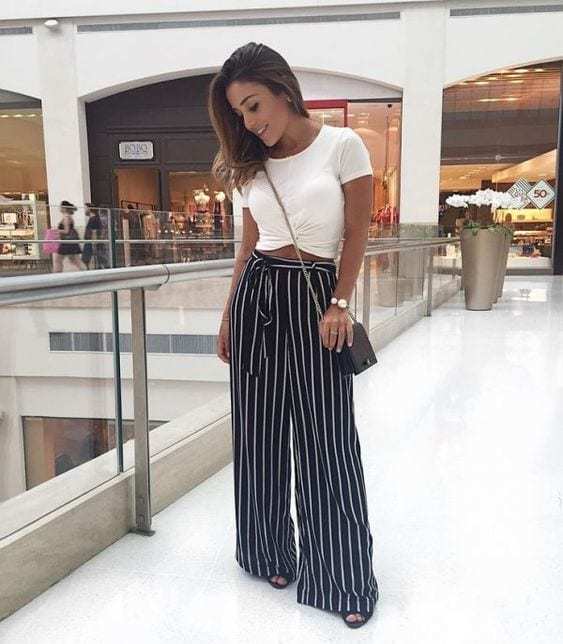 What color shirt goes with navy blue pants for men
The color shirt you choose to wear with navy blue pants can make a big difference in how you look. There are many different colors and styles of shirts that go well with navy blue pants, so it is important to find the right one for you. Some people prefer bold colors, while others might prefer more subtle options. Here are some tips for your choice.
White shirt
A white dress shirt is the most versatile option to wear with navy blue pants. It will provide a clean and crisp look. The white color will also help to tone down any bright colors in your shirt. It is a great idea to wear a black belt with the white dress shirt, as it can help to tie together the dark navy of your pants and the stark white of your shirt.
Blue shirt
A light blue dress shirt will also look great with navy blue pants. It will add a touch of color to the outfit. If you are looking for something a little more casual, then you can also enjoy wearing it with a pair of light khaki jeans.
Purple shirt:
Just like the blue dress shirt, a purple dress shirt will look good with navy blue pants.
Brown shirt
A brown dress shirt is another great option for navy blue pants. If you're not a fan of the white color, then you can make your look more casual by wearing it with a pair of dark brown khaki pants.
Grey shirt
A light grey dress shirt can also be worn with navy blue pants. The color will add contrast to the outfit.
Black shirt
A black dress shirt can also be worn with navy blue pants, but it should be avoided if ııı you are looking for a trendy look.
Wrap up:
Navy blue pants have been a timeless classic ever since women started wearing trousers. The reason is the same as why black pants are must-haves: navy is an elegant, neutral and professional color that elevates any look.
That's why navy blue pants are so popular for workwear fashion. Owning at least one pair will help you come up with endless outfits perfect for work or for any event where you need to look polished and put together.
I hope these outfit ideas and tips have answered your question of what goes with navy blue pants, allowing you to have fun and discover new possibilities you had never thought of.
All you have to do is remember the colors that best combine with navy and you're good to go! The rest is all about having fun.