It's amazing how weather can drastically change our mood and our style, especially when we're talking about really cold or really hot weathers. I don't know about you, but personally, that's what I love about Fall or Spring: nice and enjoyable weather that's not too cold nor too hot.
Both seasons have the perfect weather, and dressing can become much easier: you don't have to be carrying many layers or stress over how well they combine with each other; or waste many hours waxing your legs to show off that cute pair of shorts when it's super-hot and you can't wear any pants or jeans..
What to wear in 60-degree weather
We are all different and our tolerance of temperatures may vary. It also depends on where we live: it's not the same for someone who has lived her entire life in a tropical country and has moved to New York, then a Canadian girl from Montreal moving to Florida.
That's why it's important to know your own tolerance to weathers and check every single day the temperature. I can hardly tolerate windy or cold temperatures, so my clothes for 60-degree weather always include long-sleeves and a sweater, but that may be too much for others.
These top 45 outfit ideas on how to dress for 60 degree weather will give you plenty of options you can choose from and/or adapt to your own style and temperature tolerance.
1. Tops
Temperatures vary so much from day to day, and if you're wondering what to wear in 60-70 degree weather, these are cool top options you can choose from:
Three-quarters or long sleeve tops
A ¾ sleeve striped t-shirt can work perfectly fine. I love white outfits, and pairing your top with a same-color bottom is a chic way of styling your 60-degree weather outfits.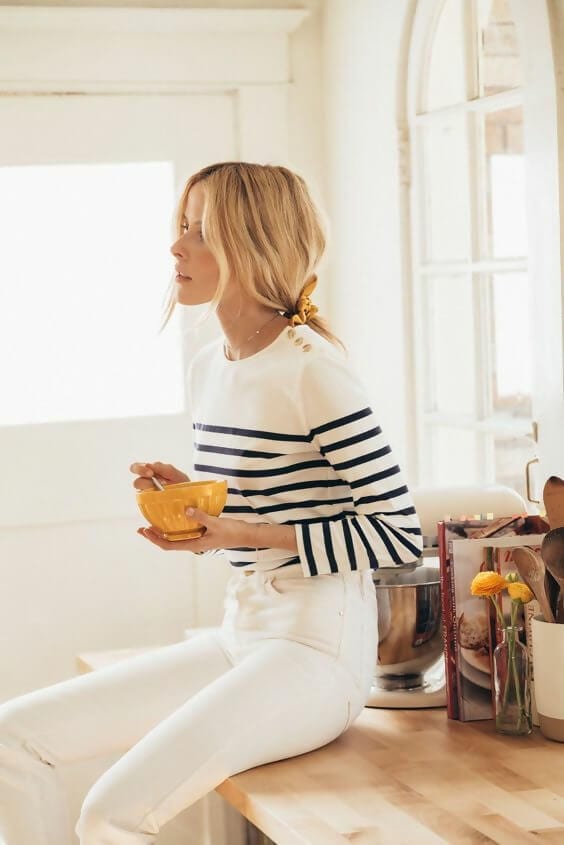 You can also wear a long-sleeve striped top with any kind of bottom you prefer:
Shop The Look
---
Click the picture to buy
Sweaters as tops
A tip on what to wear in 50-60 degree weather is to wear your light pullover as a top. This is what I usually do when I run out of top ideas and I still want to look chic:
Again, it will depend on your own temperature tolerance. But owning a stylish sweater is a cool option you wear when you feel it's too cold for just a shirt or too hot for a shirt and a sweater: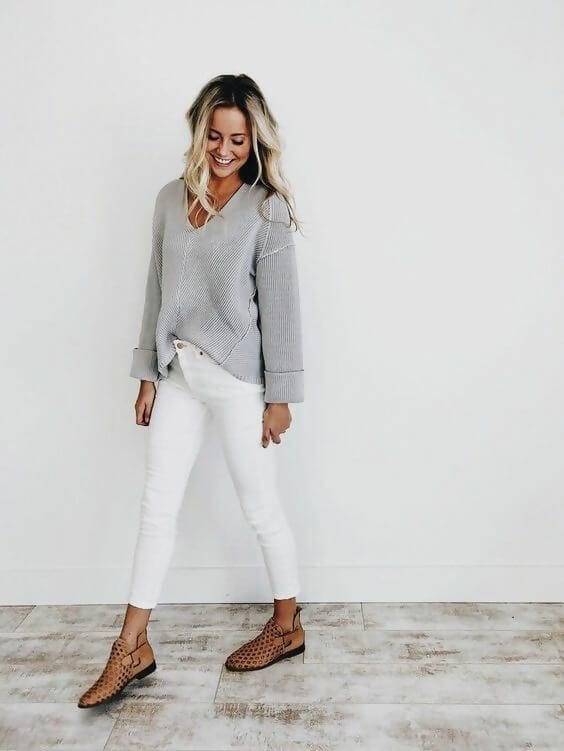 To make a statement look, opt for a crew neck sweater that has cute oversized sleeves: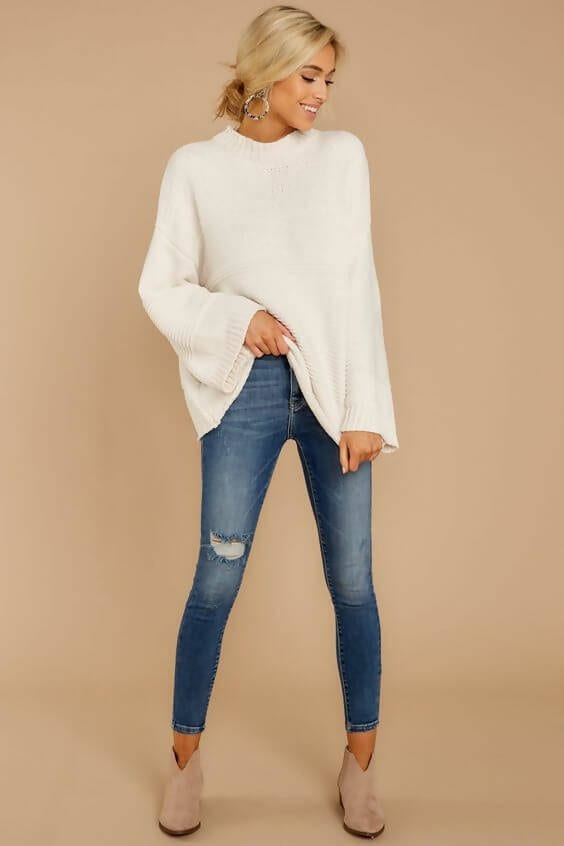 Shop The Look
---
Click the picture to buy
A v-neck classic pullover and a light sweater is another chic tip on what to wear in a 60-degree weather. The best part of a simple top is that you can get creative with the accessories.\ if you want to bump up your look.
Cardigan as a top
Wearing a fitted cardigan has become trendy thanks to the likes of top models such as Kendall Jenner and Bella Hadid. You can also jump into this trend and rock a preppy fall or spring outfit.
The key to this look is to wear your fitted cardigan as your top, not as a sweater. Pair it with your favorite jeans and a belt for a classy look:
Shop The Look
---
Click the picture to buy
T-shirts
What to wear in 65-degree weather? It can't get simpler than a t-shirt with a cool trench coat. T-shirts should be your best friends because you can count on them for absolutely any kind of weather (except for a super extreme winter).
All you need is your favorite sweater or coat to keep yourself warm:
Cute knit tops
Knit tops are another must-have for 60-degree weather outfits.
A black knit top is essential because you can wear it on any occasion: for a day-time event or for a formal night look.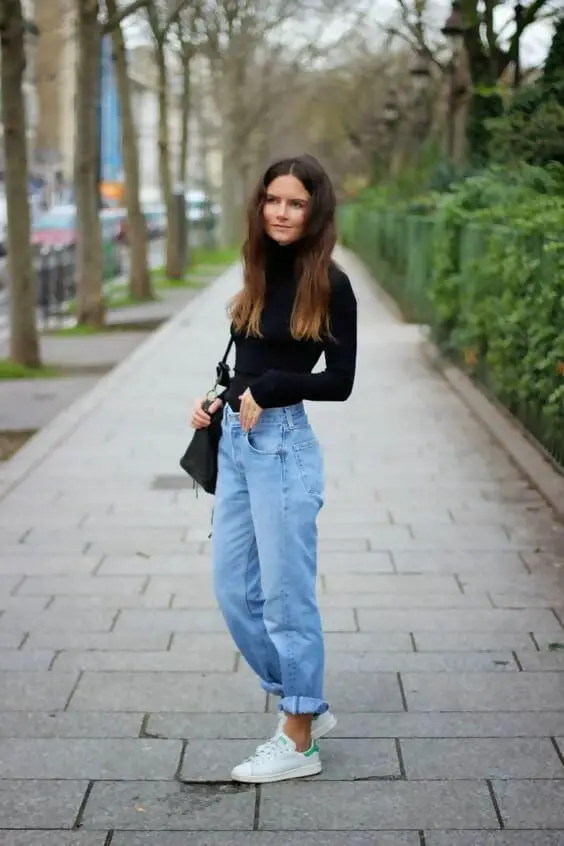 It's also nice to have several colors in this kind of knit tops in order to have the versatility to pull out different looks: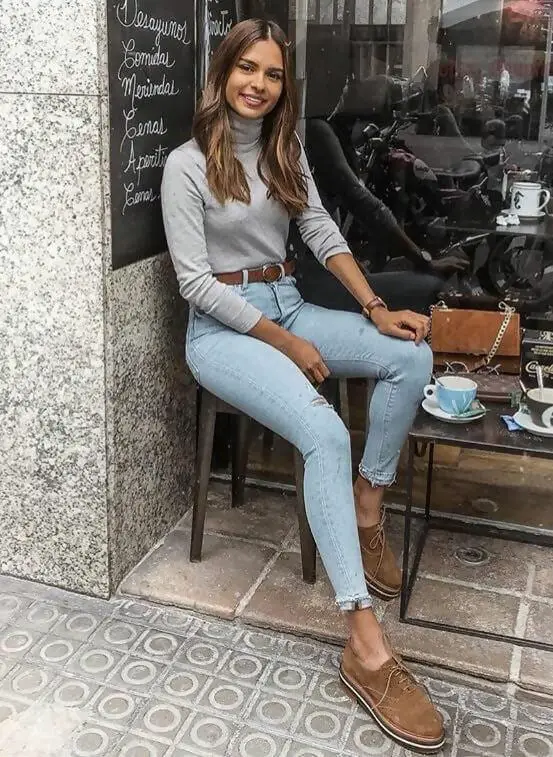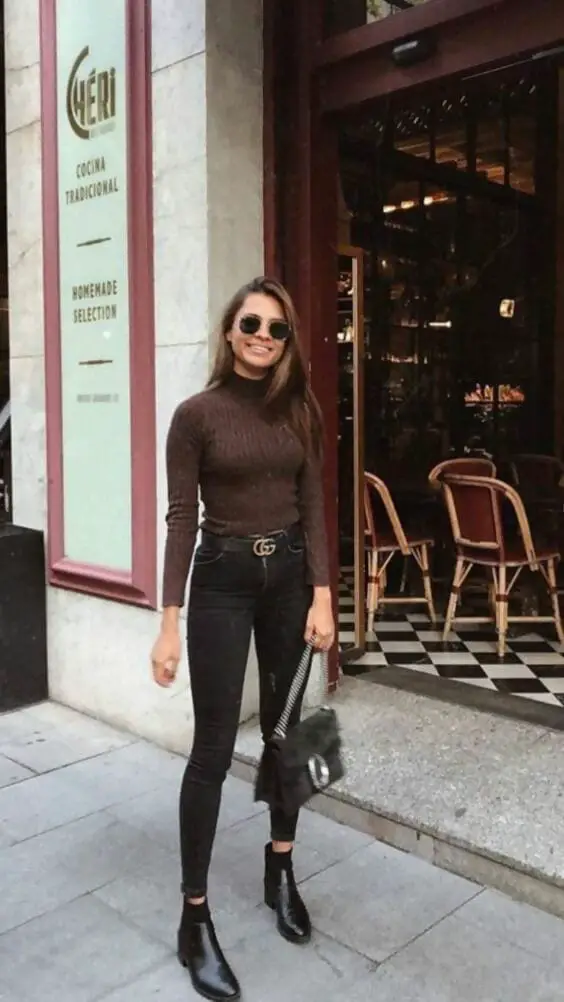 Shop The Look
---
Click the picture to buy
Striped knit tops
What about stripes? You can opt for different kinds of knit tops, not only solids. But stripes are, by far, the chicest option: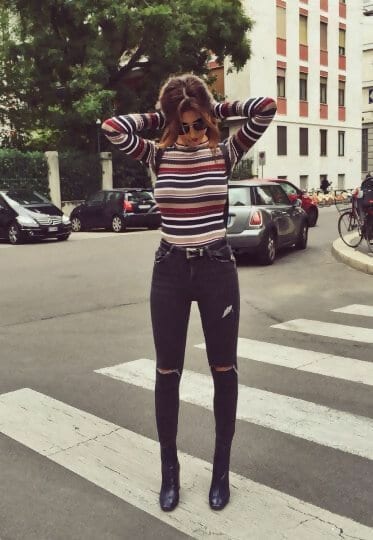 Cute knit tops
For a stylish 60 degrees outfit, opt for cold shoulder knit tops. They look super cute while still keeping you warm:
Thanks to the knitwear trend that came along a few years ago, you can now find so many different options for your tops: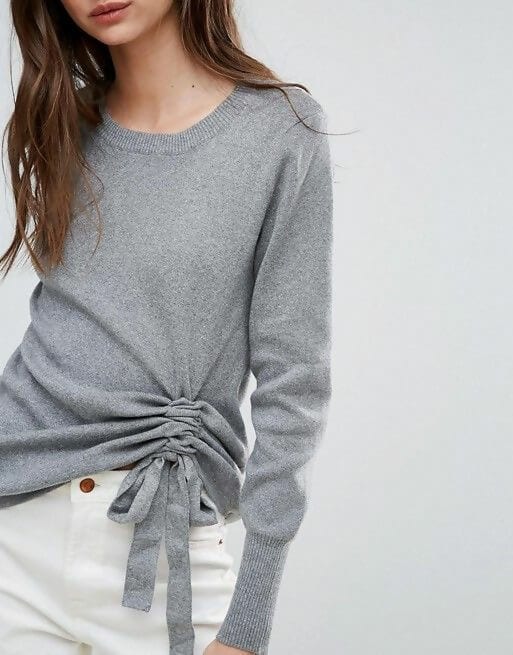 Shop knit tops:
2. Bottoms
Skinny jeans
The best compliment for a 60-70 degree weather outfit is your favorite pair of jeans. No matter the style you choose, they will always look great.
Skinny jeans, for example, are a classic item you definitely already own:
A black pair of skinny jeans is one of the pieces your wardrobe needs for this kind of weather: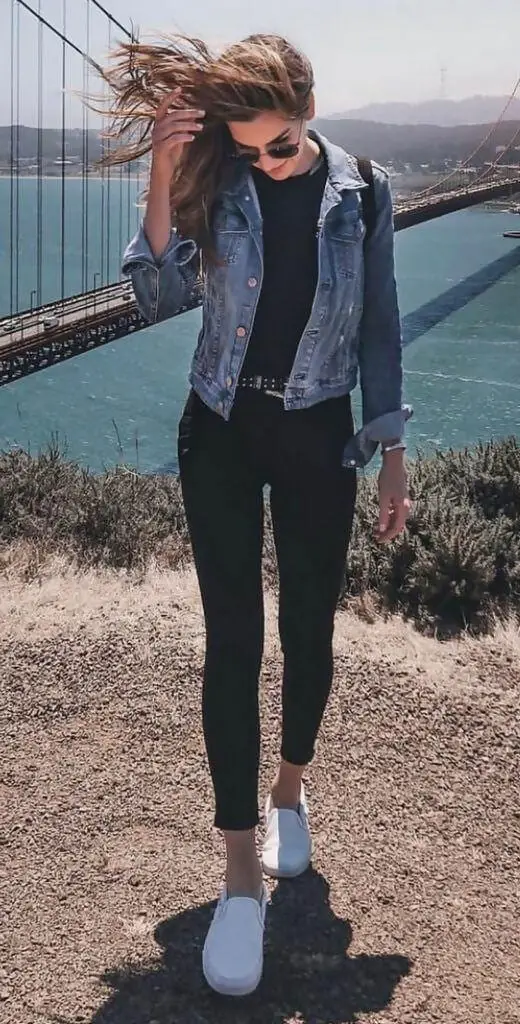 Shop The Look
---
Click the picture to buy
Mom jeans
The trendiest pair of jeans you can own right now are mom jeans. They look absolutely cute with a tight top or any kind of sweater.
You can choose any top, just make sure to tuck it inside your jeans.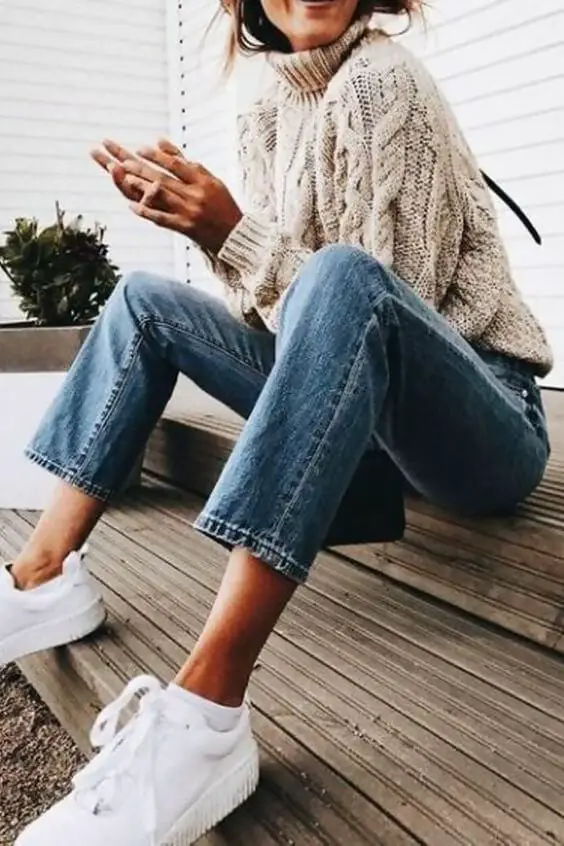 Shop The Look
---
Click the picture to buy
Flared jeans
If you're tired of mom jeans, a pair of flared jeans will also give you that vintage and cool look to your 60 degree weather outfit. If you're a boho-chic lover, then you should definitely opt for this style of jeans: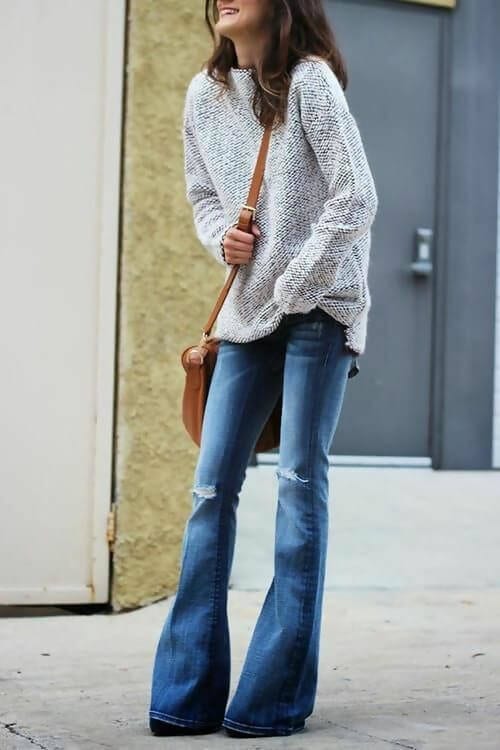 Shop The Look
---
Click the picture to buy
Plaid trousers
Plaids are everywhere! And that's the only reason you need in order to rock a cool pair of plaid trousers. They're perfect for cold temperatures, making them a statement piece you can't miss in your clothes for 60 degree weather.
They're also a great option for any kind of occasion: from work attire to college outfits. My favorite shoes for plaid trousers are white trainers: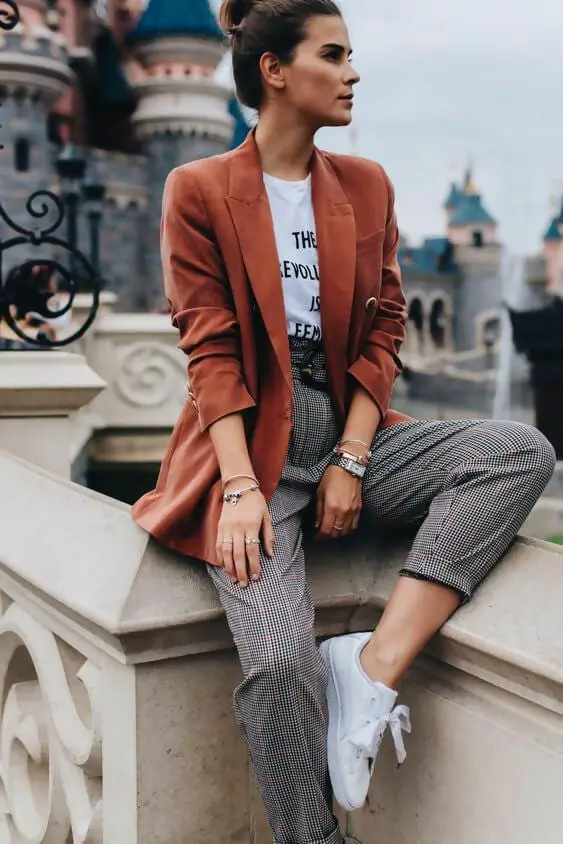 Shop The Look
---
Click the picture to buy
3. Skirts:
Depending on your tolerance, you can pair a cute skirt with or without tights. It will all depend on how cold it is or on the kind of look you want to pull out.
Faux-suede vintage skirts are my favorite for a 60 degree weather outfit: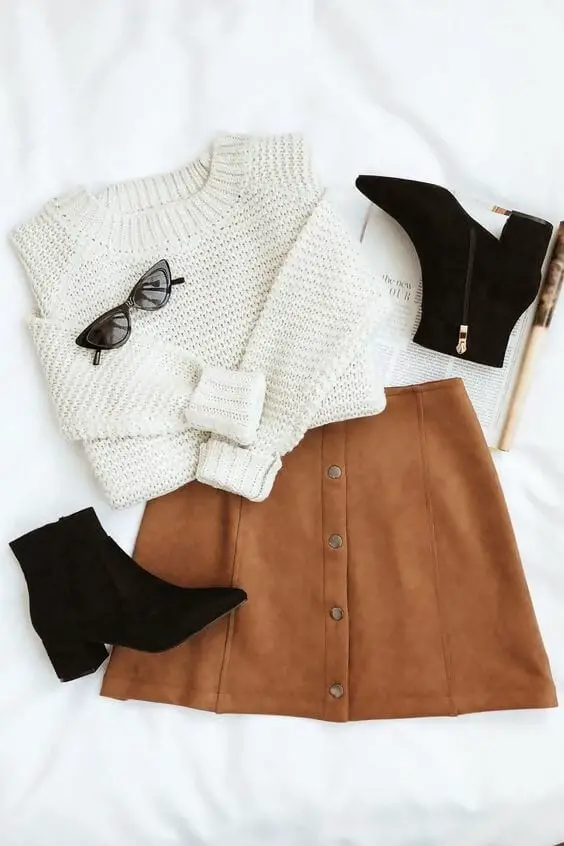 Shop a similar skirt:
An alternative for faux-suede is a cute corduroy skirt. They will give you the same vintage and cool vibe as a faux-suede one.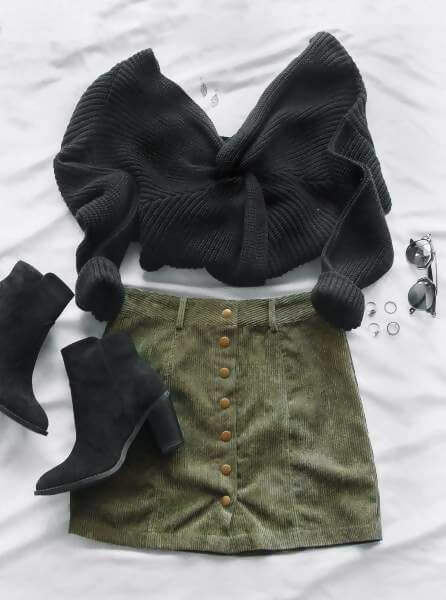 Midi skirts
Midi skirts are a statement piece I can't get enough of. The best part is that they're also a perfect idea for a 60-degree weather outfit.
Check these cool and chic looks you can pull out with a midi skirt: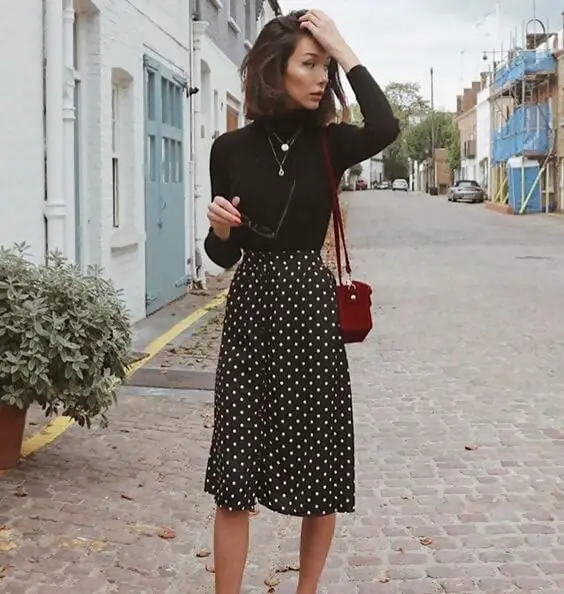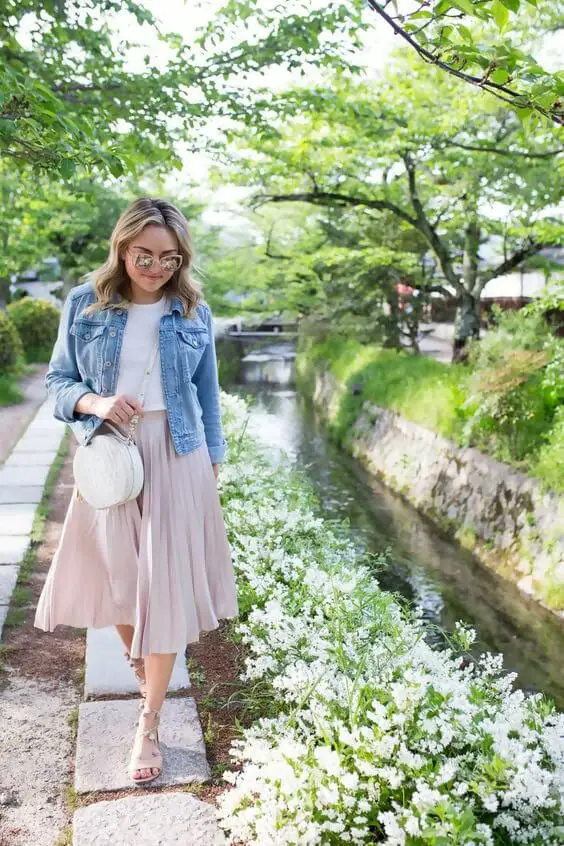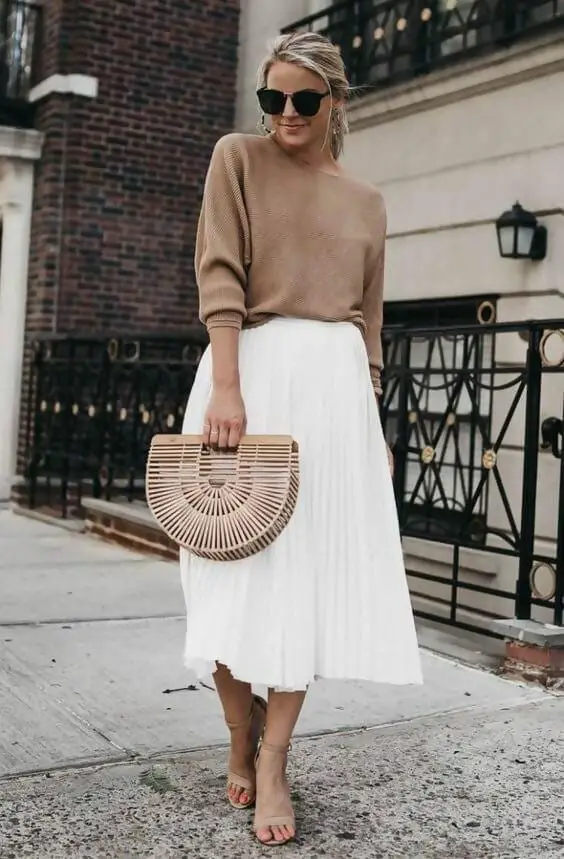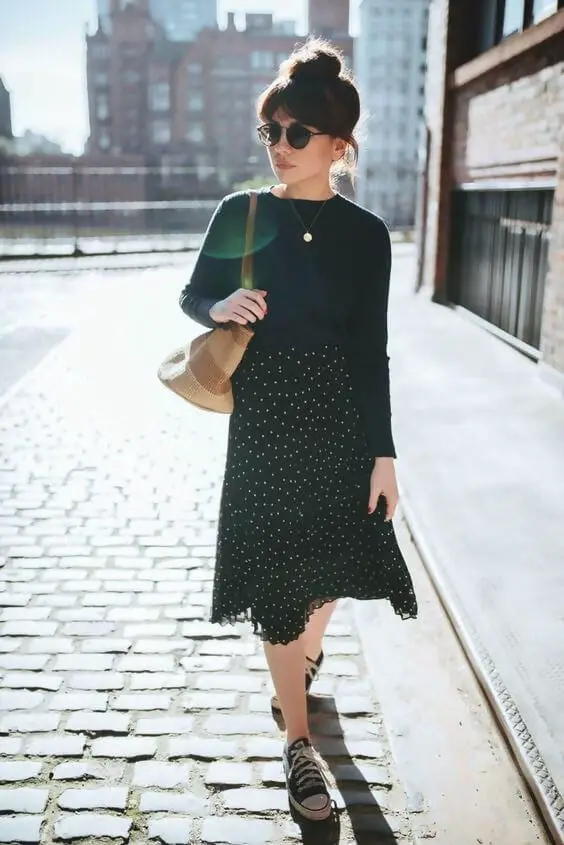 They're absolutely feminine and go well with day and night-time outfits, or for formal or informal occasions. Just wear a pair of sneakers for a casual look and a pair of high heels for a polished outfit.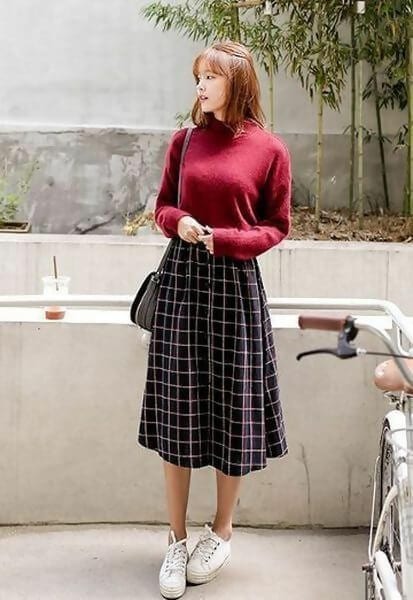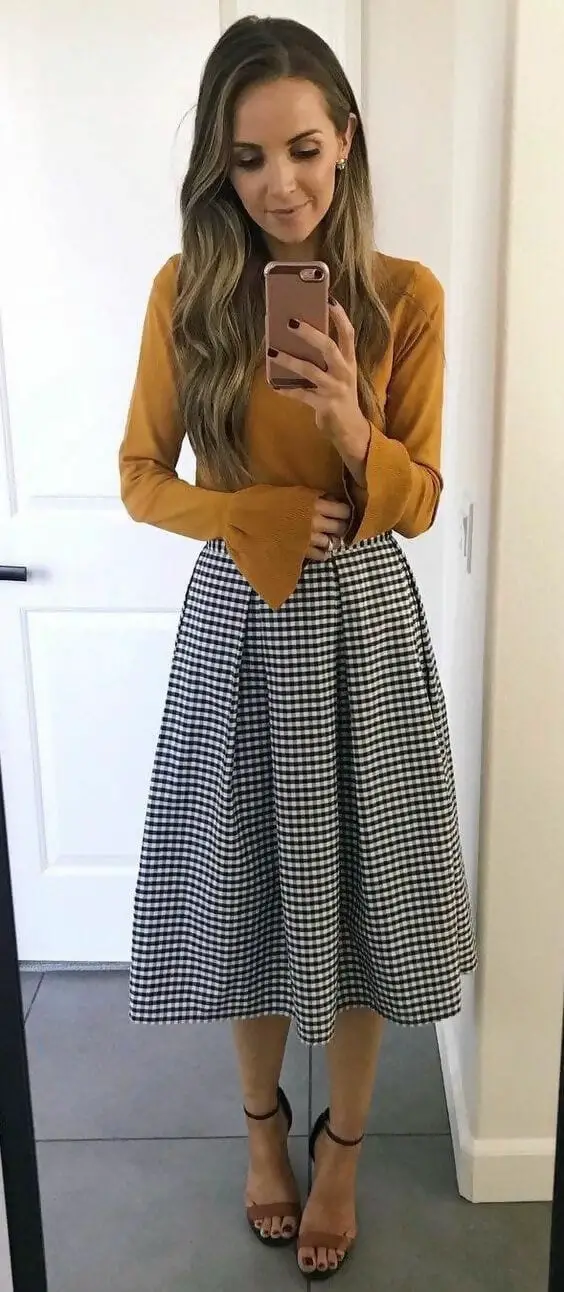 Shop similar skirts:
4. Dresses
Mini dress
Pair a cute mini dress with tights to rock a chic and warm outfit perfect for a 60 degree weather.
Tights are such a cute item you need to have for this kind of temperature. You can pull out any kind of outfit with this combo.
For an edgy look, opt for a boho mini dress like this one:
For a polished look, nothing can beat an all-black outfit. Your little black dress with a cute pair of tights will be a head-turner outfit for sure: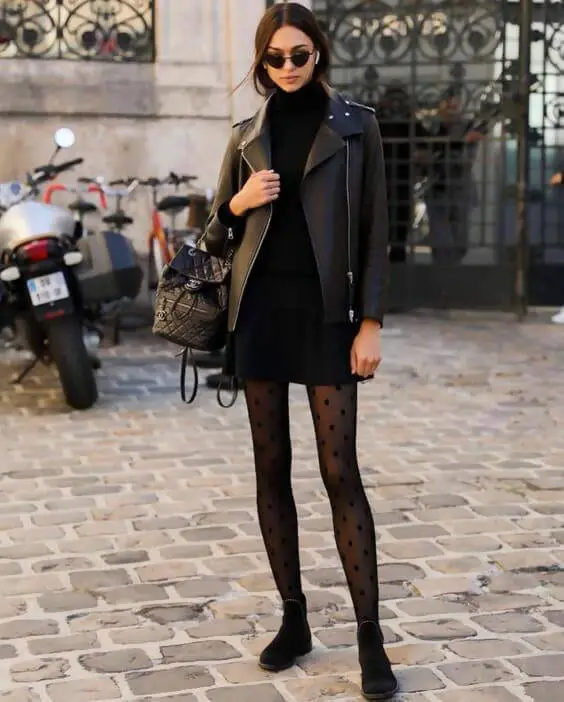 Other mini dress outfit ideas for 60 degree weather are: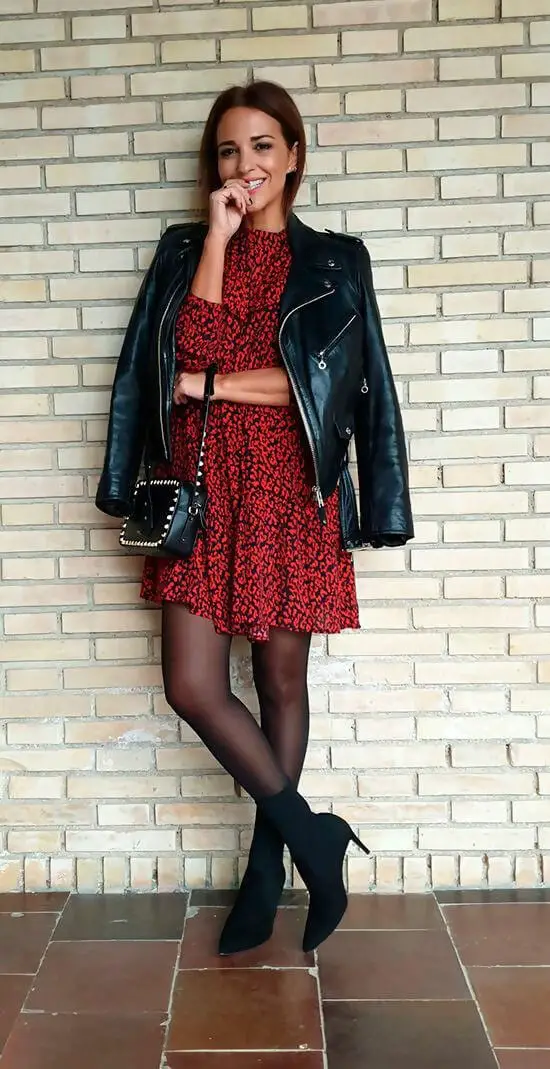 Shop The Look
---
Click the picture to buy
Wrap up:
60-degree weather is just perfection. You don't need to be carrying a lot of layers nor have the annoying feeling that you're sweating your shirt.
We can sometimes run out of ideas on what to wear in a specific situation, mostly when we've been wearing the same stuff over and over. As you have already seen, there are many possibilities you can wear in this kind of weather, regardless of the type of style you identify with.
That's why I hope these 45 ideas on what to wear in a 60-degree weather will help you pull out super chic, stylish and comfortable outfits while enjoying a nice temperature outside.