There are few things better than being invited to a wedding. Celebrating the love of two people with a party sounds like the best plan ever invented.
But attending a wedding also requires us to take some time to figure out what to wear, especially if it's held at a special place.
What to wear to a beach wedding
If you've been invited to a beach wedding and are not sure about what to wear, don't worry. I've got you covered with the best outfit ideas that will make you look stylish and fashionable, for both men and women. So if your other half is with the same problem, you've both come to the right place!
But before I move on with beach wedding attire ideas, let's talk first about the things you should take into consideration:
– If the invitation doesn't say so, ask someone close to the bride (or ask her directly) if there is a specific beach wedding guest code. Some beach weddings, for example, might require guests an all-white outfit, or a short dress.
– Make sure you know what's the bridesmaids'' dress color. You don't want to wear the same color as them!
– Get informed about that beach's weather for that special day. Some can be super hot and wearing a breathable dress would be a must.
– If the wedding will include a religious celebration, try not to wear anything too revealing by opting for a chic but kind-of modest dress.
Have these points in mind for your beach wedding dress hunt to find the best option for you.
5 Beach wedding outfit ideas for a Flawless Look
1. Florals
Florals and beach are two words that sound perfect together. Opt for a floral printed dress for a chic, feminine and stylish beach wedding attire.
Slit cut dresses are perfect for hot beach weather. If the wedding is held during summer, this is a cute option for you.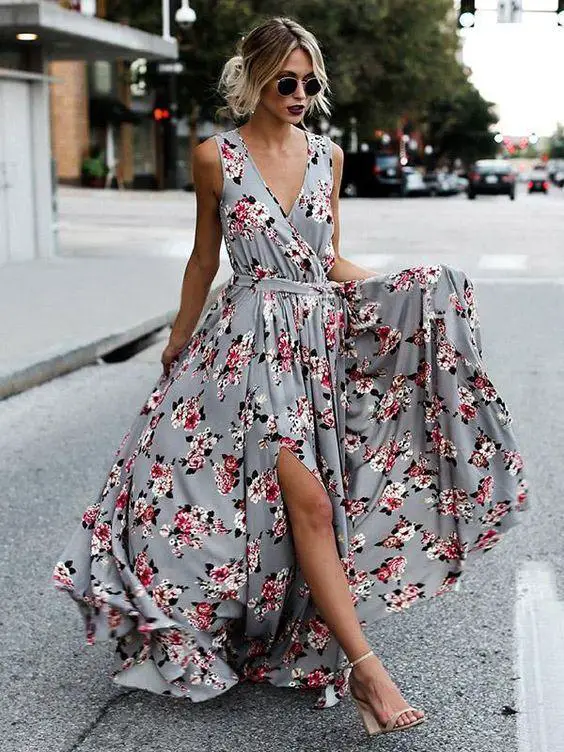 Floral prints will give your beach wedding outfit a feminine and fun yet sophisticated look. Opting for a flowy dress is also a great idea because it'll move elegantly with the beach's breeze.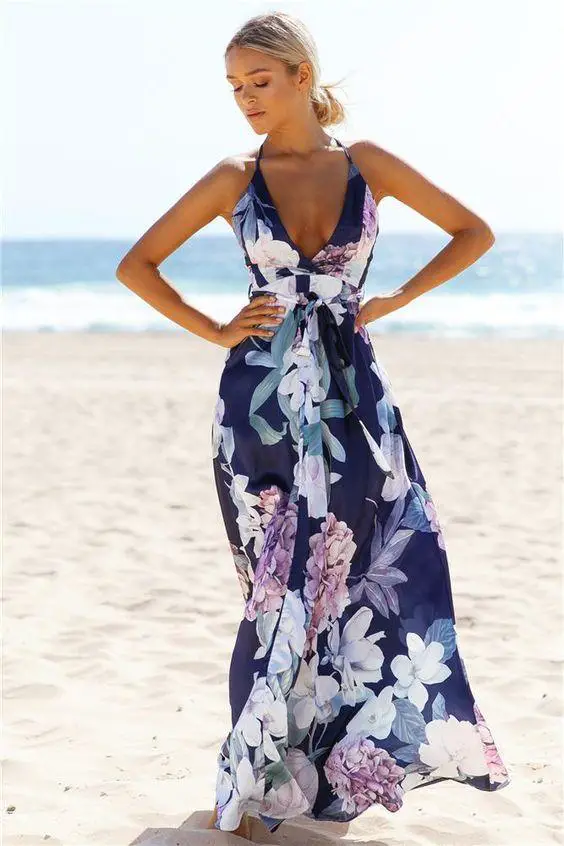 A high and low dress is another great beach wedding outfit idea. Since they're usually flowy, yours will be moving with every movement you make, as well as with the beach's soft breeze.
Short dresses for beach wedding can be allowed, but as I mentioned, you need to make sure that the dress code doesn't say specifically "long dress". If it doesn't, then opting for a fitted floral dress is a cute way to show off a chic style.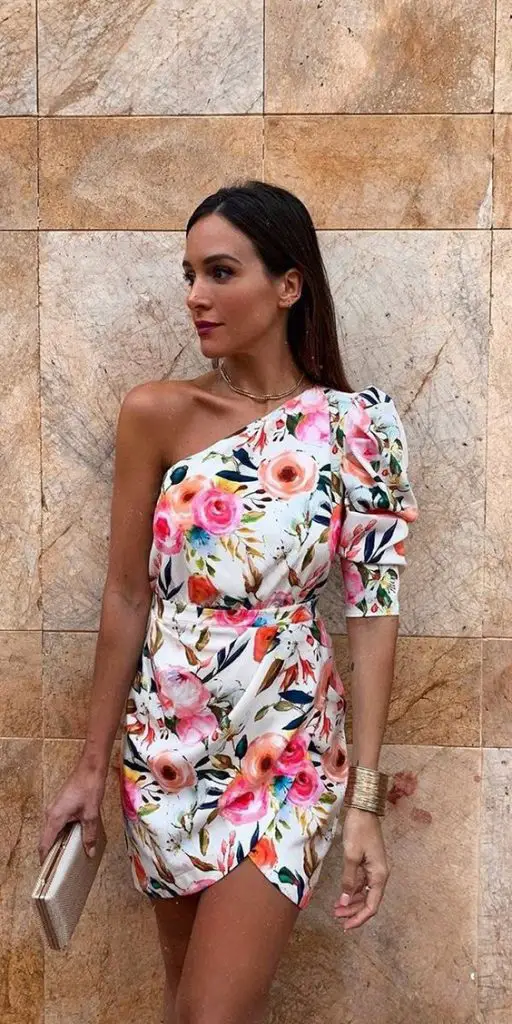 If you're opting for a semi casual beach wedding attire, opting for a midi length floral dress is a great idea. It's the best balance of polished and casual:
2. Solid and minimal dresses
If you're an all-things minimal type of girl, opting for a solid dress for a beach wedding might be the best option for you.
If the wedding is held during the daytime, opting for pastel or soft colors is a great idea. Any of these will look absolutely lovely with the beach view.
You can wear a neutral color that best harmonizes with your skin tone. Beige, khaki, ivory (if it's allowed), nude… These are great options for anyone who's a minimal soul.
If you want to opt for a minimal and romantic look, flowy and completely unfitted long dresses for a beach wedding are just what you need.
I've already said it a couple of times, but make the most of the beach's soft breeze with a long dress that will move along with it.
If you love fitted or waist accentuating dresses, you can still opt for a dress with a flowy and romantic skirt:
3. Jumpsuits
You can also opt for a cute and elegant jumpsuit. If you decide to wear one, my suggestion is that you choose one that has a wide leg design. This is one of the best silhouettes for a beach wedding attire as it will look flowy and romantic.
A plunging neckline is a chic way of showing some subtle sexiness. If the neckline is very low, you can add a necklace to add a touch of sophistication.
You can opt for a long and wide-leg jumpsuit:
Or for an ankle-length leg, which is definitely the best excuse for showing off a cute pair of heels. This is also the best option for a semi-casual beach wedding attire. Avoid this length if the invitation says "long dress".
4. Ruffles
Ruffles are perfect for a beach wedding setting. They can be sexy, cute, sophisticated and fashionable all at once.
A fitted dress with different ruffled hems is the perfect excuse for showcasing a gorgeous figure:
If you're planning on getting to the beach a day prior to the wedding, make the most of your tan with a pastel color dress. A cute lavender ruffled dress will contrast with your sun-kissed skin in the chicest way, creating a head-turner beach wedding look:
Don't be afraid of choosing a dark dress color. You can perfectly wear dark navy blue and still look super fashionable. My only suggestion would be to choose one in a flowy or romantic silhouette.
A ruffled blue dress with slit cuts, for example, looks very beach-friendly. It's all about creating movement:
5. Boho dresses
Attending a beach wedding is the perfect excuse for showcasing an awesome boho-chic look.
You can do this with ruffles, like the examples I mentioned above, but there are also other cute options you can choose from.
Off shoulder, dresses are almost a synonym of boho chic. Opt for this dress style in a bright color to look like a boho princess:
You can also get creative with the accessories. A bohemian style is all about accessorizing as much and as stylish as you can. Add long and colorful earrings, rings, a belt… whatever adds up to your beach wedding attire:
Deep v-neck necklines and flowy sleeves are two other synonyms of a boho-chic look. They also look great for a beach wedding setting:
A flowy dress is all you need to think about when deciding what to wear to a beach wedding, especially if you want to rock a boho-chic outfit. As long as you keep it as a beach formal dress, almost any flowy dress will do the trick:
What to wear for a wedding for men
When it comes to deciding what to wear for a beach wedding, men have it much easier as there are not that many options to choose from. But they can still look super handsome and stylish as well.
Same as women, men should also make sure how's the beach wedding dress code. Depending on if it's formal or semi-casual, the whole look can drastically change.
For a formal beach wedding attire, opt for a perfectly fitting suit in colors such as any shade of blue, grey, ivory or baby pink.
Linen is a great fabric you should opt for. It's light, casual and perfect for a beach wedding setting.
Another classic and chic men's beach wedding attire is a dark blue blazer paired with crisp white shirt and khaki or beige chinos. Cuffing the chinos' hem is a great idea for a semi-casual wedding, just make sure the shoes are perfectly clean and neat.
If the beach wedding dress code is formal, you can still wear a light color suit paired with a camel belt and shoes. I suggest avoiding black as much as possible. Dark navy is a great alternative if you don't want to wear anything too pastel-colored.
If it's a semi-formal or casual beach wedding, you can also opt to leave out your blazer: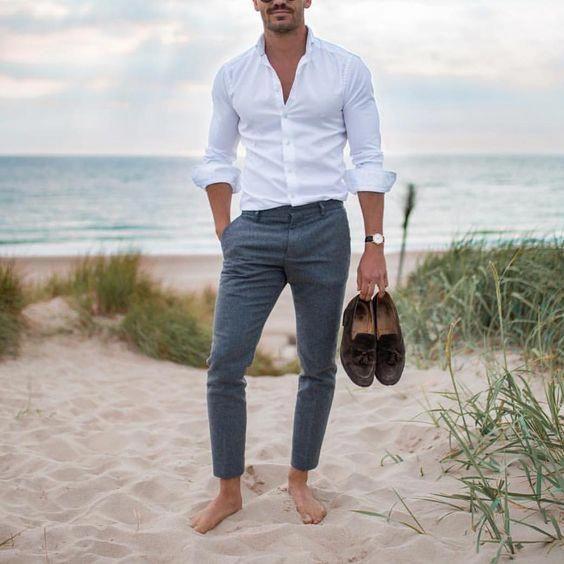 Wrap up:
Deciding what to wear to a beach wedding might not be the easiest task out there. It's not every day you get invited to a beach wedding!
That's why it's normal to feel uneasy about your attire. I hope these outfit ideas has shed some light on cute looks you can pull-off for the wedding.
And remember, it's all about having fun and celebrating the love of the newlyweds.