Going to Disney is truly one of the most exciting things that could happen to you. Whether you're going for the first time or the tenth time, it's always a one-of-a-kind experience.
But enjoying your Disney trip also involves wearing the right clothes. First of all, wearing comfortable clothes will let you enjoy carelessly, and second, taking pictures of Disney is not the same without a cute outfit.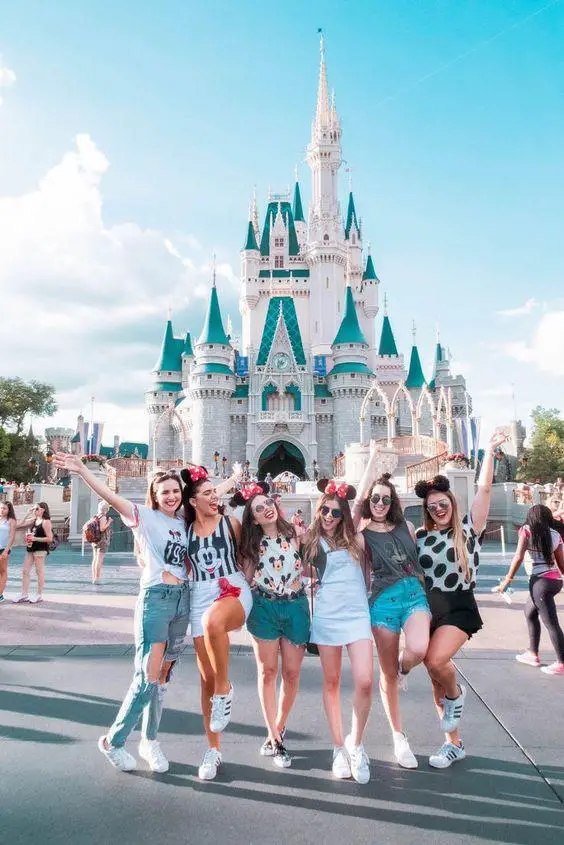 What to wear to Disney World in Summer?
If you're planning on visiting the most magical place on earth and have trouble deciding what outfits to pack, then follow me through these 24 Disney World outfit ideas. Not only are they all comfortable for walking long distances, but they're also cute and Instagram-able.
Whether you're going in summer or winter, this article has it all covered! So take your time and enjoy these cute Disney World outfits.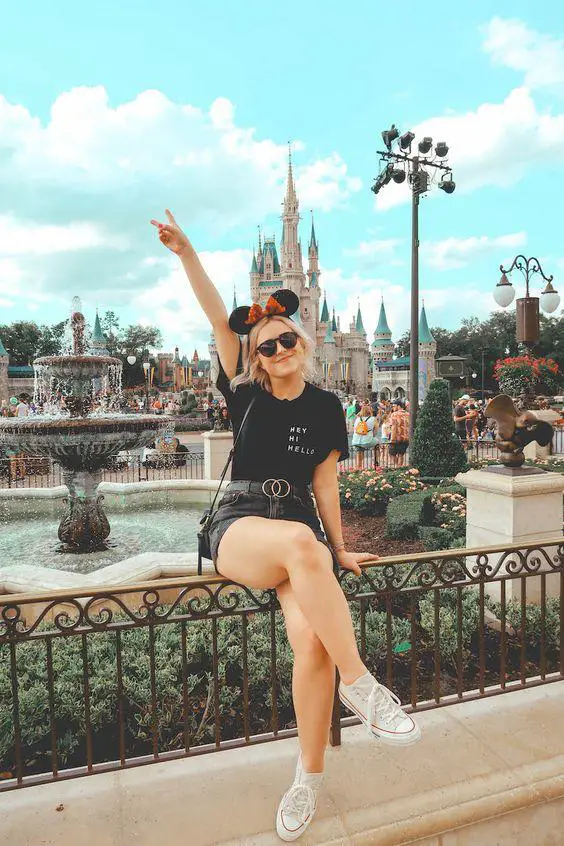 1. Disney World Dresses
Packing dresses for your Disney trip is always a great idea because:
– They're easy to style
– Take less space in your suit than a two-piece set
– They're super comfortable
– They're super stylish
But does that mean that any dress is okay? Well, that depends on how serious you are about showcasing a fashionable style.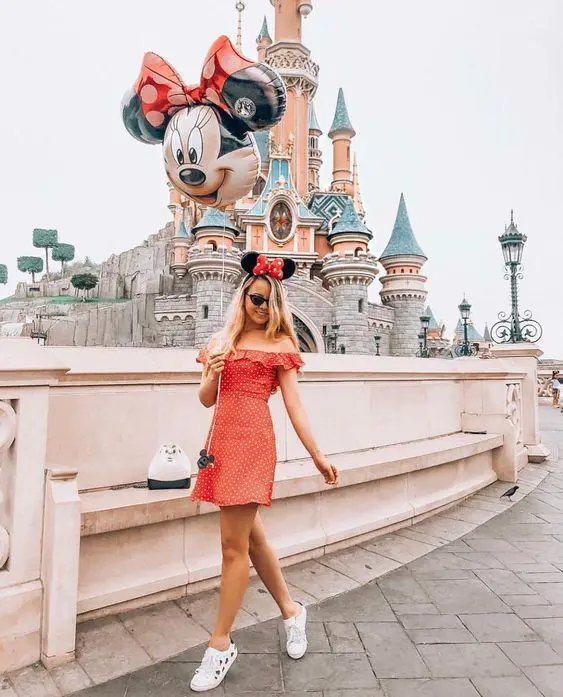 One thing's sure, you HAVE to wear short tights under your dress. Don't ever go to a recreational park wearing a dress without something (other than your panties) under. Otherwise, you're going to show your underwear to absolutely everyone.
If you want to look trendy, cool and recreate a fashion pro look, then these are my suggestions for Disney World dresses:
1.1 Wrap dresses
Wrap dresses are one of the trendiest styles right now, so it only makes sense to wear one for your Disney World trip.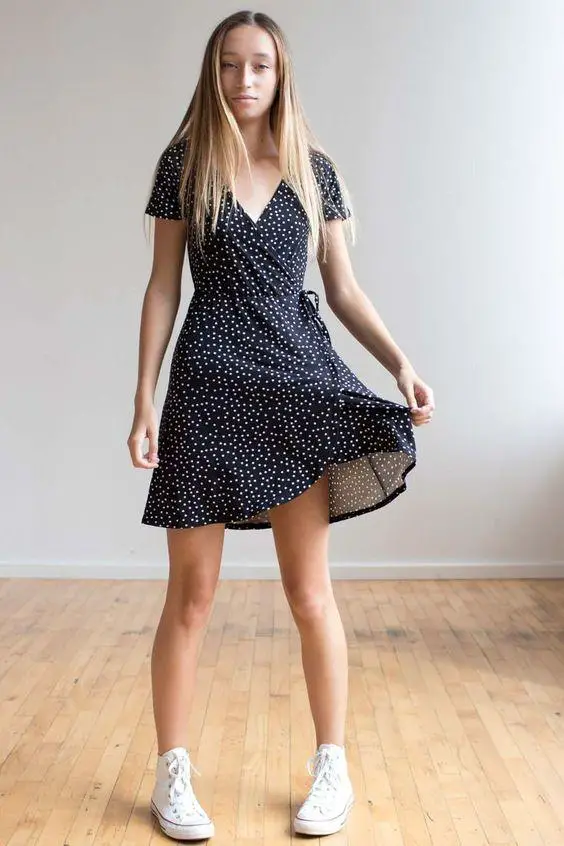 Wrap dresses will help you to look effortlessly fashionable. You can pair them with sneakers or any type of flat shoe.
These dresses are perfect for hot summer days when you have to queue for hours with thousands of people. Ditch your skinny jeans for a cute wrap dress and you'll be thanking me later.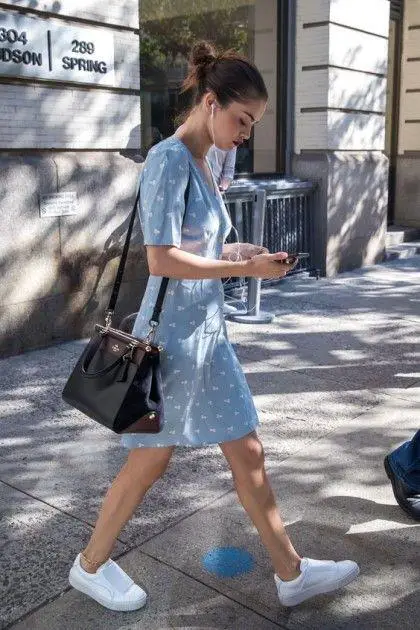 Midi or mini dresses are far better than a maxi because if you're going to try the rides, a maxi dress will be much more uncomfortable and it's just going to get completely dirty.
My suggestion is to wear knee-length or mini dresses (again, with short tights underneath), especially for summer.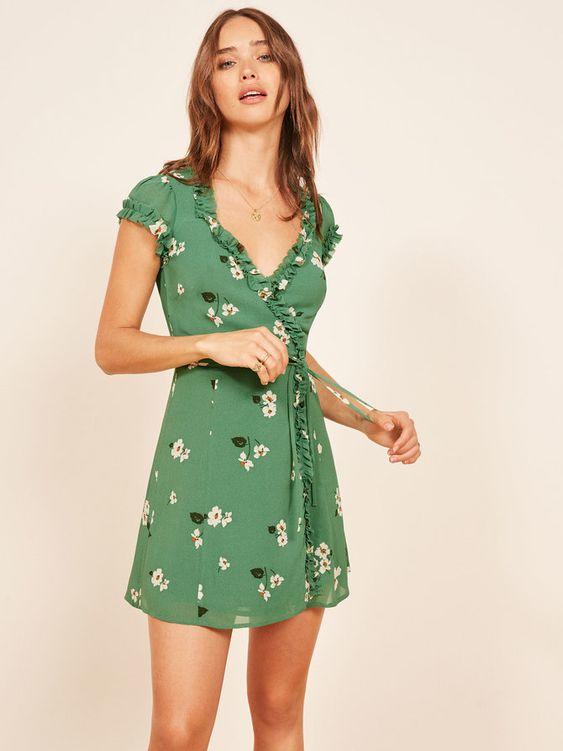 You can opt for a cute printed wrap dress for a fun and young Disney look. After all, even the eldest become children once they step into Disney World.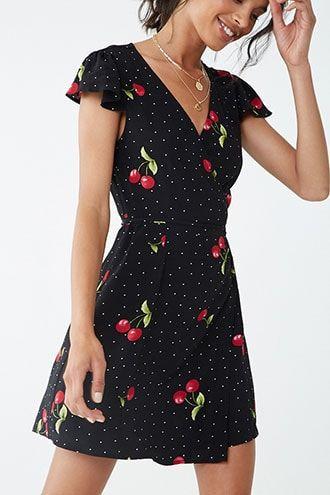 1.2 T-shirt dresses
If you're looking for an edgier and bolder look, t-shirt dresses are your best option. The trendy, look super cool and are absolutely comfortable.
You can wear an oversized t-shirt from your boyfriend or brother, or even your dad, and wear really "short shorts" or tights to simulate a dress.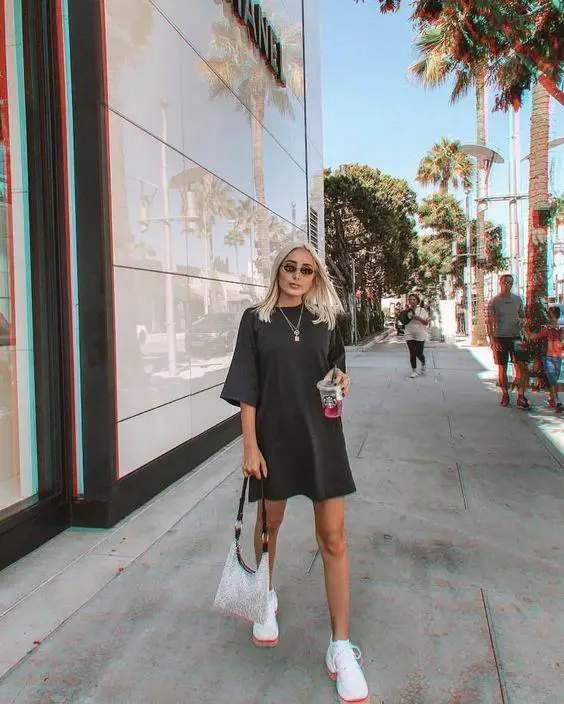 You can also opt for real t-shirt dresses. These have the shape of an oversized t-shirt but have been designed with narrower shoulders and shorter sleeves, so it fits you perfectly but looks long enough to be a dress.
You can pair these t-shirt dresses with sneakers or biker shorts and a fanny pack.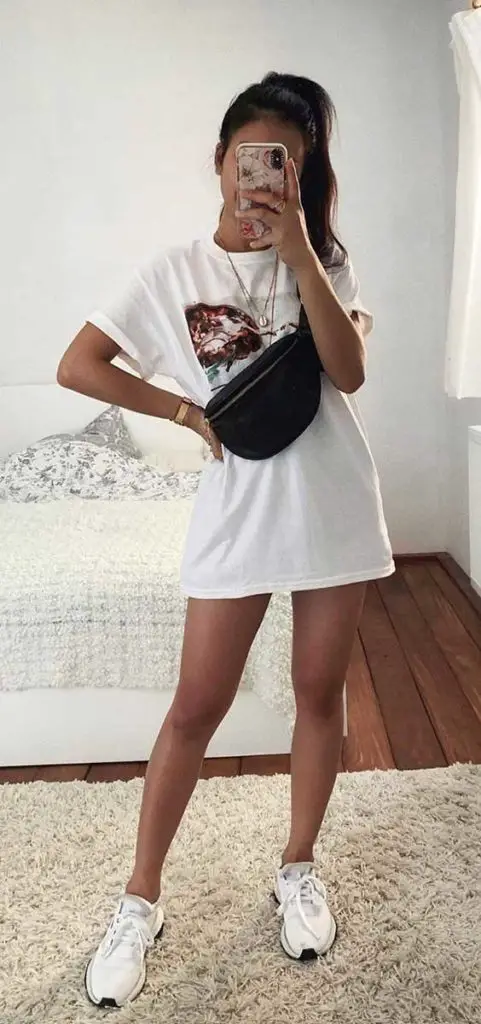 What I love about these dresses is that you get the best of both worlds: the comfort of having a super "short-short" underneath and the stylish look of a dress.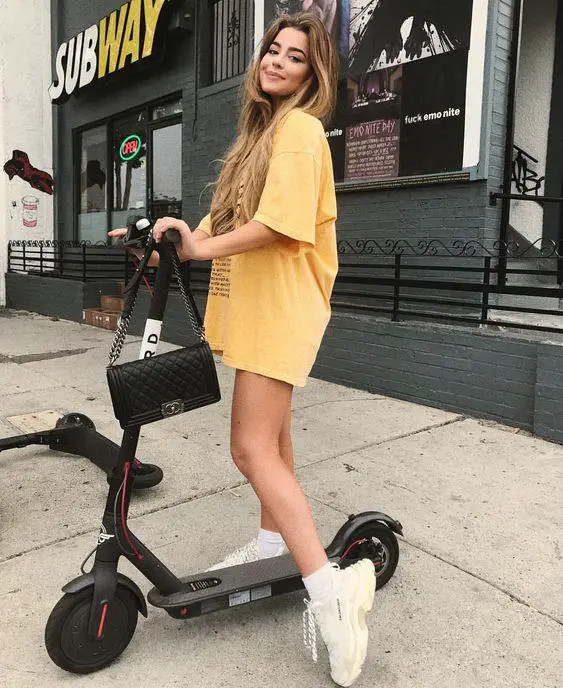 If you want to opt for something more "girly" or feminine, try a solid shift dress with short sleeves. It's like a girly-er version of the t-shirt dresses I showed you above.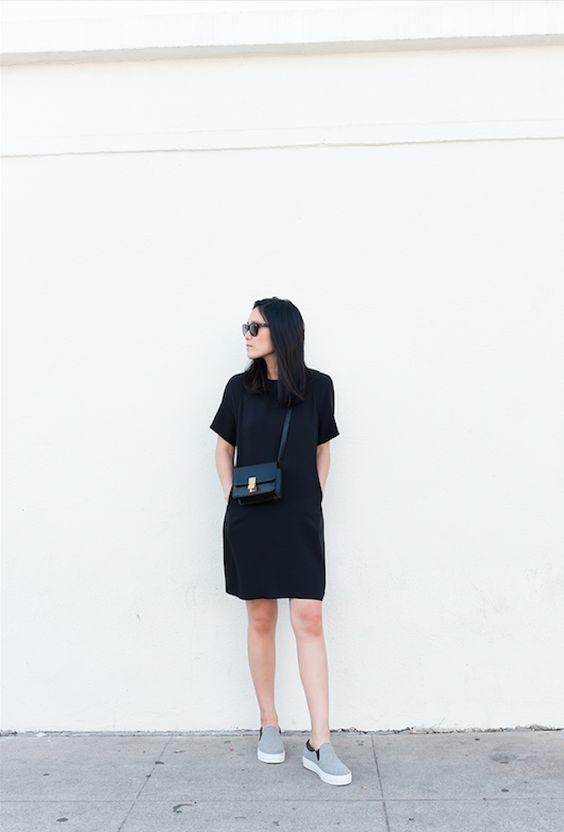 If the weather is a bit chilly, remember to bring with you a layer that can be easily wrapped around your waist, so forget about delicate sweaters or worse, white anything!
A jean jacket will definitely do the trick. Plus, it looks super stylish wrapped around your dress: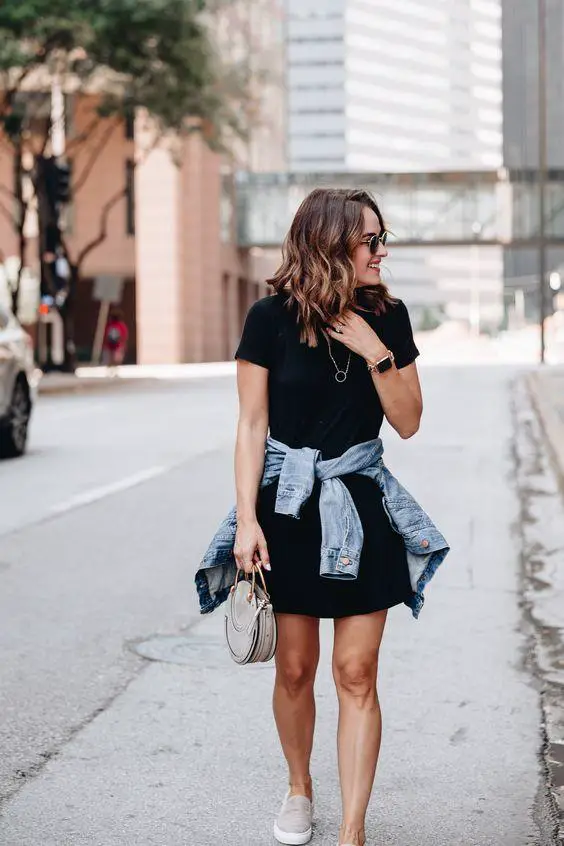 What to wear to Disney World in winter
1. Winter outfit ideas and tips
Winter in L.A. or Orlando is not extremely cold, but you definitely won't get as hot and sweaty as summer.
Even if you get a bit cold in the morning, remember that you're going to be walking and queuing underneath the sun the whole day, so it's better to wear light layers.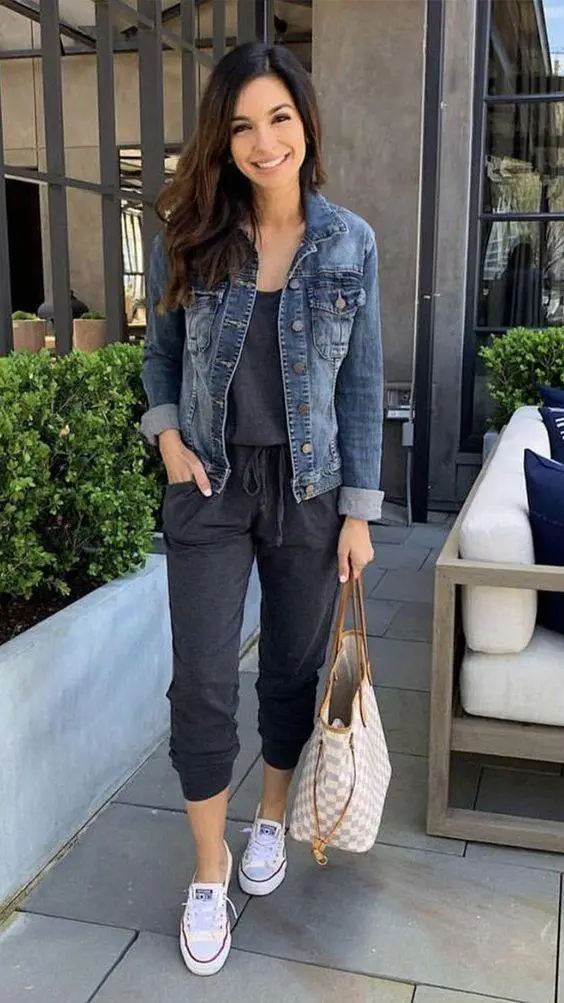 You can wear jeans for these chilly days, but remember to wear the most comfortable style. For me, skinny jeans are my go-to option, but maybe you find wide-leg jeans much more comfortable. It's totally up to you!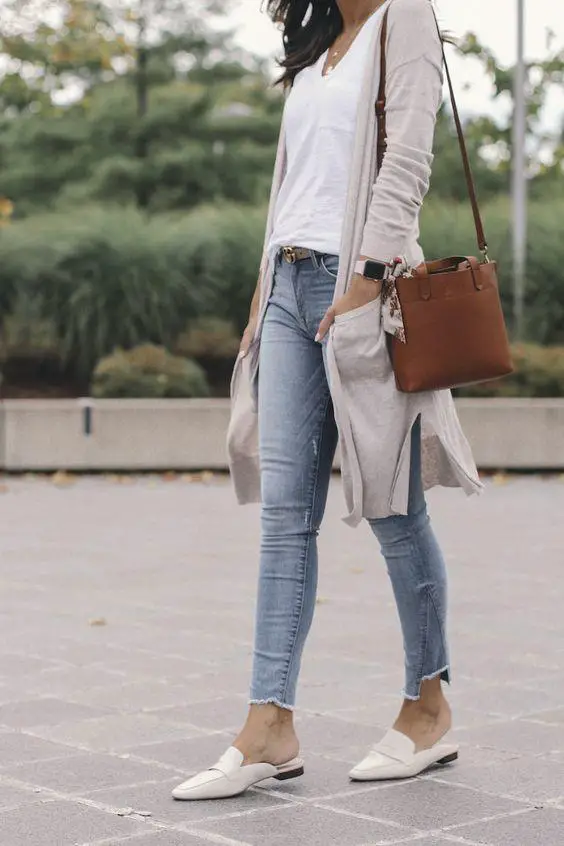 What's important is that you feel comfortable and warm. You can pair your jeans with a short sleeve and a light cardigan or jacket: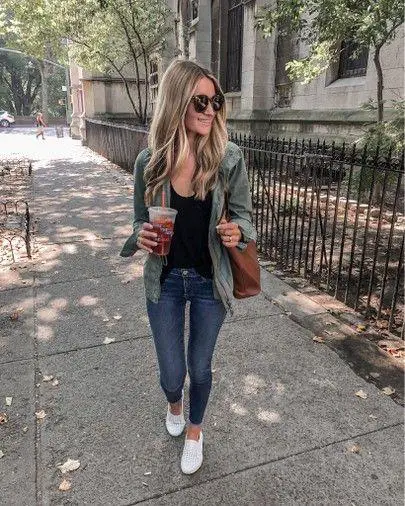 My other suggestion is to either wear a cute backpack or a comfortable tote, so you can take off your sweater if it gets too hot and put it inside your bag. Even if you get a locker, it's a bit annoying to walk over there only to put your sweaters. But that's a personal opinion.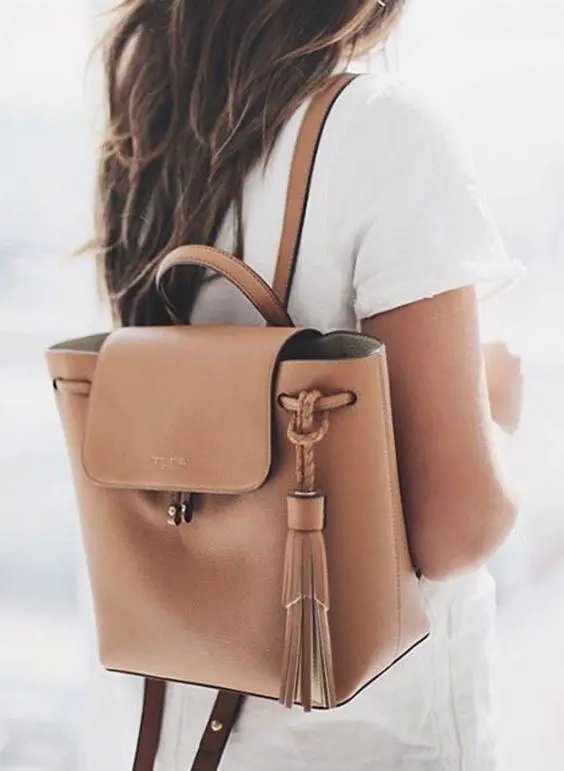 You can also wear a knit long sleeve dress that you can easily roll-up in case you get a bit hot. Dresses, personally, are one of the most comfortable pieces you can wear during long walks.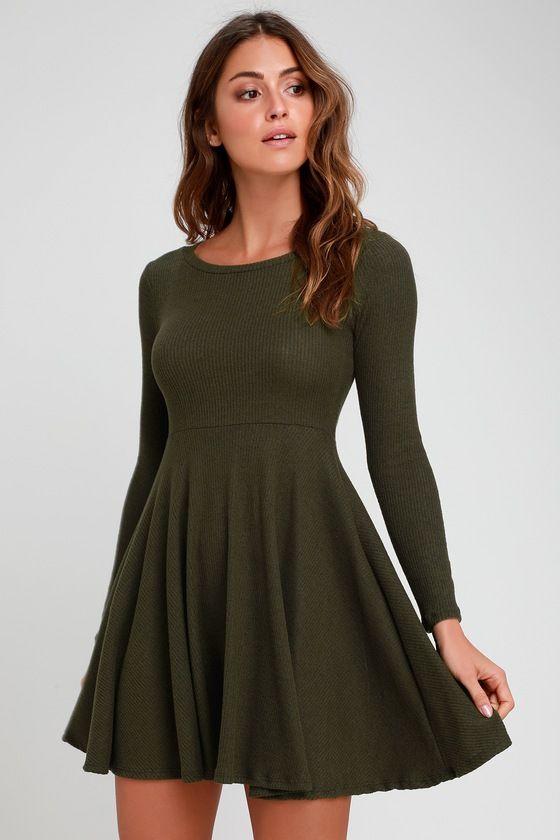 2. Layering ideas
Cute and easy to wear layers you can wear to Disney World should all be as lightweight as possible. You should also take into consideration how much you can bear a cold L.A. or Orlando weather.
Personally, I get super cold quite easily, but my sisters are my complete opposite: they just never seem to get cold at all. So basically, the layers you decide on wearing should be based on YOU.
3. Some suggestions are:
Velvet lightweight jackets
They're trendy, cool and a statement piece all by themselves. You can wear it with a simple t-shirt and skinny jeans: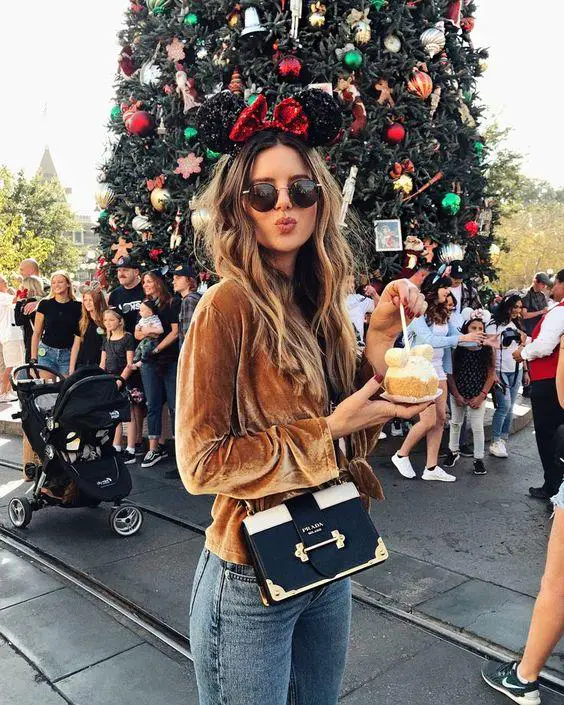 Jean jackets:
Only because they're classic and look great with absolutely anything. You can never go wrong with a jean jacket!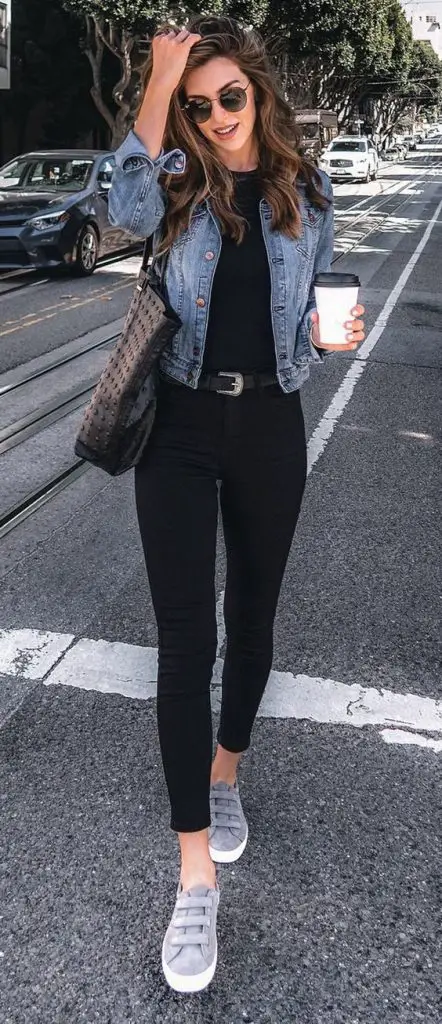 Try wearing an oversized jean jacket for a trendier look: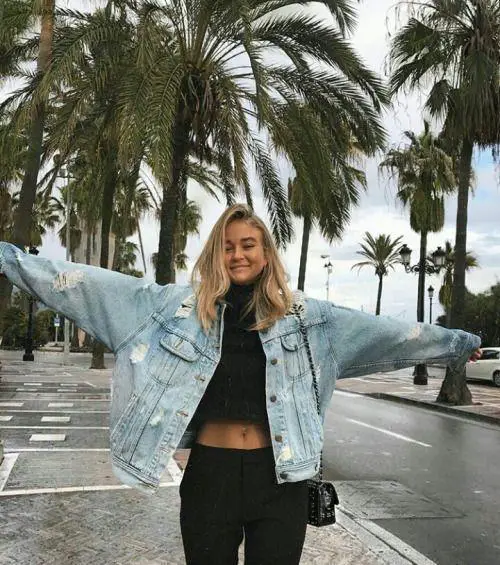 Jean jackets are not the warmest jackets out there, but you can layer it with a lightweight cardigan or pullover sweater if you feel like you'll get too cold.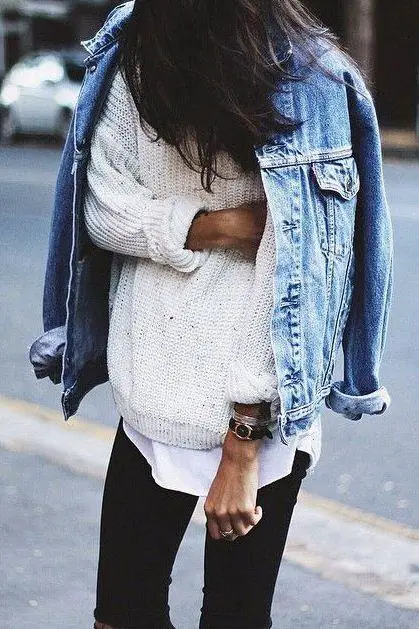 Personally, I would wear only one layer instead of two. I'd rather wear a long sleeve and a jean jacket than a shirt, a sweater, and a jean jacket, only because there's a huge chance I'll get hot during mid-day.
Pullover sweaters:
If you don't feel like complicating yourself, simply opt for a pullover sweater! You can style them with trendy jeans, cool sneakers, and chic sunglasses if you like!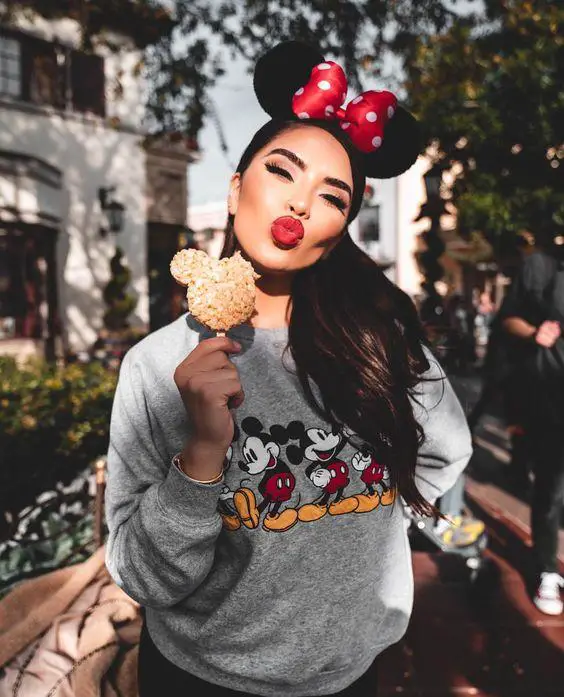 Remember, Disney World is all about having a great time, and feeling comfortable with what you're wearing is key to enjoying as much as possible.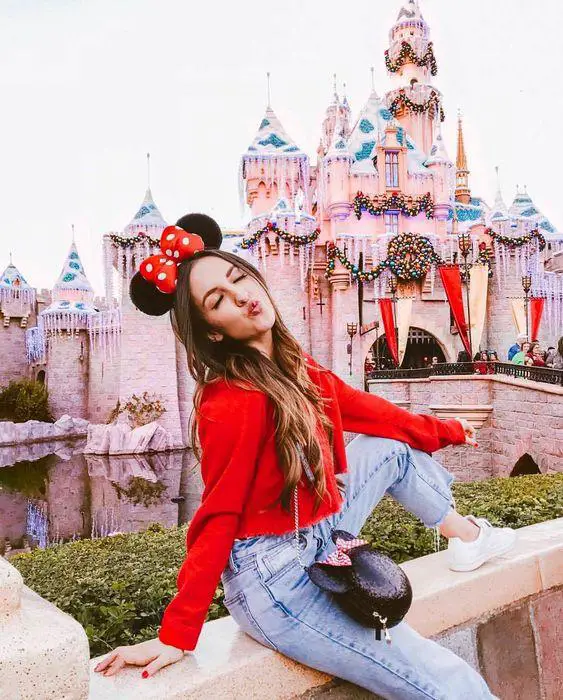 Best shoes to wear to Disney
As I've mentioned a couple of times now, wearing cute but comfortable clothes is as important as having a great time.
Shoes are always one of the pieces that play a major role in a comfortable outfit. If you're wondering what are the best shoes to wear to Disney World, these are my top picks, based on design, comfort, and versatility:
1.Sneakers
We can't talk about comfortable shoes without mentioning sneakers! My personal favorites are black, white or grey sneakers, but you can wear any color you'd like.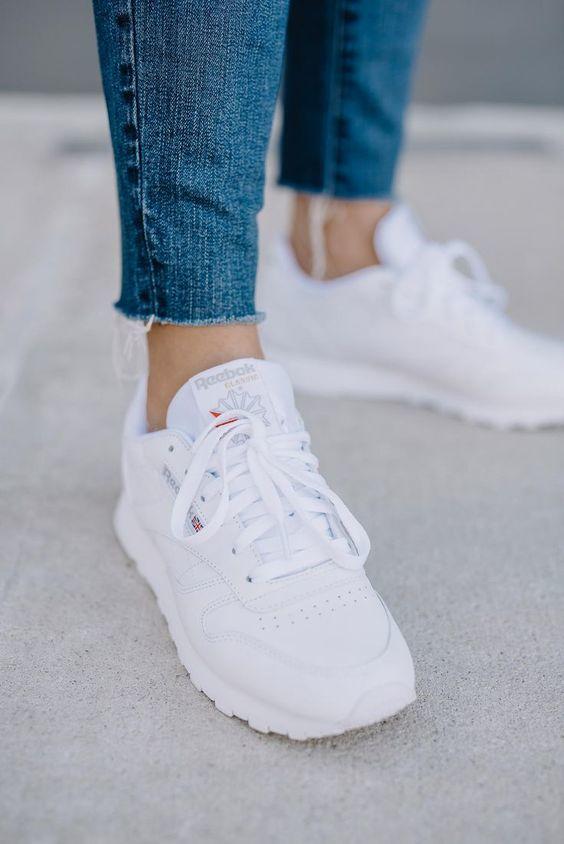 2.Slip-on sneakers
If you're not a fan of sneakers, slip-on sneakers will do the trick. It's always better to wear these with non-see socks, otherwise, they might bruise your ankle or toes.
If you want to take your cute Disney World outfits to the next level, opt for glittery shoes!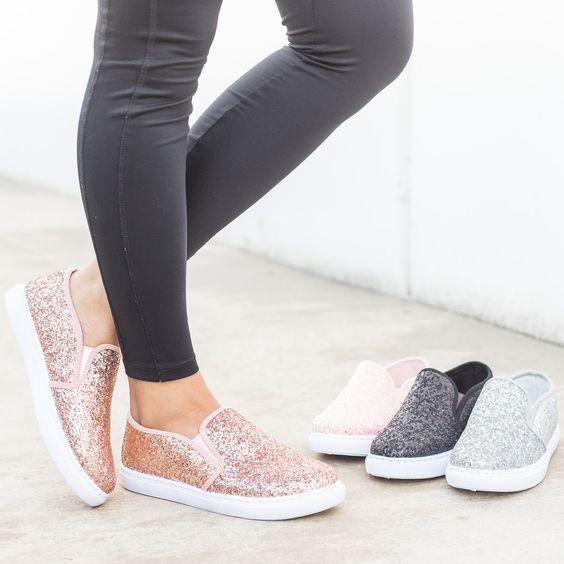 3.Sandals
Sandals can be a great option if you choose ones that are comfortable enough as to bear them for a long day.
* Avoid slip-on sandals, as they're usually not the comfiest style to wear for long walks.
The best sandals you can wear are those with the platform: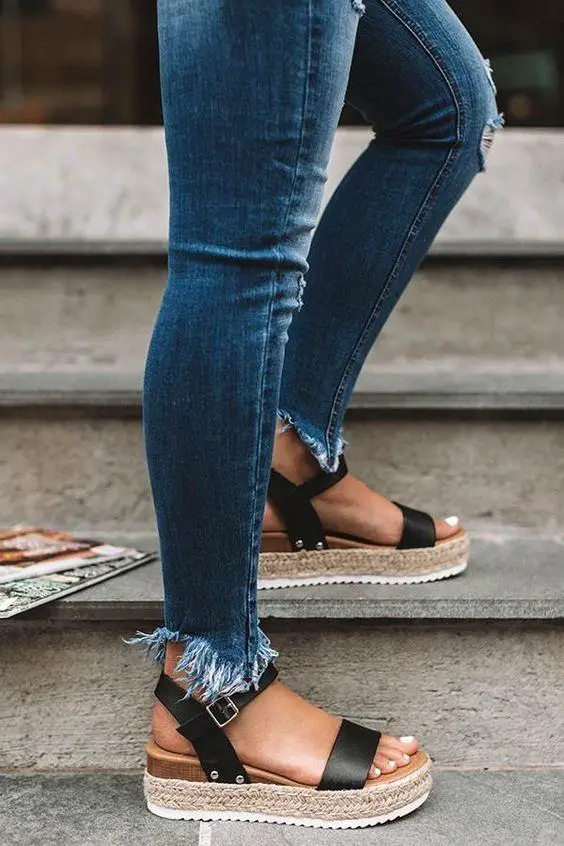 Ankle strap sandals are another comfy and cute shoe type you can opt for: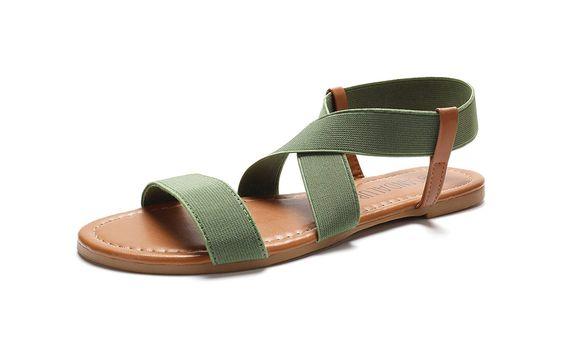 Booties
During winter, booties can be a great option you can wear. Opt for flat or low block heel booties for all-day comfort, and make sure you have worn them a couple of times before: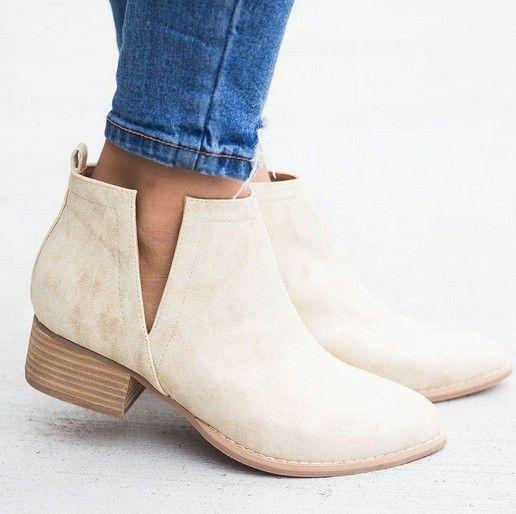 Wrap up:
The outfits that we choose can literally affect our whole day. When you're planning on going to such a special and unique place like Disney World, it's important to choose carefully your outfit.
Not only does It have to be super comfortable to be able to walk and queue for long hours, but you also have to look head-to-toe perfect in order to take amazing pictures!
I hope that these 24 outfit ideas on what to wear to Disney World has left you inspired and ready to make the most of your trip!