Dressing seasonal
Fall is probably one of the best seasons in terms of fashion: a sophisticated color palette, cute boots, and light scarfs, and nice weather to make it all much better.
Is also a season that demands certain things to follow, so it's normal that for specific fall events you feel like you don't have a clue about what to wear. If chosen wrong, you can create a cute outfit but not seasonal at all, which can make you look like you're a fashion amateur.
And no one wants that…
If you don't know what to wear to a fall wedding, then consider yourself lucky, as I will guide you through the things-to-do that will help you pull off a cute and sophisticated fall wedding attire.
But first, let's talk about colors.
What colors to wear to a fall wedding
What will decide whether your attire is seasonal is not necessarily your dress, but rather the colors you're wearing. In other words, the color palette you choose.
From the color of your dress to the eyeshadow and lipstick colors, everything sums up to a great fall wedding outfit.
So before you get excited looking for dresses, let's first go through some cute colors to wear to a fall wedding.
A fall color palette is dusty, sometimes desaturated, and revolves around neutrals and jewel tones.
For a wedding held at night, choose a dress that has colors similar to these:
For day-time weddings, these colors are just perfect:
Some lipstick colors that will perfectly match with fall wedding outfits are:
by: tealinspiration.com
As you can see, fall colors are anything but bright and cheerful. Dusty, desaturated and … are what characterize a typical fall color palette, that's why it's a season whose fashion is sophisticated and relaxed: it's all mostly about warm colors with cool color accents.
What to wear to an October wedding
Now that we've talked about colors, let's move on to the fun part of attending a wedding: choosing the perfect outfit!
There are endless stylish and cute fall wedding attire ideas you can recreate, but I've compiled the trendiest ones that will make you the star of the wedding. Sorry bride!
If you're wondering what dresses to wear to a fall wedding, then the following points will guide you through the best dress styles. I'll also discuss other chic alternatives for anyone who wants to try another silhouette at the end of this article.
1. Maxi dresses
Depending on the wedding's dressing etiquette, you can choose your dress's length appropriately, but the most common is a maxi length dress. Hands down.
So if you're searching for the perfect fall maxi dress, these are some trendy ideas that can inspire you.
Slit cuts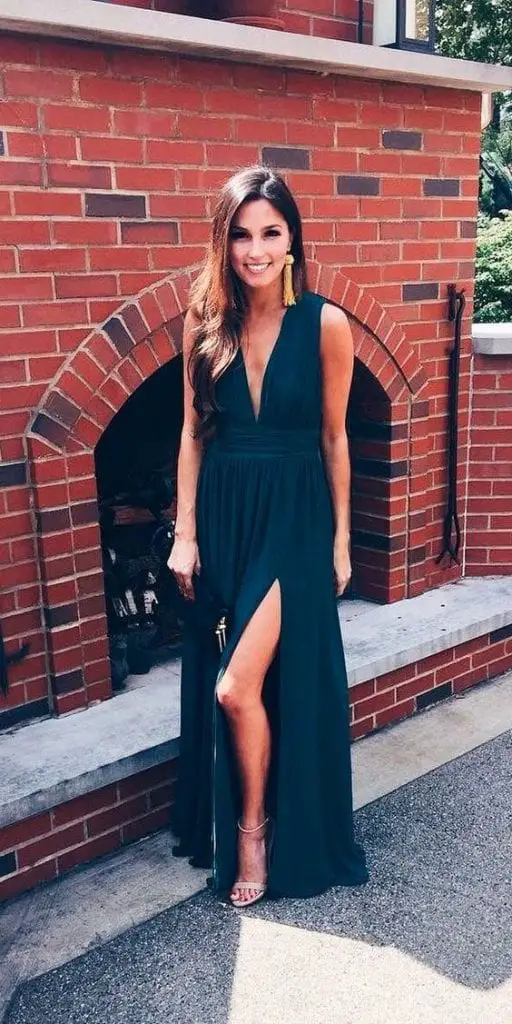 Slit cuts have been in our radar for some time now, but that doesn't make them less cute. Opting for this type of dress is not only sexy and trendy, but also super comfortable: walking looks AND feels great, as the dress moves with you while leaving your gorgeous leg exposed.
Tip: If you keep in mind the color palettes I showed you above, then all there's left to do is to choose the right accessories as well. Gold jewelry should be your go-to option because it's warm tones will harmonize perfectly with most of the fall colors.
A fall wedding look can also be super sexy if you want. Opting for a tight slit cut wedding dress is a great idea for anyone who wants to turn heads. For an effortless and chic look, leave your hair stylishly messy and loose.
Nude or neutral colors are always a good idea:
An embellished slit cut dress is another way of showcasing a chic fall wedding outfit.
A silk or satin gown is absolutely perfect for a fall wedding. Fabrics with a flowy and glossy finish have become one of the hottest trends of 2019, so deciding to wear a sleek dress is a great way of showcasing a trendy fall wedding dress,
Velvet dresses
Velvet is another fabric that has become a thing among fashion bloggers. The best part is that by wearing a velvet dress, not only will you look stunning and trendy, but it will also keep you warm in chilly fall weather.
That's why velvet is popular during the fall and winter seasons. The "heavy" look and the warm feeling that it gives makes it the perfect option for a cute fall outfit.
But velvet is especially stunning for a formal event, aka the wedding celebration.
So make the most of your fall wedding attire with a maxi velvet dress in the colors that I discussed above.
What makes velvet so special is the glossy look that pleats or ruffles create. It also has a buttery touch that makes you want to sleep in your velvet dress.
If you want a chic and classic look, opt for a maxi velvet dress. That's your safest option for sure.
Tip: if you're petite in size and height, then opt for a velvet dress that has cutouts or cleavage. In other words, make sure your dress shows some skin, as the heavy look of velvet can swallow a petite figure.
Boho maxi dresses
Boho and fall are two words that match perfectly. If you notice, a typical boho style shares colors and shades from a fall palette. That's why opting for a boho maxi dress during fall season is a clever choice.
An empire waist with lace details is a cute idea to show off your chic fall style:
Another way of pulling off boho fall look is to opt for ruffle trim dresses.
2. Wrap tie dresses
Wrap tie dresses are the best option for anyone who wants to look sophisticated and feminine.
What makes these dresses so popular among feminine woman is the small waist that they create with the tie wrap. That's why if you want to show off your small waist, or simply want to wear a waist slimming dress, this is the best option for you.
Whether maxi, midi or mini, a wrap tie dress is perfect for a fall wedding look.
3. Prints
Solid colors are not the only thing you should look for. A beautiful print can take your fall wedding attire to the next level.
Again, just remember to choose a pattern that has fall colors.
Here are some cute prints in different silhouettes that can help you come up with other ideas:
Want to create a killer wedding look? Don't be scared of animal print! You'll look absolutely stunning with a sleek and flowy animal print dress.
Even black and white print is a chic option to wear. Many women cross out the idea of wearing a black piece to a wedding, but mixing black and white into one print is how you make the best of both worlds: the sophistication of black and the cute look of a printed dress.
4. Other alternatives
If you're looking for other alternatives that don't include dresses or are simply invited to a laid-back wedding celebration, then don't worry! There are other options you can wear for a cute fall wedding look.
Jumpsuits
My personal favorite, and the one I consider the trendiest, is a chic jumpsuit.
If you want a sexy and sophisticated fall wedding attire, try wearing a jumpsuit: printed, with ruffles, solid, velvet… Any will do the trick.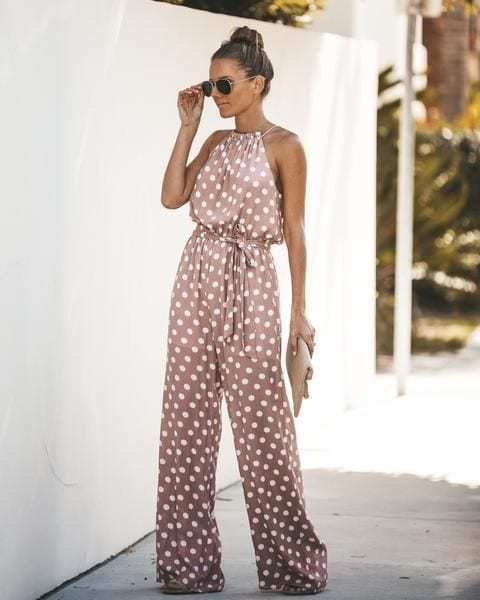 Midi or maxi skirts
Wearing a skirt to a wedding is more than fine. Just as wearing a jumpsuit is perfect, a skirt can also be a great wedding look alternative for anyone who wants to switch dresses.
Some skirt ideas are:
– Pleated silk skirt
– Lace skirt
– Printed A-line skirt
– Tie wrap skirt
Whatever the style, make sure it's the one you feel most comfortable in.
Wrap up:
A wedding celebration is one of the most memorable events you'll have, so making the most of the night is a total must. But this also includes wearing cute attire.
Deciding what to wear to a fall wedding can be tricky because not only will you need to look for a chic ensemble, but you also have to make sure it looks seasonal, and fall fashion has one of the most season-looking clothes.
That's why it's normal to take your time to go through different options before deciding what to buy. This article has given you the basics of a fall fashion color palette, making it easier the decision making process: all you have to do is opt for your favorite dress style and make sure it has some of these chic colors and shades.