We're going to Vegas!
What's more exciting than traveling to Vegas? Whether you're going with your family, with your boyfriend or your best friends, the city of sin is quite a show!
Las Vegas will be your playground for a couple of days, and dressing to the occasion requires some planning.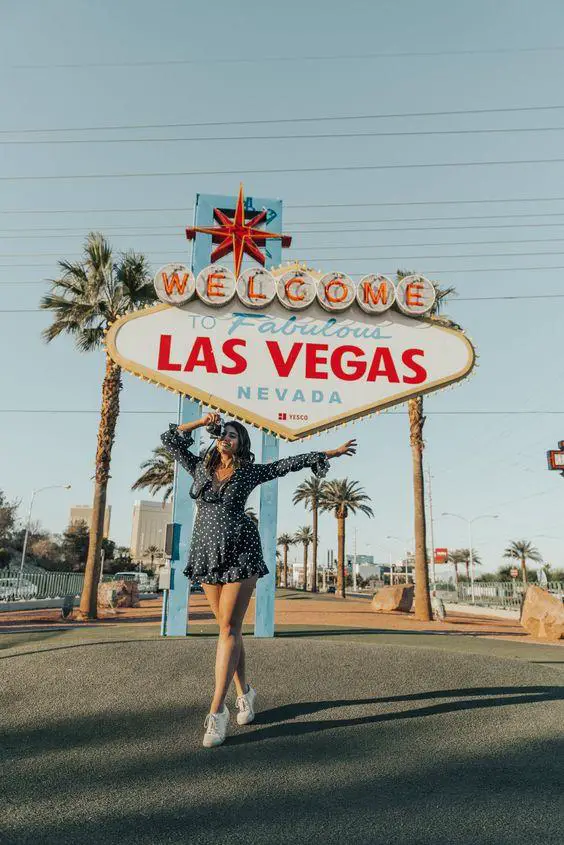 What to wear in Vegas?
If you're planning on going to Vegas, this articles is perfect for you!
Because showcasing a great fashion style in Vegas is as important as having the time of your life, I've taken my time to select the best outfit ideas: from the most glamorous to chic laid-back looks.
Whether you're going to spend your whole vacation on casinos or simply shopping and relaxing in your hotel's pool, this article compiles different Vegas outfit ideas, so you can get inspired and recreate the ones that best fit your plans.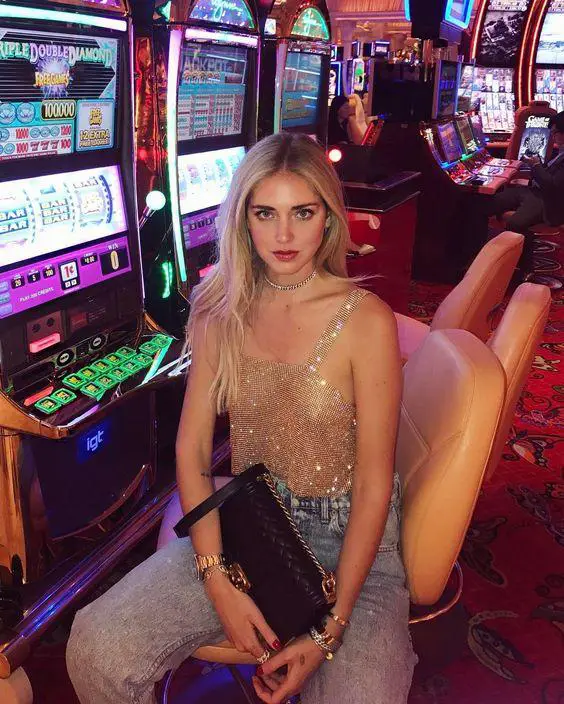 1. Glam up
Vegas is famously known for its casinos and nightlife, so packing outfits for these occasions is a total must. Las Vegas clothing style is quite glamorous, so dressing up to these standards is what you should aim for.
So get ready to glam up!
1.1 Silk pieces
Silk pieces will instantly dress you up, no matter the accessories you pair them with. One of the trendiest things you can wear is a silk slip on dress.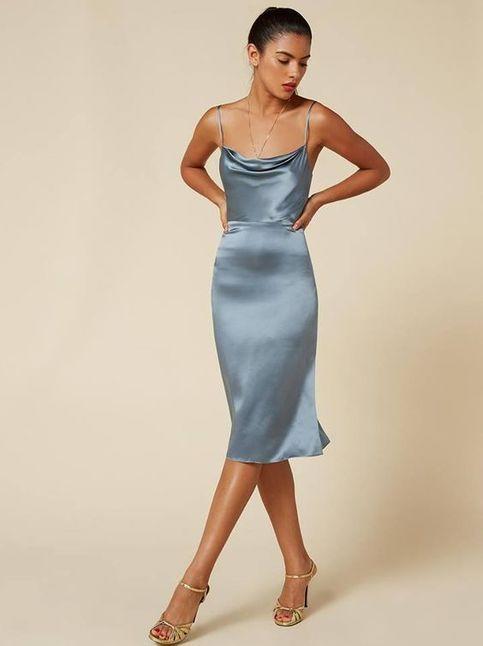 A silk dress is already a statement piece by itself, but you can layer it with edgy or classic pieces, from a black leather jacket to a fitted blazer.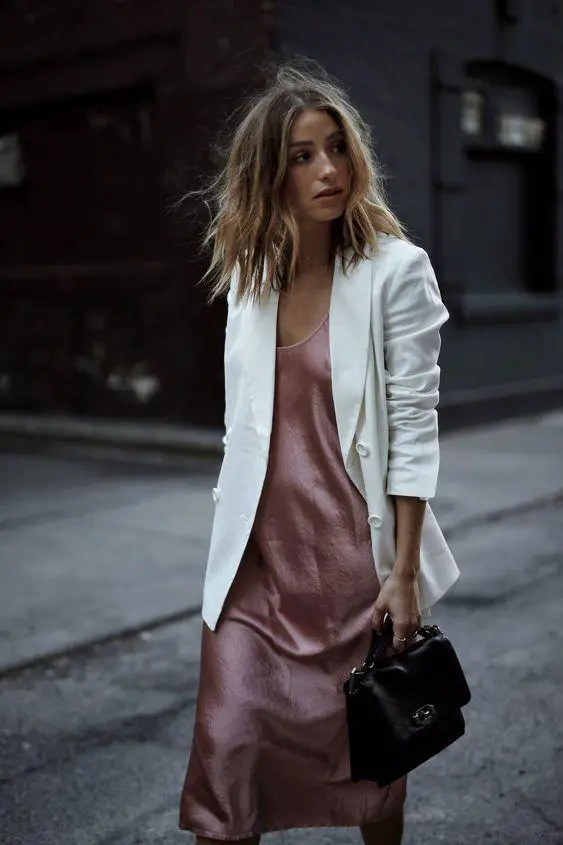 Other silk pieces you can wear are tank tops or skirts. This is one of the trendiest fabrics you can opt for, so it doesn't really matter if you wear it at a casino or at a nice restaurant.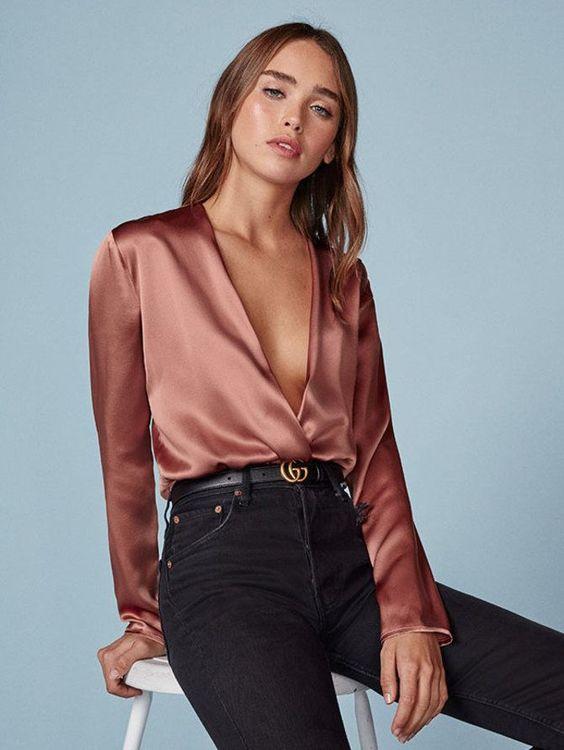 You can either make your silk pieces the star of your Las Vegas outfit or pair it with equally trendy pieces.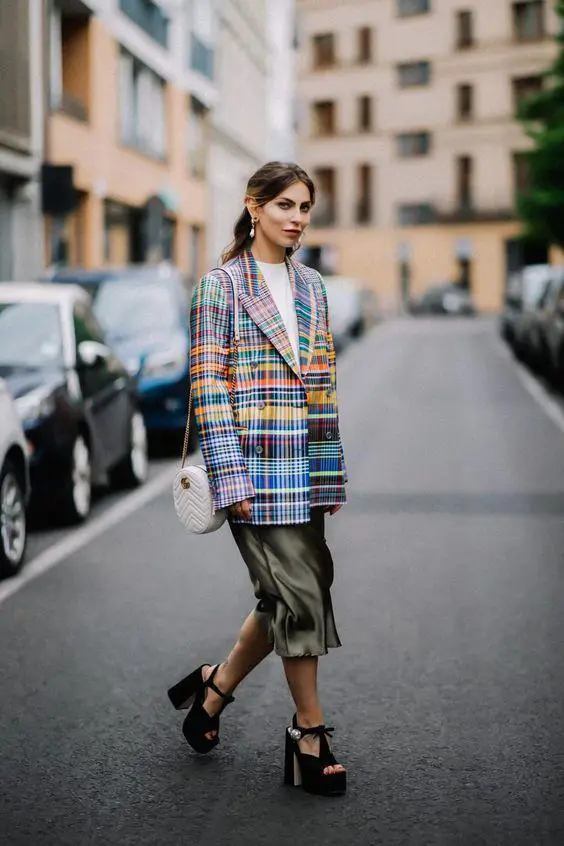 1.2 Velvet pieces
Velvet is another glamourous fabric you can wear to Vegas. It makes you look sophisticated and trendy, all while adding a "life-of-the-part" vibe to your whole look.
Same as silk, you can wear velvet on any type of garment: from bell-bottom pants to crop tops and dresses. If you're wondering what dresses to wear in Vegas, then silk or velvet-like styles are your answer.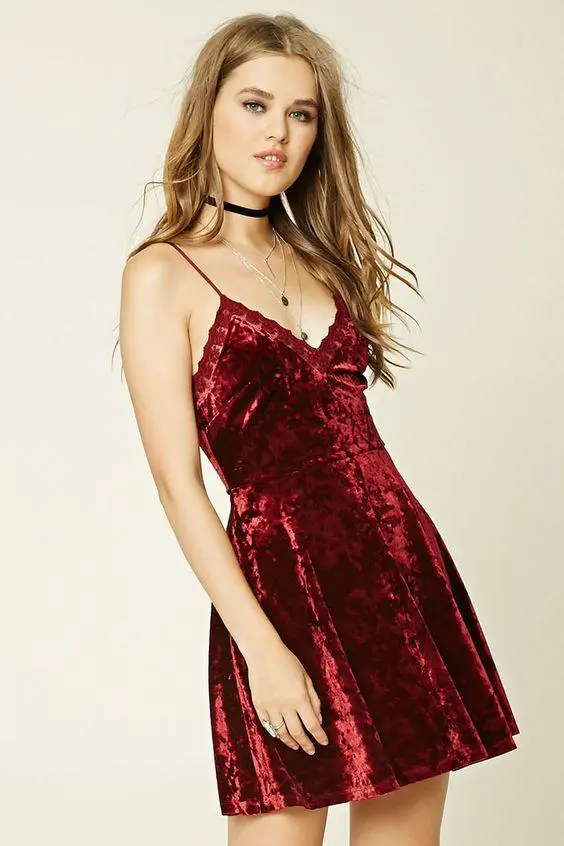 If you're planning on partying in Vegas, opt for a velvet dress or crop top and I can guarantee you'll be turning heads:
Velvet is not something solely for night-time. You can dress it down with a cool pair of jeans and a jacket or blazer for a casual yet stylish Vegas look: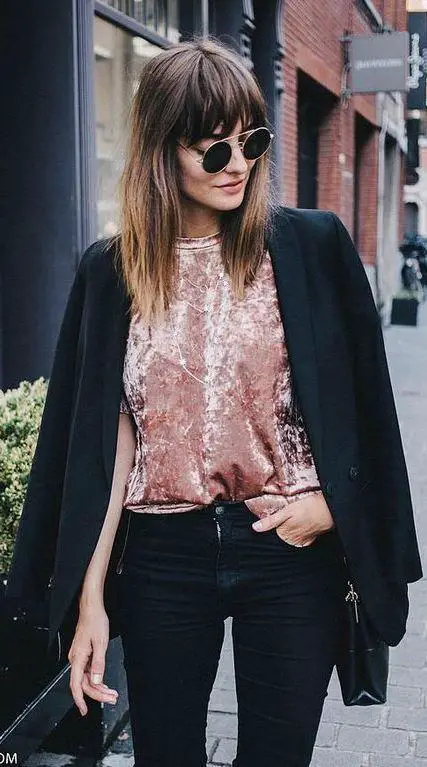 1.3 Sequins
The third material you can opt to glam-up your Vegas-style is sequins. Not a surprise at all, but these are a must-pack for your Vegas trip because they go perfectly along with this city's vibe: casinos, party, night-life, fun, and glamour.
My favorite sequined pieces are skirts and dresses. You can dress down your sequin skirt with a sweater or denim jacket, and you can take it off right before entering the clubs: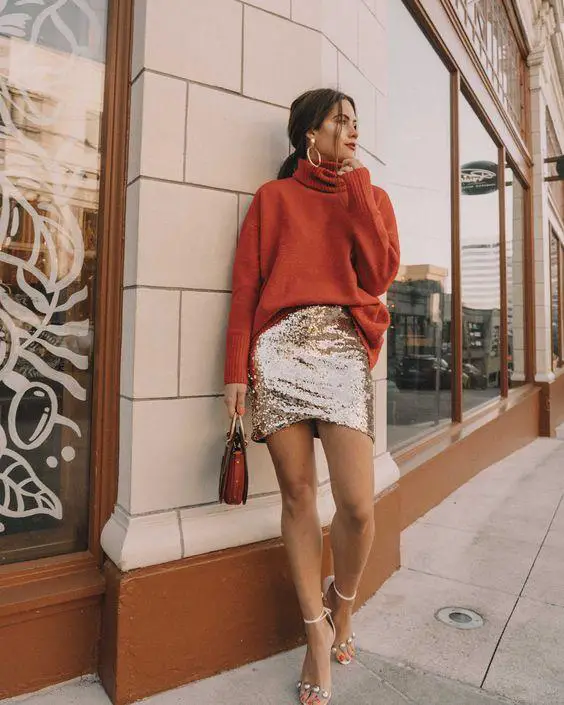 The magic about Vegas is that you feel like it's an everyday party. That's what your outfits should also reflect: fun and party.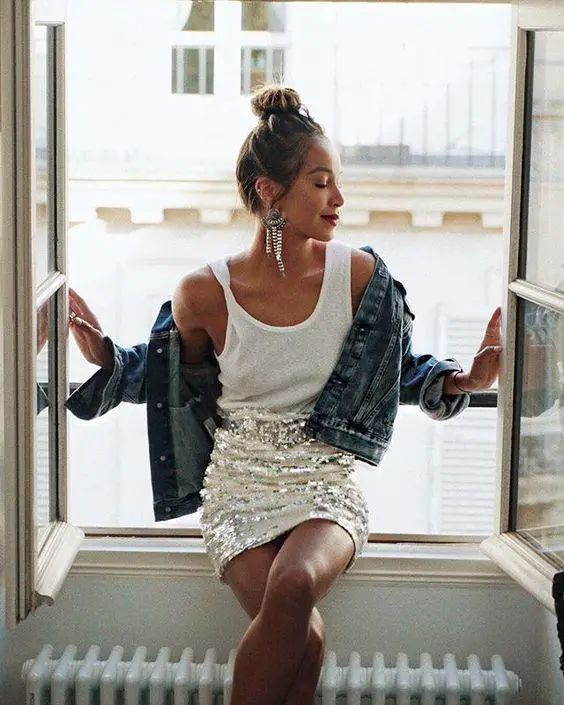 Wearing a sequin dress will make you feel like a star: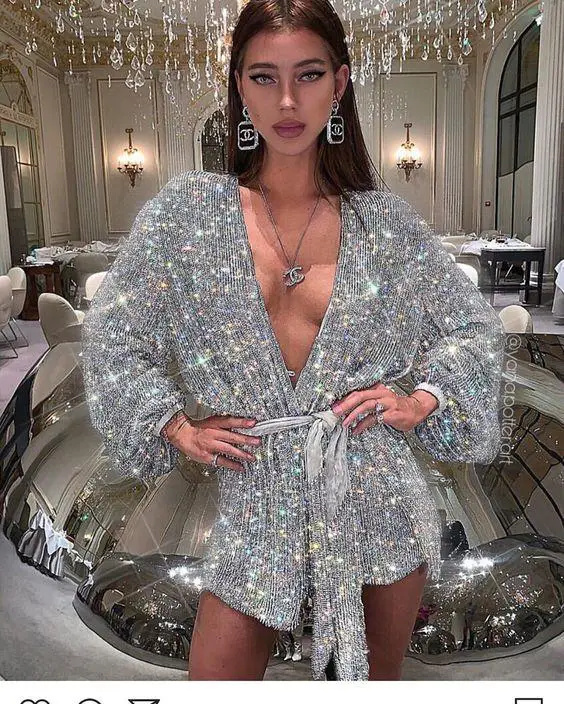 1.4 Jumpsuits
Another cool way of making a glamorous statement in Vegas is to wear jumpsuits. The best part of these pieces is that they're super easy to wear but make a one-of-a-kind outfit.
You can wear a fitted jumpsuit for a night out in Vegas. All you have to do is pair it with your chicest purse and high heels.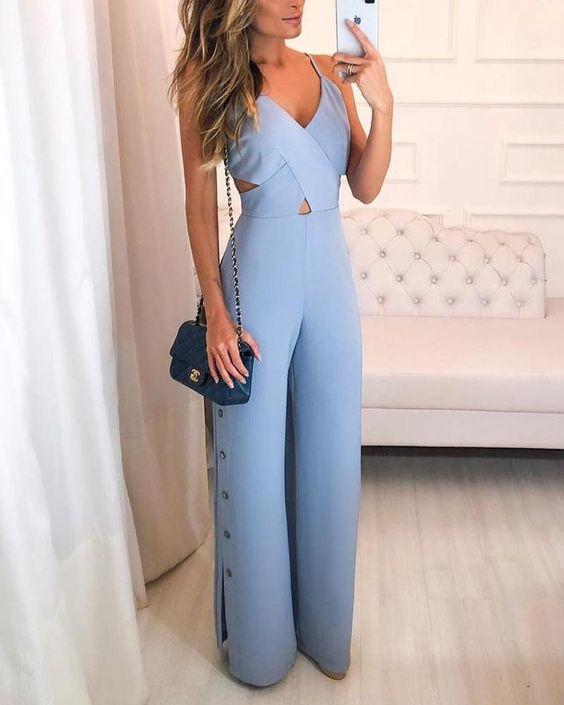 A jumpsuit will instantly glam you up. When in doubt, always opt for a jumpsuit: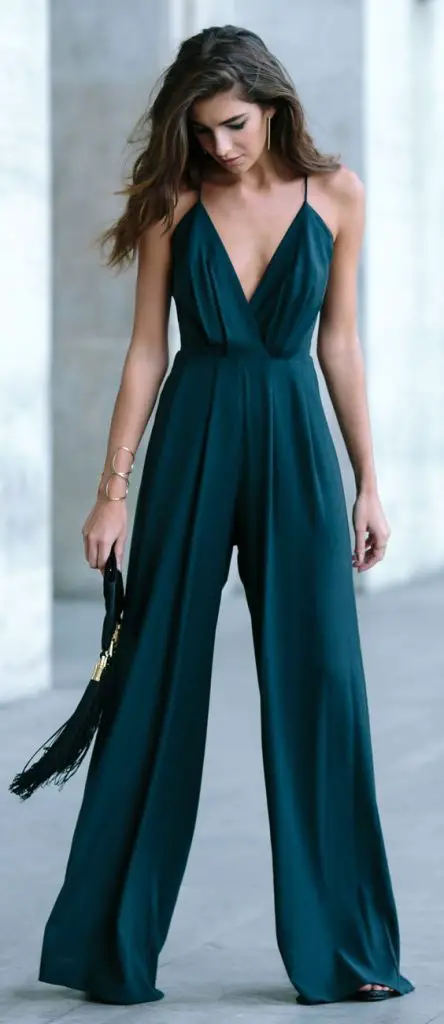 You can also wear a cool casual jumpsuit. What's important is that you make the most of your Vegas trip by showcasing a unique, bold and sophisticated style that you wouldn't normally wear on your daily basis.
Las Vegas is the best excuse for taking some fashion risks!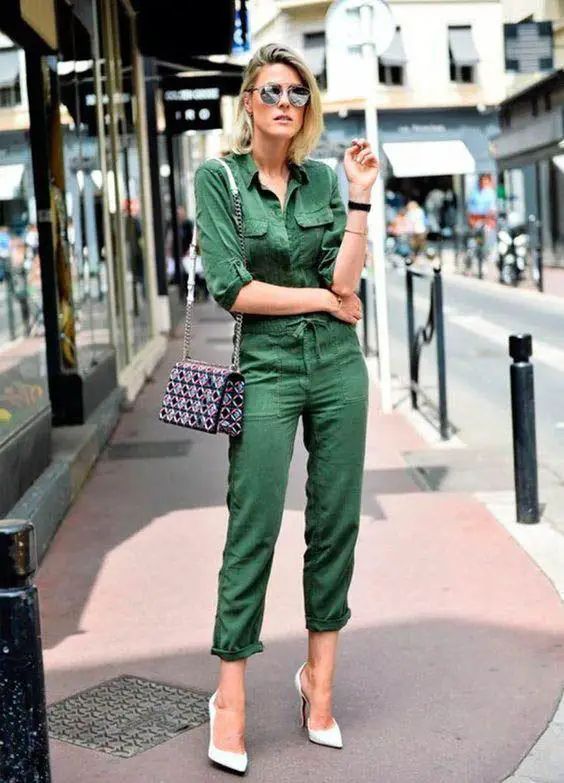 Whether you're planning on partying the whole trip or just chilling with family, casual and cute Vegas outfits will always be needed. That's why jumpsuits are a great piece to wear in this city: you will turn heads as you walk by.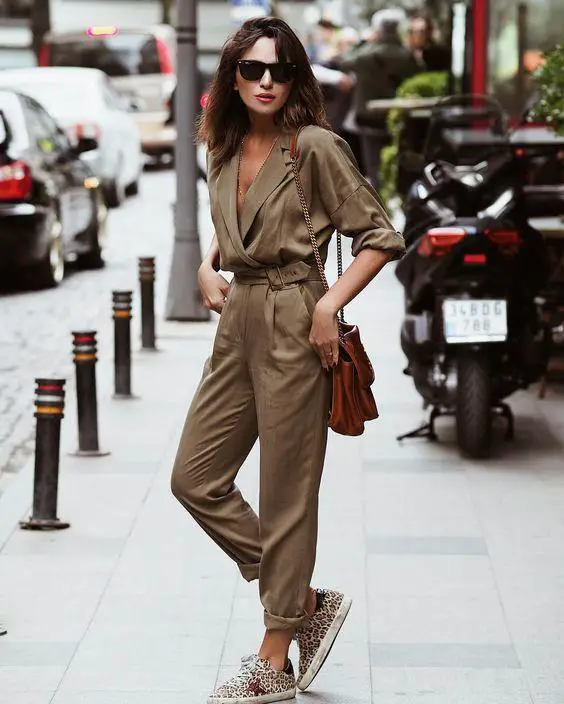 2. Casual outfits
Of course, not everything revolves around night-life (but almost). Deciding what clothes to wear in Vegas should also be focused on casualwear.
2.1 Casual dresses to wear in Vegas
One thing you shouldn't forget is to pack dresses. Whether it's summer or winter, wearing season-appropriate dresses will boost your Vegas style.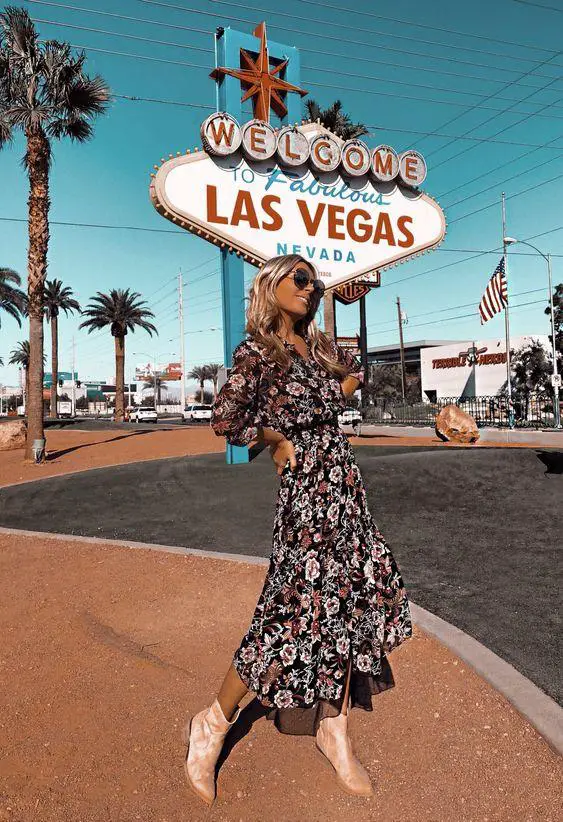 Maxi dresses with long sleeves are perfect for fall or winter. In case it gets too cold, you can always layer your outfit with a classic leather jacket for an extra dose of edge.
For summer or spring, mini dresses are a great idea. Pair your mini dress with cool accessories such as bandanas or berets, and finish your outfit with booties or sneakers: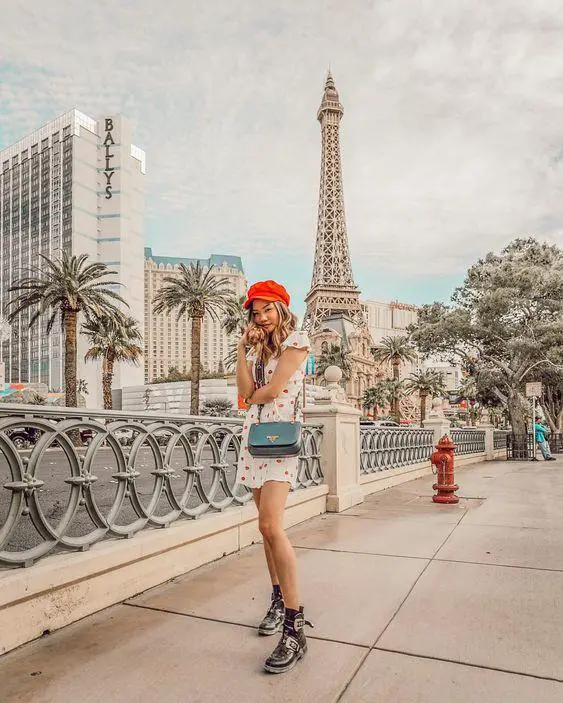 Midi dresses are another trendy style you should definitely try for your Vegas trip. Wear it on those days when you're planning on visiting touristic spots, and make sure to take thousands of pictures!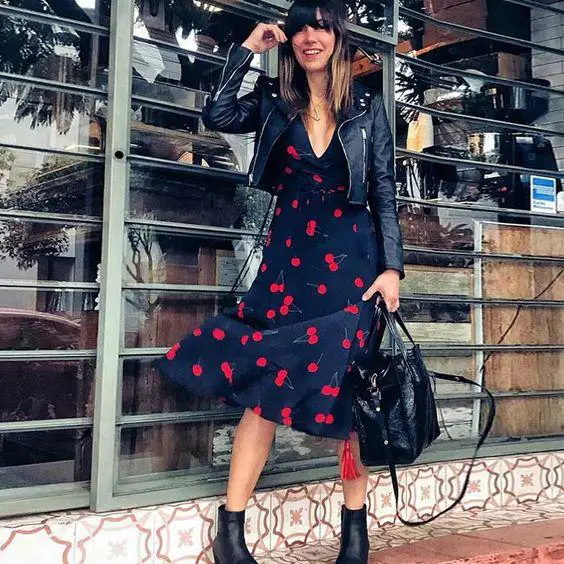 If you're more into an edgy and bold style, try wearing a dress t-shirt.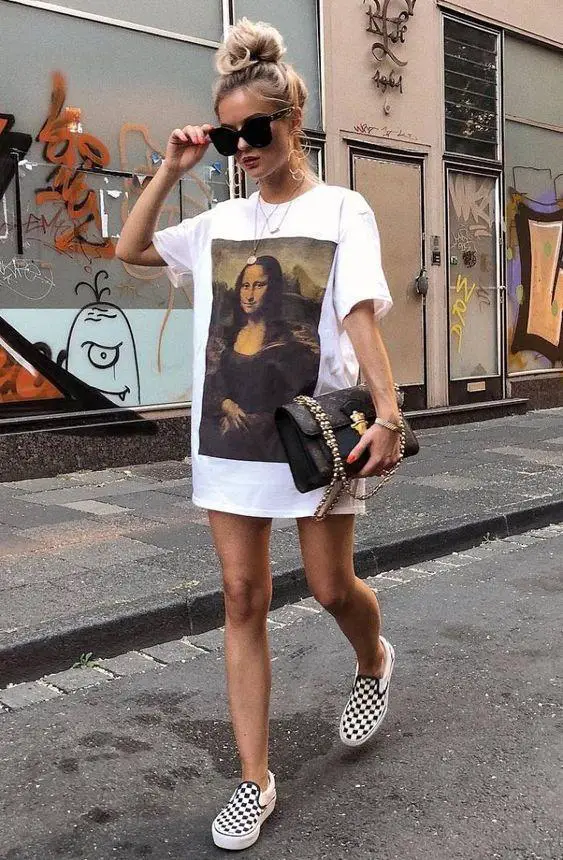 2.2 Trendy denim
What's life without denim? Ditch your basic skinny jeans for a trendier silhouette such as wide cropped leg, high waist straight leg, palazzo jeans… You choose! What's important is that you look as trendy and cool as possible.
High waist jeans are one of the best options you can choose. You can pair it with a tight top or bodysuit and finish your look with a statement belt: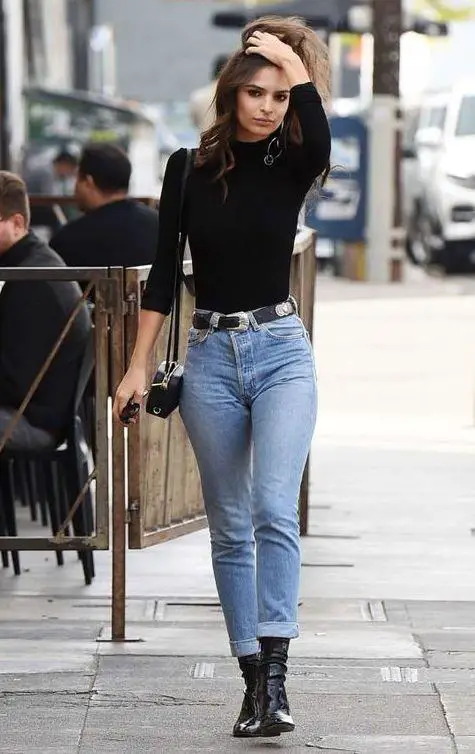 For a casual walk around the city, you can opt for an animal printed top, high waist jeans and block heel sandals.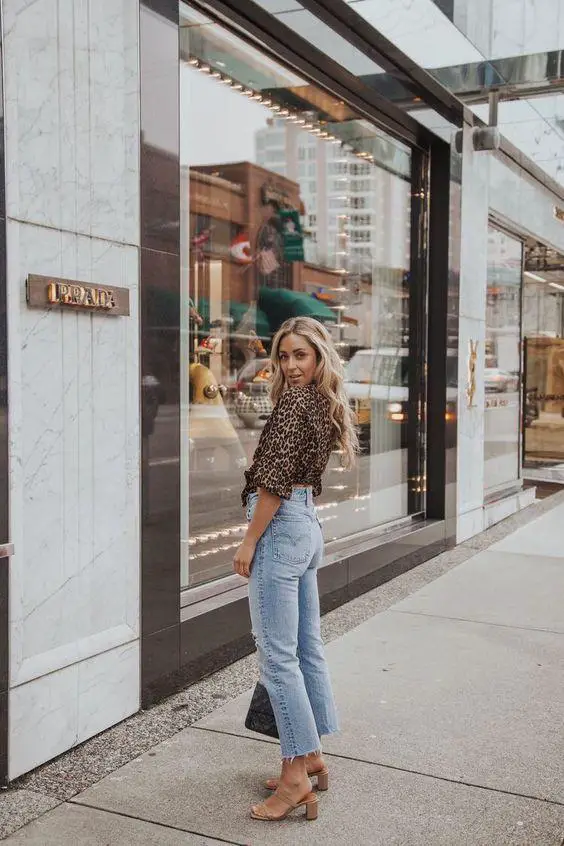 If you want to dress relaxed yet trendy, high waisted distressed jeans with a t-shirt tucked inside is a great combo you can wear. Finish your casual Vegas look with your favorite sneakers.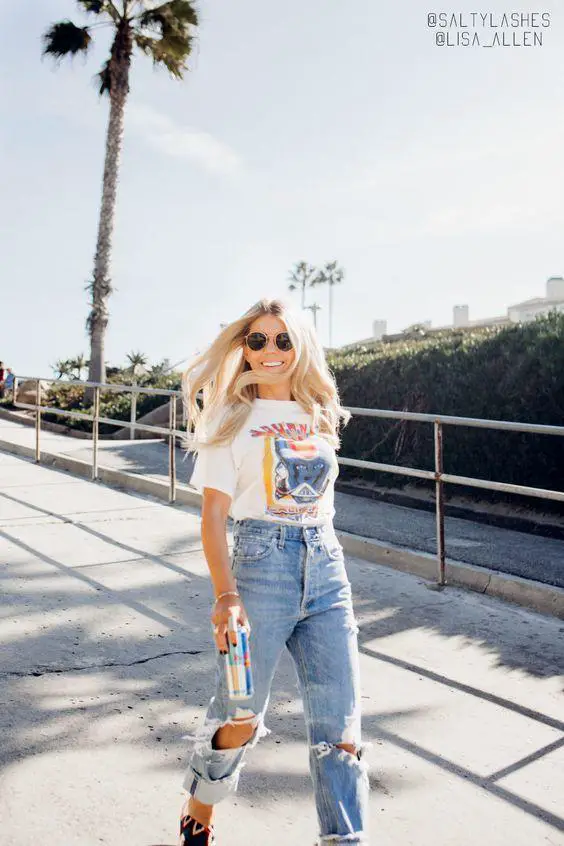 Nothing fails the new classic mom jeans and t-shirt look. When in doubt, always opt for this polished yet casual look, even in Vegas:
If you're feeling a little extra, try to combine two statement pieces: wide-leg jeans and a bold printed top, or in this case, a bright-colored jumper: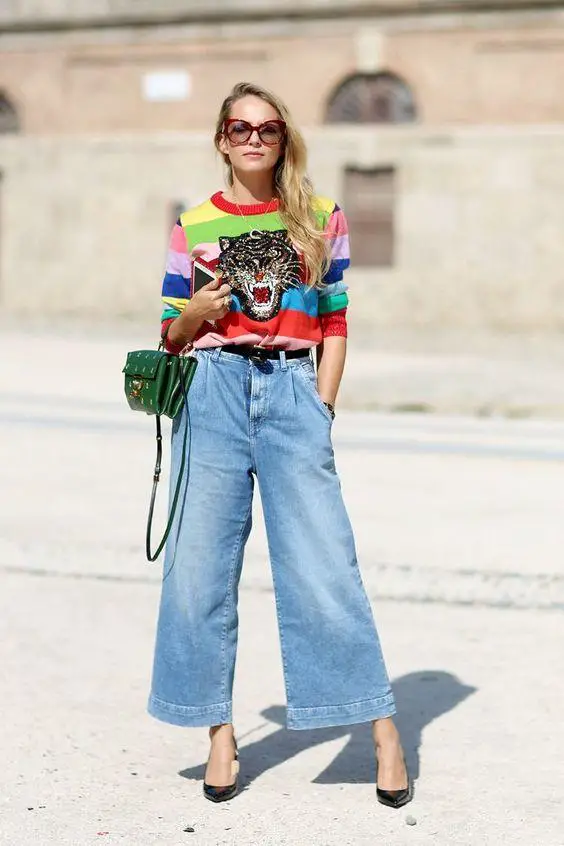 Wide leg jeans are a bold piece you can't miss on trying, especially in such a glamorous and fashionable city like Las Vegas.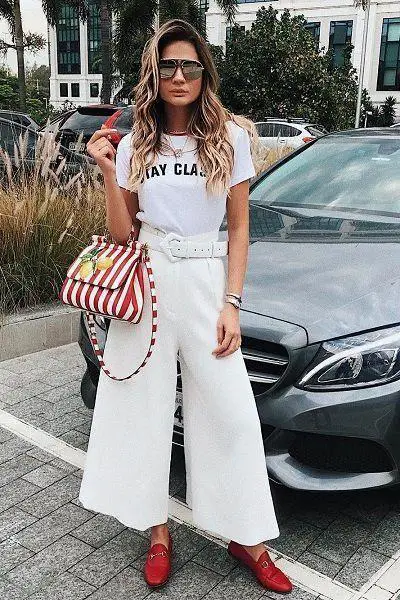 3. Casual but polished
Cute Las Vegas outfits can be a mixture of the two points we've seen so far: glamorous and casual.
If you want to take your Vegas looks to the next level, ditch your casual outfits for a combination of casual-and-dressy clothes
3.1 Leather
Whether you wear real leather or faux leather, one thing's true: you'll look chic, confident, edgy and cool. That's why wearing a leather piece during the day will uplift your casual outfit.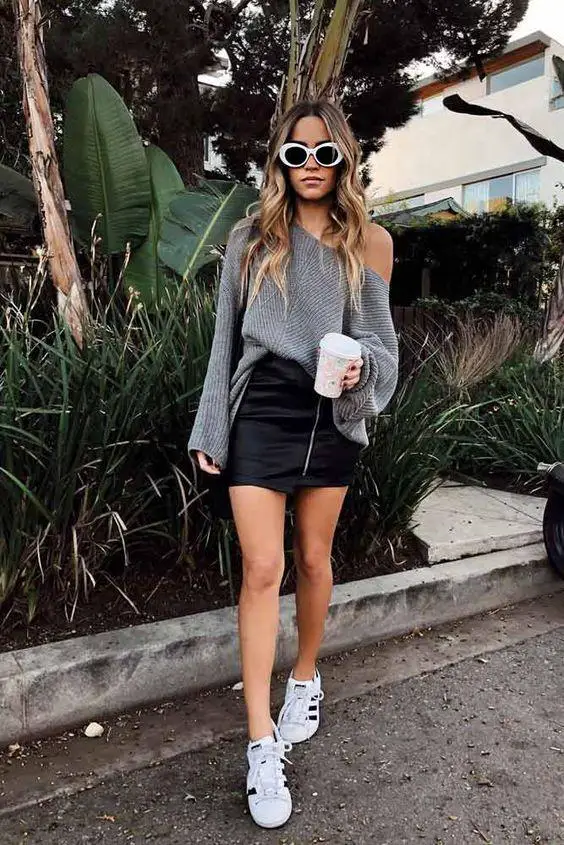 You can opt for mini skirts, leggings, shorts, even leather boots. What's important is that you showcase an edgy and Vegas-like vibe with you leather outfit,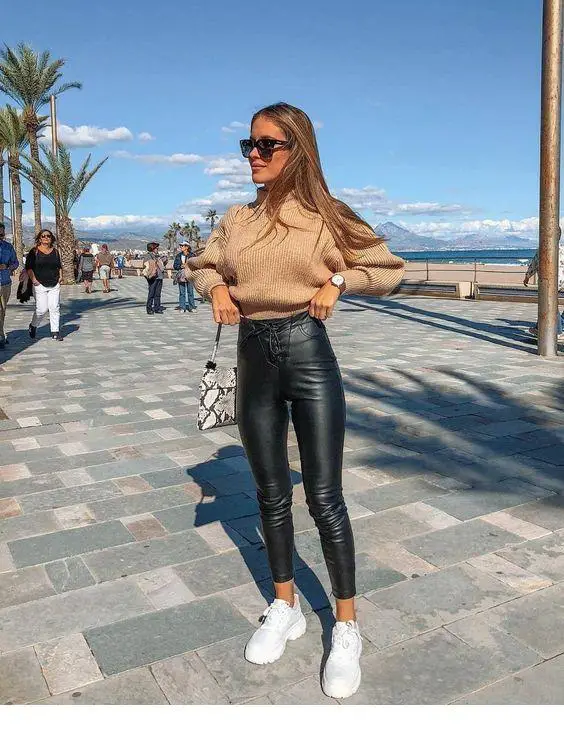 If, in any case, you don't have any leather piece, opt for a classic yet sophisticated leather jacket. If you don't have one, what are you waiting for?
Leather jackets are a lifesaver, especially when you want to make an effortless statement look.
You can pair your leather jacket with leather accessories as well, such as loafers, booties, handbags, belts…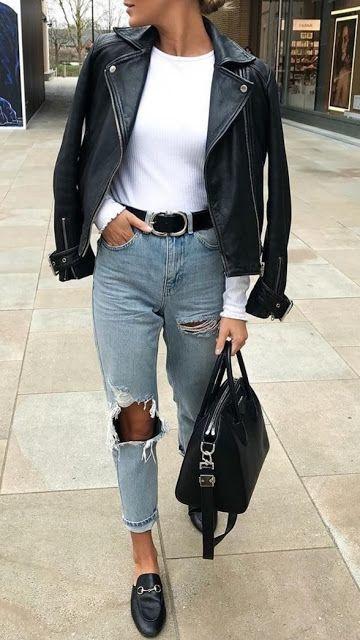 Ditch the typical black leather leggings for a cute pair of burgundy or brown leather leggings. A simple yet super effective styling tip I can give you to bump up your looks is to wear classic pieces with a twist.
In this case, burgundy leather leggings look way chicer with her outfit than a regular pair of black leggings. Finish your looks with a trendy item, such as animal printed shoes: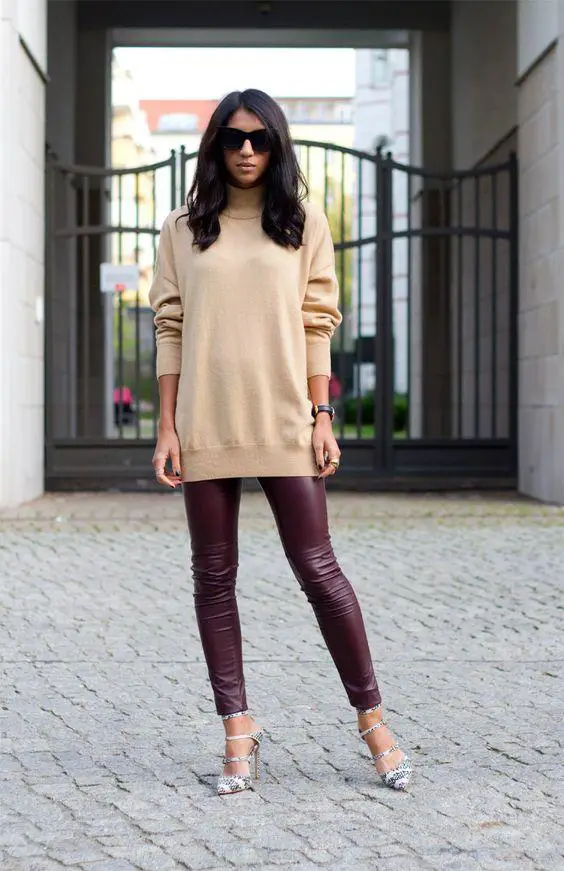 You can also wear leather in the summer! Try pairing a cropped t-shirt with high waisted leather shorts for a cool and casual summer look worthy of Las Vegas: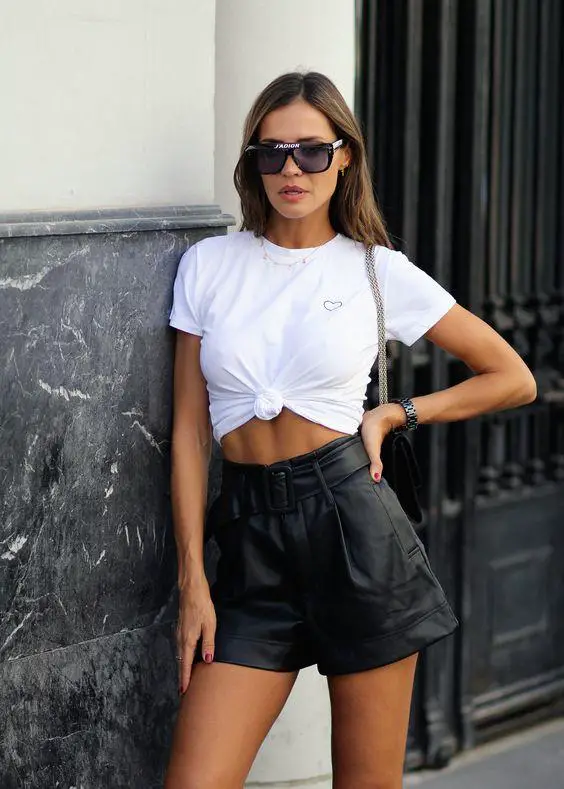 Wrap up:
Going to such a fabulous and one-of-a-kind city like Las Vegas deserves special and unique outfits.
If you're wondering what to wear in Vegas for a cool and chic look, these 31 outfit ideas will help you pull off the best Vegas outfits.