Vacationing with friends, family or your other half is one of the best things that could happen in your year. You also finally get the chance to disconnect from the world and relax, but most importantly, you create amazing memories with your loved ones that will last a lifetime,
But going on vacation also means another almost equally important aspect: what clothes should I pack?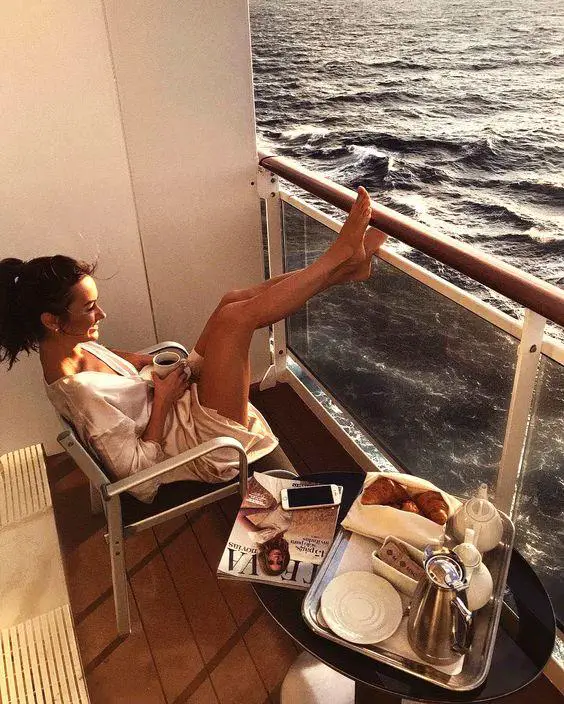 What to Wear on A Cruise: 31 Outfit Ideas for Summer and Winter Cruises
If your vacation happens to be a relaxing week on a cruise, then you've come to the right place! I will guide you through different and cute cruise outfit ideas that will let you take beautiful pictures while making you feel super beautiful and fancy.
1. Summer cruise
You can travel in different seasons, but summer cruises are the most popular ones because of obvious reasons. Sun, tanned skin and nice warm weather are what makes a cruise perfect.
Your suitcases should be packed with approximately 90% summer clothes and 10% not-so-summer clothes because you can get really cold in some salons or restaurants from the cruise.
But first, let's talk about that 90%! Packing for a summer cruise vacation should some specific pieces that will allow you to mix and match for the whole week.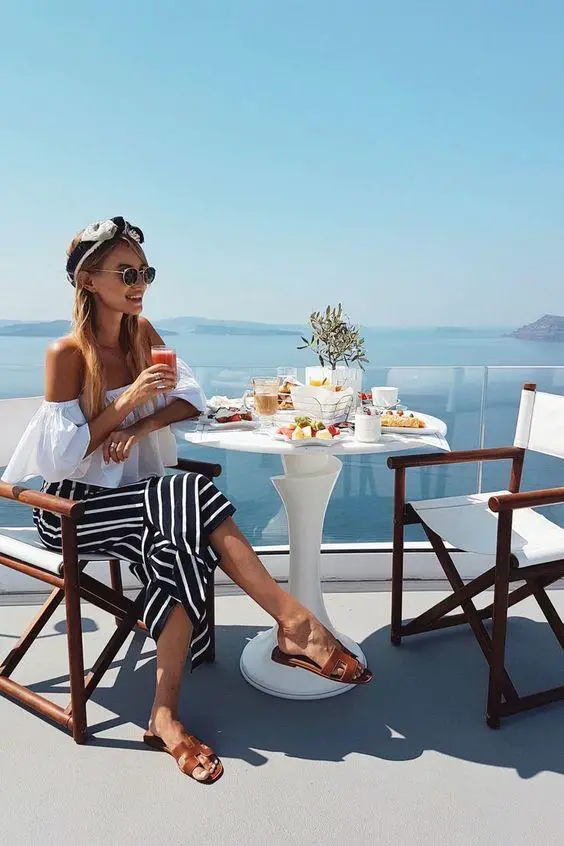 1.1 Swimsuit
Swimsuits are one of the most important aspects of cruise outfits. Imagine you go for the beach for one week: you spend most of the time on your swimsuit than in anything else.
The same happens on a summer cruise.
These are some cute swimsuits you can take with you:
Bandeau tops are one of the best types of swimsuits because you can wear any top or dress and you don't have to worry about straps showing off.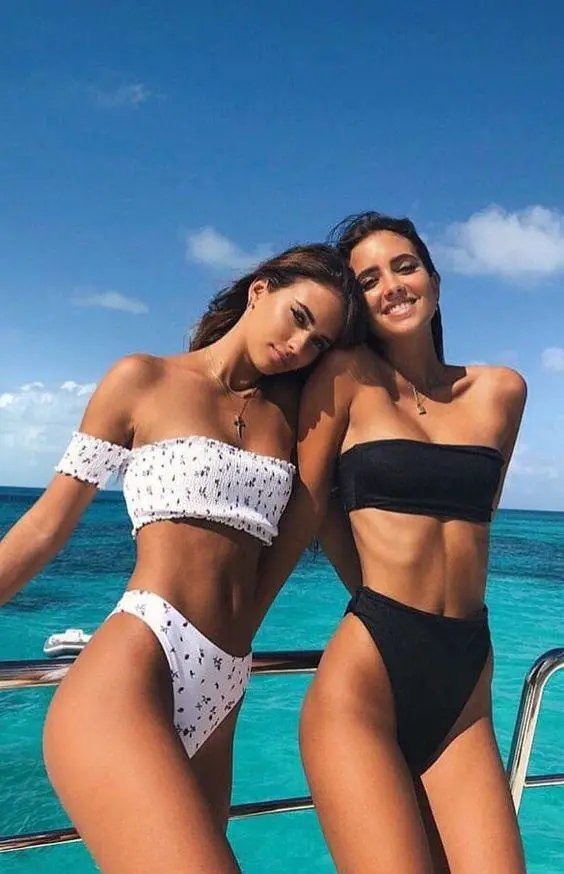 High waisted bikinis are also a type of swimsuit that will never go out of style. They will give you a vintage but modern look while making you feel super comfortable, keeping your belly right on its place: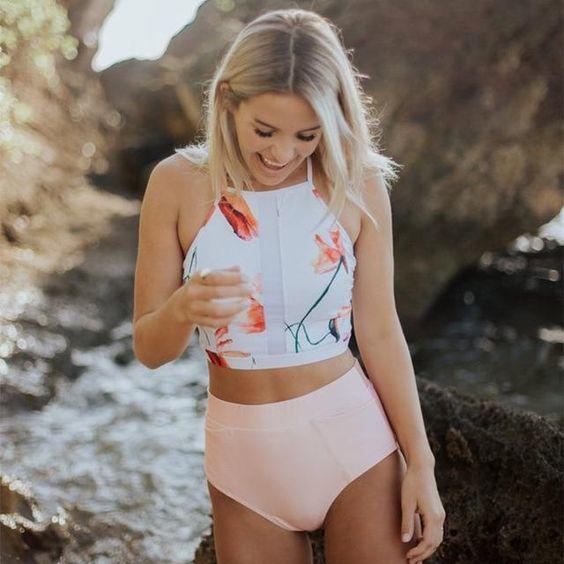 Whether you're more like a bikini girl or not, I om the side were packing at least one one-piece is ideal.
Imagine eating delicious meals for one whole week, from breakfast to late at night (if you have drinks). Your belly will be a bit more bloated than usual, and that's when one-pieces come in handy.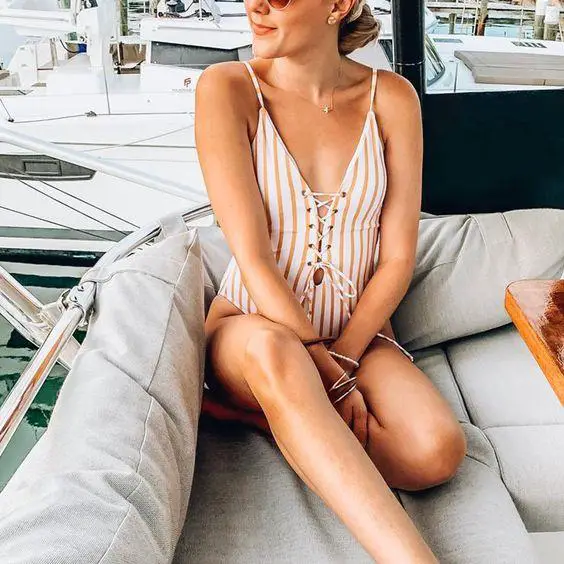 Most probably, one-piece suits will make you feel more comfortable on those days when you feel like having a little baby food on your belly.
Plus, one-piece suits are super trendy! A-list celebrities like Bella Hadid and Kendall Jenner love this type of swimsuits and look as sexy in them as in bikinis.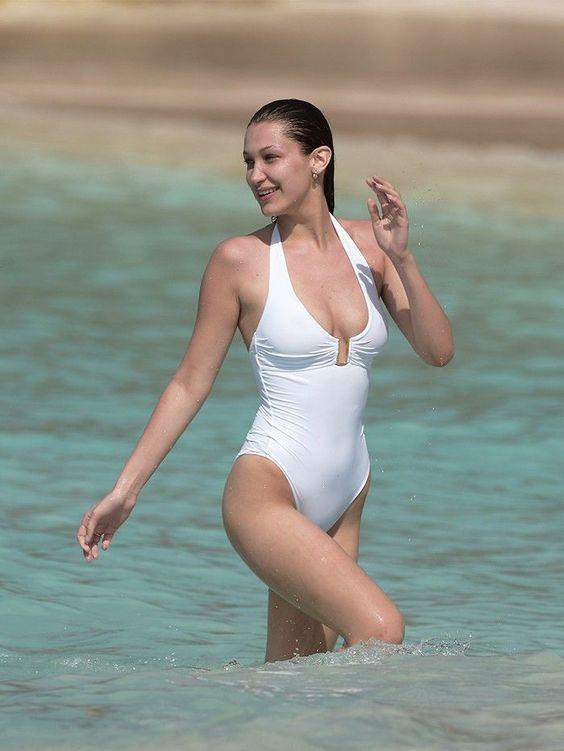 High cuts on the bottom are what will make your one-piece swimsuit a head-turner one:
1.2 Cover-ups
What's the use of wearing bikinis all day long if you don't have cover-ups? Don't make the mistake of packing your cruise clothes and forgetting these key pieces.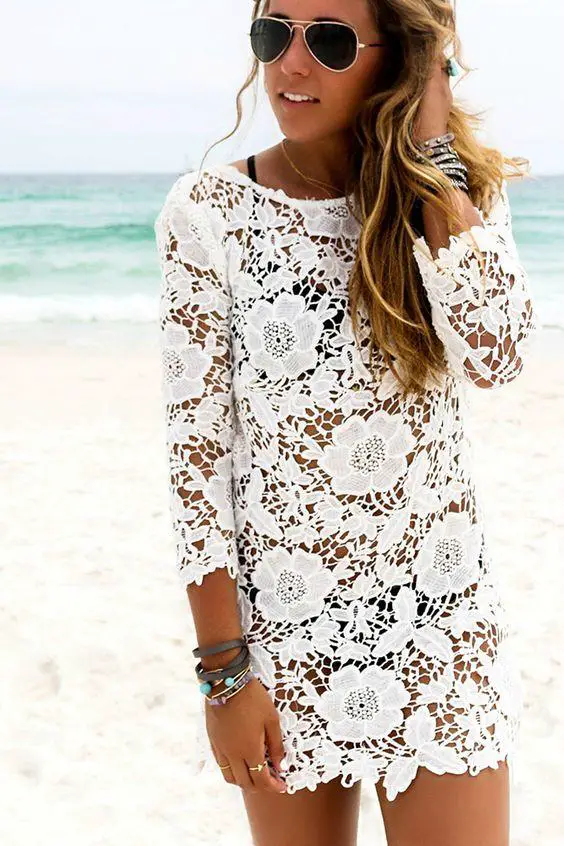 You'll need at least one (or two!) cover-ups for those moments where you need to go and grab something from your room or have lunch at a restaurant, or whenever you don't feel like showing too much skin.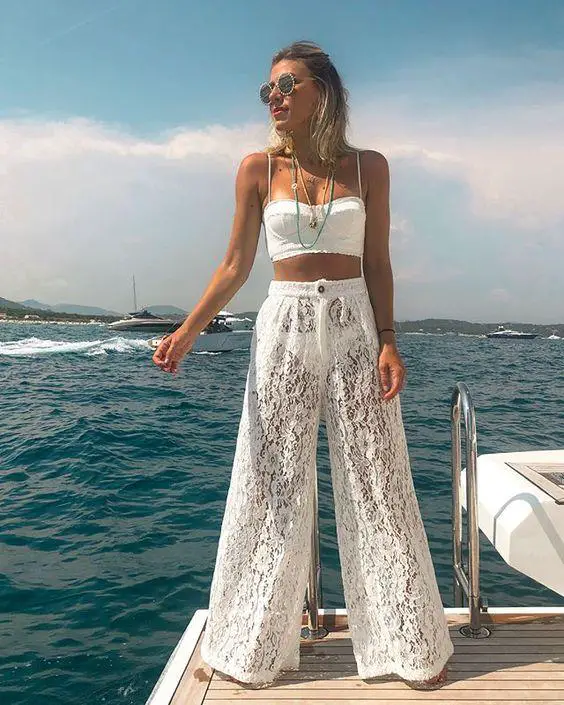 Even a lace pant can serve as perfect and cute cover-ups. It will be a great complement for your cruise outfits: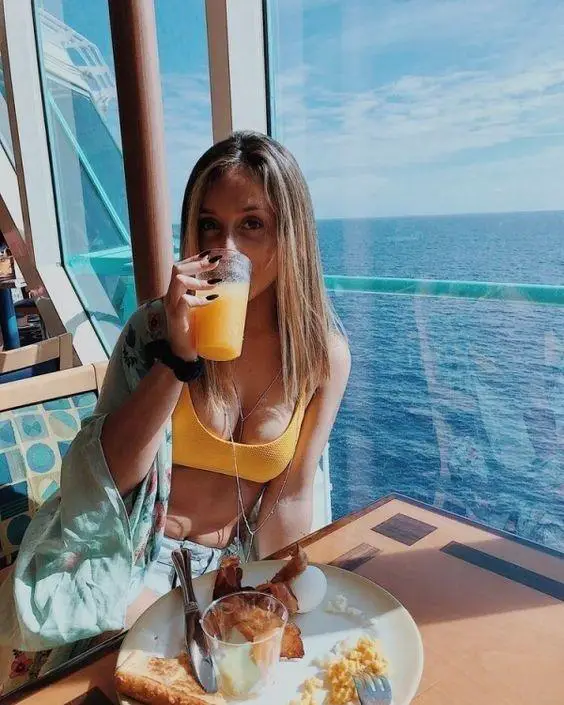 You don't have to buy anything. Just get creative and you'll find different tops or dresses that can do the trick.
Button downs are perfect for your Caribbean cruise outfits. Just wear your unbuttoned on top of a bikini and add your sunglasses and hat: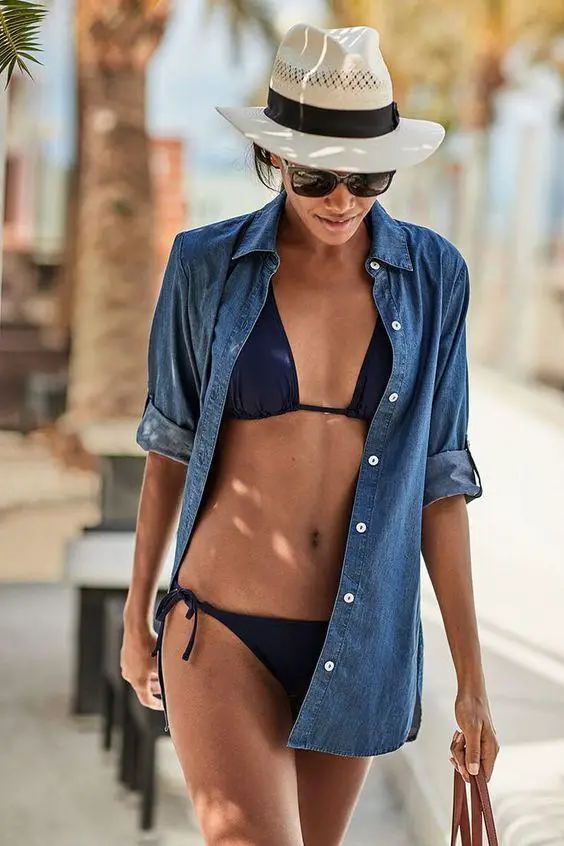 A cover-up can easily transform your look into a head-turner one. If you're someone that loves to grab people's attention, then opt for a bright-colored, long and beautiful kimono-line cover-up: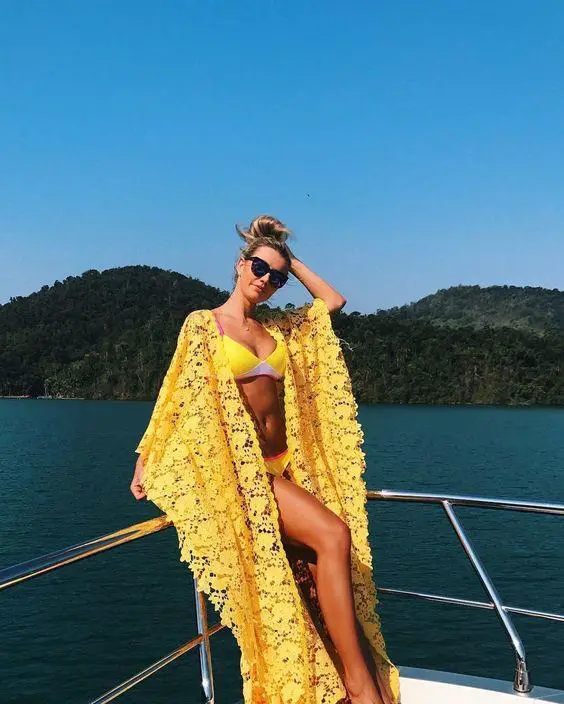 1.3 Must-haves for cute outfits
Now that we've talked about the two things you CAN'T forget for your summer cruise, let's talk about key pieces that will let you create gorgeous outfits.
If you're wondering what dresses to wear on a cruise, let me tell you that you need to pack at least one maxi and flowy dress. If you want to take that perfect Instagram picture, I assure you that I'll be with this dress.
These are super comfortable, trendy, cute, feminine and total must-have cruise wear for women. If you want to take your outfit to the next level, make sure to accessorize: hats, long earrings, fancy sunglasses, strappy sandals…
Wrap dresses are another trendy piece you can't miss out. They're what will make your pictures completely breath-taking, and you can wear them on the cruise or wherever you hop off: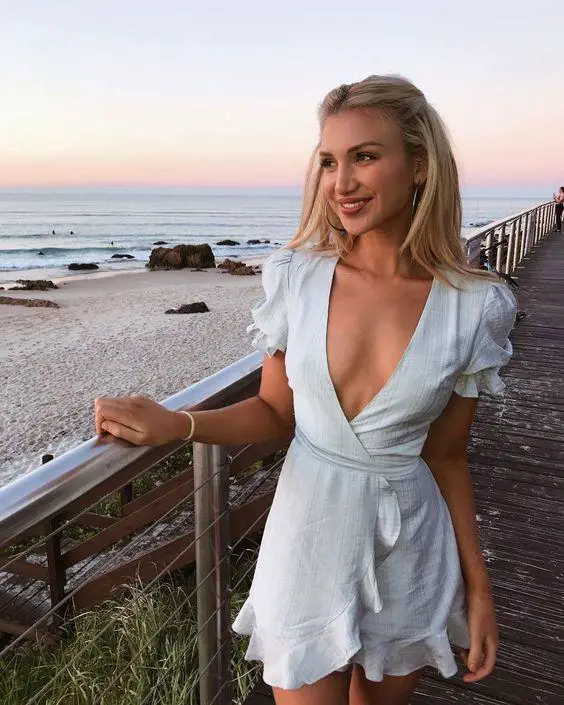 Denim shorts (or any type of shorts!) are another must-have for your cruise outfits. You can wear them with your swimsuit or with a cute crop top: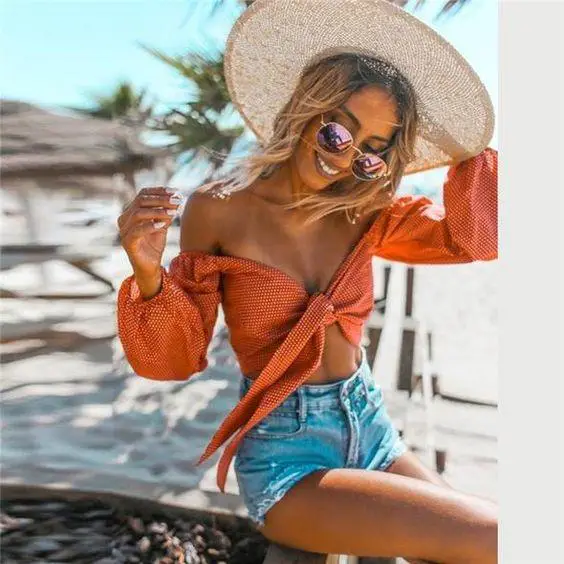 Linen or cotton white short are a cute option you can wear on those days when you feel like dressing up a bit. You can pair it with a beige top and statement sandals for a classy and perfect summer cruise outfit: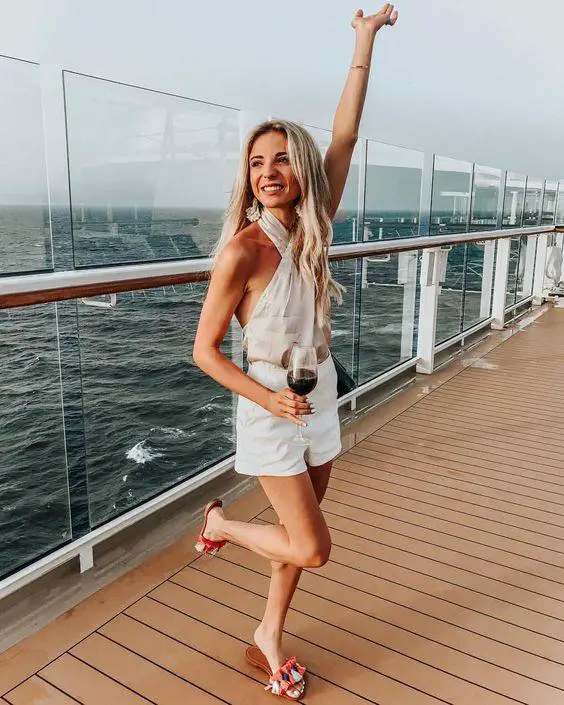 Flowy skirts with tank tops are another easy outfit you can wear: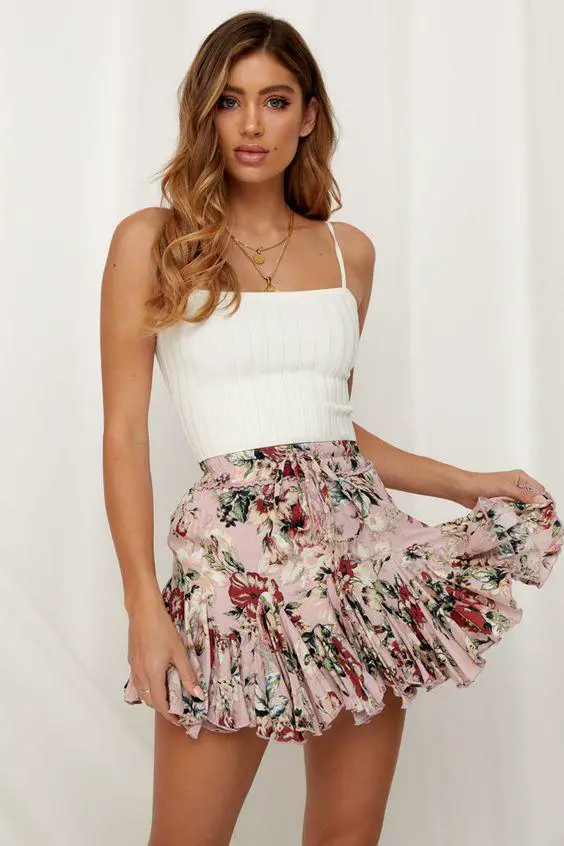 You also need to remember that you'll hop off on beautiful islands or cities, so make sure you pack outfits comfortable enough for long walks. A midi skirt with a crop top is a cute combination you can wear on these occasions: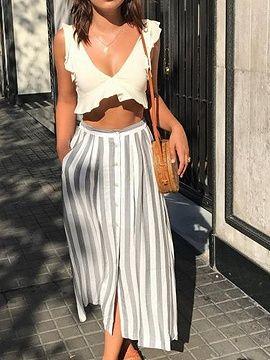 Jumpsuits or rompers are another statement piece you can wear on your summer cruise vacation.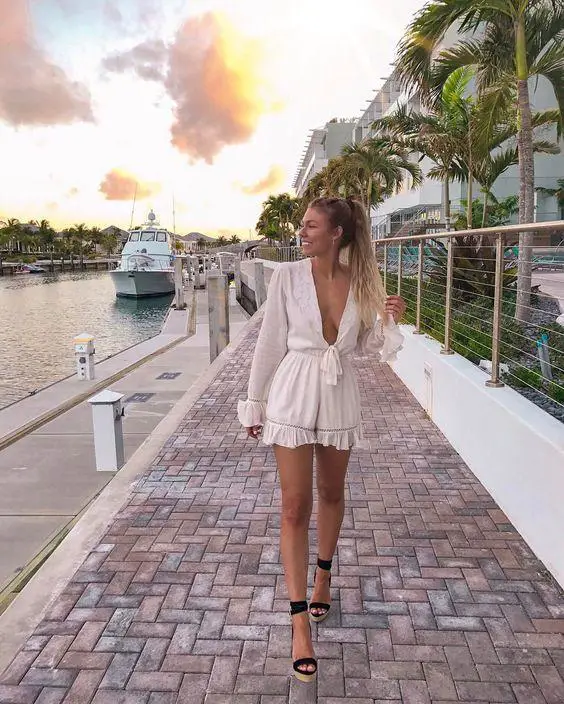 Remember that the cruise you'll go to will most probably have fancy restaurants, so make sure to pack at least two dressy outfits. One of them can be a cute and chic jumpsuit: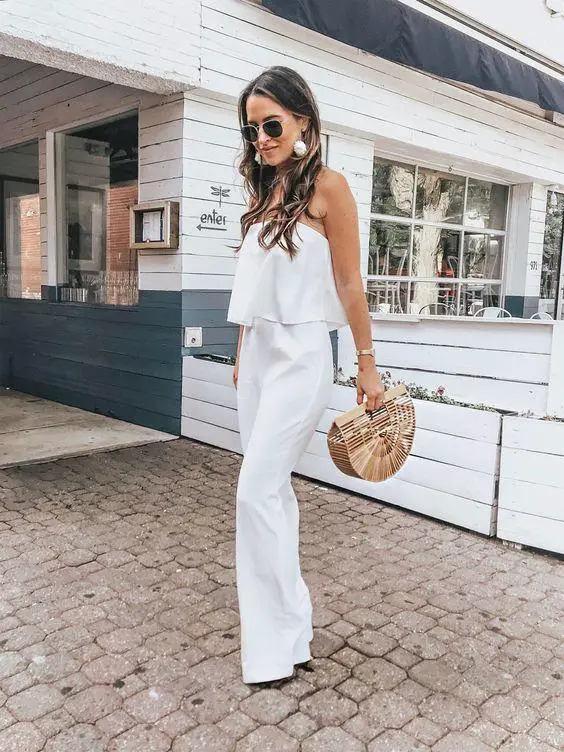 You'll feel like a queen, taking gorgeous pictures with your chic outfit and the beach on the background right at sunset: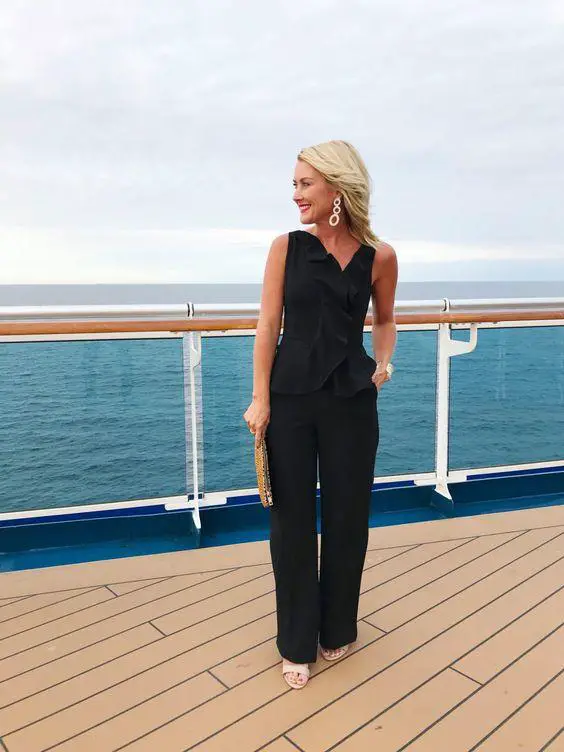 2. Winter cruise outfits
If your cruise vacation is going to be during winter, or on a super cold place (like Alaska or Patagonia), then cruise wear for women is going to be completely different than the outfits I just showed you.
2.1 Pack your best layers
First of all, make sure to check how the weather's going to be. You don't want to pack too many layers f it's not going to be as cold as you though.
One essential must-do is, of course, to pack sweaters and jackets.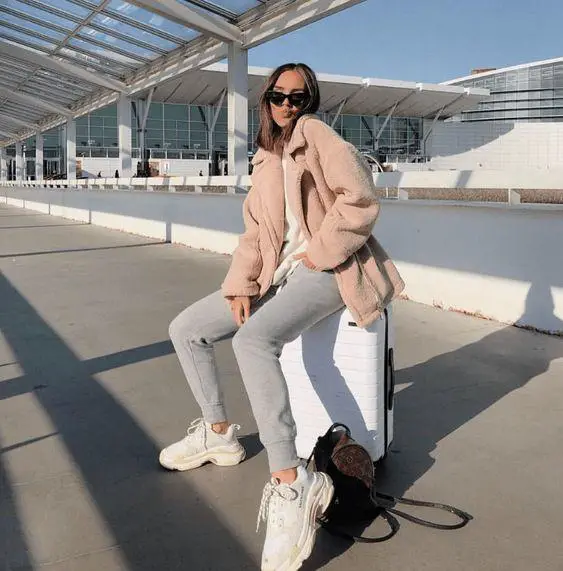 Leather leggings are a cute bottom you can wear. They're warm, easy to wear and super chic.
You can pair them with your favorite oversized jacket:
Jeans are super important on any winter cruise vacation outfit. Just like leather leggings, they're super easy to mix and match and they can keep you warmer.
Cute and stylish long sleeve shirts are going to be the key pieces that will transform a so-and-so outfit into a gorgeous one. You can pair your classic skinny jeans with a dressy shirt for a fancy dinner: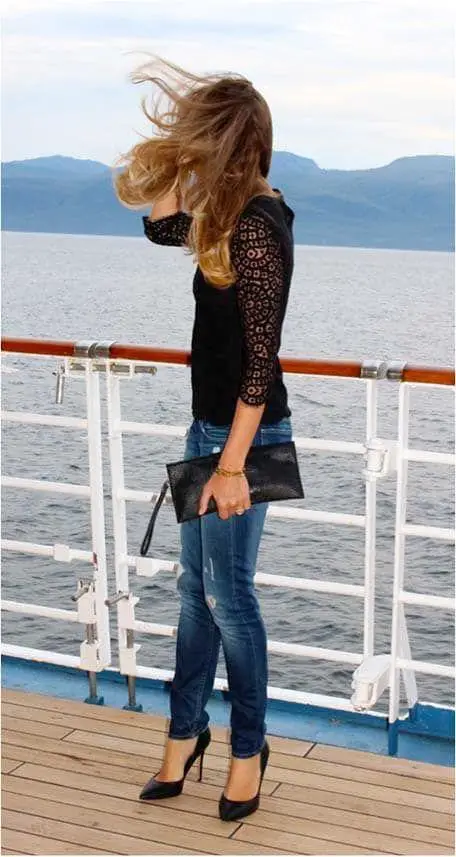 A jean jacket is another classic piece you probably already own. You can wear it as a light layer on those moments when the weather isn't that cold.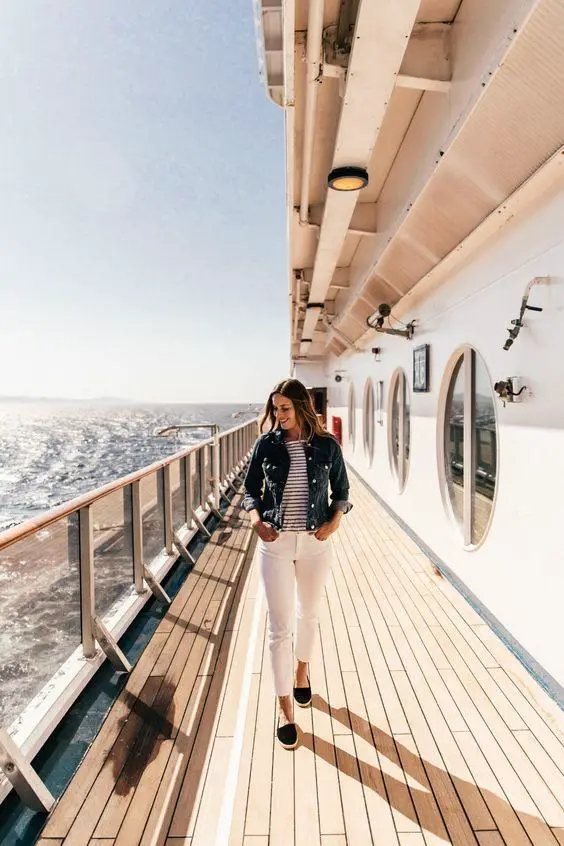 Cozy pullover sweaters are perfect for a comfy yet cute look. You can pack one in a neutral color and I can assure you that you'll be able to wear it multiple time because they're just so cozy!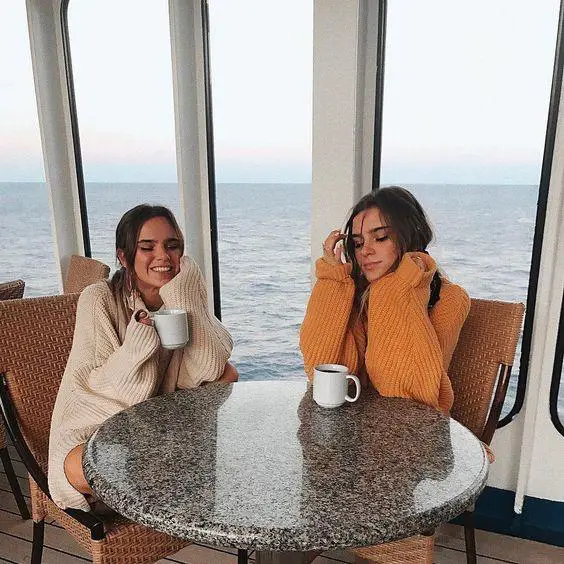 Rain boots and scarves are another combos you can wear on your winter cruise vacation.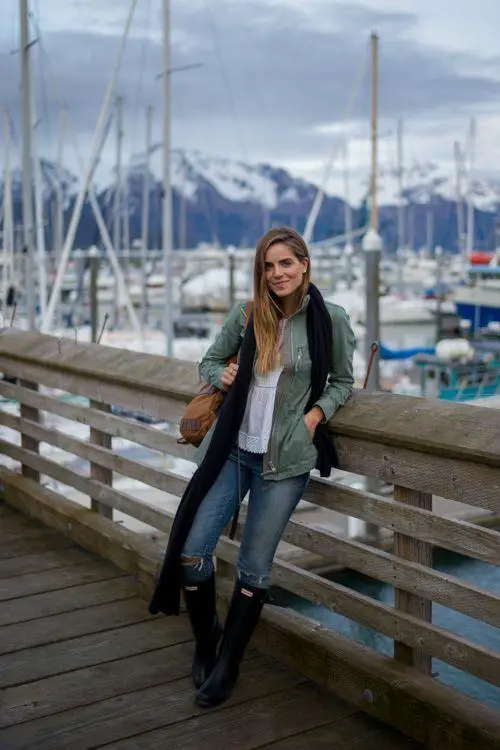 Again, make sure you double-check the weather. If it's going to be super cold, essential must-pack include:
– Beanie hats
– Boots
– Gloves
– A super warm jacket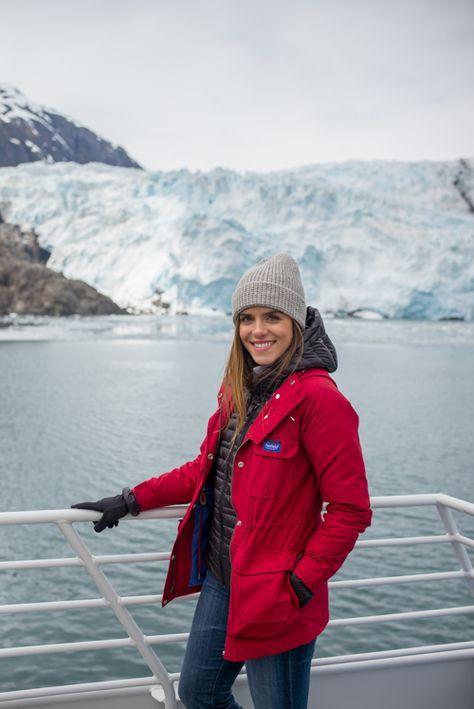 And don't forget to pack your favorite sneakers! If you're a sneaker lover, pack at least two pairs. You can create stylish outfits with simple and basic pieces like a sweatshirt, sneakers and skinny jeans. Finish your looks with a cute braid, a bandana, a statement vest or even a red lipstick: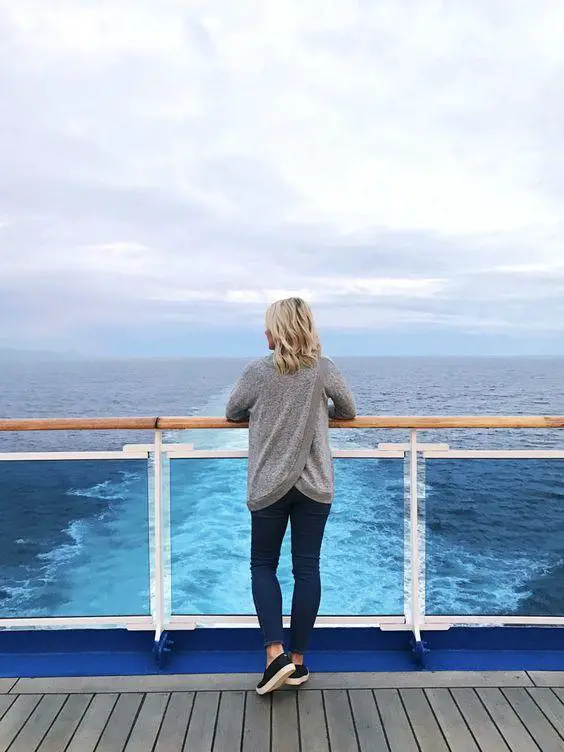 Wrap up:
Going on a cruise is one of the most fun and relaxing type of vacations you can have. And what better way to enjoy your days-off than with cute outfits?
If you're hesitant on what to wear to a cruise, then I hope this article has shed some light onto what is a total must-pack and what are the pieces that will help you create beautiful Instagram-perfect looks.
Last but not least, make sure to enjoy these days as much as you can!