Love is in the air
Having a first date is one of the most nerve-wracking things that will happen in your life.
The first time of anything is always something that makes us nervous: first day at school, job, first time flying, first time driving… Not knowing what we're heading to or how things will turn out makes us anxious and nervous.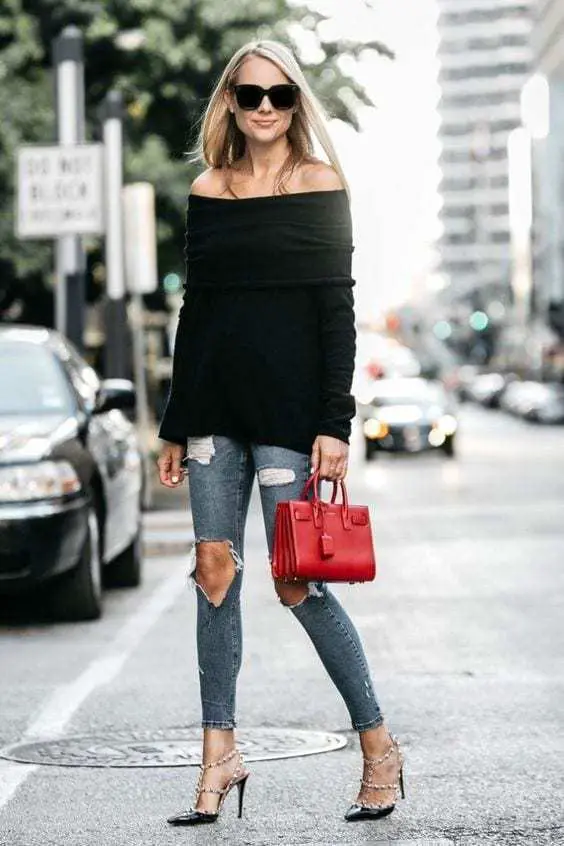 That's why first dates are a huge deal for us. Whether we're head over heels over that person not entirely sure about how we feel, the truth is that we still want to make a great first impression.
And what better way to show off your great personality than with a great outfit?
What to wear on a first date
What we wear on a first date should only highlight our personality, so deciding our outfit becomes a serious task. You don't want to give the wrong impression!
Here are a few GOOD things that your clothes can tell about you:
– You're sweet and feminine
– You're edgy and adventurous
– You're sophisticated and mysterious
– You're funny and dynamic
– You're easygoing and relaxed
You can use your clothes in your favor and choose exactly what you want to communicate with the right outfit.
If you're going on a first date with someone you like, then you probably know by now what are the things you want to highlight from your personality. I'll guide you through different "messages" you can communicate through your first date outfit, in hopes that you will come up with cute outfit ideas based on your personality.
1. Sweet and feminine
A sweet and feminine outfit is a great idea if you want to show off your gentle and friendly personality.
The best colors that will work for you, apart from black and white, are shades of pink, blue, yellow and denim.
A baby pink spaghetti strap top paired with white jeans or shorts is a cute combination you can easily recreate. If you want to accessorize your outfit, add a minimal necklace or earrings.
For a first date, outfit tries to not go over the top with the styling. The best advice I can give you is to go simple, with cute clothes but nothing too loud. In this way, you make sure your clothes are only complementing and not overshadowing you.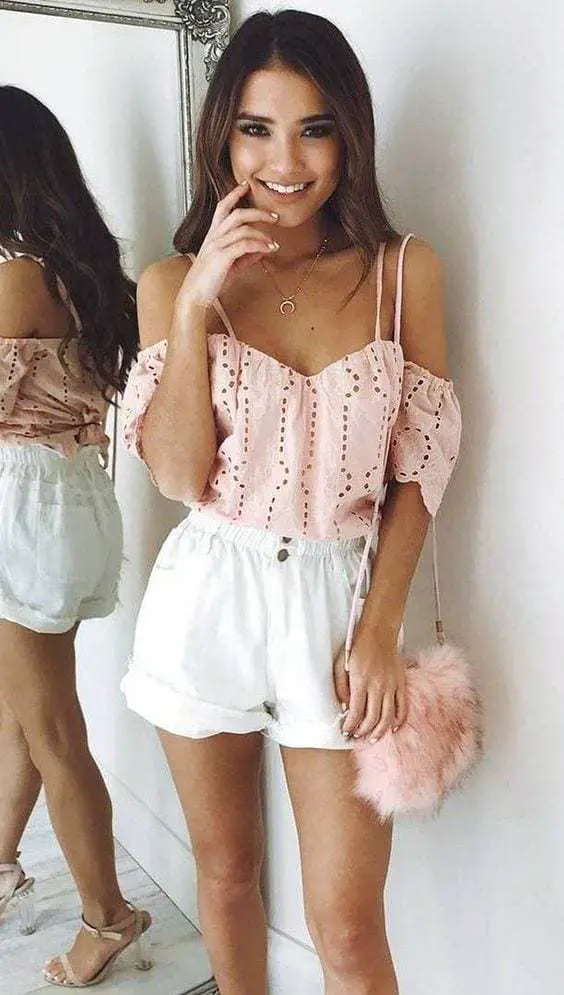 Another thing to take into consideration is to know how "fancy" the place you're going to. If you're having a movie date night, then a pair of sandals will be just fine.
But, if on the other hand, you're going to an elegant restaurant, you can perfectly wear your favorite heels. They don't need to be uncomfortable high heel pumps or stilettos, a cute low heel sandal will do the trick.
Another cute idea is to wear a midi length skirt and pair it with a denim jacket. It's a classic and feminine outfit that will only make you look irresistibly sweet.
Another casual first date outfit idea is to wear a chambray shirt. You can wear it half-tucked inside, or do a simple knot for a waist-defining effect.
Instead of wearing a regular pair of skinny jeans, switch it for a lace short skirt for a stylish look. Add espadrilles, wedges or sandals and you'll have a perfect summer first date outfit.
2. Edgy and adventurous
If you're edgy and love adventures, then you'll surely want to translate that on your first date.
The best way of doing so is to mix casual and edgy pieces into one same outfit. Black, leather, plaids, stripes, white and red are some ideas you can add to your look.
A pair of leather leggings will be your go-to option. They're super easy to style: just add neutral colors, a cute layer, and that's it!
If you're going on a casual date, then mules, flats or loafers are perfect shoes to pair your leather leggings with. Finish your look with a stylish clutch and your best smile:
But my favorite outfit idea for an edgy and adventurous look is to wear a cute pair of leather ankle boots, a leather jacket, and a short dress.
It's a cute outfit you can wear if you're going to a bar, to the movies or to a restaurant. Your date will think you're cute, edgy and interesting the moment he/she lays eyes on you.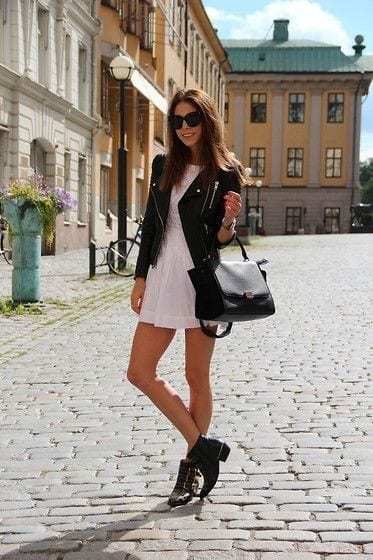 3. Sophisticated and mysterious
For a sophisticated and mysterious look, your best ally will be black, white, silver, gold, red and animal print.
Silk, sequins, and satin are some fabrics you can mix with denim or cotton if you want to dress down your look. A black silk spaghetti strap top is perfect for a sophisticated and chic first date outfit.
Finish your look with red lipstick for a mysterious and interesting appeal. It's no secret that red lips are irresistible!
A leopard print piece can effortlessly elevate your outfit and take it to the next level. Just add a cute leopard clutch to an all-black outfit and you'll create a killer look.
And, of course, don't forget your red lipstick. You can also match it with red nail polish for an extra pop of color.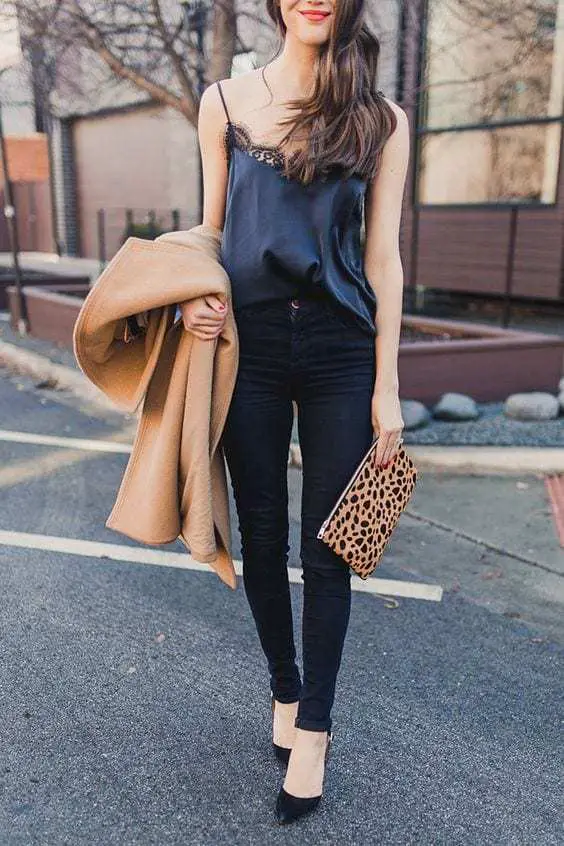 Satin or silk tops should be your best friends when it comes to dressing sophisticated and mysterious. Your date will be head over heels for you, that's for sure.
A long sleeve satin top will look great tucked inside your black skinny jeans. You can add a statement belt if you like, but high heels will definitely be the pieces that will elevate your whole look.
If you're aiming for the best first date outfit, mix silk, black and animal print all into one outfit, but make sure to include a statement piece such as a pleated midi skirt.
In this case, a leopard midi skirt is the star of the outfit, but the other black pieces are what elevate the skirt.
4. Funny and dynamic
If you're an extrovert and loves to socialize and have fun, then your clothes should represent your unique personality as well.
Denim, bright colors, textures and prints are what you should look for. You can have fun mixing different colors and patterns for a cool and stylish first date outfit.
If you want to make a statement, then mixing two different prints is what you need to do. Don't be scared of experimenting, as long as your outfit goes along with your personality, the rest will make sense.
And your special someone will know the real you the moment he/she sees you.
You don't have to go crazy, just wear a pair of cute bright color earrings that contrast the colors of the other pieces you choose.
Or wear a saturated color paired with denim for a laid-back but fun look:
5. Easy going and relaxed
If you're cool, easy going, laid-back and relaxed, then the best clothes for you are perfect fitting t-shirts, cotton, soft fabrics, flowy pieces, denim, oversize…
Something similar to a minimal aesthetic is what you should aim for.
An all-black outfit, for example, is a great idea you can wear to the first date in the evening. All you have to do is wear black leggings or jeans, a black t-shirt tucked inside and cute and long earrings to highlight your face.
A white t-shirt is another piece that can save your life. You can style it in so many different ways, that it's impossible not to own one.
And if you want to show off your relaxed personality, then the best first date outfit for you should be a t-shirt.
A stylish way of pairing your t-shirt is with a midi skirt and flat shoes, whether sandals or slip-on sneakers, they will make you look easy going and laid-back.
If you want to polish your relaxed style, an oversized white button down, a pair of jeans and high heels will do the trick:
Wrap up:
Going on a first date is already a nerve rocking wracking event, and deciding what to wear will only make us more anxious. We want to look as best as possible because we're interested in that person.
That's why choosing the right first date outfit is so important: a great first impression will always give us confidence and, therefore, allows us to act more relaxed and natural and, at the end of the day, everyone loves a natural and unique personality.
If you choose the perfect clothes for your own personal style and personality, the rest will only come natural. Let your outfit speak for yourself and enjoy the date!