When it comes to work outfit, I always think of small black dresses, white shirts, suspender, small suits, pencil skirts, and smoking pants… We wrote these must-have items for our previous work projects. The four single products to be introduced today are not unfamiliar to you all and they are not necessarily a must-have item in the workplace. However, what they have in common is that they are decent and stylish. By wearing them, you can stand out from the rest of your office staff effortlessly.
Check more outfit ideas about work: Sexy Work Outfits                                                                                                         Best interview outfits for Women
If your work environment is really strict about clothing requirements, it's highly recommended to buy regular wear.
4 Stylish Work Outfits
Style 1: Long Vest
Many people think that this single item is very tasteless. For summer wear, it is too hot and for winter wear, it's too warm. Whatever they say, it's really worth buying. The long vest is simply a concave weapon. See how Olivia likes to wear it. ▼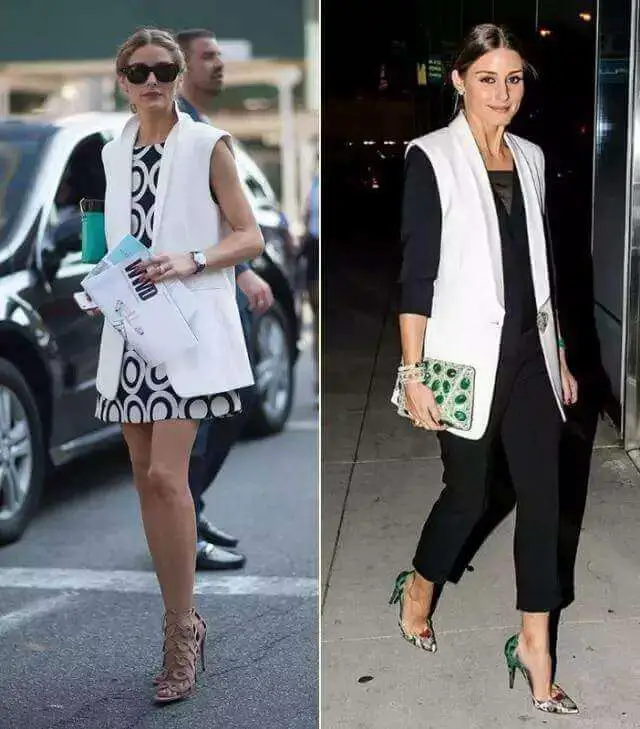 No matter what clothes you wear as a basic outfit, addition of a vest improves and uplifts a dull and boring office attire look. ▼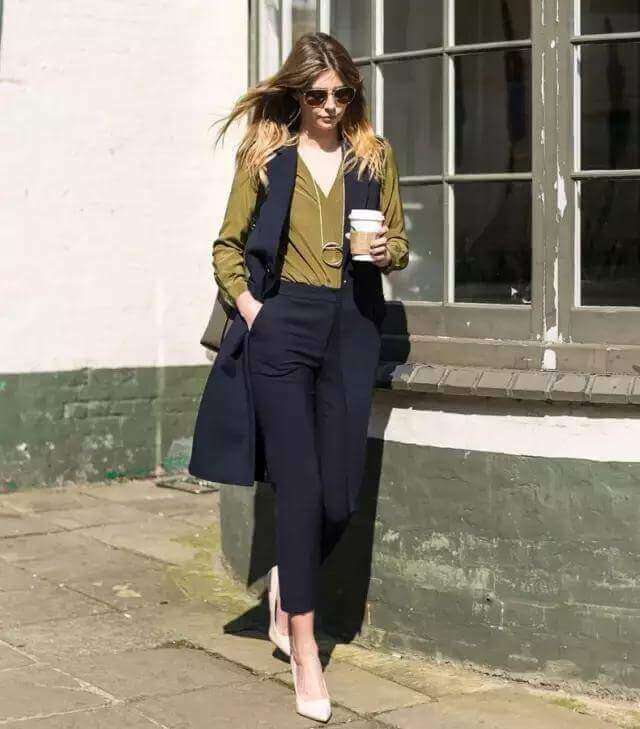 Even singles like shorts paired with long vests can turn it into an office attire in one second. Of course, the only concern is that the place where you go to work is not so strict about the dress code. ▼
In fact, the short vest is also a great addition to work clothes, but the long vest is chicer than this. ▼
There is no pressure on a variety of clothes, tights, wide leg pants, short skirts and shorts—all can be tried. ▼
Attach a belt or button to try a different look and wear it as coat directly. ▼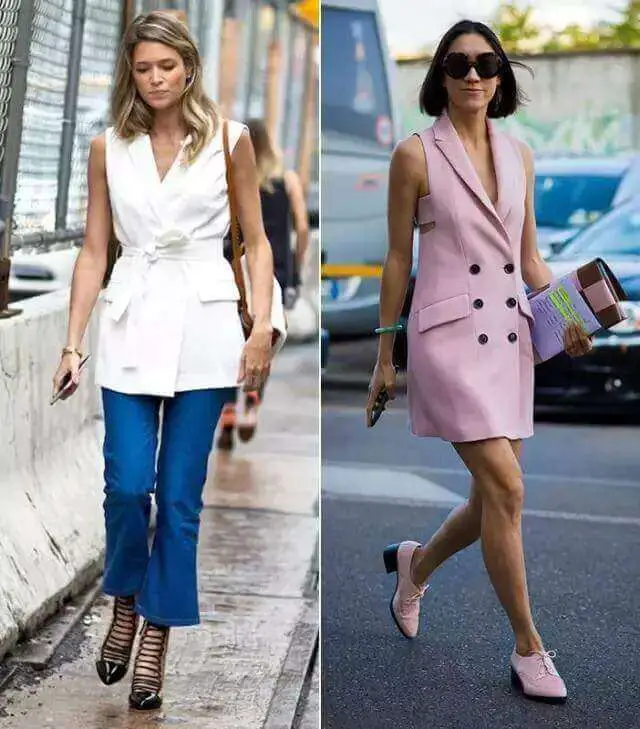 A long vest with long-sleeved clothes can be worn directly as a skirt. ▼
To get a more formal office look, it is best to choose a vest with a collar design. Without the collar, the look remains a bit casual—just opposite to the spirit of a working place. ▼
Floor length vests are fashionable, but they are not convenient and easy to carry at a working place. It might interrupt your working ability. So, always prefer thigh-length for office. ▼
Style 2: Boy Friend Shirts
Boyfriend shirt is a must-have item for office workers. But the basic shirt always gives a stereotyped impression. You can replace the conventional shirt with Oversize's BF style shirt. With the formal sense of the shirt, the style has increased by a few degrees. Isn't it? ▼
Compare the difference between ordinary and BF styles. ▼
BF style shirt is known to be loose and oversized. For working place, you are advised to have shirts that are a little wider than the normal shirt. Wearing something exceptionally big and oversized does not give any sense of professionalism. Take a look at the oversized style of Kardashian, not recommended! ▼
You can also consider BF style shirt for office attire. There are many people who will negate this fashion advice since it has a lot of casualness to it which is against the rules of office attire.▼
As long as you are not pairing it up with casual style items, it can also be worn at workplaces. It's fashionable for office workers to change jeans to smoking pants or wide-leg pants like below. ▼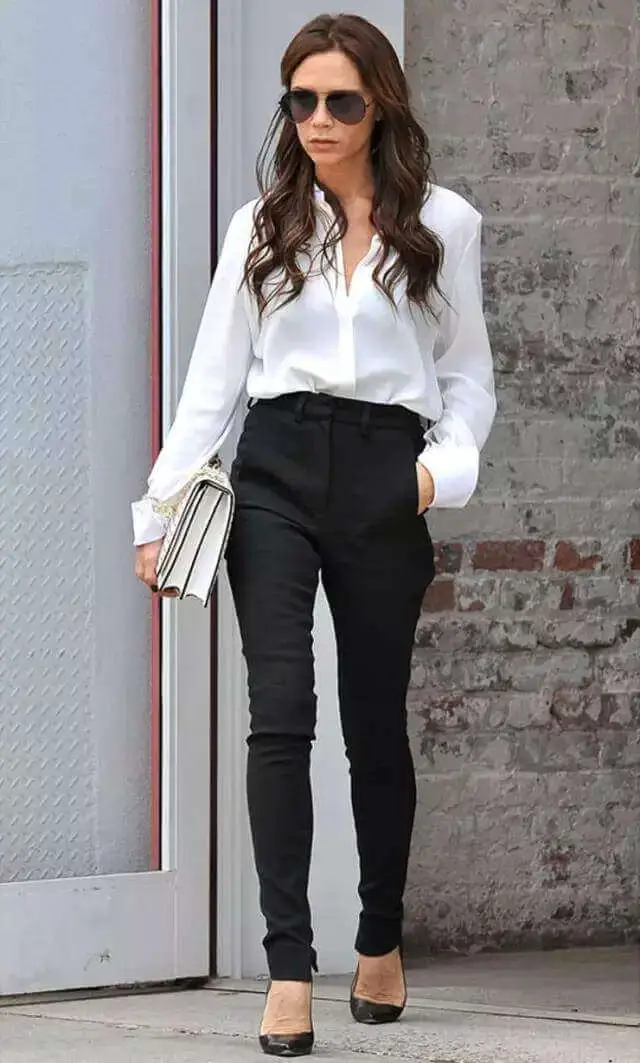 Replacing denim shorts with half skirts transforms the whole look and adds a professional appeal instantly~▼
When wearing a BF style shirt to go to work, it is best to team it up with a midi skirt that is longer than knee length—more elegant and more feminine. ▼
Like Jenny with a plaid skirt, you too can wear BF style shirt to get a professional and literary appeal。▼
Shoes and bags define the whole style. Replacing your flats with stiletto heels switches the outlook completely. Flats give the look as if you are going out for buying breakfast while high heels take you directly to the office. ▼
Although the BF style shirt is large, still it can be a good ride. It is not inconsistent like small suit or windbreaker and makes the outlook less boring. ▼
Just like a regular shirt, when you wear a BF wind shirt, remember not to tie up all the buttons. Even if it is a workplace, there is nothing wrong in doing so. Opening a few gives a fashionable look. This suggestion is a must-do for the sisters with heavy bosoms—don't forget! ▼
Style 3: Shirt skirt
If we list up the staples that fulfill the requirements of a traditional working place, a shirt skirt would definitely be one of them. The shirt collar design fulfills the workplace attributes completely. ▼
Saying that shirt skirts can be worn to offices, we must feel confident about it. Many celebs too choose shirt skirts when they participate in other activities. ▼
This high-waisted Midi shirt skirt, with its own dignified attributes, is very suitable for fresh office workers to enter the workplace. It appears to be smart and perfectly-stitched. ▼
If you want to look more mature, you can choose stuffier fabrics. ▼
Do not think that this type of skirt is very boring and dull. Going to a date after work? It's time to open a few more buttons on the bottom. ▼
The popular BF style shirt dress is also suitable for the workplace. However, it is best to wrap around a belt. It not only emphasizes the curve, but it also looks elegant。▼
Shirt dress saves you from a lot of troubles. We call it a fuss-free item because it is very easy to match footwear with it—both flat and high heels are applicable. ▼
To add more style, you can choose a special design shirt skirt. One that makes you look gorgeous, even in the office pressure. ▼
These past two years have been really popular in terms of unique styling of shirts and short skirts, especially with knotted elements. Check out the left image, the collar is quite unique. ▼
However, not all shirt dresses are suitable for work wear, and the choice of length is also very important. It is best to choose a short skirt that is below the knee, the shortest should on the knee. Otherwise, whether it is belted or not, it is not decent enough for the workplace. ▼
If you buy a short shirt dress, don't waste it, layer it up with a windbreaker, a long jacket or with a suit jacket, it will look dignified. ▼
In autumn and winter, a knit top or skirt is layered over the shirt skirt to keep warm. It also adds more to the overall style. ▼
Be careful and never choose too long pieces that always get into your feet. It can be really fussy to manage and may disrupt your performance in the office. The right length is the one that fits around the calf. ▼
Since we are talking about a shirt skirt for office use, make sure it is not made of thin and transparent fabric. The versions given below are tougher and seem more capable of working place. ▼
Style 4: Workwear Jumpsuit
Like dresses, workwear jumpsuits are also a must-have for slackers. They are more handsome and stylish and are suitable for office workers who like to walk coolly. ▼
This collared dress with multiple large pockets used to be the uniform for blue-collar workers. But In the past two years, the appearance of overalls on the fashion scenario has changed this outfit into the hottest street style trend. ▼
However, it is not like the old-style traditional overalls. With time we have seen immense change in style and detailing. ▼
There are many who don't believe jumpsuits to be as practical in offices as is a shirt dress. According to some, if this one-piece staple is not handled carefully, it would make you look like labor wearing a uniform. I don't think it to be impractical; all that matters is making the right choices in terms of matching and overall style.
First of all, it is the shoes. Change the flat shoes on the left side (a purely casual style) to the high heels on the right and proudly walk into the workplace from the street. ▼
The waistline is also very important, and a belted jumpsuit looks more suitable to wear in the office. Contrary to that, line cut overalls and street style are not perfect choices for office. ▼
For comparison, it still looks better wearing a belt. ▼
When choosing work clothes jumpsuits, pay attention to the design of the lower body. Normally the legs are designed too wide that carrying it becomes difficult for simple girls. ▼
Smoking pants design is the most suitable jumpsuit style for workplaces—concise and suitable. ▼
It's more spirited to tie your trousers and reveal your ankles. Compare. ▼
The choice of fabric is also very important. Many of the above-mentioned tooling trousers look too much like "work clothes," and the problem lies in the fabric. Washed fabrics, denim fabrics have a casual appeal which is not suitable for a formal workplace. So, silky and smooth jumpsuits are more suitable and easier to manage▼
When the weather is cold, you can choose thick or suit fabrics▼
Try to choose some low-key colors. Too bright colors (in the left image) will add to the casual feel of a jumpsuit. ▼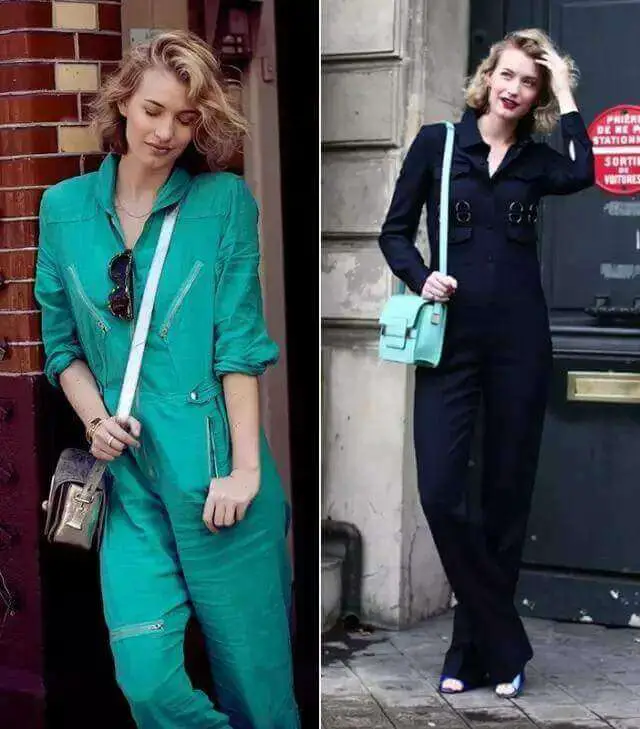 Whether it is summer or autumn, when it comes to office attire, as long as you have these four fashionable work apparels, you are going to get a flattering look for sure. Is it affordable as well?